Although the distance between Singapore and Kuala Lumpur is fairly small, there are plenty of flights between the two cities with both full-service and low-cost airlines.
Singapore Airlines is one of the former and typically has one widebody flight a day (an Airbus A330 which departs Kuala Lumpur in the evening). The remaining flights are operated by SilkAir on single-aisle Boeing 737s.
As it was most cost-effective to fly from Malaysia to Australia via Singapore with Singapore Airlines, I booked that journey and checked out Singapore Airlines' SilverKris Lounge in Kuala Lumpur International Airport through my Velocity Gold status.
Lounge Location and Details
The Singapore Airlines' SilverKris lounge is located on the Mezzanine floor of the Satellite Building of KLIA. This is also where most of the other international airline lounges can be found. The Satellite Building has all the C-gates and is where most international flights depart from.
Once you have checked-in and cleared immigration in the main terminal, head to the signs for C1-C37. This leads to a platform where you board the shuttle service to the Satellite Building.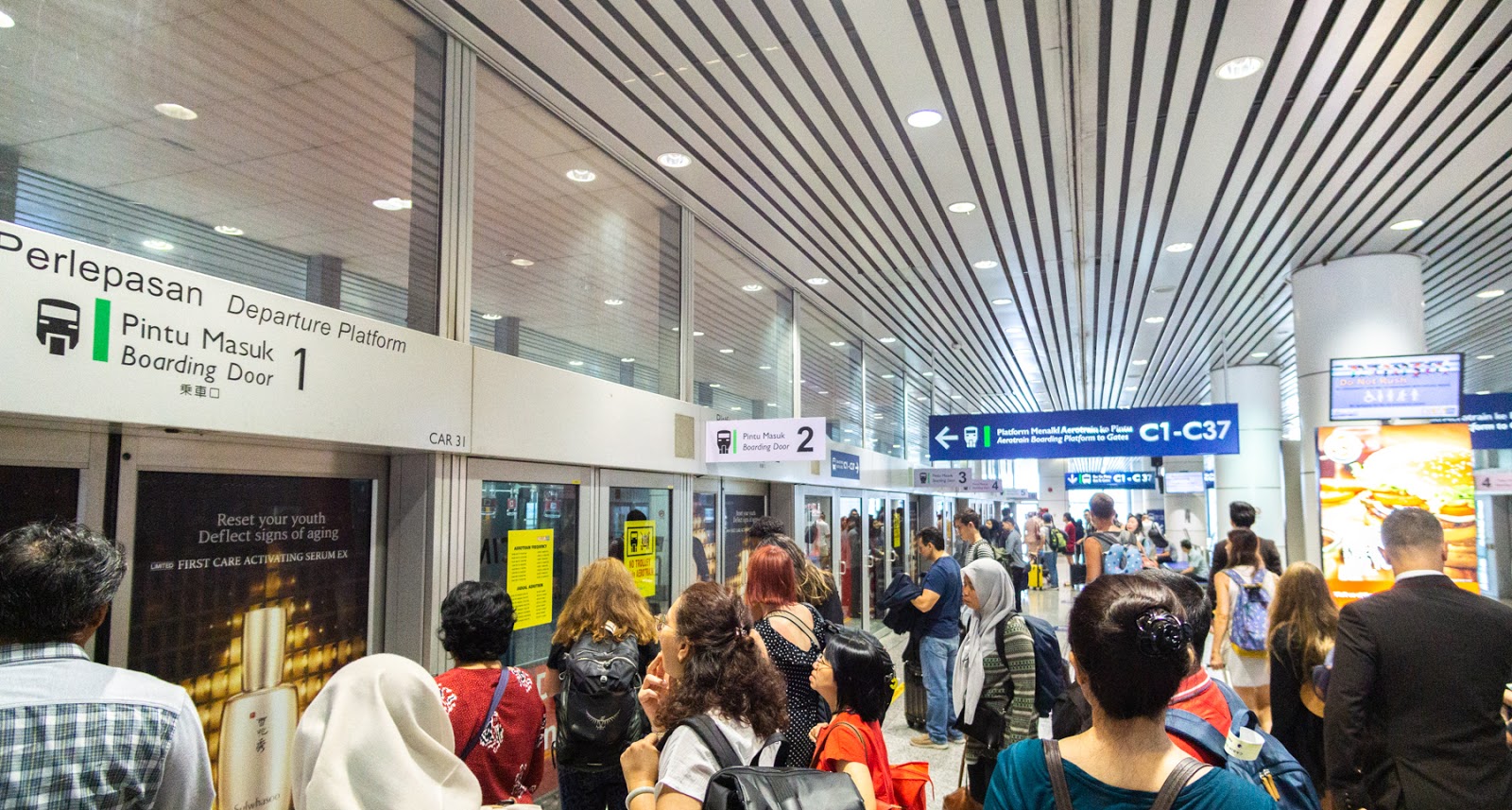 Once you arrive in the centre of the Satellite Building, turn left and find escalators going up. All the lounges are on this floor, and signs will point you to the SilverKris Lounge.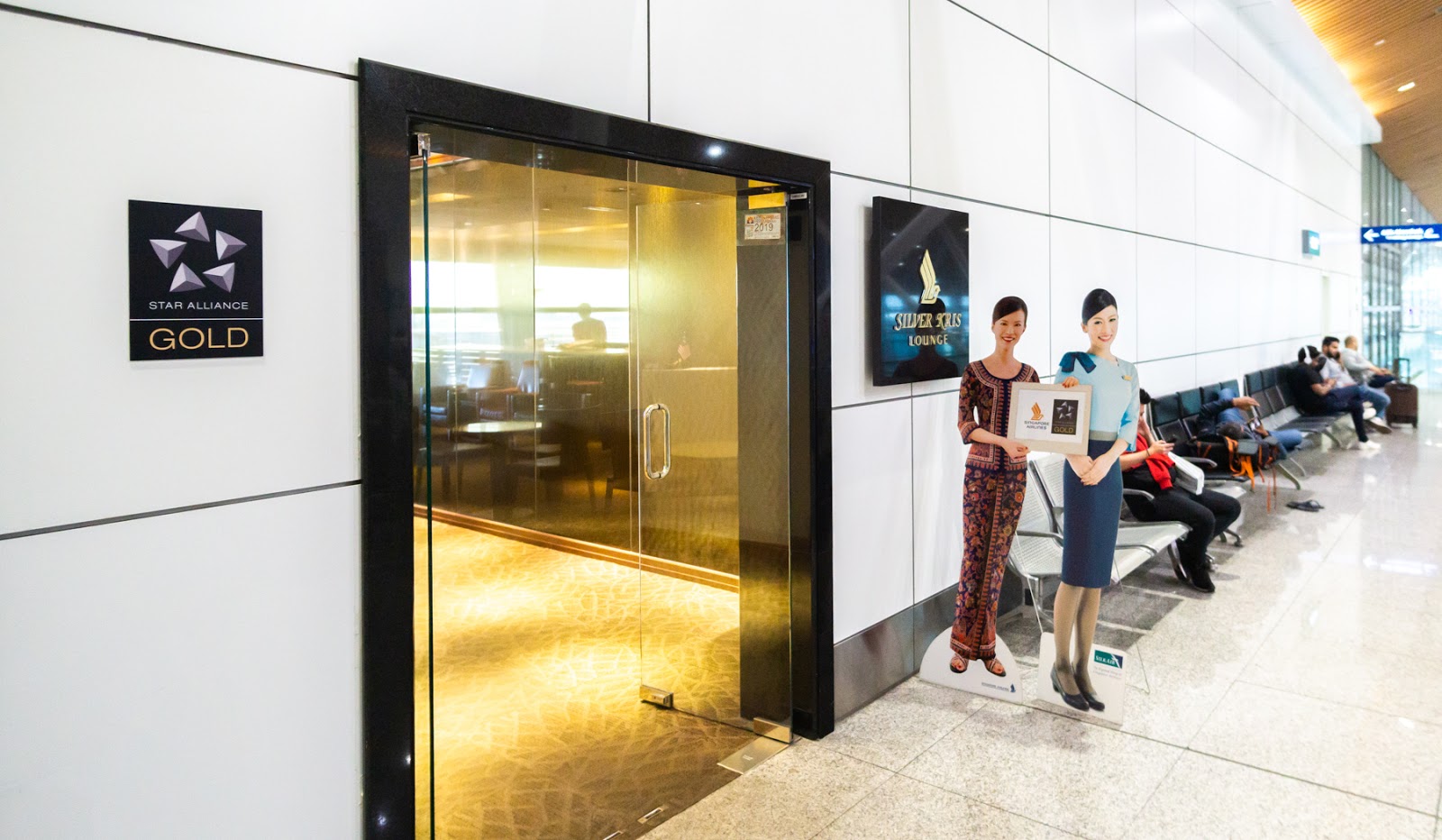 The lounge is open daily between 5:30am to 9:30pm and is directly opposite the Thai Airways Lounge, which also accepts Star Alliance Gold passengers flying on a member airline.
Lounge layout and seating
At the entrance, you will be welcomed by the staff. Incidentally, the SilverKris lounge appears to be managed by Plaza Premium, based on the staff name tags.
Directly opposite the reception desk, but separated by a wall of glass, is this working area.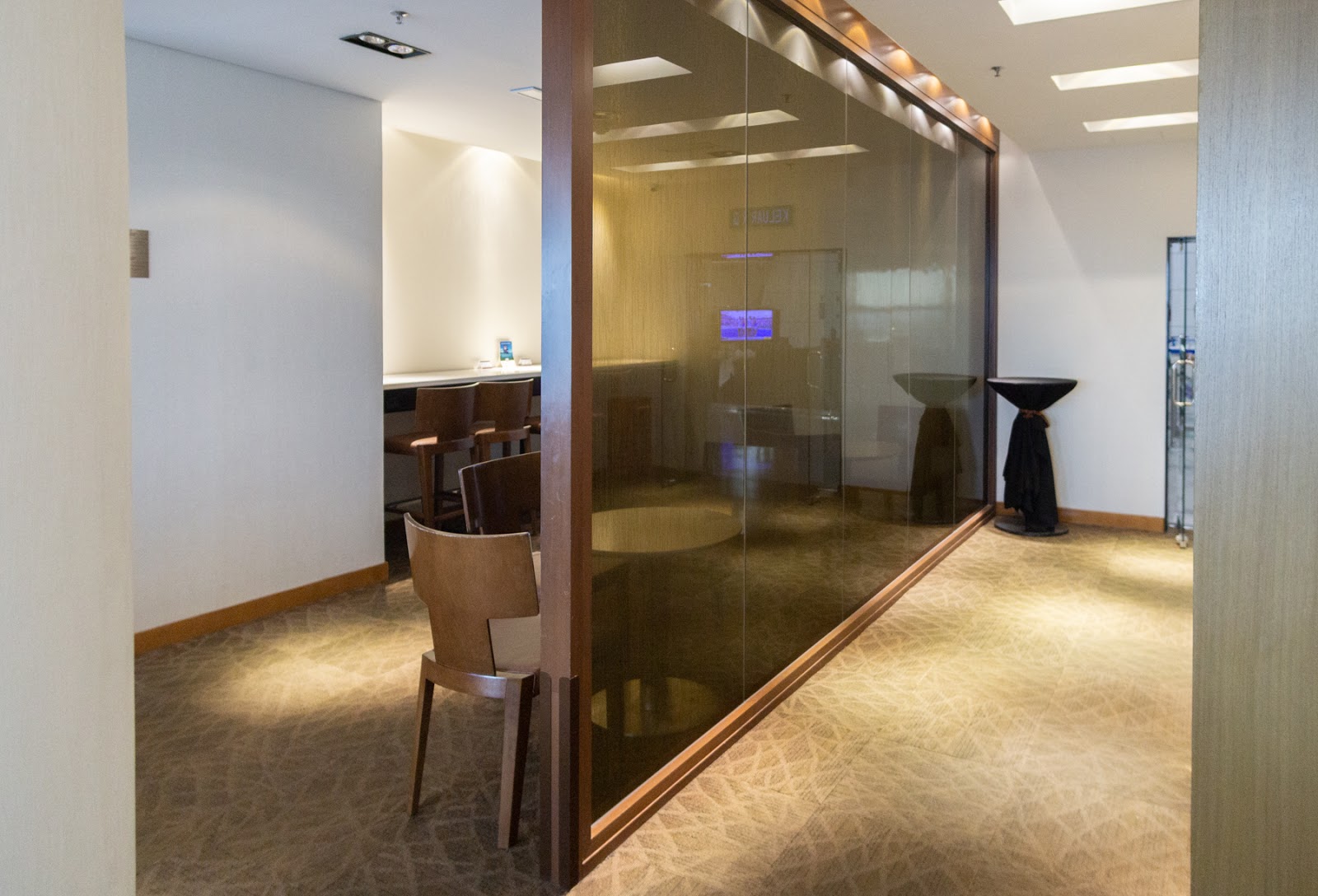 Walking straight into the lounge, you'll first see this general lounging area and wide views of all the action happening outside.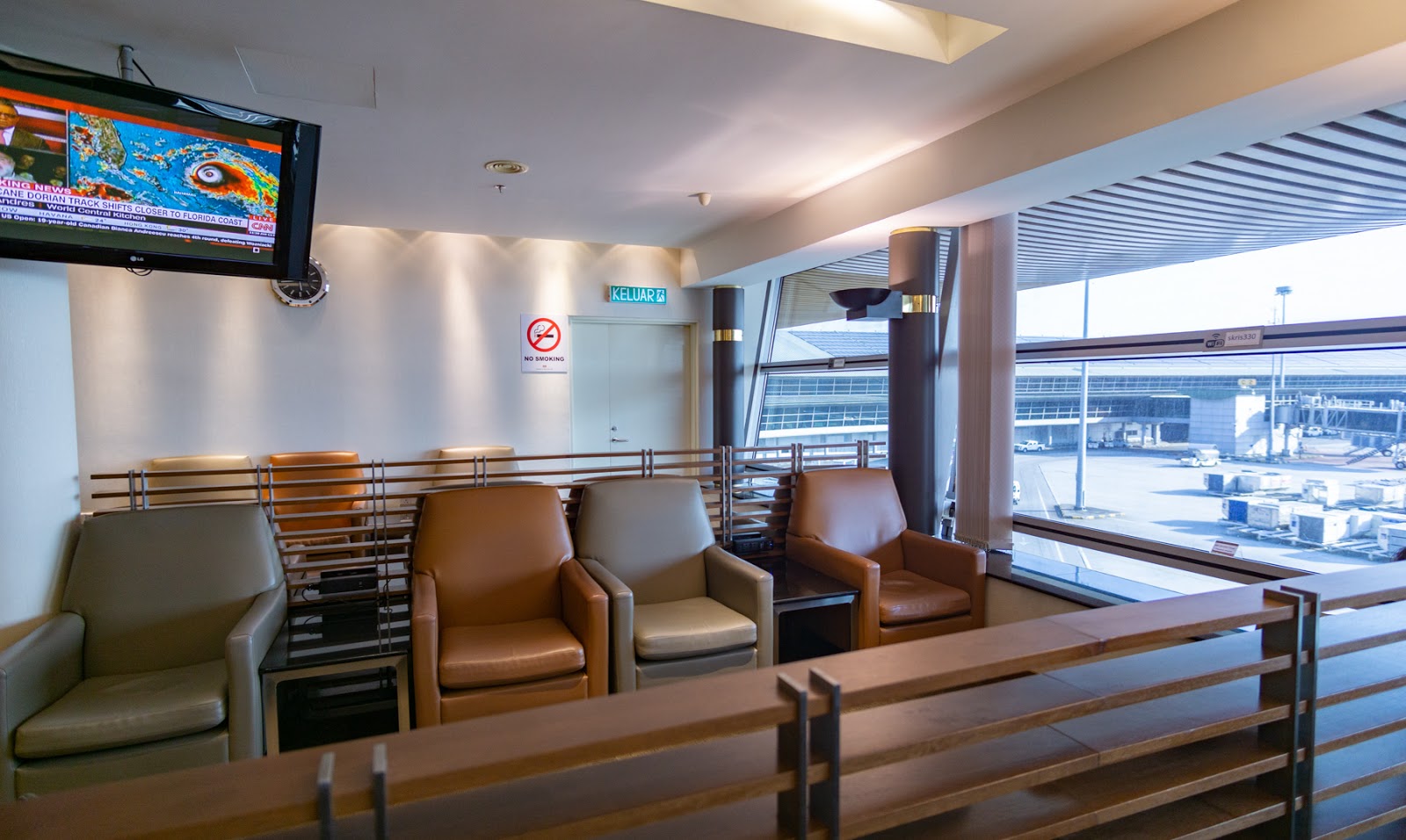 Next, are communal bar tables which is opposite the buffet area. Presumably, this area is suited for people who'd like to eat and drink.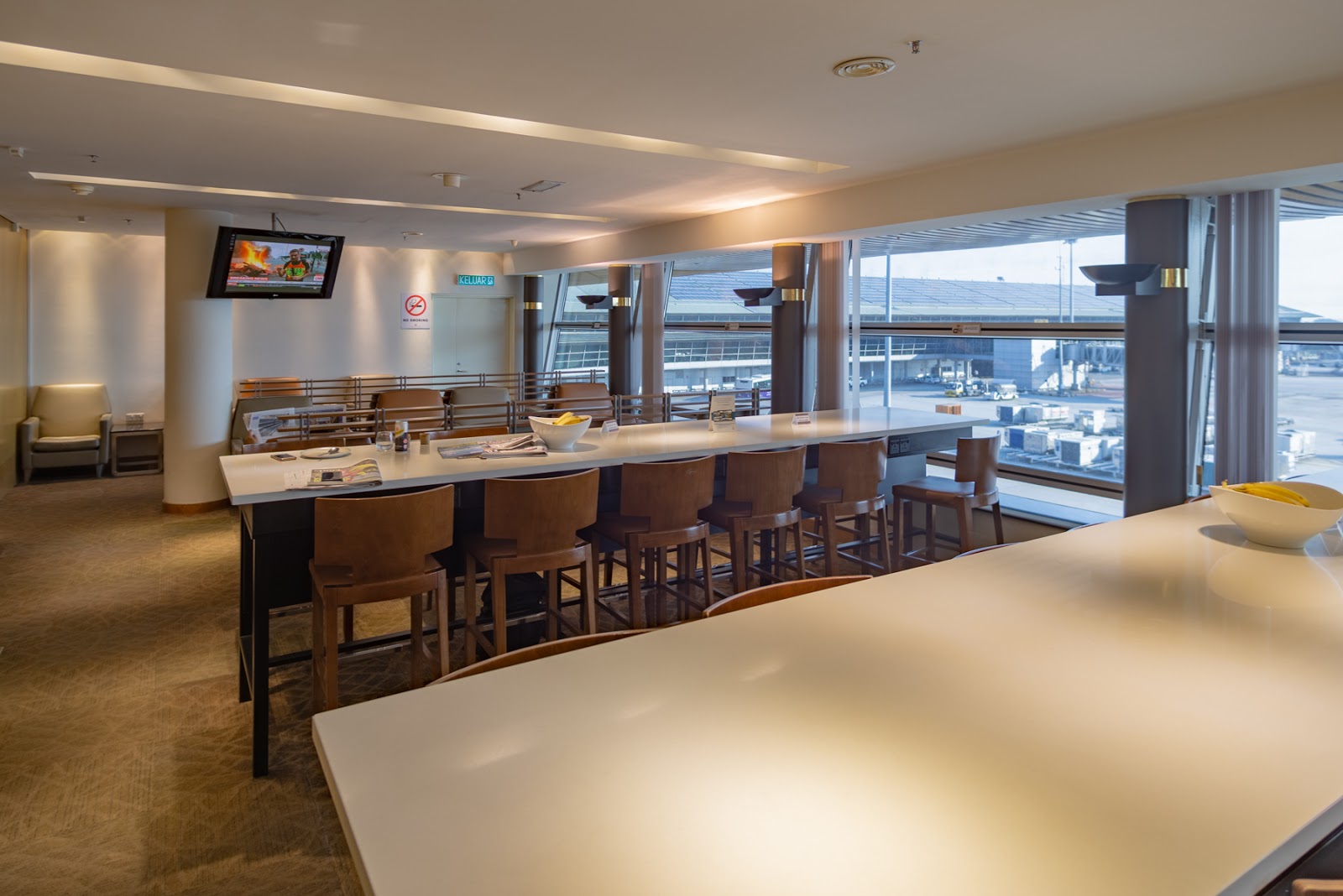 Finally, the far end of the lounge has more of the standard seating. As you can probably tell from these images, the overall lounge space is quite small and just spans the length of the windows.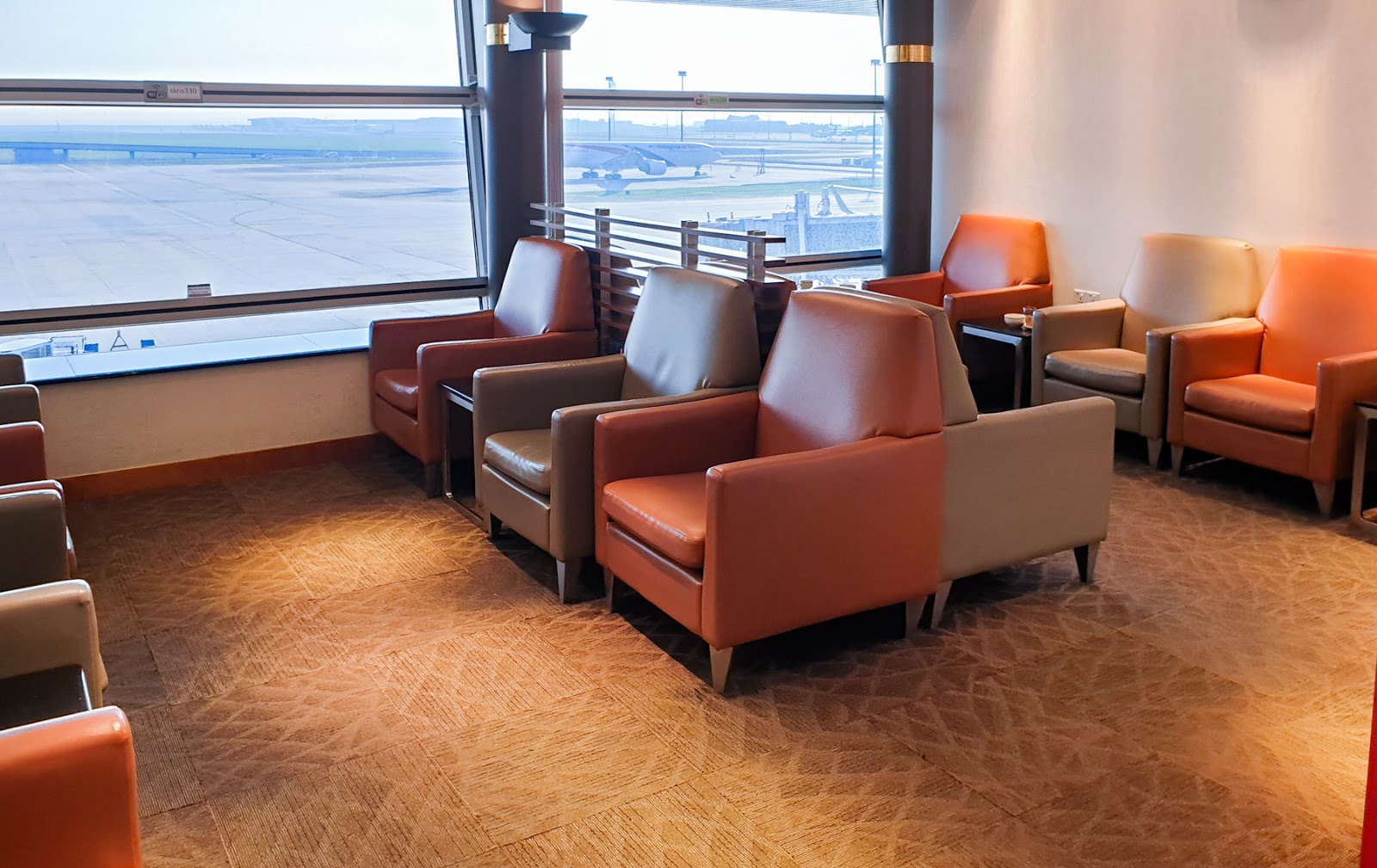 Incidentally, some of the furniture are definitely starting to show their age, like cracks in the leather of the sofas.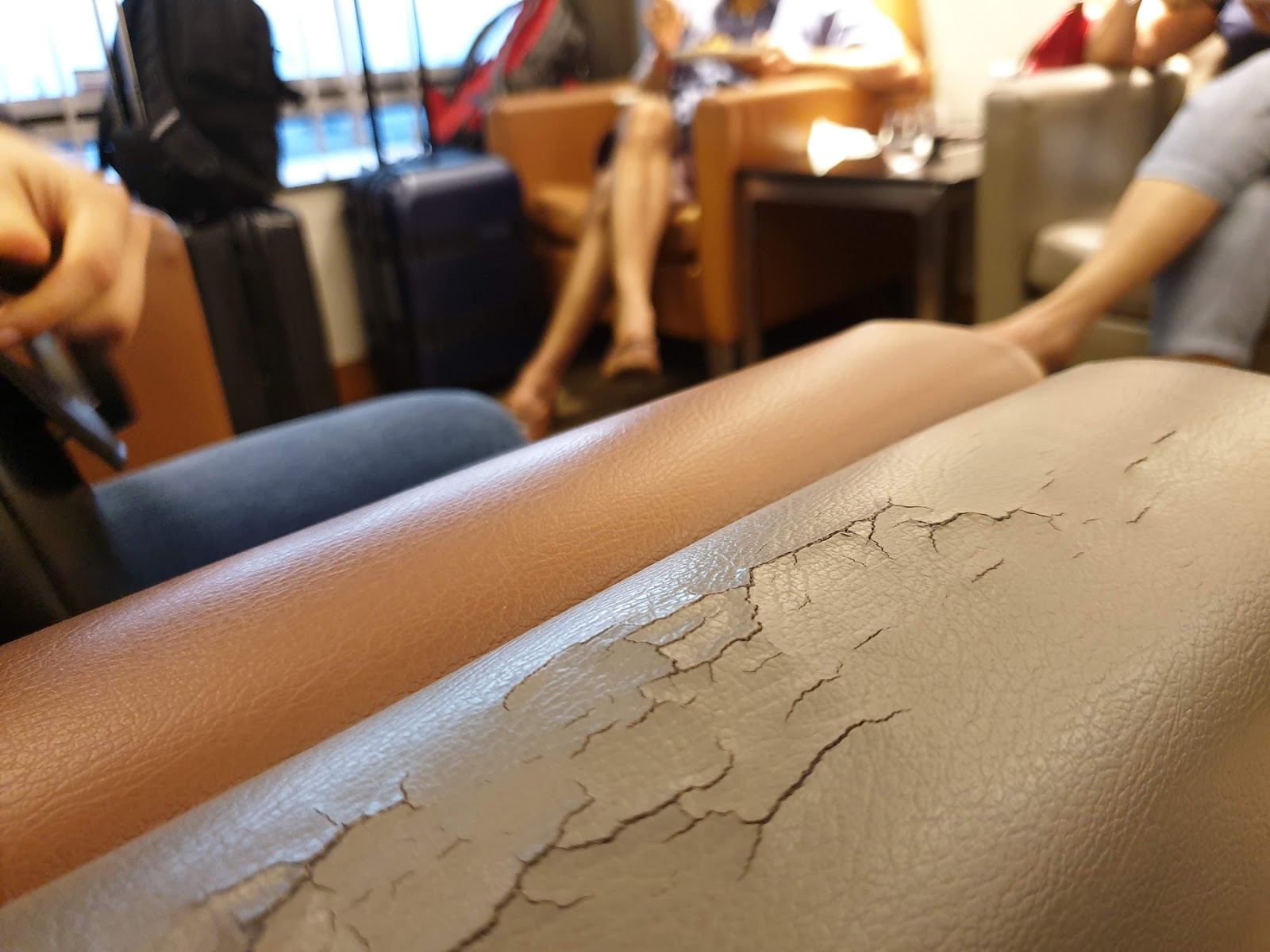 Just behind this space is a narrow corridor which leads to the bathrooms.
Food and Drink
Prior to the main Singapore Airlines flight, a small selection of hot and cold food is on offer.
Hiding in the corner of the buffet table are small bites – cakes, samosas and popcorn chicken. Unsurprisingly, the latter two vanished quickly when the lounge got busy and never got replaced. While tasty, they weren't being kept at a warm temperature.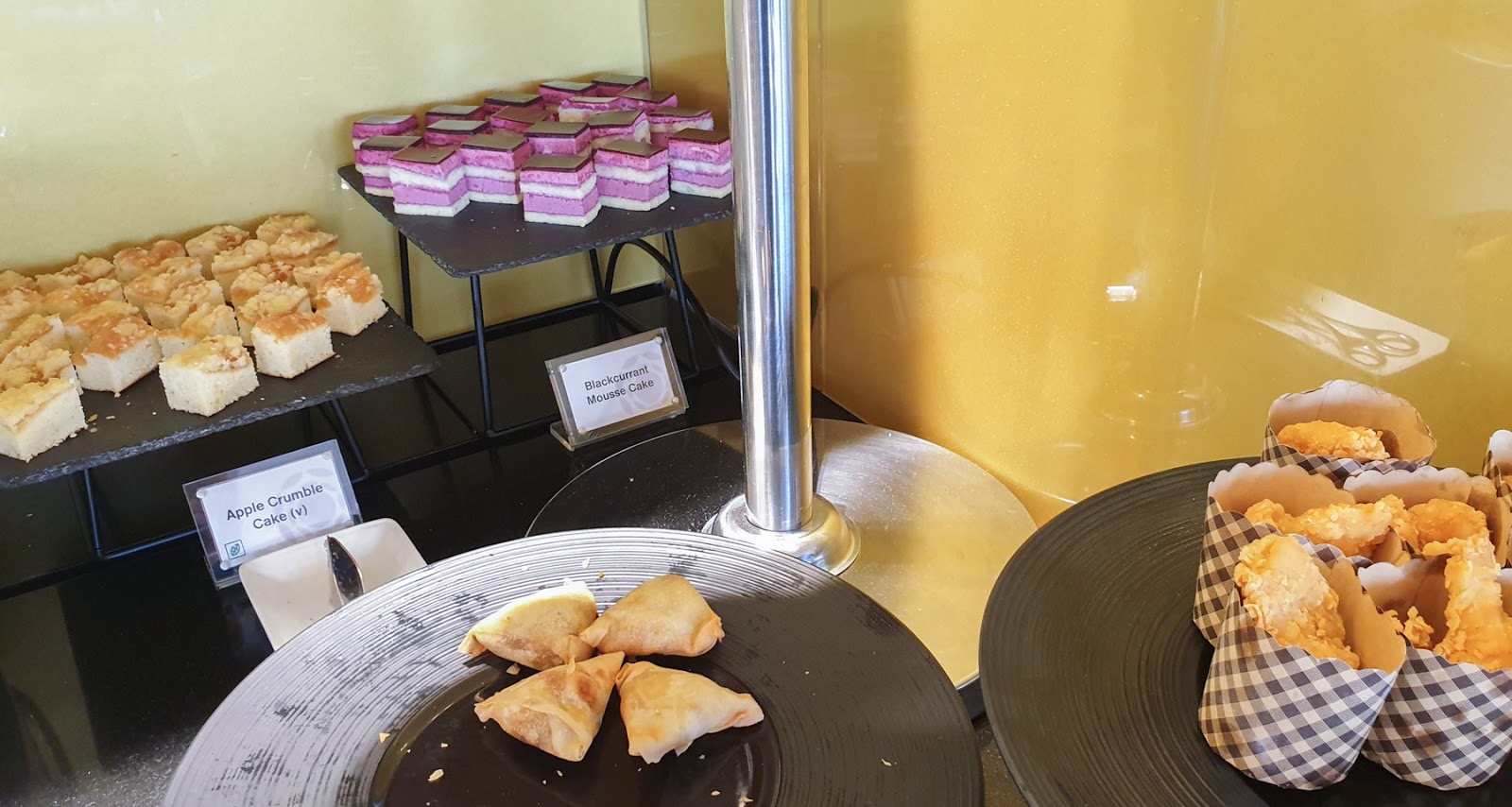 In terms of more substantial food, there were four options. The left two are vegetarian and the right two are meat dishes. These were kept properly warm, thankfully.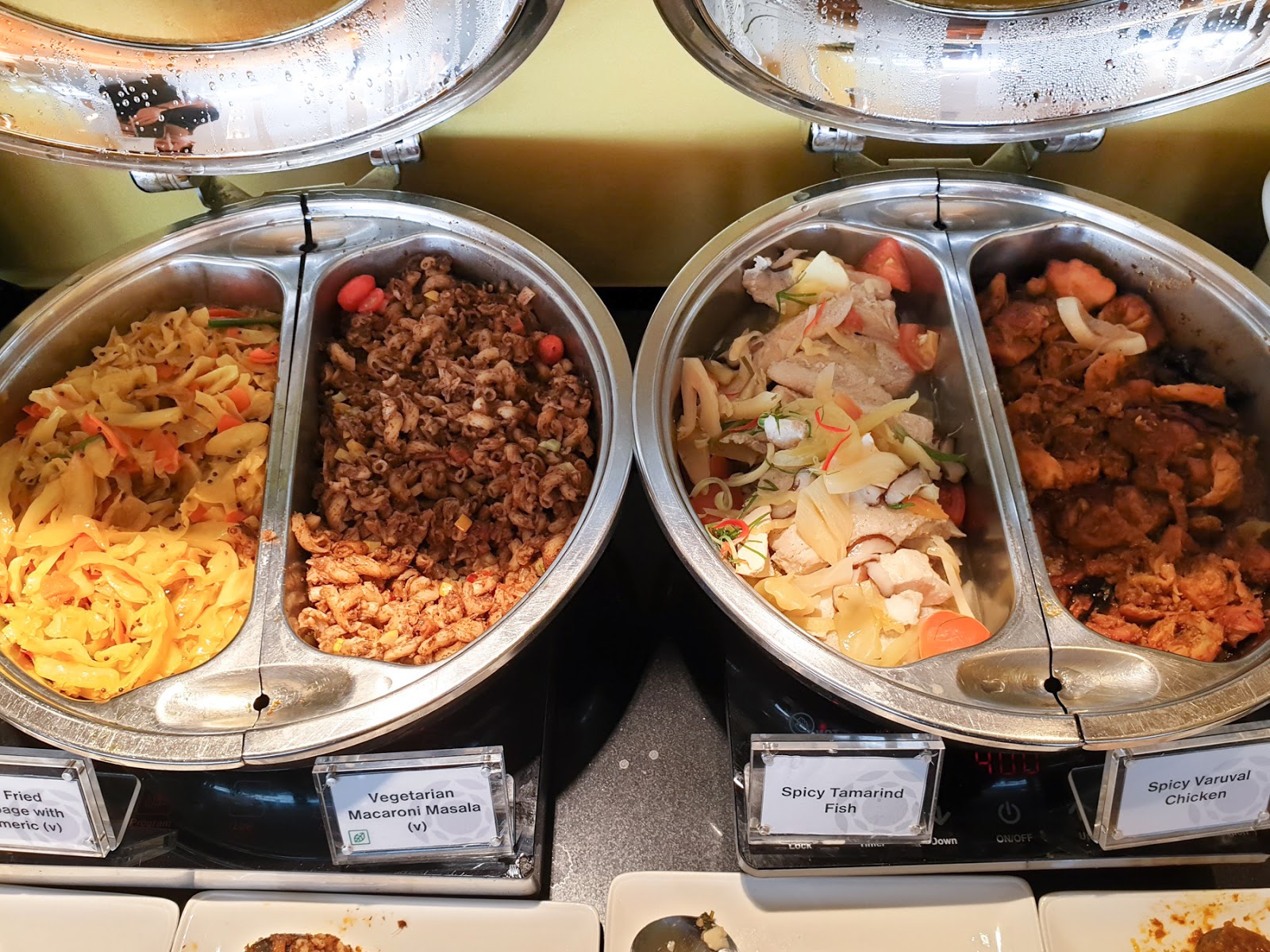 In the nearby fridge were cut fruits, corn kernels and paper-wrapped finger sandwiches. These also vanished without being replaced when the lounge got busy.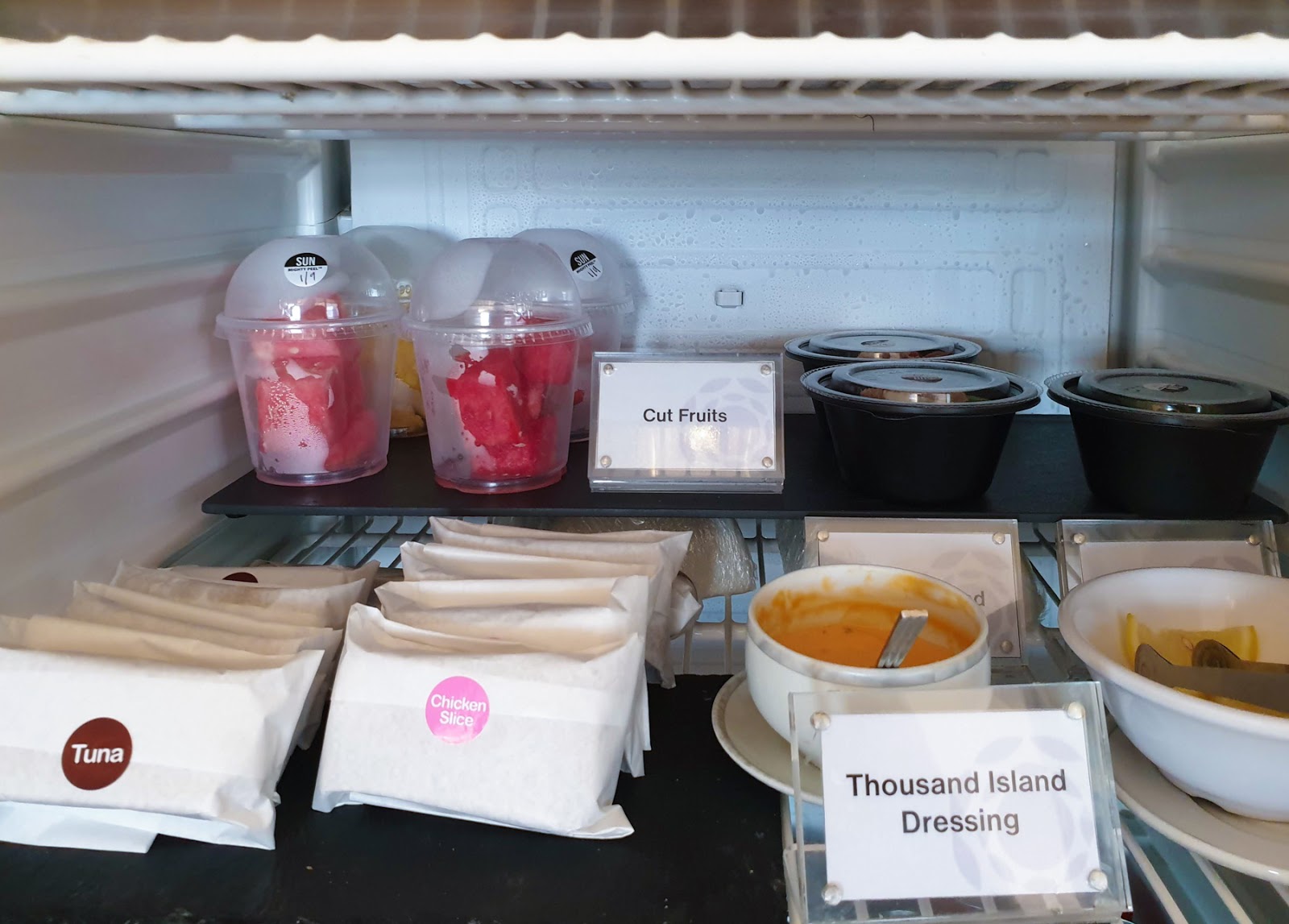 Finally, there were three types of soup available. For the chicken noodle soup, bowls of noodles and veggies were premade nearby – you just needed to add the hot soup to make a complete dish.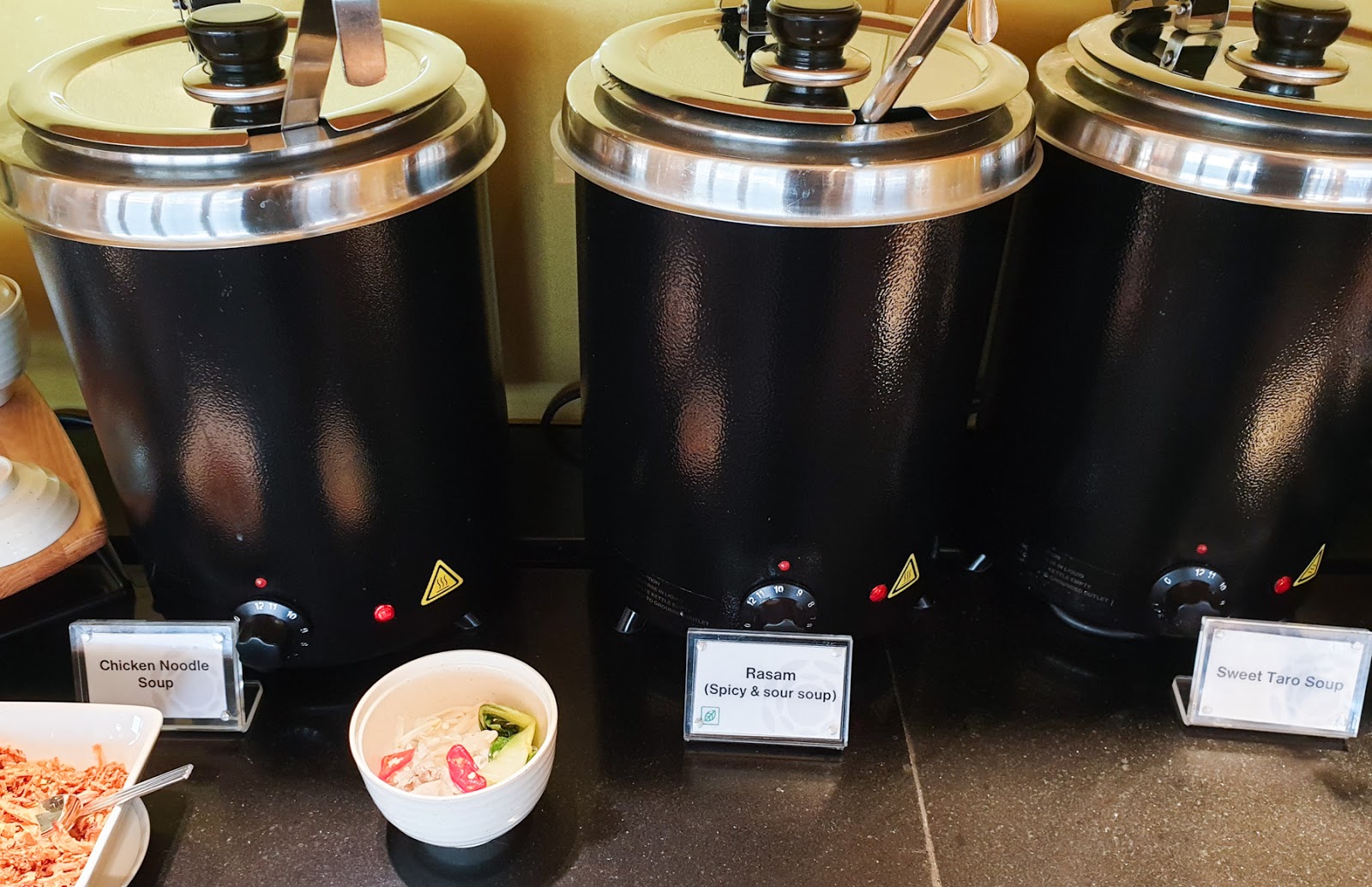 Fresh fruits are located in bowls on the bar tables, but some of the bananas have certainly seen better days.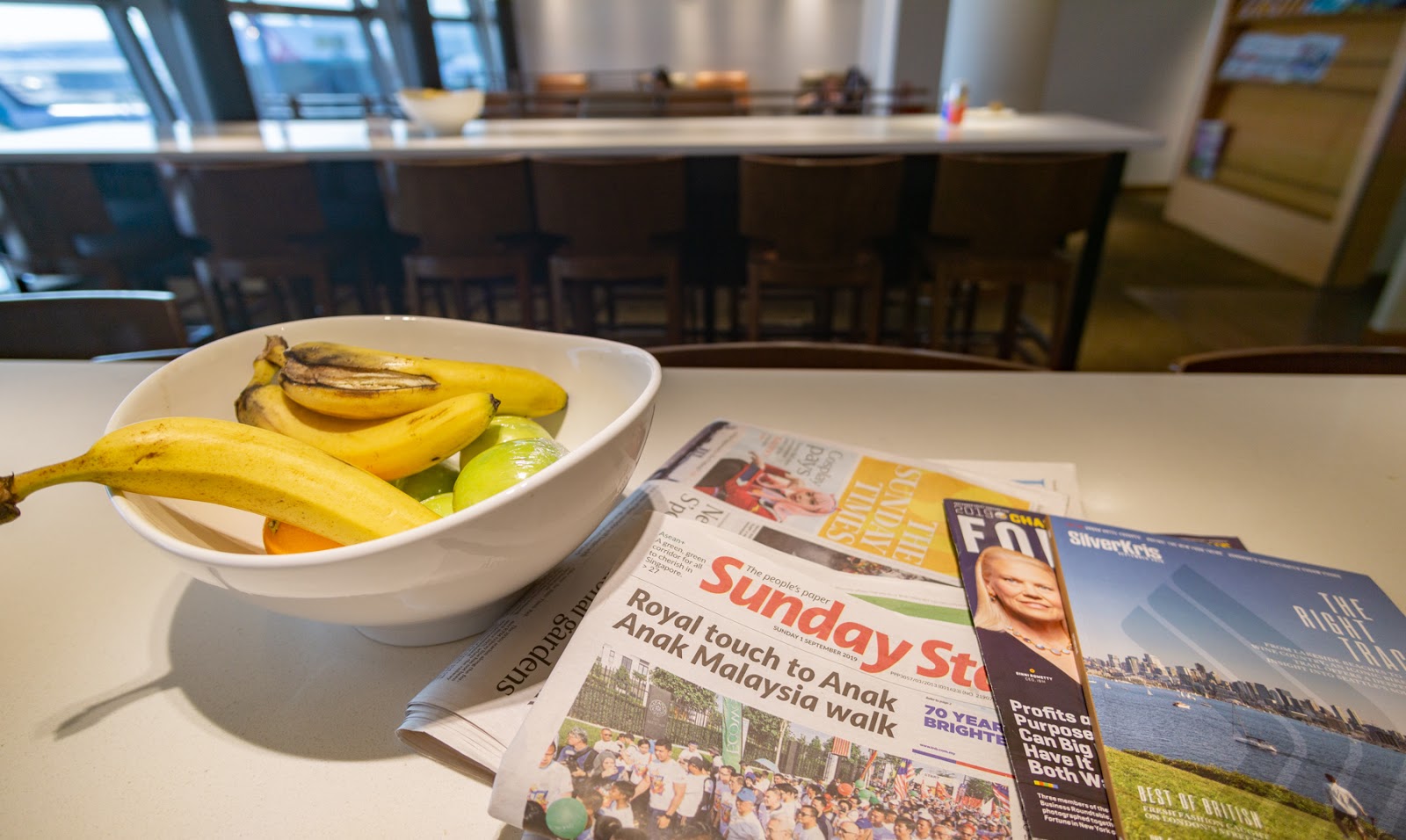 The fridges stock Chardonnay from Argentina, orange juice and tomato juice.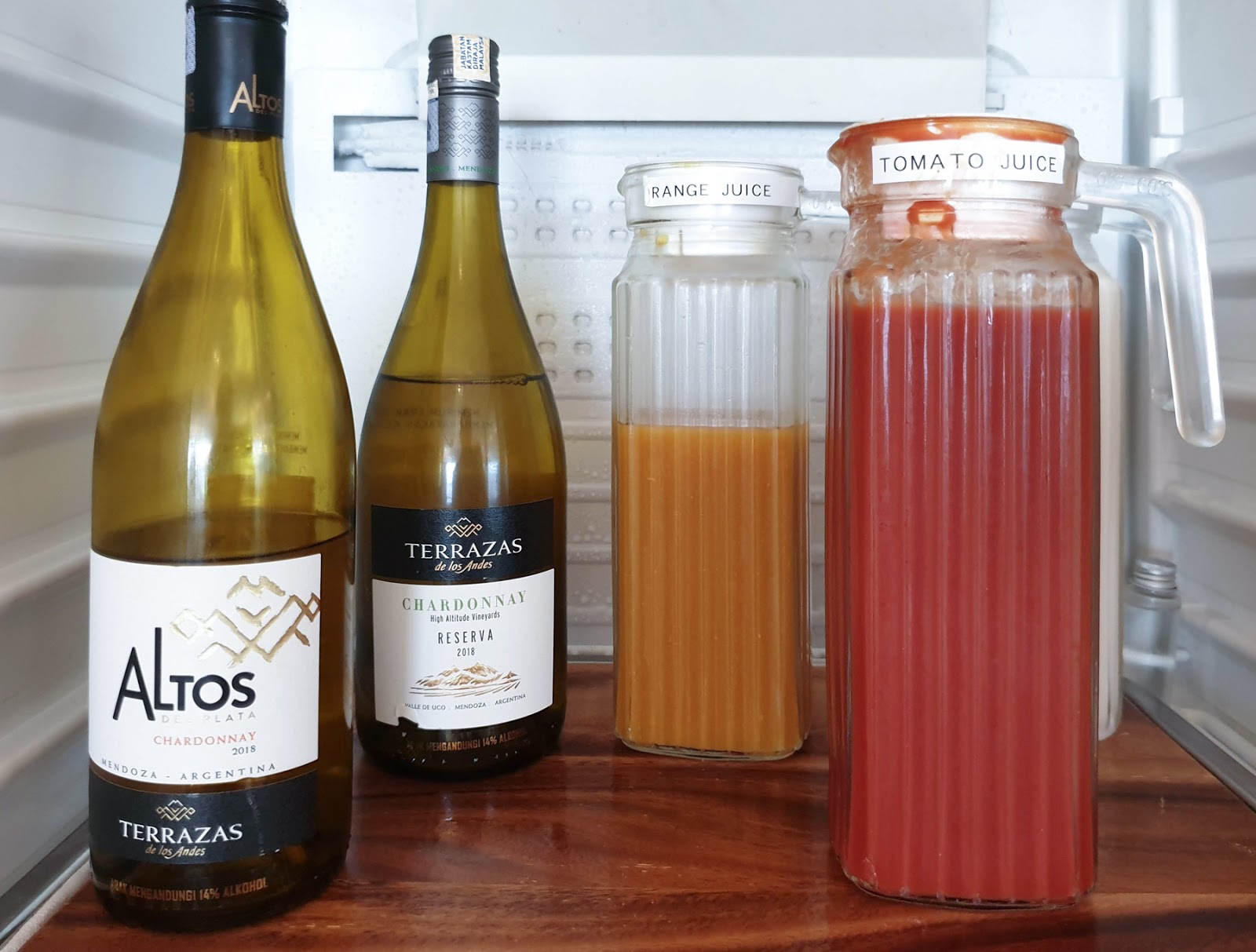 A decent selection of spirits was on the upper shelf, enough to make simple mixed drinks.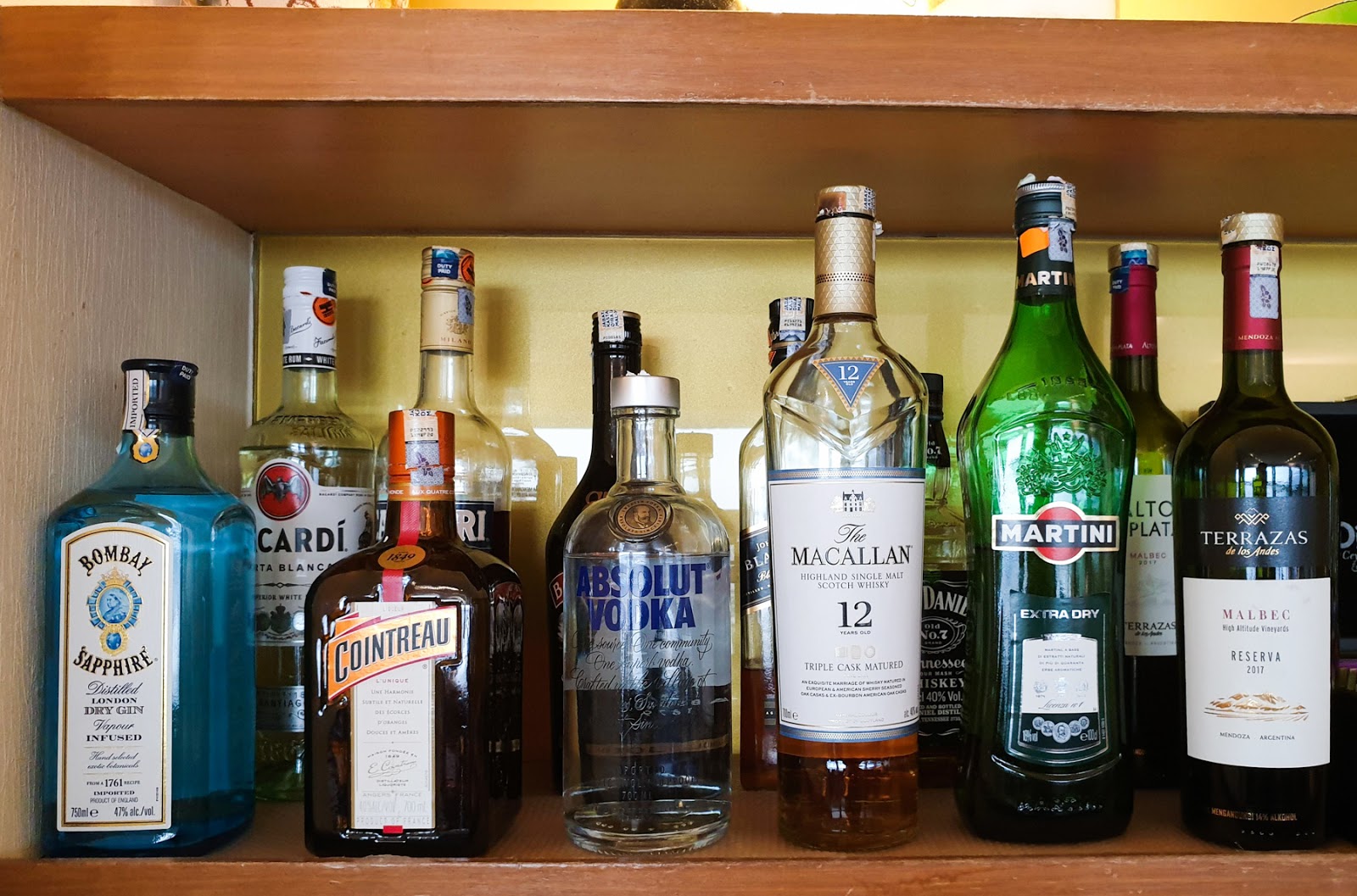 Mixers, soft drinks and beers are found in the bar fridge below the shelf.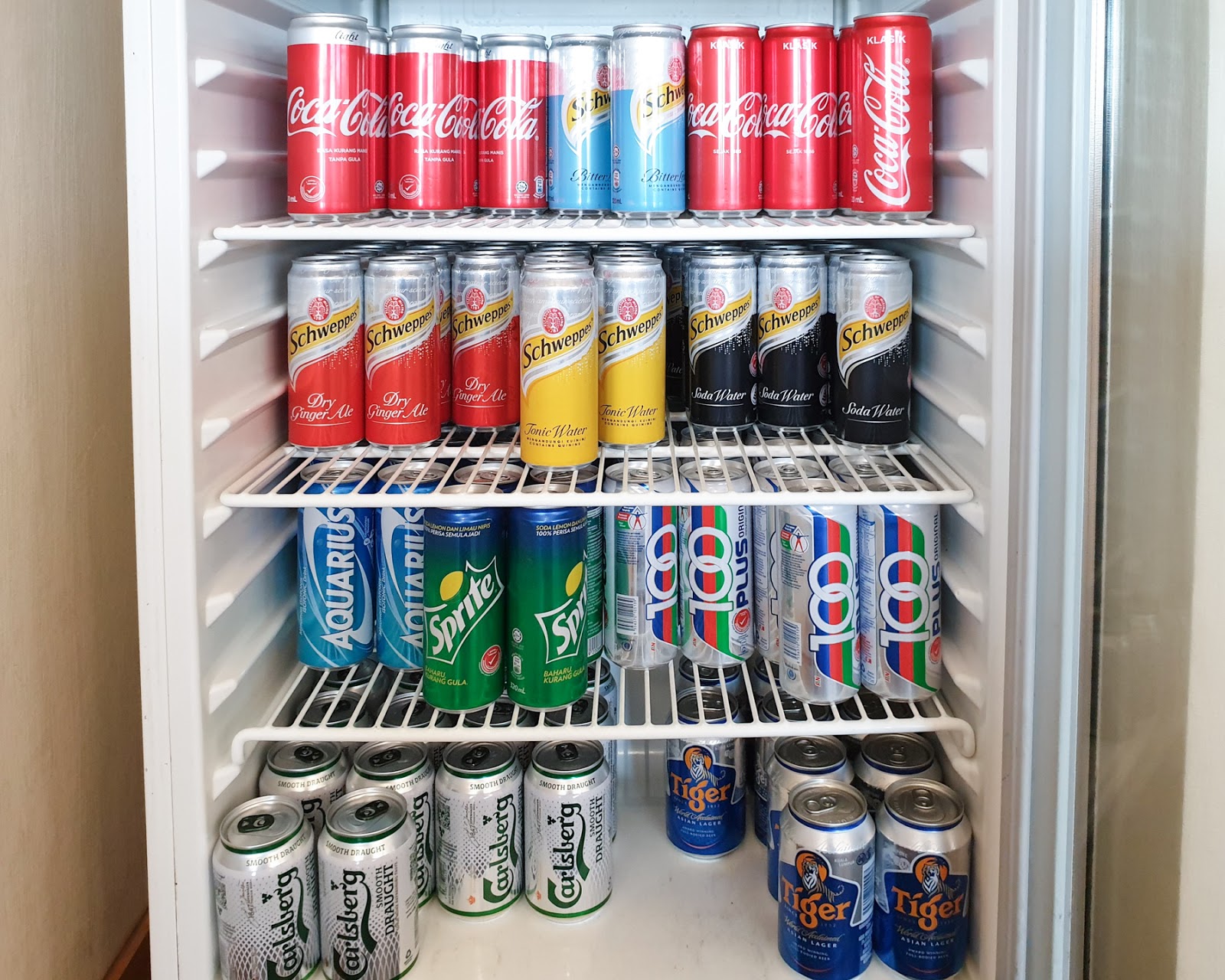 Finally, there is a coffee machine, hot water dispenser, Dilmah tea and Milo sachets if you want to make your own hot beverages.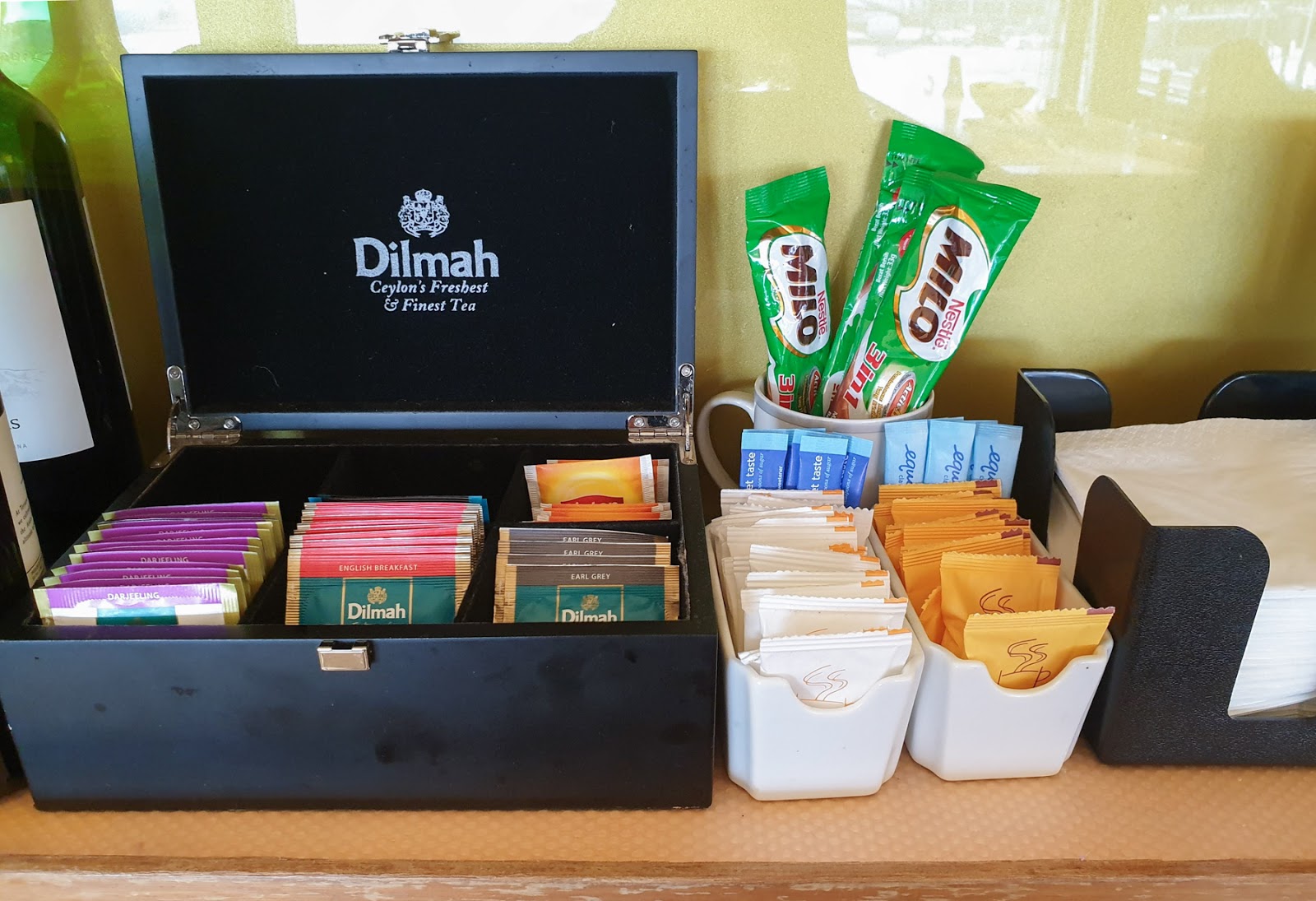 Overall, the food and drinks selection was adequate, but nothing spectacular or up to the standards of other Singapore Airlines SilverKris lounges.
I just had some light finger food with a refreshing scotch and soda, but all three of these options were so popular when the lounge got busy that I never saw them replenished again.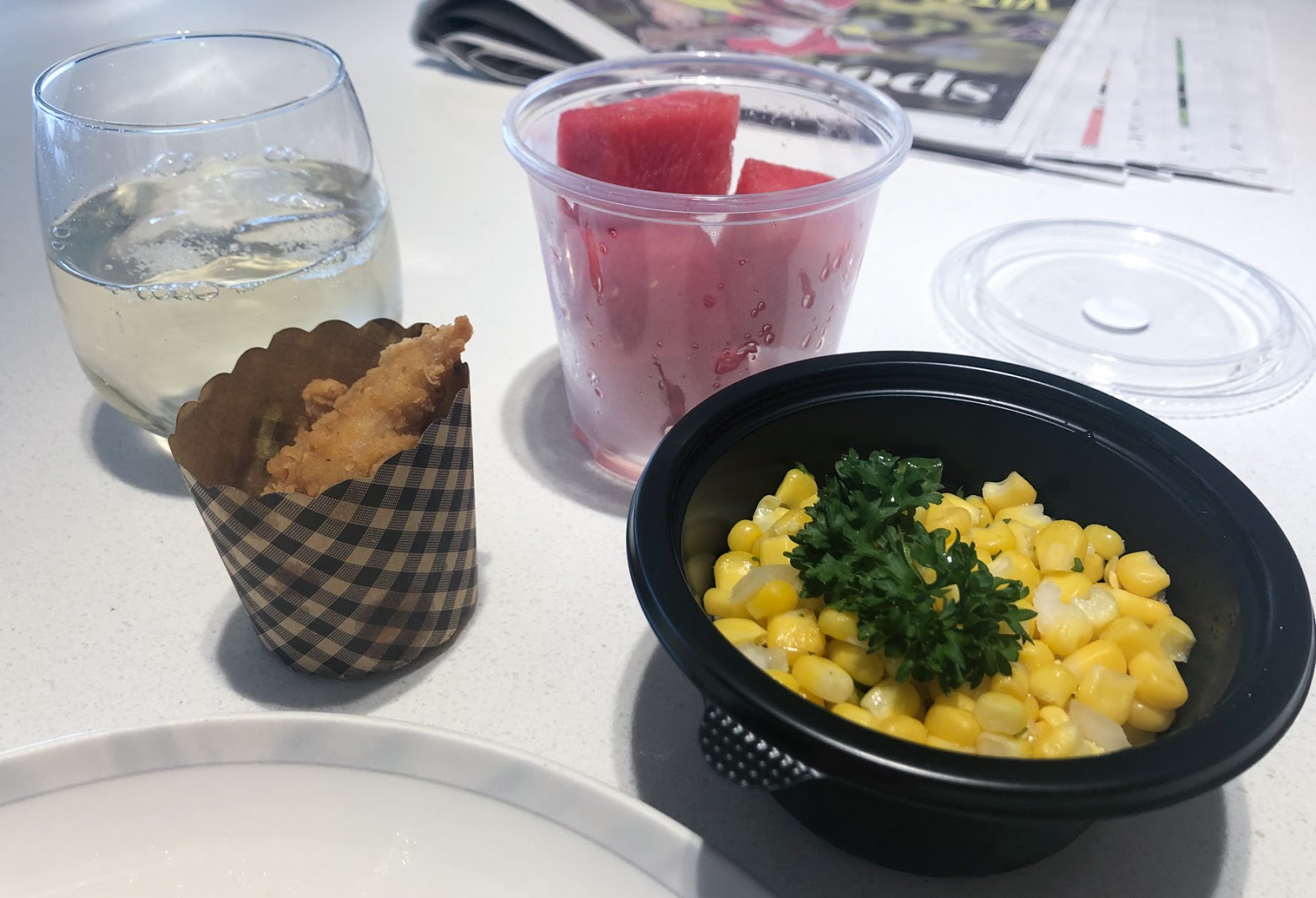 Amenities
There aren't any shower facilities here, just washroom cubicles.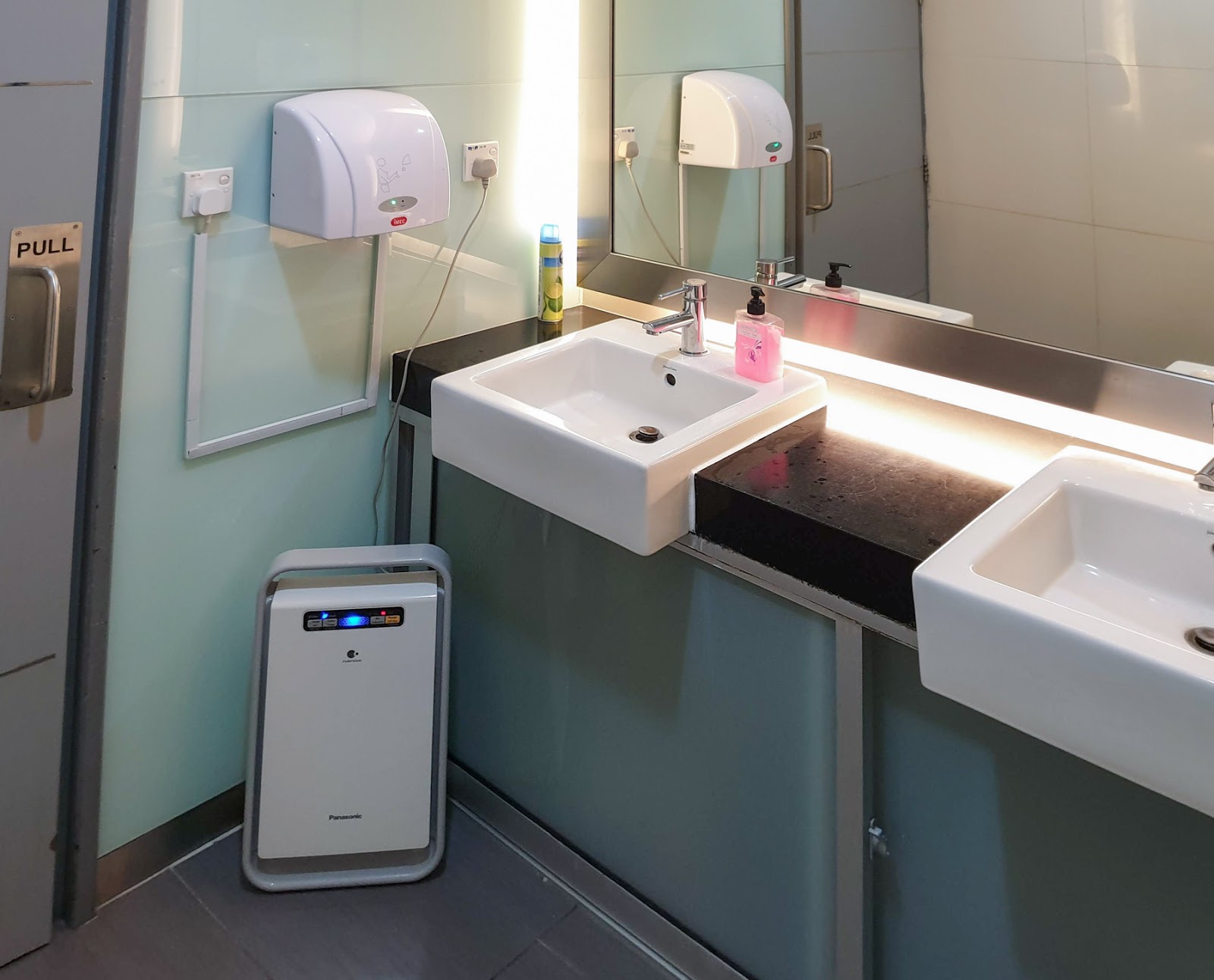 If you are hoping to recharge your devices, power ports aren't overly abundant but can be found alongside the bar tables and in-between pairs of armchairs.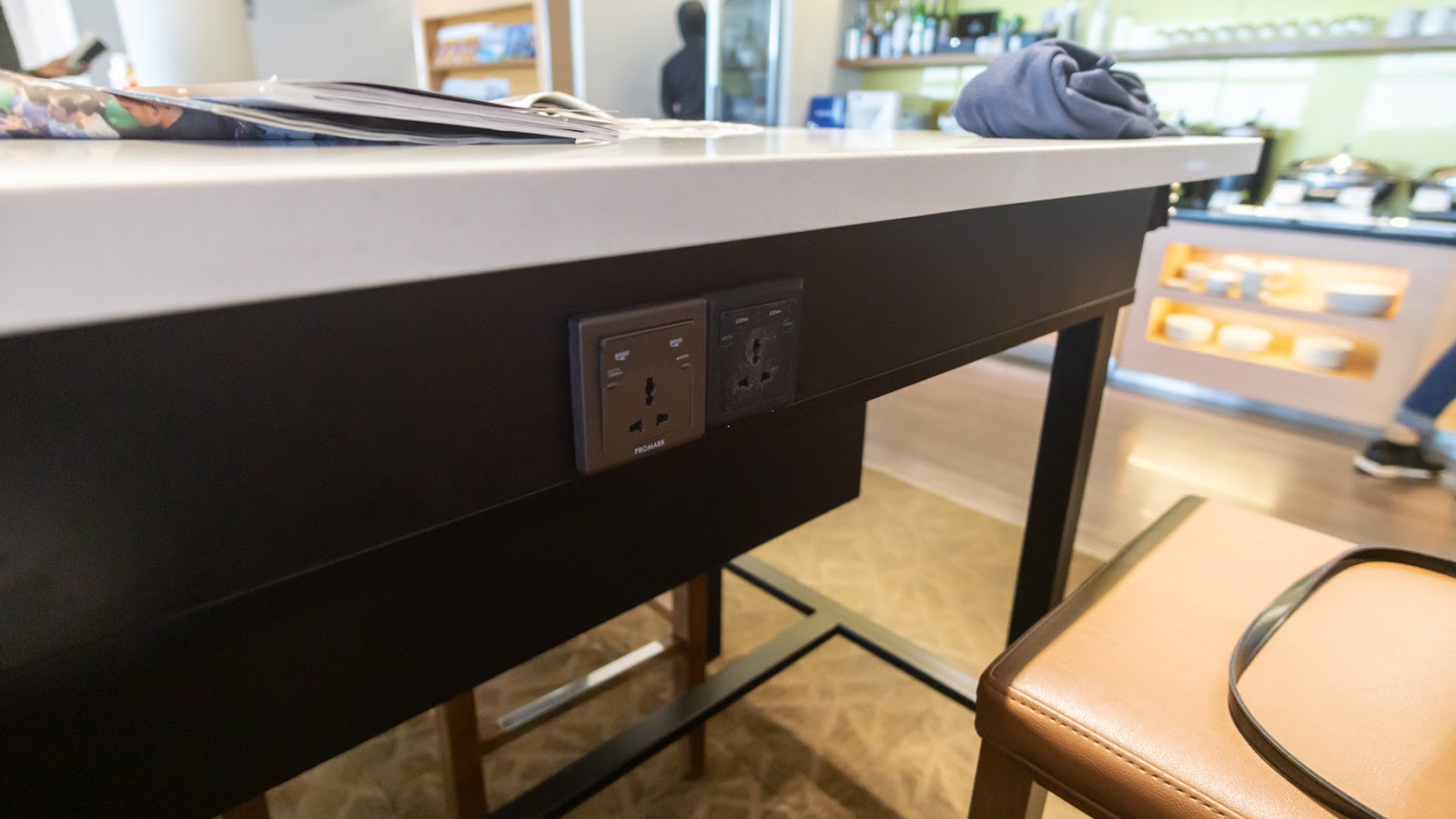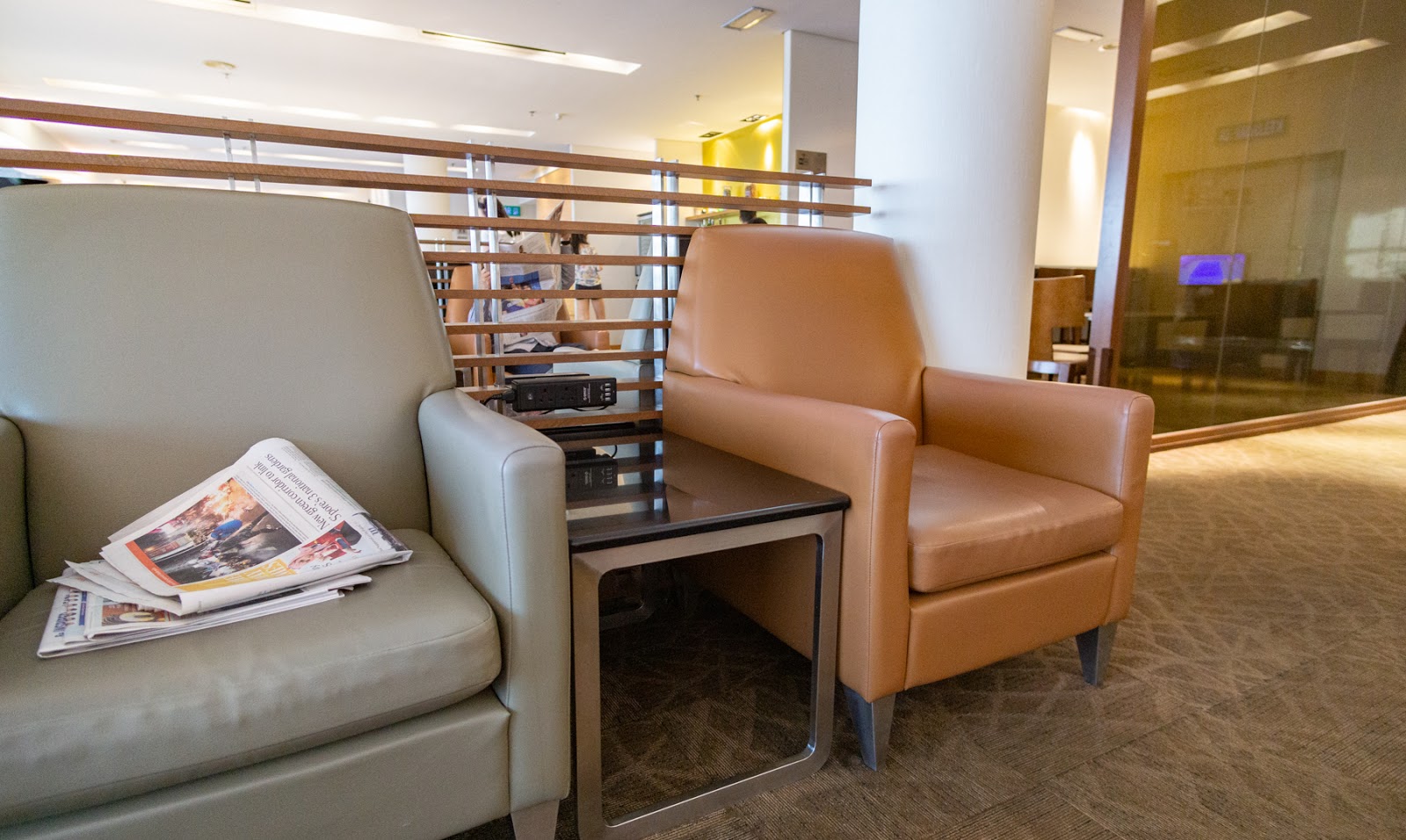 I measured the WiFi speeds in this lounge to be a barely-usable 0.95 Mbps download and a better 11.7 Mbps upload.
The rest of the lounge entertainment consists of magazines, newspapers, muted TVs and just simple plane-spotting out of the wide windows.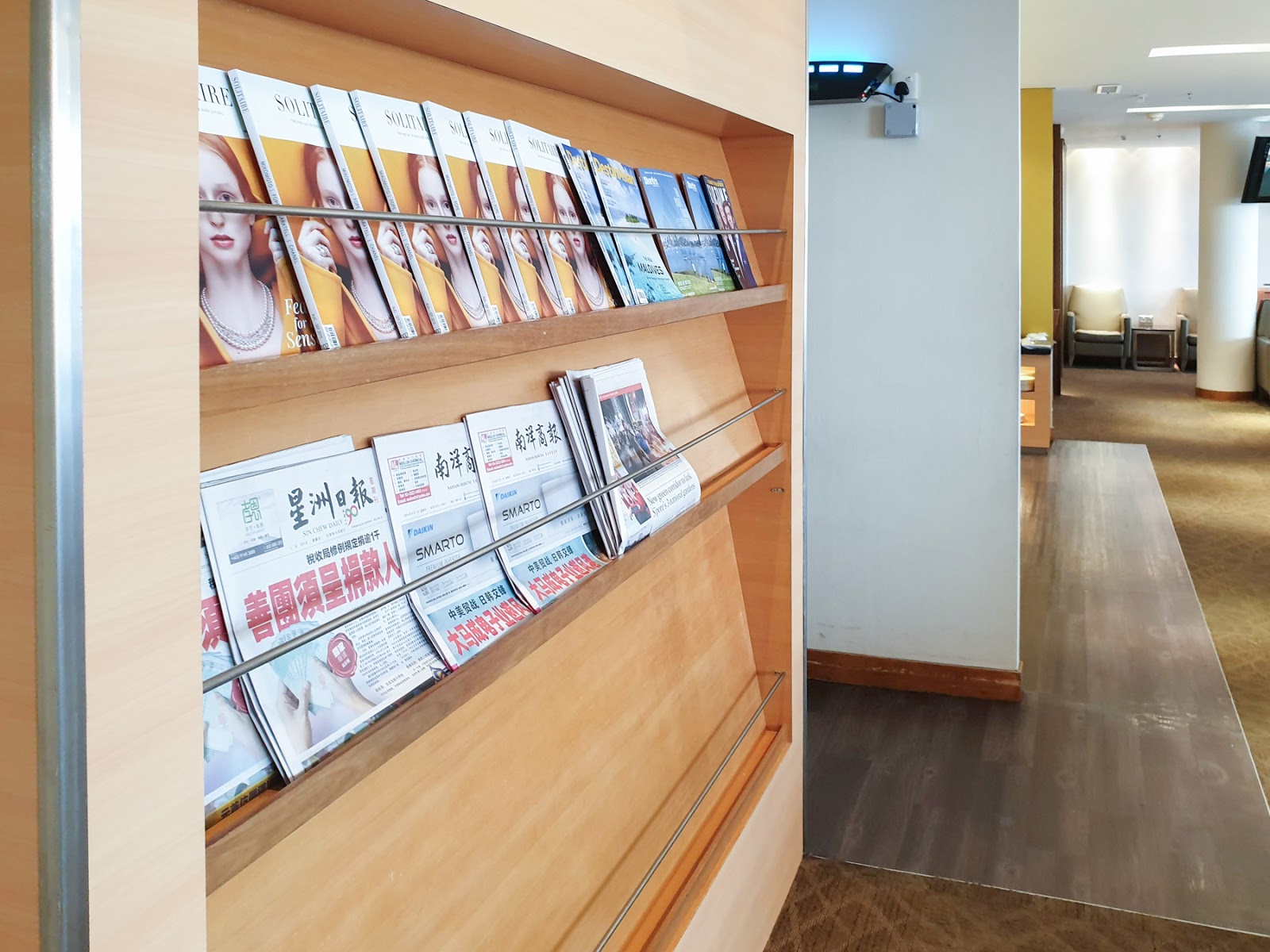 Lounge Access Options
By class of travel: Business class with Singapore Airlines, SilkAir or Star Alliance partner airlines
By frequent flyer status: Singapore Airlines KrisFlyer Elite Gold or PPS Club, Star Alliance Gold members, Velocity Gold and Platinum members travelling in any class on a Singapore Airlines or SilkAir flight.

Our Take
As you probably deduced from this report, I found the Singapore Airlines SilverKris Lounge in Kuala Lumpur to be quite disappointing, considering how good some of their other lounges are.
The food selection is basic and a lot of the cold items were presented in wasteful plastic cups rather than being a bigger bowl you could scoop from.
There aren't any shower facilities, which would be useful for those who felt sticky after spending the day in the Malaysian heat. WiFi was slow as well.
Smaller details like the rotting bananas and cracks in the armchairs just goes to show that this lounge would benefit from a revamp.
If you've got a Priority Pass membership, I would recommend you try the Plaza Premium Lounge for a greater selection of food, or even the upscale Plaza Premium First Lounge nearby, which requires a co-payment for entry but is considerably quieter and fancier.
If you hold Star Alliance Gold or are flying Singapore Airlines business class, it might be worth checking out the larger Thai Airways Lounge just opposite. From the reviews I read, the food and drink are practically identical (implying they're both being managed by Plaza Premium), but it would be a lot quieter.

What was great
Decent selection of alcoholic beverages
Excellent evening views
What was not great
Basic food options, overuse of single-use plastic
Small space that can get crowded
Popular food items not replenished
No shower facilities
Slow WiFi speeds
Singapore Airlines SilverKris Lounge Kuala Lumpur overview
was last modified:
April 28th, 2022
by