For accommodation with a different flavour than most, Mövenpick Hotel Melbourne on Spencer brings fresh variety to the Victorian hotel scene. In homage to its namesake, a daily Chocolate Hour delivers unlimited sweet treats. And, let's be honest, that 60-minute ceiling is surely for the best!
But there's more to these walls than chocolate alone. Step inside as we explore Mövenpick's modern Melbourne sanctuary.
Hotel location and first impressions
As its name suggests, Mövenpick Hotel Melbourne on Spencer sits on Spencer Street in the city's CBD. It also resides on the corner of Bourke Street. This puts it in a great position for access to Southern Cross Station, including for the SkyBus to Melbourne Airport.
A tram stop on Bourke Street – served by the 86 and 96 routes – makes it easy to head east across the CBD as well. Being within Melbourne's Free Tram Zone, you can jump on and off within the city: no ticket, Myki or credit card required.
Check-in is swift, especially as an elite member of Accor Live Limitless (ALL).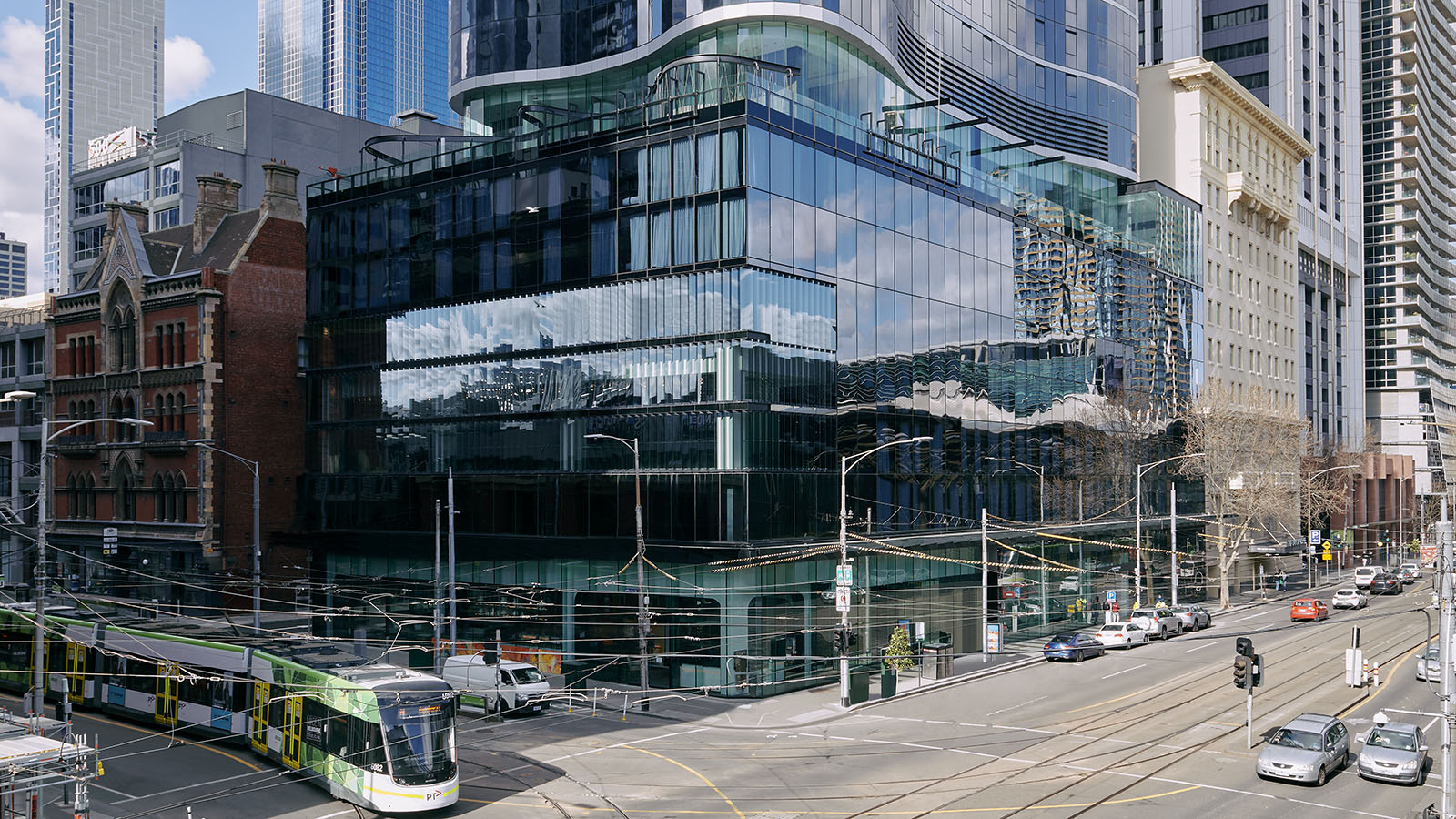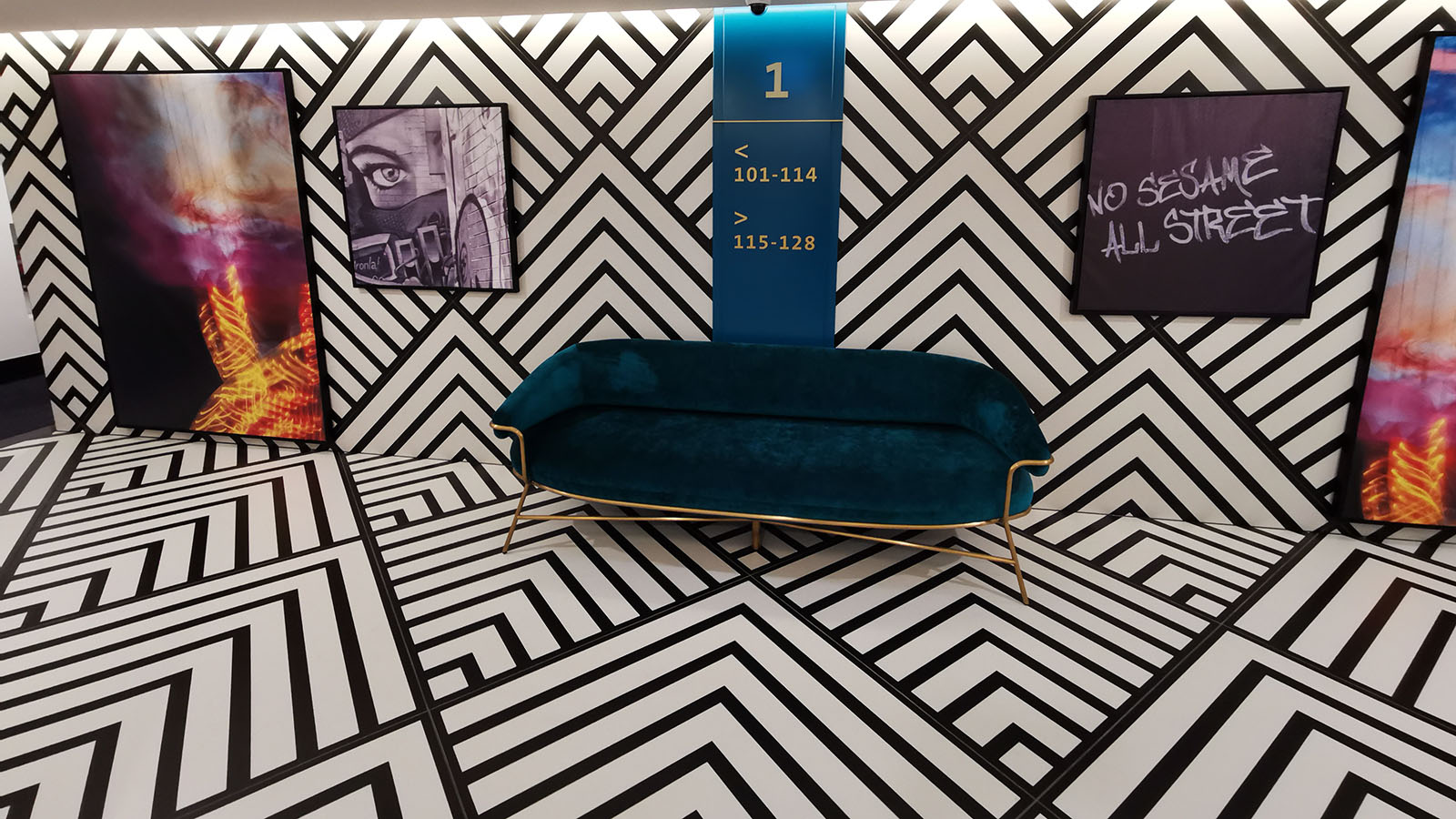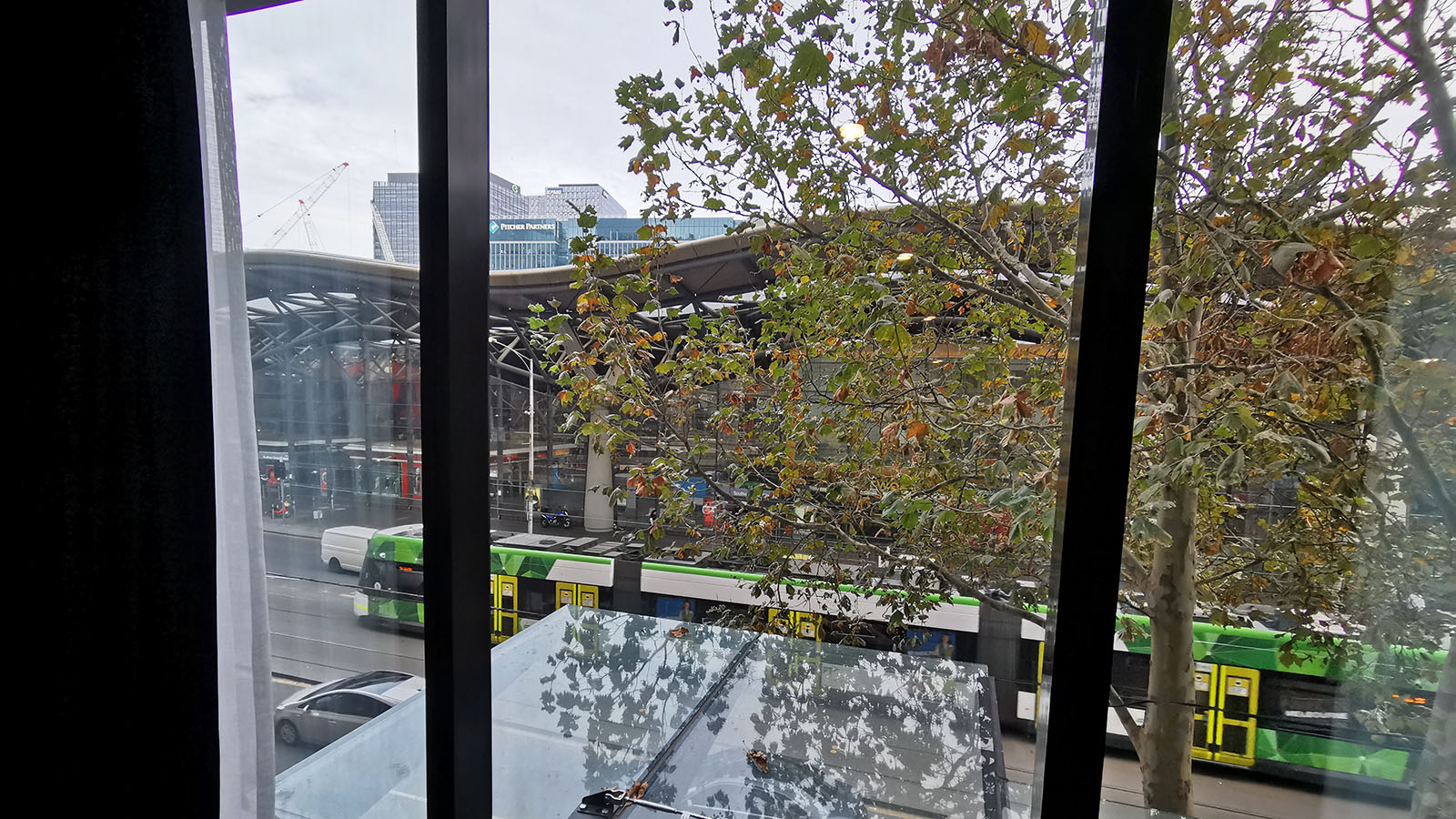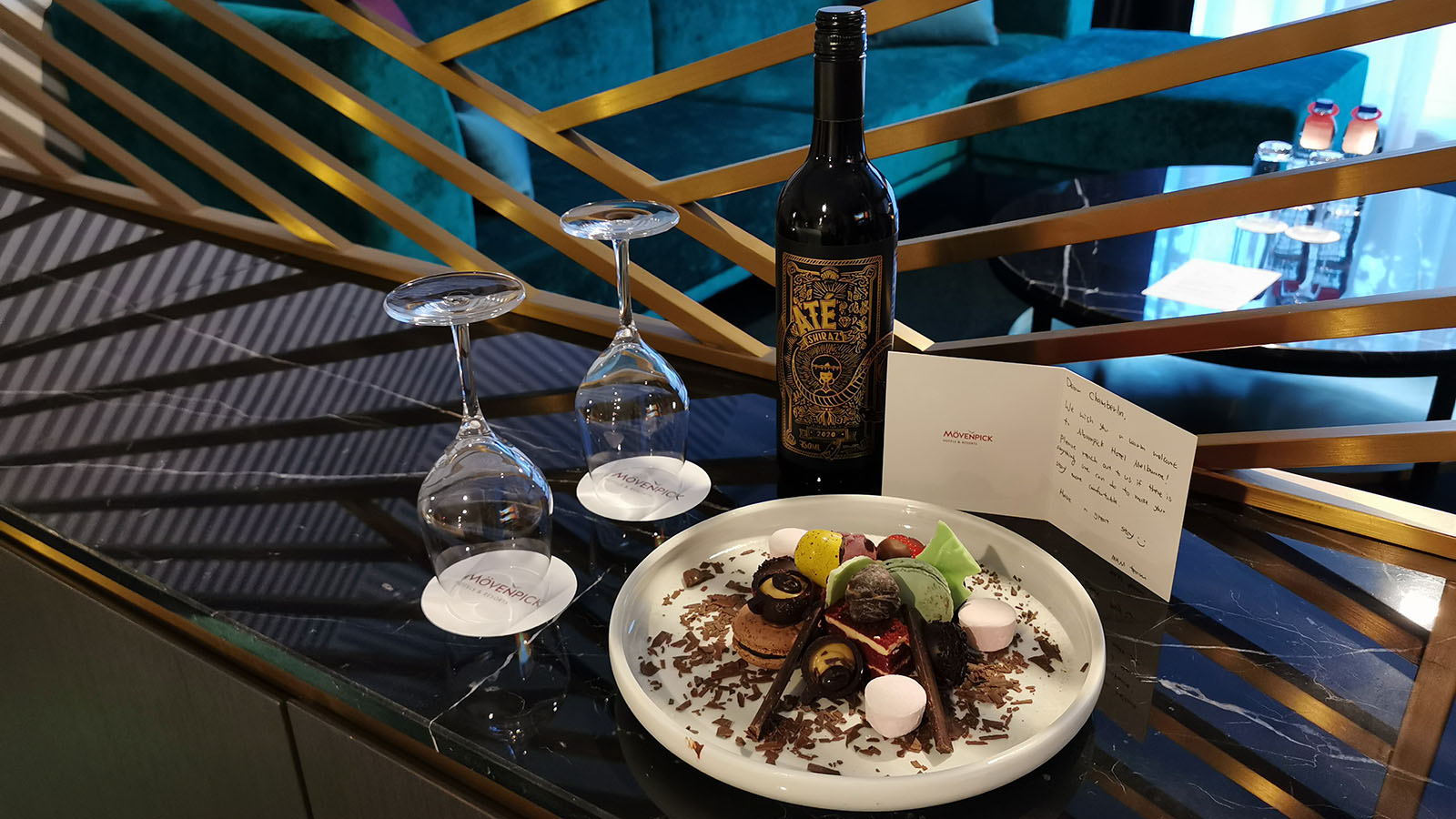 With a key in hand, it's straight up to my room. But along the way, I can't help but notice the hotel's funky corridors. Just be warned, each floor looks the same, so it's very easy to step out on the wrong floor if the lift stops and you're not paying attention. Yes, I speak from experience there…
My suite sits along Spencer Street, with a view directly towards Southern Cross. It's great to be so close to the hustle and bustle, with the occasional 'ding' of the passing trams being so very Melbourne.
In the room, a welcome gift awaits, befitting of ALL's unpublished 'Limitless' tier (the secret level above ALL Diamond). And it certainly provides a taste of what's to come at Melbourne's chocolate hotel.
Mövenpick Hotel Melbourne on Spencer's Superior Suite
Lucking out with a Superior Suite, Mövenpick Hotel Melbourne on Spencer certainly brings with it a distinct flair. Even the carpet toggles colours depending on the light. Navy blue during the day and more of a teal with the bedside lights switched on.
Rooms are unashamedly bold, colourful – and in this Superior Suite, suitably spacious. With a central divider, it feels more like a two-room apartment than a hotel. You can spend your days on one side, and your nights on the other.
Extra touches like Chromecast support on the TV and easily accessible power points at the desk make for a real home away from home. The minibar comes fully stocked as well. But with Mövenpick renowned for its own chocolate, the standard Nestlé powder here does seem like a missed opportunity to sip more Mövenpick.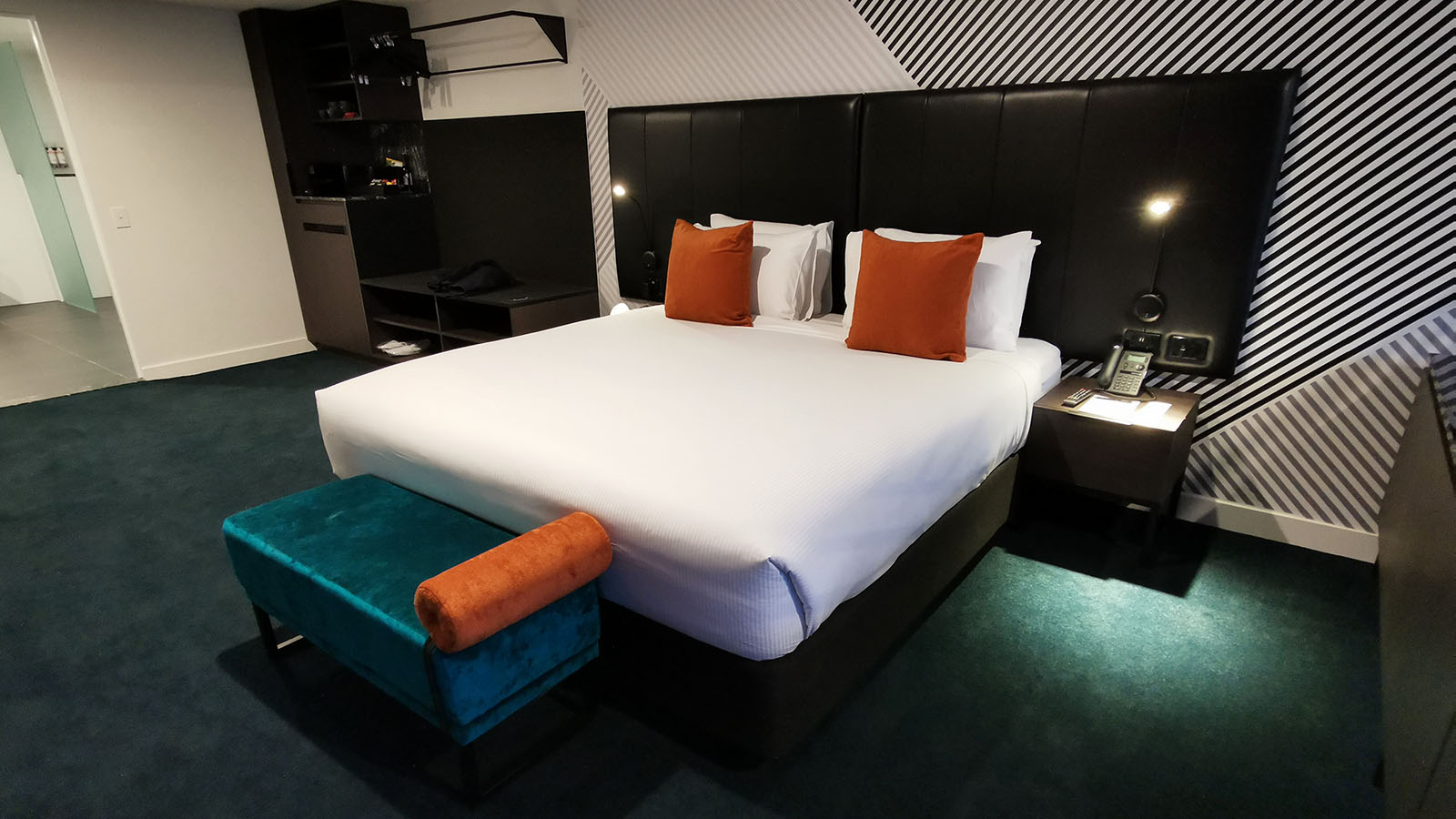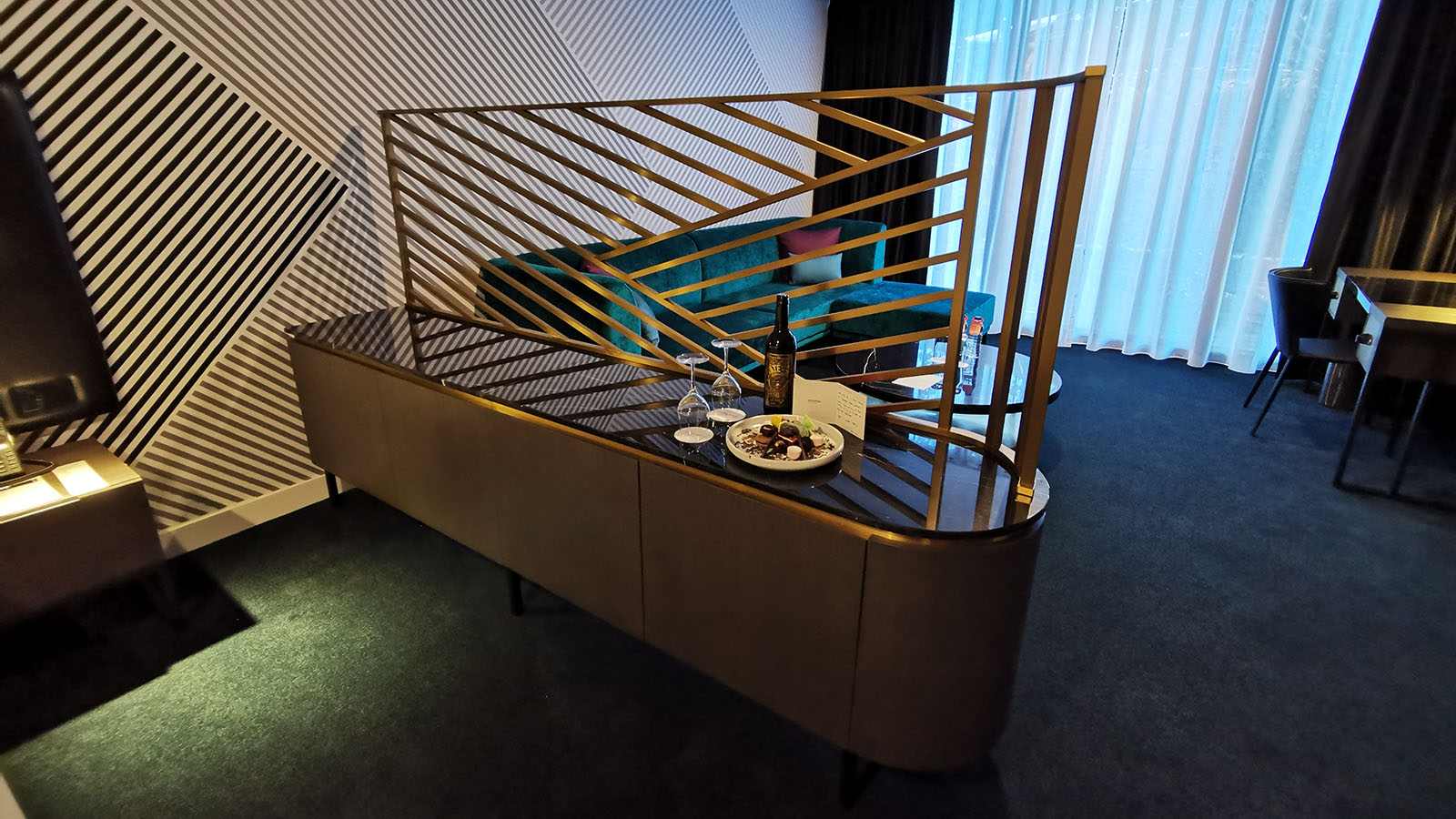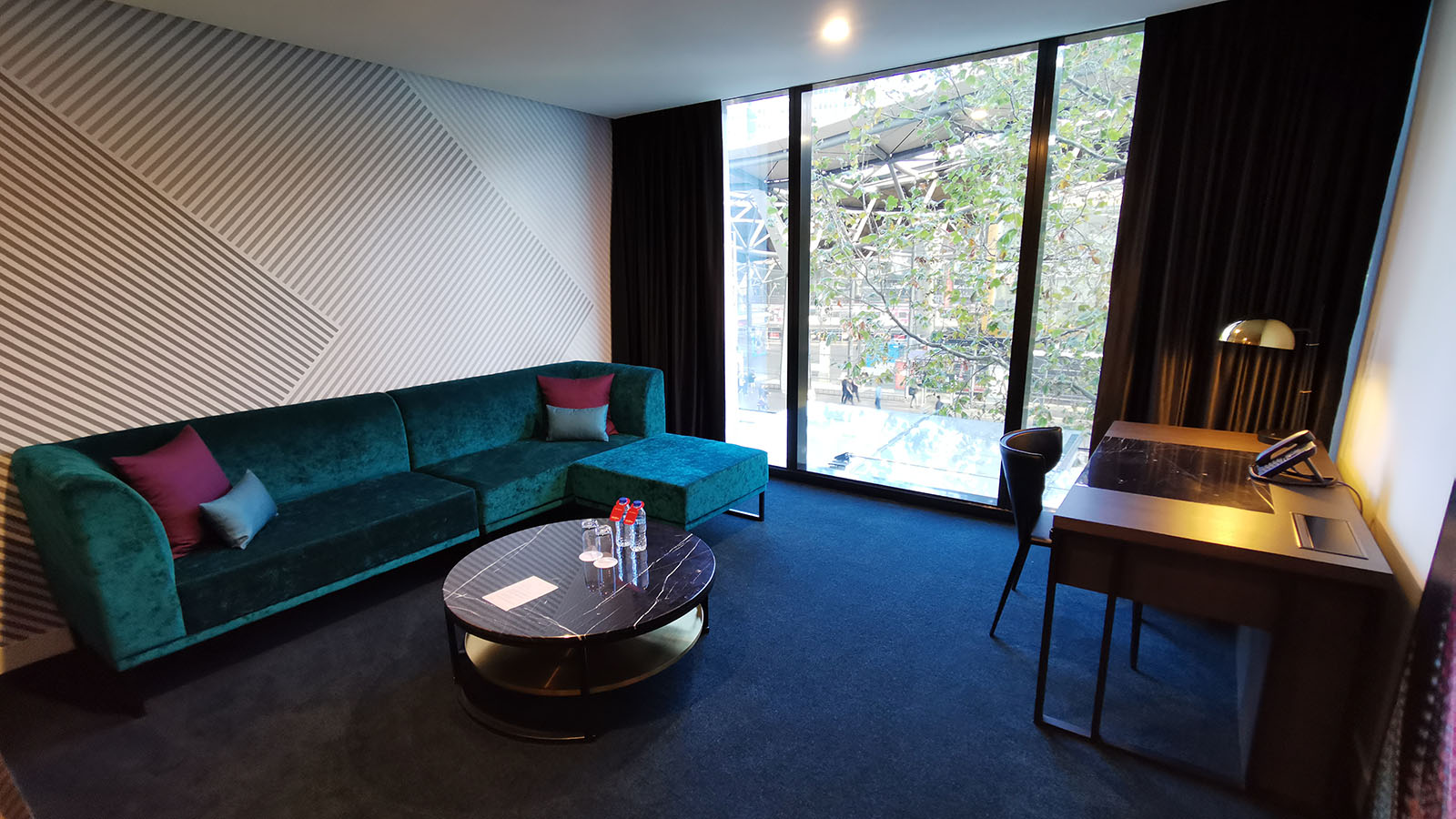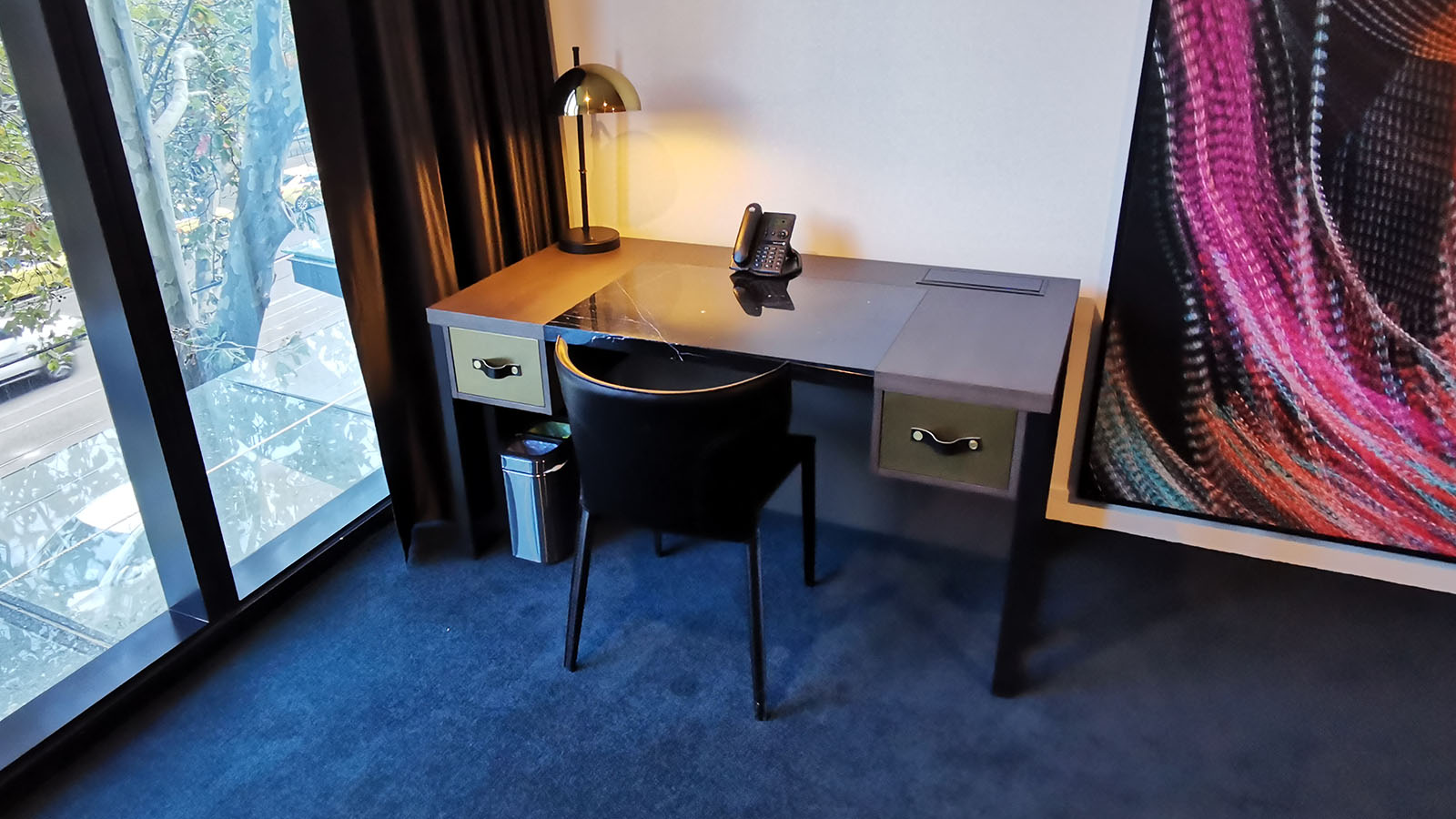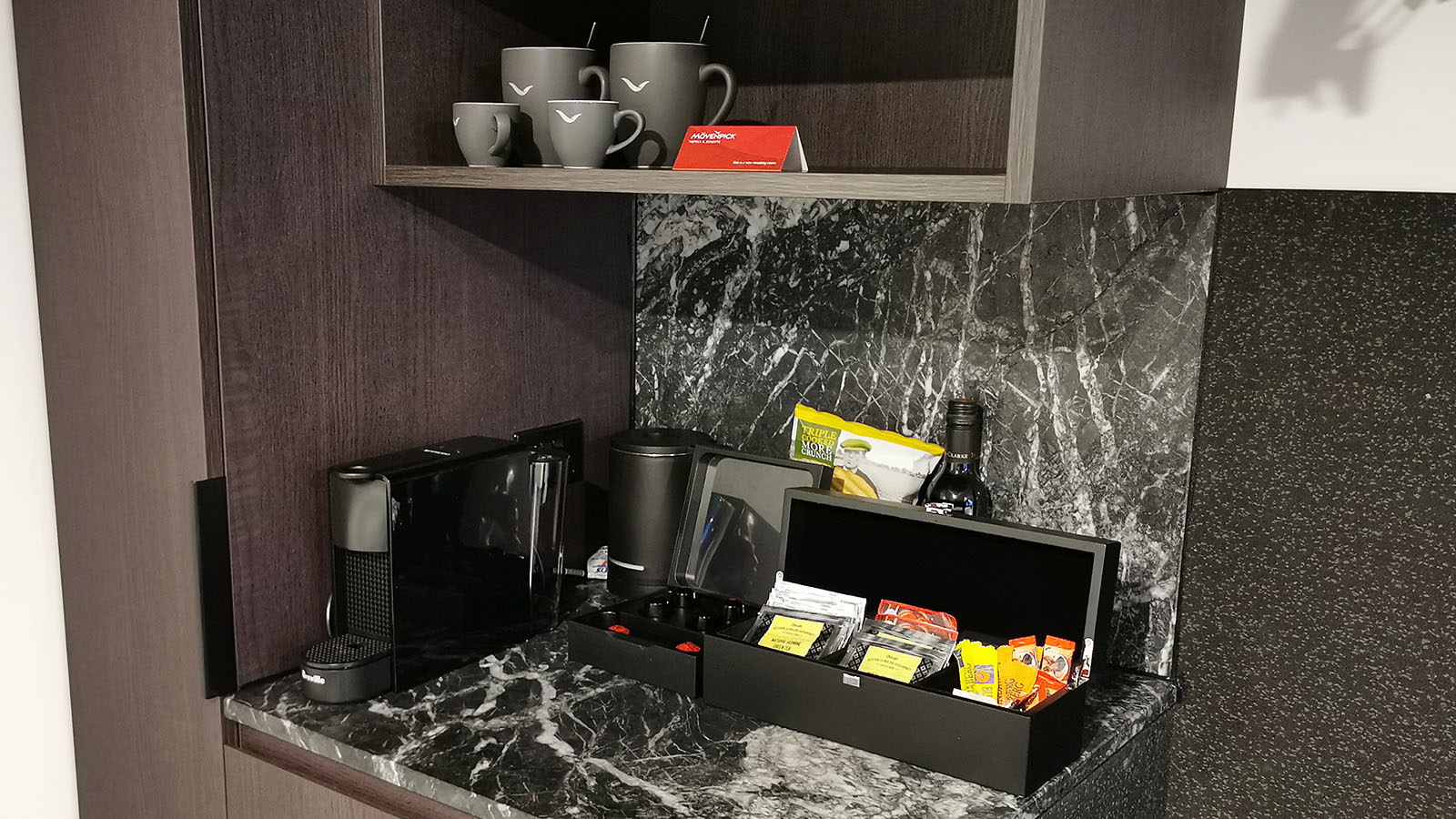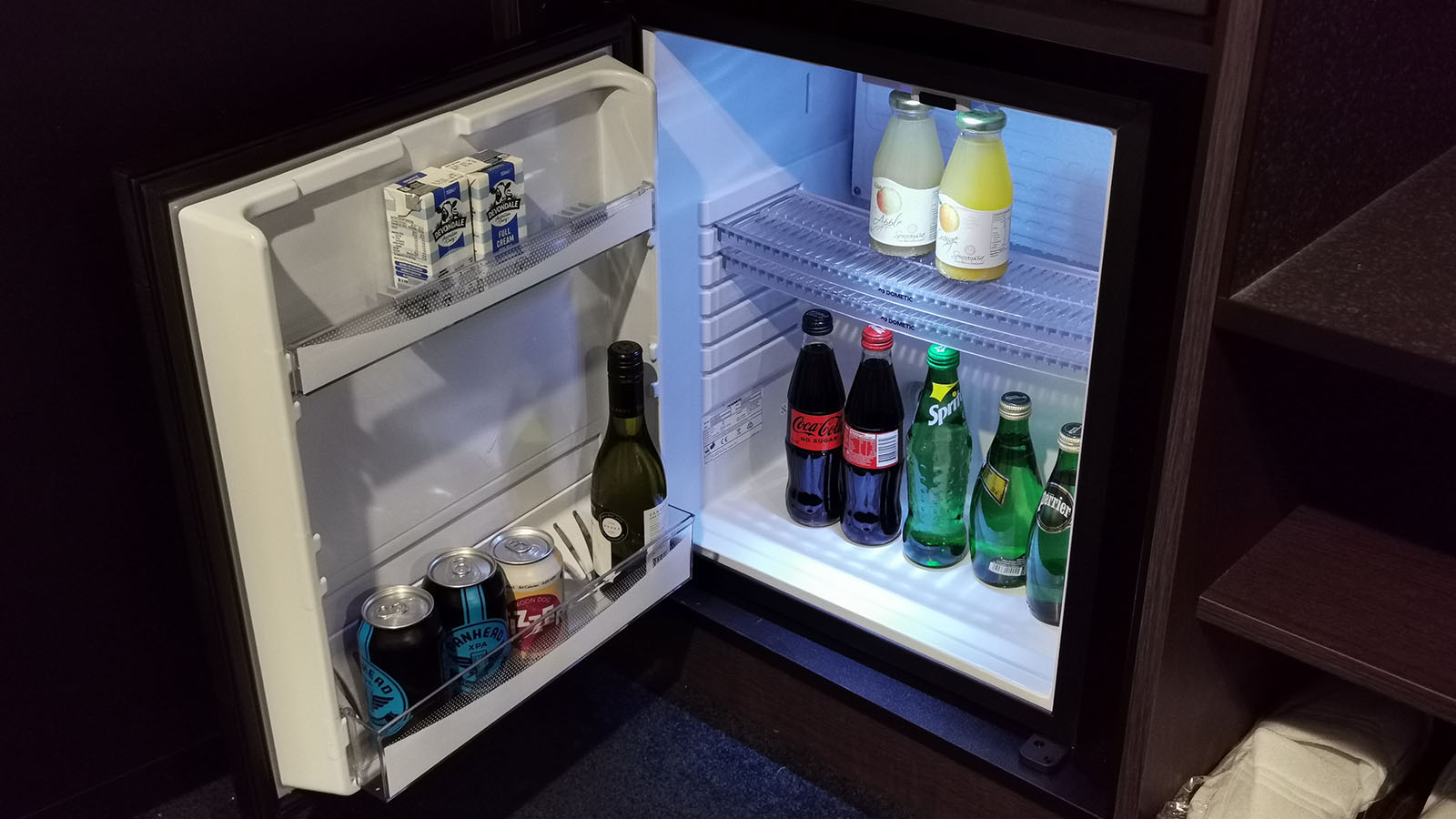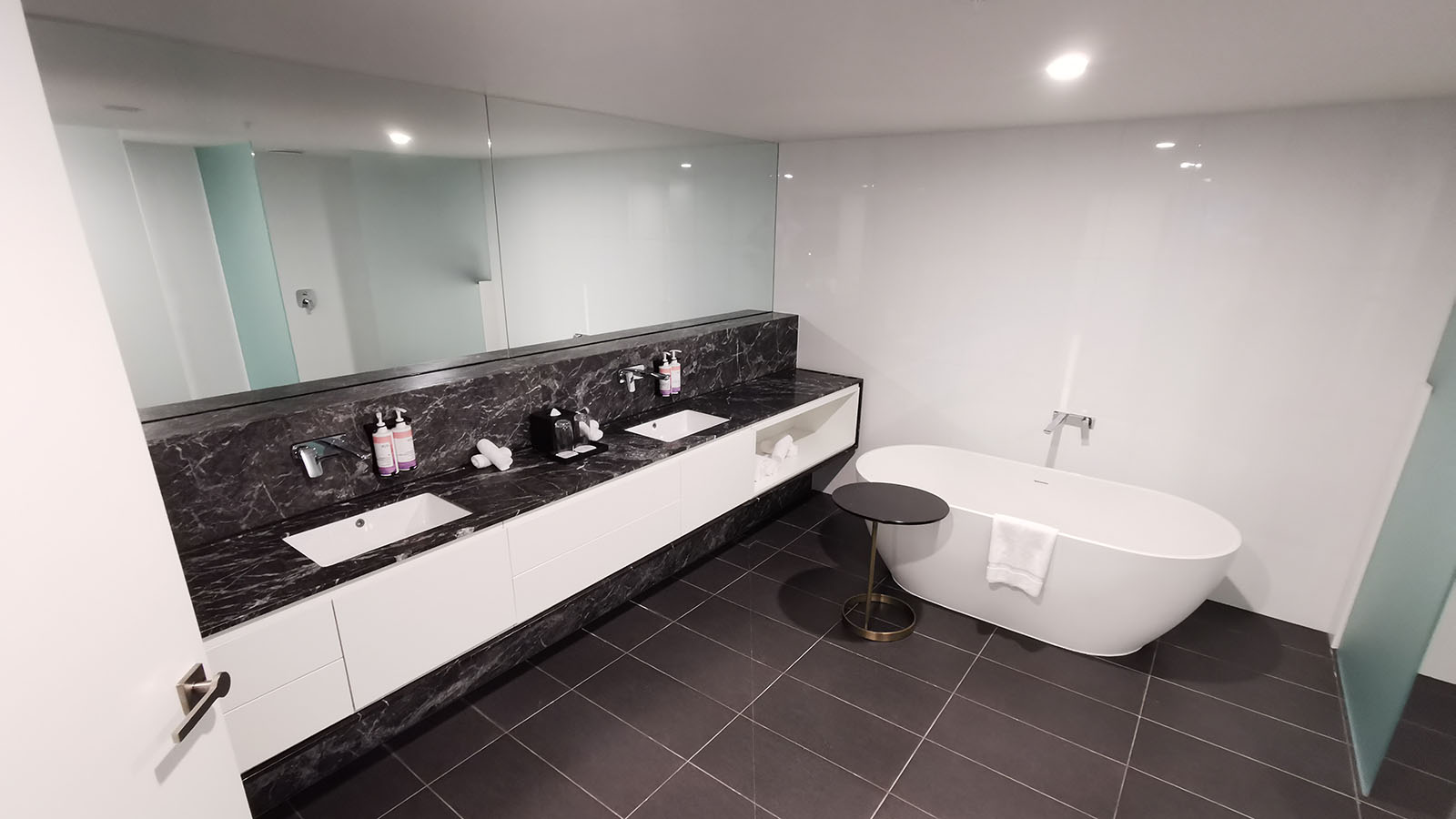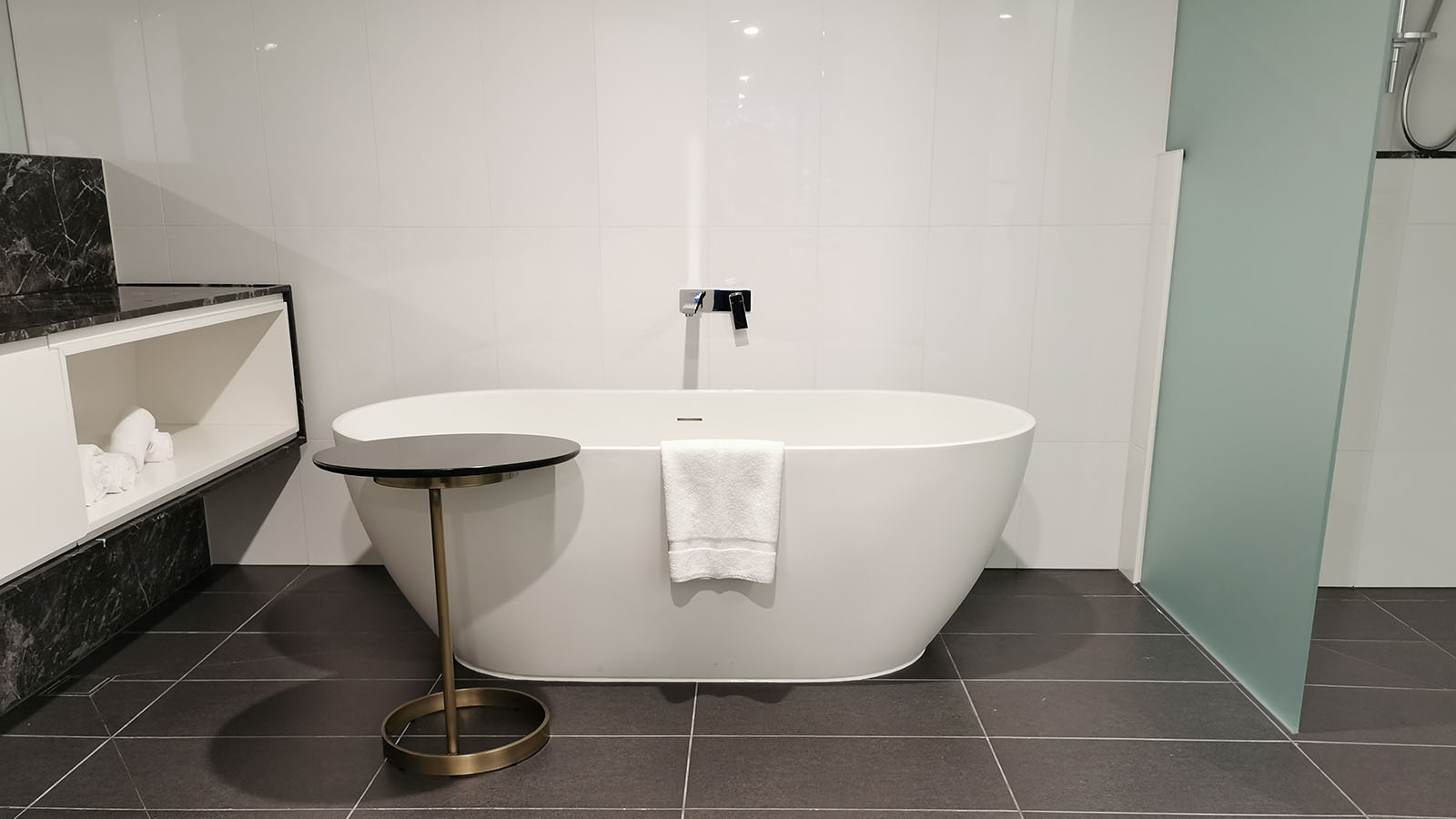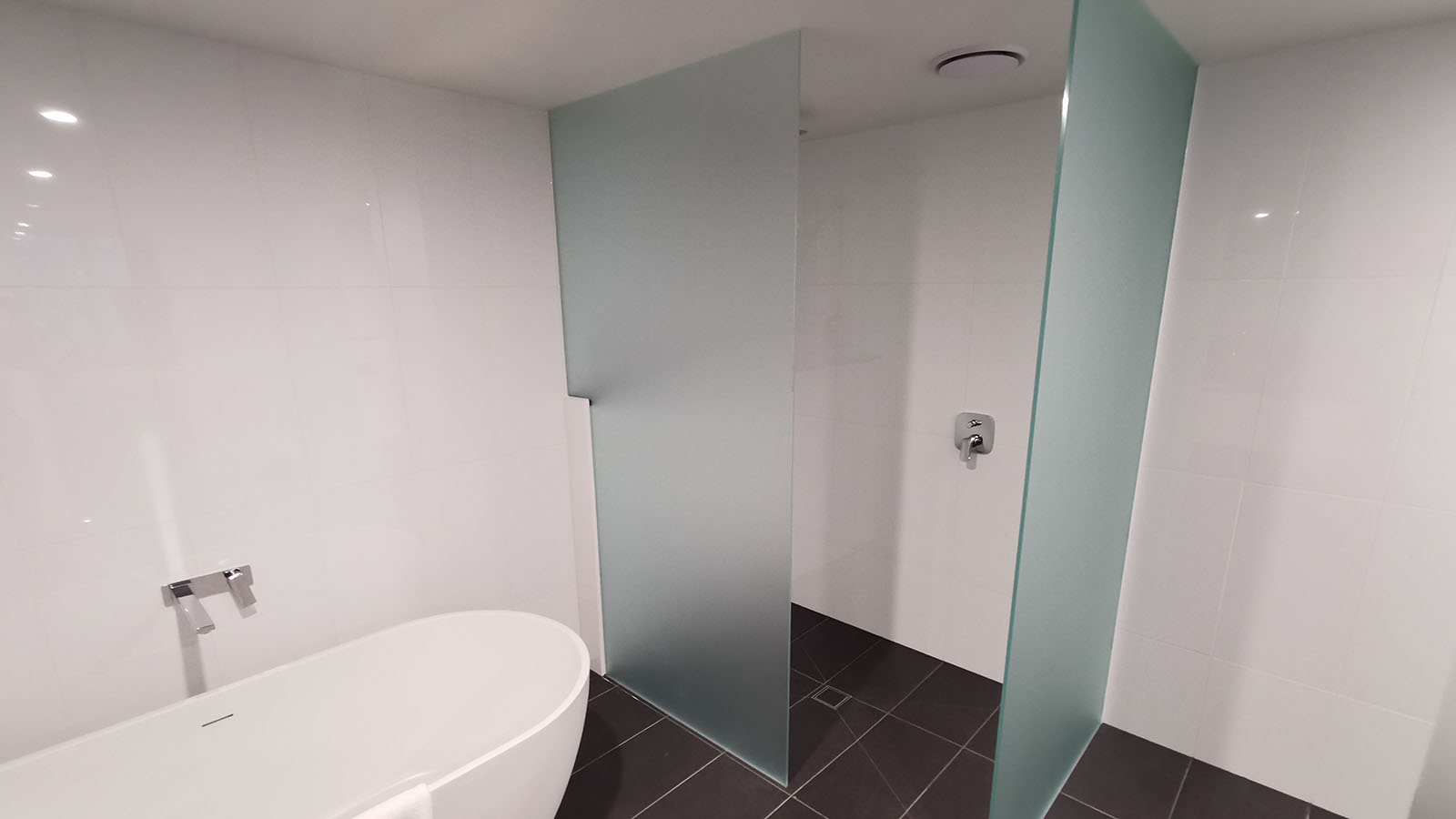 Opening the door to the bathroom reveals a pleasingly cavernous space. Complete with double sinks, travelling with a partner is effortless when you're both trying to get ready.
A little more colour would really elevate the bathroom, though. The current white, silver and black theme could be any hotel bathroom at any global chain: nothing quite screams 'Mövenpick'.
Toiletries are environmentally friendly with wall-mounted pumps. That's great for the shower and sink but does leave the bath wanting. Settling into the tub finds nothing within reach. That is unless you run laps between the bath and shower every time you need a pump of soap, shampoo or conditioner.
These are, of course, minor and relatively easy aspects to tweak. On the whole, you'll still be glad you booked a Superior Suite.
Dining at Mövenpick Hotel Melbourne on Spencer
Eating and drinking at Mövenpick Hotel Melbourne on Spencer centres around Miss Mi Restaurant & Bar. Start the day right with a solid barista-made coffee and comprehensive hot breakfast. Take your pick from the buffet – if you're not tempted to try a little of everything, of course.
Positioned on the Bourke Street side of the building, you're right among the bustle of the city. Later in the day, return here for lunch or dinner. Or swing by and use your complimentary drink voucher, provided on check-in for Accor Live Limitless Silver members and above.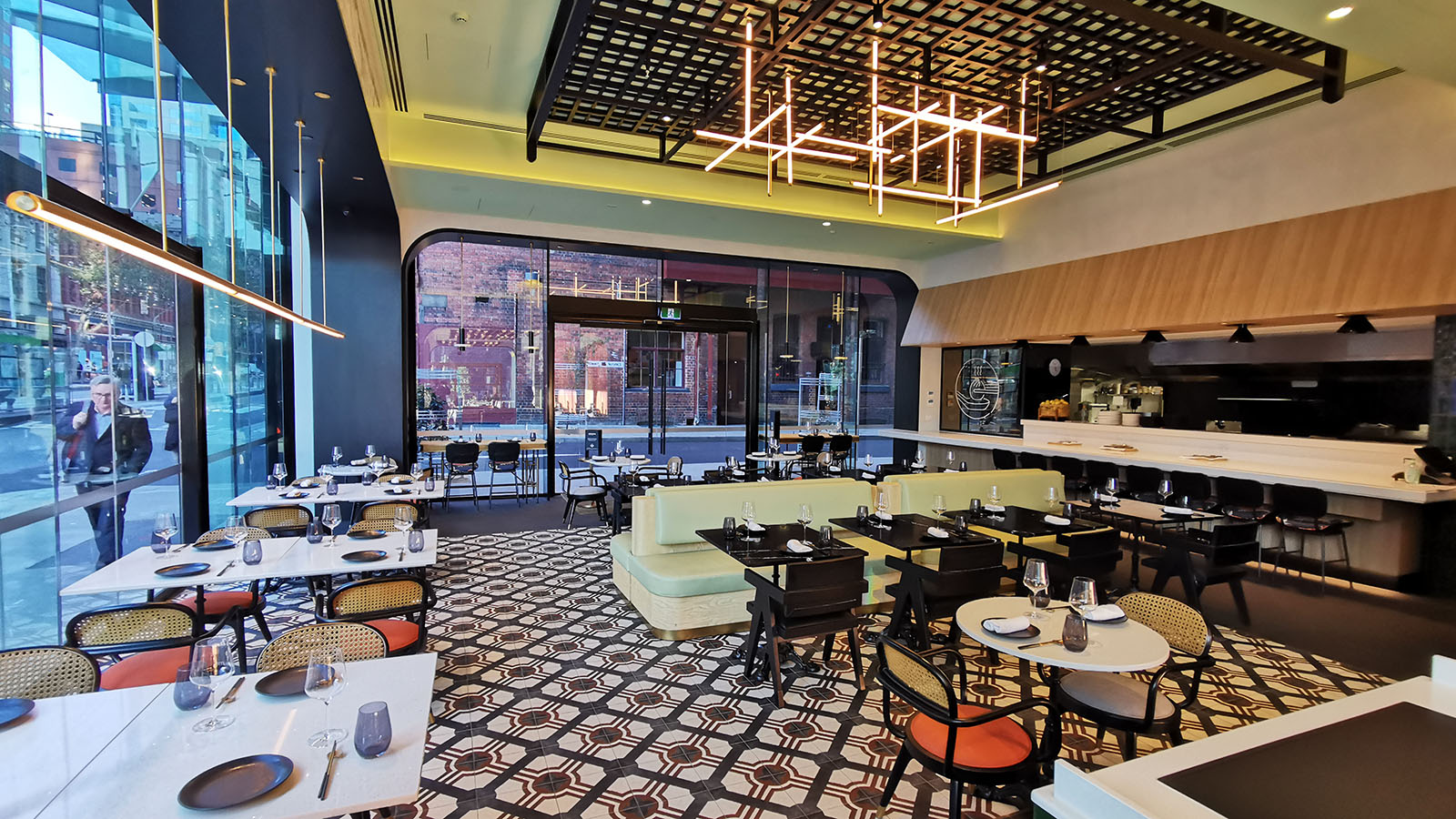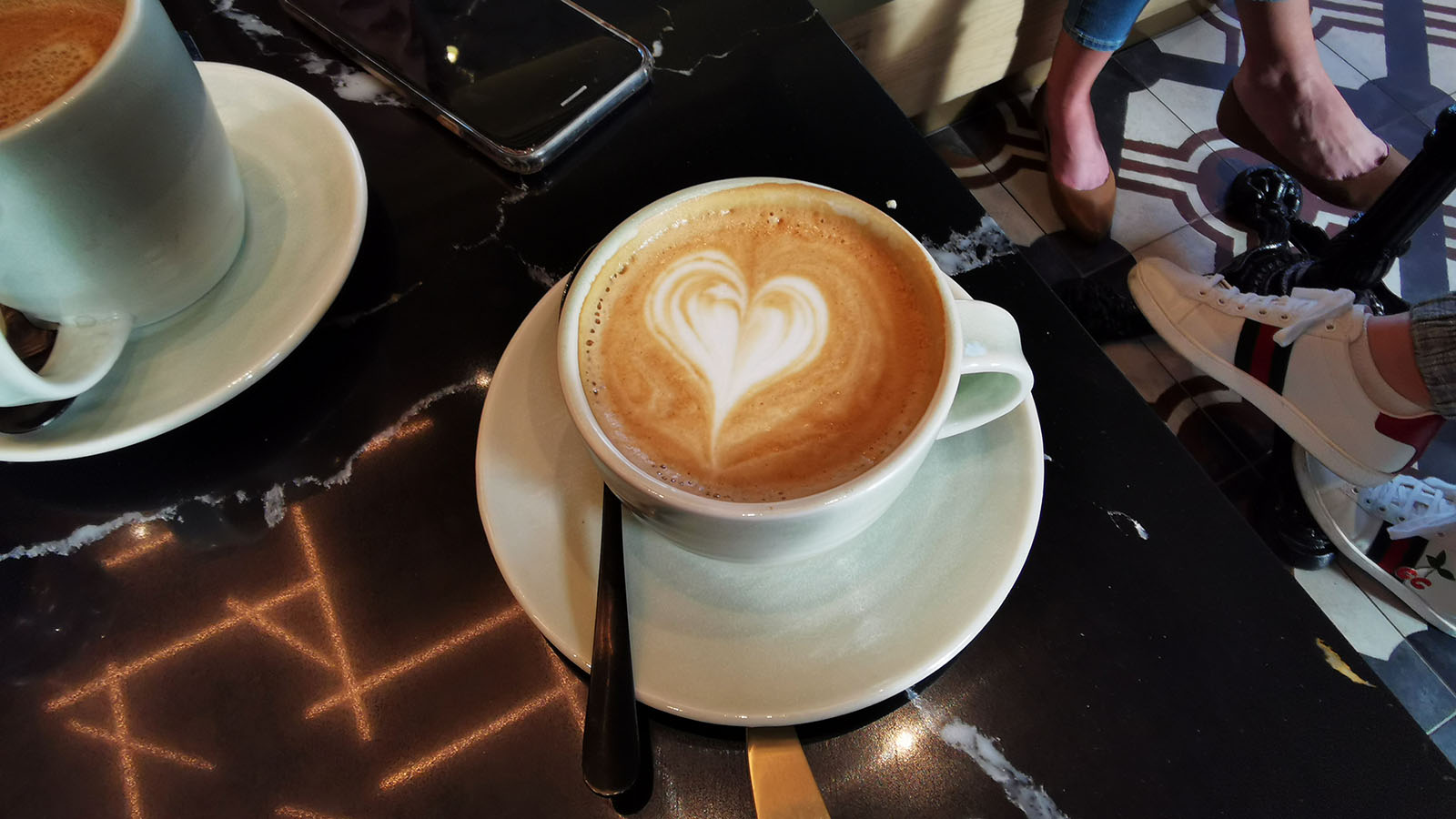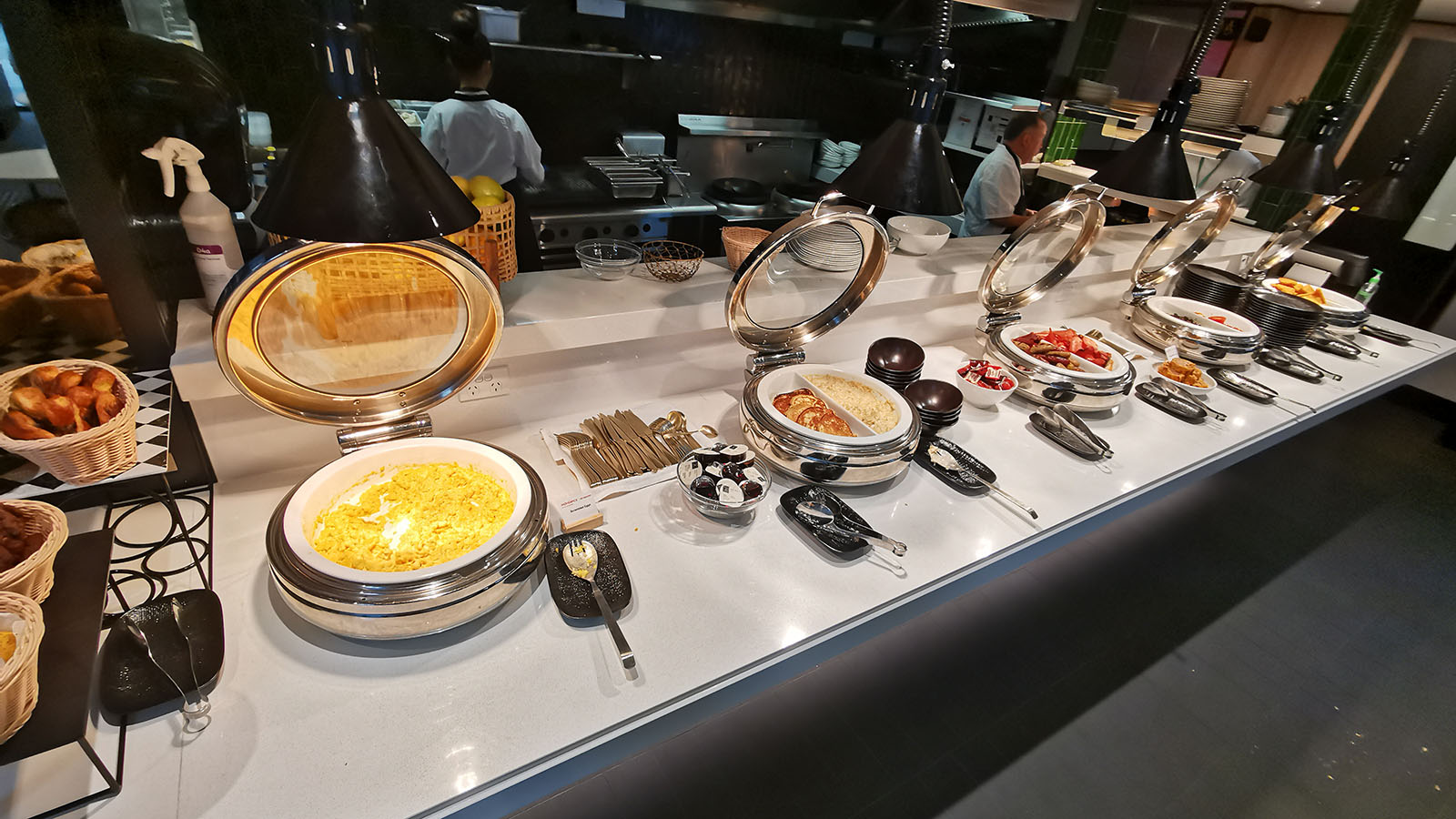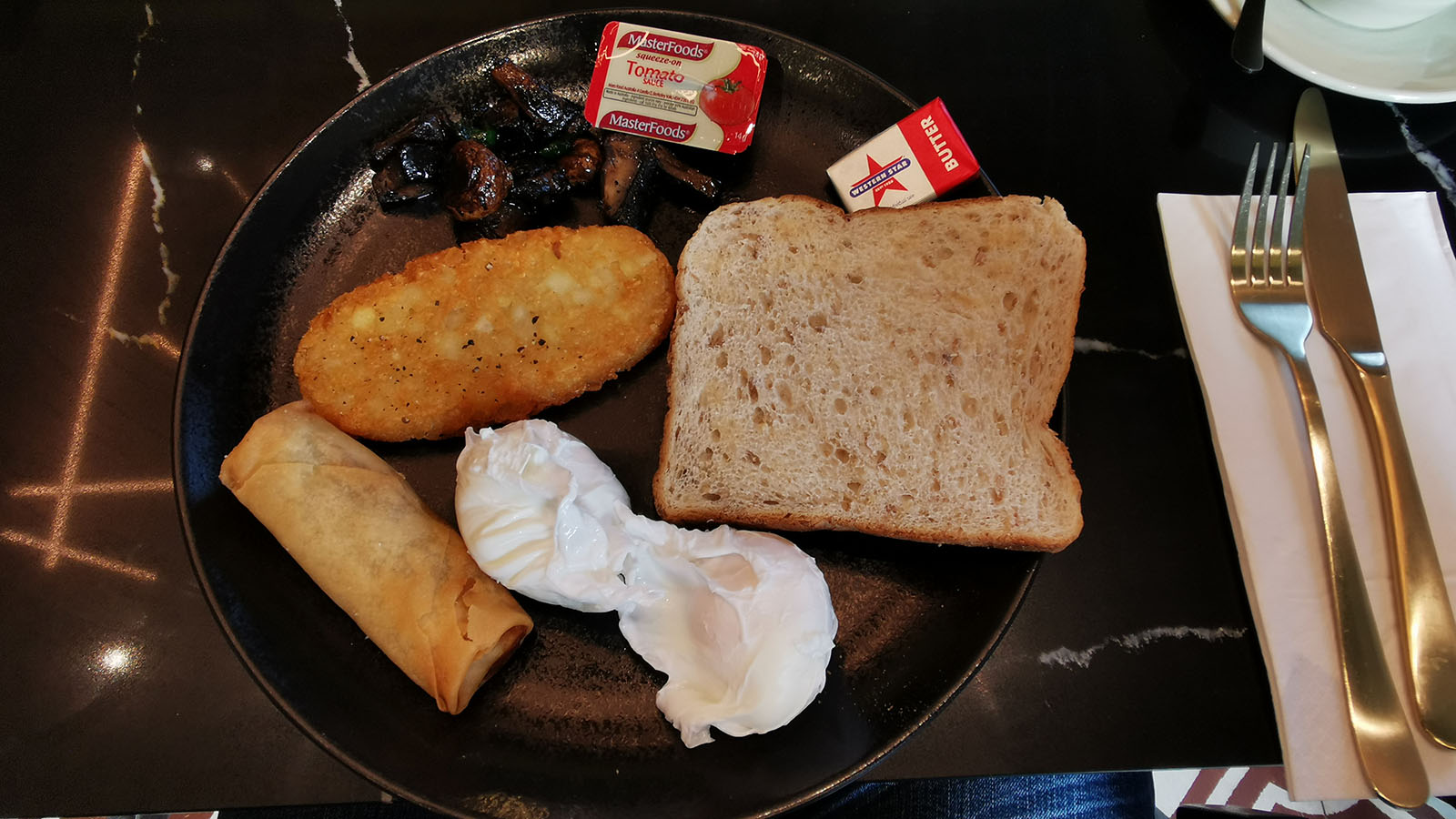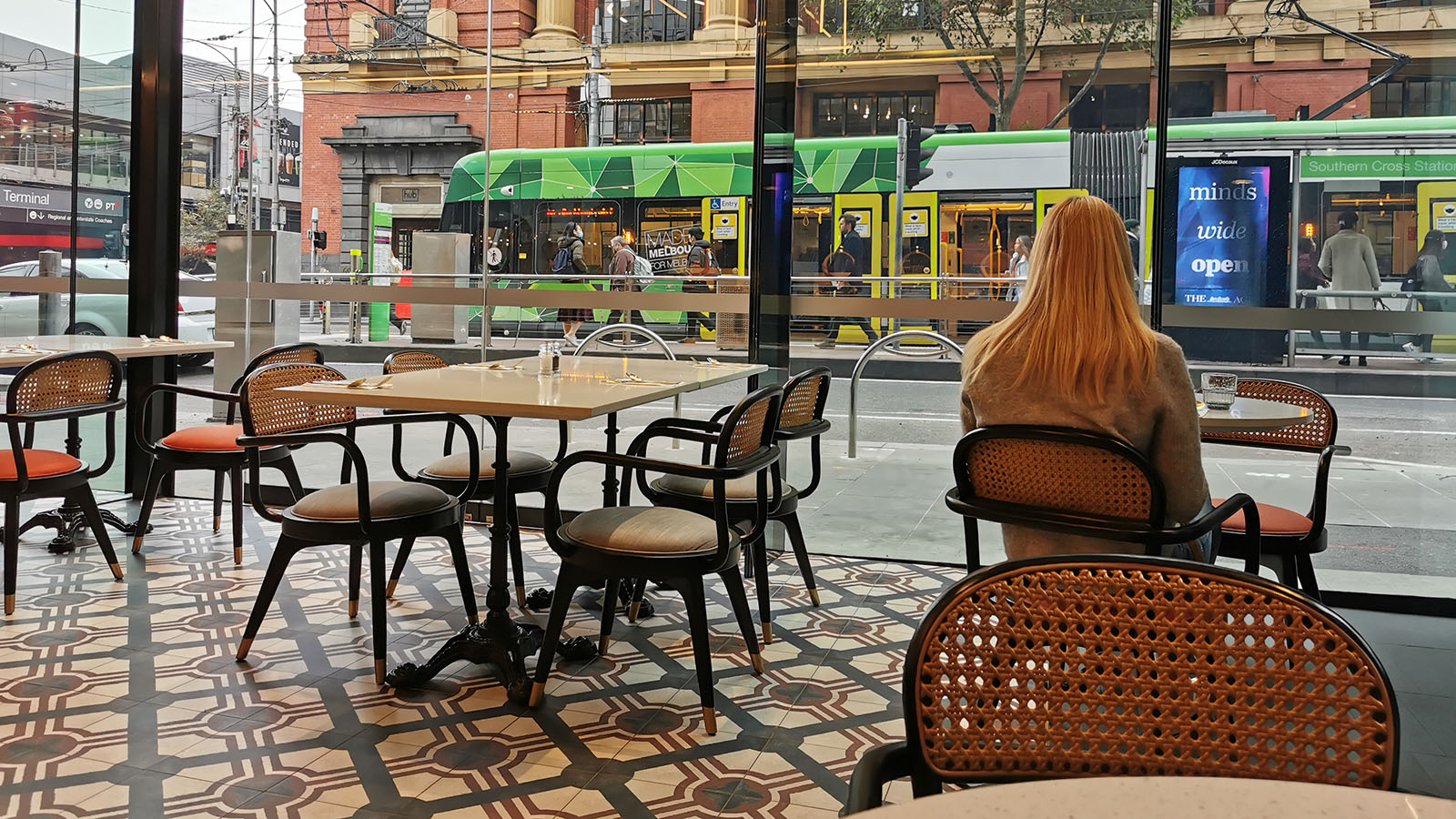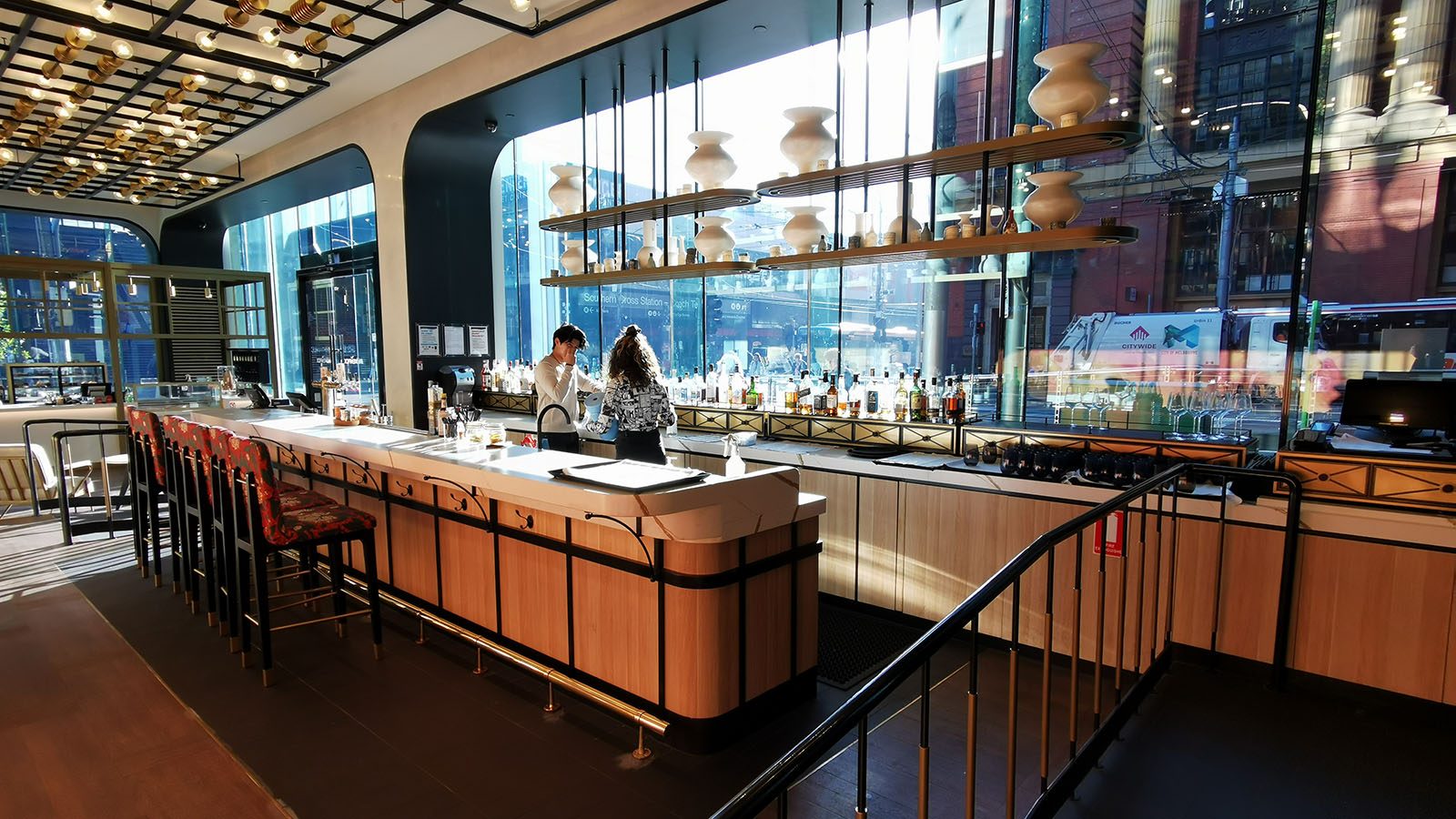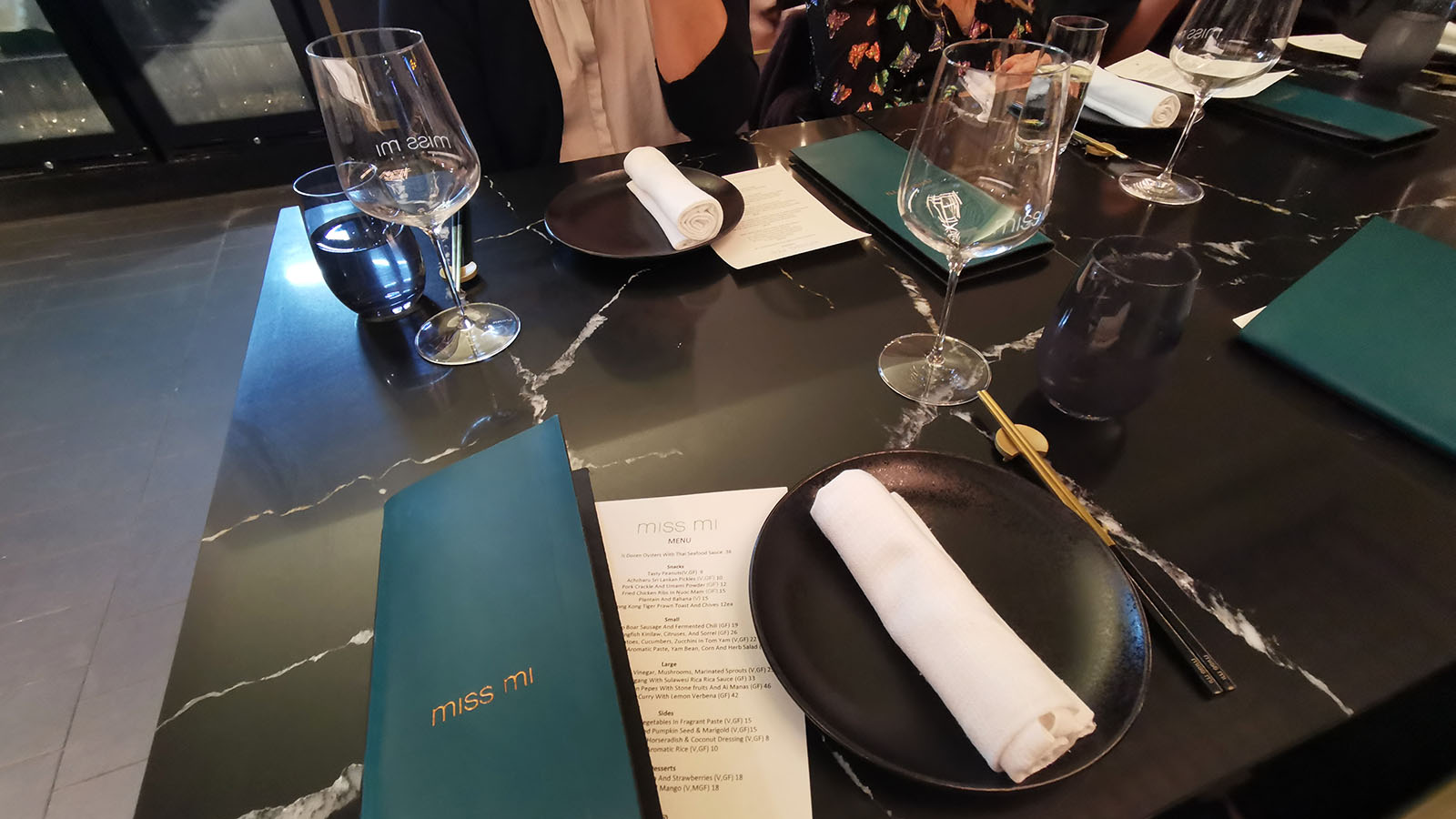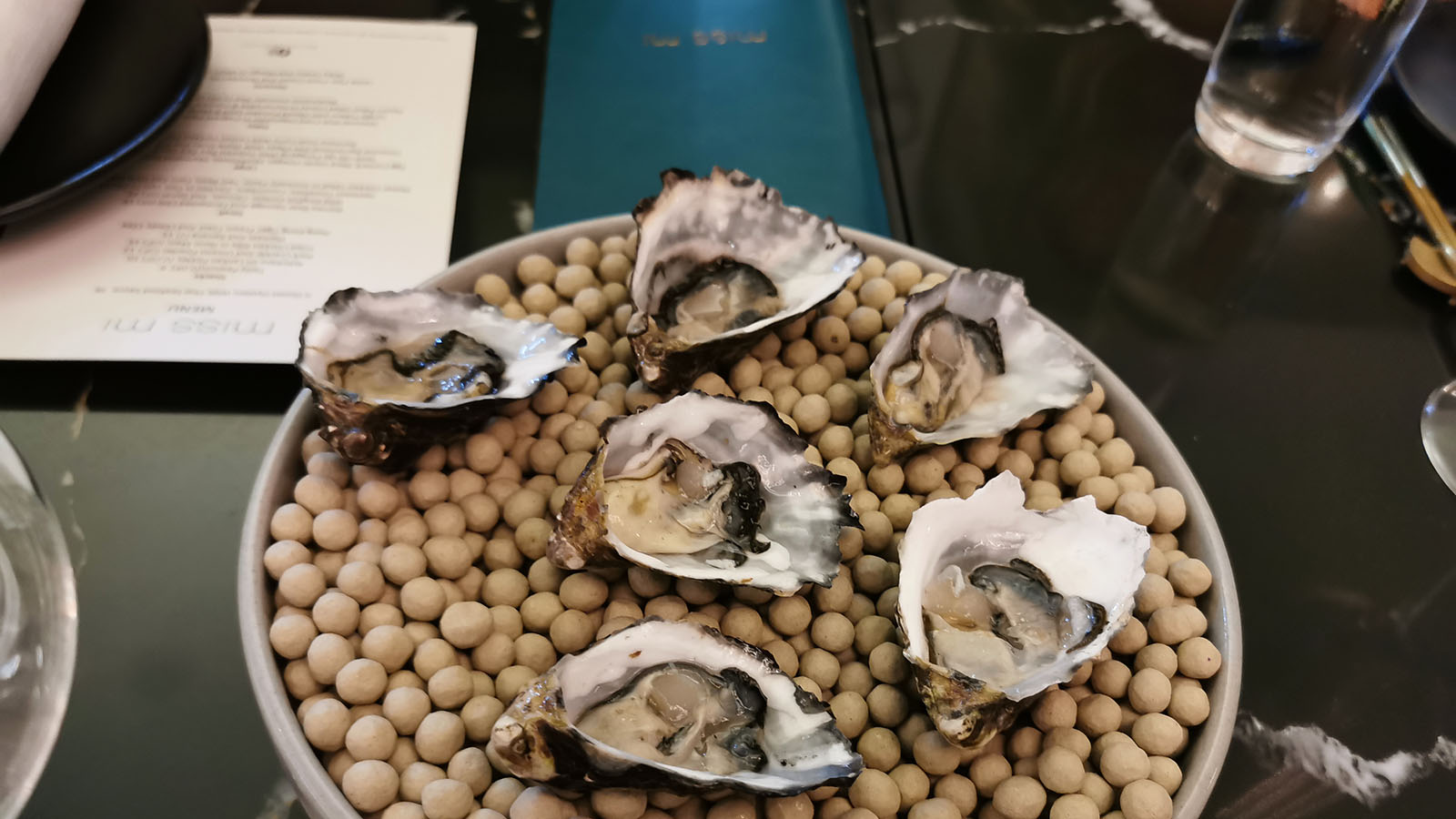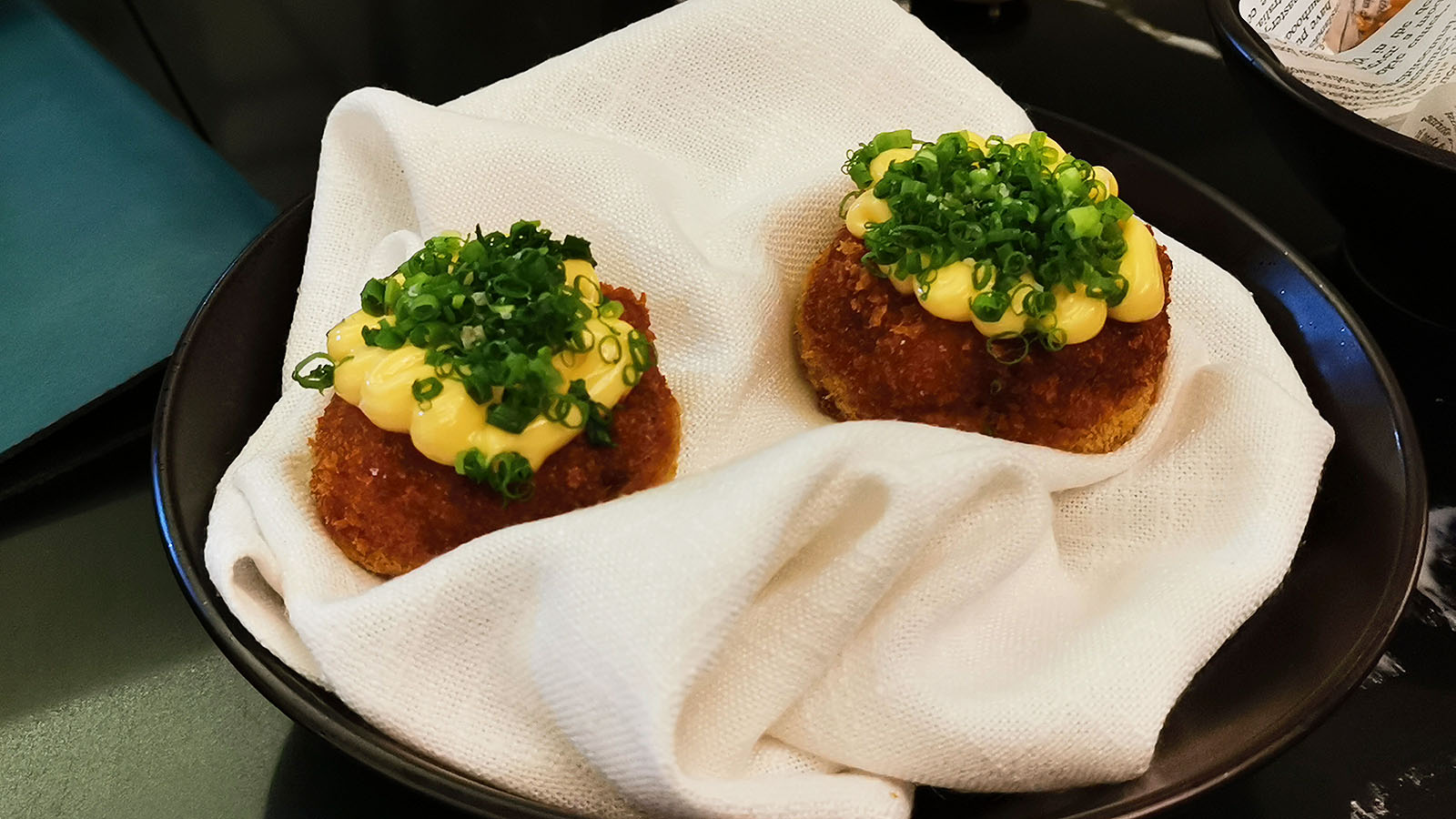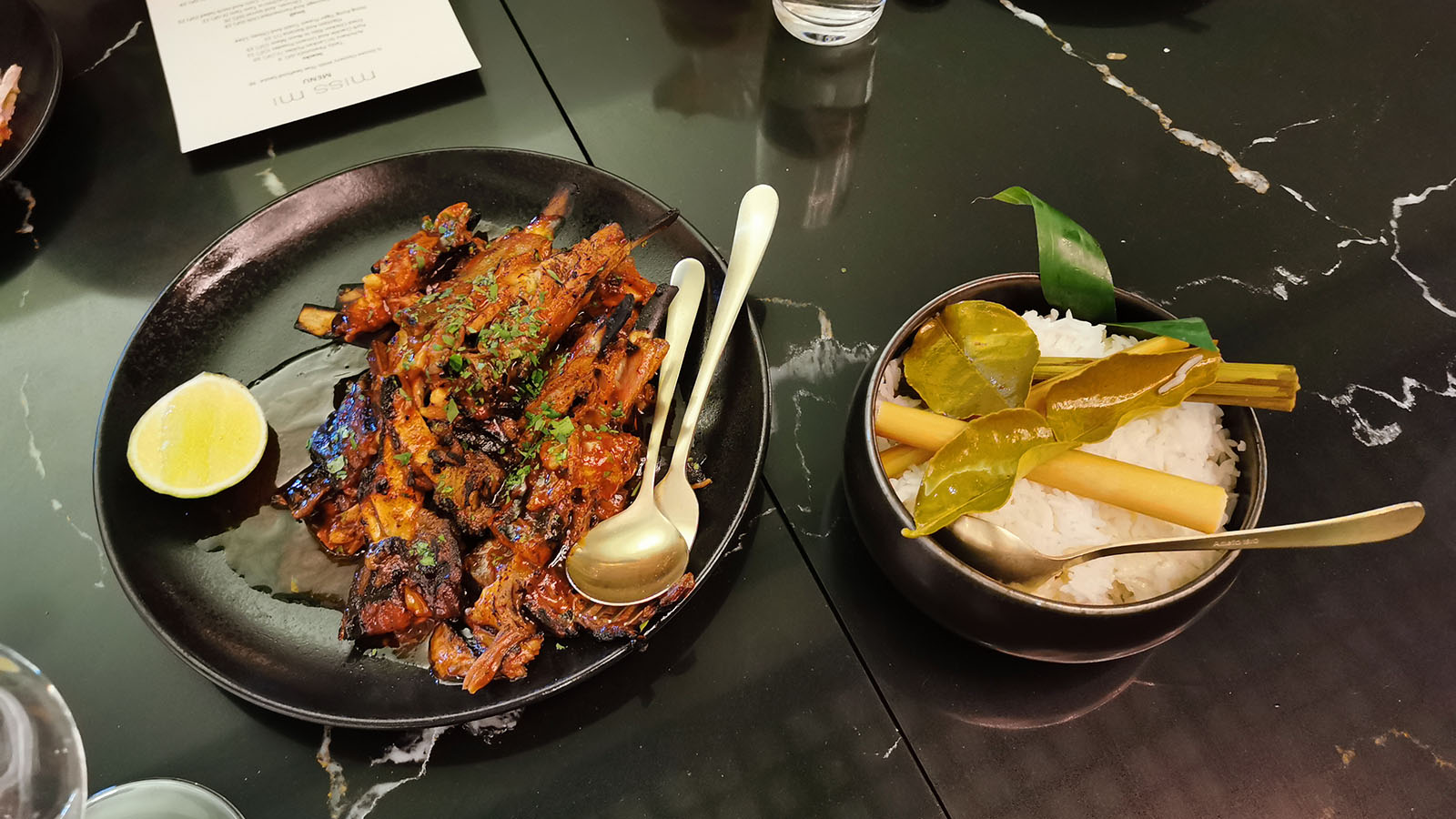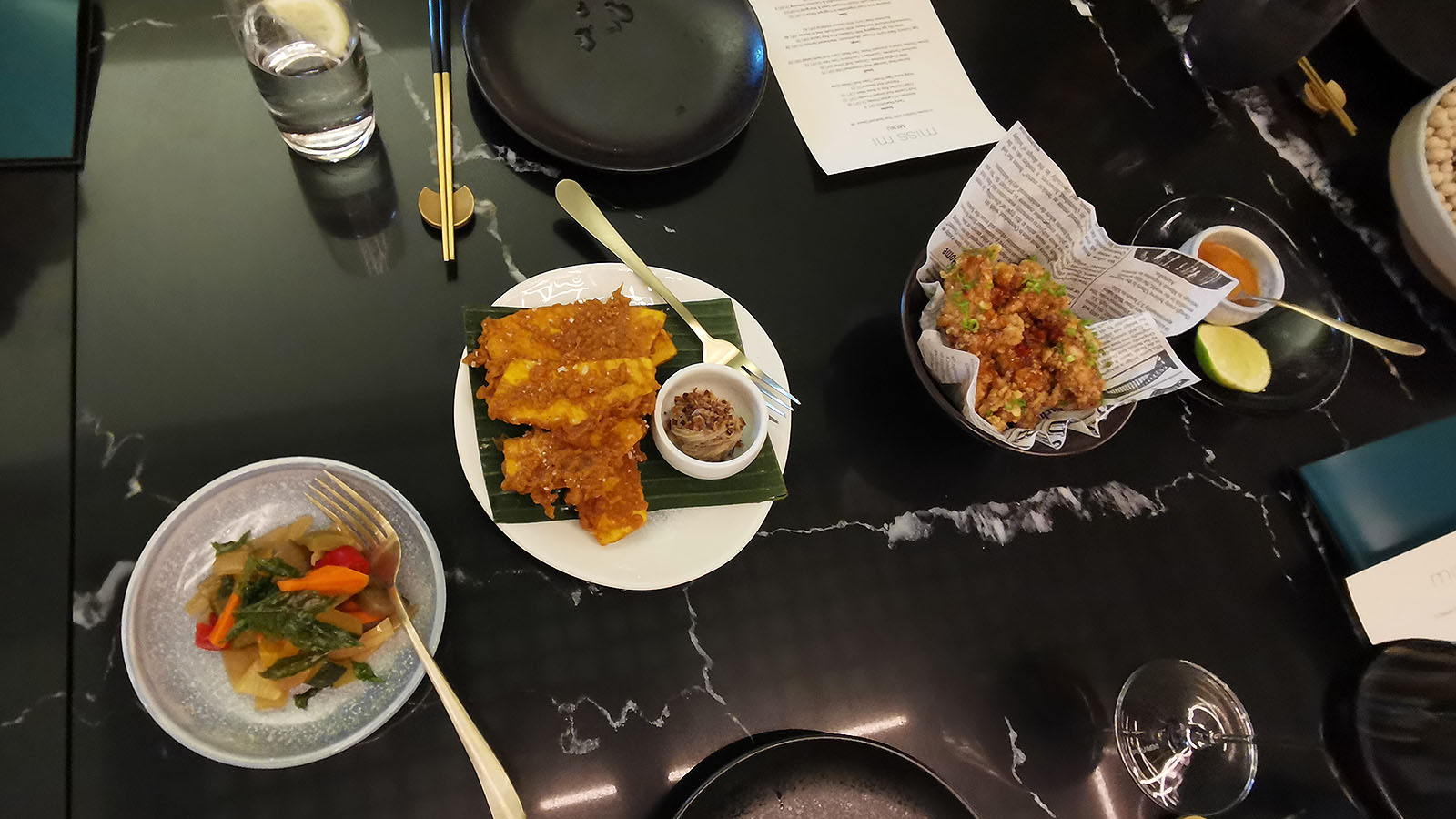 Miss Mi also participates in Accor Plus, giving eligible travellers up to 50% off their dining bill. It's a great program, with membership also complimentary for American Express Platinum and Centurion cardholders.
Stopping by for dinner finds a menu with options perfect for sharing. The oysters with Thai seafood sauce are a fresh bite to begin with, and to enjoy among friends. But it's the next starter – Hong Kong tiger prawn toast with chives – that's my favourite nibble of the night. It's perfect in every respect.
For something spicier, try the lamb rips with Sulawesi Rica-Rica sauce. They certainly have a real kick, and go well with the (tamer) aromatic rice.
Facilities at Mövenpick Hotel Melbourne on Spencer
Given Miss Mi's focus on Asian cuisine, we know what you're wondering. Where is the chocolate at Mövenpick Hotel Melbourne on Spencer? Don't fret. But do make it to the lobby between 3:30-4:30 pm each day for Chocolate Hour.
That's Mövenpick speak for 'please indulge'. Help yourself to whatever you like, and as much as you like – you've earned it. Just try to behave and refrain from licking the walls, as tempting as that may be when you've practically walked into the Wonka Chocolate Factory.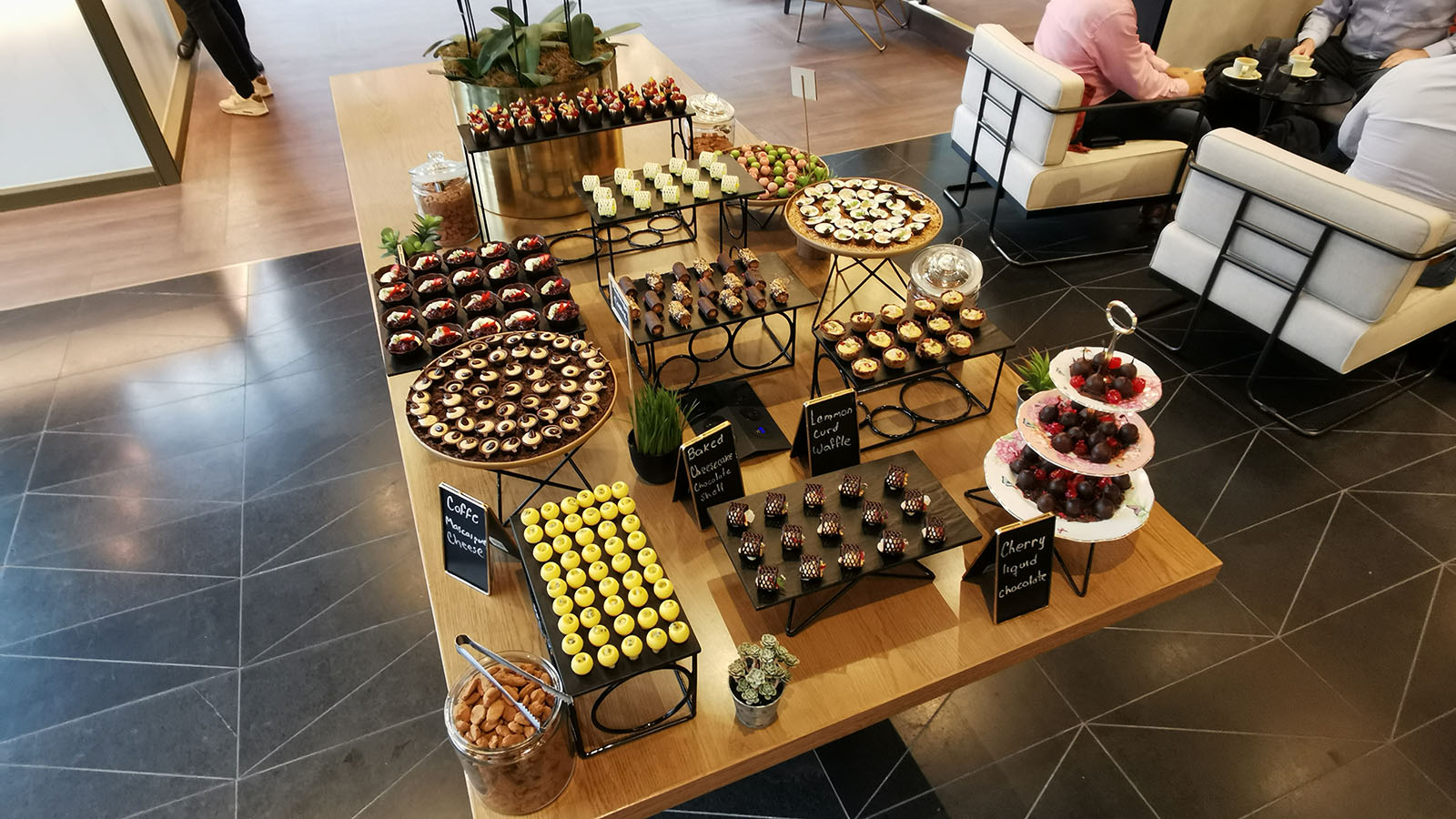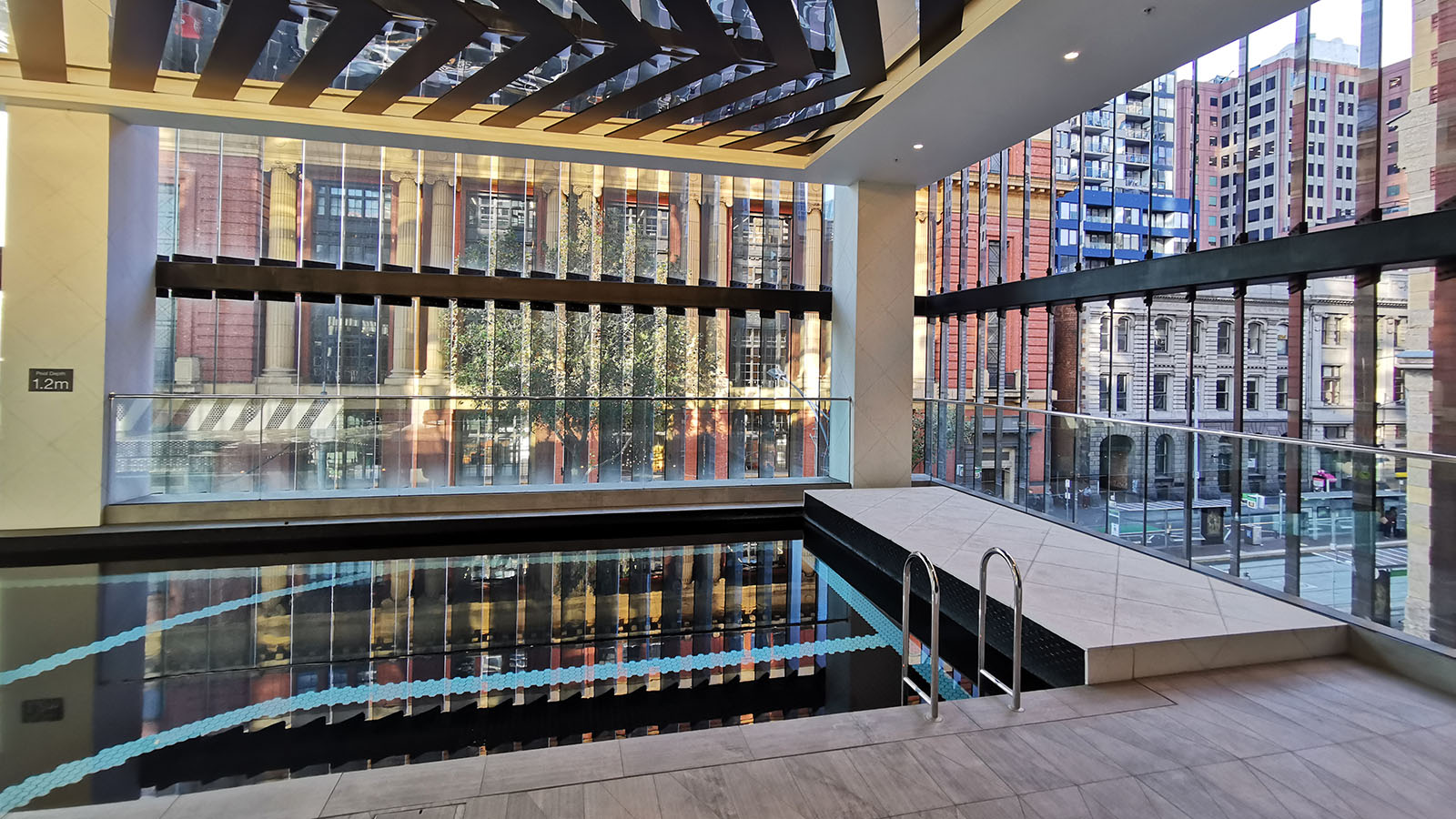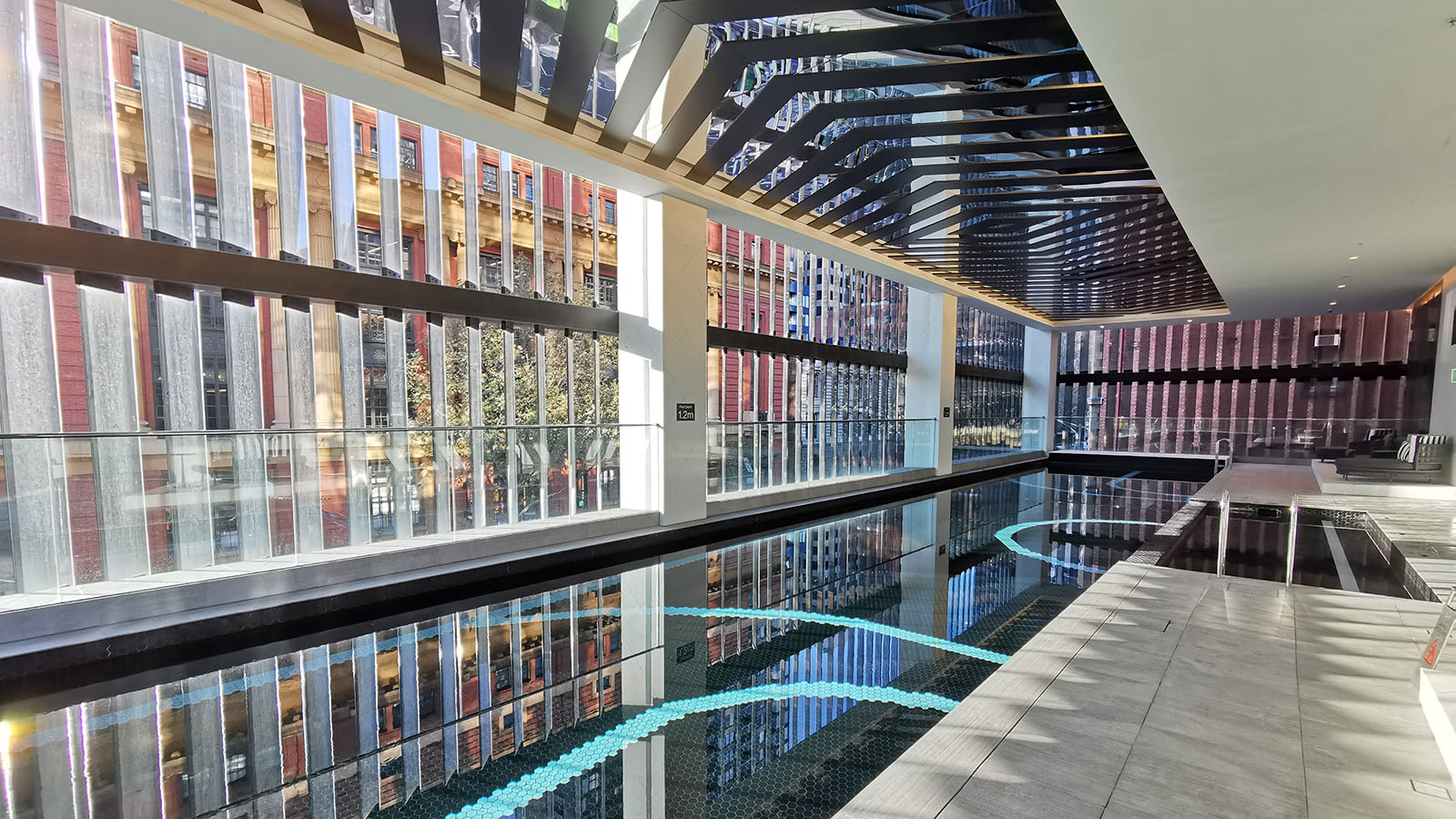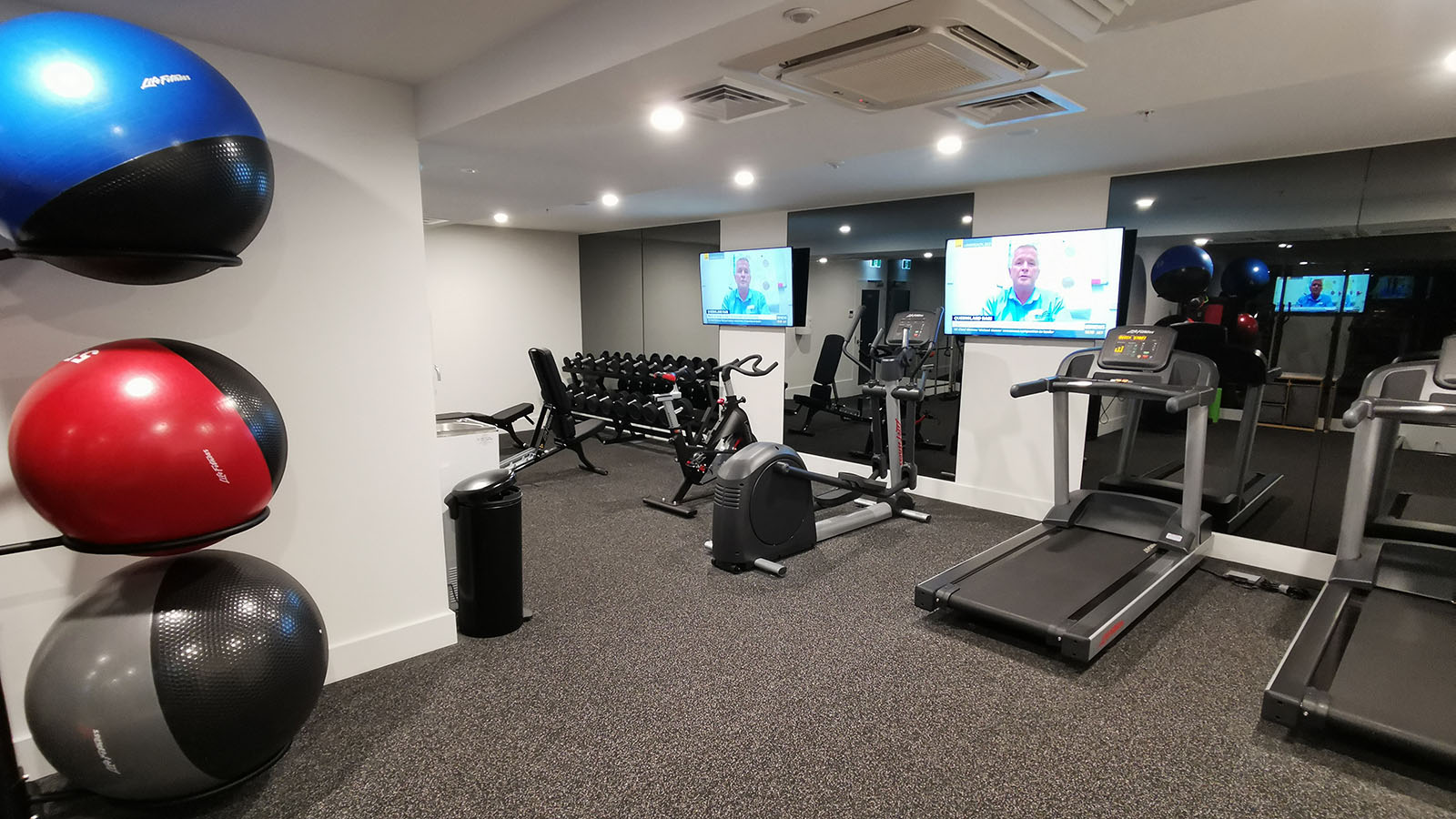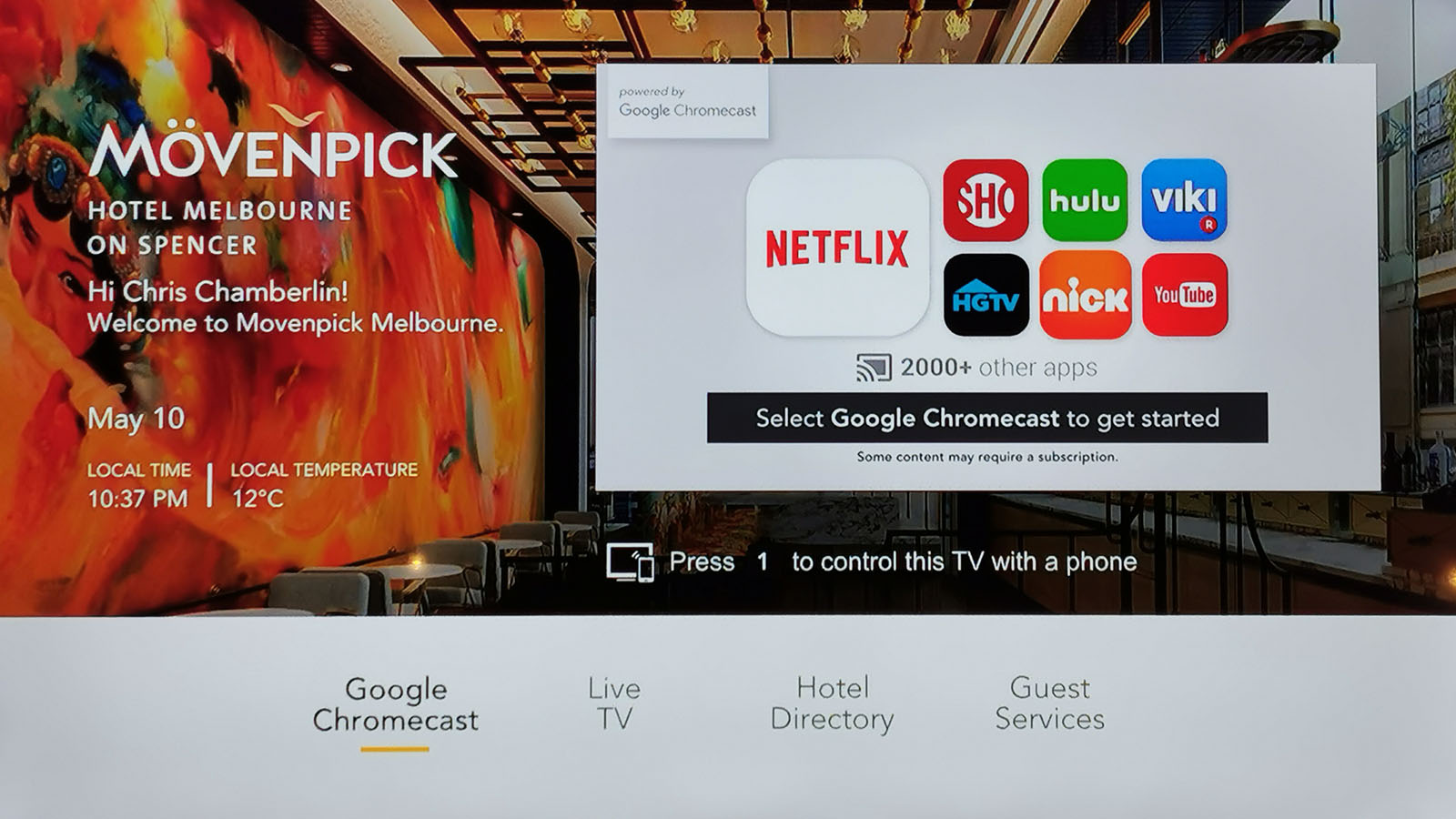 With unlimited chocolate on offer, it's pleasing to see that the hotel's fitness facilities are up to scratch. Between Chocolate Hour and dinner, I make a beeline for the gym. It's reasonably small, but with a good range of equipment – certainly enough for my cardio to get the blood pumping.
But pack your swimwear too, because the pool here is also worth a visit: before Chocolate Hour, perhaps. The heated water but open air design again grounds you in central Melbourne. And if you can't already tell, I do love the ding of the trams passing below.
When putting your feet up after a long day, stream your favourite content via Chromecast in the room. It's effortless to get set up, and the Wi-Fi here is lightning-fast. Speed tests during the stay reveal downloads exceeding 300Mbps, and uploads surpassing 260Mbps. That's certainly zippier than most home-based plans.
Earning and spending points at Mövenpick Hotel Melbourne on Spencer
While Mövenpick may be a less familiar hotel brand than others, it belongs to the global Accor stable of hotels. This sees Mövenpick Hotel Melbourne on Spencer participating in the Accor Live Limitless loyalty program.
On paid stays booked direct, this provides a considerable opportunity to earn rewards, as below.
Accor Live Limitless (ALL) Reward points: Members of ALL pocket between 25 and 44 Reward points per €10 spent (about AU$15.10) at Mövenpick, depending on tier level.
ALL Status points: Effectively the 'status credits' of Accor's program, travellers also earn 25 Status points per €10 spent. This applies to both the room rate and any incidental charges on the folio, excluding tax.
ALL 'nights': Every time the sun sets and rises again while you're in-house, add another 'night' to your ALL profile. This can help earn and retain your tier.
Qantas Points: Through the Accor x Qantas partnership, link your loyalty accounts to earn three Qantas Points per AU$1 spent at this hotel, and other participating properties across the Asia Pacific.
Credit card: At check-out, paying the hotel bill using a rewarding credit card can provide another opportunity to earn points.
You can also boost your tally of ALL Reward points by opting out of housekeeping. For every night you skip the service, you can gain another 300 ALL Reward points – or a $10 food and beverage credit. Just hang your 'do not disturb' sign, complete the card in your room and hand it to reception.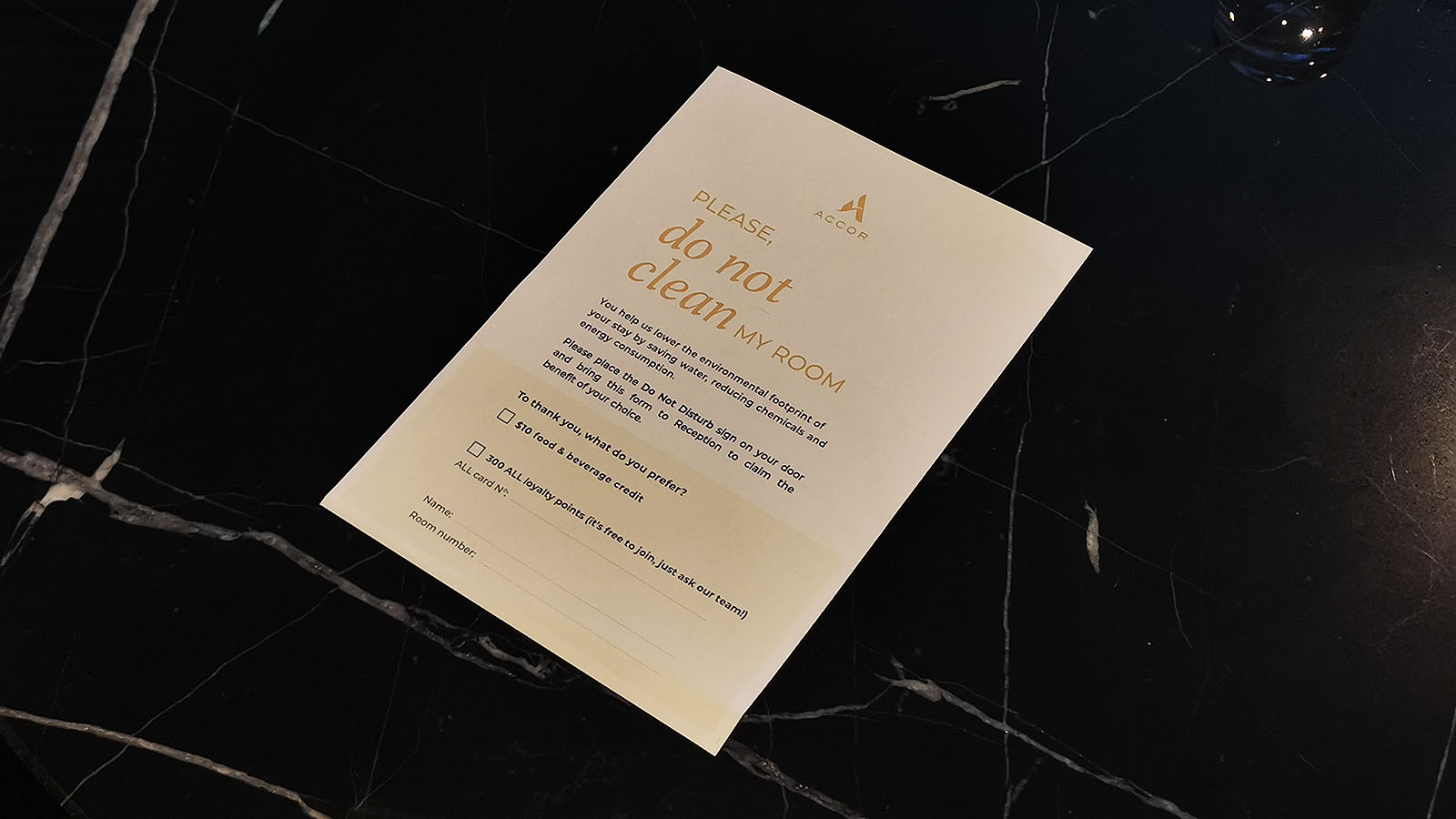 I'm told that the $10 food and beverage credit is by far the more popular choice. We've done the math and that stacks up, as 300 ALL Reward points are worth €6 (when spent in increments of 2,000). Based on current exchange rates, €6 fetches about AU$9.07, making the simple $10 credit the more rewarding pick.
When it comes to spending your hard-earned ALL Reward points, it's very easy. As hinted above, every 2,000 points equate to €40 (about AU$60.40) off the bill. You can spend points online when booking your room, or on request at the reception desk.
Summing up
Mövenpick Hotel Melbourne on Spencer is a chocolate lover's paradise. With the daily Chocolate Hour – and an ice cream café I hope to sample on my next visit – the property does have a distinct leisurely vibe.
Situated in a great location for both the city and connections to and from, it'll suit the needs of many business travellers too. And its attachment to the global Accor Live Limitless program means keeping your status on track – or enjoying its benefits – even if you mix things up with hotel brands from one stay to the next.
Also read: Accor Pacific CEO Sarah Derry talks points, loyalty and travel with Point Hacks
Photography by Chris Chamberlin, who travelled and stayed as a guest of Mövenpick Hotel Melbourne on Spencer and Accor. Feature image courtesy Accor.
---
Stay up to date with the latest news, reviews and guides by subscribing to Point Hacks' email newsletter.
Mövenpick Hotel Melbourne on Spencer
was last modified:
June 27th, 2022
by