Malaysia's national carrier, Malaysia Airlines, operates three Golden Lounges from its base in Kuala Lumpur International Airport (KLIA). Two of these are international lounges, including the flagship Satellite Golden Lounge located in the Satellite building. But for passengers flying out of the main terminal who don't mind a slightly smaller space, Malaysia Airlines Regional Golden Lounge offers enough amenities for a quick refresh before your flight.
I drop into the lounge before my flight to Kathmandu to sample the breakfast offerings and relax in this warm and inviting space overlooking the tarmac. Here's what to expect during your visit.
Location
Malaysia Airlines Regional Golden Lounge is located a short walk to the left after clearing security, towards the 'H' gates. The lounge is tucked away above a set of escalators so the entrance can be easy to miss. Keep your eyes peeled for the currency exchange stand – you'll see the escalators and lounge signage next to the bright blue sign.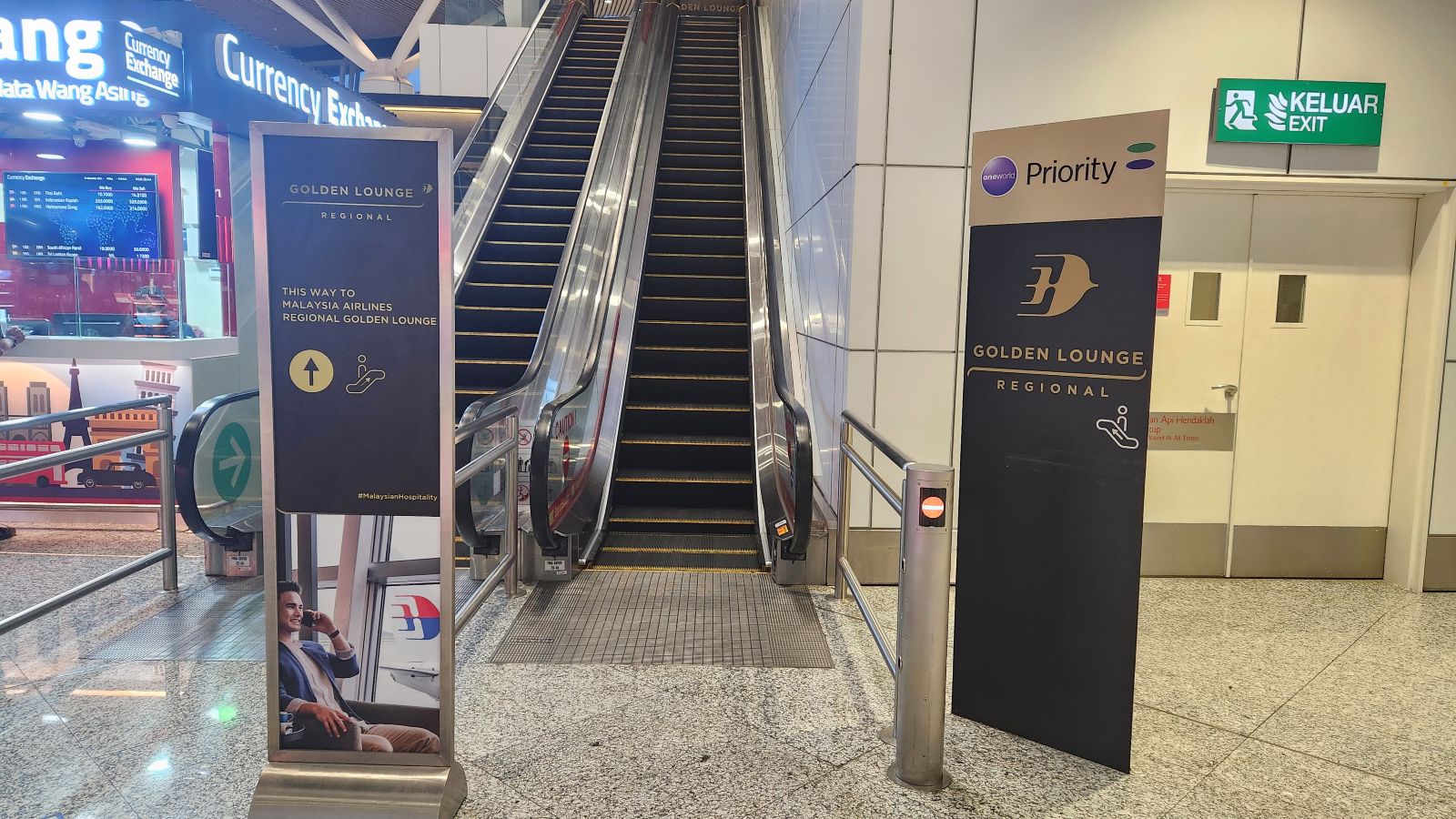 Lounge layout and seating
The Regional Golden Lounge features large floor-to-ceiling windows that overlook the tarmac. Along the windows there are eight sections with dividers for added privacy. I notice some families have set up camp in the smaller sections furthest away from the buffet and dining area, as these provide the greatest seclusion. I select a seat in an empty section next to the window, and I'm pleased to find USB ports between the seats so I can give my phone a quick charge before my flight.
Additionally, there are single-seat couches scattered throughout the lounge, including towards the entry and along the walls.
Surrounding the dining area you'll find several long tables that make an ideal workspace. Located underneath the table are universal power sockets and USB ports.
The Wi-Fi in the lounge clocks a download speed of 3.71 Mbps which is sufficient for surfing the web, sending emails or streaming a few videos – just don't expect lightning-fast speeds.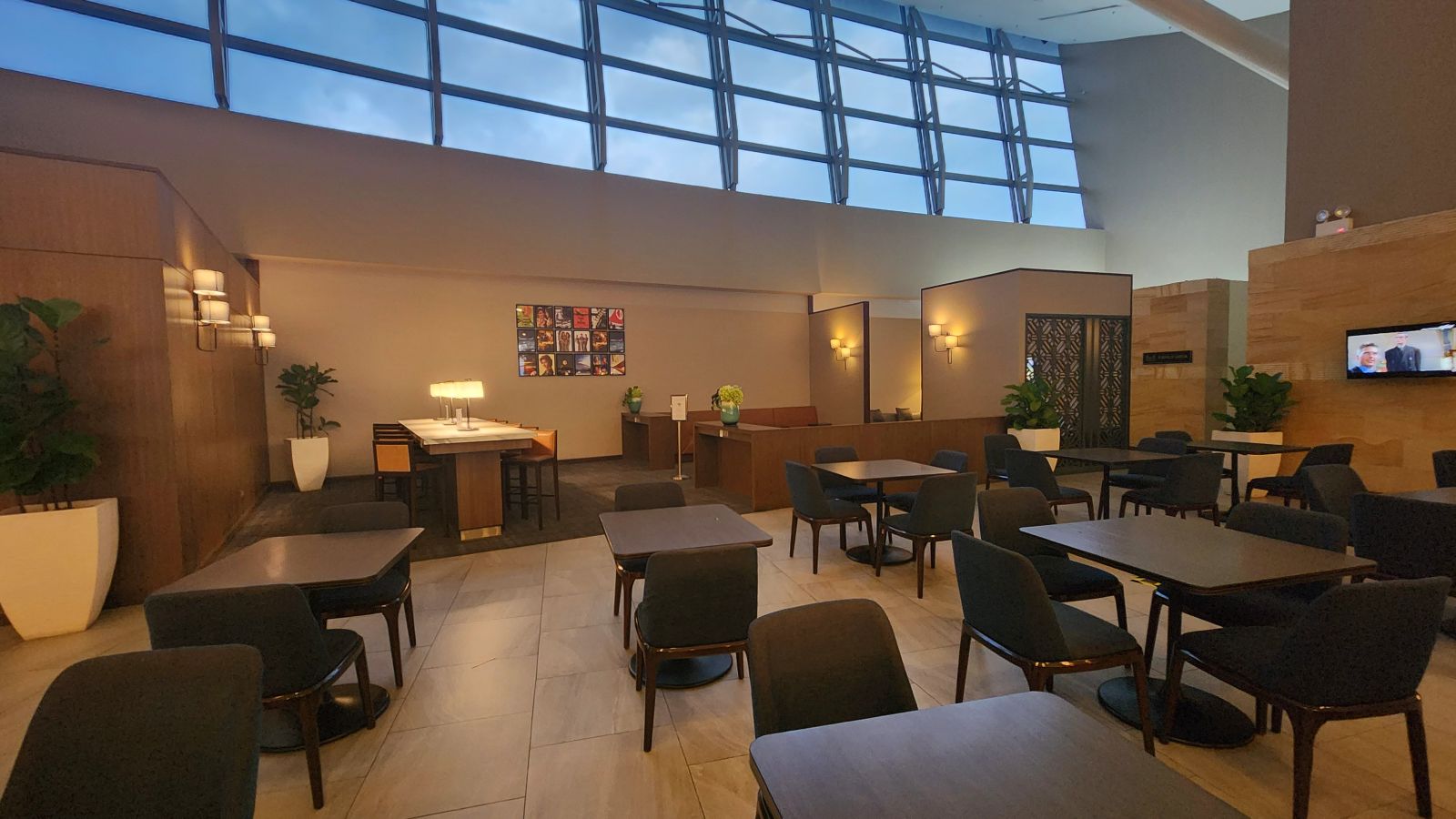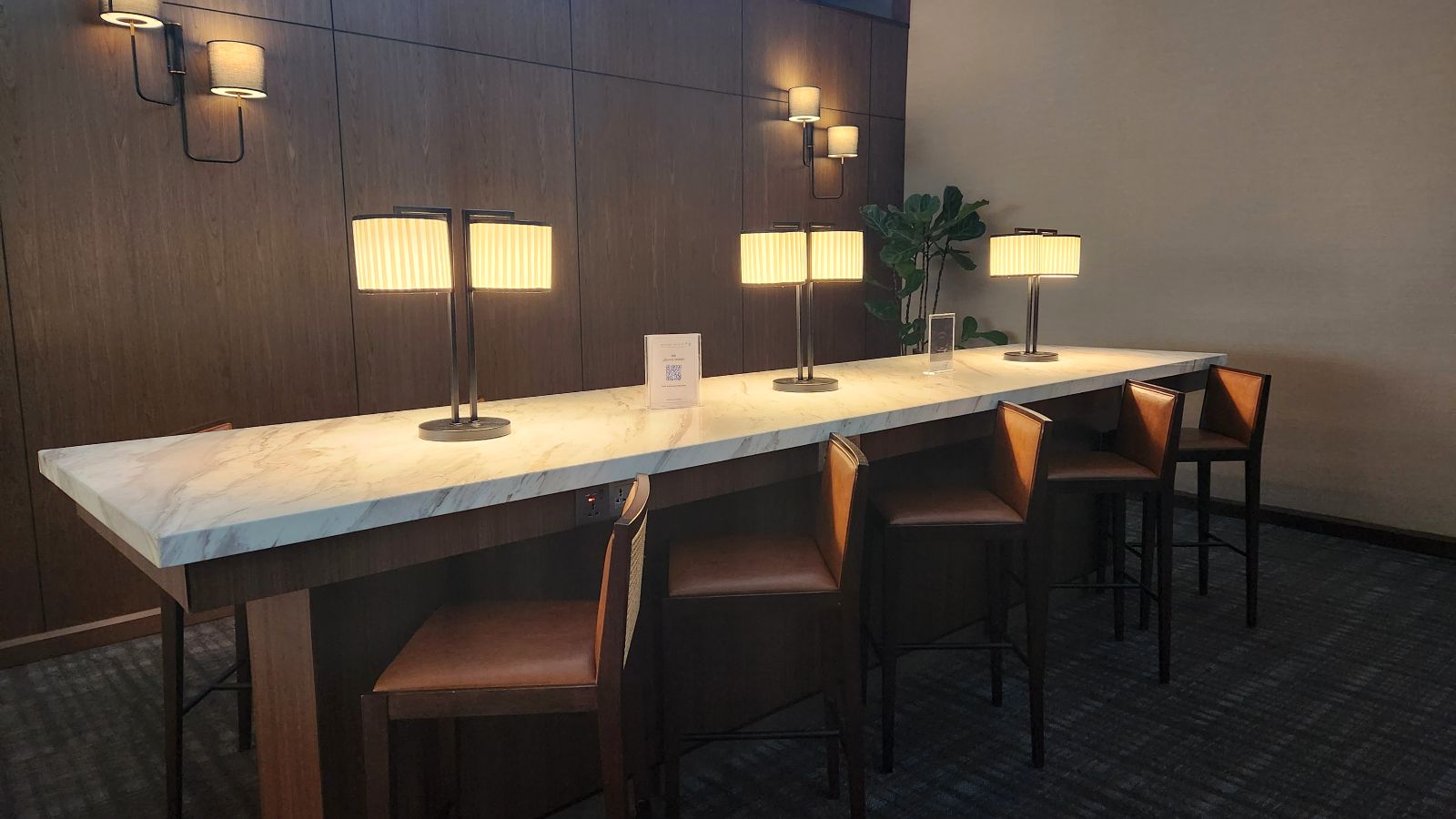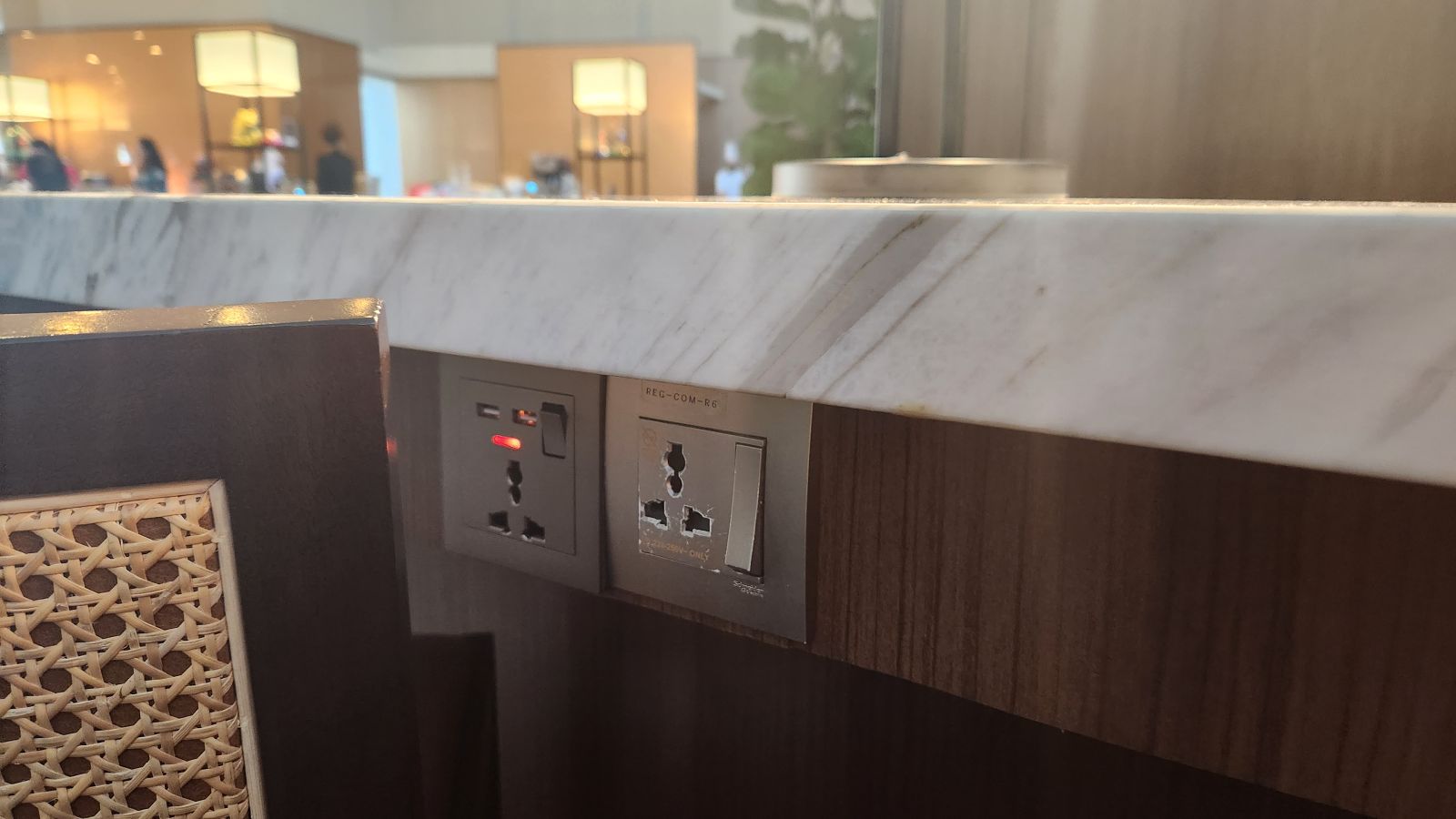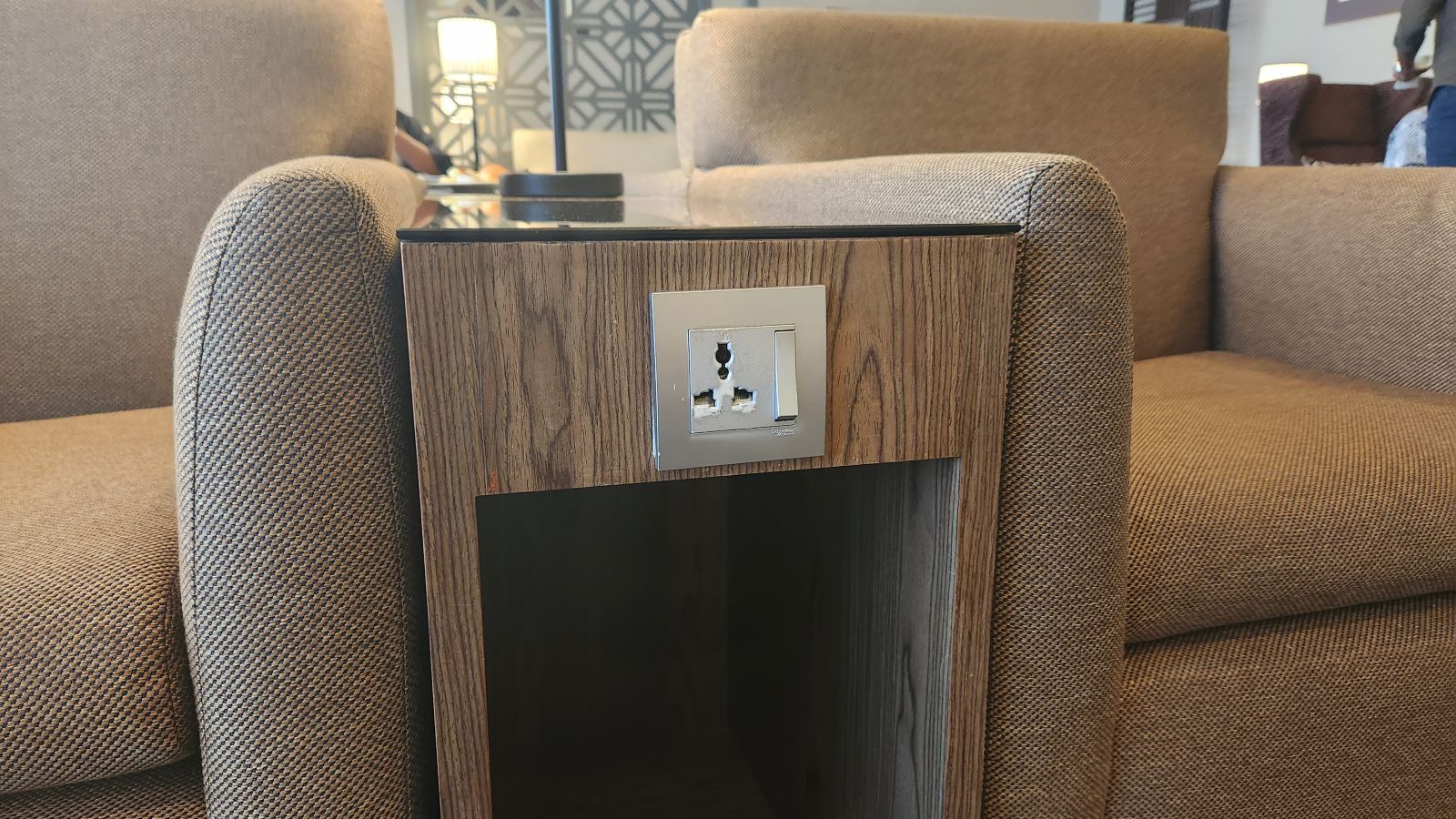 Lounge amenities
For a moderate-sized lounge, the Malaysia Airlines' Regional Golden Lounge has enough amenities to make for a pleasant stay.
First up is the family area. Although it appears quite basic – couches, beanbags, a TV, a small shelf of books and two rocking horses – it's secluded and spacious enough for little ones to stretch out before a long flight.
The lounge also features two nap areas. There's a separate space for men and women, each with three beds. These aren't pods by any means, so there's little offered in terms of privacy. Bright lights blare over the space, although with no one inside, I'm unsure if these are turned down when the nap area is in use. Weary travellers can certainly make use of the area, which includes blankets for extra comfort.
There are two shower rooms in the female bathroom and presumably similar for men, which is ample given the size of the lounge. Towels can be collected at the counter outside the bathrooms. Having checked out of my hotel first thing in the morning, I didn't need to use this facility. Though should I change my mind, I'd have to dodge the used towels soaking up the water on the floor in both shower rooms.
There's a separate bar area in the lounge, with a few bar stools and tables and chairs. Unsurprisingly, it's not open during my 8 am visit, but you may have a better chance of kicking back with a cocktail if you visit later in the day.
If you need a prayer room, the lounge has a separate space for this, too.
Also, note that there are no boarding calls in the lounge so you'll need to keep an eye on the departures screen and allow sufficient time to walk to your gate.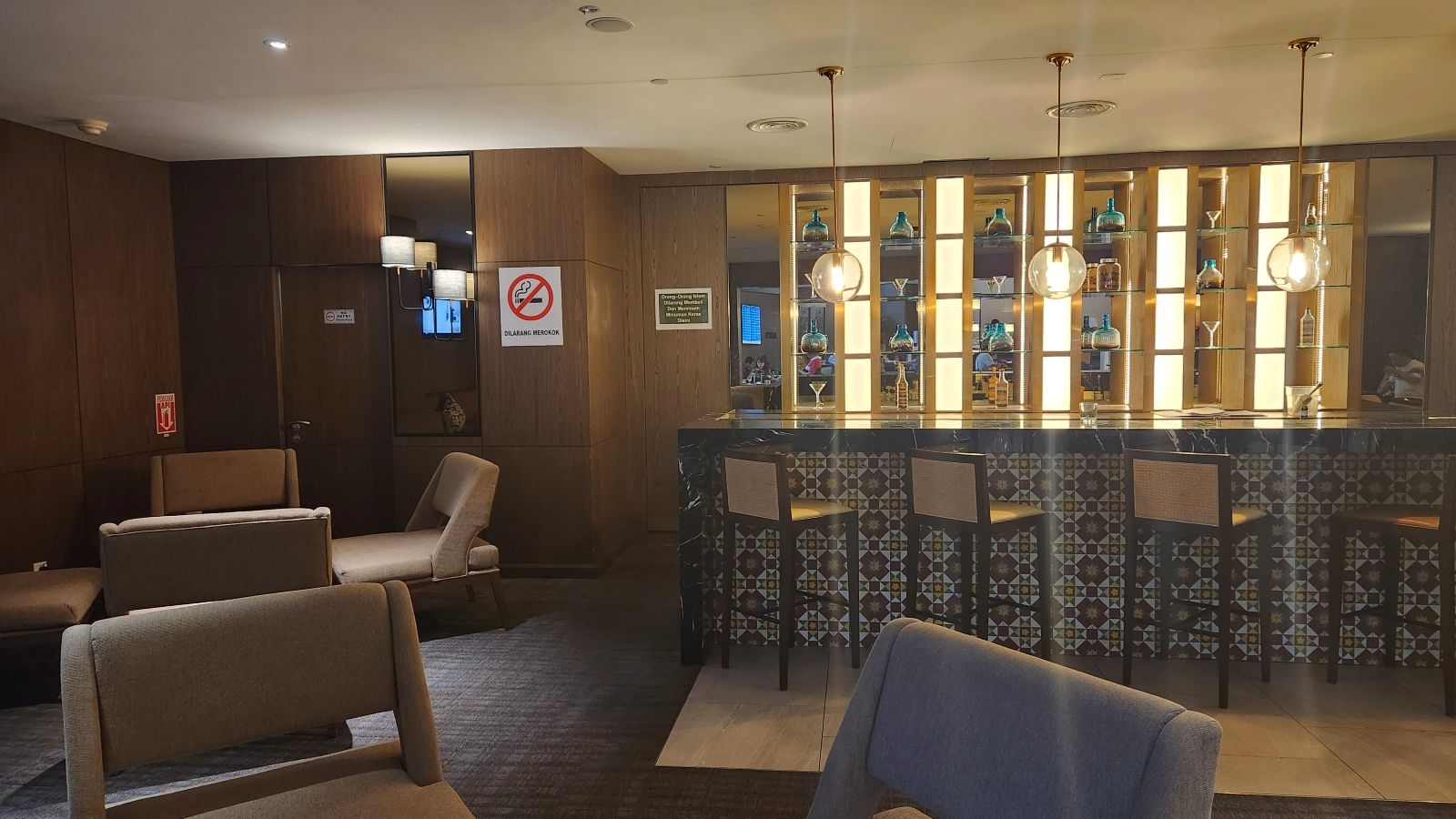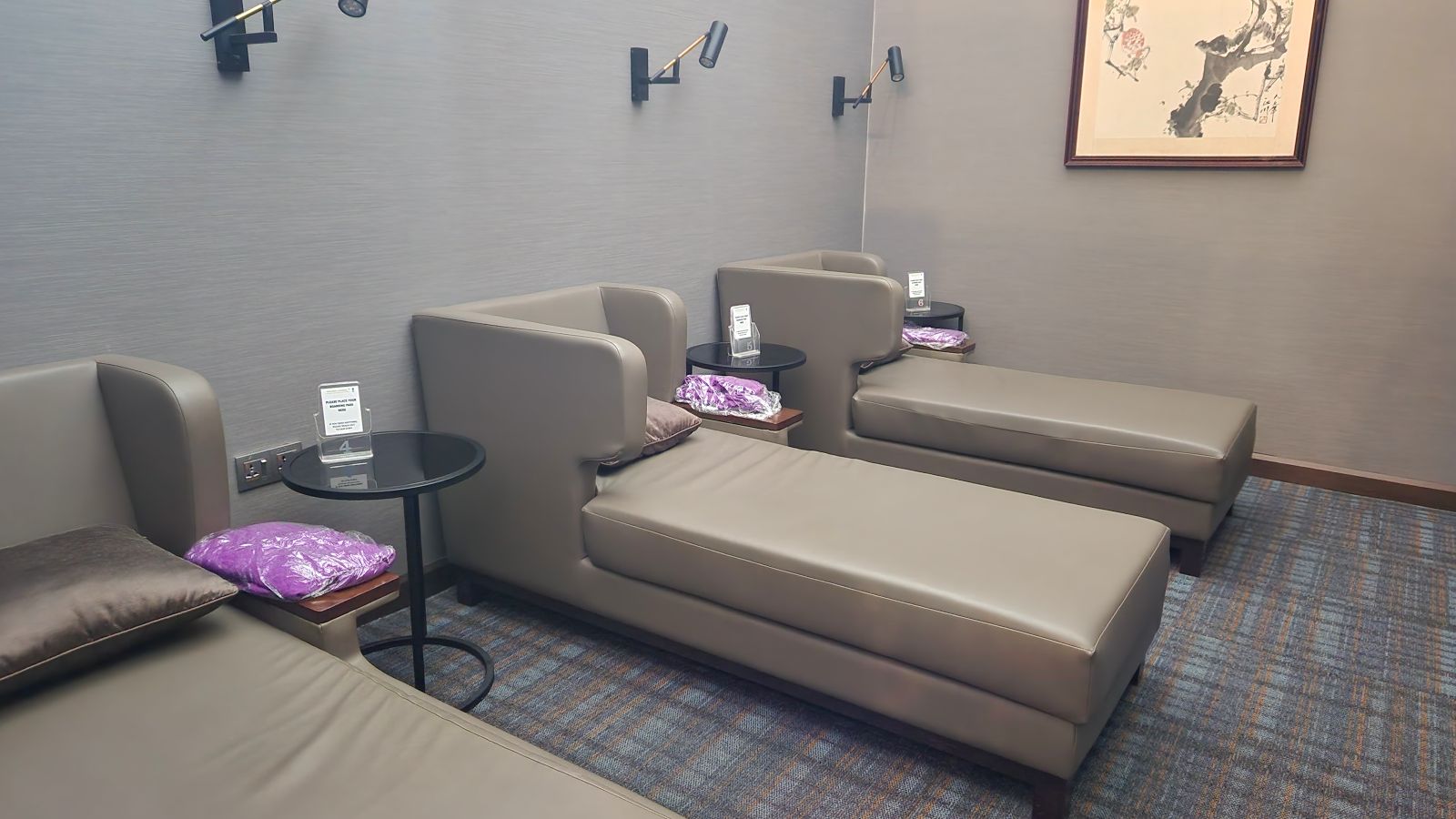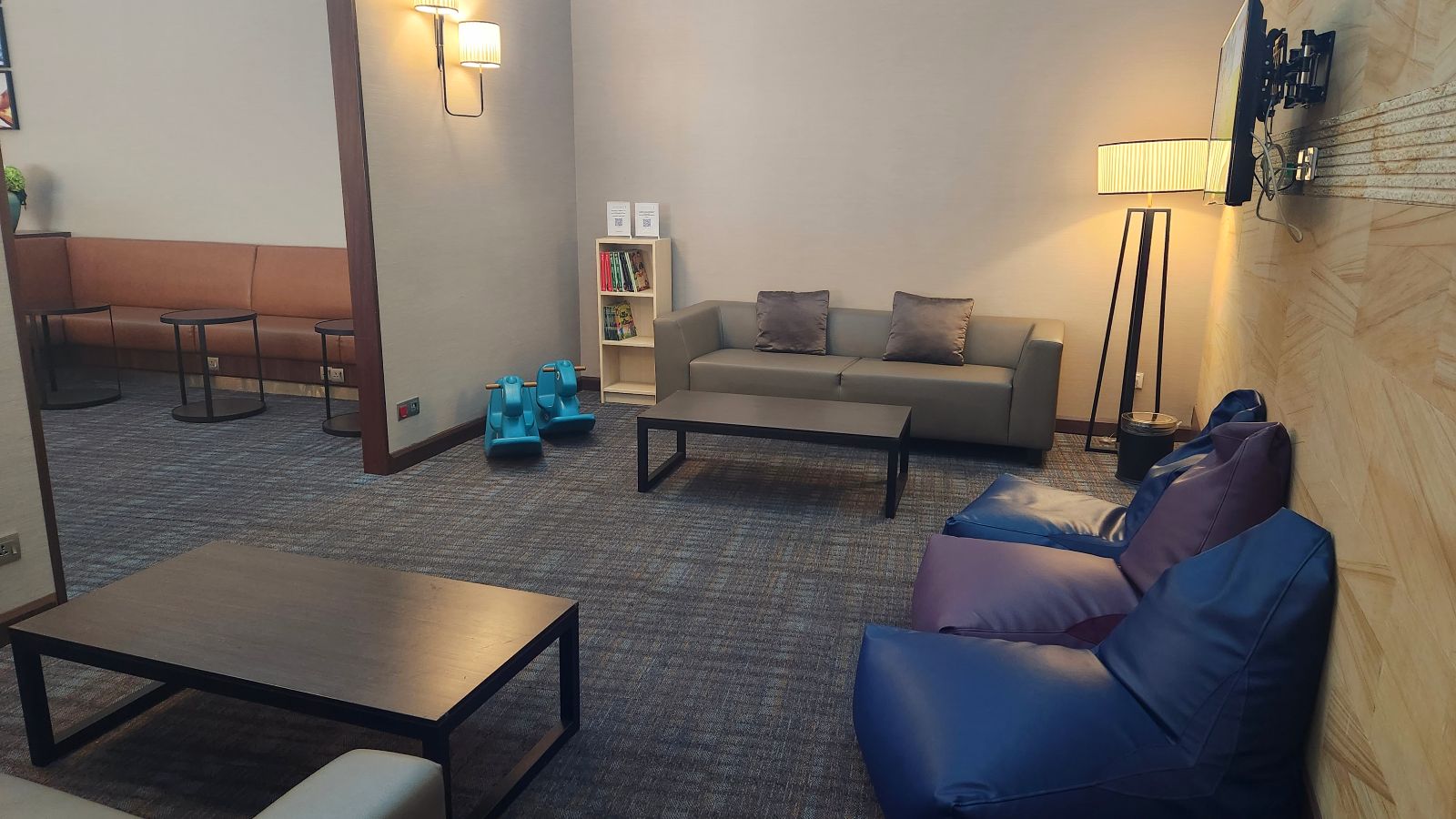 Food and beverage in Malaysia Airlines Regional Golden Lounge
The buffet area features a selection of Western and Malaysian cuisine. I arrive early in the morning, so the food offerings are limited to breakfast. This includes assorted pastries and spreads, yoghurt, fresh fruit and a variety of cereal. Orange juice, apple juice and infused water cap off the breakfast beverages. There's also a fridge that's well-stocked with Coke and Pepsi, plus other soft drinks should you feel like a fizzy pick-me-up.
I'm delighted to see popular Malaysian dishes served, like chicken rendang, laksa and nasi lemak. There's also a large pot of congee should you feel like a warm, traditional breakfast. A hefty selection of condiments accompanies these dishes, so you can tweak them precisely to your taste. I fill up on a plate of nasi lemak, adding hard-boiled eggs, nuts, anchovies, cucumber and sambal to my liking.
Around the corner from the buffet is a counter where you can order barista-made coffee and tea. There's no visible beverage menu, though I catch a glimpse of a glass of bubbly teh tarik – Malaysia's famous 'pull tea' – handed to another passenger. Upon ordering my own glass, I'm told that it's instant teh tarik. Being familiar with the drink and how it's made – which could get messy behind a small counter in a lounge – this is completely acceptable.
A visit to the Regional Golden Lounge later in the day may open up the selection of food and beverages. Though for a morning visit, there's certainly enough variety to fill your stomach before a flight.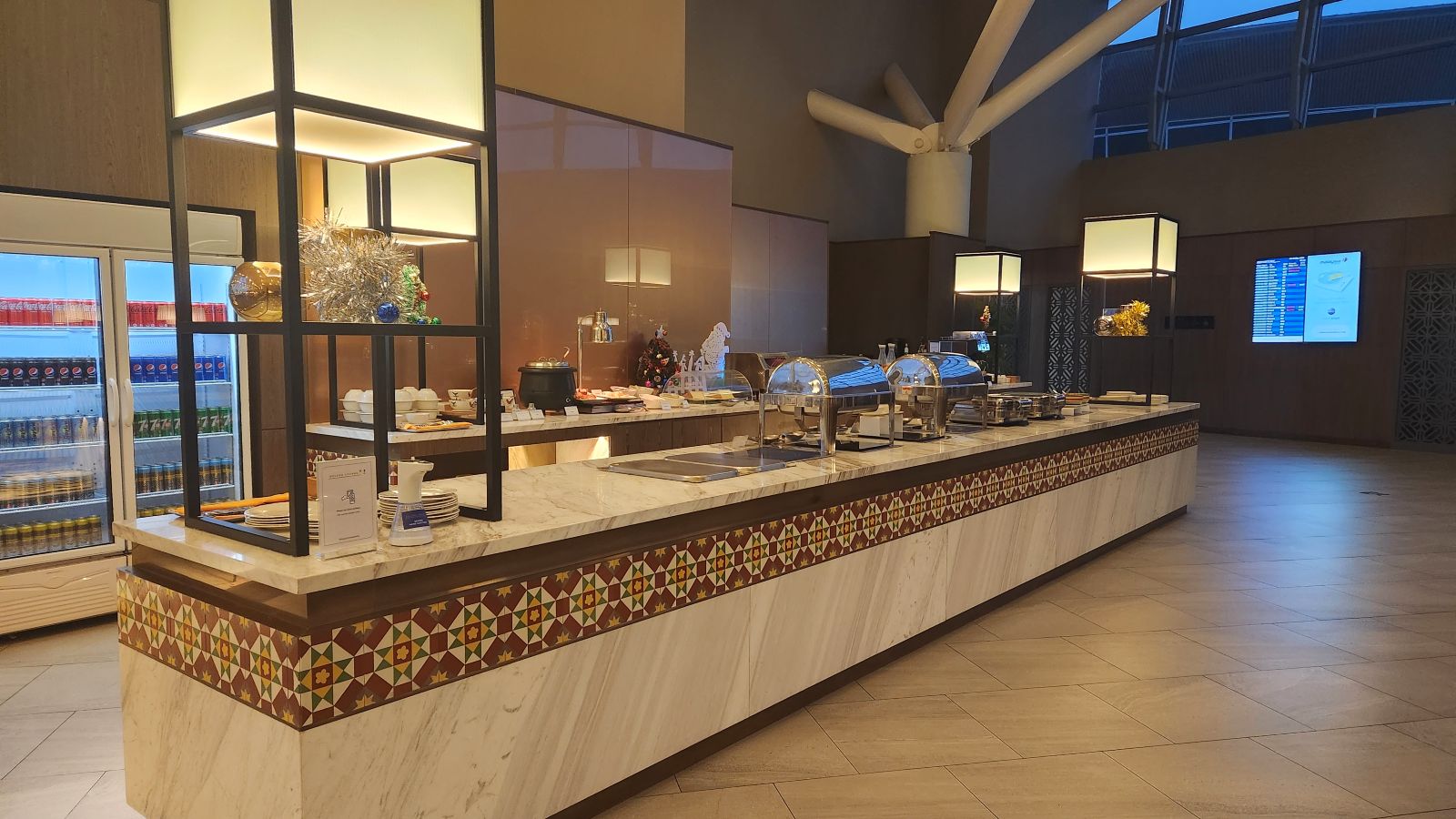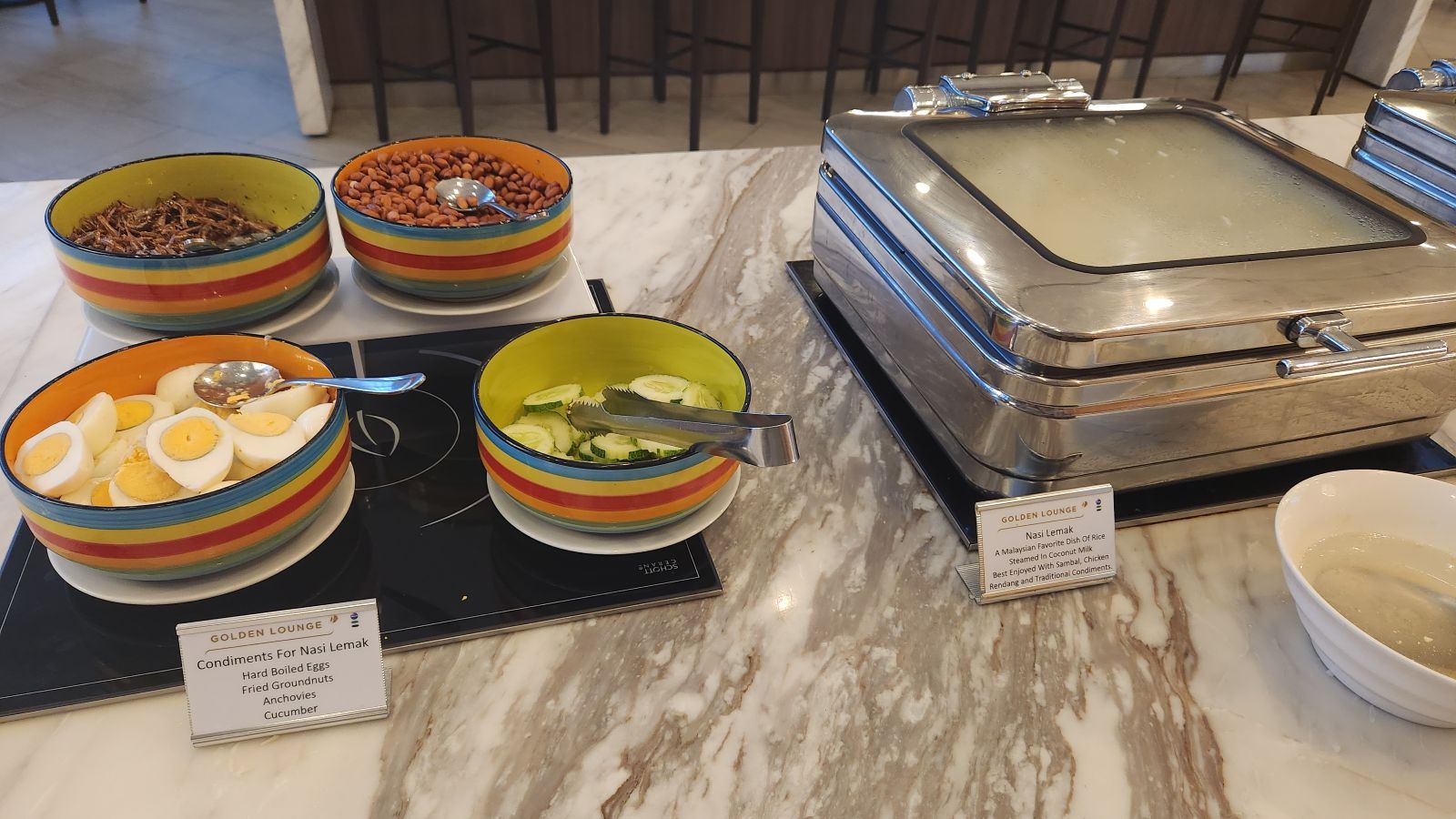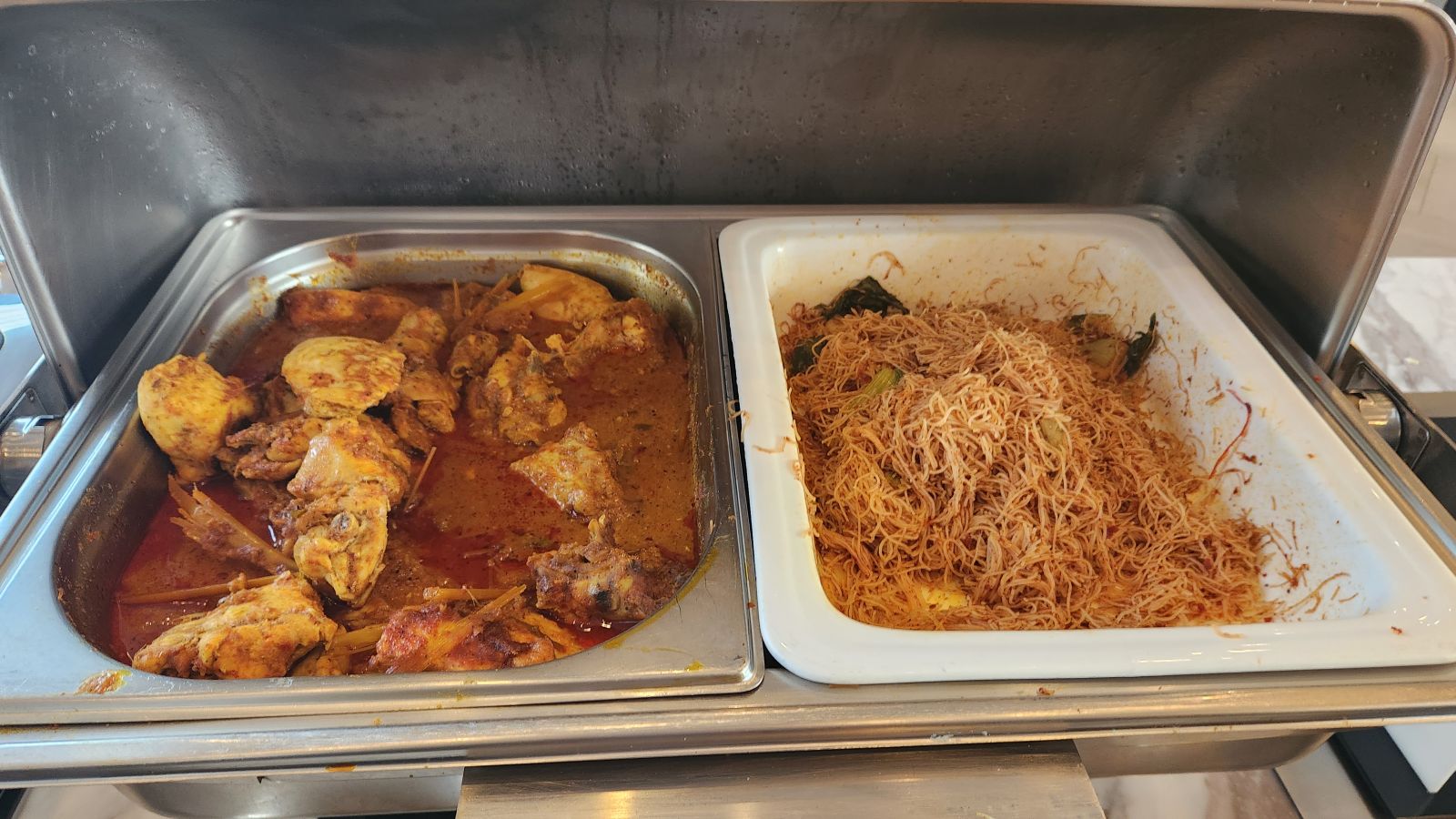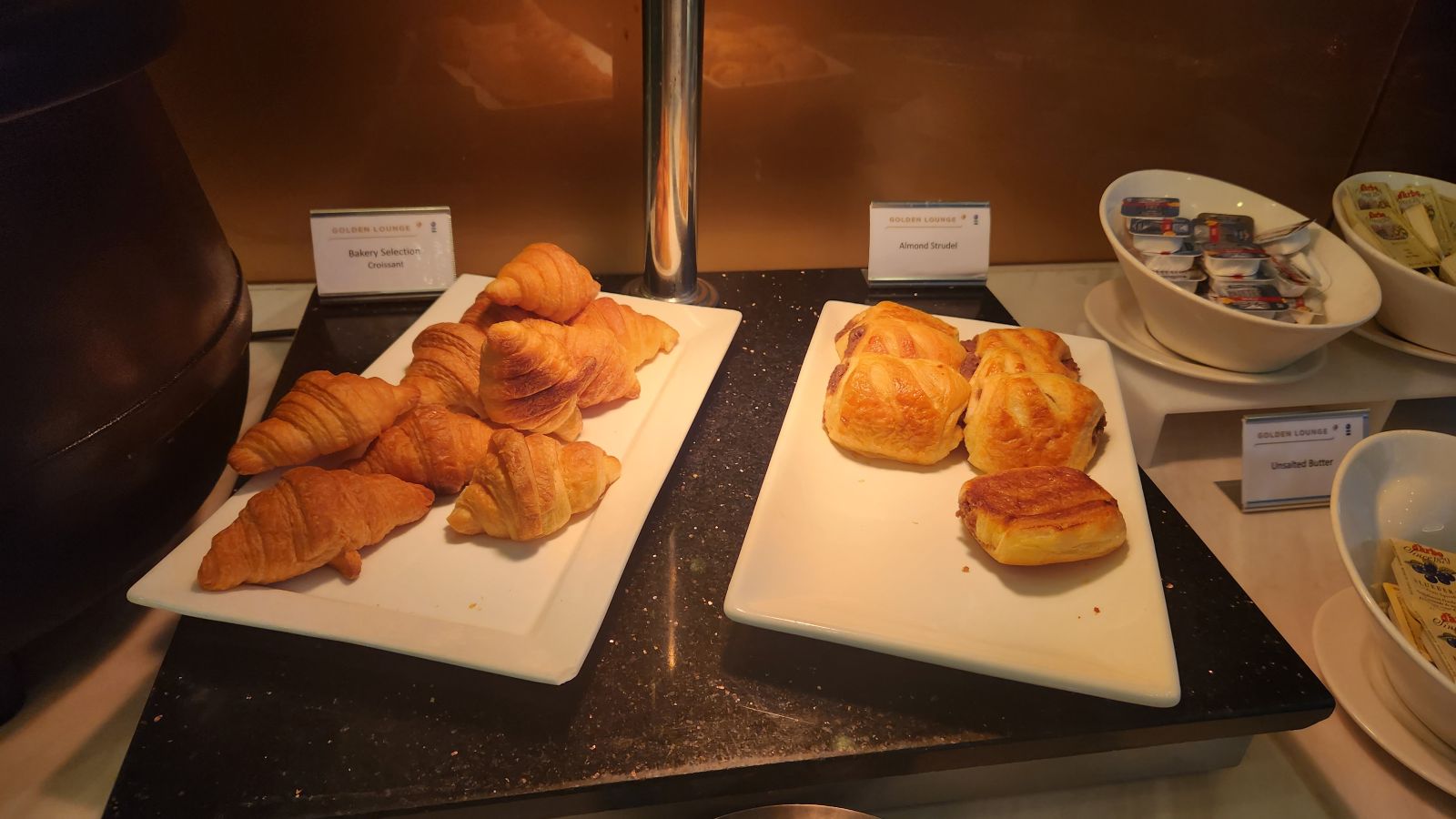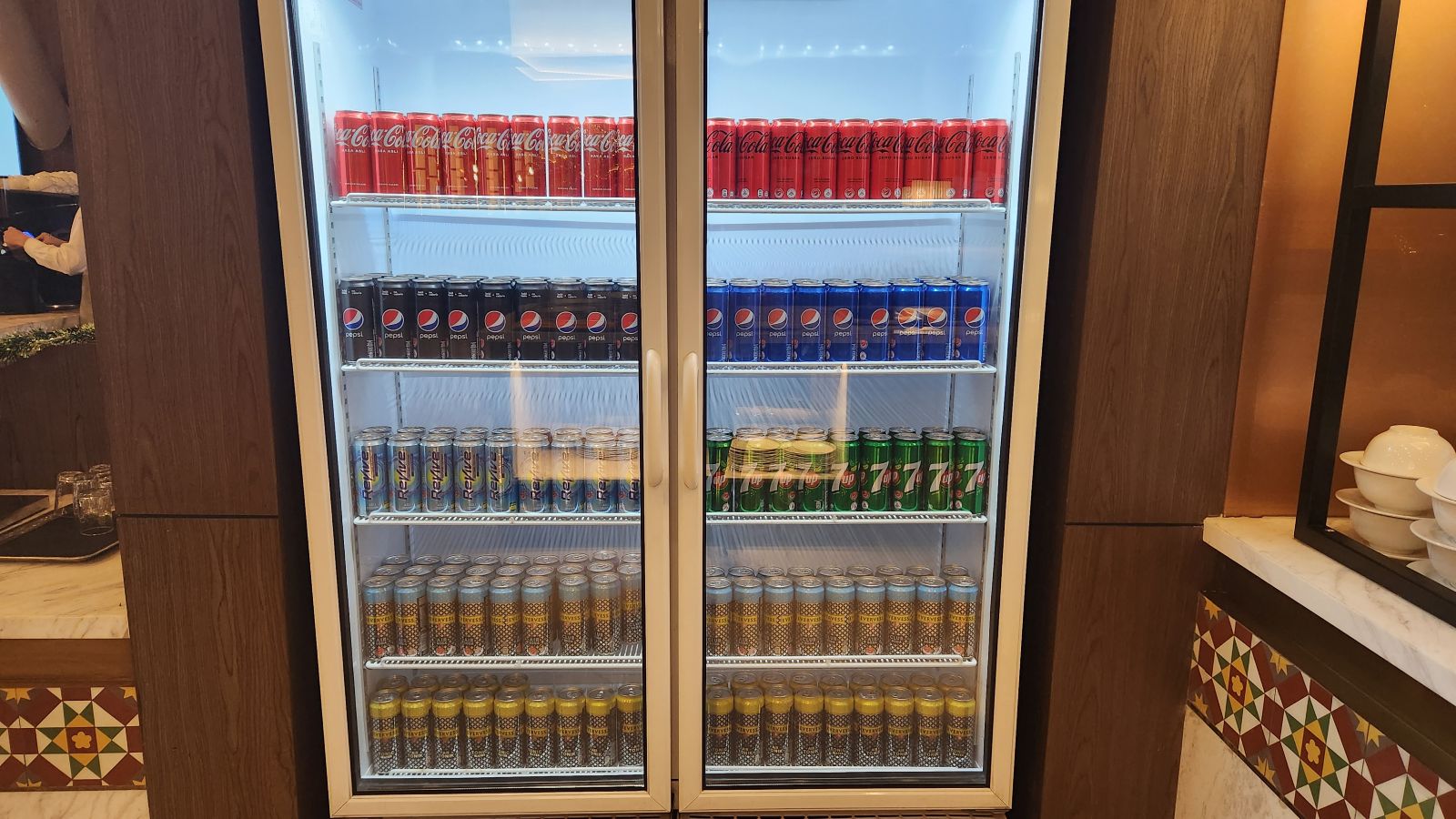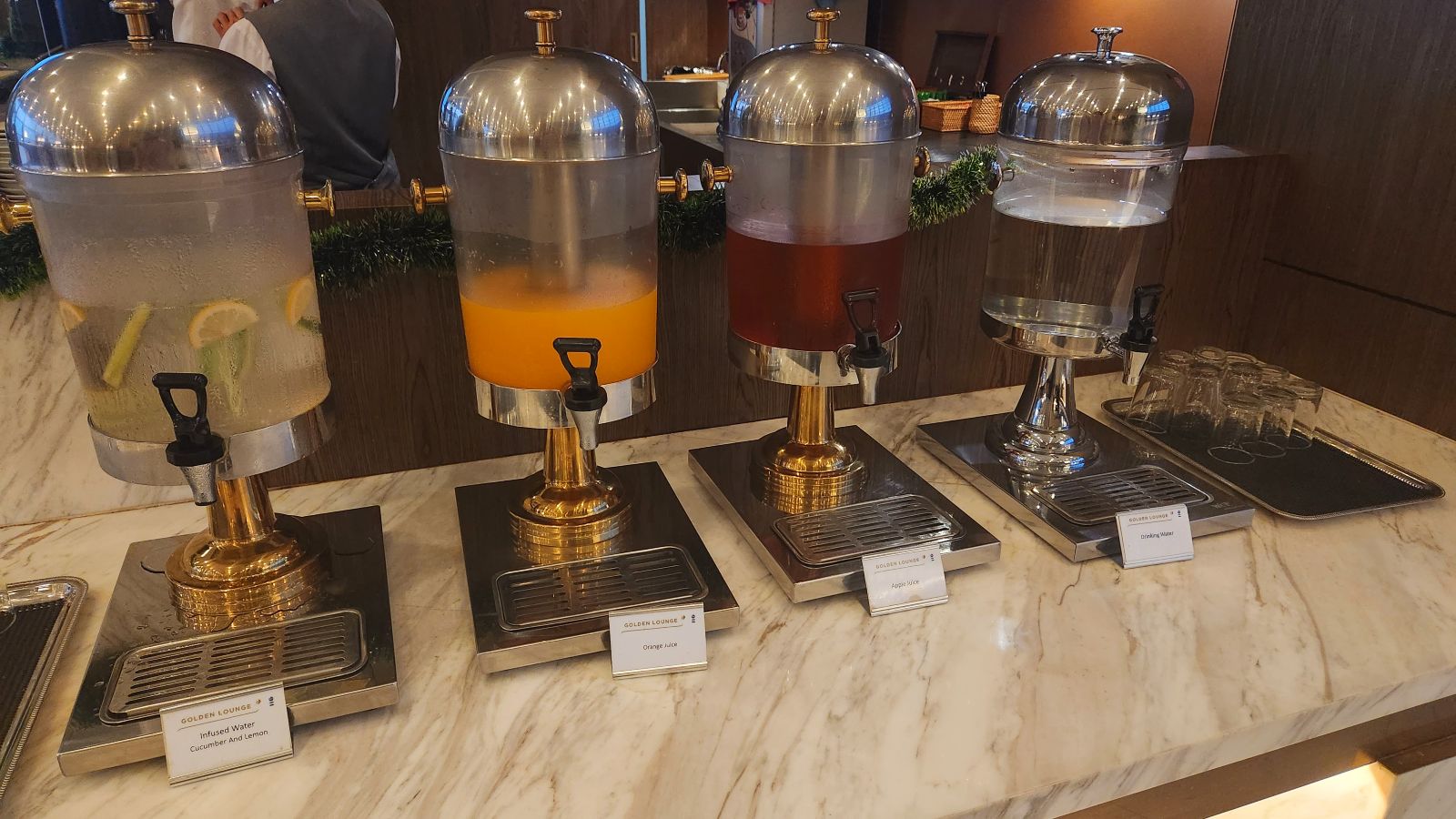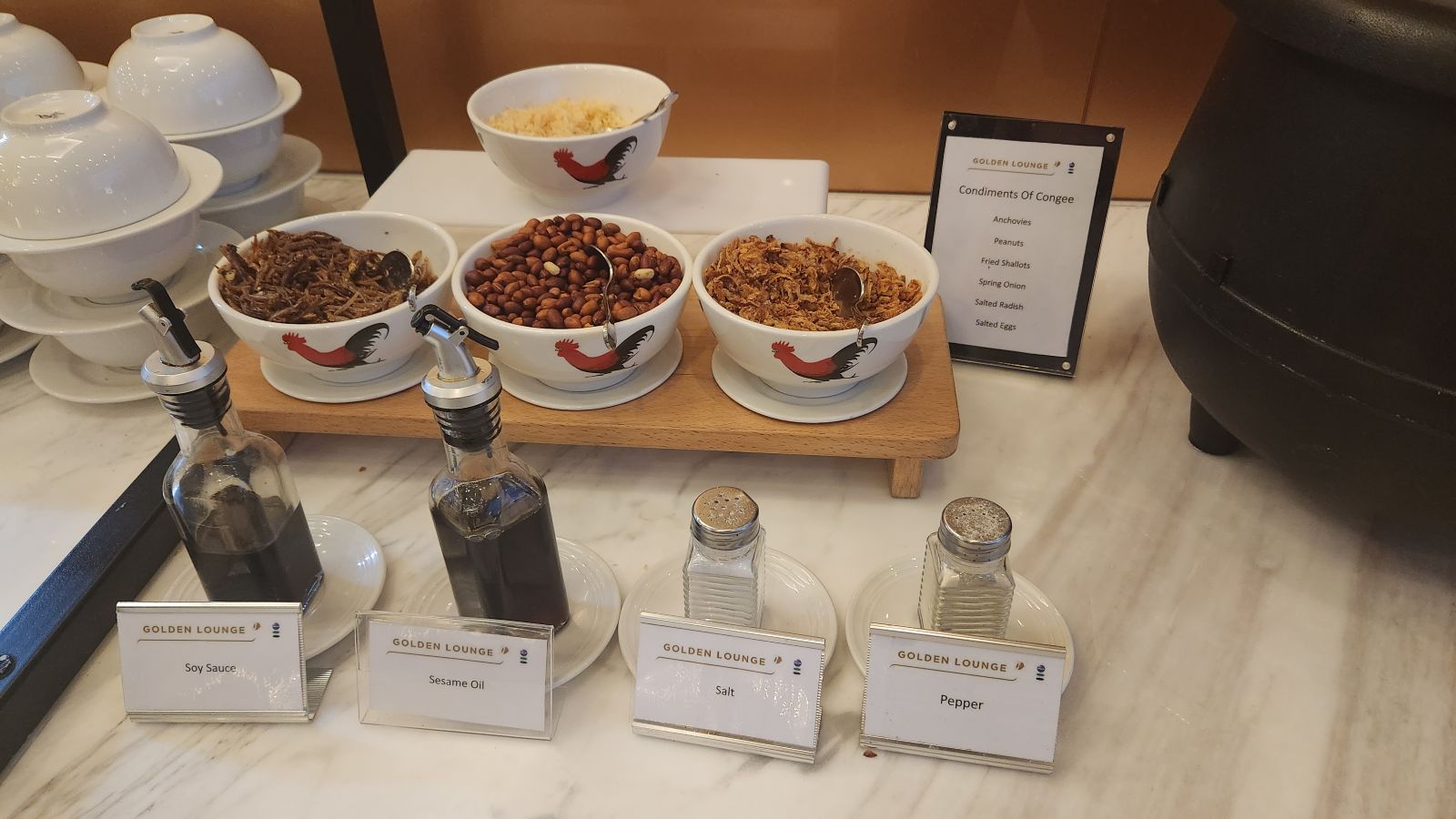 Accessing Malaysia Airlines Regional Golden Lounge
There are a few different ways passengers can gain entry into the Regional Golden Lounge. Here's how to access the lounge by cabin class, frequent flyer status or purchasing a single-entry pass.
With a Business Class ticket:
Malaysia Airlines Business Class passengers (including codeshare)
Malaysia Airlines Business Suite passengers (including codeshare)
Business Class passengers travelling with a oneworld airline
By airline frequent flyer status:
By purchasing a single-entry pass:
Passengers travelling on Malaysia Airlines-ticketed flights regardless of travel class can pay to access the Regional Golden Lounge.
Single-entry passes can be purchased online via the Malaysia Airlines website or mobile app. One-time entry costs MYR279 (around $94) for adults and MYR140 ($43) for children. Alternatively, walk-ins attract a higher rate. Paying at the door will set you back MYR320 (around $108) for an adult, or MYR160 ($54) for a child.
A single-entry pass grants access to the Regional Golden Lounge and all its amenities for three hours. If you're spending more time in KLIA, you may want to consider making your way to the Plaza Premium lounge, which costs about the same for 10 hours of lounge access.
Summing up
Overall, Malaysia Airlines' Regional Golden Lounge ticks all the boxes for international travellers departing from KLIA's main terminal.
Seating is ample and varied, with plenty of room to spread out as a family or get stuck into a bit of work before your flight.
While paid entry is possible, it isn't as wallet-friendly as some other options in KLIA. But if you're able to gain entry with an eligible cabin class or through frequent flyer status, Malaysia Airlines' Regional Golden Lounge is a prime spot to unwind in this pocket of the airport.
Also reviewed: Malaysia Airlines Satellite Golden Lounge, Kuala Lumpur
Photography by Victoria Kyriakopoulos, who travelled at Point Hacks' expense.
Malaysia Airlines Regional Golden Lounge, Kuala Lumpur
was last modified:
May 15th, 2023
by