I very rarely stay in hotels in my hometown of Sydney. However, on this occasion, I booked myself a two-night stay at the InterContinental near Sydney's Circular Quay. I then flew back to my 'other' hometown of Austin, Texas.
We originally reviewed this hotel almost a decade ago—and not much has changed. Keith gave it three stars back then and I am doing the same this time.
Research & booking
The InterContinental Sydney just creeps into the top third of hotels in Sydney on TripAdvisor—you'd expect it to be higher given the prestige of the brand. Most of the top 10 are boutique hotels. For comparison purposes, the top three chain hotels are the Park Hyatt, Radisson Blu and Sofitel Darling Harbour.
This hotel is a Category 12 property (the second highest) through IHG One Rewards, costing 65,000 points per night. I didn't have enough points in my IHG One Rewards account to book an award stay. (You can buy IHG One Rewards points during promotions.)
Therefore, I booked a cash rate for ~$230/night but I made sure to click through Cashrewards to earn 3.5% cashback ($16). I also earned 10 IHG One Rewards points per USD spent (just over 3,000 points). Finally, I registered for one of IHG One Rewards' many promotions before I booked this stay—I'd highly recommend checking this page to see what's on offer.
For what it's worth, I like to use my IHG One Rewards points for quarterly PointBreaks promotions for overseas stays.
The room
I must come clean: I find the style of InterContinentals really stuffy. I've stayed at them in Hong Kong, Seoul, Amman and now Sydney and none of those stays stand out to me. I much prefer Park Hyatts, for example, to InterContinentals.
The standard rooms measure 30m², which is ample but not overly generous. They have an old-time style.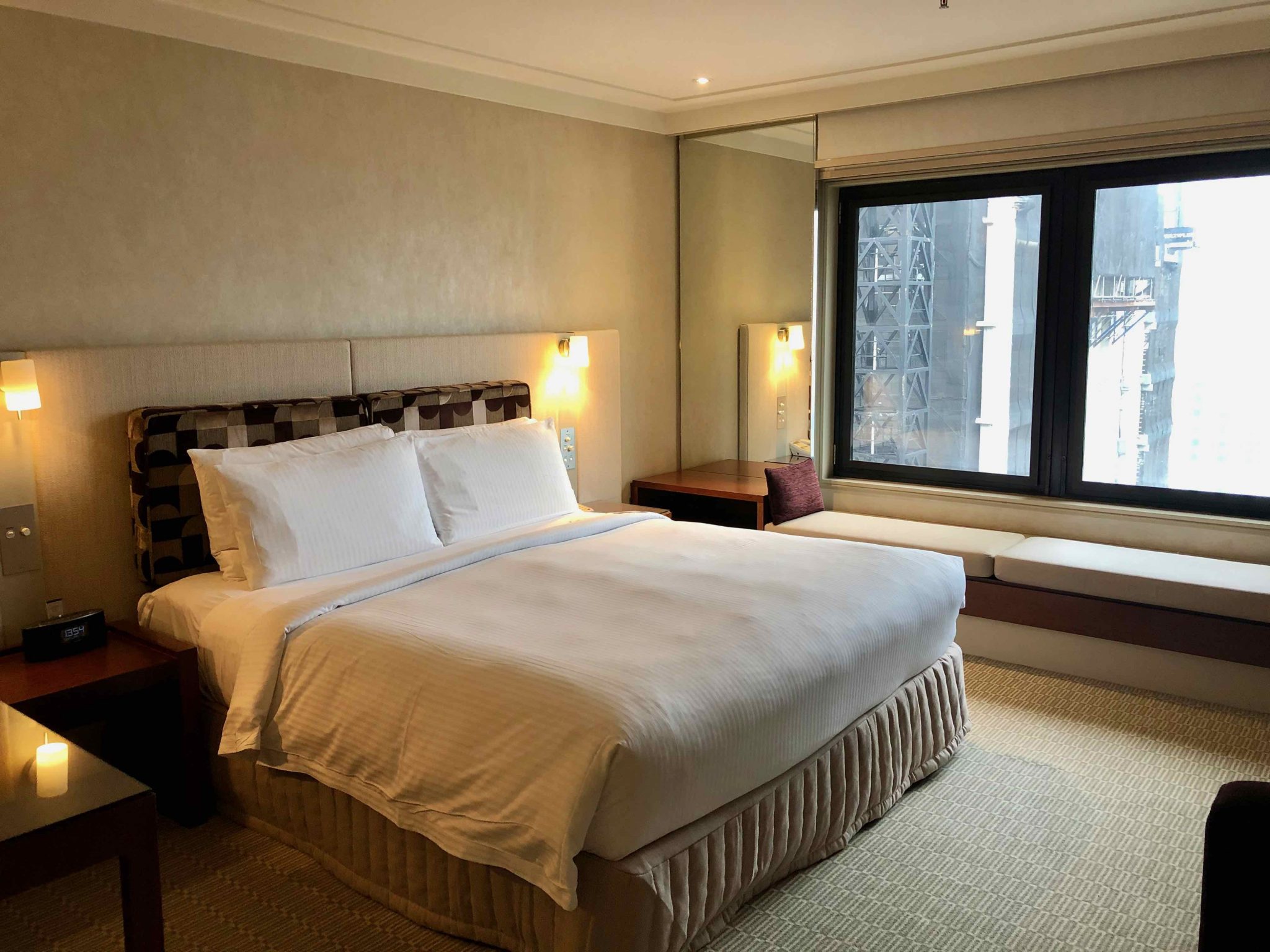 Obviously, the most important aspect of a hotel room is its bed. I found the king-sized mattress, linens and pillows to be comfortable and breathable.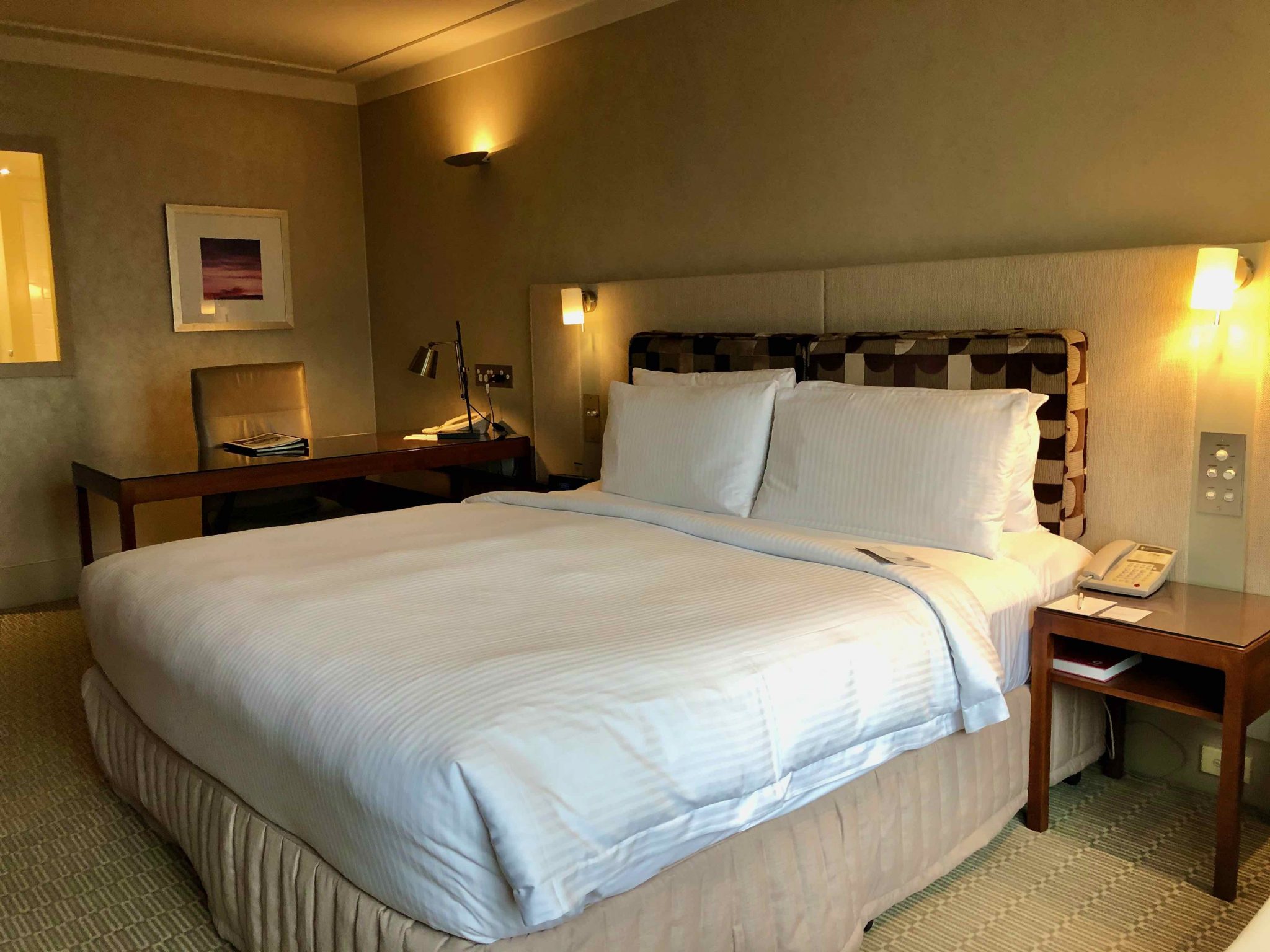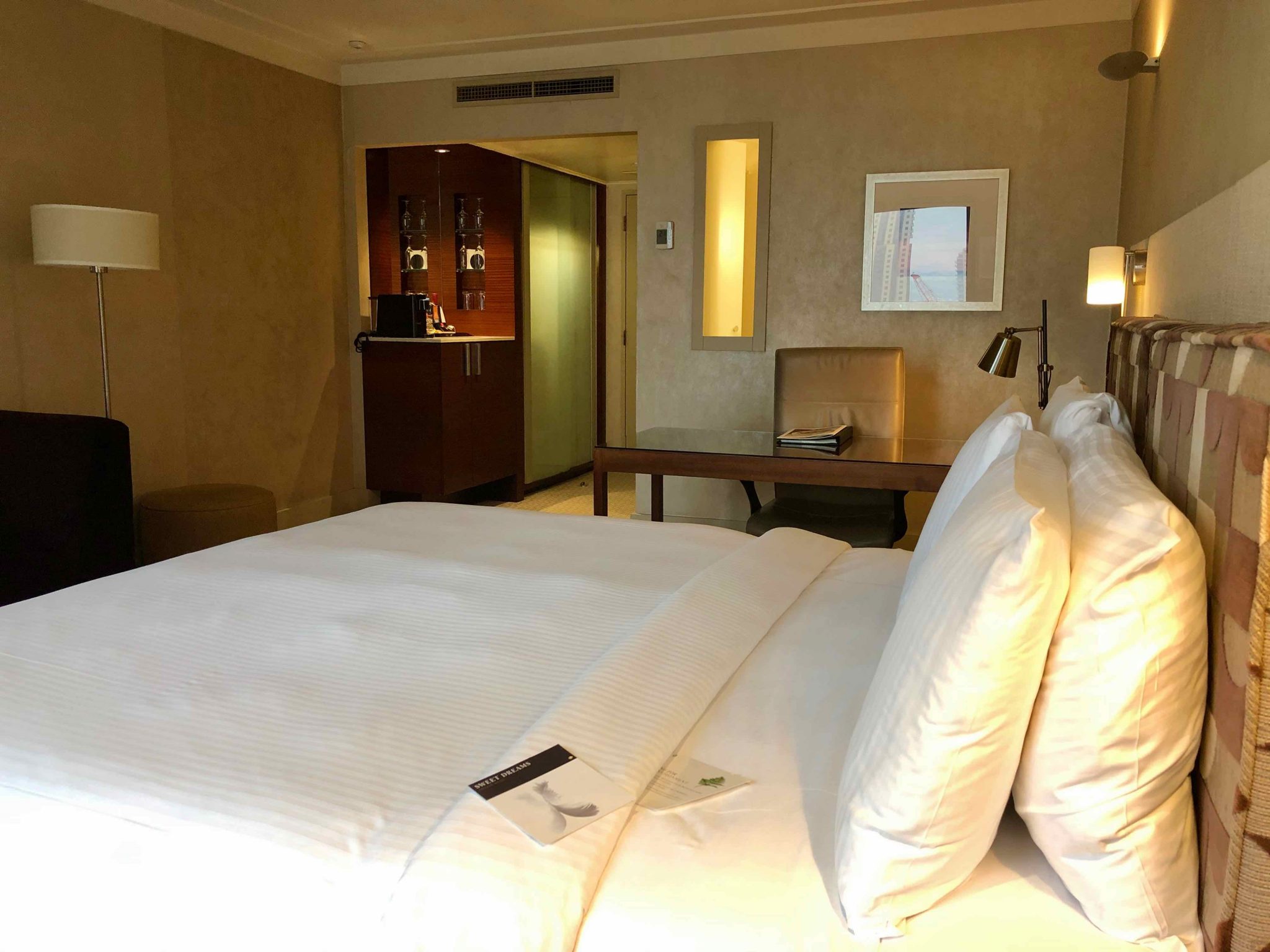 A nice touch was the pillow menu.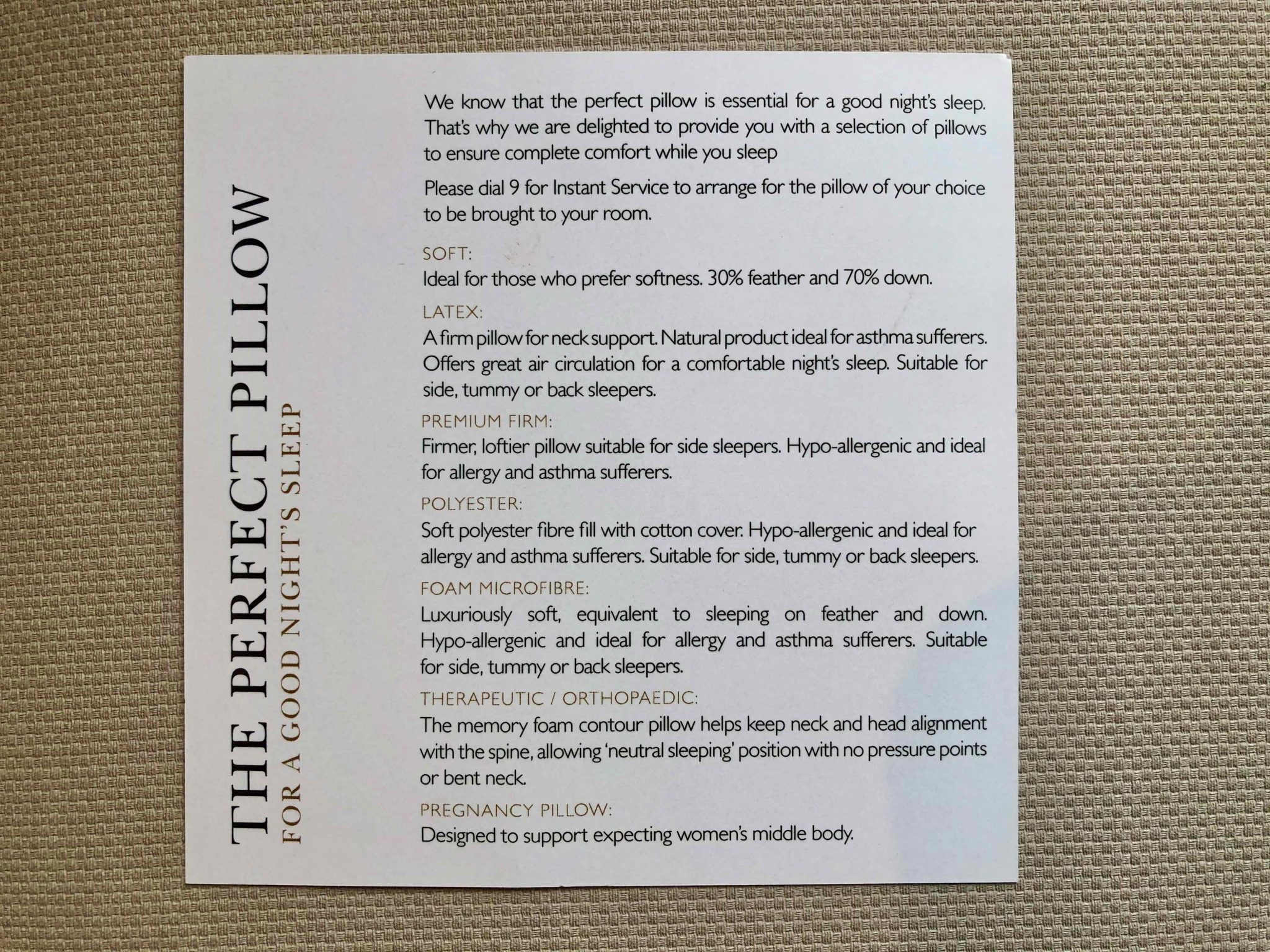 There are two types of rooms on offer at the InterContinental Sydney. One is a city view (which I had—of construction next door):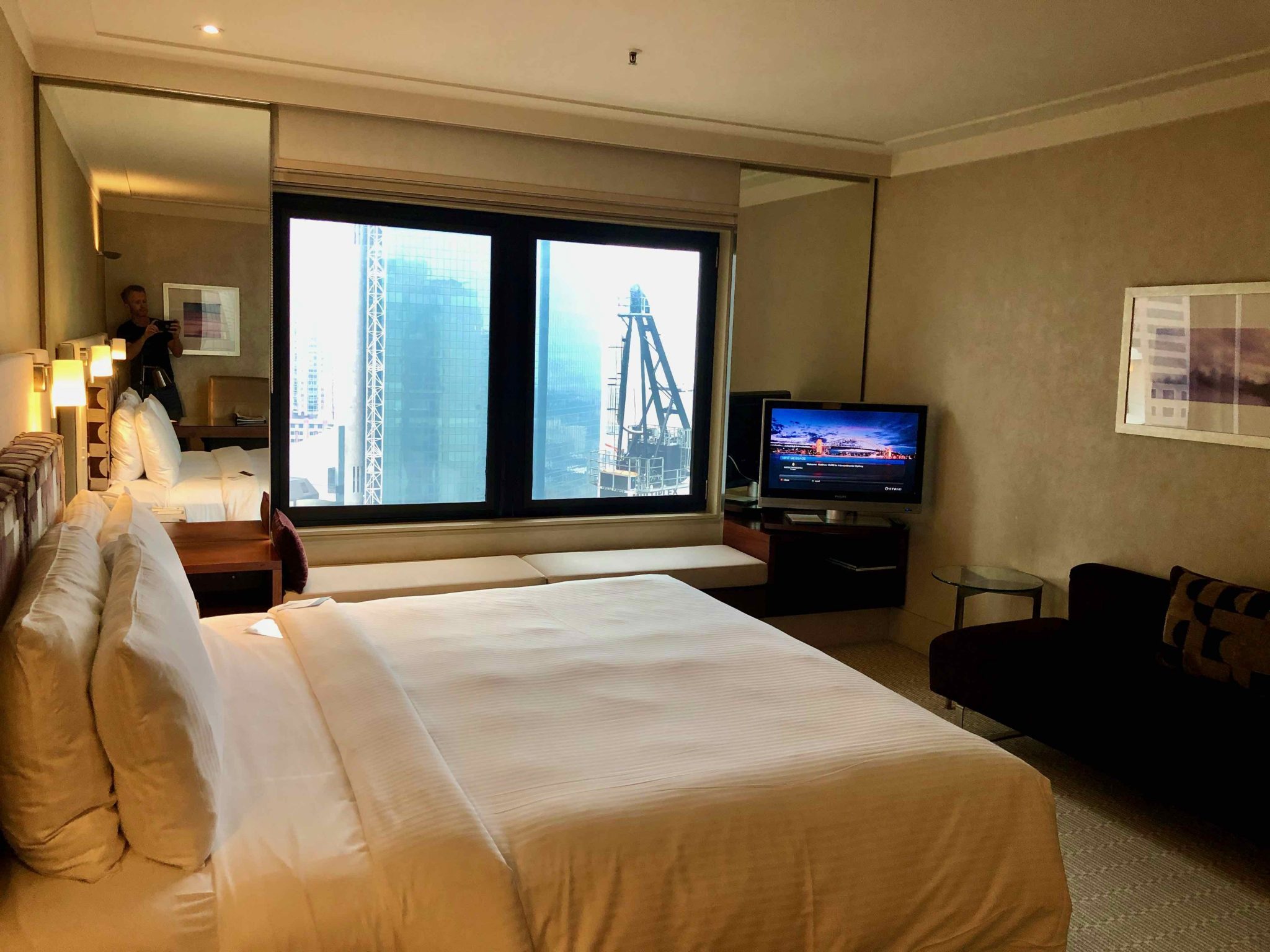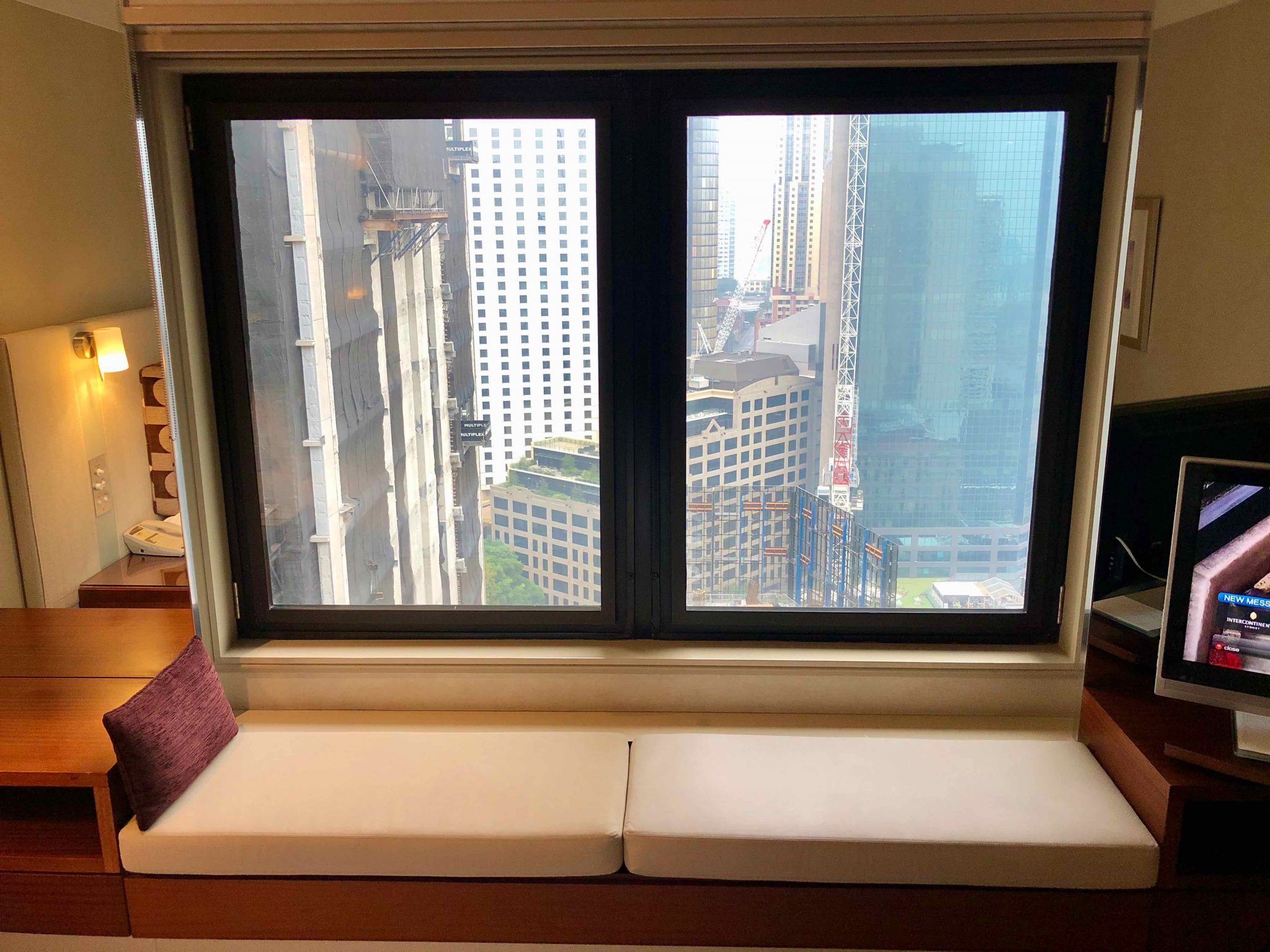 with the other being a harbour view room:
Although I was on the third-highest floor (Level 27), I heard nearby pubs during the night and construction all day.
The TV is low-definition and old-school.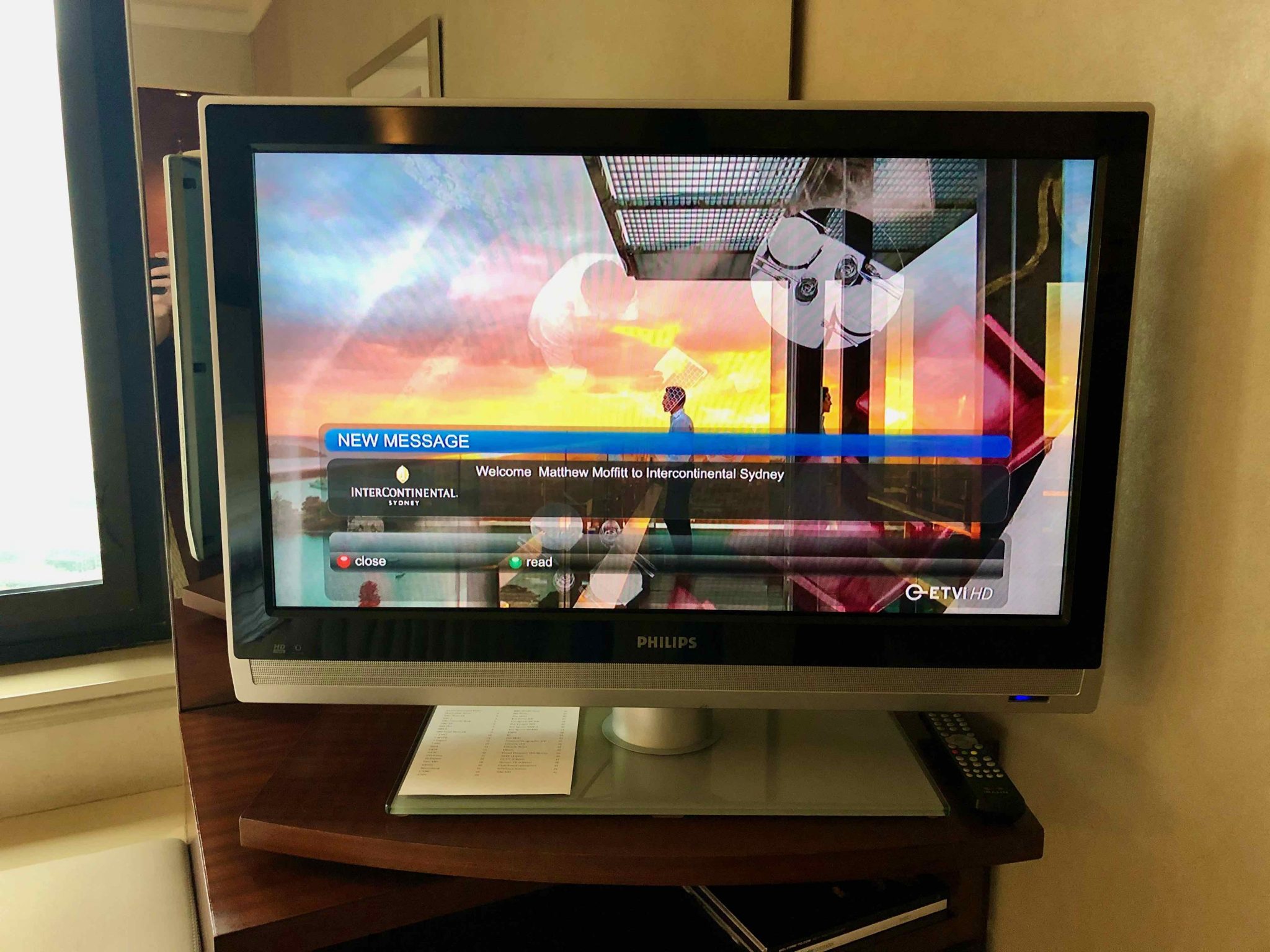 You'll get all the usual tea, coffee, drinks and snacks.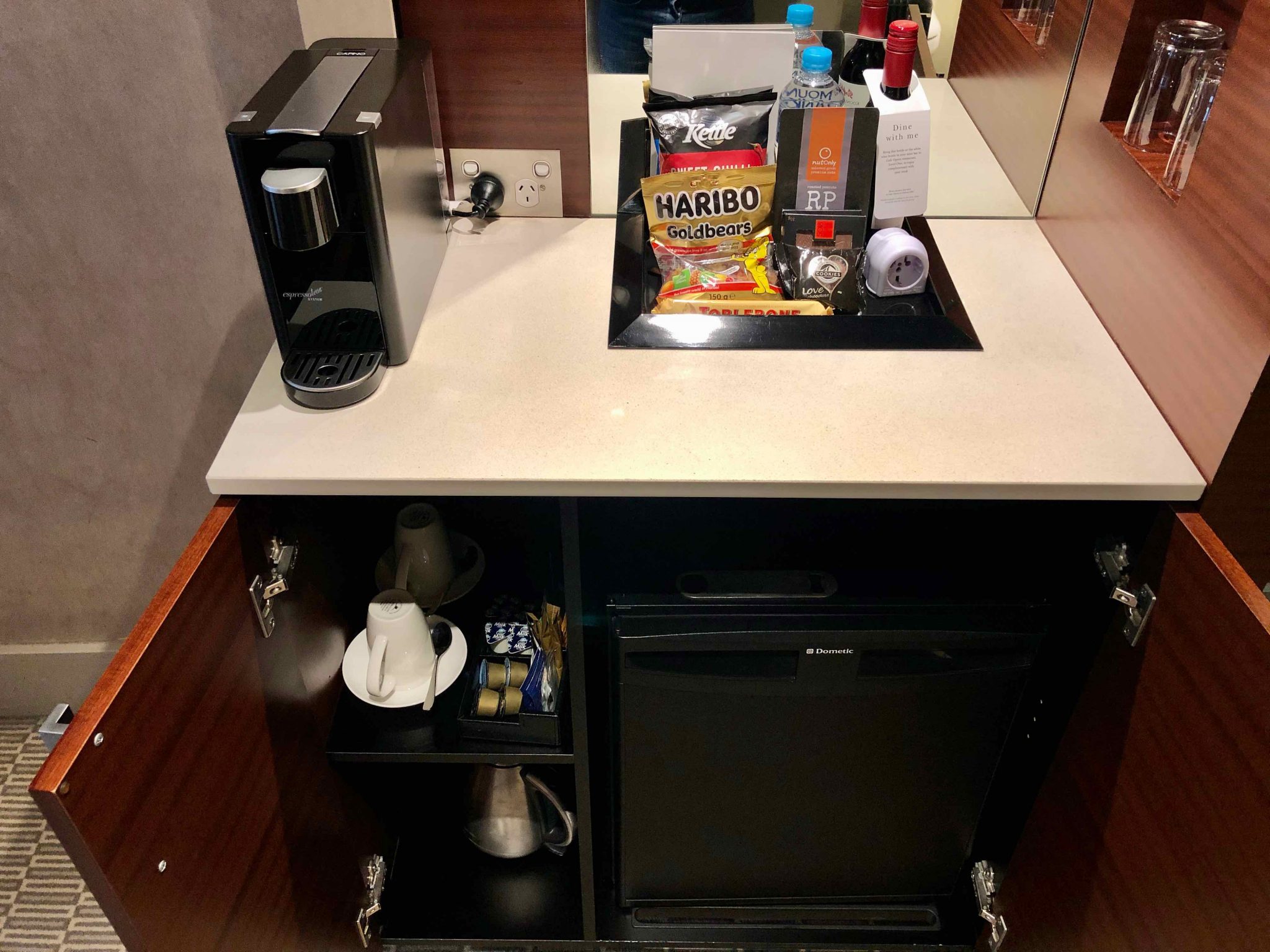 There is a basic worktable. I found the seat to be really uncomfortable after working for a few hours.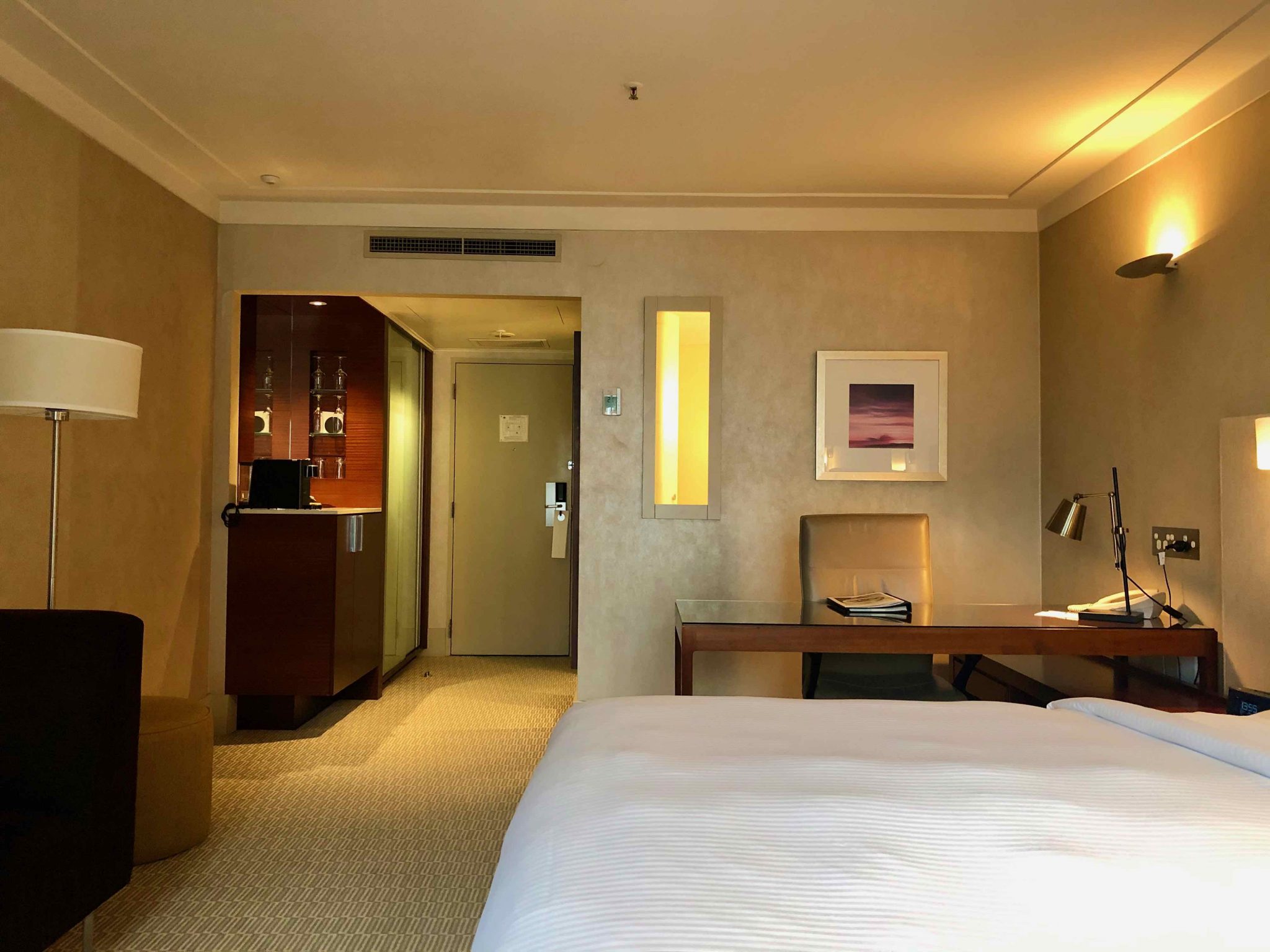 Moving onto the bathroom it's nice enough but not overly spacious.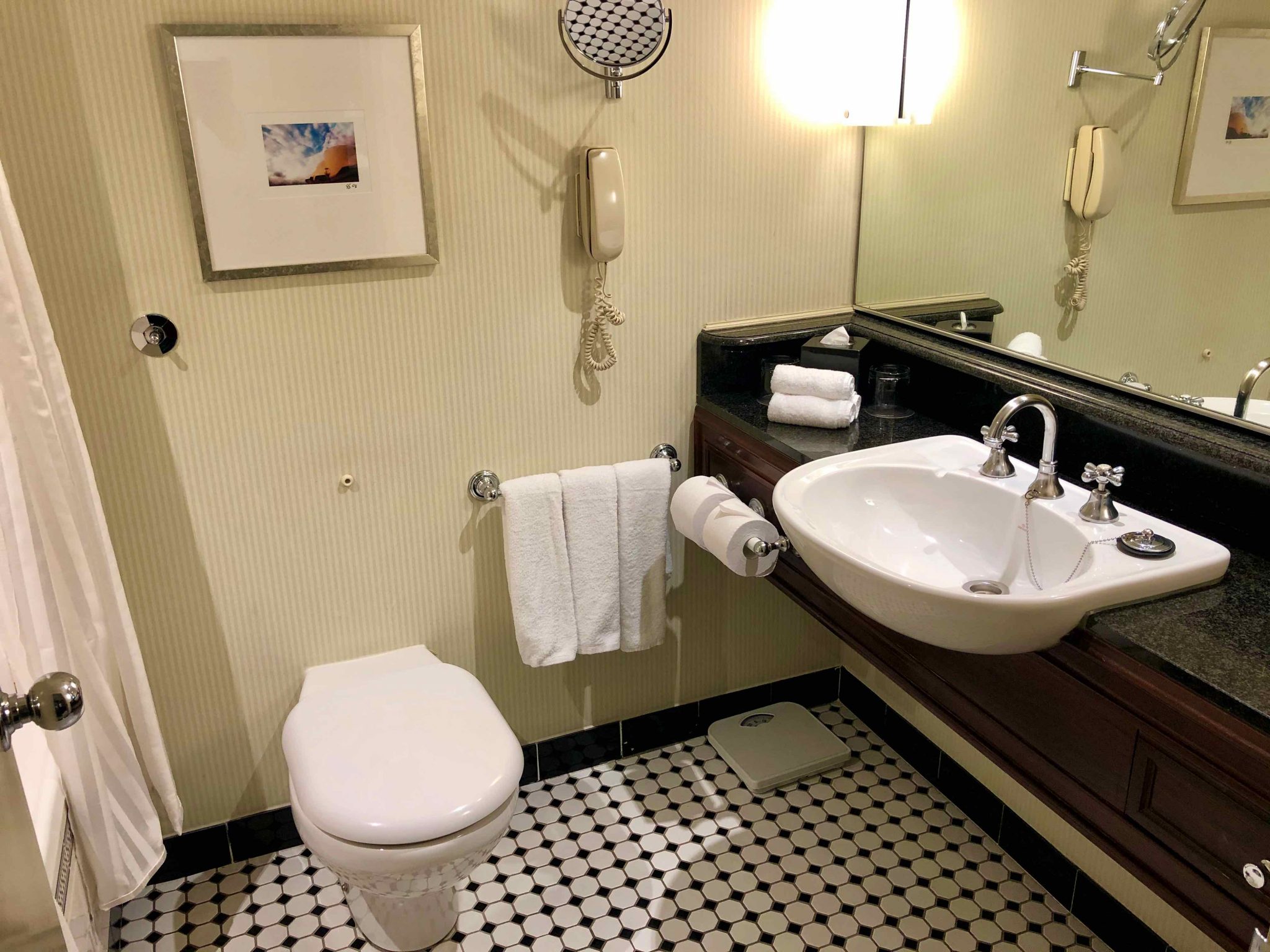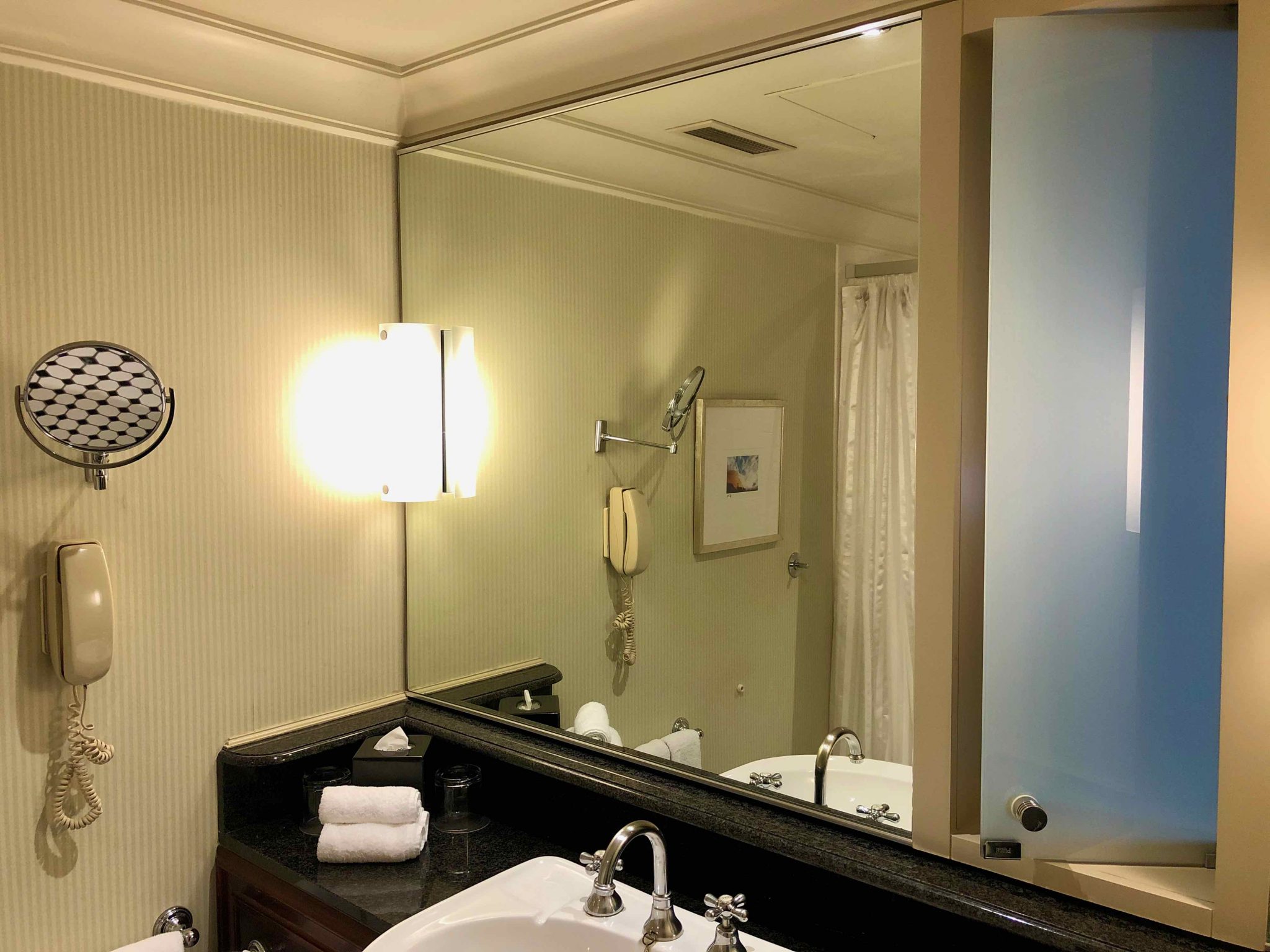 There is a weird window between the room and the bathroom.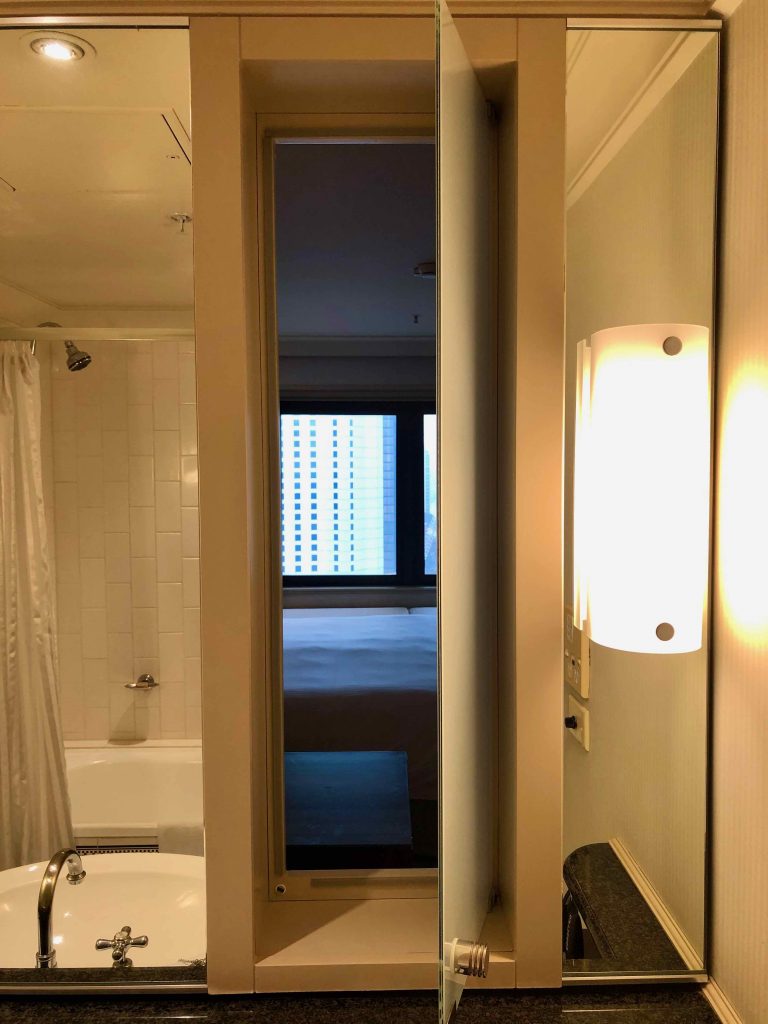 A lot of reviewers on TripAdvisor didn't like that there was a shower curtain instead of glass. I didn't really mind.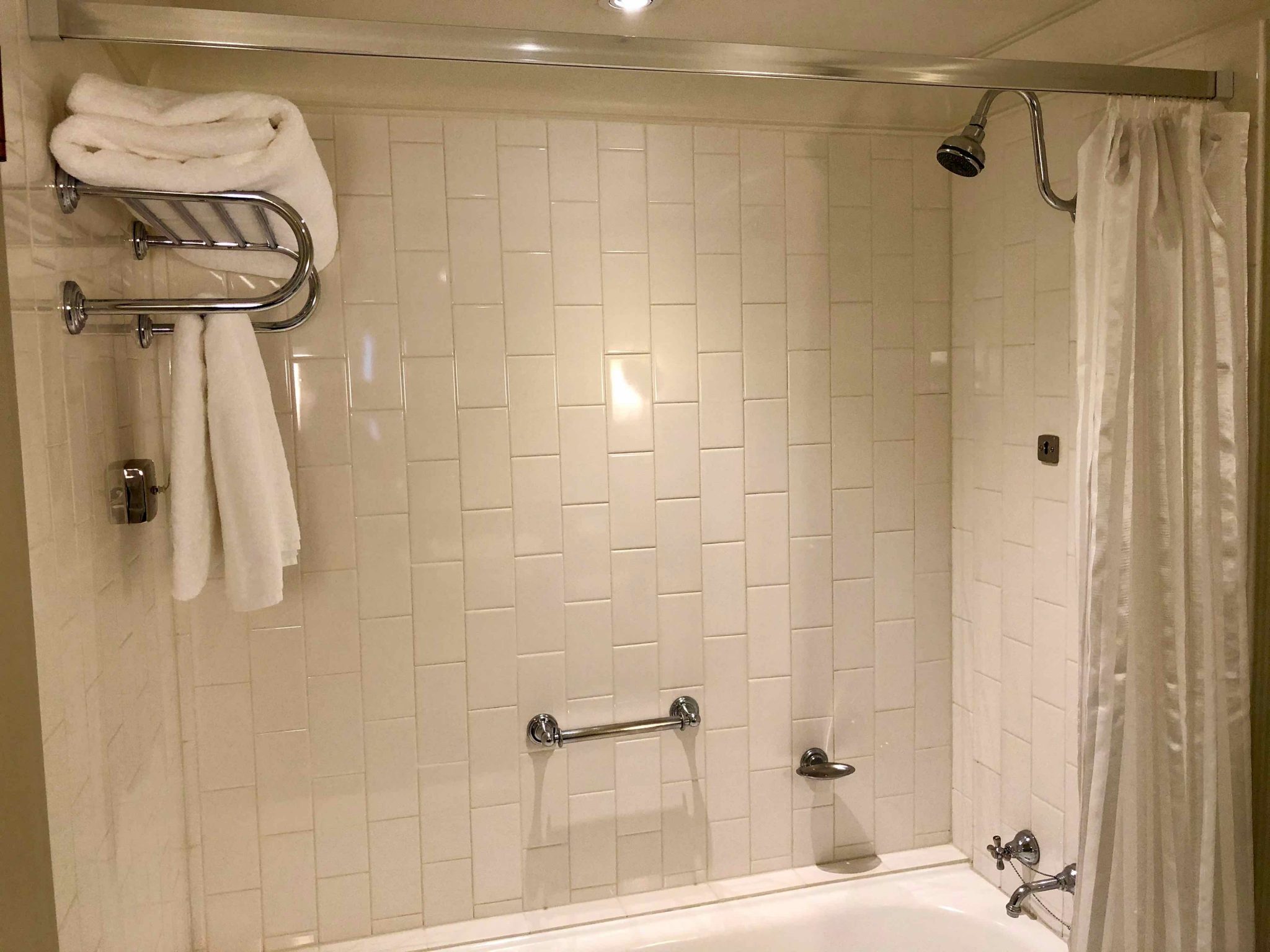 The toilet didn't flush fully. I don't think it was out-of-order, just that it stored a small amount of water. That's awkward. Plus, when lying in bed, I heard the sink gurgling a couple of times. Maybe the plumbing wasn't working properly?
At least the toiletries were cute and elegant.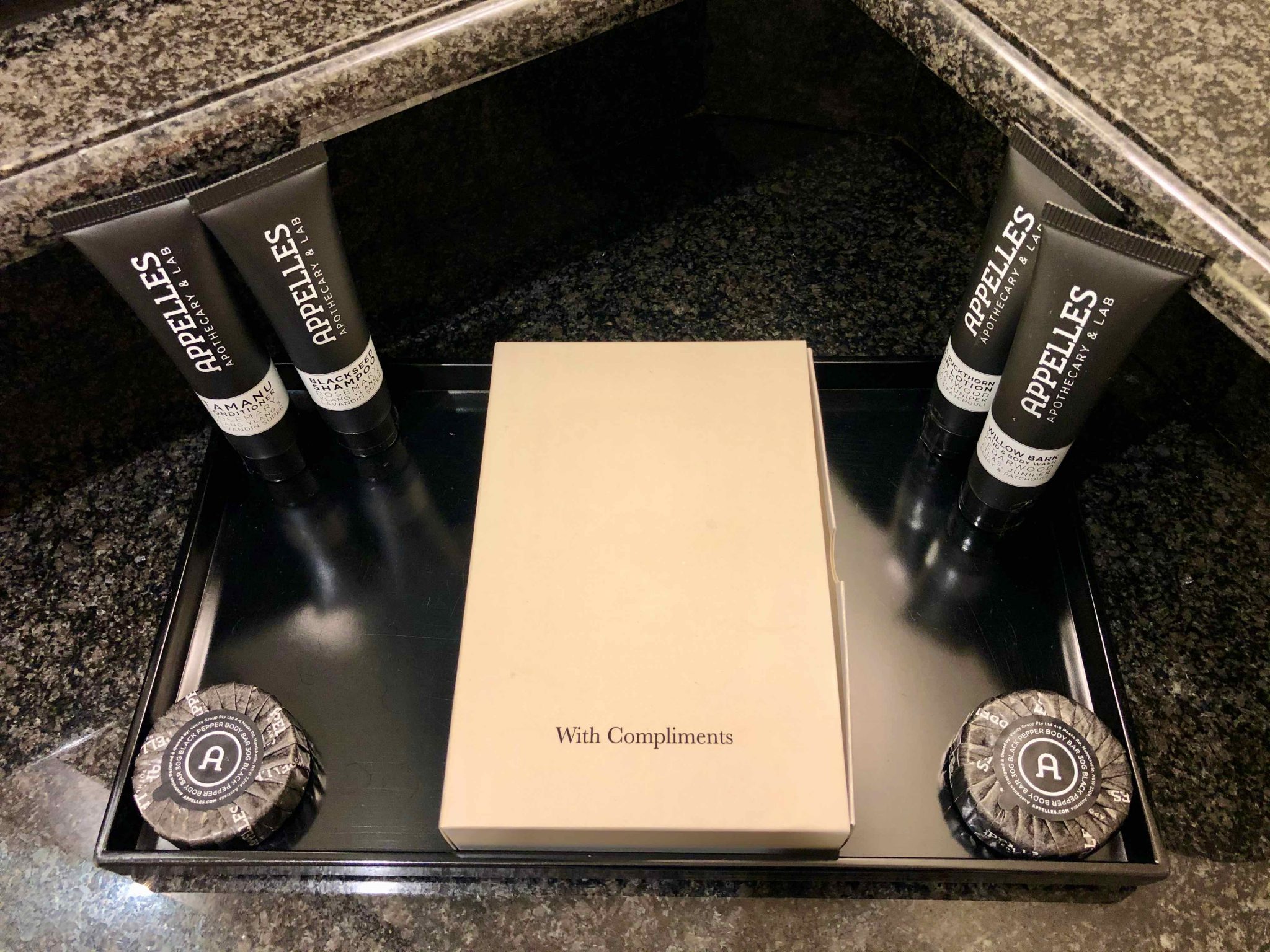 The hotel
Check-in was fast and friendly for me and the housekeeping staff were smiley and efficient.
The InterContinental Sydney's WiFi was consistently great, clocking 40/52 Mbps download/upload speeds.
As for public areas, there is a central atrium to have a drink or snack and listen to piano being played in the early evening.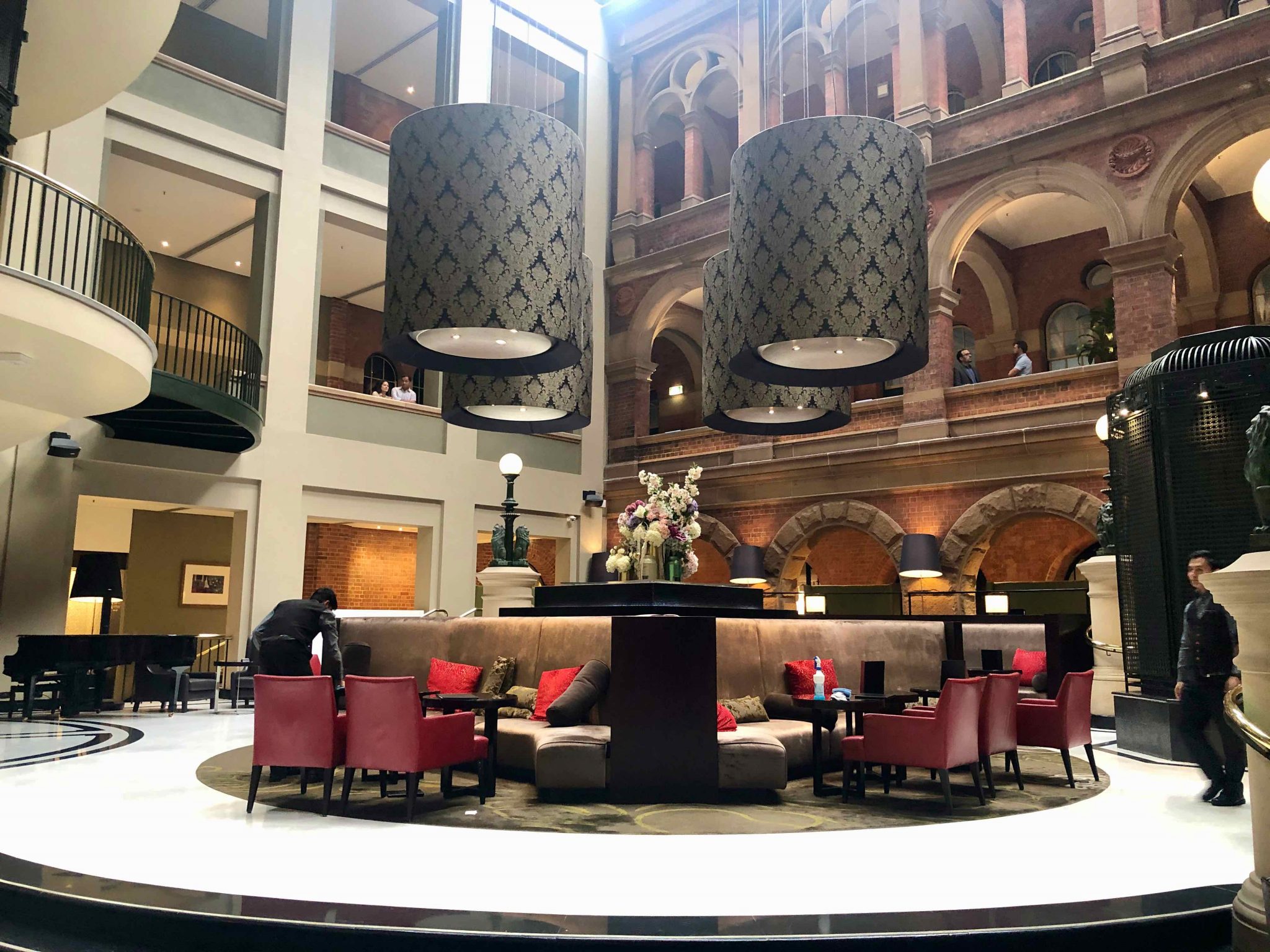 On the top floor, there is a small 15-metre-long indoor pool with a view of the bridge and Opera House.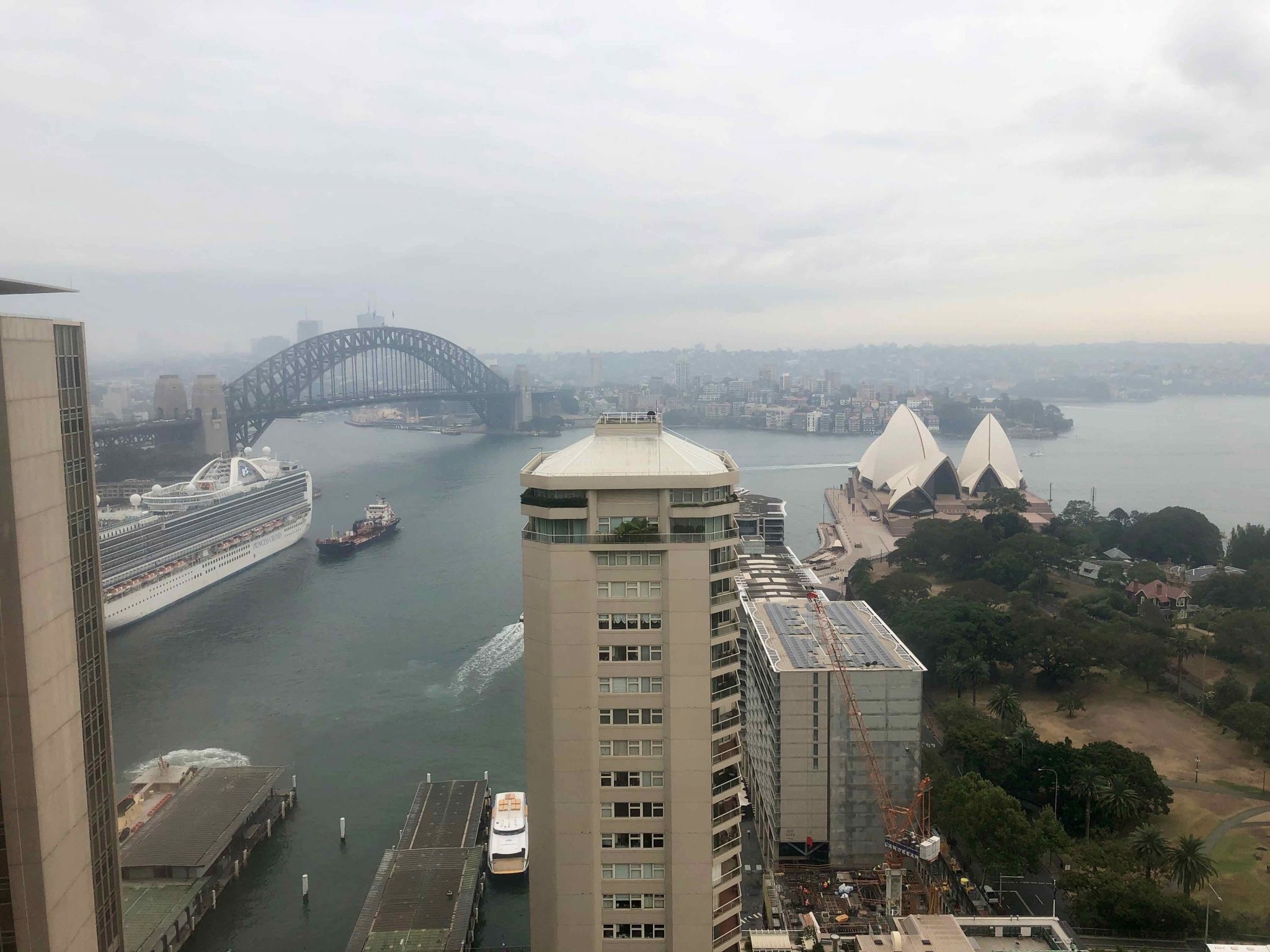 I visited the gym but wasn't able to grab a photo due to the other guests using it. I would describe it as fully-equipped but cramped.
The InterContinental Sydney has two restaurants. One is Cafe Opera, which offers breakfast, lunch and dinner buffets. Breakfast is priced at $42/26 adult/child aged 5-12; at lunch and dinner, kids eat for free.
The other restaurant is The Cortile. It offers a high tea from 11am until 5pm every day for $70 per person (add $9 on the weekends). You can choose between the vegan and non-vegan menu. From 5-7pm Sunday to Thursday, there are discounted cocktails available during happy hour.
Around the InterContinental Sydney
The main attraction of this hotel is its fantastic location. By foot, you are:
3 minutes from Circular Quay for ferries, train and light rail
5 minutes from the Royal Botanic Garden
7 minutes from the State Library
10 minutes from the Sydney Opera House
10 minutes from Coles or Woolworths at Wynyard
15 minutes from Andrew Boy Charlton Pool (my favourite in Sydney)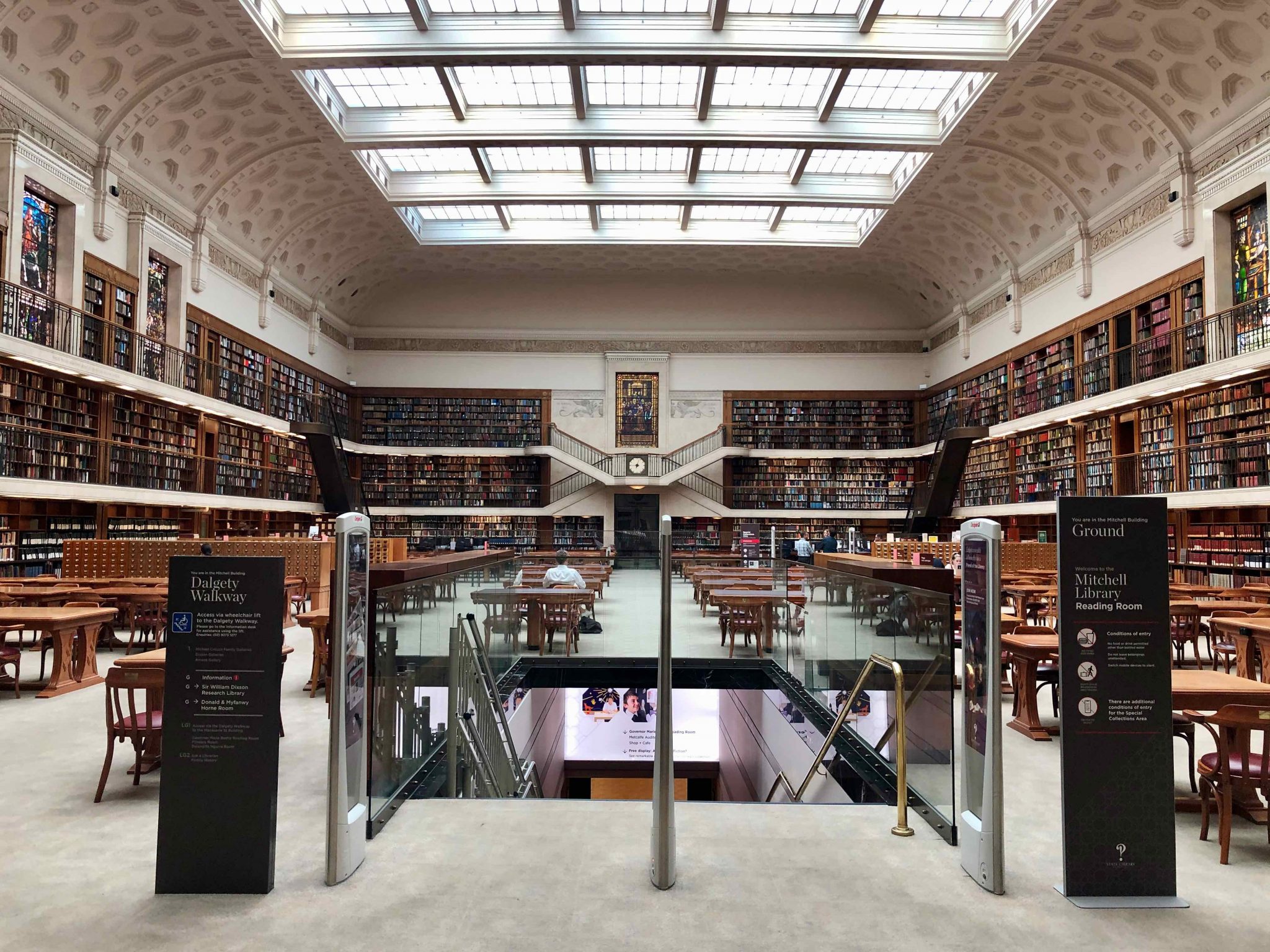 It takes 25/30 minutes to the domestic/international terminal at Sydney Airport by either foot & train or car.
Frequently asked questions
Does the InterContinental Sydney have a pool?
Yes, the hotel has an indoor heated pool on the top floor. It offers views of Circular Quay, the Sydney Harbour Bridge and the Sydney Opera House. It is 15 metres long and is open from 6am until 9pm every day.
What kind of breakfast is served at the InterContinental Sydney?
The hotel's Cafe Opera offers a full buffet breakfast every day from 6:30am until 10:30am. Breakfast is priced at $42/26 adult/child aged 5-12;.
What are the check-in and check-out times at the InterContinental Sydney?
Standard check-in is at 3pm. However, if you arrive earlier, the hotel can store your luggage for you until your room is ready. Check-out is at 11am. However, you may be able to arrange a later check-out for a fee or with IHG elite status.
Summing up: InterContinental Sydney
When Keith stayed here back in 2011, he concluded:
All up, a quick and pleasant stay. Nothing specific to recommend it but also nothing wrong at all either. If it suits your location and budget, I'd recommend giving the Sydney InterContinental a try. However, without spending extra on club access or a suite, I doubt you'll be completely blown away.
I would tend to agree. I set my expectations at 'average' before staying here and after having done so, I'm neither wowed nor displeased. What I most appreciated were the convenient location and efficient customer service.
In 2017, it was announced that this hotel would get a $200 million renovation, with 'proposed upgrades…to all existing public areas, functions rooms, restaurants and 509 guest rooms and a new, 900 square-metre grand ballroom.' However, this is more of a longer-term renovation and has not been completed (or even started?) yet.
For now, if being near Circular Quay, the Opera House, the Sydney Harbour Bridge or The Domain is important to you, then staying here could be a good option. Otherwise, it's worth looking around for a better deal.
What's great
Excellent location
Comfortable bed
Friendly and professional staff
Great views of the harbour
Reliable WiFi
Great hot water temperature and pressure
Indoor pool
What's not great
Drabby and old appearance
Faulty plumbing (may have just been during my stay)
Noise from nearby pubs and construction
Very uncomfortable workchair
Cramped gym
This content contains affiliate links from which Point Hacks may earn commissions from transactions generated from new customers, bookings and general enquiries. Find out more here.
InterContinental, Sydney
was last modified:
October 31st, 2022
by