Refurbished and reopened in May 2016, the First Class Lounge & Spa at Abu Dhabi Airport is Etihad Airways' flagship lounge.
I visited this lounge in February 2017 on my layover in Abu Dhabi after arriving on my A330 First Class flight from Geneva and before departing on my A380 First Apartment flight back to Sydney.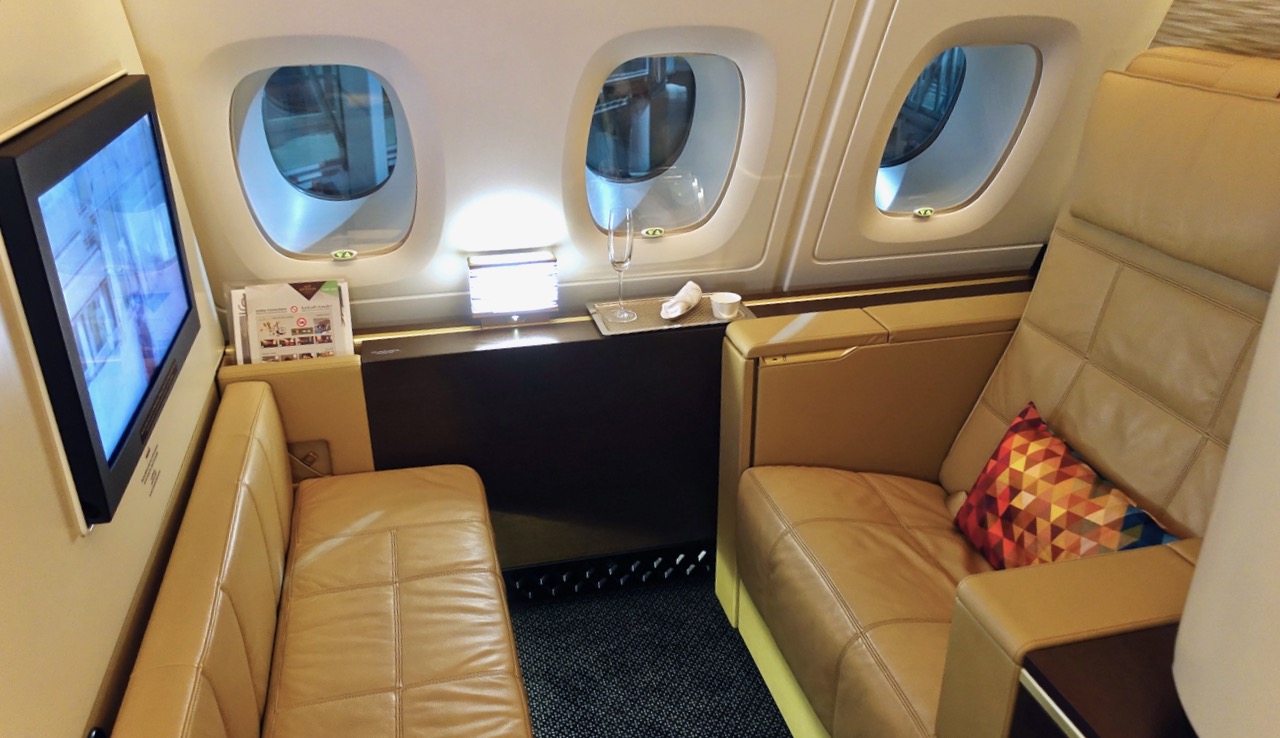 The Etihad A380 First Apartment
Lounge Details
The lounge and spa are open 24 hours a day but the spa and salon are closed between 2:30 and 5:30am.
A separate facility inside is available for passengers travelling in The Residence, Etihad's three-room suite onboard the A380. This facility is also available to passengers with access to the First Class lounge travelling in other cabins for an extra fee (subject to space availability).
Lounge Location
The lounge is located just past security checkpoint in Terminal 3 if departing from Abu Dhabi; if connecting from other flight, clear transit security in Terminal 3 before proceeding to the lounge.
You just take an elevator up to the second floor after entering.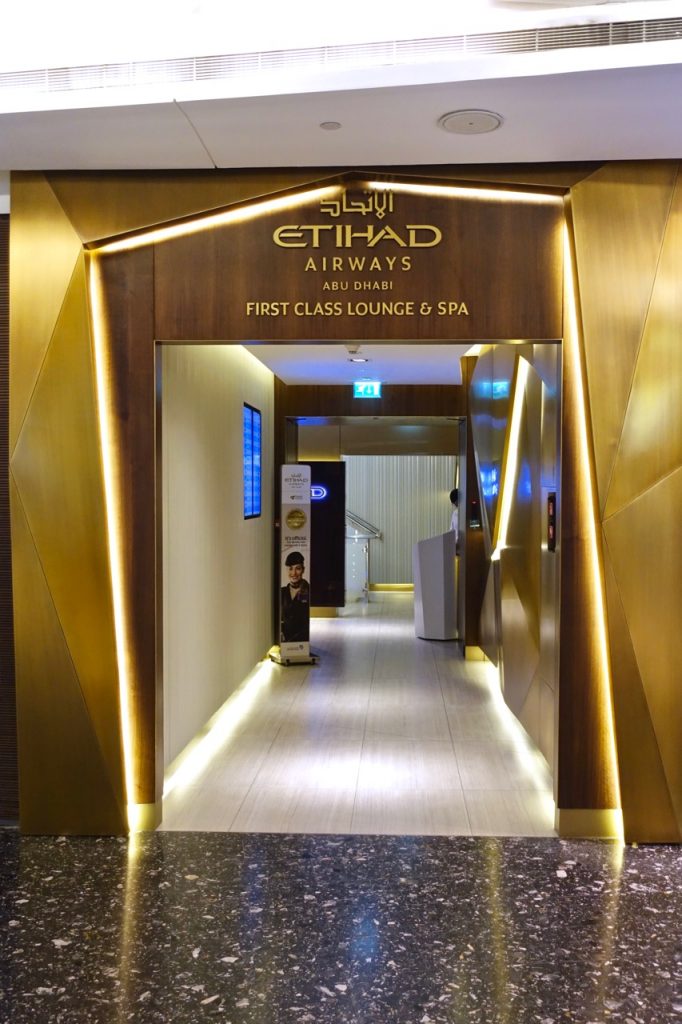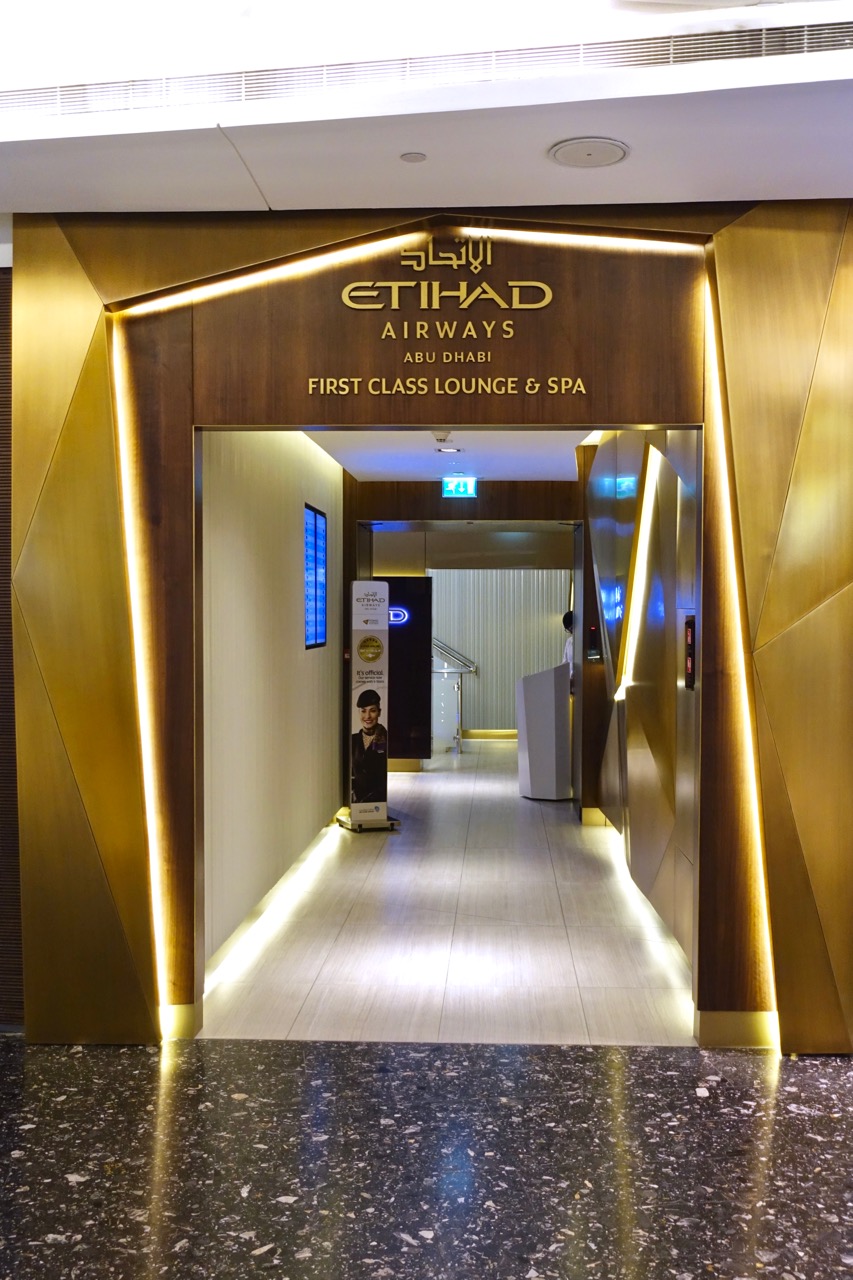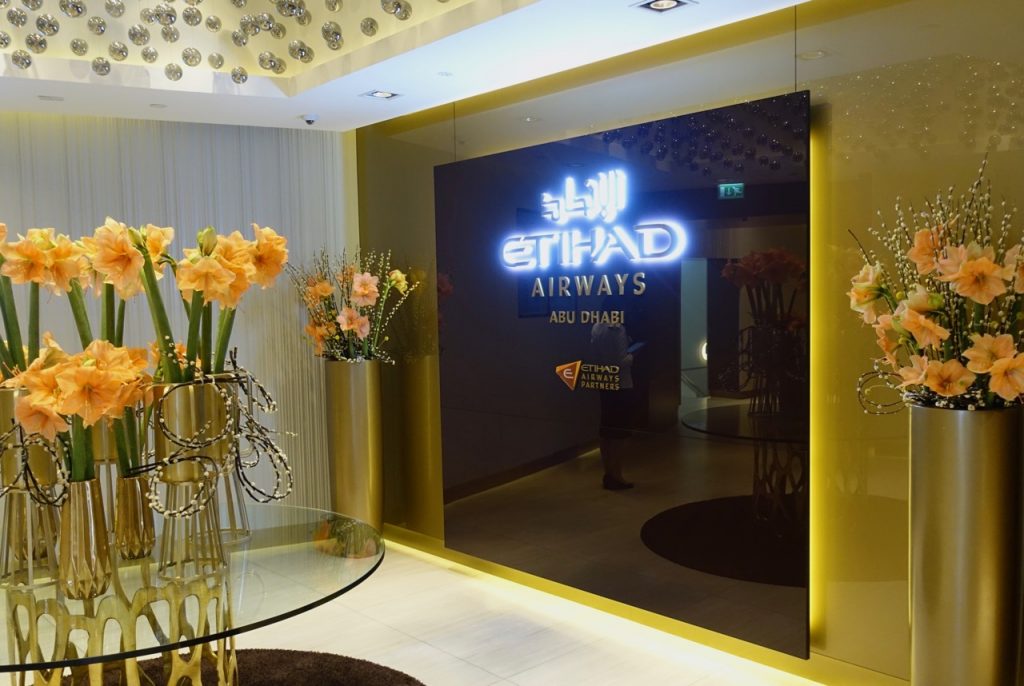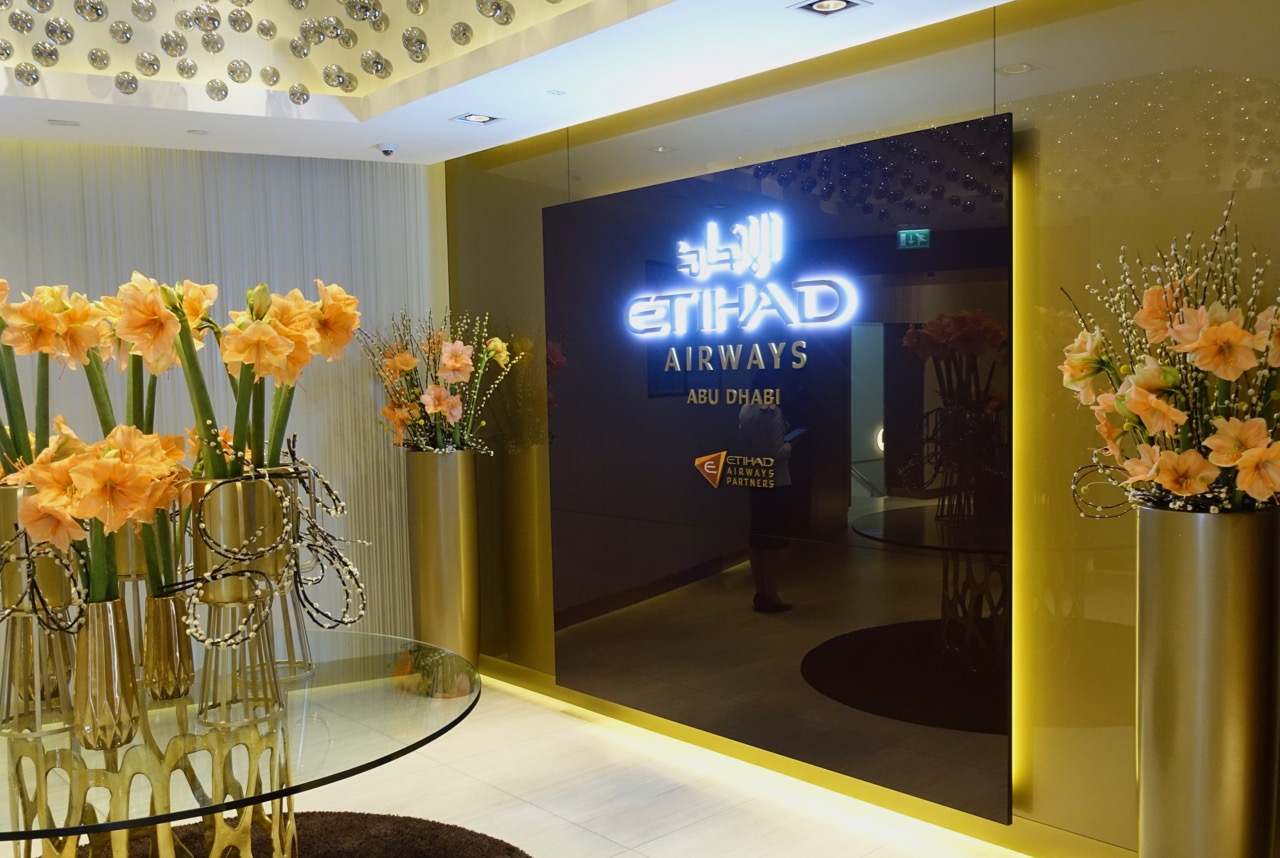 Lounge Seating
There's plenty of seating options if you aren't dining, chilling out in the relaxation room, or grabbing a massage.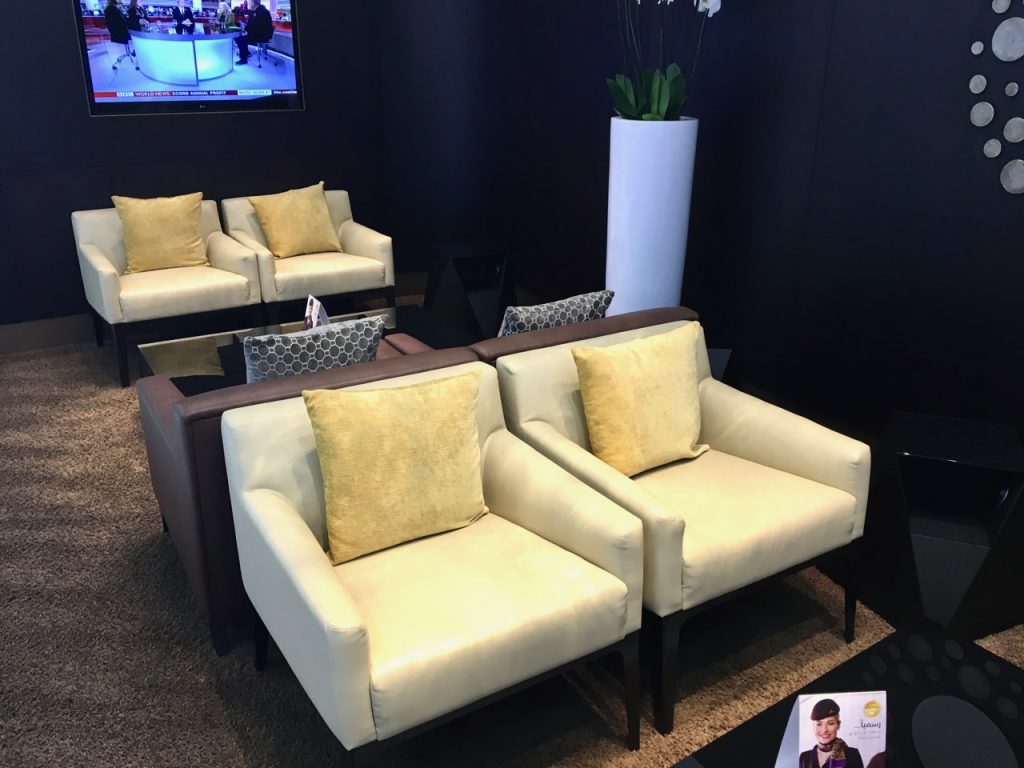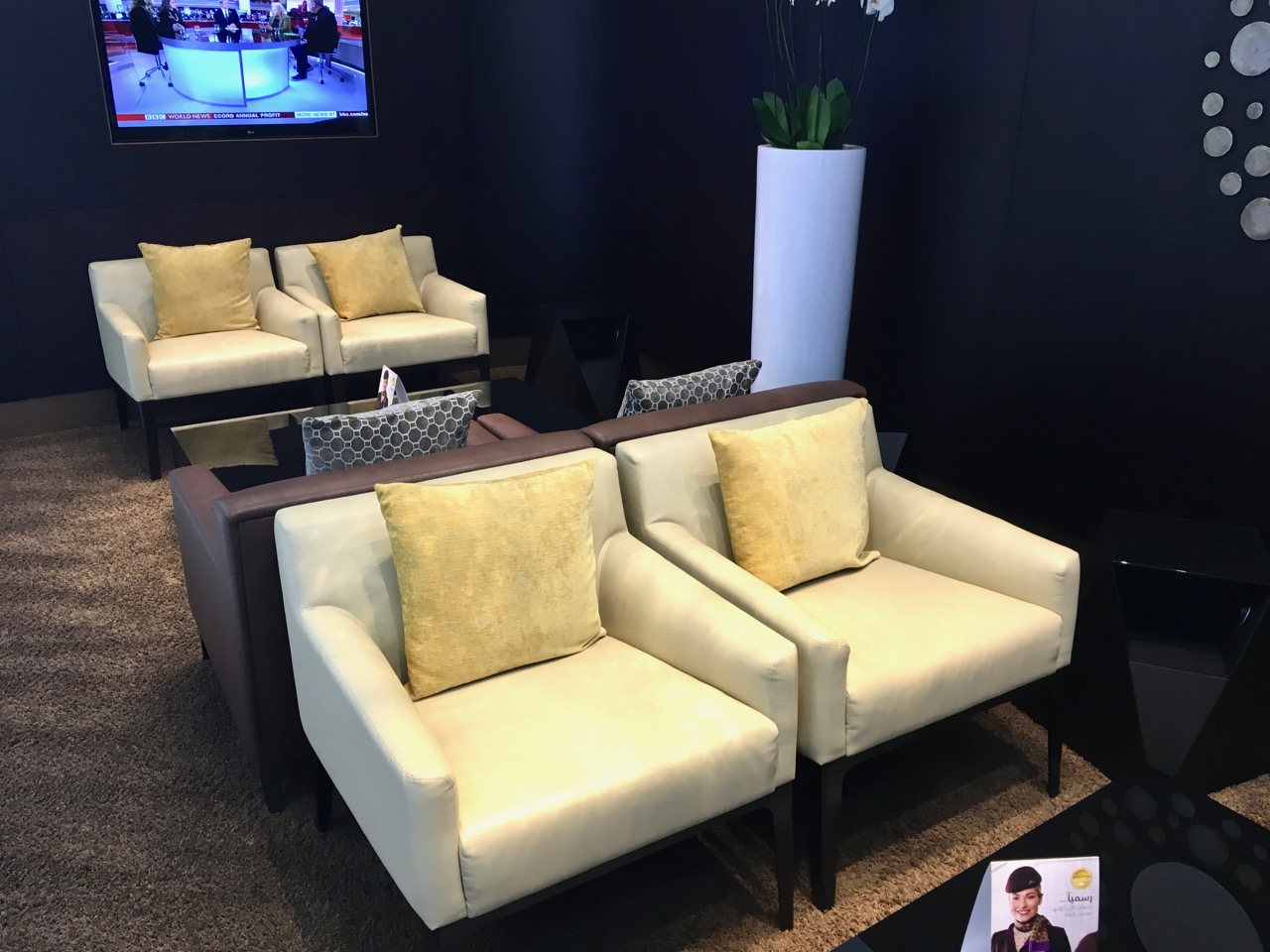 There are three dining areas: an interior main area, tables by the windows, and another area at the opposite end of the lounge.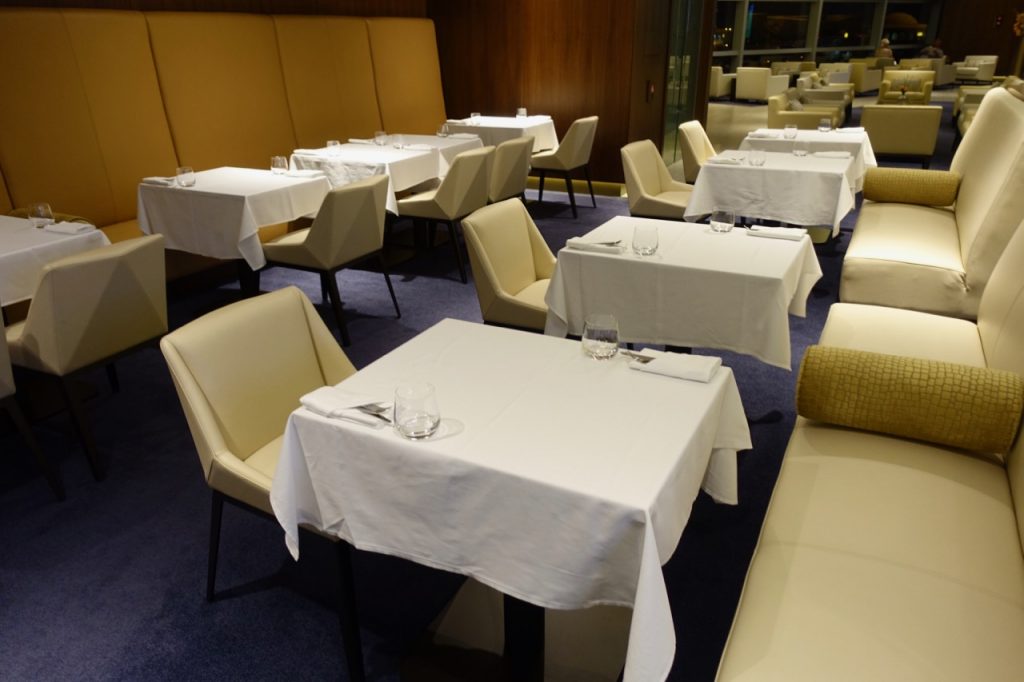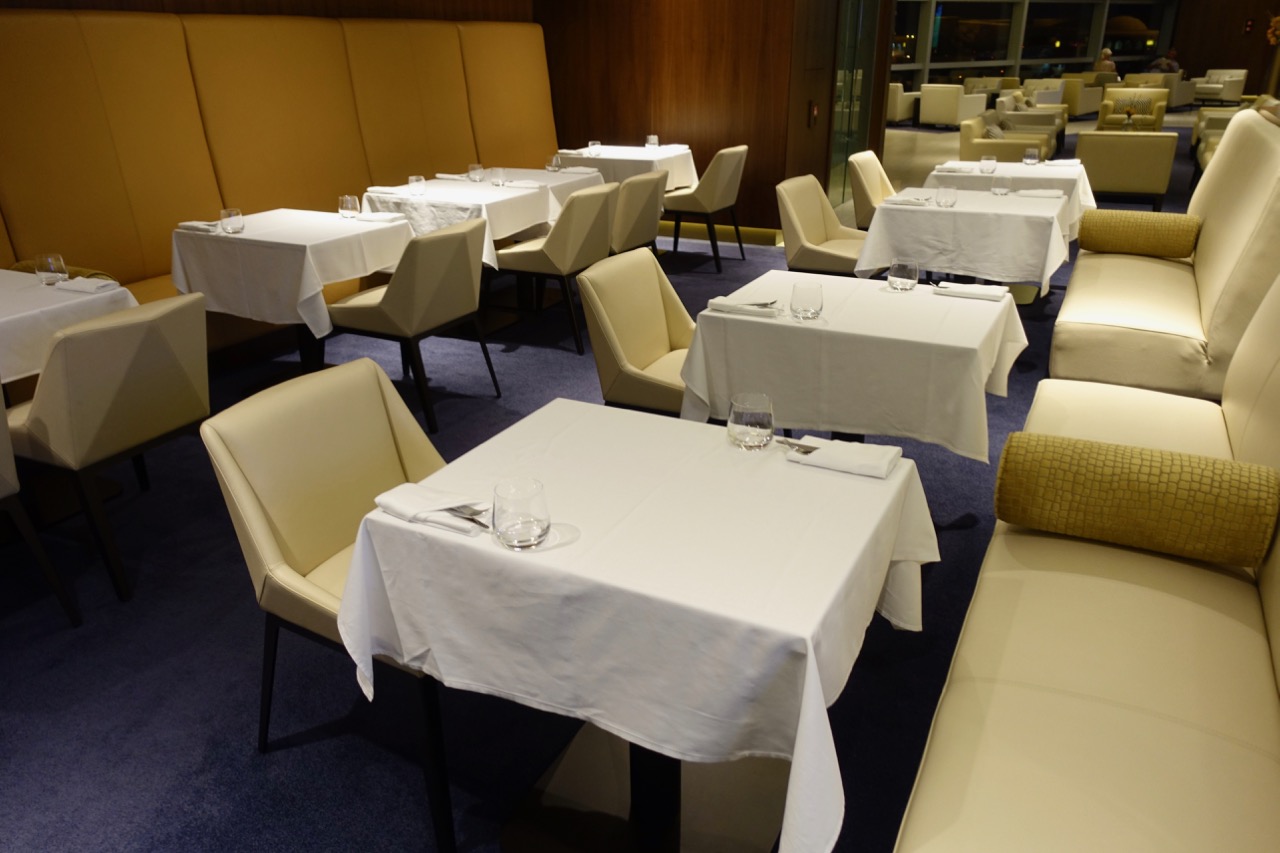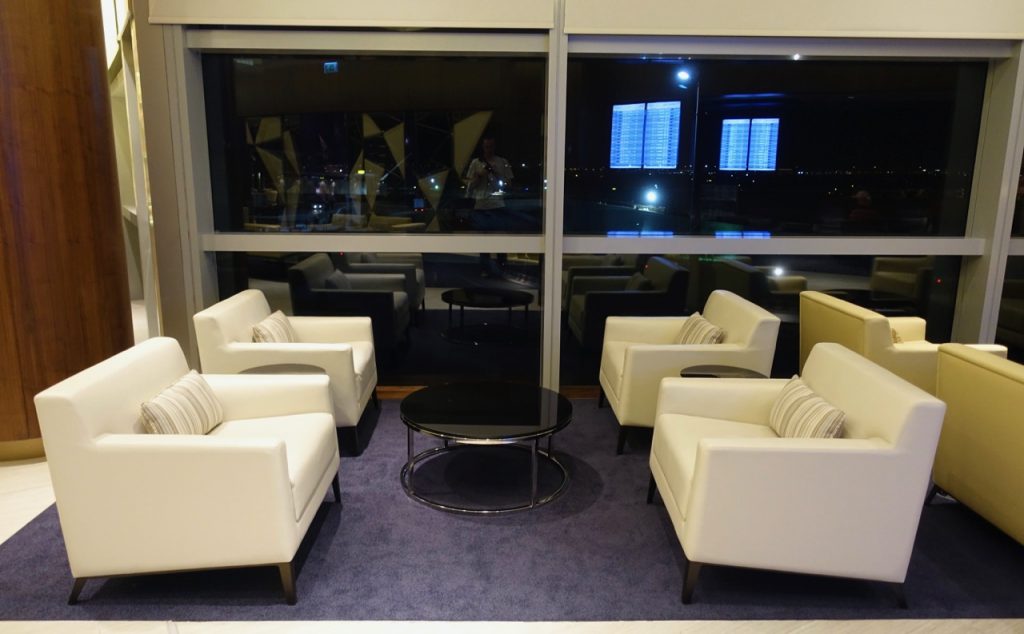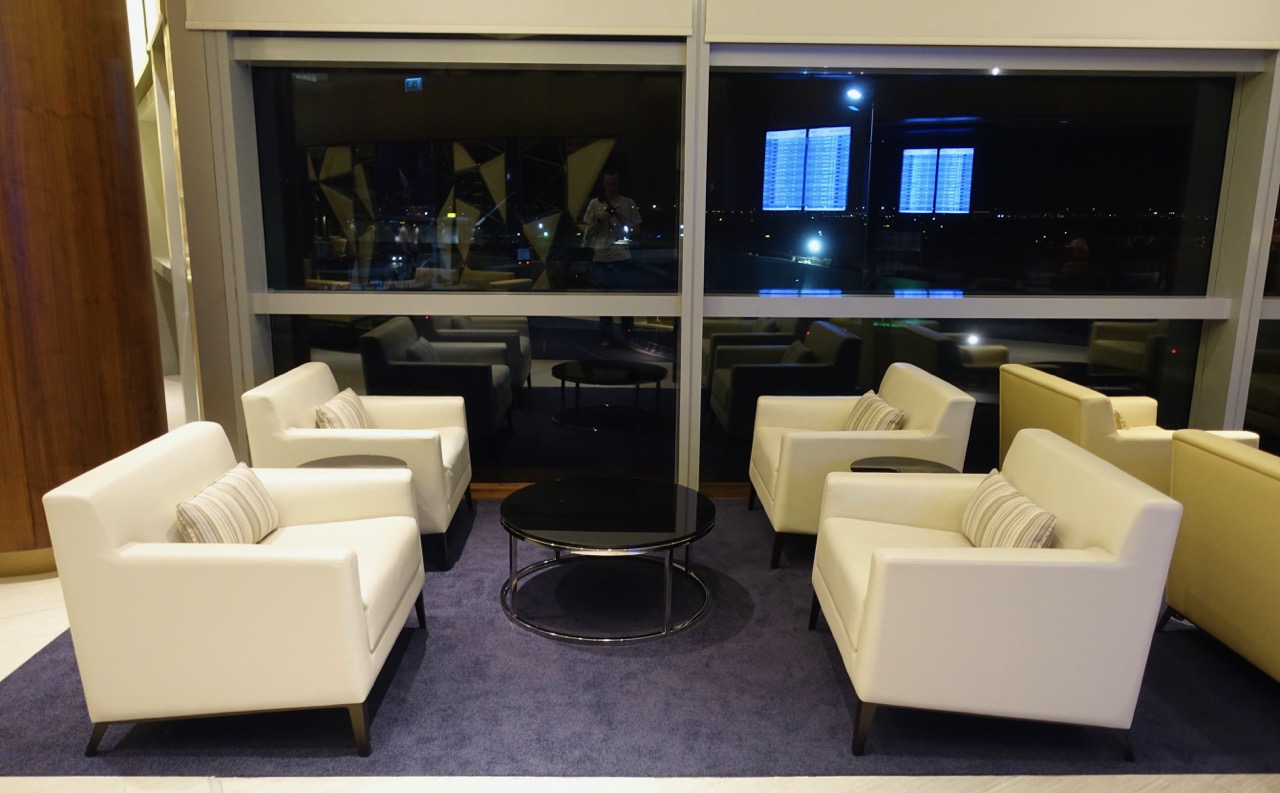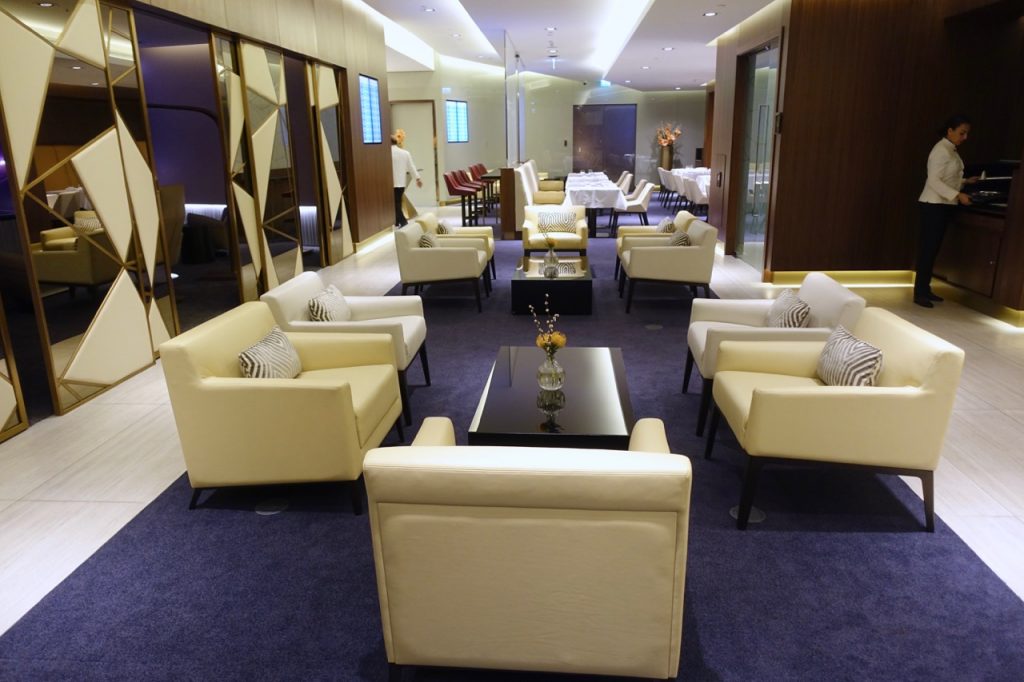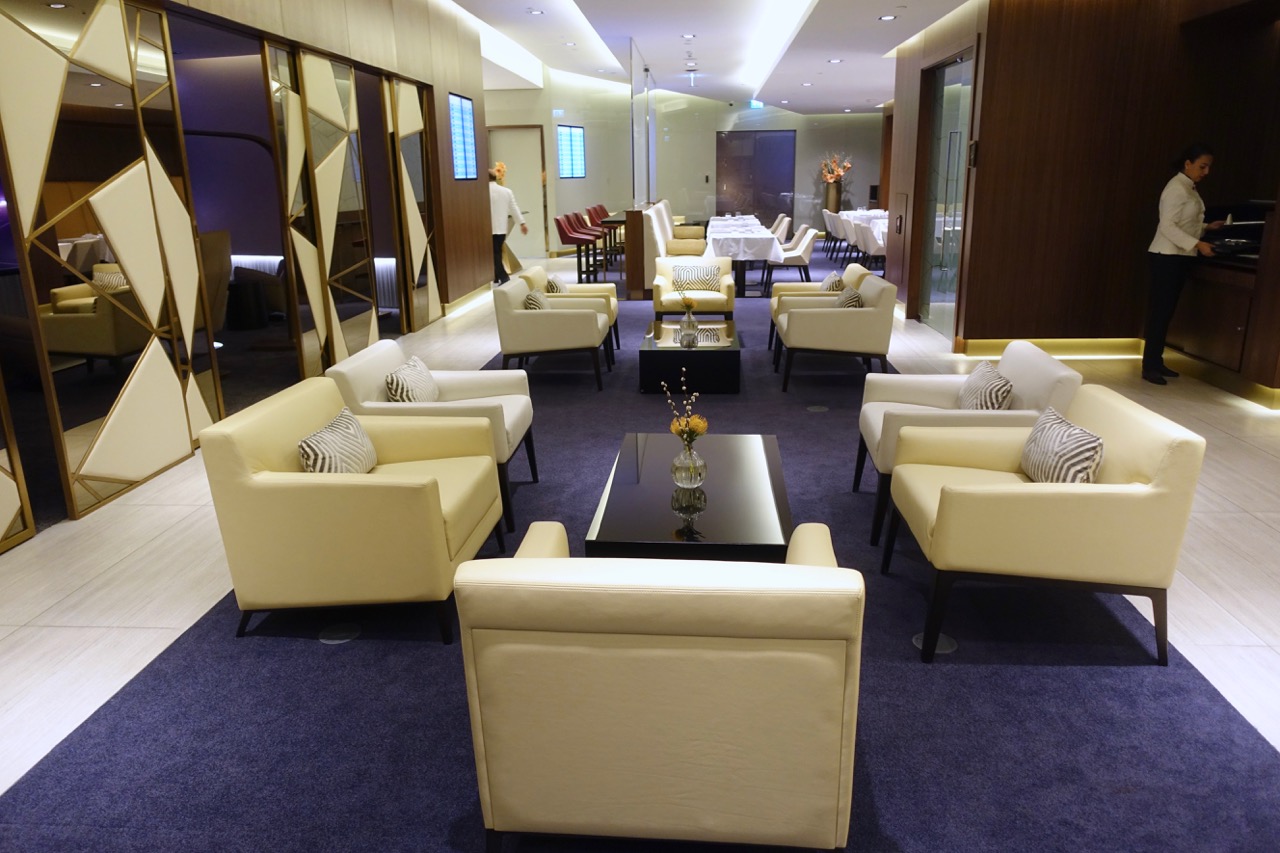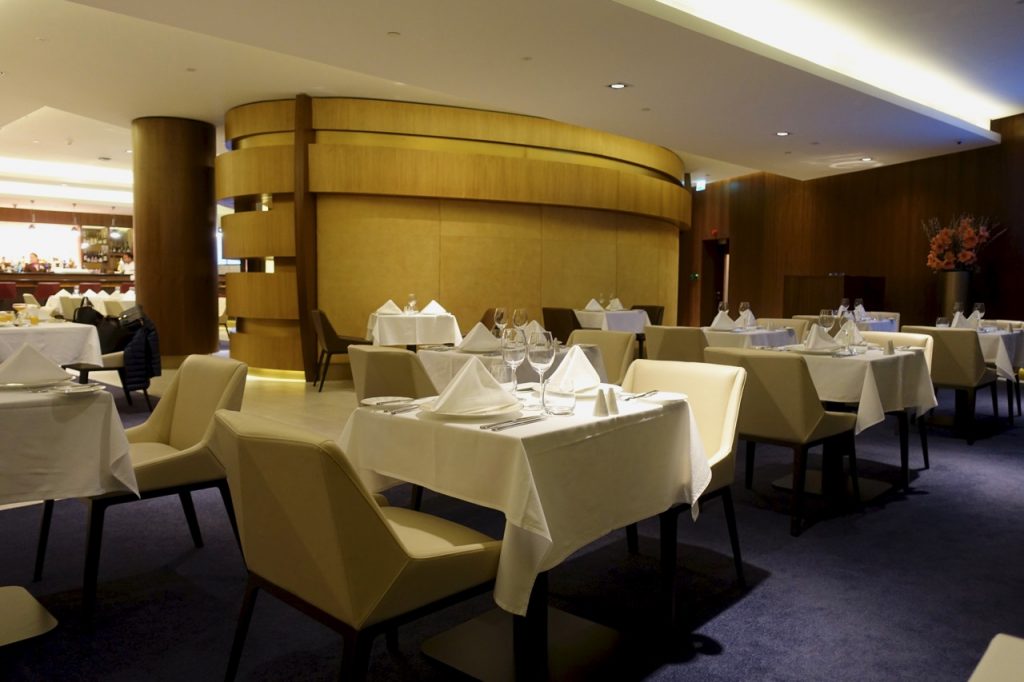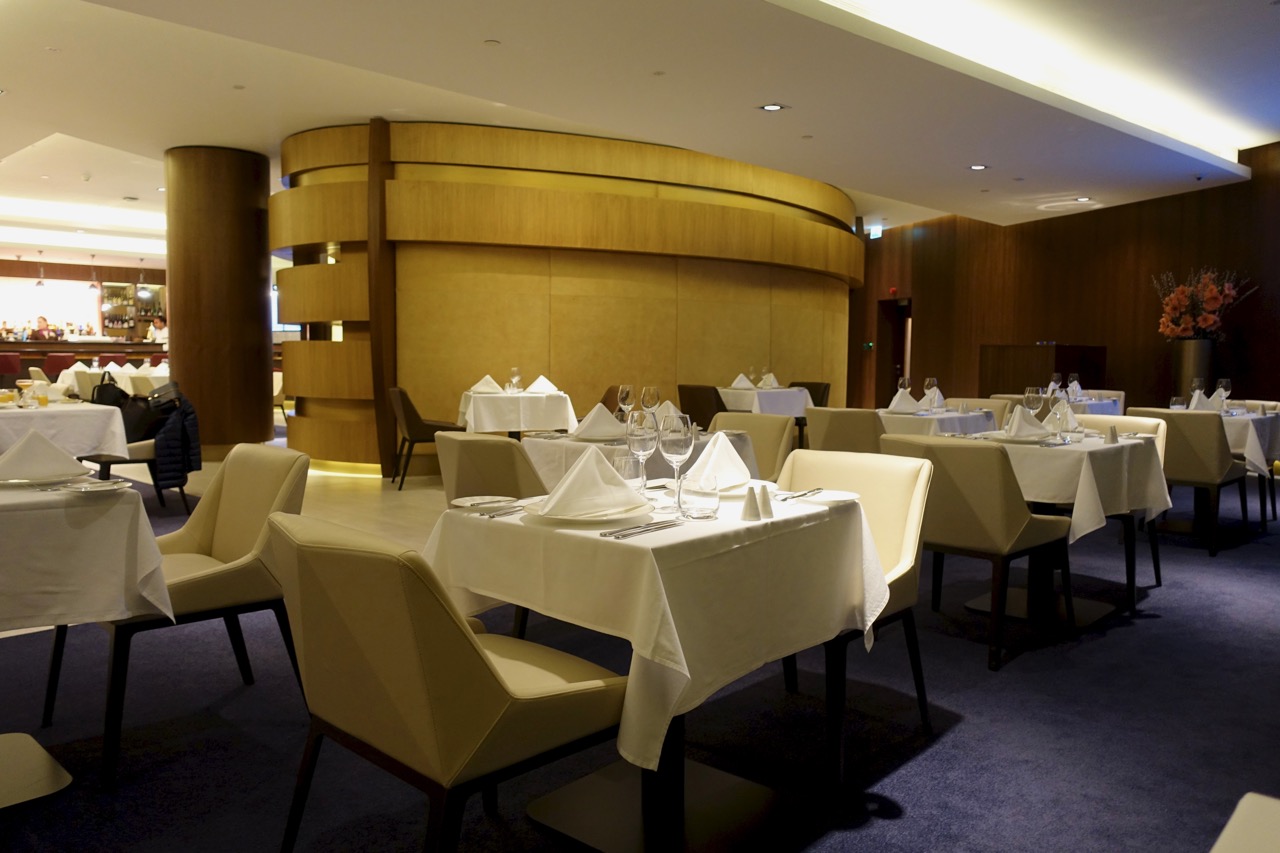 There is also a gym, cigar room and kids' play area (not pictured.)
Views
There are views of the interior apron, although it is hard to see at night, and the lounge is somewhat set back from what's going on outside.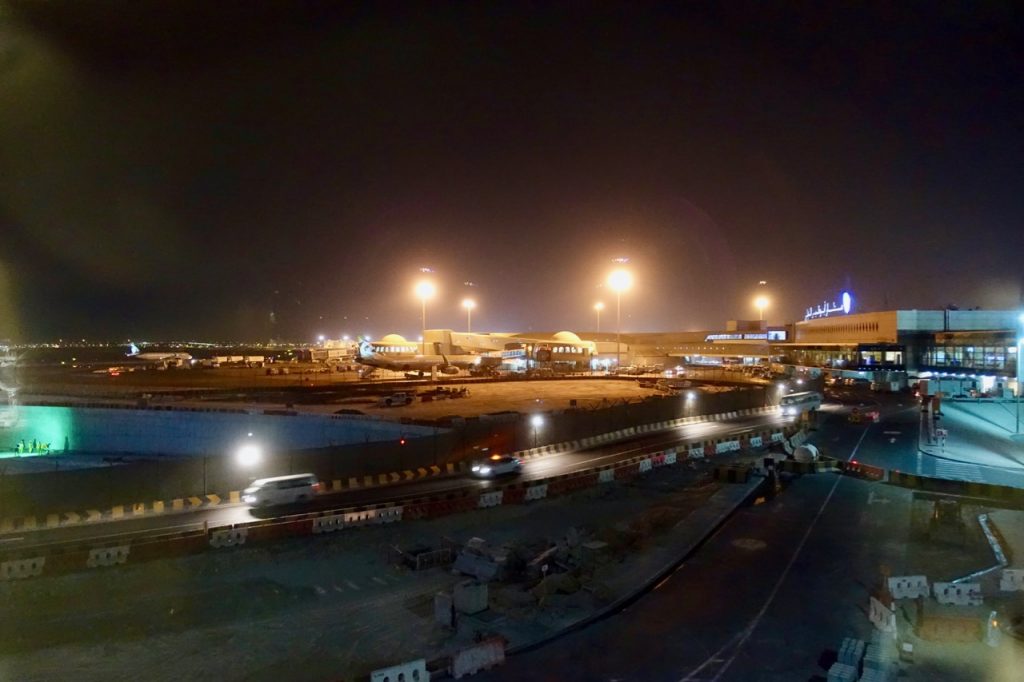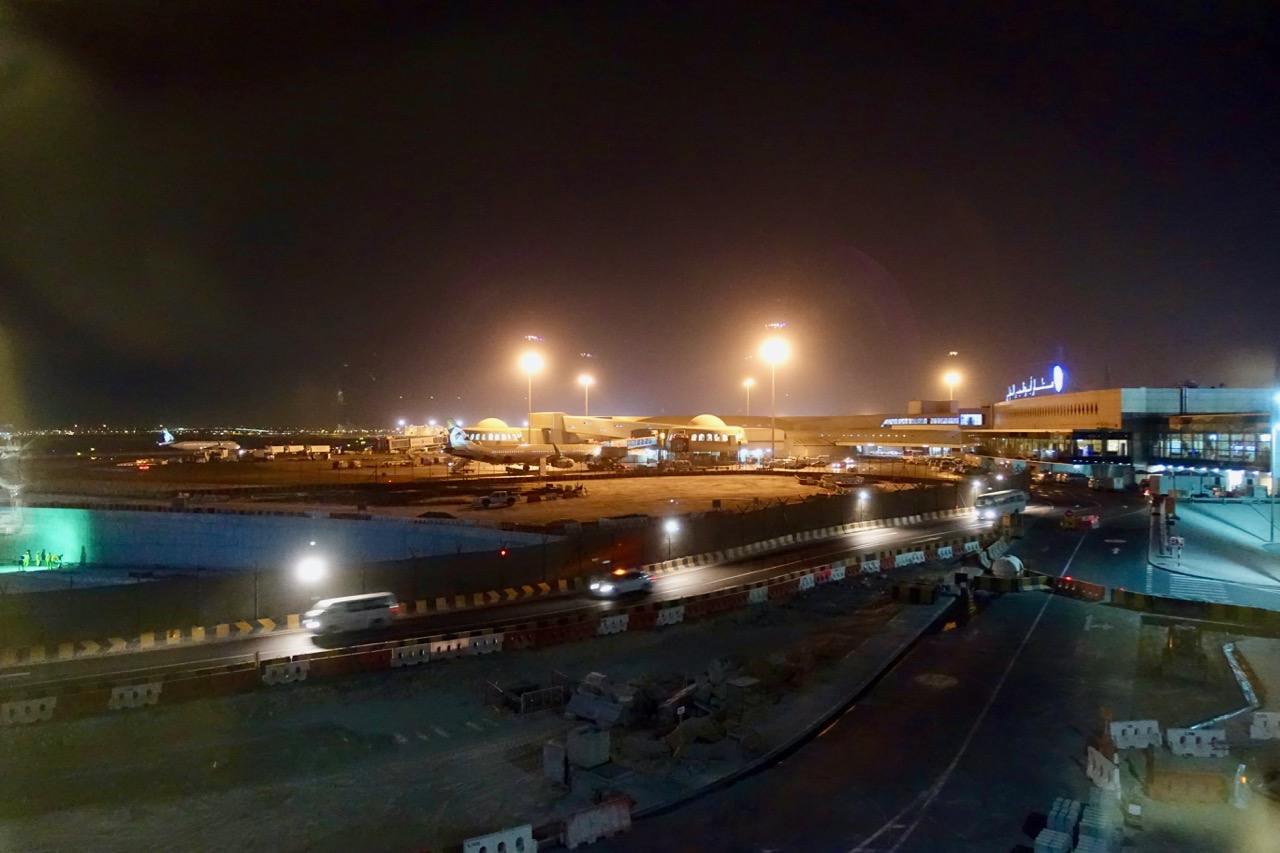 Food & Drink
The lounge offers a full à la carte dining experience. Here is the menu from when I visited:
The service was very personal and the staff insisted I tried the tasting menu. Naturally, I had to oblige.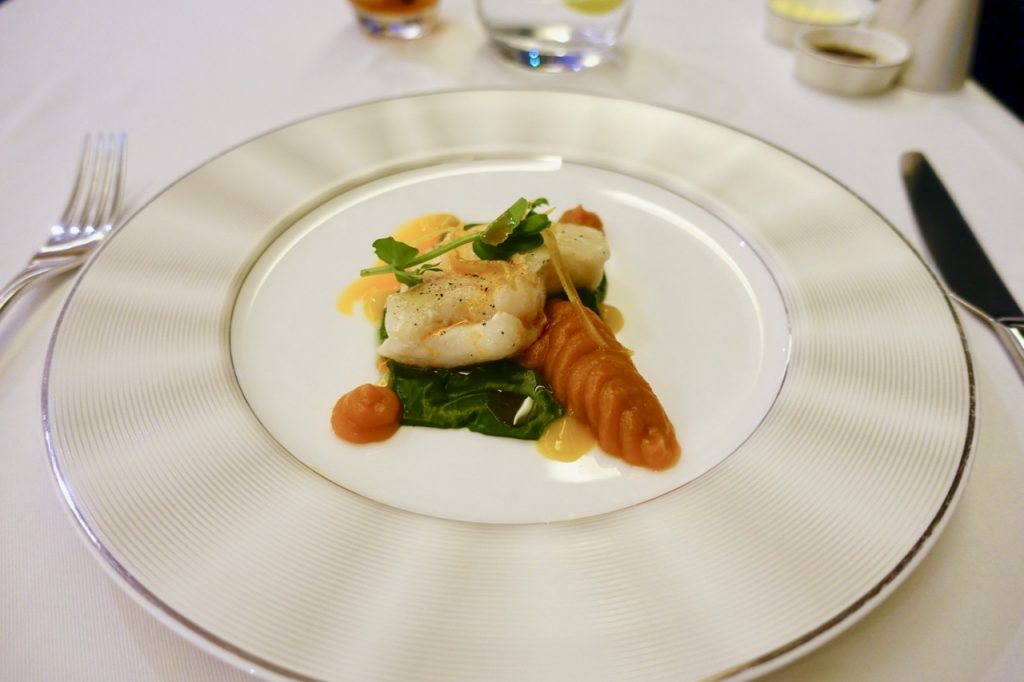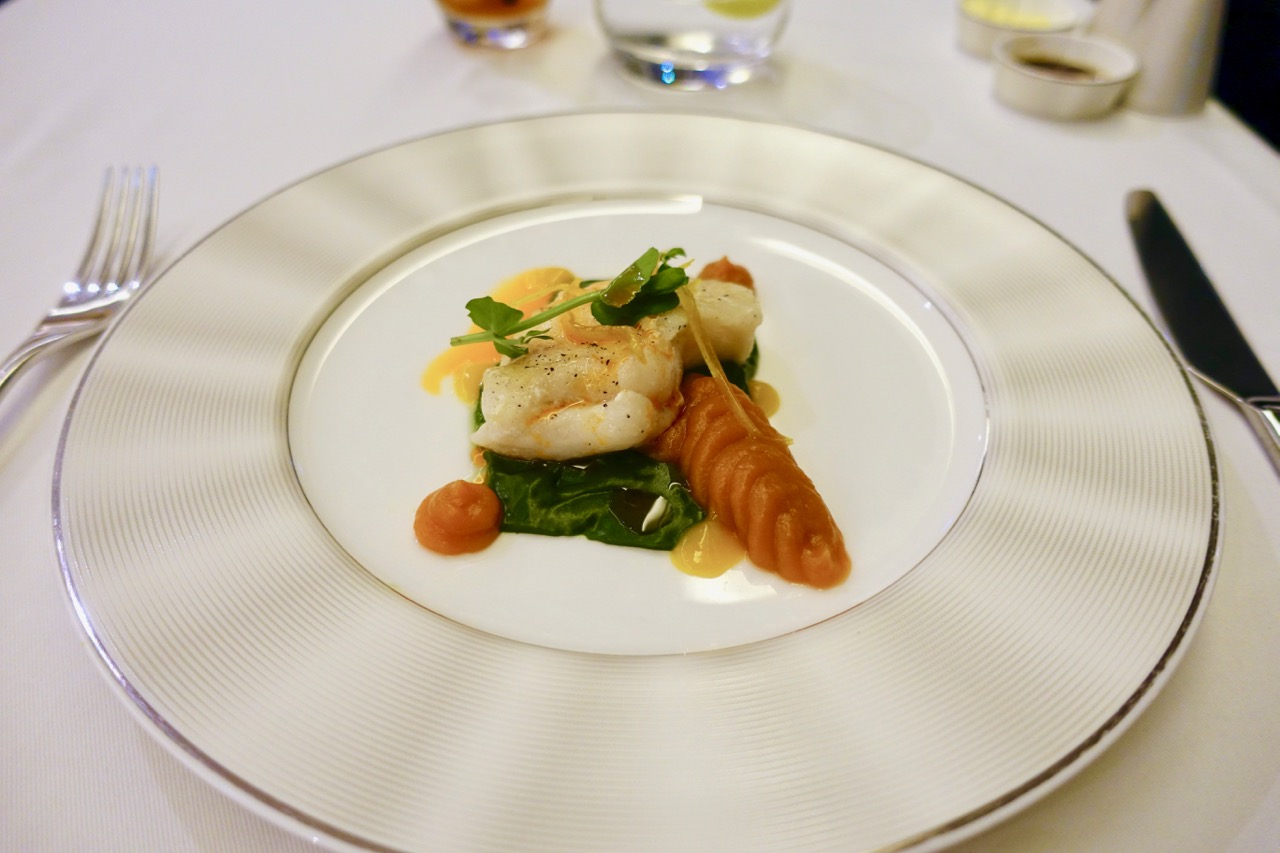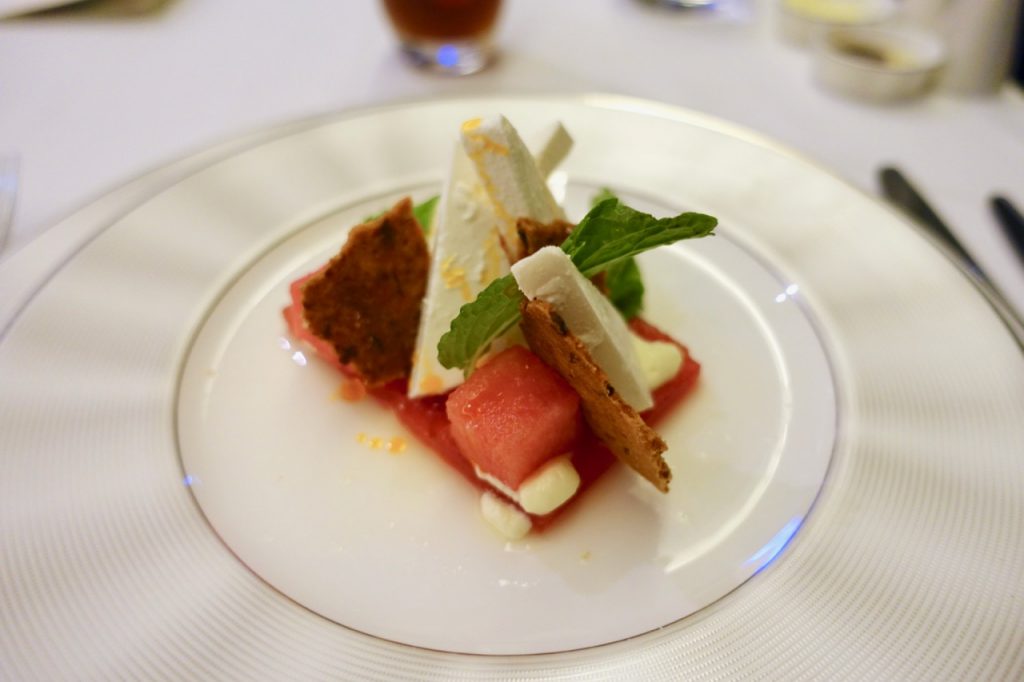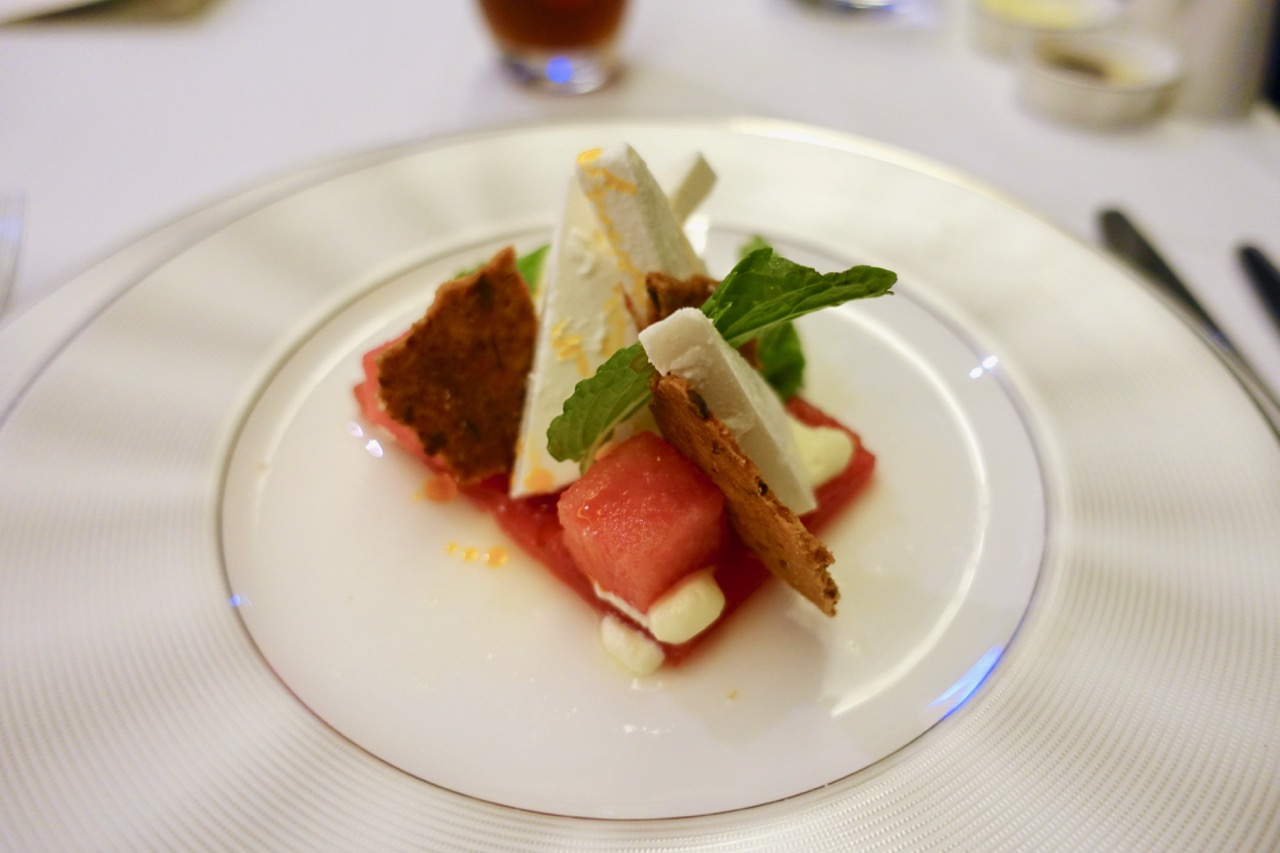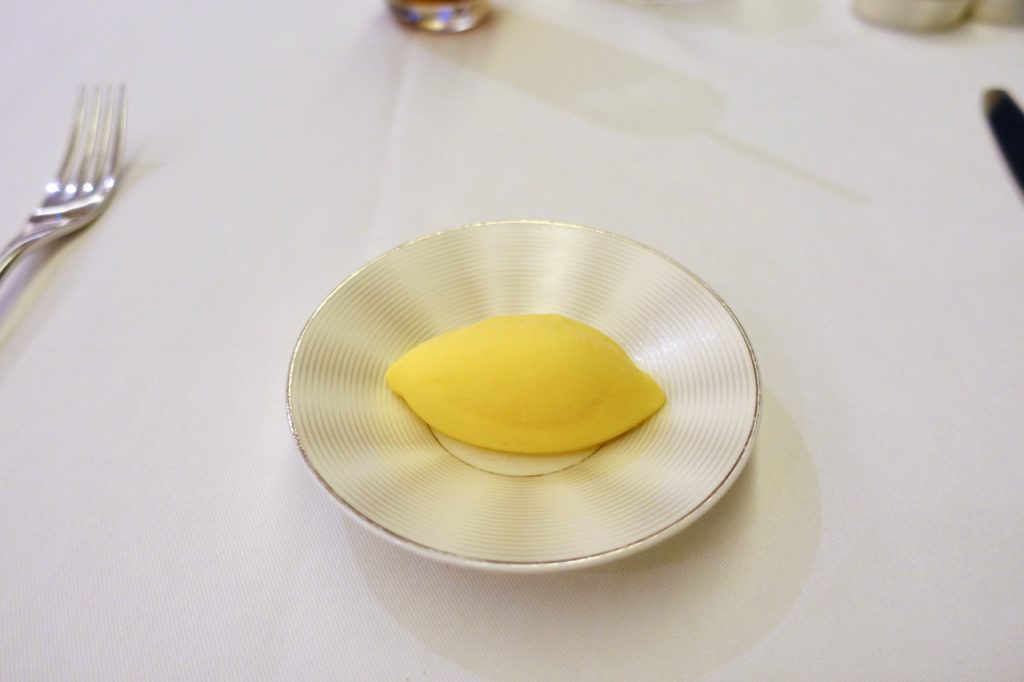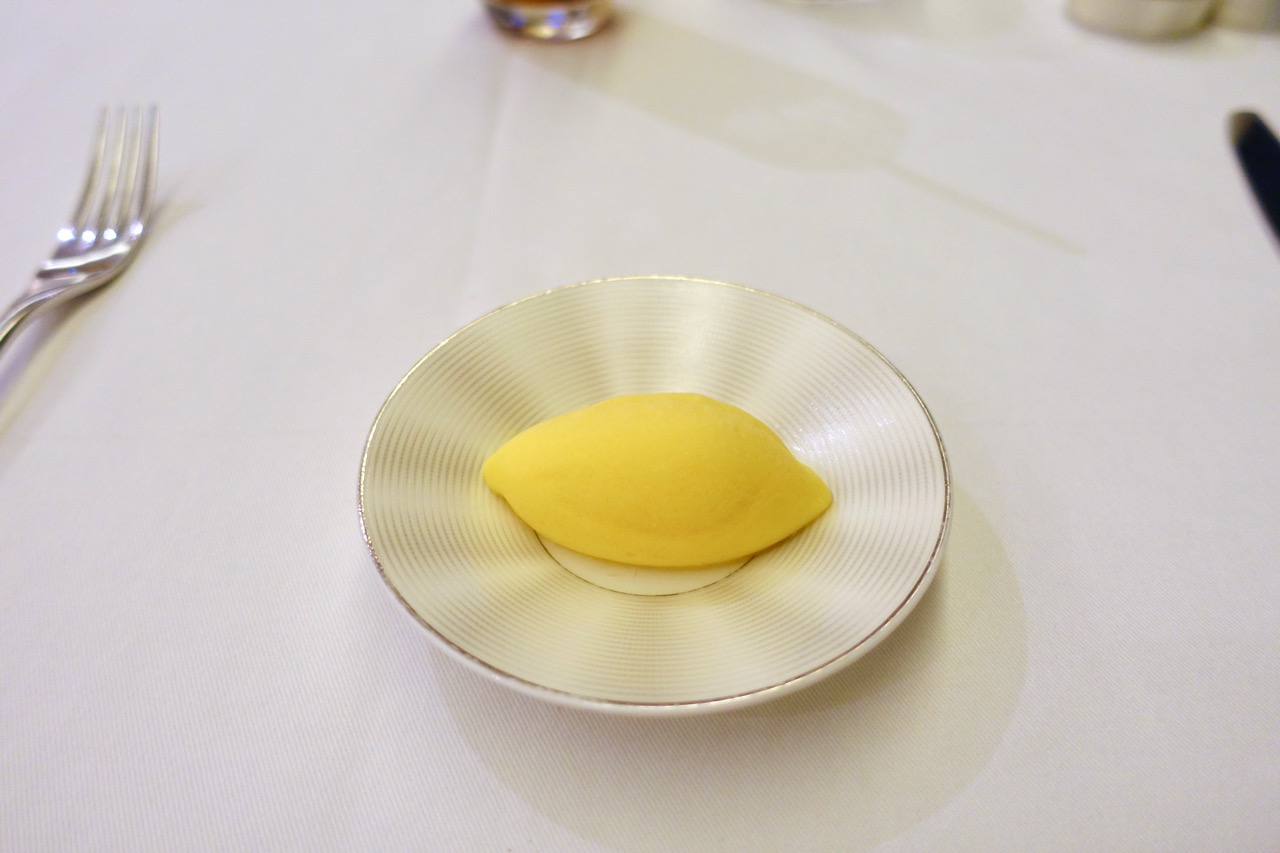 Staff wander around the lounge offering drinks, coffee, or anything else you might want from the bar, but didn't partake as I was pretty shattered from a busy day in Abu Dhabi (OK, I mostly napped and hung out at my hotel, but I'd had a busy week!).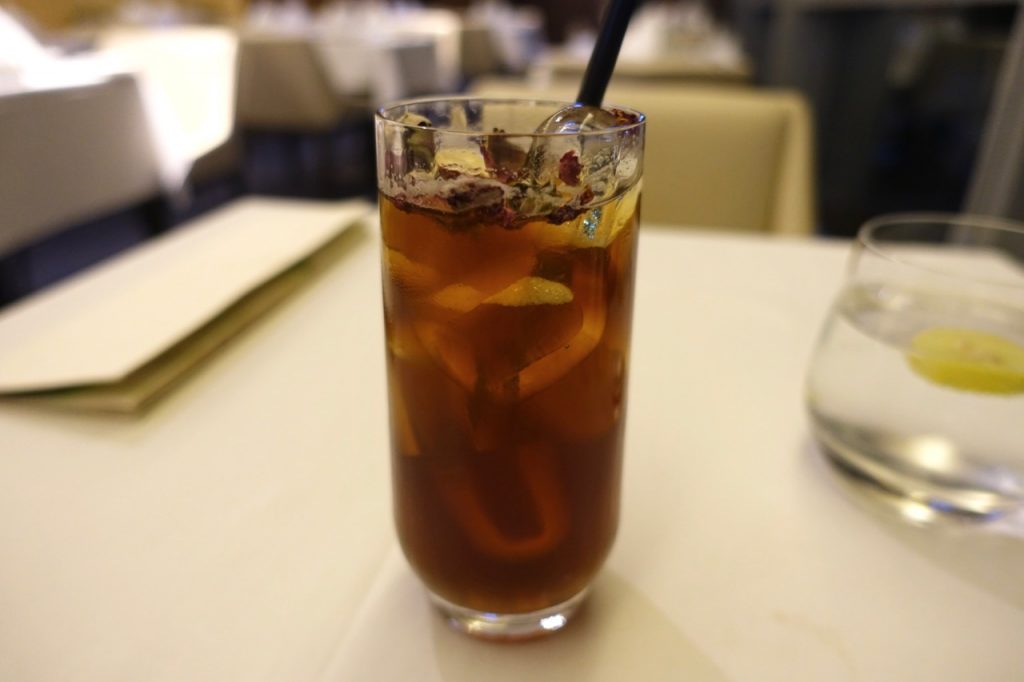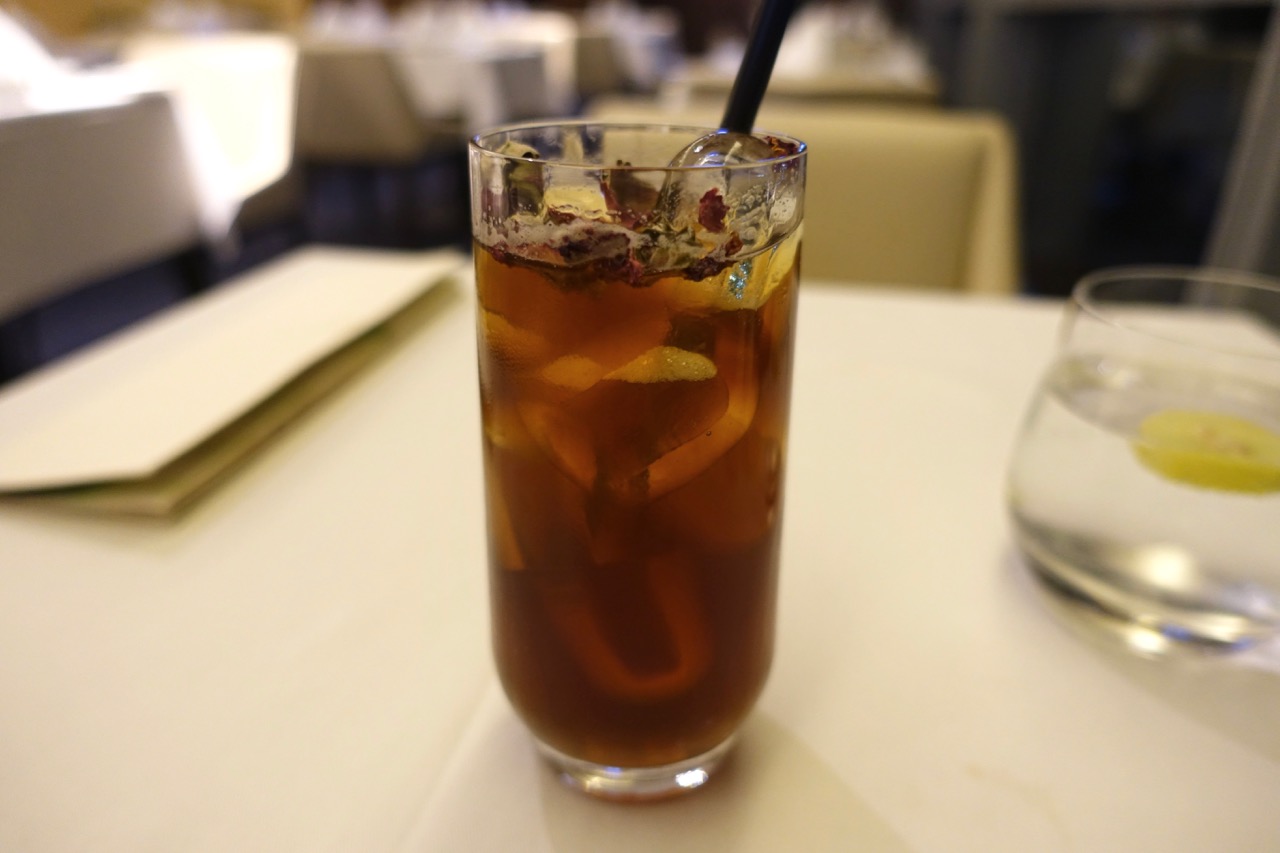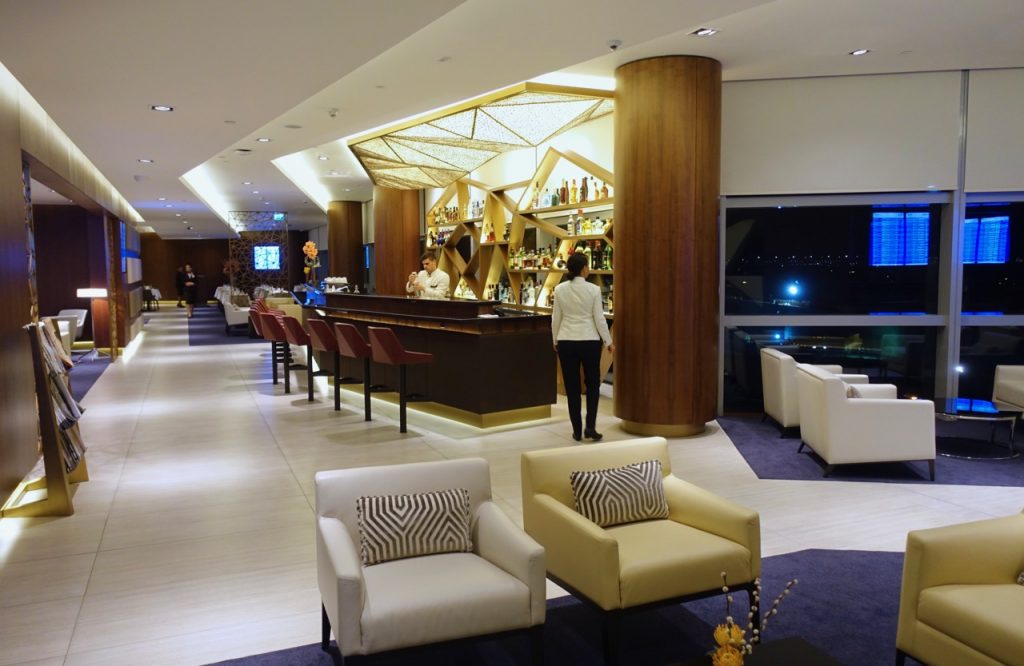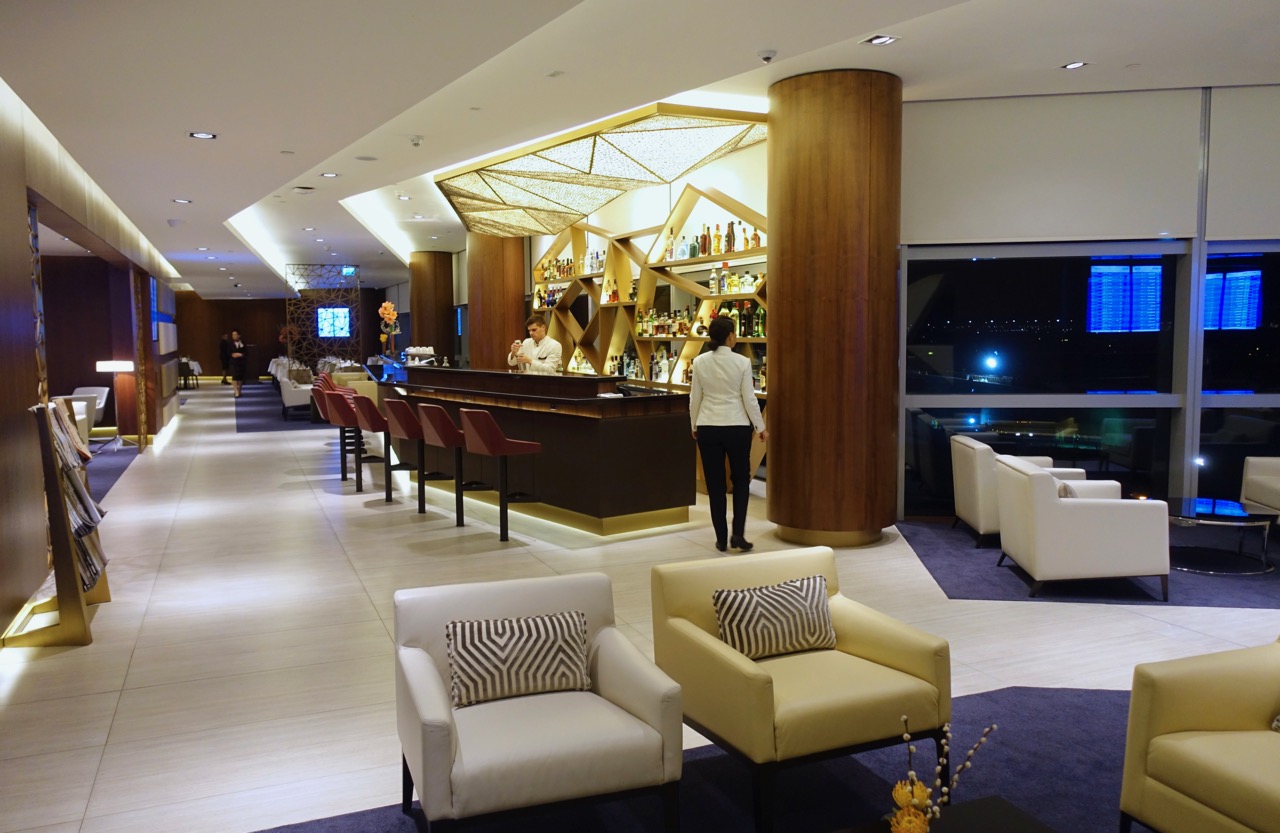 There is also a self-service snack and beverages bar but the selection is limited to encourage you to eat à la carte.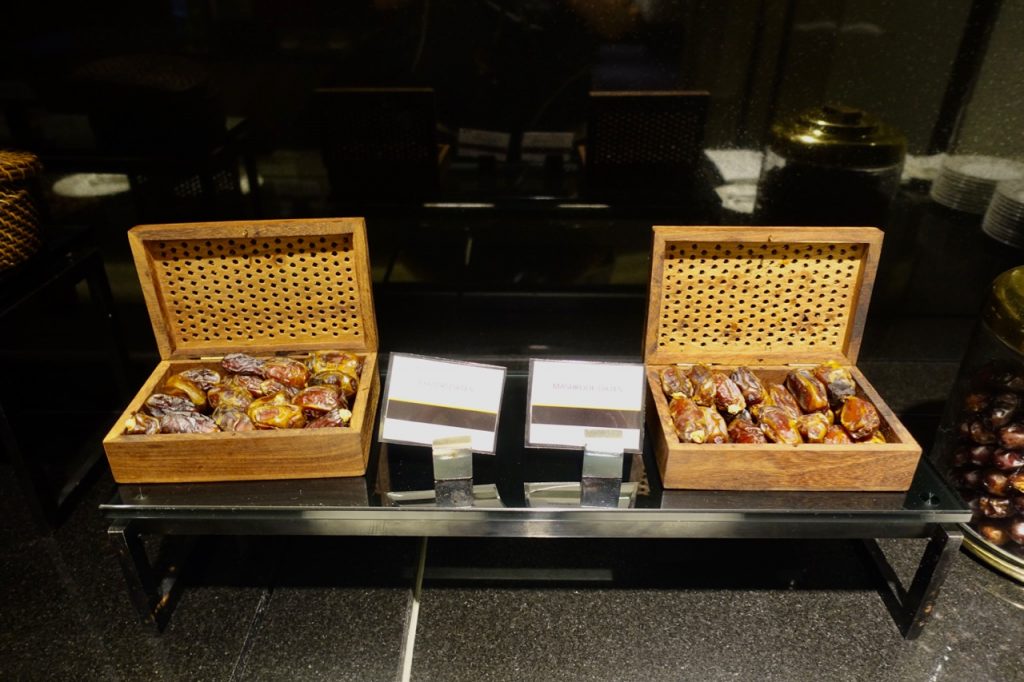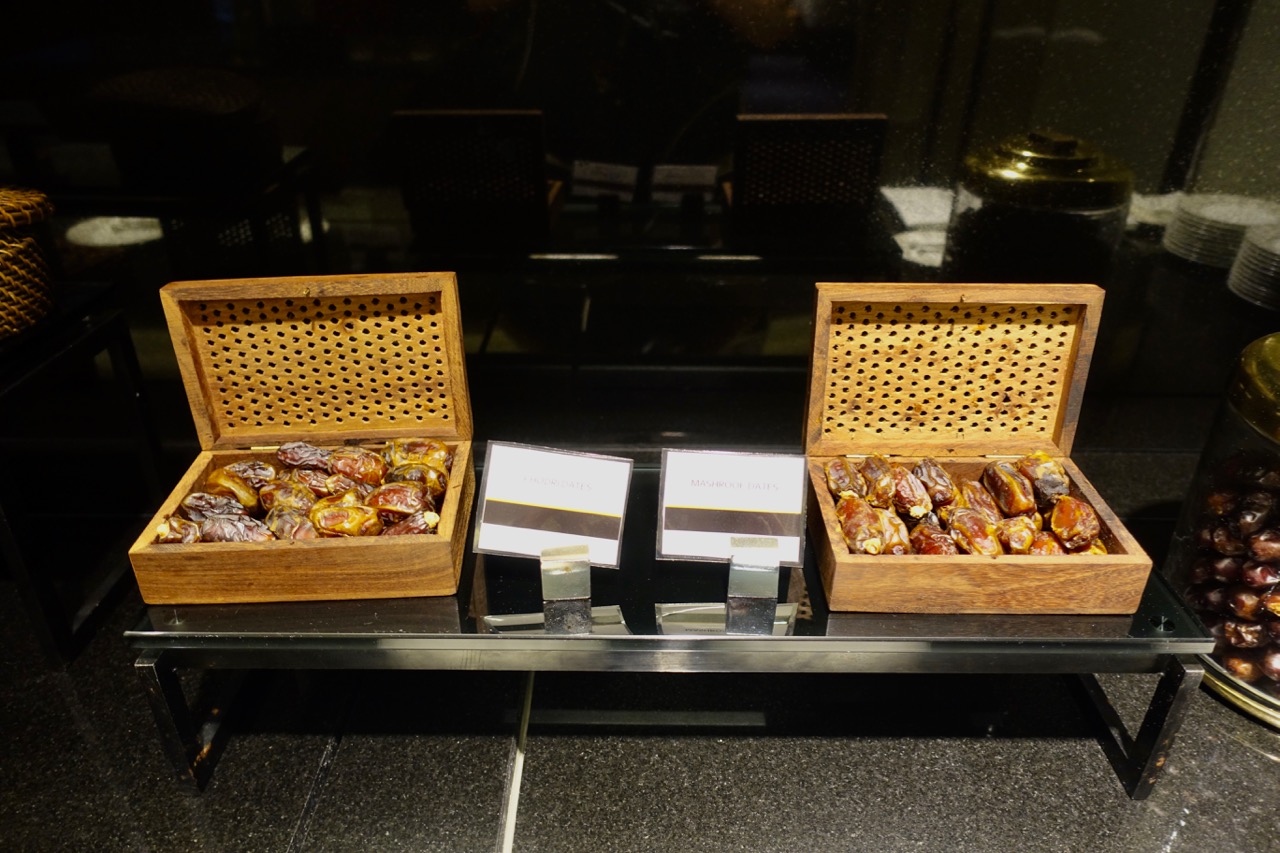 Entertainment
The relaxation room was empty when I visited and has a few seats with a changing light display on a giant screen in front of you. Maybe this is more to admire rather than put you to sleep – it wasn't not relaxing but I would have preferred a proper nap room.
Primarily, your main entertainment in the lounge is to sit back and enjoy the dining and service.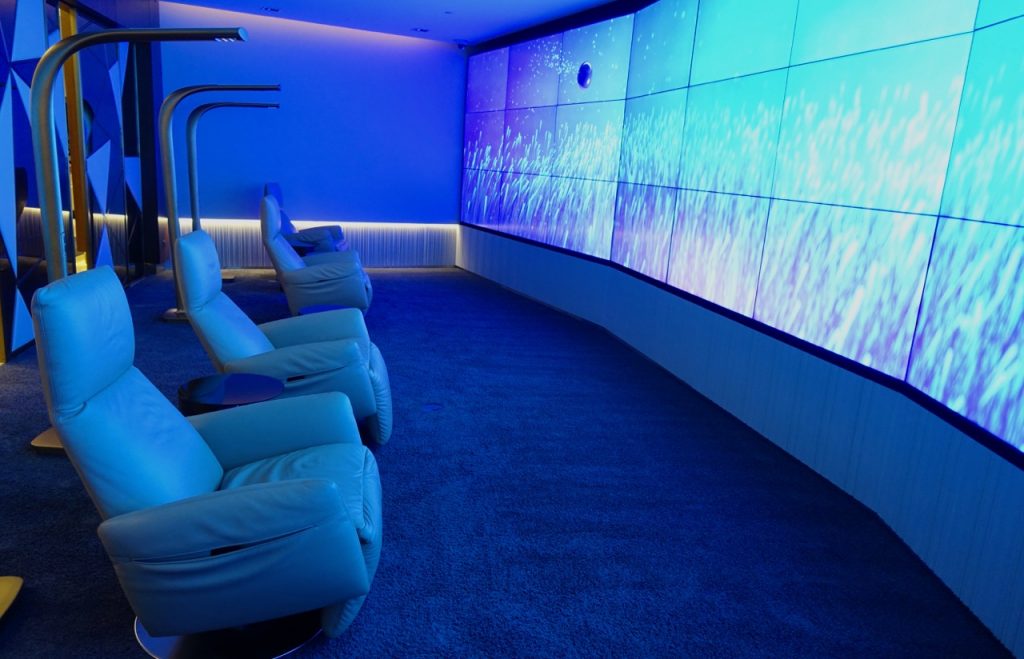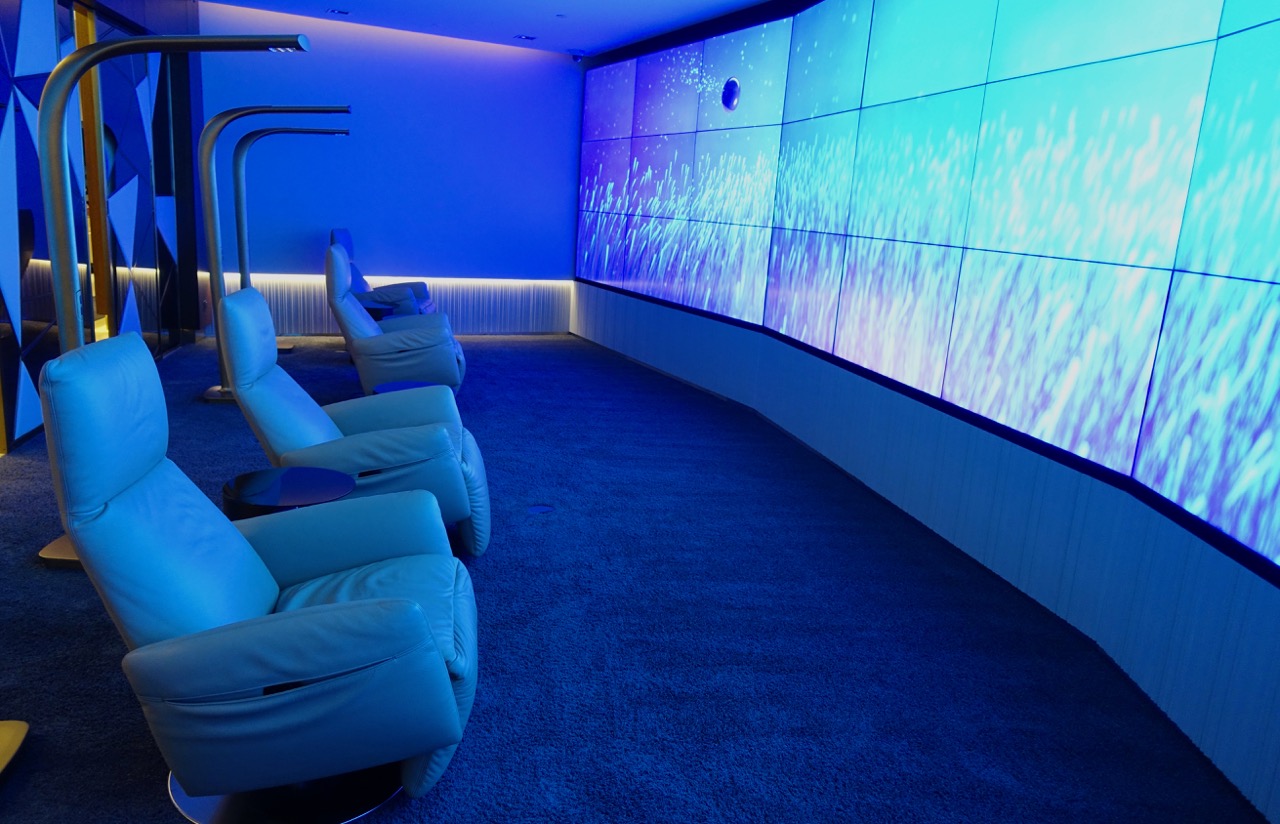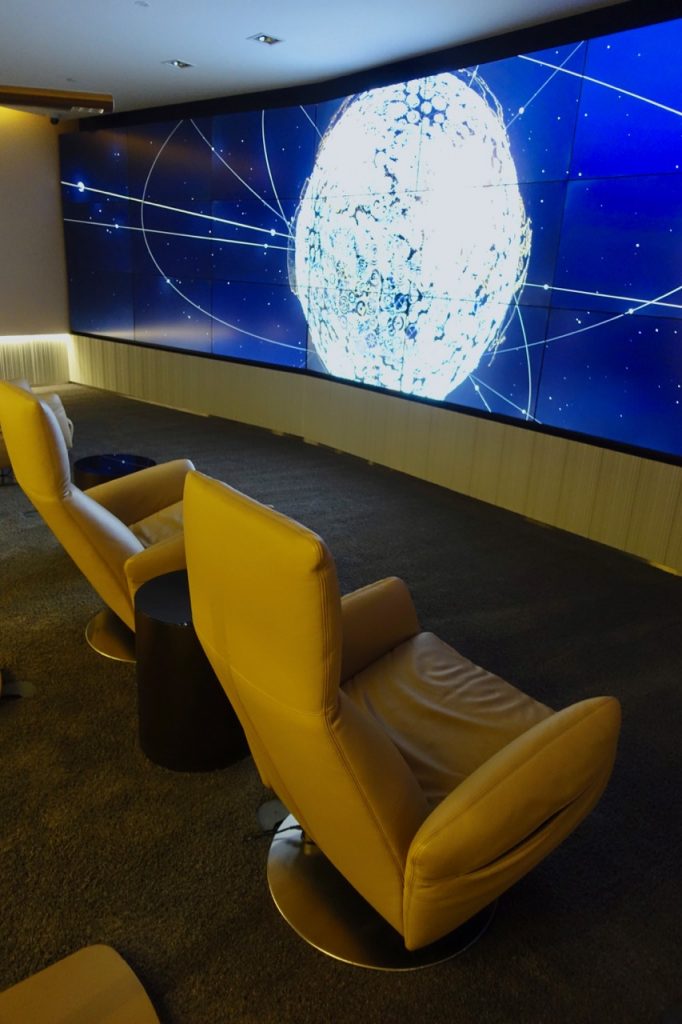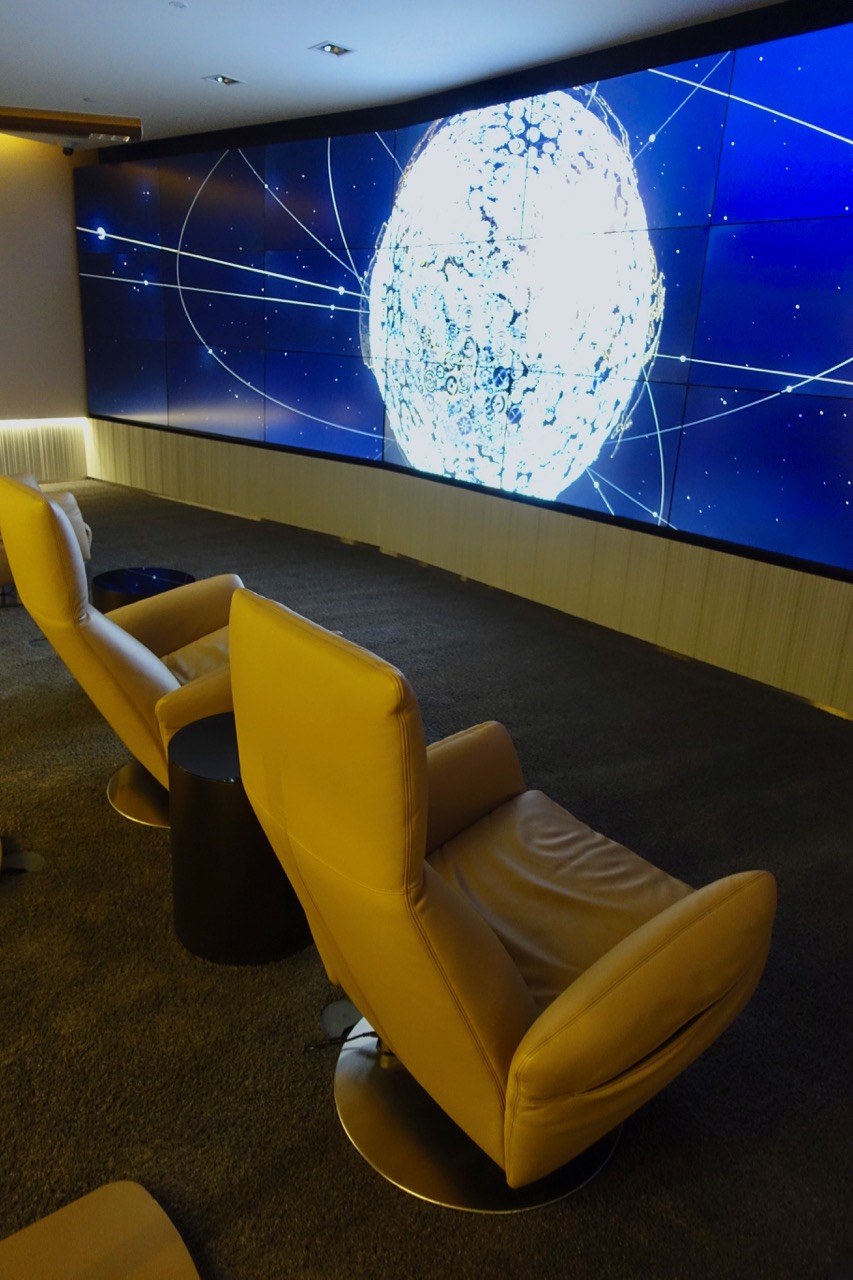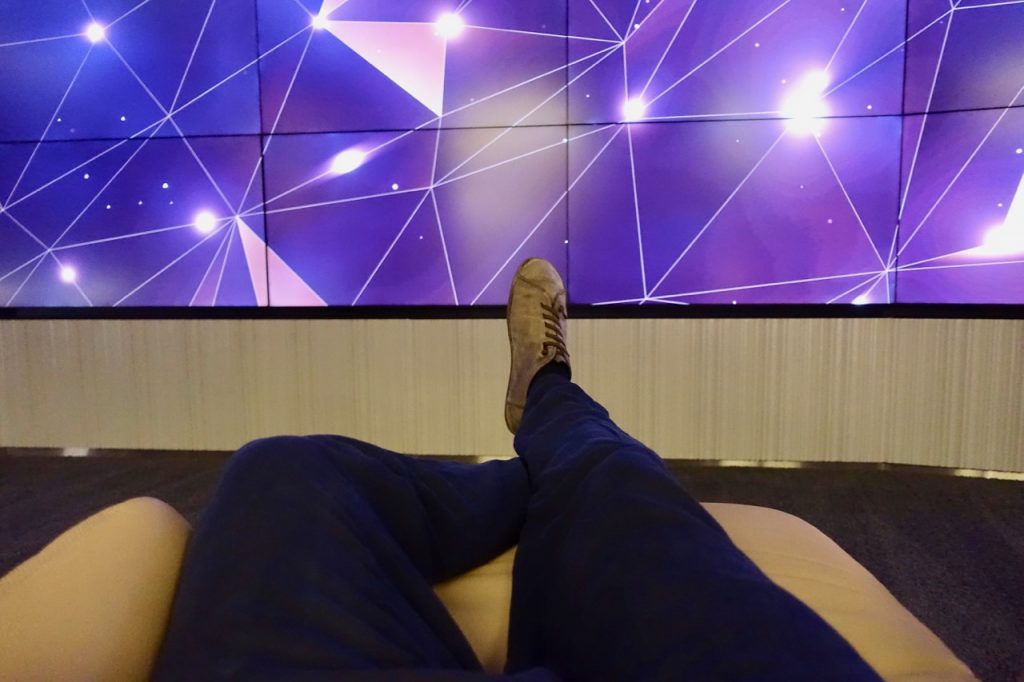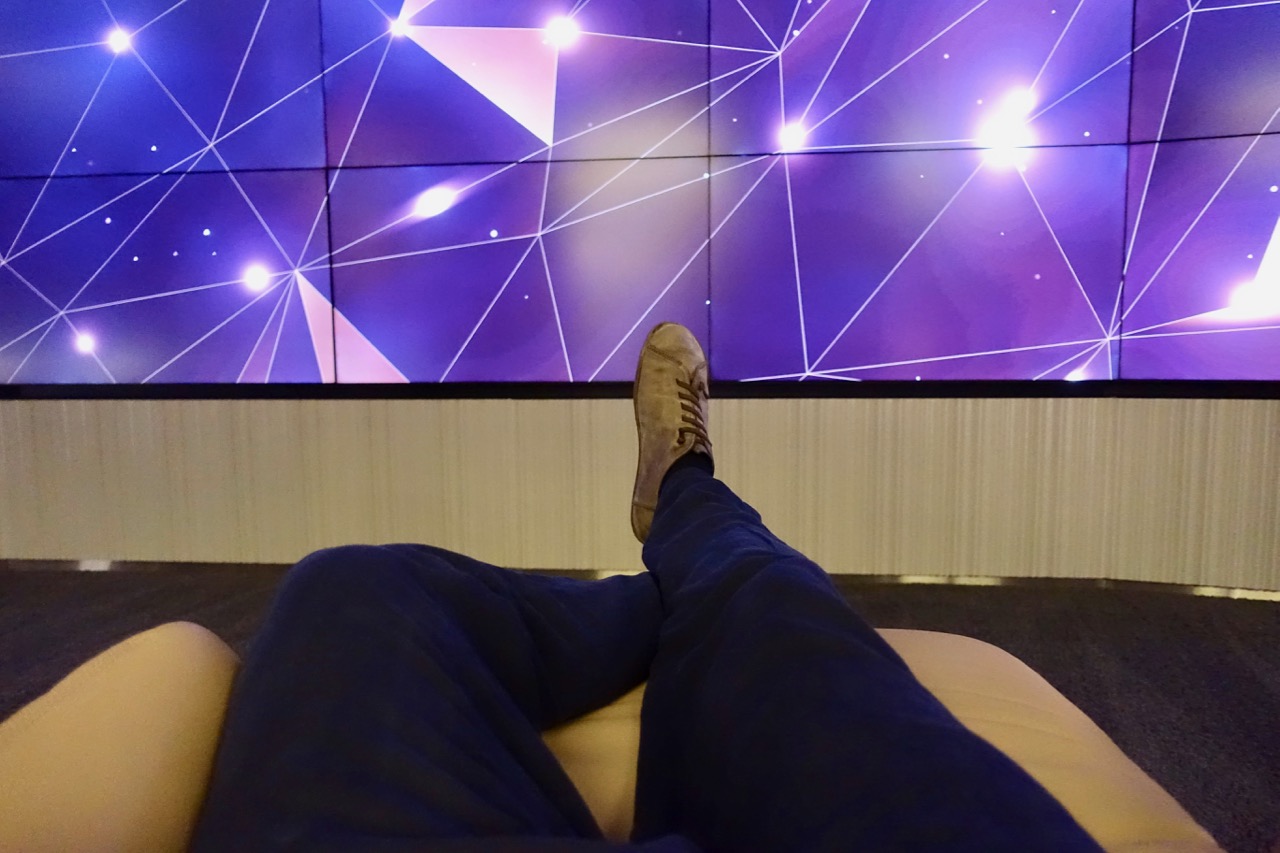 Spa & Salon
Update: in February 2018, Etihad closed the Style & Shave Salon, leaving the Spa treatment as the only option.
As a First Class passenger, you can choose between a complimentary 15-minute Spa or Style & Shave Salon treatment; guests accessing the lounge with status pay a fee.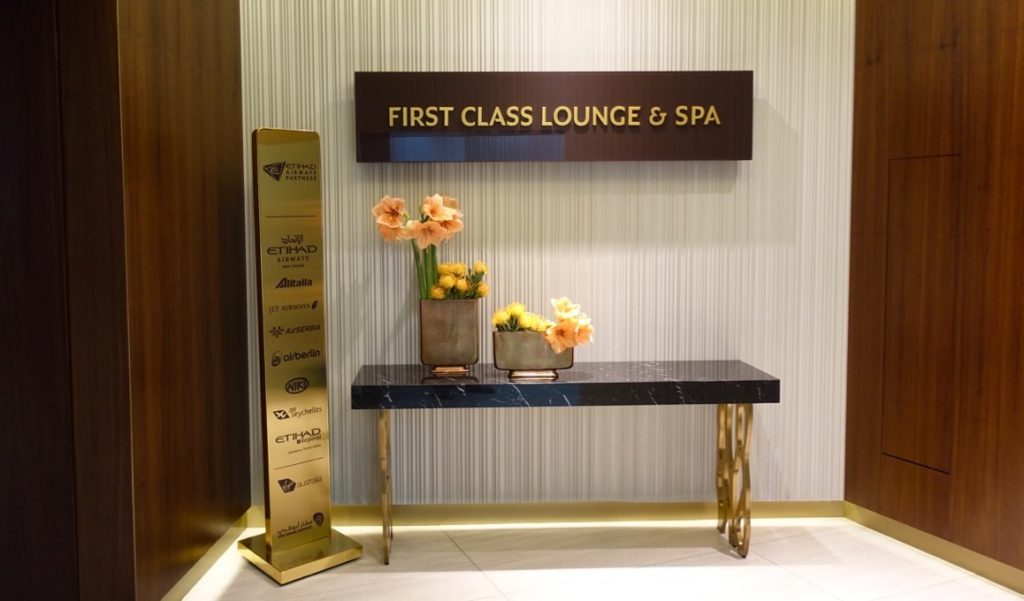 Some of the services at the salon include the nail bar, blow dry or wet-shave – I opted for a massage.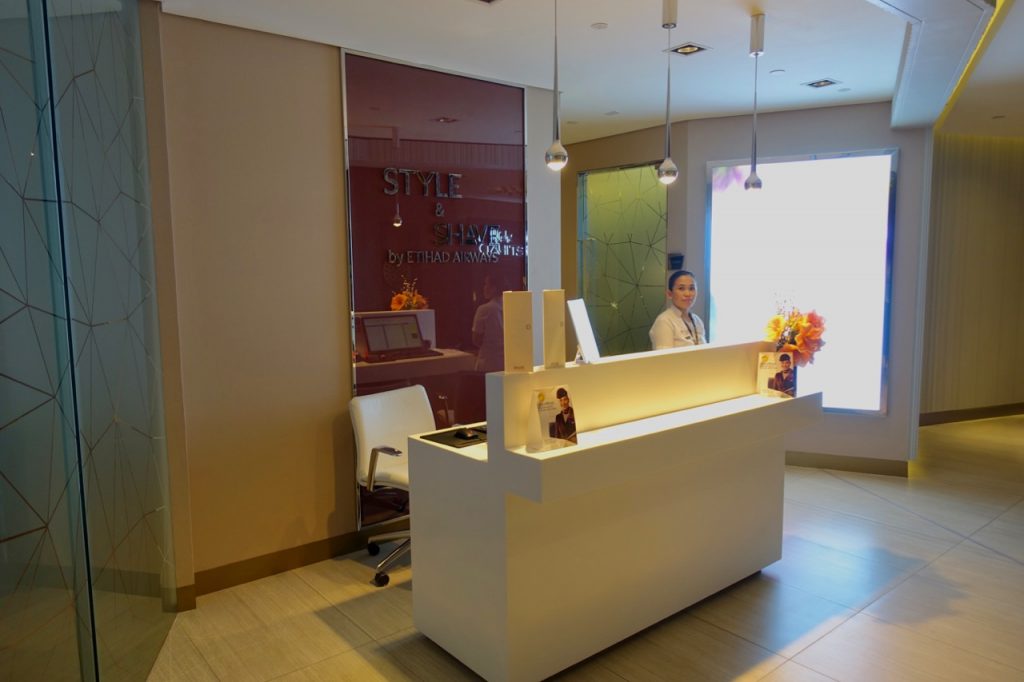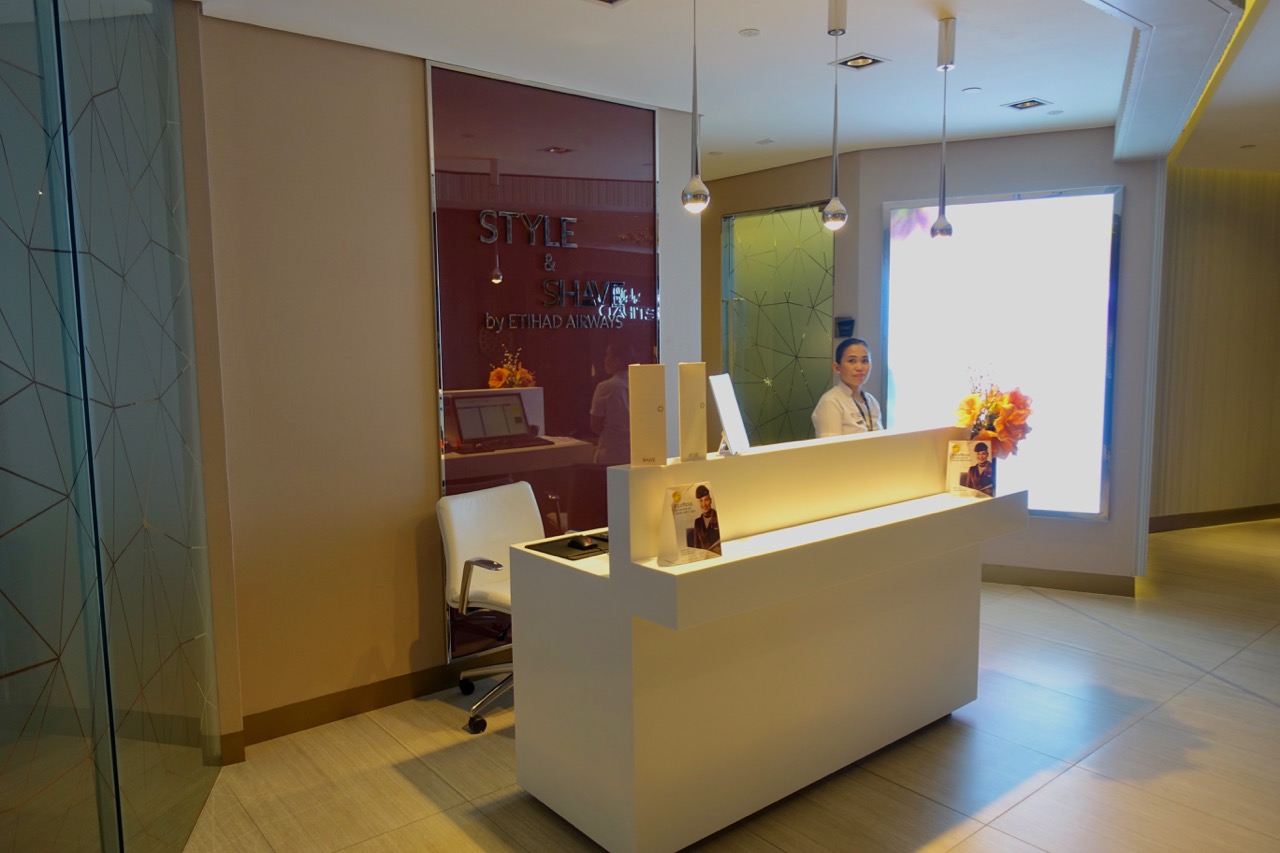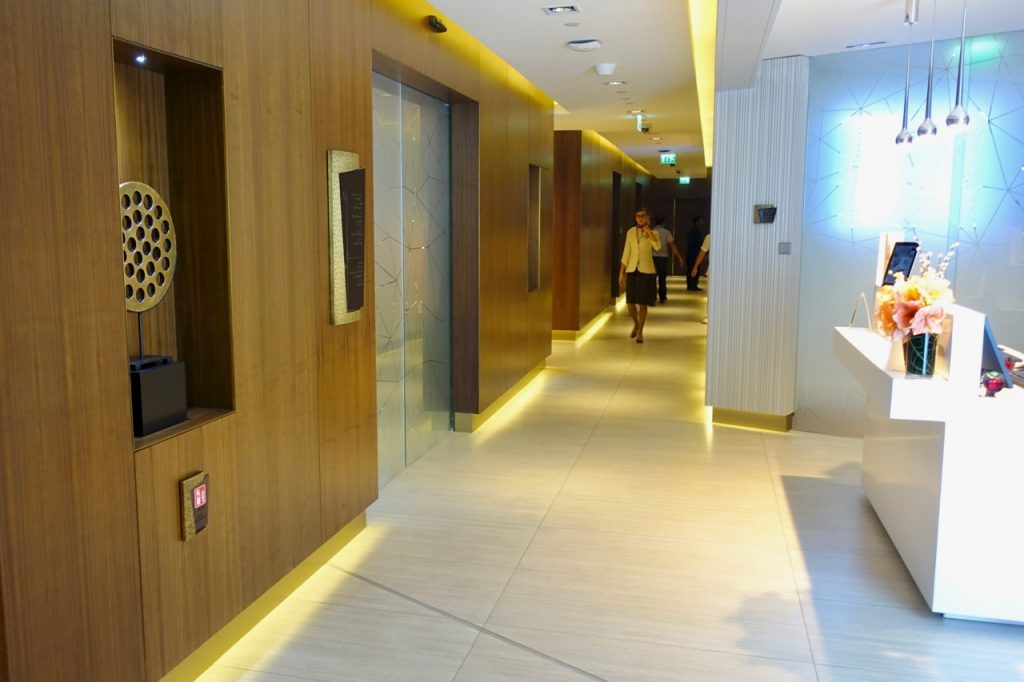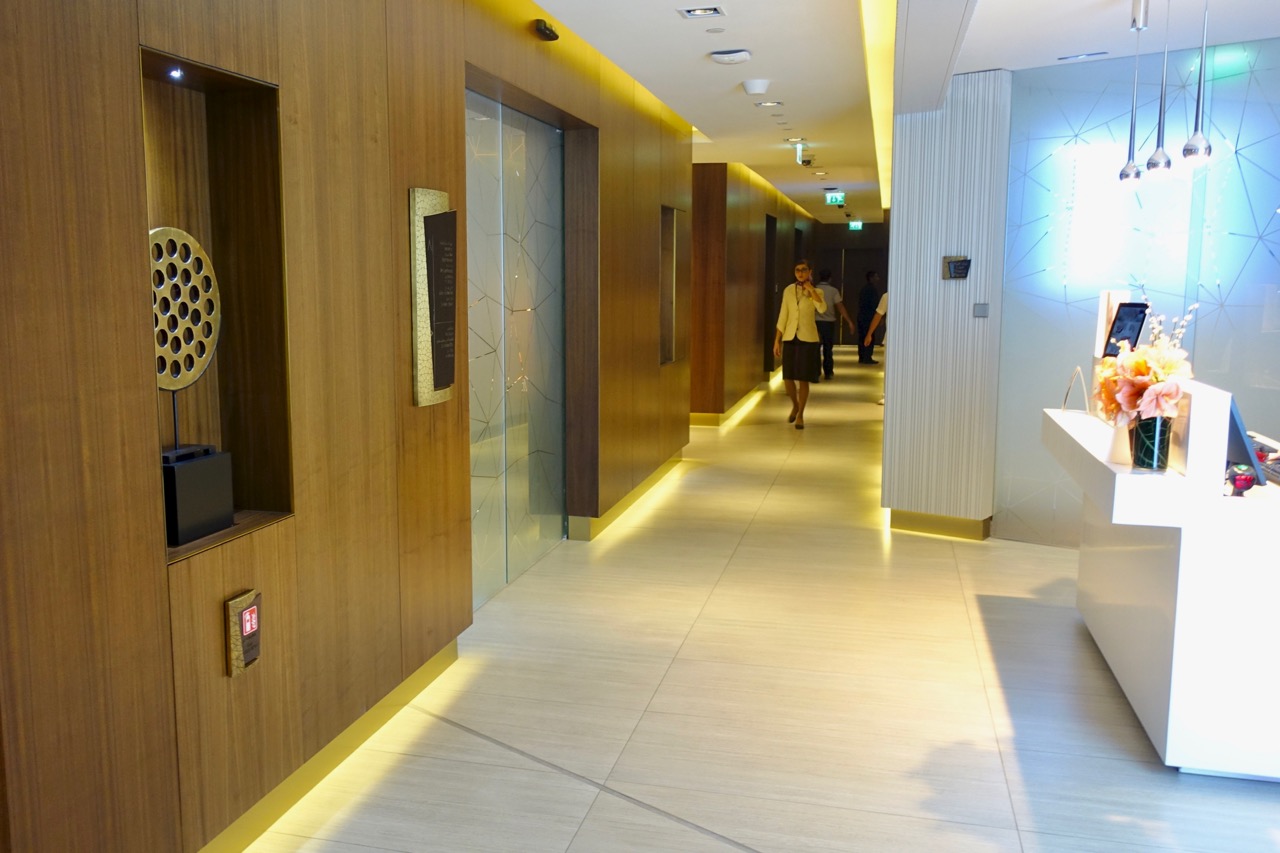 Lounge Access Options
By class of travel: departing in Etihad Airways First Class or The Residence or arriving in Etihad Airways First Class or The Residence and connecting onto another flight in the highest class available, usually Business Class
By airline frequent flyer status: Etihad Guest Platinum
By airline partner frequent flyer status: equivalent status with a partner airline, e.g. Virgin Australia Velocity Platinum
By paying a fee: Etihad allows Gold Members travelling in Business Class to access the First Class lounge for $100 USD. Those travelling in Economy or Business Class and are not Gold Members will have to fork out at least $200 USD to gain access to the lounge for 2-6 hours
All of the passengers above except for paying guests can invite one companion.
Read our beginner's guide to Velocity Frequent Flyer status and benefits here.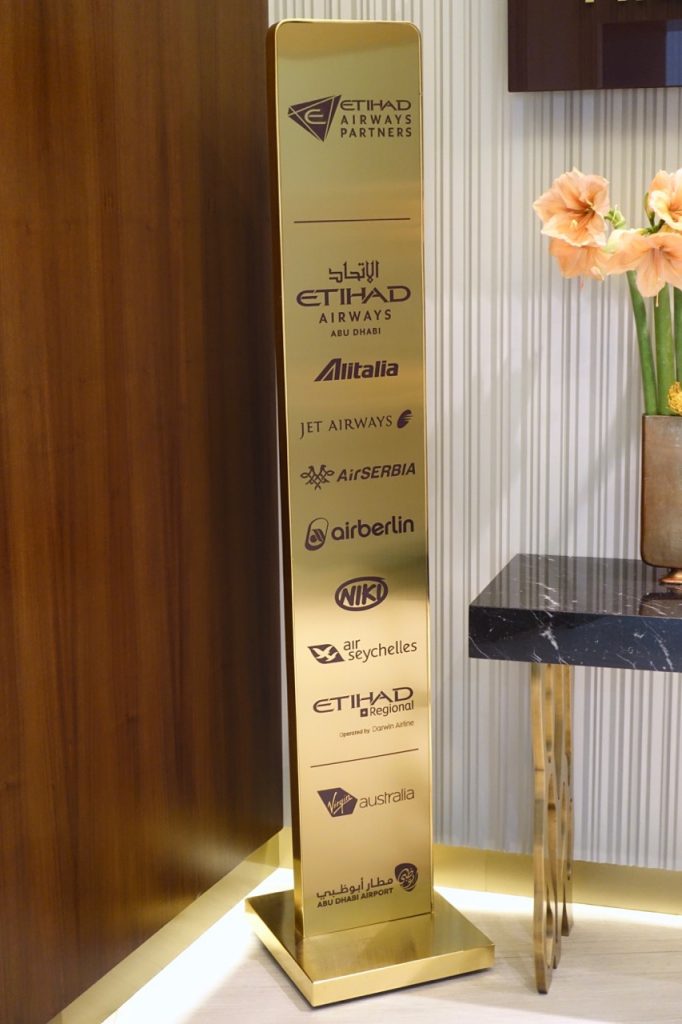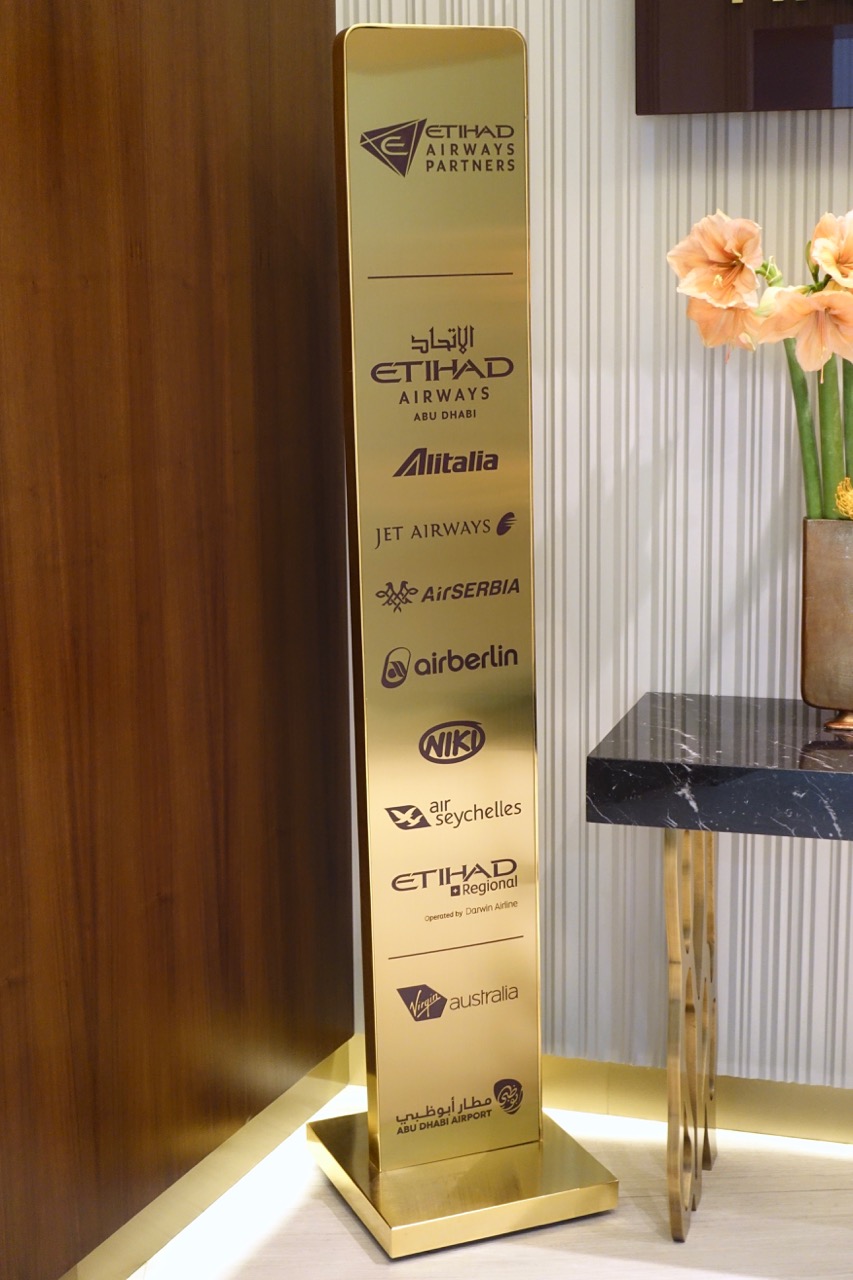 Other First Class lounge reviews
The Etihad Airways First Class Lounge & Spa Abu Dhabi – my take
Etihad's First Class lounge is up there with the world's best. Each airline has their own take on what a First Class lounge should be and Etihad's is distinctly theirs.
I enjoyed the full sit-down dining service, however, I think this is best enjoyed if you aren't in transit as would be the case for many Aussie travellers. Personally, after flying into Abu Dhabi from Europe or the US, I just want a place to shower, grab a drink or a quick bite to eat, and then move onto my next flight. Five tasting courses are overkill, for me at least. Of course, you can order à la carte though.
As I visited in darkness, I didn't really get a sense of place. This is what makes the Qantas First Class lounges in Sydney and Melbourne, for example, unique – you can see out of large windows and know where you are in the world. Maybe that's different during the day.
The lounge was also very quiet, and the service discrete. I wouldn't have it any other way, but the atmosphere did seem a little lacking in life and a bit subdued. These aren't criticisms though, just observations.
All up, the Etihad First Class Lounge in Abu Dhabi is well worth seeking out, and if departing from Abu Dhabi, it's definitely worth scheduling an early arrival for to really make the most of it.
Here are our top tips to maximise the enjoyment of your First Class flight.
Etihad Airways First Class Lounge & Spa Abu Dhabi overview
was last modified:
January 19th, 2022
by