Emporium Hotel South Bank doesn't belong to a global chain, and nor does it have a points-based loyalty program. But even so, it's not to be overlooked – even by us at Point Hacks.
With a rooftop infinity pool and sky-high dining, this all-suite hotel is one of Brisbane's finest. And while the hotel has no points program of its own, staying here can still profit your Qantas Frequent Flyer or Velocity Frequent Flyer account.
Hotel location and first impressions
You'll find Emporium Hotel South Bank just across the river from the city's CBD. Its Grey Street location puts it within easy walking distance of local fine dining highlights such as OTTO Ristorante and Popolo. And for transport, it's conveniently adjacent to both South Bank busway station and South Bank railway station.
South Bank's other attractions including the Queensland Performing Arts Centre (QPAC) and the Wheel of Brisbane are a 10-minute stroll away. Or a one-stop journey by train or bus – helpful if it's raining – and with the museum and art gallery nearby. The southern end of the CBD is also accessible via the nearby Goodwill Bridge.
So with a great location, particularly for leisure stays, how does the Emporium fare inside?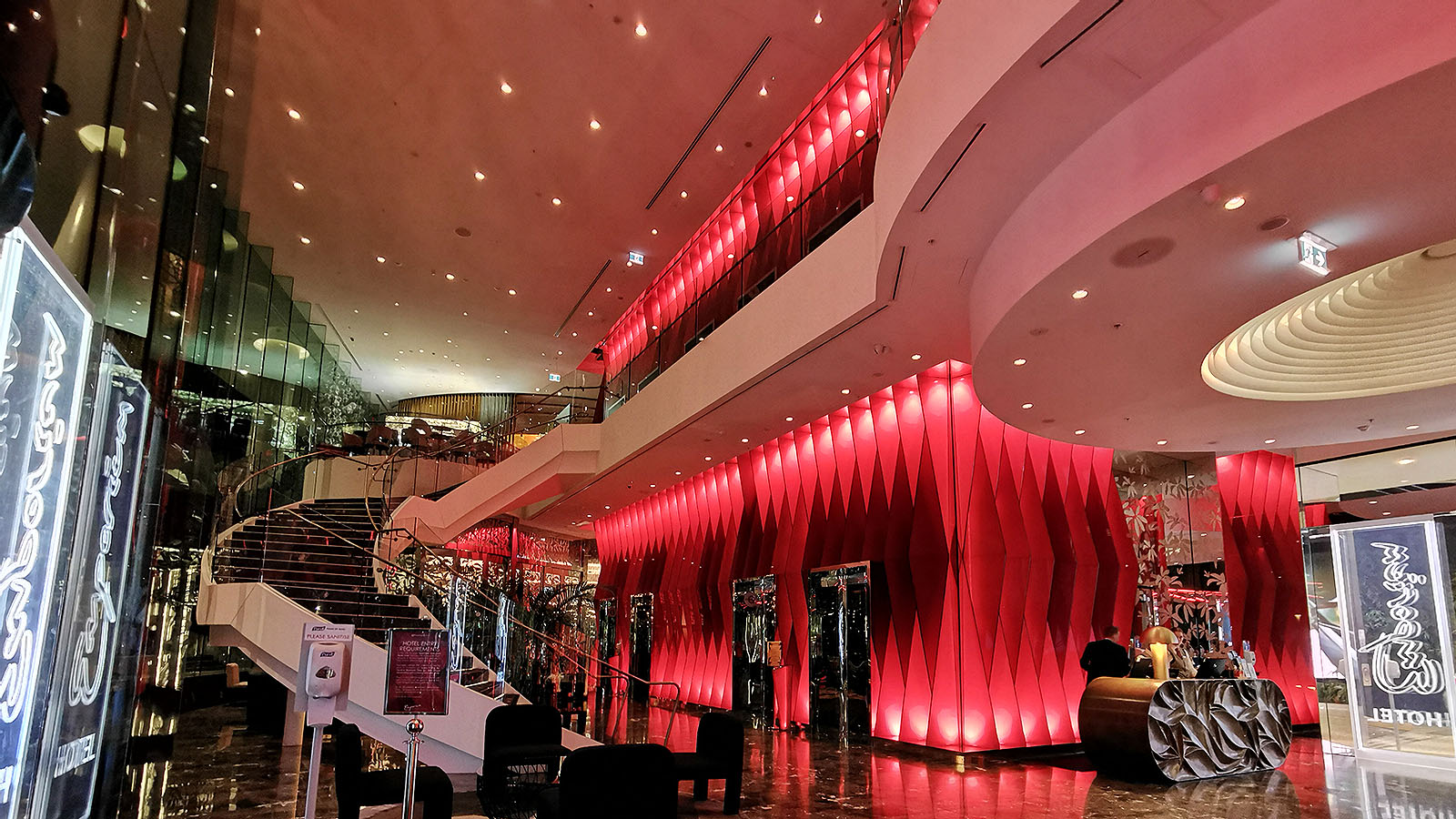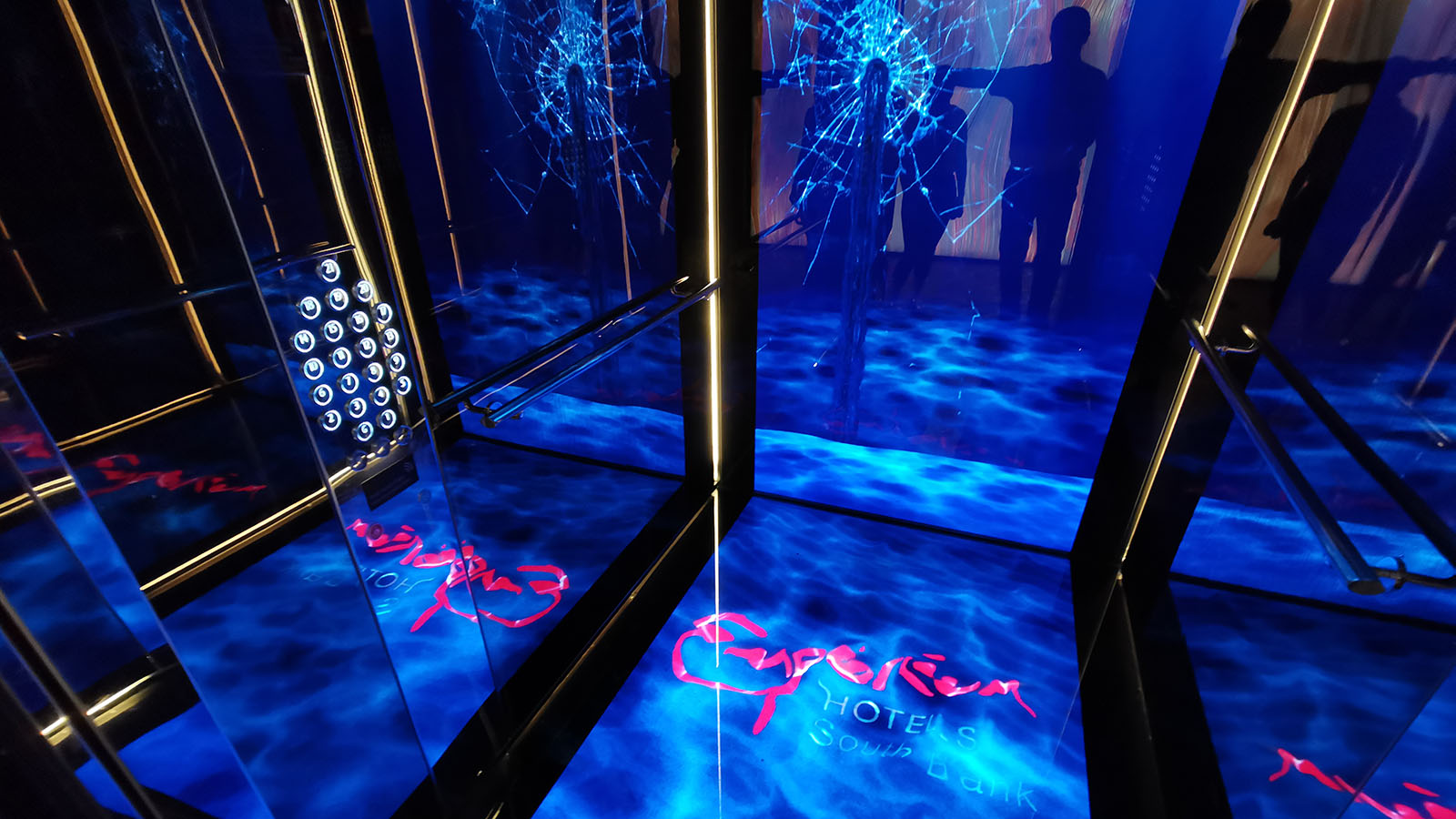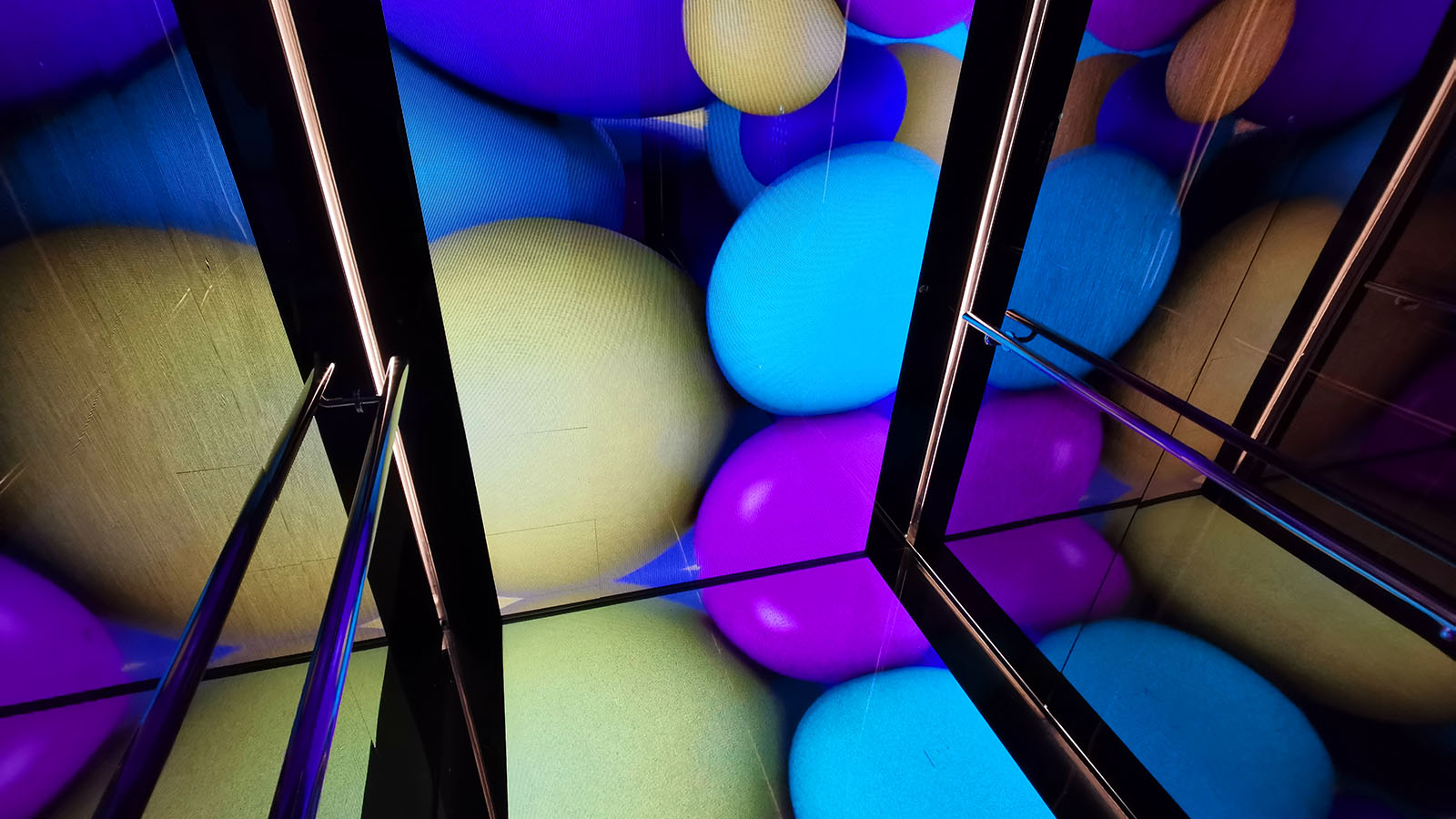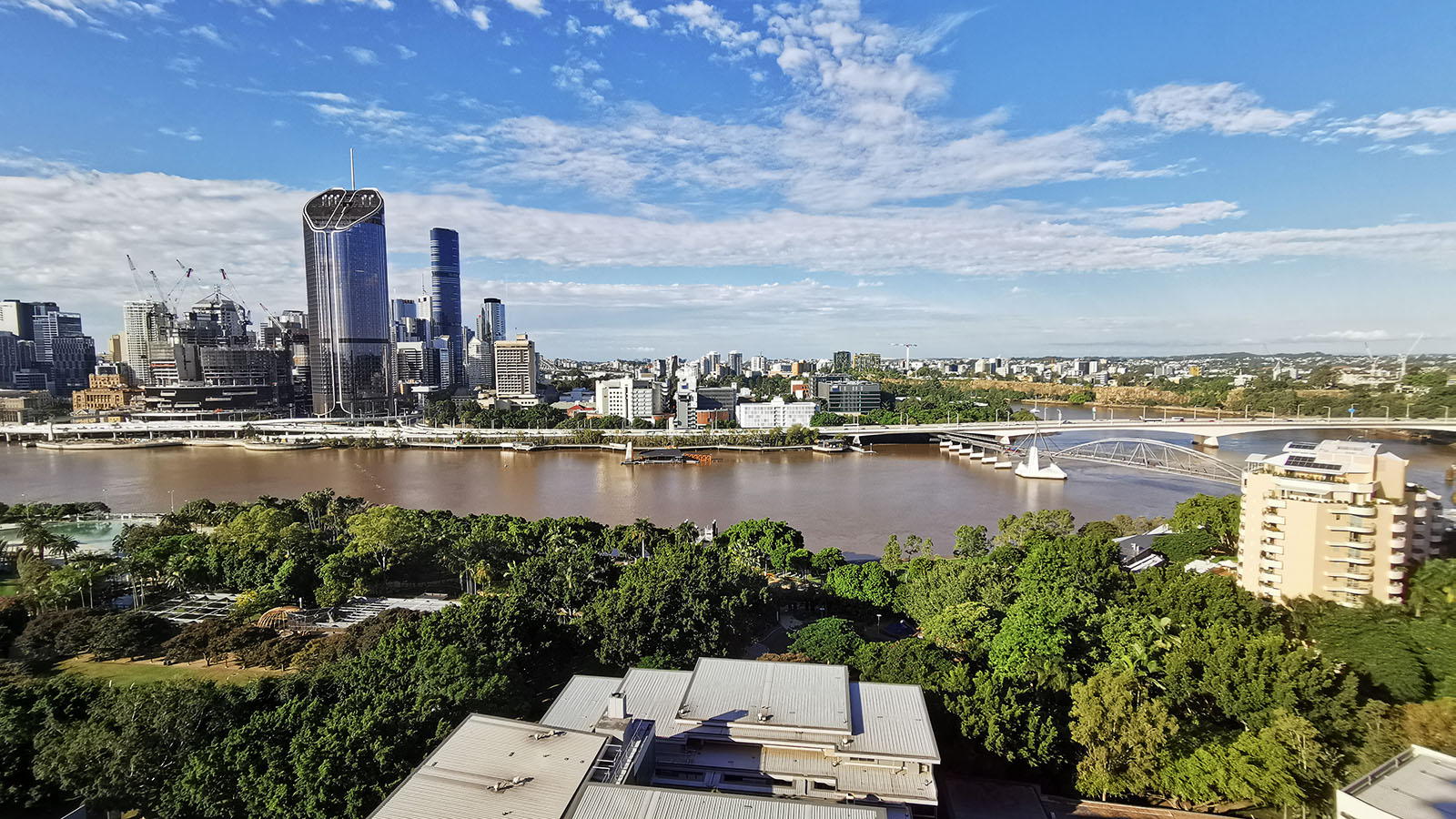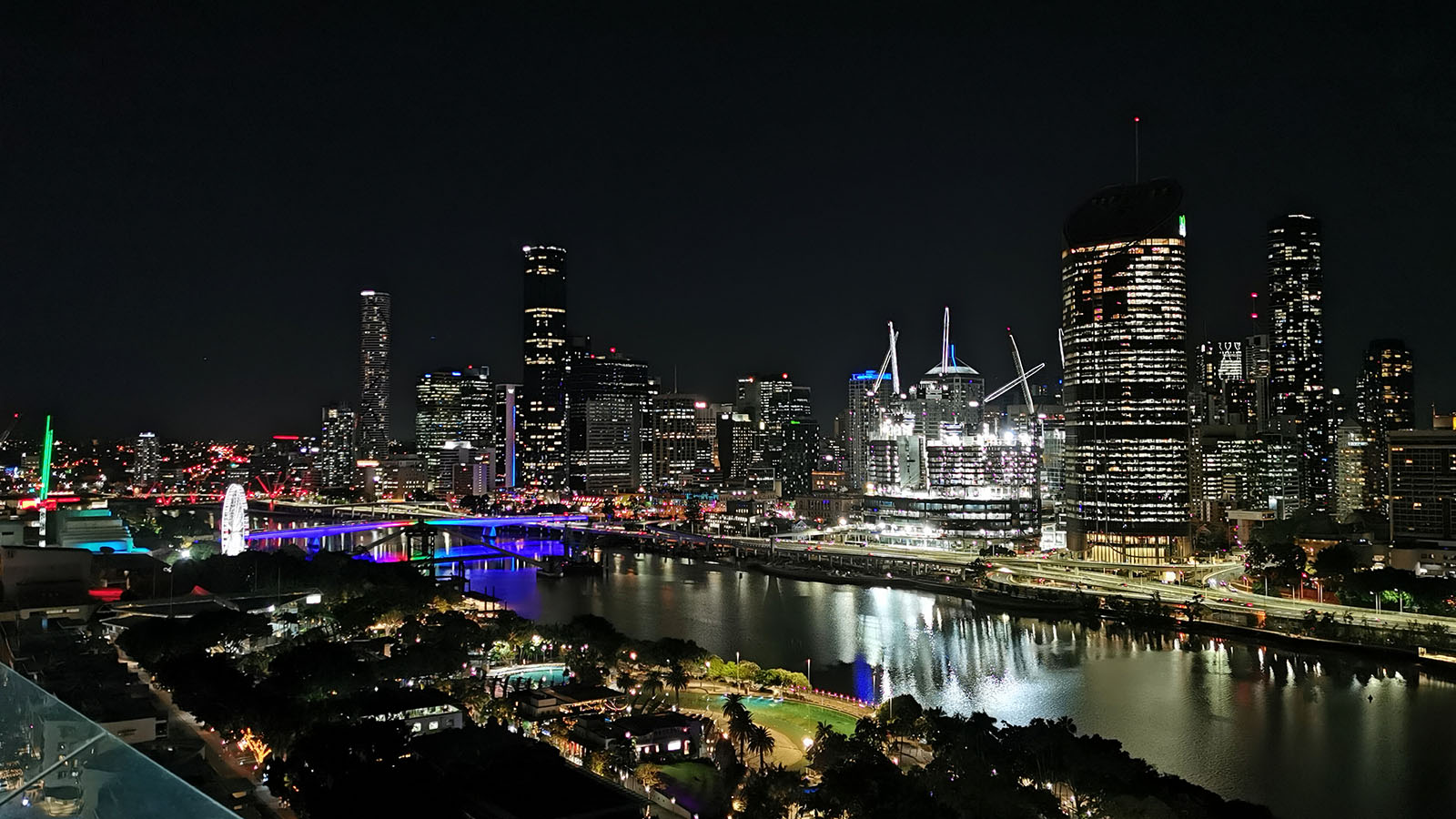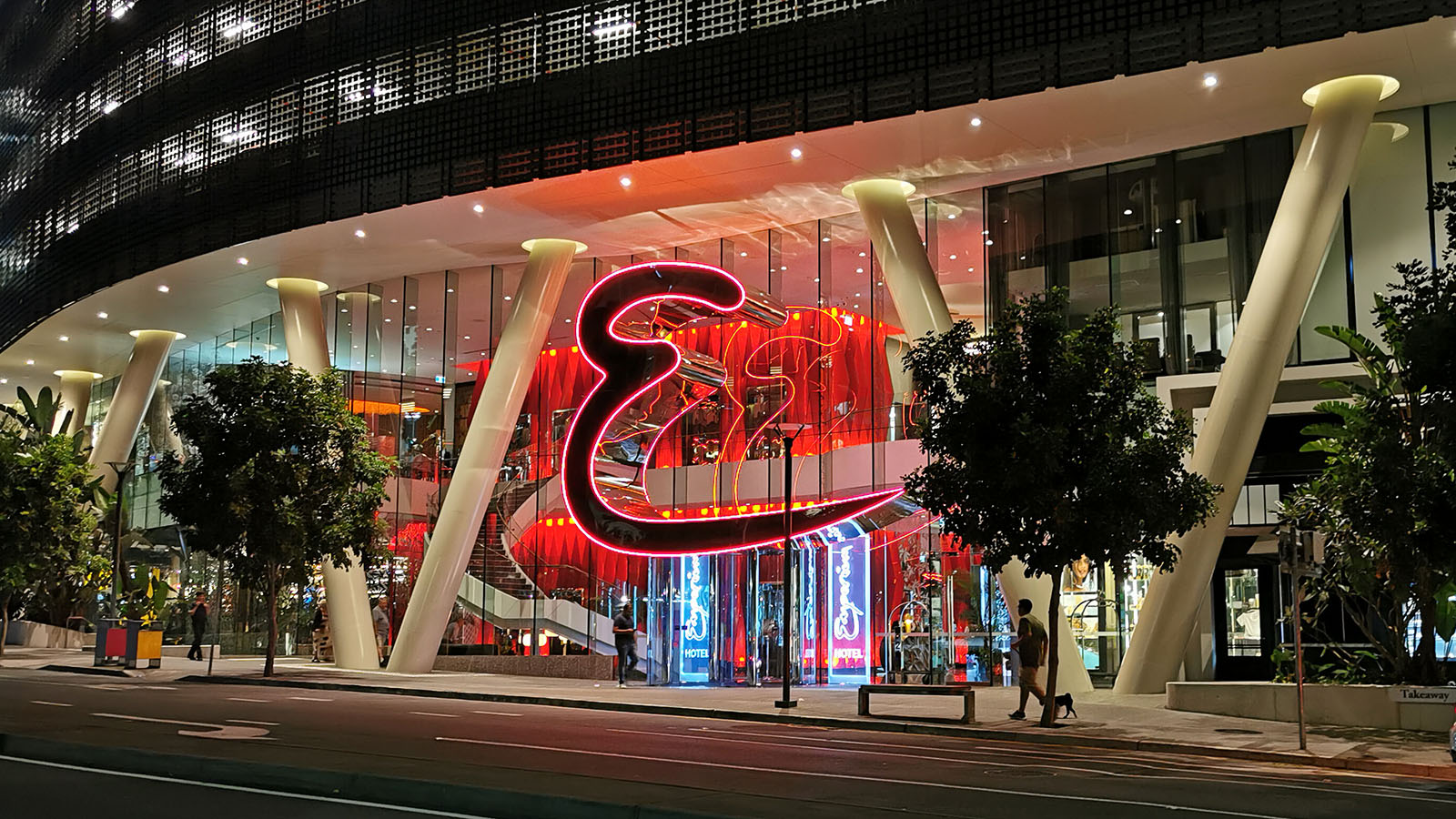 First impressions find a funky and modern lobby, with a shameless amount of red: the hotel's signature colour. After a quick and easy check-in, I'm handed my keys – and leave my own with the valet. From there, it's up to the room: and in no traditional lift.
These elevators bring a little more fun, with screens showing something different every time I step in. But they do work the same way, and I'm enjoying my river view from the room in no time. The vista is prettiest at night, where the brown of the Brisbane River gives way to the colourful evening city lights.
Emporium Hotel South Bank's Premium River City Suite
If you haven't already picked up, Emporium Hotel South Bank doesn't follow the crowd. Forging its own path in the luxury space, every single room in this hotel is a 'suite'.
Now, that's not to say every room has a completely separate living and sleeping area, as would normally be expected of a typical hotel suite. But these rooms are certainly a level beyond what you'd get from most other five-star hotels. Everything feels more premium, and more elaborate.
Every aspect of the design has been considered. From the lighted closet that makes it easier to choose an outfit, to the grand 'TV mirror', it's an experience to enjoy.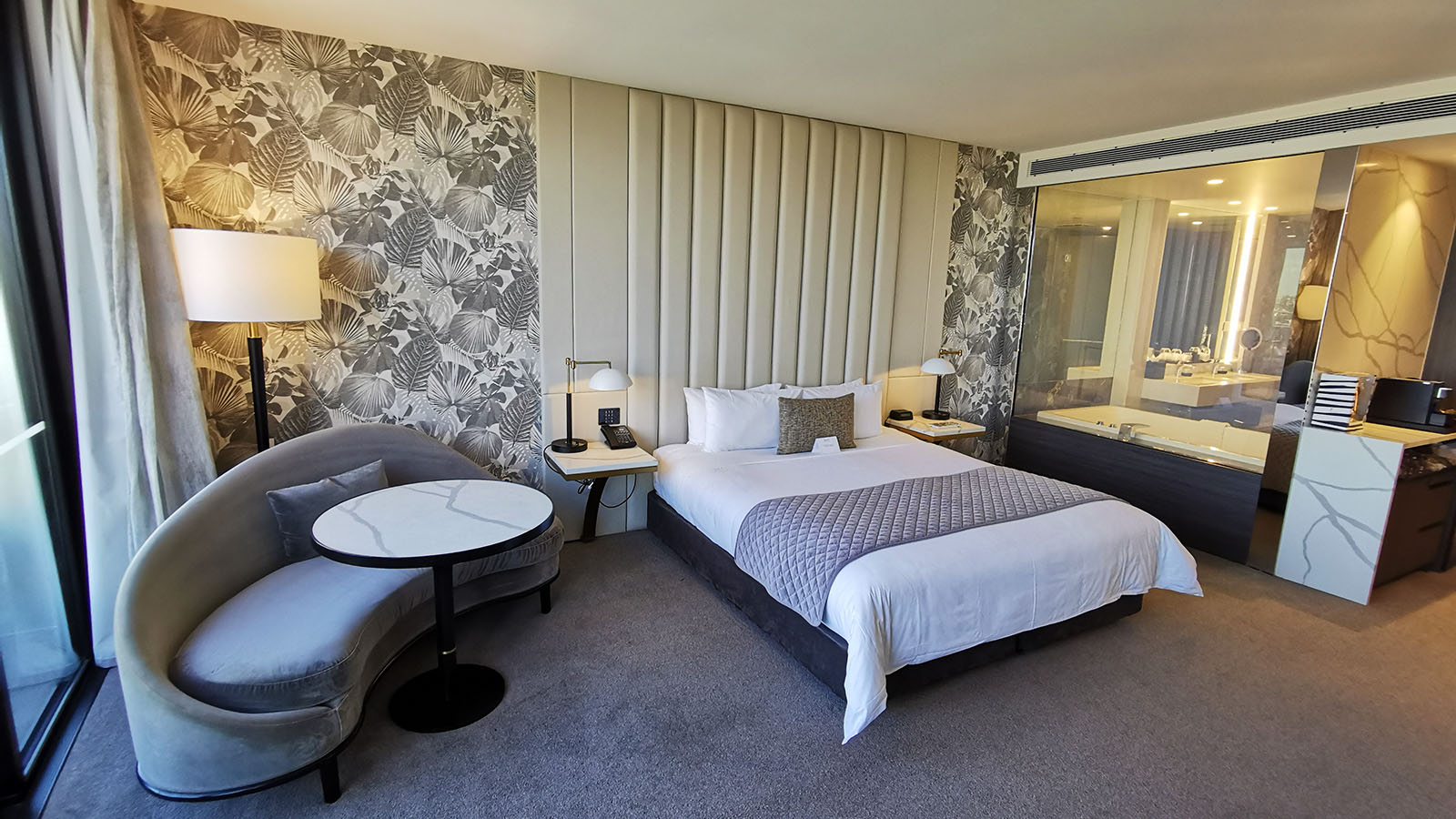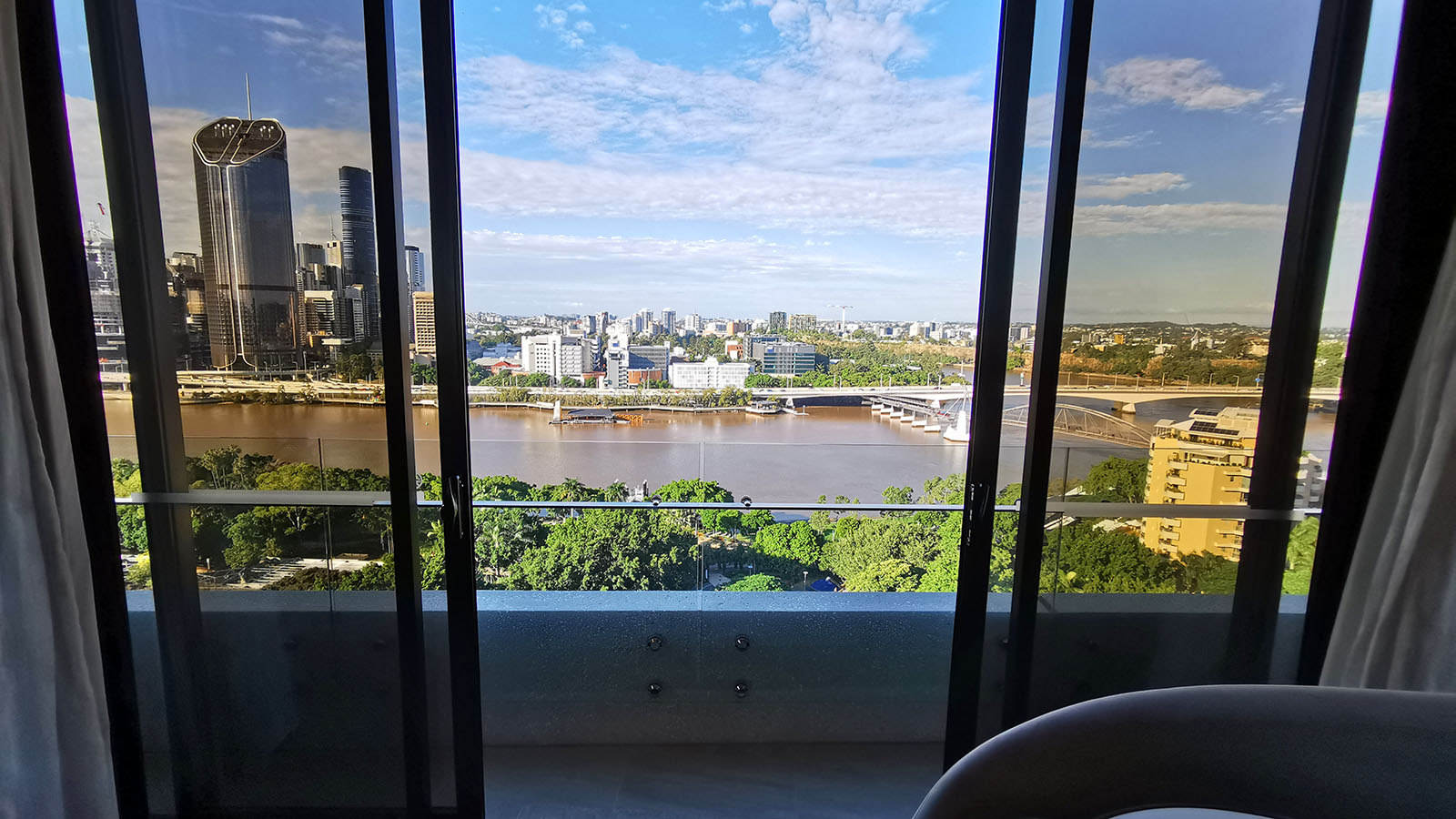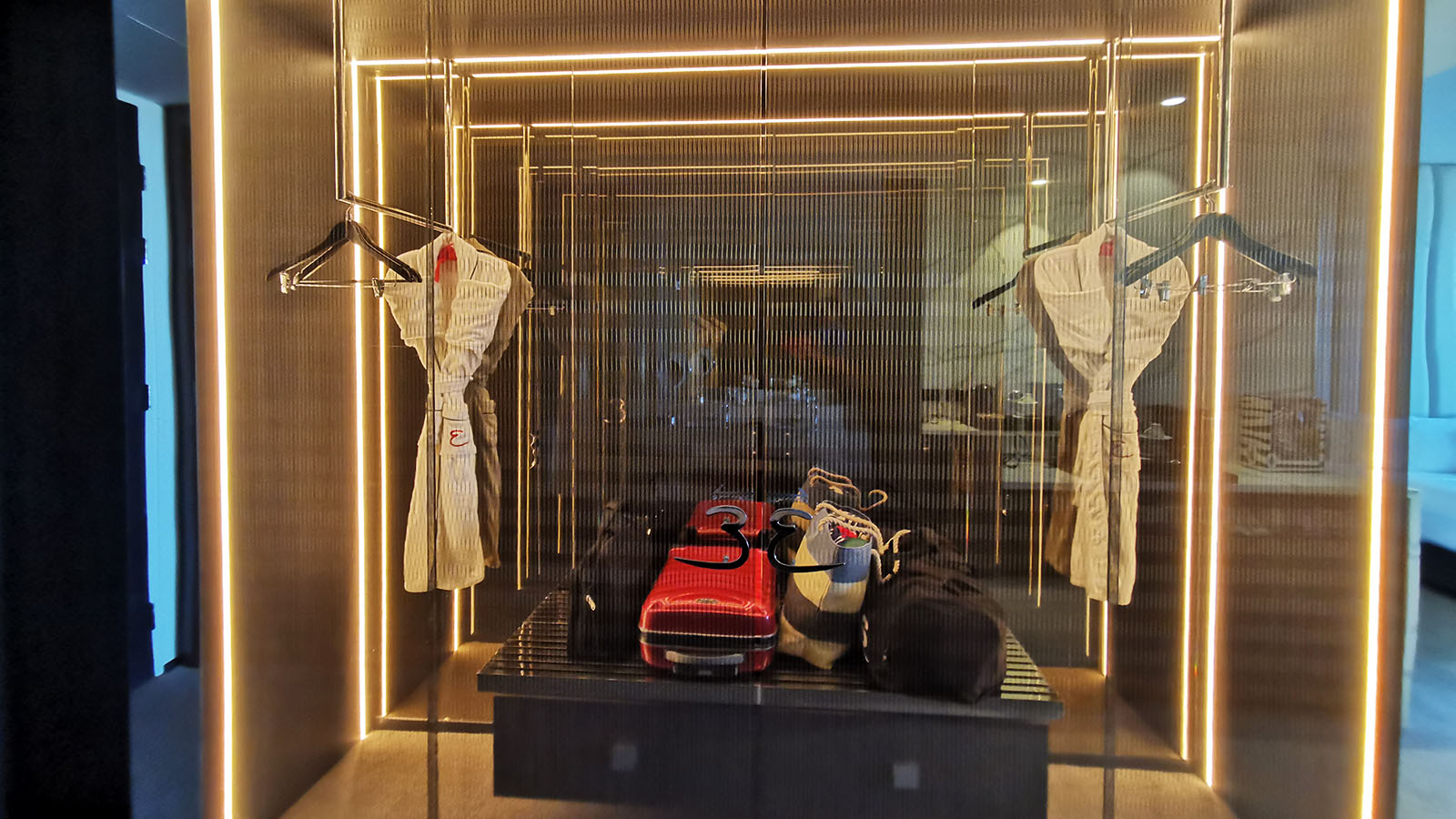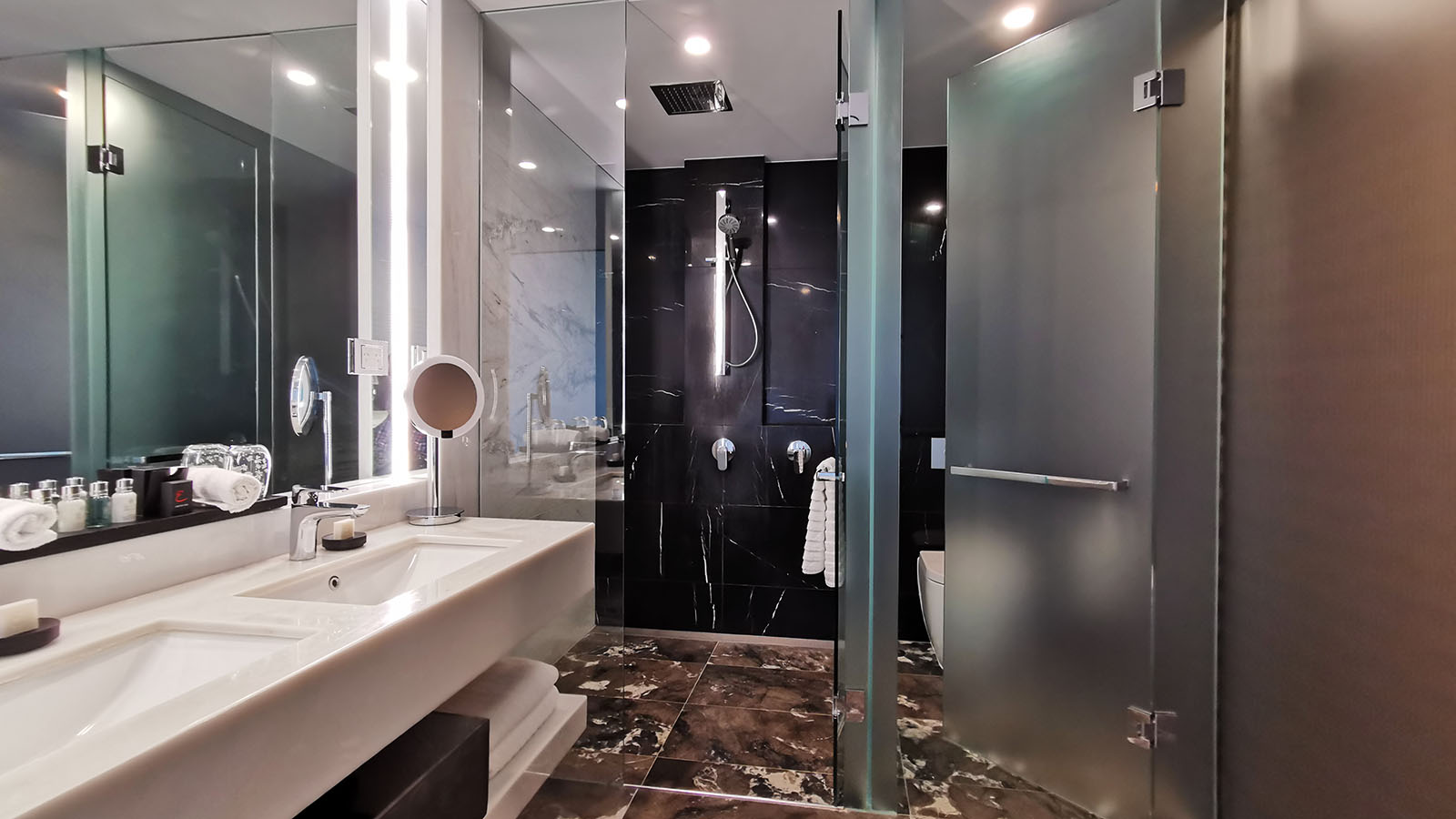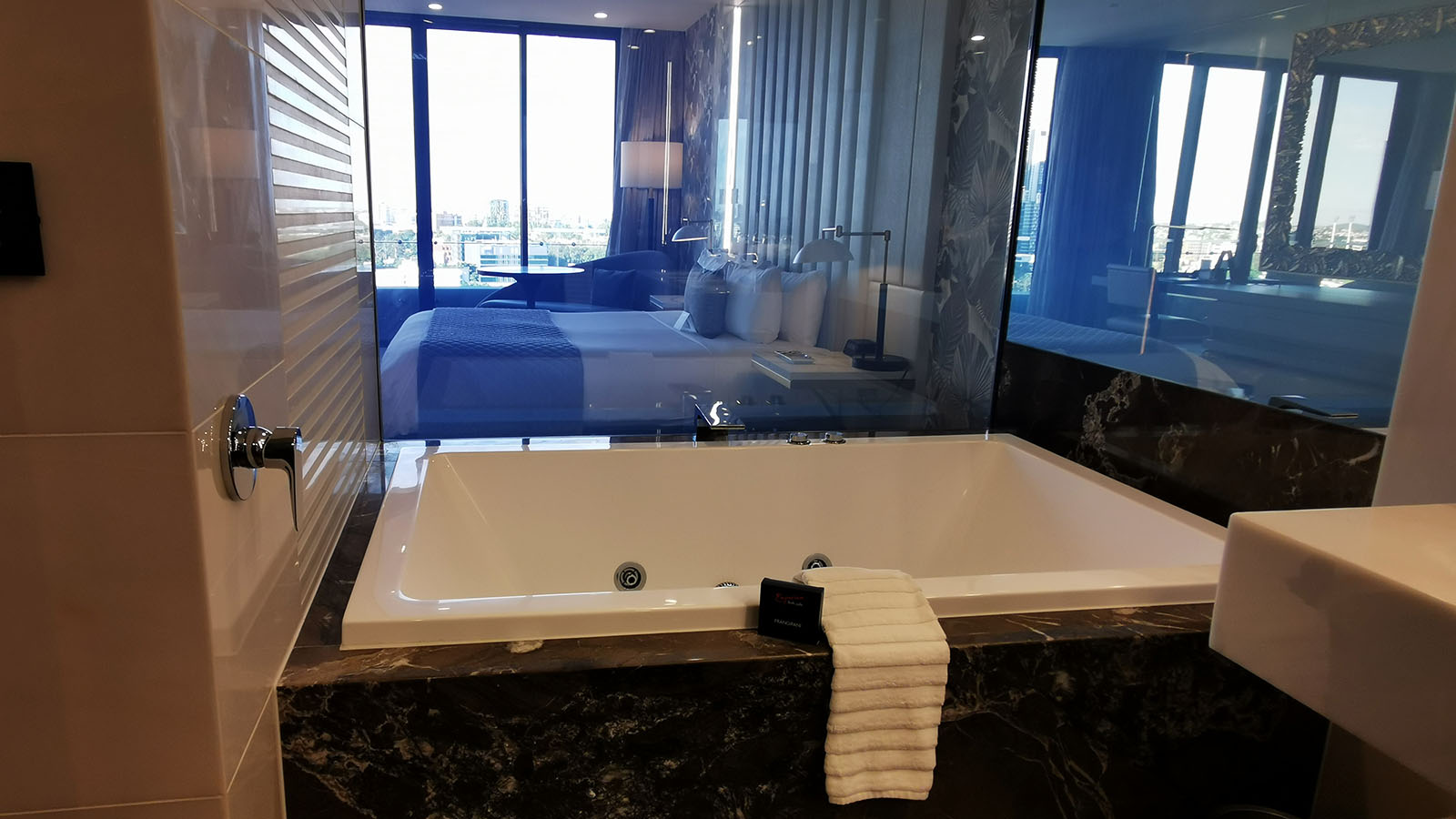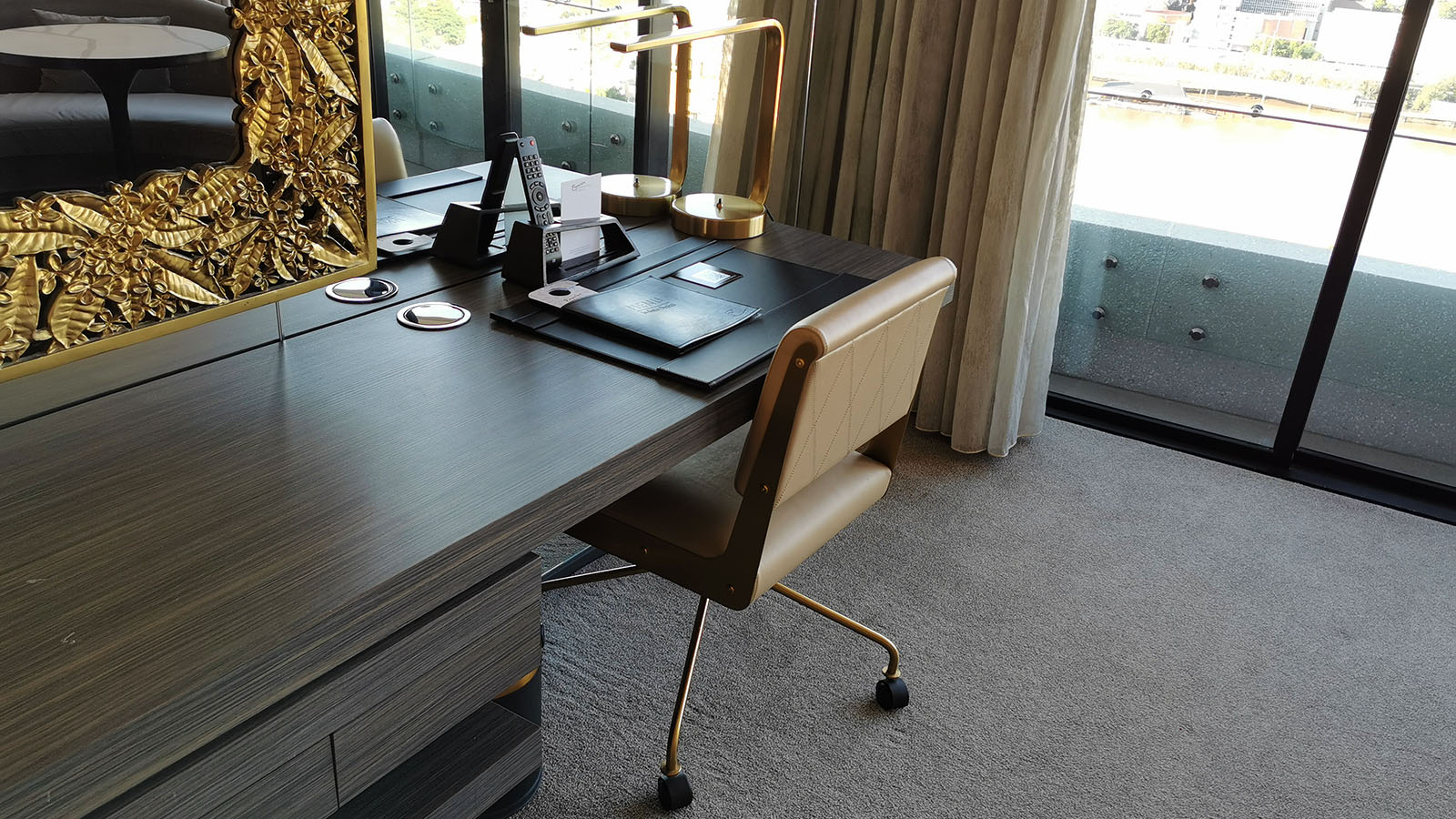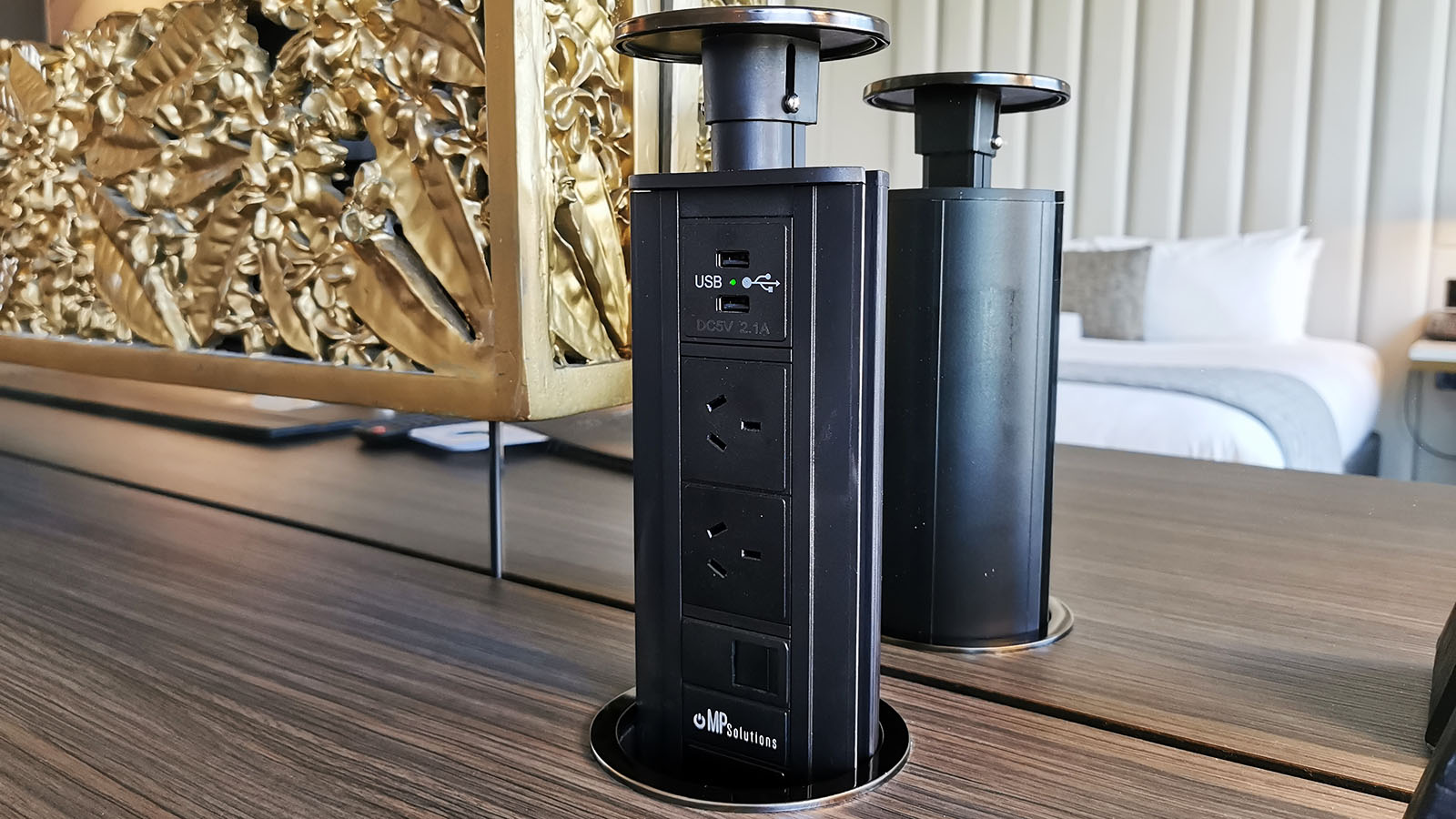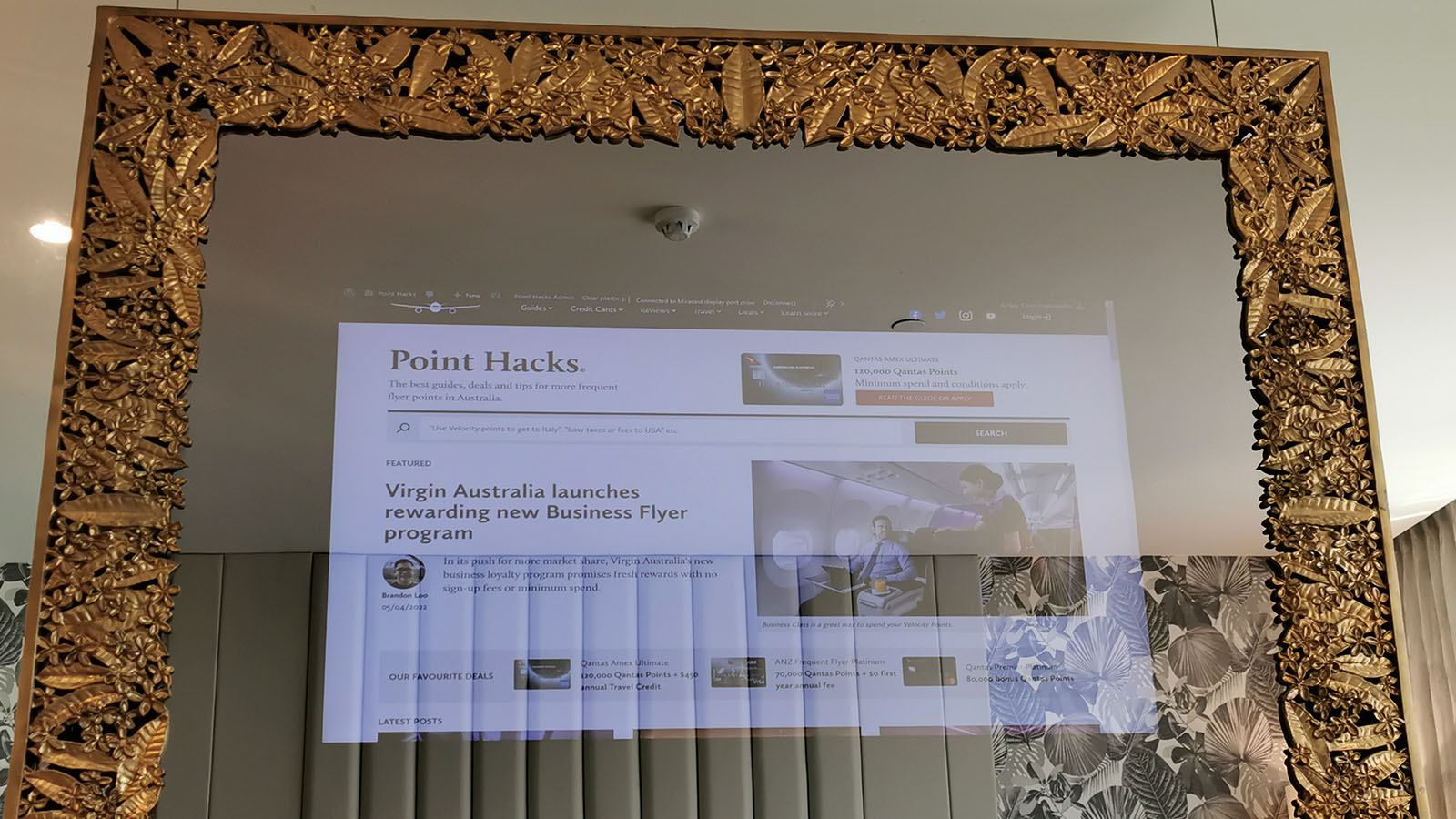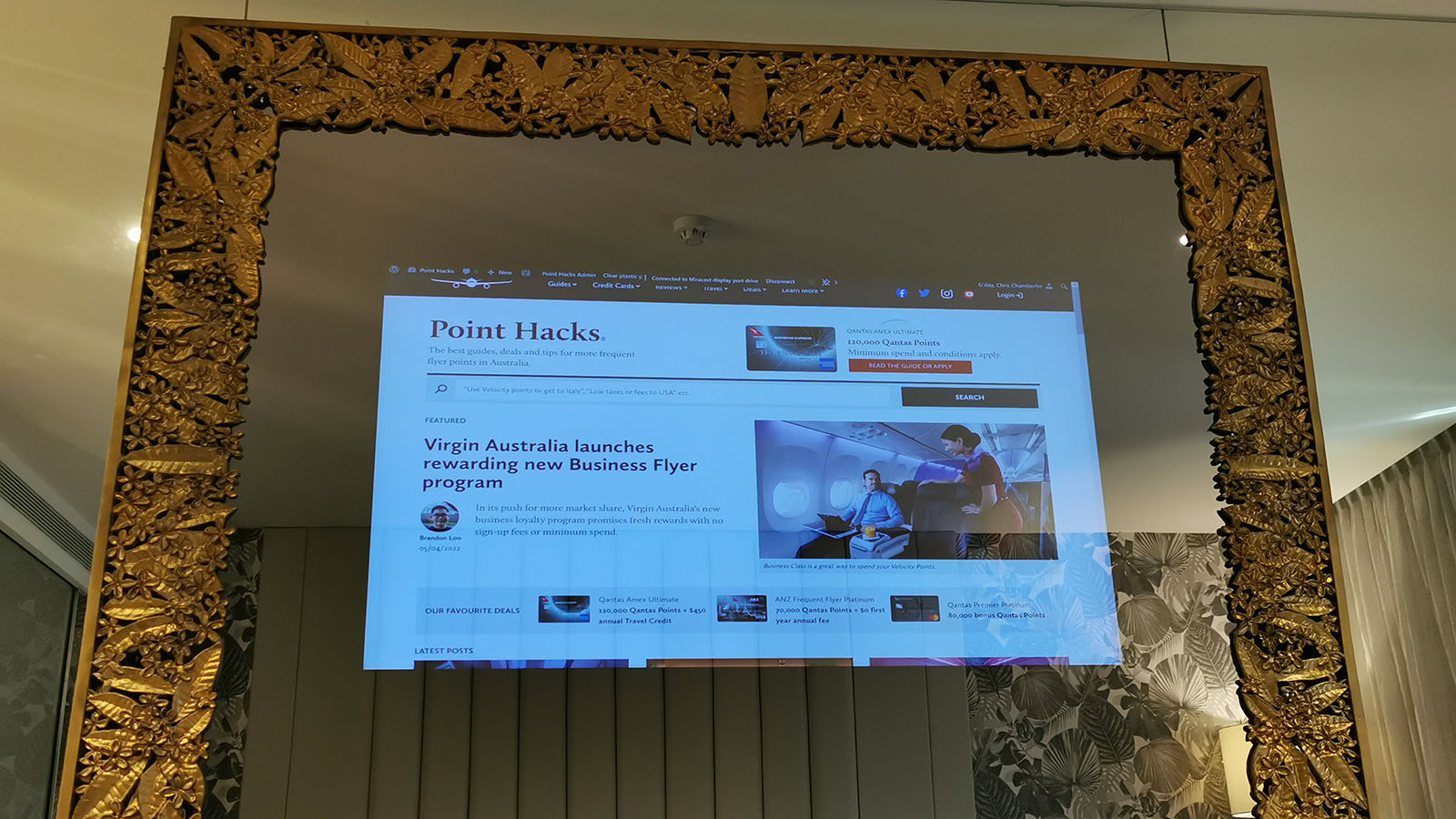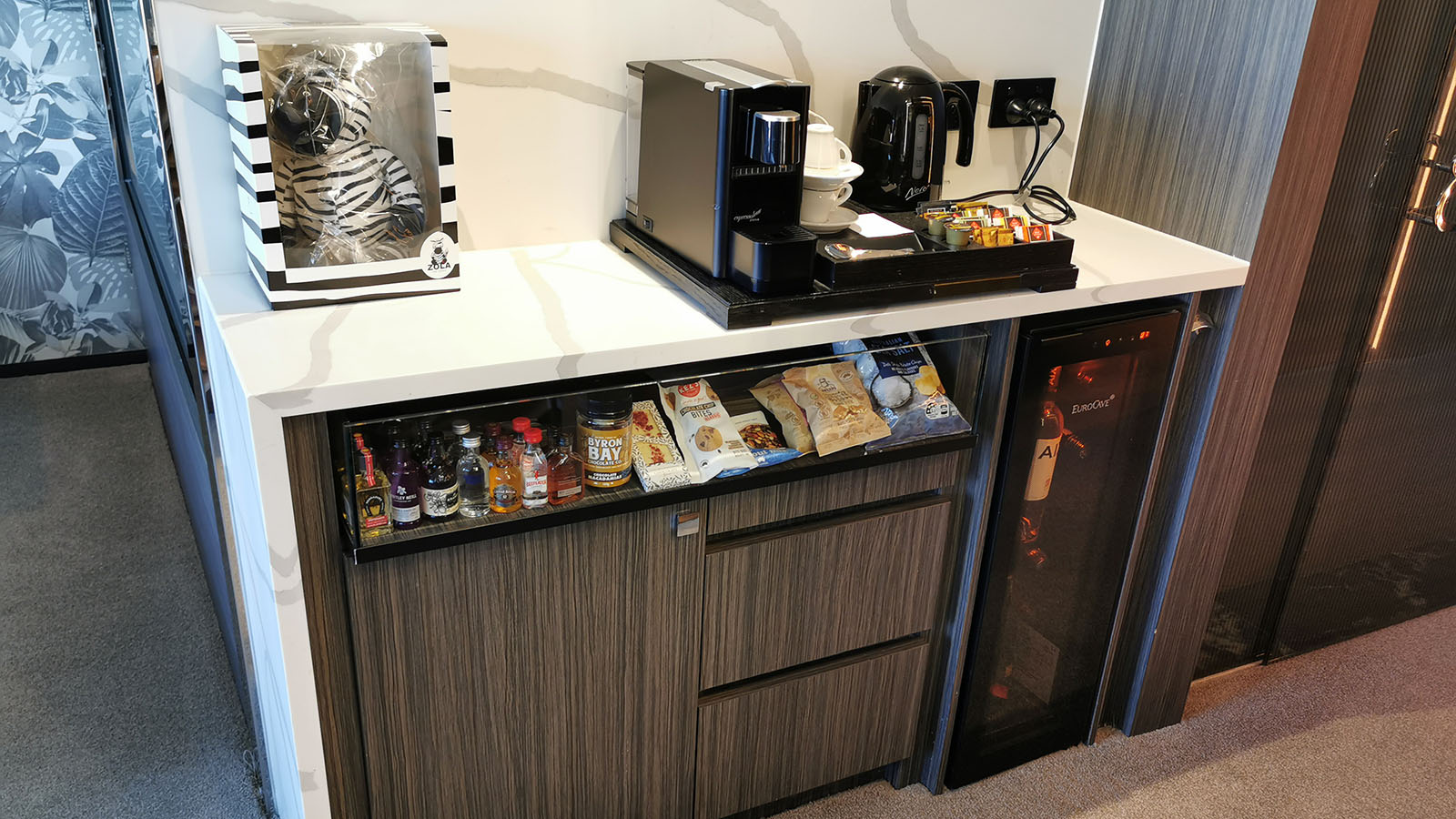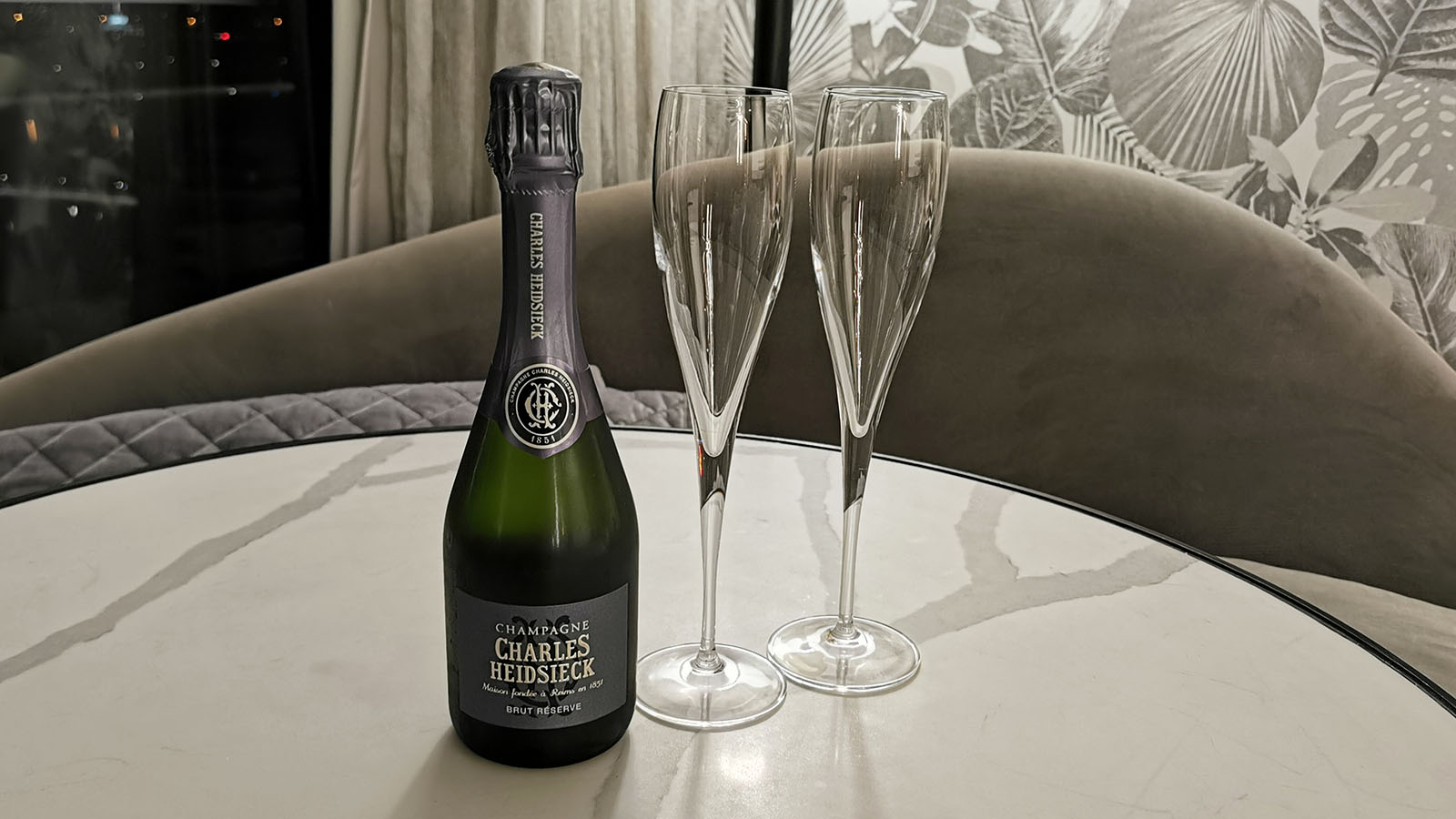 In this room category, the spacious bathroom offers a separate walk-in shower and an oversized spa tub. With the touch of a button, the glass can switch from transparent to opaque – or vice versa, if you please. And with double sinks, getting ready for an outing is a breeze.
While clearly designed with couples in mind, the hotel also ticks the boxes if you're visiting on business. The in-room desk offers a comfortable seat and easy-access power, with outlets popping out when you need them. The 'mirror TV' also supports wireless projection and Chromecast, although the picture is easiest to see with the curtains closed.
When your time is your own, peruse the incredibly comprehensive minibar. Along with the usual staples and snacks, there's even a wine fridge. A bottle of Charles Heidsieck Champagne is calling our names, and brings back memories of Singapore Airlines Business Class, where this drop is a staple.
Dining at Emporium Hotel South Bank
While you can certainly order room service, Emporium Hotel South Bank has a wide array of food and beverage options to keep you satisfied. What's open will depend on exactly when you're staying. During this visit, The Terrace Rooftop Bar proved the best go-to.
Stopping by for drinks and then dinner, it's hard to look past a glass of Bollinger to begin. From the cocktail list, a vodka and Cointreau-based 'Momma's Groove', and a gin and Aperol-based 'Freaky-Tiki', are both worthy of their place on the menu.
On the food front, the menu lends itself well to sharing, and that's exactly what we did. Ōra King Salmon sashimi is a great bite to begin with, pairing nicely with the final drops of Champagne. Steamed vegetable dumplings with chilli oil provide a nice contrast, but the simplicity of the pancake-like potato scallops won the first round.
To try a little more across the menu, the beef bulgogi slider was tastily closer to burger-sized. The Moreton Bay bug roll was also fresh and delicious, although the thickness of the bread made this more of a 'knife and fork' dish. To finish, the cheese and charcuterie board had us both beat – thus, no room for a sweet dessert.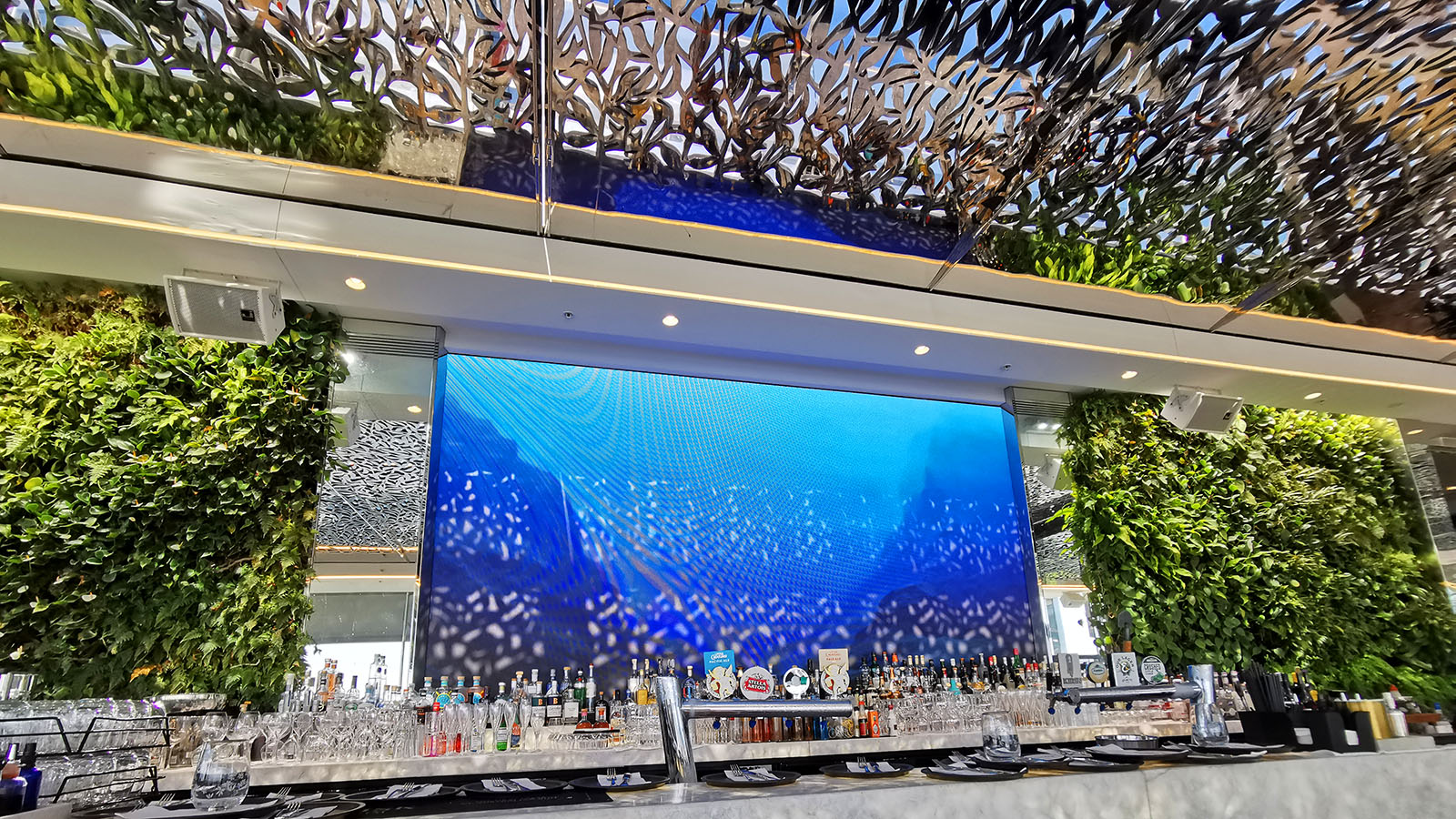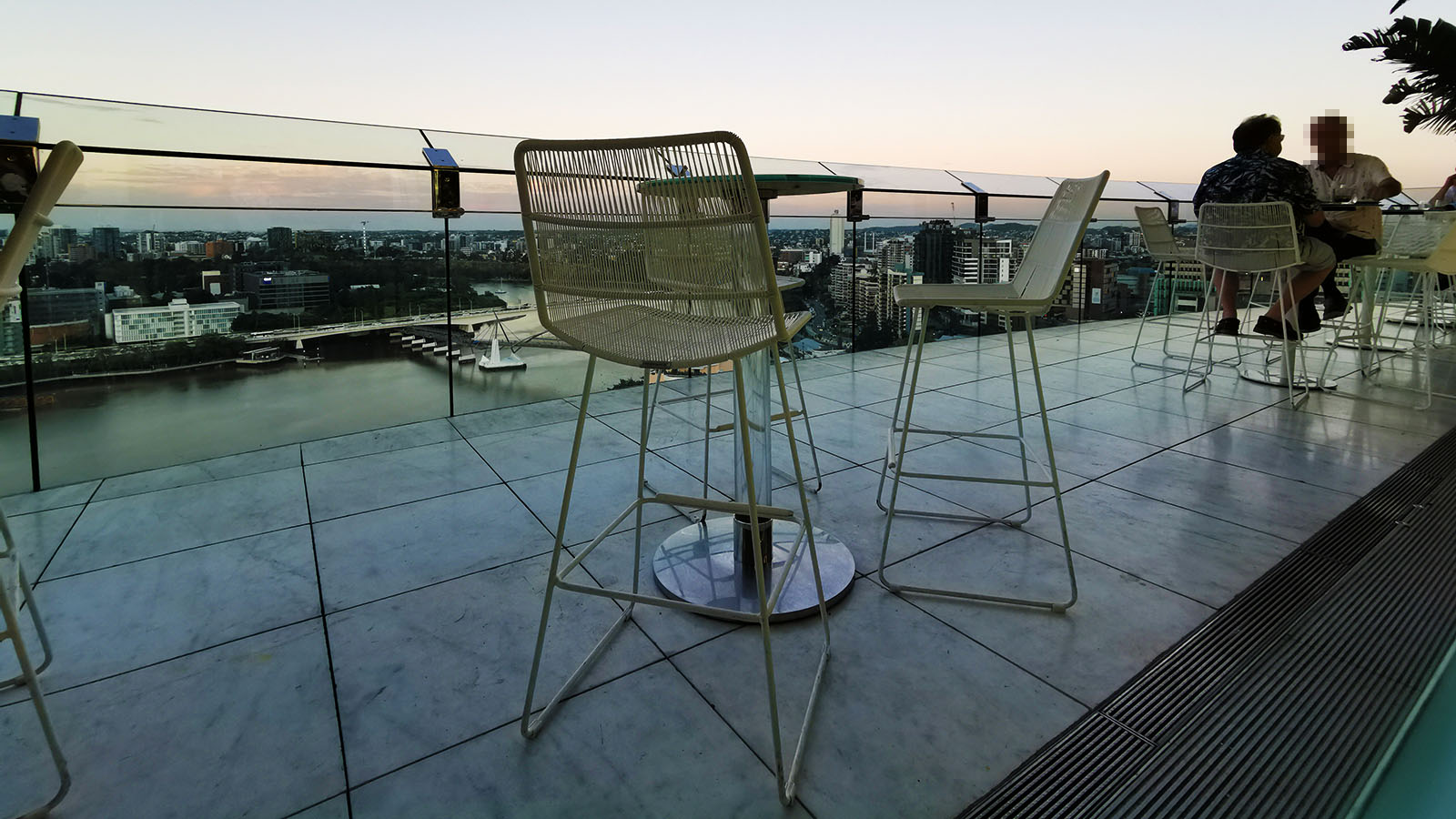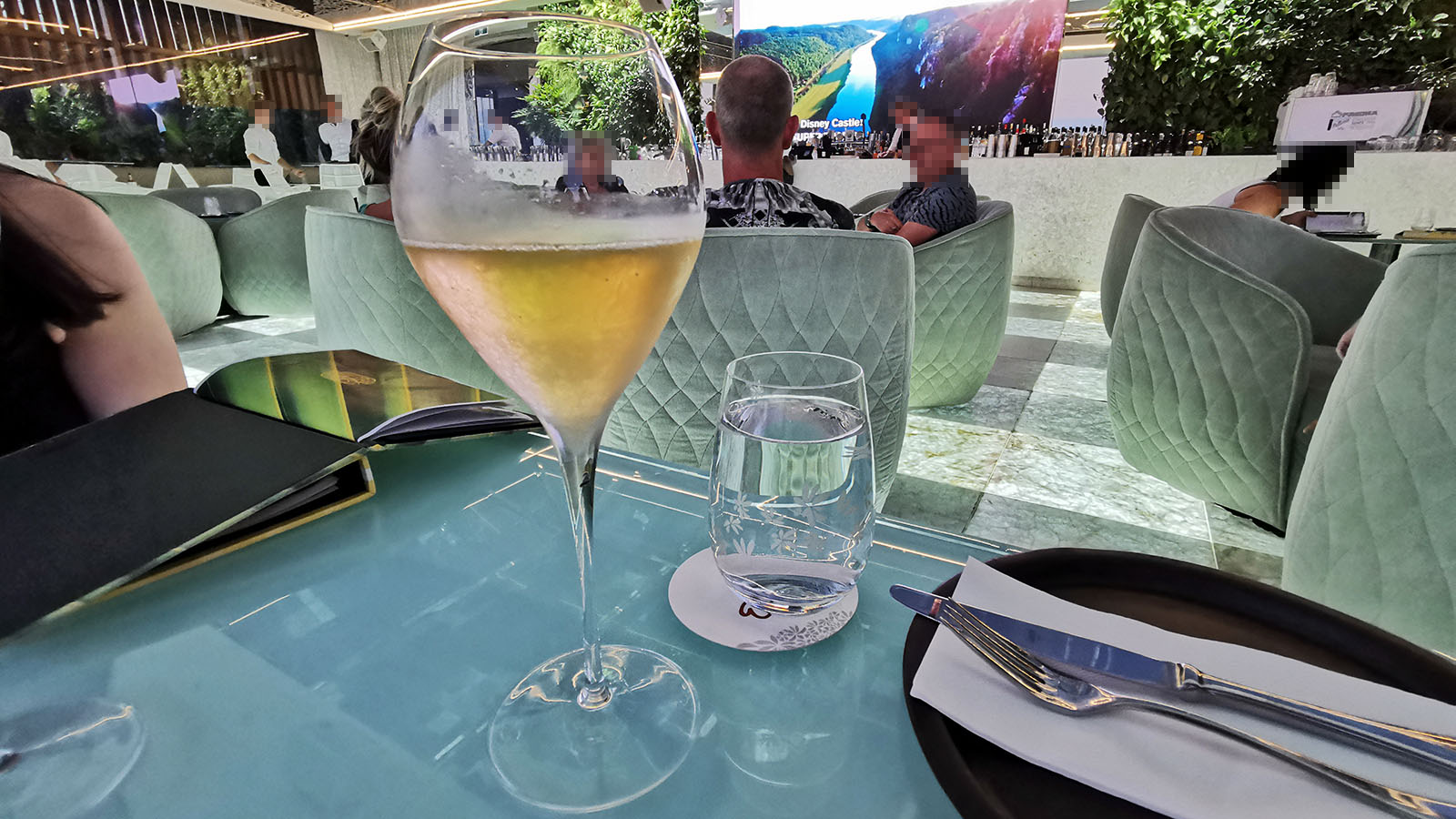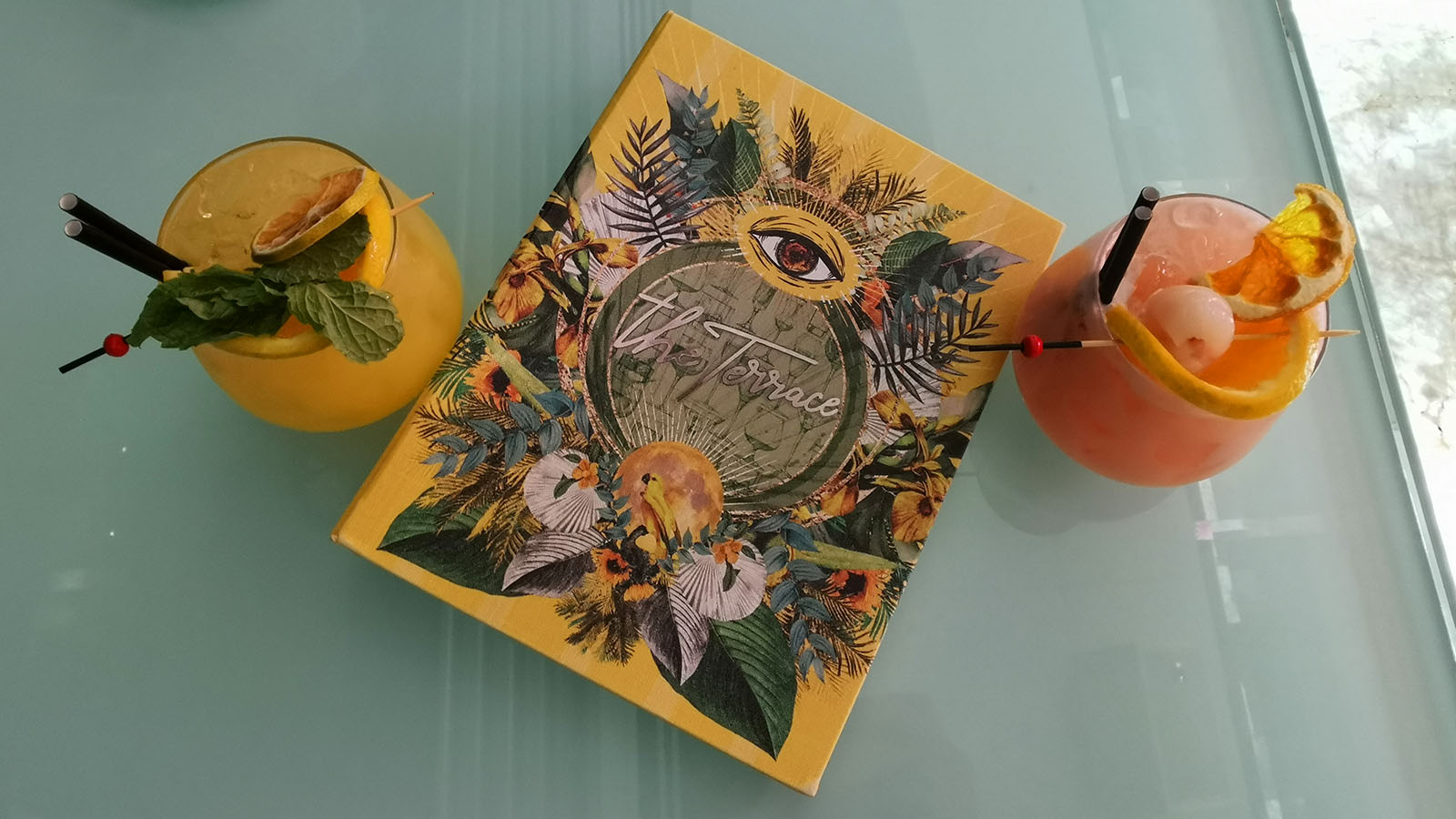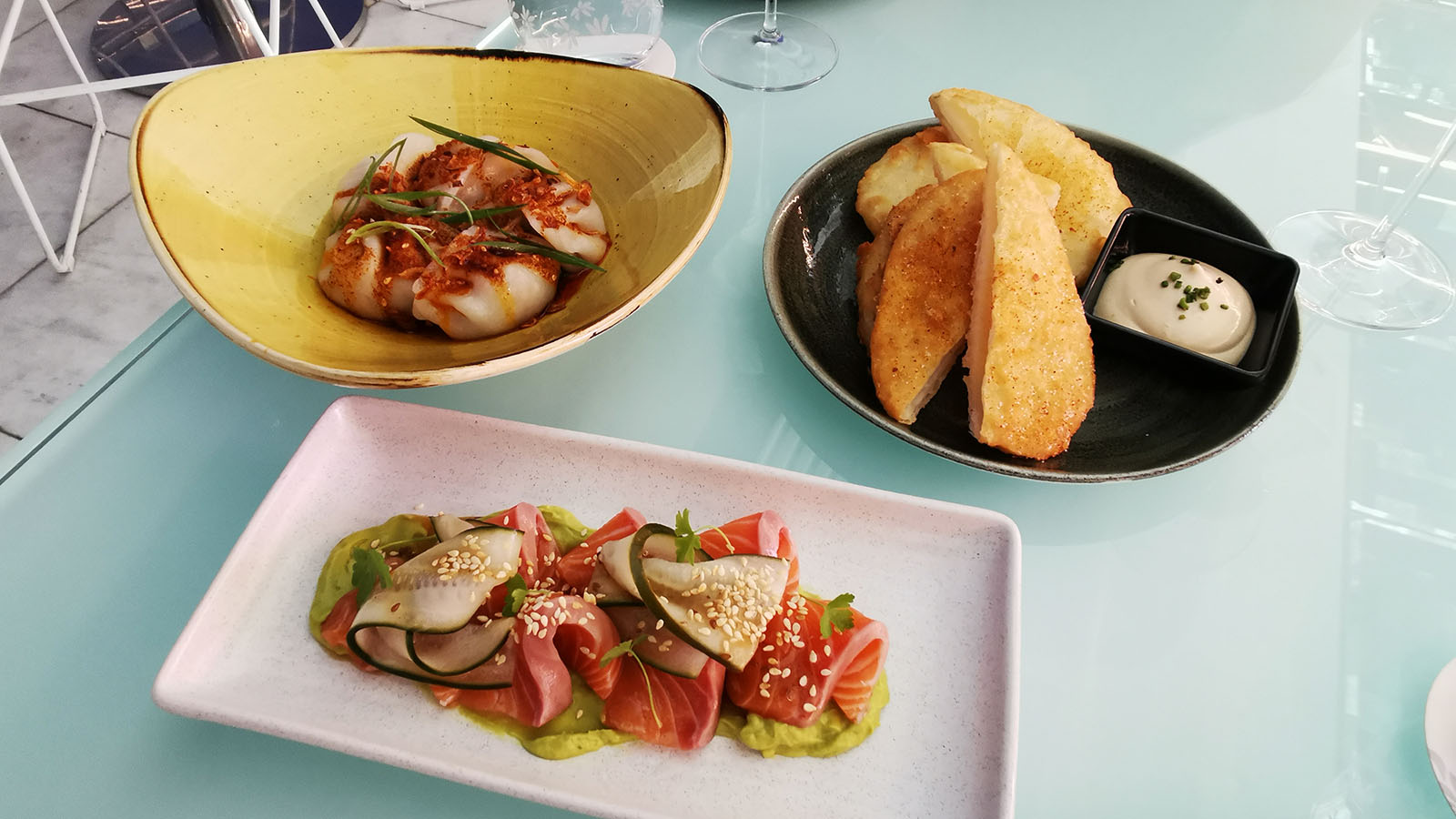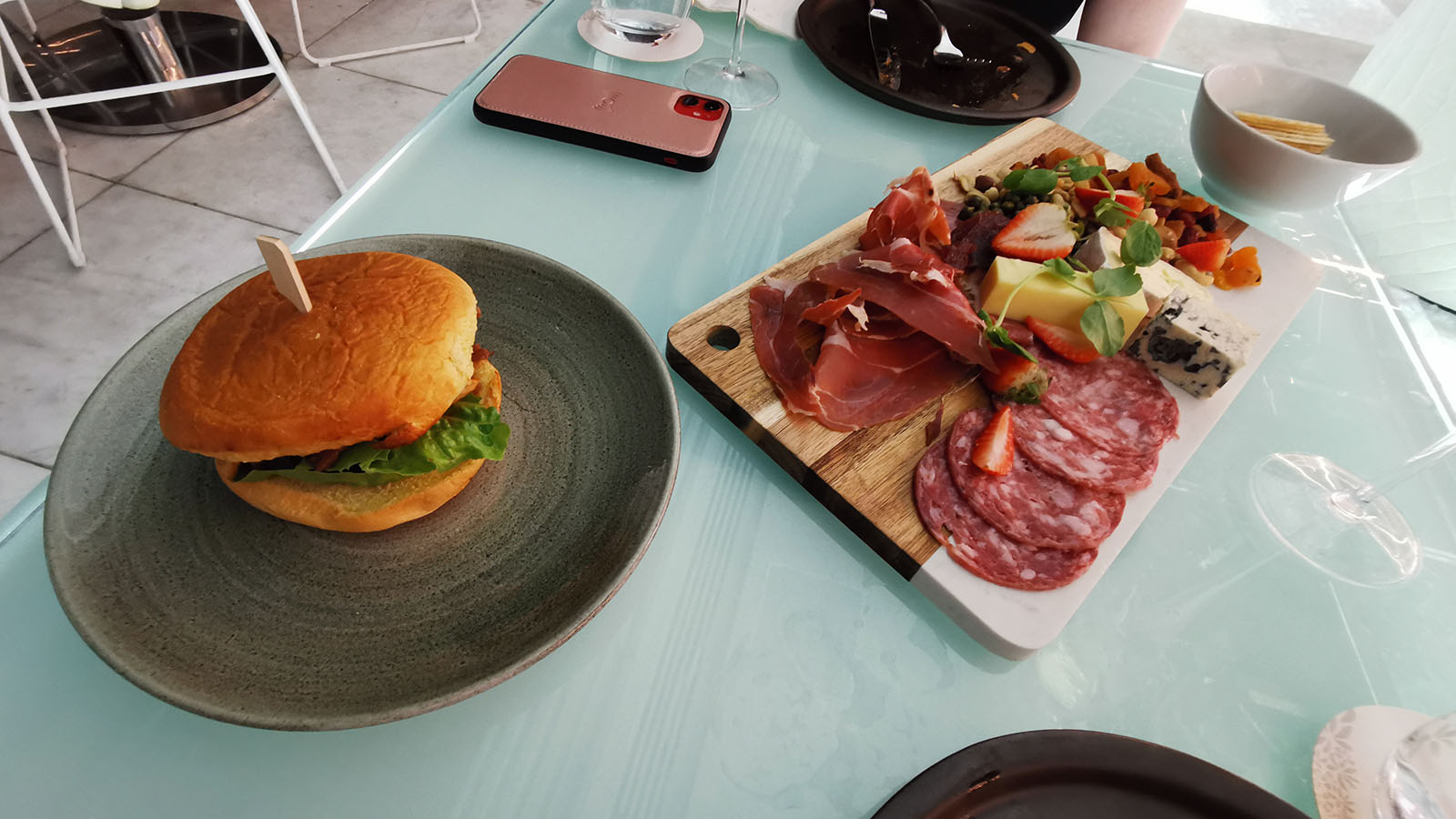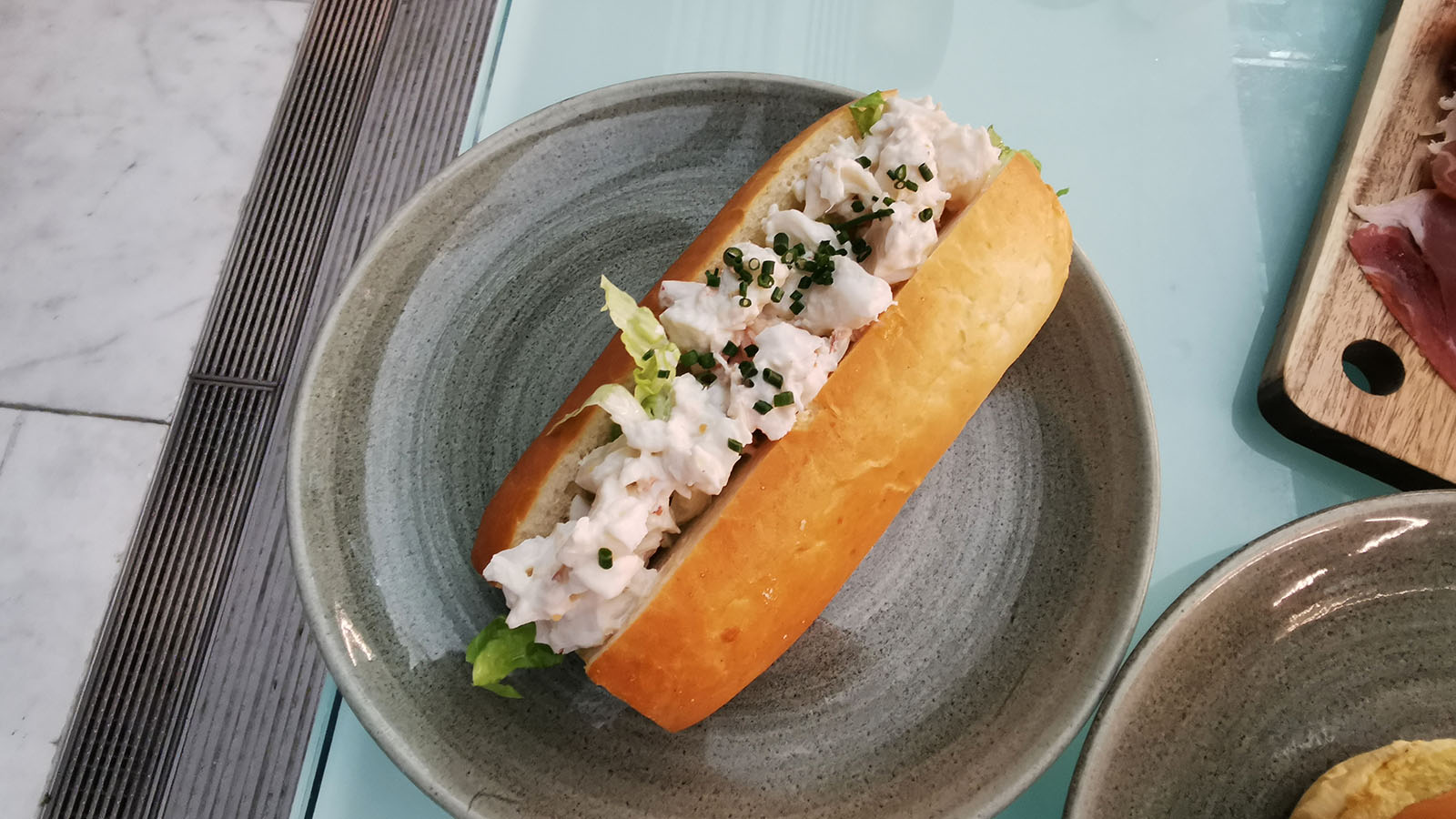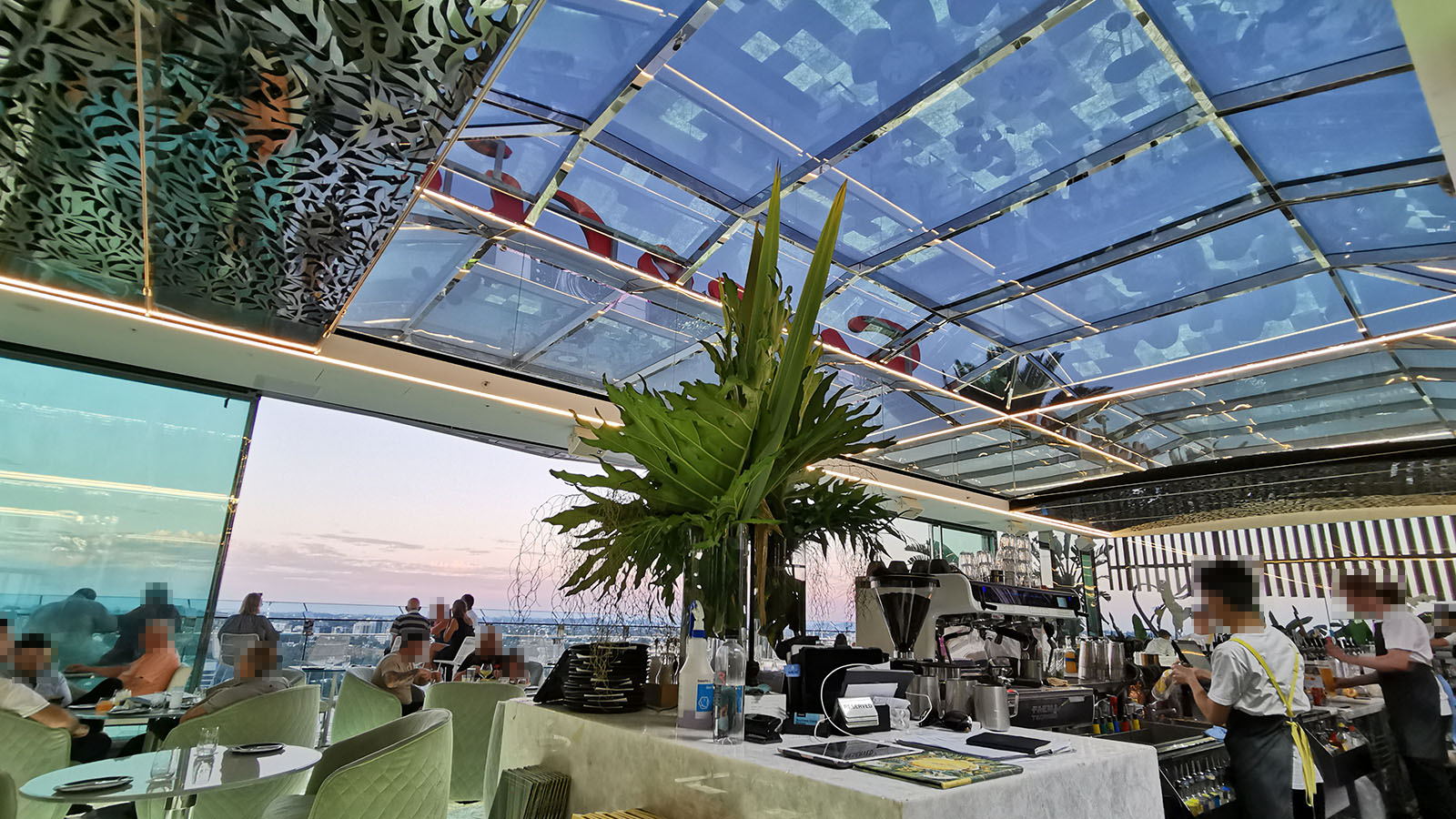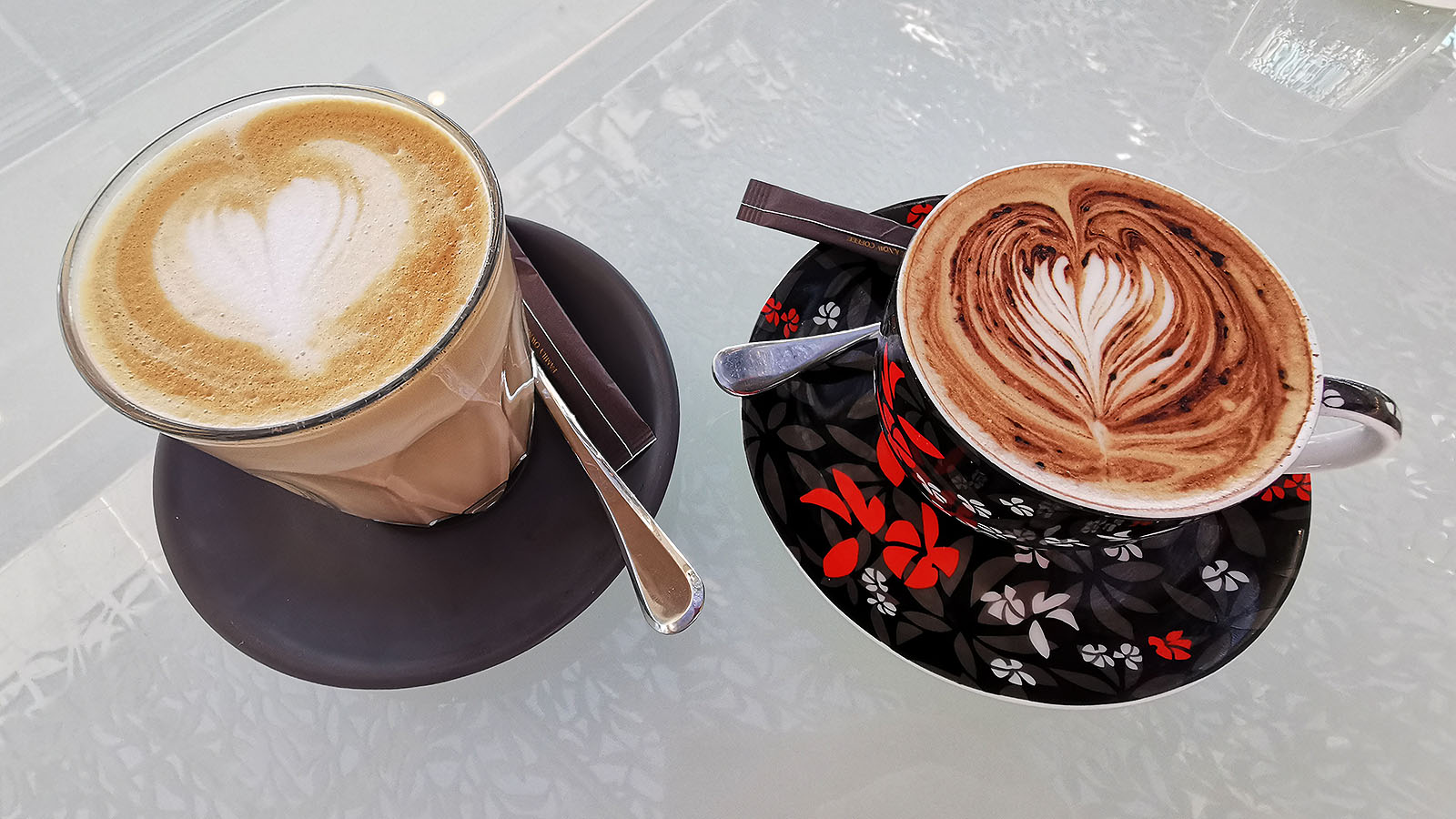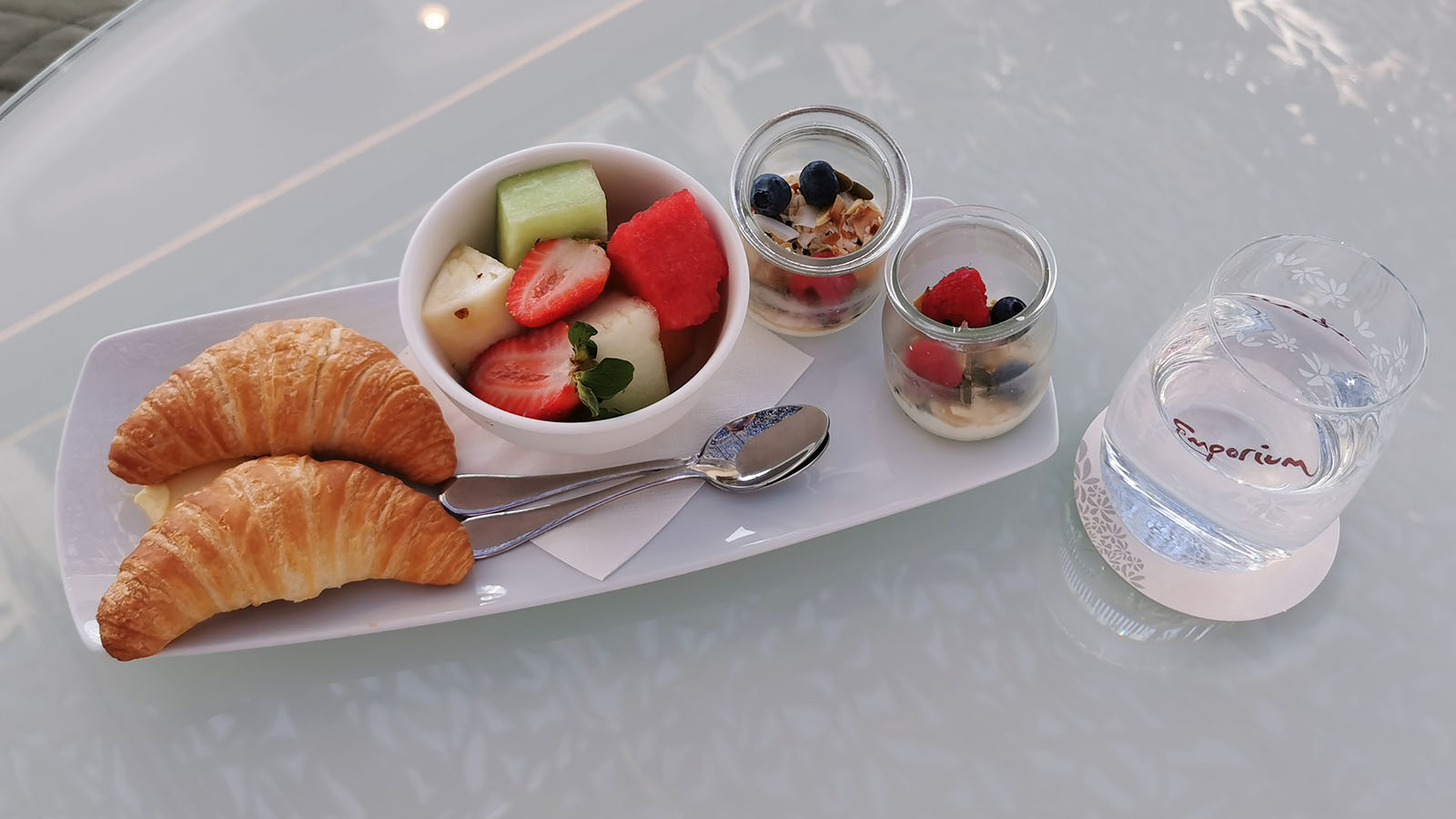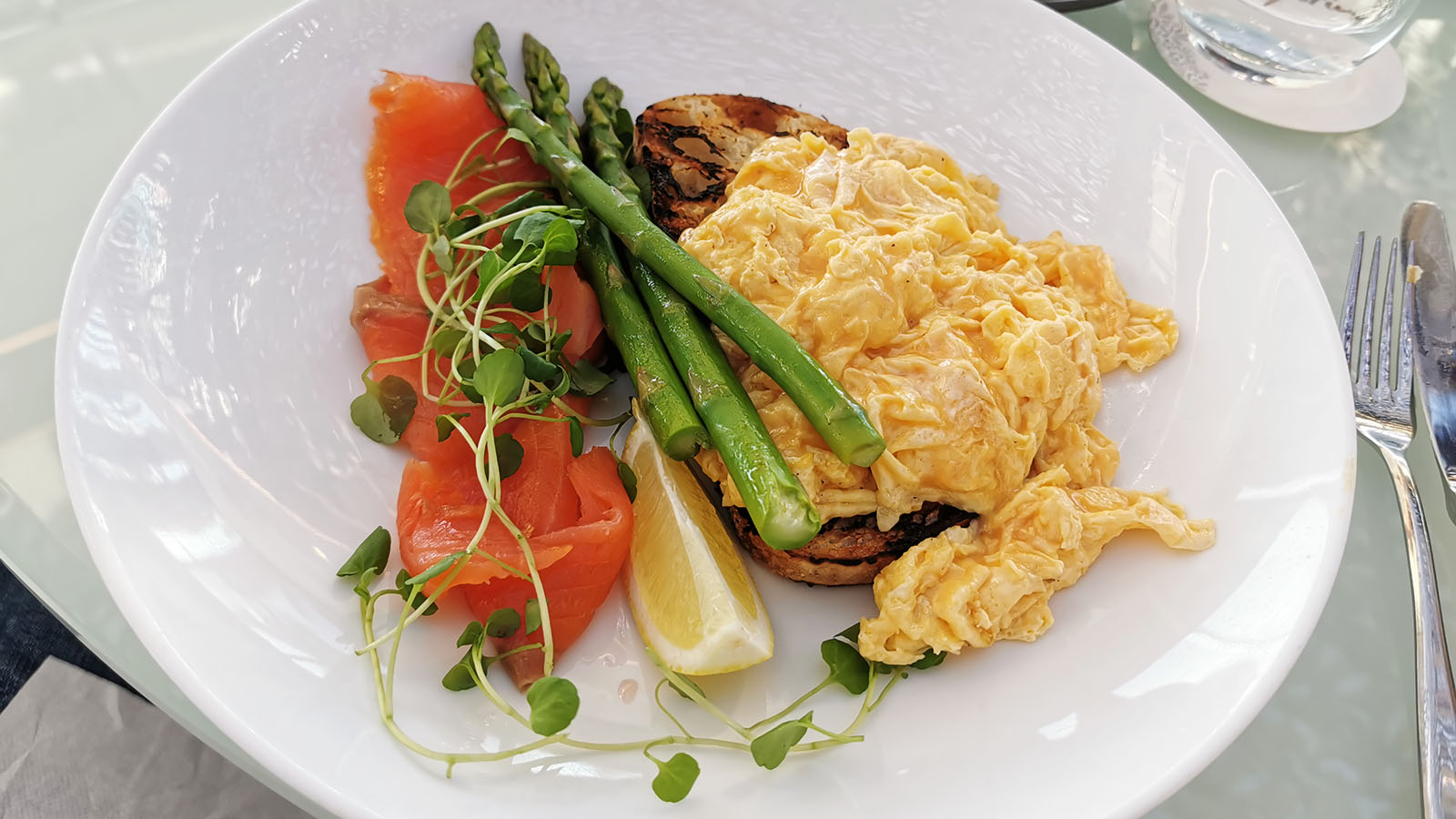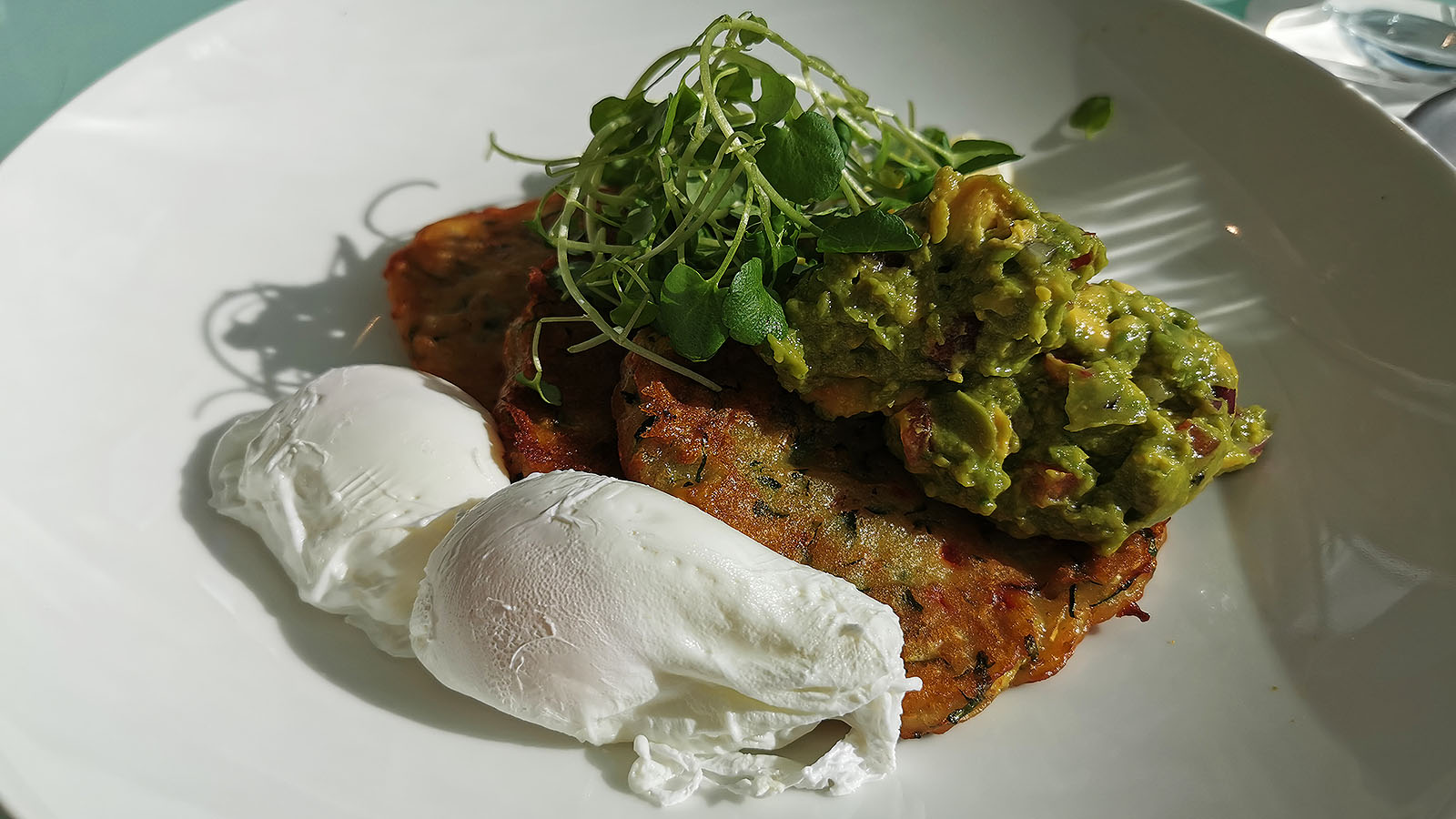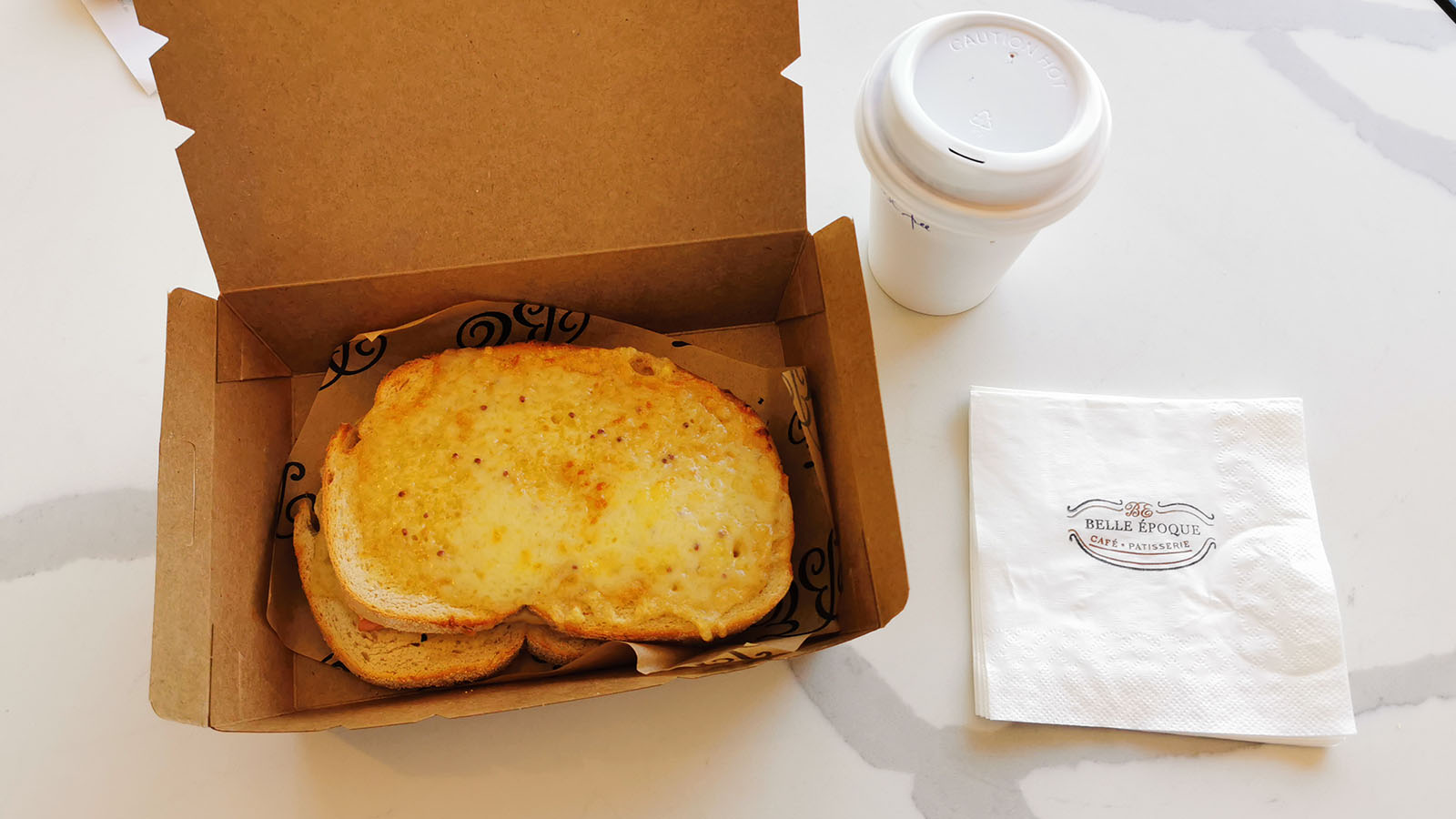 Skip forward to the morning, and the barista-made coffee at The Terrace is top notch. Breakfast begins with a sharing plate of pastries, fruit and yoghurt, with an à la carte dish of your choice.
Having enjoyed the salmon dish at dinner, I found Tasmanian smoked salmon with scrambled eggs hard to pass up. The next morning, the zucchini and corn fritters with avocado salsa and poached eggs was the simpler meal I was looking for.
For a street-level brew, Belle Époque Patisserie also sits off the lobby for both dine-in and takeaway.
Facilities at Emporium Hotel South Bank
You'll have no shortage of ways to relax at Emporium Hotel South Bank… or to burn off calories from the restaurant and bar!
Speaking of The Terrace, the rooftop infinity pool sits right next door. While often busy during the day, on my 7 pm visit I found the entire pool to myself for some calming laps. Be sure to take a moment to enjoy the river city views!
The rooftop is also home to a sauna and steam room, as well as a gym. The latter faces Mount Coot-tha for cardio with a view. On some of the machines, you can also take a virtual journey through various cities of your choosing. For something different, a cycle around the Colosseum in Rome sure beat the typical gym TV feed.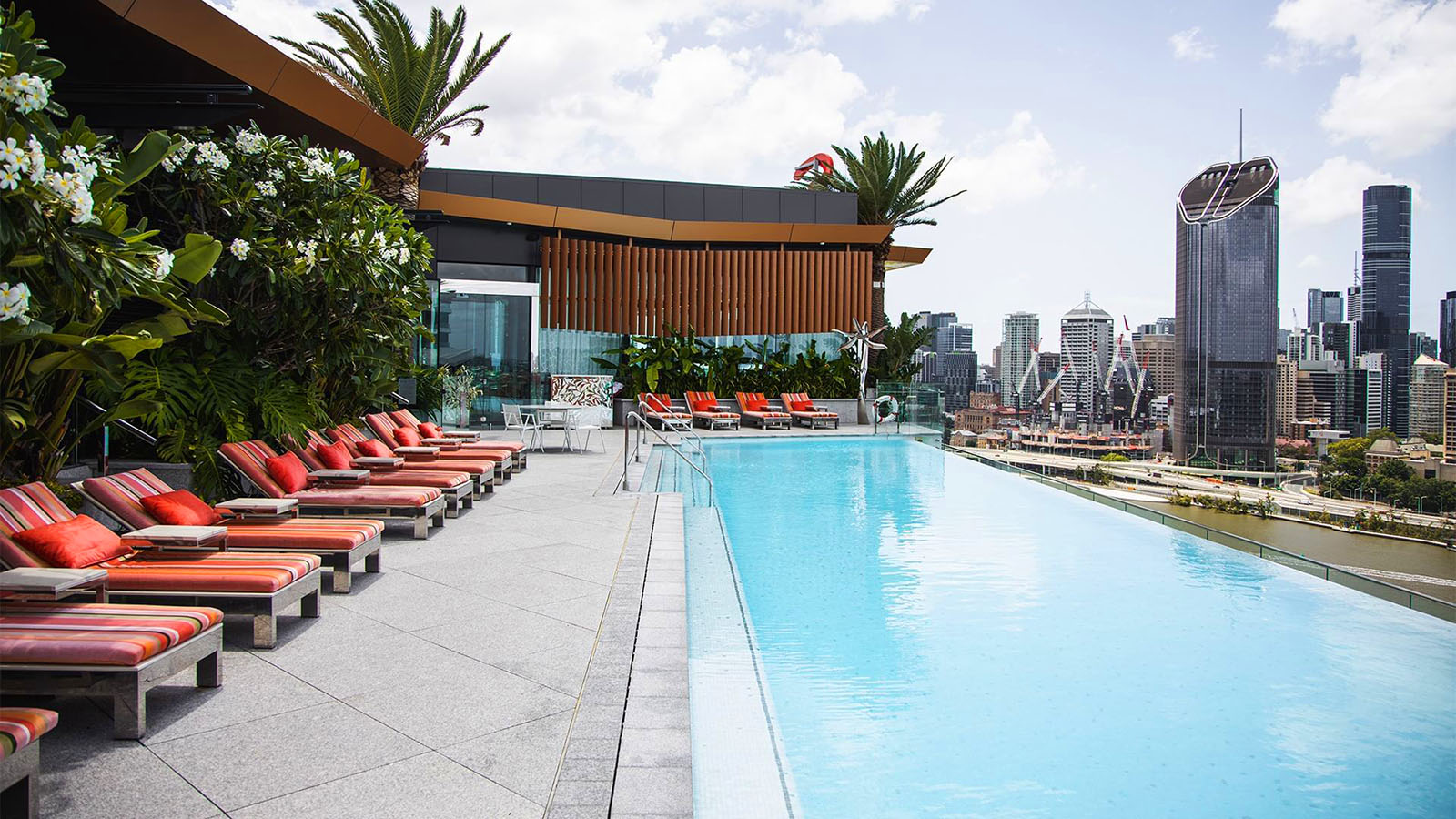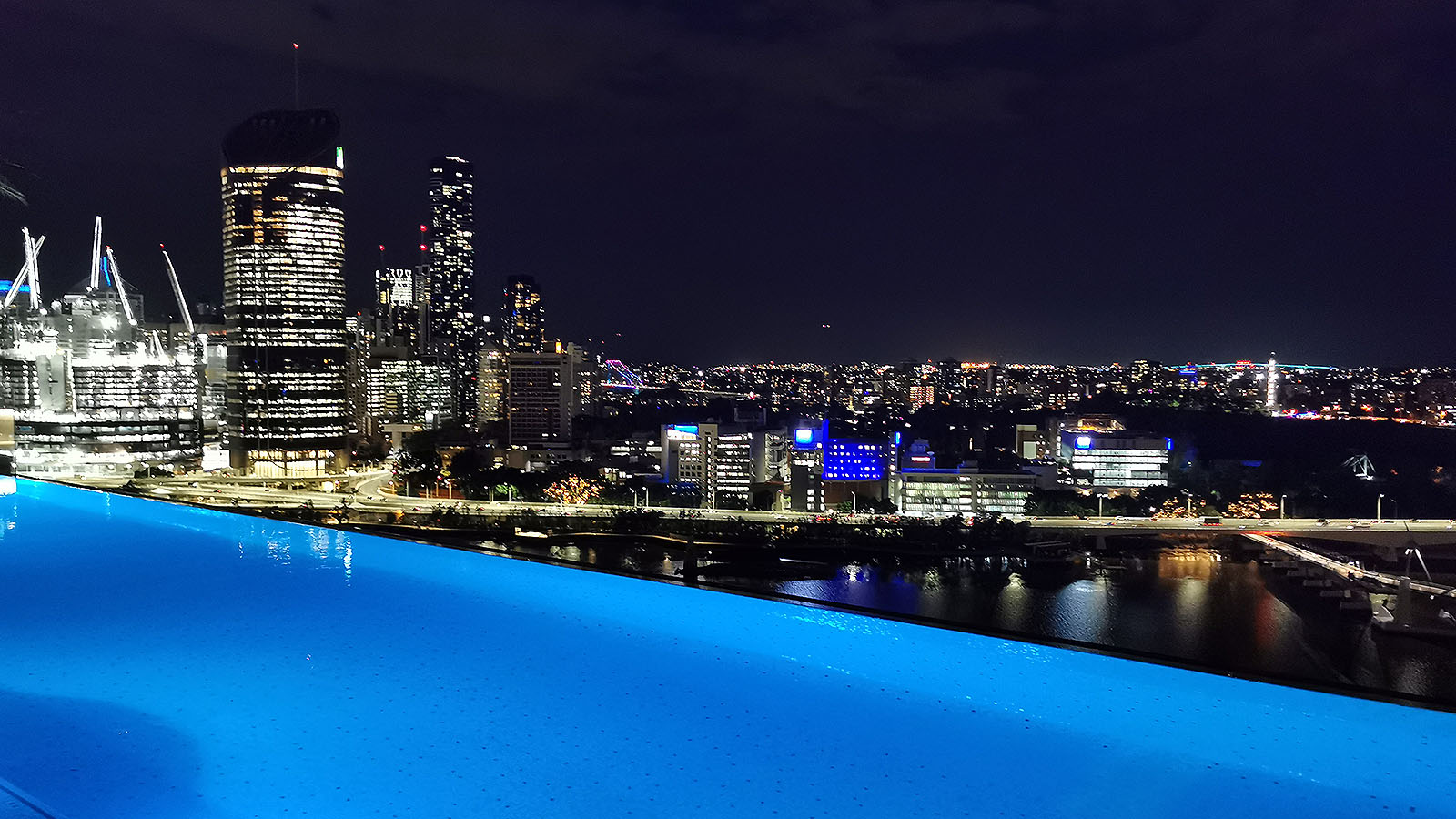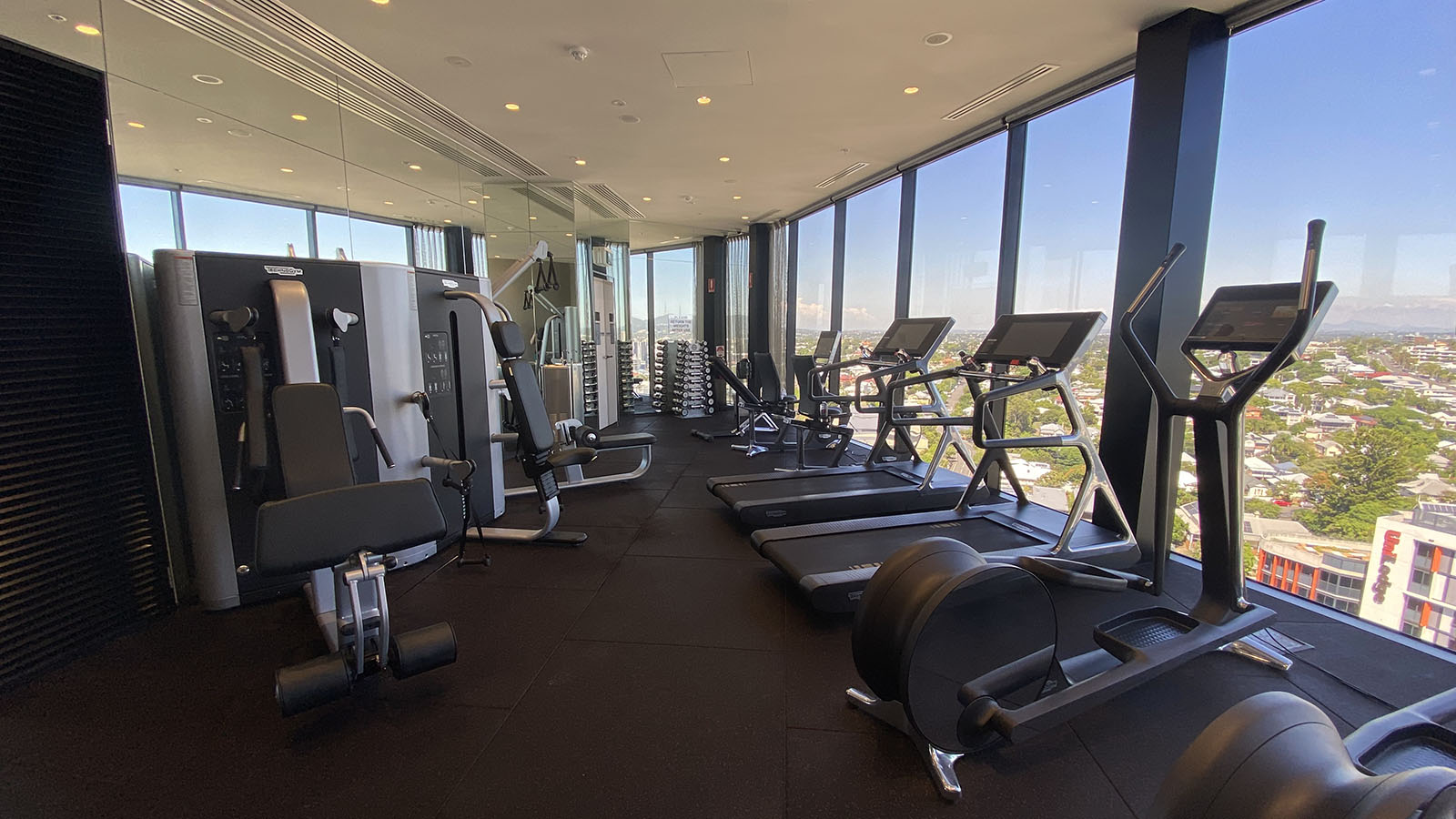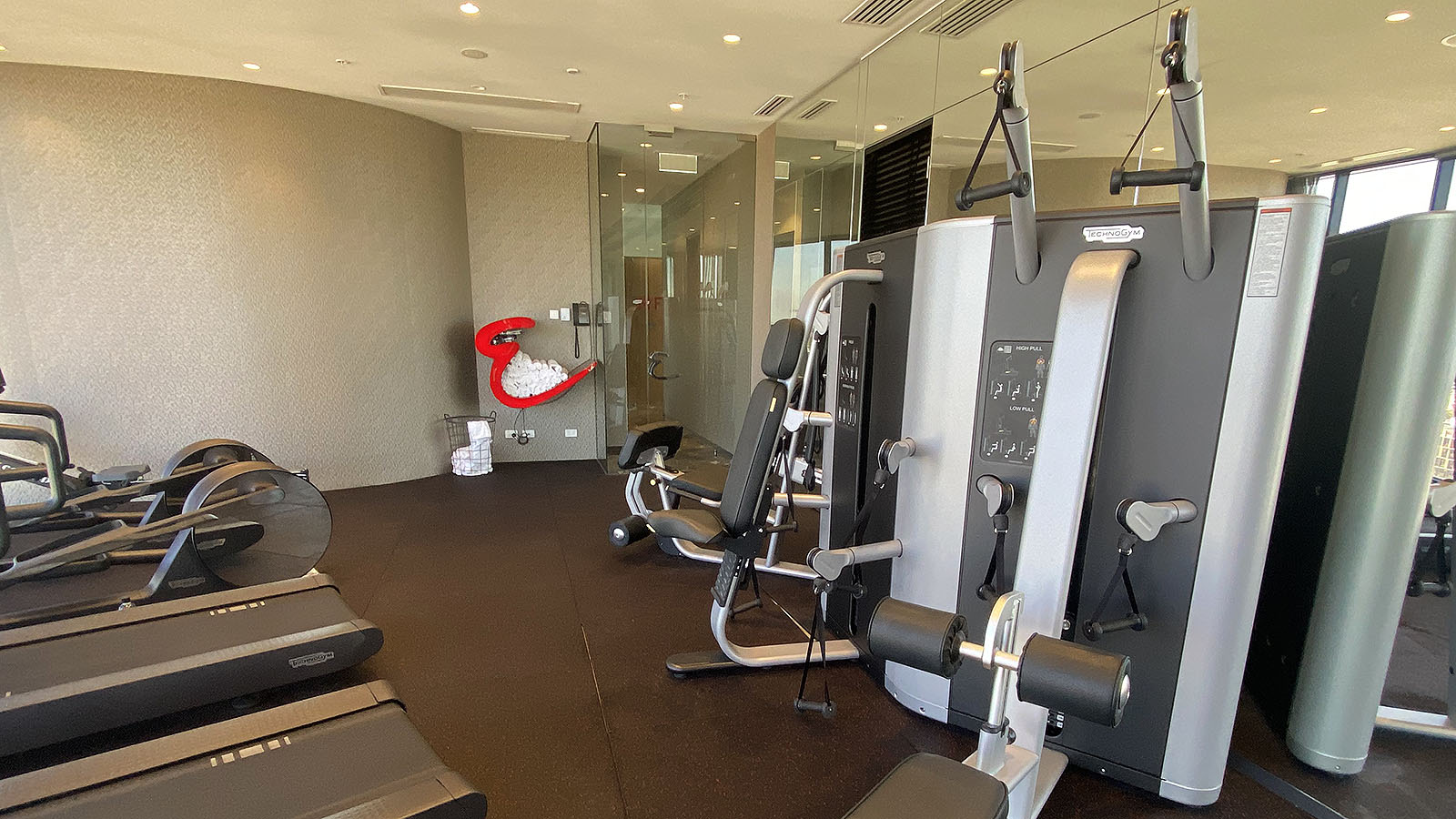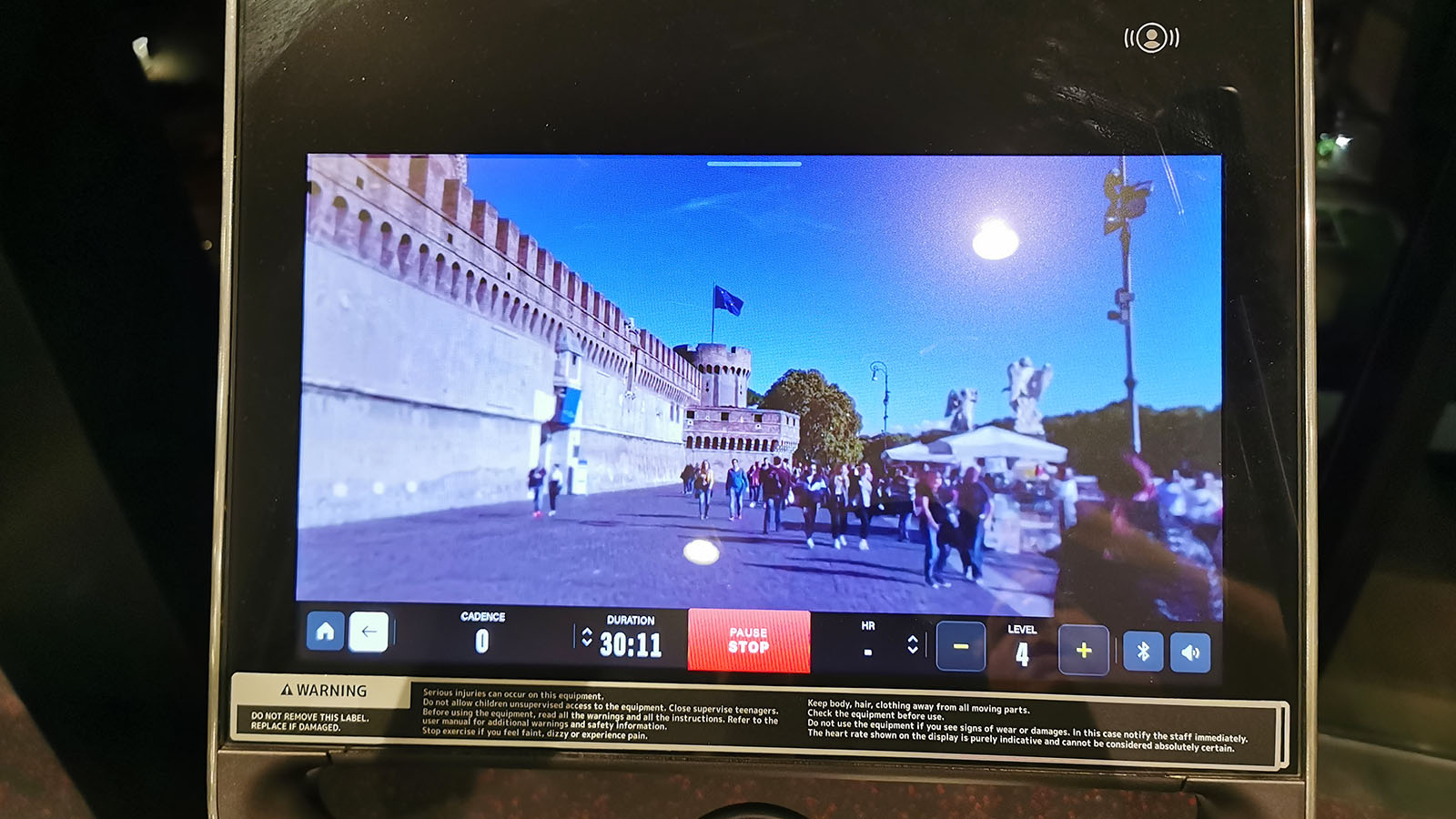 For posting travel snaps to Instagram – or keeping up with the office as you multitask by the pool – Wi-Fi is both fast and free. Tests completed in the room showed average downloads at an impressive 327Mbps, with uploads also speedy at 98Mbps.
Earning and spending points at Emporium Hotel South Bank
As a standalone luxury hotel, Emporium Hotel South Bank doesn't belong to a global chain or international loyalty program. But as a unique property and undoubtedly one of Brisbane's nicest hotels, it doesn't really need that to fill the rooms.
Instead, the hotel operates Emporium Confidential. It's largely a mailing list through which guests can receive special email offers and access to experiences that may not be bookable elsewhere. But we know our readers love their points, so here are your other options.
Booking Emporium through Qantas Hotels currently serves up a cool six Qantas Points per $1 spent, credited directly to the traveller. If it's a business trip, companies can earn one Qantas Point per dollar spent into their Qantas Business Rewards account as well (a double-dip for sole traders!).
At $599/night for the same room as reviewed, a two-night stay generates a nice bounty of 7,188 Qantas Points for the traveller. And for Qantas Business Rewards members, a further 1,198 Qantas Points into the company's own account. Of course, Qantas Points Club members can earn bonus points on top.
Alternatively, through Virgin Australia's Expedia landing page, travellers can earn three Velocity Points per dollar spent. This would provide 3,594 Velocity Points from the stay, as an alternative to Qantas Points.
On dates we compared, the rates available through Qantas Hotels and Virgin Australia/Expedia were no greater than booking direct with the hotel. However, not all rooms, rates and packages are available through these third-party channels, so it always pays to explore your options before booking.
Summing up
It's safe to say that I've seen a lot of hotels over the years. And right now, I have elite status with many of the major chains. But if I were visiting Brisbane, Emporium Hotel South Bank would make me forget all about those shiny cards – at least, for one trip.
The experience of this hotel is simply hard to match elsewhere. And with the ability to triple-dip on Qantas Points through Qantas Hotels, Qantas Business Rewards and Qantas Points Club, you don't feel as though you're 'missing out' by booking somewhere independent.
Certainly, loyalty status – and the benefits it can provide – may add much to a journey. But rather than relying on a room upgrade at check-in, upgrading your hotel choice isn't a bad way to go instead.
Photography by Chris Chamberlin, who stayed as a guest of Emporium Hotel South Bank.
---
Stay up to date with the latest news, reviews and guides by subscribing to Point Hacks' email newsletter.
Emporium Hotel South Bank, Brisbane
was last modified:
May 27th, 2022
by