This is a favourite lounge of mine when travelling in Qantas or Emirates Business Class—if I do not have access to the Qantas International First Lounge. This is because the catering is great and it is the only lounge at Melbourne Airport to offer a children's menu.
I was able to review this lounge as part of the Melbourne Airport 2018 Excellence Awards and here is my take.
Lounge details & location
The lounge is located in Level 3 of the Melbourne International Airport's Terminal 2 and can be accessed via the escalator near Gates 9 and 10.
This lounge generally opens three hours prior to all Emirates flights. For First Class guests on the Emirates early-morning EK409 flight, this lounge is your only option—sadly the Qantas International First lounge is not available at this hour.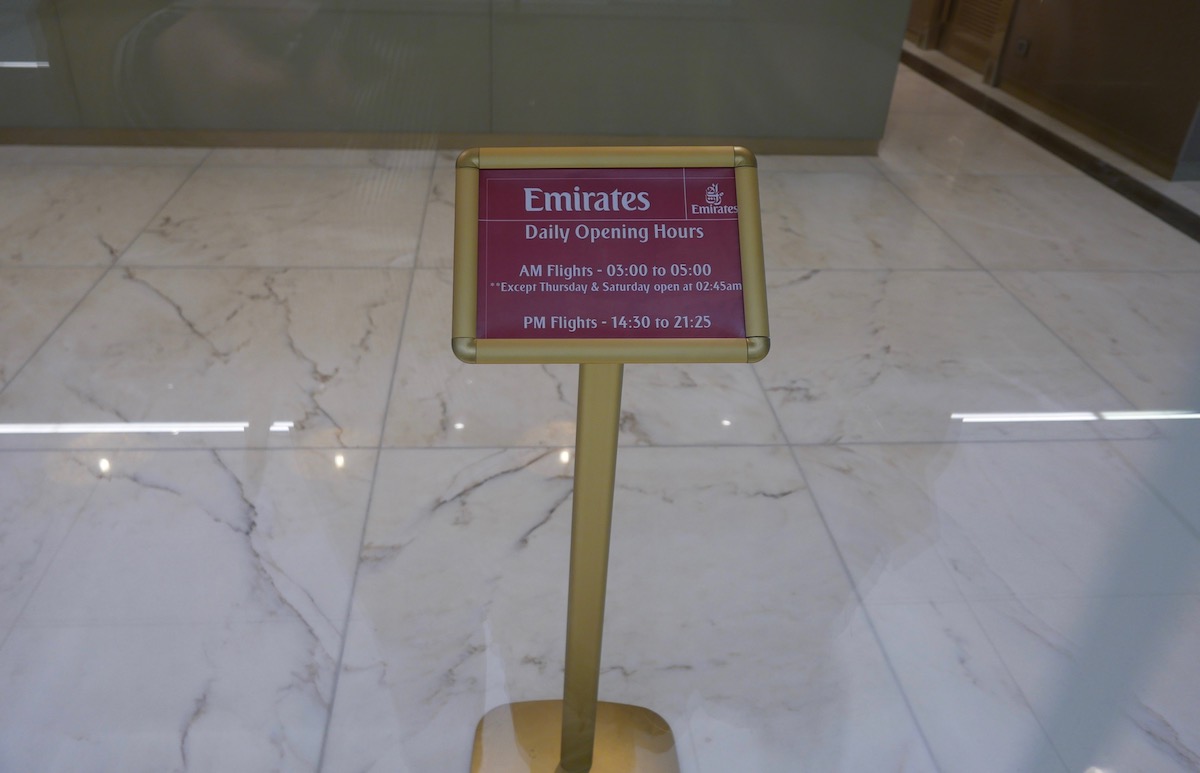 Lounge seating
This lounge is located upstairs, so there is ample natural light and you have nice views of the tarmac.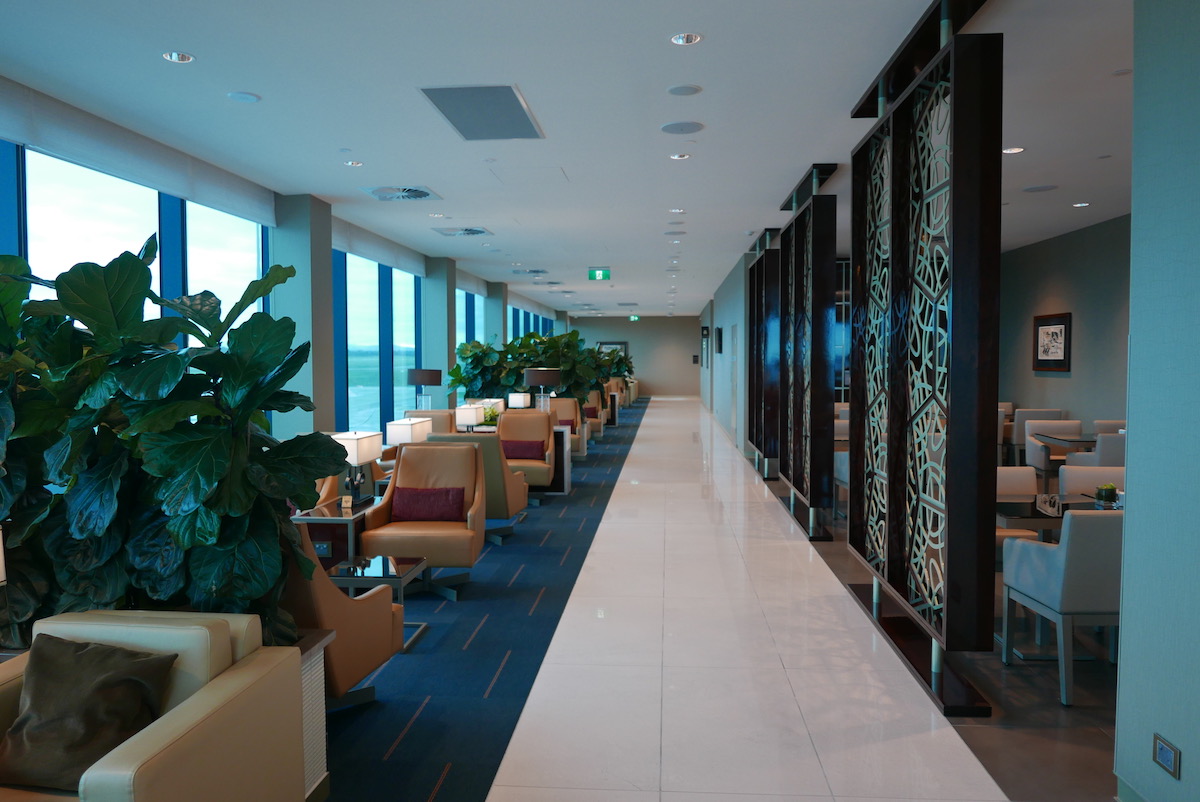 The lounge has been refurbished by Emirates and the colour scheme is very neutral and creamy, stylish and not over-the-top. Also, it is the only lounge in Melbourne with a water fountain feature!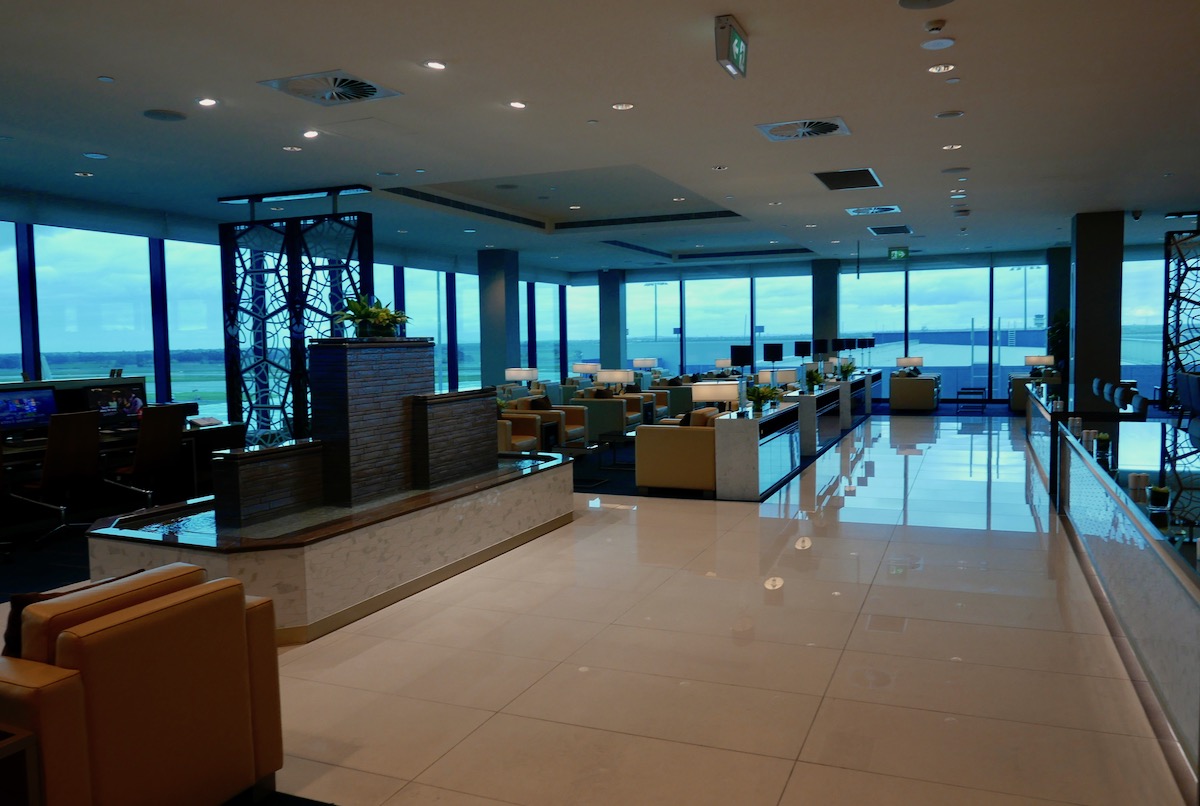 For avid readers, Emirates has not cut back on magazines and reading materials, which is the case with other lounges I have been in. When I visited this lounge, there were at least 30 publications to choose from.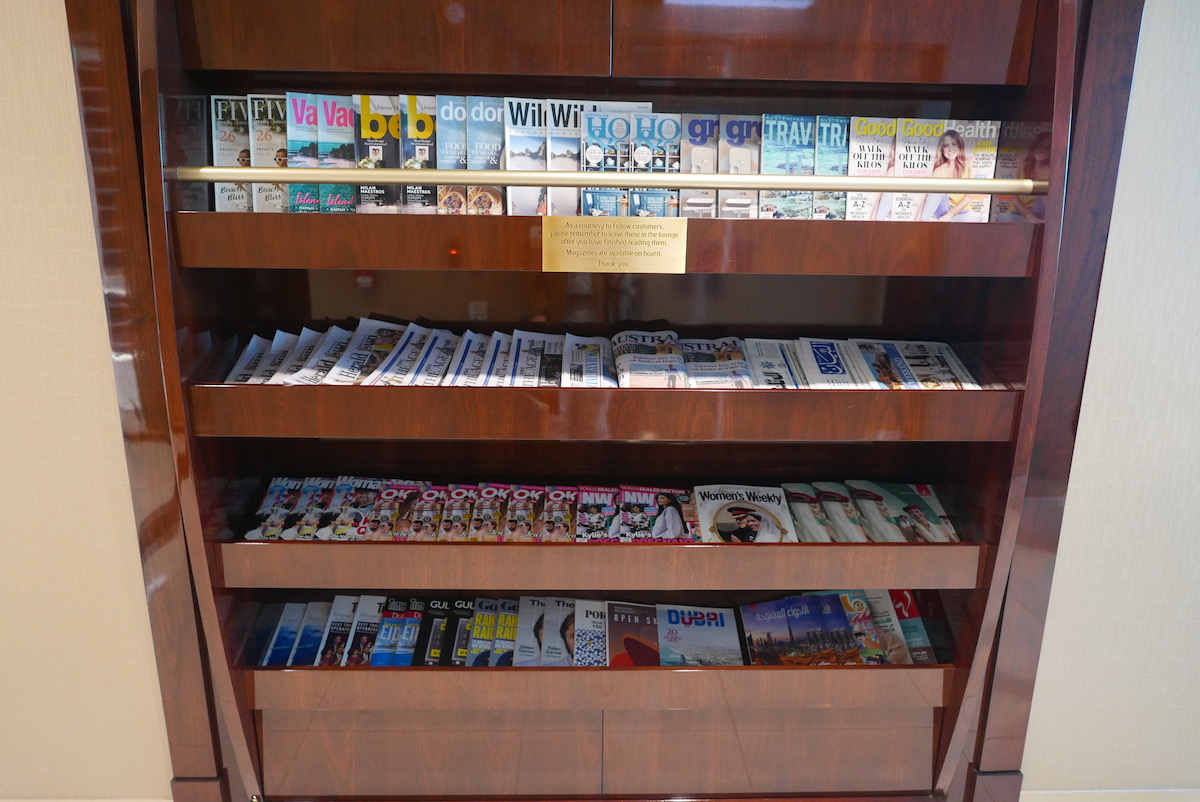 The lounge can host up to 240 guests—that's the equivalent of guests from four full Business and First Class A380 cabins leaving at the same time. So what I am saying is that the lounge does not feel cramped.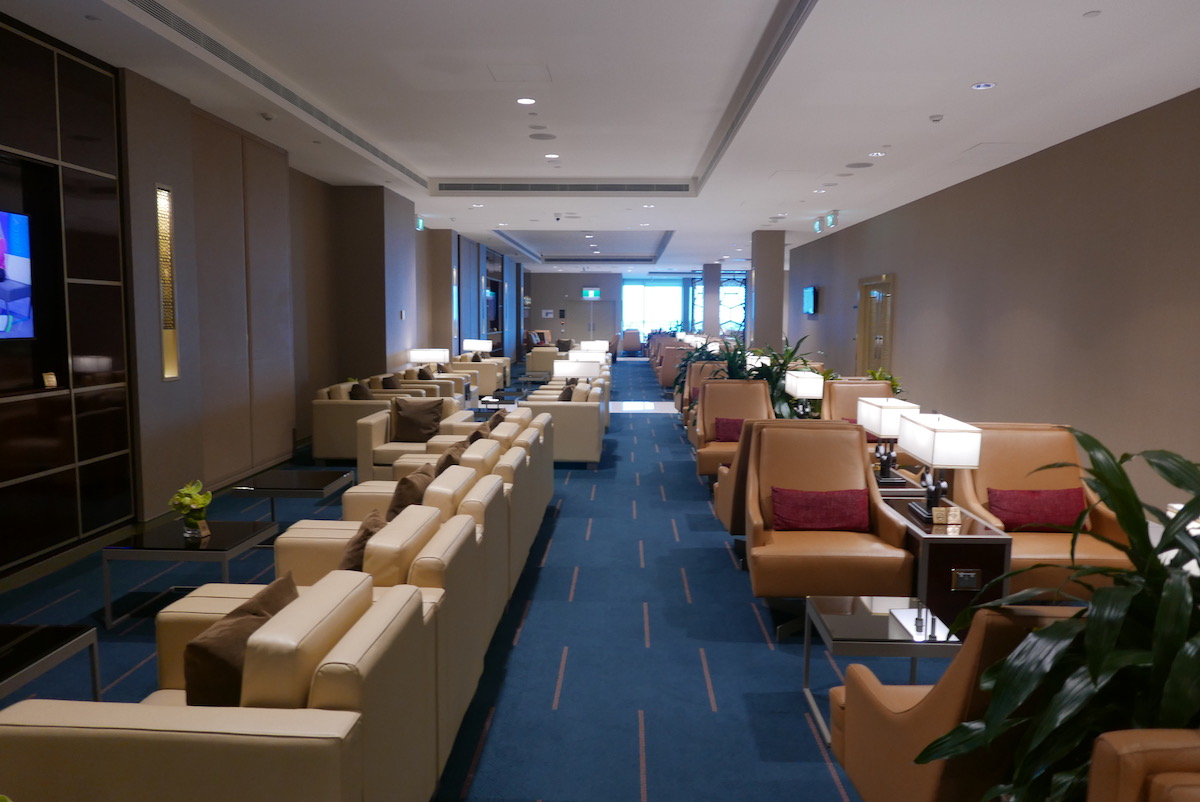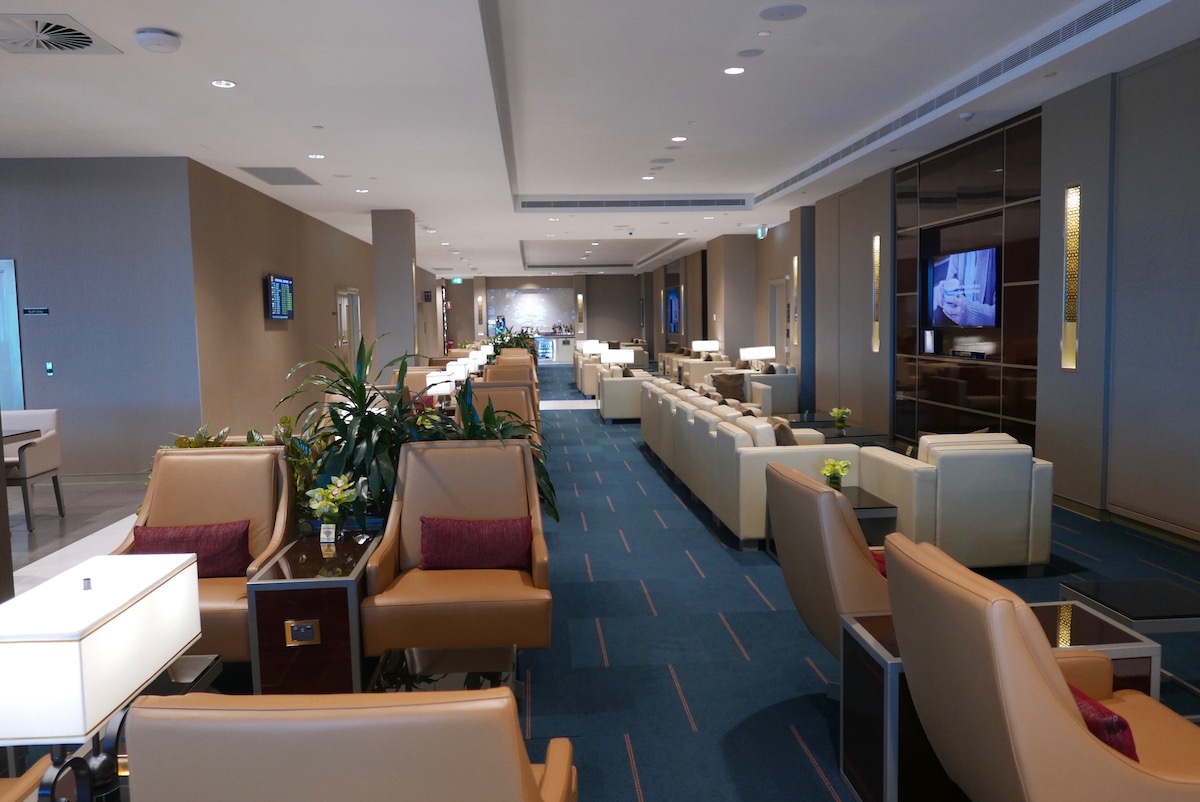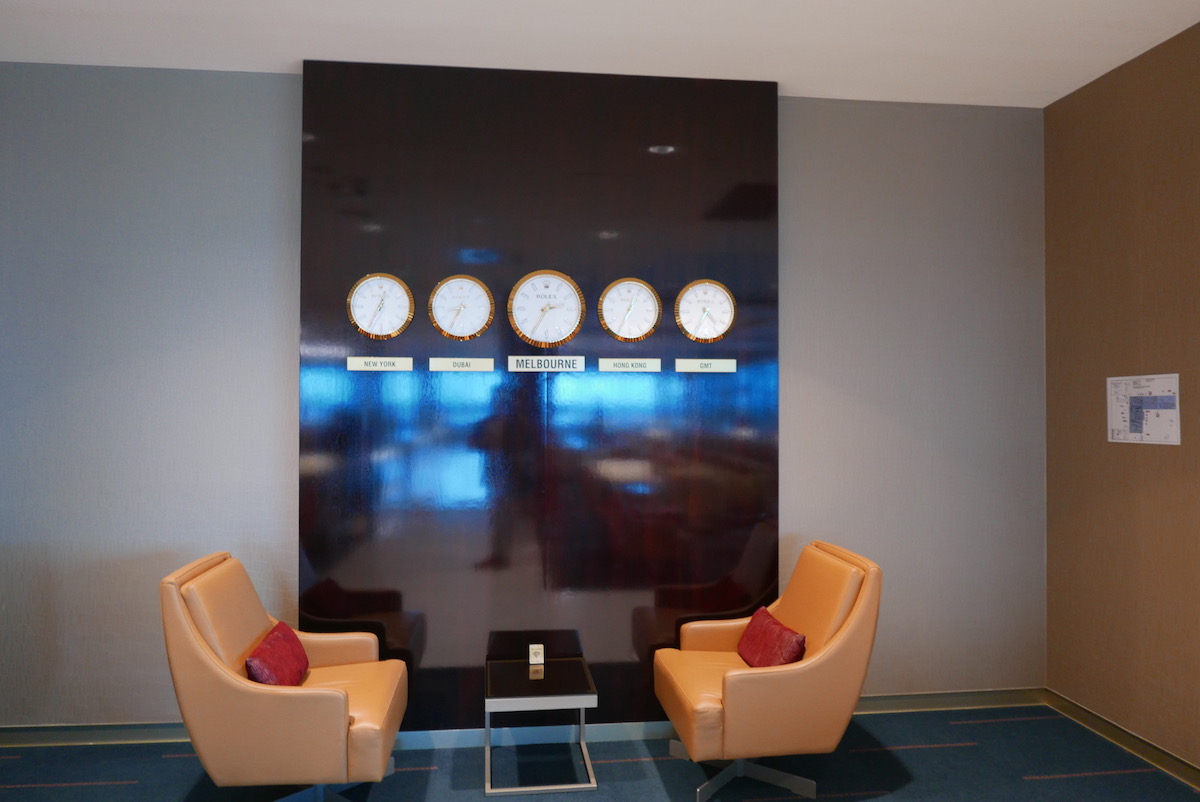 With exception of the dining room, all armchairs have a power and UBS charging port.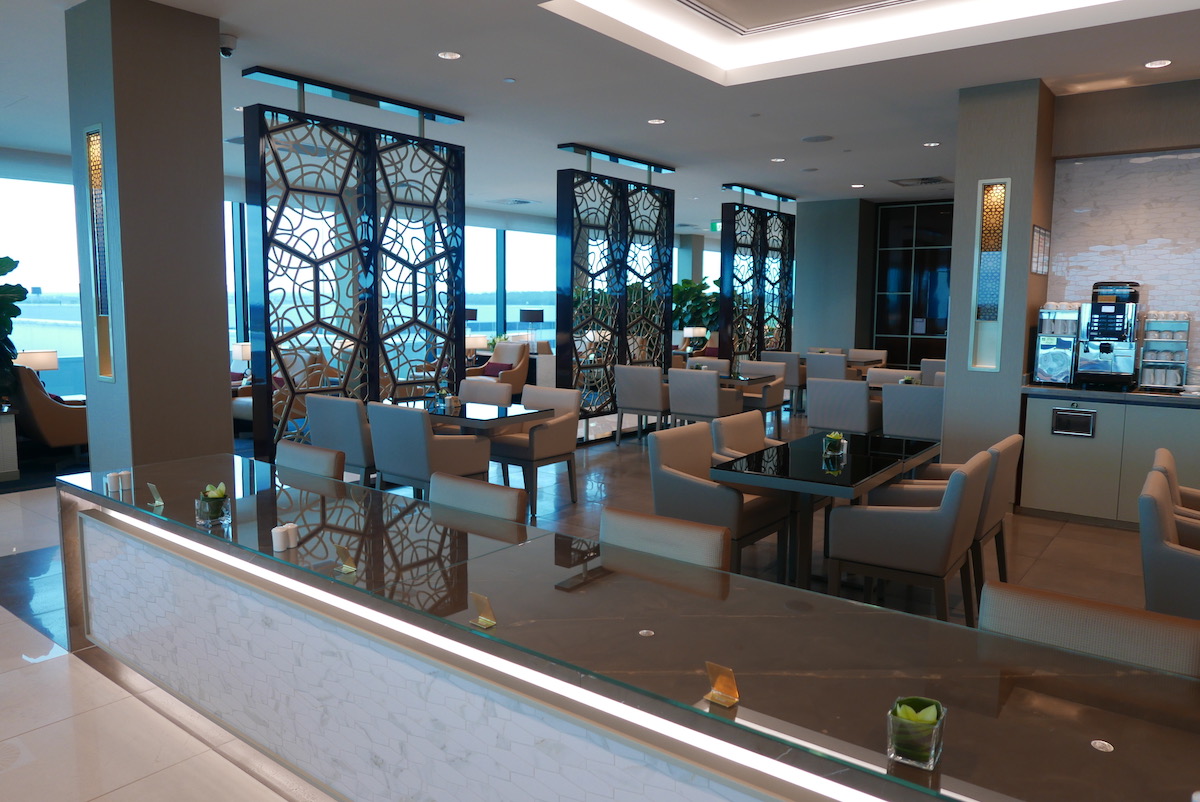 Food & drink
This is where the Emirates lounge excels. The buffet catering is of high quality, so I can see why this is a favourite for Qantas Business Class passengers, who prefer to access this lounge over the Qantas one.
The dishes are well-presented and there are over half a dozen hot food options for both vegetarians and non-vegetarians.
These include the soup of the day, pasta, roast potatoes, grilled aubergines, vegetable Jaipuri, vegetable curry, poached salmon with courgette and feta cheese pancakes, chicken parma and beef brochettes.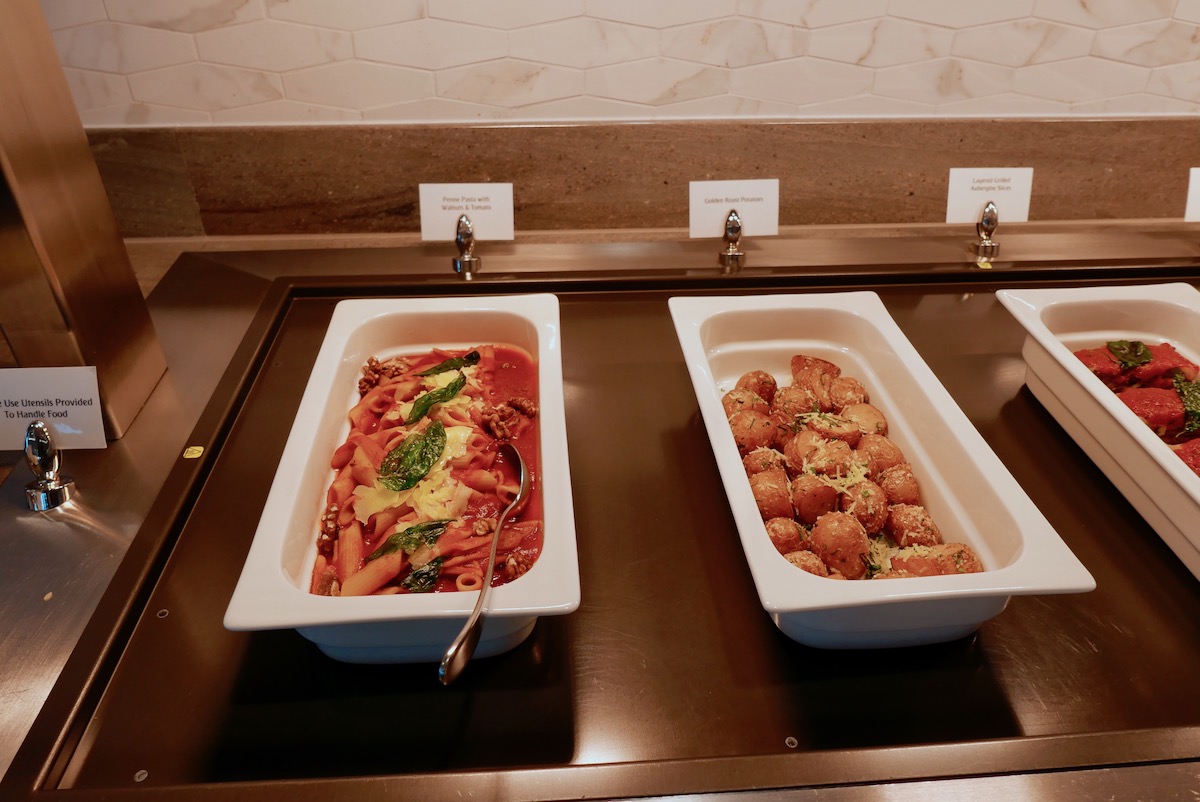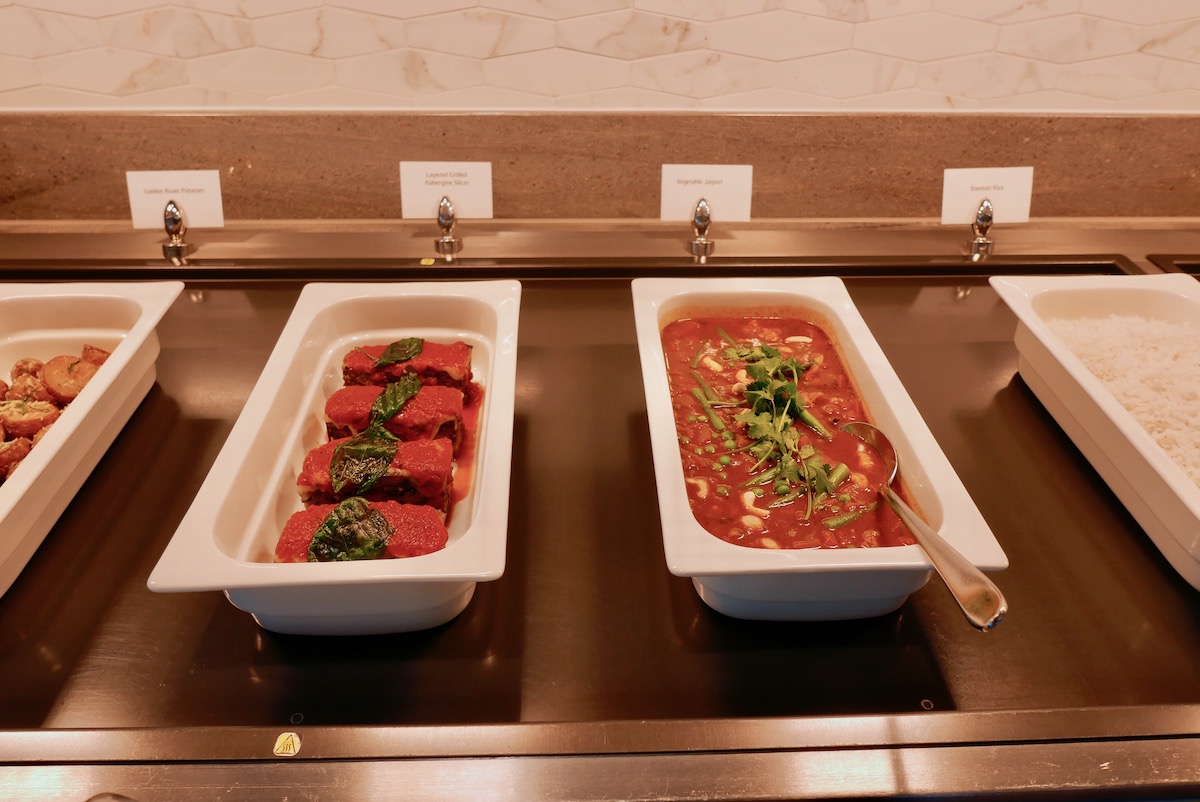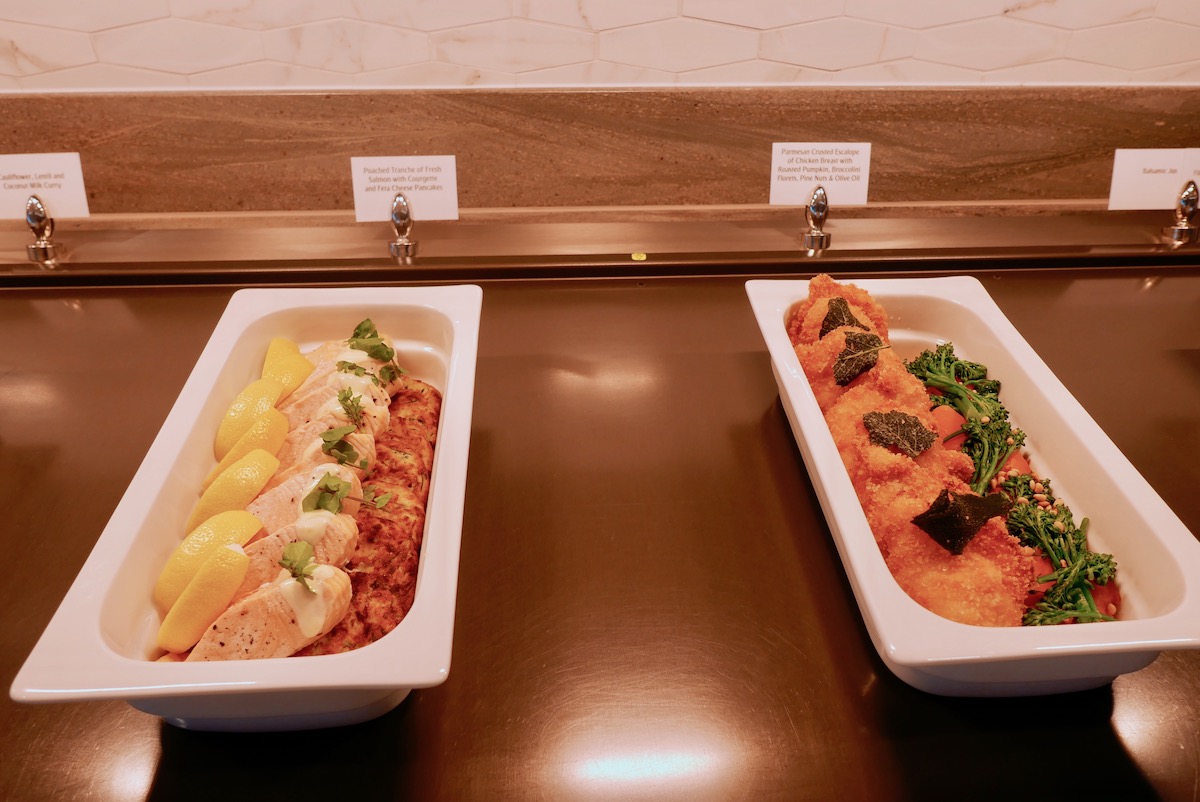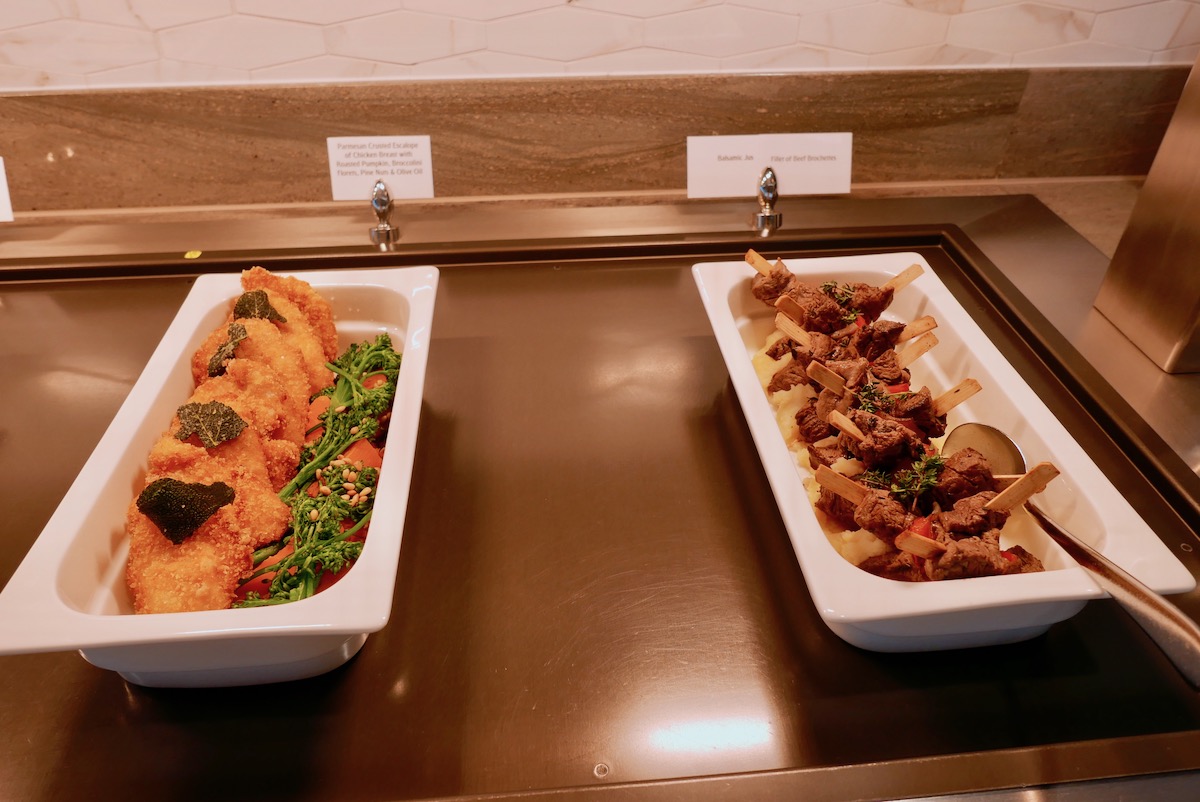 There are also salads and cold dish starters such as beef carpaccio!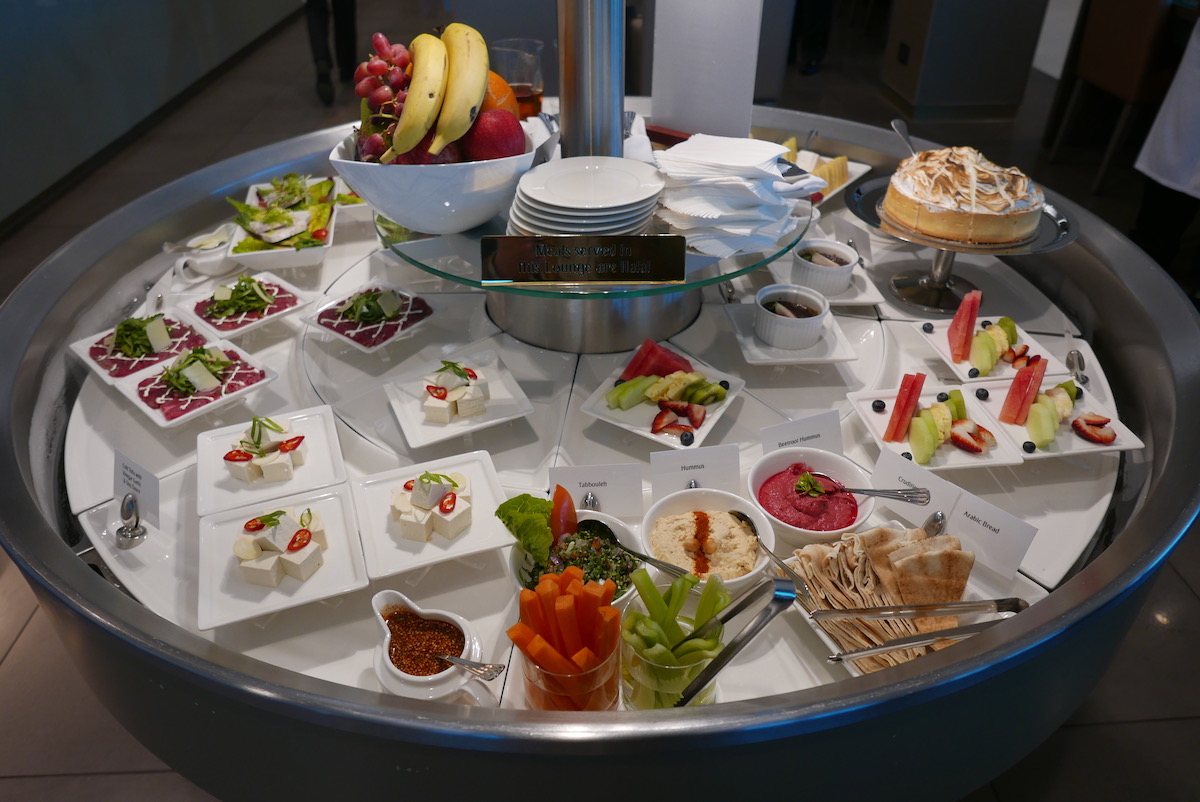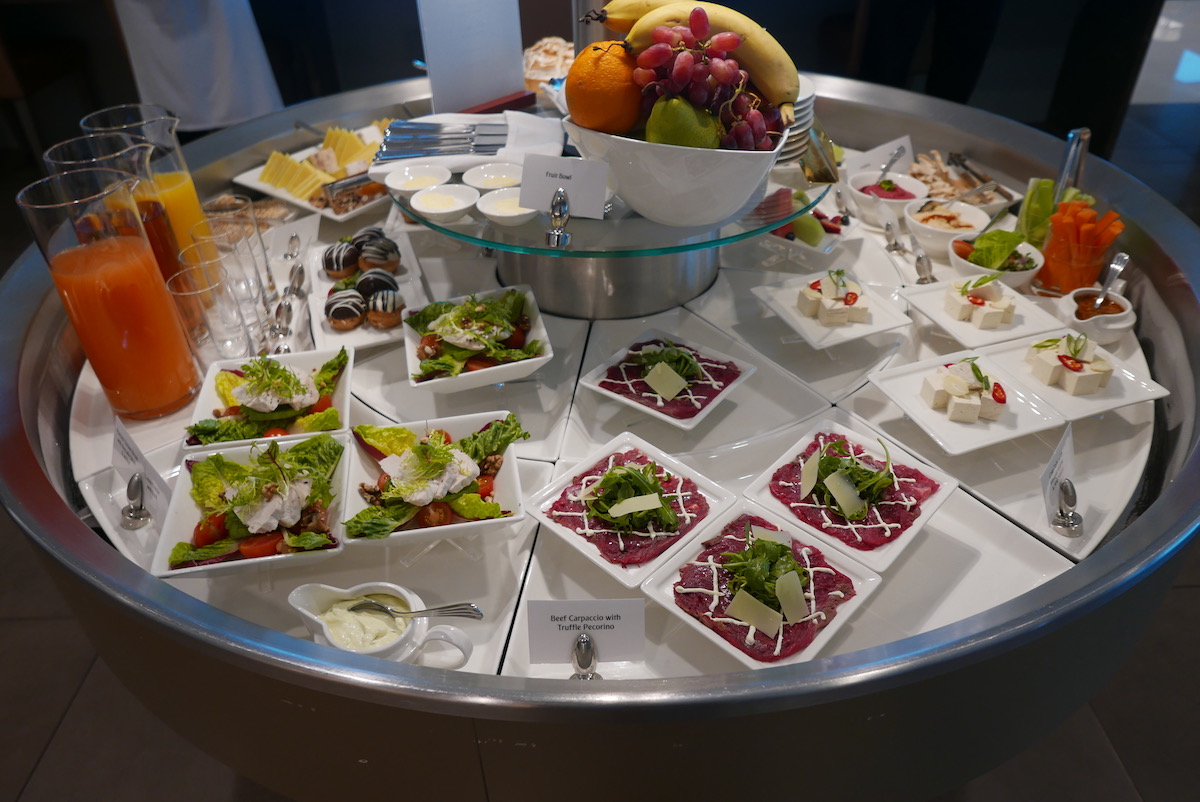 And it doesn't stop there, with cheese platters and a variety of desserts, including chocolate profiteroles, lemon meringue cake and chocolate crème brûlée, as well as some breads and jams.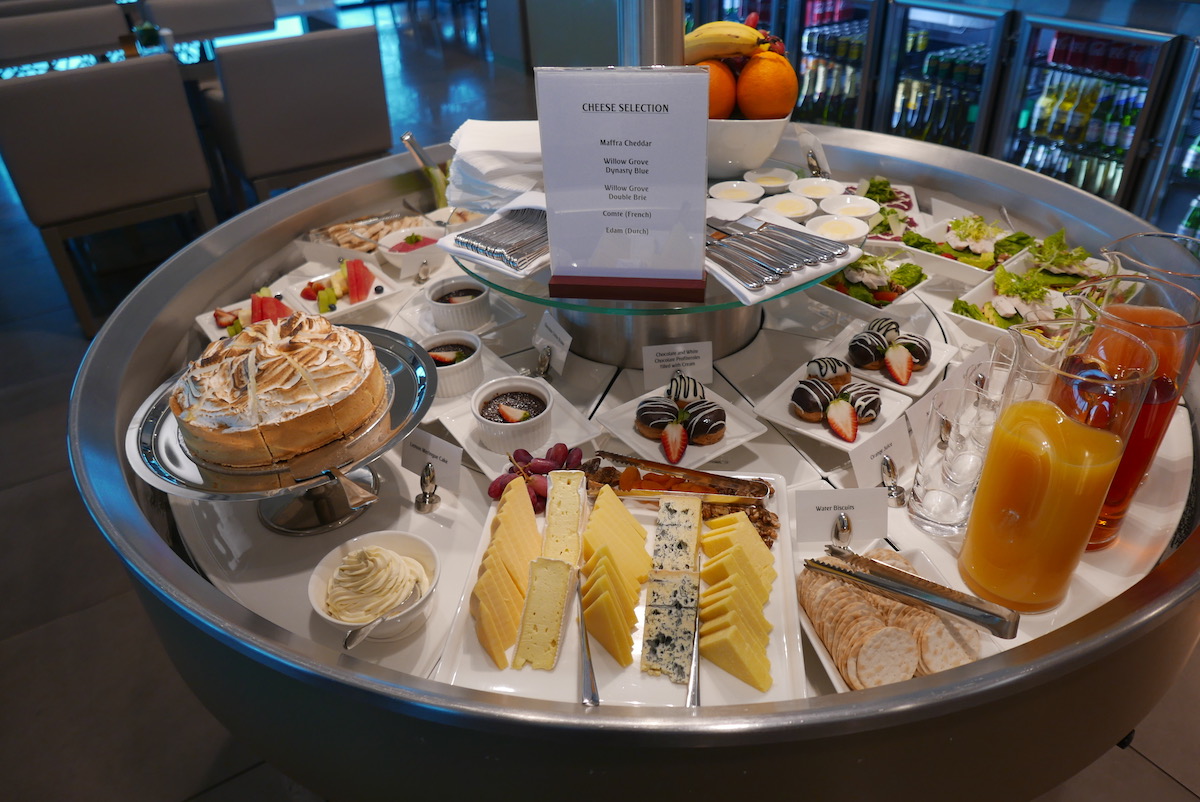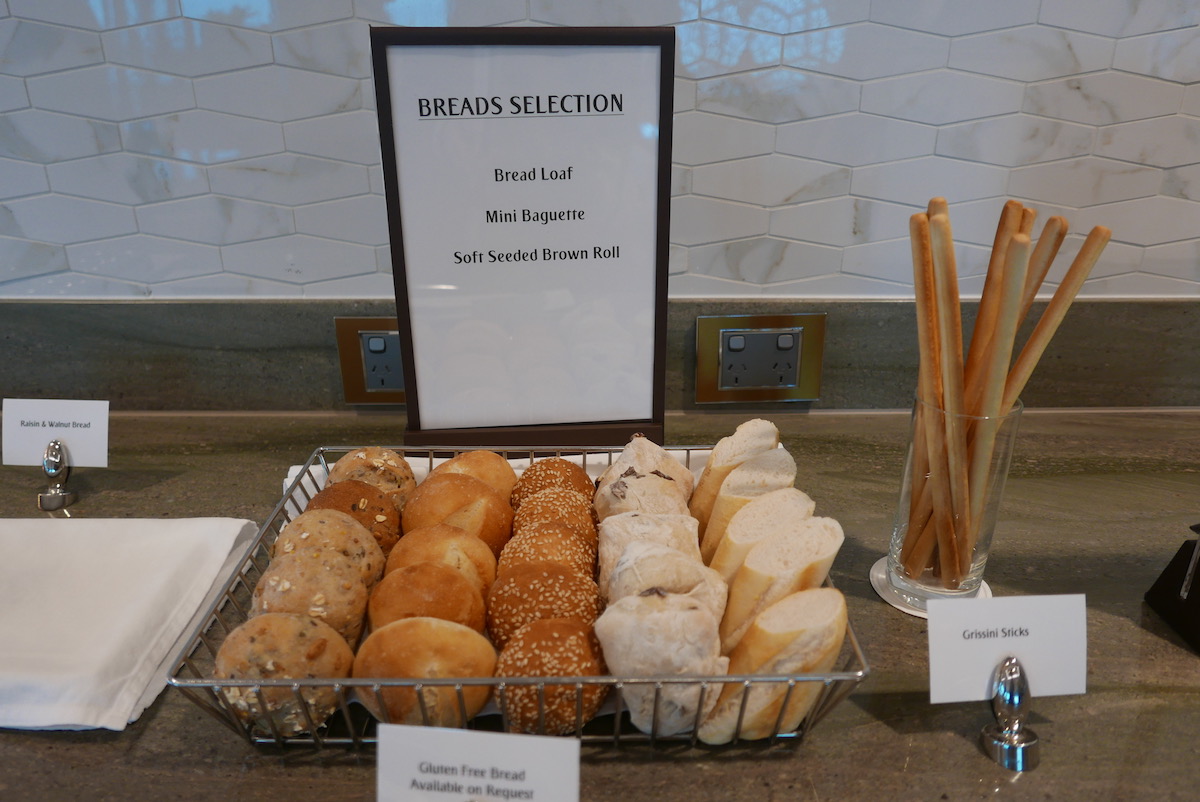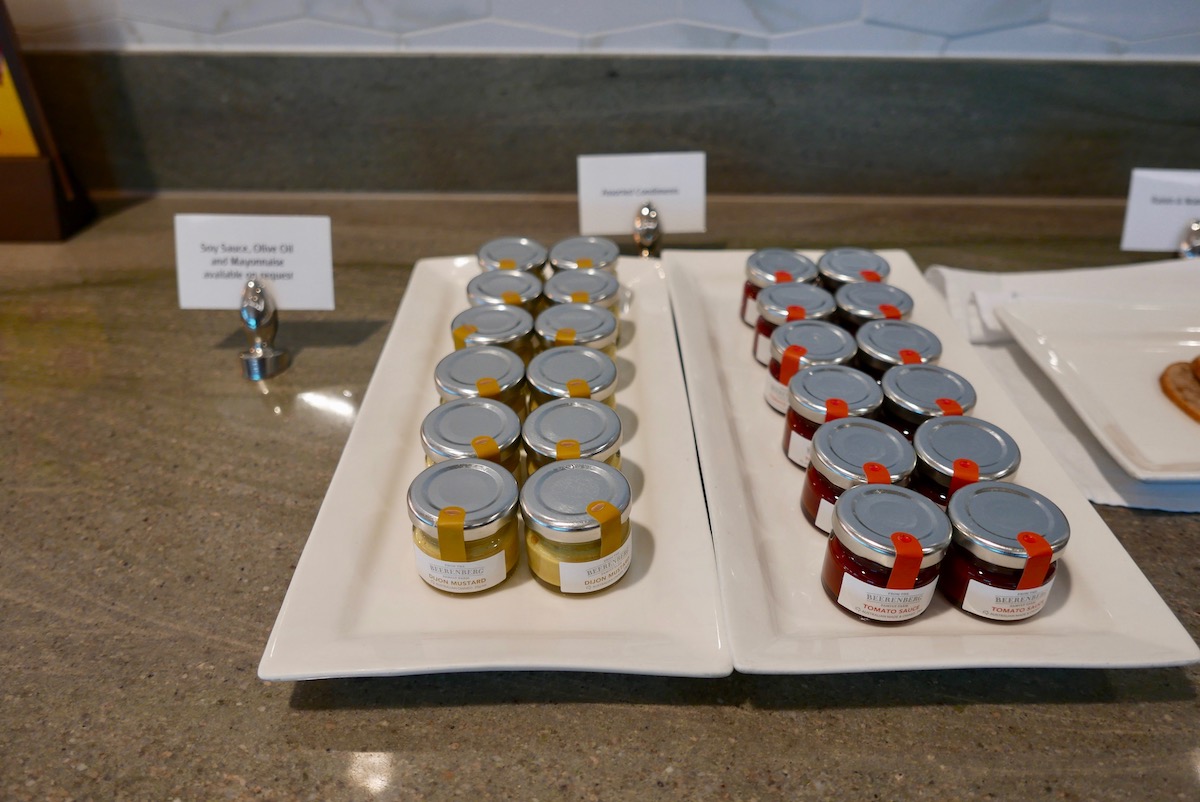 Finally, Emirates is the only lounge at Melbourne Airport to offer a kids' option, called the Young Explorer's Menu, which is available on request. I was told by the lounge manager that the most popular children's meal is the chicken nuggets & chips!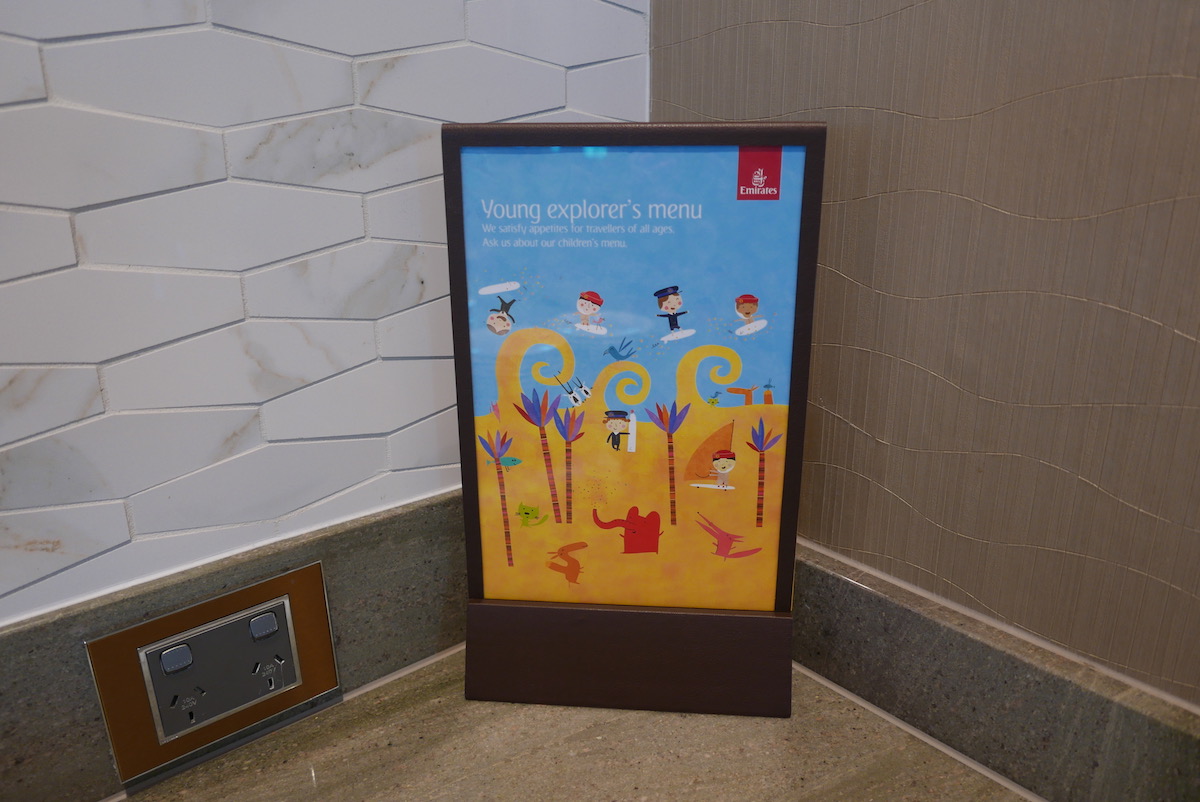 Emirates offers guests two champagnes, Moët and Veuve Clicquot, which are on-par with Qantas First's Tattinger Brut. However, don't ask me to choose between Emirates' Veuve and Qantas' Tattinger because it would be like me asking to choose my favourite child.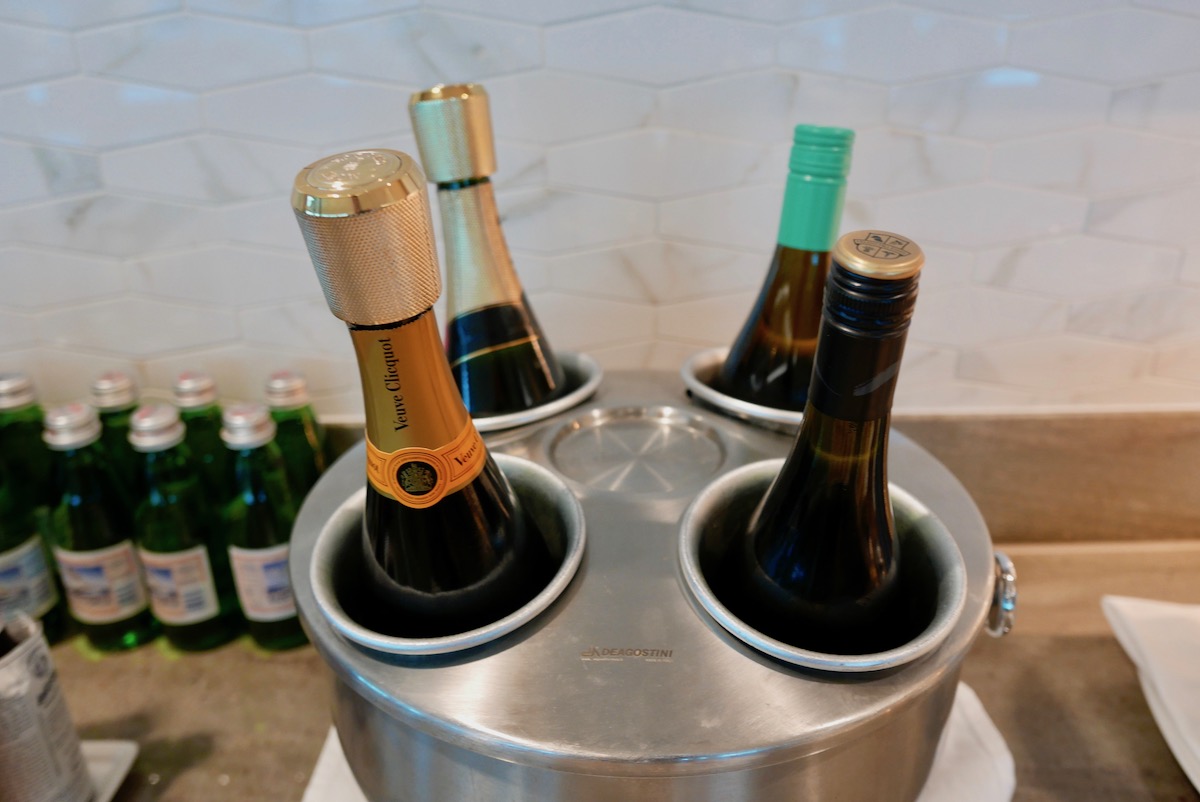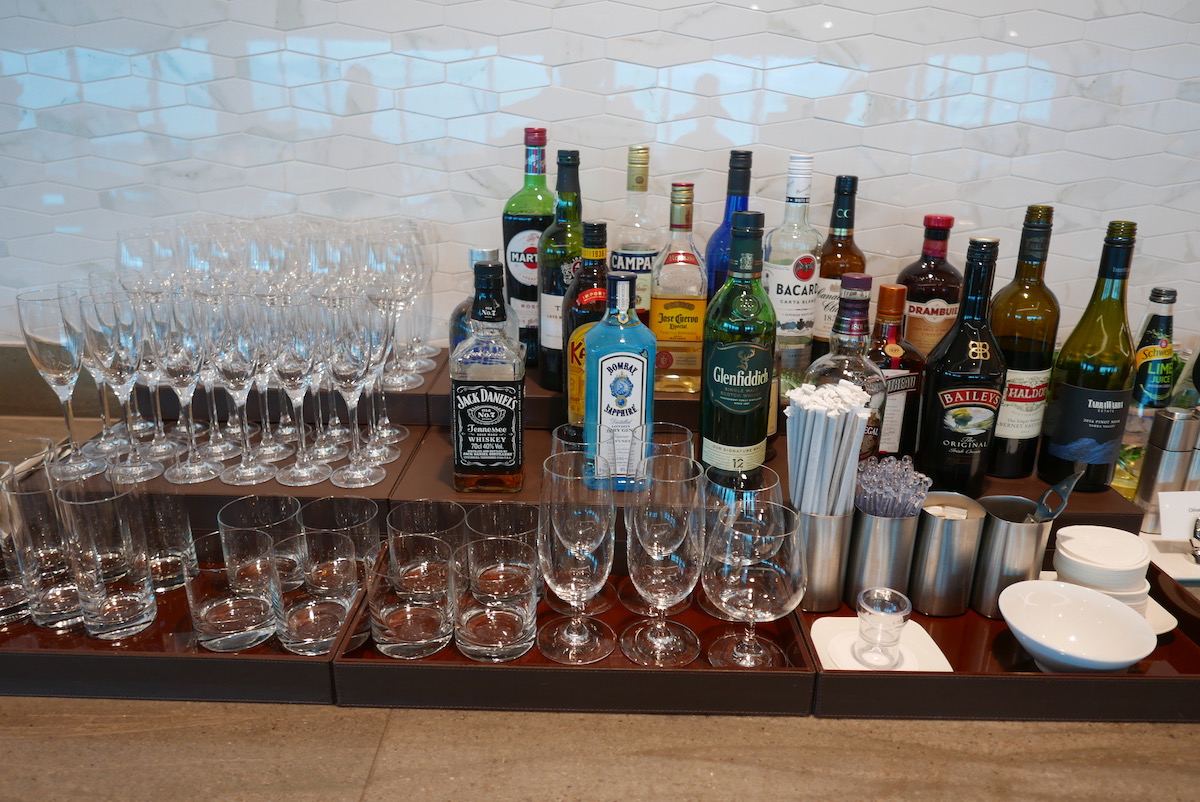 There is no barista service, however, Emirates told us guests can ask staff to fix them a coffee. The lounge doesn't have a bar either, so no cocktails. All alcoholic beverages are self-serve, including the delicious Veuve.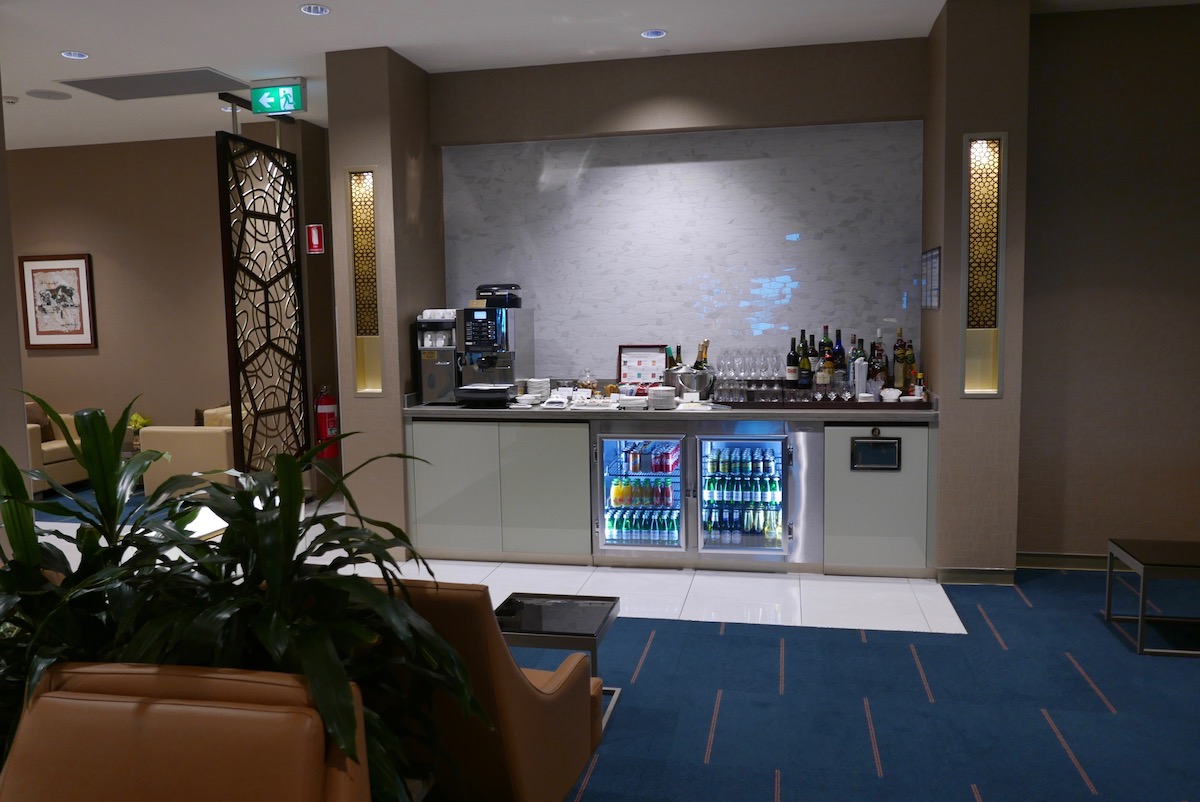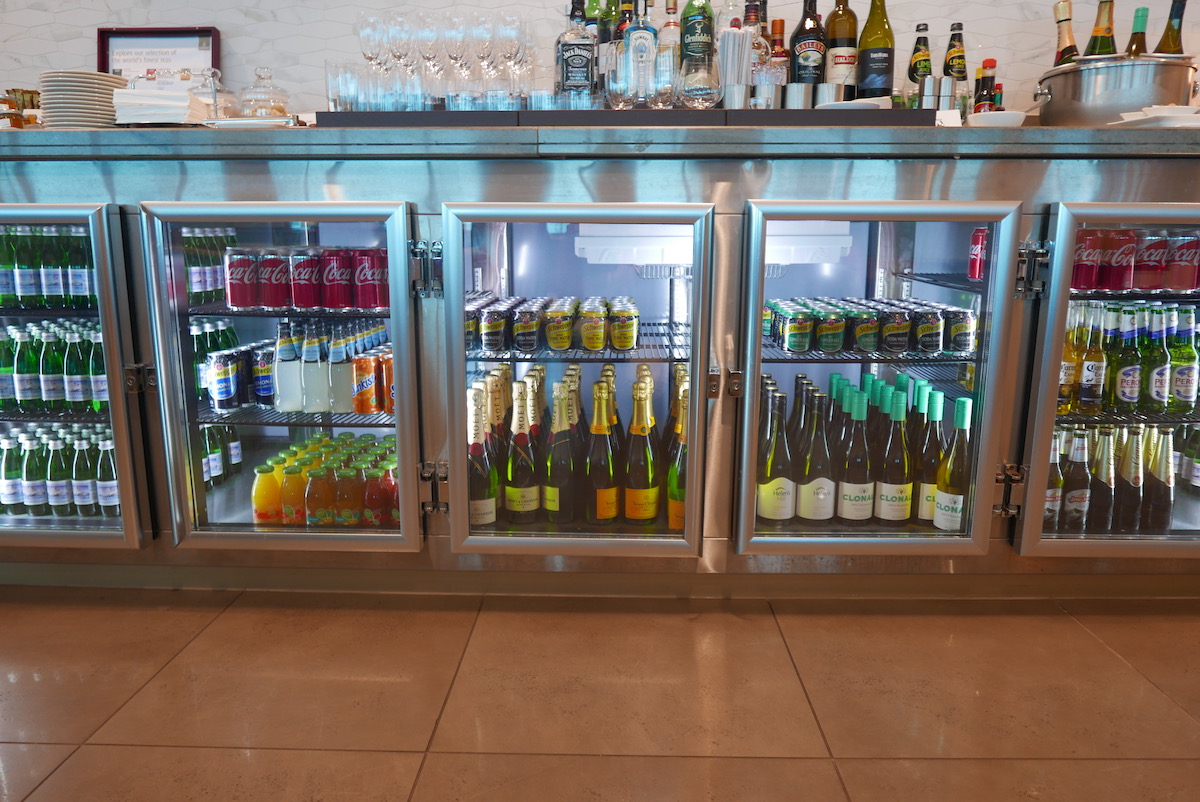 Emirates excels in the service area. The food is well-presented and better than in most Business Class lounges I have visited. The staff were very friendly and helped guests in the dining room during my visit.
Amenities
This is one of the biggest lounges in Melbourne Airport, so there are plenty of seats, a business centre near the water fountain, and a prayer room.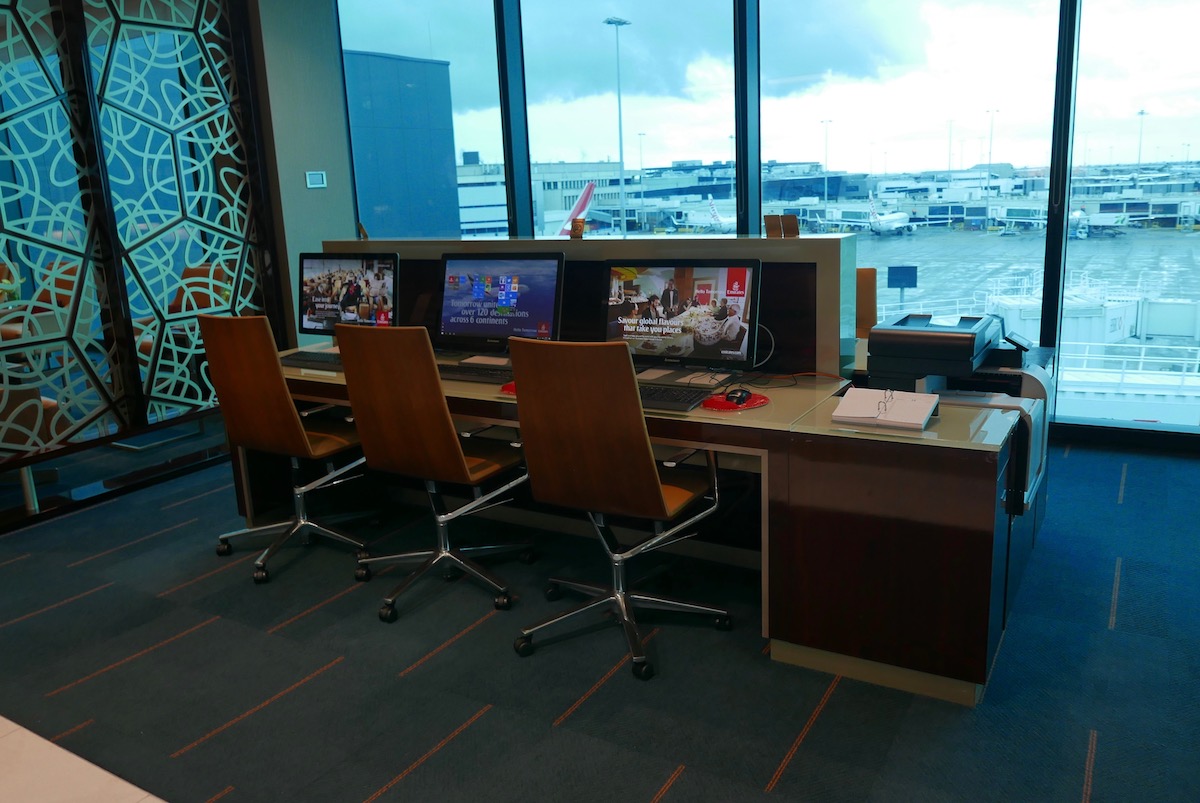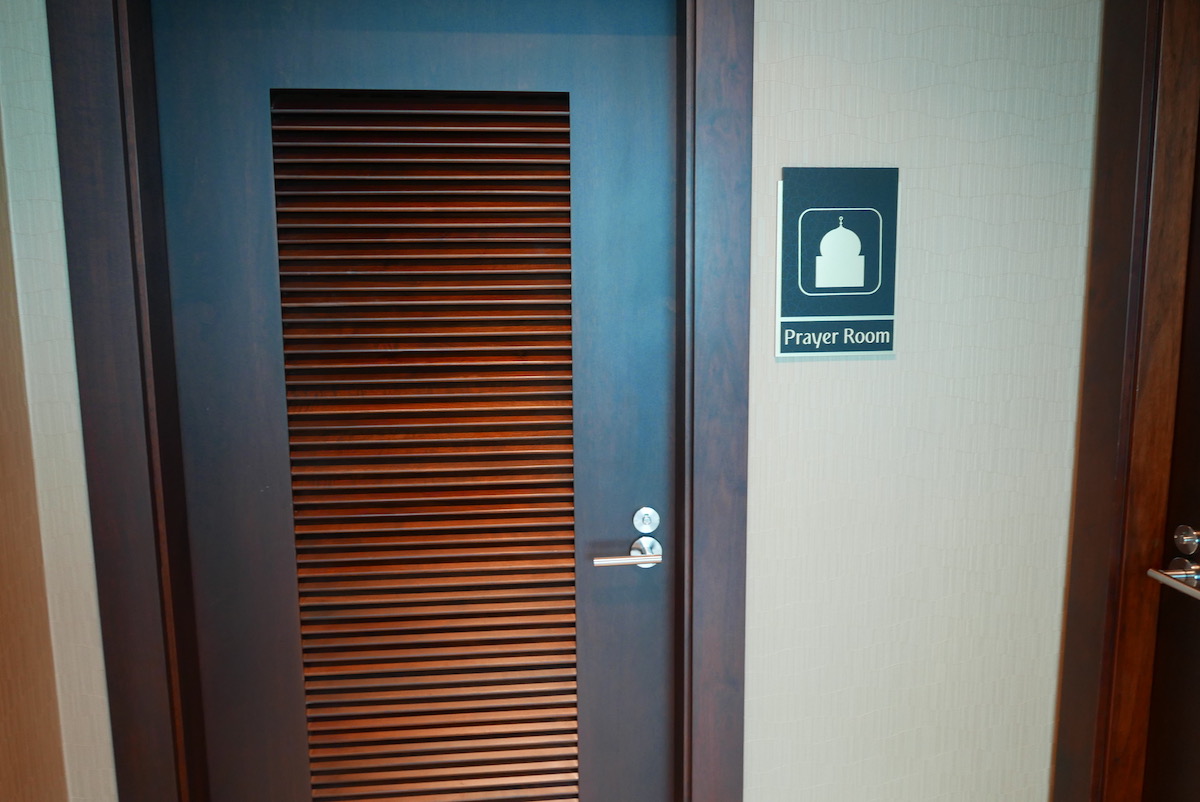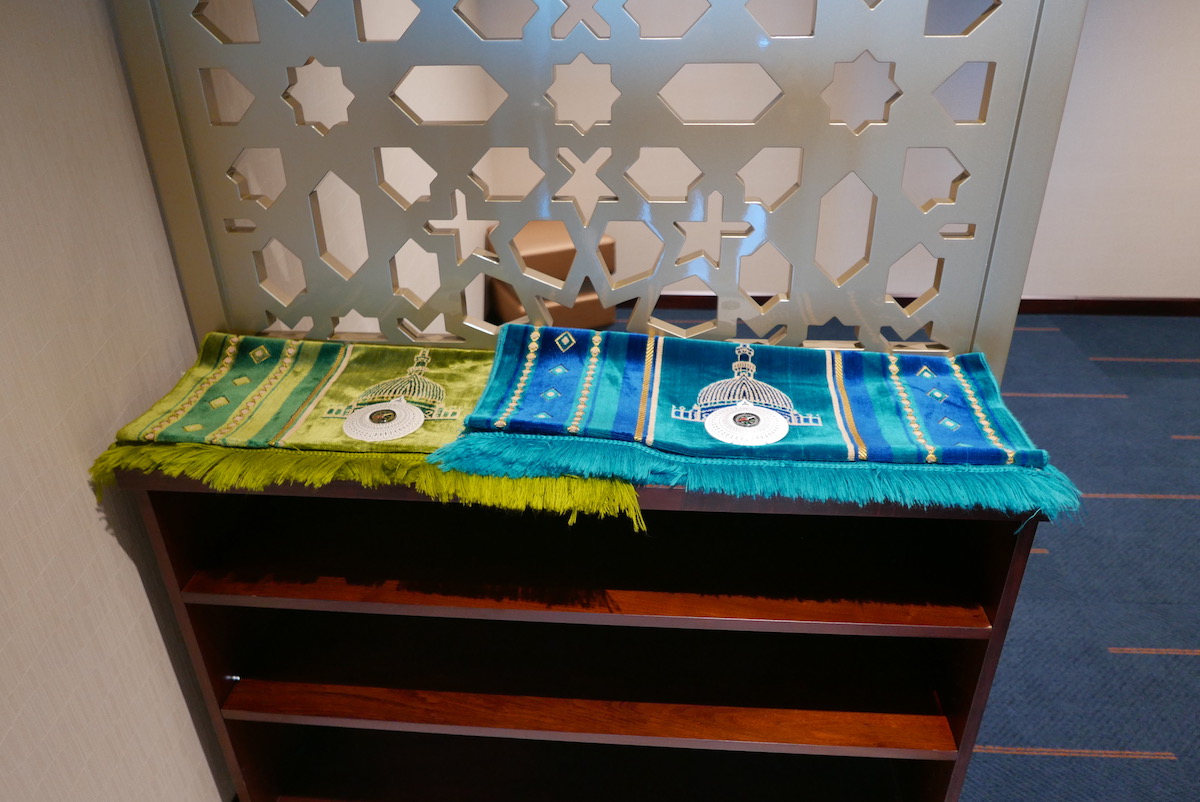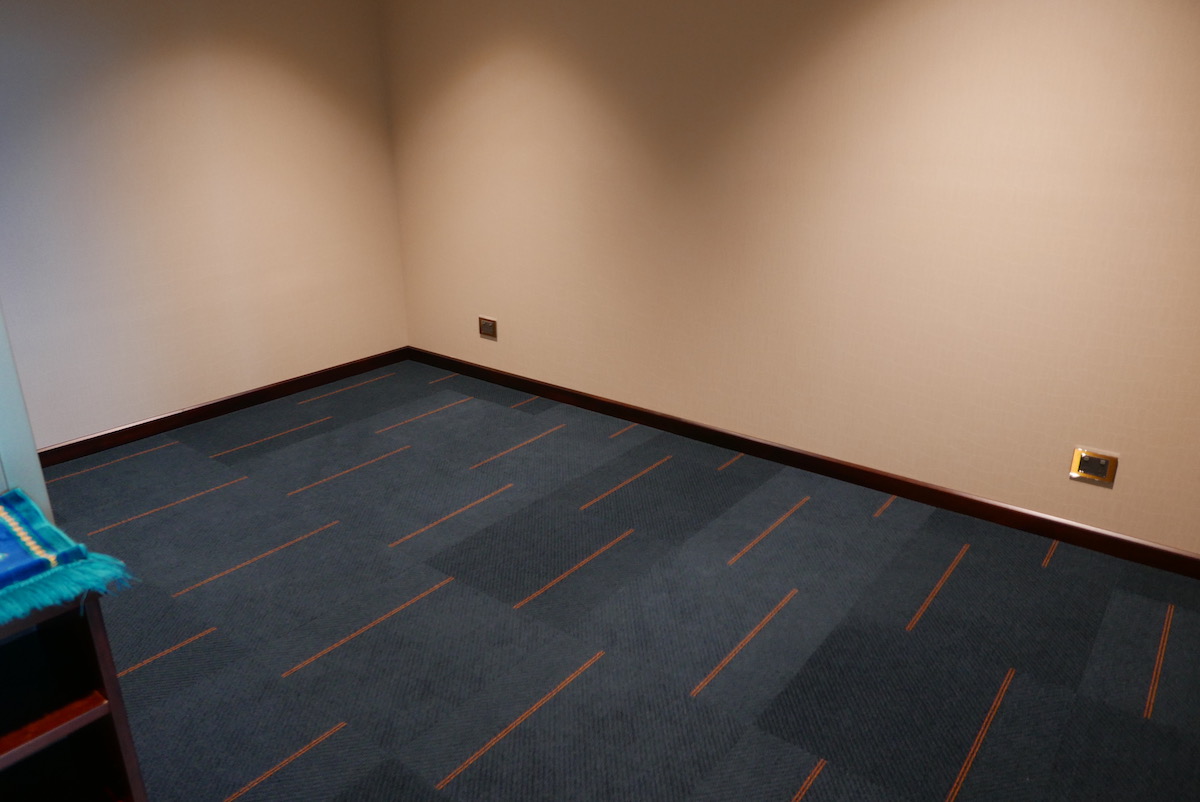 The showers are simply-designed and clean. Towels are available in the bathroom, however, guests who need an amenity kit can request one at the reception desk.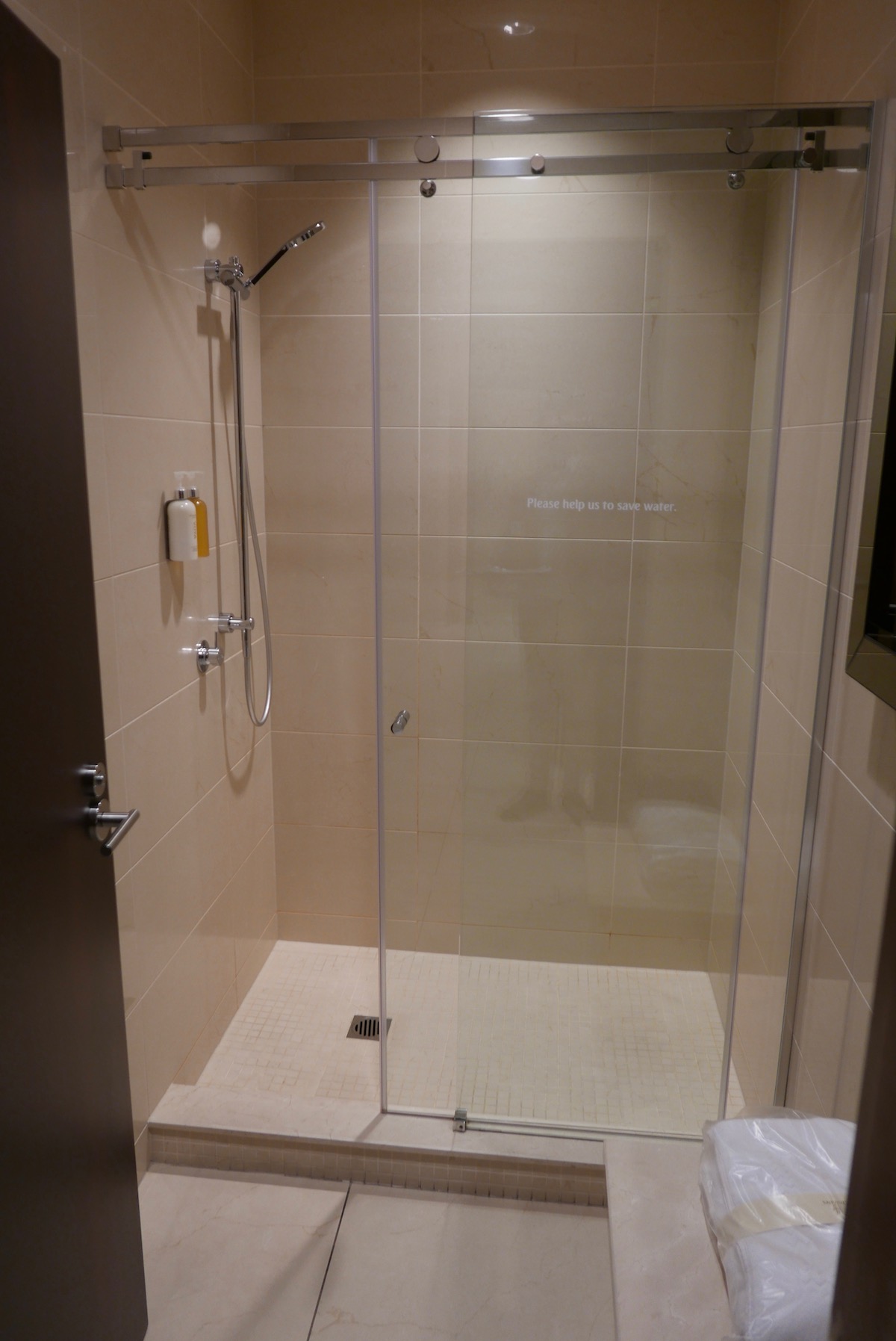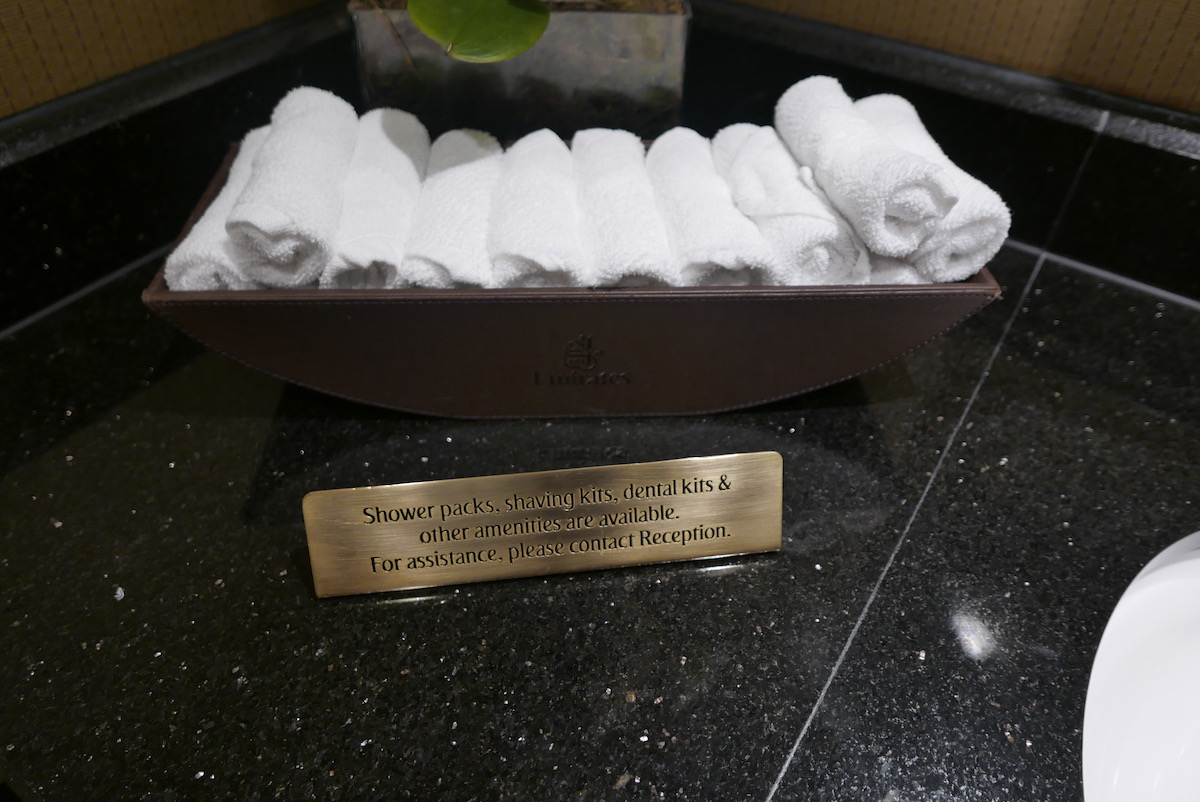 Lounge access options
You can access this lounge:
By class of travel: First or Business Class passengers travelling on an Emirates or Qantas flight
By Qantas Frequent Flyer status: Qantas Gold, Platinum and Platinum One when travelling on an Emirates or Qantas flight
By Emirates Skywards status: Emirates Skywards Platinum or Gold members travelling on an Emirates or Qantas flight
By credit card: the Citi Emirates Mastercard gets you two complimentary access to this lounge per year
By day pass: starting from US$100 for adults
Other Emirates reviews
Other Melbourne lounge reviews
Summing up: our take
Although it is only a buffet, the catering is fantastic and offers more variety than any other Business Class lounges. As you can see from my photos, the selection is diverse with consideration for both vegetarians and non-vegetarians, as well as children.
The bathroom and showers were immaculate as well and the service was top-notch and friendly but not in-your-face.
What is great
Very attentive staff, particularly in the dining area
Great view from the top floor with lots of natural light
Impressive wine list considering this is a Business Class lounge and champagne is on-par to Qantas International First lounge
Lots of hot food options, salads and starters
Kids' menu—kudos to Emirates, as I know some children can be fussy
What is not great
No bar, so no cocktails
No barista service—I realise Emirates wants to maintain uniform offering across its worldwide lounge network, but Melbourne is a coffee capital, so having a barista is what passengers departing this airport have come to expect
The Emirates Business & First Class Lounge Melbourne overview
was last modified:
March 16th, 2022
by