Coming from New Zealand for the Point Hacks team meetup, I arrived a day early so that I could visit Osaka and see a part of Japan that I had not visited before. It also allowed myself more time to get adjusted to the time difference.
I decided on this property as my American Express Platinum Card offers some amazing stay benefits, courtesy of Fine Hotels & Resorts and complimentary Hilton Gold status.
This property ranks as #4 of 396 Hotels in Osaka on TripAdvisor, which is quite admirable given the general quality of properties in this city. The only other brand hotels ranking above the Conrad are the Intercontinental and Marriott Miyako. The hotel only opened in 2017 and has climbed the ranks quickly.
Research & booking
A standard room at this property will generally cost 86,000 to 95,000 Hilton points per night. Hilton no longer publish award rates so it can be difficult to track exactly how many points it will cost for a stay.
The most common ways for Australia or New Zealand-based travellers to get their hands on Hilton points are by buying them or transferring American Express Membership Rewards points.
In Osaka (and some other Japanese cities), a 300 JPY (~NZ$4) accommodation tax is payable on both paid and award stays.
Thanks to Fine Hotels & Resorts and my Hilton Gold status, I was upgraded from a base room to a King Executive Room, which was about 16m2 larger, and came with Executive Lounge benefits.
I was also permitted an early check-in at 12pm after having arrived on a red-eye from Singapore, and was given a late check-out at 4pm the next day. This gave me up to 28 hours to enjoy the room and hotel!
The room
The king-sized bed was oversized and extremely comfortable:
and there are incredible views of the city and river which surrounds the hotel:
Conrad offer complimentary toys that are unique to each of their properties, which are great to take away as a reminder of your stay: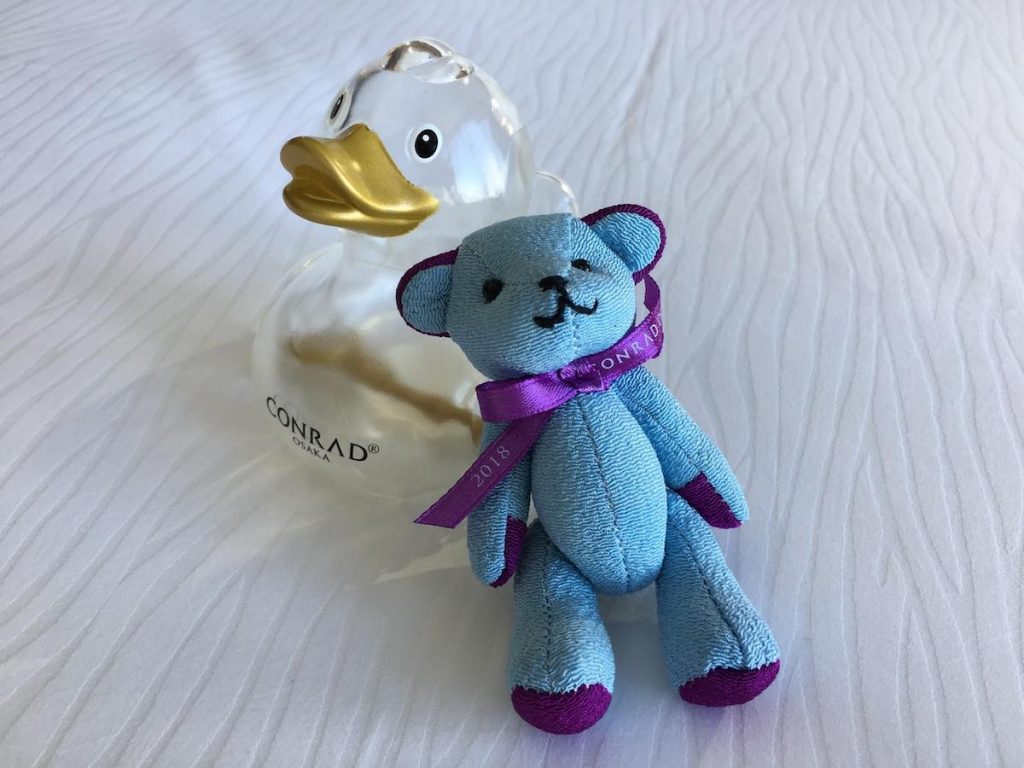 There is an advanced control centre adjacent to the bed that controls all the features of the room, such as blinds and air-conditioning:
and handy USB plugs for charging portable devices:
The entrance foyer to the room terminates at a modern art piece:
There was a welcome note waiting for me in the sitting area, accompanied by a selection of macaroons, nuts and candy:
The room includes a coffee and tea station with a Nespresso machine:
and two bottles of water:
The desk and chair are comfortable and designed for working. The TV is on a swivel so it can either be watched in bed, or from the sitting area:
There is also a separate table with mirror for applying makeup or doing hair:
There is a walk in robe which provides an excessive amount of space to store belongings.
The bathroom is one of the largest that I have seen, with a dedicated 'room' for the over-sized tub and gorgeous rain shower:
and a separate area for the vanities:
Shanghai Tang amenities are provided by default, but if you download the Hilton app on your mobile, you can order amenities from other brands via the Conrad Concierge function:
Obviously the room would not be complete without a technologically-advanced Japanese toilet:
The photos simply do not do the size of the room justice, which is more akin to a junior suite in terms of size.
The hotel
The hotel has 164 rooms and suites across 8 floors, located from Levels 33 to 40 of the building. All rooms start at 50m2, which is extremely generous in size for Japan.
You enter at the ground floor, where you are greeted by hotel staff and ushered to the elevators.
At check-in on Level 40, you will be offered a refreshing drink and cool towel:
and a welcome pack which includes maps, information on sightseeing, and an introductory letter to the hotel:
The lobby is spacious with amazing views stretching over the city:
I am not sure whether this is a service unique to high-end Japanese hotels – Matt experienced similar at the Ritz-Carlton Tokyo – but I was blown away by how accommodating all hotel staff were.
When I arrived at the hotel at around 10am in the morning, my room was not yet available. I was personally escorted to the hotel pool and spa, where I enjoyed a relaxing shower, a hot tea, and a nap on a day lounge overlooking the city:
The men's amenities available in the shower area for guest use were fantastic:
After, when my room was ready, I was again escorted and given a tour of its features.
On check-out, Midori, the Guest Relations Manager, personally escorted me to the entry of the nearest metro station! She had even visited me at breakfast to make sure that I was enjoying my stay.
Wi-Fi in the hotel was reliable and fast, clocking fast download/upload speeds.
Executive Lounge
As I was upgraded to an Executive room, I was offered access to the hotel Executive Lounge. The lounge has a dedicated check-in/check-out area which I used when checking-out of the hotel.
The lounge has a variety of different table and seating options, with my favourite being along the window with the excellent views:
I first enjoyed an afternoon tea. I will let the photos of food and drink options speak for themselves:
I came back later to enjoy evening drinks and canapes, which were extensive enough to be a dinner replacement:
A range of snacks are offered during the day:
The lounge also has a private meeting room, which could be good for getting some undistracted work done:
While I did not get to experience it, the lounge even offers live music every Saturday evening, which is simply wow.
There is no breakfast served in the lounge. Guests are instead directed to Atmos Dining on Level 40.
Dining
The hotel has a number of high-end restaurants, covering traditional and modern Japanese as well as general Western cuisine.
While I did not take any photos, I did enjoy a late-night dinner at 40 Sky Bar & Lounge, where I spent my $125 USD property credit, thanks to Fine Hotels & Resorts.
The breakfast at Atmos was incredible:
thanks in part to the amazing view:
A range of a la carte options are on offer:
I ordered the Morning Noodles, and Egg Benedict with Ham & Hollandaise Sauce. The latter tasted better than it looked:
The buffet was also healthy and delicious:
You could also watch the chefs cook:
Around the hotel
The hotel is located on the island of Nakanoshima between the Dojima and Tosabori rivers. The hotel is connected to the Nakanoshima Dori and Yotsuhashi-suji metro stations.
There are convenience stores each block or two in the hotel's vicinity.
It takes ~50 minutes door-to-door to get to/from Kansai International Airport or about an hour to/from Kansai by public transport.
Summing up
This is probably my most opulent hotel stay to date.
The customer service was world-class, the upgraded room spacious and well-appointed, and the views just incredible. I have no complaints about anything to do with this hotel or my stay.
Admittedly 86,000 plus Hilton points per night is expensive, and I would recommend keeping an eye out for paid rate specials, especially via Fine Hotels & Resorts, which are flexible bookings that you can rebook on a whim if prices drop – as they did on two occasions for my stay. The $125 USD property credit and 4pm late check-out are great value, especially for a short one-night stay where you may be resting up before continuing a journey.
Conrad Hotel Osaka review
was last modified:
December 20th, 2021
by