After a few days skiing at Nozawa Onsen, we headed off to Tokyo for a day and a night of the big city before flying on to our respective destinations.
This was the first time we'd both been to Japan and Tokyo, and we were there for just one night. I felt it was essential to get the most out of the time by staying somewhere that would offer something a little bit amazing – despite the cost.
The Andaz fit the bill – with amazing views that were bordering on the ridiculous, and beautiful rooms on the 47th floor and above of a relatively new skyscraper in the Toranomon Hills district.
Research and Booking
The Park Hyatt Tokyo is often at the top of many frequent traveller's lists, but the rates were extortionate for the night we wanted at $800 AUD or more.
The Andaz was nearly as high up my list, and while the rate promoted through the Hyatt website was $720, through American Express Travel it was $450.
I wouldn't normally spend that much on a hotel room, but given that this was the night before New Years Eve and our only night in Tokyo, and many standard hotels in the city were approaching that price anyway – it was easy to justify.
Andaz Tokyo – The Hotel & Surrounds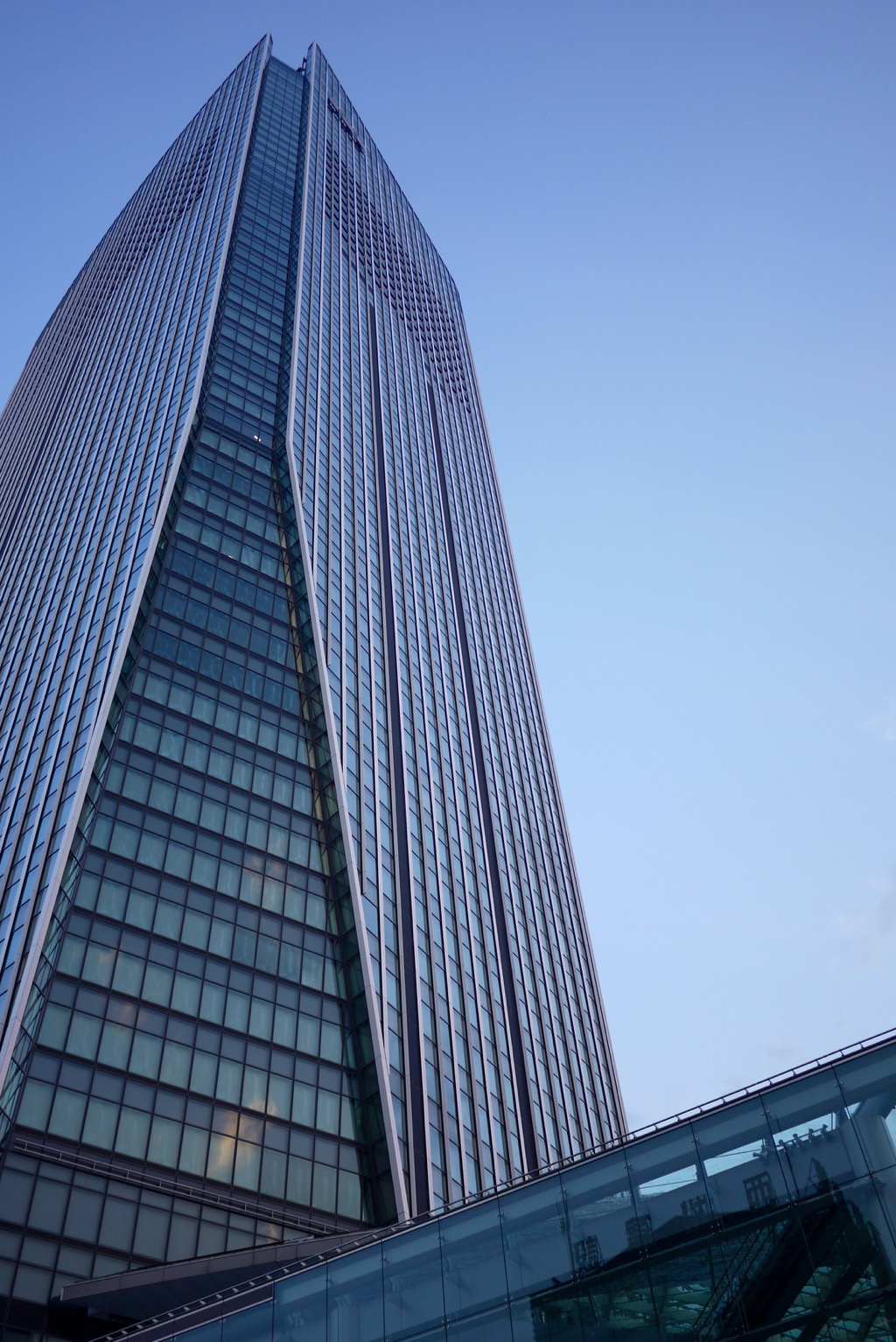 The hotel is at the top of a skyscraper in the Toranomon Hills district, which houses a number of government buildings and a smattering of small streets with cafes, restaurants and other amenities.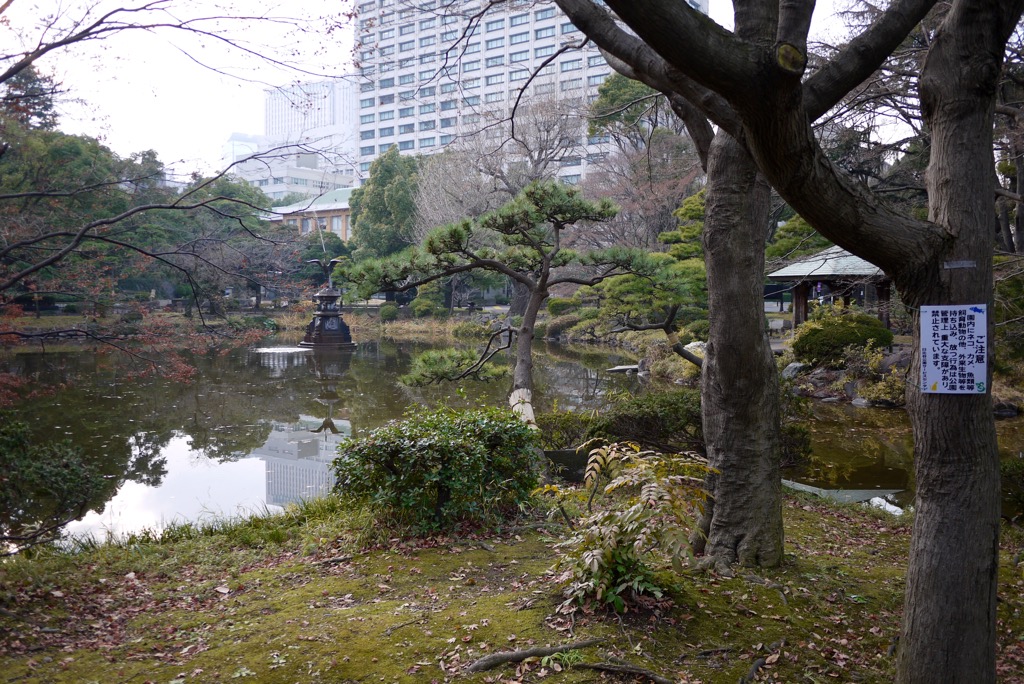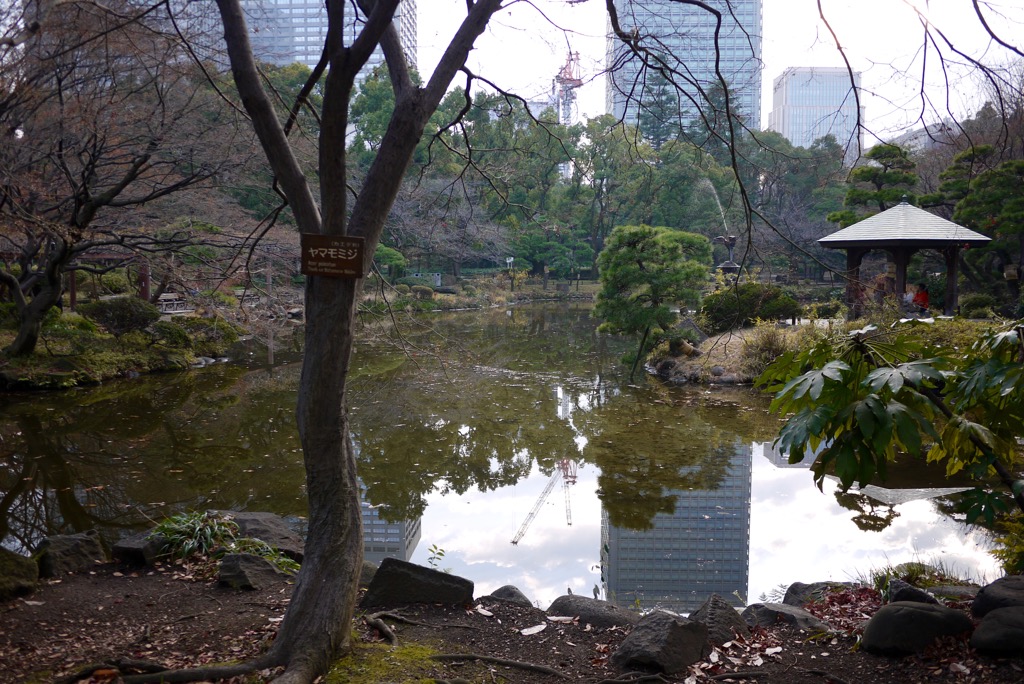 There's a large park in walking distance of the hotel, along with the Tokyo Imperial Palace and the metro for excursions further afield into Tokyo.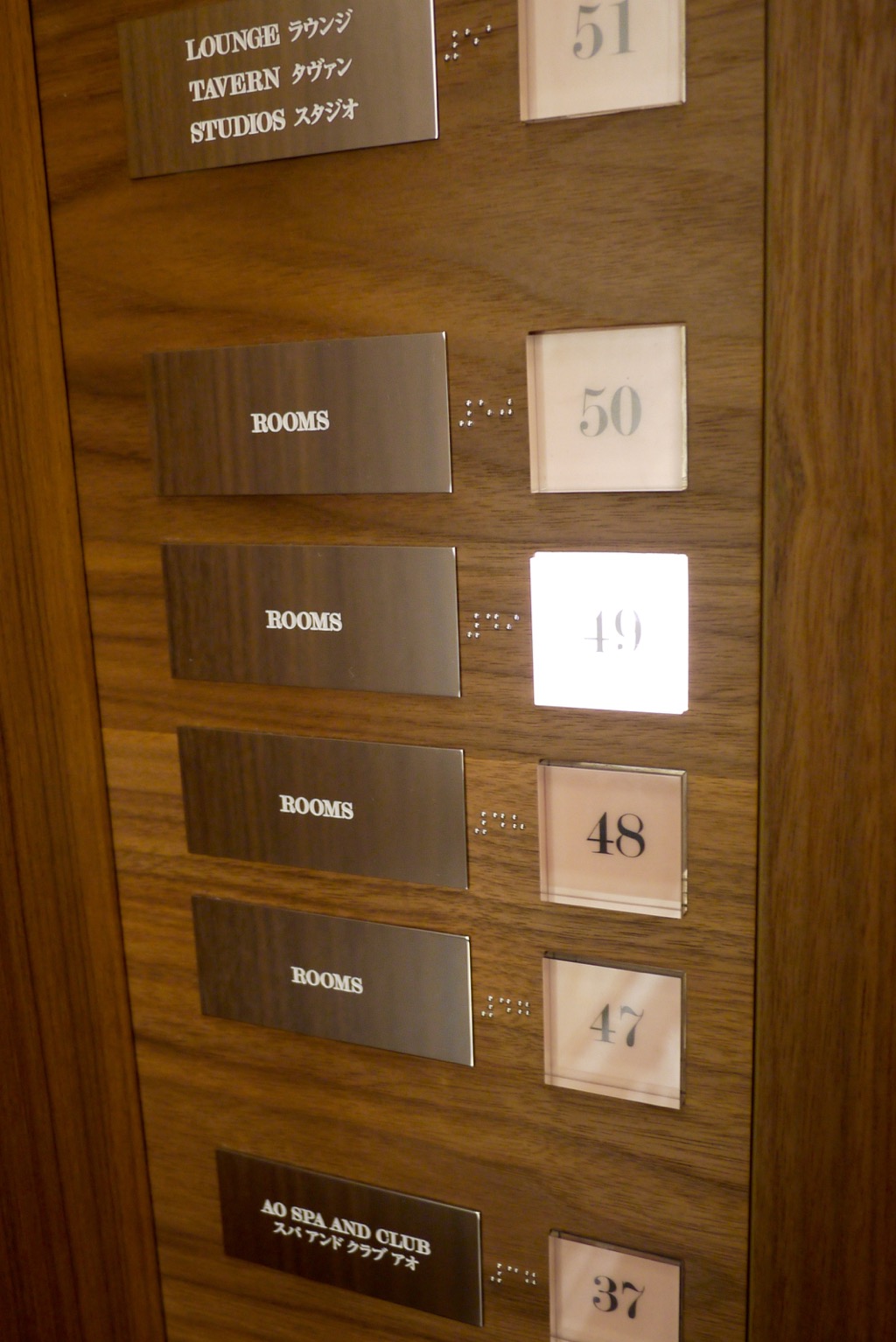 The hotel entry on the ground floor is combined with entry to the apartments that are in the same building as the hotel.
The main lobby, hotel restaurants and rooms are then all located high up in the building, giving quite ridiculous 360 degree views of the city. There's also some great art and space to enjoy complimentary tea, wine or snacks.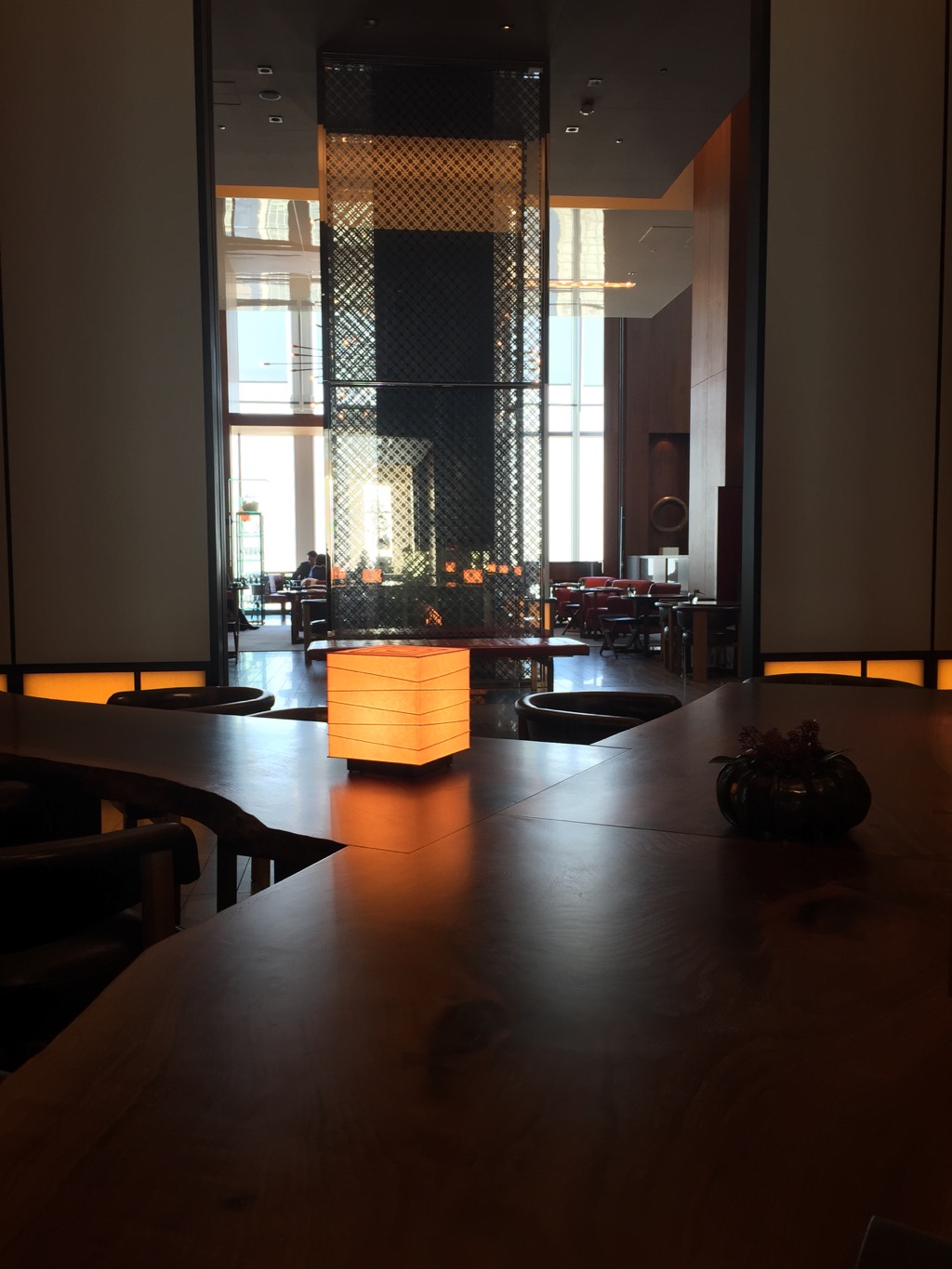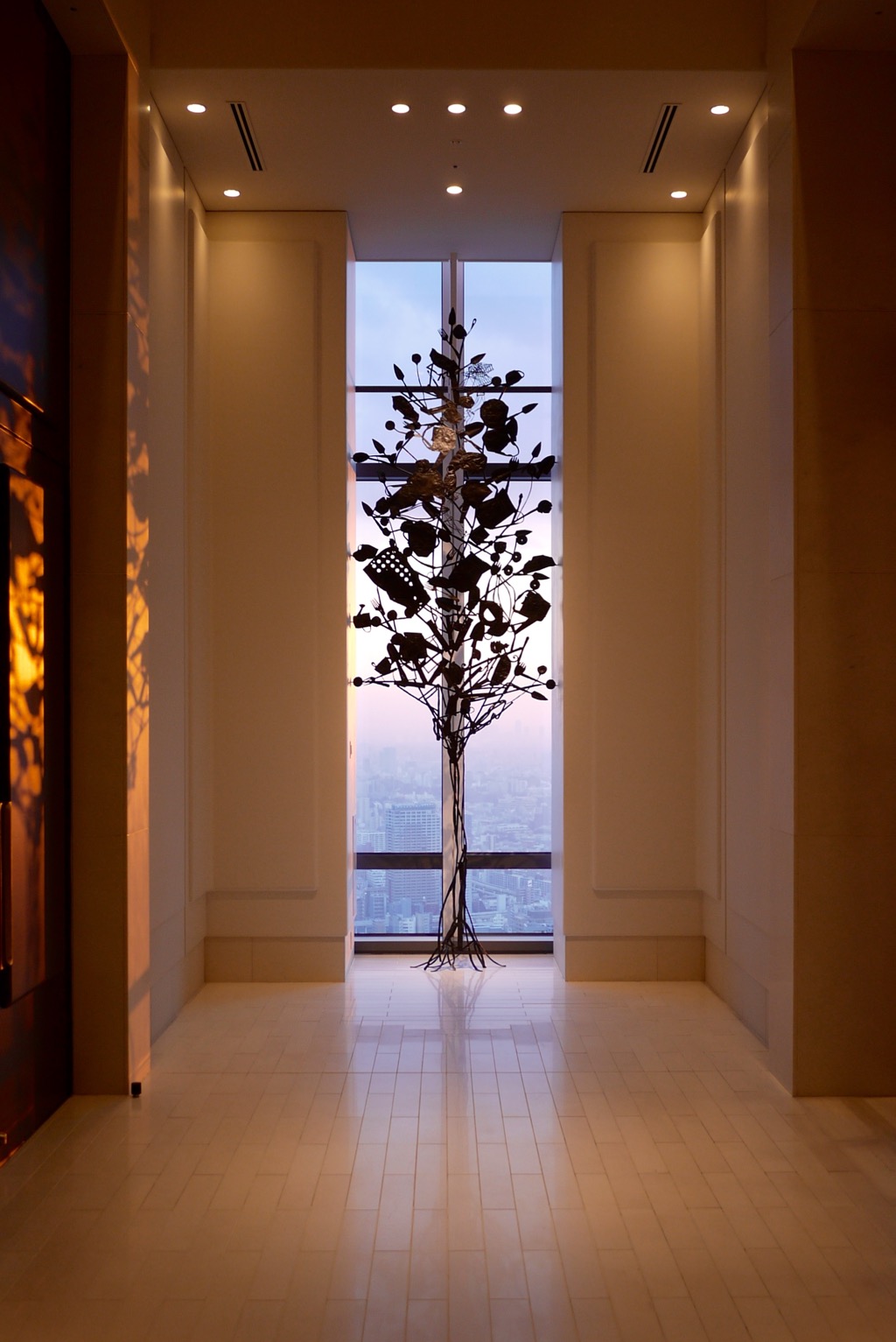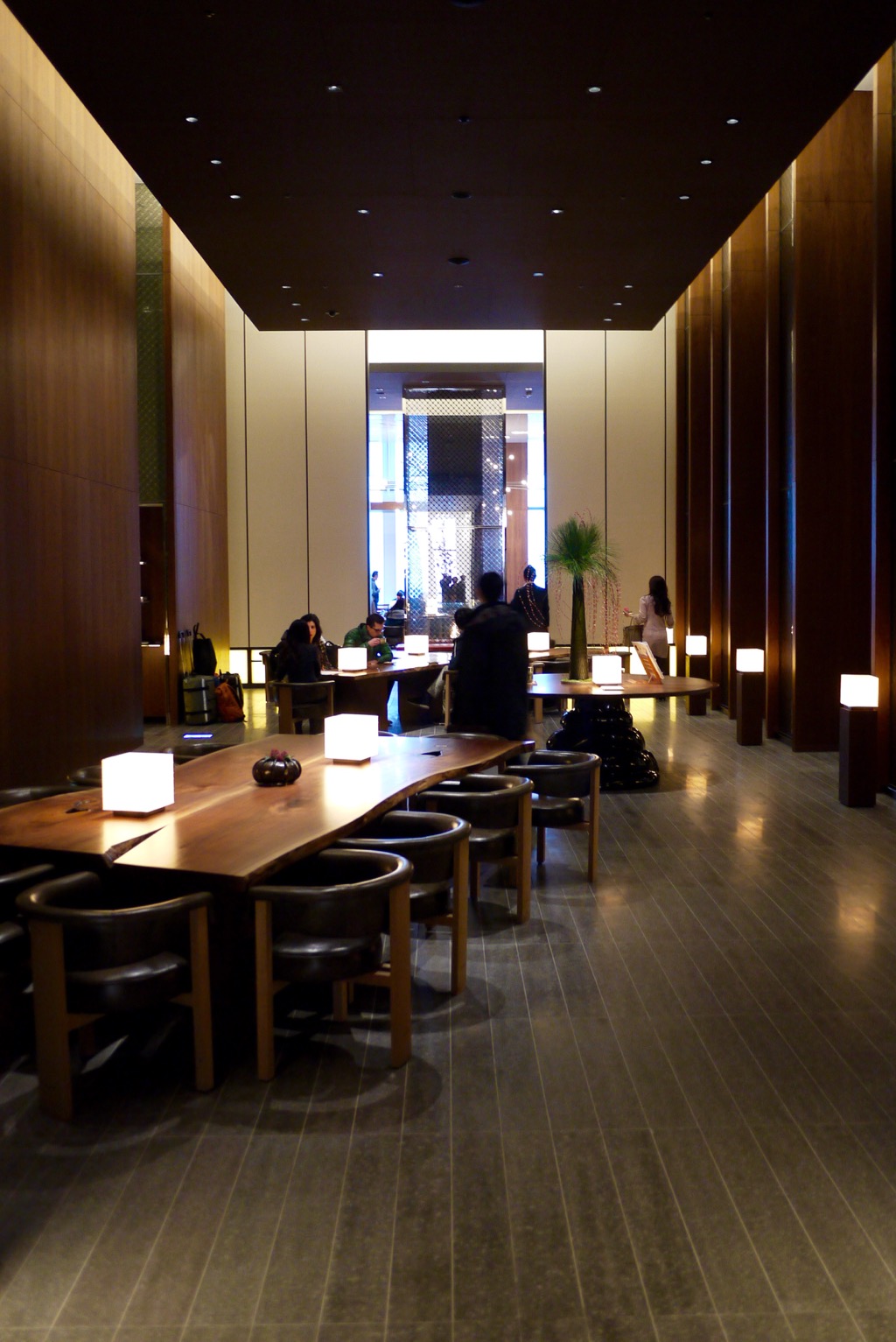 The Lobby space is next to some small function areas, which offer views like this at sunset..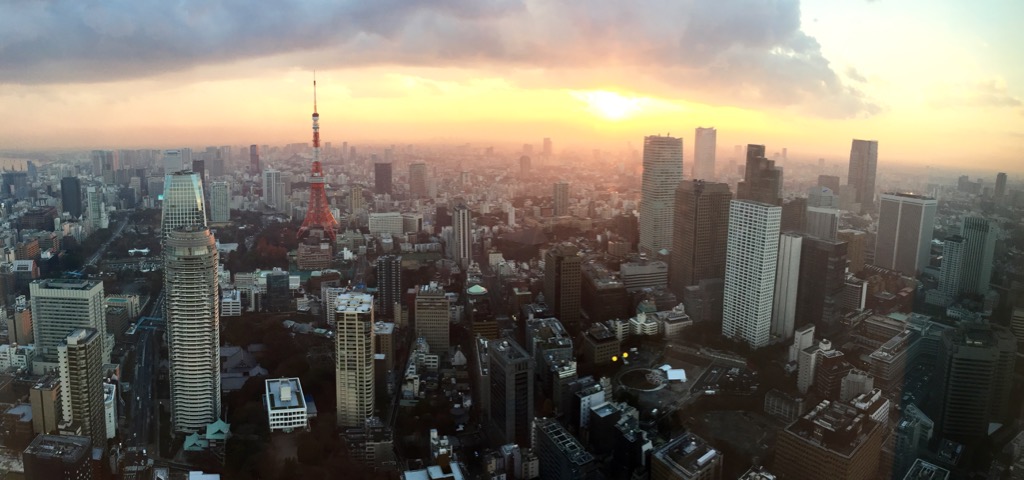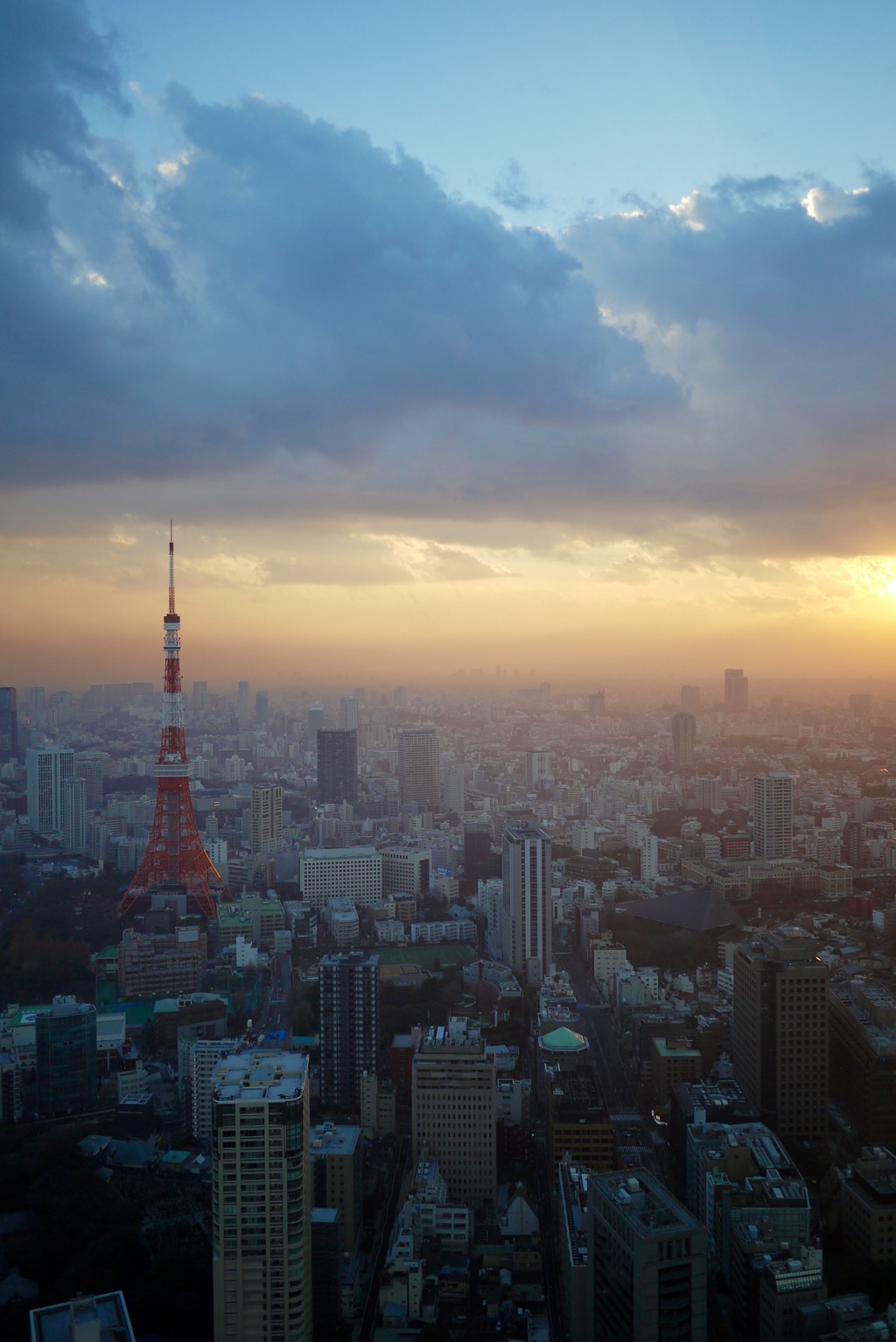 On check in, our rooms weren't ready yet so we grabbed some lunch in the hotel restaurant – we'd been travelling from Nagano to Tokyo since the morning and were keen for a decent lunch.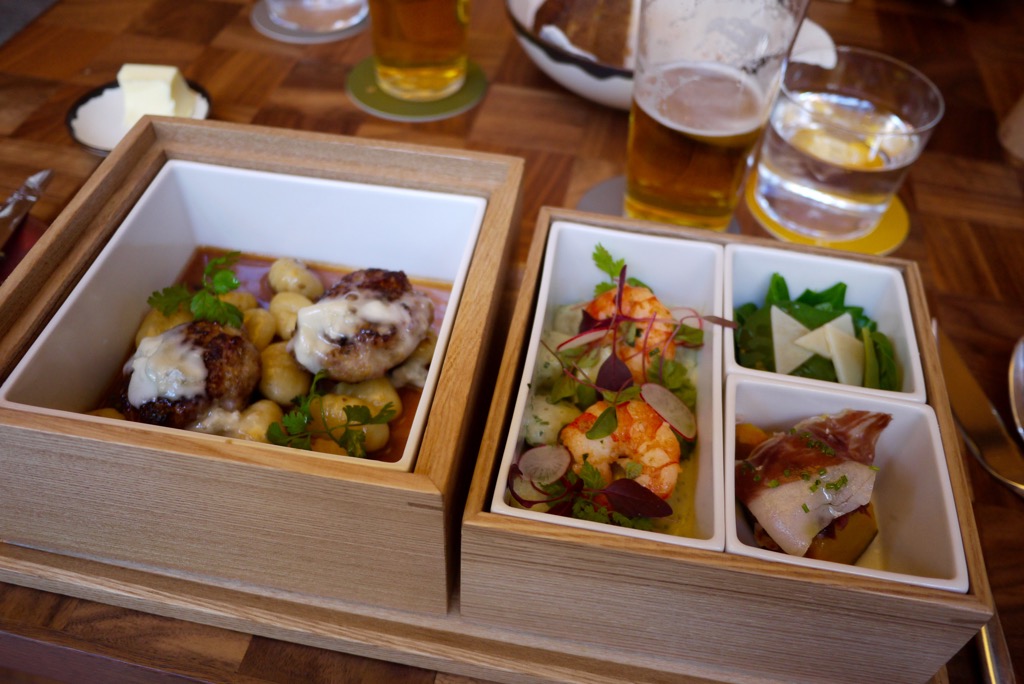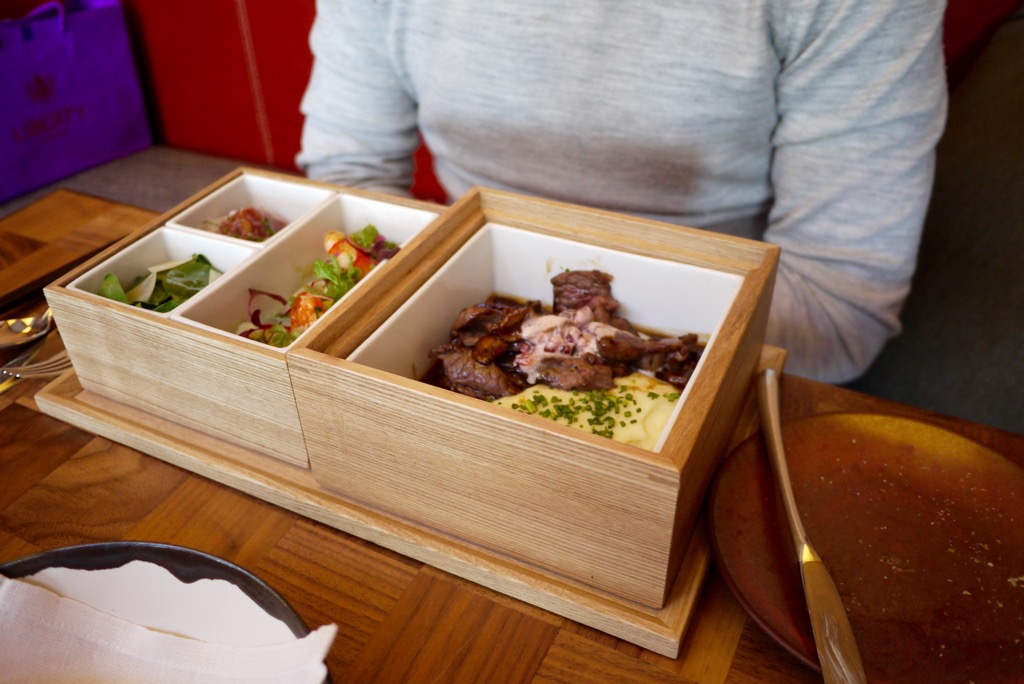 We opted for a couple of lunch Bento boxes which were very good, and not too bad value for money at around $35-40 with a beer – given eating in a hotel restaurant.
After lunch one of our rooms was ready. The hotel has rooms on floors 47 and above, and ours was on the 49th. All the hallways of the hotel look like this: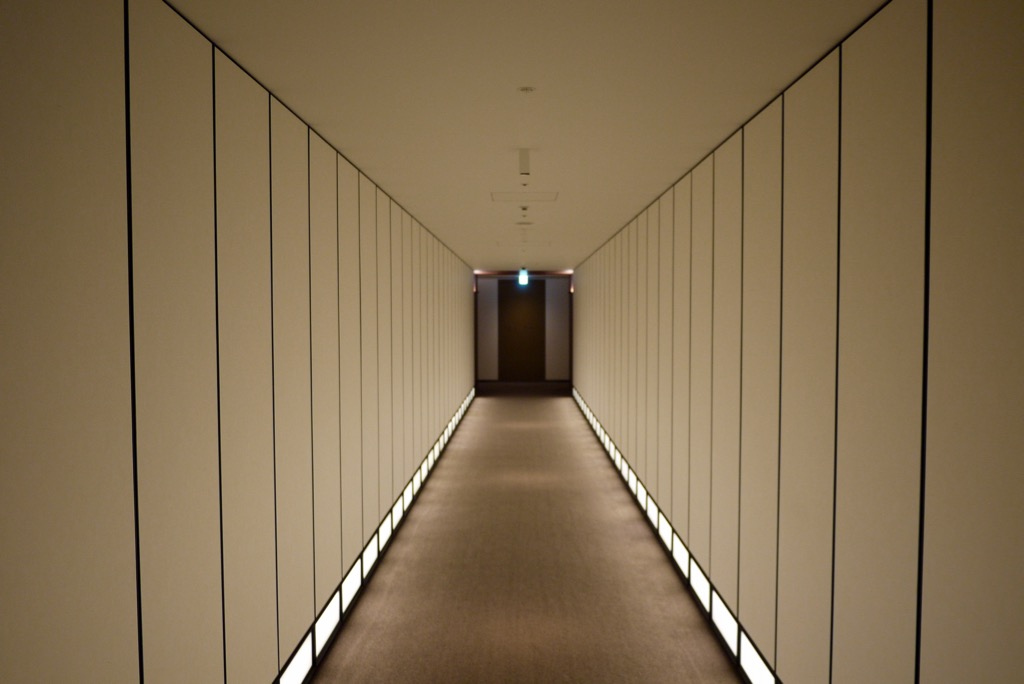 Later that day we tried out the spa, pool, and rooftop bar.
I don't have any pictures of the pool, as it was impossible to get any with a few people around, and strict no-photography rules.
The spa had a sauna, hot bath, showers and a high-end fitness centre style changing room, leading out to a large lap pool with equally amazing views. There was a hot soaking pool without a view set back from the lap pool too.
We enjoyed the baths, but the pool wasn't an area you'd really hang out in for a long time, being honest. But with Tokyo right outside your door, I don't see that as being too much of a problem.
The rooftop bar was seemingly designed to use some dead-space in the triangular top of the building, and as a result felt a bit unfinished. I understand the have now added a small Sushi bar too which may explain some of the dead space.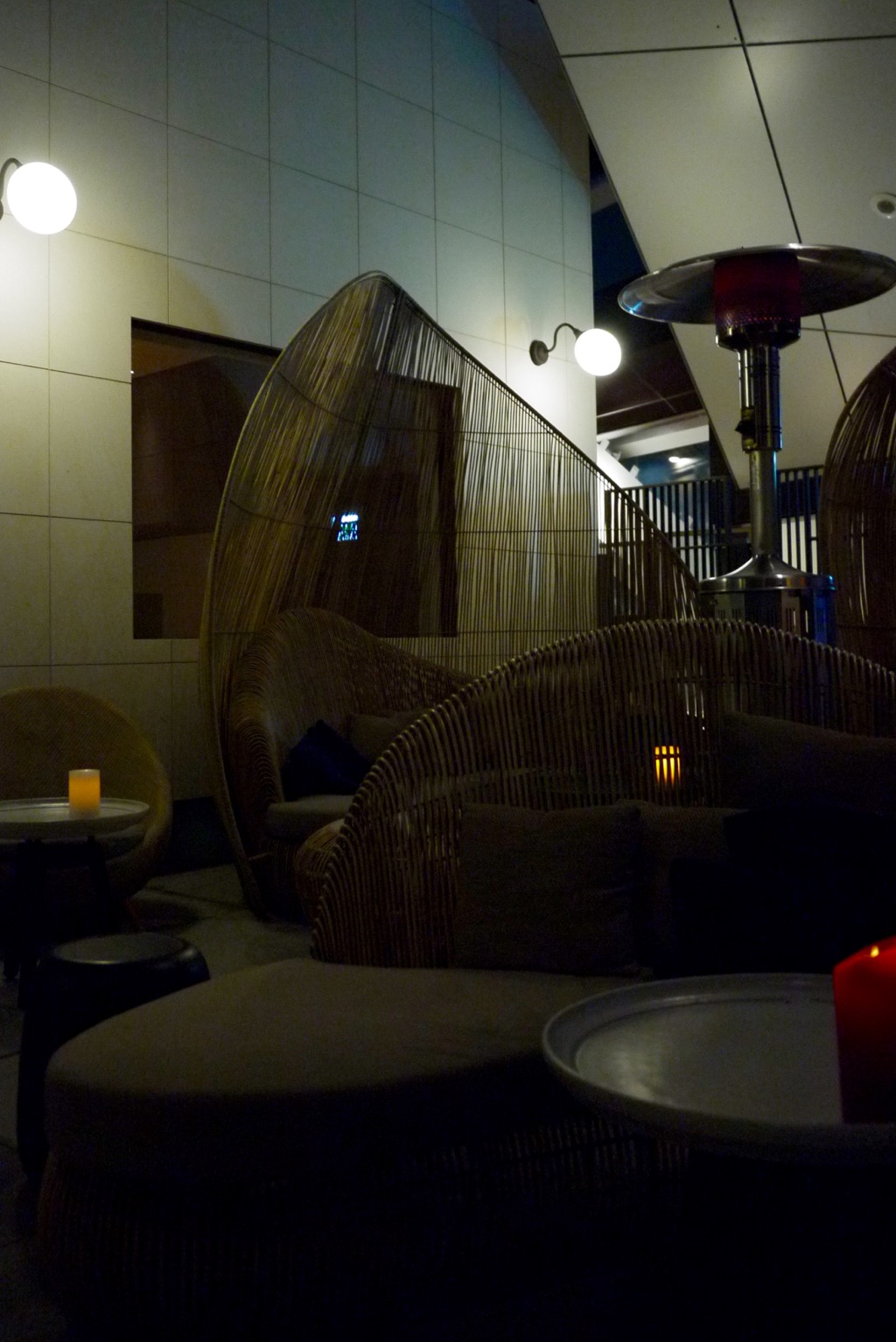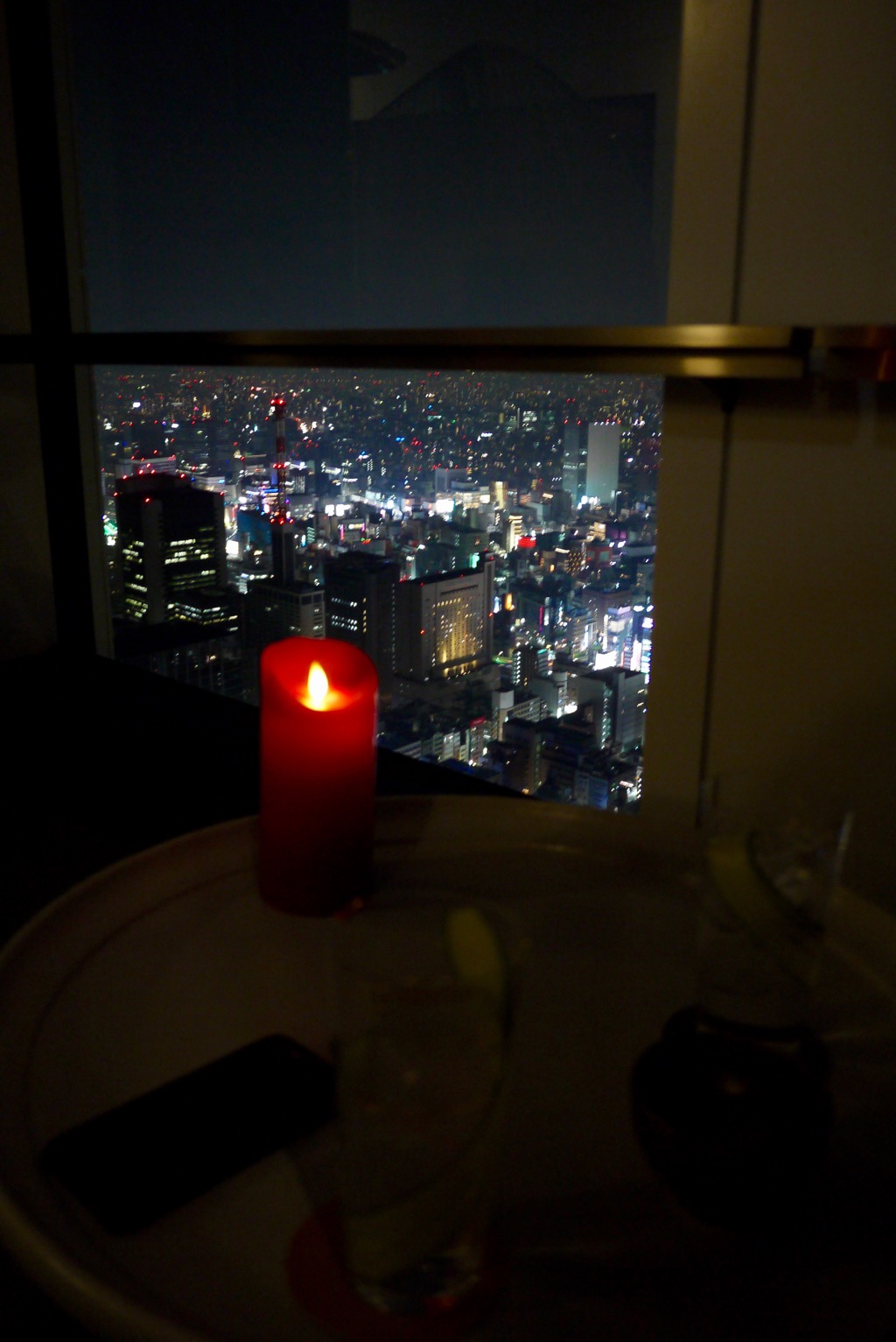 Either way, it was a great place for a drink, but not a true roof top bar with 360 degree views like I've been to at other hotels.
The Room – Double Deluxe on the 49th floor at The Andaz Tokyo
I'll let the pictures speak for the room. I loved it, it was really quiet and you could sit on the window couch for hours taking in the city.
Bedroom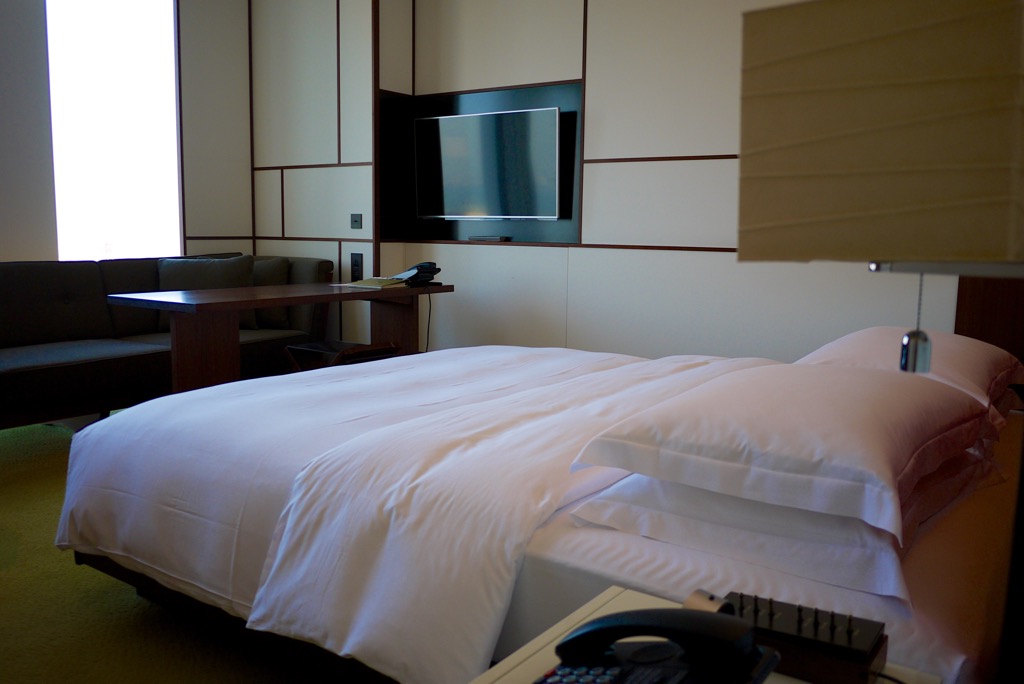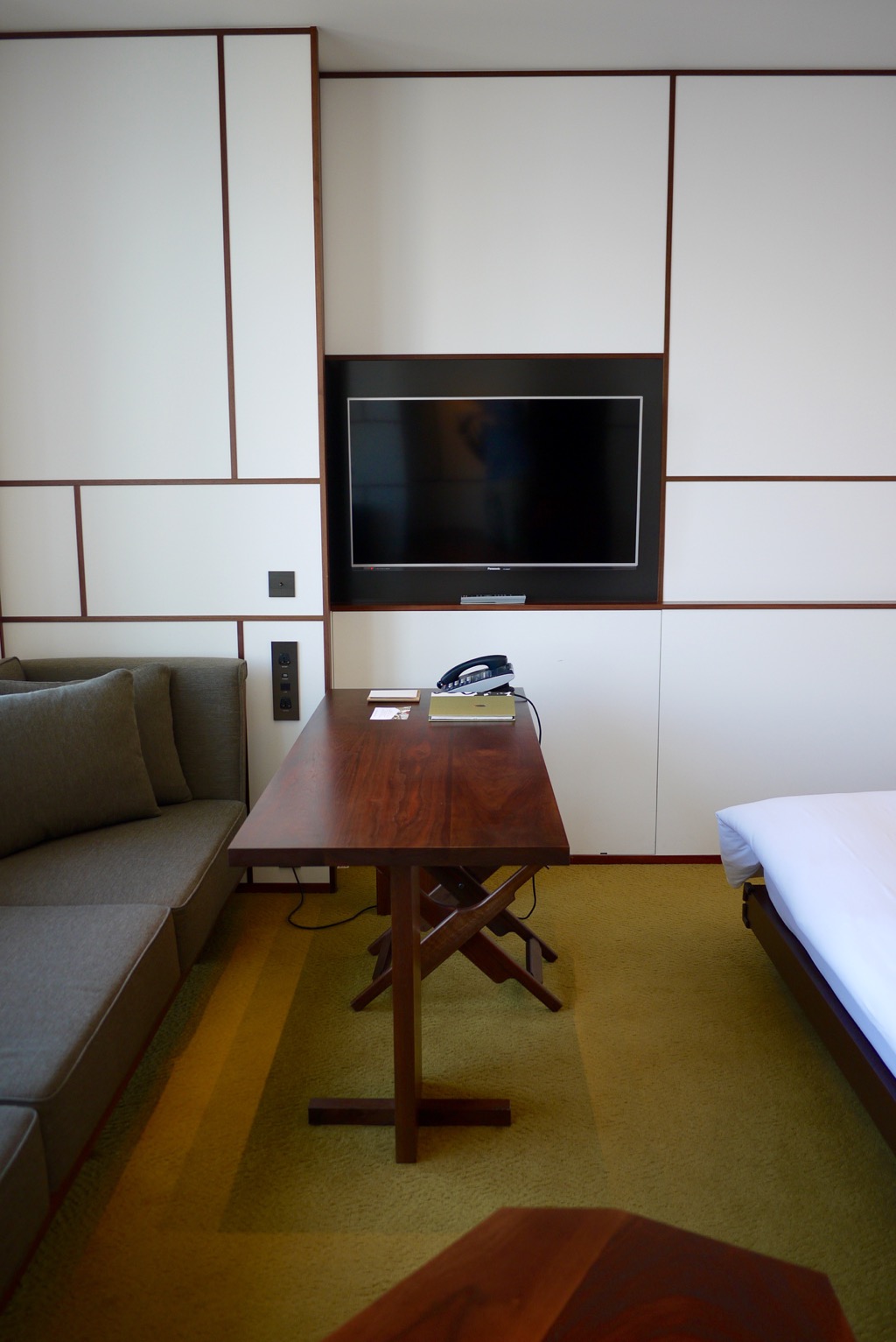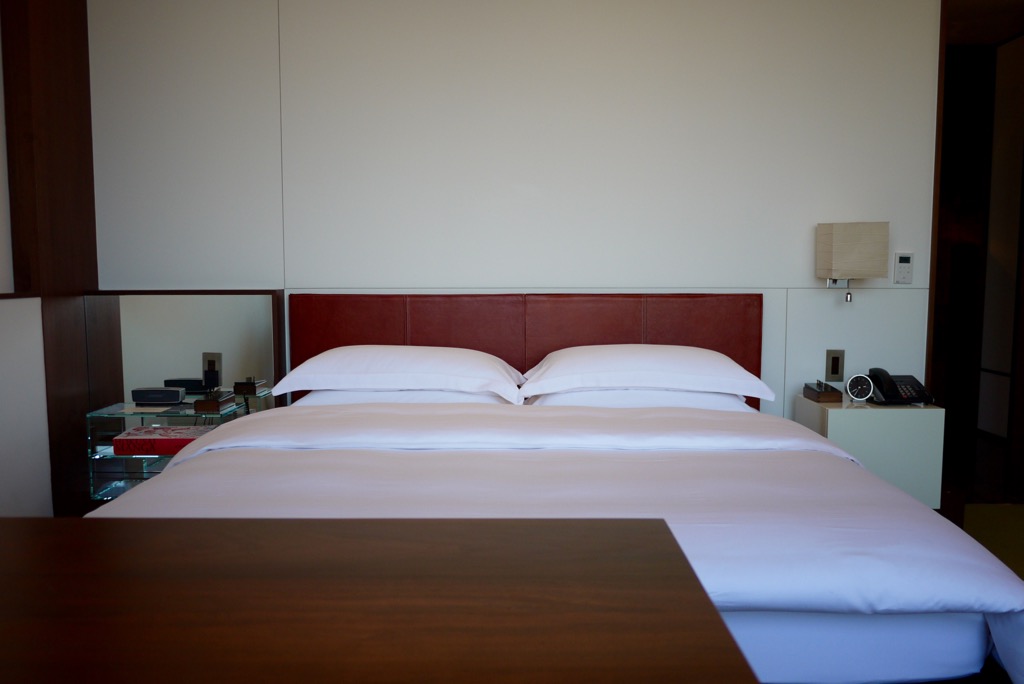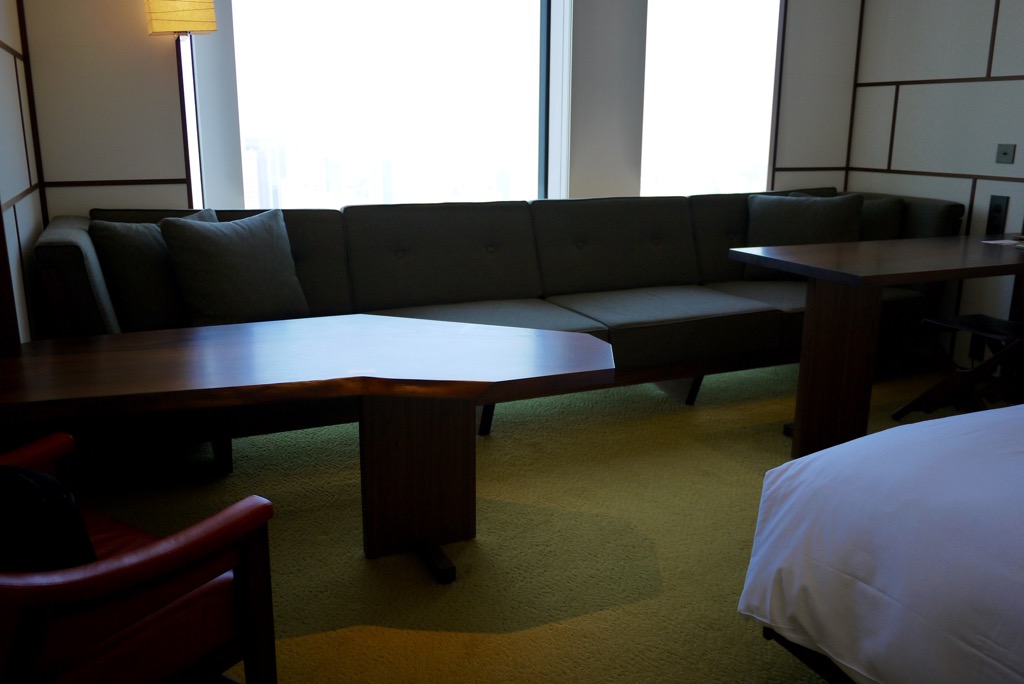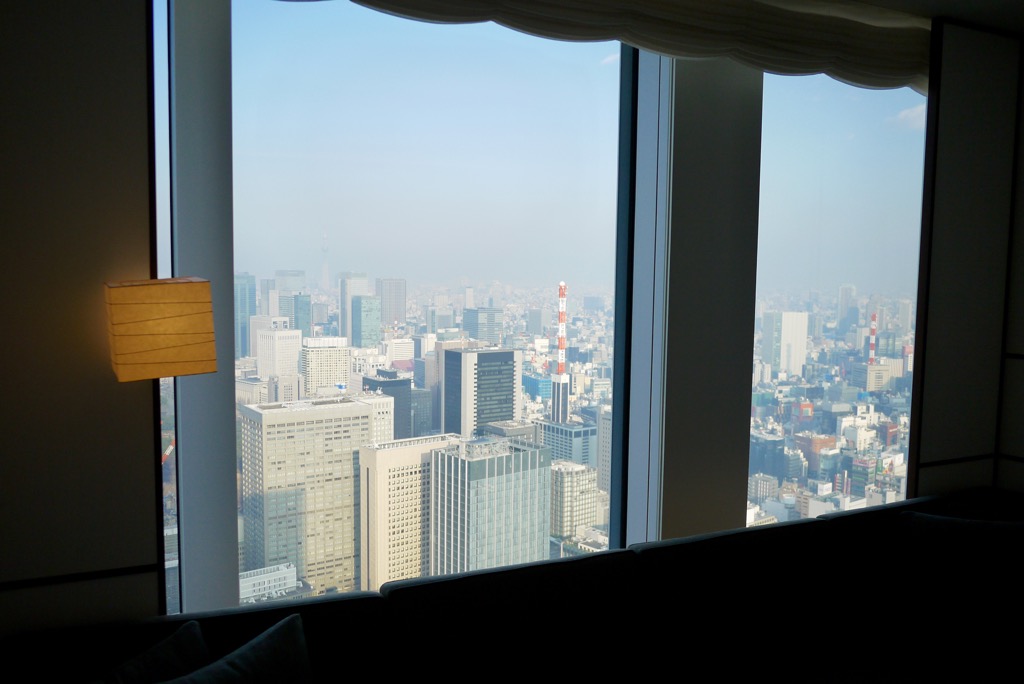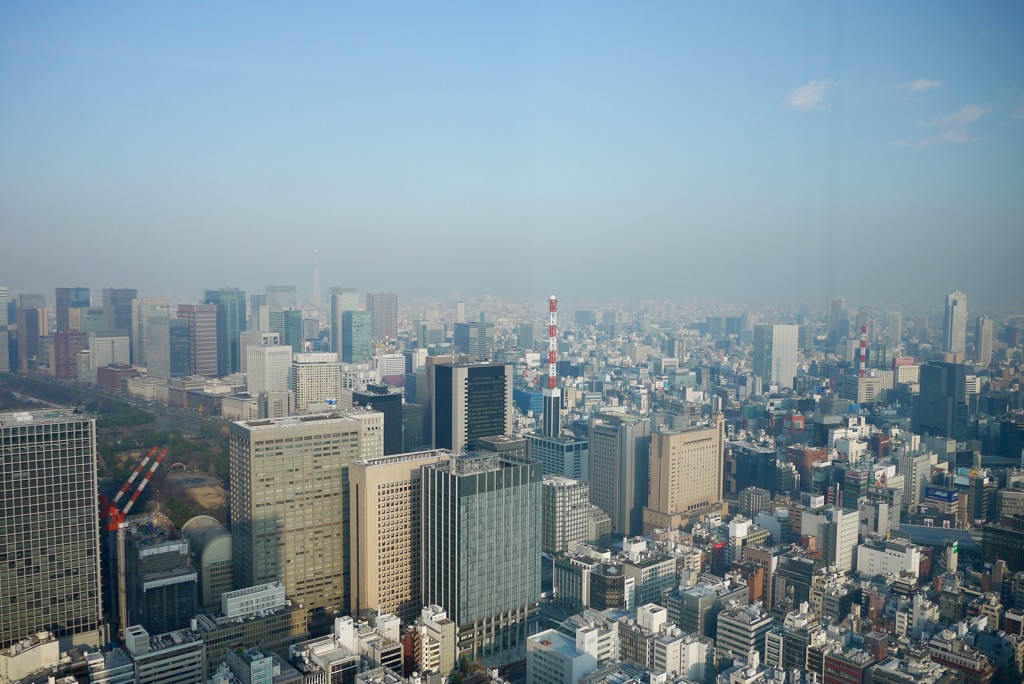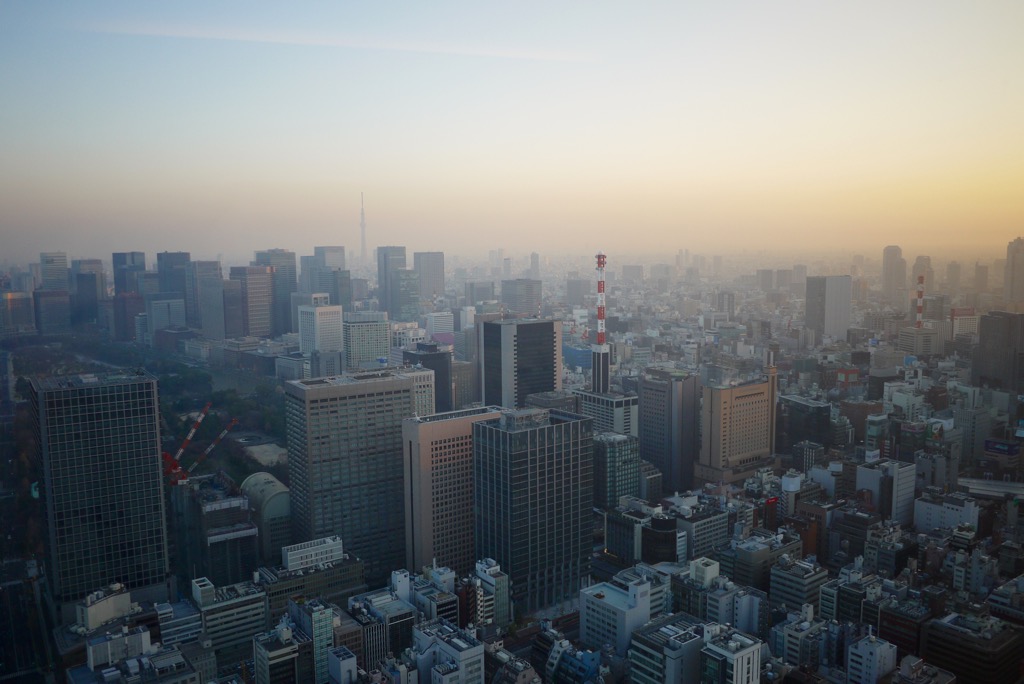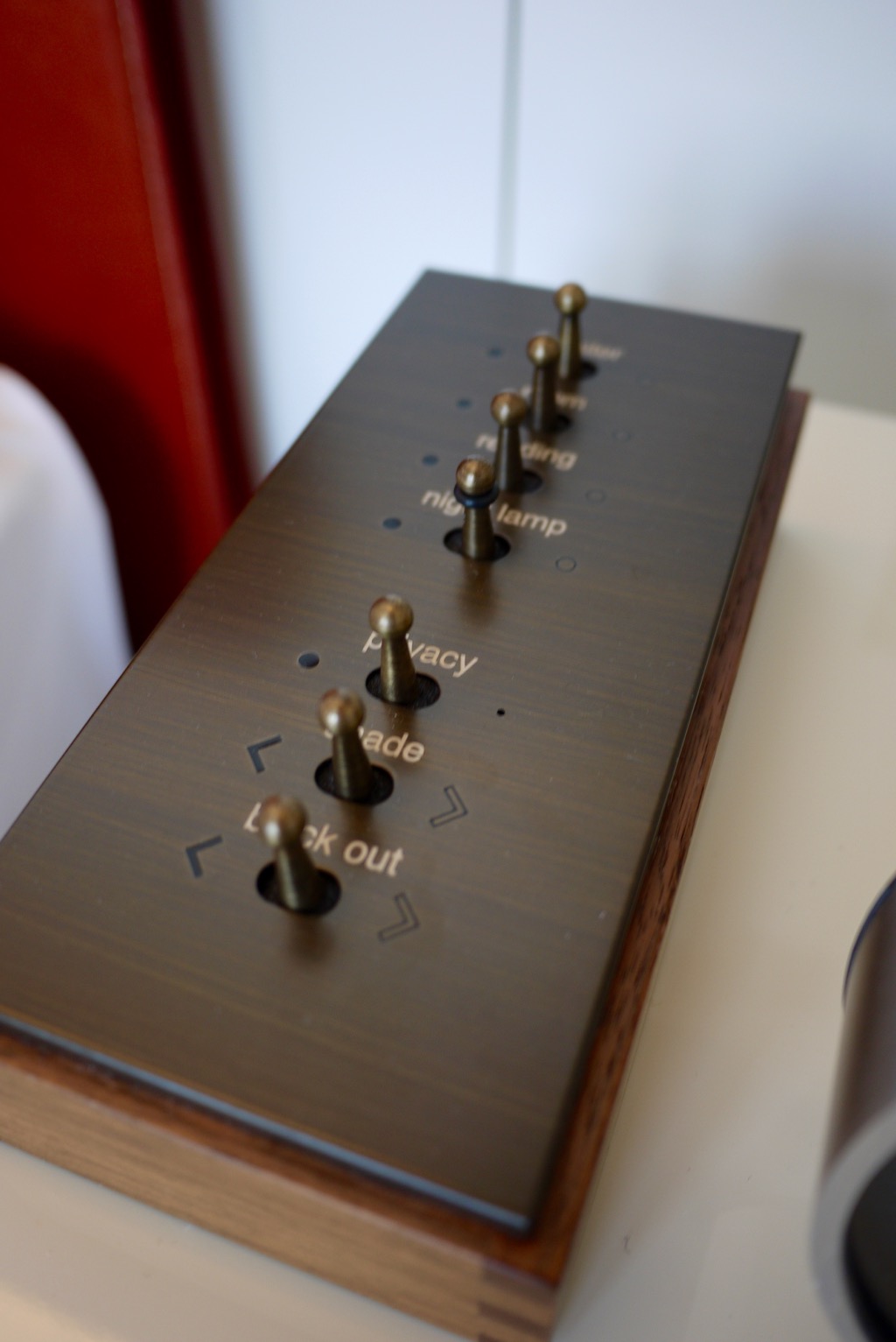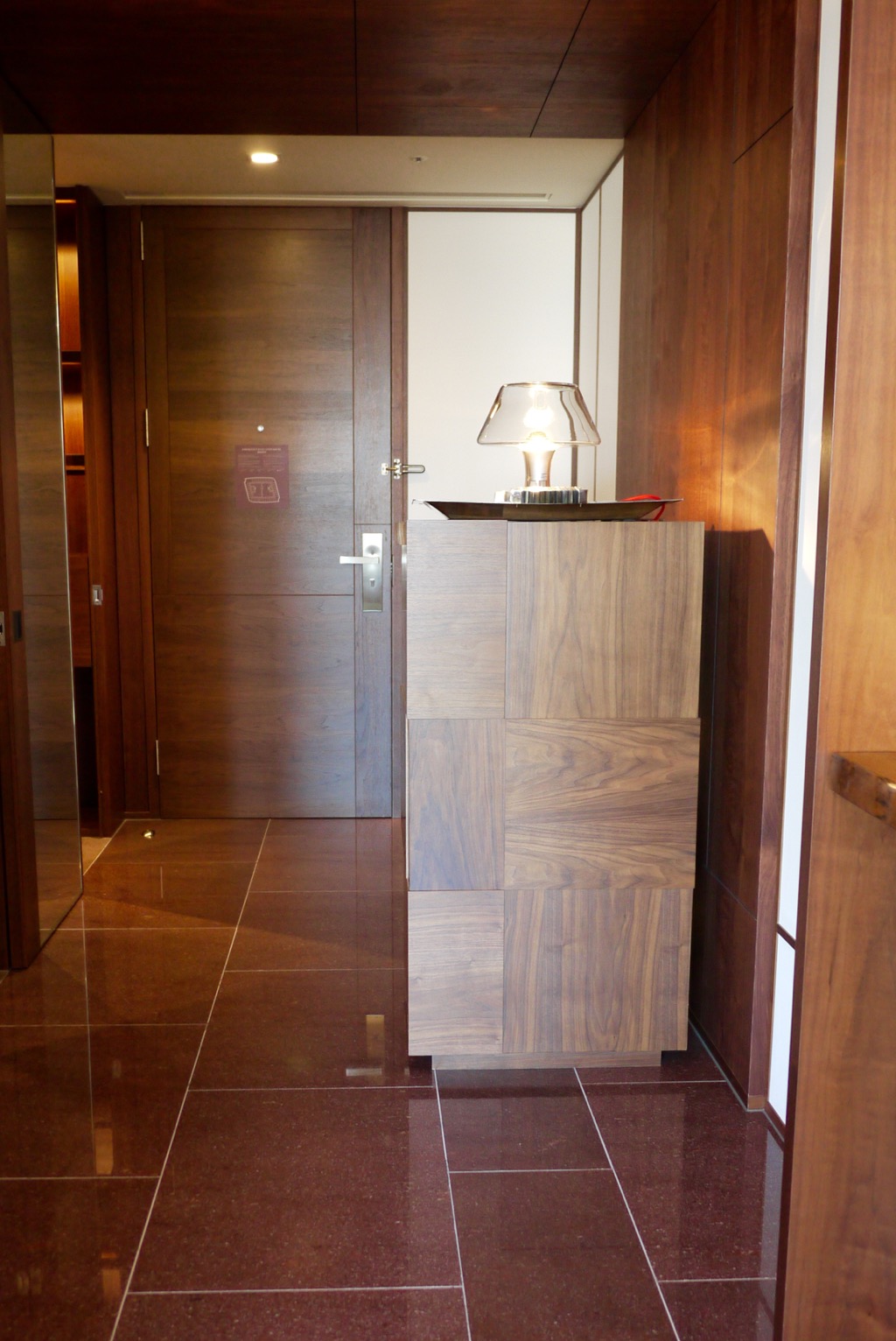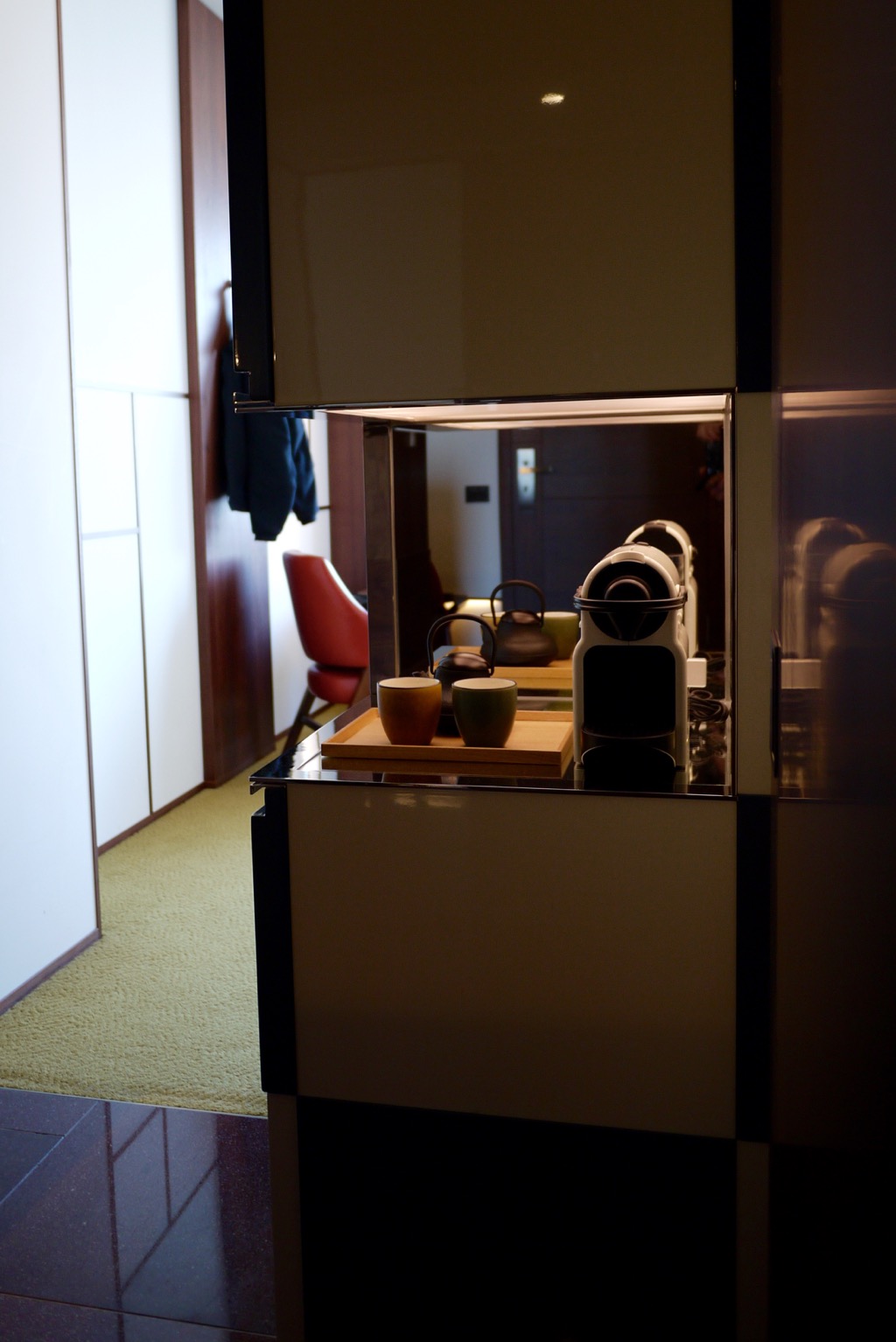 Bathroom
The bathroom was large, dark (in a good way) and wood and marble lined space at the rear of the room. The circular tub was huge, and the shower next to it just as good.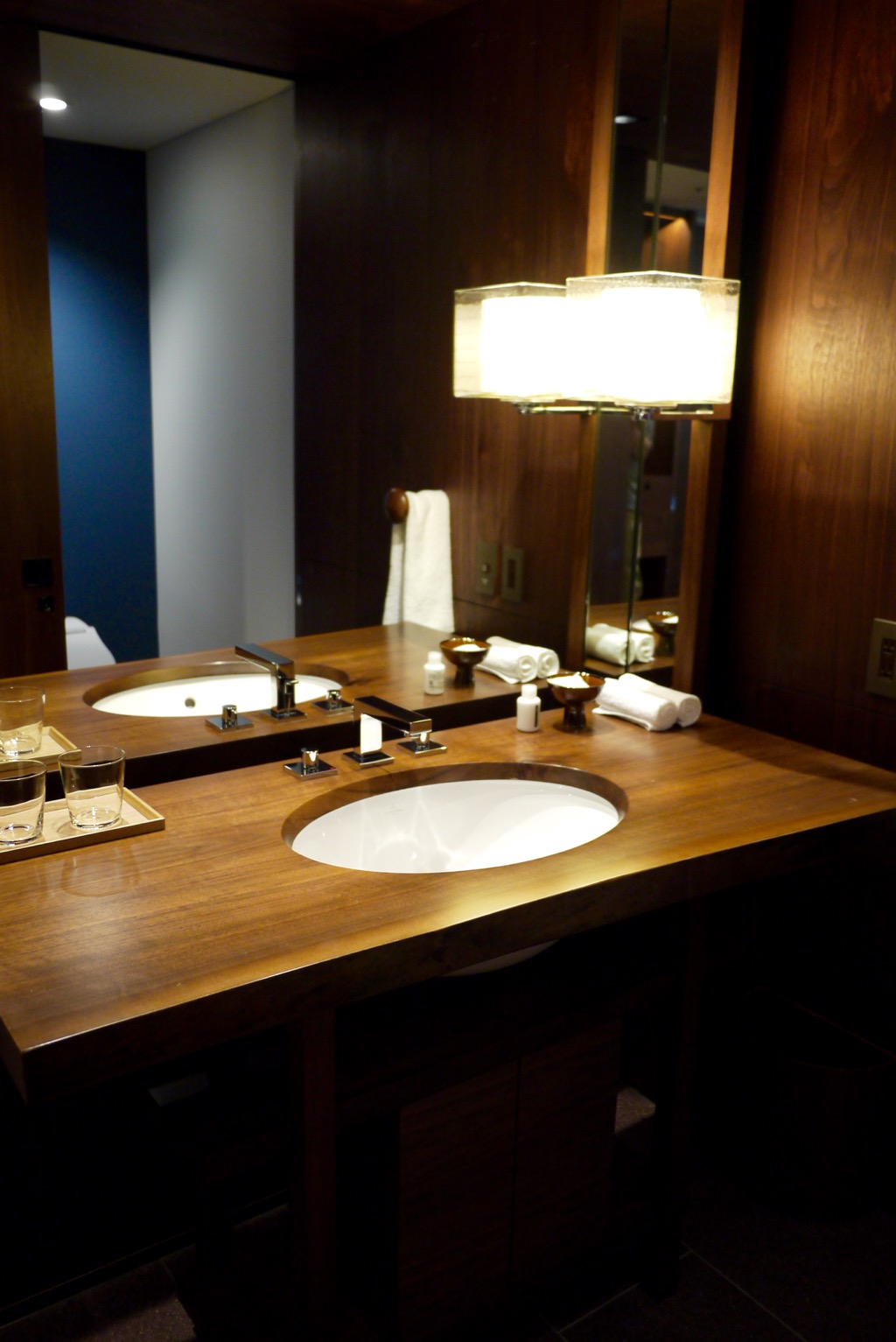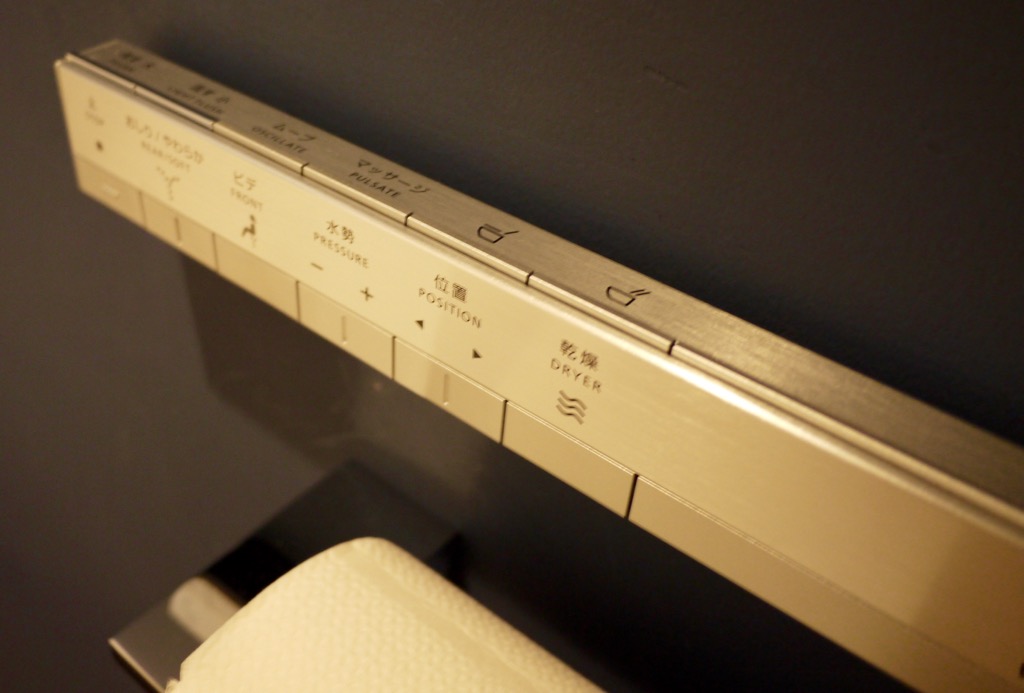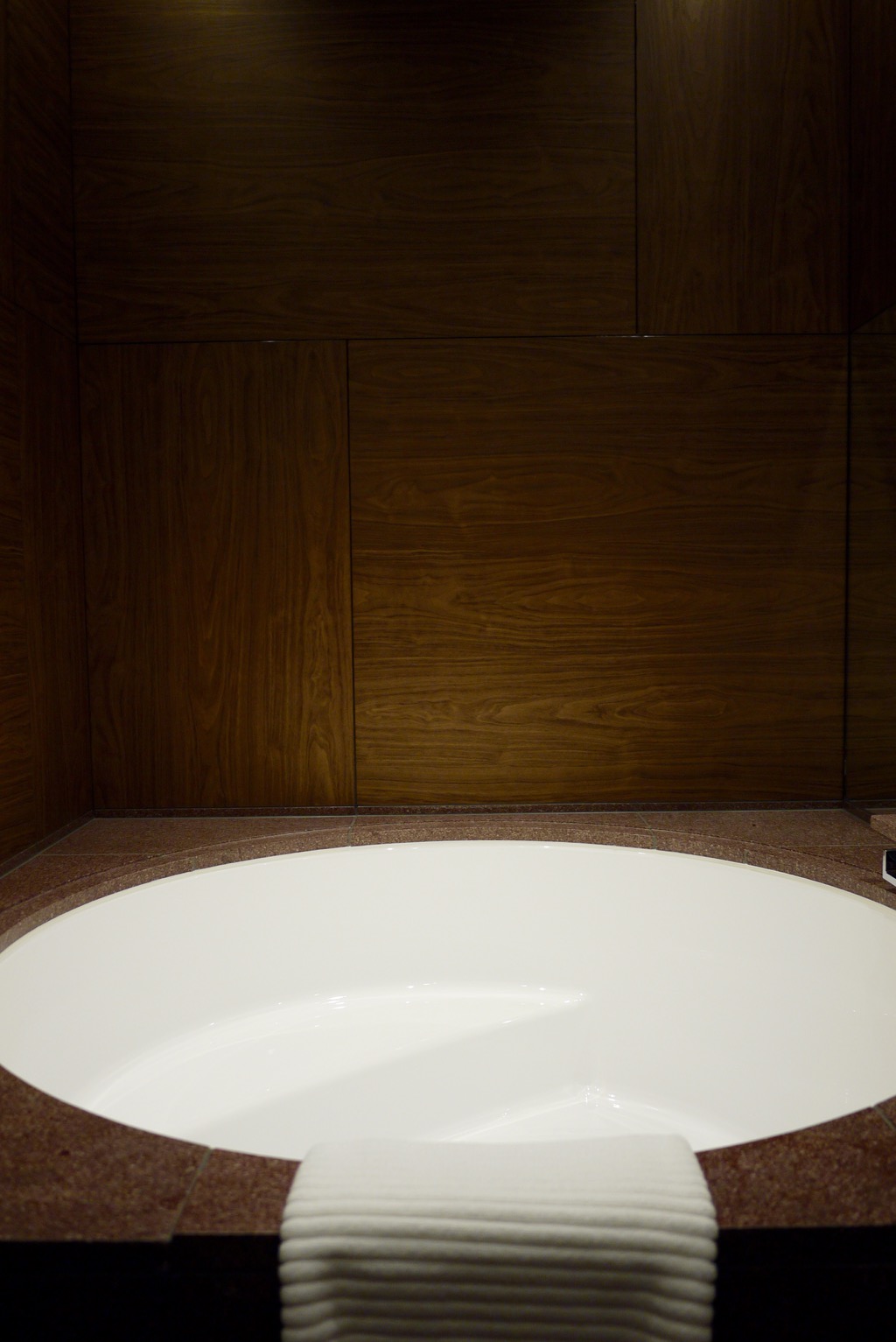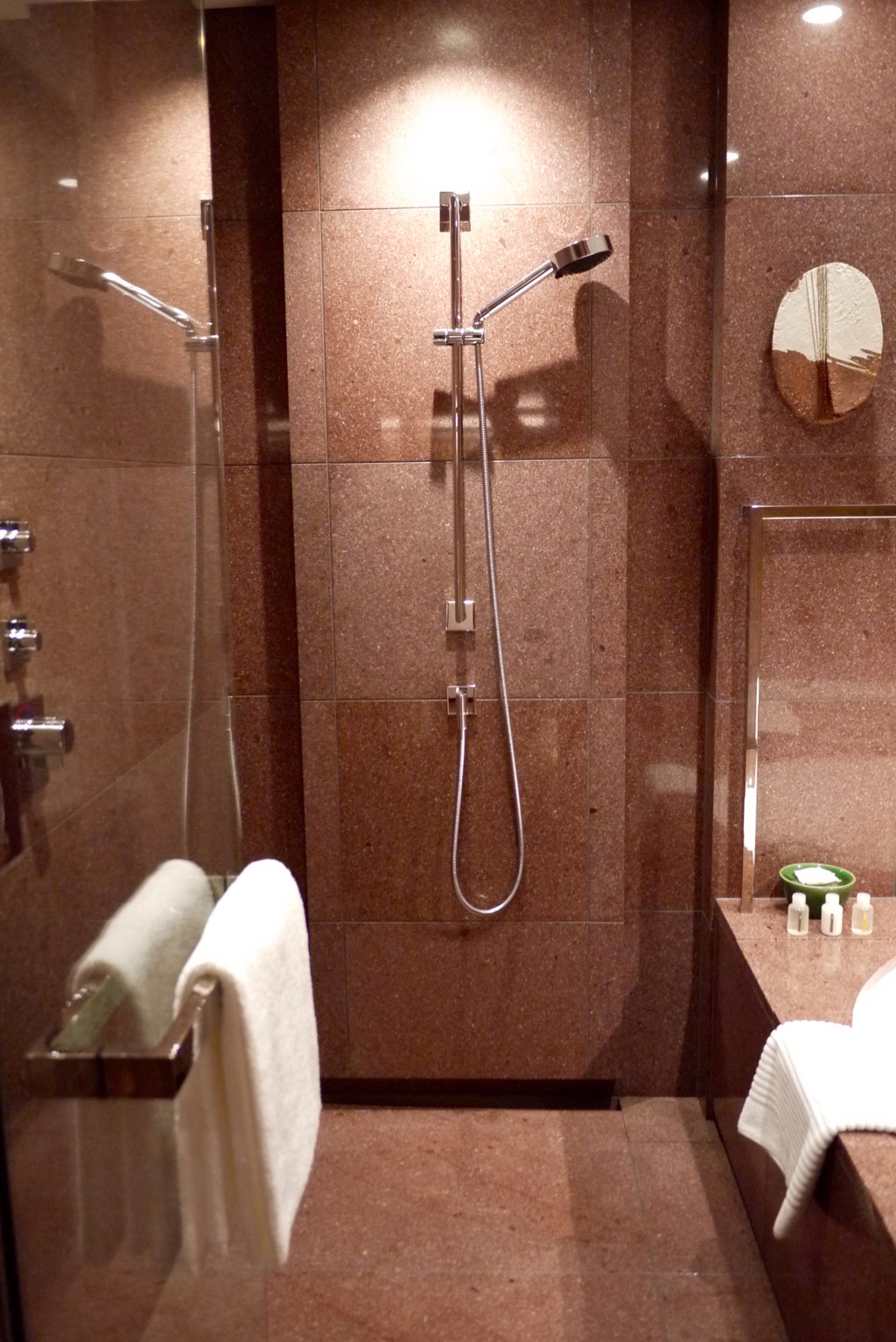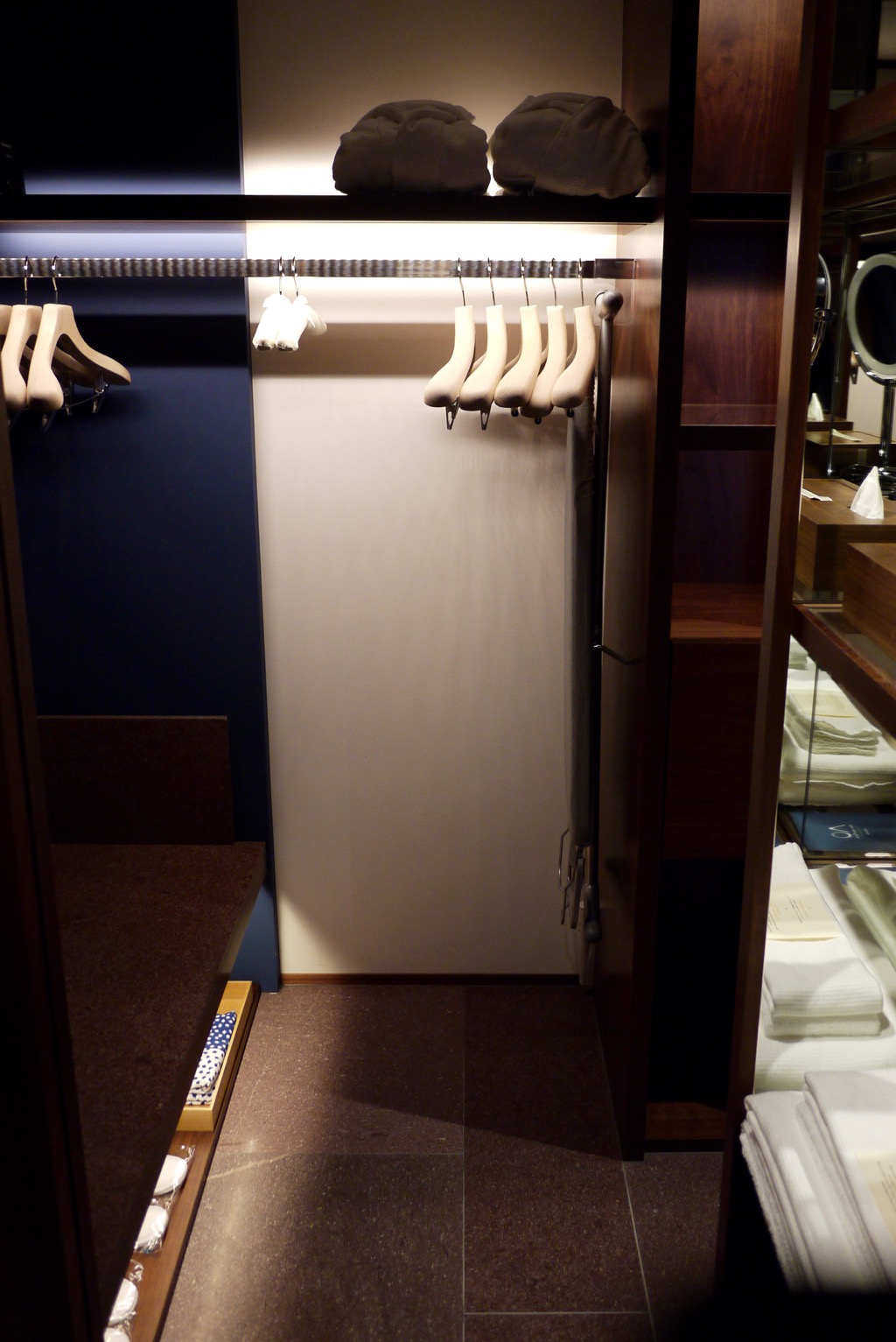 The bathroom amenities were perfectly packed into this wooden box, it felt wrong to take anything out.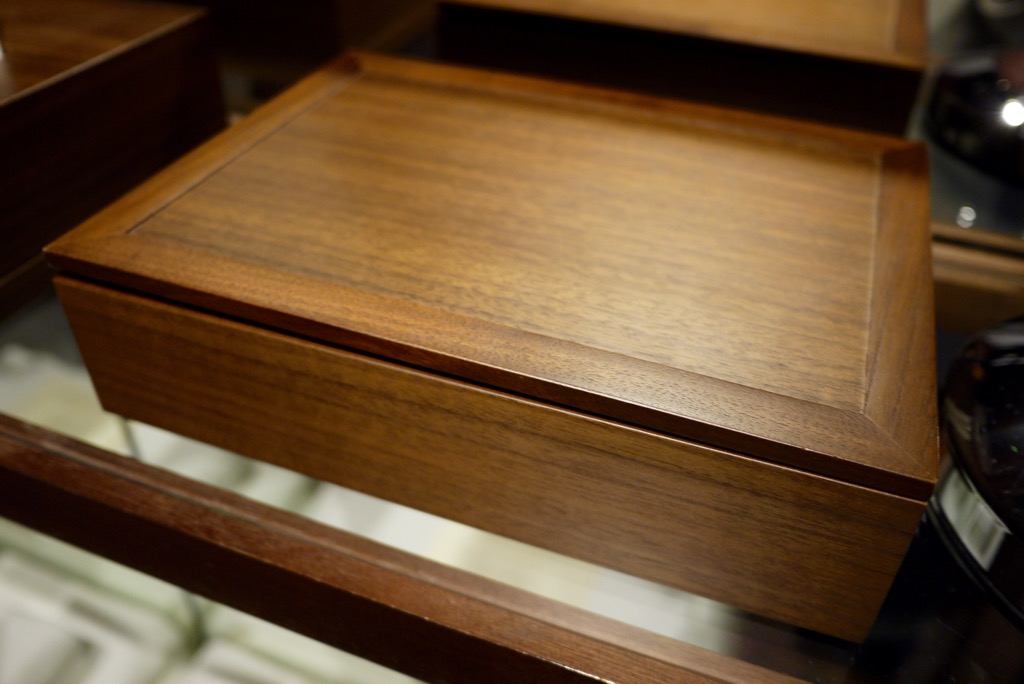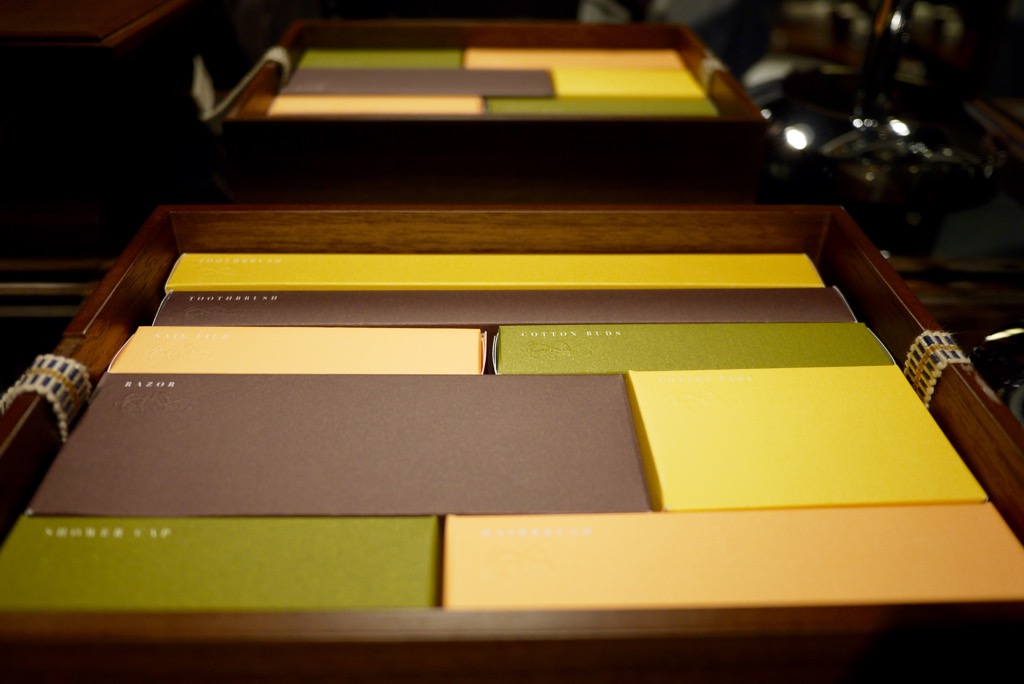 The Kimono-style dressing gown and matching slippers quickly found a home in my suitcase 🙂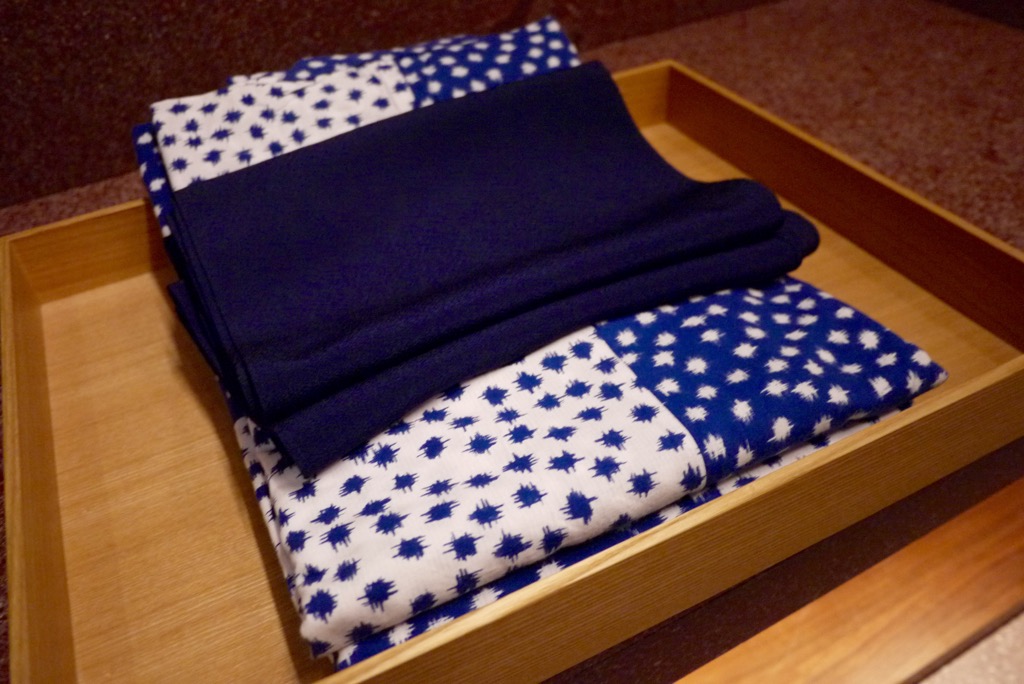 Room Service Breakfast
My travelling partner had an early departure to Narita the following morning – we shared an excellent room service breakfast.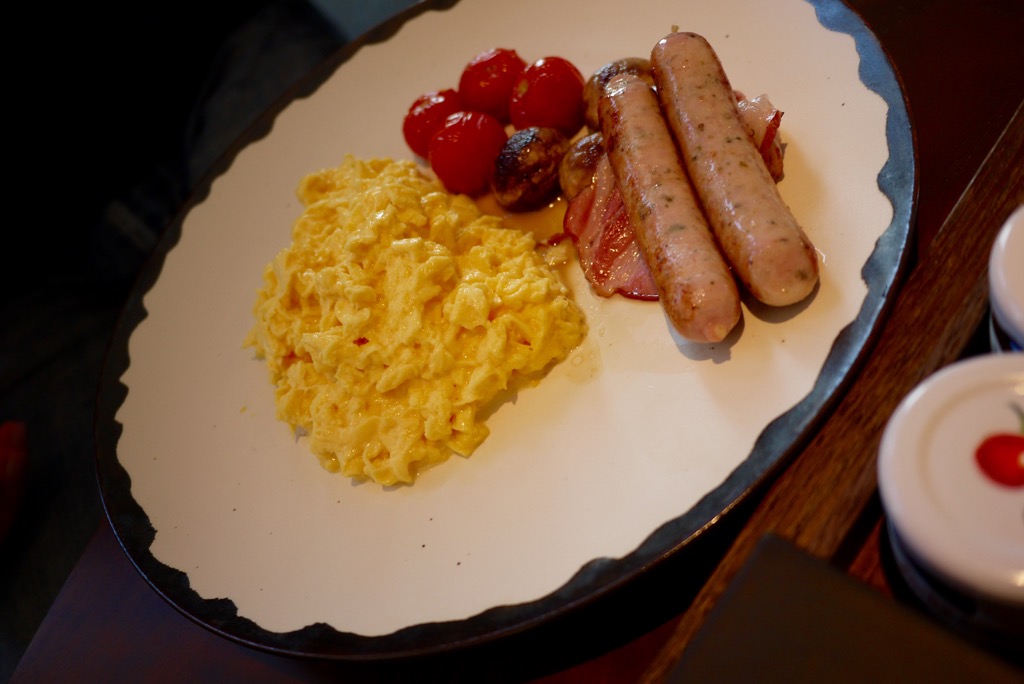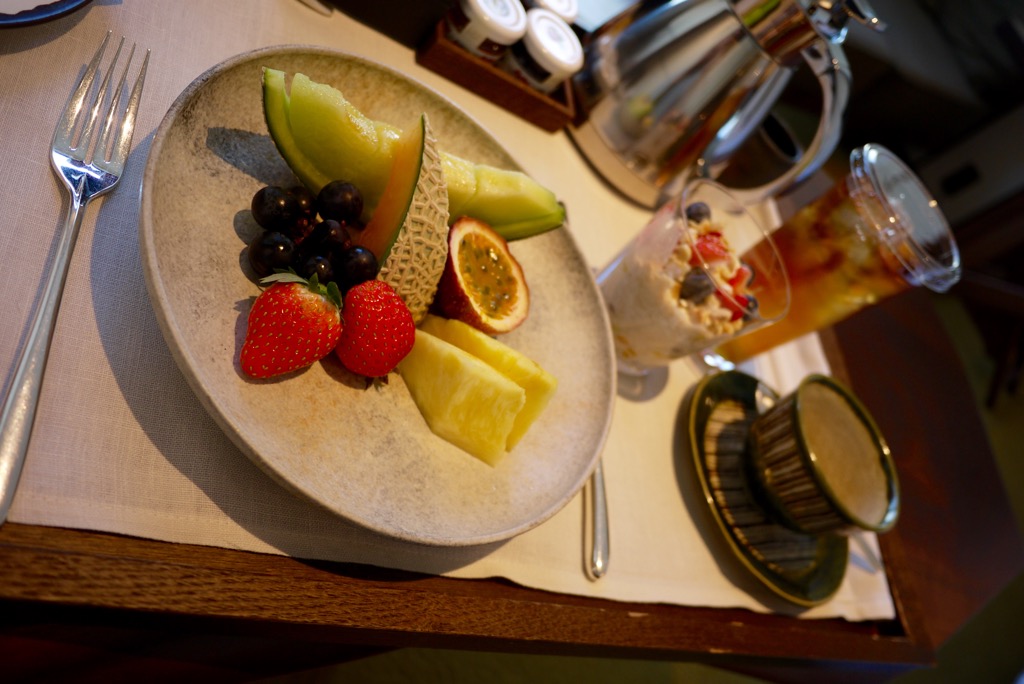 Our other Tokyo hotel reviews
Summing up – Andaz Tokyo Toranomen Hills
The Andaz Tokyo was one of the most amazing settings for a hotel I've ever stayed in – a 49th floor bunk room in this location would have been awesome too, but the room and hotel interior were architecturally striking.
I had one unfortunate incident where I'd booked a guide through the hotel to help me make the most of my day in Tokyo – but due to a mix up by the hotel, they were cancelled (and I was waiting for 45 minutes to find this out).
Compensation was in the form of 5,000 Gold Passport points which was fine, but still, not ideal. It was minor though, I still had a good time exploring some parts of Tokyo for myself.

I'd love to come back – but I imagine that if (when) I get to go to Tokyo again, I would stay somewhere new for the variety. However, for wow-factor, the Andaz had it in spades.
---
Some gratuitous skiing pictures, thoughts about Nozawa Onsen and skiing near Nagano
I didn't want to do a whole separate post on Nozawa Onsen, so here's a few thoughts on the place.
We decided on skiing near Nagano as we had limited time and wanted to enjoy Tokyo after skiing. Flying up to Hokkaido seemed like it would eat up too much time on the return to Tokyo to be able to enjoy the city.
However, getting there in the first place was not so easy, with a 6 hour minibus transfer ride having us arrive after midnight after the flight up from Sydney. With more time, it would have been tempting to do this the next day.

I'm a pretty good skier, and Nozawa fit the bill for a few days of great skiing and powder. I'd say with good conditions we could have skied here happily without getting bored for 5 or 6 days.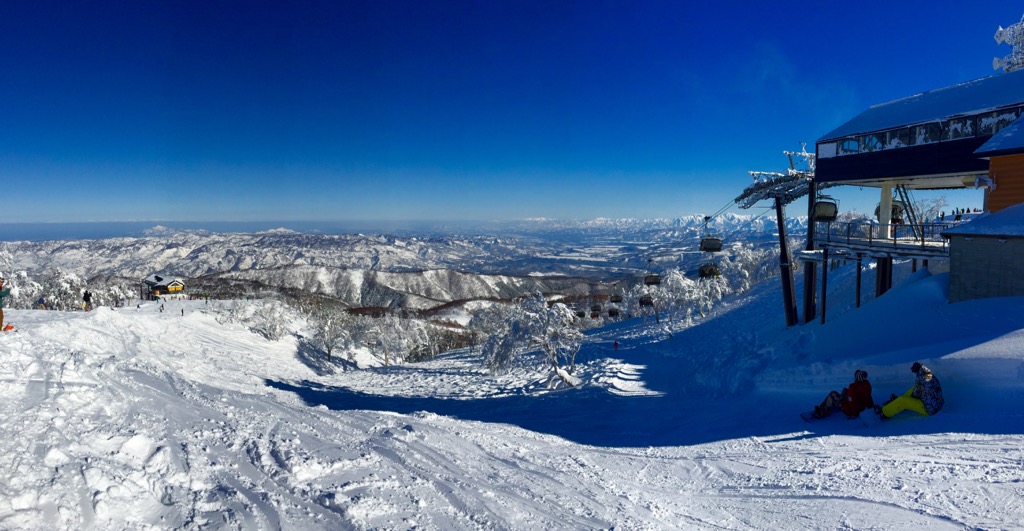 We really enjoyed Nozawa town with a small village feel to the place.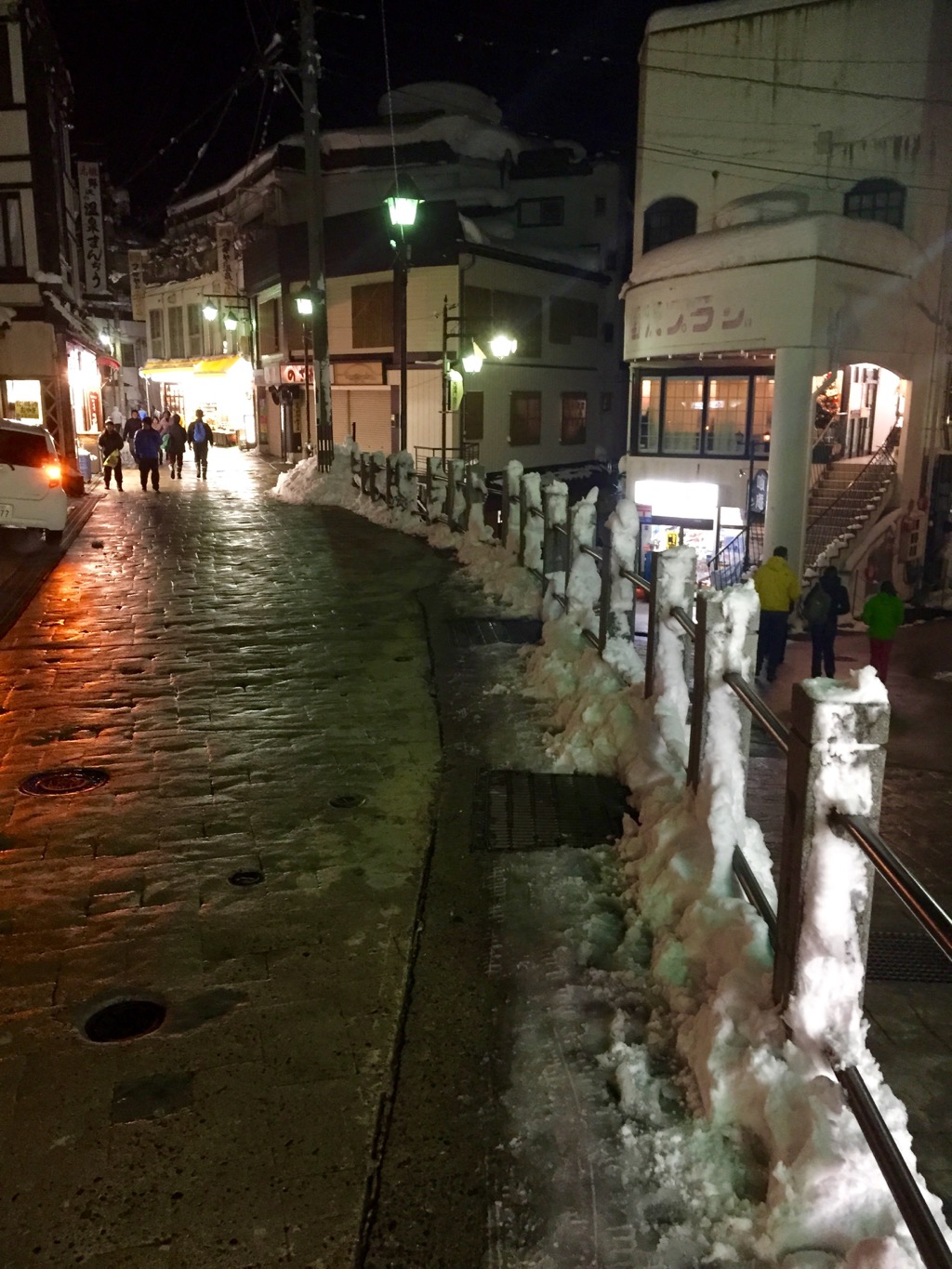 We sampled some great Japanese food, including a restaurant specialising in small, tapas-like dishes: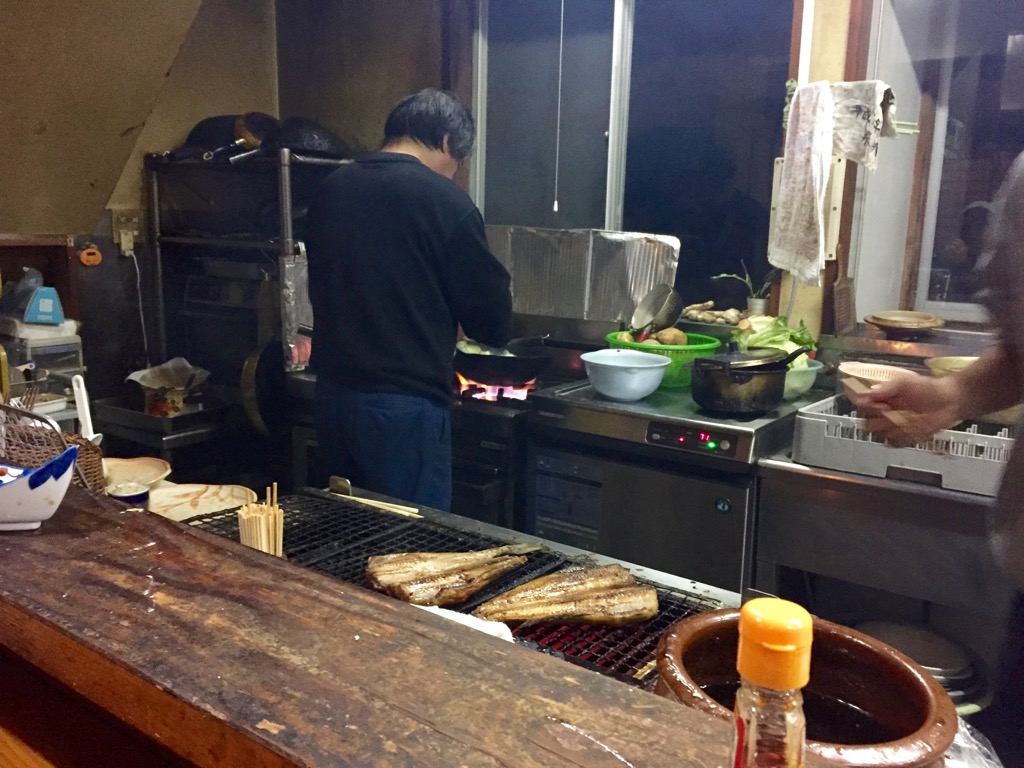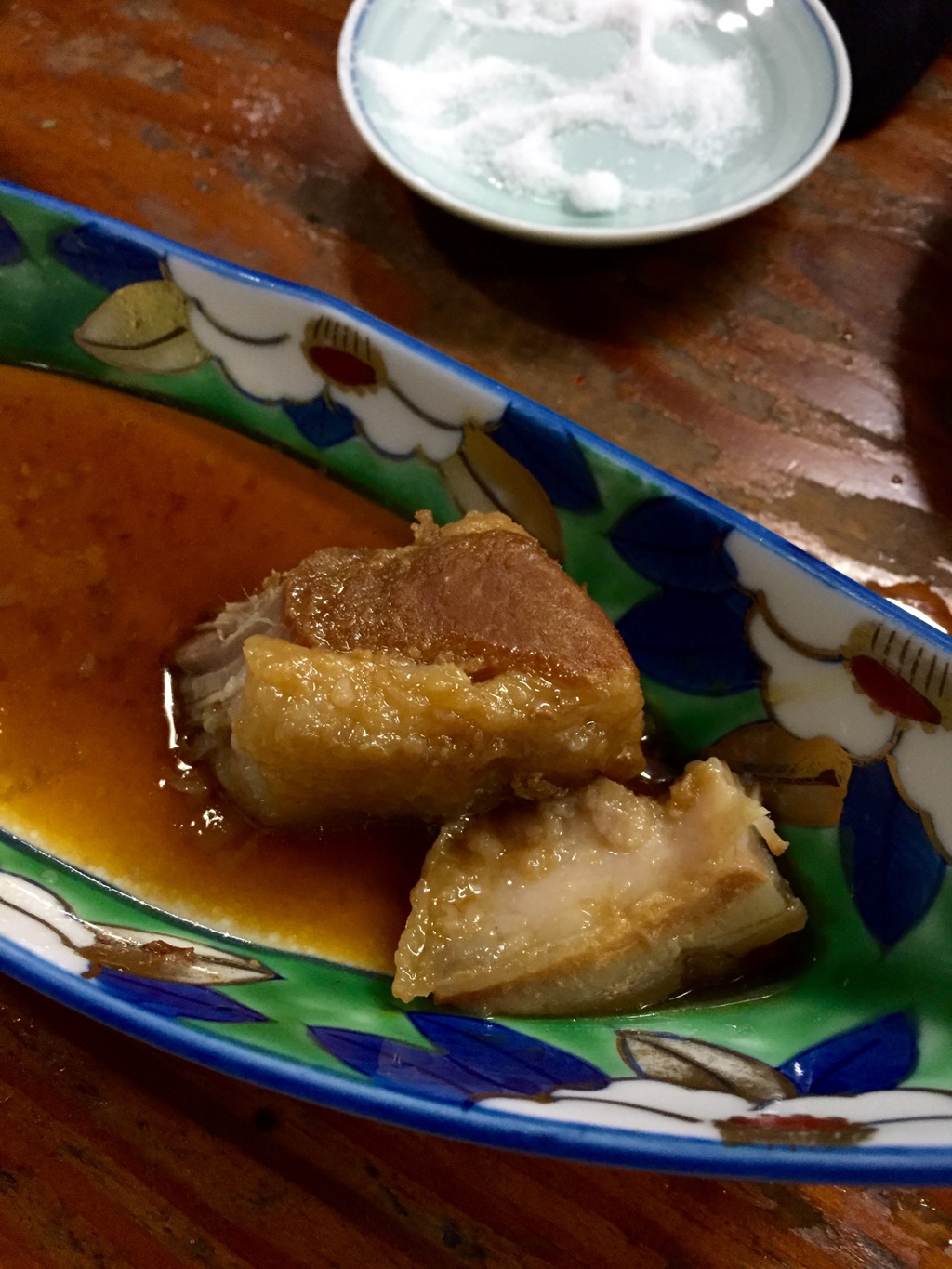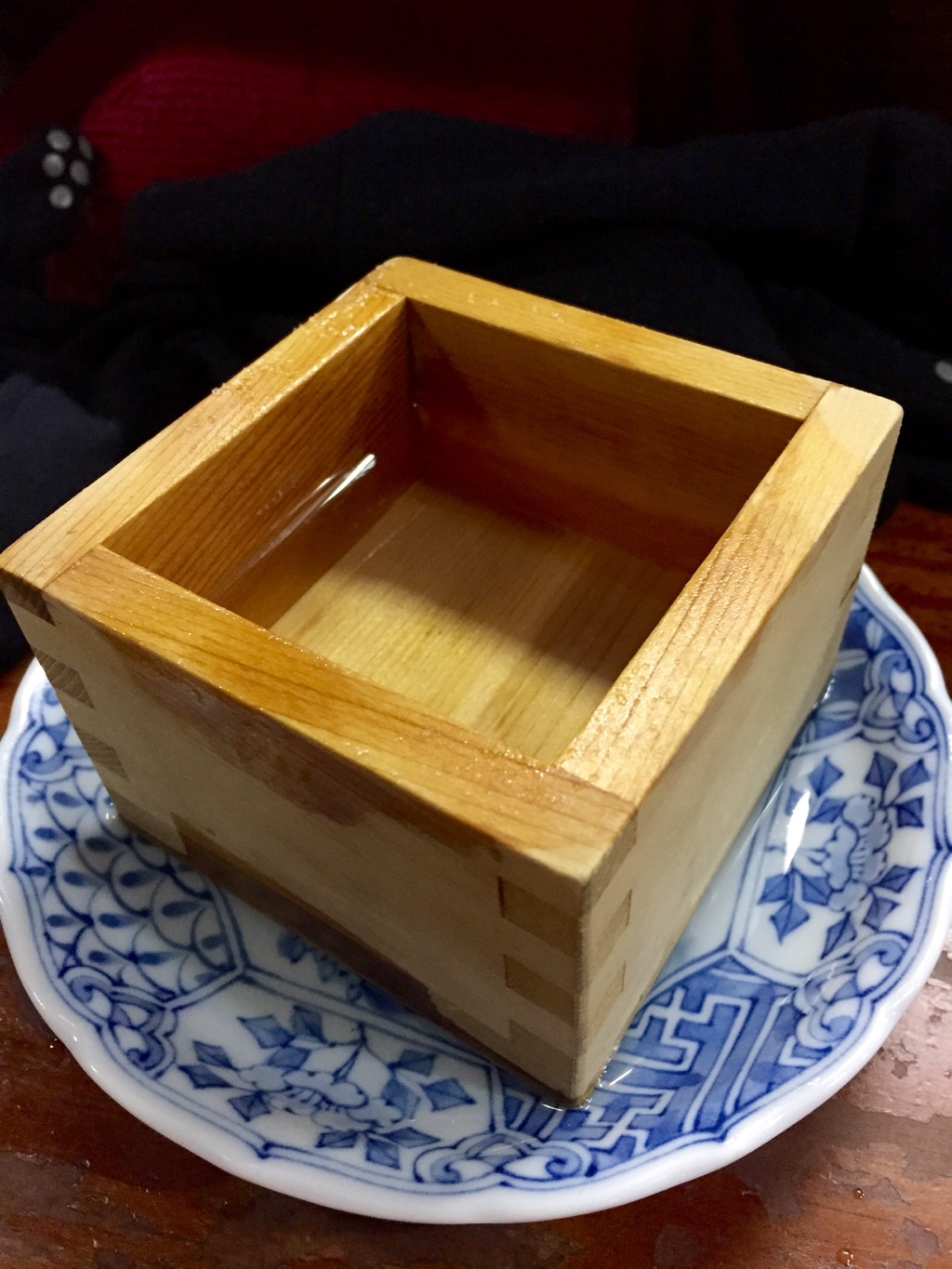 There was of course, Onsens… (no inside pictures – thankfully)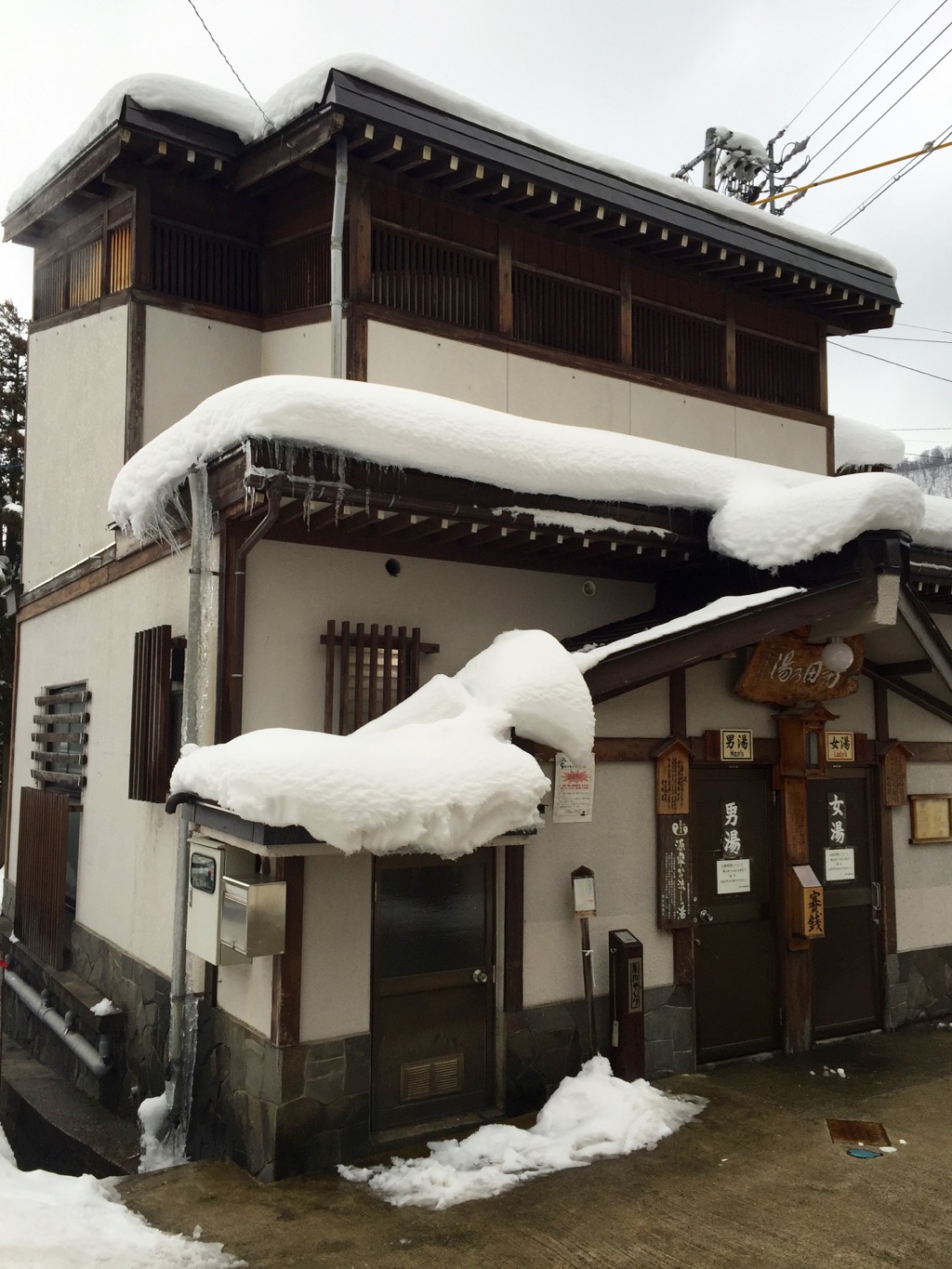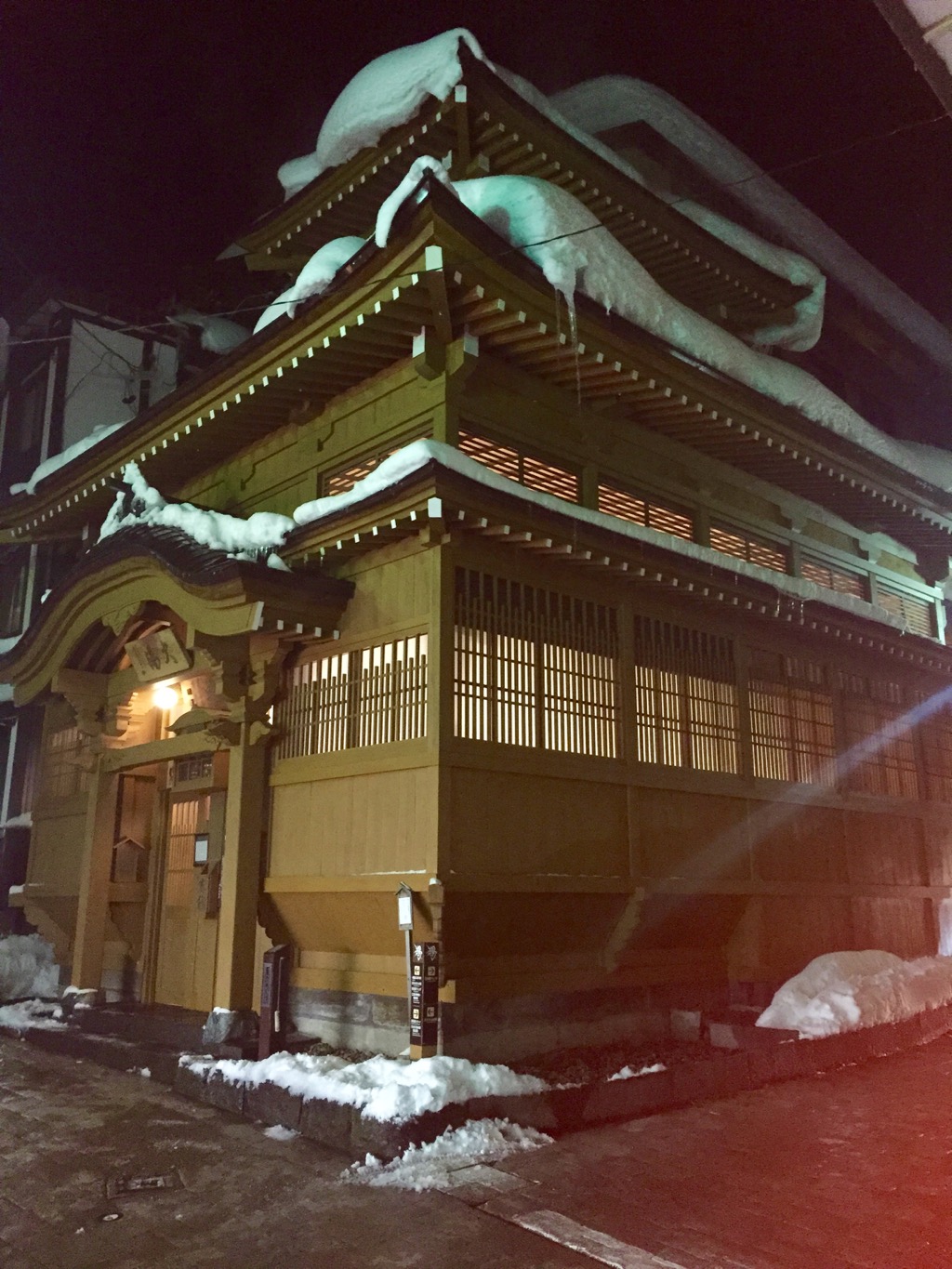 The Shinkansen back to Tokyo from Nagano was much more comfortable than the minibus transfer down.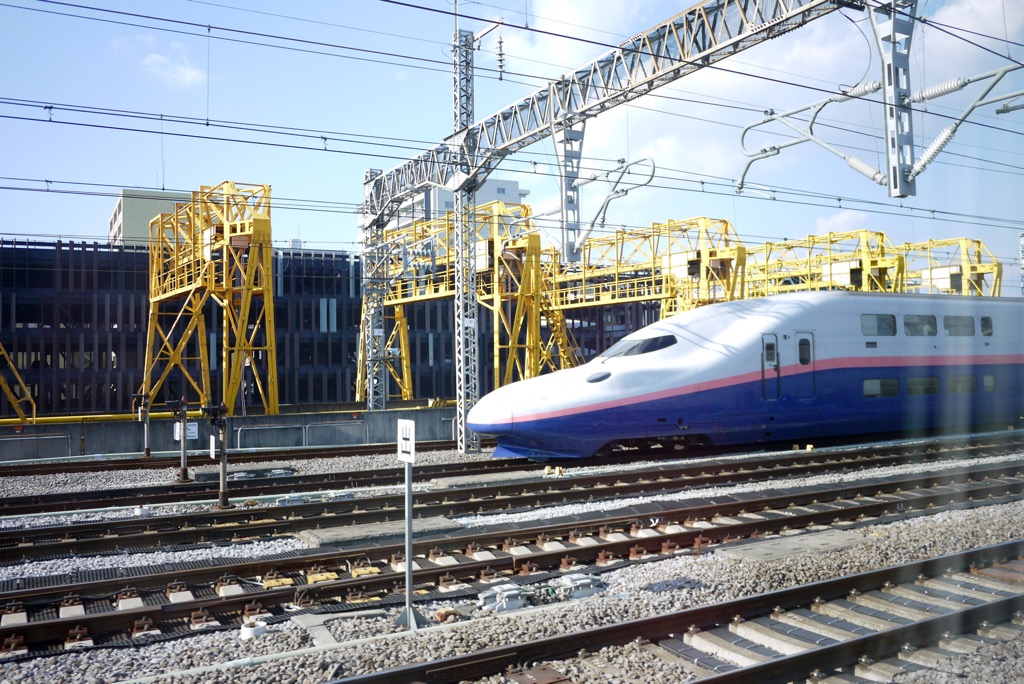 All in all, it felt like a really authentic Japanese town, although I'd go somewhere different second time around simply for a new ski experience.
Andaz Tokyo Hotel Review – 49th floor luxury in a Double Deluxe room at Toranomon Hills
was last modified:
February 23rd, 2022
by