Following a week-long snowboarding trip to Hakuba, my wife and I spent the remaining eight days in one of Tokyo's busiest and liveliest districts—Shinjuku.
This review includes information about the Hilton Honors loyalty program and associated benefits.
---
This content contains affiliate links, through which Point Hacks may earn commissions from transactions such as new customers, bookings and enquiries. Further information on our advertising policy can be found here.
---
Hilton Tokyo King Premium Room – Picture Review
was last modified:
June 18th, 2020
by
Hotel status benefits
At the time of booking, I leveraged my Starwood Preferred Guest Gold status to match equal status with Hilton's hotel reward program.
Requesting to match your membership status with another loyalty program is straightforward. Here is our guide to status matching with Hilton Honors.
Research & Booking
The Hilton Tokyo is ranked #3 out of 92 properties within the area on TripAdvisor. Located in the heart of Tokyo, the Hilton is central to some of the city's busiest shopping and entertainment districts. The hotel offers a complimentary shuttle service every 20 minutes to Shinjuku Station— but, even better, the Tokyo Metro is conveniently connected to the hotel.
At the time of booking, a night in the King Deluxe Room cost just over AU$400.
The lovely Yuki was kind enough to upgrade us to the King Premium room, which averages $430 per night. It should be noted that Gold member room upgrades (when available) do not include the Executive or Executive Suites, as these are reserved for Diamond Members only.
The room: King Premium
Despite being compact and visibly small upon first inspection, rooms are designed with enough space to stow open luggage on the in-built stand and another on the floor with ample walking space without feeling cramped.
Fitted with a king-sized bed, a lounge chair, desk and desk chair and a 40-inch flat screen television, the room provided a warm, enjoyable stay with little sacrifice in comfort.
The room is also equipped with the usual hotel essentials, including an ironing board, iron, kettle, and an assortment of teas and coffees and a fully-stocked fridge.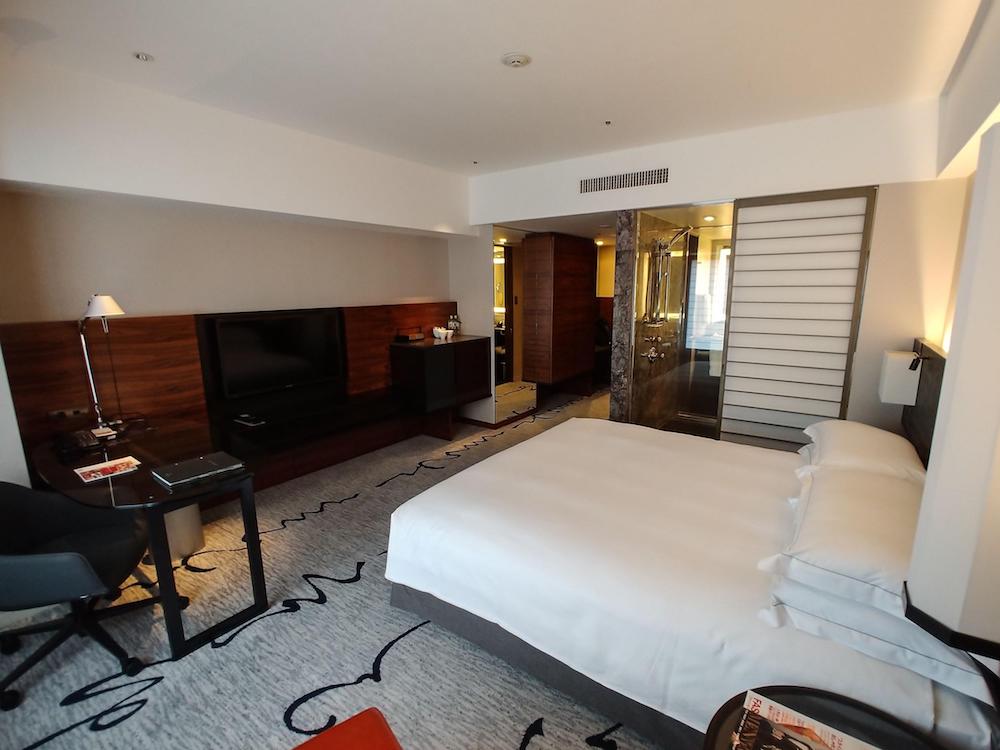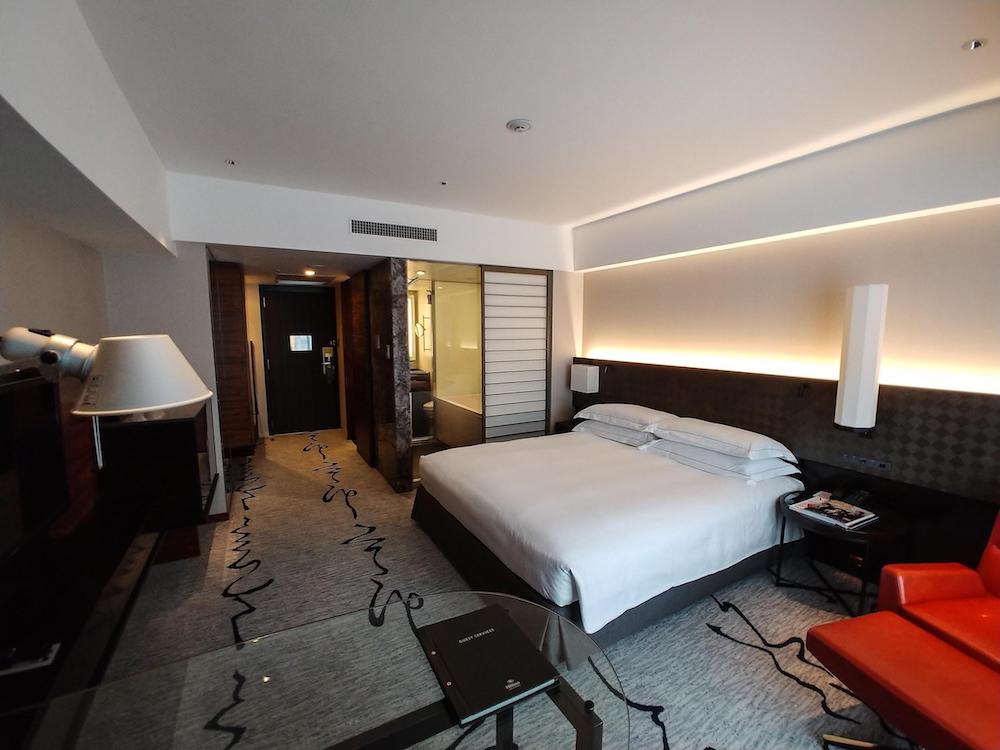 The bathroom features a walk-in shower and a deep bath. Water pressure and temperatures were strong throughout our stay. The vanity space was a little small to store personal toiletries and makeup.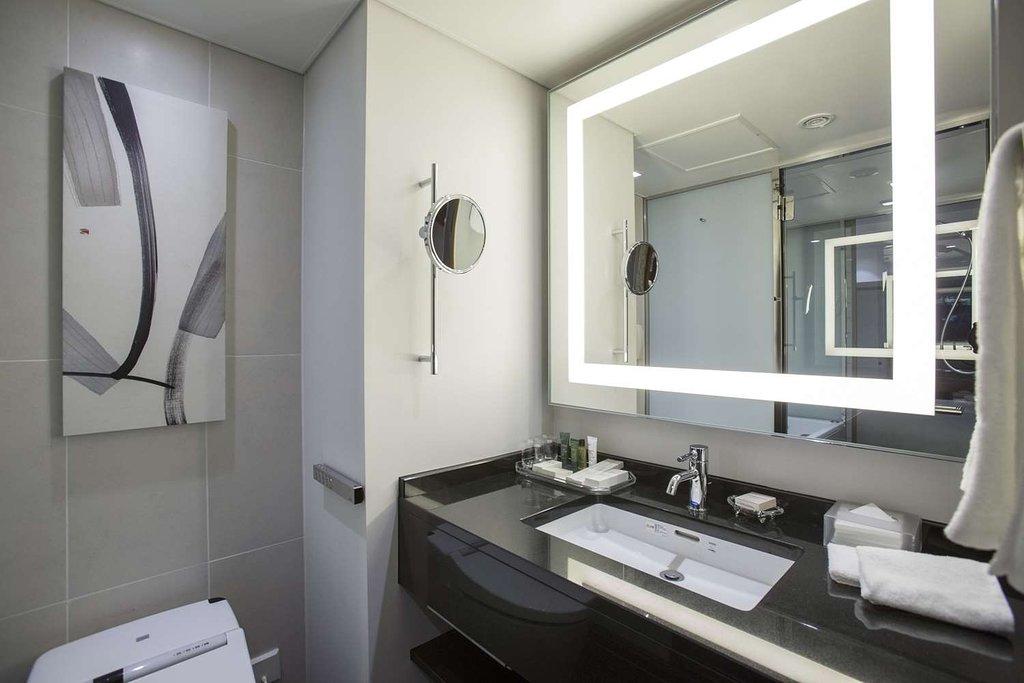 The Hotel
Hilton Tokyo's design aesthetic is uninterrupted and strongly aligns to the Japanese flavours of complex simplicity and clarity, which can be seen throughout the hotel.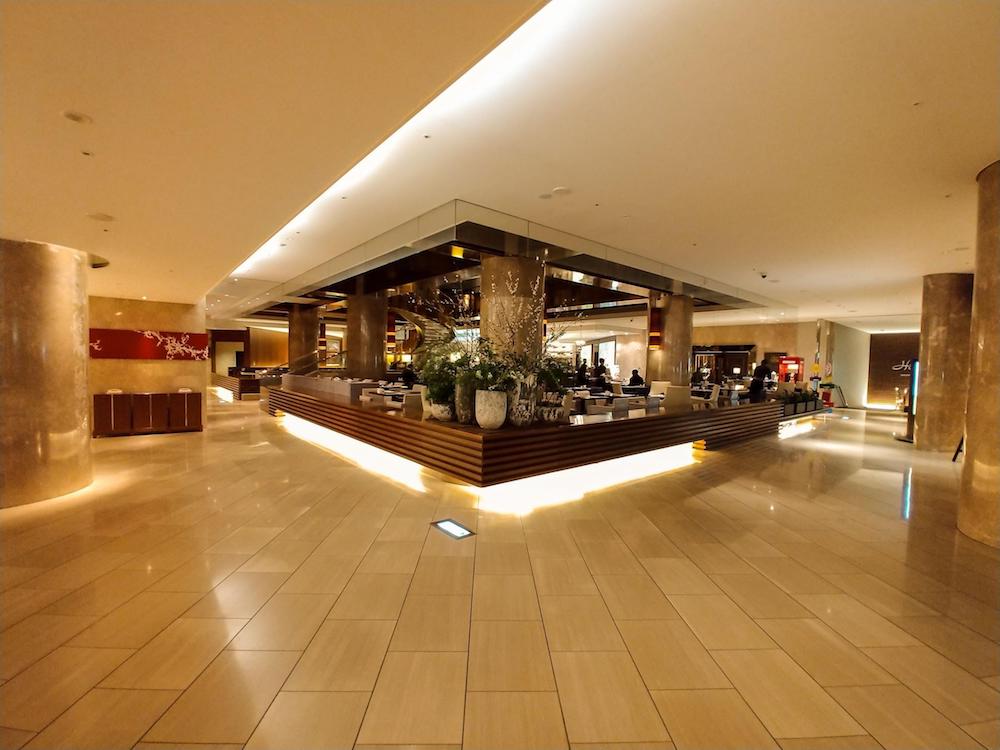 Returning to the room after a short wander, we were pleasantly surprised to find a welcome card and an assortment of petit four desserts.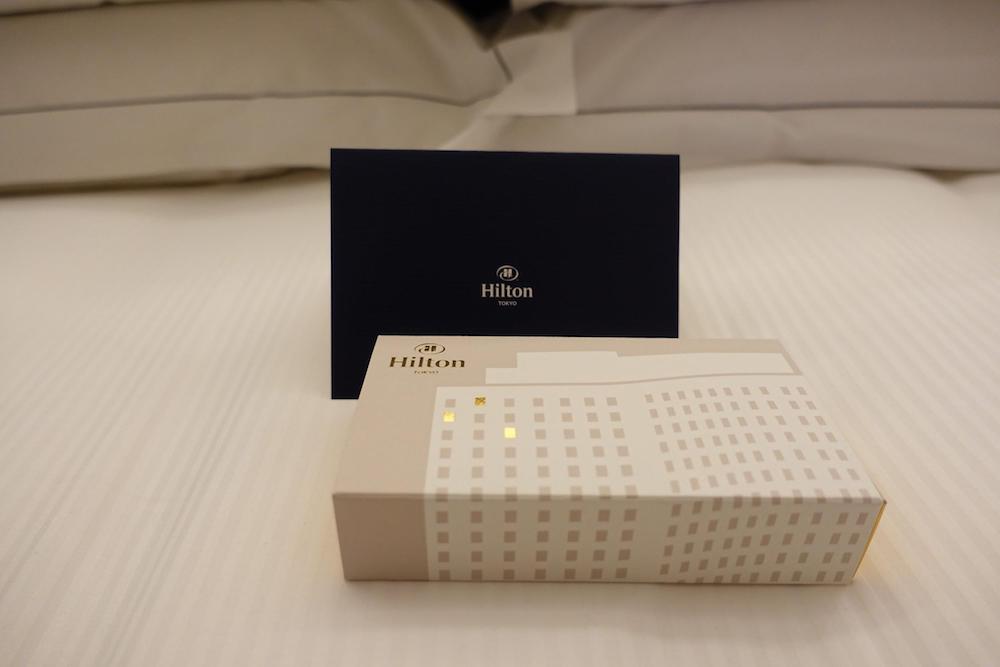 Member benefits
Located on the 37th floor, the Executive Lounge provides a sweeping view over Tokyo and Mt. Fuji on a clear day. The lounge is open throughout the day, serving complimentary breakfast and evening cocktails to those with elite status.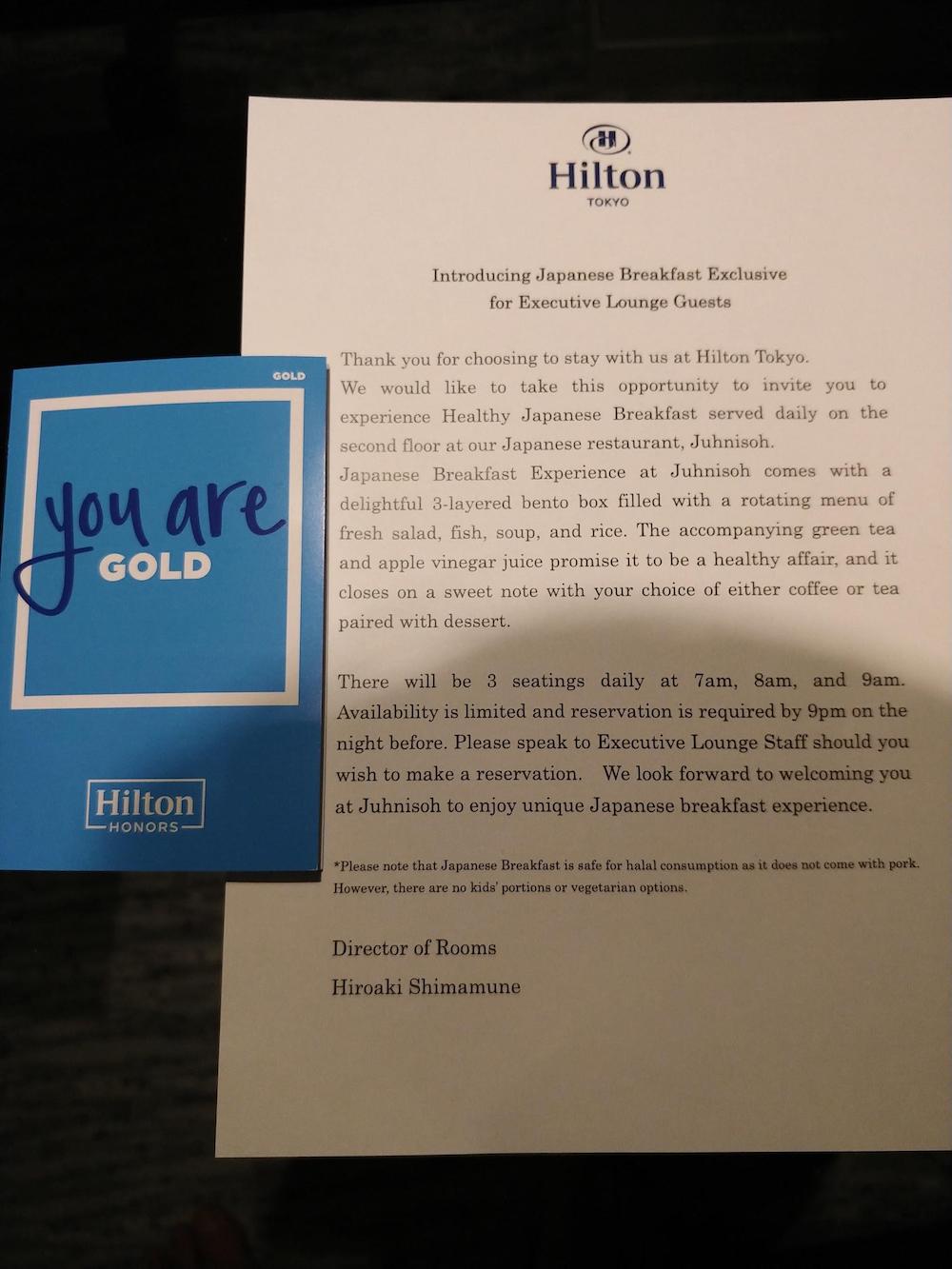 The hotel's Executive Lounge is a pleasant escape for those not interested in gorging on plates at the buffet. Despite the limited variety of breakfast options, the lounge offers light breakfast meals, ranging from fluffy pancakes, made-to-order omelettes to assorted pastries, yoghurts and freshly-squeezed orange juice.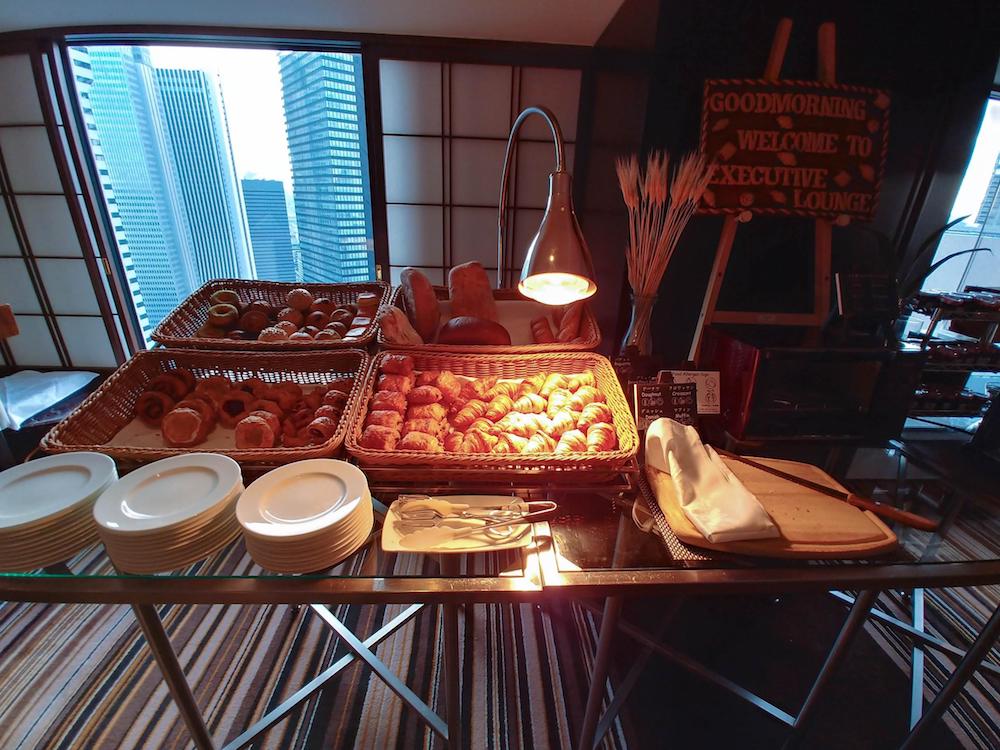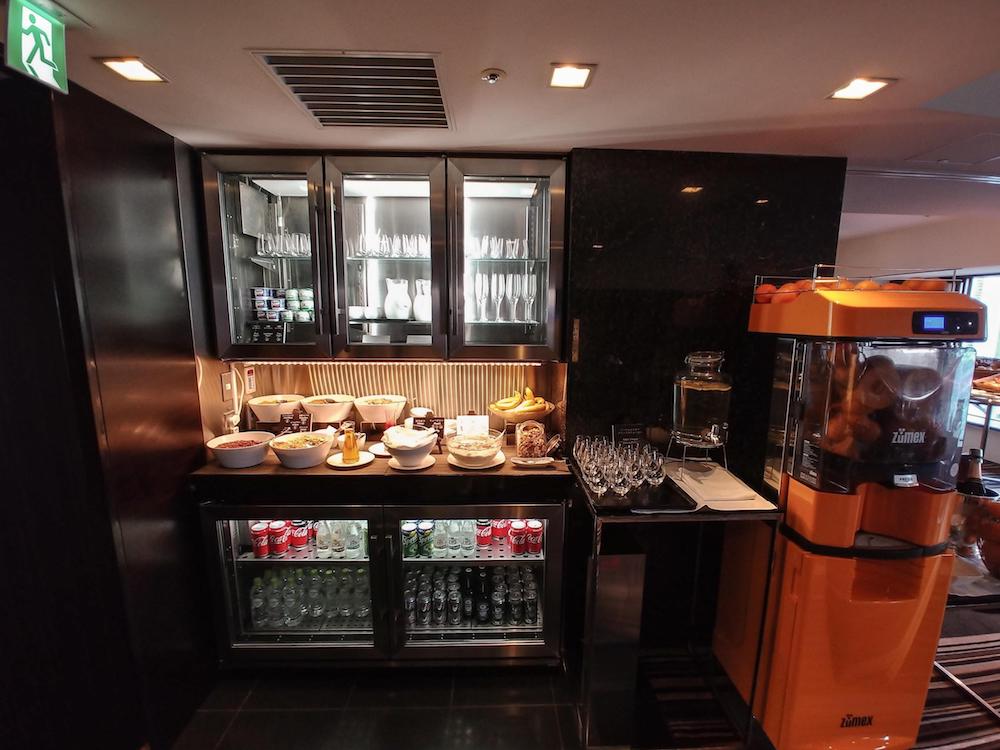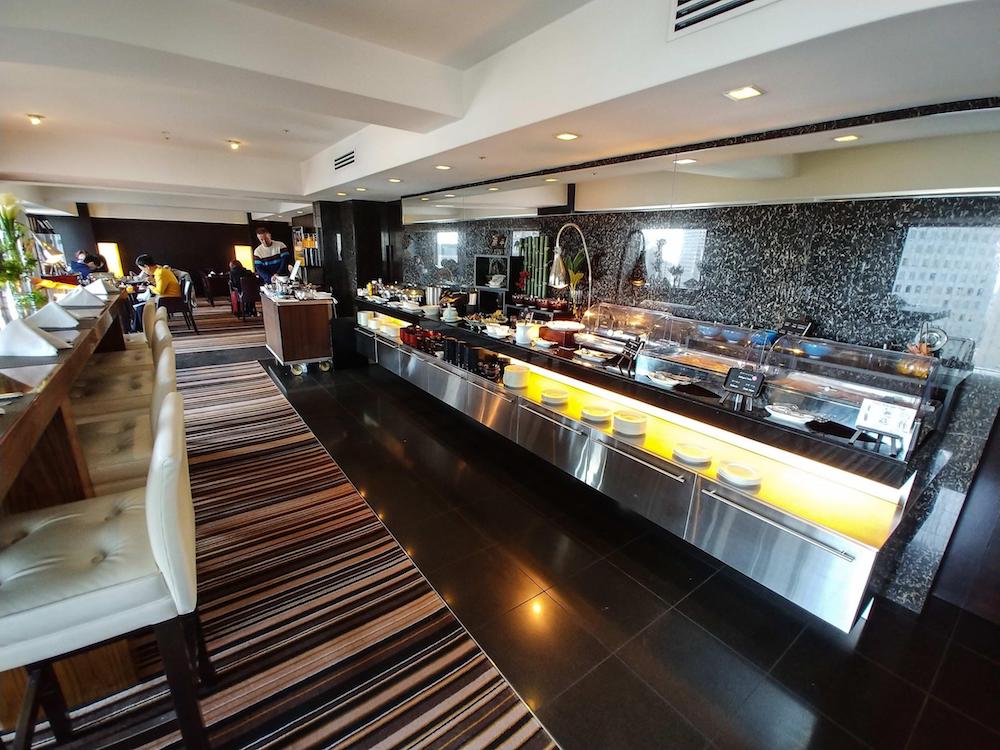 Members are also offered a traditional Japanese breakfast experience at the restaurant, Juhnisoh.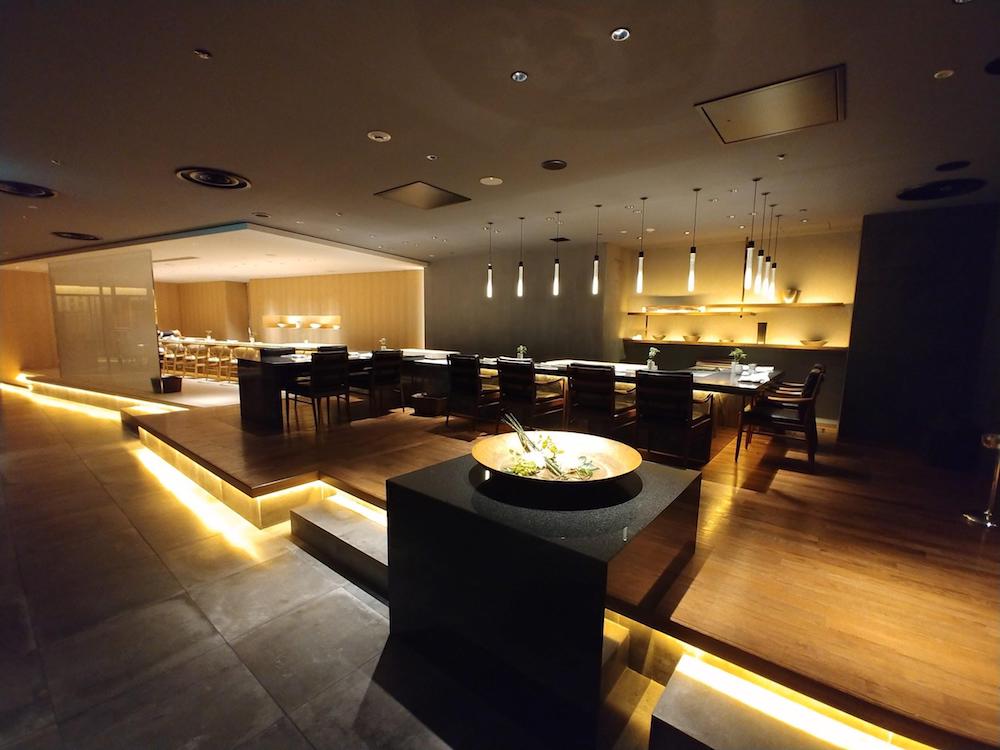 Kick-starting the day at Juhnisoh is a welcome treat. The healthy breakfast is an interesting and unexpected experience, bringing together traditional Japanese flavours to create a deliciously light and satisfying meal.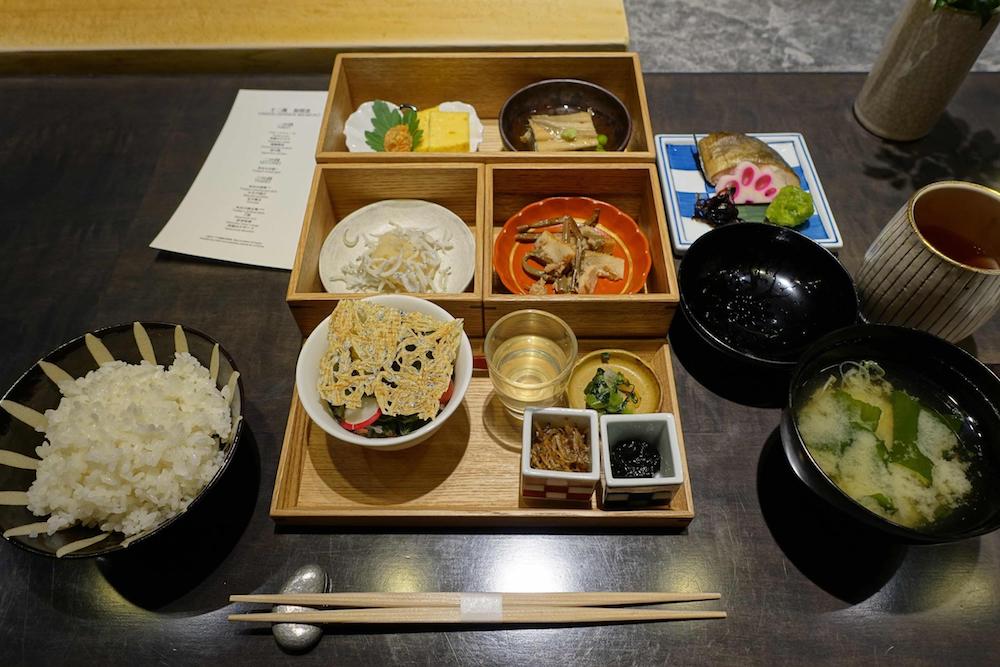 In the evenings between 6pm and 8pm, the lounge offers a wide selection of wine, beers and spirits, along with a small assortment of canapés.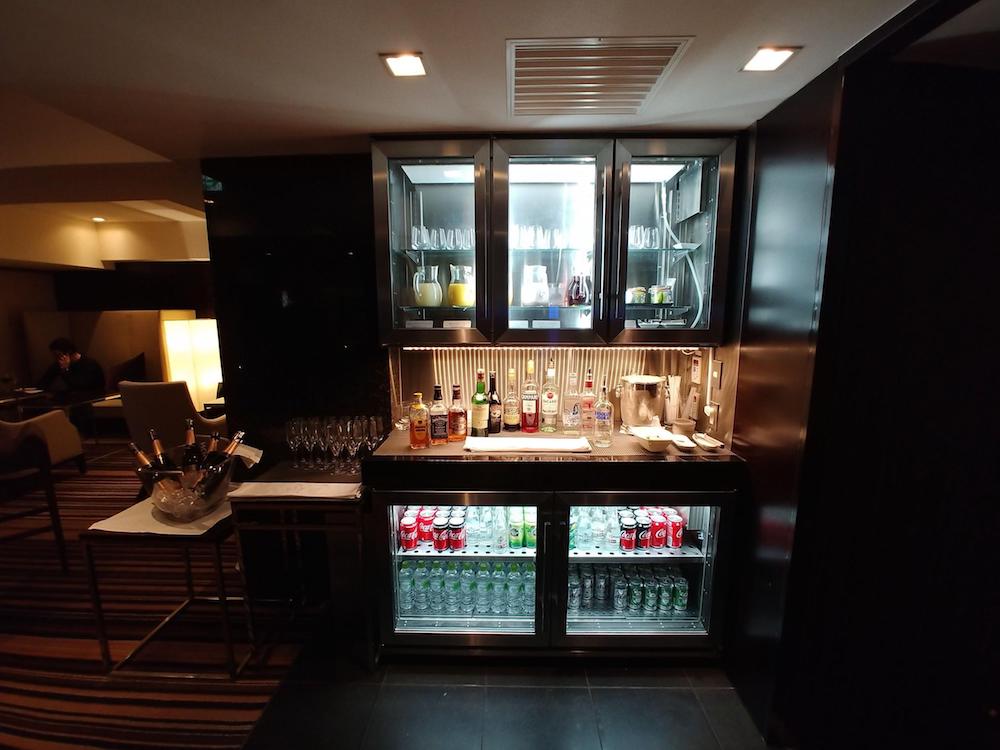 Our other Tokyo hotel reviews
Our other Hilton group reviews
Summing up
The Hilton Tokyo is an excellent hotel that offers a range of dining options, including an extensive food court on the lower ground that connects the hotel and the subway. The hotel's buffet breakfast caters to a variety of cuisines, that will leave the pickiest of guests satisfied.
One of the main benefits of the hotel is its central location and accessibility to popular districts via their shuttle service or the interconnected subway system minutes from your room.
Paired with the hotel staff's incredible attention to detail and the concierge team's warm hospitality, I would highly recommend staying at the Hilton Tokyo.
Hilton Tokyo King Premium Room – Picture Review
was last modified:
June 18th, 2020
by