Darwin's bustling Waterfront Precinct is the place to be, the next time you find yourself staying in the capital city of Australia's Top End. Apart from being amongst all the action, the Adina Apartment Hotel in Darwin is also the perfect launchpad for travelling on The Ghan, which you can book with Qantas Points.
I'll be forward – the rooms aren't particularly exciting. But as its name suggests, the apartments come equipped with a kitchenette so it could tick boxes for work trips and longer stays.
In this review, I'll take you through a Premier Studio room, as well as some of the amenities on offer at the Adina Apartment Hotel Darwin Waterfront.
Hotel location & first impressions
You'll find the Adina Apartment Hotel Darwin Waterfront on Kitchener St, right on the outskirts of the Waterfront area. Its sister property – the Vibe Darwin Waterfront – is also located here and shares the same lobby. Speaking of which, the space is fresh and inviting, thanks to modern lighting and furniture.
As a rule of thumb, book the Vibe if you're here for a short stay and want a modern hotel room. Otherwise, consider the Adina Apartment Hotel if you want more space or will be in Darwin for more than a few days.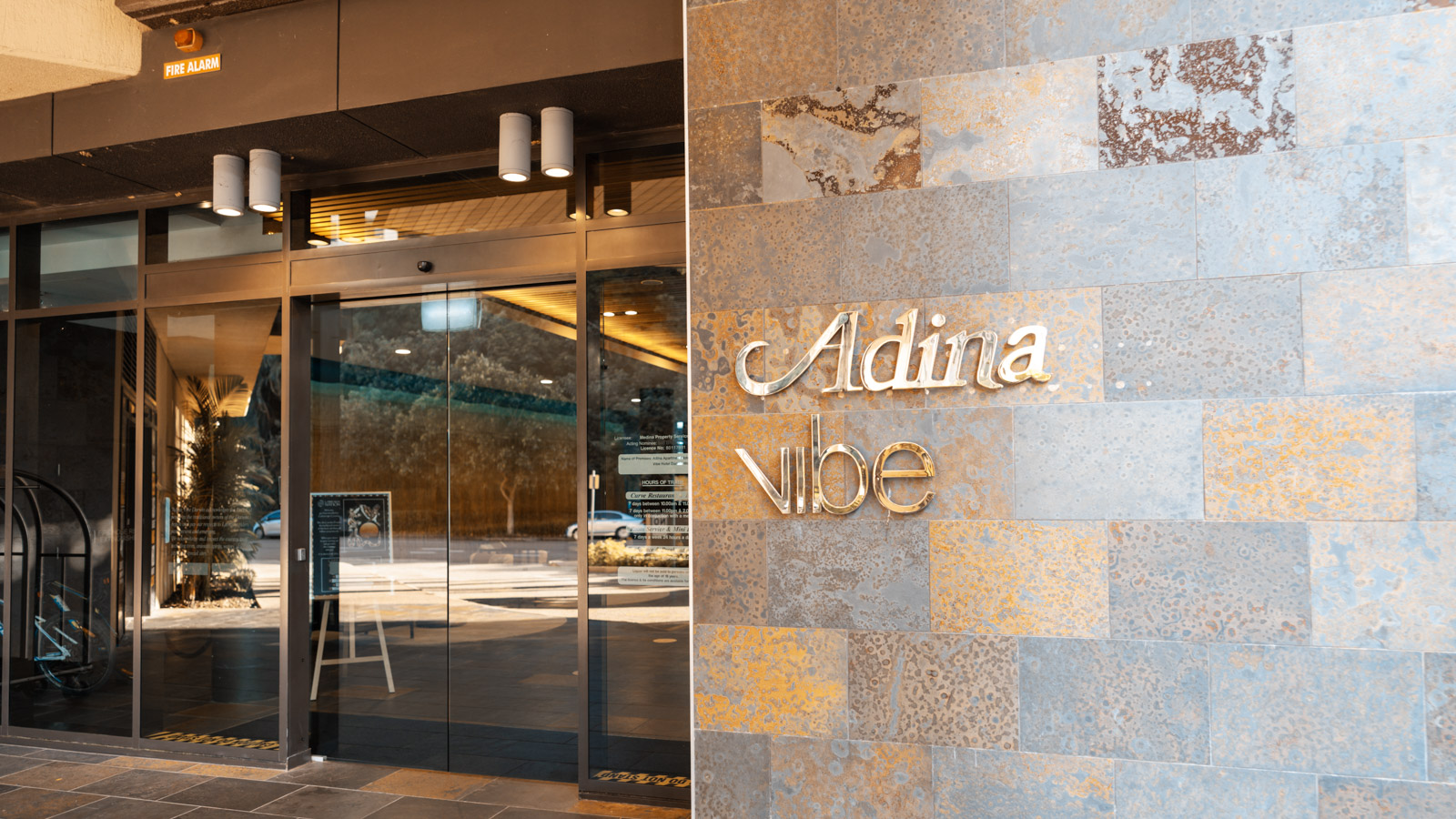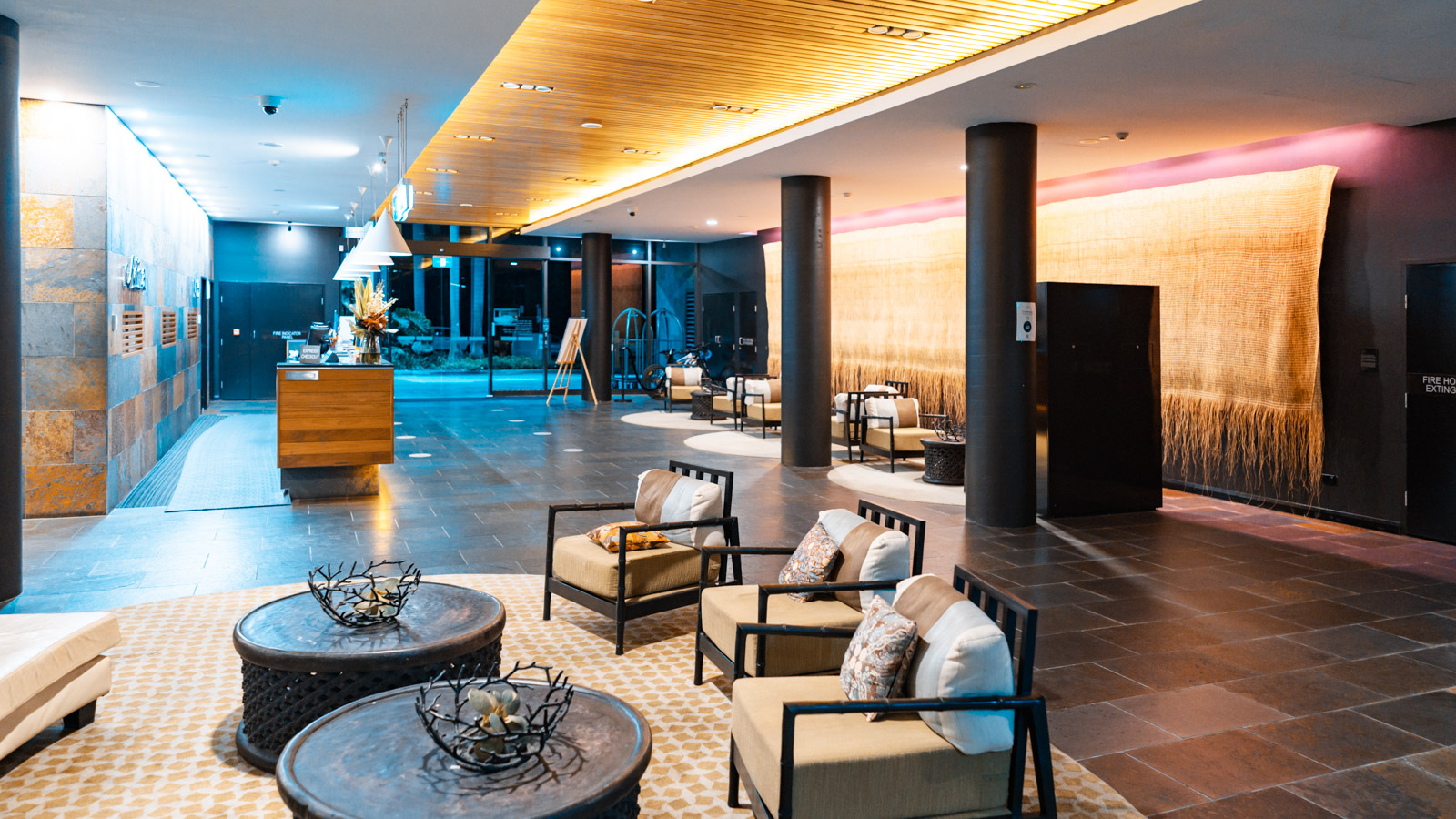 Adina's location is great if you're here for leisure. But if working around the CBD area is your main focus, then perhaps there are other business-oriented hotels you can explore, such as the Hilton Darwin.
Exploring the Premier Studio room
The space
My Premier Studio room is just on the first floor. But at least I can catch a glimpse of the Waterfront outside the windows. The 35sqm space is certainly spacious enough for two people. Apart from the standard bed and work table, these Studio rooms are also outfitted with a sofa, dining table and kitchenette – certainly handy for longer stays!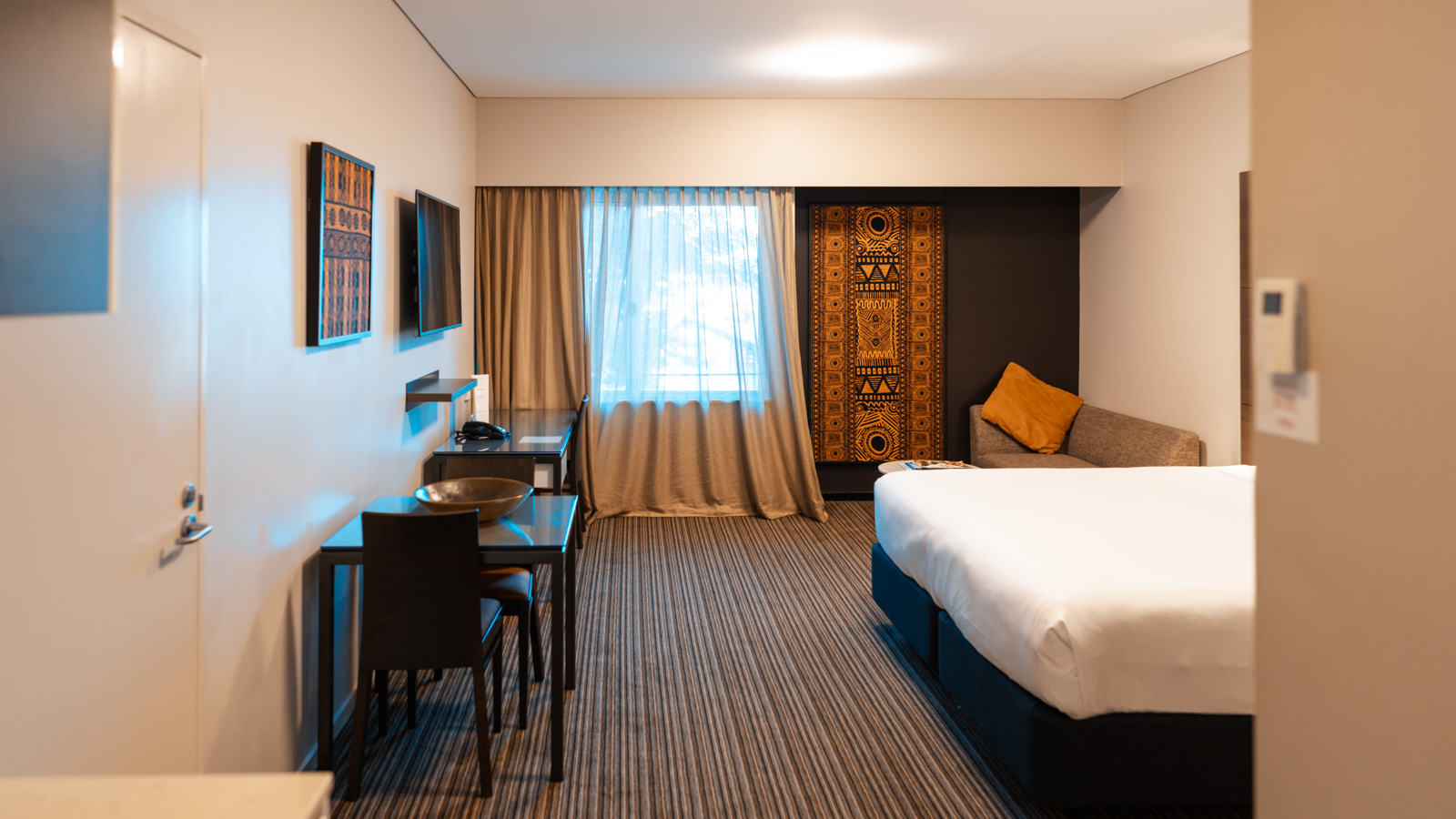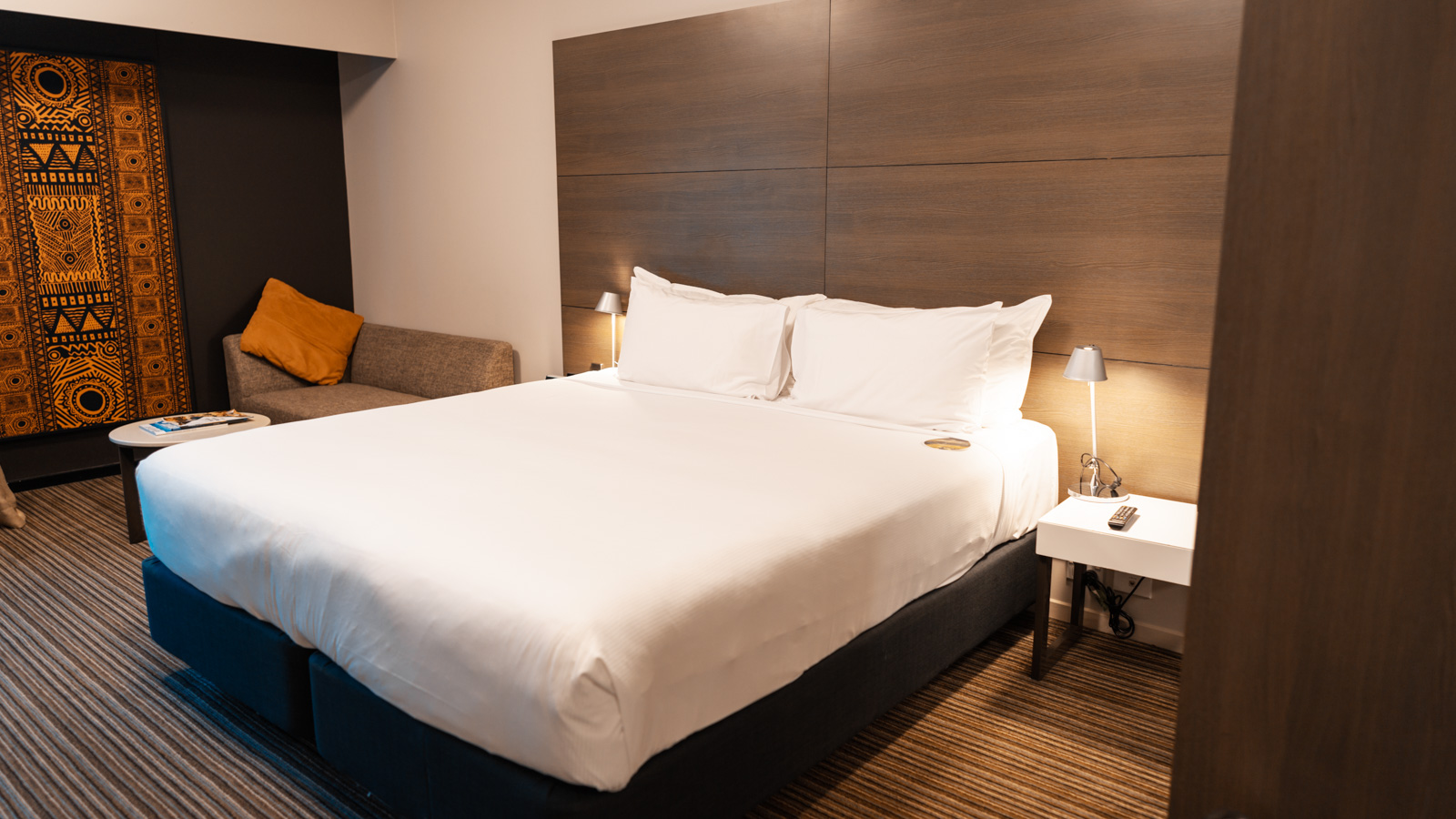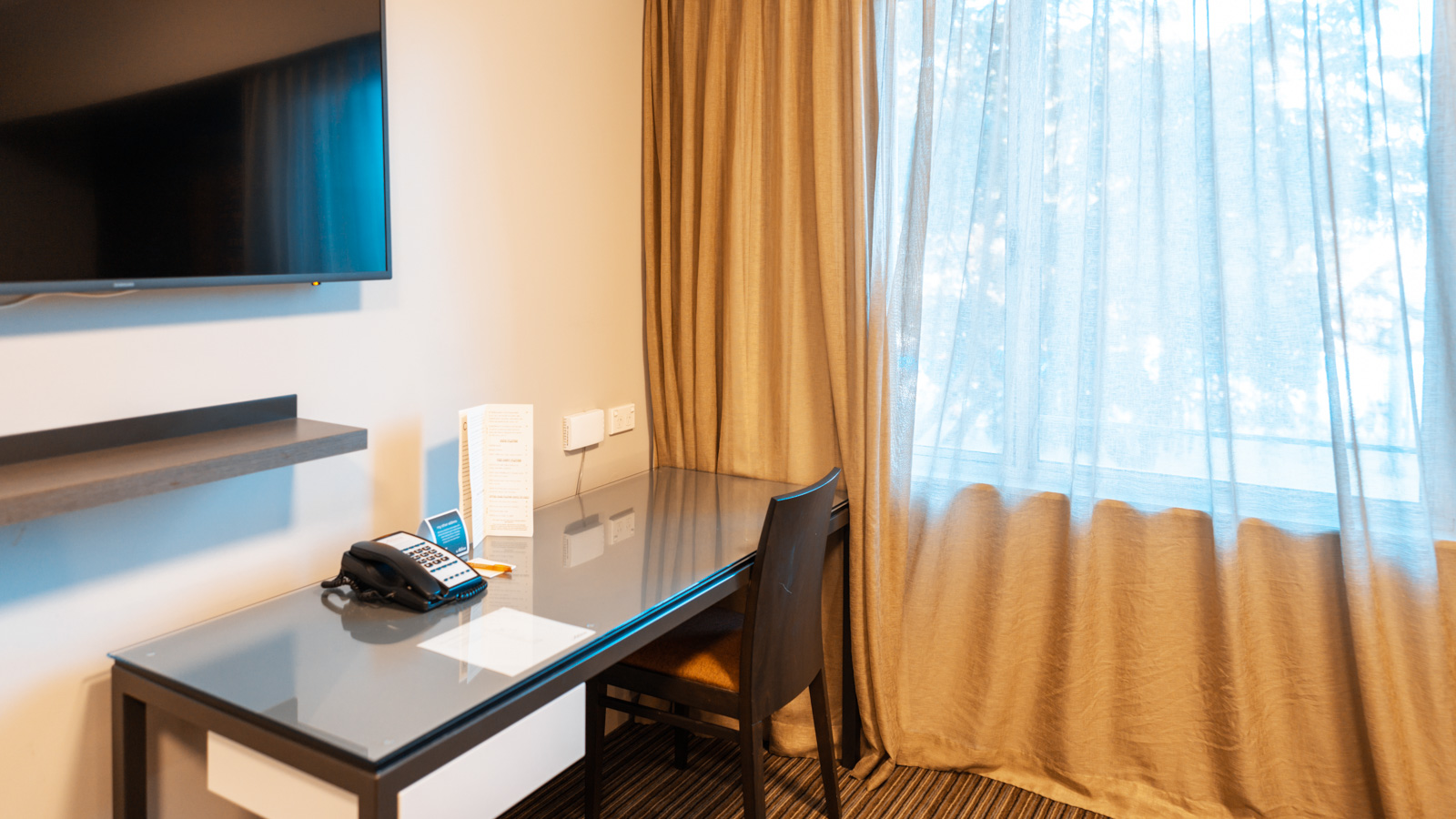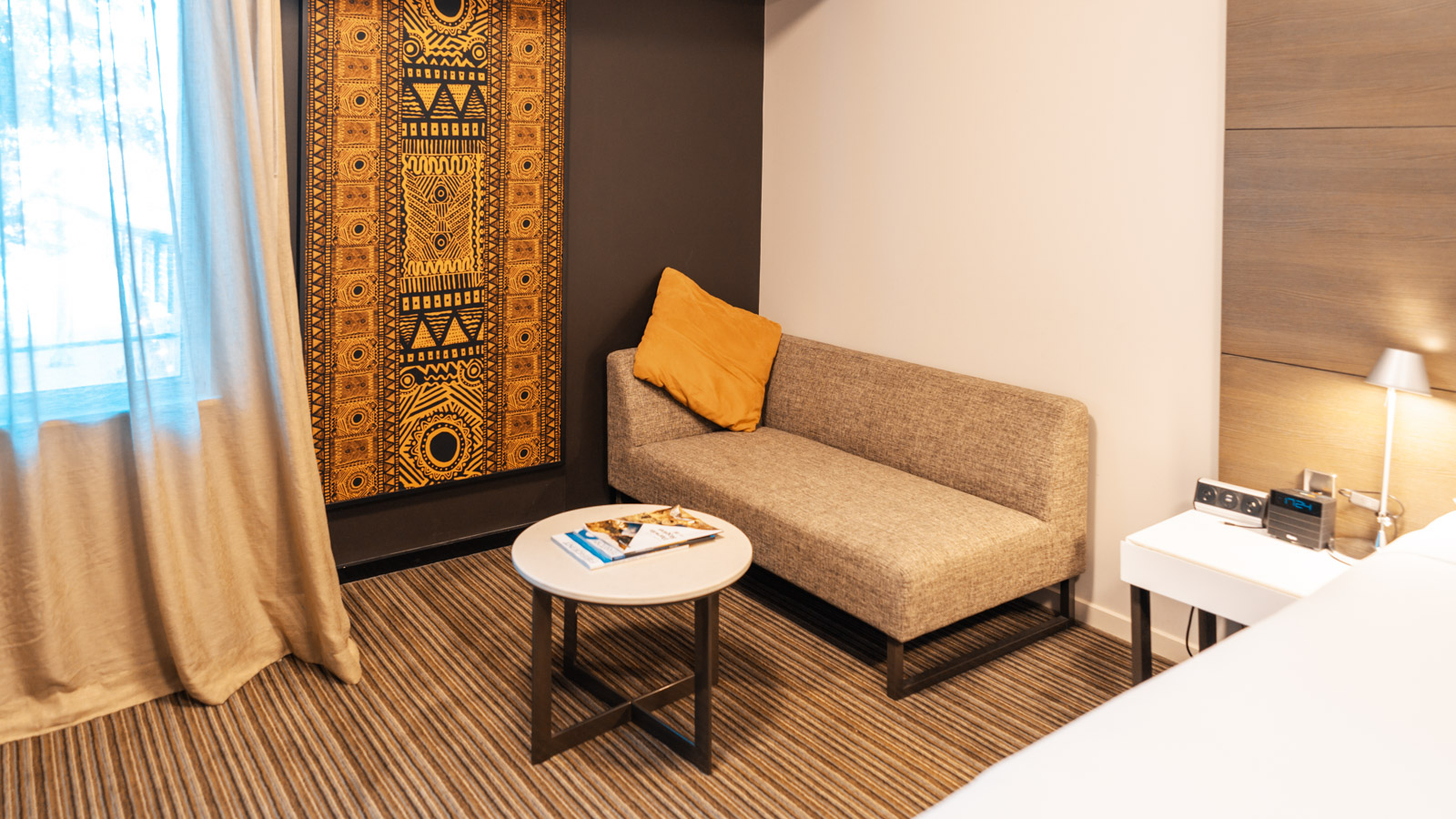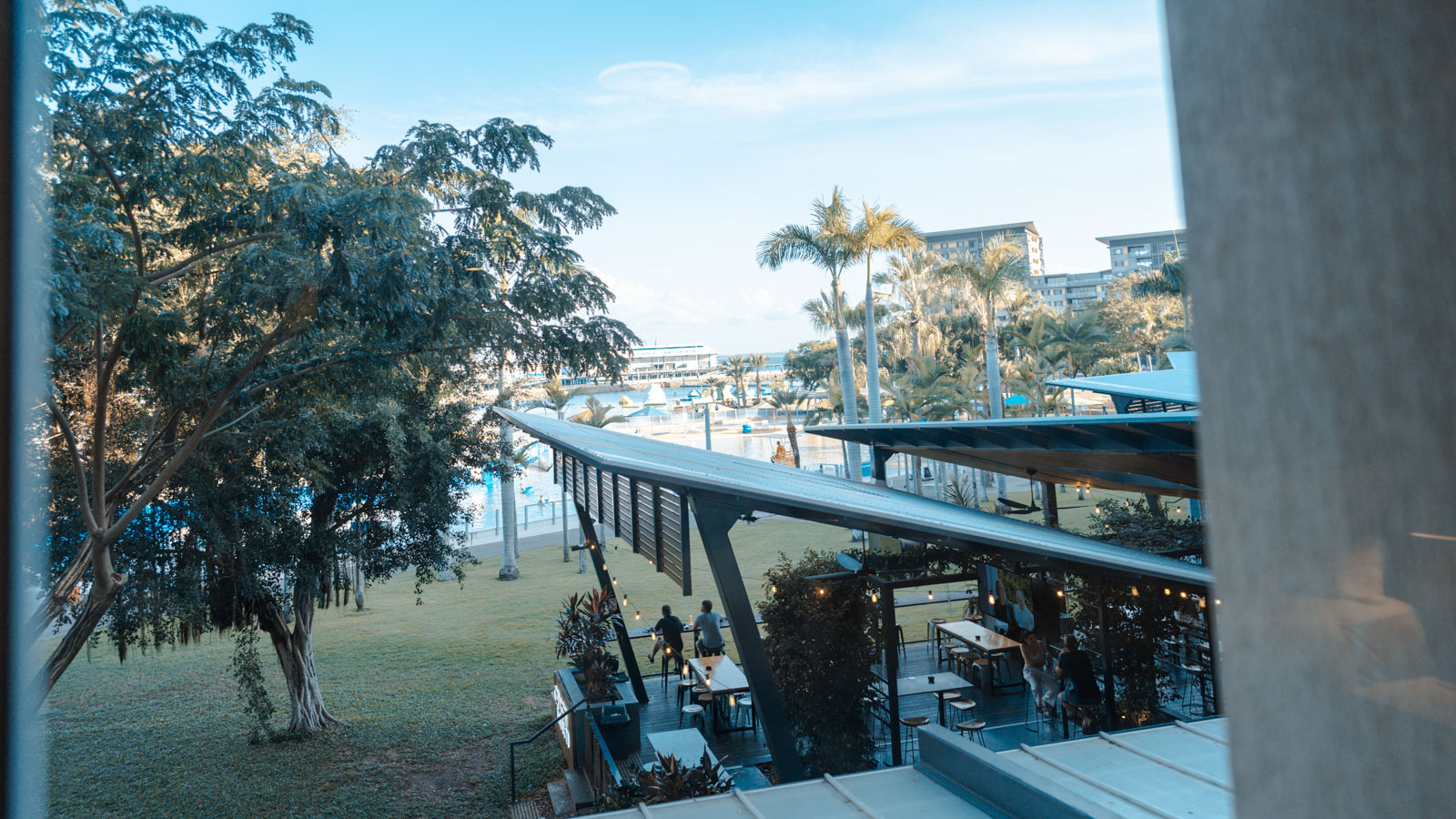 The king bed exceed expectations, being just right for me in firmness. Anecdotally, past guests have indicated that you can request a mattress topper or different pillows if you need some adjustment.
The technology
Nothing particularly shines here. I find the room is a bit dim and 'yellowed-out' from the warm lighting (it's more apparent in person than in the photos). The TV is serviceable but has an outdated user interface.
There are plenty of power points and USB outlets though, and everything does work. The free WiFi is easy to connect to and use.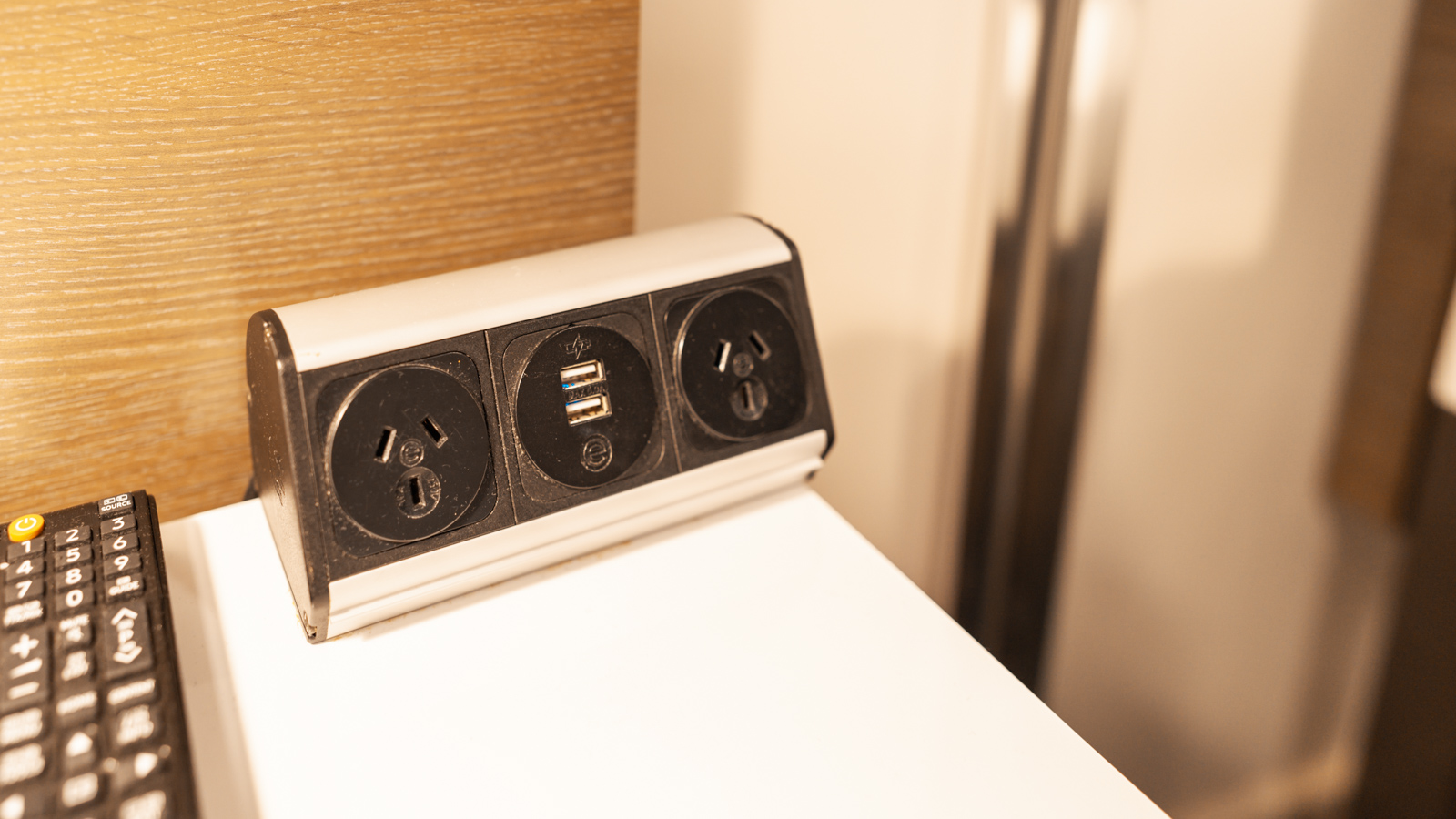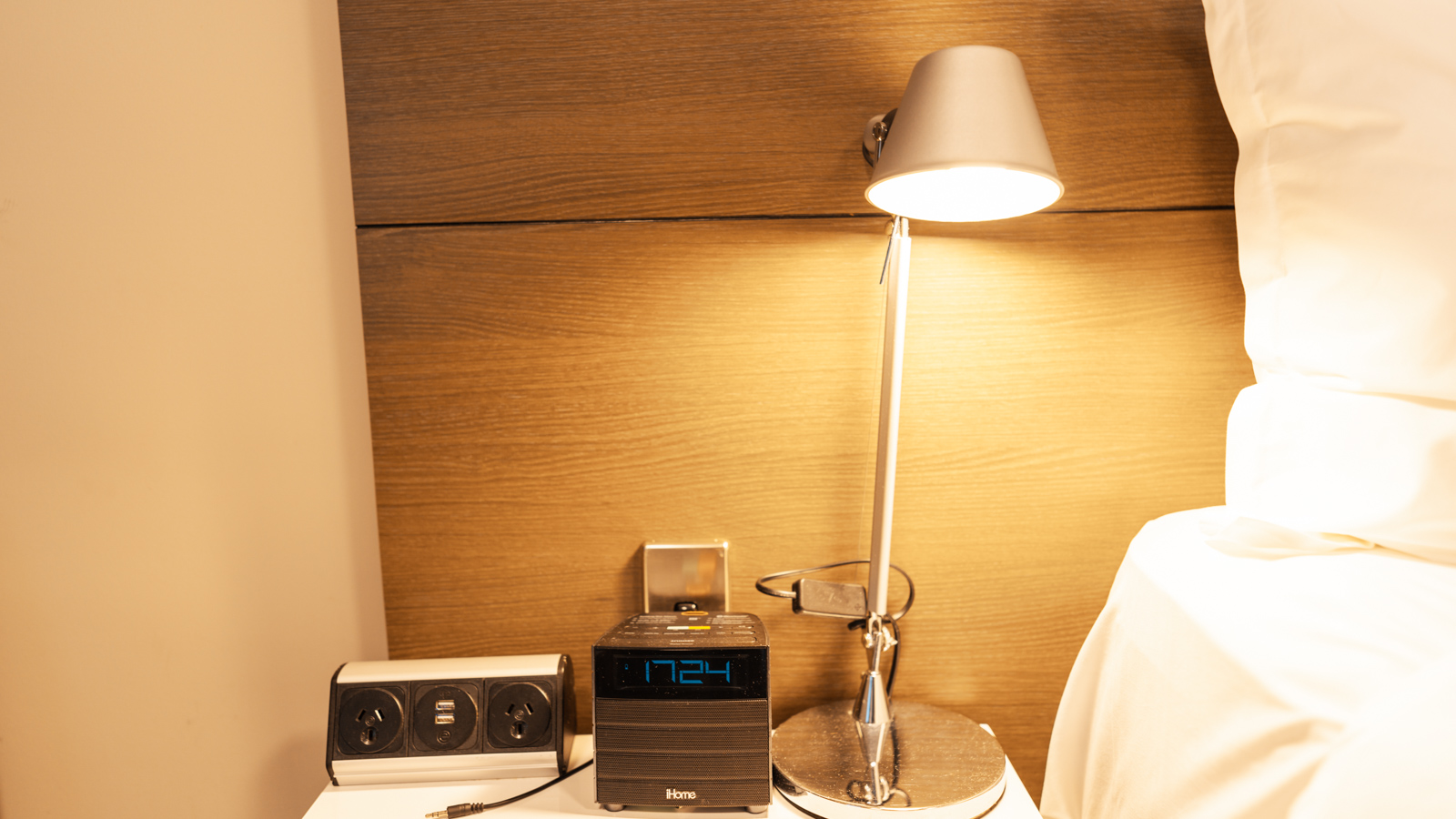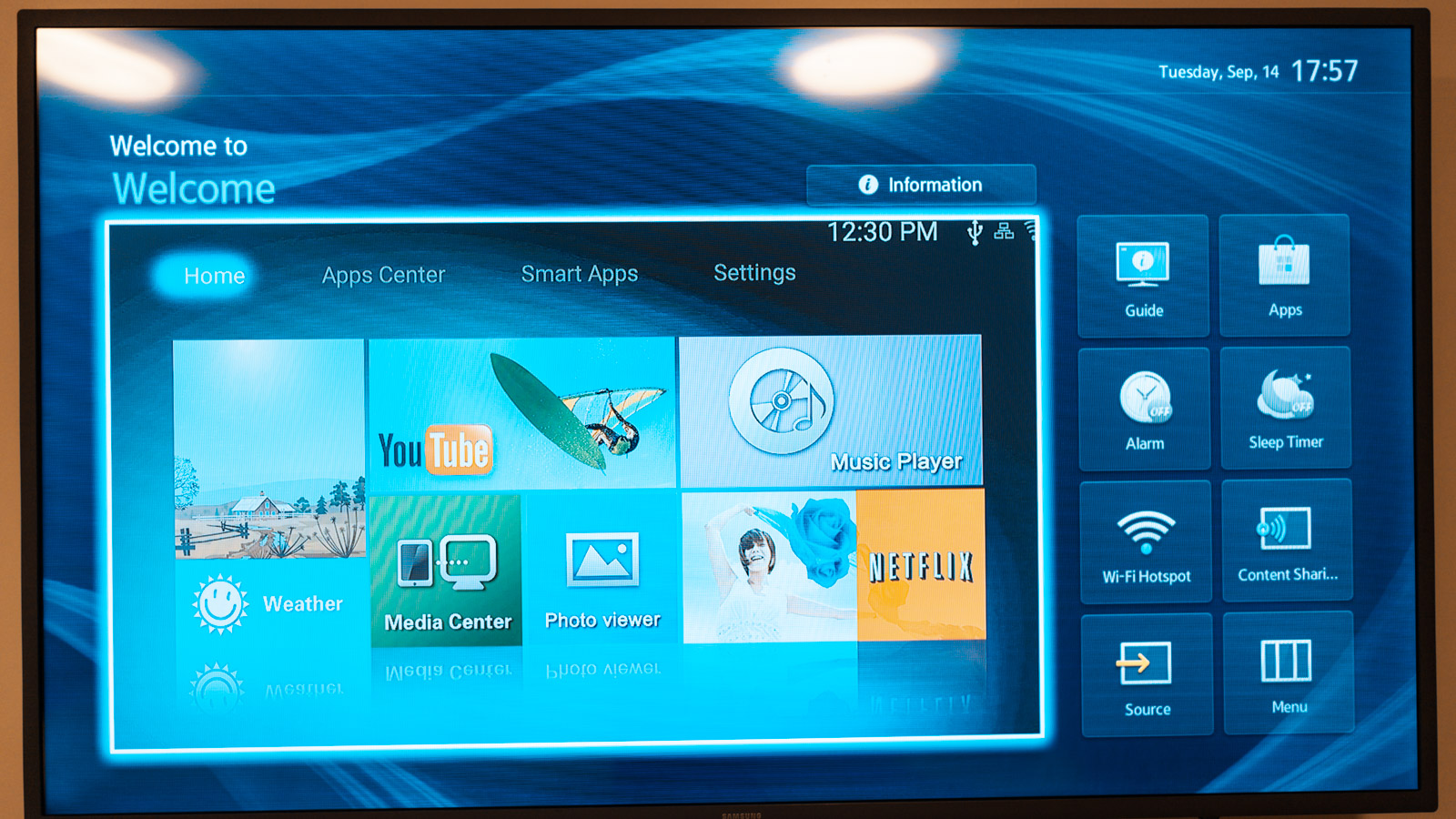 The amenities
You're not going to cook up a storm in the kitchenette – unless you can somehow fashion a decent cooked meal out of a microwave and toaster. But it's certainly handy to have these touches for an extended stay.
The minibar is stocked with a small range of beverages including soft drinks, wines, beers, fancy waters and Berocca. (That's also probably the order I'd suggest you drink them in if you're after a big night in). If you're peckish, a small tube of Pringles and a bag of lollies can tide you over.
I cast my eyes over the dining menu, which you can also enjoy in-room during normal restaurant operating hours for a small fee. It's all hearty Australian cuisine, which I'm sure would hit the spot. Prices for the bigger dishes are quite reasonable as well.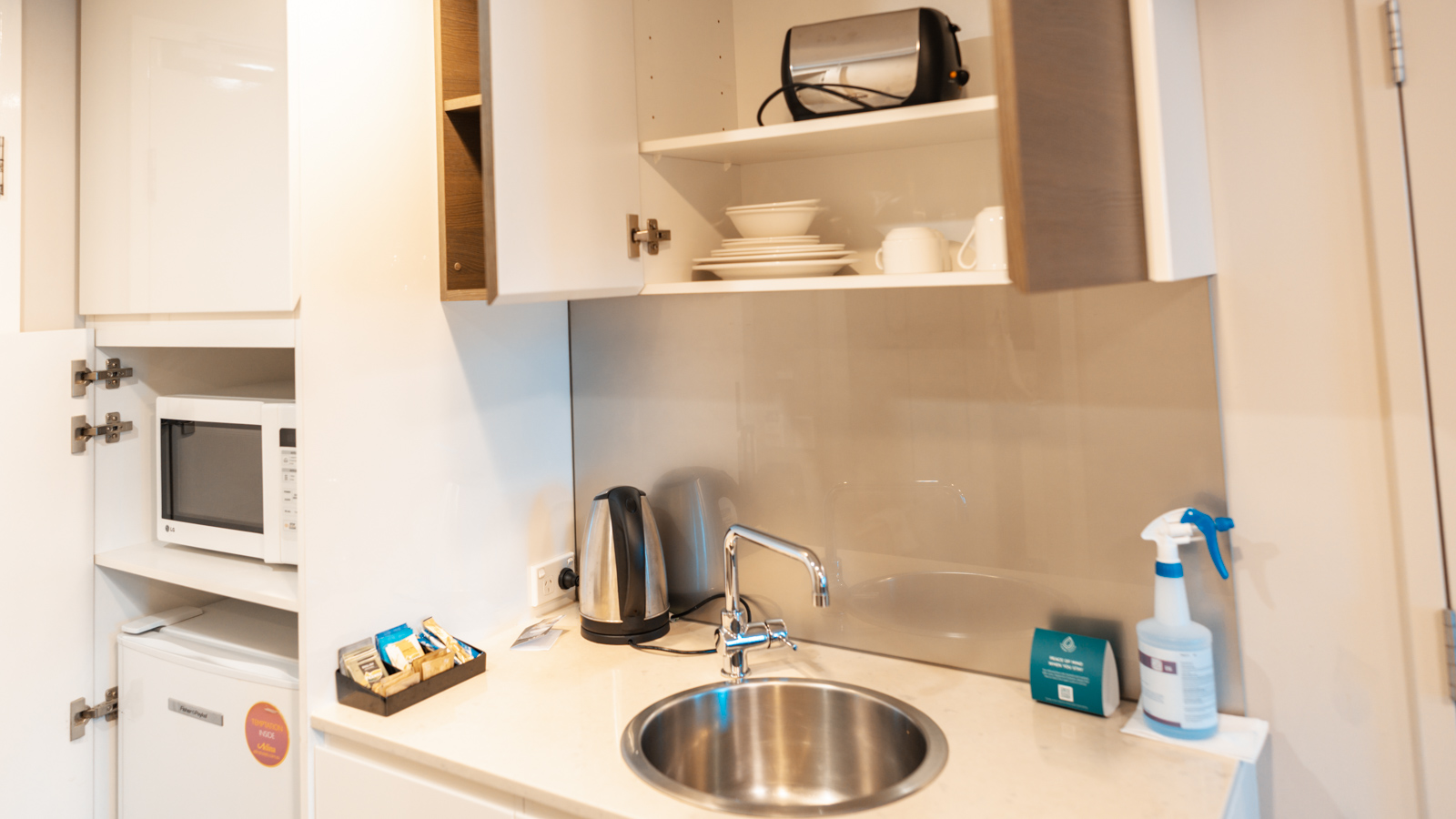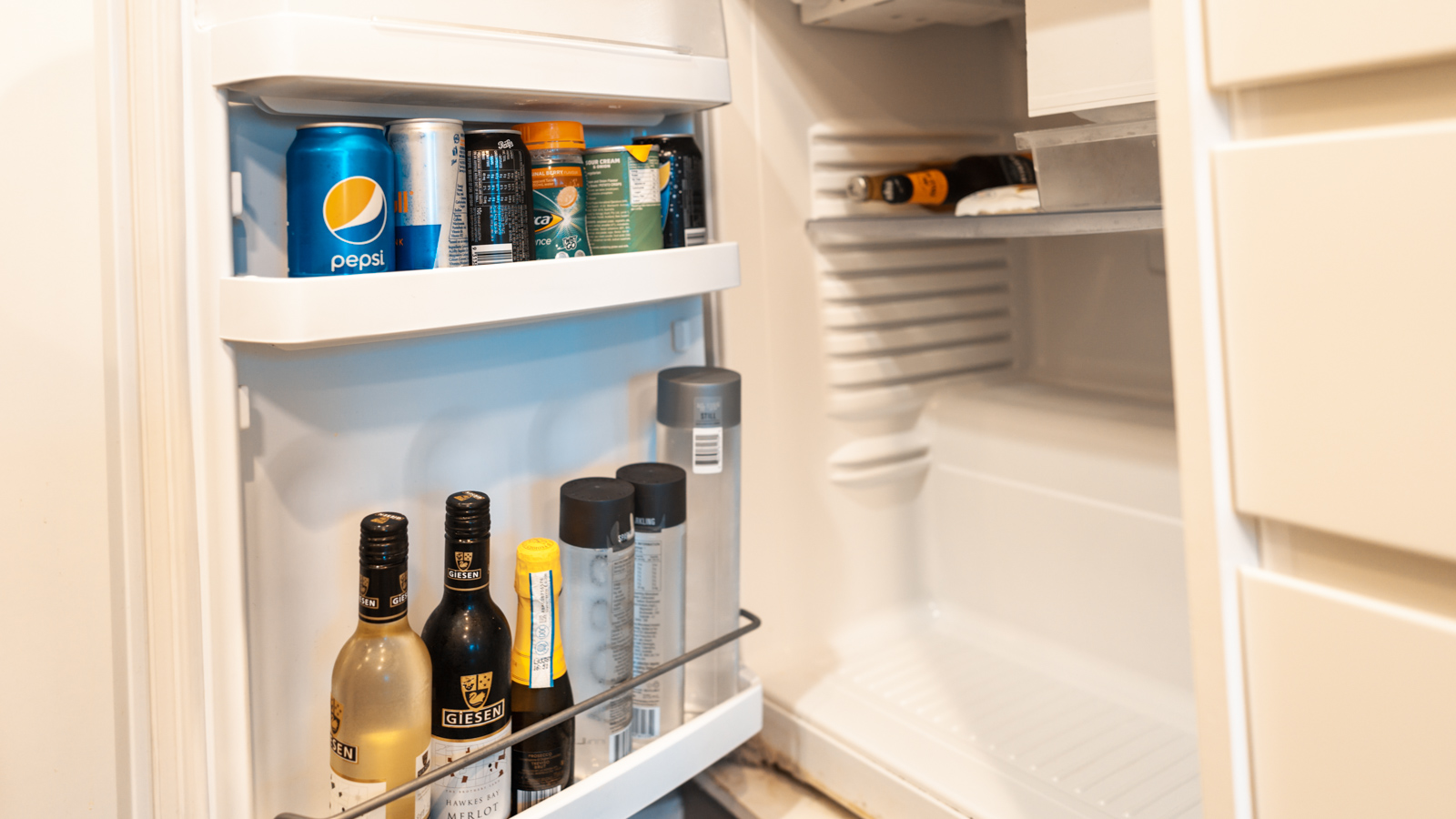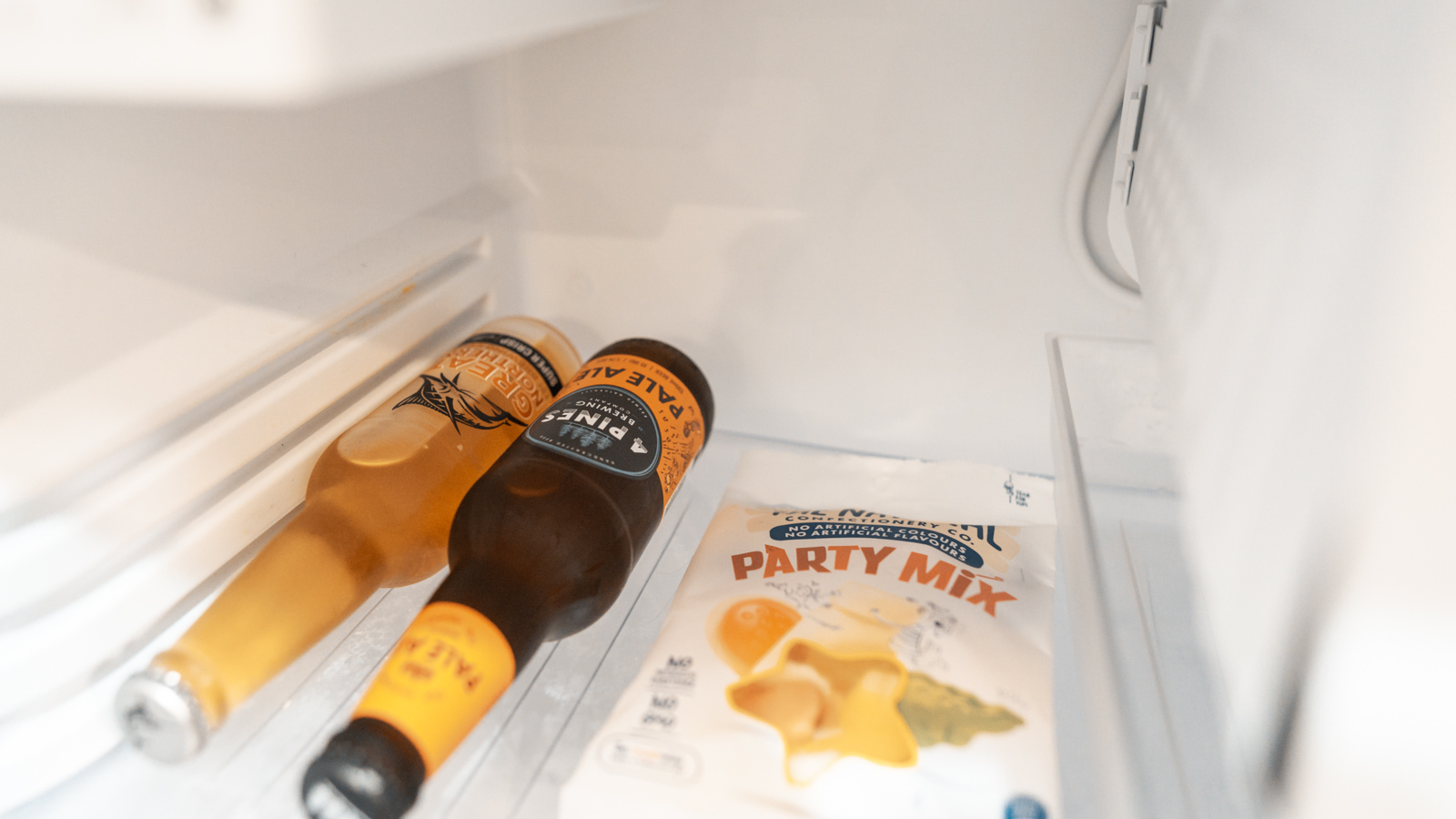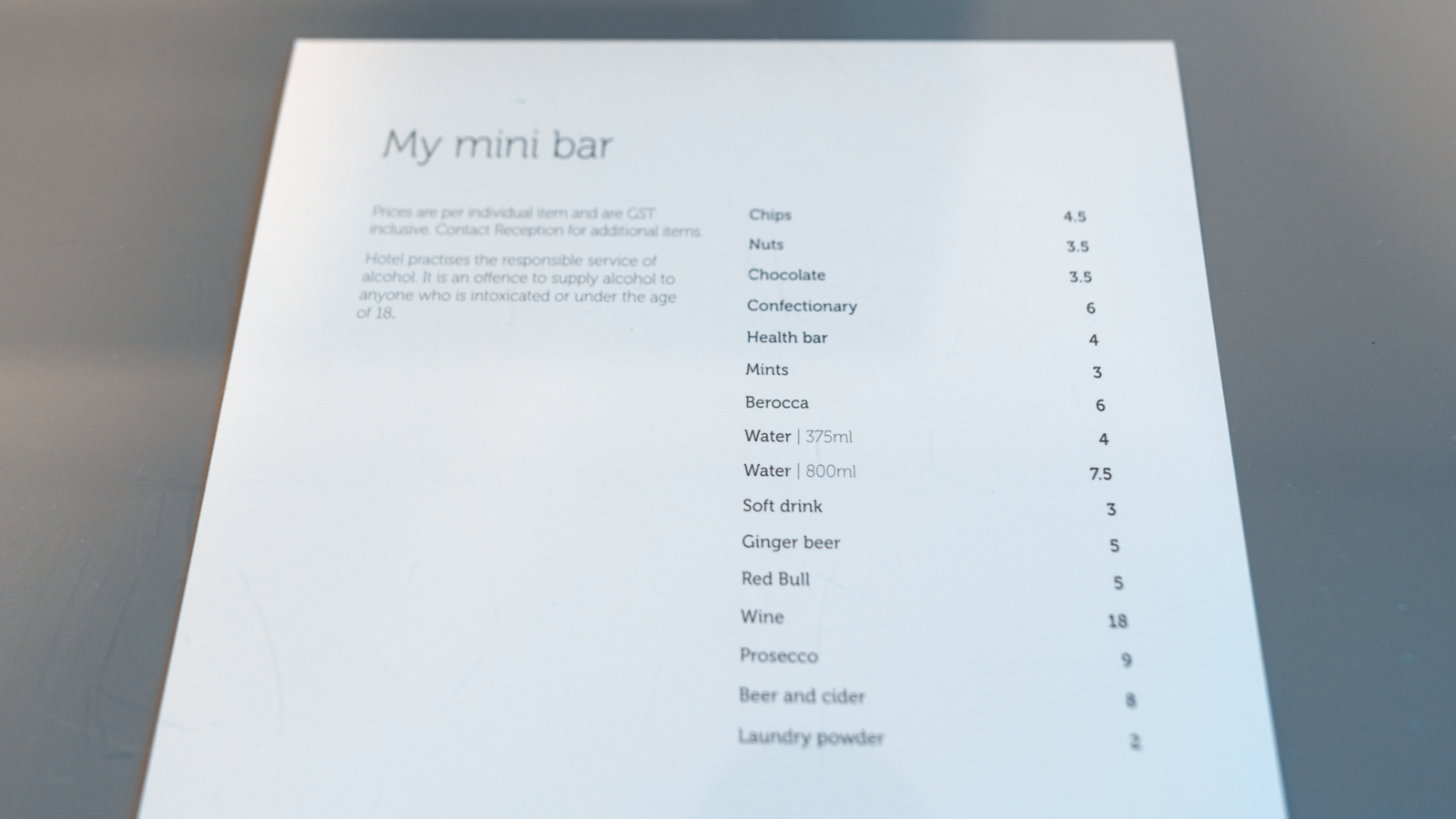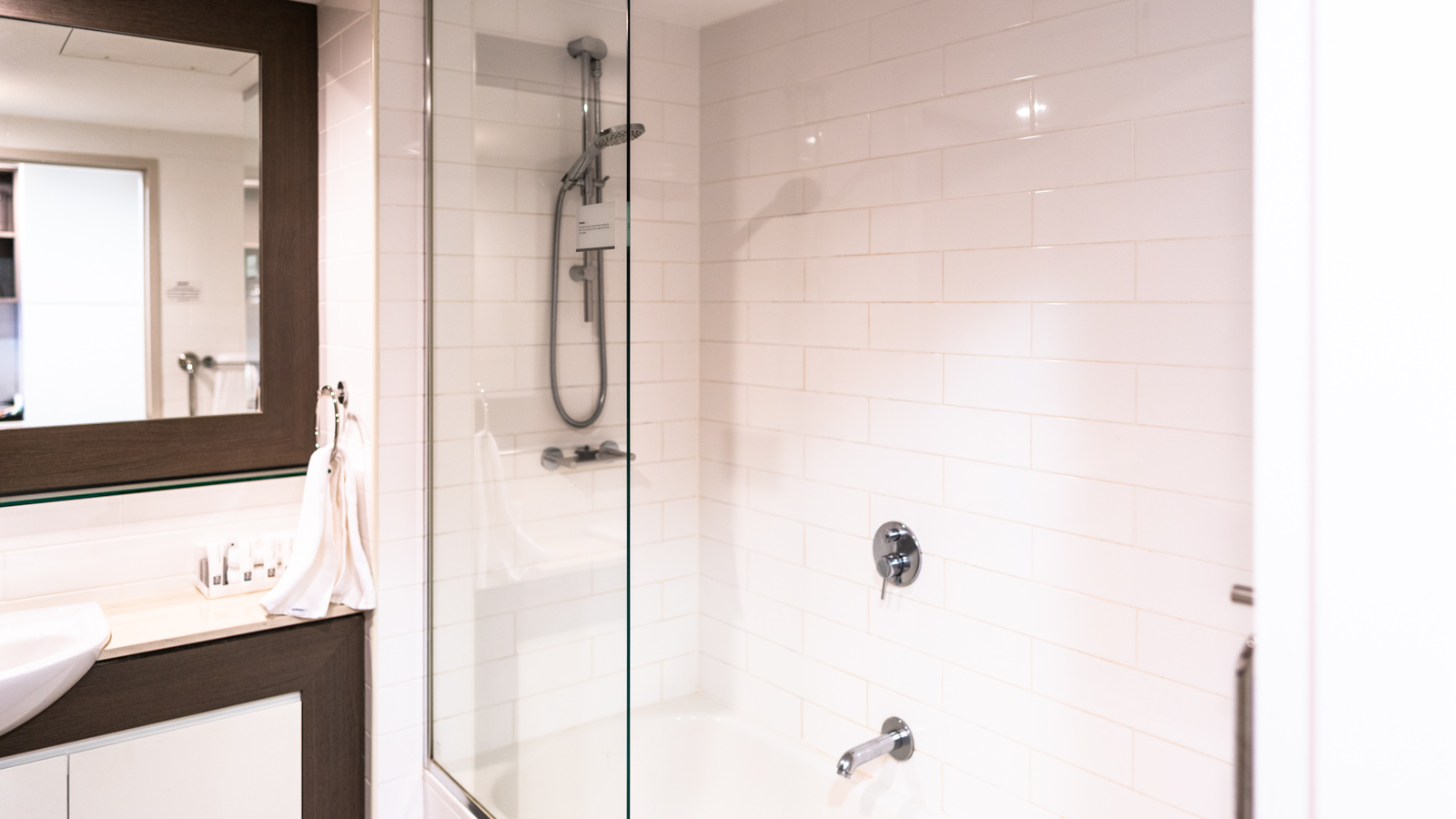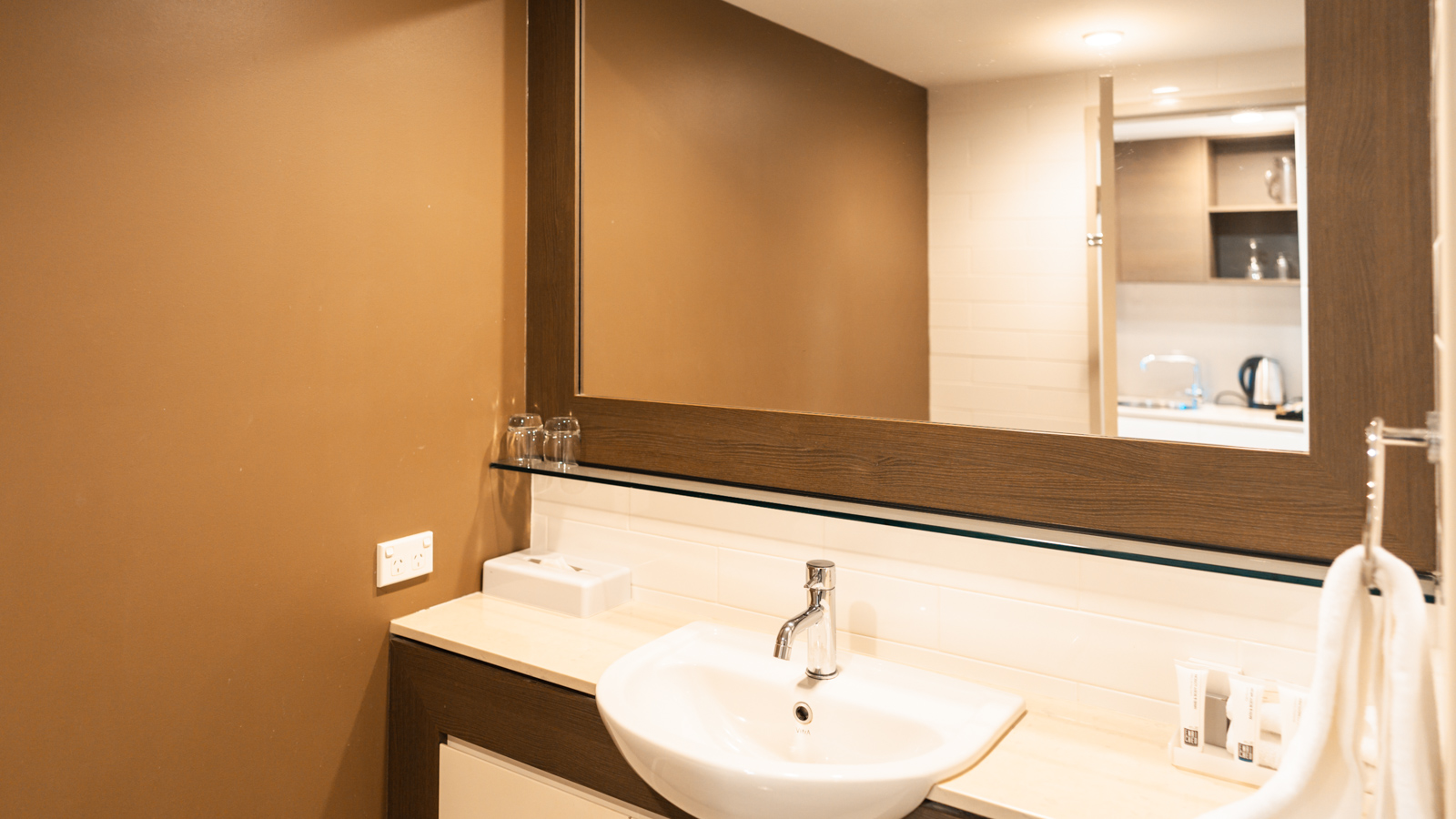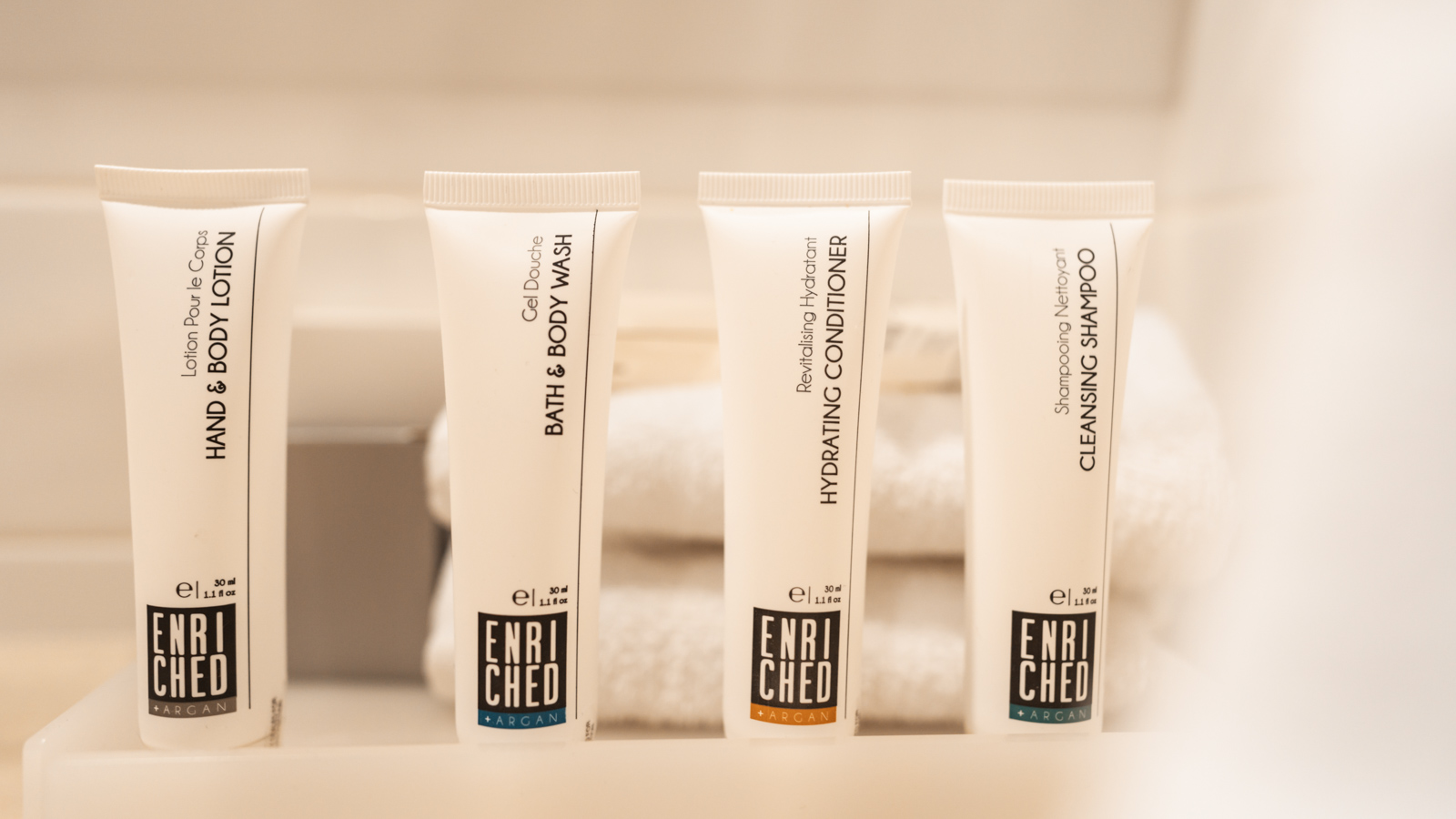 Moving to the bathroom, it's a simple and functional area without any special touches. You can enjoy a shower or soak in the integrated shower/bathtub. Individual generic shampoo, conditioner, body wash and lotion are provided.
Hotel dining
Head downstairs from the Adina or Vibe to find Curve, the hotels' on-site restaurant. It serves up breakfast in the morning, and transitions to an a-la-carte bar and restaurant for lunch and dinner. While I don't dine there during my brief visit, it seems to be well-priced and reasonably popular in the evenings.
Browse the latest menus from Curve Restaurant & Bar →
(As an offside, I visit the nearby Oyster Bar Darwin for dinner instead. The freshly battered fish and chips is tasty and the oyster menu is detailed.)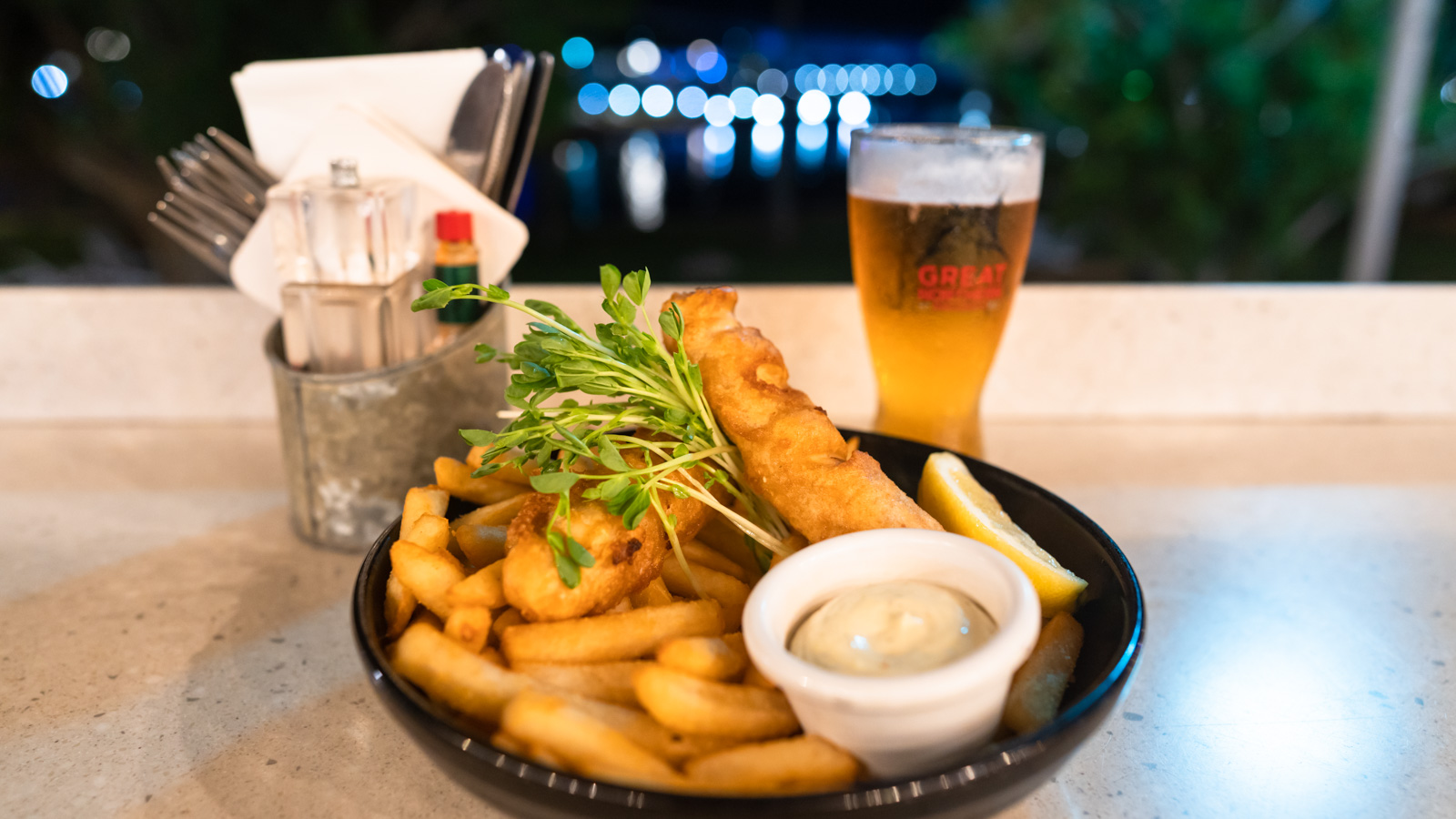 Hotel facilities
The Adina and Vibe Darwin Waterfront share a decent size pool and gym. The outdoor pool is a relaxing place to enjoy a brief reprieve from the heat and humidity of Darwin. Pool towels are provided for your convenience.
Meanwhile, the adjacent gym boasts a range of cardio machines and weights – enough for an energetic workout before your next seafood feast on the Waterfront.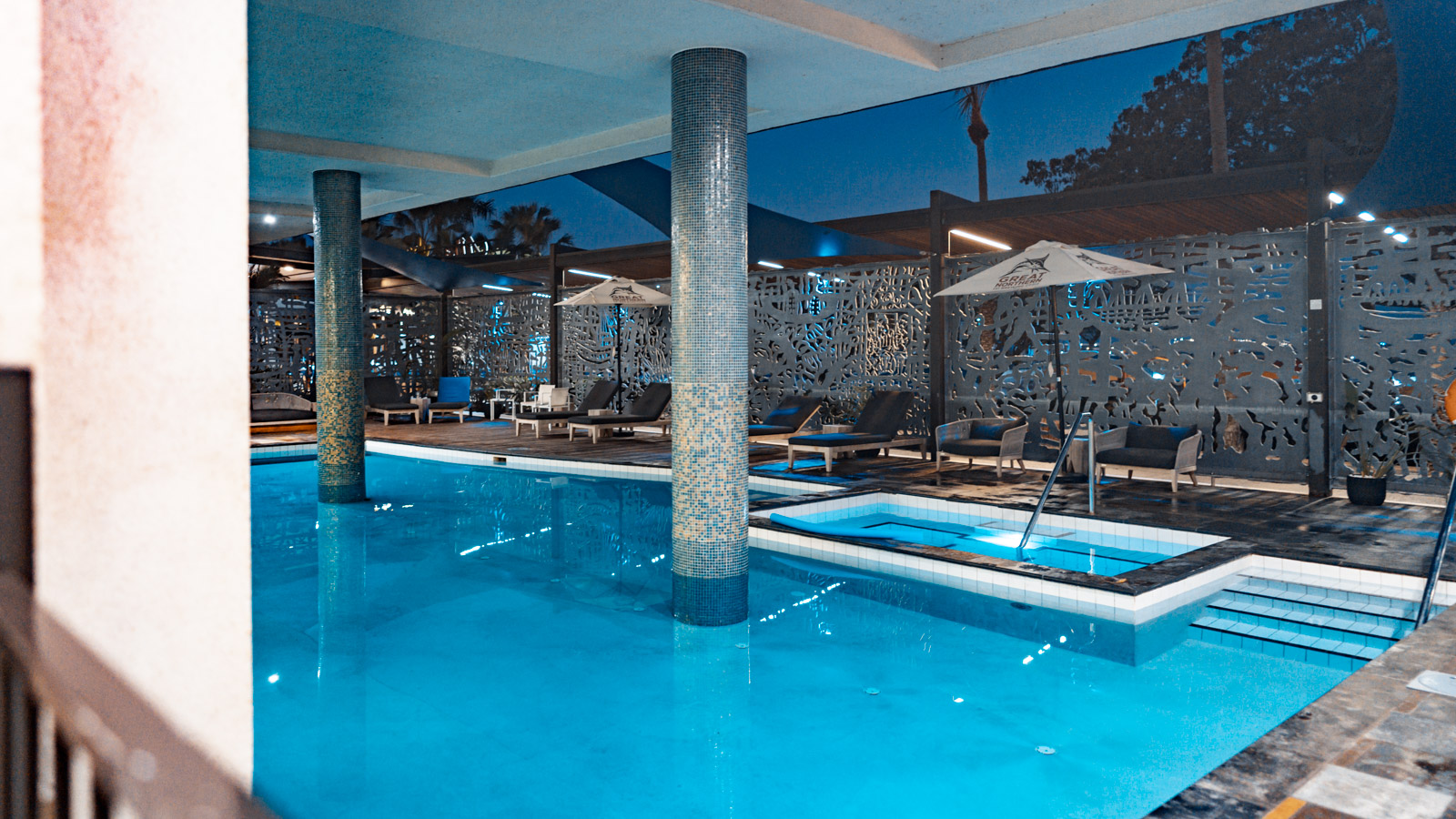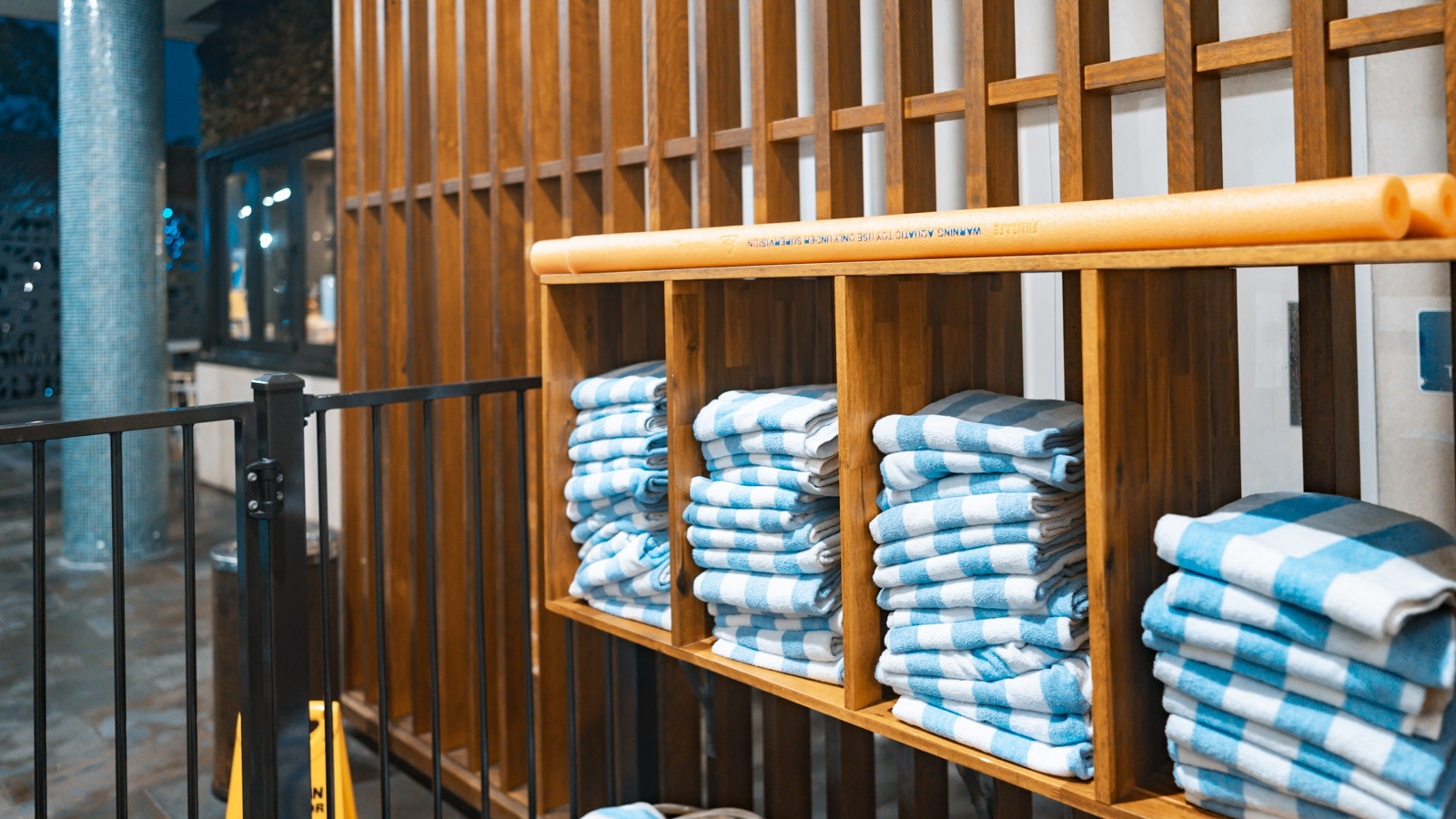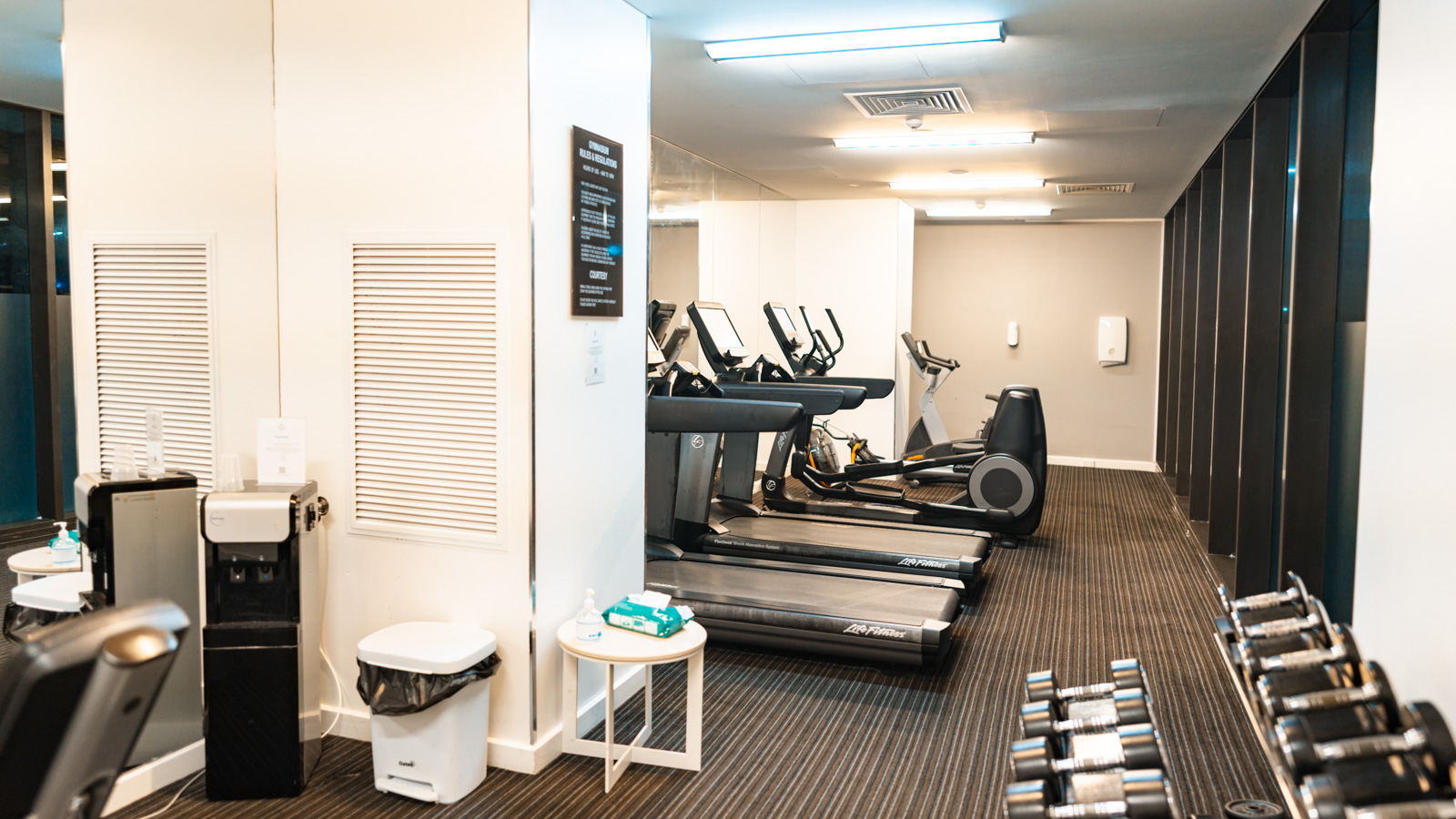 Earning and using points with Adina Apartment Hotels
Adina and Vibe Hotels both belong to the TFE Hotels portfolio. While there isn't a frequent guest program, you can earn up to 3 Qantas or Velocity Points per dollar spent on stays in Australia. Stay a few nights for $500, and that's an extra 1,500 points in your frequent flyer account!
As for booking the Adina Apartment (or Vibe) Hotel Darwin Waterfront, you can theoretically use Qantas or Velocity Points. For example, one night at the Adina is roughly 40,000 Velocity Points or 42,000 Qantas Points in February 2022. (Browse Velocity Hotels or Qantas Hotels to use your points).
But that's a pretty poor use of points overall, fetching a paltry 0.61 cents per point. We recommend you save up your points for something more exciting, and just pay cash for the room rate. You'll earn those 3 points per dollar as well!
In my case, I booked via Qantas Hotels. With the room initially costing $330, I walk away with 1,238 Qantas Points (worth $22.28), which is the standard 3 points per dollar and a 25% bonus for being in Points Club.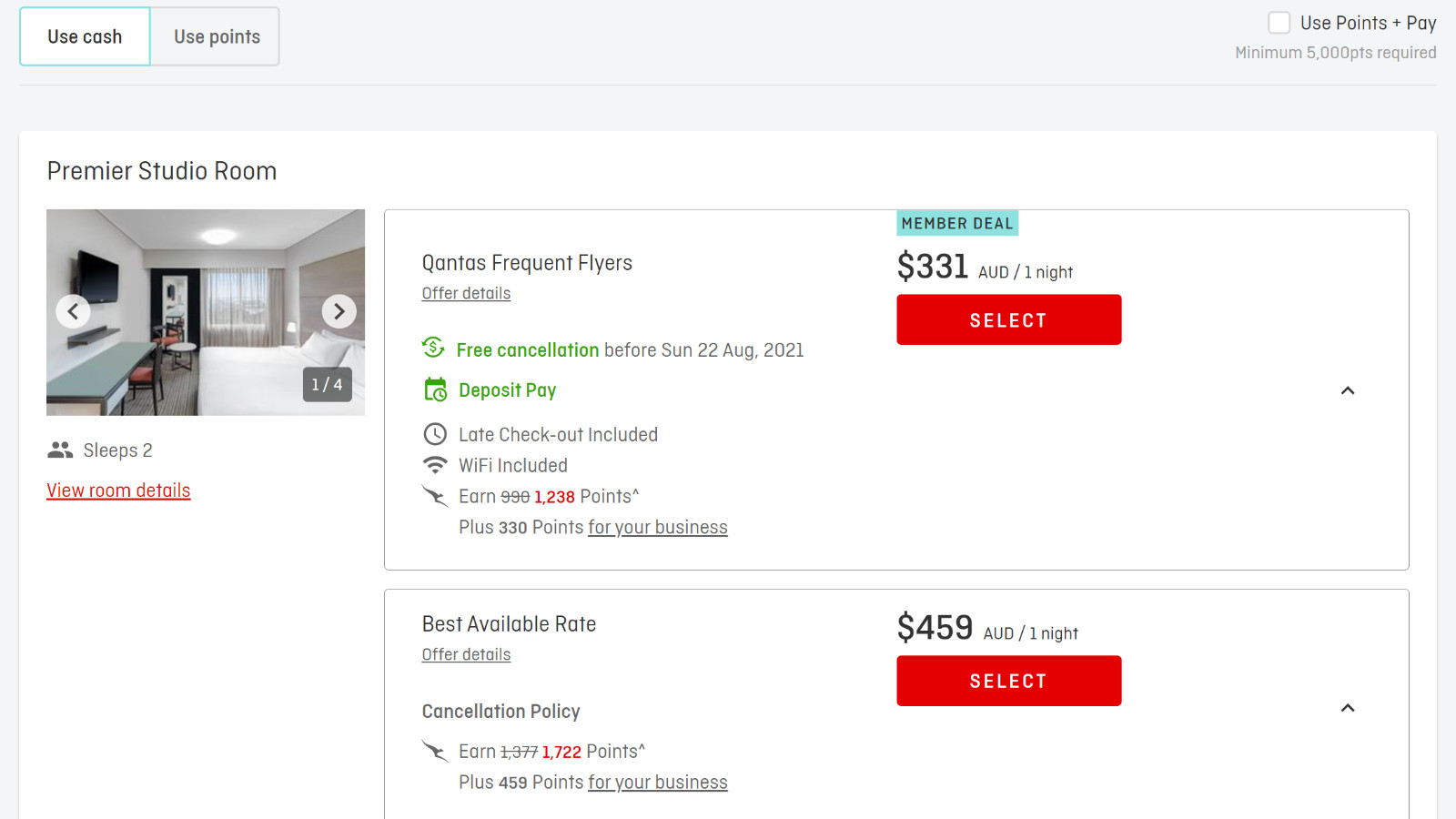 If you wanted to earn 3 Velocity Points per dollar instead, then you could book via this special Expedia link or just book direct with the property and show your Velocity membership card on check-in.
Summing up
The Adina Apartment Hotel Darwin Waterfront boasts an excellent location. Indeed, that's the main reason for my stay, because it's the most convenient pick-up point before travelling on The Ghan. Check-in for the train trip is held in the lobby of the Adina and Vibe hotels the following morning.
I found the hotel to be an excellent base to explore Darwin's Waterfront precinct, which includes a great range of restaurants and activities.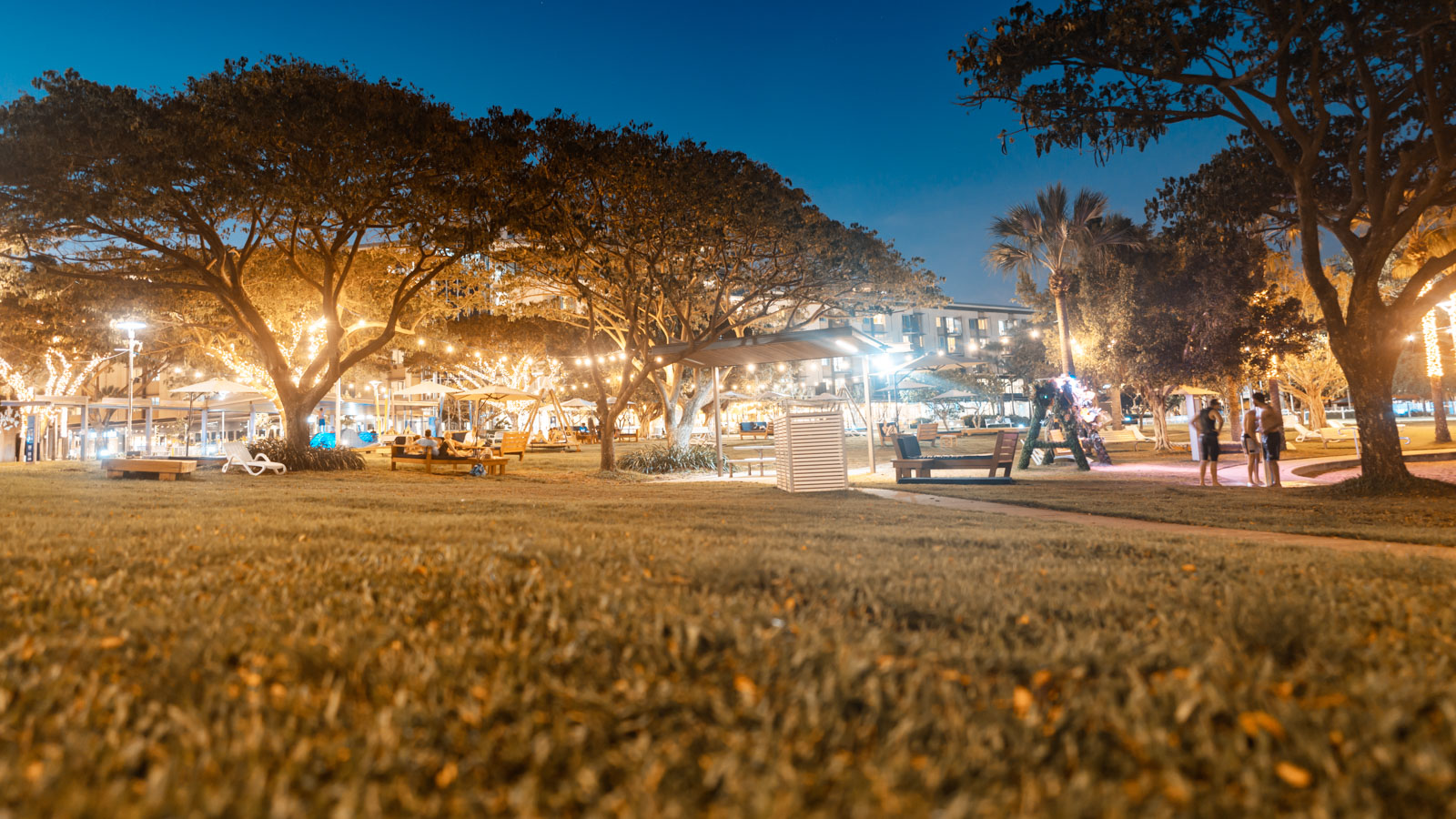 The Premier Studio itself is spacious, which is another plus. The furnishings are relatively modern, but I felt the dim, warm lighting made the room seem a bit drab. The TV system could certainly benefit from an upgrade too.
With decent on-site dining and fitness facilities, the Adina Apartment Hotel Darwin Waterfront is still worth your consideration. From the points earning and burning angle, be sure to also consider properties from competing chains such as the Novotel Darwin CBD, Hilton Darwin and DoubleTree by Hilton Darwin.
Brandon stayed on behalf of Point Hacks, which paid for the room with cash.
Adina Apartment Hotel, Darwin Waterfront
was last modified:
June 20th, 2023
by