With perks like First Class lounge access even when flying Economy, Qantas Platinum status is wonderful to have. For most flyers, it's earned year after year, which makes retaining it an ongoing challenge. But for real road warriors, Qantas also has Lifetime Platinum.
Yet here's the catch. Achieving Qantas Platinum for life takes the same amount of flying as retaining annual Qantas Platinum 63 times over. That's sixty three years of serious flying – and that's before you earn a lifetime pass to the Qantas First Lounge.
It's safe to say, Qantas Lifetime Platinum is an extremely small club. But if you're up for the challenge, here's how to get one of the world's rarest frequent flyer cards into your (extremely well-worn) travel wallet.
Watch our video or continue reading below to learn more:
How to get Qantas Lifetime Platinum
Let's be honest, right off the bat. Unless you're one of Australia's most frequent flyers – those at the upper, upper, upper end of the spectrum – you're not going to make Qantas Lifetime Platinum. Sorry, but that's just how it is. And you know what? That's the entire point.
If just about anybody could earn Lifetime Platinum, it wouldn't be an exclusive club. And of course, if everybody had Lifetime Platinum, then the benefits wouldn't be as exciting – because so many people would be sharing them.
So what does it take to earn Qantas Lifetime Platinum? Nothing short of 75,000 Status Credits over the years will get you over the line. Not to be confused with 75,000 Qantas Points, 75,000 Status Credits is a monumental amount of travel. And realistically, you'd be lucky to get close without spending over a million dollars on flights.
Here's an example. On a quick one-way flight from Sydney to Melbourne, most travellers in Economy would earn 10 Status Credits. That means it could take up to 7,500 one-way flights on these Red eDeal fares to qualify. That's three and a half thousand return trips. You're certain to have the safety demonstration memorised by that point!
Let's also assume you've scored each flight for just $149 – possible, but often a rarity on Australia's busiest route. At 7,500 one-way flights, that's $1.125 million in flight costs alone, just to get to the magic 75,000.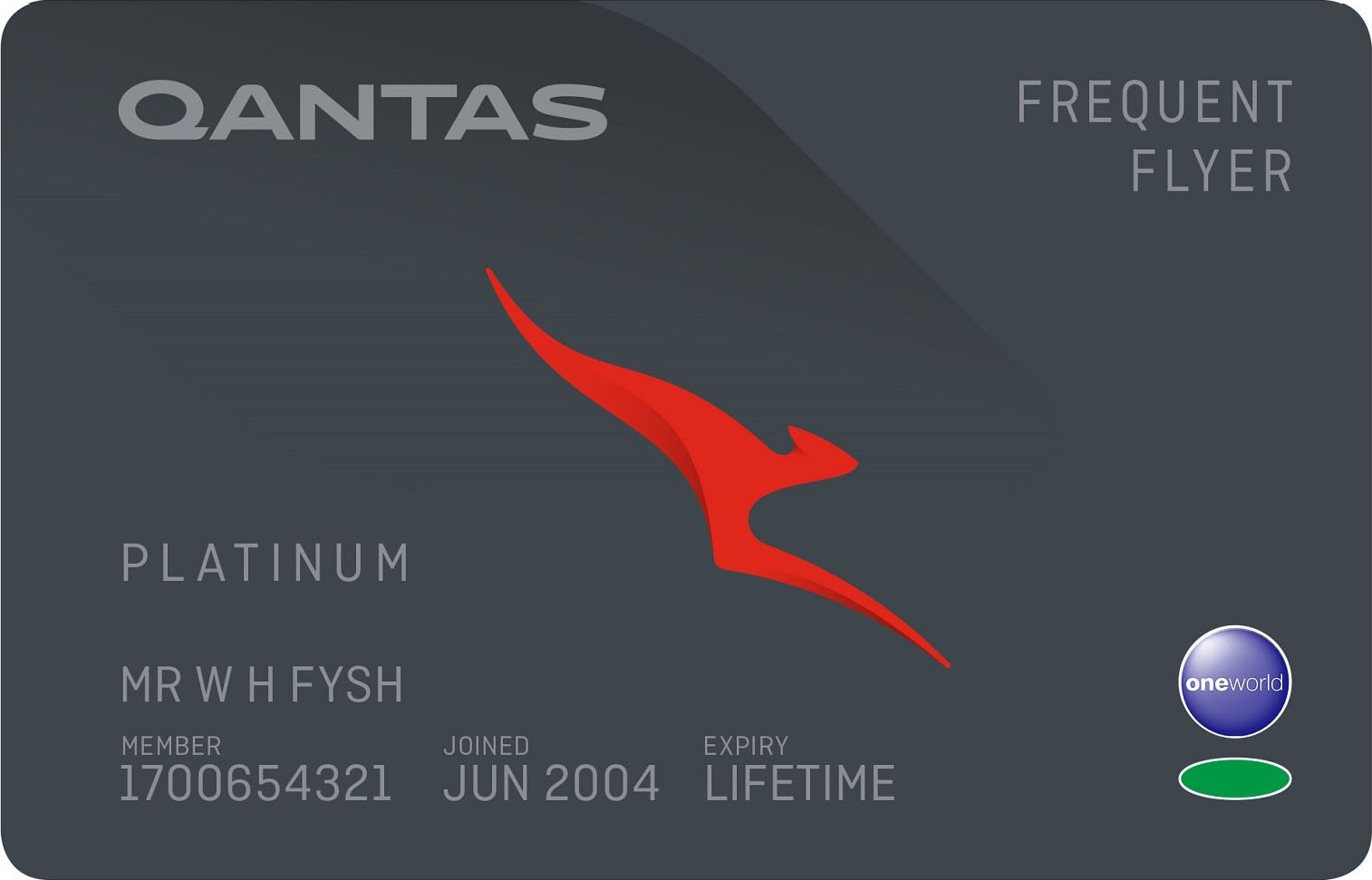 It's a little easier up the front of the plane. Flying Sydney-London in Qantas First Class delivers 840 Status Credits per return trip. That's still some 90 round trip flights to get there – or around $1.647 million spent based on current airfares.
Ad – Scroll down to continue reading.Minimum spend, terms & conditions apply.
Is Qantas Lifetime Platinum a realistic goal?
To be brutally honest again, most people won't ever come close to achieving Qantas Lifetime Platinum within their lifetime. Here's why – along with who just might get there.
Platinum One frequent flyers are practically the only travellers with even a remote chance of securing Lifetime Platinum. Platinum One requires 3,600 Status Credits per year – so that's still roughly 21 years at the top, before reaching the goal. But for those who'll travel like this throughout most of their career, it's a heck of an accomplishment before getting close to retirement.
Qantas Platinum cardholders aren't in the 'impossible' pile, but it really comes down to the numbers. A Platinum member just scraping 1,200 Status Credits per year (the minimum to retain Platinum) would need to keep that up for 63 years before securing Lifetime Platinum. But, if earning 2,400 Status Credits per year – more than enough for Platinum, but not enough for Platinum One – Lifetime Platinum would be earned after roughly 31 years.
Qantas Gold, unfortunately, isn't likely to make the grade. Even those who more than surpass retaining Gold every year – say, with 900 Status Credits rather than the minimum of 600 – wouldn't get there until close to 84 years of flying. And by that stage, putting your feet up at home may be much more appealing than a lounge.
Silver status flyers just won't make the cut, unless it's simply on the path to upgrading and remaining at a higher tier. Even being right on the cusp of earning Gold with 699 Status Credits per year (of the 700 needed for Gold), that's still over 107 years of flying to get there.
So unless you're at a level where you practically know the name of every crew member, Lifetime Silver and Lifetime Gold are more realistic.
Benefits of Qantas Lifetime Platinum
With such a sky-high threshold to earn it, the perks of Qantas Lifetime Platinum are decidedly good. It begins with all the privileges of regular Qantas Platinum status, including:
Access to domestic Qantas Domestic Business Lounges and International First Lounges before eligible flights. Domestically, a Qantas, QantasLink or Jetstar ticket gets you in the door – with access possible after your flight as well. Internationally, entry is currently permitted before the same, as well as when travelling with oneworld partner airlines and other eligible partners such as Emirates.
Entry into to partner airline lounges. This includes eligible lounges operated by Air France, Air New Zealand (NZ domestic), China Eastern, El Al, Emirates, KLM and LATAM. Access with Emirates includes the separate First Class lounges in Dubai.
Recognition as a oneworld Emerald frequent flyer. This opens the door to First Class lounges of airlines such as British Airways, Cathay Pacific, Japan Airlines and more. Of course, you can visit most oneworld Business Class lounges too.
Priority security screening and boarding with Qantas, Emirates, oneworld and other eligible partners.
Earn 100% more Qantas Points on Qantas, Jetstar and American Airlines flights, provided the total haul exceeds the Minimum Points Guarantee.
Qantas flight upgrades using points are processed earlier – up to three days before travel. Platinum members also enjoy priority over Gold, Silver and Bronze members.
But there's one perk enjoyed with Qantas Lifetime Platinum that's not normally included with 'regular' Platinum. That's access to the Qantas VIP Service Team – otherwise reserved for Platinum One and Chairman's Lounge members. Hey, if you're going to spend seven figures on flights, it's the least you should expect!
Summing up
Qantas Lifetime Platinum is a very small club. If everybody could achieve that goal and have Platinum status locked away for life, it wouldn't be so aspirational. And in fact, a greater proportion of travellers wouldn't have as much incentive to book with Qantas going forward.
Many flyers continue to book with Qantas to keep those First Class perks locked in year after year. By making the bar so high, Qantas is mainly encouraging its Platinum One members to remain loyal over the long term.
After all, every Platinum One member represents significant revenue for Qantas – particularly those who already have Lifetime Gold in the bag. And behind the scenes, driving decision-making and ongoing revenue is the very reason frequent flyer programs exist.
Also read: Qantas Lifetime Gold: the Holy Grail for truly frequent flyers
Images courtesy of Qantas.
---
Stay up to date with the latest news, reviews and guides by subscribing to Point Hacks' email newsletter.
Qantas Lifetime Platinum: the Mount Everest of frequent flyer tiers
was last modified:
August 16th, 2023
by