Westpac is providing full-time students and those aged under 31 years with a complimentary International Student Identity Card, commonly known as an ISIC card, when they open a Westpac Choice account.
This guide looks at the benefits and discounts available to ISIC card holders, and the main features of the Westpac Choice account.
What is an ISIC card?
International Student Identity Card Australia issues the ISIC one-year student card, which is internationally-recognised and provides the following discounts:
Card Details
Card
Westpac ISIC card
Type
Debit Card
Annual fee
$0 for the first year, $30 p.a. ongoing
Card Features
Up to 40% off international airfares at STA Travel
5% off STA travel insurance
Up to 20% off thousands of restaurants, cafes and take-aways within Australia and New Zealand
Movie tickets from $12.50
5% off groceries, fuel and liquor by buying a Woolworths WISH gift Card
5% off iTunes gift cards when purchased online

Additional features for Westpac issued ISIC cards:
Additional 11% off hotels booked via STA Travel
Additional $20 off long-haul flights booked with STA Travel
Additional $100 off any tour over $1,000 booked with STA Travel
Those who obtain the card through Westpac will get additional exclusive discounts from STA Travel.
How to get the ISIC card
The ISIC one-year card is normally purchased through the ISIC website and costs $30, however, you can get the card for free if you open a Westpac Choice account.
If you already hold an ISIC card when you open a Westpac Choice account, you will instead be issued with a $30 STA Travel voucher valid for 12 months.
A Westpac Choice account comes with the following features:
Debit Mastercard, including PayPass tap and go feature for purchases $100 and under, and the ability to access cash through ATMs
No withdrawal fees when using 3,000 Westpac Group ATMs in Australia, stretching out to 50,000 ATMs globally courtesy of Westpac's participation in the Global ATM Alliance
Mobile banking through the Westpac mobile app
$5 monthly account fee is waived for full-time tertiary students
Most withdrawal and overseas fees are also waived, with the full list of fees found below
Full list of fees
Domestic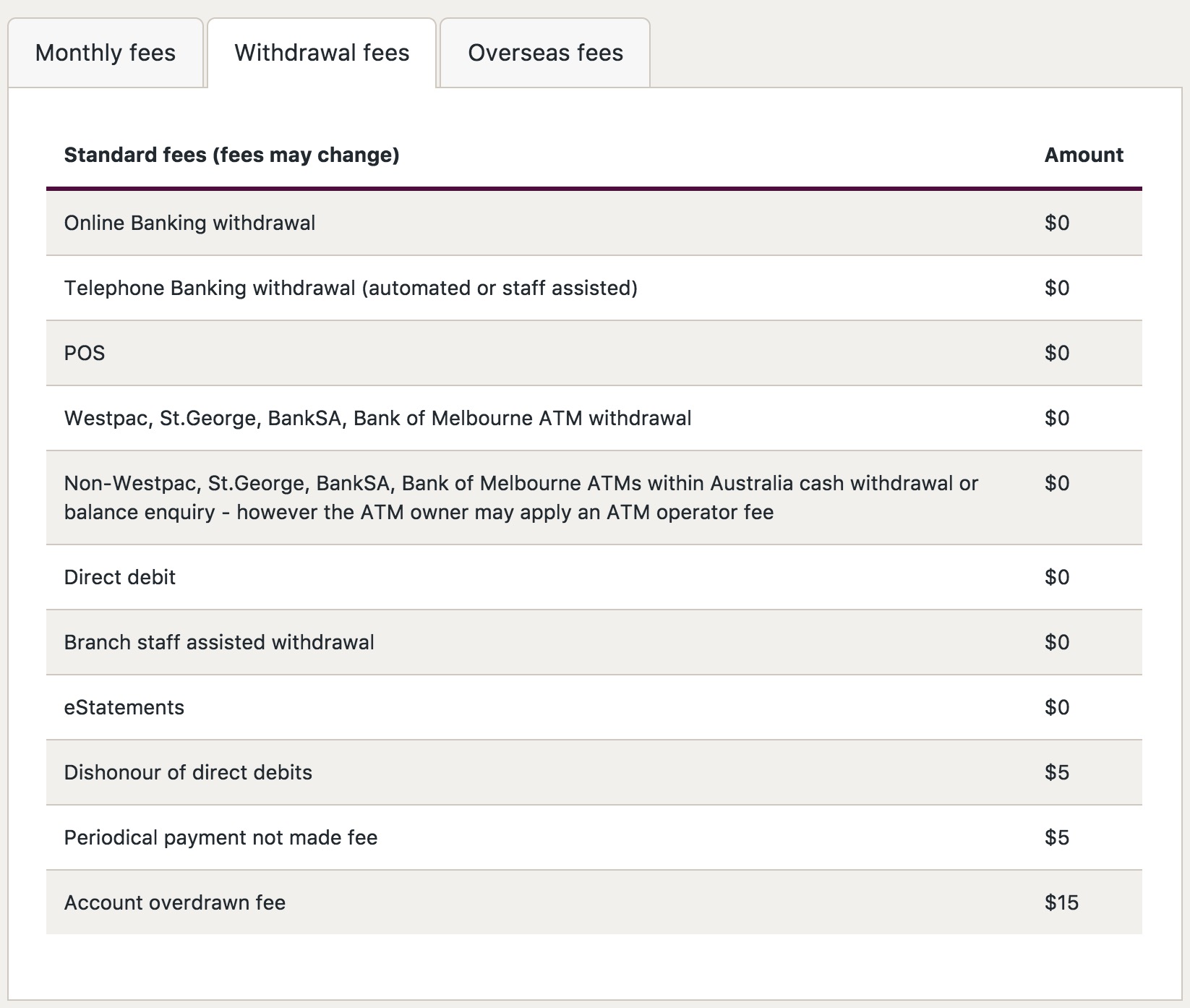 Overseas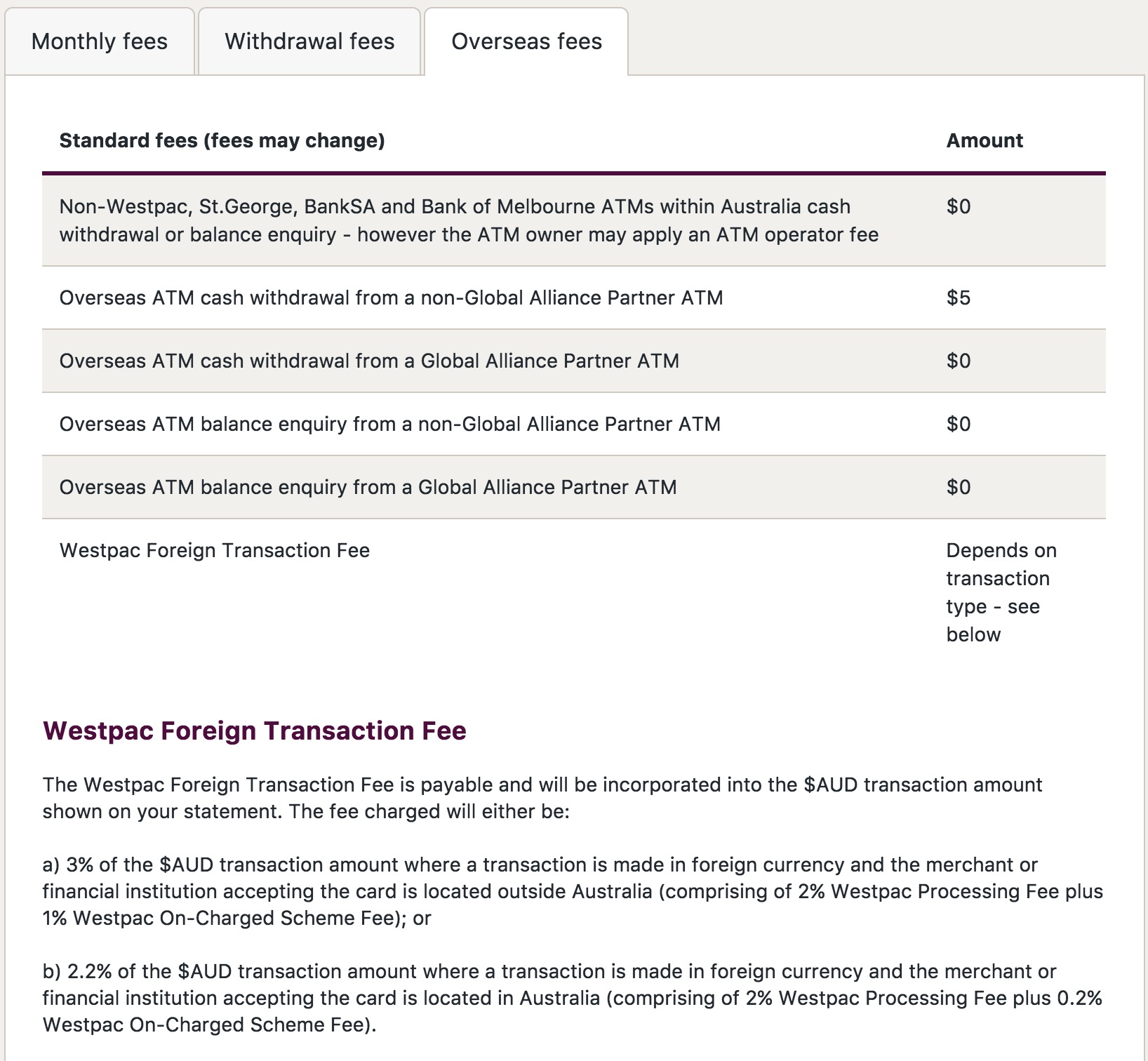 Note: These fees are accurate at the time of publishing and may be changed by Westpac at any time.
The fine print
This offer is available to full-time students and those aged under 31 years, but current Westpac Choice account holders are excluded.
You must apply for the ISIC card within 90 days of opening a Westpac Choice account and your ID must be verified before claiming the offer.
The ISIC card is free only for the first year; for subsequent years, the annual cost is $30.
If you are issued with a STA Travel voucher, it is valid for 12 months and can only be redeemed at STA Travel outlets, i.e. it is not redeemable online.
Summing up
If you're a frequent traveller and a full-time student or under 31 years of age, this offer could appeal to you.
At no cost to yourself apart from a bit of time to open up a Westpac Choice account, you are provided with an ISIC card offering plenty of travel-related discounts normally found through the standard ISIC card, in addition to Westpac exclusive discounts with STA Travel.
After the first year, the decision to keep the ISIC card comes down to whether you will use enough discounts to negate the $30 annual fee. Given the plethora or partners associated with the card however, it is likely that this can be easily achieved.
Free ISIC discount card for students and youth who open a Westpac Choice account
was last modified:
March 19th, 2019
by
Point Hacks Credit Card Information
Point Hacks is published by Point Hacks Australia Pty Ltd (ACN 622 987 160), a corporate authorised credit representative (Number: 504786) of MSC Advisory Pty Ltd ACN 607 459 441 (Australian Credit License: 480649). In some instances, Point Hacks Australia Pty Ltd receives a commission or benefit for referring you to the services of a credit provider. This commission or benefit is disclosed at the point of referral to the credit provider. This website does not provide credit, assist you in obtaining credit, or advise you to apply for any particular product from a provider.
We have not taken into consideration your personal circumstances or financial situation when providing the information on this website. It is important you read the relevant PDS from the product issuer and seek the independent advice of an appropriately qualified professional before making a decision on a product.
While we invest a great deal of time and energy into ensuring we provide with you with the most up to date and accurate information, we do not warrant the accuracy of statements or information contained on the Website relating to third party goods and services, including credit card information, loyalty schemes and rewards. You acknowledge that such information and materials may contain inaccuracies or errors and we expressly exclude liability arising from any person acting on those statements or information to the fullest extent permitted by law. Where conditions or warranties are implied by law and cannot be excluded, our liability will be limited to the re-supply of information. You should confirm the accuracy of information provided on this Website with the third party product provider before acting on it.