All members of Qatar Airways' Privilege Club program are in for a treat, with a gratis status extension now being rolled out. Privilege Club Silver, Gold and Platinum cardholders can now expect their elite status to run until at least 31 December 2022.
This includes Privilege Club members who initially received a status match from Virgin Australia and other airlines back in mid-2020. These were initially valid until mid-2021. After an initial extension to 31 December 2021, this latest news pushes that forward by another full year. That's up to 2.5 years of elite oneworld status from a single match!
Eligible members should already see an updated expiry date in their account. But to recap, here's everything you need to know.
Ad – Scroll down to continue reading.Minimum spend, terms & conditions apply.
Qatar Airways Status Extension
Qatar Airways is offering complimentary status extensions to Privilege Club members with elite status. All members will have their status pushed to 31 December 2022.
This includes Privilege Club Silver, Gold and Platinum cardholders. For many, this extension brings an extra year of frequent flyer status, as those who'd expected a downgrade by 31 December 2021 now have 12 months more to enjoy their benefits.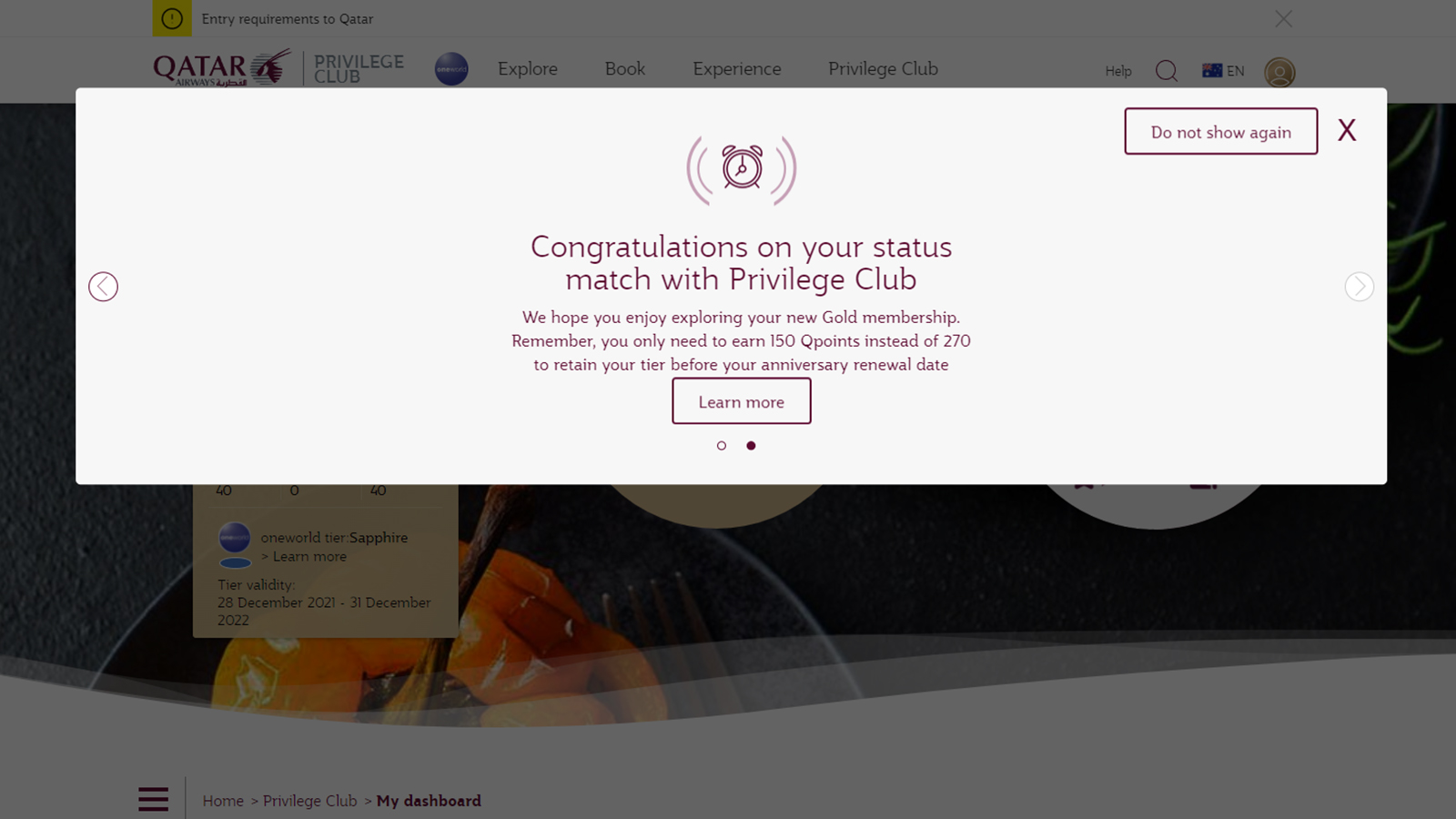 At Privilege Club, we remain steadfastly committed to our members. Their loyalty means everything to us, and we will continue to honour their choice to fly with us.

We sincerely look forward to enriching our members' travel experiences, and offering them more time to enjoy the incredible benefits of their tier as they plan for their travel with us in 2022, to over 140 global destinations.

– Akbar Al Baker, Qatar Airways Group Chief Executive
If you're eligible, you may already see an updated status expiry date in your Privilege Club account. Just head to the Dashboard page of the Privilege Club website. On the left, your new tier expiry date should be visible: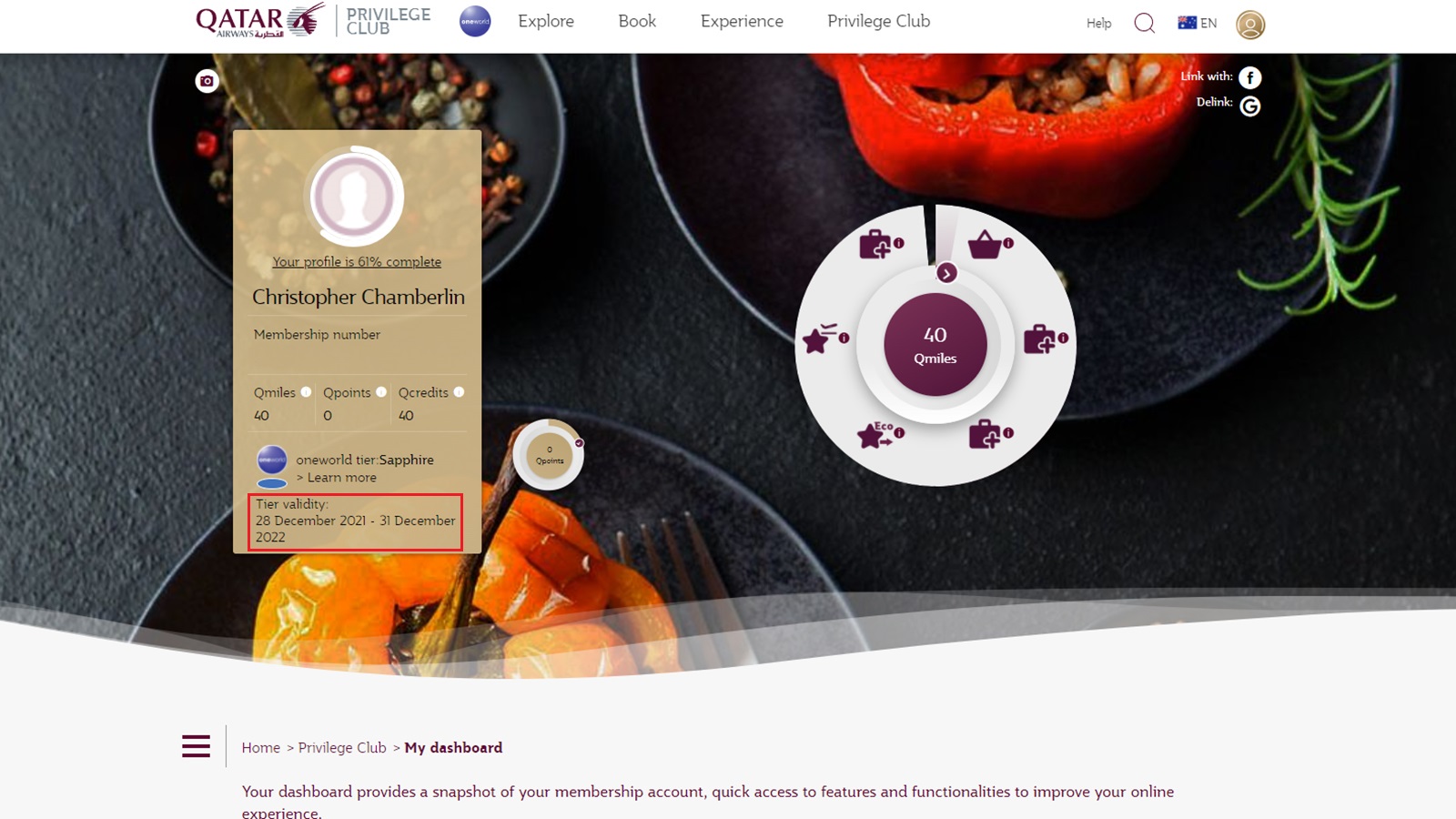 Otherwise, if your current Privilege Club membership year concludes before 31 December 2022, you should expect an automatic status extension at that time.
Just be mindful that any 'Qcredits' in your account won't be extended in a similar way. These are neither frequent flyer points nor status credits. They're instead a separate rewards balance that can be spent on things like upgrades or excess baggage.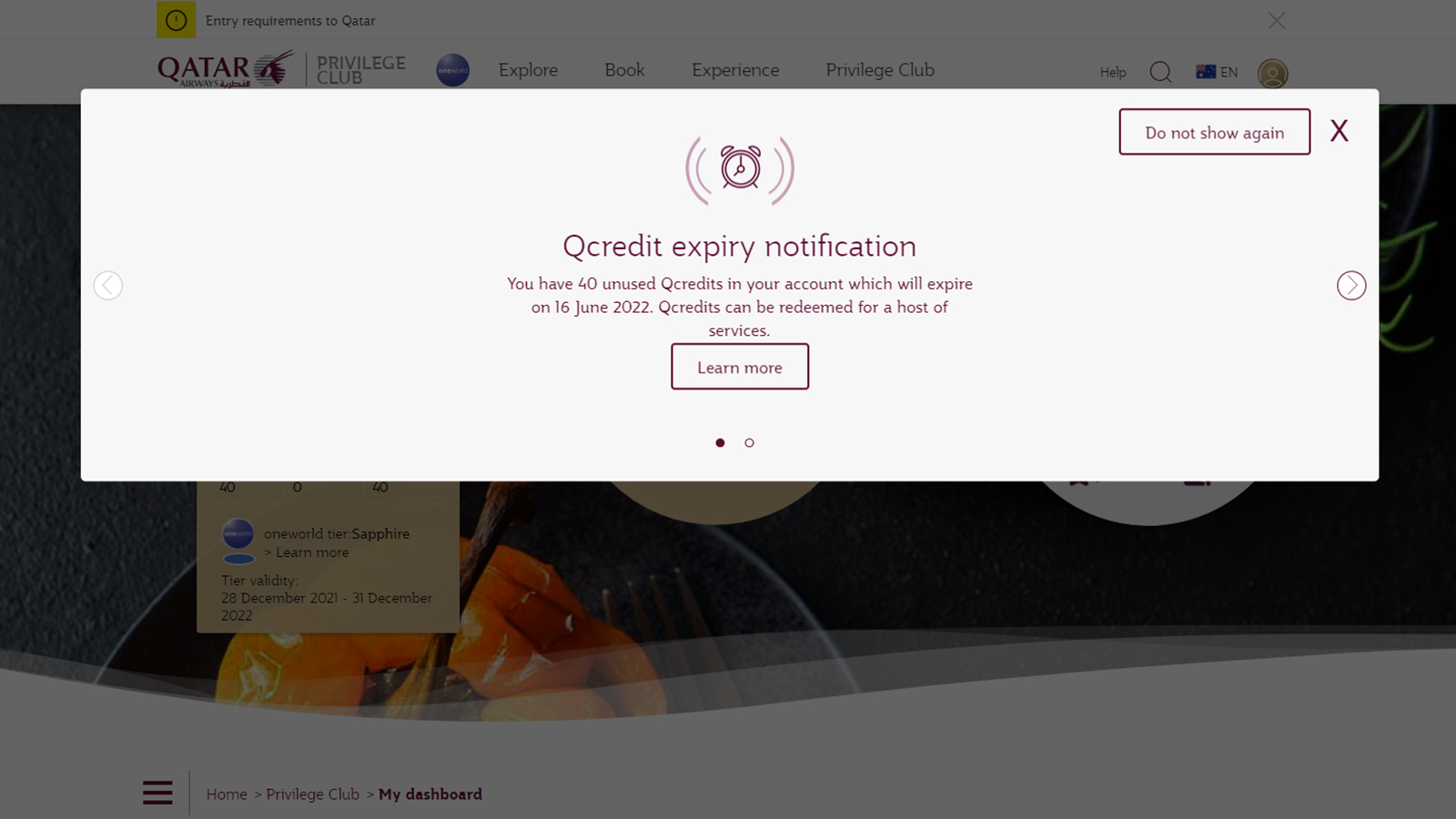 Qcredits are normally earned when a member reaches a new Privilege Club status, or retains a tier under their own steam. They're valid for two years from the time they were earned. If you received a status match back in mid-2020, that means your Qcredits are likely to expire in mid-2022. That's before your new tier expiry date of 31 December 2022.
Summing up
We're glad to see that Qatar Airways is offering its members another status extension.
It's particularly great news for those who received a Qatar Airways status match in 2020. Most Australian members wouldn't have had a chance to fly Qatar Airways since that match, making the extension most welcome.
The news follows other key initiatives at Privilege Club. Qmiles – the name Qatar Airways gives to frequent flyer points – now also adopt a more generous expiry date. As long as a Privilege Club member earns or spends Qmiles at least once every 36 months, their entire balance will never expire.
Qatar Airways extends Privilege Club status until the end of 2022
was last modified:
January 11th, 2022
by