Editor's View: Will First Class disappear post-COVID?
Posted:
March 4, 2021 - 11:00 am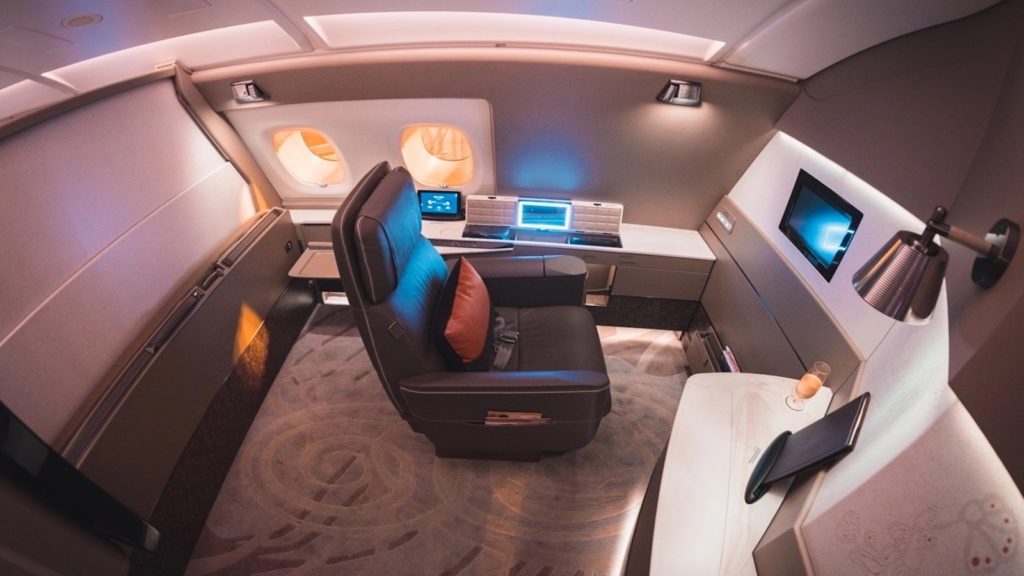 What we'll be covering
If I was to hazard a guess, I would predict that First Class travel would be on many people's bucket lists.
But will this aspiration still be an option in the future, especially given the changes to First Class over the years with the advent of improved technology in Business Class? Not to mention the likely decrease in First Class demand from corporate and business travellers looking to tighten their belts post COVID-19. The aspiration of sitting in a 'pointy-end' Suite has definitely been put at risk.
This Editor's View provides my take on whether First Class is a cabin that will be around with us for the long-term, and how it may change if it does.
History of First Class
First Class can be described as the airline industry's oldest cabin. In the very early years of commercial aviation, it was the only class that could be booked, limiting air travel to the very wealthy in society.
Over time, it began to give way to other classes, with Economy Class being the first cab off the rank. The Economy cabin was created to appeal to mass leisure travellers on a tight budget, which really proliferated with the onset of the jet age.
Business Class
Business Class was next, and Qantas boasts that it was the first airline to introduce this cabin into commercial aviation. By all accounts, if we define this to mean a cabin with a dedicated Business Class seat, then this is a true statement. Introduced in 1979, Business Class was a dedicated cabin that offered many frills that were exclusive to the most expensive of Economy tickets at the time. Such frills included lounge access and a dedicated section in the plane but added to that perks such as improved in-flight catering and amenities.
Premium Economy
Rounding out the last of the mainstream cabins is Premium Economy. Seeing the need for a cabin to bridge the large price, product and service divide between Economy and Business Class, the concept of Premium Economy was born. While the take-up was initially slow, many major international airlines now incorporate this cabin into their product offering.
The iterations of product offerings in recent years have expanded as quickly as the varieties of coffee. You can now find a smorgasbord of options, including Basic Economy, Economy+, Business+, Business Suites and First Suites. And of course The Residence, but I'll come to that one later.
For a while, First Class has been on the nose with many carriers, but with all these new options available to travellers, it should be no surprise that the cabin is becoming less prevalent in the marketplace. But how scarce will it become in the future?
Why airlines value First Class
While most public commentary has skewed towards the demise of First Class, especially since the onset of the COVID-19 pandemic, there are a number of airlines that consider this cabin to be just as important to their airline and brand as it has ever been.
Despite softening demand due to changes in travel habits, corporate travel policies and of course the increased investment in Business Class cabin products and service, Singapore Airlines continues to see a future for a First Class product when travel demand returns post the COVID-19 pandemic.

When demand returns to pre-COVID levels, the need to have a highly personalised, luxury First Class offering for customers on key routes will still be required. This is evidenced by the ongoing development work being done by our teams on our new Boeing 777X cabin products, which will include a new First Class experience for our customers.

Singapore Airlines Spokesperson
Such sentiments were echoed by another major airline:
With the steady resumption of Emirates' global route network continuing, it is important for Emirates to continue to meet customer demand for its premium service offering. In line with customer demand, Emirates has rolled out a re-designed onboard experience for First Class passengers, with the introduction of additional health and safety measures aimed at keeping its staff and passengers safe.

Emirates Spokesperson
In my view, the need for a First cabin, at least among some of the world's leading airlines, is no surprise. There is still demand for such a luxurious cabin, notwithstanding the improvements in Business Class. Just take Project Sunrise at Qantas for example, which will provide the world's longest direct flights on routes such as Sydney-London Heathrow and Sydney-New York JFK. These flights can be up to 21 hours in duration, which should see an increased demand for luxurious style and comfort, such as the extra space provided in First Class Suites and thicker duvets than those offered in Business Class. So if there ever was a business case (pardon the pun) for a First cabin, these flights are it!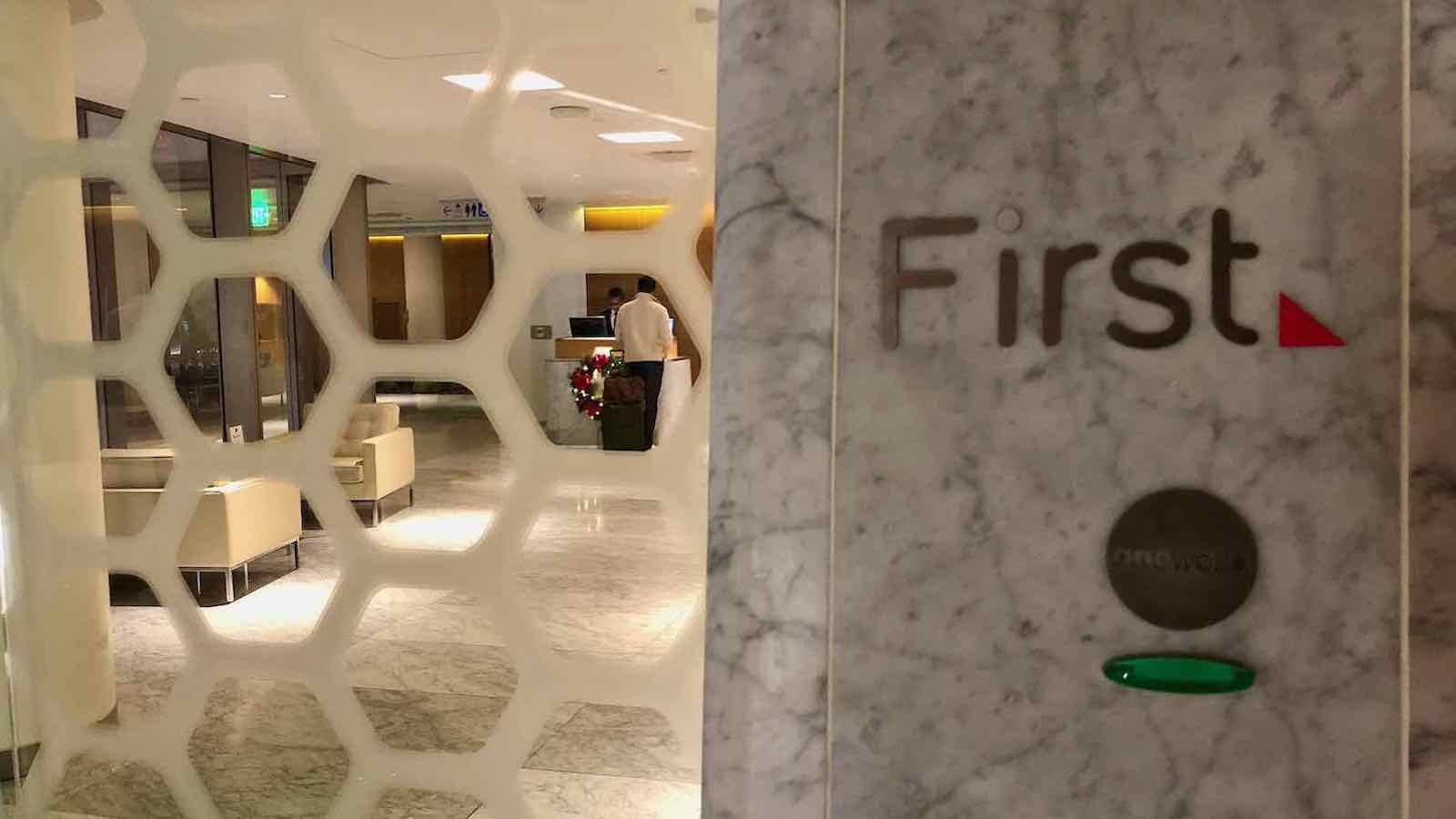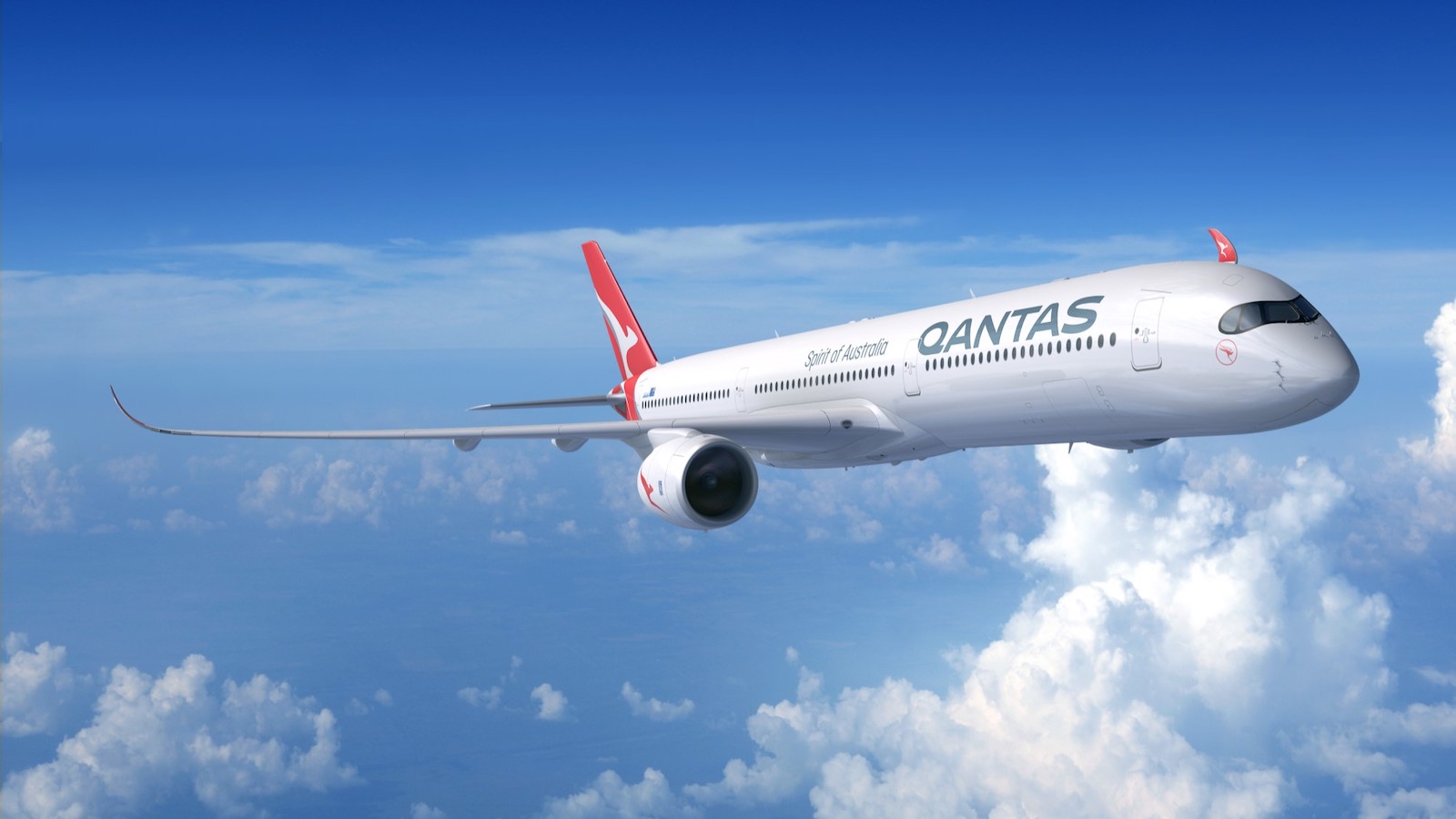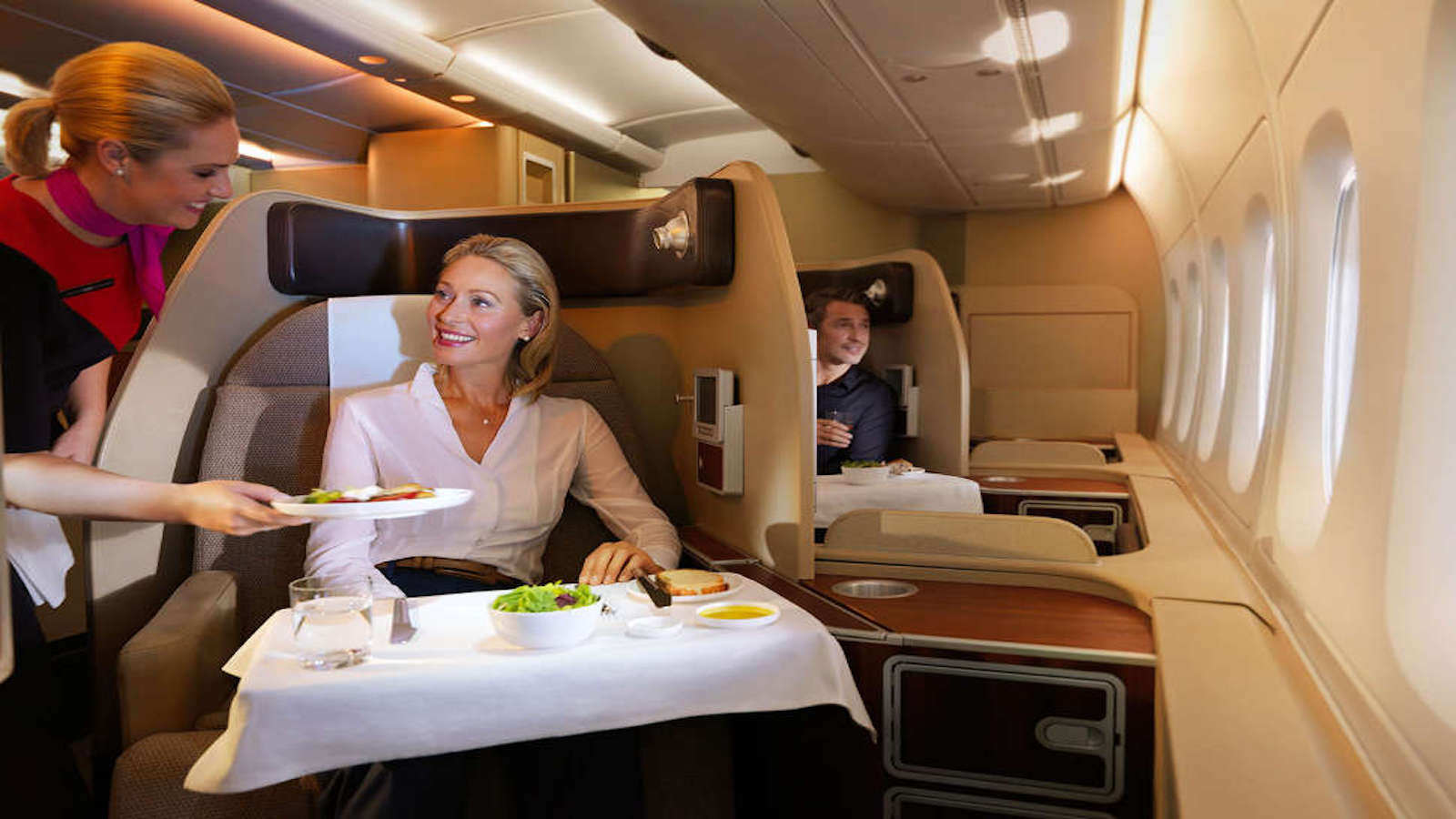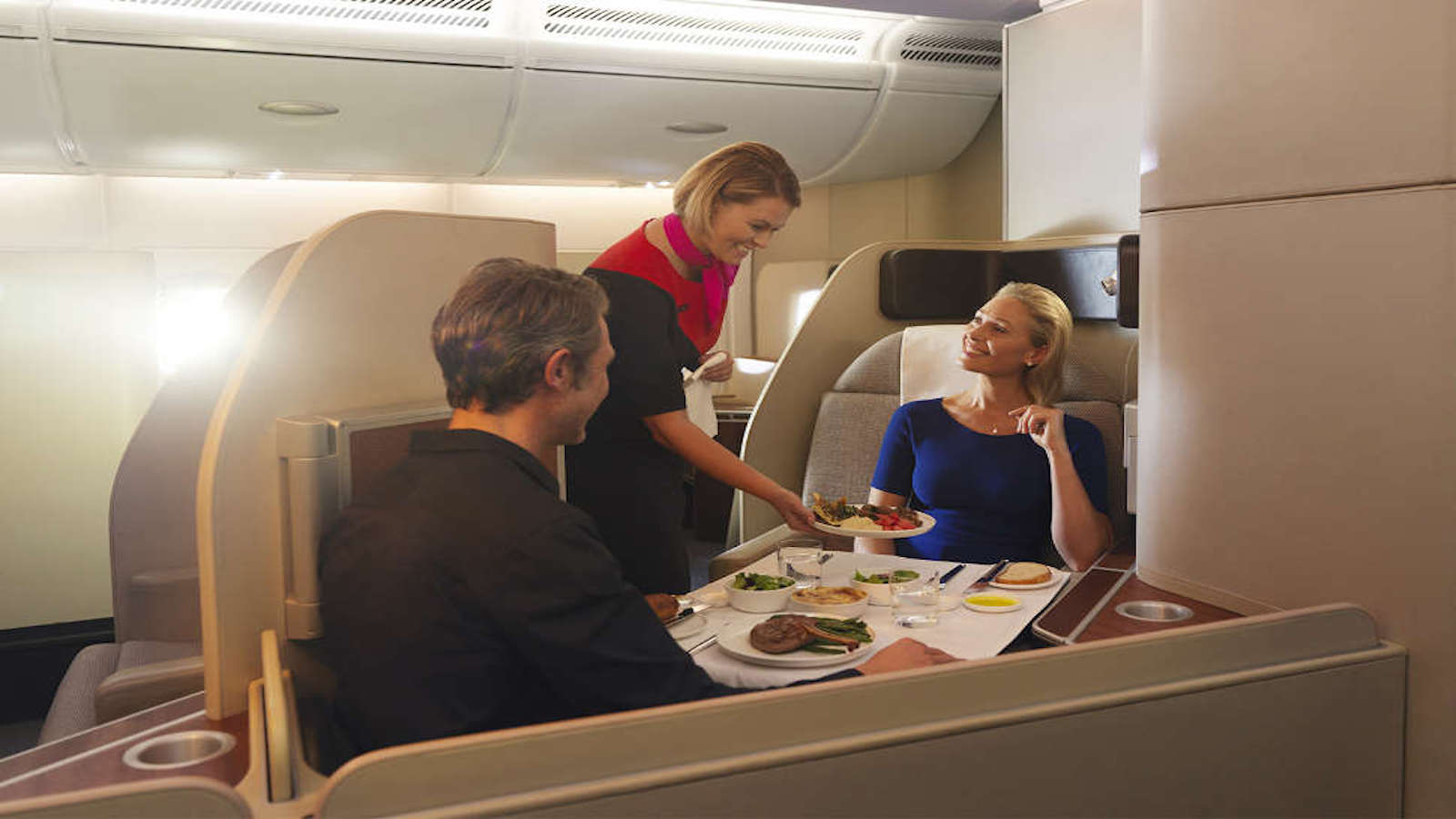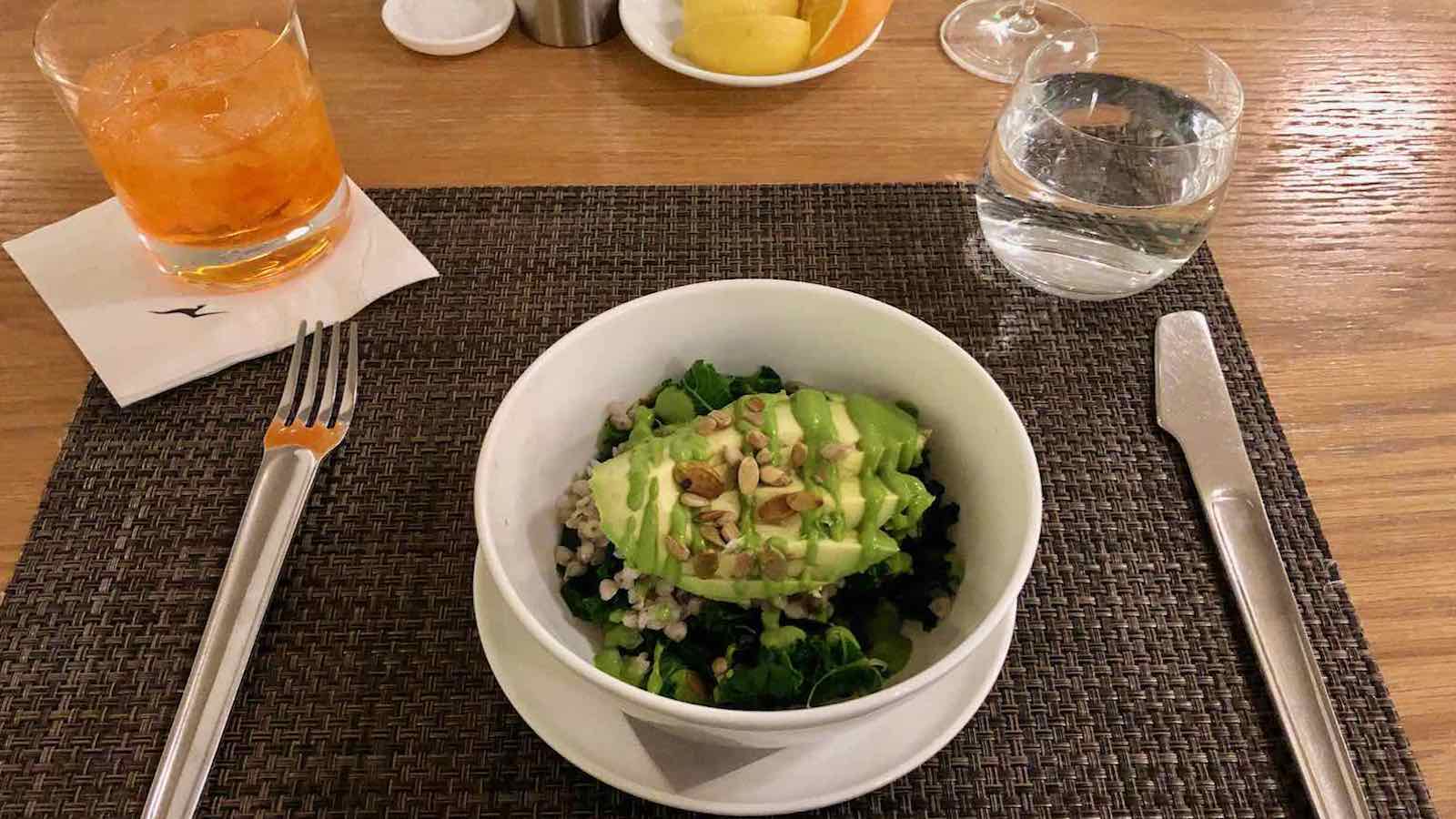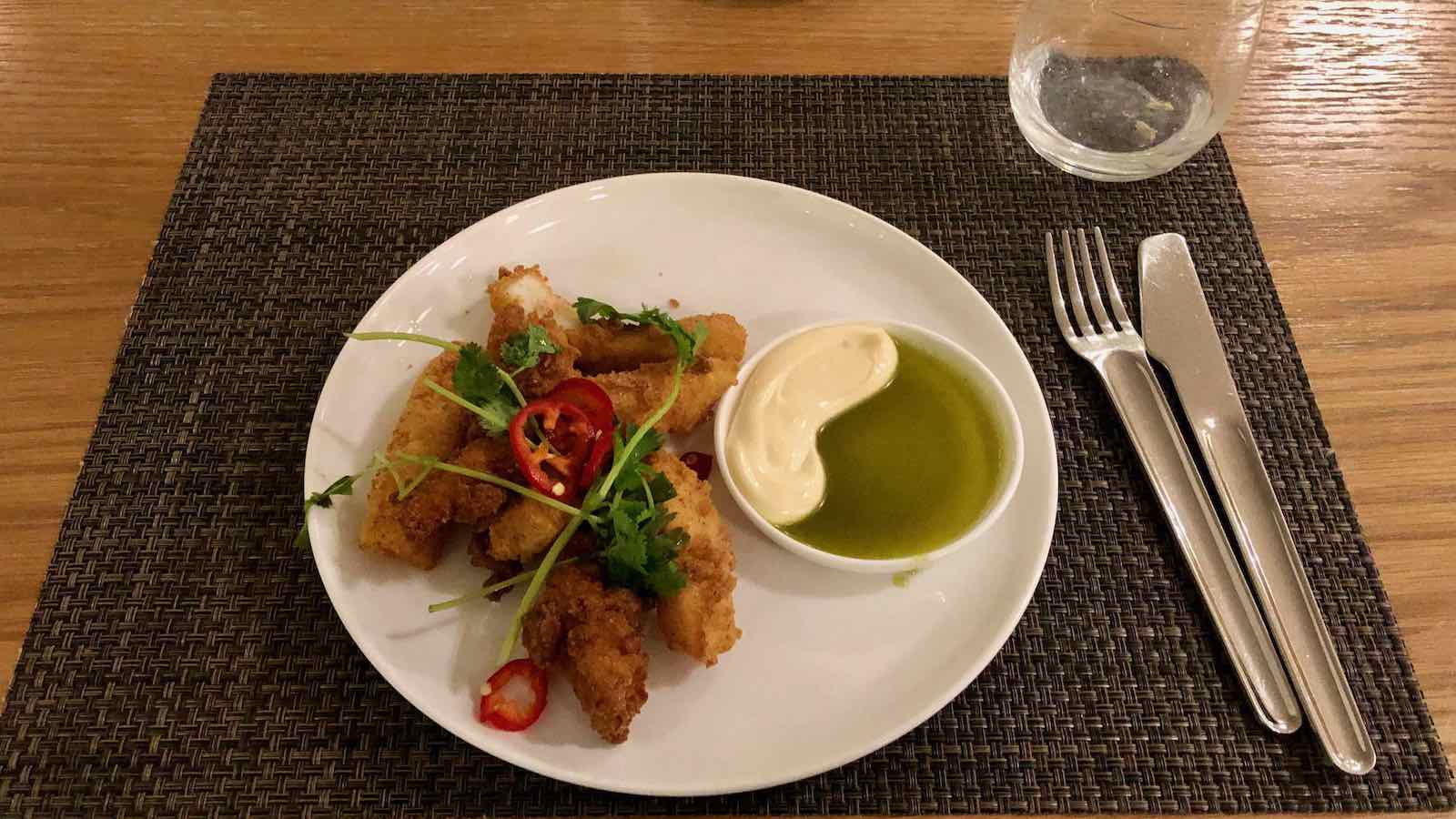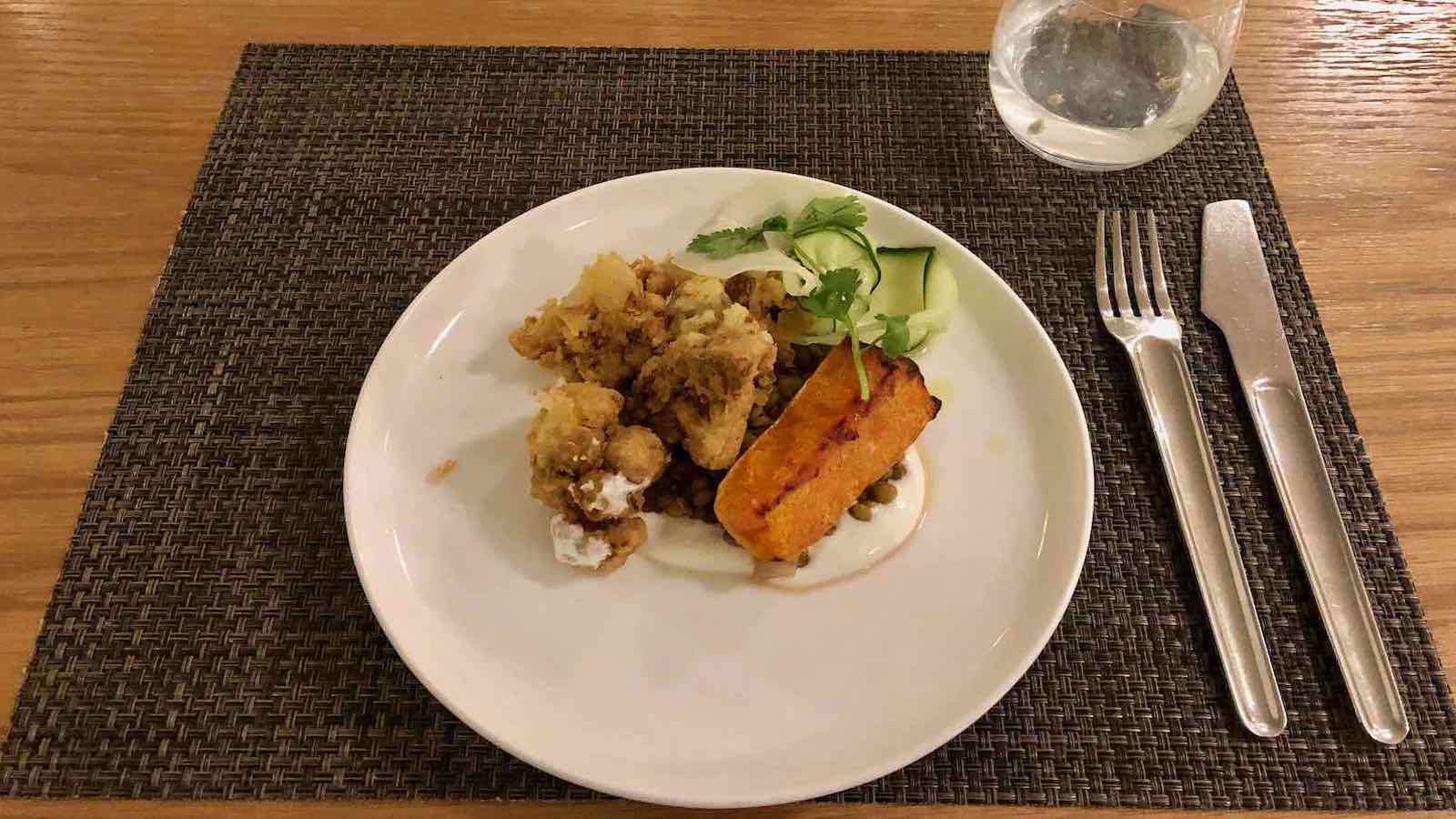 If anything, the COVID-19 pandemic has increased the likely demand for direct ultra-long-haul flights. At least that is the thinking of Qantas anyway.
Looking further ahead we think there will be even greater interest in long-haul flights that avoid stopovers. When international services resume, Qantas will continue to pursue Project Sunrise, in fact we're very close to finalising the aircraft and that will involve a brand new first class cabin – a leading first class of any airline in the world.

Qantas Spokesperson
Social norms can and usually do change after major global events. I remember a time pre the 9/11 terrorist attacks in New York when you could make your way to a departing gate even as a non-passenger to farewell loved ones, or not be subject to explosive testings, which at that time, many would have considered to be quite intrusive and an overreach by authorities.
First Class in a post-COVID world
Health and border concerns
Fast forward to today and the idea of random border closures at the sign of impending viral or other threat, something that would have been considered quite a drastic move 18 months ago, is now considered a viable (albeit contentious) course of action. So I have to concur with the Qantas view that these ultra-long-haul flights, along with the demand for First Class, are here to stay. If not for health reasons then for the risk of finding yourself locked out of your country or subject to extreme quarantine obligations due to having transited through a 'high risk' area.
When airline executives and analysts view the decision on whether to retain a First Class cabin purely through the prism of profitability, then there is a relatively clear-cut answer. And that is 'No'. It is well understood that the most profitable cabin within an aircraft is Business Class, with First Class usually coming in second place, but sometimes can fall behind Premium Economy.
There is a great video made by Wendover Productions that clearly illustrates the Economics of Airline Class and the rationale for the statement above.
Branding considerations
And then there is the issue of airline branding. While First Class by itself may not be the most profitable cabin, that does not mean that cabin doesn't play an important role in the overall financial performance of the airline.
Our First Class offering is incredibly important to the Emirates experience and is one of the reasons why our passengers continue to fly with us after so many years. It has long defined premium travel, particularly our product innovations like our private First-Class suites which were a world-first and offer passengers the option for complete privacy and exclusivity whilst flying. This is complemented by other firsts like the inflight Shower Spa and the Onboard Lounge.

Emirates Spokesperson
In other words, while the cabin is not the most profitable, it drives premium passengers to the airline, who from time to time may fly First Class, but at other times, fly the more profitable Business Class. Without First Class, the passenger may select another airline with a First Class to engage with given their occasional preference to fly First. That, of course, has positive flow-on effects, such as engagement with the airline's frequent flyer program, which for many airlines has not only been one of the, if not the, most profitable division of an airline, but also a financial saviour for many airlines during the COVID-19 pandemic.
And as Emirates stated above, complimentary First Class products, such as Inflight Showers and Onboard Lounges help the airline to drive repeat custom from cashed-up corporates, business and discerning leisure travellers. It also allows the airline to showcase the best of the on-the-ground ancillary products such as the Emirates First Lounge Terminal 3 Dubai lounge.
Aspirational spend
The same applies to other airlines, such as Qantas and Singapore Airlines, with their opulent First Class products like the Qantas First Lounge Sydney, and The Private Room Singapore Changi.
The First Class cabin, given its strong appeal to many travellers, must surely drive aspirational spend and loyalty through members saving points via these airlines' frequent flyer programs. There is a reason we continuously see the Onboard Shower on Emirates and Etihad and the new Singapore Airlines First Suite in marketing materials!
While the contingent of First Class cabins in the industry is clearly on the slide, there appears to be a base of airlines that will retain this cabin, if not for direct profit motives, then for marketing and brand reasons, which they conclude will negate any foregone profits from not removing their First Class cabin in favour of an enlarged Business Class.
Given First Class is here to stay, what does it need to become in order to continue to survive, and ultimately thrive?
Ad – Scroll down to continue reading.Minimum spend, terms & conditions apply.
The future of First Class
With the improving hard product of Business Class, the focus on future First Class cabins will primarily focus on two areas. The first being a hard product that sets a new standard in First Class travel that easily surpasses what is expected from the cabin today.
The second being a clearly differentiated product offering to that of Business Class. Everything from the service and amenities provided, to the exclusive travel benefits offered to First Class passengers needs to be constantly reviewed.
The hard product
Innovations in the hard product, being everything from the seat to the lavatories, will likely centre around continuing technological improvements in passenger space and comfort. Airlines such as Singapore Airlines and Etihad were among the first to introduce the concept of a separate seat and bed, something that was not considered viable in the past.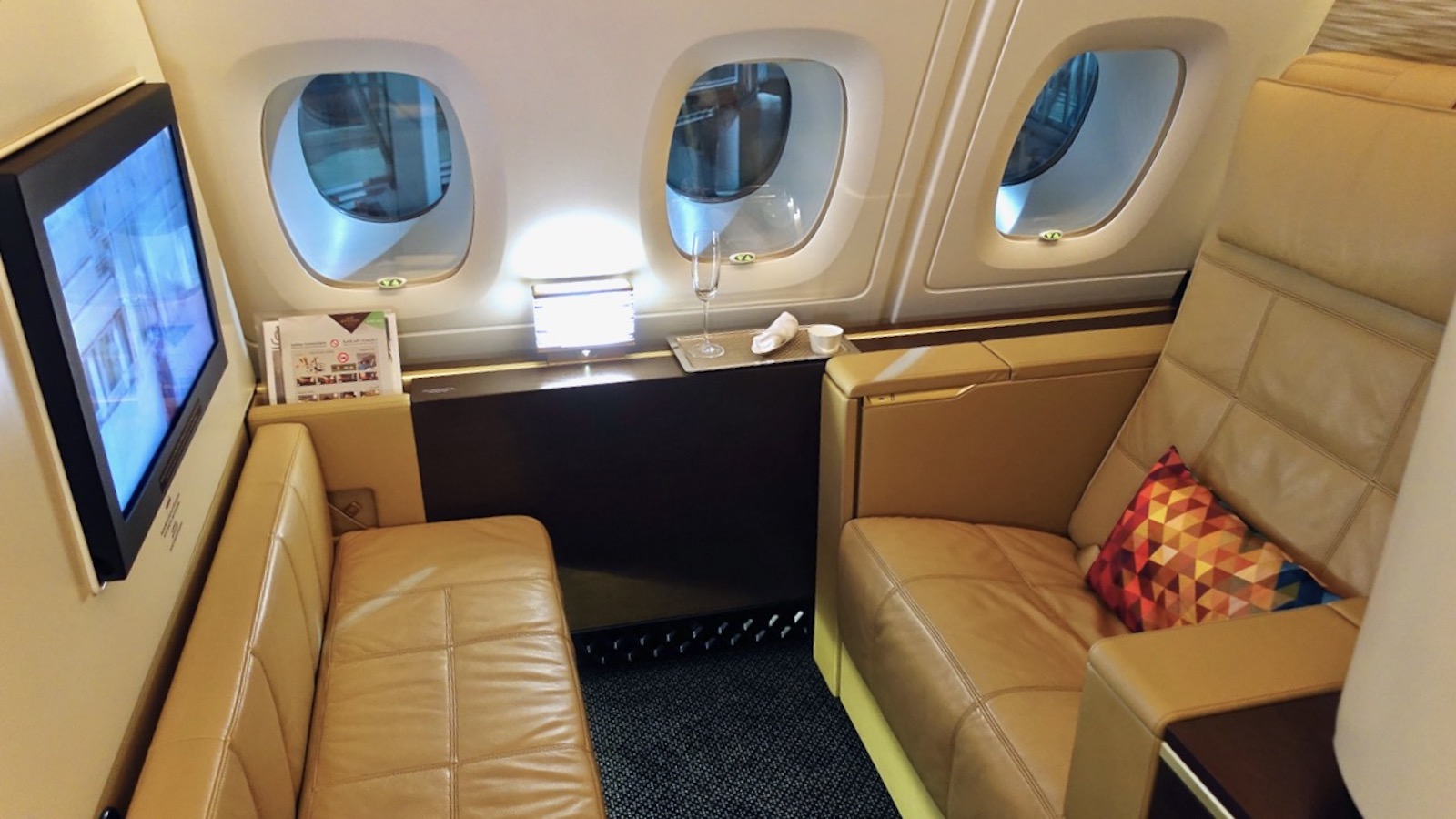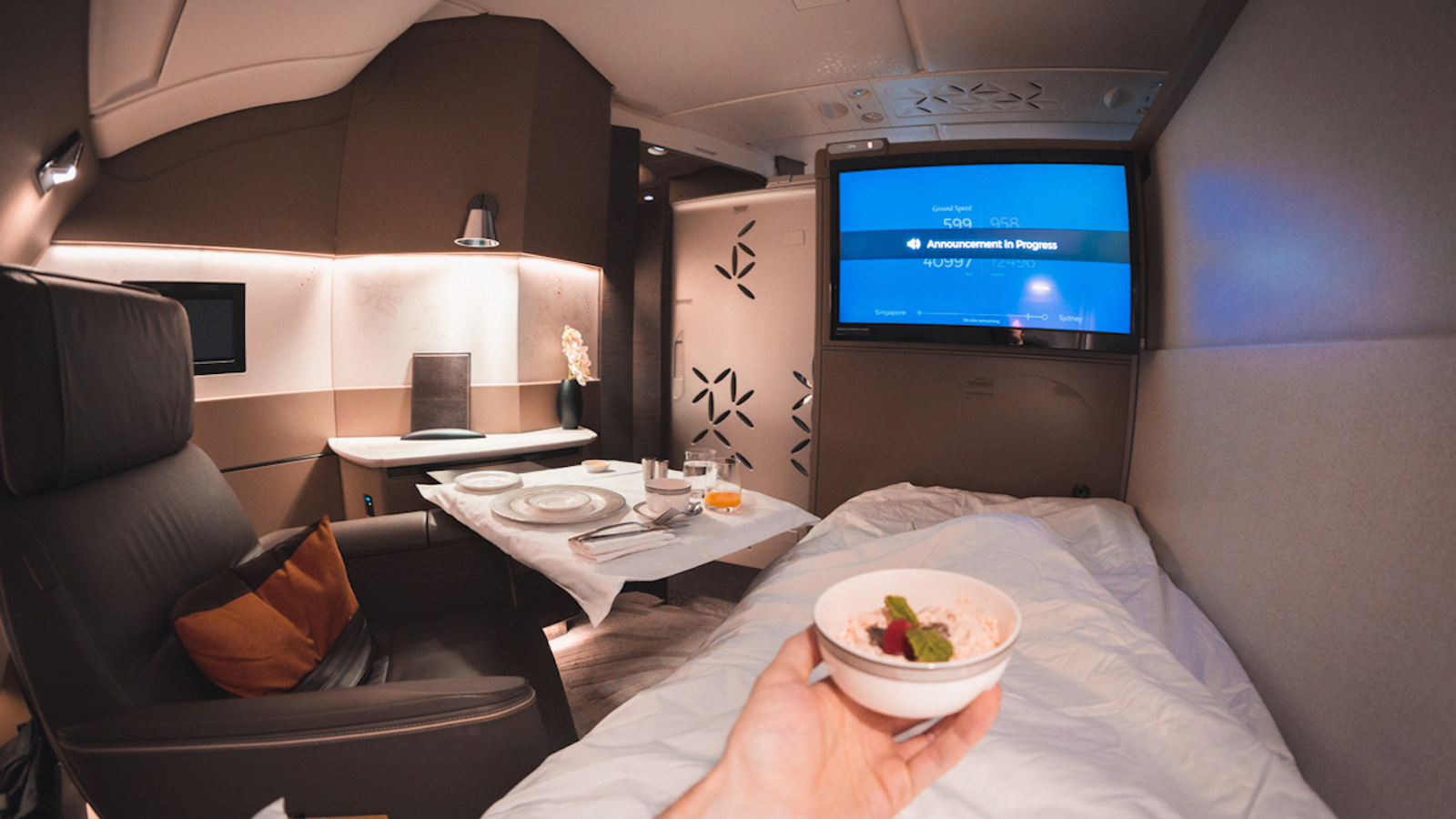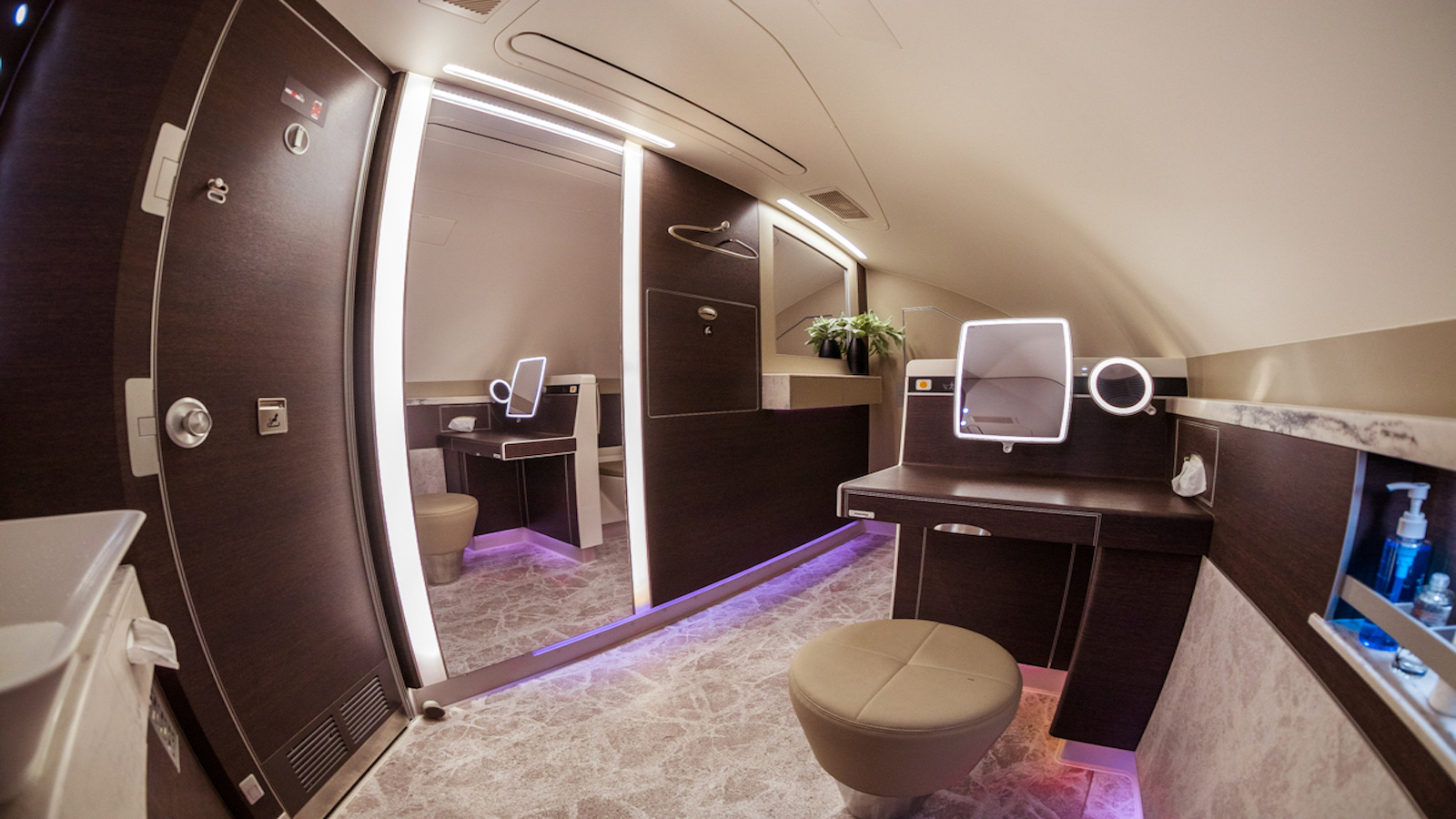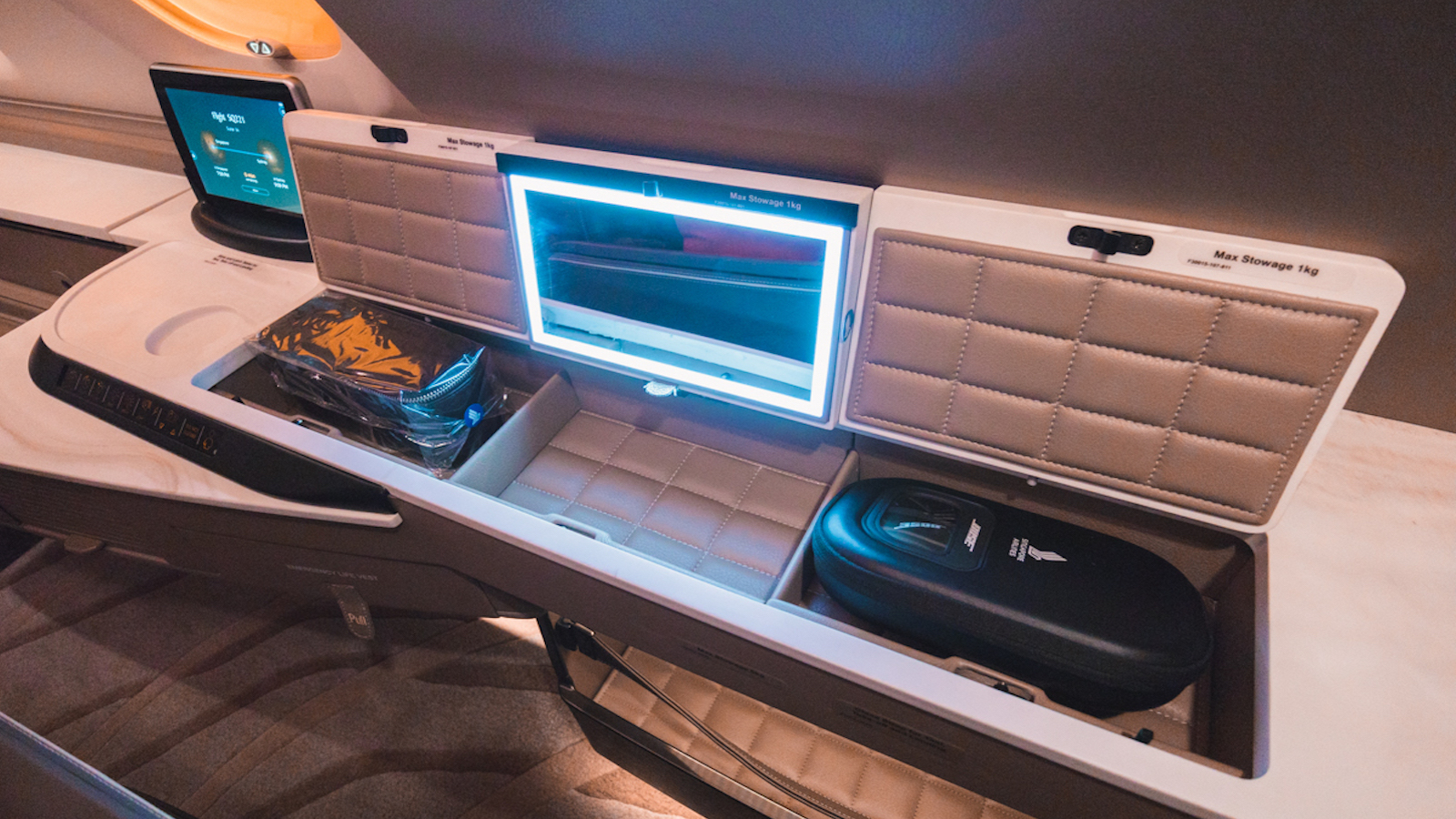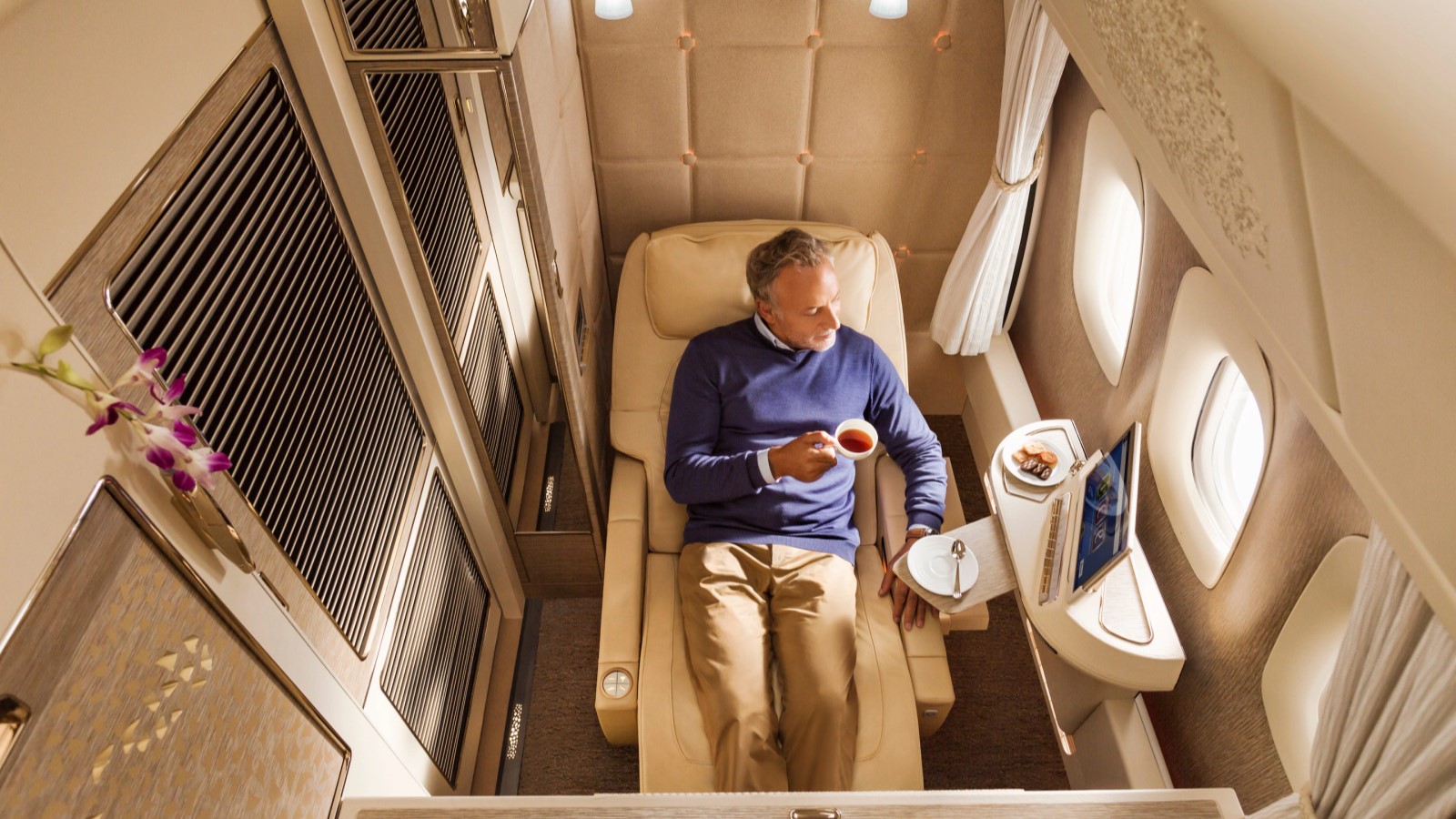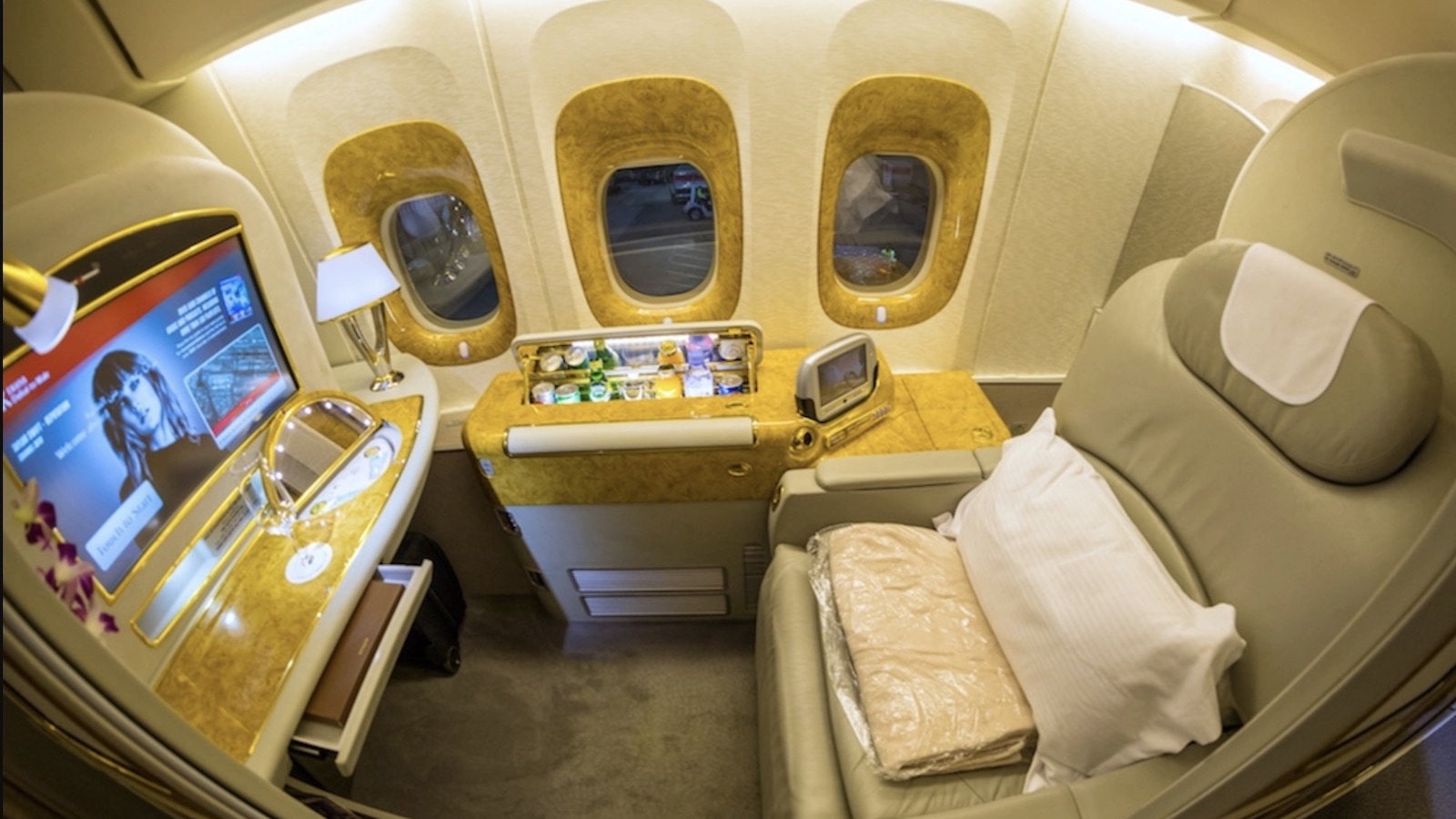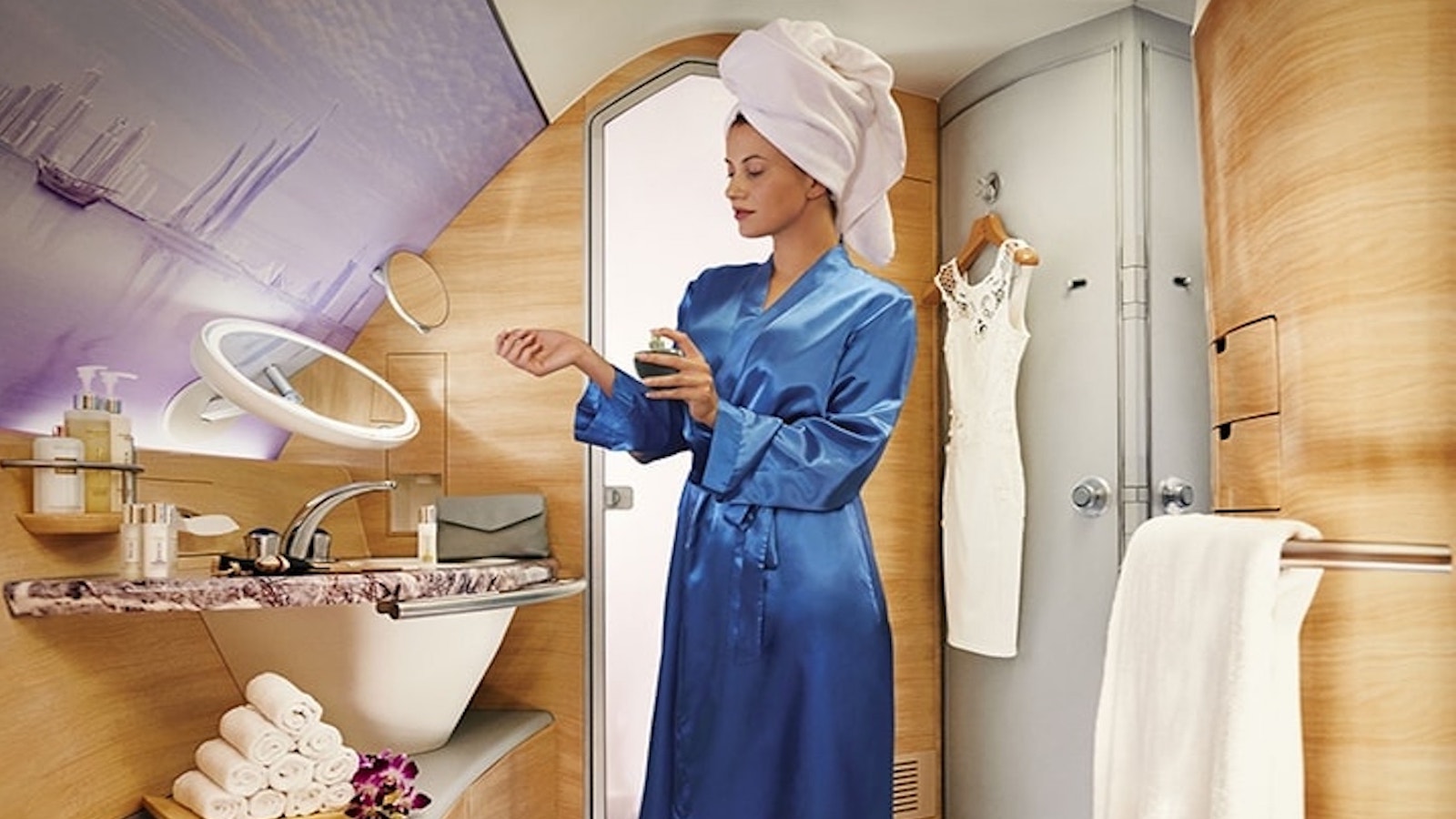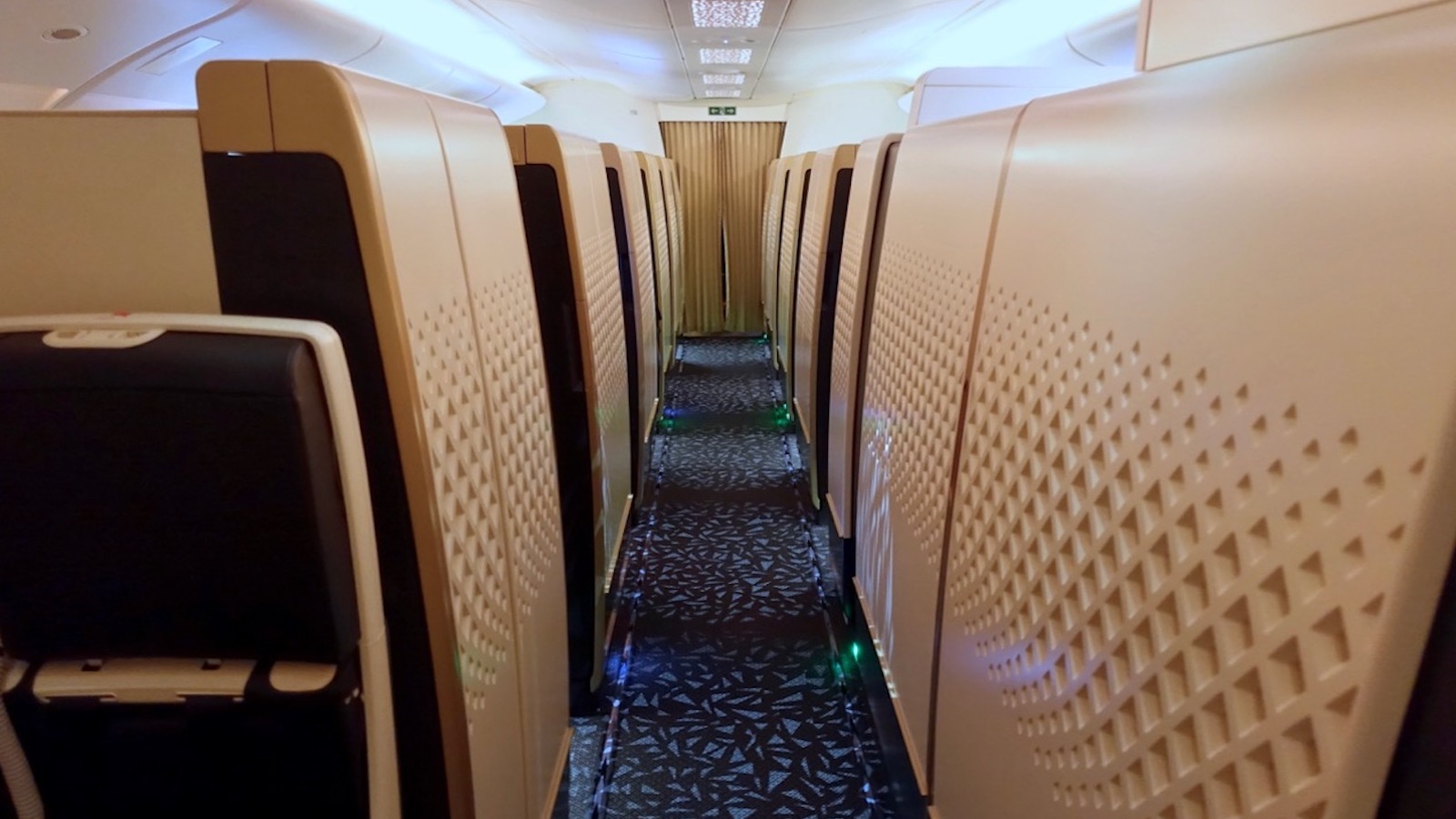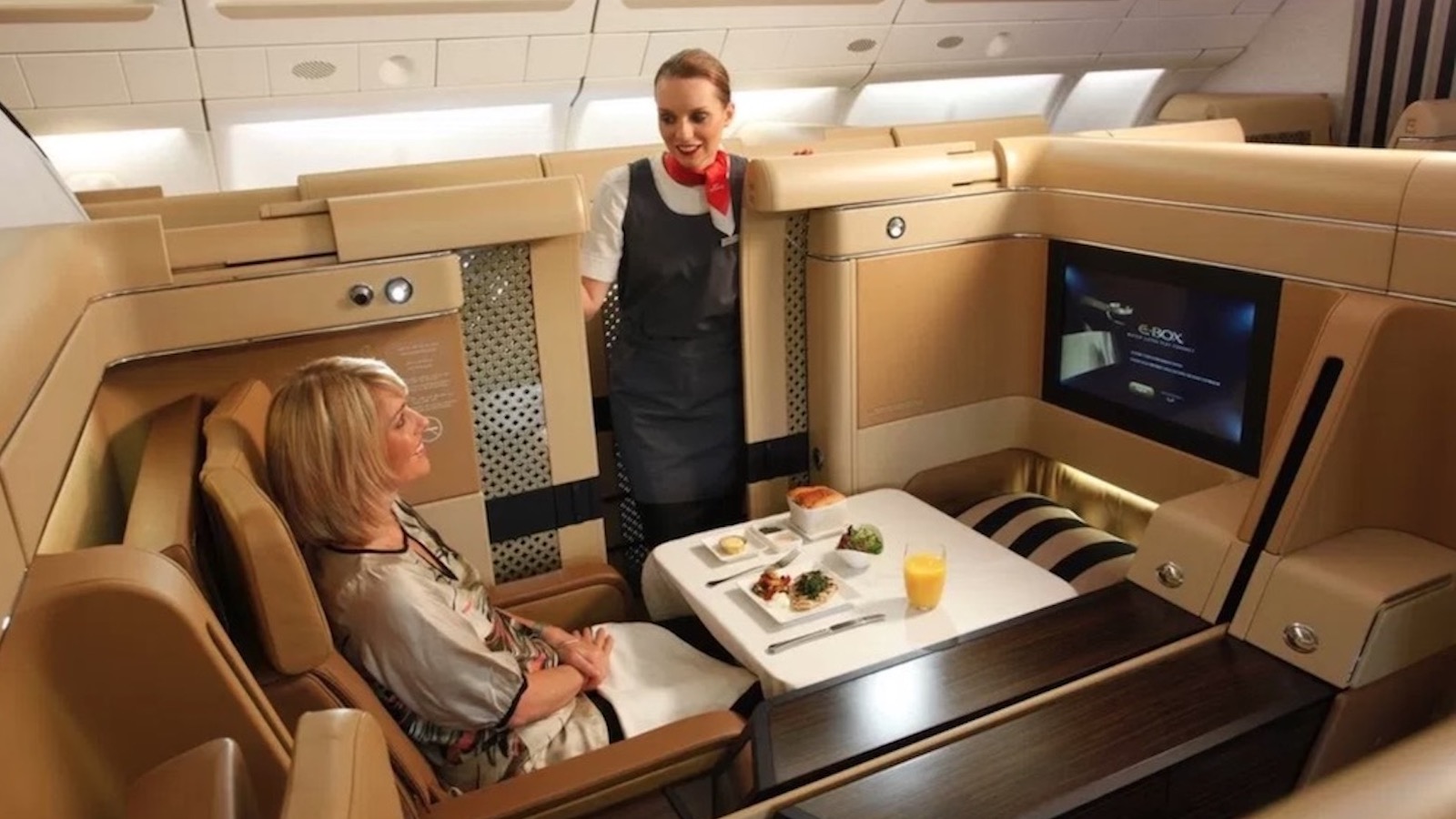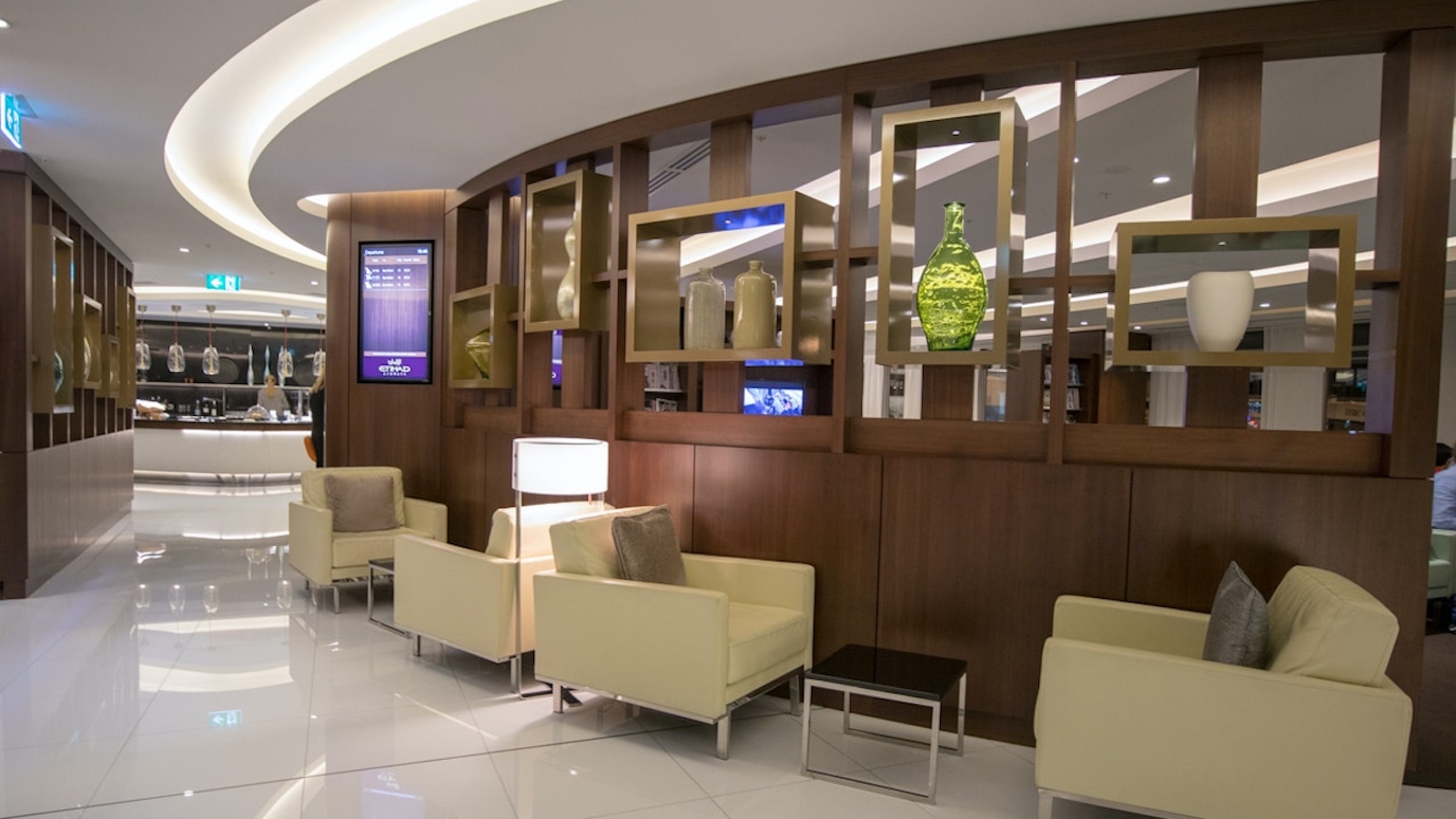 With further technological advancements in First Class suite design, a future First Class cabin will likely be able to accommodate even more amenities and comfort for First Class guests, providing an even greater private sanctuary away from the bustle and noise of the aircraft. Perhaps a seat configuration that can be easily moved or tailored around the suite, providing for a multi-purpose space that accommodates increased seatmates or different activities?
In other words, a space that is fully optimised and sharpens the divide between a proper First Suite, and a Business Class seat with a sliding door, such as those found on Qatar Q-Suites and Delta One Suites.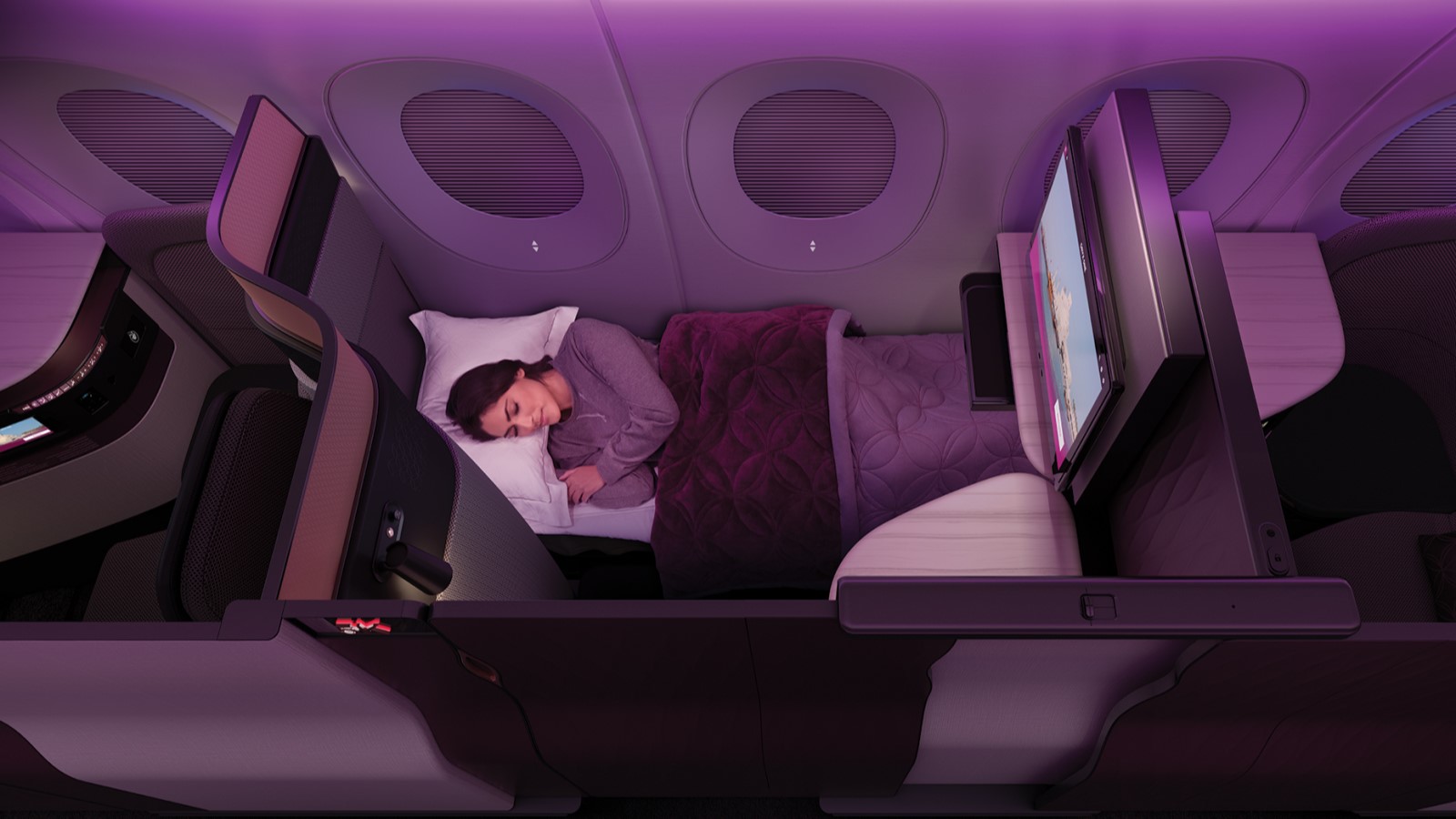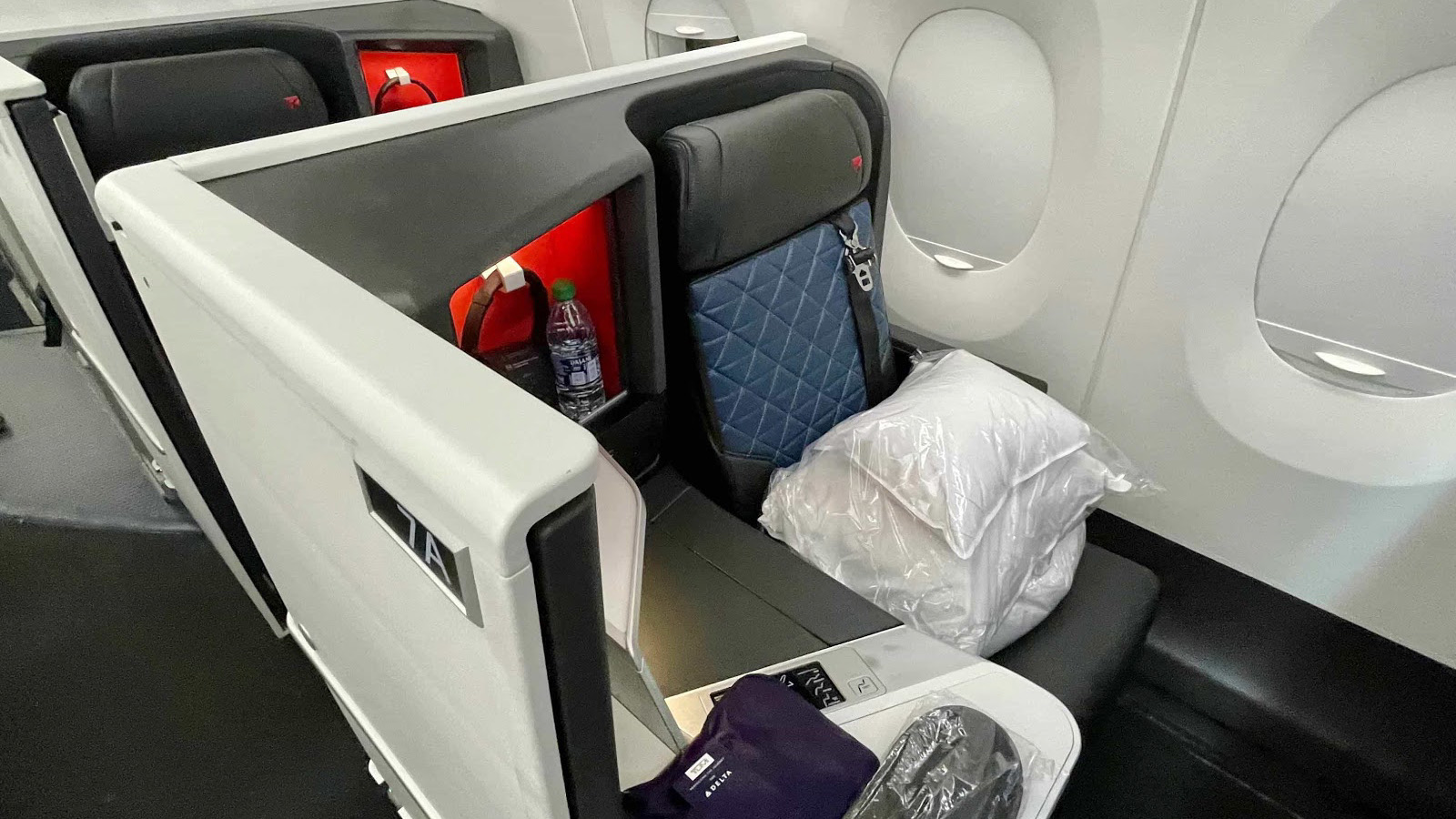 A differentiated product offering
In terms of service, the importance of having a differentiated service level between First Class and Business Class has never been more important. As more airlines continue to remove their First Class cabin in favour of an improved Business Class, the closing gap in the hard product must be counteracted by an increasing gap in service and travel benefits. The flight attendant to passenger ratio must allow for a dedicated, on-demand service, with an ability for the cabin crew to provide 'concierge style' service to each First Class passenger.
Benefits such as expedited customs and passport control should not just be offered, but be followed through by the airline. Simply handing out an 'Express Path' card and sending you on your way is simply not good enough, especially when these lanes are closed or airport staff tending these lines force you into the normal line anyway. Same with other benefits such as priority baggage for example.
Failing this, First Class airlines will struggle to convince guests to pay the extra premium above that of Business Class.
Change in the air
Up until now, many airlines have been reluctant to place a First Class cabin on aircraft outside of the Airbus A380, however, this is going to be one of the more visible shifts we will see in the future. Many airlines are removing the double-decker jumbo from their fleets, leaving smaller aircraft such as the 787 Dreamliner, A350 XWB and the 777-300ER as their only viable options for a First Class cabin.
Our newer Airbus A380 aircraft have six Suites, and we are progressively retrofitting some of our older A380s with the new configuration. Our Boeing 777-300ER aircraft have four First Class seats.

Singapore Airlines Spokesperson
Our First Class product is also featured on our Boeing 777 aircraft and there are plans to roll out the suites to our new aircraft on order. We're proud to offer our passengers a superior experience whenever they fly with us, regardless of whether they are flying in our First Class or Economy Class. This quality of service has been central to our success and will always be a focus of our operations.

Emirates Spokesperson
Qantas too, have confirmed the First cabin on their anticipated Project Sunrise aircraft, the A350. And with airlines not needing to reduce the size of their First Class suites, rather just change the layout of these cabins from 1-2-1 to 1-1, the uncertainty surrounding the future of this cabin on smaller 2-engine aircraft has largely dissipated.
First Class Plus?
In 2014, Etihad Airways set the commercial aviation abuzz with the introduction of The Residence, a 1-seat cabin that features a living room, double bed and an ensuite shower, in addition to a personal butler.
The Residence is by far and away a massive leap above any First Class currently offered in the market today, including Etihad's own First Apartments. The introduction of this cabin raised the spectre that future First Class cabins may need to reach this new bar in the future in order for the cabin to step out from the shadows of the ever-encroaching Business Class offerings.
Will others follow Etihad's lead?
While I do argue that there needs to be a clear differentiator in product and service between First and Business Class, I believe that The Residence is a clearly defined cabin in its own right and not simply an elevated extension of First Class such as a 'First Class Plus' product. As such, I don't see the need for First Class to eventually reach the level, along with the associated costs that come with such luxury to both the airline and passengers.
Having posed this question to some airlines on whether there is a need to elevate a future First Class to a 'The Residence' standard, many airlines chose to keep their cards close to their chests and not to directly answer this question, however, Emirates did provide direct feedback and may provide some thinking into this segment of the market's thinking:
Emirates First Class cabins already set a global standard for premium travel. Each private suite contains massage-enabled leather seats that convert to a full flat bed, built-in illuminated vanities and a personal room service offering available throughout the flight.

Emirates consistently reviews its onboard First Class offering to ensure it remains a global leader in premium travel and will continue to do so in 2021 and beyond.

Emirates Spokesperson
Emirates are making the calculation that so long as their First Class cabin remains the market leader in terms of luxury, style, service and value for money, then that is what is required, and not overly ambitious and likely costly leaps in the future offering.
I, and very likely other competitor airlines, concur with this view.
Summary
First Class is here to stay, no doubts about that. It will feature in Project Sunrise flights and will continue to feature on many airlines well into this decade and next.
While it may not be the most profitable class to by flying the skies, the cabin serves many benefits for airlines, including elevating an airline's brand and keeping aspirational members of their frequent flyer programs actively engaged.
For customers looking for additional choice and touch of luxury, announcements of First Class cabins in future aircraft is welcome news.
Whether First Class ever reaches the level of The Residence is unknown, but in my view, it is also unnecessary. As long as airlines keep refreshing their First Class cabins and provide an offering that differentiates itself enough from Business Class, set at the right price point, then First Class is sure to be around for a while yet.
Check out the other Point Hacks Editor's View articles here →
So what are your thoughts on the future of First Class? Comment below
Editor's View: Will First Class disappear post-COVID?
was last modified:
August 25th, 2023
by