The Point Hacks team has traversed all corners of the globe, from the colourful souks of Marrakech and the ruins of Petra to the dancing Northern Lights. We've sauntered through the bustling bazaars of Kathmandu, admired the incredible Iguazu Falls and paddled through the pristine beaches of Phuket.
We're experts when it comes to travelling on points. And now we're bringing together our extensive knowledge of travel hacks, rewards programs and passion for the world's most stunning destinations so you can experience your own dream getaway.
Introducing Point Hacks Travel – built by Point Hackers for people with points. Here you'll find the best flights, hotels, activities, tailored holiday packages and luxurious cabin experiences all in one spot.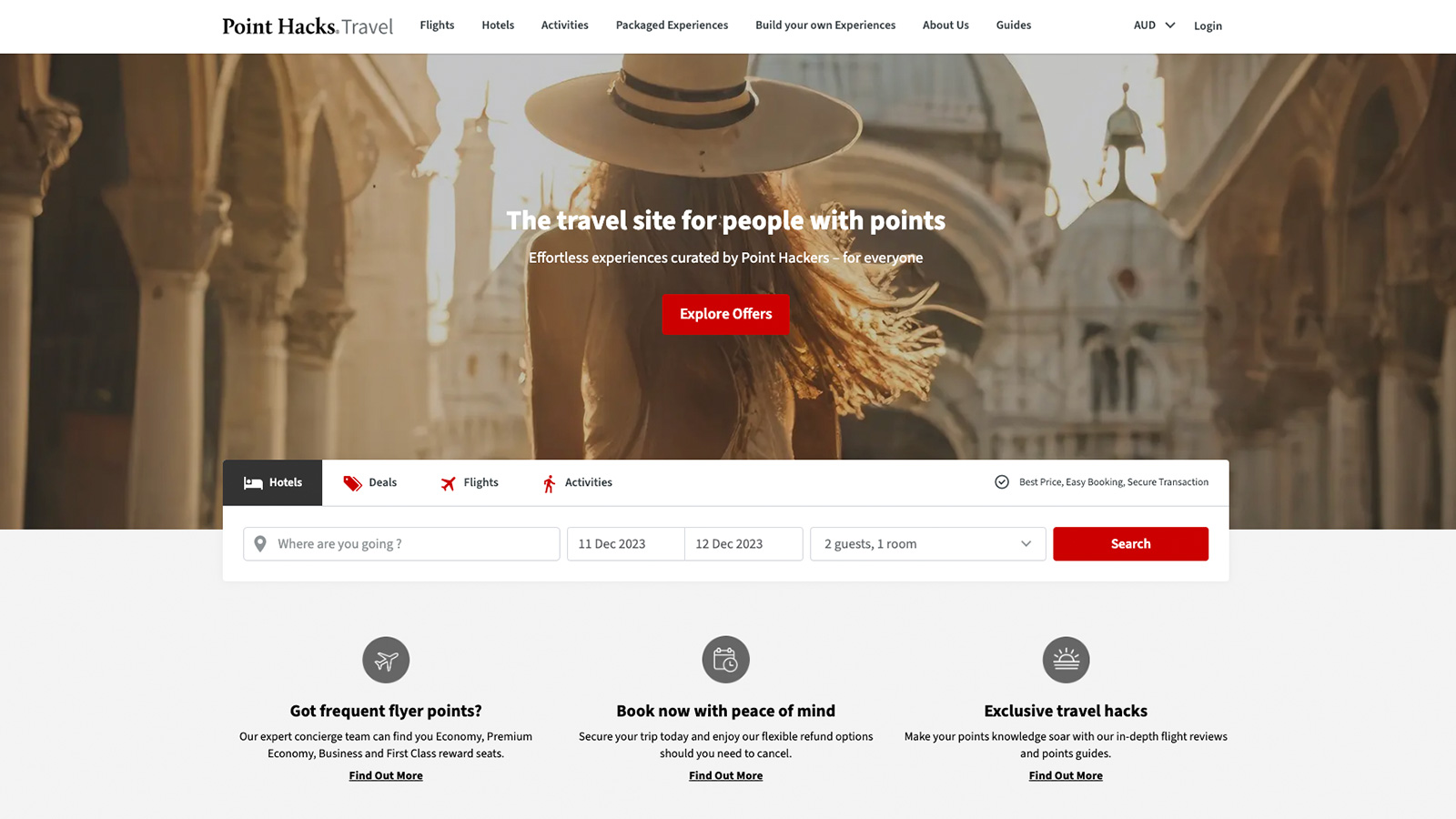 Because why simply read about all the remarkable destinations you can travel to using points? With Point Hacks Travel, you can seamlessly book the best luxury travel deals from Australia yourself. And best of all, our new travel booking platform caters to everyone – even if you don't have many (or any!) points to play with. Though if you do, we've got you covered with our Concierge service, too.
Here's a sneak peek of what's in store.
Ad – Scroll down to continue reading.Minimum spend, terms & conditions apply.
Unlock a new era of exploration
Imagine a travel booking platform built by skilled Point Hackers, for people with points.
Now envision handpicked luxury travel deals, meticulously-crafted itineraries, and even a dedicated service with step-by-step instructions on how to book reward seats for your getaway.
We're in the process of adding everything we know about points and destinations into one comprehensive travel booking platform. And we've streamlined the process so you can book the best luxury experiences for yourself.
Whether you're new to the points game, have been doing it for a while or are an established expert, Point Hacks Travel will make travelling with or without points easy.
Curated travel experiences
Point Hacks Travel takes the hard work out of searching for transport, accommodation and on-the-ground activities by combining them all in one place. Pick and choose options to build your dream itinerary to your individual preferences. Or, select one of our Exclusive Packaged Experiences – itineraries tried and tested by the high-flying Point Hacks team to destinations where we've found reasonable reward seat availability. This ensures you'll have nothing less than an exceptional experience in the sky and on the ground.
Premium cabins on points with our Concierge service
Fancy flying in the lap of luxury? If you've got a stash of frequent flyer points and don't know where to start, let our Concierge service take the hard work out of finding those elusive reward seats.
Our expert agents can work with any frequent flyer or bank rewards program to find you reward seats in any cabin, including Business and First Class.
With our dedicated Concierge service, you can make your hard-earned points travel further.
Flexible refund options
We get it – life happens. As Point Hackers, we've booked countless rewards seats and understand that you can't always get the seats or dates you want.
That's why Point Hacks Travel allows you to lock in your travel plans today with the confidence that you'll be covered by flexible refunds and date changes.
Because travelling is about enjoying every moment – and Point Hacks Travel is dedicated to ensuring a seamless experience from start to finish.
This is just the beginning…
We've got loads more where this came from. Over the next 12 months, you can expect to see new features, points integrations and exciting partnerships. We're redefining travelling on points and making Point Hacks Travel the ultimate destination for people who use points to travel.
Want to stay ahead of the curve? Subscribe to our email newsletter to be the first to hear about our latest updates.
Now it's over to you. The Point Hacks Travel platform is continuously evolving, and we want to know what you'd like to see. Whether it's a dream bucket list destination, travel tips and tricks from the experts or new experiences on points. Drop us a comment and let us know.
And for the purists out there, don't fret. Point Hacks Travel is run by a separate team, so our core team of writers remain committed to dishing out the latest frequent flyer news, reviews and guides. Nothing will change on that front.
Ready to dive into a new way of booking travel? Let Point Hacks Travel take you there.
Featured image: Alexandre Chambon, Unsplash
Just launched: Point Hacks Travel – the travel site for people with points
was last modified:
November 15th, 2023
by