Fiji Airways soars to Australia with upgraded in-flight experience
Boosted luggage allowances, refreshed dining and more on Fiji Airways.
Posted:
December 1, 2021 - 1:00 pm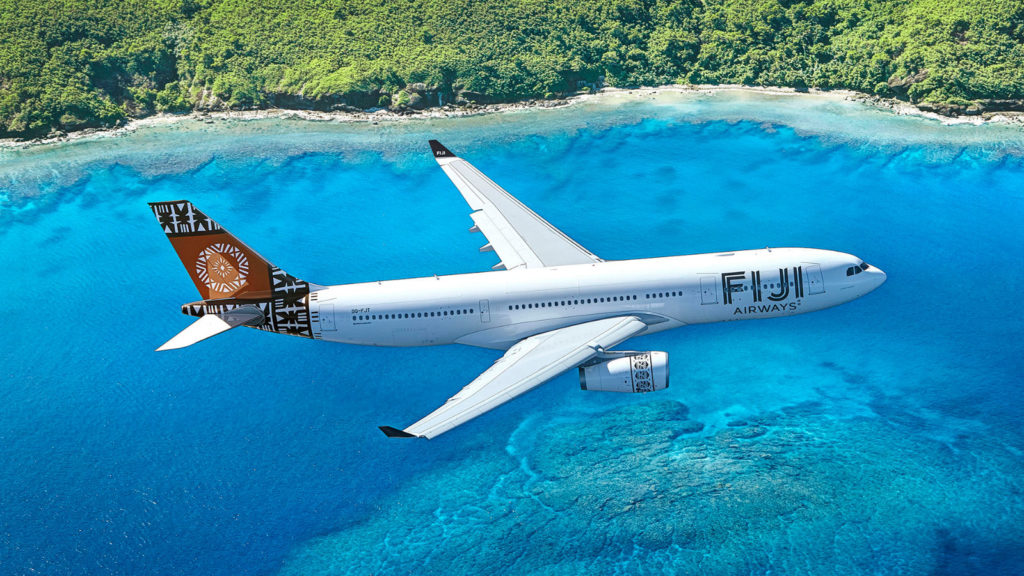 What we'll be covering
December 1 marks a momentous day for Fiji Airways, as the first travellers from Australia make their way from Sydney and Melbourne to the tropical islands of Fiji. From the city of Nadi to Denarau Island and beyond, 'Omicron' will be but a faint memory as travellers revel in all that the COVID-safe resorts have to offer.
It's been some 20 months since flights ceased between the two countries. But Fiji Airways has been hard at work revamping its flight experiences. The oneworld connect partner is flying its latest and greatest Airbus A350-900 and Boeing 737-8 jets to Sydney. Melbourne (and eventually Brisbane) will both be served by the Boeing 737 as well.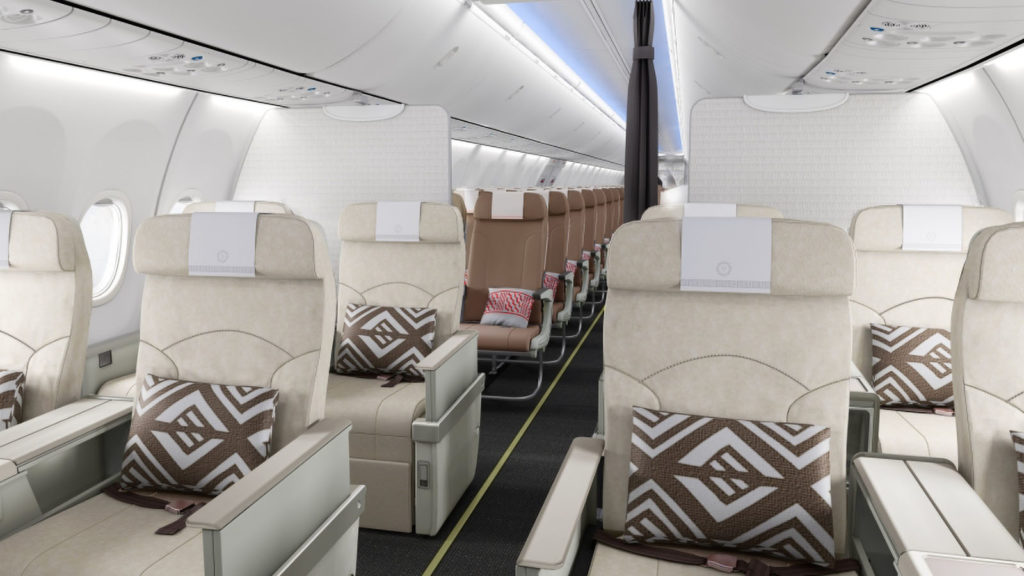 New offerings included a boosted baggage allowance and a new 'Economy flatbed' upgrade for longer flights. Passengers can also indulge in revamped dining onboard and in the lounge.
New offerings on Fiji Airways flights
Fiji Airways Managing Director and CEO, Andre Viljoen, is excited to welcome back Australian travellers.
We have been working hard since March last year to prepare for this moment and ensure our guests have the safest and most enjoyable travel experience possible. We have incorporated an award-winning new Travel Ready safety programme, new in-flight entertainment for travellers of all ages and new seat selection options to enhance comfort for long-haul and mid-haul flights.

– Andre Viljoen, Fiji Airways Managing Director and CEO, 1 December 2021
Pack up to 7kg more in Economy
The airline's new experience kicks off before you get to the airport. Economy Class passengers on international flights can now pack up to 30kg in check-in luggage, up from the previous 23kg. We don't anticipate you'll need all that weight when you're just bringing bathing suits and shorts, but you never know…
New dining headed onboard and in lounges
Fijian-NZ chef, Richard Cross, now helms the airline's catering from onboard to inside the Fiji Airways Premier Lounge. New wines hail from renowned vineyards across Australia, New Zealand, France and America.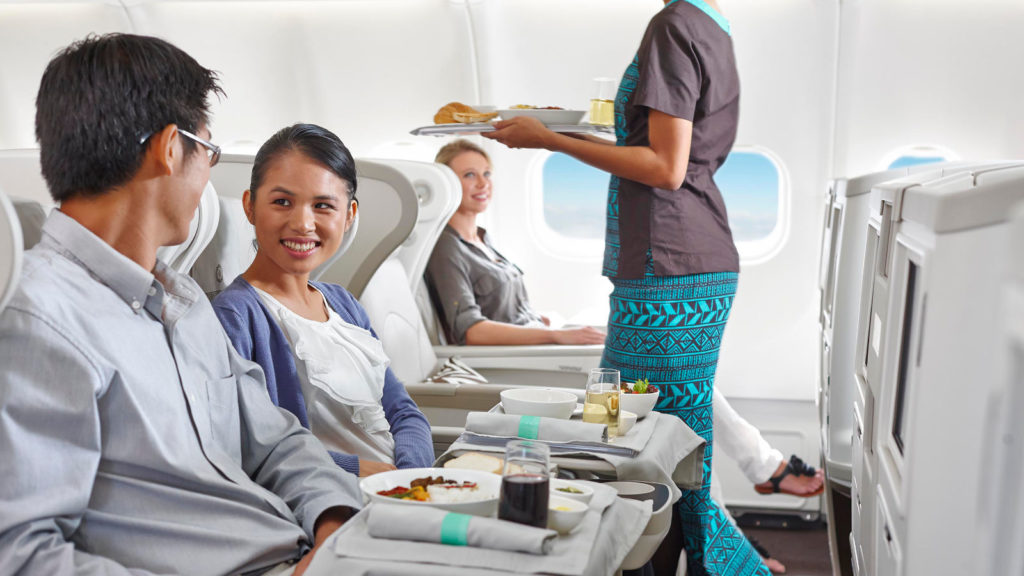 Speaking of lounges, the Fiji Airways Premier Lounge at Nadi Airport is offering a discounted family pass for two adults and two children. Pay just FJ$250 (~AU$165) to enjoy the lounge's dining and amenities before your flight back.
Lie flat with 'My Island'
If stretching out is your thing, forget about extra legroom seats. My Island is the way to go, giving you access to an entire row. Sleep flat with Business Class-level pillows, mattress toppers and extra blankets. At this stage, My Island will be available on a range of medium and long-haul flights. But we don't yet know what flights or aircraft will offer it, or how much extra it costs.
Read and learn onboard
In-flight entertainment also steps up a notch with access to the digital reading platform, PressReader. From 96 hours before the flight to 24 hours after, feel free to download and read more than 7,000 international publications from the comfort of your own device.
Finally, younger flyers will enjoy 'Our Ocean, Our Life' – a special activity pack and book series. Not only is it great fun, but our future generation will also learn about the importance of protecting Fiji's delicate marine ecosystem.
Ad – Scroll down to continue reading.Minimum spend, terms & conditions apply.
Booking Fiji Airways flights with points and miles
Qantas Points
If you've been patiently saving your Qantas Points over the past year or so, now's the time to start using them! Qantas international reward seats (including on Fiji Airways) are fully flexible until 31 December 2022. But you need to book before 28 February 2022 to lock in that flexibility.
Economy Reward seats from Sydney and Brisbane are 18,000 Qantas Points in Economy and 41,500 Qantas Points in Business. You'll need more points from Melbourne – 20,300 points and 57,000 points, respectively.
American Airlines AAdvantage miles
Sitting on a pile of unused AAdvantage miles? Great news – you can redeem these for excellent-value travel on Fiji Airways from Australia! Fly between Fiji and Australia for 15,000 miles in Economy, or 30,000 miles in Business. Taxes are roughly US$75 each way on Fiji Airways.
See the latest AAdvantage buying miles promotions →
Summing up
Fiji Airways is clearly geared up and ready to go with Australia-Nadi flights. Despite the threat of a new COVID variant looming, we hope that flights between the countries remain unaffected. Over 90% of the adult population in Fiji is fully vaccinated, and most resorts are accredited with COVID-safe measures in place.
Nevertheless, expect some extra restrictions in place. Fiji Airways now has a 'no-jab, no-fly' policy. The Fijian Government has various on-arrival requirements, so check them out here. You have to book at least three pre-paid nights at a 'Care Fiji Commitment' (CFC) resort before you arrive in Fiji. These resorts can also organise the required safe transfers and on-arrival testing.
Finally, be sure to also check the NSW and Vic government websites for the latest on isolation periods when re-entering Australia. Other than that, you're ready to go!
Also read: what to expect when flying to Fiji →
Fiji Airways soars to Australia with upgraded in-flight experience
was last modified:
August 24th, 2023
by