Alaska Airlines Mileage Plan miles are perhaps one of the most versatile points 'currency' out there, and it just got better. You can now redeem those miles for Singapore Airlines flights.
It does open up a few opportunities for travellers, although the rates are quite poor in some cases. What that means is you could be better off making the redemption with KrisFlyer miles or Velocity Points, rather than Alaska miles.
There is one major benefit though – you can stopover for free on Alaska Airlines award tickets. This means that you could book Sydney to Singapore to Bangkok with a few days exploring Singapore, all for the one standard award rate, rather than being charged two sectors which would cost more.
Australia to South East Asia
While the 'South Pacific' region generally does not encompass Australia, for the purposes of redeeming Alaska miles with Singapore Airlines, Australia is charged at 'South Pacific' rather than 'Australia' rates. These are the number of Alaska Airlines miles needed for a one-way redemption on Singapore Airlines:
SQ: Australia/NZ/South Pacific to South East Asia (Singapore or onwards)
Economy
30,000 Alaska Miles
Business
65,000 Alaska Miles
First
90,000 Alaska Miles
Since 'South East Asia' encompasses other countries like Thailand, you could book a connecting flight from Singapore at no extra charge, except for taxes. Note that Japan and South Korea are considered 'North Asia' and isn't included in the table above.
Due to the nature of region-based pricing, Perth passengers get the worst deal, since the flight to Singapore is much shorter and those residents would still have to pay the same number of miles as someone starting their trip from Sydney or Auckland.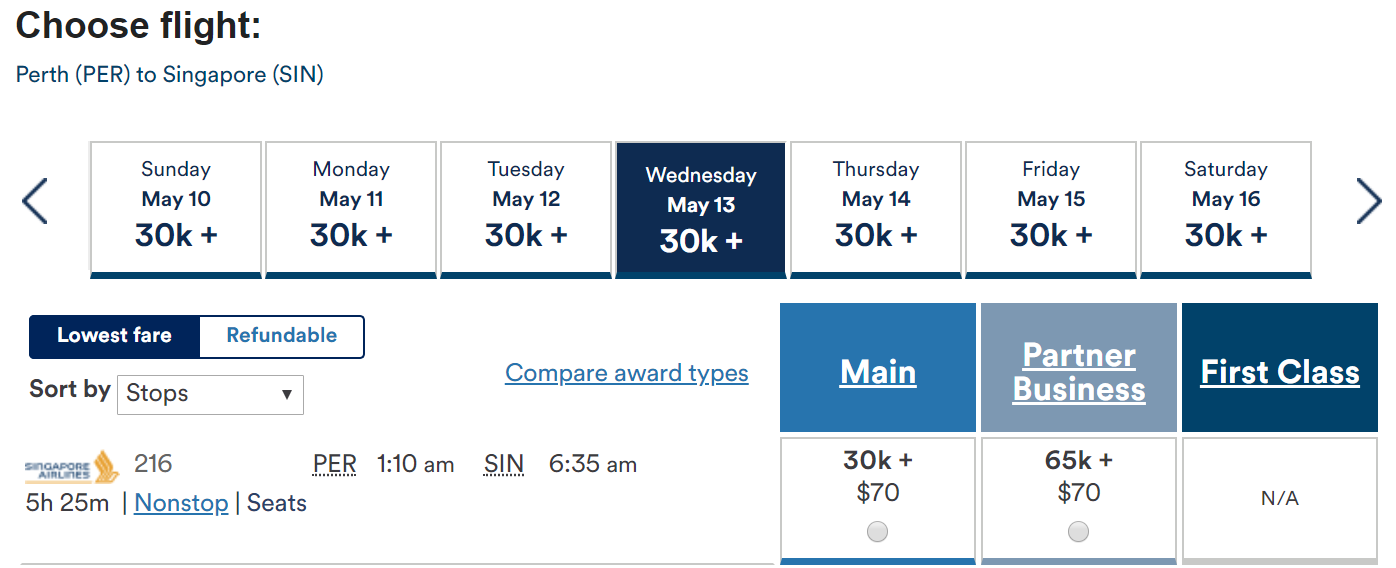 Remember that stopovers are free, so you could fly from Australia to Singapore and stop for a few days, before continuing on to your next destination. You'd still pay the same award rate overall, just slightly higher taxes. It means you could get two holiday destinations for the price of one flight.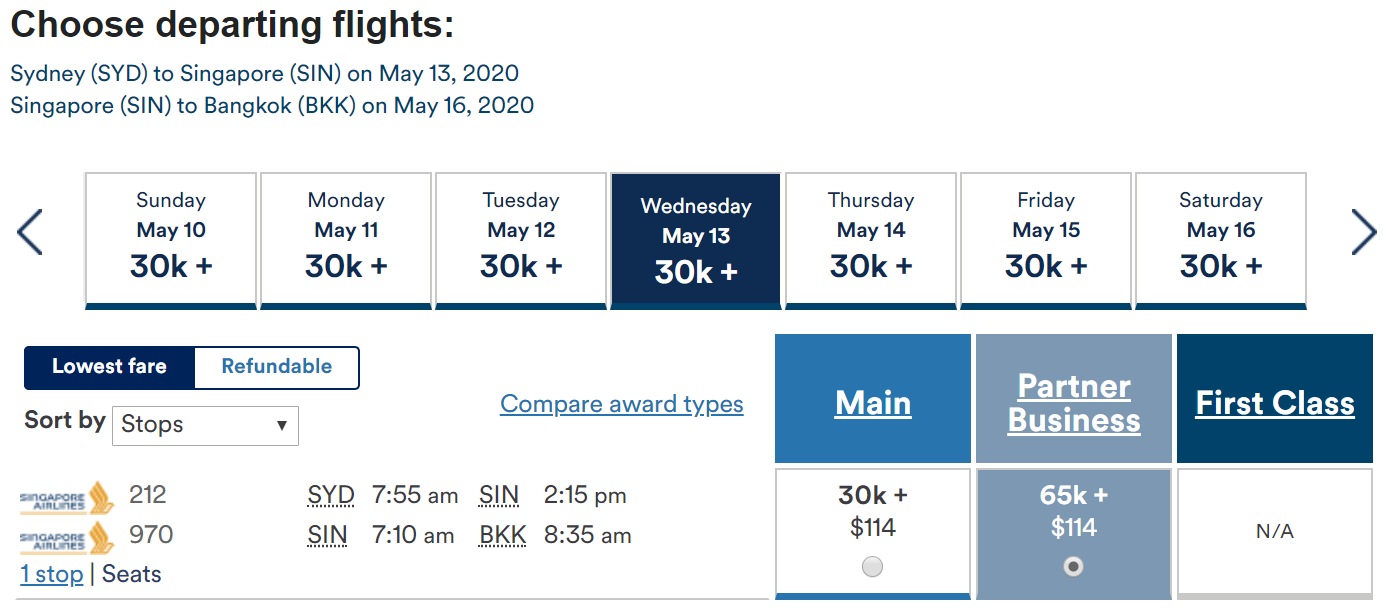 Unfortunately, there doesn't appear to be Suites or First Class availability at all on Australian flights through Alaska Airlines, even when it shows up through KrisFlyer. For example, here is a snapshot from Singapore Airlines' own website with Suites availability on two flights: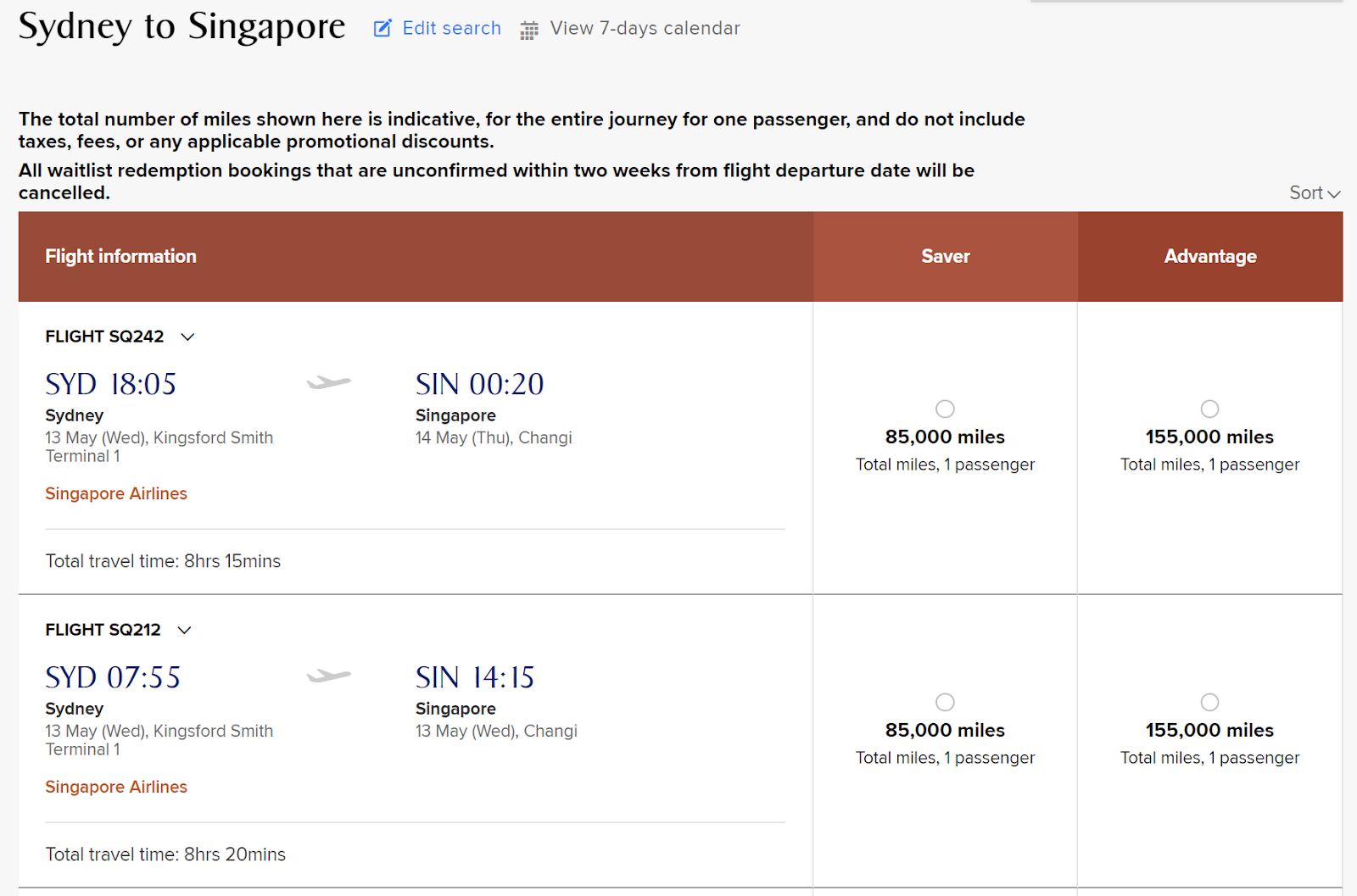 For the same dates and same flights on Alaska Airlines, the same seats aren't available: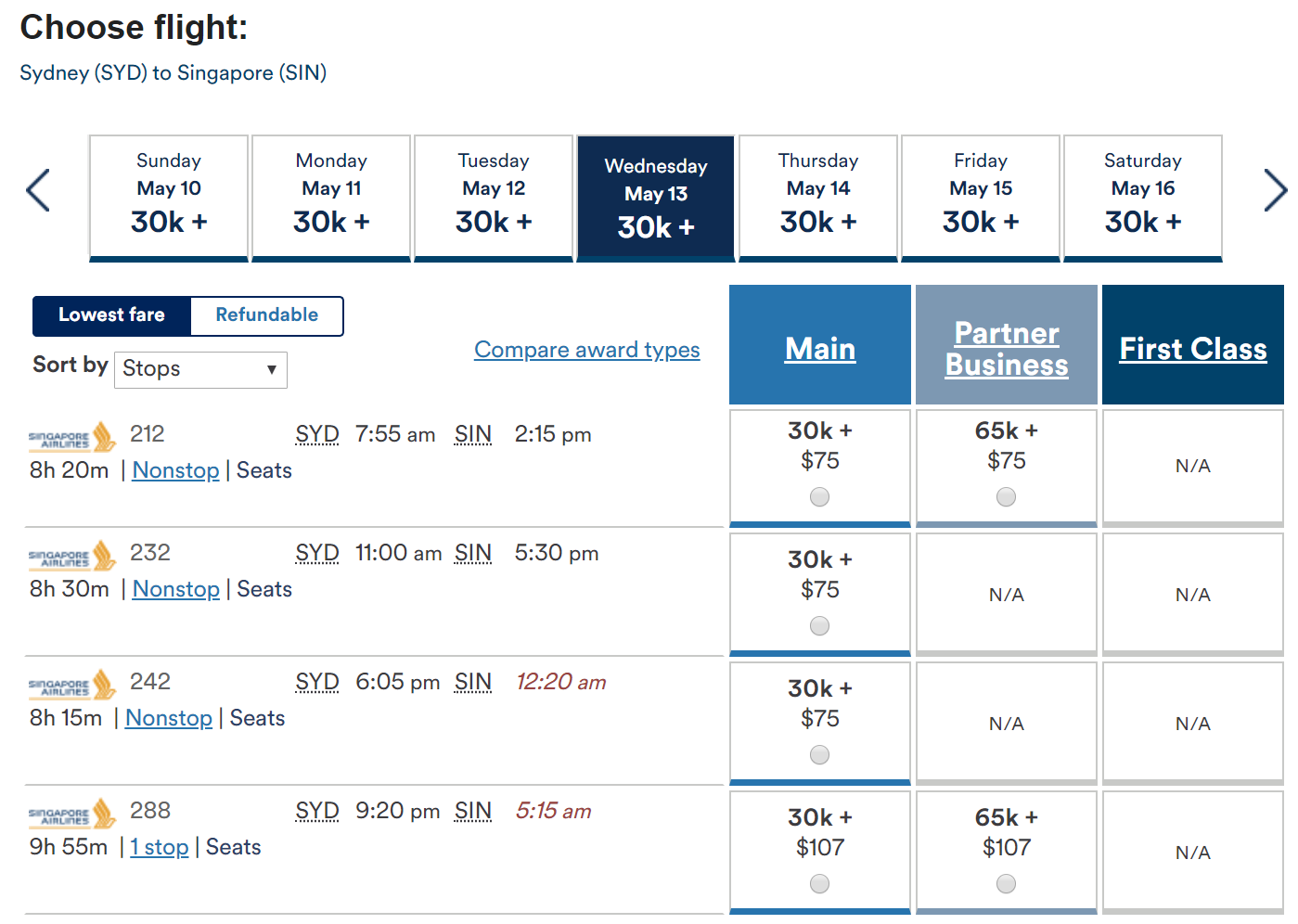 The main takeaway for Australia and New Zealand residents is that it might be worth using Alaska Airlines miles for Singapore Airlines flights if you are:
Starting your journey from the Eastern States or New Zealand,
Flying to another destination in South East Asia apart from Singapore, and,
Stopping over in Singapore
In comparison, Perth residents only need to pay 36,500 KrisFlyer miles for a similar one-way Business Class redemption to anywhere in South East Asia, which is nearly half of the 65,000 Alaska Airlines miles.
Ad – Scroll down to continue reading.Minimum spend, terms & conditions apply.
South East Asia to South East Asia
The best 'sweet spot' for using Alaska Airlines miles on Singapore Airlines is probably for flying within South East Asia exclusively.
SQ: South East Asia to South East Asia
Economy
17,500 Alaska Miles
Business
25,000 Alaska Miles
First
35,000 Alaska Miles
The reason for this is because once again, you can string two flights together and still pay those incredibly low rates. Business Class is only 7,500 miles more than Economy, and First Class is only 10,000 miles more!
So here's how it would look if you wanted to fly Singapore Airlines' excellent First Class and Suites product from Jakarta to Singapore (2 hrs), stop in Singapore for up to 24 hours, and then Singapore to Hong Kong (4 hours):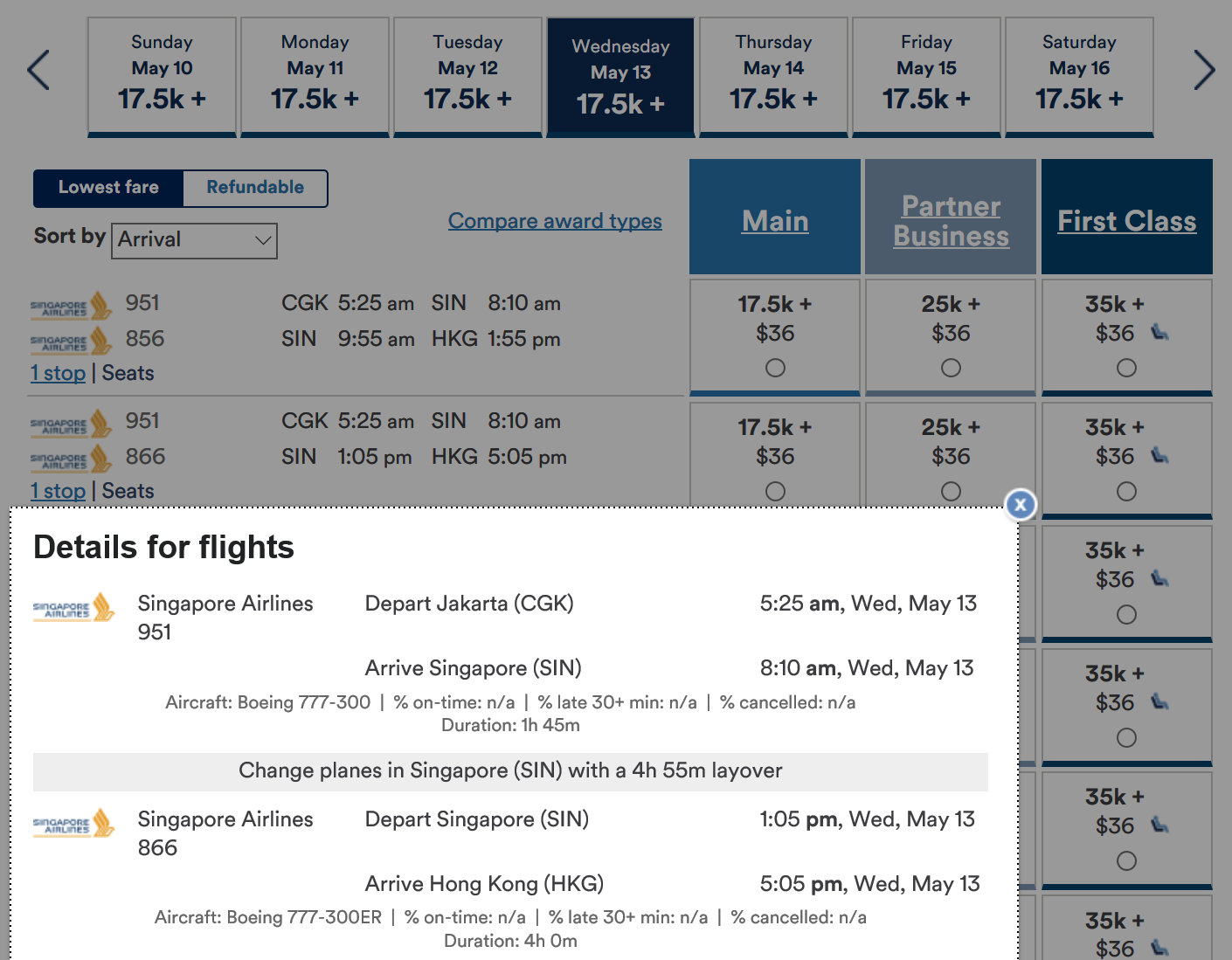 That's not bad for a First Class experience at just 35,000 Alaska Airlines miles and minimal taxes.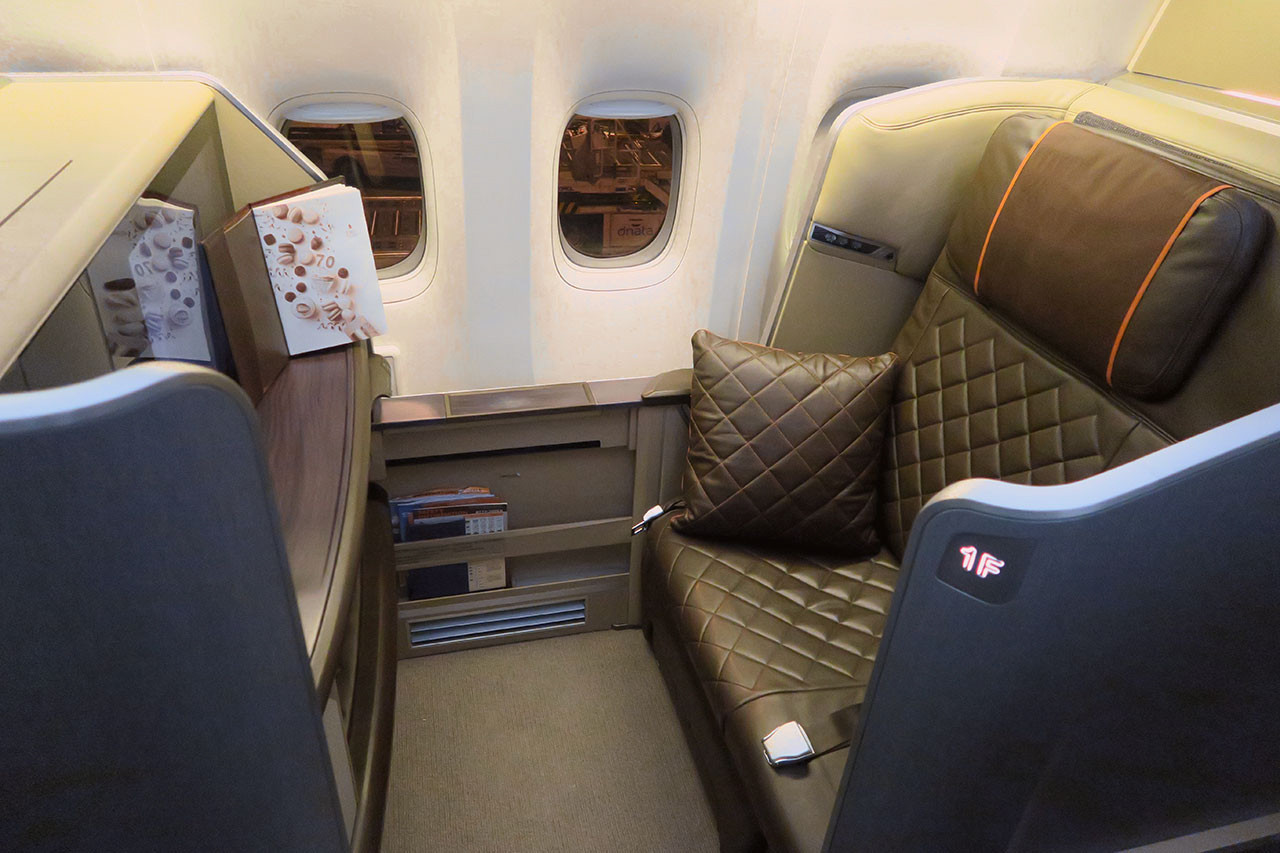 Unfortunately, Alaska Airlines has now banned stopovers on intra-Asia reward flights only a week after Singapore Airlines flights came online. This is presumably to stop people from exploiting an otherwise lucrative loophole to get to two holiday destinations for one low rate.
Cities in Japan, China and Korea are classified as 'North Asia' and have significantly higher redemption rates.
SQ: South East Asia to Japan, Korea and China
Economy
22,500 Alaska Miles
Business
60,000 Alaska Miles
First
75,000 Alaska Miles
The reclassification of the above three countries was also made by Alaska Airlines soon after Singapore Airlines became available online, as many people were exploiting the loophole that saw flights to China priced at the lower South East Asia rates.
Other reward tables
Here are a few other Singapore Airlines reward tables when using Alaska Airline miles. This list is not exhaustive. For other regions, check on Alaska Airline's website here. If you still can't find it there, it means you can't book that SQ route with Alaska Airlines miles.
From South Pacific (Australia, NZ) to:
SQ: South Pacific to Africa
Economy
60,000 Alaska Miles
Business
160,000 Alaska Miles
First
210,000 Alaska Miles
SQ: South Pacific to Contiguous U.S. and Alaska
Economy
70,000 Alaska Miles
Business
145,000 Alaska Miles
First
190,000 Alaska Miles
SQ: South Pacific to Europe
Economy
67,500 Alaska Miles
Business
190,000 Alaska Miles
First
250,000 Alaska Miles
It doesn't seem possible to book redemptions from South Pacific to North Asia, including Japan and South Korea.
These amounts are also significantly higher than what KrisFlyer charges for Singapore Airlines flights, so it's probably not the best deal for most travellers. For example, Australia to Europe is no more than 116,000 KrisFlyer miles, compared to 190,000 Alaska Airlines miles.
From South East Asia (Singapore and others) to:
SQ: South East Asia to Japan, Korea and China
Economy
22,500 Alaska Miles
Business
60,000 Alaska Miles
First
75,000 Alaska Miles
SQ: South East Asia to Africa
Economy
40,000 Alaska Miles
Business
90,000 Alaska Miles
First
120,000 Alaska Miles
SQ: South East Asia to Europe
Economy
42,500 Alaska Miles
Business
110,000 Alaska Miles
First
160,000 Alaska Miles
SQ: South East Asia to Contiguous U.S. and Alaska
Economy
47,500 Alaska Miles
Business
100,000 Alaska Miles
First
130,000 Alaska Miles
Summing up
More options for your miles is always good news. However, in the majority of cases, Alaska Airlines' rates for Singapore Airlines flight redemptions are generally quite poor compared to KrisFlyer. There are also fewer award seats available through Mileage Plan.
The best value redemptions are Australia to South East Asia and flights wholly within South East Asia, especially if you are getting two premium flights and a stopover for the price of a single award booking.
One benefit of using Alaska Airlines Mileage Plan is that you can often buy the whole amount of miles required for a booking, direct from the airline. There are frequently discounts which see you get bonus miles or a discount on the purchase.
This benefit could make it a worthwhile purchase if you wanted to try out some Singapore Airlines premium flights but didn't have enough Velocity Points or KrisFlyer miles to make the booking.
Redeeming Alaska miles on Singapore Airlines flights
was last modified:
October 4th, 2021
by