When reward seats inevitably run out on a flight, you're usually left scrambling to find a 'Plan B'. But what if you could still register your interest for your 'Plan A'? Not many frequent flyer programs let you waitlist for reward seats, but Singapore Airlines KrisFlyer does.
This tactic can be handy for trying to get elusive seats in Suites, First Class and Business Class, though it also works well in Economy, particularly if cash fares are pricey.
What is a Singapore Airlines waitlist?
Waitlisting is when the reward seats on a particular flight are all gone, and you wish to be contacted if a seat opens up. With KrisFlyer miles, it's only available for travel on Singapore Airlines – not any partners. It's also not available on heavily-sold out flights, so you won't always see this option.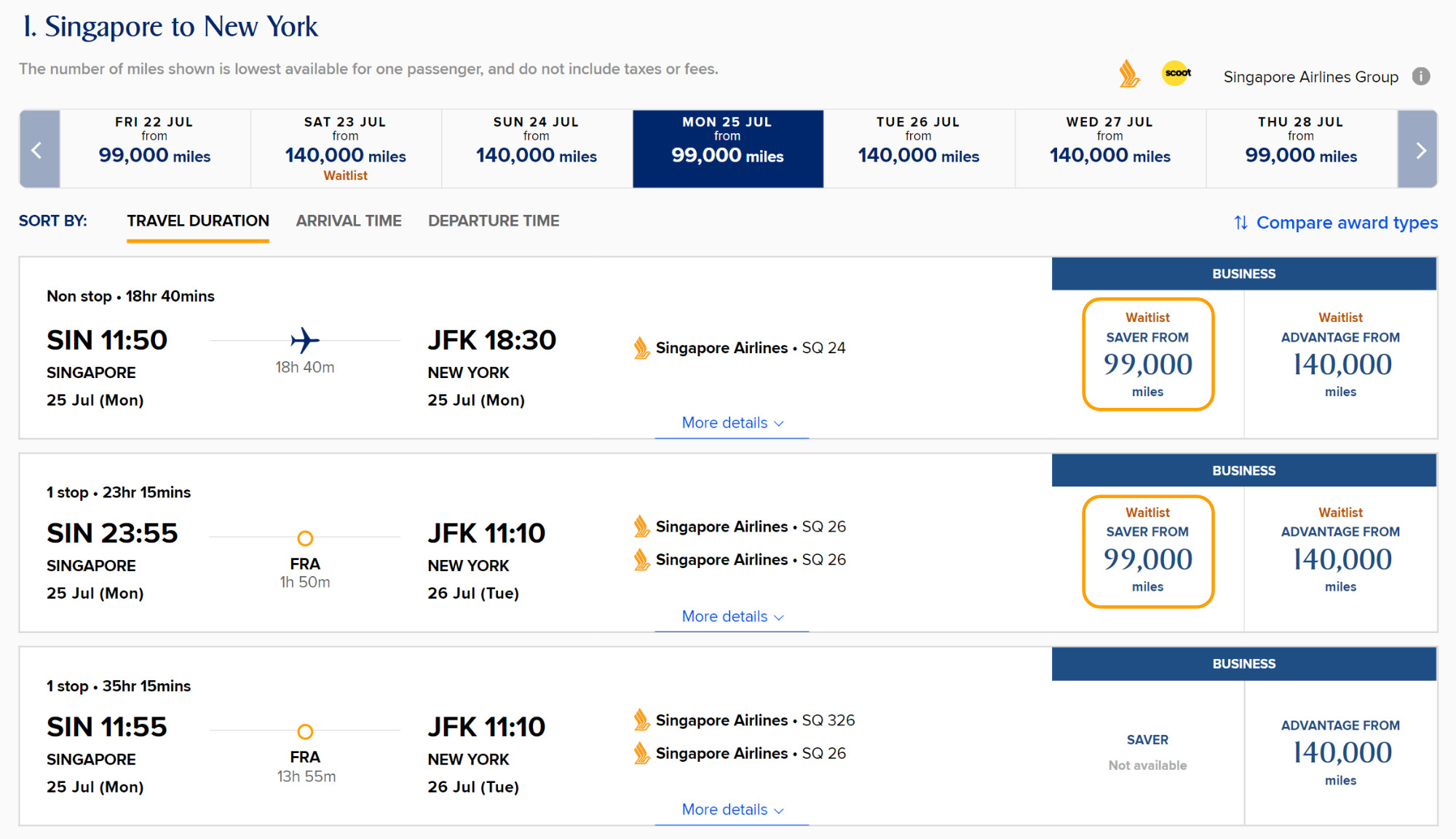 How do I waitlist with KrisFlyer miles?
Since August 2019, the airline tweaked the system so waitlists clear no later than two weeks before departure. Here's how it works:
Important: ensure you already have enough miles in your KrisFlyer account to cover the redemption. You won't be able to waitlist for a flight if you don't already have enough miles.
Search for reward flights and choose an available waitlist option if you can't confirm a seat immediately.
Complete basic passenger info and submit the page to go onto the waitlist.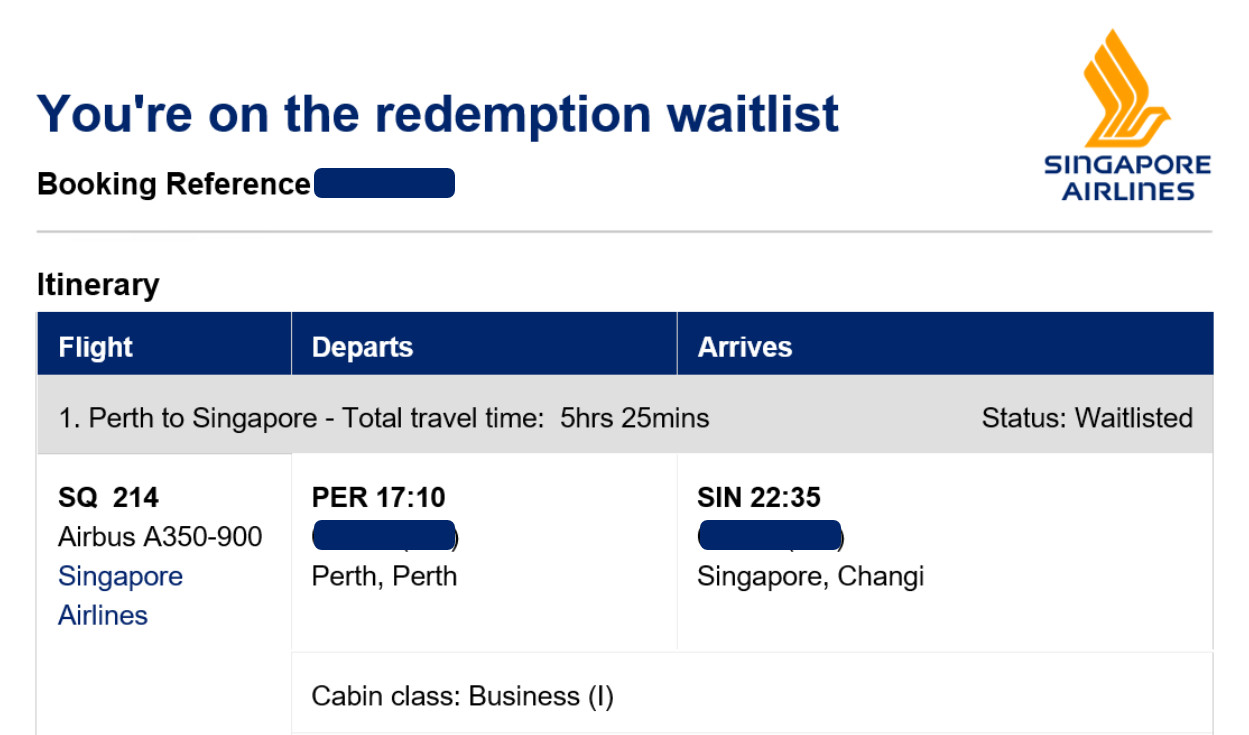 That's all there is to it to get onto the waitlist. The trickier part is getting your flight confirmed. You'll start receiving periodic notifications of the status of your request up to two weeks before the flight.
Your waitlisted flights can clear anytime, really. I've had one request clear the next day after registering for it. And others have gone for months without a response.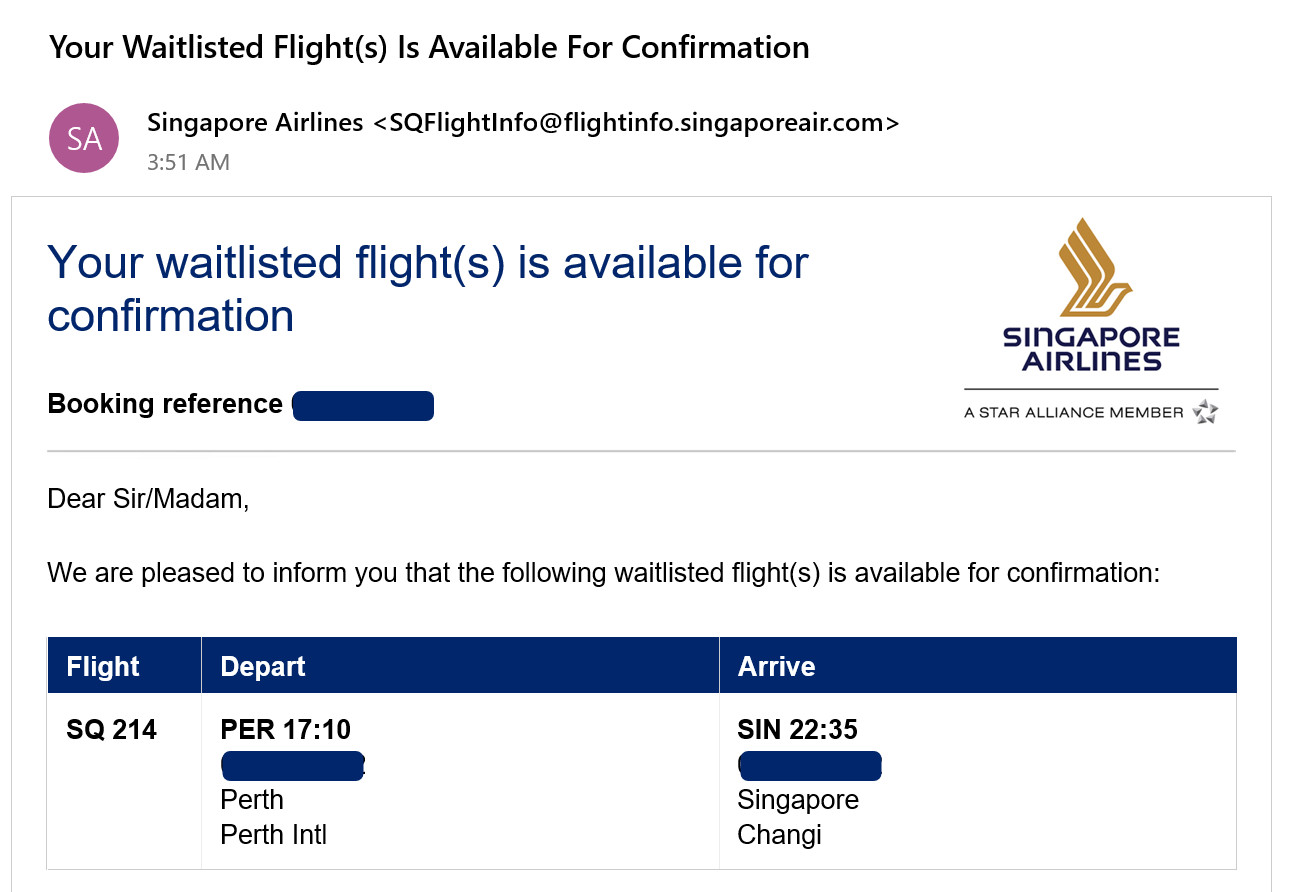 If your waitlist isn't confirmed two weeks before the flight, then your request will be cancelled. You'll need to rely on an alternative plan.
Ad – Scroll down to continue reading.Minimum spend, terms & conditions apply.
How do I confirm a successful waitlist?
If you got the email saying you were successful, then congratulations! Now you just need to pay and confirm the reward flight. Follow the link in the email or find the booking in your KrisFlyer account to do so. Click on 'Confirm available flights' to begin the payment process.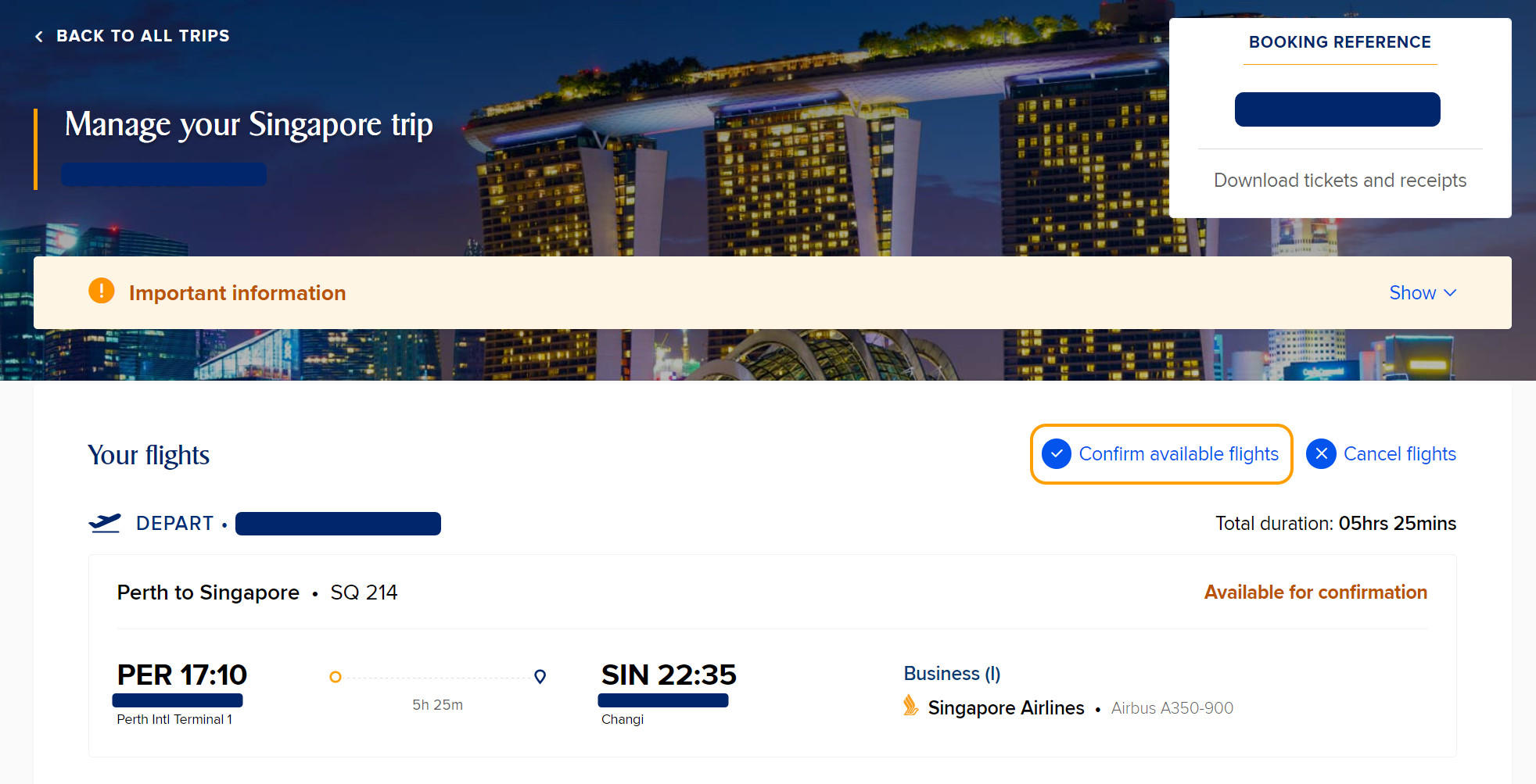 You have a strict time limit to confirm your flight – this is explained in the email. It varies, depending on how close-in you are booking. But for requests that are confirmed far in advance, you'll usually get up to nine calendar days.
If you need to do something more complicated, like add a successfully-waitlisted flight into an existing booking, then call up Singapore Airlines KrisFlyer on 13 10 11 from Australia or +65 6223 8888.
Our tips for a successful outcome
Here are some Point Hacks pointers for making waitlisting easier!
Waitlist for multiple flights: if you have enough KrisFlyer miles in your account, you can waitlist for multiple flights. Do this if you're happy with the alternate options and want the best chance of success. You cancel waitlisted flights online with no charge, so it doesn't hurt to have options.
Book a backup: After waitlisting for a few flights, see if there's a backup option you can lock in – with Singapore Airlines or even with other airlines. Frequent flyer reward seats are usually a safe bet, since they have reduced or no change/cancel fees.
Call up if it's been a while since you waitlisted: there's no hard and fast rule about this, but some readers report success calling up Singapore Airlines KrisFlyer and asking for a 'chaser' on their waitlisted flight. This may prompt the system (or a person) to review the request and potentially confirm it in advance.
Need more help? See the KrisFlyer waitlisting FAQs on the Singapore Airlines website.
Summing up
Waitlisting is an interesting beast when it comes to reward seats. It's great that Singapore Airlines offers this functionality, but there can be some tradeoffs.
The biggest one is uncertainty, of course. You won't know when or if your request will clear. It could be days or months in advance or just three weeks before your trip. Singapore Airlines could just ditch the concept and offer more reward seats. But once the availability is gone, it's… gone. At least with waitlists, people might still get lucky.
If you really need to take a particular flight, try to book as far in advance as possible to secure a Saver rate. Otherwise, you might need to fork out the extra miles to secure an Advantage redemption, which is more readily available.
As a consolation, Advantage rewards come with a free stopover on one-way bookings, in case you wanted to extend your holiday.
How to waitlist for flights with KrisFlyer
was last modified:
June 6th, 2022
by