With many readers soon to again travel with young kids as travel restrictions begin to ease, a common question asked is 'what are the best airlines to travel on with kids, especially within frequent flyer programs?'
To be straight-up – no airline has actually created a separate frequent flyer program for kids or offered discounted points redemptions. With the exception of infants under 2 years old, kids generally need the same number of points as adults to fly, especially in premium classes.
However, many top-level carriers do have a 'fun' program for kids that give them various items to help their journeys go smoother. Qantas is one of them, with 'The Joey Club' launched in May 2015. Virgin Australia also has its own offering with the 'High Flyer Passport'.
The Qantas Joey Club
So what does membership to The Joey Club get your child? Firstly, they get their own novelty passport for new QFF members aged 3-11 years old. There are also dedicated kids meals in the lounges as well as an expansive collection of kids movies and TV on the in-flight entertainment (IFE) systems, but you'd get that for your child travellers regardless of whether you have signed up for the Joey Club or not.
All kids travelling on domestic and international flights are welcomed onboard with a kit. On selected international flights, young travellers will also be offered Qantas' Joey Club socks featuring Matilda the kangaroo.
The zip-lock inflight kit includes some games and even a window shaped etch-a-sketch.
Ad – Scroll down to continue reading.Minimum spend, terms & conditions apply.
Virgin Australia's High Flyer Passport
Note that while Virgin Australia is in voluntary administration, all products and services continue to be offered with the exception of changes made for COVID-19 safety reasons, such as in-flight catering. However, the availability of products and services such as the High Flyer Passport may change in the future.
With little fanfare, Virgin Australia actually beat Qantas to the punch by about a year, with their High Flyer Passport. Again, we're looking at a novelty passport with stamps added for all VA flights, although not much else to speak of.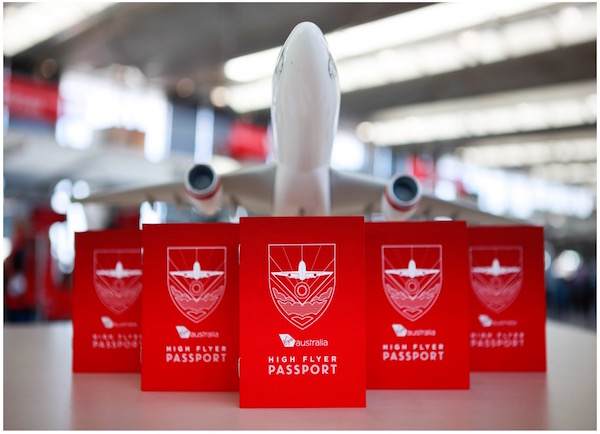 Point Hacks contributor Sam Hemphill previously found one of these passports for his son and was able to get it filled out on a Virgin Australia flight.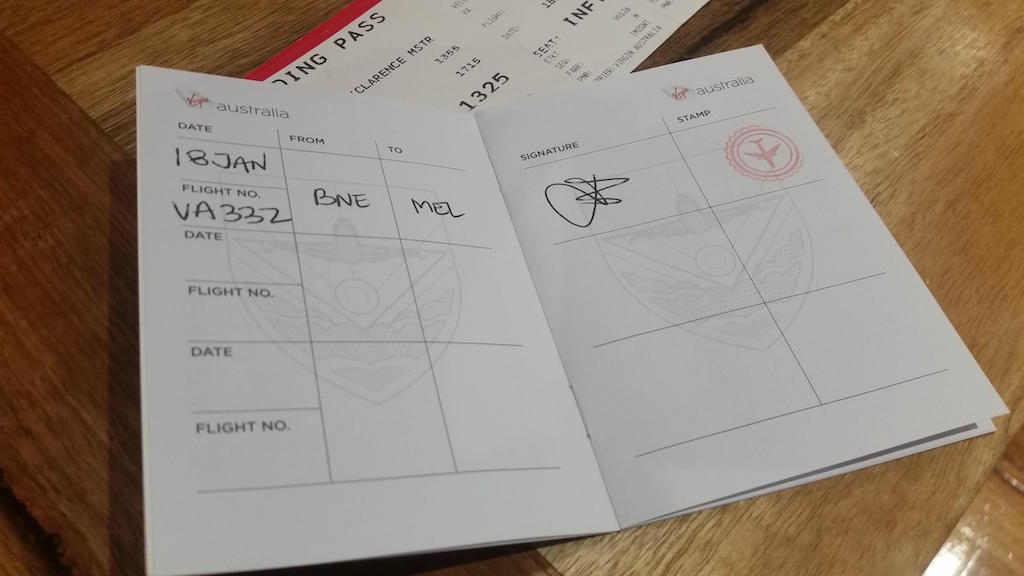 There is no other information on Virgin Australia's website about the provision of activity kits for kids onboard, but there are dedicated kids content with the in-flight entertainment,
One of the main things to look for in a frequent flyer program when travelling with kids is the ability to pool your points. As an example, a family of three travelling from Melbourne to Brisbane aren't going to earn that much individually but combined, those points and status credits could get one person a good way towards Gold or Platinum status.
Virgin Australia has the best Family Pooling arrangement by far. Up to four kids and two adults can be part of one family pool, as long as they all live at the same address.
International airlines
What about the other major airlines? Most have a children's offering while in the air, such as dedicated IFE, activity packs and special kids meals. We won't go too much into that below since it's mostly a given for all full-service airlines.
Generally speaking, any airline with a frequent flyer program will also award younger passengers with the same points as adults, even though they may be on a discounted fare. Conversely, kids will need the same amount of points as adults to book reward seats.
British Airways
British Airways offers a Household Account where Avios can be pooled in much the same way as Velocity's Family Pooling, except that Tier Points (similar to status credits) aren't carried across.
You and up to six people living at the same address can signup and pool your earned Avios together into a central account to use for redemptions at another time, meaning your kids could be multiplying your Avios balance.
Etihad Airways
Etihad has the Family Membership option where, as the Family Head, you can link accounts with those who also live in your household. All earned miles from family members, including kids, go to the head member's account and can also be redeemed by anyone in the group.
Onboards, kids have access to entertainment through E-BOX (via the in-seat video screens) and uniquely, Etihad also offers a 'flying nanny' which is really a cabin crew member who will pay extra attention to children on the flight to make sure they are comfortable.
Singapore Airlines
Somewhat surprisingly Singapore Airlines KrisFlyer does not offer any pooling. The smartest choice would be to add everyone's Velocity frequent flyer number to Singapore Airlines bookings, to collect the points and status credits into one Velocity account through Family Pooling.
Note, the partnership between Velocity and KrisFlyer is currently live, however, this may change following the emergence of Virgin Australia from Voluntary Administration.
There's also not much information on what amenities they give to kids in terms of special kits or onboard content.
Lufthansa
Lufthansa's Jetfriends is similar to Qantas' Joey Club, offering online games and tools for kids to prepare for the trip and the ability to interact with those programs anytime – not just during the trip. They also offer My Logbook, which is a passport-style book that can be filled in for every flight.
Emirates
Emirates offers a Skysurfers program, which offers the same full points earn as the main Skywards program, even on a discounted child fare. The Emirates information site mentions 'extra special treatment and club benefits', but doesn't go into any detail as to what these actually are.
It's possible to earn Skysurfers Silver or Gold status for more benefits such as extra baggage, but it's also unclear whether this is just an extension of the usual Skywards tier levels.
Cathay Pacific
Cathay Pacific used to have a Junior VIP program but has abandoned that in favour of just listing the ways they'll help your kids have fun on the flight. This includes special family-friendly programs on the entertainment screens, kids meals with child-proof cutlery and activity kits with stationery and books.
Summing up
Here's a quick snapshot of some of the major players and how your family travel might go with them:
Lufthansa and Qantas appear to have the greatest offering for kids, and those extra activities and games could certainly make the difference on a long haul flight – not just for you and your children, but your fellow passengers as well.
Even with all the above, it must be remembered that the best flights with kids are the shortest flights. Sam Hemphill's prior experience, when booking a family holiday to Hawaii before with his then 6-month-old son, Jetstar got his business simply because they were the only option to fly directly Melbourne to Honolulu.
Every travelling family will have their own needs and methods for entertaining kids. But I imagine I'd prefer a direct flight on a low-cost carrier with my own entertainment and snacks for my theoretical kids than to go for a full-service carrier flight with all the frills, but needing an extra few hours in transit.
Frequent flyer programs for kids – we look at the good, the bad and the unworthy
was last modified:
October 7th, 2020
by