After a very long wait, Hong Kong is once again open for quarantine-free international travel. While COVID-19 testing is still required, the rules around mandatory isolation and venue restrictions have eased. If a mere test doesn't deter your travels, it pays to know about Hong Kong's great e-Channel service.
Once enrolled, you'll be able to come and go from Hong Kong just like a local, using the automated immigration lanes. While the usual 'rules' for visitors still apply, such as not being able to work without authorisation, it's still a handy service for tourists and business travellers alike. Here's what your need to know.
Who's eligible for the Hong Kong e-Channel?
There are many ways to qualify for the Hong Kong e-Channel.
Australian citizens have it easier than most, being able to enrol simply by holding an Australian passport. The process isn't quite as simple for citizens of New Zealand and most other countries. But it's still quite straightforward for those who regularly travel.
Here are the many paths to eligibility for Hong Kong e-Channel enrolment.
Eligibility by travel document
If your travel wallet sports one of the following documents, you'll qualify for Hong Kong e-Channel registration even on your very first visit.
Eligible passports: Australia, Germany, Singapore, South Korea and Thailand.
APEC Business Travel Card holders, where the card is endorsed for 'HKG'.
Eligible residents of Macau, holding a valid Macau permanent identity card or a 'Visit Permit for Residents of Macau to HKSAR'.
Electronic Exit-Entry Permit (e-EEP) holders, as granted to Chinese nationals resident in Mainland China, for travel to Hong Kong and Macau.
HKSAR Travel Pass holders.
Eligibility by frequent flyer status
Another path to Hong Kong e-Channel registration is by being a tiered frequent flyer of a participating airline. The Hong Kong Government doesn't publish an up-to-date list of the programs and tier levels it currently accepts. However, those listed below are just some of the cards previously known to be eligible.
Air New Zealand Silver, Gold, Elite and Elite Priority One.
Cathay Pacific Silver, Gold, Diamond, Diamond Plus and Diamond Invitation.
Qantas Gold, Platinum, Platinum One and Chairman's Lounge.
Singapore Airlines KrisFlyer Gold, PPS Club, Solitaire PPS Club and Solitaire PPS Club Life.
United Premier Silver, Gold, Platinum, 1K and Global Services.
Even though Virgin Australia previously flew to Hong Kong, Velocity status was never recognised for this. It's understood that these discussions didn't progress – because by that stage, all Australian passport holders were eligible for e-Channel registration anyway.
If your particular program and elite rank haven't been mentioned, it still won't hurt to try your luck. Especially so if your status comes from an airline that's long been flying to Hong Kong.
Remember as well, you don't need status and an eligible document from the list further above, such as an Australian passport. You only need one or the other. That's handy to remember if you're a New Zealand passport holder, for instance, and have frequent flyer status with a participating program.
Based on that status alone, you'd be able to enrol for the Hong Kong e-Channel.
One more way to qualify for the Hong Kong e-Channel
If you don't meet any of the criteria above, there's still a way you can register for Hong Kong's e-Channel.
Firstly, you'll need to be travelling on a passport that allows visa-free entry to Hong Kong. For instance, a New Zealand passport.
You must also have travelled to Hong Kong at least three times in the 12 months immediately prior to applying. But only flights into Hong Kong International Airport are counted for this – and you'll need to have entered Hong Kong itself, not merely transited via the airport.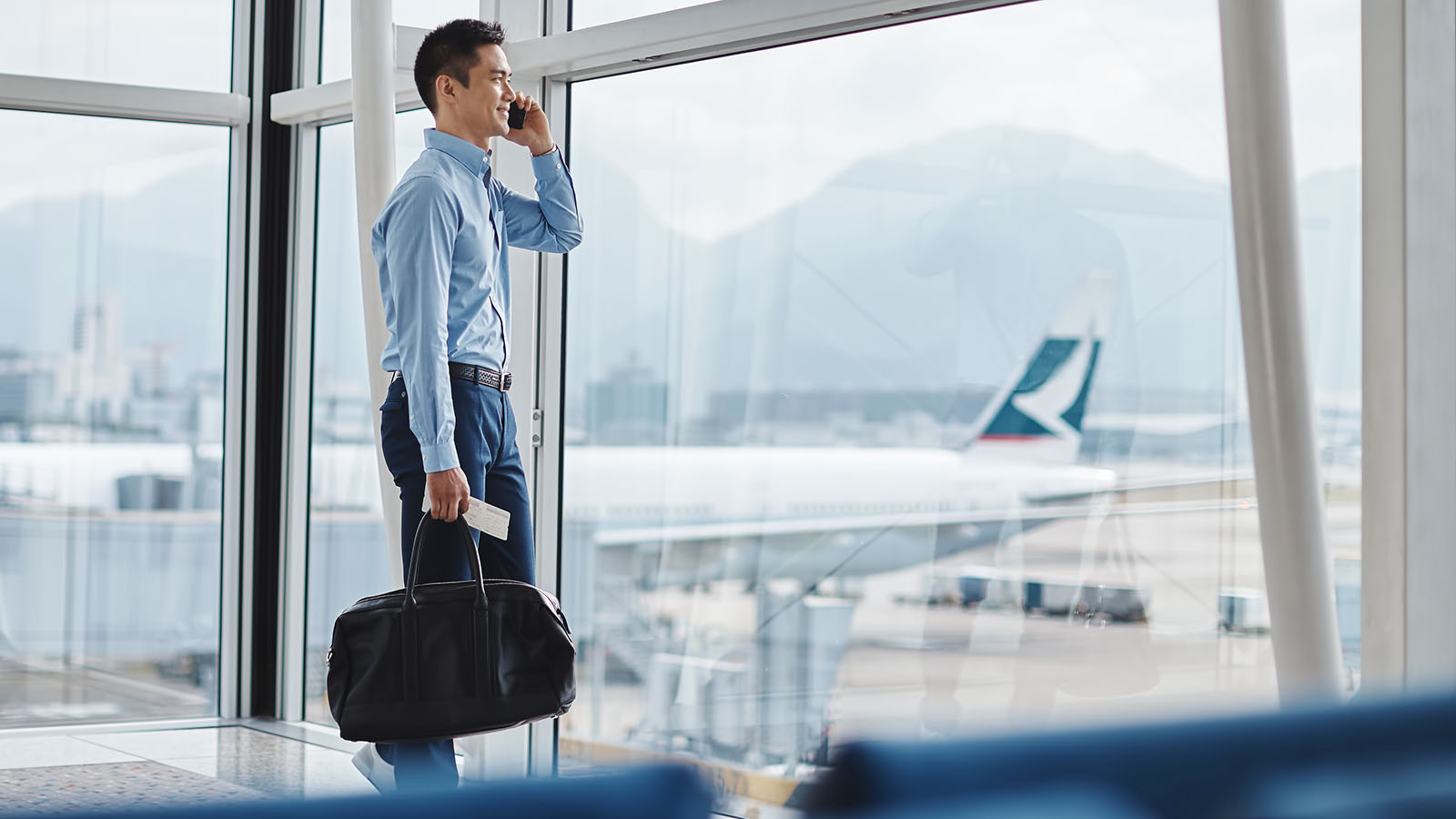 Entering Hong Kong via land border crossings with Mainland China doesn't count, nor do entries by ferry from Macau. But if you meet this 'three flights in 12 months' rule, you'll be eligible to enrol on arrival on that third, qualifying visit.
As with all others seeking registration to Hong Kong's e-Channel, enrolment is a privilege – not a guarantee. Those with an adverse immigration record in Hong Kong, such as with a history of overstaying their welcome, aren't likely to be accepted.
Where to enrol for the Hong Kong e-Channel
Once you've made the grade for Hong Kong's e-Channel, you can enrol in one of two ways. The easiest and most practical option for visitors is at Hong Kong International Airport itself.
Hong Kong Immigration has two e-Channel offices in Terminal 1. They're both located after the inbound passport control checks, but before baggage claim. This means you'd still use Hong Kong's 'traditional' immigration counters one last time before signing up.
At Arrival North Hall (the left-hand side on arrival), the office is open 10 am until 6 pm each day. At the opposite end, the Arrival South Hall office maintains longer opening hours. Travellers can visit between 7:30 am and 11 pm each day.
Given the design of Hong Kong International Airport, it doesn't matter which airline you've arrived on or which gate you've pulled into. You can choose to clear immigration at either end of the hall.
By extension, you can be savvy and make that choice based on the time of your flight. If you've arrived early in the morning or from early evening onwards, Arrival South Hall is your only option. By clearing passport control on the far right-hand side, you'd then be able to access the open e-Channel office.
Here's a map to make things clearer.

Alternatively, you can enrol for Hong Kong's e-Channel at Immigration Headquarters in Wan Chai. Located on Hong Kong Island, it's an option to keep in your back pocket if you forget to enrol on arrival.
The office is on level seven of Immigration Tower, at 7 Gloucester Road, Wan Chai. Opening hours are currently 8:45 am to 5 pm, Monday to Friday (except public holidays).
Ad – Scroll down to continue reading.Minimum spend, terms & conditions apply.
How to enrol for the Hong Kong e-Channel
Once you've found an open e-Channel office in Hong Kong, the process is relatively straightforward. You'll need to present your qualifying documents – which, for Australian citizens, is simply an Australian passport.
You'll also need to sign a registration form, provide fingerprints for scanning and have a photograph taken.
Once this process is complete, a sticker will be affixed to the back of your passport. It doesn't serve much purpose, except to remind that you've enrolled.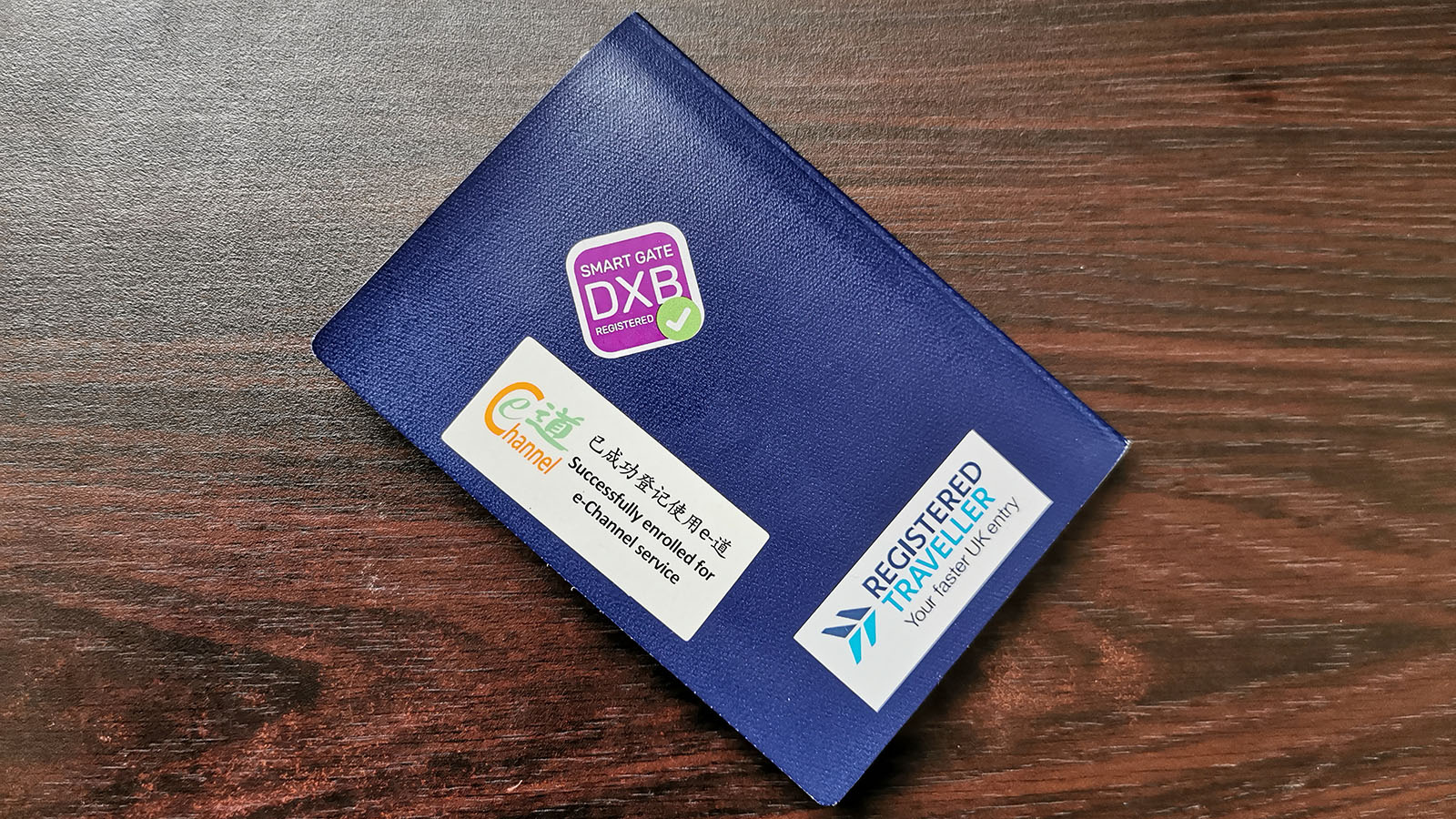 In previous years, the sticker would be a barcode – and you'd scan that barcode when crossing the border, rather than your passport itself. These days, the gates will read your actual passport photo page, replacing the need for a barcode.
If you need to update any of your details on file, such as your phone number, self-serve kiosks can assist with this. You'll find them adjacent to the e-Channel enrolment offices. Just note, you can't use a self-serve kiosk to sign up for the e-Channel – only to update your details.
Benefits of the Hong Kong e-Channel
Once you're all set up for the Hong Kong e-Channel, you'll be able to cross the Hong Kong border just like a local.
This means not having to fill out an arrival card, as is otherwise mandatory for visitors. You also won't need to queue at the regular passport lanes for foreigners. Instead, whisk your way towards the dedicated 'Frequent Visitor e-Channel' gates.
A lesser-known benefit is that you can also use most automated gates marked 'Hong Kong Residents'. Sometimes, these don't have passport readers – just a card slot for a local HKID. If you find that to be the case, just move to the nearest barrier with a passport reader on the top.
You'll be able to use these automated lanes at all Hong Kong border crossings. This includes Hong Kong International Airport, of course. But it also includes Hong Kong's land border crossings with China, and the Macau ferries.
Just be mindful, registration only unlocks the e-Channel lanes of Hong Kong itself. You'll still need to queue for processing at immigration points operated by the authorities in China and Macau.
For instance, if you're taking a train from Hong Kong to Mainland China, you can use the Hong Kong e-Channel on your departure, before queueing at Chinese passport control. Similarly, in the reverse direction, you'd clear Chinese passport control in the usual way as you depart, before walking ahead and using the Hong Kong e-Channel to fast-track your re-entry.
One extra tip. Almost everybody can use the automated 'Smart Departure' lanes when flying out of Hong Kong International Airport. But often, there can be a queue. If you're enrolled for e-Channel, you can instead wander over to the lanes marked 'Hong Kong Residents', where there's almost never a wait.
Summing up
Hong Kong's e-Channel service is all about saving time. By signing up, you'll be able to sidestep the usual queues for foreigners whenever you're coming and going from Hong Kong.
It's a phenomenal timesaver, especially at Hong Kong's land borders, or when flying into Hong Kong without any checked baggage. Between hopping off your plane or train and continuing into the city itself, you barely break your stride.
Having the e-Channel at your disposal also makes cross-border day trips from Hong Kong even easier. Over the years, I've ventured from Hong Kong to Mainland China, Macau, Taiwan and even the Philippines – and returned the very same day.
Thanks to the e-Channel, I got to enjoy a little more time in the lounge on my departure, and got back to my Hong Kong hotel quick smart on arrival. Having to join a snaking queue at each end would otherwise make such side trips for meetings less productive.
That said, it's probably not worth the hassle of signing up if you rarely visit Hong Kong, or won't be returning any time soon. But if you often come and go, e-Channel is the way to go.
With Hong Kong now open again for quarantine-free travel – albeit with some testing requirements still in place – don't forget about the e-Channel on your next visit.
Also read: Speed your way through Changi with Singapore's Frequent Traveller Programme
Feature image courtesy of Cathay Pacific.
---
Stay up to date with the latest news, reviews and guides by subscribing to Point Hacks' email newsletter.
Your Australian passport unlocks Hong Kong's time-saving e-Channel
was last modified:
February 13th, 2023
by