Collecting points isn't only reserved for lofty goals like flying in style. Did you know that you can collect and use points on the ground, too? And one of our favourite ways to do this is by dining out!
TheFork is Australia's leading online restaurant reservation platform. Boasting an impressive selection of thousands of restaurants across the country, it's easy to discover new flavours and indulge in old favourites. And you can get rewarded for doing so with TheFork's own loyalty program, Yums.
Tantalised by the thought of earning discounts towards your next meal? We dig into everything you need to know about the Yums program.
What is TheFork's Yums program?
Yums is the loyalty program of Australian restaurant booking platform TheFork. The program rewards you simply for using TheFork to make reservations. There's no extra charge for using the platform instead of booking directly with the restaurant.
What are the benefits of the Yums loyalty program?
Yums rewards you for dining out – literally. It's a no-frills program that doesn't have any tiers. The purpose of the Yums program is to collect points (or 'Yums') on your bookings which can later be redeemed for discounts off your bill.
What are Yums?
Aside from being the name of the program, Yums is also its own points currency. You'll collect Yums when you make bookings via TheFork.
Yums convert into discounts that can be applied to your final bill at participating restaurants.
1000 Yums = $20 discount
2000 Yums = $50 discount
Stack your discount on top of other promotions or offers to save even more off your total bill.
How do I earn Yums?
You can earn Yums on all bookings made via TheFork's website or app.
The earn rates are as follows:
100 Yums – Bookings made for restaurants through TheFork.
200 Yums – Bookings made for restaurants with the label 'Double Yums'.
500 Yums – When you refer a friend and they make their first booking. Your friend will earn 1000 Yums on their first booking (that's $20 to use next time!)
Yums are credited to your account three days after your booking, provided you show up! This means you can't simply make a ton of dummy bookings in the hope of earning points. The same rule applies to referrals, too.
Your Yums are valid for one year from the month that they were earned. This means that Yums earned at the beginning of March 2023 will expire on 31 March 2024.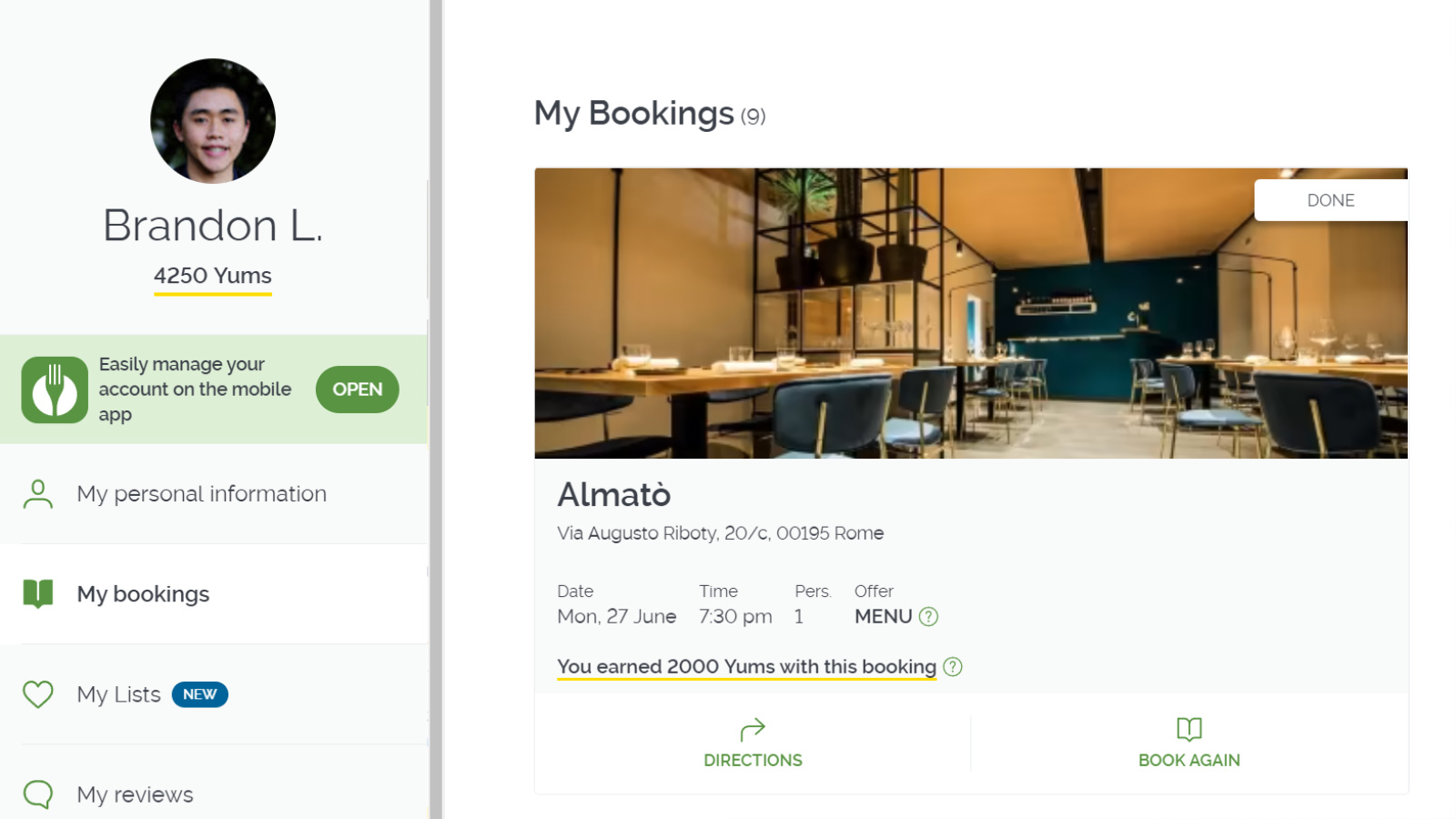 TheFork is also available in a number of other countries. If you want to make your Yums go further, then it's handy to know that 2000 Yums can be redeemed for €50 off your meal if you're dining in Italy!
How do I redeem Yums?
Yums can only be redeemed at participating restaurants during certain timeslots, and advanced bookings are required.
When searching for restaurants, select the filter 'Accepting my Yums' to view all restaurants that offer a Yums discount.
Select a participating restaurant.
Make a booking via TheFork, ensuring you select a timeslot where the restaurant accepts Yums.
Enjoy your meal.
Your $20 or $50 discount will be deducted from the total of your bill.
Note that there's a cap of 2000 Yums per booking – that means a maximum discount of $50 off your bill. And if your bill is less than the discount, you won't receive the difference back, either.
As you can anticipate, some restaurants don't accept Yums during busy periods like weekends or special occasions. For the best chance of finding an available timeslot, try searching during the weekdays. After all, a discounted (or free!) meal is a great excuse for a mid-week treat.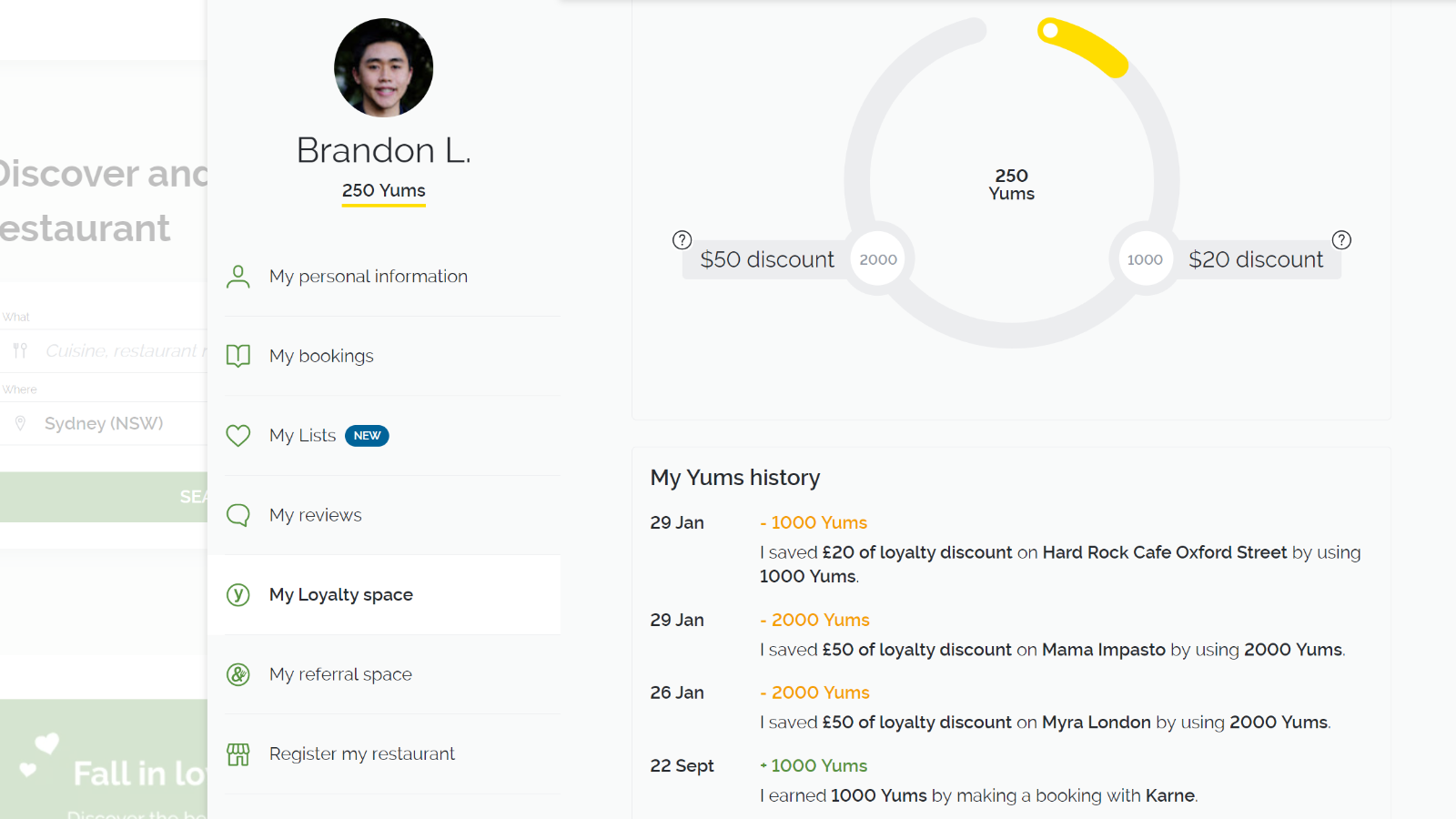 How can I maximise my rewards with TheFork?
Use promo codes
Occasionally TheFork will release promo codes that will usually award you 500 or 1,000 bonus Yums on your booking so you can reach your goal faster. That often means getting the $20 reward in just one sitting. An ongoing code is APP22 which gives you 1,000 bonus Yums on your first app booking. It stacks with restaurant discounts such as 50% off, which is another great perk of the program.
Pay using a points-earning credit card
This trick won't help you earn more Yums, but it is a means of earning rewards when you dine out. By paying for your restaurant bill using a points-earning credit card, you can pocket frequent flyer points towards your next adventure. And if you're dining as a group, those entrees and cocktails can certainly add up quickly.
How do I join Yums?
The Yums program is free to join, and you can sign up online or by downloading TheFork app. You'll just need a valid email address.
Summing up
TheFork's Yums program is a simple way to earn rewards when you dine out at cafes and restaurants across Australia. There's no joining fee, and all you have to do is make a reservation via TheFork's website or app. Easy!
Discover more ways to earn rewards in Australia. Signing up for a loyalty program can turn your daily spending into freebies, discounts or even a flight! Explore all of our loyalty program guides including JB Hi-Fi Perks, Telstra Plus, My Dan's and more.
FAQs
How do you get discounts on TheFork?
Signing up for Yums, TheFork's loyalty program, earns you points that can be redeemed for discounts on future reservations.
How do Yums work on TheFork?
Yums is both the name of TheFork's loyalty program and the program's own points currency. Yums are earned on bookings made via TheFork, and can be redeemed in 1,000 or 2,000 lots for $20 or $50 discounts respectively.
What are TheFork bonus points?
Bonus points or Yums are awarded when you make a booking at participating restaurants on TheFork. Keep an eye out for 'Double Yums', which will award you 200 points on your booking instead of the usual 100. You can also earn bonus points when referring friends to the Yums program.
The Ultimate Guide to Yums
was last modified:
October 19th, 2023
by