These days, you can earn rewards from just about every daily activity or purchase. This includes buying a coffee, going out to lunch, popping over to the pharmacy, and even staying connected. Almost all Australians have either a landline phone, mobile service, internet connection, or all of the above. And if you're a Telstra customer, you can get rewarded through Telstra Plus just for being part of the network.
Telstra is one of a select few phone and internet providers in Australia that has its own loyalty program. The telco's largest competitor, Optus, has its own rewards program and partnerships with Qantas Frequent Flyer and Flybuys. You can learn more about how Optus plans stack up against Telstra regarding rewards.
So if you're wondering how you can get more out of your Telstra service, we take a dive into what you can expect when you sign up for Telstra Plus.
What is Telstra Plus?
Telstra Plus is the loyalty program of Australia's largest telecommunications provider, Telstra. The program rewards customers who use Telstra's services. Points are primarily earned through monthly account spending, and can later be redeemed for electronics, movie tickets and more.
The rewards program isn't compulsory for Telstra customers. But if you already hold a Telstra service, or are considering signing up, it's an easy way to receive extra perks.
How do I join Telstra Plus?
Telstra Plus is free to join. The program is open to all Telstra personal and business customers over the age of 18 that hold an active Telstra service.
Before joining the program, you'll need a Telstra ID. You can create a Telstra ID using your mobile, landline phone number, or account number if you have another service like home internet. Note that your Telstra prepaid or postpaid service must be activated before registering for a Telstra ID.
Once you've got your Telstra ID, visit the Telstra Plus website or the My Telstra app and follow the prompts to join the Telstra Plus program.
How do I earn Telstra Plus points?
1. Through payment on eligible services
Telstra Plus points are awarded based on your monthly account spending. This includes services like postpaid mobile plans, home internet, mobile broadband and prepaid mobile recharges.
For every $1 spent on an eligible service, you'll earn 10 points. There are also member offers throughout the year where you can pocket bonus points.
2. Through partners
You can also earn Telstra Plus points through its program partners. Currently, the program only has two partners, but more may be added in future.
Huddle offers 500 points for Telstra Plus members who request their first online car or home insurance quote. You'll also receive up to 50,000 bonus points for buying a new Huddle insurance policy.
If you've got a holiday on the horizon, you can also earn points on accommodation booked via Booking.com. You can earn 20 bonus points per $1 spent on accommodation, though you'll need to click through Telstra Plus to be eligible. This is a good alternative to earning Qantas Points or Velocity Points from hotel bookings if you're looking to boost your Telstra Plus points balance instead.
3. Through movie ticket purchases
Members receive discounts on movie tickets at selected cinemas, but you can also earn points when you purchase these tickets. This applies to both child and adult tickets purchased via the Telstra Plus portal.
Note that all Telstra Plus points have an expiry of three years from the month they're accrued, and you'll lose all your points if you leave the Telstra network.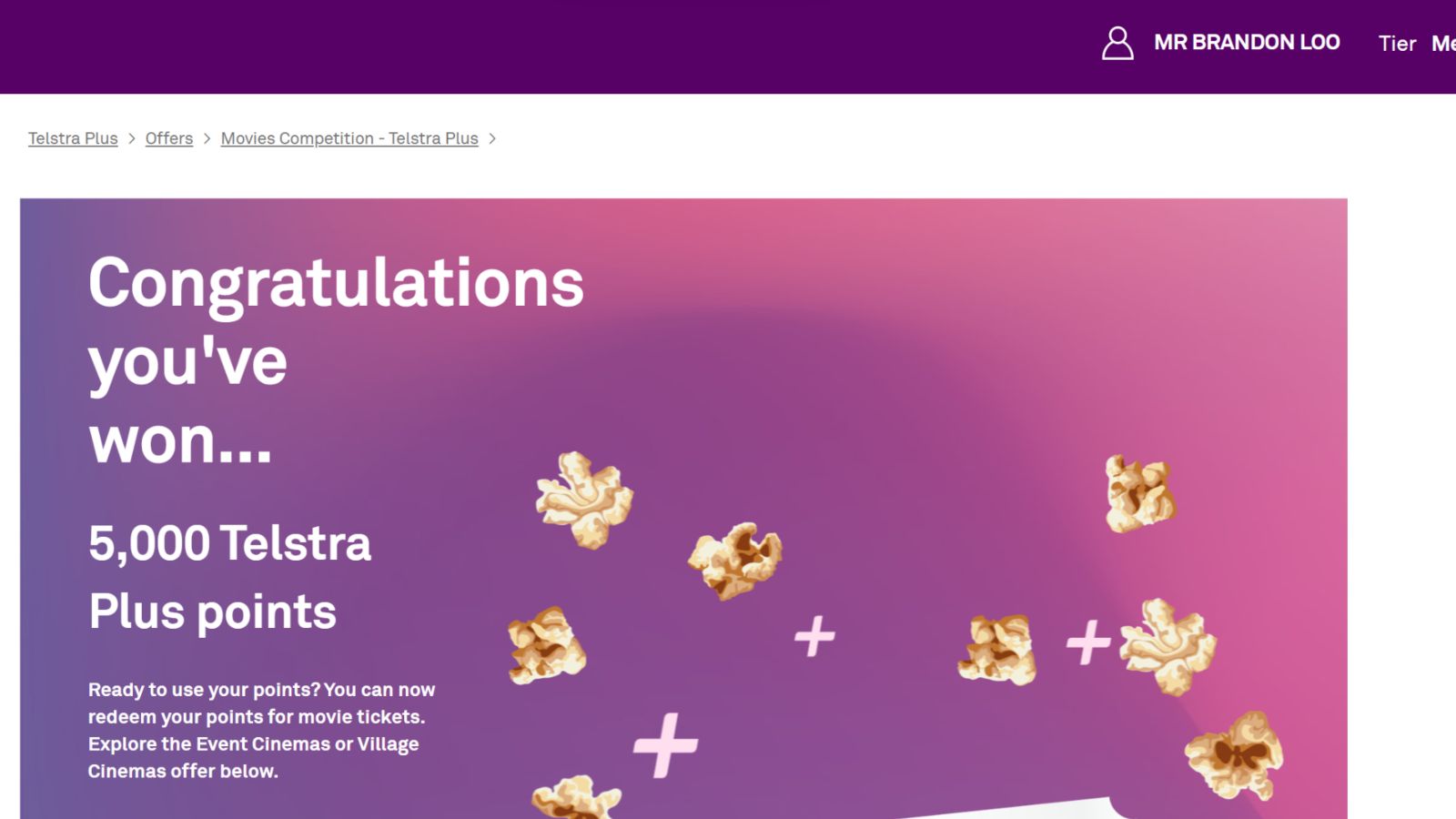 How do I use Telstra Plus points?
1. Through the Telstra Rewards Store
Telstra Plus points can be redeemed for items on the Telstra Rewards Store. Categories include mobile phones, tablets, smartwatches, headphones, gaming, and tech accessories. Redemptions can be made entirely in points or by using a combination of points and cash. But before you select points plus pay, it's worth looking at other retailers to determine the item's value. In some instances, the cash outlay may be similar to or even higher than the item's retail price.
At the time of writing, some items available on Telstra's Rewards Store include:
iPhone 14 Pro Max – from 691,000 points
iPad Mini 6 – from 354,000 points
Samsung Galaxy Watch 5 – from 200,000 points
Apple Airpods 3rd Generation – from 99,000 points
Xbox Elite Wireless Control Series 2 – from 83,000 points
JBL GO Essential Mini Bluetooth Speaker – from 12,100 points
Dogness Travel Bottle – from 7,000 points
2. On movie tickets
Members can also redeem points for movie tickets at Event Cinemas and Village Cinemas when booking through Telstra's online portal. Redemptions apply to standard adult and child tickets, as well as selected Gold Class, V-Max, 3D and Moonlight Cinema sessions.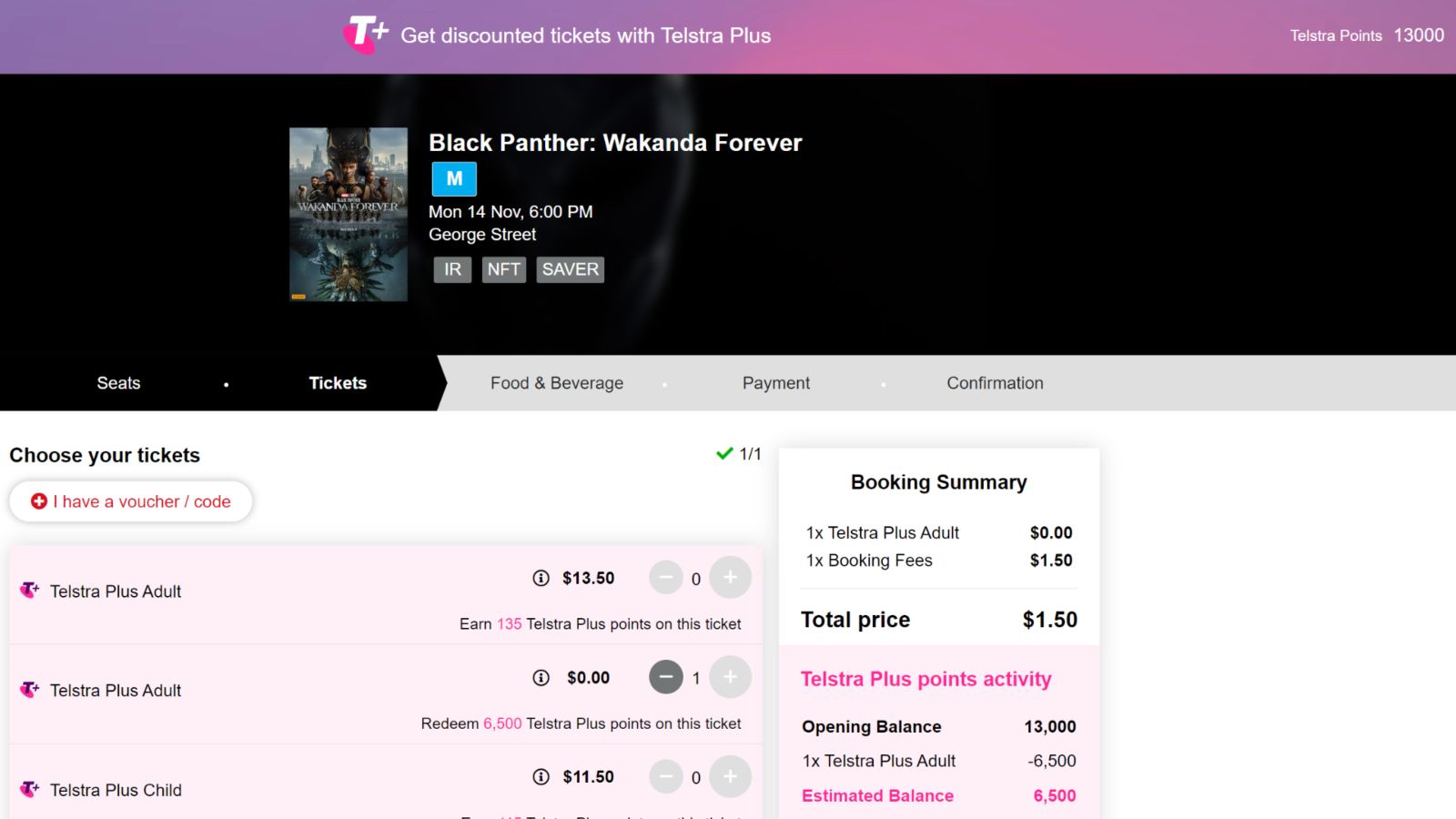 Telstra Plus membership tiers
The Telstra Plus rewards program has four membership tiers. Your tier is determined by how much you spend during your membership year – the more you spend, the more benefits you'll unlock.
Member
$0 – $1,499 annual eligible spend
This is the entry-level tier of Telstra's loyalty program. You'll be able to take advantage of discounts on movie and sports tickets, and receive pre-sale access to sporting, concert and other entertainment tickets.
Silver
$1,500 – $2,999 annual eligible spend
The second tier of Telstra's rewards program gives members additional benefits. You'll use 25% fewer points on Telstra's Rewards Store redemptions and receive discounts on Kayo and BINGE subscriptions.
Gold
$3,000+ annual eligible spend
The highest level of the program rewards members with even earlier pre-sale access for concert tickets and requires 50% fewer points for redemptions on Telstra's Rewards Store. You'll also receive free Telstra TV and even greater discounts on Kayo and BINGE.
Business
Reserved for business customers
The Business tier of Telstra's loyalty program excludes corporate and enterprise customers. The benefits are similar to the Member tier, in that you'll receive discounted tickets and pre-sale access for concerts, but no discounts on streaming services. But as a bonus, the Business tier includes three months of complimentary Telstra Business Tech Services.
Summing up
Telstra Plus is a loyalty program worth signing up for as there's no extra effort required to earn points if you're already a Telstra customer with an eligible service. And if you have multiple services, you may be able to unlock higher tiers quicker and earn even greater rewards.
Also, if you have a points-earning credit card, you may be able to double-dip on rewards by paying for your Telstra services with direct debit to earn credit card points.
FAQs
What is Telstra Plus?
Telstra Plus is Telstra's loyalty program that rewards customers who hold eligible active services. Members can earn points that can later be redeemed for electronics, movie tickets and more.
Is Telstra Plus free to join?
Yes, the Telstra Plus program is free to join, but you'll need to be over the age of 18 and sign up using your Telstra ID.
Do Telstra Plus points expire?
Telstra Plus points expire three years after the month you accrued them.
What can I get with Telstra Plus points?
Telstra Plus points can be redeemed on Telstra's Rewards Store for a great range of items including iPhones, tablets, headphones, speakers, smartwatches, home appliances, gaming accessories and more.
How do I transfer my Telstra Plus points?
If you leave the Telstra network, you can transfer your Telstra Plus points to another member by contacting Telstra.
Get rewarded with Telstra Plus
was last modified:
December 14th, 2022
by