H&M is one of the world's leading fashion retailers, stocking a range of womenswear, menswear, kids clothing, activewear and home essentials via its dedicated brand, H&M Home. With dozens of stores across Australia, H&M has certainly made its mark – and with H&M Membership, it's easy to get rewarded when shopping in-store or online.
Here's what to expect when you join H&M's loyalty program.
What are the benefits of H&M Membership?
H&M Membership covers the retailer's full product range. This includes womenswear, menswear, kidswear, activewear and H&M Home for all your furniture and home decorating needs.
There are two H&M Membership tiers. Upon sign-up, you'll enjoy the following benefits of the program's entry-level tier:
10% discount on your first purchase
Bonus voucher when you earn 100 points
Free delivery when you spend over $60
Free returns
Offers and discounts
25% off one item on your birthday
The ability to pay in 4 instalments with Klarna
Special member prices
Benefits from partners
Exciting contests
Once you've earned 500 points, you'll unlock the Plus tier of H&M Membership. This level lasts for a year after you've unlocked it, and includes all the benefits above plus:
Free delivery and returns
Surprise offers
Unique access to special collections
Exclusive experiences
How do I earn H&M Membership points?
Like many loyalty programs, points are primarily earned from purchases made online or in-store at H&M and H&M Home. The earn rate is one point per $1 spent. To ensure you collect points on your transaction, you'll need to scan your Member ID on the H&M app, or be logged into your account when checking out online.
In addition to shopping, there are a few other ways to collect points with H&M Membership:
Complete your online member profile – 50 points
Invite a friend – 50 points
Garment recycling – 20 points
Bring your own bag when shopping in-store – 5 points
Climate-smart delivery – 5 points
Rate and review your online purchase – 5 points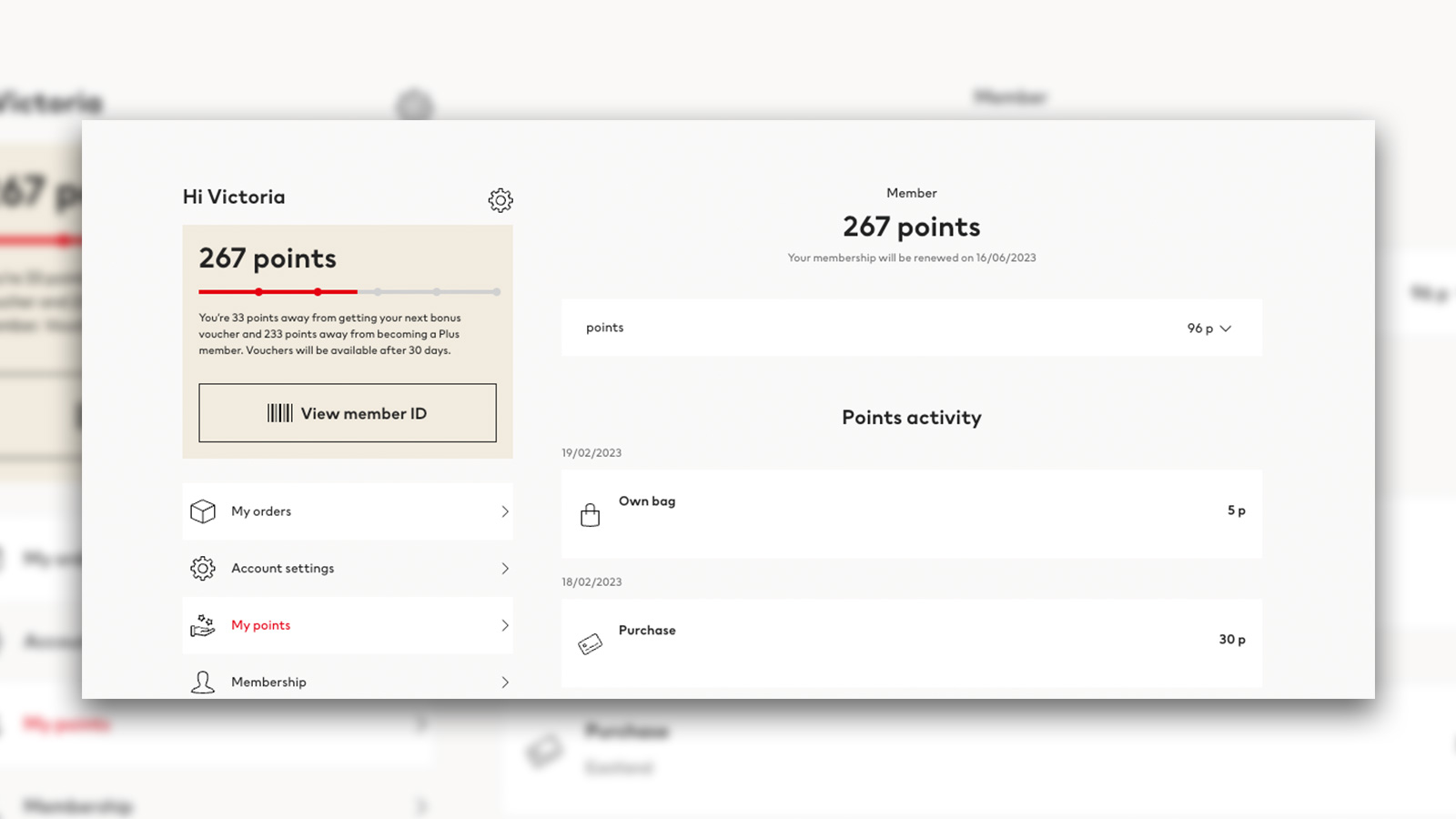 How do I redeem H&M Membership rewards?
All rewards and offers, including vouchers, will appear under 'My Account'. From here, you can add the offers to your shopping bag, or redeem vouchers in-store via the H&M app.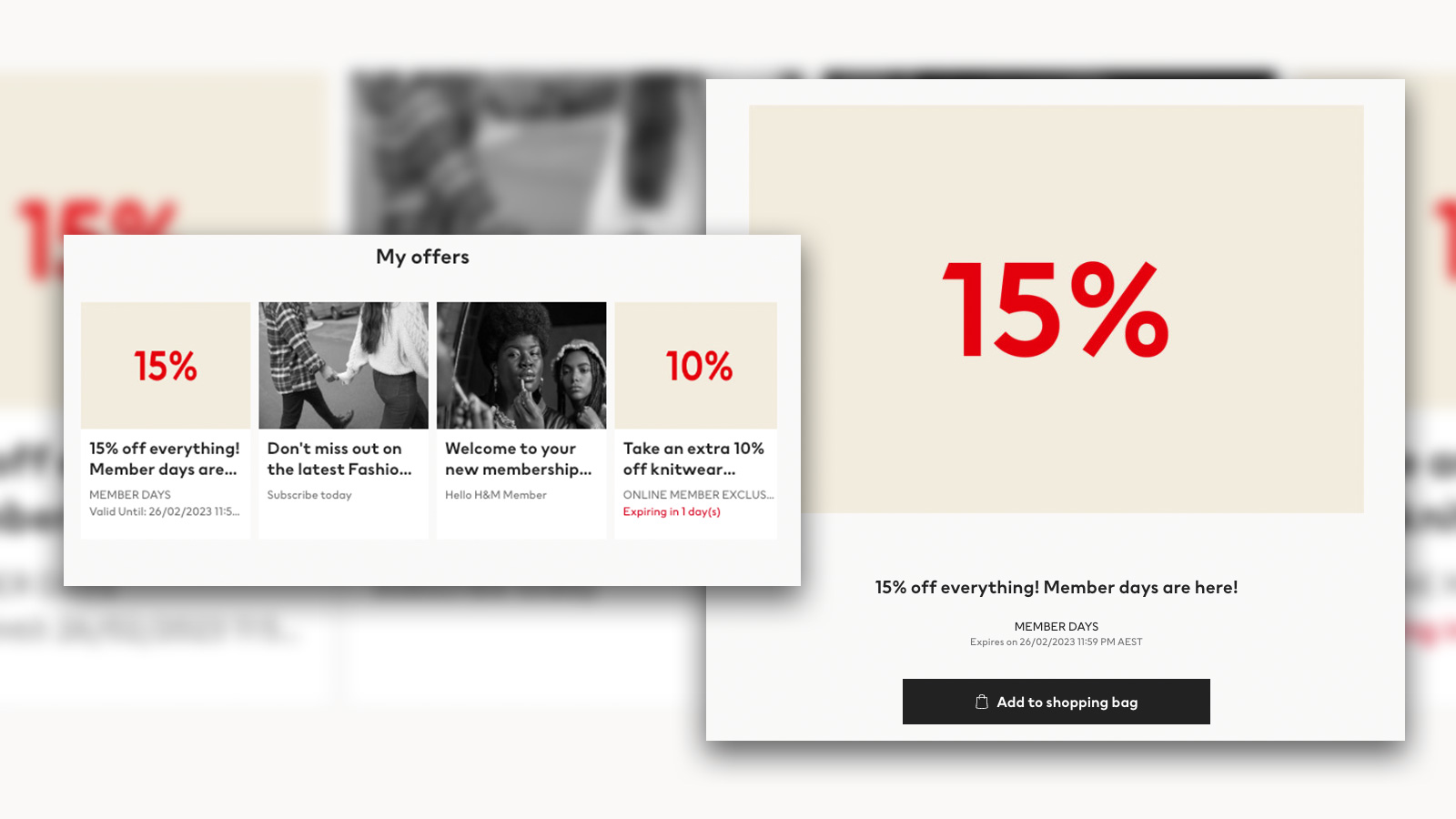 How do I join the H&M loyalty program in Australia?
There are two ways to join H&M Membership in Australia. Either sign-up online or download the H&M app to get started – you'll just need a valid email address.
While the H&M Membership program is part of H&M stores across the globe, membership is country-specific. This means that you won't be able to transfer your rewards or earn points when shopping in other countries without joining the program again.
Summing up
H&M Membership makes it easy to collect points and pocket rewards when shopping for clothing, accessories or homewares at H&M and H&M Home stores in Australia.
Explore other loyalty programs in Australia like Dymocks' Booklover Rewards, TheFork's Yums program and Bonds & Me to discover more ways of earning rewards from your shopping.
FAQs
Does H&M have a membership card?
Yes, the H&M Membership program has a digital card that you can use to earn points on your purchase.
What are the benefits of being a H&M member?
Members of the H&M Membership program enjoy exclusive discounts and offers, free returns, bonus vouchers and more. Once you unlock the highest tier of the program, you'll enjoy even more benefits, including free delivery.
Is H&M's loyalty program free?
H&M's loyalty program, H&M Membership, is free to join.
Do H&M members get a discount?
As part of the H&M Membership program, you'll receive exclusive discounts and offers throughout the year, plus bonus vouchers when you reach a certain spend.
The Ultimate Guide to H&M Membership
was last modified:
October 19th, 2023
by