It's a hot topic among travellers to any destination: should you stay at an Airbnb or a hotel? There are perks to both types of accommodation, and it all comes down to what sort of experience you're looking for.
The island of Bali, although small in size, boasts hundreds of hotels and Airbnb listings. There's something to suit everyone, from solo travellers to large family groups. But is it better to book a Bali Airbnb or a hotel for your stay? Both options have their benefits, and are suitable for a three-day trip or a three-week stay.
Don't forget to take advantage of the various offers and programs available when you book your Bali accommodation. Members of the Qantas Frequent Flyer program can earn points when booking an Airbnb or a hotel through Qantas Hotels.
If you're wondering whether it's better to book an Airbnb or a hotel in Bali, read on as we dive into the benefits of both options for your accommodation in Bali.
What's the difference between an Airbnb and a hotel?
Before we get into whether you should stay at an Airbnb or a hotel in Bali, let's break down the key differences between the two.
Airbnb properties are privately owned and operated. Listings are typically for a single room or property. These rentals are run by hosts who oversee and maintain the property, as well as handle bookings. In most cases, you'll be dealing directly with the owner or host. Airbnbs are great for a personalised experience, and there are often some unique accommodation options.
Many hotels are part of a larger group of brands, while some boutique hotels can be privately owned. You'll typically book a room that's part of a complex, which can house other amenities like bars and swimming pools. Some of the most popular hotel brands can be found in cities and destinations throughout the world. You can expect the same standard of quality and service across the hotel's brand, no matter where you stay.
The benefits of booking an Airbnb in Bali
Bali Airbnb cost
Depending on the size of your group, an Airbnb in Bali can work out significantly cheaper than staying in a hotel. Many Airbnb properties in Bali contain two or three bedrooms – sometimes even more – so you only need to make a single booking for a larger group.
There are benefits for couples and solo travellers, too. Some Bali Airbnb villas are incredibly luxurious. You can often get an upscale private pool villa for a fraction of the cost of a resort hotel room. And if you're a solo traveller looking to save on accommodation, you can opt for a shared or private room within a larger property.
Bali Airbnb safety
Airbnb is not only the most popular rental platform in the world – it's also the most secure. Hosts go through a rigorous screening process before their listing is approved. Reviews from guests can help you make an informed decision when choosing an Airbnb in Bali. And Airbnb's customer service is very responsive, quickly removing listings that have violated the platform's strict regulations.
All Airbnb bookings include Aircover, a high level of security that protects guests from the time of their initial booking right throughout their stay. Aircover automatically applies to every guest on every stay, so you can be confident of the safety of an Airbnb in Bali.
Bali Airbnb for first timers
If it's your first time in Bali, booking an Airbnb is a great way for you to find your feet. Some hosts will provide maps and activity brochures, while others may offer to show you around or cook you a meal. More often than not, hosts are happy to answer any questions and provide tips – so don't be scared to pick their brains for all the insider info!
Bali Airbnb for families
Aside from the cost benefit, booking an Airbnb in Bali for your family is the best way to get plenty of space. You can book an entire place and have complete privacy, as well as quality time. Resorts and hotels in Bali can become particularly busy during school holidays, and booking an Airbnb also means there's no fussing around with adjoining hotel rooms.
Bali Airbnb for couples
Booking an Airbnb villa in Bali is the perfect way for couples to reconnect. There are plenty of romantic experiences on offer, including private pools, treehouse escapes and beachside bungalows. Some Airbnb villas are fully self-sufficient, so you can cook a meal together and then curl up with a glass of wine. Other Bali Airbnbs offer a private chef that can prepare breakfast, lunch or dinner in your kitchen. And if you're lucky enough to book a beachfront Airbnb in Bali, you can enjoy gorgeous ocean views. What's more romantic than that?
Bali Airbnb for solo travellers
Just because you're travelling solo, it doesn't mean you can't enjoy a Bali Airbnb. Having an entire place to yourself is useful if you're working remotely, giving you ample room to separate work from leisure. It's also a great spot to rustle up some inspiration – who isn't feeling refreshed after a cool drink on the patio? And if you're looking to socialise, you can opt for shared Airbnb accommodation to meet fellow travellers.
Why stay in an Airbnb in Bali?
If you're looking for a different experience during your Bali holiday, an Airbnb is the way to go. You can take in the beauty of the island while living like a local. Given that Bali is a popular destination for groups, Airbnbs are often the most affordable accommodation option. It's safe to book an Airbnb in Bali as the platform provides exceptional security, and you can contact your host directly for any queries.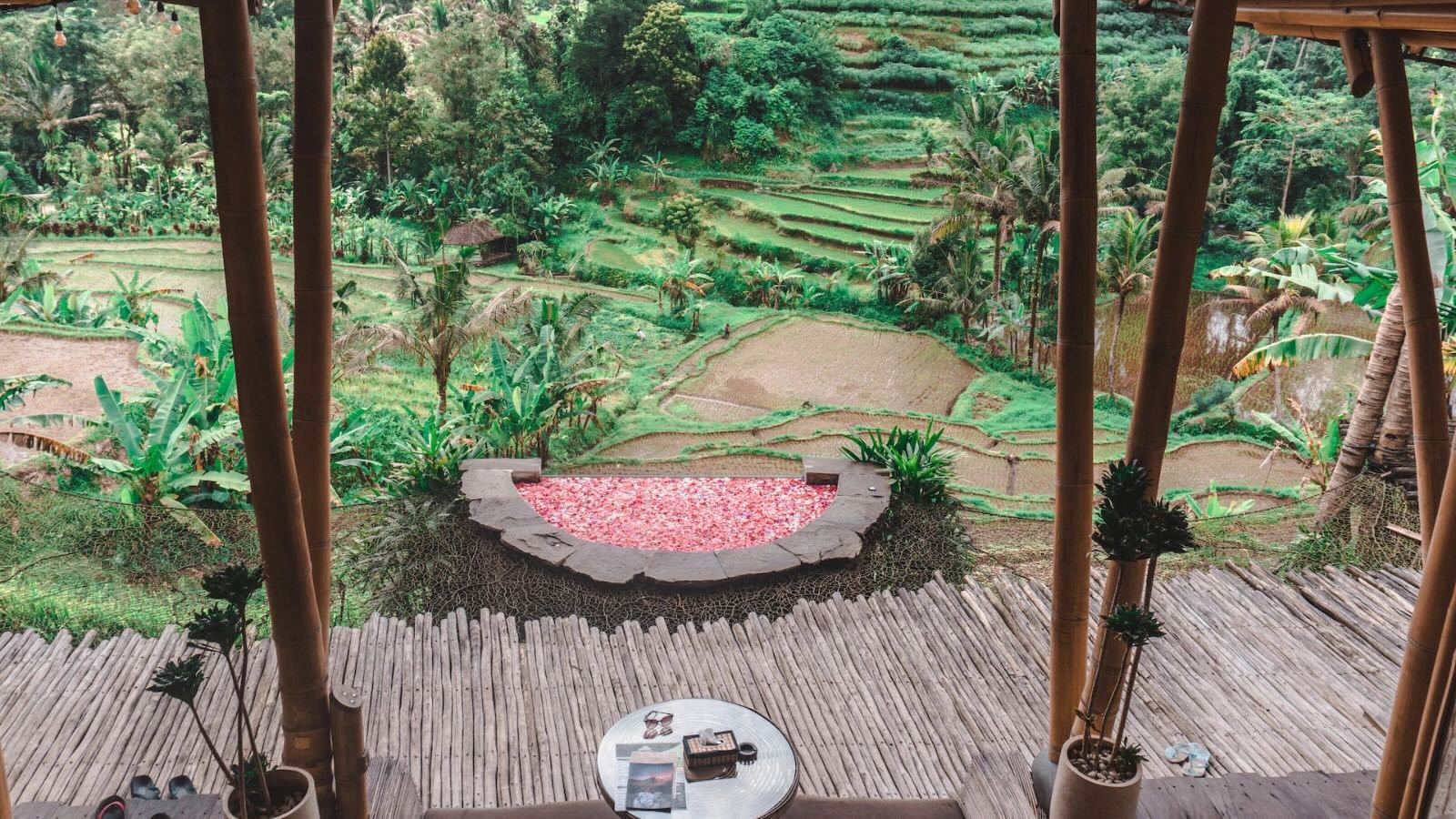 The benefits of booking a hotel in Bali
Bali hotels cost
Given that Bali is a major tourist destination, it's surprising that hotel prices are still relatively affordable. There are hotels in Bali to cater to every traveller, from those on a budget to those looking to splurge. Three and four-star hotels start at around $20 a night – roughly the price of a pub meal. The other end of the scale is also adequately covered, with ultra-luxurious hotels priced in the hundreds or even thousands of dollars per night. It just comes down to how much you're willing to spend.
If you hold a membership with a hotel loyalty program in Australia such as Accor Live Limitless or Marriott Bonvoy, you may be able to get your Bali hotel at a discounted rate. There are often perks for status members, including late check-out, free breakfast or even a room upgrade. You can also earn or redeem points on your booking.
The Intercontinental Hotels Group (IHG) has hotels throughout Bali, from the affordable Holiday Inn Bali Sanur to the elegant Six Sense Uluwatu. Signing up to the IHG One Rewards program can have you earning points from your first stay, which can be redeemed for future stays at any of their brands globally.
Bali hotels security
Many large hotel brands have a 24-hour reception desk, with friendly staff that are willing to assist at any hour. This is also useful if you're checking-in late, especially with plenty of flights from Australia to Bali that have late arrival times. Some communal areas in Bali hotels such as elevators and entrances are fitted with CCTV, providing extra peace of mind.
Bali hotels for first timers
Arriving in Bali on your first trip can be overwhelming – without the added stress of getting to your accommodation. Many hotels in Bali offer an airport pickup service for a fee, so you don't need to hail a taxi or fumble for Rupiah the moment you clear customs. Hotel staff can also provide tips and guides, and even organise tours for you.
Bali hotels for families
Bali is a popular destination for families, and hotels have caught onto this by offering a range of child-friendly activities and amenities. Some offer babysitting services, while others provide programs and events that cater to kids and teens, such as craft classes or sports. Plenty of Bali hotels have swimming pools for kids, and you may even be lucky to find one with a waterslide. Bali hotels are great for a family holiday, with plenty to keep both kids and parents entertained.
Bali hotels for couples
There's no shortage of romantic Bali hotels for couples. Some offer packages for couples that include Champagne on arrival, a bouquet of flowers or chocolates. Other hotels offer in-room dining experiences or massages. Honeymoons, anniversaries and birthdays can be made unforgettable by booking a luxurious hotel in Bali.
Bali hotels for solo travellers
Solo travellers looking to connect with others can benefit from staying at a hotel in Bali. Communal spaces such as bars, gyms and swimming pools are great places to meet people. Most hotels in Bali offer free, fast Wi-Fi, as well as desks and meeting rooms for remote workers to take advantage of. With plenty of budget hotels in Bali available, they're an affordable option for solo travellers, too.
Why stay in a hotel in Bali?
For a truly relaxing Bali holiday, you'll want minimal fuss. Booking a hotel in Bali means more time to explore, as well as enjoy the hotel's amenities. The hospitality shown by the local staff is unmatched. In fact, you'll likely experience some of the warmest and friendliest hotel service of anywhere in the world. Expect the staff to go above and beyond to ensure a memorable stay.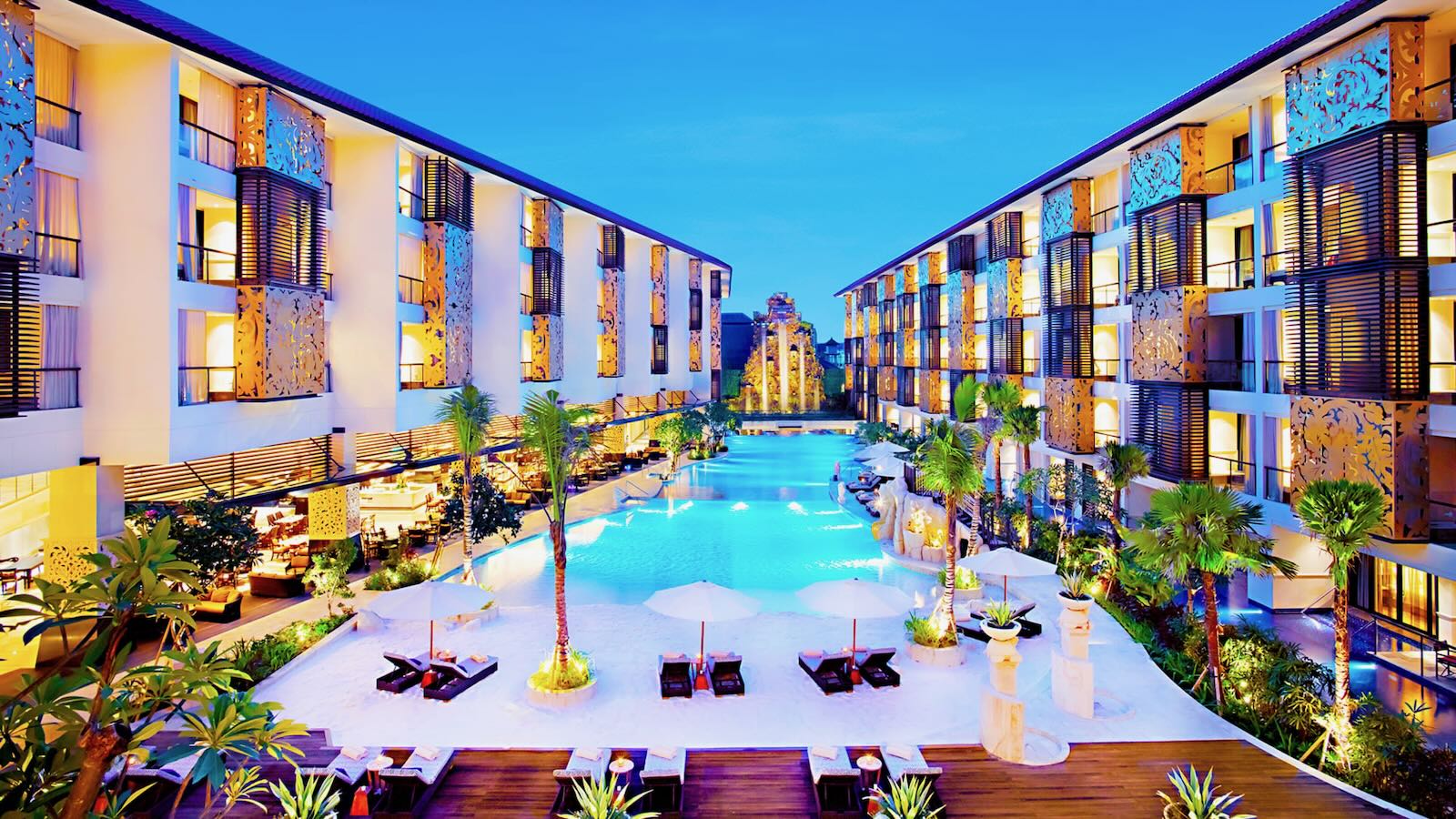 Book your Bali holiday
Ready for a memorable Bali getaway? Fly direct to Bali from Australia with Qantas, Jetstar or Virgin.
Save the splurge for your Bali accommodation by booking your flights with Qantas Points or Velocity Points. From just 20,300 Qantas Points plus fees and taxes from Australia's east coast, your dream Bali holiday is closer than you think.
Featured image: visualsofdana, Unsplash
Where to stay in Bali: Airbnb vs Hotel
was last modified:
August 24th, 2023
by