Whether it's your first or fiftieth time in Bali, the sprawling Indonesian island offers something for every traveller. Each area of Bali boasts its own personality, charm and attractions. And with so many types of accommodation in Bali to choose from, it can be hard to know where to begin.
Of course, the first step is to fly to Bali from Australia. Qantas, Jetstar and Virgin fly direct from most major cities including Sydney, Melbourne, Perth, Brisbane and Adelaide. Joining the Qantas Frequent Flyer program or Velocity Frequent Flyer program can not only earn you points on your flights to Bali, but get you there for less. For example, fly Qantas from the east coast to Bali from just 20,300 points in Economy or 57,000 points in Business – plus fees and taxes.
If you're already part of a hotel loyalty program in Australia, it may be worth checking out what's on offer from your favourite brand. This can give you some ideas on where to stay in Bali, and often some additional perks with your booking when you have status with that program. How does a welcome drink, late check-out or even a coveted room upgrade sound?
So whether you've only got three days to spend in Bali or a much longer adventure planned, our accommodation guide will help you get the most out of your Bali holiday.
Where to stay: the best places in Bali for every traveller
Bali is a popular destination for tourists from around the globe, and for good reason. The tiny island has endless experiences: from art galleries to spa retreats to nature escapes. No matter your interest, there's an area in Bali that you're sure to love.
In our ultimate guide, we'll cover the essentials to help you plan your next Bali holiday. Find the best area to stay in Bali for surfing, shopping or sipping cocktails, then select from the different types of Bali accommodation on offer. And trust us, there's a lot.
We dive into some of the most popular Bali destinations to help you find the best place to stay.
Where to stay in Bali for first timers: Kuta
Located just three kilometres from Ngurah Rai International Airport, Bali's Kuta district puts you among the bustle of Bali in moments. Bars, pubs and clubs pump on until the wee hours of the morning. Shop 'til you drop at the open-air Beachwalk Shopping Centre. And for those who prefer to have a cocktail in hand, Kuta beach is a stone's throw away. Kuta is an excellent base to help you find your feet and navigate the heart of Bali.
The area is also home to the popular Waterbom water park, an excellent addition to any Bali holiday with kids. Spanning 3.8 hectares, there are plenty of exciting rides and attractions for all ages. Asia's steepest water slide is a thrill-seeker's delight. And for a more mellow experience, the Lazy River weaves through a lush tropical landscape. Don't be fooled by the vastness of the park, though. Plan to spend half a day, so you can continue to explore all that Kuta has to offer.
Kuta accommodation
Many international hotel brands have established their Bali presence in Kuta. Asia's first Hard Rock Hotel brings rock and roll to the heart of Kuta, complete with its famed cafe and Rock Shop. Mamaka by Ovolo is an ideal base for soaking up the sun and sea. Discover downtown Kuta with a stay at Sheraton Bali Kuta Resort. And if hotels aren't your thing, accommodation options in Kuta include resorts, private villas and hostels.
Those that are looking for relaxation may benefit from staying in a quieter pocket of the island. While Kuta is a great introduction to Bali, there's so much to explore beyond the busy district. Dodge the tourists and venture to other areas to discover how the locals really live.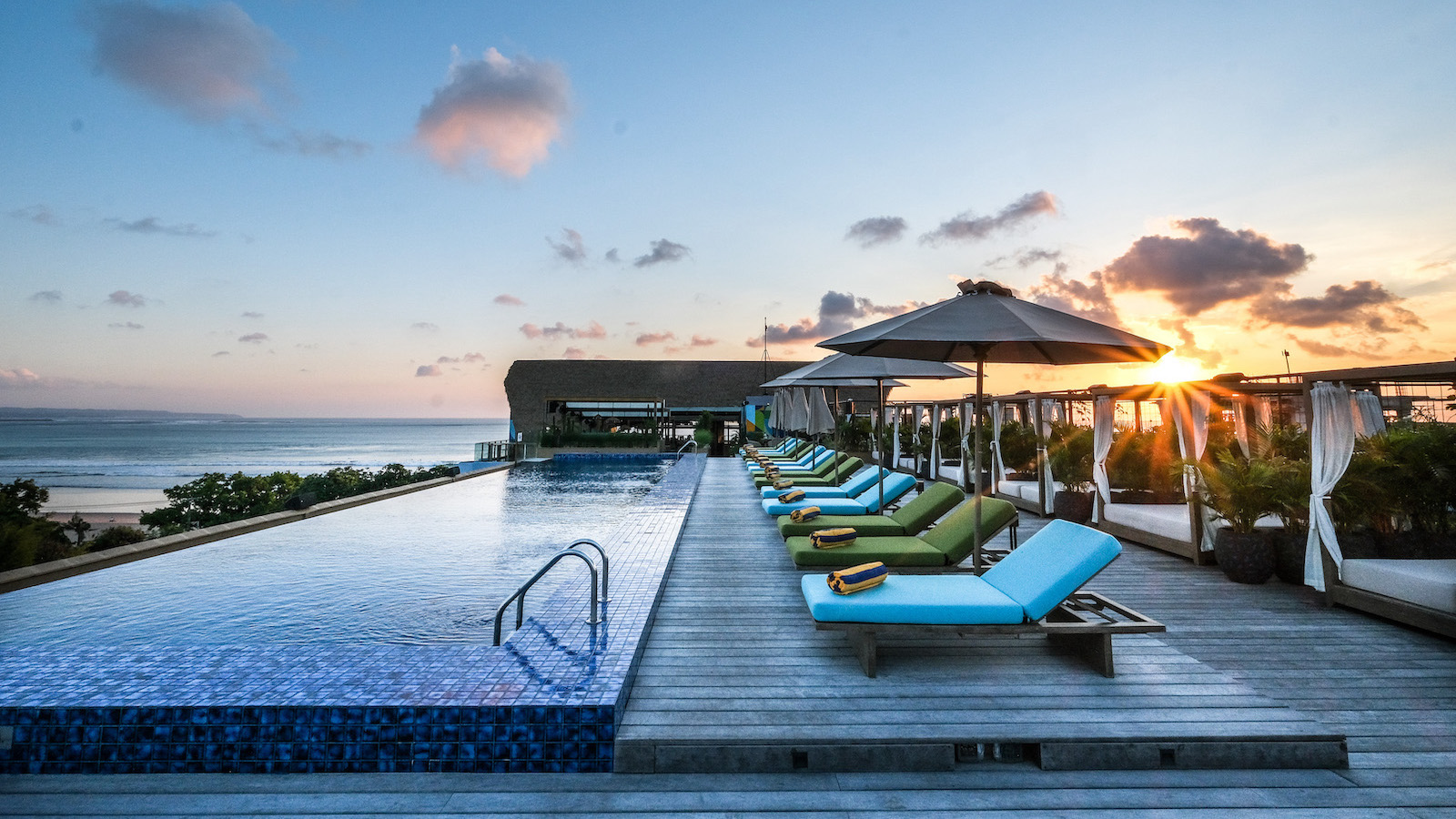 Where to stay in Bali for shopping: Seminyak
Trendsetters and style fiends rejoice. Seminyak's designer boutiques make the area one of the best places to stay in Bali for shopping. The area's main walking street, Jalan Raya Seminyak, boasts an eclectic range of international and local brands. In between the shopfronts you'll find galleries that showcase a variety of artwork, many of which are for sale. And to keep you fuelled up for your shopping adventure, you can pop into any of the chic bars, cafes and restaurants lining the strip.
Fine dining is another highlight of staying in Seminyak. Explore some of Bali's best restaurants, offering perfectly-cooked steak, fresh seafood and delicious pasta. Many restaurants sit along the beachfront, so you can enjoy uninterrupted views as you dine. There's also a great selection of Indonesian fare so you can sample some local favourites. Choosing accommodation in Seminyak puts you (and your stomach) in a food lover's paradise.
Seminyak accommodation
Seminyak's accommodation offerings are slightly more upscale than other areas of Bali, but just as affordable. You'll find private pool villas that come with a personal chef. Swanky resorts make it easy to down a few cocktails before retreating to bed. And of course, you've got plenty of hotel accommodation options for those seeking luxury on a budget.
It's easy to blow all your Rupiah on shopping and eating in Seminyak alone. If you're looking for more of a nature escape, there are plenty of greener parts of the island to explore. The kids may not be as excited about trendy bars as the adults, so consider another area if you're heading on a Bali family holiday.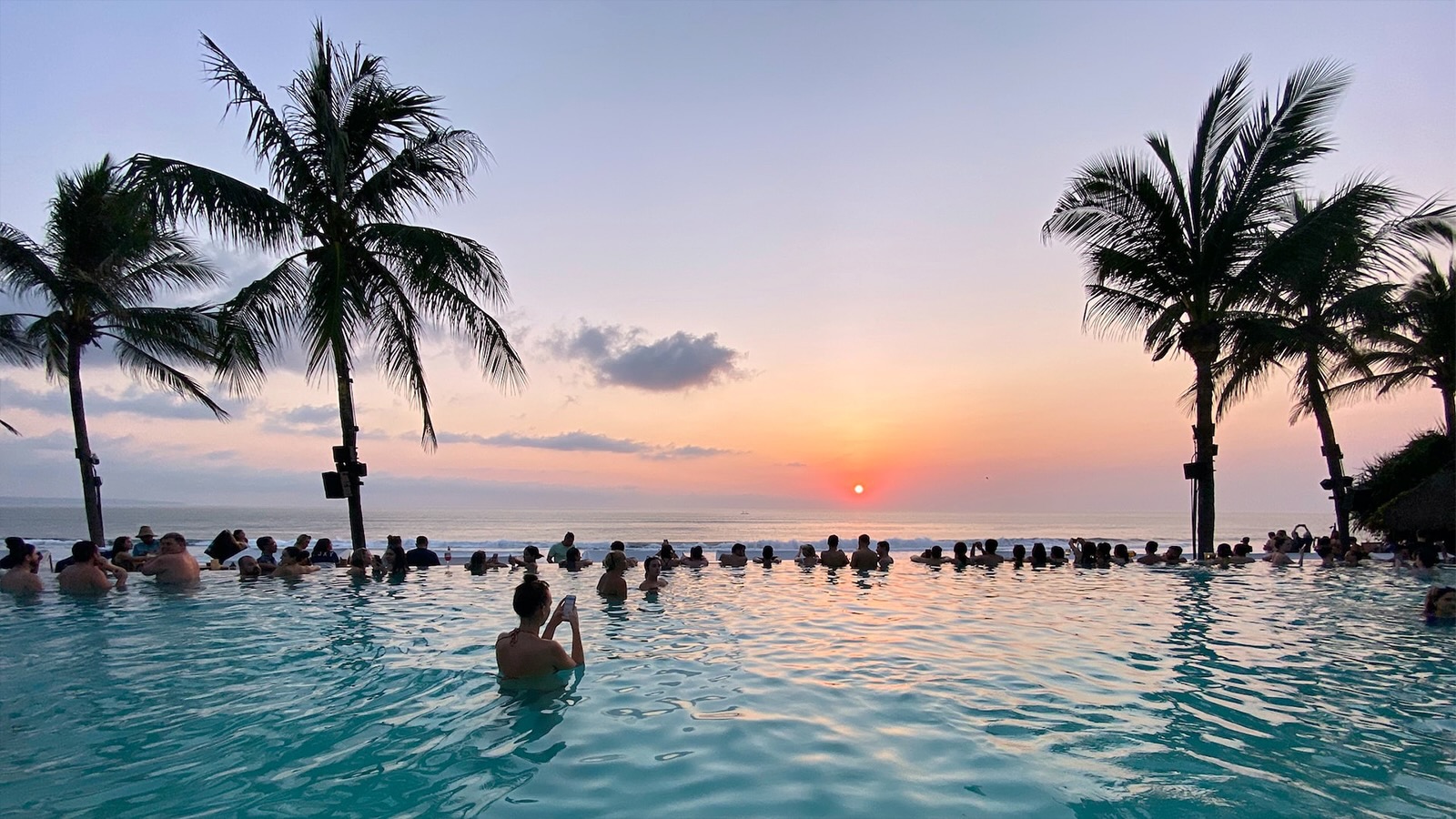 Where to stay in Bali for nature lovers: Ubud
Who says the grass isn't greener on the other side? As far as Bali destinations go, Ubud is undoubtedly the best area to stay for nature lovers. Its inland location means that Ubud isn't defined by beaches. Rather, its most popular drawcard is the lush rice paddies set among a sprawling jungle. The natural landscape is dotted with shrines, temples and other places of worship. And if you're looking to rejuvenate, Ubud is the perfect place to relax.
Ubud accommodation
Much like its attractions, Ubud's accommodation options offer an insight into the Balinese lifestyle. Its range of unique stays include eco villas with exceptional views of the rice terraces. Jungle resorts feature secluded villas amid towering trees. And sustainability is at the forefront of many luxury lodges to minimise disruption to the gorgeous natural surrounds. Here, you can live like a local and feel disconnected from the world. Many of the resorts and villas in Ubud do offer Wi-Fi, though.
If you prefer a party atmosphere, Ubud isn't an ideal place to soak up the nightlife. Those that love beachside vibes also won't find much to satisfy in that regard. And it's well over an hour's journey each way (traffic dependent) to reach many popular destinations south of the island. So consider dedicating your Ubud stay to exploring the surrounding area to avoid lengthy day trips elsewhere.
Where to stay in Bali for surfing: Canggu
Ask anyone who's visited Bali searching for hipster cafes, yoga studios and huge waves, and they'll tell you that Canggu beach is where you'll find it all. The area caters to a vibrant and mostly younger crowd, made up of digital nomads, expats and tourists. Canggu joins other popular Bali destinations in offering an abundance of organic, healthy and wholefood options. Add funky cafe decor, colourful artwork and next-level sunsets, and you've got the perfect Insta-worthy backdrop. And on the off-chance you're not a foodie, you can stretch, meditate or pamper yourself at any of the area's health and wellness centres.
If your Bali holiday revolves around catching some waves, you'll want to be close to the action. Canggu offers some of the most exhilarating waves on the island, and the Canggu River Mouth is one of the most sought after rides. Of course, catching a good wave means getting up early. Some of Canggu's best waves can be caught before 9 am. Save yourself the commute by booking accommodation in Canggu. You'll not only get more sleep, but have more time to enjoy the surf.
Canggu accommodation
Canggu's accommodation options can only be described in one word: hip. Everything is overflowing with colour, character and charm. Hostels are a popular way for backpackers in Bali to connect, and there are plenty to choose from in Canggu. Those travelling with a laptop in tow can take advantage of a range of Canggu accommodation designed with the remote worker in mind. And if you're in the area for some R&R, there are plenty of sun-filled villas to soak up some rays. You can even book your own villa in Canggu to escape the excitement temporarily.
The secret's out, and Canggu is fast becoming a tourist favourite. You may even need a wind down after all the stimulation. So if you're looking for a luxurious getaway, there are plenty of other Bali destinations to consider.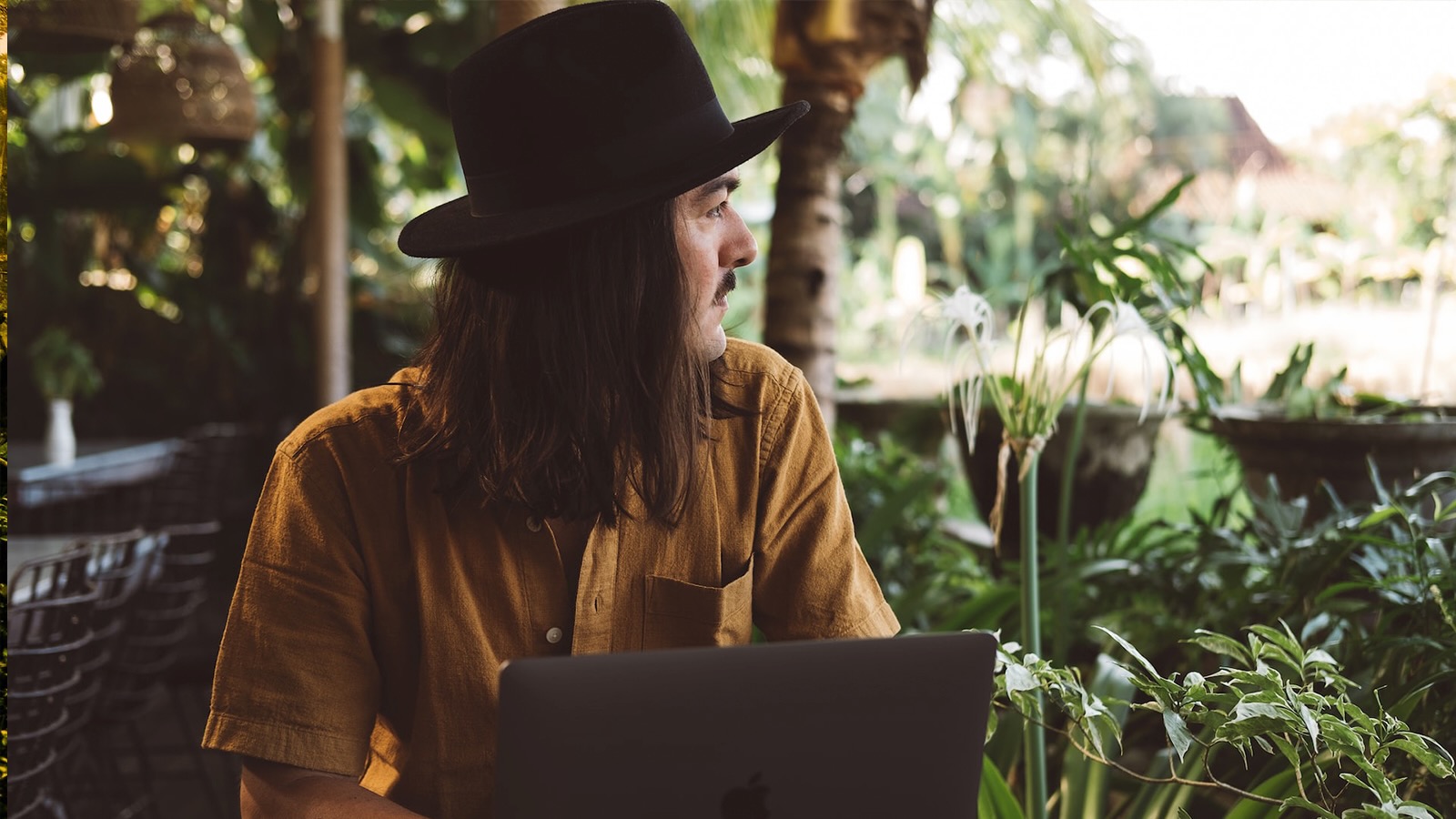 Where to stay in Bali for luxury: Nusa Dua
Home to white sand beaches, 5-star resorts and a laid-back vibe, Nusa Dua is a treat for the senses. Nestled on the island's east coast, it's arguably one of the most romantic places to stay in Bali for couples. Honeymooners and those looking to pamper themselves can take advantage of a range of luxurious resort experiences, including in-room massages and saunas. The area is a playground for celebrities, so expect only the best amenities on offer throughout Nusa Dua.
The Nusa Dua Theatre hosts the Devdan Show, a breathtaking performance that gives you a peek into Indonesia's rich cultural history. Journey through time with a story told through acrobatics, music, dance and art. This high-energy show is not to be missed, drawing thousands of travellers to Nusa Dua each year. Incorporate the show into your Nusa Dua stay and enjoy a drink at one of the many hotel bars afterwards.
Nusa Dua accommodation
There's no shortage of luxurious accommodation in Nusa Dua to choose from. The Novotel Bali Nusa Dua and the Mercure Bali Nusa Dua both sit inland, just past one of Bali's premier golf courses. Nusa Dua beach hotels are a popular choice, with the Sofitel Bali Nusa Dua and the Grand Hyatt Bali located along the coast. The area is also home to the Ritz Carlton Bali, the luxury brand's only presence on the island.
Unlike other Bali destinations, Nusa Dua has a much slower pace. While it's perfect for a Bali resort holiday, there isn't much to explore beyond your chosen property. Get among the vibrant nightlife and shopping in Legian or Kuta instead.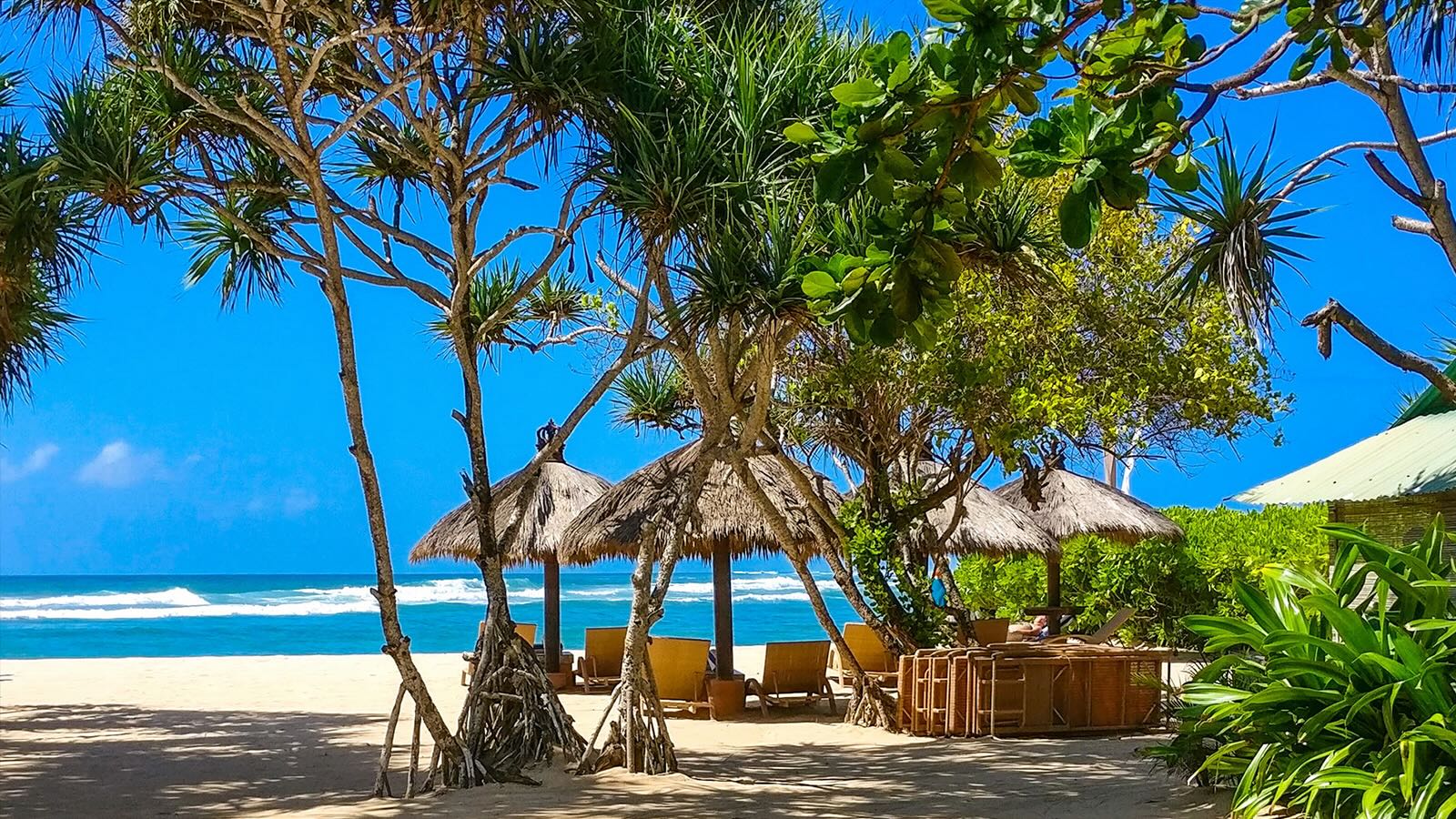 Where to stay in Bali for seafood fiends: Jimbaran
Located next door to the Kedonganan fishing village, Jimbaran offers some of the freshest seafood in Bali. Grab a table on the sand at one of the many seafood restaurants lining the coast. Enjoy crab, prawn, lobster, kingfish, calamari and more, often served with rice and traditional sides. The local dish, ikan bakar Jimbaran, or spicy grilled fish, is a must-try for any seafood lover. Work your way through delicious seafood dishes from dawn until dusk – Jimbaran beach provides an excellent backdrop at all hours of the day.
Jimbaran is also a great place to stay in Bali for families. It's almost like a quieter Kuta, but still with plenty to see and do. The beach is ultra family-friendly, with a clean shore and calm waters that are ideal for swimming. For even more entertainment, head to the Jimbaran HUB. Kids can enjoy go-karting and a jungle playground, while parents may appreciate the facility's coworking space.
Jimbaran accommodation
Just a 10-minute drive from Ngurah Rai International Airport, Jimbaran can be tacked onto the start or end of a Bali family holiday. Spend the night before an early morning flight, or explore the area during an extended layover in Bali. Accommodation in Jimbaran is mostly situated along the beachfront, and you'll find all the popular hotel and resort brands here.
Aside from its proximity to the airport, Jimbaran is not located close to many of the island's popular attractions. Hotel prices here may be a little steeper than other areas in Bali. Also, consider the area you'll spend the most time in. If it's not Jimbaran, you may save yourself a few taxi fares and valuable travel time staying elsewhere.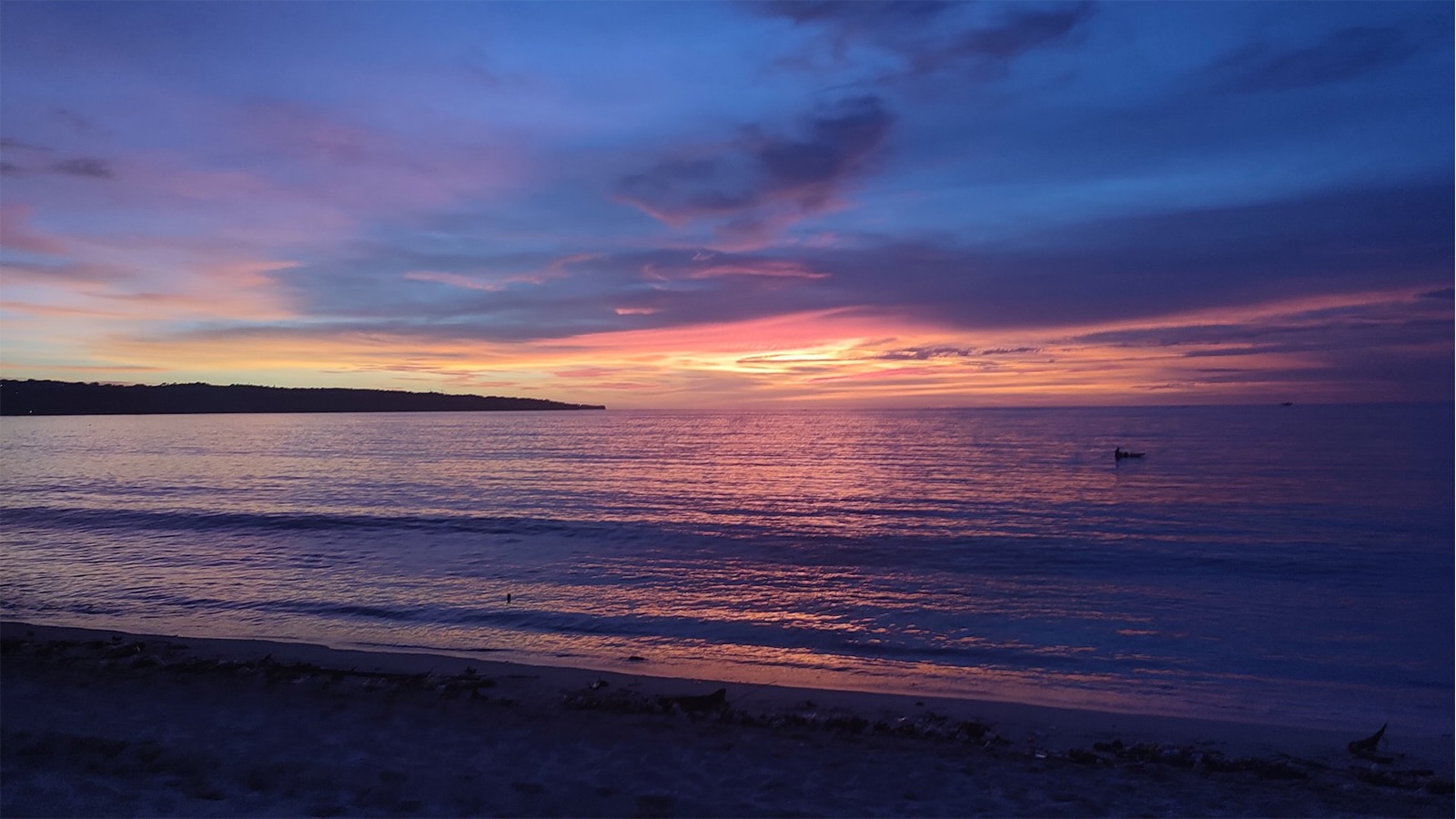 Where to stay: the types of Bali accommodation to choose from
Now that you've chosen the best area to stay in, it's time to choose your Bali accommodation. The island boasts several unique experiences that will have you bragging over brunch when you return home. Elevate your Bali holiday with the accommodation options below for a truly memorable stay.
Bali hotels: convenient and comfortable
It's hard not to love the familiar comforts of a hotel. A fully-stocked mini-bar, 24-hour room service and designer toiletries? Yes, please. Round-the-clock reception allows seamless check-in for red-eye passengers, while views from the top floor are often unparalleled. And the convenience of an adjacent restaurant or bar adds yet another perk to the hotel experience.
Hotels are an experience in themself. Even if you've stayed at the same chain elsewhere in the world, Bali hotels seem to have an extra bit of charm. You can thank the locals for that.
The tiny Indonesian island is home to many of the world's most recognisable hotel brands. Accor has over two dozen properties across Bali, from the affordable ibis Styles brand through to their ultra-luxurious Raffles Bali resort. Signing up to the Accor Live Limitless program will earn you Rewards points on your stay. Marriott has a similar number of properties you can choose from, including the W Hotel Bali Seminyak. Don't forget to join the Marriott Bonvoy program to earn and redeem points across their brands.
Of course, hotels are the tip of the iceberg when it comes to accommodation options in Bali. The abundance of unique stays available begs the question: how often do you get the opportunity to indulge in a private pool villa? If you're feeling adventurous, it may be wise to save your favourite hotel brand for your next city stay. There are a huge range of island-exclusive hideaways waiting for you to explore.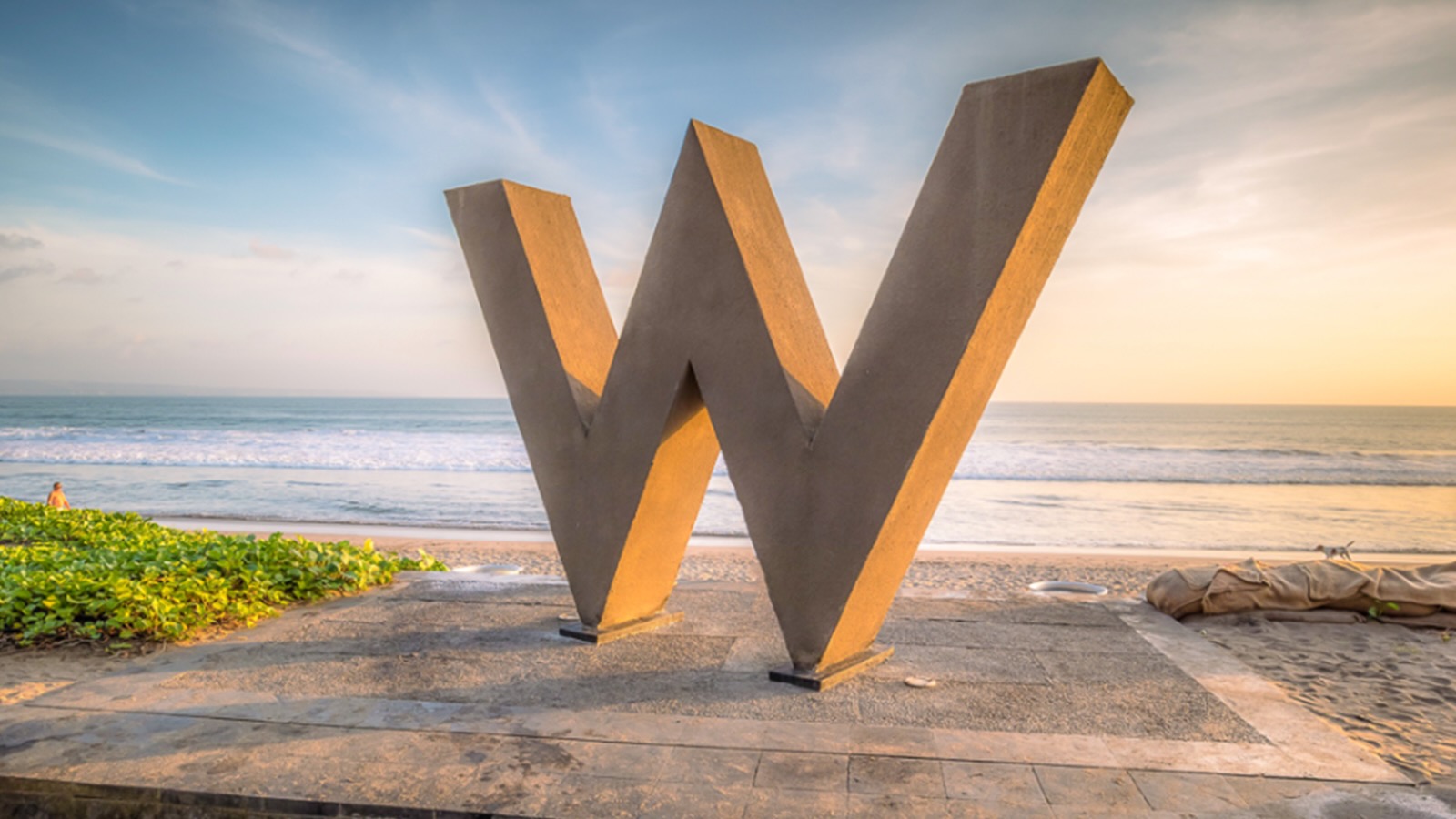 Bali villas: laid-back luxury
For many, Bali is seen as an oasis – a place to relax, unwind and bask in supreme comfort. Staying in a villa in Bali allows you to experience all of the above, and then some. With far less commotion than hotels, Bali villas are fast becoming a popular choice for travellers seeking to embrace a laid-back, peaceful Balinese lifestyle. Often designed in neutral tones and encompassing earthly elements, a Bali villa is the perfect setting for some R&R.
You'll experience the hospitality that Bali is known for. Many villas offer dedicated staff to assist you with everything you need throughout your stay. And you may even be lucky enough to nab a private chef to serve up local cuisine in the comfort of your villa!
Determining the level of privacy you want can assist you in choosing which villa in Bali to book. Many are part of larger complexes, giving you access to communal spaces. Others provide more seclusion for quality one-on-one time with your companion.
Social butterflies, however, may find staying in a villa challenging. For starters, there's no adjacent bar or dancefloor for a quick boogie before bedtime. It's a place dedicated to relaxing, after all. Many of the villas in Bali are located away from the main nightlife districts. And if you're looking to slink into bed after a few Bintangs, it may be a slightly more arduous journey.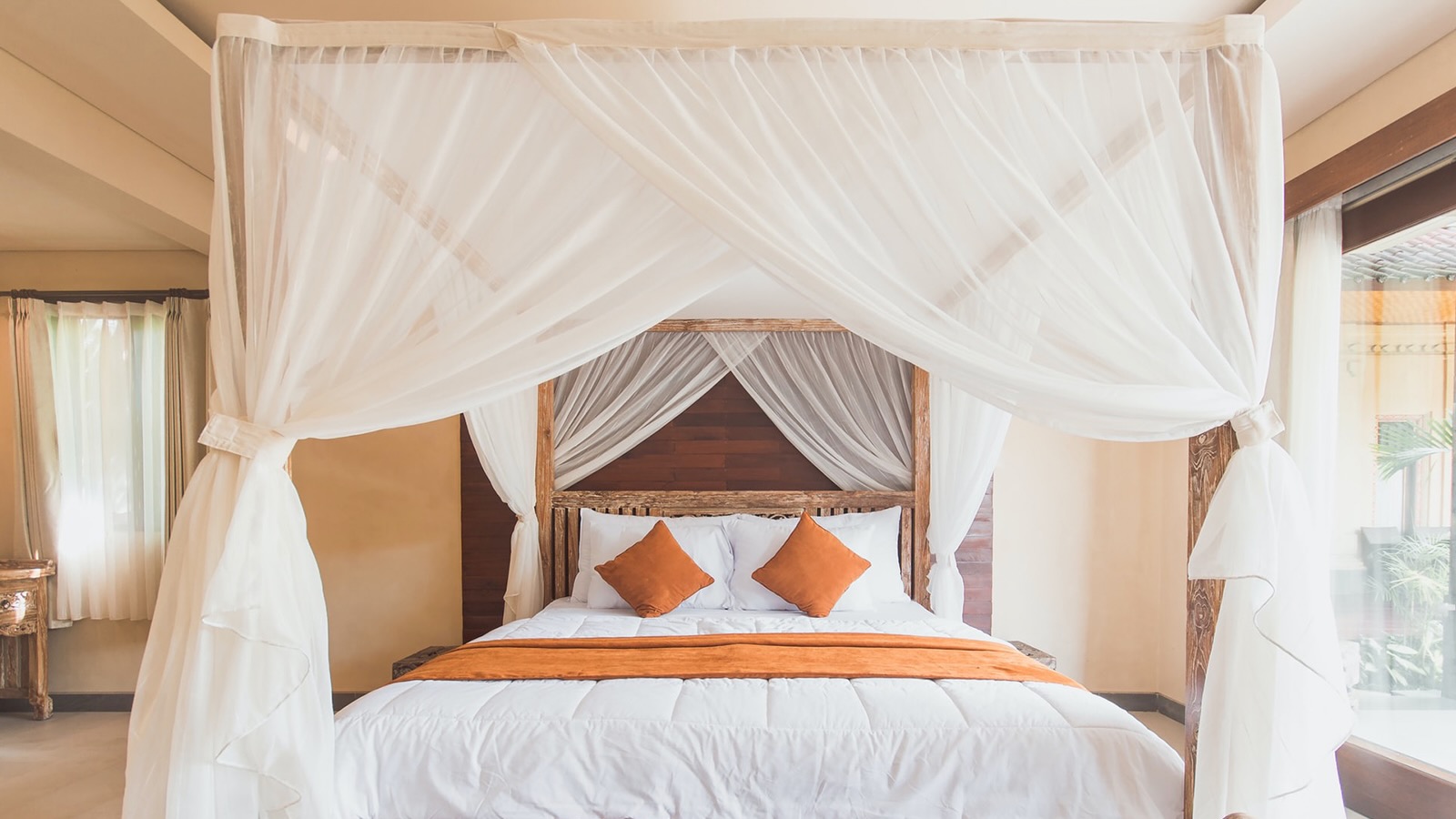 Bali pool villas: the perfect Instagram photo
The quintessential Bali experience, pool villas grace travel articles and Instagram feeds alike. You may have seen the famous floating breakfast, featuring a spread of local fare on a tray, drifting in a pool. This experience alone makes booking a Bali pool villa worth it. And did we mention the tray is brought to your room by your own personal member of staff?
Communal hotel pools get crowded quickly, especially with guests looking to escape the heat. A pool villa ensures unrestricted, private access to your very own pool. You could even slip in straight after lunch (if you're not already in the pool enjoying lunch, that is).
Prefer to warm up with a few laps before breakfast? Private pools are designed for a quick dip, and not much more. There certainly aren't any waterslides or sprinklers, so pool villas in Bali are best reserved for a romantic getaway or a jaunt with friends.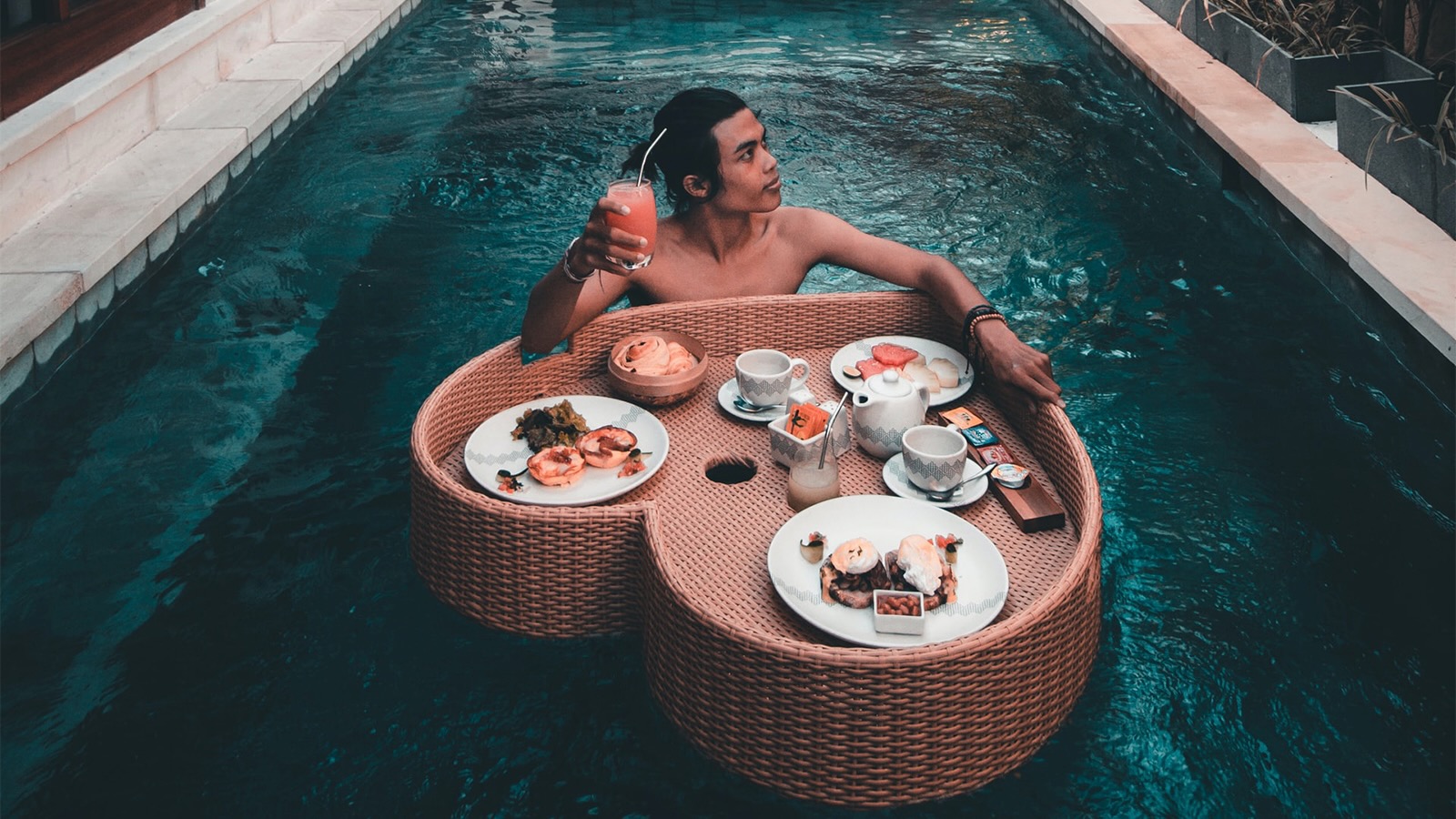 Bali resorts: an all-in-one experience
A Bali holiday with kids in tow requires entertainment and activities to be in abundance. Fortunately, there's no shortage of that at many Bali resorts. Take advantage of kids' clubs that offer programs packed with plenty to do to pass the time. Children and teens can mingle with others their own age and make lifelong friends. And if you're a couple looking for some downtime, many Bali resorts offer babysitting services. The locals absolutely love interacting with kids!
Bali resorts provide an all-in-one experience without leaving the property. Stay, play and dine – Balinese style – at your chosen resort. Swimming pools, playgrounds and sporting activities ensure there's plenty to do throughout the day for all ages.
A Bali resort affords luxury, too. Take advantage of in-room massages, an extensive room service menu, or kick back by the pool with a cocktail. Many resorts offer well-equipped gymnasiums, spas and wellness centres to help you escape the stresses of everyday life. Organised activities and nightly shows top off an all-inclusive experience.
All the bells and whistles of a resort can come at a cost, and it may be cheaper to organise your own activities and tours. Having everything a stone's throw away may also mean missing out on exploring beyond the resort. Resorts are almost a destination in themselves – but don't get too caught up that you miss out on seeing the rest of the island.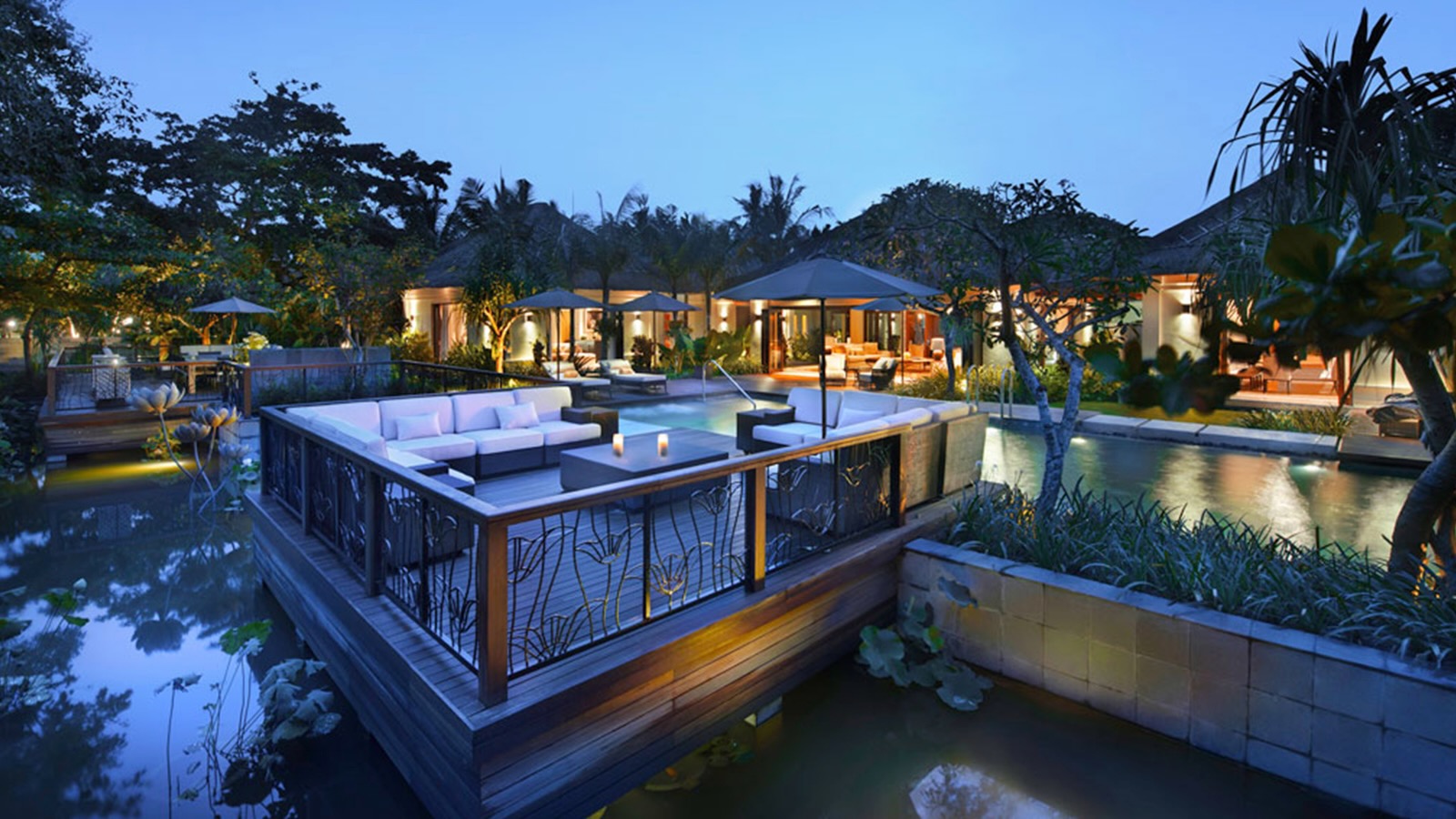 Bali Airbnb: unique experiences
Bali is an island with no shortage of experiences. Think swinging in the sky, sleeping under the stars or hiking up a volcano. And its accommodation offerings are much the same. Curl up in a private treehouse, go off-grid with an eco-friendly villa or recharge among rice paddies. Airbnb is packed with unique accommodation experiences in Bali – and who says you need to pick just one?
When it comes to the top destinations beyond Australia for families, birthday trips or celebrating a milestone, Bali is front and centre. Just a six-hour flight from the east coast warrants any excuse for a getaway. And it's no surprise that Bali is a popular option for group trips. Keeping the team close is easy with a delightful selection of Airbnbs in Bali that cater to large groups. But not to worry, there's plenty of space for some personal downtime, too.
Much like villas, Airbnbs in Bali don't offer much in terms of socialising. You're limited to your guests, which in some cases may be the priority. However, if you're looking to make new friends in Bali without venturing too far out of your accommodation, a resort or hostel may be your best bet.
Parties are best saved for a licensed venue. As of 20 August 2020, Airbnb has implemented a strict global ban on parties and events at Airbnb listings. For additional guest safety, each booking automatically includes Airbnb's AirCover.
Booking your Airbnb stay through Qantas gets you one Qantas point per $1 on bookings, plus you'll score 500 bonus points on your first Airbnb booking through Qantas.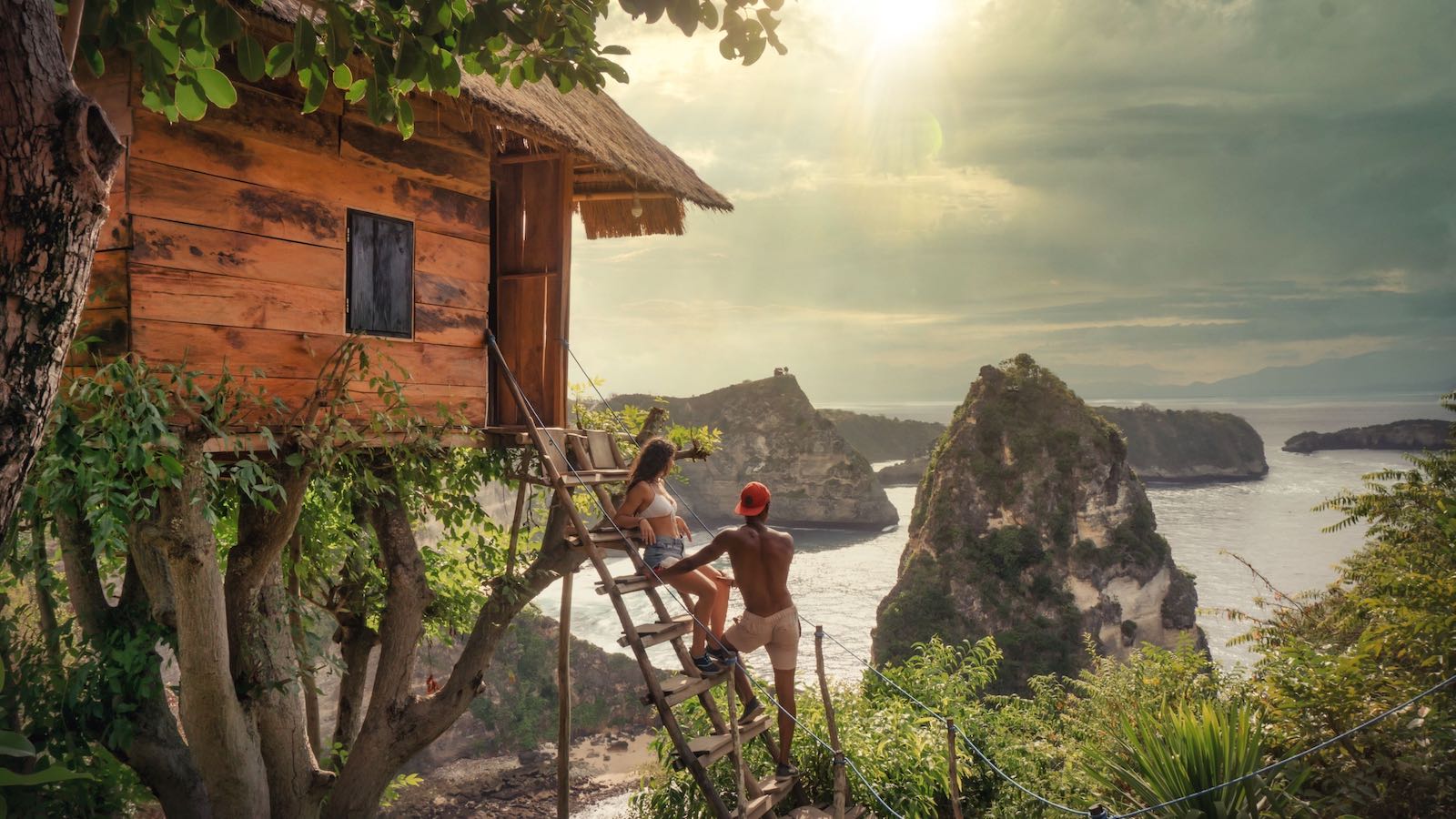 Bali hostels: for the social butterflies
Solo travelling can be lonely. Fortunately, staying at a hostel in Bali allows you to connect with like-minded travellers. There's a sense of community in hostels that brings travellers from all walks of life together. Many hostels offer a calendar packed with nightly activities, including quiz nights, movie nights and ping pong tournaments. Some hostels offer free wellness activities, such as yoga, pilates or meditation. If meeting new people is your aim, you're sure to connect over shared activities.
Choosing a hostel in Bali takes the stress out of planning your itinerary. If you're one to go with the flow, many hostels offer tours and day trips exclusive to guests. Go on a walking tour of the neighbourhood, hop on a minibus for some sightseeing, or head to the ocean for scuba diving. Enquire with the hostel before booking to find out what activities are on offer during your stay.
Shared amenities such as bathrooms and kitchens cut down the cost of accommodation, putting more Rupiah back into your pocket. Some Bali hostels offer private rooms with an ensuite, so you can still reap the rewards of a social environment.
Hostels aren't known for luxurious, personalised service, but that's not to say the hosts aren't friendly. It simply means you'll forgo a warm lap pool and turn-down service in favour of an affordable room. While many hostels allow children, they're not designed with them in mind, so child-friendly entertainment may be limited.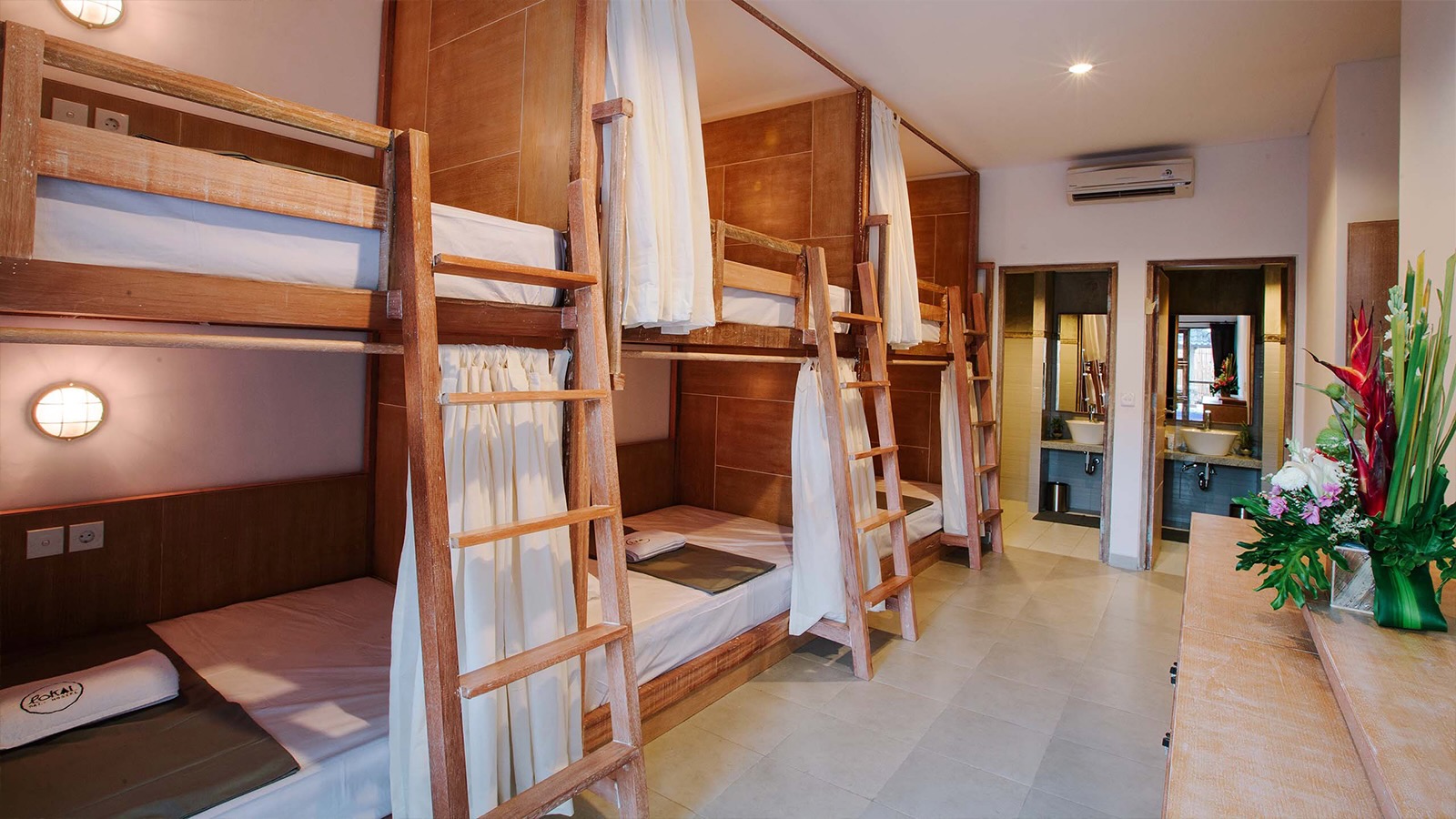 Have you found your ideal location? Get planning – your dream Bali holiday is just around the corner!
Ready to jet off on your Bali holiday?
Bali is accessible from all corners of Australia, with direct flights from Sydney, Melbourne, Brisbane, Adelaide, Perth, Darwin and Cairns.
And with routes regularly serviced by Qantas, Jetstar and Virgin, it's even easier to plan a dream Bali holiday.
Want to get there for cheaper? Find out how to redeem Qantas points on Qantas and Jetstar routes, or learn about redeeming Velocity points on Virgin Australia flights to Bali.
Featured image: Paolo Nicolello, Unsplash
Your ultimate guide to Bali accommodation: where to stay
was last modified:
August 24th, 2023
by