I seem to come across many offers for discounted gift cards, and while the headline discounts seem appealing, it's hard to know whether these deals are of any use – for earning points, securing discounts, or both.
While a lot of these aren't worth your time once you do the maths, there are some useful options out there for saving money, and boosting your points balance.

The key reasons why gift cards are useful to know about?
They can help avoid credit card surcharges, or to allow spend on an Amex (when buying the gift card) for higher points earn when a retailer wouldn't otherwise accept them
They can help you earn more points – in the case of buying cards from supermarkets with supermarket bonus point credit cards
They can save you money – with outright discounts on gift card purchase – but only if you manage their balances effectively so you don't end up having an unused balance
Boosting your points by buying from supermarkets
It's been suggested on plenty of occasions before, but worth repeating because of the value – your local supermarket can be a brilliant source of gift cards to pay for a purchase you would otherwise make by paying the retailer in question directly.
If you have an American Express Platinum Edge card or another card with a bonus on supermarkets, the deal is even sweeter, being able to buy a gift card to earn 3 Membership Rewards points on every dollar, rather then the 1 point you would have earned if you paid the retailer.
It's worth a look at the list of gift cards you can buy at Woolworths to see if you could be multiplying your points earned.
Ad – Scroll down to continue reading.Minimum spend, terms & conditions apply.
Buying gift cards at a discount
So what if you could save money as well as earning more points by buying gift cards? If you're happy to plan ahead, there's a few useful tricks I've come up with, from the least to the most lucrative:
Avoiding credit card surcharges
Gift cards can also be a way of effectively enabling payment by American Express for higher points earn where the retailer doesn't accept them, or avoiding credit card surcharges.
As an example, JB Hi-Fi would earn you 1 Membership Rewards point per dollar on your American Express card, and charge you a 2.5% surcharge for the privilege.
By buying JB Hi-Fi gift cards at the supermarket you can earn 3 points per dollar and avoid the surcharge.
I know of someone who bought a $2000 fridge from JB using gift cards, earning himself 6000 Membership Rewards points on the $2000, rather than paying $2050 with the surcharge and earning 2050 points.
CashRewards
CashRewards is one of my favourite online shopping websites – we touched on the benefits of using CashRewards just recently. They effectively work like a points mall, but give commission back in dollars rather than points.
Many of CashRewards retailers will allow you to buy gift cards on their stores – some won't give you commissions on gift card purchases, but some will, so it's worth checking the terms and conditions for each store.
Dan Murphy's is a good example, you can get a 3% cashback on a Dan Murphy's gift card that you can then use in store.
Personally I stacked this with a recent Amex offer that gave $15 back for spending $100 at Dan Murphy's online, by buying a $100 gift card for a total of $18 back. So it's worth keeping an eye on them for opportunities!
Everyday Gift Cards
This is one of my favourite ways to get discounted gift cards. Everyday Gift Cards is Woolworths' website to purchase gift cards. If you go directly to the site you can purchase them at face value, however, you can access these cards at a discount either via a membership benefits website you may have access to, or via Cashrewards above (which is where the real value in Cashrewards lies for gift cards).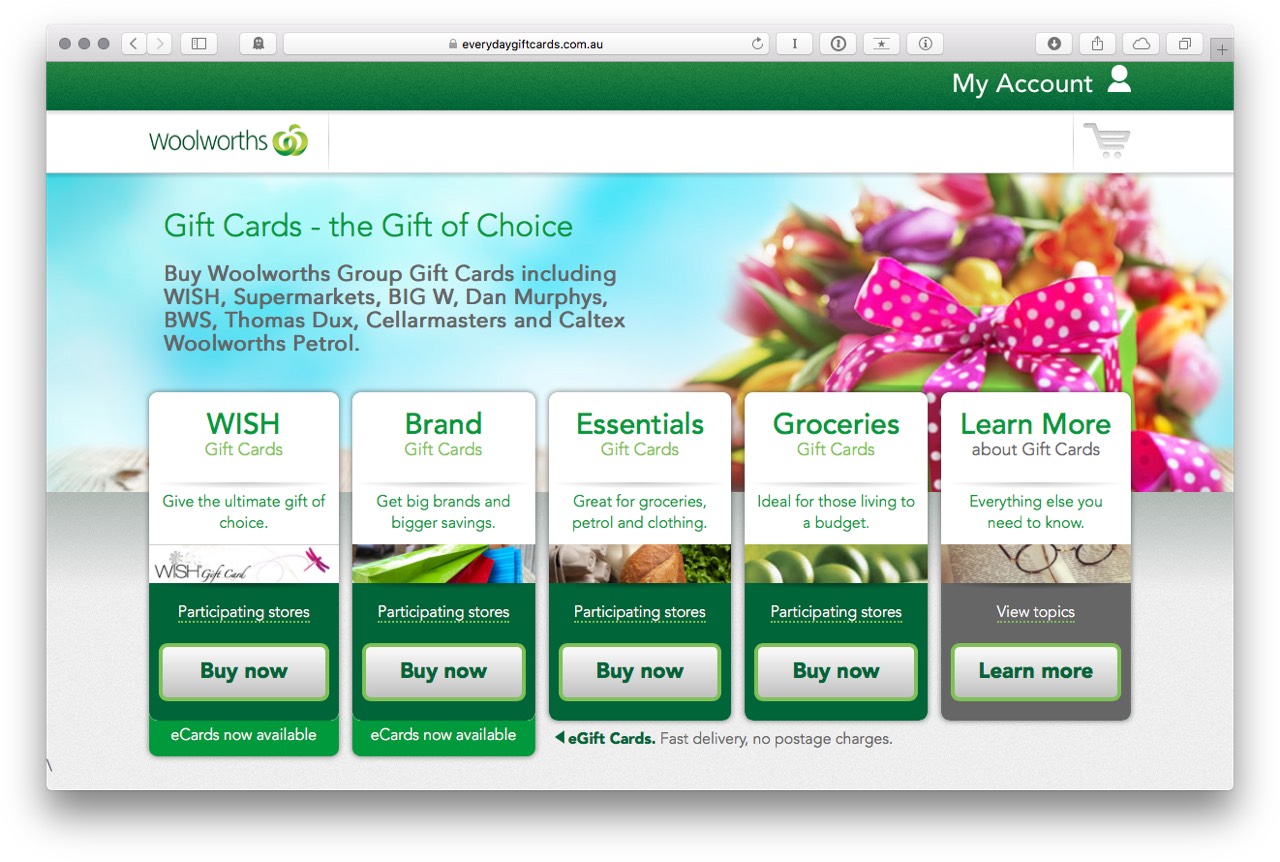 You can then purchase Woolworths e-gift cards for 5% off face value (meaning a $100 e-gift card will cost you $95). These are an electronic version of one of Woolworths' WISH Gift Cards, which means they can be used at any Woolworths retailer (Woolworths, Woolworths Caltex Petrol, Big W, BWS etc).
As a bonus, being Woolworths, purchases at Everyday Gift Cards earn 3 points per dollar on a supermarket bonus points card like the American Express Platinum Edge.
What's an e-gift card you ask? Basically it works like a normal gift card, however instead of a piece of plastic in your hand you get an email with a card number and PIN.
When it comes to the point of paying, you need to tell the checkout operator that you want to pay by an e-gift card (or select this option at self service) and enter the card number on the eftpos terminal/PIN pad followed by the PIN.
I've found that e-gift cards tend to arrive in my email 3-4 hours after ordering them, so unfortunately you can't order one for the exact amount you need for your grocery shopping while standing at the checkout (although nothing would stop you from doing this if you shop online!).
The fact that they can be used on purchases for groceries at Woolworths as well as petrol at WW Caltex and general merchandise from Big W means they're quite a useful card to have around. You can also stack the 4c/litre fuel discount with the 5% discount at Woolworths Caltex.
If you want to keep track of your e-gift cards, there has recently been a Woolworths Money app released for iPhone and Android phones that you can add your cards to, so you don't have to print the emails and you can keep track of the exact balance.
There are plenty of e-gift card discounts that come along every so often. For example, there was a promotion for Big W e-gift cards at 7.5% off face value which can only be used at Big W stores. These can represent great value if you shop at Big W, but not great otherwise because you can't then spend it on groceries or other things.
And if you were thinking about using your e-gift card at Big W to buy a physical WISH gift card to then go and spend on groceries, unfortunately they've set these cards up so you can't do that.
Gift Cards on Sale
Another site worth subscribing to is Gift Cards on Sale. These guys post regularly gift cards being sold at below face value at supermarkets and other large stores, and can be a source of good value for getting discounts at retailers you'd be spending on anyway.
If I had an iPhone, this is how I'd keep track of sales on iTunes cards to get discounted Netflix using this method.
A couple of words of caution
The key thing to remember with gift cards is that they are a case of "use it or lose it" – you can't get any balance back from them; and any balance left when the card expires is forfeited. If, for example you buy a $100 gift card and only spend $85 on it and find there's nothing you want to spend the final $15 on (or as has happened to me, you forget about the card), then you haven't really saved any money even if you got the card at a 10% discount. So make sure you only buy cards you're going to use, and keep track of them!
Also don't forget that a lot of higher end credit cards offer various insurances on products or services you purchase with their cards. If you instead purchase a product with a gift card instead of directly with the credit card, you won't be able to access this insurance. If you're purchasing a big ticket item, do the maths to see whether the discount and extra points, or insurance benefit, is more valuable to you.
Summing up
A little bit of forward planning, research and a small amount of extra legwork (not too much if you do it in conjunction with your regular shopping), can see you saving money and rapidly increasing your points earn. While the savings on any individual item aren't likely to be huge in and of themselves, this is one of those strategies where the savings and points generated can add up very quickly.
I've heard a few stories of "wins" with people using strategies to save a lot of money and generate huge amounts of points when buying larger items. If you've got one we'd love to hear about it in the comments.
How to boost your points and save money by using discounted gift cards
was last modified:
December 20th, 2021
by