Taking advantage of LATAM's nonstop service from Melbourne to Santiago and one-stop service from Sydney via Auckland, you can get cheap fares to a traditionally-expensive destination across a wide range of dates over the next year.
Santiago is a good hub to start and end your South American trip.
Below are some tips on how to maximise points earn on this flight and get cashback on your purchase.
---
Depart: Melbourne, Sydney, Brisbane or Perth
Arrive: Santiago (with connections to other cities like Buenos Aires, Rio de Janeiro and Bogotá)
Stops: Nonstop from Melbourne; via Auckland from Sydney; via Melbourne or Sydney from Brisbane and Perth
Dates: August 2018 to June 2019
Airline: LATAM (with domestic Qantas connections)
Cost: From $999 in Economy Class
---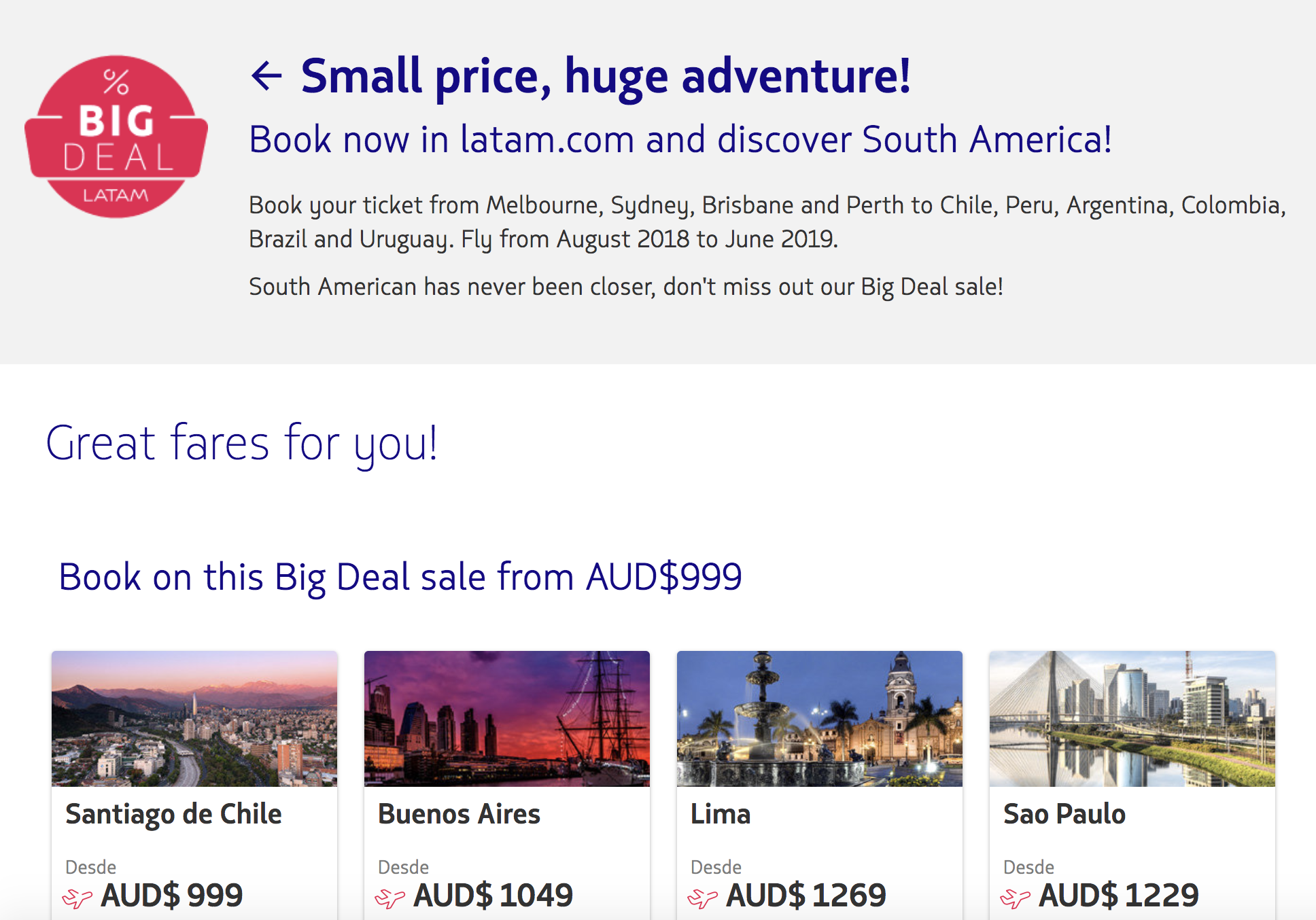 Points earn: Check out our guide on where to credit your flight and add your frequent flyer membership number at one of these stages in your trip planning. Qantas, Alaska Airlines Mileage Plan or American Airlines AAdvantage would be my picks
Best credit card to use for purchase: Credit cards that offer bonus points for booking travel
---
Booking link: With these flights on sale until 16 August, you can book these fares directly through the LATAM website or through the Cashrewards Expedia site to earn 0.7% cashback, which isn't much but it is better than nothing.
Once you are in South America, you may wish to use British Airways Avios to reduce the cost of expensive cash fares in both Economy and Business Class on LATAM.
Airfare deals are typically only available on limited dates. Fares may disappear quickly, so we suggest booking as soon as you are confident in your travel dates.
Flight Deal: fly to South America from just $999 return with LATAM
was last modified:
July 8th, 2021
by