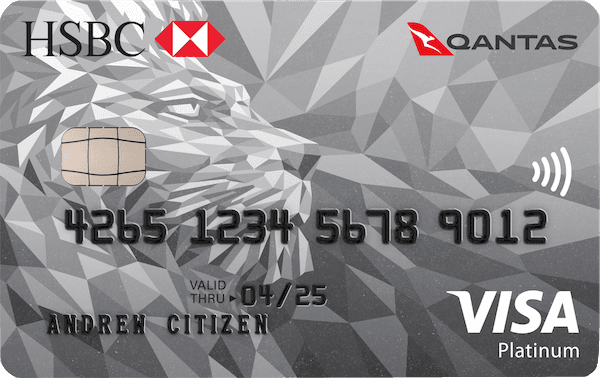 HSBC has a 60,000 Qantas Point bonus with the HSBC Platinum Qantas Credit Card along with included travel and purchase insurances. There's a $199 annual fee and 1 Qantas Point earned per $ spent, up to 2,500 points per month.
60,000 bonus Qantas Points after spending $3,000 within 3 months
1 Qantas Point earned up to $2,500 per statement period, 0.5 Qantas Points earned per $ thereafter
Insurance package including Extended Warranty, Purchase Protection, & International Travel Insurance (PDS)
$199 annual fee
$3,000 minimum spend in 3 months after approval required to earn bonus points
Offer ends: 31st October 2017
Read the HSBC Platinum Qantas benefits guide →
Point Hacks earn a maximum of $120 per applicant for this card. More about this →
HSBC has increased the bonus on the HSBC Platinum Qantas Visa to 60,000 Qantas Points, which is now running until the end of October 2017. This card now has one of the highest points bonuses out there for a sub-$200 annual fee Visa/MasterCard.
You'll receive 1 Qantas Point per $ on ongoing spend up to $2,500 per statement period (month), dropping to 0.5 Qantas Points per $ after.

HSBC cards are now eligible for Apple Pay.
Card Details
| | |
| --- | --- |
| Card | HSBC Platinum Qantas Credit Card |
| Loyalty program | Qantas Frequent Flyer |
| Points earned from spend | Earn 1 Qantas Point per $1 spent up to $2,500 per statement period on eligible purchases made in Australia and overseas. Every $1 spent thereafter will earn 0.5 Qantas Points. |
| Points cap | $2,500 per statement period then drops to 0.5 points |
| Travel benefits | None |
| Included insurances | Extended Warranty, Purchase Protection, & International Travel Insurance (PDS) |
| Overseas transaction fee | 3% of the converted amount |
| Annual fee | $199 |
Earning Qantas Points with the HSBC Platinum Qantas Credit Card
The HSBC Platinum Qantas Visa is left alongside only a few other 1 Qantas Point per dollar-earning Visa or MasterCard credit cards, such as the Qudos Bank Platinum Visa, Macquarie Platinum Visa and Woolworths Qantas Platinum cards.
When it comes to points earn, these cards are all quite similar, so you'll be assessing whether the included insurances, interest-free periods and other soft benefits make a material difference to you if you are looking for a 1 Qantas point per $ earning card.
It will also be worth considering the sign-up bonus on offer at any given time with each as this would likely make a large difference to how many frequent flyer points you can rake in from both applying for and then using the card ongoing.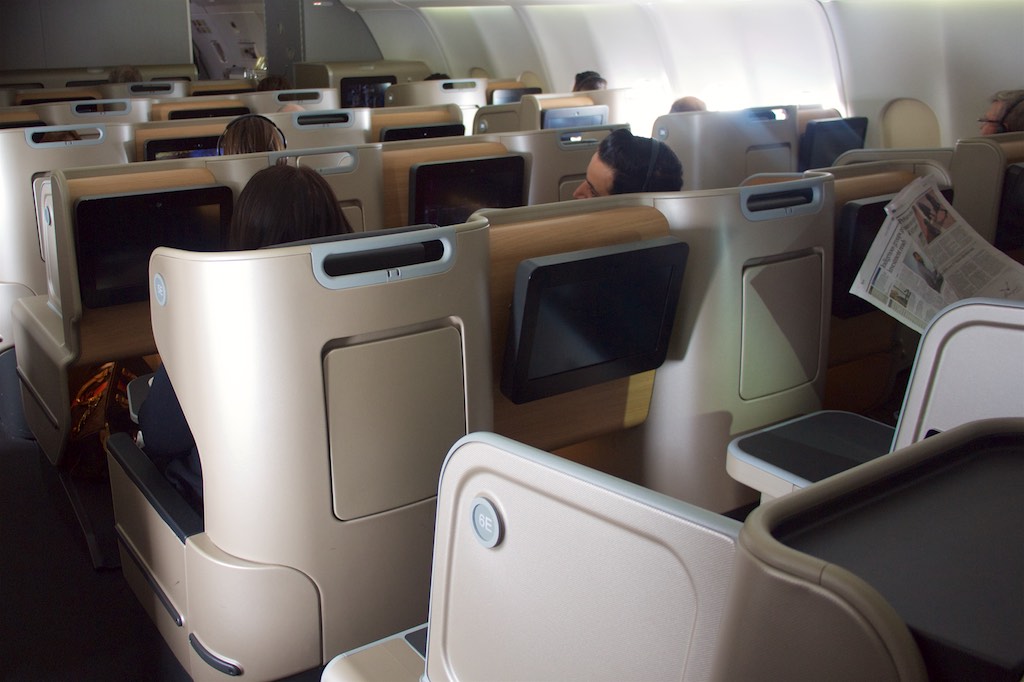 Flying in Qantas' A330 domestic Business Class is one of the best uses of 60,000 Qantas Points
The key restriction with the HSBC Qantas Platinum Visa is the $2,500 Qantas Point per month cap. However, if you are using this card as a separate Visa/MasterCard back up to an American Express with higher or uncapped points earn, like the Qantas Ultimate or Qantas Premium, then you may not get near to this cap.
If you spend over the cap, then points earned are not reduced to nothing – you will still pick up 0.5 Qantas Points per $ on spend over the $2,500 cap.
Summing up
The value of the HSBC Qantas Platinum offering comes from its initial sign-up bonus and then a solid 1 point per $ earn rate, with a 'soft cap' over the $2,500 monthly where you can keep earning points, albeit at a lower rate, even if you go over the monthly cap.
The included insurances may also be worthwhile looking into to see if they offer any value to you – the policy includes Extended Warranty, Purchase Protection, & International Travel Insurance. You can read the full PDS here.
This guide references some of the benefits of insurance policies provided with this card.
You should read the PDS and obtain independent professional advice before obtaining this product.
Offer extended: 60,000 bonus Qantas Points with the $199 annual fee HSBC Platinum Qantas Credit Card
was last modified:
September 12th, 2017
by
Point Hacks Credit Card Information
Point Hacks is published by Newformula Media. Newformula PTY LTD (ACN: 609 361 051) is a credit representative (486568) of Eurofinance Corporation Pty Ltd (Australian Credit License: 393845). In some instances, Newformula PTY LTD receives a commission or benefit for referring you to the services of a credit provider. This commission or benefit is disclosed at the point of referral to the credit provider. This website does not provide credit, assist you in obtaining credit, or advise you to apply for any particular product from a provider.
We have not taken into consideration your circumstances or financial situation when providing the information on this website. It is important you read the relevant PDS from the product issuer and seek the independent advice of an appropriately qualified professional before making a decision on a product.
While we invest a great deal of time and energy into ensuring we provide with you with the most up to date and accurate information, we do not warrant the accuracy of statements or information contained on the Website relating to third party goods and services, including credit card information, loyalty schemes and rewards. You acknowledge that such information and materials may contain inaccuracies or errors and we expressly exclude liability arising from any person acting on those statements or information to the fullest extent permitted by law. Where conditions or warranties are implied by law and cannot be excluded, our liability will be limited to the re-supply of information. You should confirm the accuracy of information provided on this Website with the third party product provider before acting on it.