Airline loyalty programs usually have multiple partners, and sometimes wires can get crossed, so to speak. If you're expecting some points from a partner which haven't arrived in time, then this guide will help you figure out the next steps.
If you're after missing points from an airline flight, then our related guide to claiming missing points from flights will help you out.
This particular guide explains how to make retrospective claims from credit cards, rental cars and other partners. In most circumstances, you will first need to follow up with the partner who you transacted with, as opposed to your points program.
How can I make it easier to claim missing points from airline partners?
No matter the program, it is best practice to keep copies of:
relevant documents, especially when the points value is high;
your transaction receipt, application form or contract;
a screenshot of the offer and its terms & conditions for sign-up and bonus point offers; and
dates, times, and operator names for telephone calls, and copies of email correspondence when you are chasing up points
Claiming missing points from credit card programs
Rewards credit cards are a very popular way to earn on the ground, with banks offering sign-up bonuses that often exceed 100,000 points. It would be quite inconvenient if those points later went missing, even if you met all the criteria.
Card applications can sometimes be complicated. With online, telephone, and in-branch applications generally available, it is not uncommon for bonus points or other sweeteners to apply incorrectly (or not at all).

When your offer is not accurately credited, a good process to follow is:
Double-check that you were not in an exclusion period for this bonus. For example, some providers will not award bonus points if you've held a similar card product with them in the last 12-18 months.
Refer to the offer's T&Cs to check that you have met all criteria for bonuses to be awarded. These often include a minimum spend threshold and a waiting period of up to 12 weeks for points to credit.
Armed with the information of when you met these requirements, contact your credit card provider to request the correction and to double-check the membership number for your reward program is listed correctly.
As well as bonus points offers, monthly and manual points transfers are known to miscredit or be delayed from time-to-time. If a transfer seems to be taking longer than usual, I would recommend following up with your card provider if more than 2-3 business days have passed after you were expecting the points to credit.
If your card provider claims the points were correctly sent to the correct membership number and you have waited for the time they specified for points to transfer, you will need to contact your card provider again.
Points or miles programs will generally always redirect you back to the credit card provider, as the card provider funds the cost of the points you are being awarded.
Claiming missing points from Qantas Frequent Flyer partners
If you are missing Qantas Points from a non-airline partner, the Qantas website lists the contact details you would need to chase up points across many categories. Unfortunately, not all companies and categories accept retrospective claims (most notably restaurants and Woolworths).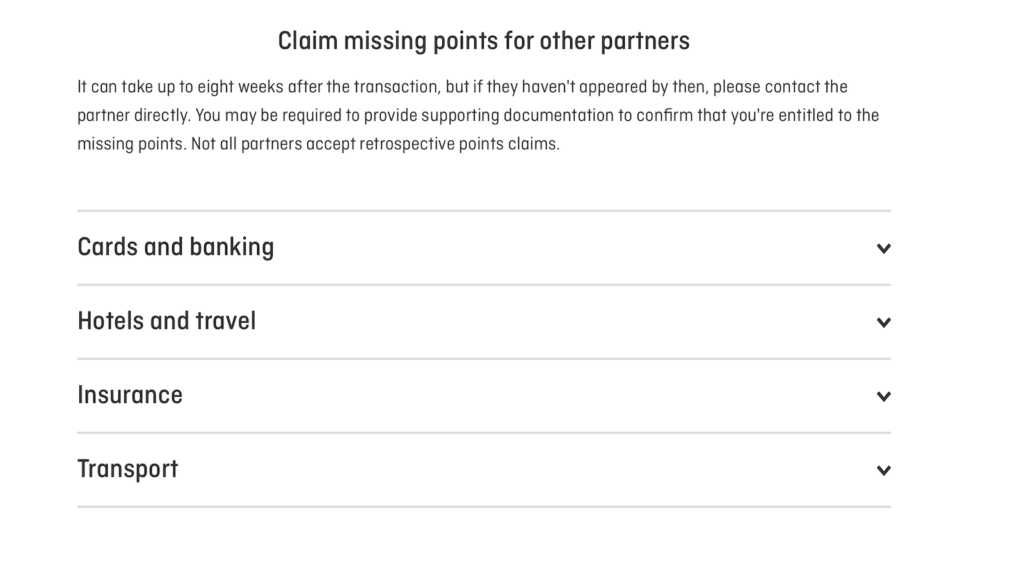 Qantas recommends chasing missing points within six months of a transaction and then allowing eight weeks from a claim for points to credit. As such, we'd suggest chasing any missing points after no more than three months after a transaction, allowing some buffer time should your initial claim be unsuccessful.
Claiming missing points from Velocity Frequent Flyer partners
A large number of Velocity Frequent Flyer partners accept retrospective point claims, with instructions listed on the Velocity website. In all cases, you will need to follow up with the partner directly. Emails or phone numbers are provided.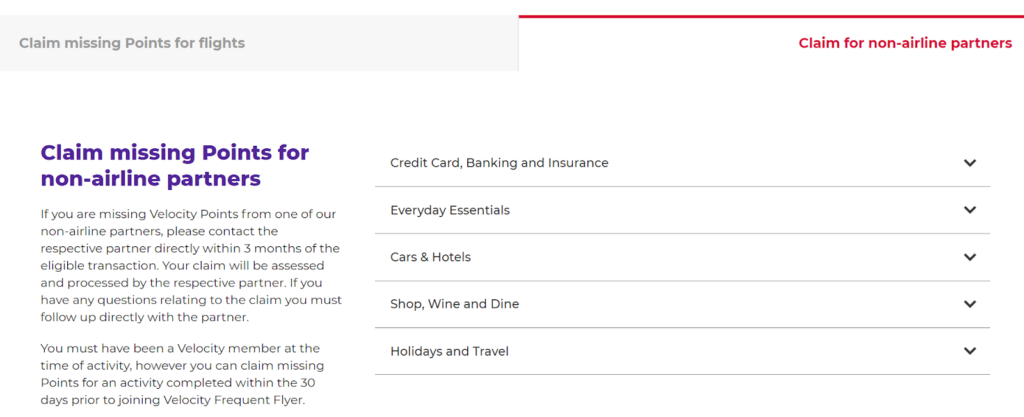 Velocity suggests to contact the partner directly within three months of your transaction if points are missing, and successful claims should credit within six weeks.
A notable provider that does not accept retrospective claims is the Pan Pacific/Park Royal Hotel Group.
Ad – Scroll down to continue reading.Minimum spend, terms & conditions apply.
Claiming missing points from Singapore Airlines KrisFlyer partners
KrisFlyer members can submit a Retroactive Mileage Claim Form by email or post if more than eight weeks but less than six months have passed since the relevant transaction took place. You can use the form to claim for hotel stays, with a copy of the hotel bill, and car rentals, with a copy of the rental agreement.

KrisFlyer will send your details to the partner for verification. Note that if your KrisFlyer membership number was not provided at the time of the transaction, your claim might be rejected. For points missing from credit card or other KrisFlyer partners, you will need to contact the partner in question to award any missing miles.
Claiming missing points from Asia Miles partners
Asia Miles has two separate processes for its retrospective non-airline partner claims. Those who purchased from the iShop Online Mall should follow this link, while other partner points need to be claimed via a PDF Form which must be posted to Asia Miles in Hong Kong (yes, even in this day and age!).
Asia Miles non-airline retrospective claims follow two processes, those for their iShop Online Mall via this link, and some other partners via a PDF Form which must be posted to Asia Miles in Hong Kong.
You must have presented your membership number or card when booking and making payment, and requests should be submitted between eight weeks and six months of your transaction.
The PDF form itself will list the eligible partners that you can claim with. If it's not listed, then you must follow up with the partner directly, instead.
Claiming missing points from Etihad Guest partners
If you're missing Etihad Guest miles, you will need to contact the partner you transacted with within six months of the transaction to provide your Etihad Guest number.

Unfortunately, the generous three-months-prior-to-joining rule that applies to flights does not apply to non-flight-partner transactions.
Claiming missing points from Alaska Airlines Mileage Plan partners
Finally, missing miles from Alaska Airlines partners are generally redeemed by contacting the company you transacted with directly, with many links available on the Mileage Plan website.

Miles from hotel stays not listed on that page, along with some 'everyday partners', can also be claimed by sending the receipt to Mileage Plan at [email protected].
Claiming missing points from Flybuys partners
If you were shopping at Coles to complete a multi-week offer and forgot to swipe your card, fear not. You can return within seven days with your receipt to add the Flybuys points to your account (we would suggest doing it as soon as possible if you are aiming for a limited-time offer).
For other partners, you will need to contact the Flybuys service centre on 13 11 16. You will generally have to provide receipts by email.
Summing up
One key takeaway from all this is that you will need to chase up with the partner directly for missing points claims, rather than with the frequent flyer program. Be sure to keep all receipts and supporting documentation as a minimum.
It is also helpful to keep screenshots of the offer and the T&Cs just in case. Finally, don't let too much time elapse before lodging your claim, as limits do apply.
Have you been able to claim a large points bonus retrospectively? Leave a comment below!
How to claim missing points from non-airline partners
was last modified:
April 2nd, 2022
by