The Amex Platinum Card is loaded with travel benefits, including for car hire. Whether it's savings on your next rental or perks like upgrades and elite status, it pays to know your options when booking each ride.
Here's a look at the many car hire perks that American Express Platinum Card Members can take advantage of.
---
American Express is a commercial partner of Point Hacks. However, all opinions expressed in this piece are those of Point Hacks alone, and have not been reviewed or approved by American Express or its related car rental partners.
---
Amex Platinum unlocks Hertz Gold Plus Rewards Five Star status
One key car hire benefit for Amex Platinum Card Members is perpetual Five Star status in the Hertz Gold Plus Rewards program. Normally, reaching this tier requires seven vehicle rentals in Australia or $1,500+ in spend with Hertz each year. But with the American Express Platinum Card, that status remains in play regardless of how often you pick up a new set of keys.
Benefits of Hertz Gold Plus Rewards Five Star status include:
Upgrades to the next vehicle booking class, subject to availability.
Earn 10% more points than base members, when crediting reward points to Hertz.
Register your spouse or domestic partner as an additional driver on vehicle rentals at no extra cost.
Activate your Amex Platinum perk as a new Hertz Gold Plus Rewards member
If you're not already a member of Hertz Gold Plus Rewards, fear not. It's easy to join as part of the Five Star activation process for those Amex Platinum car hire perks. Here's what you need to do:
Login to your American Express account on the American Express website.
Under the 'Benefits & Help' menu, select Platinum Benefits.
Continue navigating to Travel -> Car & Rail -> Hertz Gold Plus Rewards -> View Options.
You may be prompted to reconfirm your American Express login credentials.
Under Hertz Gold Plus Rewards Five Star, click the big blue Enrol button.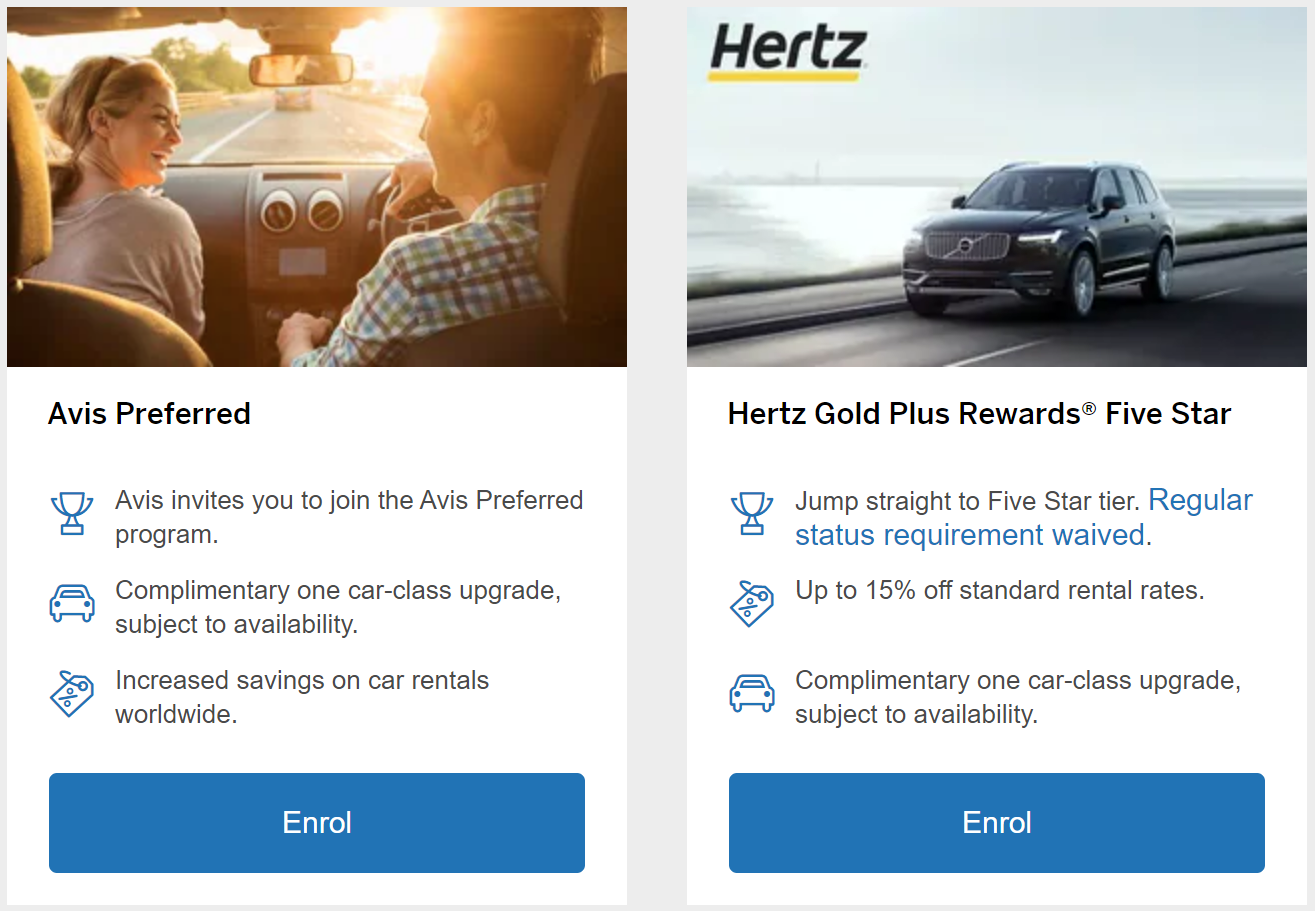 You'll know you're in the right place when the page looks like this: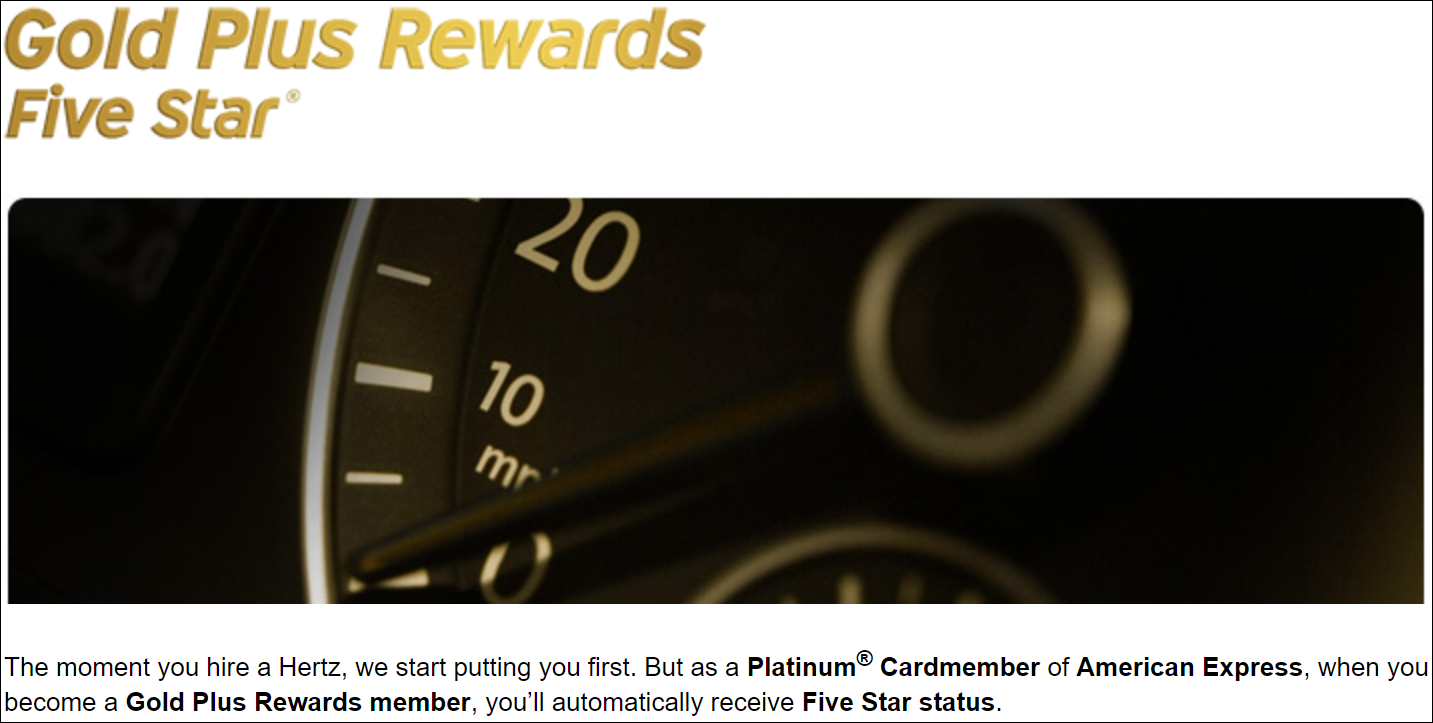 Just fill out the form and Hertz should take care of the rest.
How to upgrade your status with an existing Hertz membership
There's a different process to follow if you're already enrolled with Hertz Gold Plus Rewards. In fact, you can also follow these steps if the procedure above doesn't properly activate your Five Star status.
Start by following that original process, until you get to the Hertz landing page with the odometer, as pictured above. In text towards the bottom of that page, you'll spot a 'Corporate Discount Program' (CDP) code. (We haven't shared that CDP code here, for obvious reasons!)
Once you have those hush-hush digits, head to the Profile Summary page of the Hertz website. Hit the edit button next to 'Personal Details', and save that secret number to your account. If it's all linked up, those numbers switch to 'AMX PLATINUM CARD':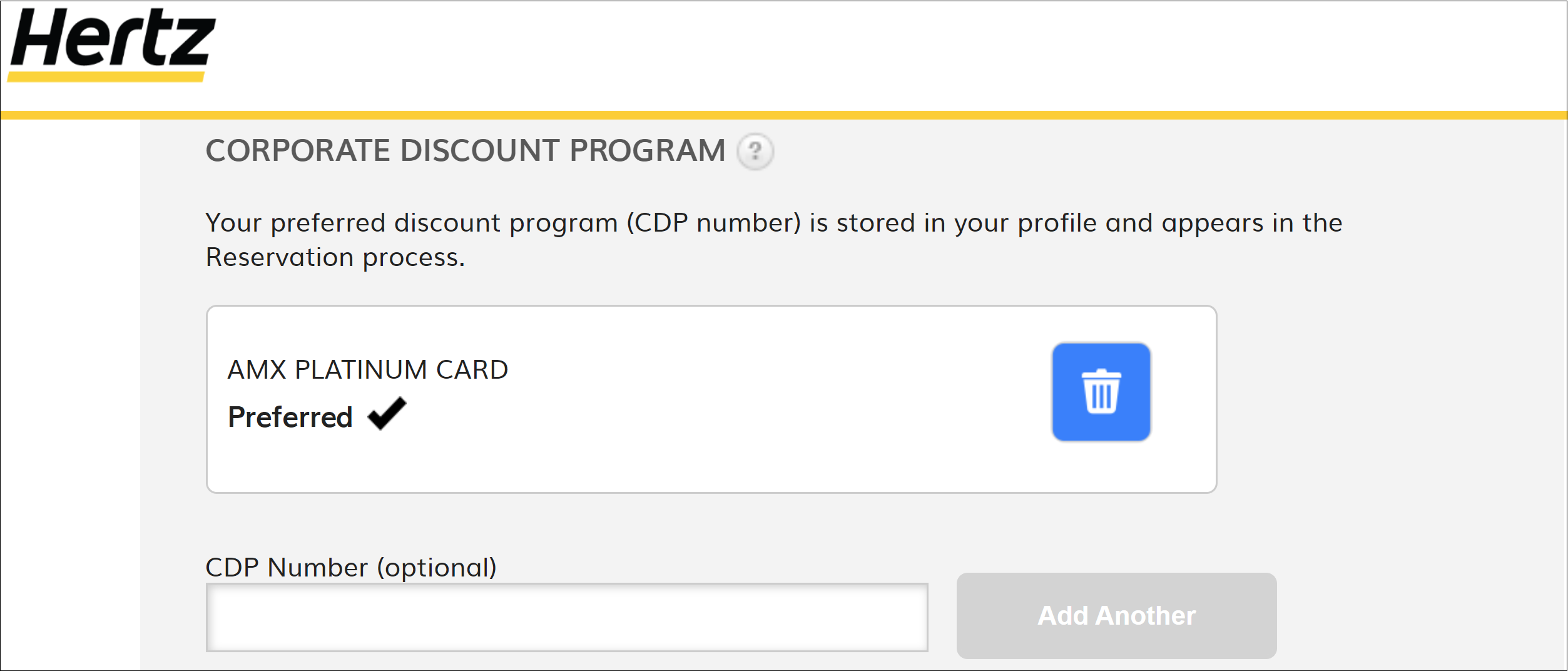 While you're in the Profile Summary section of the account, add your Amex Platinum Card as your preferred payment method for when you next hire a car.
Once you've jumped through those hoops, fire off an email to [email protected]. Make things easy by communicating from the same email address attached to your Gold Plus Rewards account. Mention your full name and Hertz membership number, and ask for the upgrade to Five Star status as available to Australian Amex Platinum Card members.
It also doesn't hurt to note that you already have your Amex Platinum Card linked to the account, and have the Amex Platinum CDP code attached to your profile as well. (This helps to show that you have an active Platinum Card account – don't send your actual Amex Card number through email).
Within a few business days, you should be all set. You can then confirm your Five Star enrolment and access your digital membership card via the Membership Information tab of the Hertz website.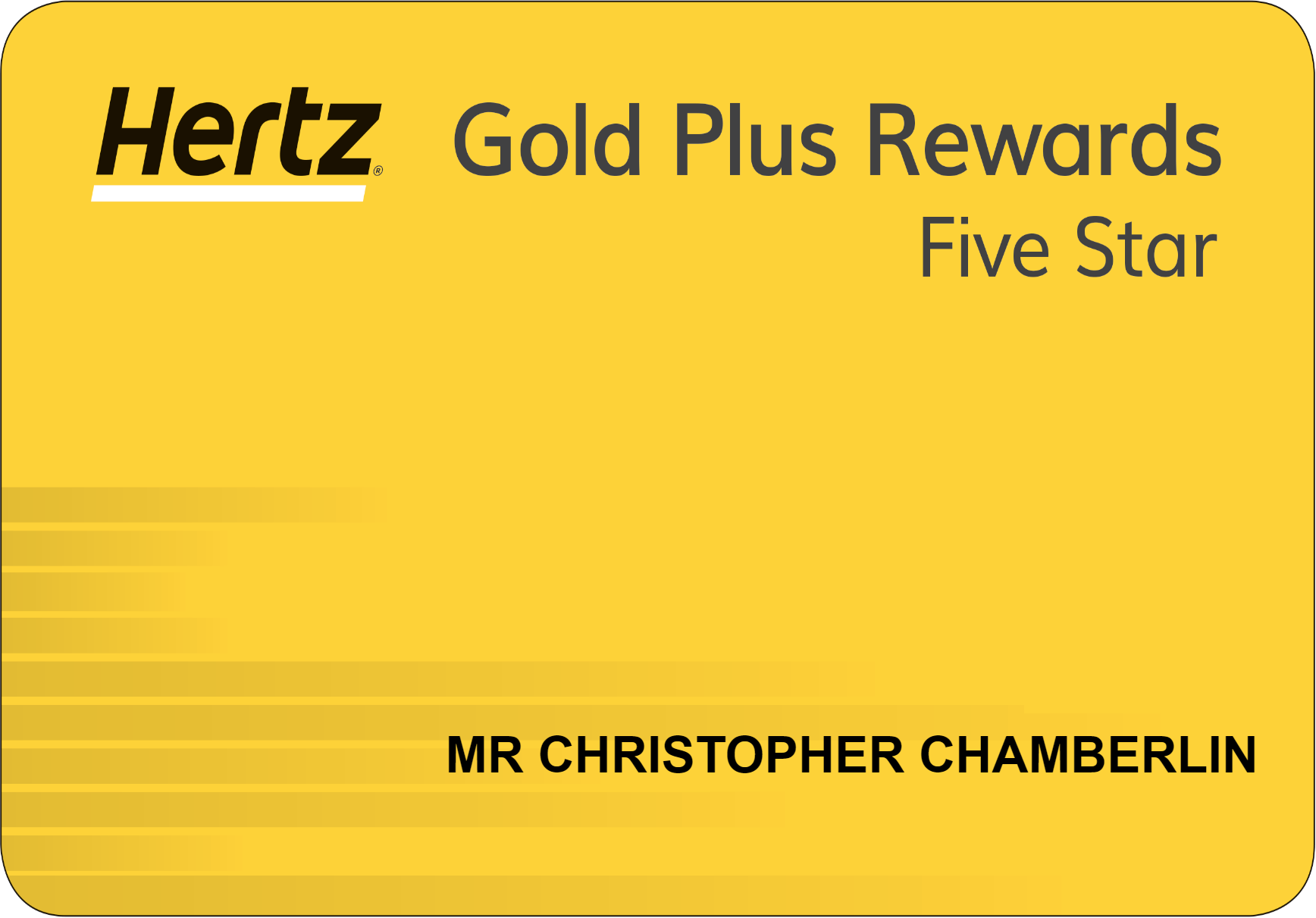 Discounts for Amex Platinum when hiring cars with Hertz
When booking car hire with Hertz, the Amex Platinum CDP attached to your Gold Plus Rewards account offers automatic savings at the time of booking. In many cases, you can also book a flexible rate for less than the price of many less flexible, public pre-paid rates.
I pulled some quotes for a rental in February 2023 to see how the discount measured up. I searched for a 72-hour hire, picking up from Sydney Airport at noon on a Monday, and returning at noon on a Thursday.
For an 'Economy' vehicle, Hertz's general public rates came in at $521.10 for a flexible booking, or $463.26 for a pre-paid rate. Using the Amex Platinum CDP, the same booking could instead be had for $448.20, with payment on pick-up.
When booking a Compact SUV', the pattern was similar. A flexible booking on a public rate would cost $677.63, while a pre-paid public rate came in at $602.19. For Amex Platinum Card Members, the price was $581.25: and that's for a flexible booking.

Savings also carry into the higher vehicle classes, such as for a 'Sports EV'. Members of the general public would pay $790.02 for flexibility or $701.94 when pre-paid. Amex Platinum Card Members, on the other hand, would pay $676.80. That's more than $100 less than the equivalent public flexible rate, for exactly the same booking.

Ad – Scroll down to continue reading.Minimum spend, terms & conditions apply.
Avis Preferred membership with added car hire discounts for Amex Platinum
Avis is another car hire partner of the Amex Platinum Card. Rather than elite status, perks for Amex Platinum Card Members centre on discounts instead.
These are accessed by joining the free Avis Preferred program. While anybody can sign up, you'll want to sign up via the American Express website. This attaches that all-important discount code to your Avis Preferred account. Just follow the same steps above as with Hertz, but of course, click Enrol under Avis, instead.
Like Hertz, Avis offers both flexible and 'Pay Now' rates. Avis is also partnered with Qantas Frequent Flyer. But usually, members can only earn Qantas Points when using the Qantas 'discount code' (P469100) alongside a direct booking with Avis. Alternatively, Avis rentals can be booked through Qantas itself.
But if you have access to the American Express Platinum discounted rates, paying extra just to earn points really doesn't make sense. Here's why, based on quotes obtained for a similar three-day rental from Sydney Airport:
| | | | | | |
| --- | --- | --- | --- | --- | --- |
| | Avis – Flexible rate | Avis – 'Pay Now' | Avis – AMEX rate | Avis – Qantas code | Qantas Cars |
| Compact | $523.36 | $513.49 | $293.81 | $523.36 | $523.36 |
| Intermediate | $598.49 | $587.10 | $316.53 | $598.49 | $598.49 |
| Standard | $659.68 | $647.08 | $330.97 | $659.68 | $659.68 |
| Full-size | $694.79 | $681.48 | $340.92 | $694.79 | $694.79 |
No, those American Express rates aren't a mistake. The discount really is that deep! In a handful of rentals a year, you may even be able to save more than the Amex Platinum Card's $1,450 annual fee.
American Express' Loss Damage Waiver Cover on car hire
The Amex Platinum Card also includes complimentary travel insurance, and car hire cover falls under that umbrella.
You may qualify for American Express' Loss Damage Waiver Cover on eligible rental vehicles, when:
You're at least 21 years of age but less than 80 years of age 'before You make Your Qualifying Rental Vehicle Purchase.'
Your Amex Platinum Card is used to pay for the car rental. Alternatively, you've used Membership Rewards points from your corresponding rewards account, or used the Platinum Card's annual Travel Benefit to book the same.
You are a resident of Australia.
You are a Platinum Card Member, an Additional Card Member, or their spouse or dependent child.
That American Express Platinum Card account must be current and in good standing – not cancelled or suspended.
A number of key exclusions apply, including for:
Rentals longer than 31 days.
Hire of trailers, caravans, mopeds, motorcycles, campervans, and vehicles for business and commercial use.
Vehicles with a retail purchase price in excess of $125,000 AUD.
Any rental undertaken when you do not have the appropriate licence to operate the vehicle.
Refer to the policy Terms and Conditions for the full details of this coverage, including important qualification criteria and exclusions. Any questions on that coverage should be addressed to American Express or the insurance underwriter.
Keep your eyes peeled for Amex Offers
Separate from the Platinum Card's ongoing benefits, it also pays to keep your eye out for relevant Amex Offers that may appear from time to time. Some of these offers just might suit your travel plans.
Recent offers available via the Amex Platinum Card have included several suited to car hire. For example, cashback on eligible rentals with Avis and Hertz, or bonus points on car hire bookings (and hotels) via American Express Travel Online.

You'll find the latest deals in the Amex Offers section of the American Express website. You can also view current offers through the Amex mobile app. Just remember to save the offer to your Platinum Card before you spend. If you have more than one Amex card, be sure to also use the card on which the offer is saved.
Summing up
The Amex Platinum Card comes loaded with car hire perks. Whether for road trippers or busy travellers, there are savings to be had and benefits to be enjoyed.
Of course, the Amex Platinum Card doesn't come cheap, with a $1,450 annual fee. But those who regularly travel could easily recoup that in value: and then some.
Feature image courtesy of Unsplash/Why Kei.
---
Stay up to date with the latest news, reviews and guides by subscribing to Point Hacks' email newsletter.
Move into the fast lane with Amex Platinum's car hire benefits
was last modified:
December 19th, 2022
by