So you've decided to take a leap of faith and jump into the trans-Tasman bubble. While the international travel experience is much the same as before, there are certain changes and extra checks that you should be aware of. So before you dust off your passport and pack your bags, be sure to cast your eyes over this checklist.
1. Be an eligible traveller
Normal border controls apply, and of course, you shouldn't travel if you're feeling unwell. Here are some basic requirements you'll need to meet to fly quarantine-free to New Zealand:
Meet immigration requirements. Australian passport holders can freely enter NZ. Permanent residents of Australia and citizens of other visa-waiver countries may need a valid NZ Electronic Travel Authority (NZeTA), which costs NZ$9 through the free mobile app and covers visa-free travel for up to 2 years. If you do need a visa to enter NZ, these can still be applied for online and used with the trans-Tasman bubble.
Spend the past combined 14 days in either Australia or New Zealand. This is counted from midnight to midnight and means those who have recently arrived from other countries can't fly in the bubble until their 14 day quarantine period is finished.
Not had a positive COVID-19 test or be awaiting the results of one in the past 14 days.
Complete a travel declaration and answer questions about your health at departure.
2. Fill in the NZ Travel Declaration
Quarantine-free travellers from Australia to New Zealand must fill out the online travel declaration before boarding the flight, including New Zealanders returning home. It asks questions including your flight number, arrival date, passport details, emergency contacts plus your best contact number and address in New Zealand.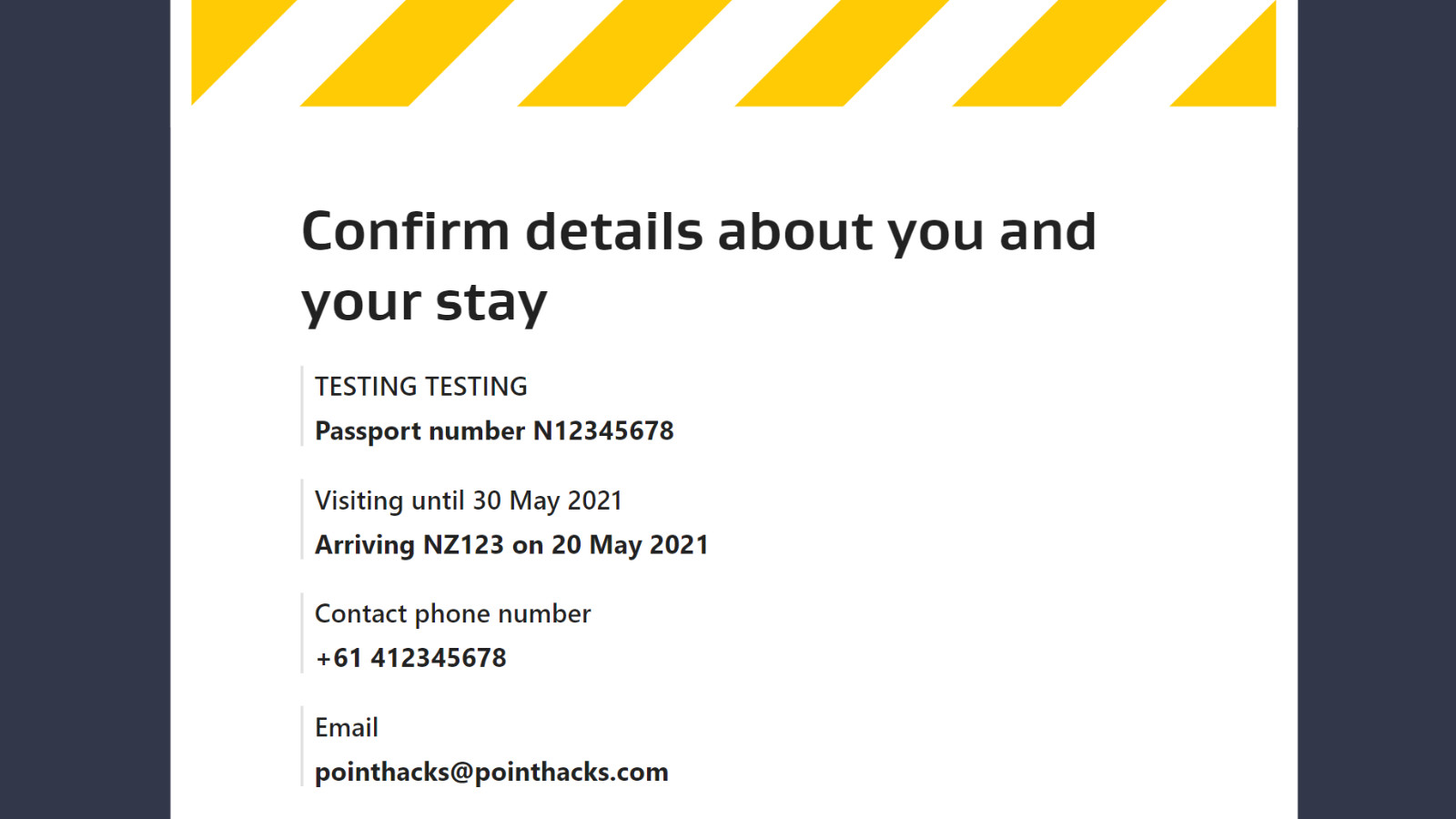 3. Check your passport expiry and funds
At the time of writing, NZ advises that Australian and New Zealand passport holders (as well as permanent residents of those countries) must simply have a passport with enough validity to travel to and depart from New Zealand. We still recommend you have a few months buffer on your passport expiry, just in case. For most other passport holders, you will be required to have validity for at least 3 months beyond the date you intend to depart New Zealand.
More specifically to the trans-Tasman bubble, you must also have enough funds to support yourself should NZ's COVID-19 alert levels change. This could include staying in managed isolation or hotel quarantine at your own expense.
Ad – Scroll down to continue reading.Minimum spend, terms & conditions apply.
4. Complete Australia's health declaration
You'll also need to fill in the Australia Travel Declaration before your flight back home. This should be done 72 hours before you travel, so if you're only in NZ for a few days, you may as well complete this step before you have even departed for New Zealand. This involves creating an account with Health Aero, which manages the application on behalf of the Department of Home Affairs.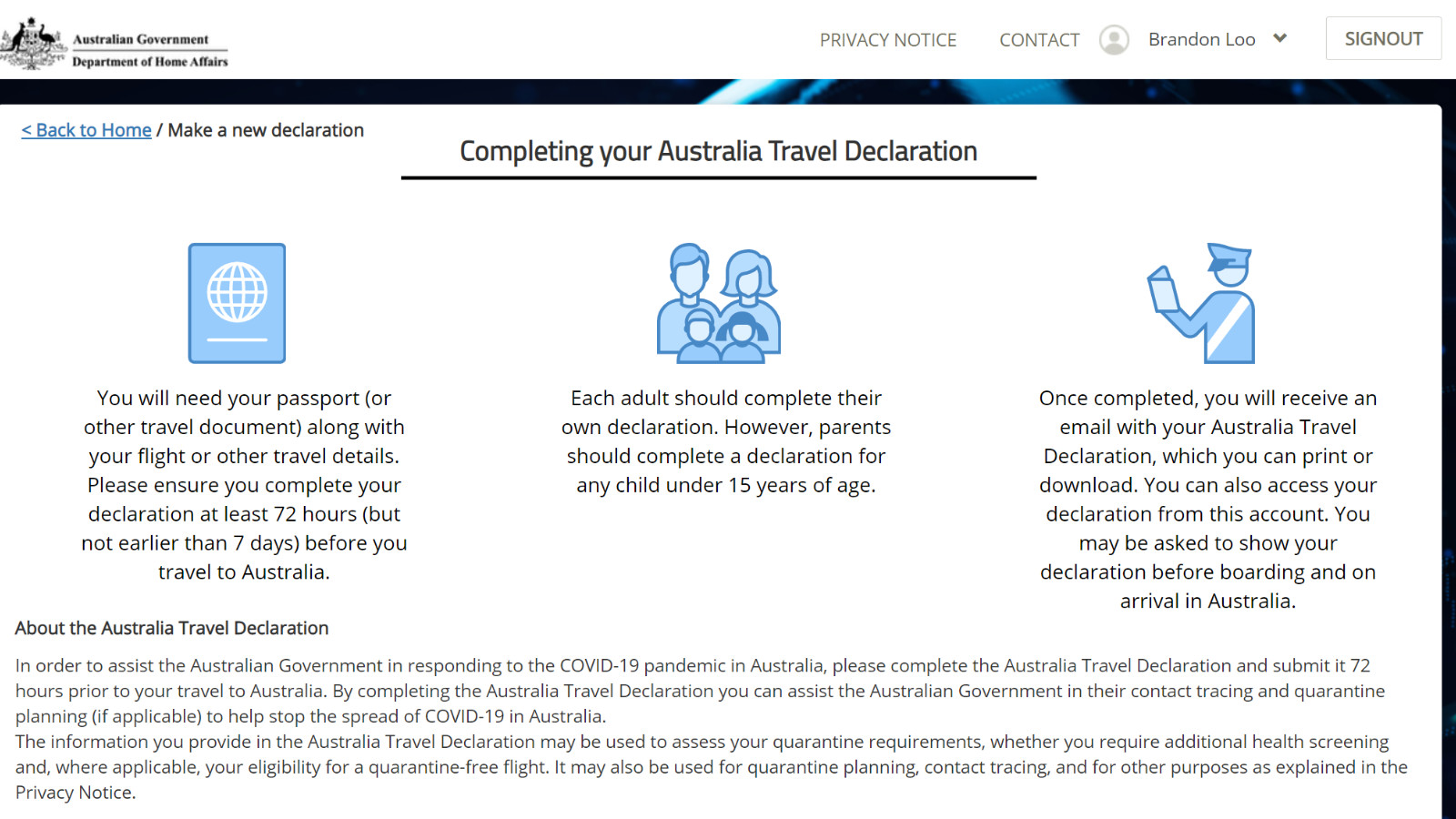 5. Check the state/territory entry requirements
On your way back to Australia, you'll also have to follow the rules of any states and territories that you enter. If you have a domestic connecting interstate flight, then you'll need to prepare for all the states and territories that you'll pass through to get home (e.g. someone flying Auckland-Sydney-Darwin would need to pay attention to NSW and NT entry requirements).
Which states and territories require a travel permit from NZ?
Legend: ✔️ = no permit required when no outbreaks | ⭕ = permit required
Below are the Australian state and territory entry requirements as of Wednesday 19 May 2021, for travellers entering from NZ. Be sure to check government websites for the latest information, as this can change quickly.
⭕ New South Wales: Complete an NZ Passenger and Flight Crew Arrival Declaration Form.
⭕ Victoria: You must apply for a permit via Service Victoria. No quarantine is required when travelling from a 'Green Zone', including New Zealand.
✔️ Queensland: No border pass is required when there are no COVID-19 hotspots in NZ.
⭕ South Australia: You must apply for a Cross Border Travel Registration via SAPOL. No quarantine is required unless travelling from certain 'high-risk sites'.
⭕ Western Australia: You must apply for a G2G Pass. No quarantine is required when travelling from 'very low risk' states and territories, or New Zealand if it is also 'very low risk'.
⭕ Tasmania: You must register your contact details through Tas e-Travel when coming from low-risk areas, or through G2G Pass from medium- and high-risk areas. No quarantine is required when travelling from 'low risk' states and territories, or when New Zealand is also 'low risk'.
✔️ Australian Capital Territory: No registration is necessary when travelling to the ACT from non 'COVID-19 affected areas.' But as you'll likely need to transit, check the requirements of your entry state.
⭕ Northern Territory: You must complete a Border Entry Form. No quarantine is required if you haven't visited a declared COVID-19 hotspot in the last 14 days. But as you'll likely need to transit, check the requirements of your entry state.
6. What to expect at the airport
You'll need to wear a mask at the airports and onboard the flight. This should be no surprise to anyone, given the same rules apply to Australian domestic flights. We recommend you bring a few of your own face masks along, but most airlines will supply you with one if needed.
At check-in, the process should be more or less than same as usual, except your travel declarations may be checked and staff may ask you some further health screening questions.
As Australia-New Zealand bubble flights are classed as 'green zone' flights, you will be shepherded through the 'green zone' sections of the airport on departure and arrival. This is separate from the 'red zone' areas which are designated for all other international travellers.
Also read: Onboard the inaugural 'green zone' flight from Sydney to Auckland →
Summing up
It's still a bit of a gamble to travel to NZ, given that borders may still shut on either side of the Tasman should some cases emerge in the community. But you can still make your travel smoother by ensuring you have the relevant forms and declarations filled out, particularly on arrival back in Australia with certain states and territories.
Frequently asked questions
Do I need to get a COVID-19 test before travelling to Australia during the COVID-19 pandemic?
If you are travelling in the New Zealand trans-Tasman bubble, you do not need to have a COVID-19 test before travelling. For all other countries, check with the Australian Government for entry requirements.
Are the borders open in Australia?
Australia has a trans-Tasman bubble arrangement with New Zealand for quarantine-free travel. For all other countries, you may need an exemption and to complete hotel quarantine before being allowed to enter Australia.
Are you required to quarantine upon arrival in Australia during the COVID-19 pandemic?
Passengers on 'green zone' flights between Australia and New Zealand do not need to quarantine upon arrival.
When will Australia open international borders?
As COVID-19 is an evolving situation, no firm re-opening date has been given yet.
Jetting to New Zealand? Here's everything you need to know
was last modified:
August 25th, 2023
by