The rise of travel eSIMs has completely changed the way I manage my mobile data overseas. Thanks to the prevalence of dual-SIM and eSIM phones, along with the proliferation of eSIM providers globally, it has never been easier to get connected wherever I am in the world.
eSIMs certainly won't be for everyone – there are some extra steps involved and nothing beats the convenience of roaming on your home SIM. But for those with a rudimentary grasp of their mobile phone capabilities and settings, eSIMs can really offer a cost-effective way to use mobile data for longer trips while keeping your home SIM card active!
How do eSIMs work?
Short for 'embedded SIM', eSIMs are essentially digital SIM cards built into your phone. Instead of inserting a physical SIM card to get service, you just download an eSIM profile onto your phone and fire it up. Many services offer instant eSIM downloads, so you can buy a plan and get activated within minutes.
Most modern phones produced in the last few years should be eSIM compatible. For Apple devices, the iPhone XS generation (2018) and onwards will support it, along with the Samsung Galaxy S20 series (2020) and onwards. But that's just the tip of the iceberg – with hundreds more phone models out there, you'd best do some research to ensure your own device is compatible.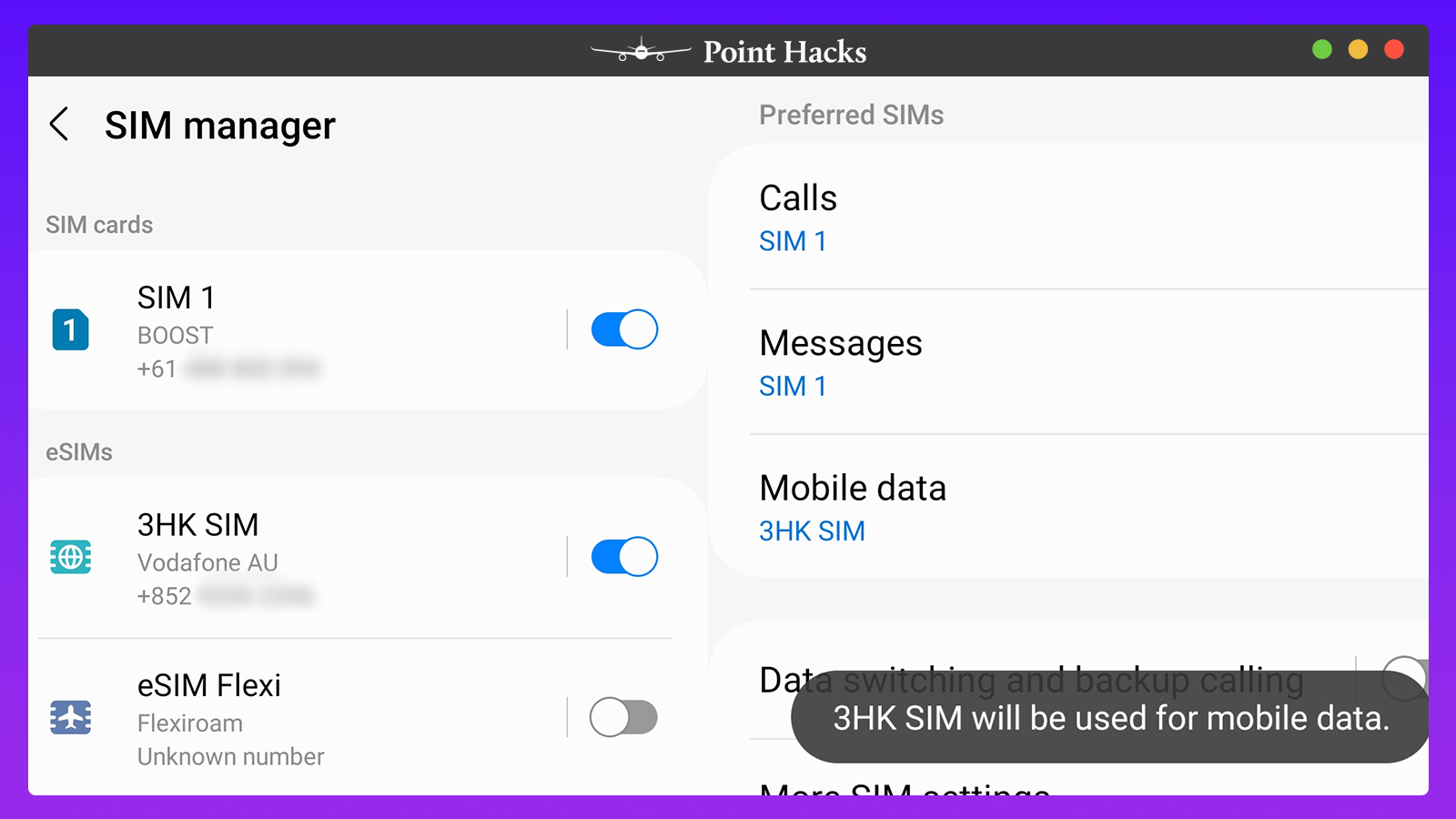 The power of eSIMs becomes more apparent in dual-SIM phones. Once again, most phones that are eSIM compatible are also dual-SIM, with one physical SIM slot and one eSIM slot. This means your phone can stay connected to two mobile networks at once – perfect for travelling. Apple iPhone 13 onwards supports dual eSIM as well.
While everyone's set-up will vary, mine is to have my home SIM as a physical SIM slot and save my eSIM slot for travelling. Here are some of the eSIMs I've used while abroad.
Ad – Scroll down to continue reading.Minimum spend, terms & conditions apply.
What eSIMs have I tried so far?
In the last few years of travel, here are some of the eSIMs I've tried, in no particular order. All of them have worked well with minimal issues.
Airalo – app-based eSIMs
Airalo is probably one of the easiest apps to use for eSIMs, so it's perfect for those who might not be as tech literate. Through the app, you can browse various regions and choose the eSIM that suits you. Some eSIMs work across multiple countries, such as Asialink which covers 13 countries within Asia.
I used the Mamma Mia eSIM during my Experiences trip to Rome. At US$14.5 for a 5 GB plan, it's worth considering if you're just staying within Italy. New users can get US$3 off through a referral code.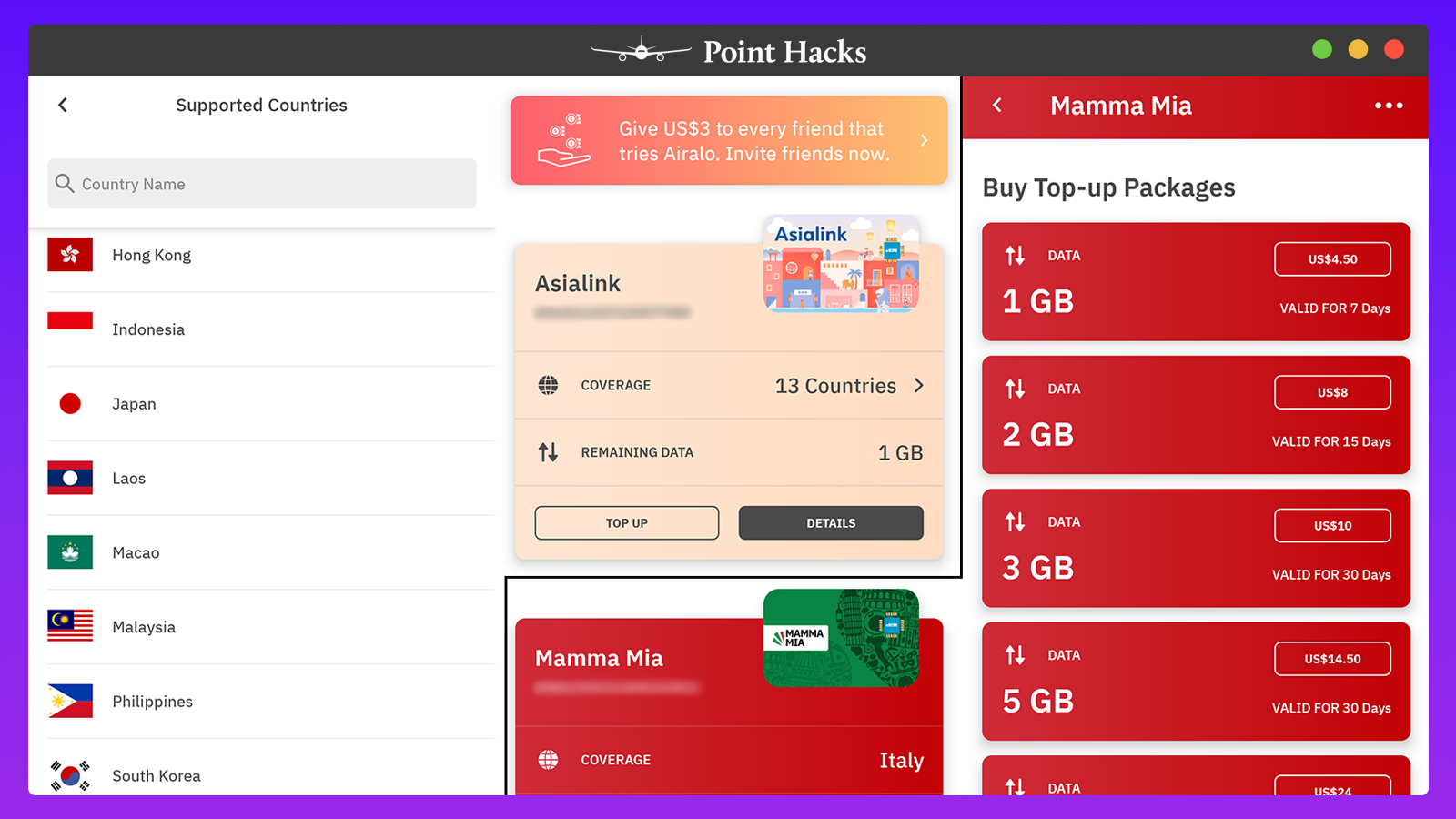 Flexiroam – app-based eSIMs
Flexiroam has been around for a while with global travel SIMs, so it's only natural that they offer eSIMs now. Selected Mastercard cardholders (including the 28 Degrees Mastercard) can get a free starter pack. It includes 3GB of global data to use within 15 days and an ongoing 15% discount.
With Flexiroam, you can choose from a range of local, regional and global data plans. One benefit of Flexiroam is you can buy plans in advance but activate them later. You can also share data with other Flexiroam users who have the same eSIM/plan installed as you.
Like Airalo, Flexiroam is app-based so it's relatively easy to install and manage eSIMs.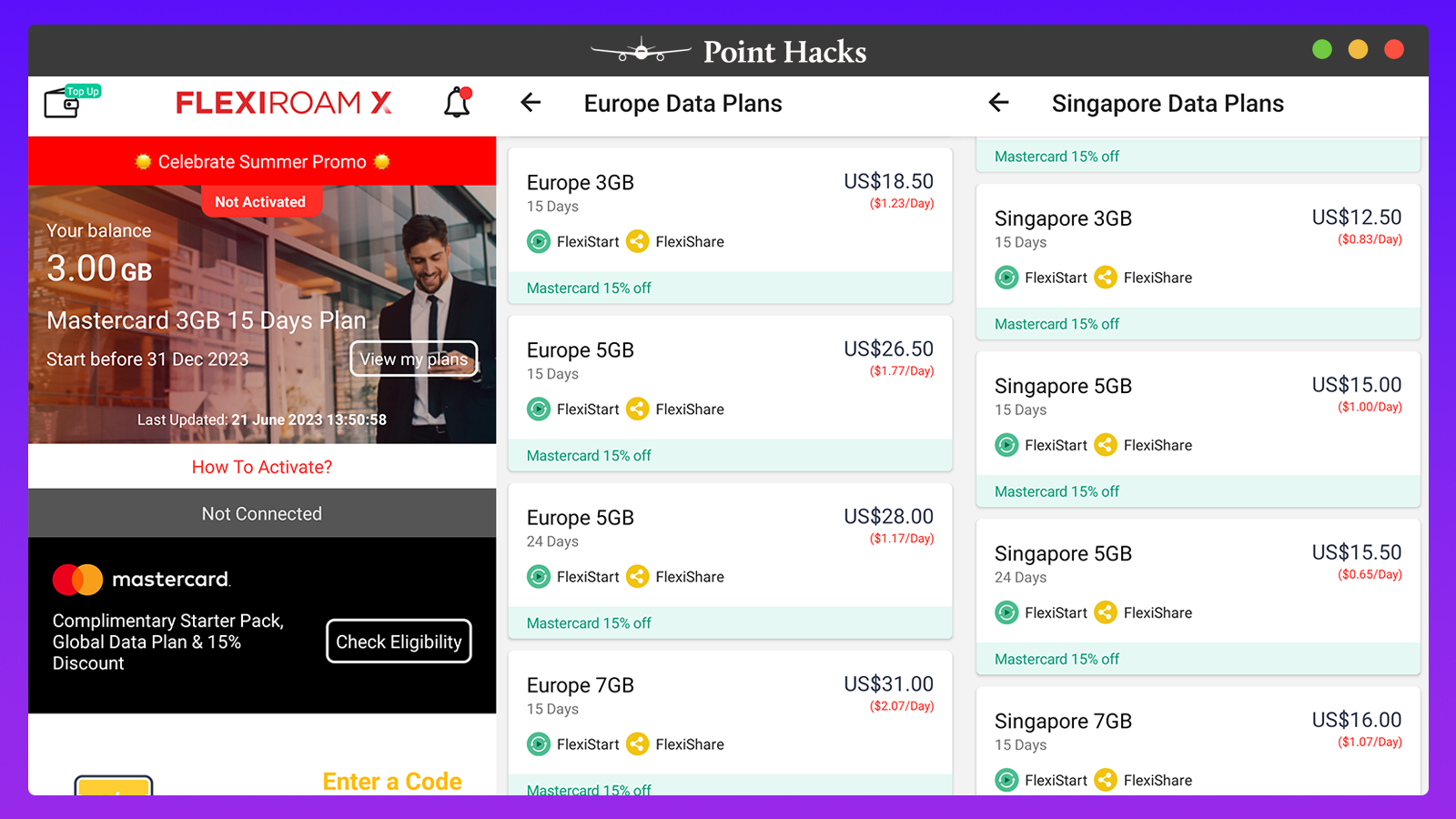 TravelKon – Australian website selling eSIMs
I've also dabbled with Australian SIM card marketplaces that offer eSIM. TravelKon is one such example, but there's also SimsDirect and Esim Store. After checking out on TravelKon, I immediately received the email with the eSIM QR code, ready to scan and activate just before my Experiences trip to Bangkok.
Note that with stores like these, you need to manage the eSIM yourself rather than having it stored in an app. This means you should keep the QR code safe and not scan it until when you want to activate it.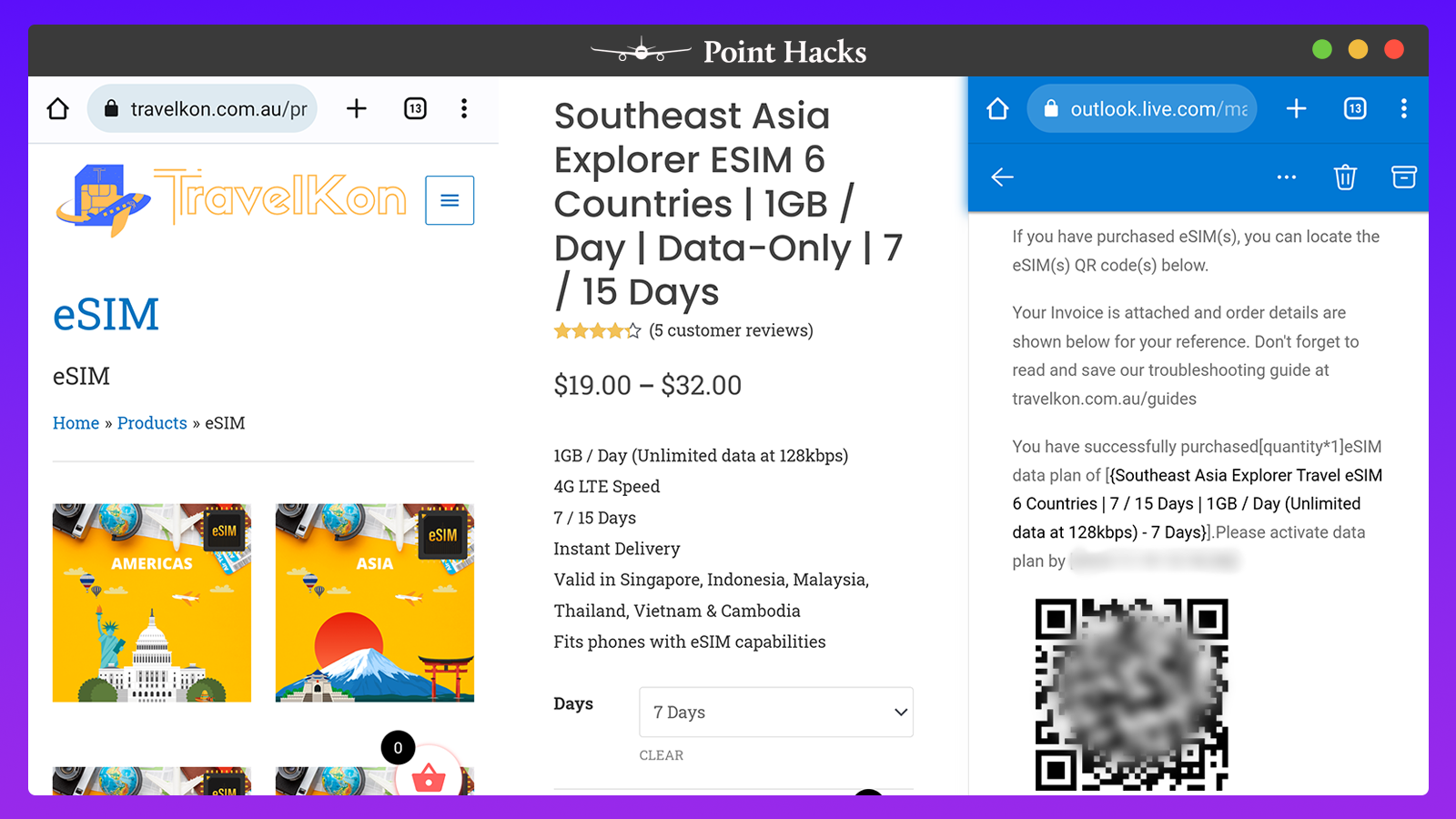 3HK – overseas telco eSIMs
3HK is an overseas telco based in Hong Kong. This is the eSIM I'm currently using. For HK$268 (around A$51), I purchased an eSIM valid for 365 days across Asia Pacific (destinations in the screenshot). It also comes with 12 GB of normal data and 5 GB of social media data, which is a generous allowance for the price.
So far, this eSIM has proven invaluable as I've had a few short trips to Asia this year. With the eSIM saved on my phone, I just turn it on when I land and I usually have data before the plane reaches the terminal. My combined 17 GB of travel data is gradually used across these trips.
Note that the 3HK website is a bit fiddly and it requires you to verify your ID to continue to use the eSIM. You may prefer to purchase the same eSIMs via reseller MobiMatter instead (at a slight markup), which does not require ID.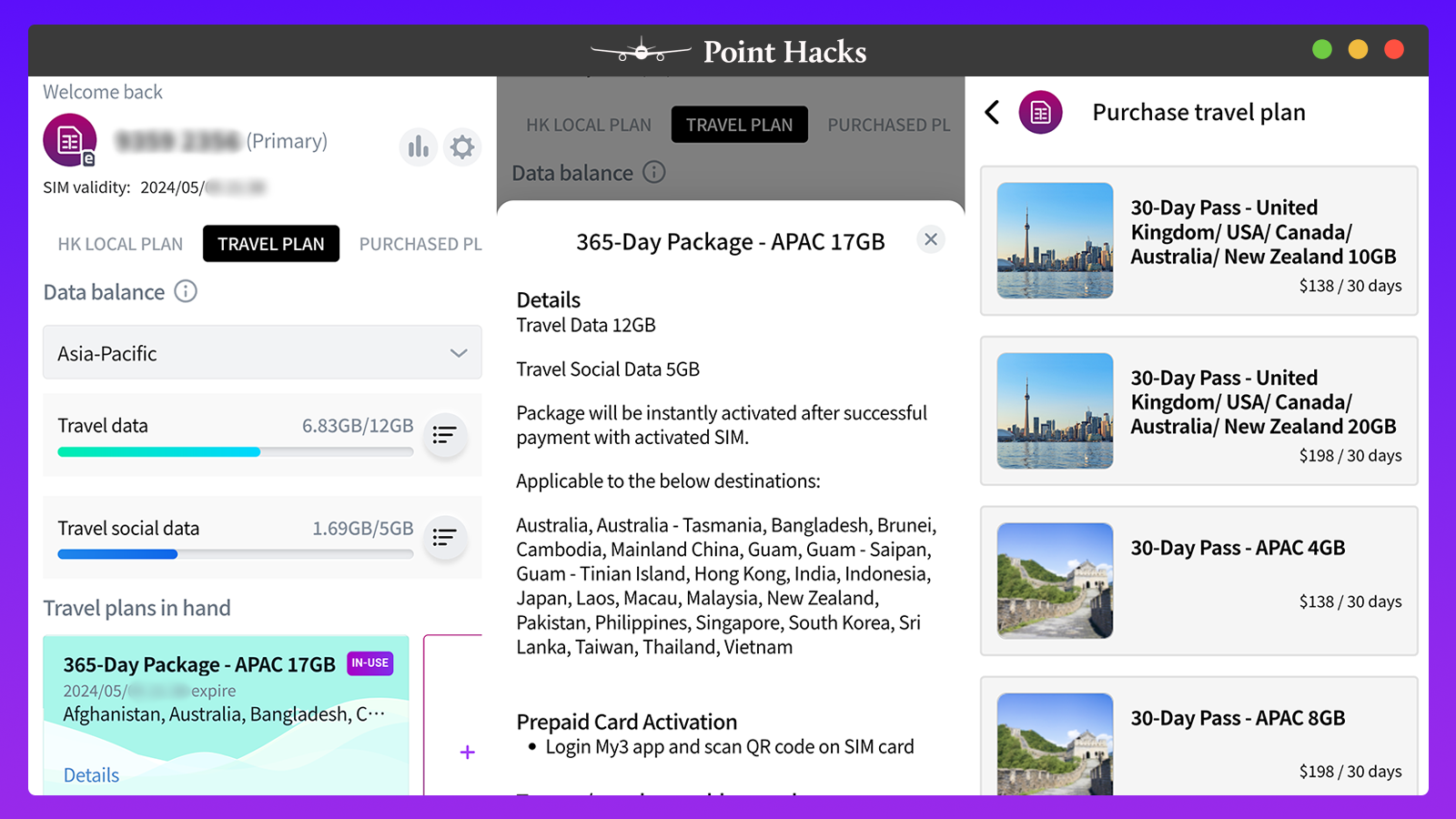 What are the alternatives to eSIMs?
If eSIMs are not for you, there are still a few other options, such as:
Roaming on your home SIM: Vodafone offers $5/day roaming on post-paid so you can continue to use your plan inclusions overseas (limits apply). Optus also offers $5/day roaming with a 5GB/day allowance. Another example is Felix Mobile, which offers a 4GB/365-day roaming add-on for $20. Most other Australian telcos also offer other roaming plans and 'pay as you go' roaming charges, which can be quite high.
Buying a local SIM card on arrival: The old-fashioned budget way still applies. While not as convenient, you may get better deals on the ground compared to eSIMs.
Roaming on your home SIM is the most convenient option as you can make and receive calls on your home SIM while overseas. It may also be more cost-effective than eSIMs if your trip is only a few days long. But the best roaming packages are with post-paid plans with selected carriers such as Vodafone, Optus and Felix Mobile.
Not everyone will be on those plans – many of us are with other carriers or are perhaps on prepaid deals (personally, I use Boost's $300/year prepaid plan with 240GB of data, which equates to $25 a month and already gives me everything I need). So in those cases, an eSIM may still be the most convenient option overall.
If you're planning to use $5/day roaming for an extended trip (say, longer than a week or two), it might be worth looking into a travel eSIM. After one week, you're already paying $35 on top of your plan, which may be enough to buy an eSIM that can last a month or more.
Summing up
My favourite place to research eSIMs for an upcoming destination is esimdb.com. You can filter results by cost, validity, or other factors that matter to you.
Travel eSIMs are a handy way to stay connected overseas, as long as you understand how it works and its shortcomings. The main downsides are the extra work required to research eSIMs, and that you usually can't use your home SIM for outgoing calls or texts. But if you can get by with WhatsApp or Facetime calls over the internet, then it's a non-issue.
In most cases, you can still receive incoming SMSs for free. And with many providers now supporting Wi-Fi or internet calling (VoWiFi or VoLTE), it's often possible to call back to Australia from overseas at no additional cost, as long as you have a stable internet connection.
It's worth noting that if you have access to a cheap roaming plan on your home SIM, such as Vodafone's $5/day package which unlocks your full plan inclusions overseas, then that's likely a more cost-effective way to stay connected overseas for shorter trips. Where travel eSIMs shine is in value-for-money for longer trips (especially over a week) and improved convenience over physical SIMs, especially if your home plan doesn't have a cheap roaming option.
All opinions are the author's own. Brandon used the eSIMs at Point Hacks' expense.
My experience with using travel eSIMs overseas
was last modified:
June 22nd, 2023
by