To really get the most out of being a points collector, you've got to have quite a few different accounts for every airline, hotel and car hire place on the planet. This can become pretty unwieldy, pretty quickly.
This is where Awardwallet comes in – and if you haven't used it before, it's an excellent service. From 1 February 2017, the premium version of AwardWallet will increase from $10 to $30 per year, however, if you sign up beforehand, you will get the $10 per year price for the life of your account.

The main perk of the premium version over the free version is that it will track the expiration date of the points balances of most of your loyalty accounts, along with faster account updates – both great wins for those using the service extensively.
We would deem this feature alone to be worth the $10/year price rather than risking thousands of your points from disappearing – it's well worth considering signing up before the Feb 1st pricing changes.
We've included our Awardwallet referral link in this article which kicks us back a few points for signups, and also generates some Awardwallet Plus promo codes which we share on Facebook every so often.
---
What you should look for from a points tracking service
Most people have quite a few loyalty program accounts. Some are for building balances in, or to take advantage of offers – others are for searching award availability. The majority probably only have a smattering of points in them, if any. Most people don't need to track all of those accounts, but it is useful to store all their logins and have balances checked centrally.
Our 'everyday' accounts that need tracking are probably similar to yours, being Qantas, Velocity, and flybuys. The next in the list might be things like AAdvantage and Krisflyer and your car rental company of choice, followed by those points schemes that are just there so you can track the 50 points you earned 7 years ago.
For the purposes of this exercise, and to try and work out which is the 'best' points tracker, we looked at 13 reasonably random loyalty programs as a baseline requirement. For those programs, there are a surprisingly small amount of available points tracking services – Tripit Pro, Points.com, Reward Expert, AwardWallet and Traxo.
Here's the breakdown, with deeper analysis below the table:
| | Tripit Pro | AwardWallet | Points.com | Reward Expert | Traxo |
| --- | --- | --- | --- | --- | --- |
| Velocity | Y | Y | Y | N | Y |
| Qantas | Y | Y | Y | N | Y |
| Aquire | Y | Y | N | N | Y |
| flybuys | X | Y | Y | N | N |
| Starwood | Y | Y | Y | Y | Y |
| IHG | Y | Y | Y | N | Y |
| Hertz | Y | Y | Y | N | Y |
| Avis | Y | Y | Y | N | Y |
| KrisFlyer | Y | Y | Y | N | Y |
| Asia Miles | Y | Y | Y | N | Y |
| BA Executive Club | Y | Y | N | Y | Y |
| AAdvantage | Y | Y | Y | Y | Y |
| American Express Membership Rewards | Y | Y | N | Y | N |
| Multiple accounts from same program? | Y | Y | N | N | Y |
| App? | Y | Y | N | N | Y |
| Cost | $49 USD/year | Free or $10/year for 'Plus' | Free | Free | Free |
---
AwardWallet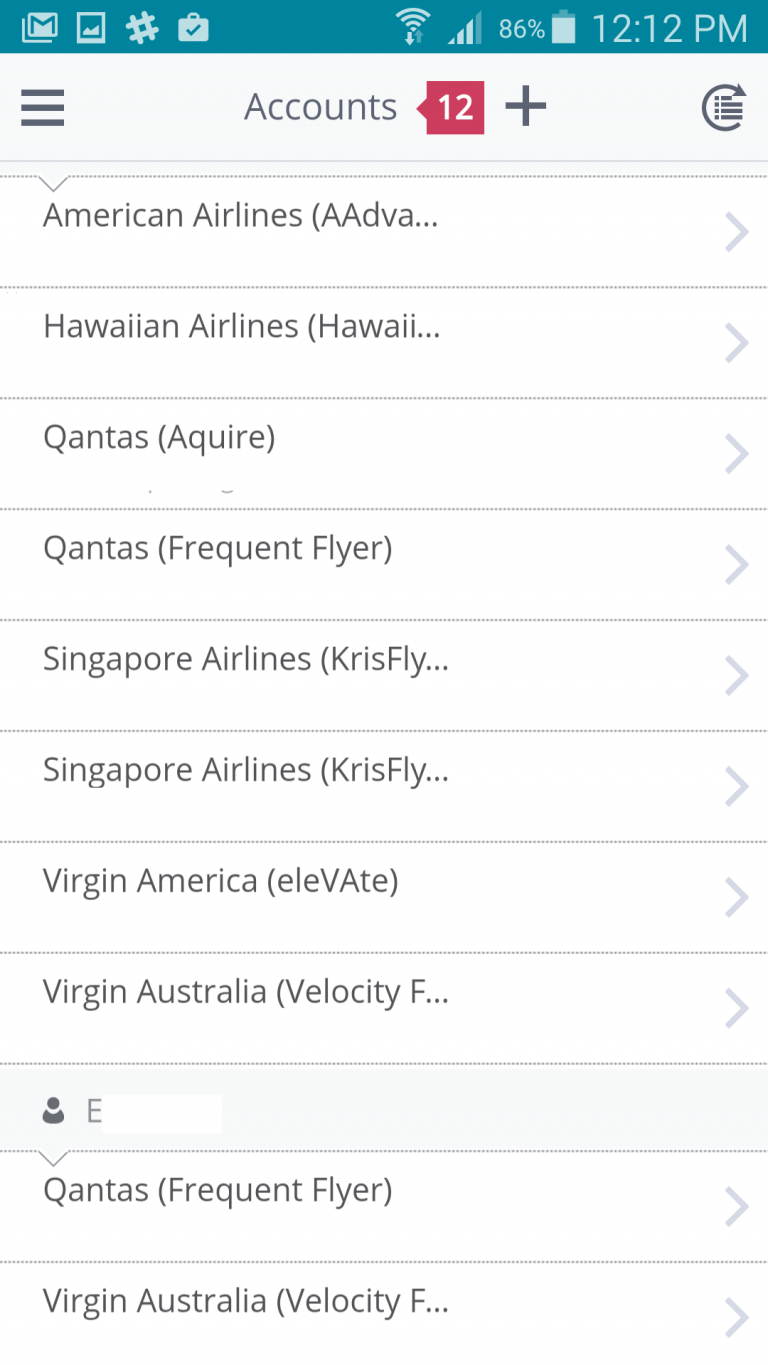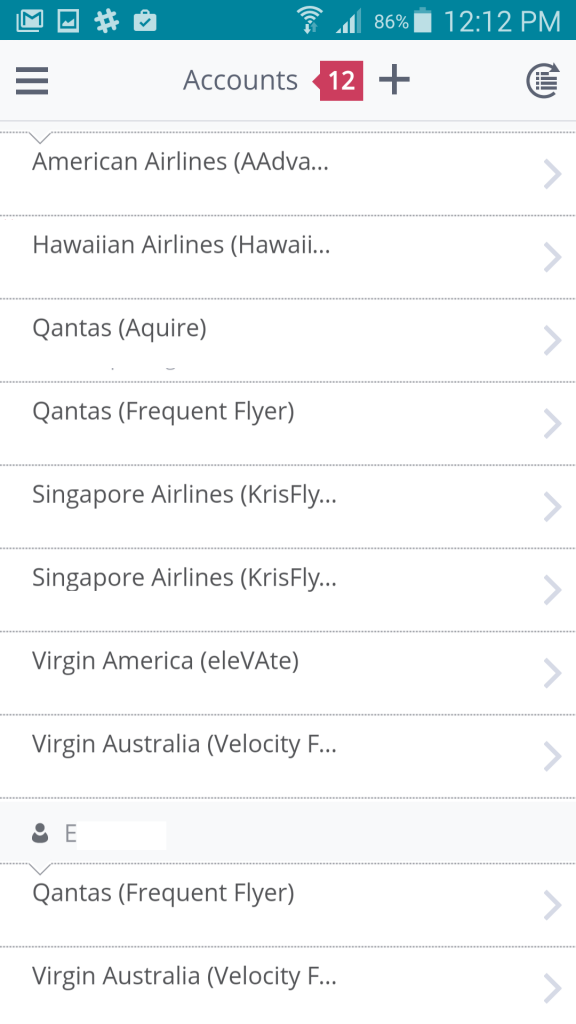 AwardWallet supports all of the programs in our list. It also allows me to enter multiple accounts, and has a pretty good looking app.
Looking through the list of supported loyalty programs, I think you'd be hard-pressed to find something it doesn't support, except some of Australian Bank Rewards programs such as Citi Rewards or ANZ Rewards. For the record, none of the apps we're looking at today support those programs.
AwardWallet also includes a simple itinerary tracker. The 'Plus' version, which has some additional features, also tracks all your balance expiration dates (super useful!), faster data updates, as well as the ability to review historical data on your points usage.
Previously costing $5 for six months, the Plus version will now cost $30 per year from 1 February 2017, however, for those who sign up beforehand, the old pricing of $10 per year will be grandfathered under an 'Early Supporter' discount.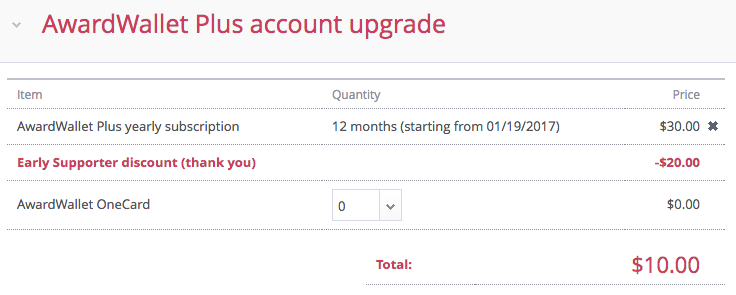 Tripit Pro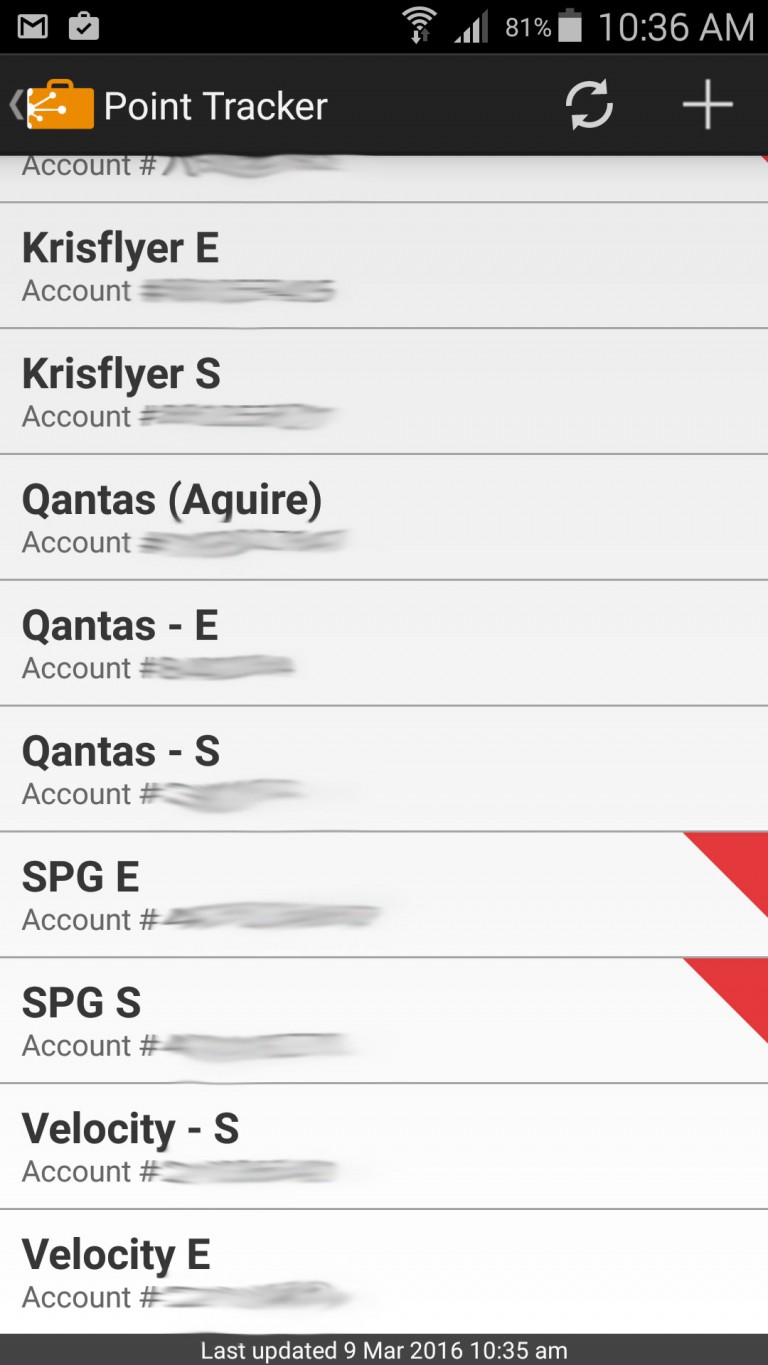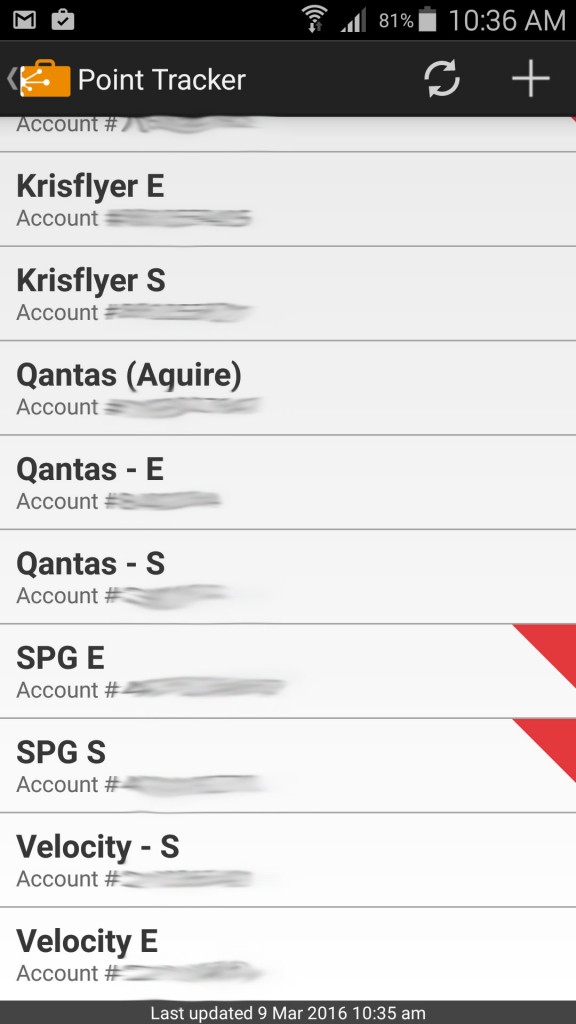 I would imagine that anyone who's used a travel organisation app has come across Tripit. As an itinerary tracker it's excellent, although has plenty of competition from the likes of Kayak Trips, TripCase and a multitude of other free services.
If you're prepared to stump up $49 USD per year, then an upgrade to Tripit Pro will give you some additional features. We won't cover them all off here, but the main one we're interested in is the points tracking.
Tripit Pro covers all of the accounts I'm after, except flybuys, which I knew was going to be an outlier right from the start. A bonus for Tripit Pro is that it gives the user the ability to track more than one account from the same loyalty program (as does Awardwallet).
If your family is anything like mine, then everyone has a loyalty account with each provider. With both Tripit Pro and Awardwallet, I can not only track my balances, but those of my wife and daughters too, making it much easier to see where we stand as a family when trying to squeeze out the last remaining points on a trip.
I subscribed to Tripit Pro a few years back. The additional Pro features of alerts, alternative flights and refunds were nice to have, but not enough for me to be worth shelling out a premium for. With a little hunting you can find a few different free apps to cover everything Tripit Pro provides.
Granted, Tripit Pro puts everything in the one box, so if that's what you're after, then this may be for you. It's a bit of a travel Swiss Army knife.
The app is also excellent with all your loyalty programs visible on one screen, and warnings when your points are about to expire.
There is a 30 day free trial so you can check it out properly before committing.
Points.com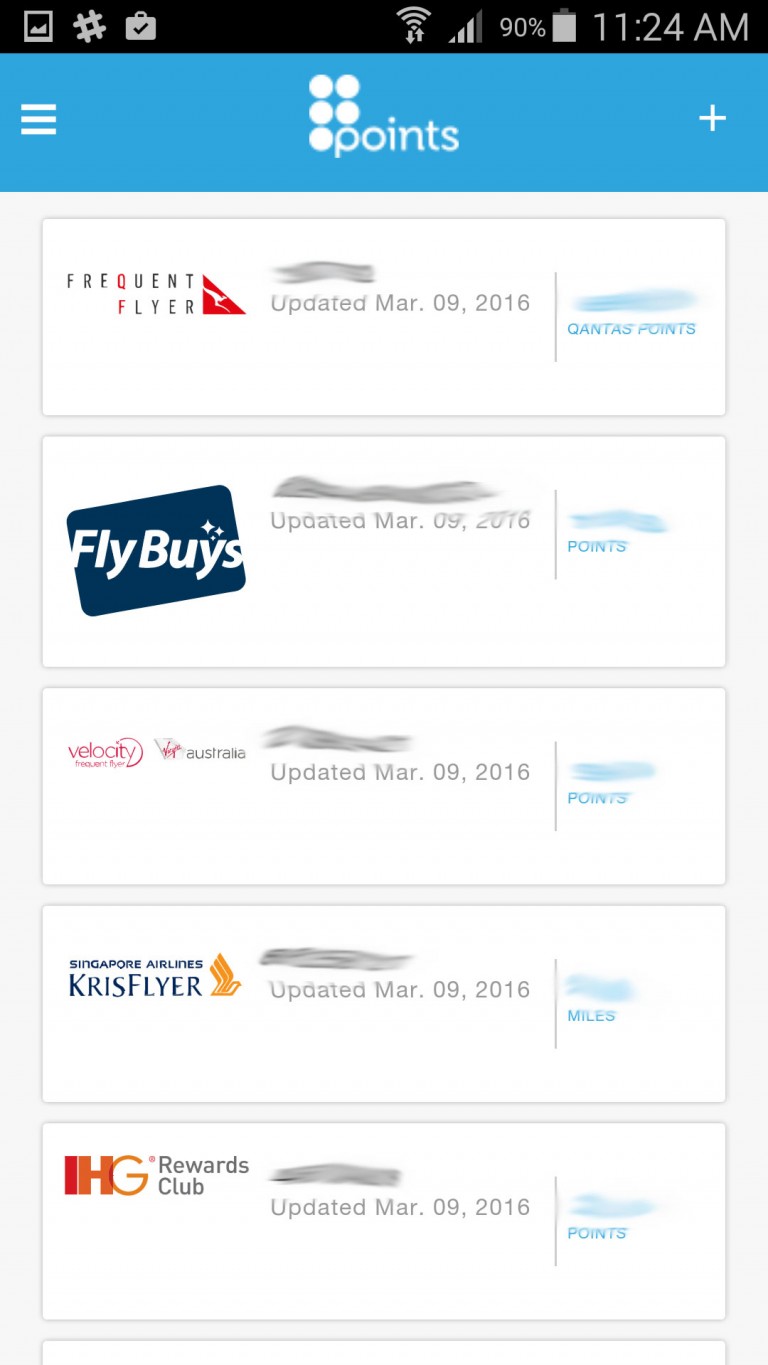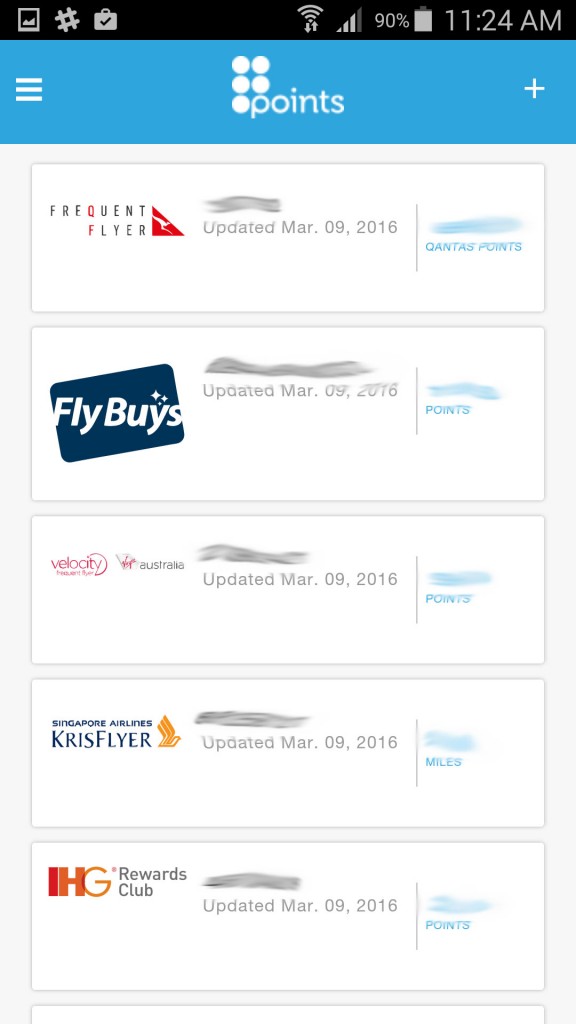 Points.com is another major player in this market, and has been around for quite a while. It's not that useful for keeping track of a wide variety of accounts in the way AwardWallet is, however Points.com offers a bunch of unique features such as:
The interface is easy to use, and is free. There is no app with points.com, although the website is mobile friendly. As a loyalty rewards tracker, Points.com is pretty limited, with no support for Qantas Aquire, BA Executive Club or American Express Membership Rewards.
There is no way to add multiple accounts of the same program, as you can with some of the others we're looking at.
If you're just looking for a simple points tracker, this is fine. If you're not going to use the points buying and exchanging facility, I'd argue that it's one of the least useful of anything else on this page, being there's no app, or support for multiple accounts.
We also checked out Traxo and Reward Expert, but had some troubles with both – not totally useful for Australians in the case of Reward Expert, and Traxo was too glitchy for my liking. For now at least, we wouldn't recommend them.
Summing up – points tracking services
Firstly, is it worth using a points tracking service? If you manage more than a handful of accounts, we'd argue absolutely, yes.
It's worth noting that all but Awardwallet require you to trust their service with the login to your frequent flyer account – so if you're not comfortable doing that, your only choices are to check your balances manually or to use Awardwallet which offers the ability to save passwords locally. Doing that though removes most of the automated account update features.
Then, if it's just award tracking that you're looking for, then AwardWallet wins hands down.
If you're wanting itinerary tracking in the mix as well, and you're prepared to spend some money, then Tripit Pro is probably what you're looking for – although Kayak Trips is also excellent, and free.
The Point Hacks team has been bouncing around between a few itinerary trackers over the years, and will say in our experience that Tripit and Kayak are the most solid of those tried.
AwardWallet doesn't seem to have the usability required for the scenario where you are in a foreign country, running late for a flight and needing to know the gate number now. Importing of trips seems flakey, and emailing of itineraries is also pretty hit and miss. But these things may not be of importance to you.
All up – have a look at the products, and the table up there and work out what's important to you. The free version of AwardWallet does points tracking out of the box, so Tripit is really the only one that charges a premium.
Setting them all up is reasonably painless – just try them out with a handful of accounts first – and probably worth doing if you really want to know what will work for you. You'll get 30 days out of Tripit without handing over any money as well.
AwardWallet Plus tripling in price to $30/year from February 2017: subscribe now to get grandfathered pricing at $10
was last modified:
June 25th, 2019
by