To really get the most out of being a points collector, you've got to have quite a few different accounts for every airline, hotel and car hire place on the planet. This can become pretty unwieldy, pretty quickly.
Of course, these days there is usually an app available to tackle most of life's minor inconveniences — such as remembering your points balances. In this guide, we explore a few mainstream options available to users.
What should I look for in a points-tracking service?
Most people have quite a few loyalty program accounts. Some are for slowly building balances over time while others might be just to take advantage of offers or for searching award availability.
The majority probably only have a smattering of points in them, if any. Most people don't need to track all of those accounts, but it is useful to store all their logins and have balances checked centrally.
Our 'everyday' accounts that need tracking include Qantas, Velocity, and Flybuys. The next in the list might be things like AAdvantage and KrisFlyer and your car rental company of choice, or maybe a few hotel programs.
For the purposes of this exercise, we looked at the common loyalty trackers as a baseline requirement. From those programs, we hand-picked the three that we feel are best suited for Aussies, as most are otherwise targeted at people residing within the US.
Here's our quick breakdown, with deeper analysis later on:
Privacy vs. usability
Note that two-factor authentication — where you to confirm additional details before being able to log in — is a lot more common now, which (understandably) wreaks havoc with points tracking service.
Qantas Frequent Flyer is a prime example of one program which much more difficult to add to points tracking apps, as most of your non-trusted login attempts via an app will be blocked.
---
1. Using AwardWallet for points tracking
AwardWallet supports all of the programs in our list and gets first place. The base version is free and allows you to enter multiple accounts. Looking through the list of supported loyalty programs, you'd be hard-pressed to find a scheme it doesn't support.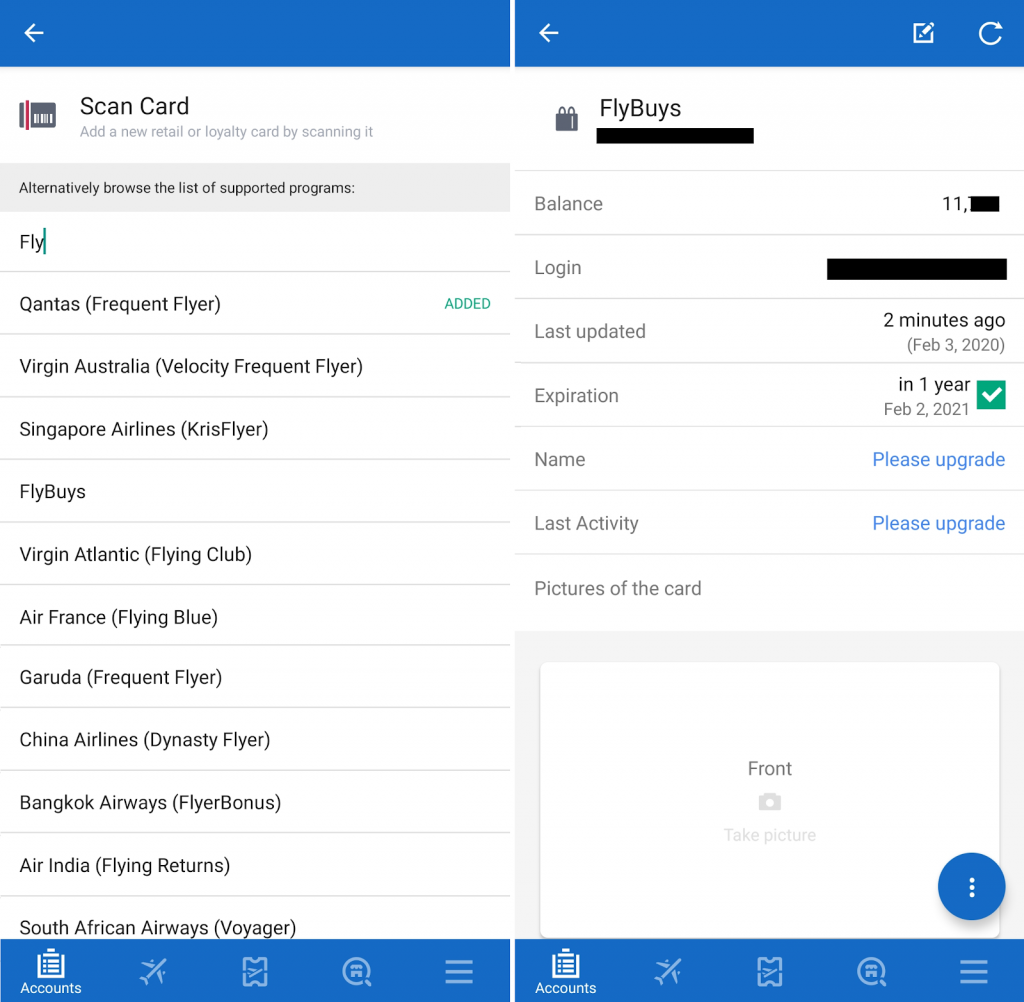 Airline loyalty programs are its bread and butter, of course. Qantas and Velocity can be added, though remember that you may get asked to confirm some security questions when attempting to sync your Qantas Frequent Flyer account.

AwardWallet also includes a simple itinerary tracker. The 'Plus' version has some additional features including seeing more info, faster data updates (up to five parallel accounts), as well as the ability to review historical data on your points usage.
The Plus version now costs US$30 per year, although those who signed up before February 2017 may have the old 'Early Supporters Discount' pricing of $10 USD per year.
Visit: http://www.awardwallet.com →
Ad – Scroll down to continue reading.Minimum spend, terms & conditions apply.
2. Using TripIt Pro for points tracking
We'd imagine that anyone who has used a travel organisation app has come across TripIt. As an itinerary tracker, it's excellent, although it has plenty of competition from the likes of Kayak Trips, TripCase and a multitude of other free services.
If you're prepared to stump up $49 USD per year (or try the 30-day free trial), then an upgrade to TripIt Pro will give you some additional features, including points tracking.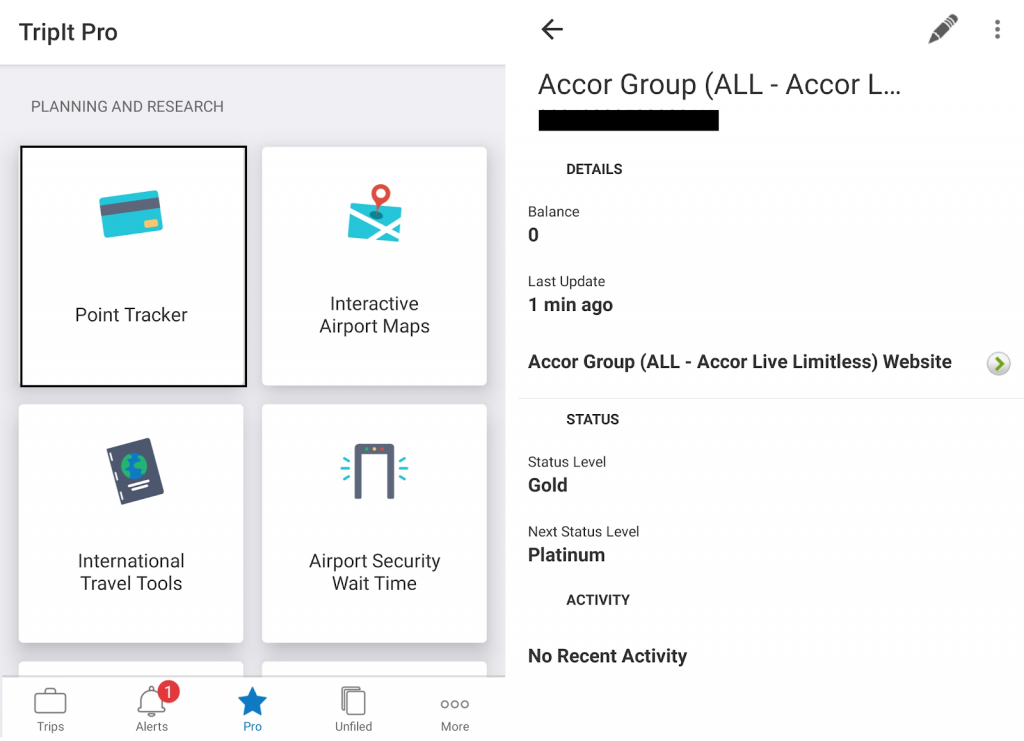 Tripit Pro covers most of the accounts we tested except for Flybuys, which is understandable. A bonus for TripIt Pro is that it gives the user the ability to track more than one account from the same loyalty program (as does Awardwallet).
This option puts everything in one box (itinerary management, alerts and reward points), so if that's what you're after, then this may be for you. It's a bit of a travel Swiss Army knife. The app is also excellent with all your loyalty programs visible on one screen, and warnings when your points are about to expire.
There is a 30-day free trial so you can check it out properly before committing. Personally, I wouldn't pay US$49 a year for the points tracking functionality, and the other premium features of TripIt Pro are of no interest to me.
Visit: https://www.tripit.com →
3. Using App in the Air for points tracking
Like TripIt, App In The Air is predominantly a flight tracking app and does have a free wallet functionality.
It doesn't have Flybuys and American Express Membership Rewards, hence App in the Air has the weakest coverage out of the three main apps we're comparing. But the app still does all the main airline and hotel programs well, including showing tier status and the current balance.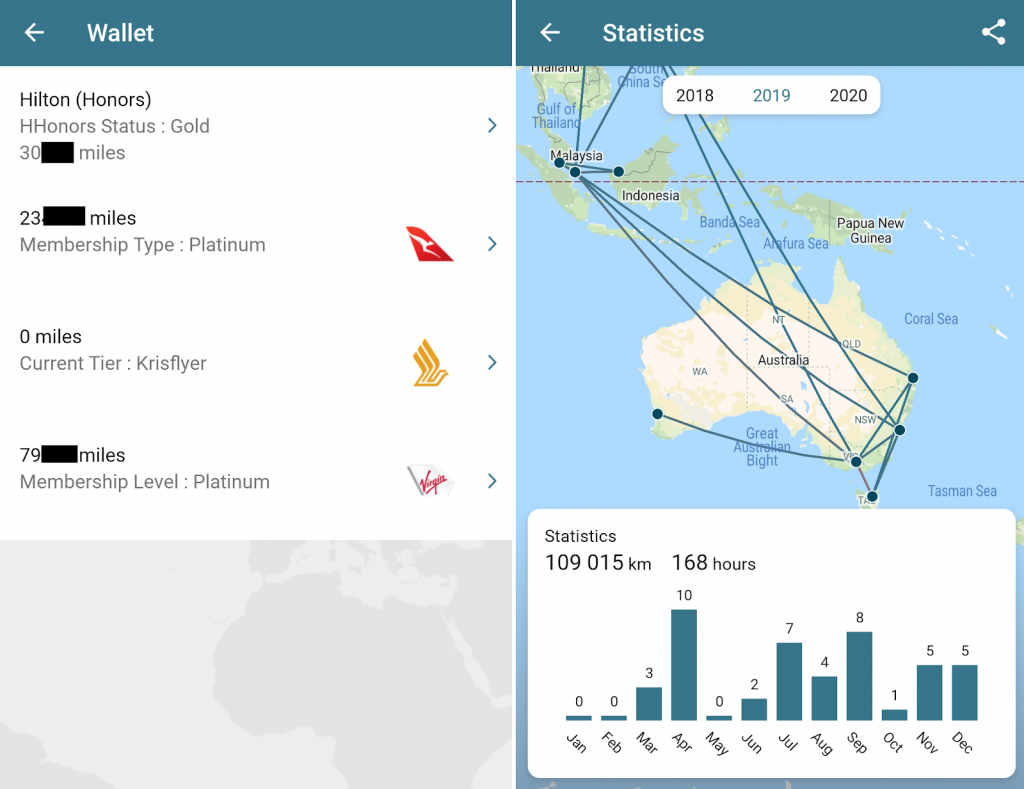 Once again, you might choose this over AwardWallet as it can combine your flight itineraries and reward points into one simple app. Best of all, points tracking is included in the free version.
There is a premium subscription to App In The Air (A$48.99 a year or A$81.99 for lifetime), but that's for alerts and SMS features that aren't relevant to this guide.
Visit: https://www.appintheair.mobi →
Lighter users: Stocard, Google Pay, Apple Pay
If you're a lighter user (perhaps being a member of just Qantas and Velocity Frequent Flyer), then there may be simpler options for you than the three heavy-weight apps listed above!
1. Using Stocard for points tracking
Stocard is a great app for Australian shoppers to keep track of their various loyalty cards, and in some cases, their points balance as well.
Although it's more retail than airline-focused, you can still log-in and track airlines like Qantas, Velocity, Singapore Airlines KrisFlyer and Cathay Pacific Asia Miles. Note that Flybuys points aren't trackable through here (but you can still add the card).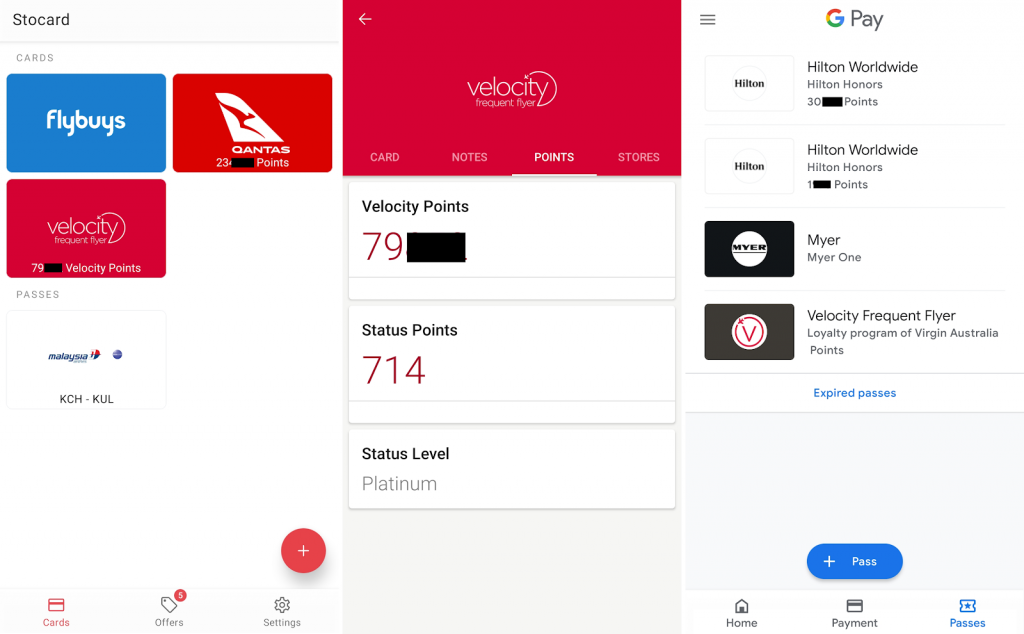 Visit: https://stocardapp.com/ →
2. Using Google Pay or Apple Pay for points tracking
If you're a minimalist and would rather just use the built-in wallet functionality on your recent Android or iPhone device, then perhaps Google Pay and Apple Pay will have you covered, respectively.
Both wallet programs are supporting an increasing number of loyalty partners, such as Velocity Frequent Flyer and Hilton Honors. You'll be able to track your points balances for some of those partners.
Summing up: are points-tracking services worth it?
Firstly, is it worth using a points-tracking service? If you manage more than a handful of accounts, we'd argue 'yes'. While there are a few free options available to you, other factors might impact your choice.
Do you trust apps with your details?
For example, all apps except AwardWallet require you to trust their service with the login to your frequent flyer account – if you're not comfortable doing that, then your choice is limited.
Awardwallet offers the ability to save passwords locally to avoid giving out your password to a third-party. But take note; doing that though removes most of the automated account update features.
AwardWallet is our pick overall
If it is just points-tracking that you're looking for, then AwardWallet wins hands down. It's got the best coverage and the core features are free. The paid options unlock more relevant travel features and aren't too pricey in comparison.
If you're wanting itinerary tracking in the mix as well, then I'd consider App In The Air as the second-place contender, followed by TripIt Pro if you're happy to pay the annual fee or take up a trial.
All up – have a look at the products, and the table up above to work out what's important to you. The free versions of AwardWallet and App In The Air do points tracking out of the box, so Tripit Pro is really the only one that charges a premium. Stocard might be a great light option also.
This article was originally written by Evin Tan Khiew.
Best apps and websites for tracking your points
was last modified:
April 2nd, 2022
by