Starwood Preferred Guest is one of our favourite loyalty programs, with a huge range of airline transfer partners.
This guide is an overview of as many SPG current offers we can find, with bonus points, discounts, free nights and more.
---
Double or triple Starpoints on stays of two nights or more – deal →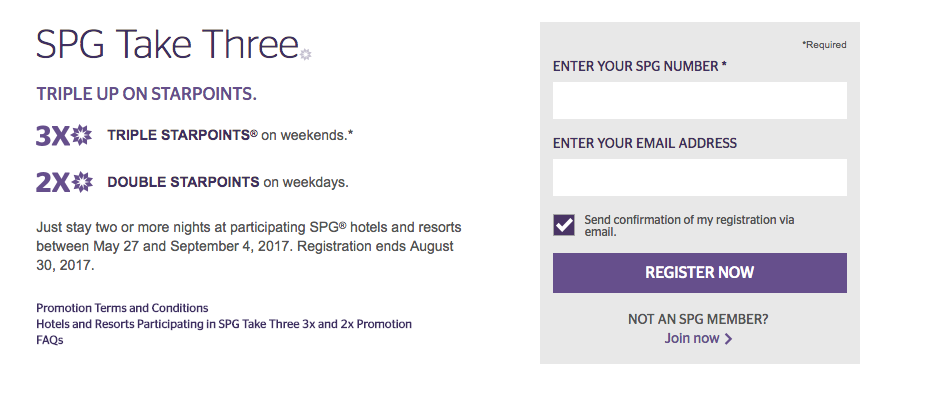 Stay two or more nights at participating SPG hotels and resorts (the list is quite long) between 27 May and 4 September 2017 and you'll earn double points on weekdays and triple points on weekends.
Register here by 30 August 2017.
Fast track to Gold and Platinum status – deal →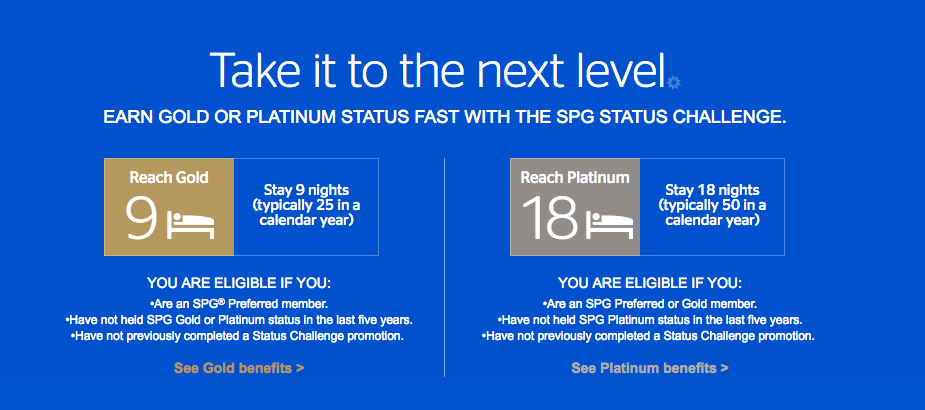 If you haven't held elite status with SPG in the last five years but are a member of the program, you can stay 9 instead of 25 paid nights to reach Gold status and 18 instead of 50 nights to reach Platinum.
You must complete the stays in a three-month period of your choosing.
Ends 31 December 2017.
Pay your birth year for the second night of your stay – deal →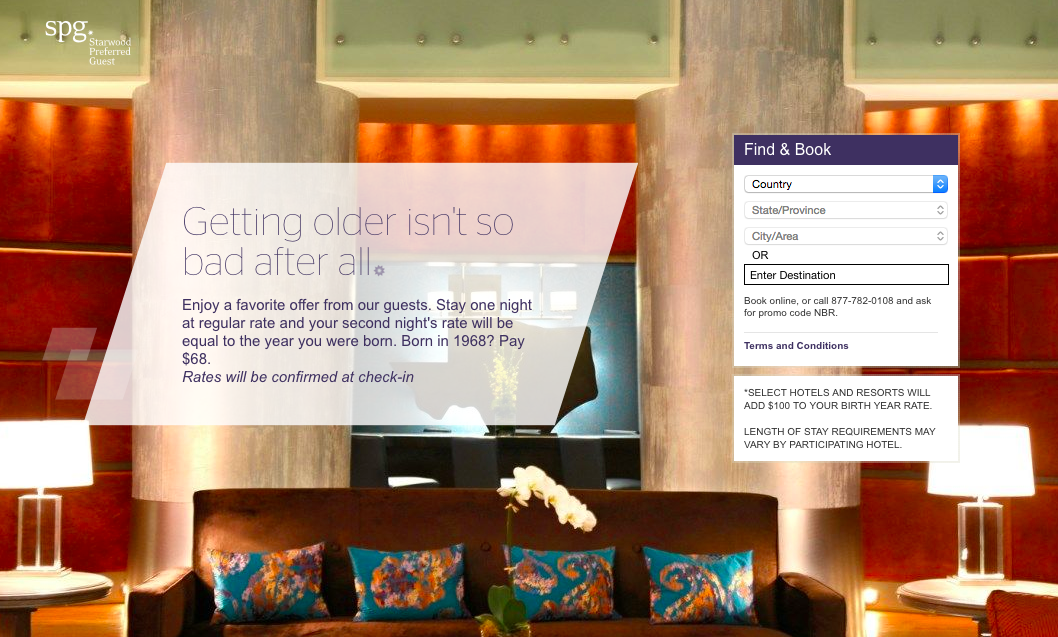 Valid for stays in the US and Canada only, and not at all hotels.
Your second night (on flexible and prepaid rates) will be equivalent to the year of your birth, e.g. 1980 = $80, with the first night at full rate.
No expiration date.
Complimentary breakfast for two in the US, Canada and Latin America – deal →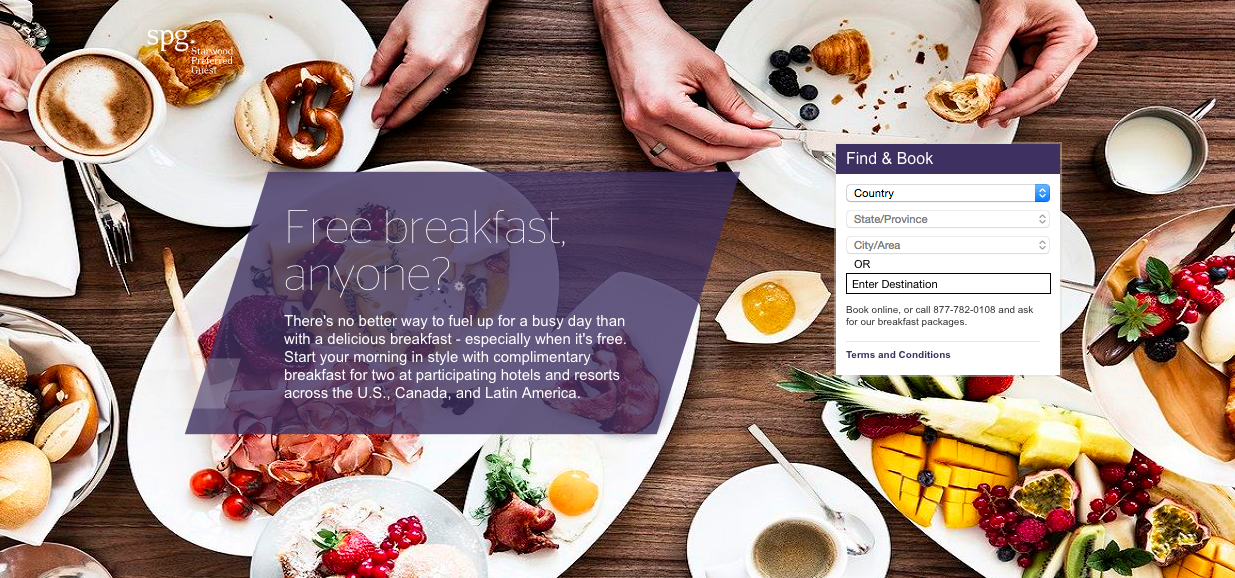 Free breakfast for you and your travelling companion at participating hotels and resorts across the US, Canada, and Latin America.
For stays booked and completed by 31 December 2017.
Third night free when paying with a MasterCard – deal →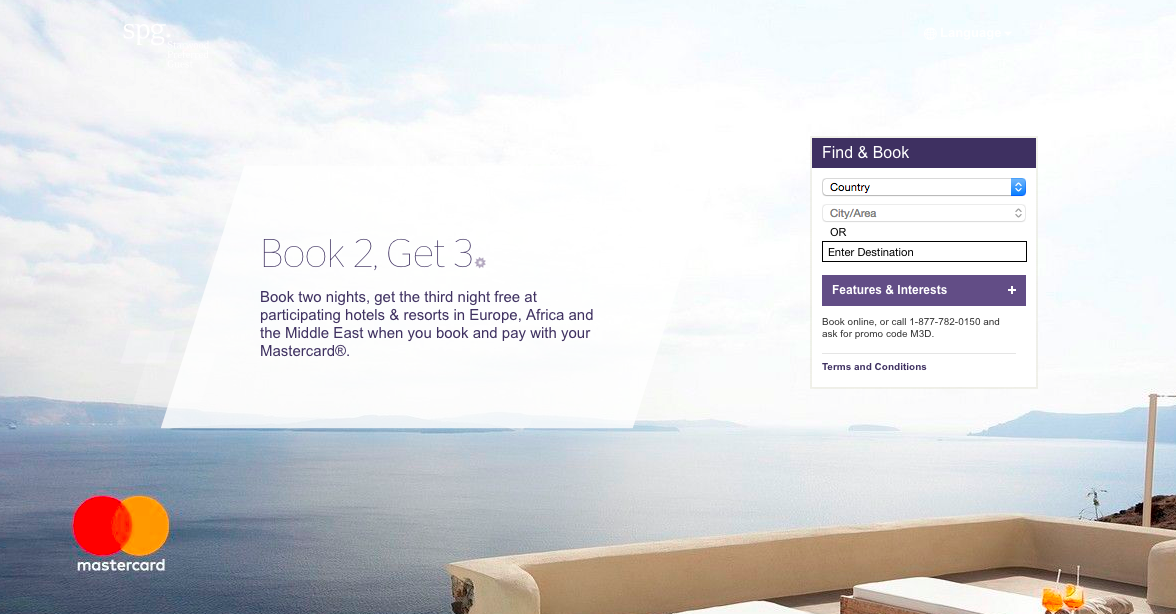 Book two nights, get the third night free at participating hotels and resorts in Europe, Africa and the Middle East when you book and pay with your MasterCard.
Promotion valid for bookings and stays made before 1 June 2017.
Stay one night and the next is 40% off – deal →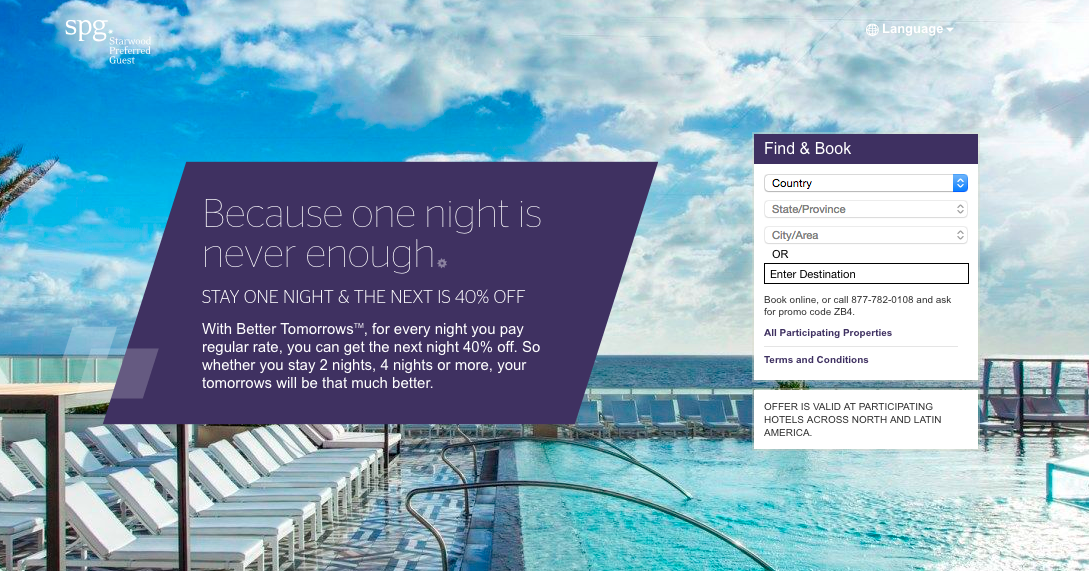 For every night you pay regular rate at participating hotels in The Americas, you can get the next night 40% off.
No expiration date.
50% off second room + kids eat free – deal →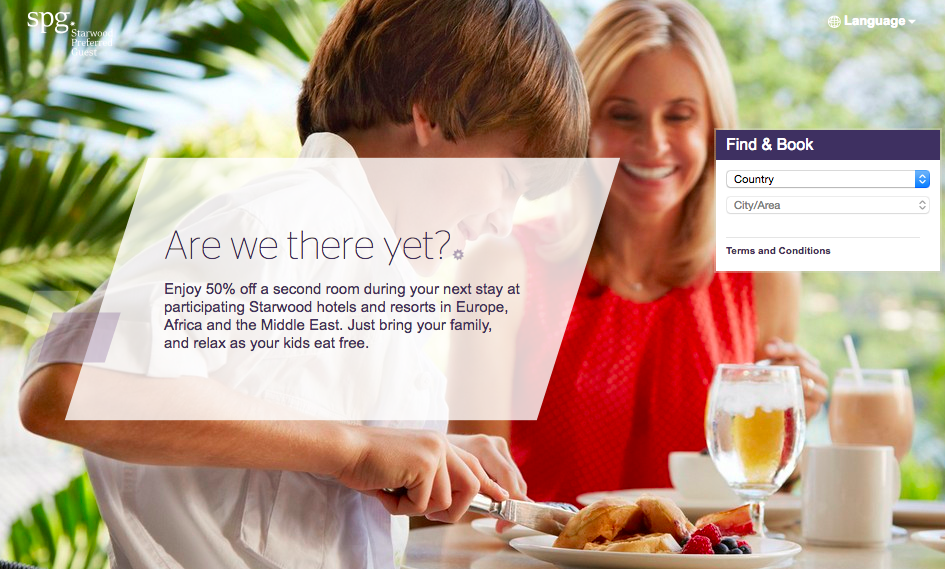 50% off a second room during your next stay at participating Starwood hotels and resorts in Europe, Africa and the Middle East. Kids eat free.
No expiration date.
Find your suite spot – 3,000 Starpoint bonus and/or discounts when booking a suite – deal →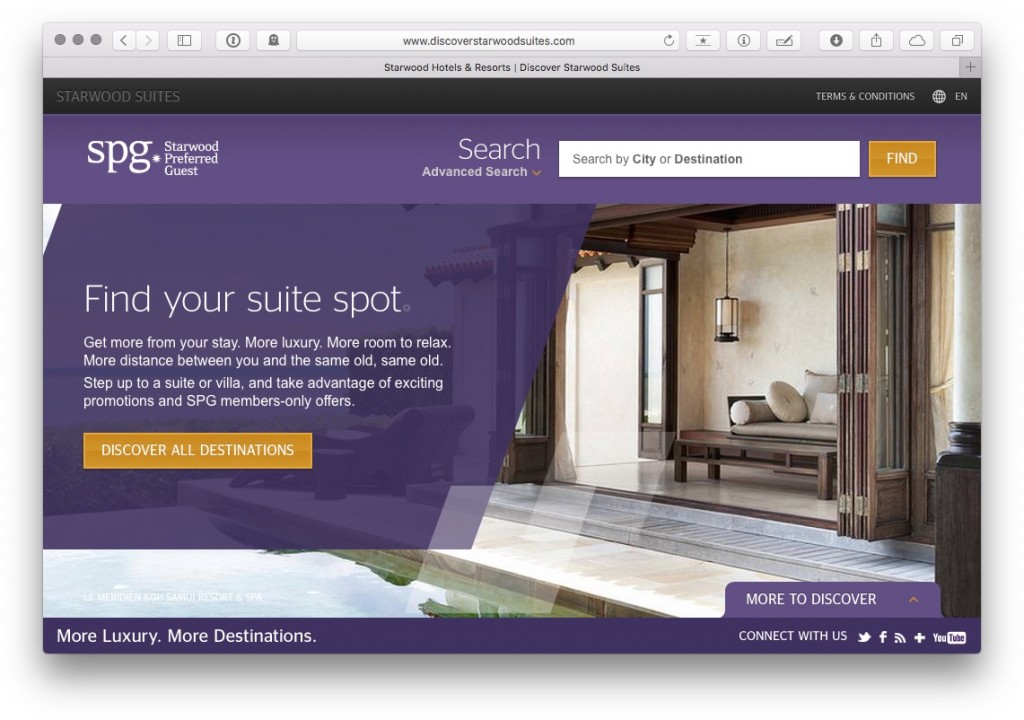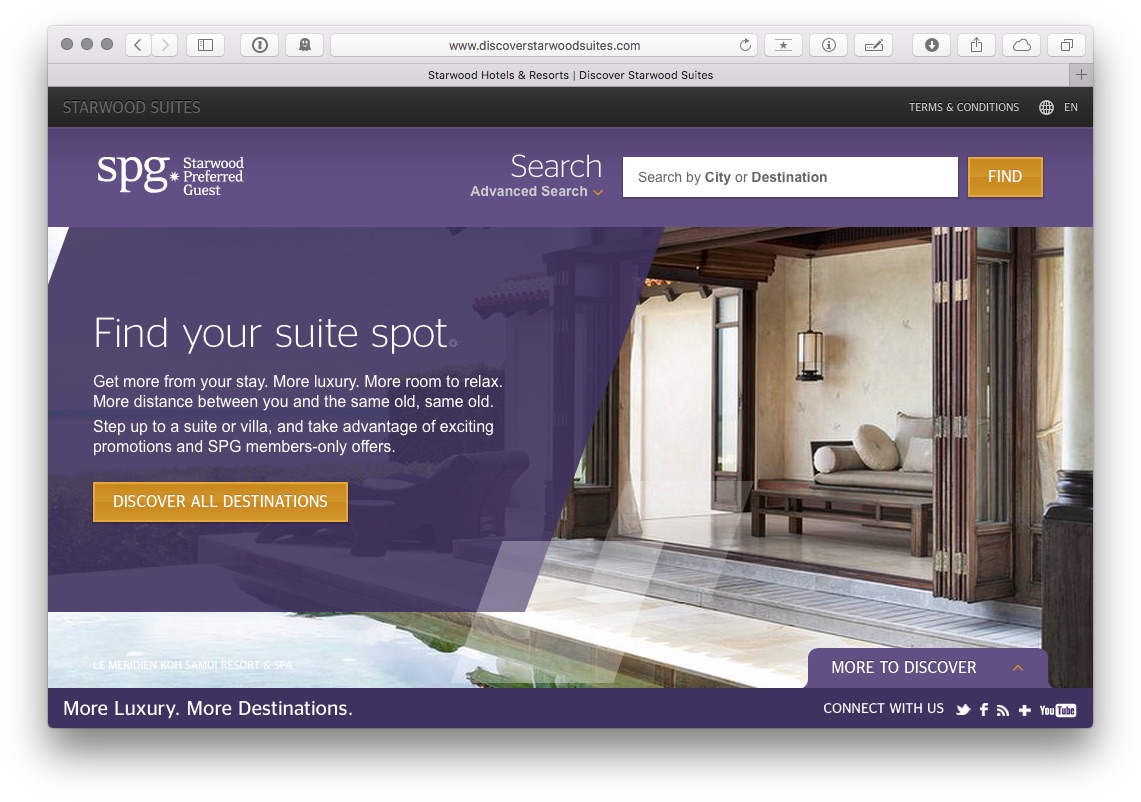 Take your pick from a range of offers at different Starwood hotels globally when booking a suite. Typically these are discounts on second and third nights or 3,000 bonus Starpoints.
No expiration date.
SPG Hot Escapes – deals on a range of Starwood Hotels for coming weekends, posted online each Wednesday deal →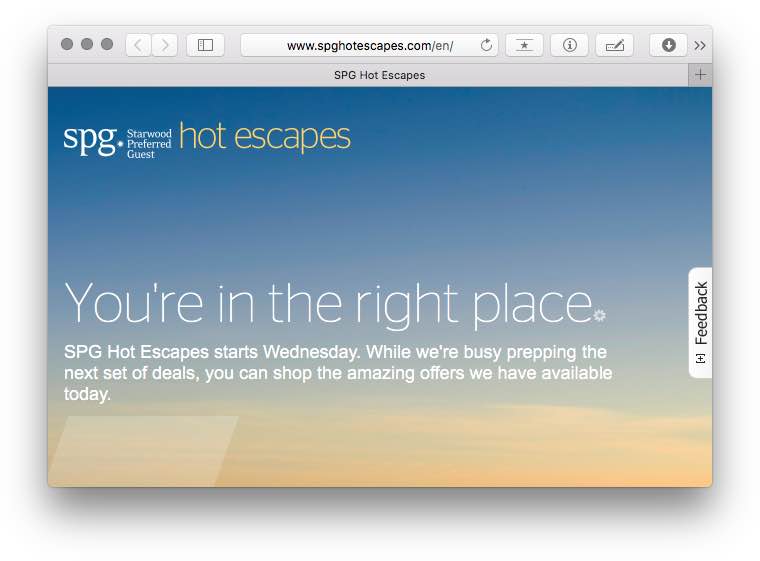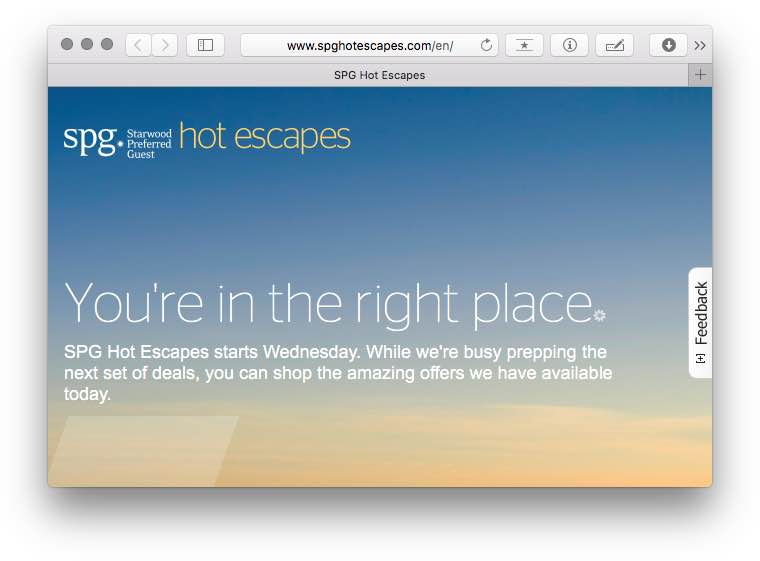 SPG Hot Escapes is a last-minute deal opportunity across Starwood Hotels globally. Deals are posted online every Wednesday for travel over coming weekends.
No expiration date.
---
How to use SPG Dashboard to find and keep track of the big bonus Starpoint earning offers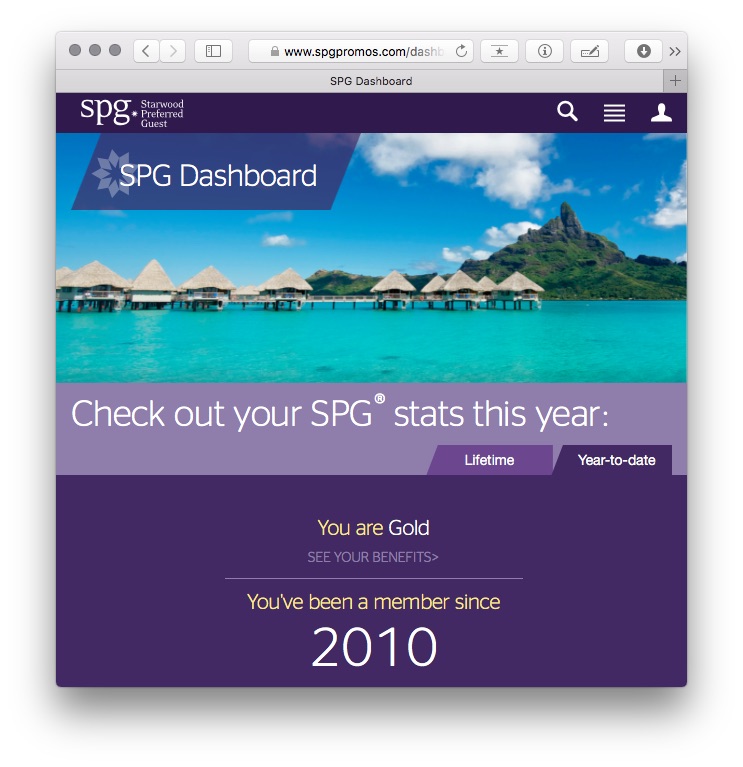 Starwood Preferred Guest launched an offer 'dashboard' in your SPG account in 2016, which is a great addition to your armoury in keeping track of points-earning offers and your progress in meeting the requirements for them.
You'll also see some basic info about your SPG status, where you've stayed in the past and how many Starwood brands and regions you've stayed at globally.
You can see how many Starpoints you've earned with their airline partners and Uber, as well. You have registered for Starpoint earning with Uber, right?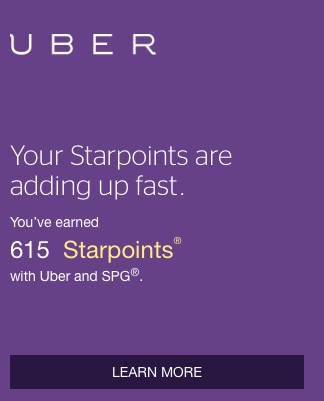 Here I'm being reminded of a 'stay at more brands' offer, while discount rates and other deals also pop up too.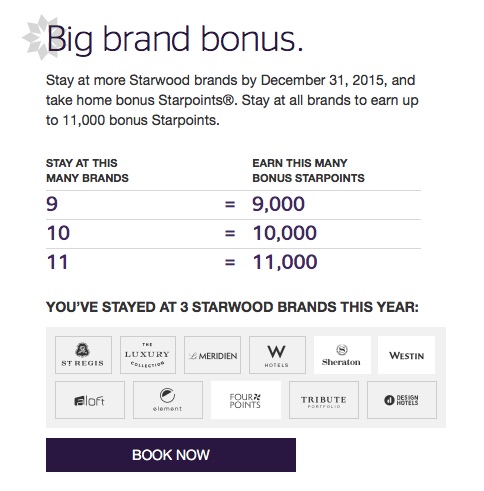 The downside – not all promotions show up here. Regardless, it's a handy way to keep on top of the different deals out there.
Earn triple points on Starwood stays and a fast track opportunity to elite status
was last modified:
August 15th, 2017
by
Earn triple points on Starwood stays and a fast track opportunity to elite status
was last modified:
August 15th, 2017
by