As Singapore Airlines' low-cost carrier arm, Scoot offers great-value fares from Australia to Singapore and even as far as Berlin and Athens. Scoot Economy is as you might expect for a no-frills ticket – the base price includes a seat and carry-on luggage, but you need to add on any extras such as meals, baggage or seat selection.
Their premium offering, ScootPlus, is a different beast entirely. Previously known as ScootBiz, Scoot Plus is more akin to a Premium Economy or Business-lite product. You get:
A wider leather seat with plenty more legroom (38″ seat pitch).
30kg checked baggage allowance and 15kg cabin baggage allowance.
An included meal, snack and drink from the onboard/pre-order Economy menu.
Priority check-in and boarding (chargeable in Economy).
30 MB of Wi-Fi (chargeable in Economy).
In-seat power (chargeable in Economy).
On a recent trip to Thailand with friends – where we paid just $169 pp one-way from Perth to Bangkok for a basic fare in Scoot Economy – I took up an invitation from Scoot to try out their ScootPlus cabin on the flight to Singapore to bring you this review.
Check-in and boarding
With a comfortable 6:00 pm departure, we arrive at Perth Airport just after 3:00 pm in the afternoon. I head off to the Priority Check-in line where there's no one in front. ScootPlus includes 30 kg of checked bags and 15 kg of cabin bags, so I'm checking in our group's luggage. But over in the Economy queue, my friends are quickly looked after as well. It's just another pleasant and quiet afternoon at Perth Airport.
ScootPlus doesn't include lounge access, nor would I expect it to. But with the help of a Priority Pass membership (free through certain credit cards), I duck into the Aspire Lounge at Perth Airport Terminal 1 for a cheeky spot of boozy afternoon tea. Gin and soda to kick off another fun trip? Yes, please!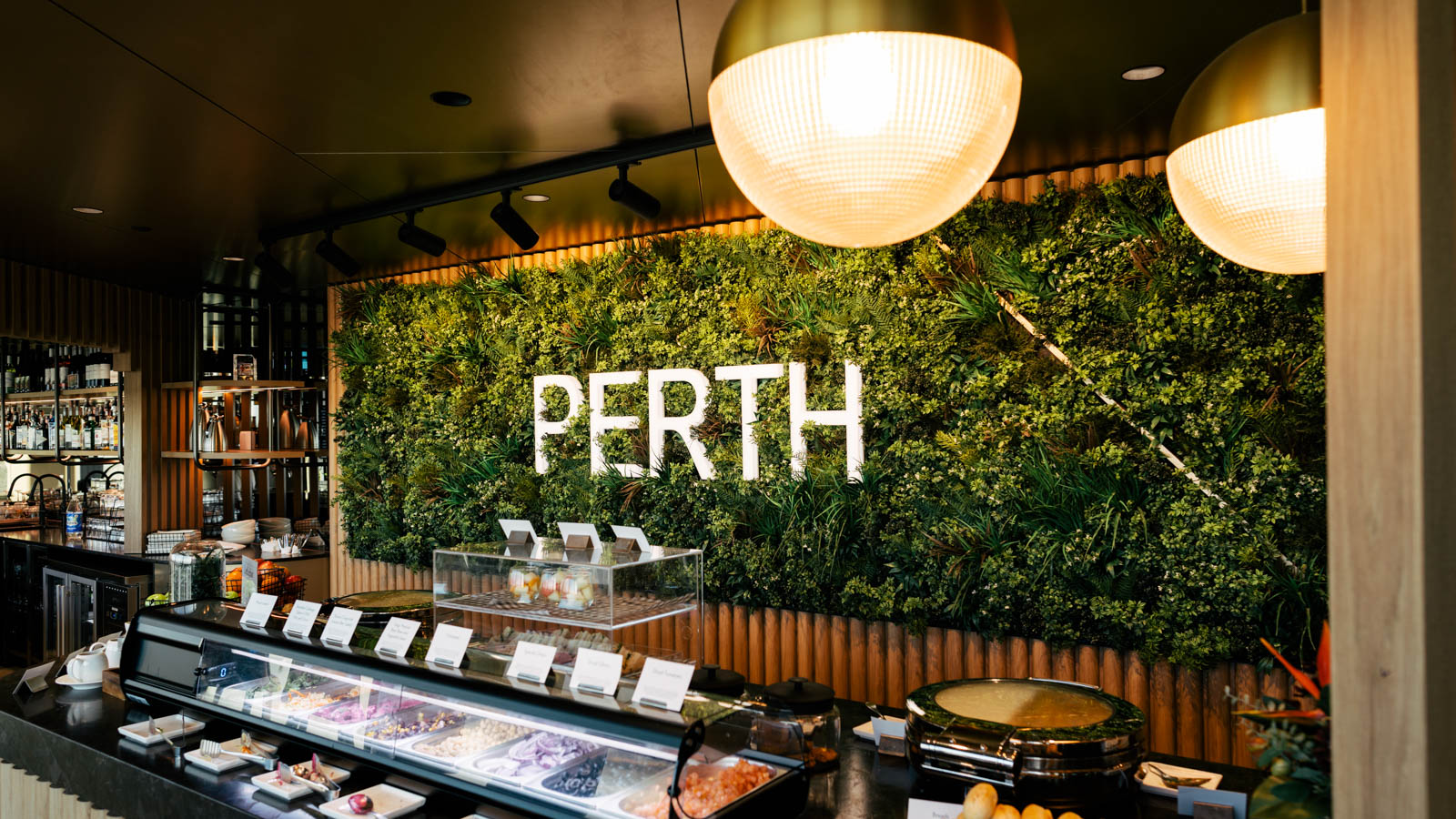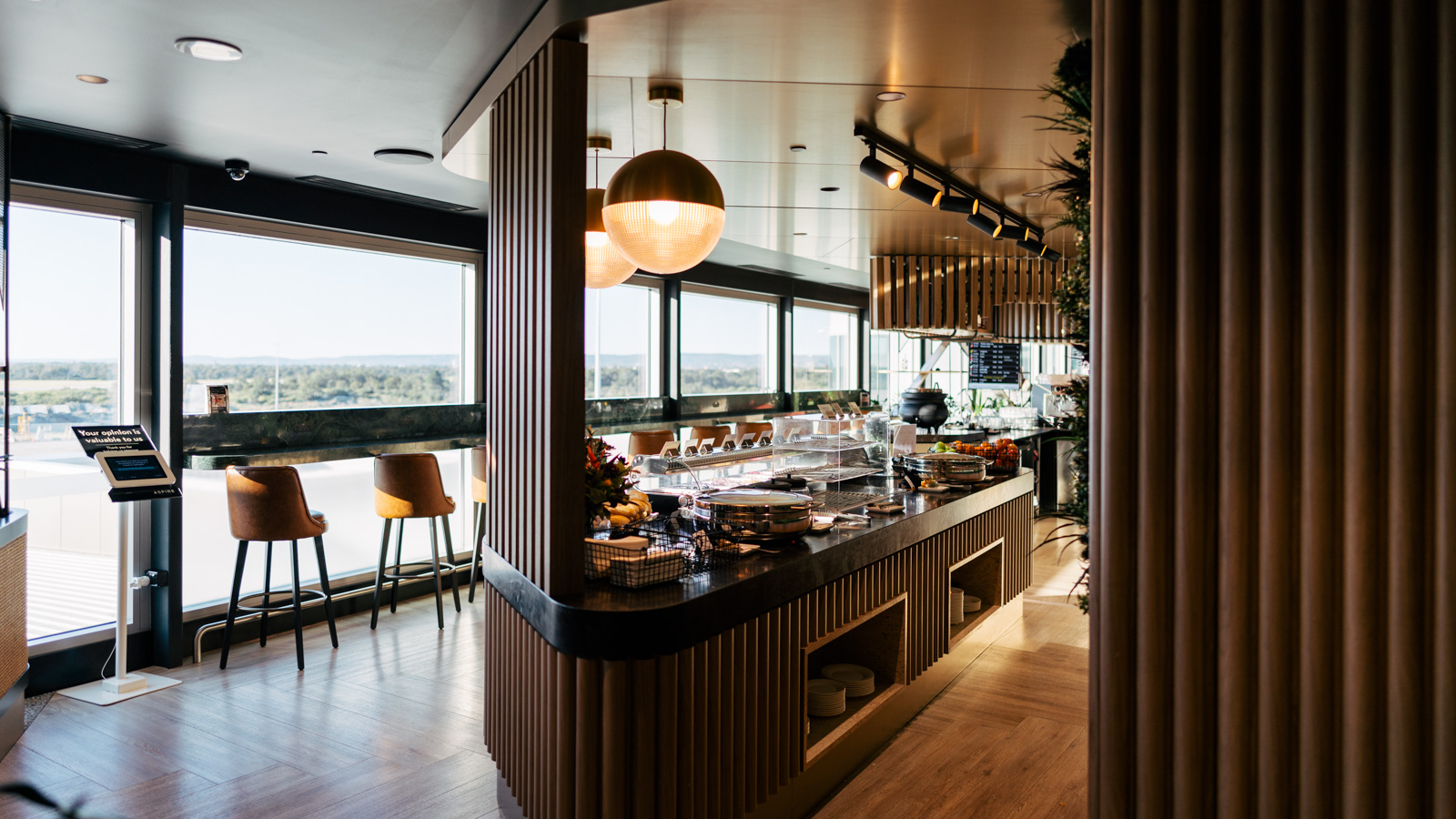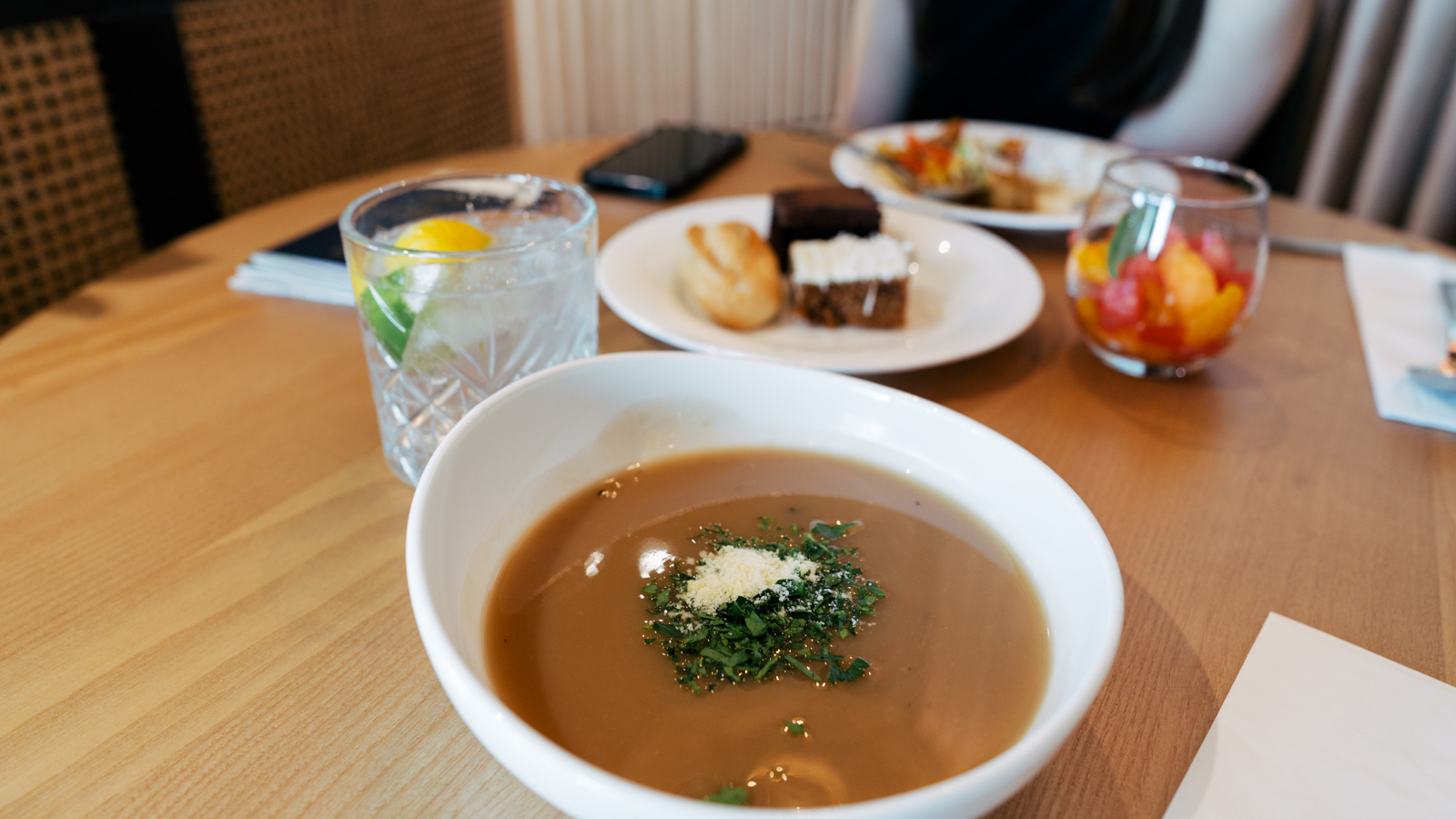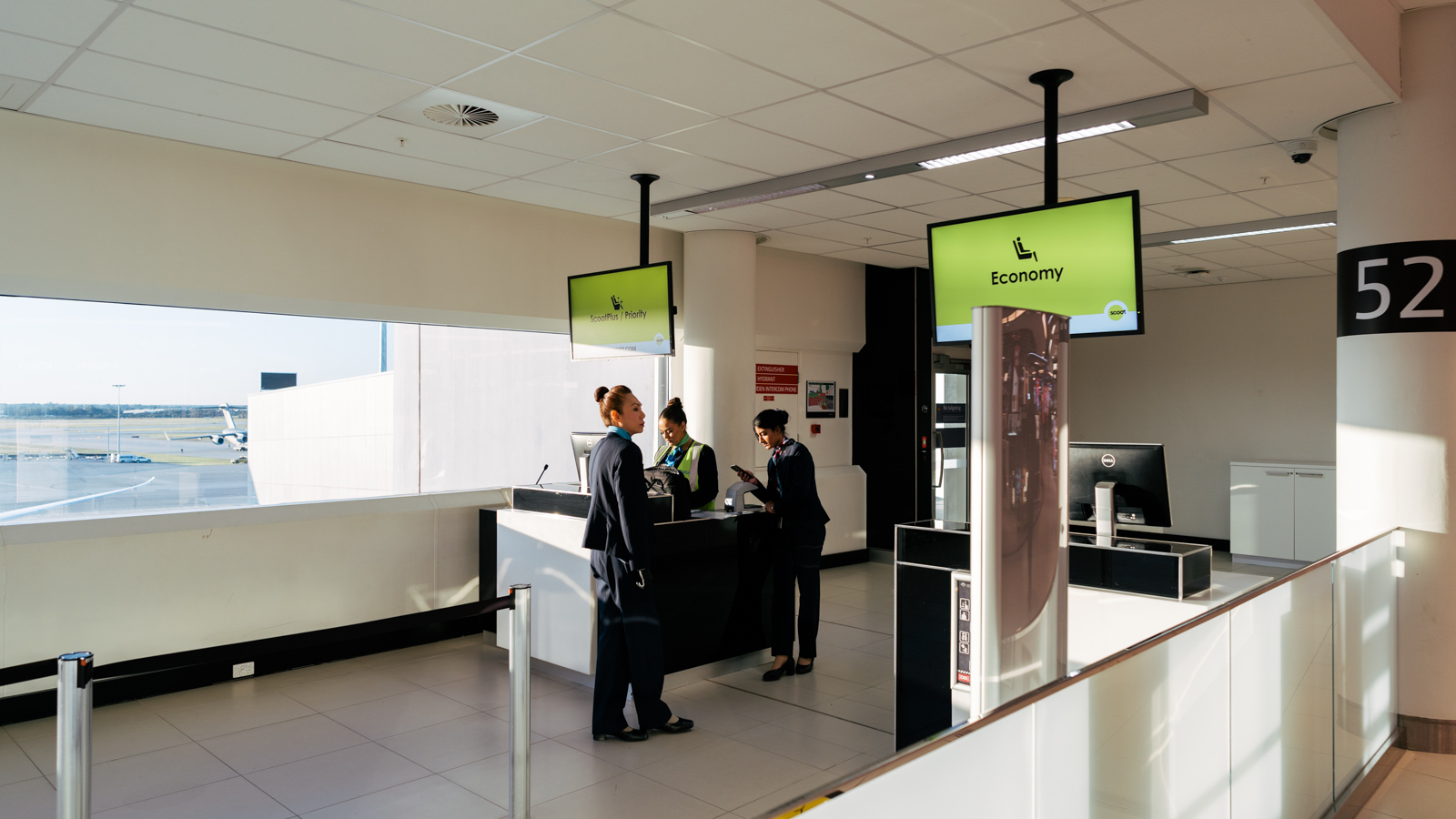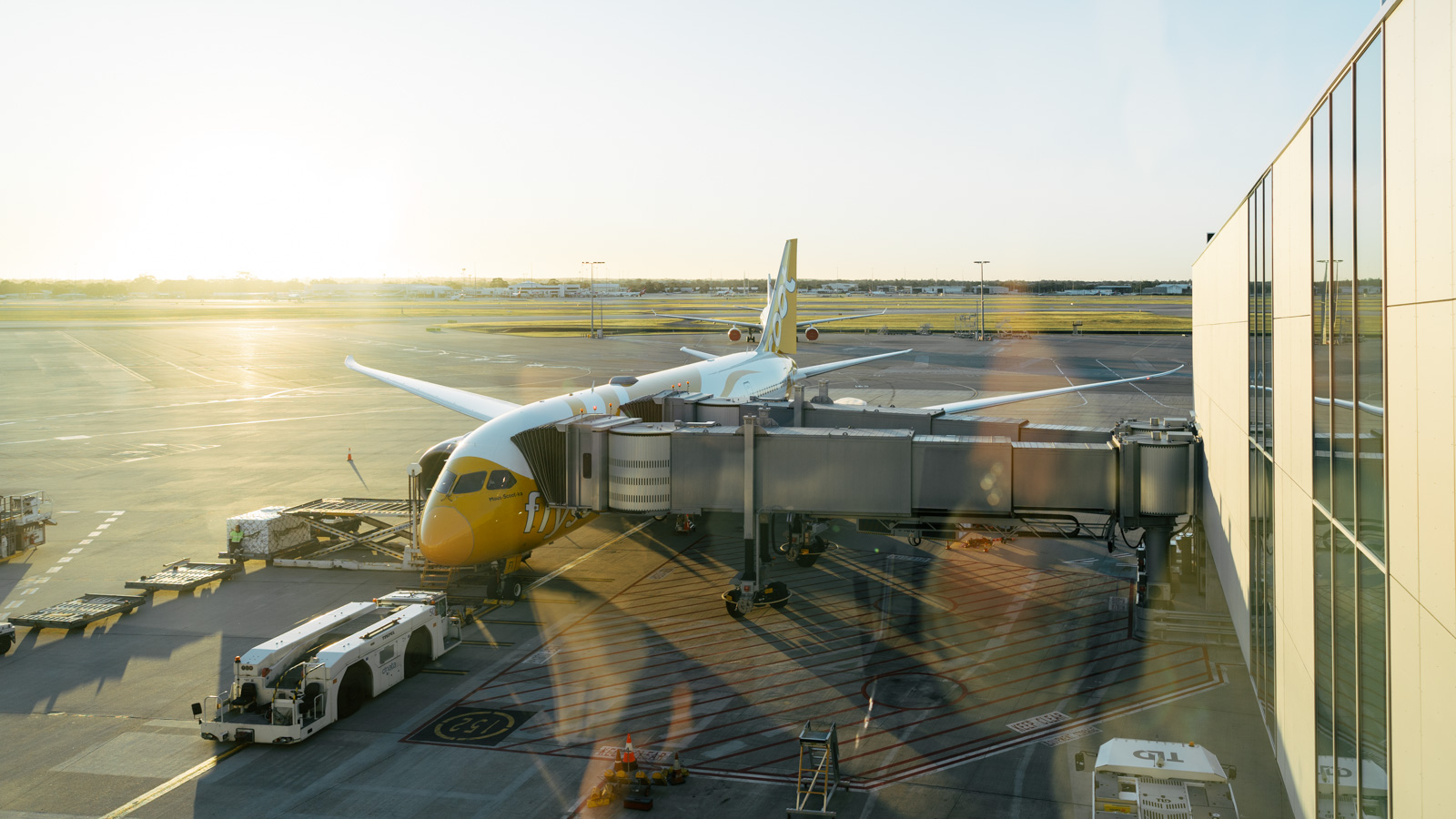 When I amble over to the boarding gate, there's a dedicated lane for ScootPlus passengers and those who have purchased 'Board Me First' in Economy (a $6 add-on for this flight). Not long after passengers requiring special assistance have boarded, I'm up next. Time to check out ScootPlus.
---
Keen to enjoy lounge access before any flight? This credit card includes two Priority Pass visits each year.
---
Scoot Boeing 787 ScootPlus seats
Today's flight to Singapore is onboard a Scoot Boeing 787-8 with just 18 seats in ScootPlus. This variant is designed for longer routes such as Singapore-Athens and has a crew bunk above the cabin, so there aren't any overhead bins in the middle section of ScootPlus. The other variant of the Scoot Boeing 787-8 has 21 seats in ScootPlus instead.
The 19.5″ (49.5 cm) wide leather seats are arranged in a 2-3-2 layout. Economy seats are about 4 cm narrower, in comparison. But when it comes to legroom, ScootPlus has a sizeable advantage over Economy. With a 38″ (96.5 cm) seat pitch – comparable to Qantas Premium Economy – ScootPlus offers around 20 cm of extra leg and knee space compared to Economy. That makes a huge difference.
I've picked seat 3K by the window in the last row. Thankfully, the seat next to me remains clear so I enjoy a bit more space. But I also like sitting in the last row because I can recline for the whole flight, guilt-free. Speaking of the deeper recline (8″ in ScootPlus compared to 6″ in Economy), it's achieved with a simple manual system.
There are two levers in the armrest – one controls the recline and the other swings out the legrest. I have to say that with the seat fully reclined and the calf rest extended, I feel quite comfortably cradled. All that's missing from this set-up is a pillow and blanket. Unfortunately, those amenities are optional extras and are not included.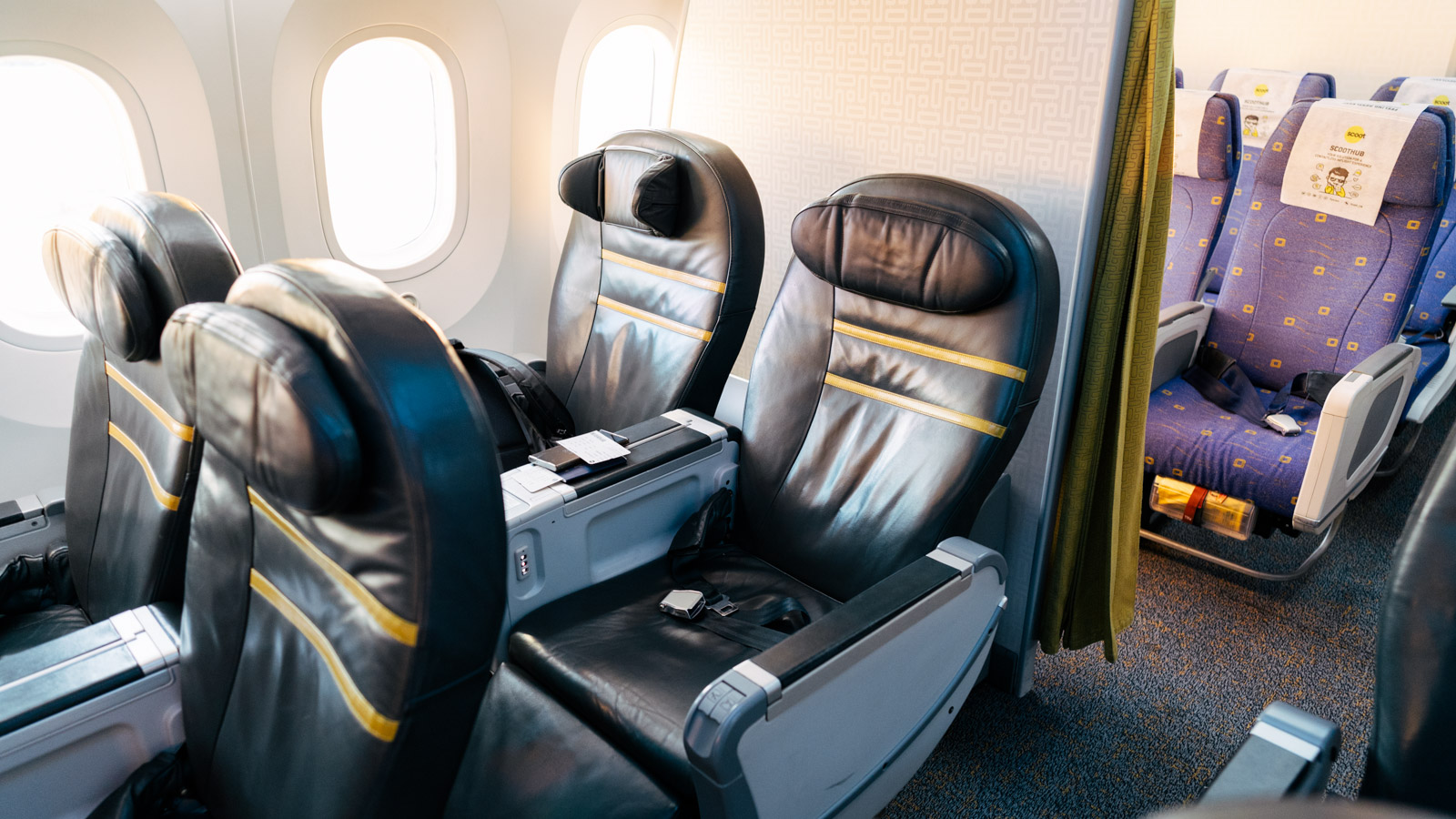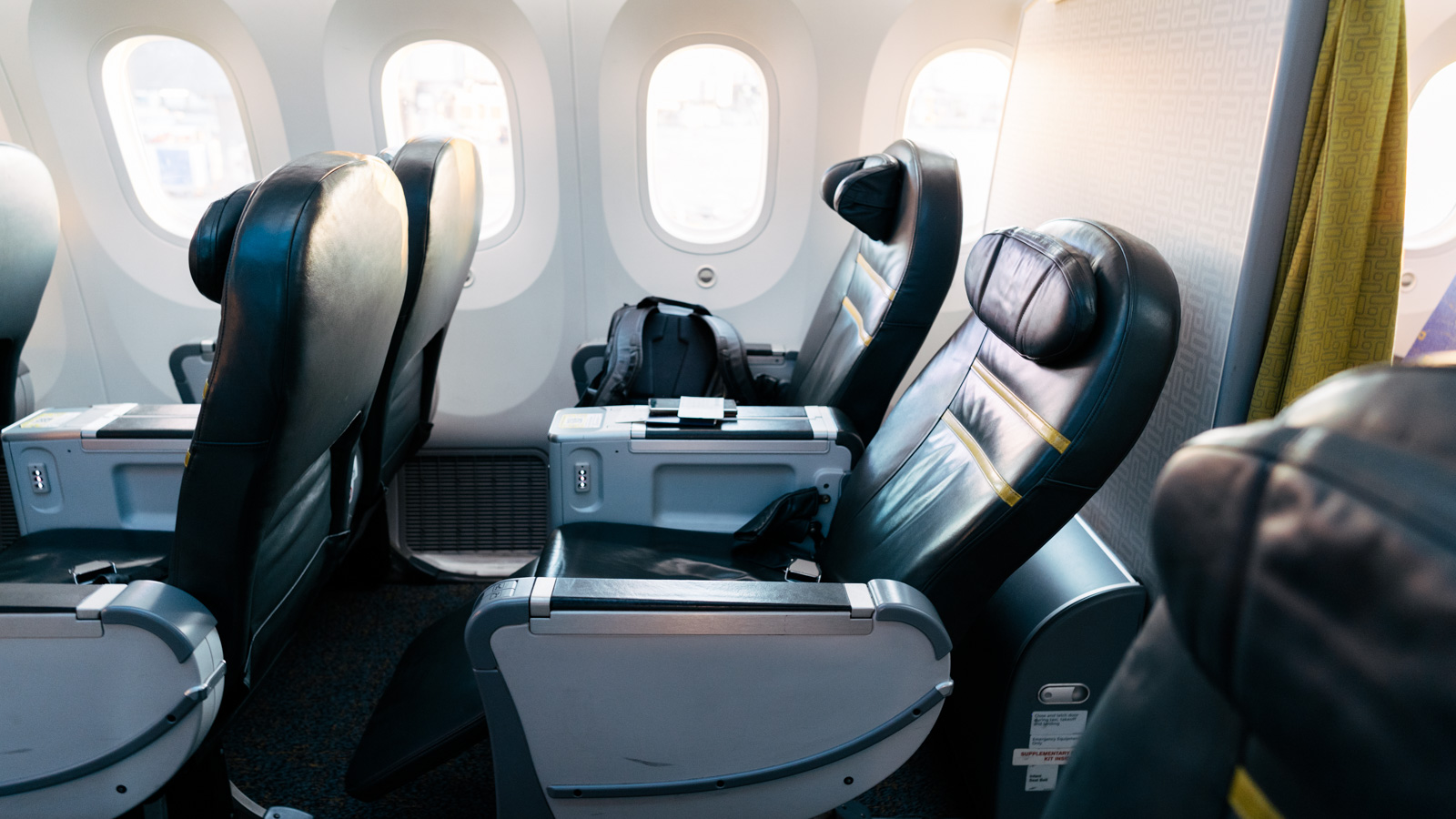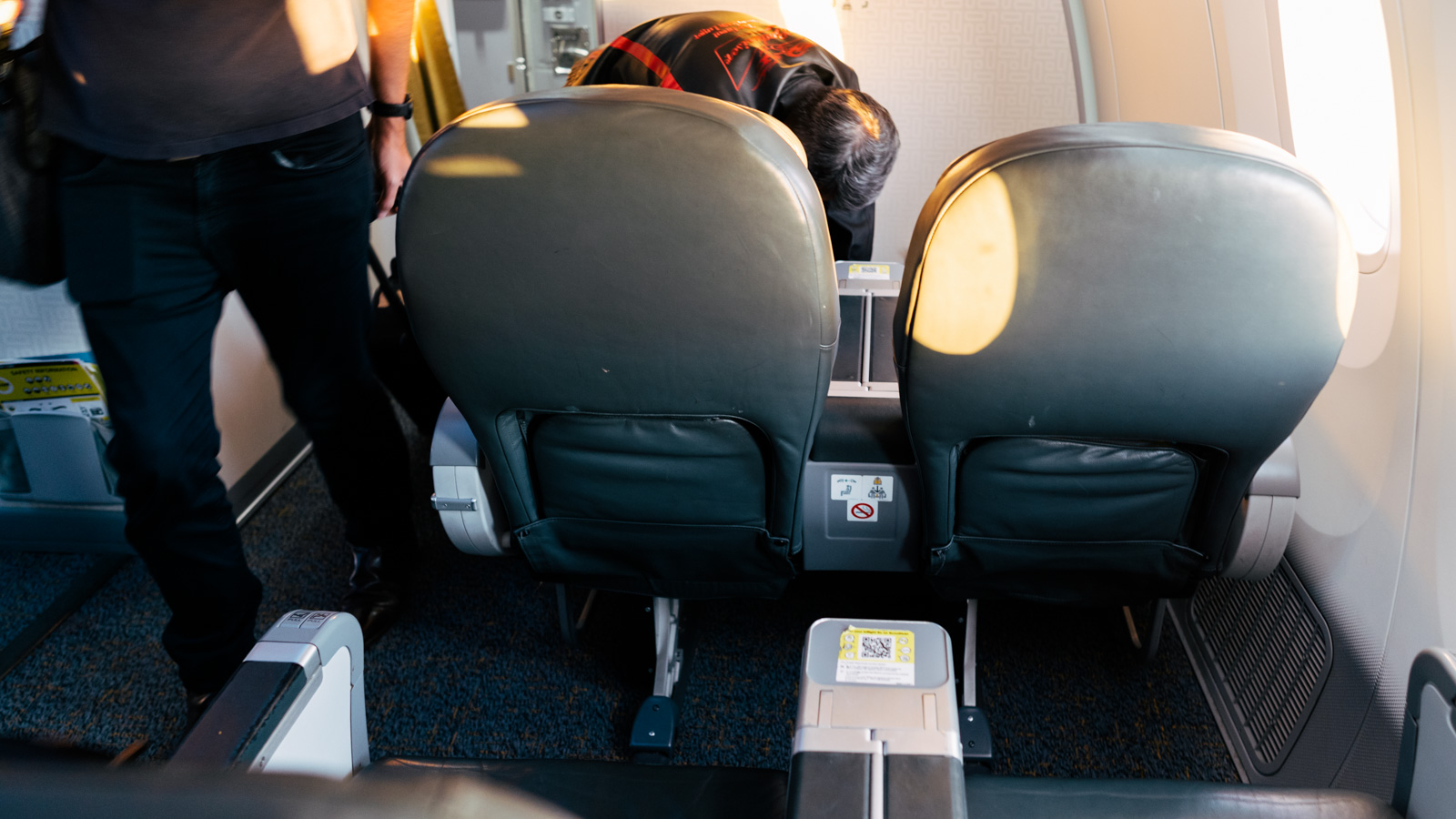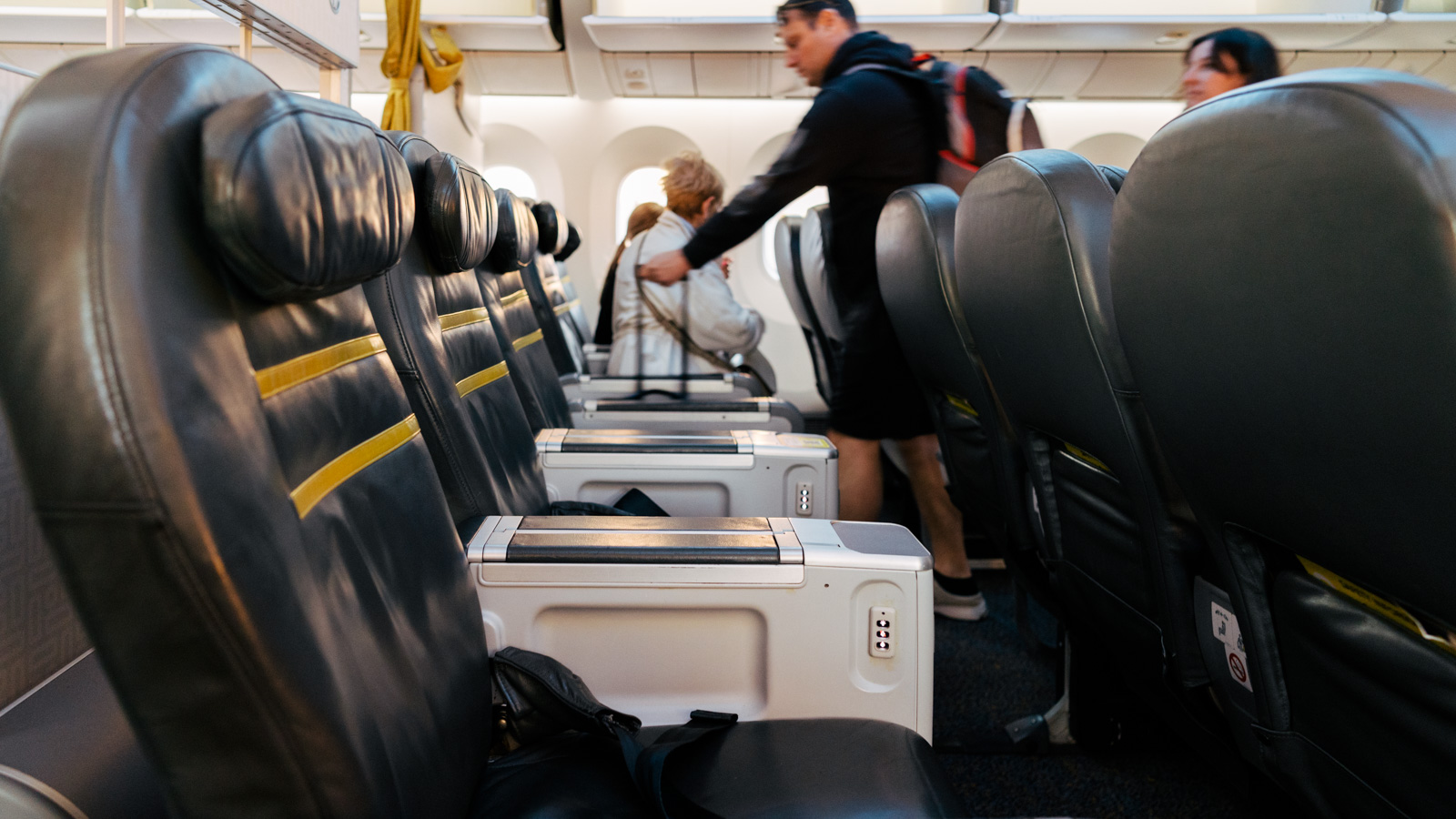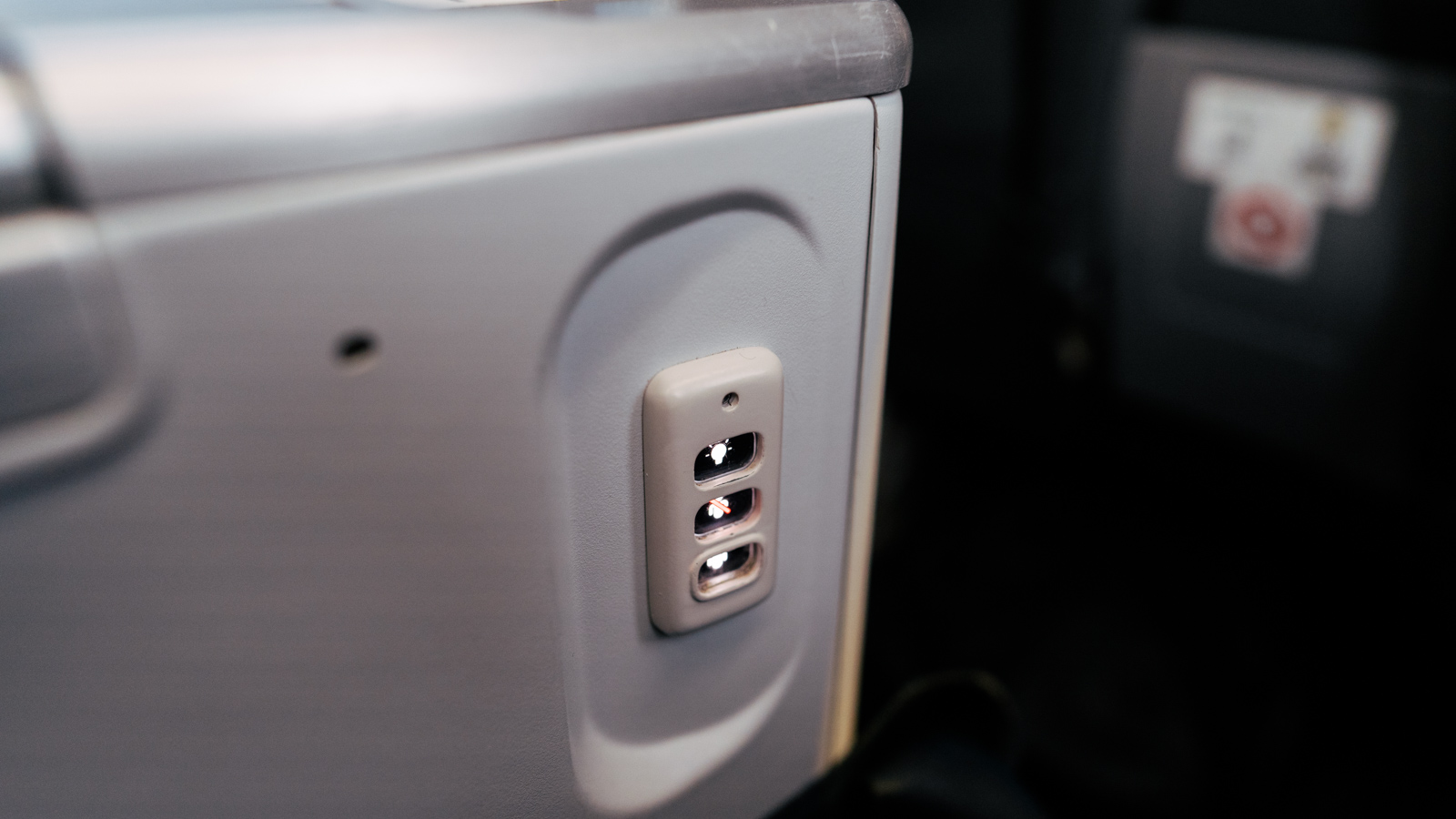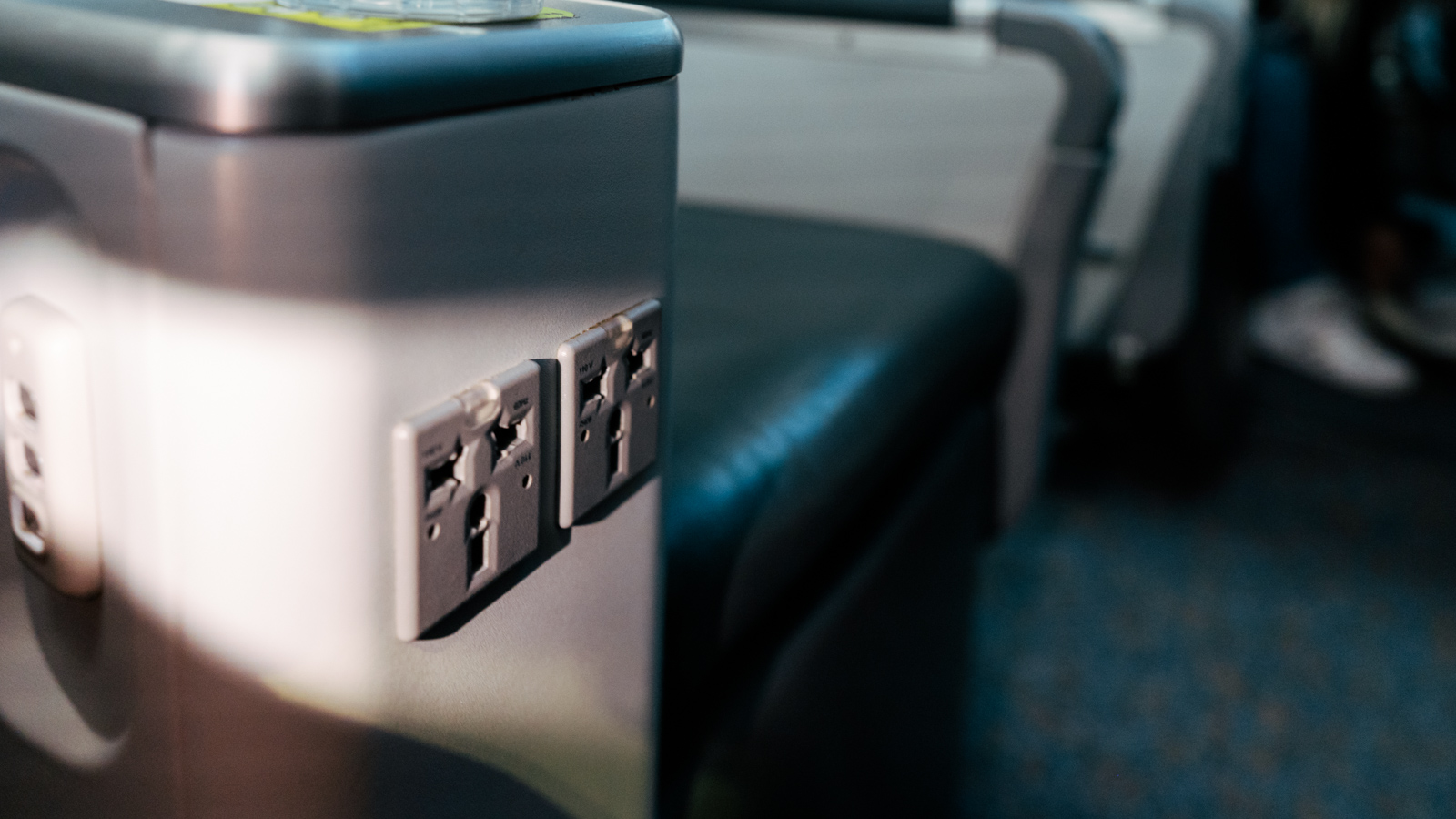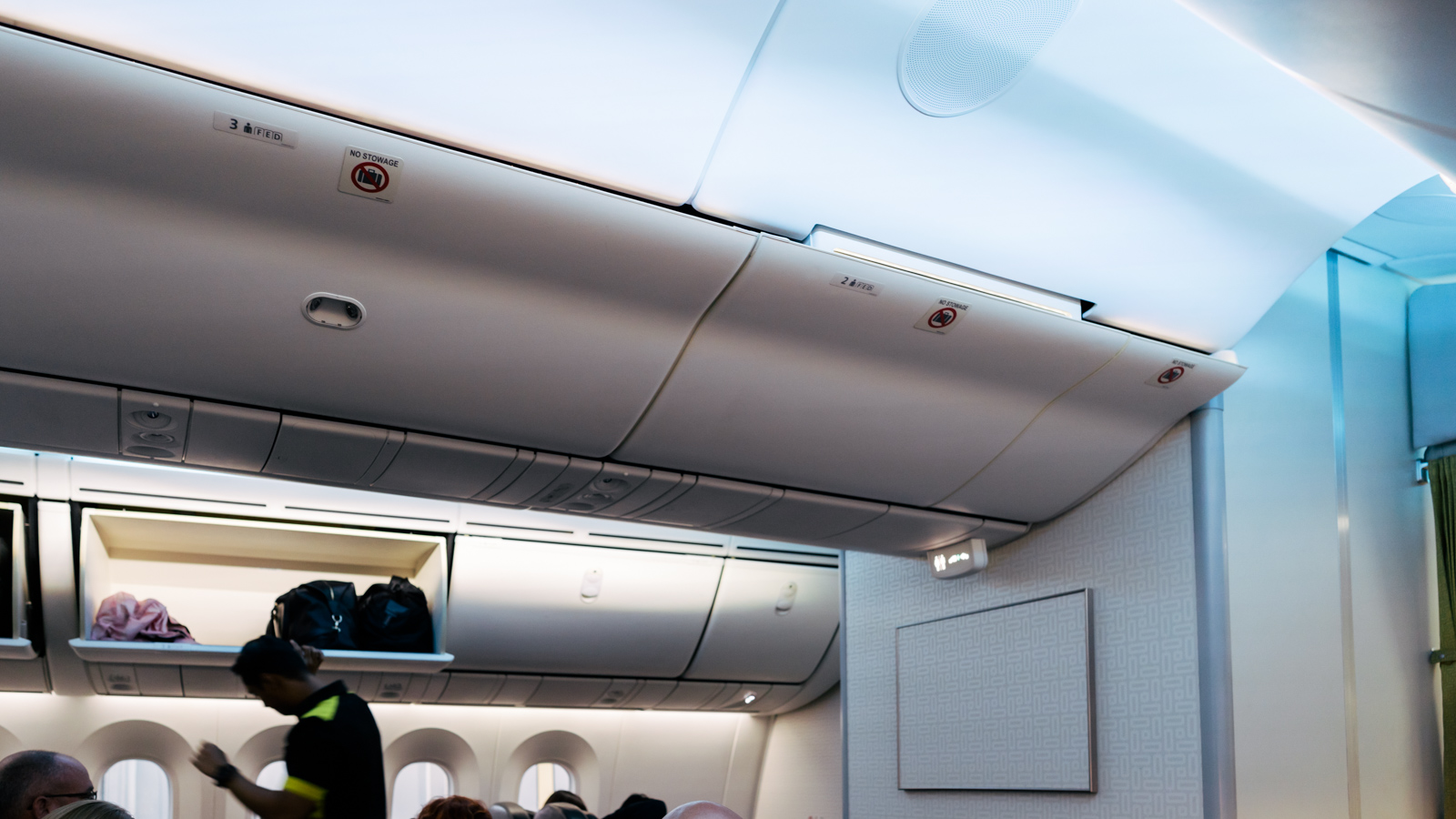 With no entertainment screens, the only other buttons are ones that control the reading light and the cabin call bell. Each seat does have an AC power point which is complimentary to use. In Economy, that's another chargeable add-on (around $5 for a flight).
Scoot Boeing 787 ScootPlus meals and service
The ScootPlus cabin crew are all friendly and efficient with service. Before take-off, we're treated to a pre-departure drink of… packaged water. While I'm much more of a 'pre-departure Champagne' type of traveller, I still happily pocket the water for later, knowing that Scoot charges for extra food and drink after the first meal.
ScootPlus fares include a free meal paired with a fixed snack and any beverage you'd like. But don't expect elevated 'Business Class' dining. The choices are identical to what Economy passengers can pre-book or buy onboard.
Wanting to try something different, I've pre-ordered the lighter 'herbal chicken and rice', which also comes with a pack of cookies (flights departing from Singapore get ice cream instead). There are plenty of other options, though most revolve around rice and protein. If you haven't ordered online, you can pick from anything available onboard. Those flying ScootPlus out of Singapore might want to order a local specialty dish such as the signature laksa or the fried carrot cake with prawns.
The crew come around to confirm my choice of meal. They also ask what beverage I'd like – ScootPlus passengers can choose anything off the menu, including alcohol. I'm feeling a whisky and soda, but they don't have soda water. Instead, the crew member helpfully offers to serve the whisky with ice and a separate cup of water, which works for me.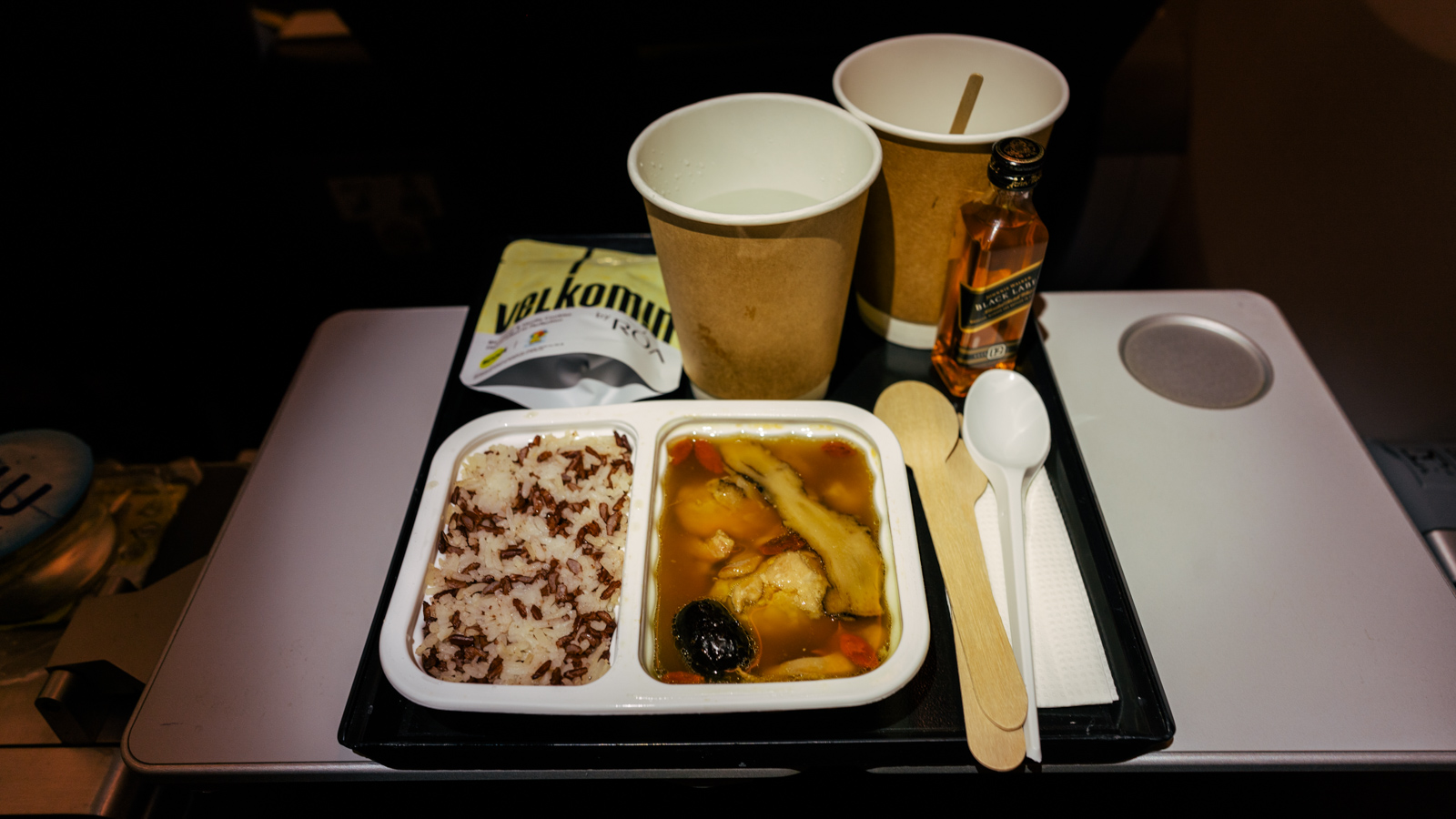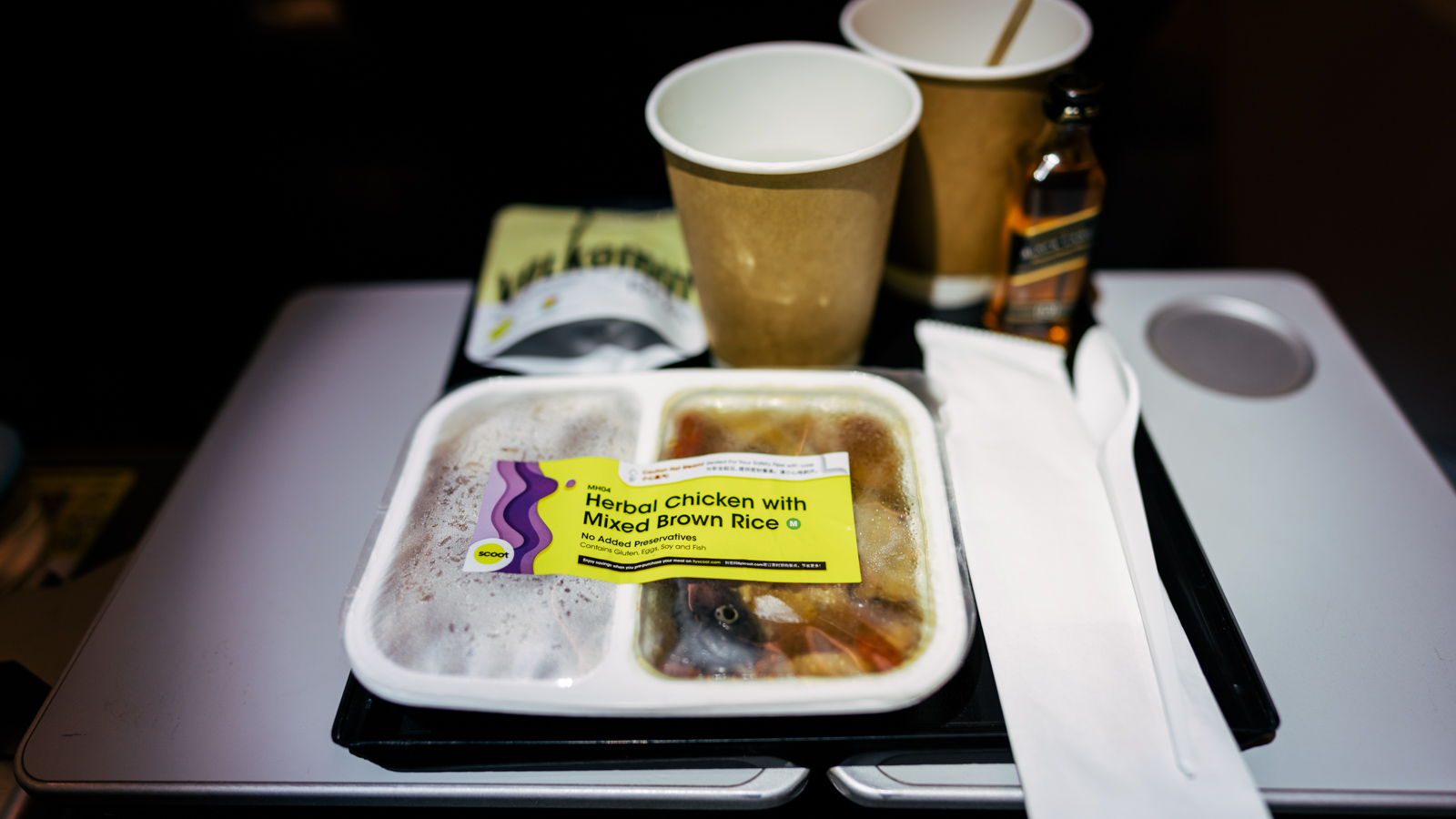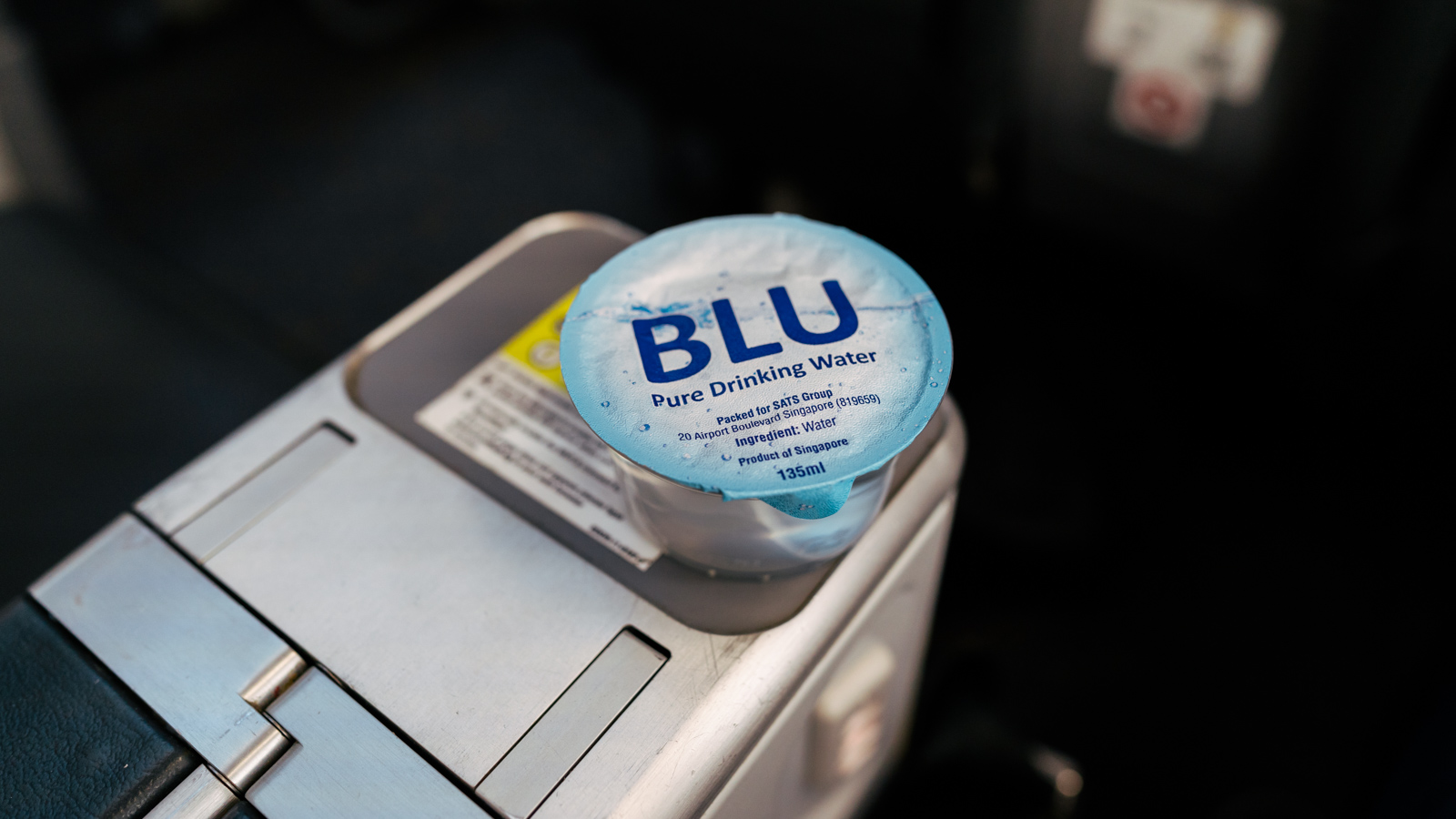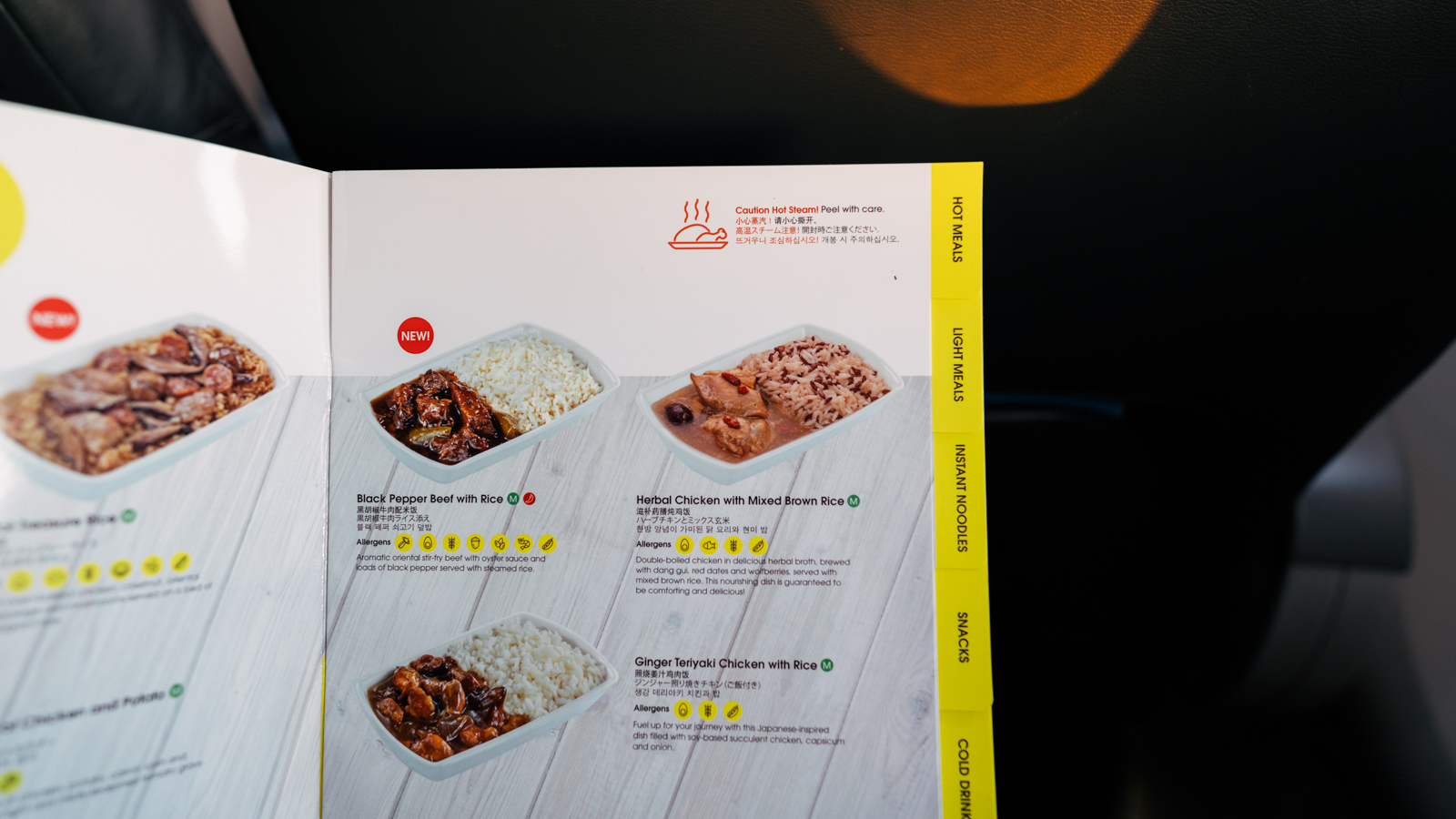 The herbal chicken with mixed brown rice is actually quite good. The rice is soft and fluffy and the chicken is immune from drying out thanks to the rich herbal broth. The flavour profile of herbal chicken is strong and it won't be for everyone. But as most of Scoot's other meals are gravy or curry-based, I imagine you'll be able to pick something to your liking that reheats well too.
Unfortunately, the included Róa Velkomin Blueberry & Vanilla Cookies are dry and crumbly. I'd much rather prefer to have a choice of snack so I could pick something dependable such as Pringles or nuts.
Scoot Boeing 787 ScootPlus amenities
It pays to be prepared. Scoot doesn't offer any inflight entertainment (apart from the Scootalogue magazine), so bring your own content and headphones. Netflix, Spotify and other paid streaming services usually allow you to download some content for offline use. With in-seat power included, consider bringing a charger too.
30 MB of complimentary Wi-Fi is provided via a redemption code. Let's be honest – it's not a lot of data, so treat it like free access to check a few emails or fire off a few messages on social media. I try to run a speed test towards the end of the flight and the results aren't great, though that could be due to satellite connectivity issues. During the flight, it works well enough to send and receive text-based messages (I don't send images).
The onboard Wi-Fi portal is free to access if you want to see how much flight time is remaining. From there, you can also buy Wi-Fi plans starting from US$5 for 20MB, to US$55 for 1GB. No other amenities are included, so bring your own eye mask, pillows or anything else that helps you to get comfortable.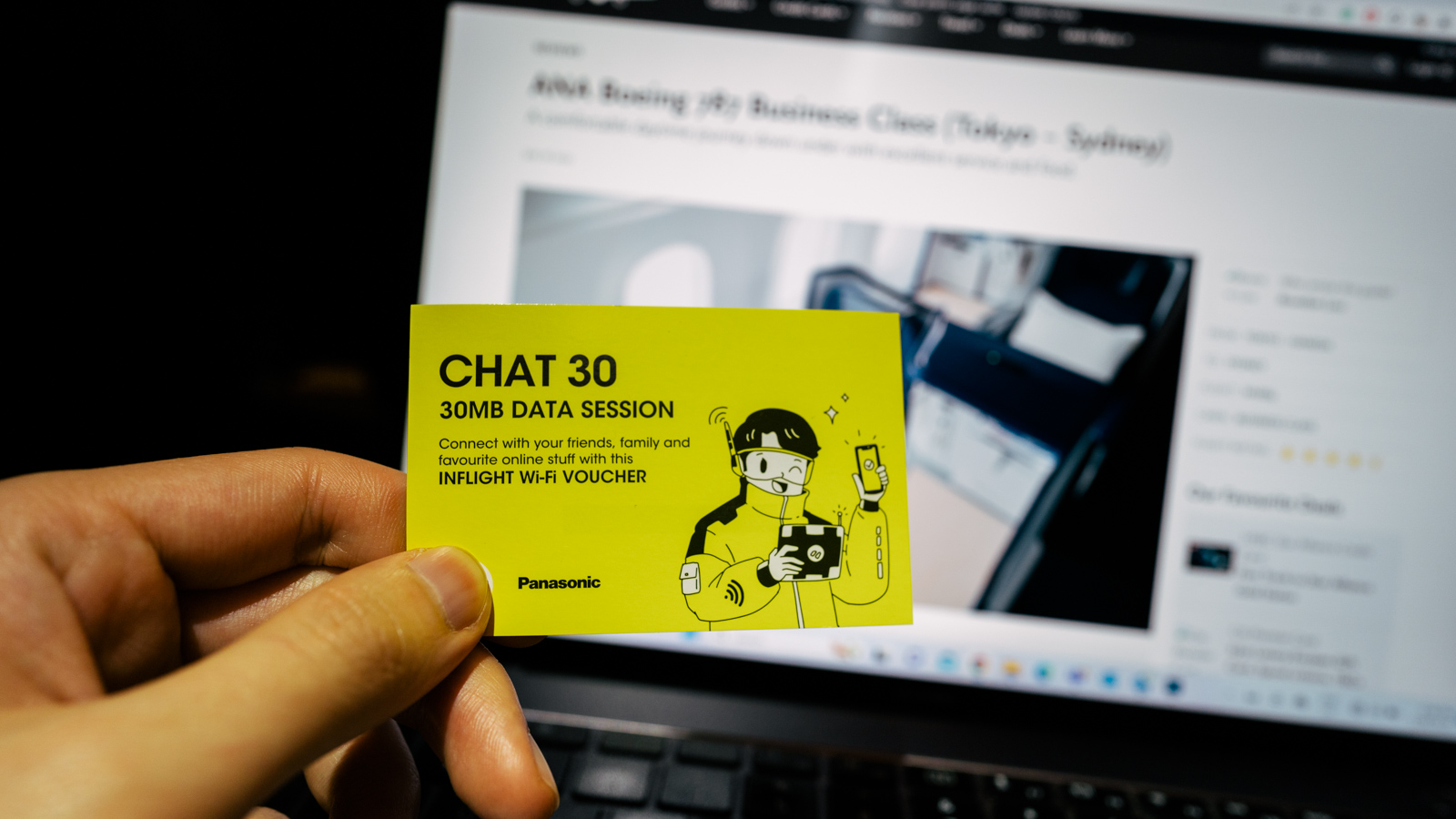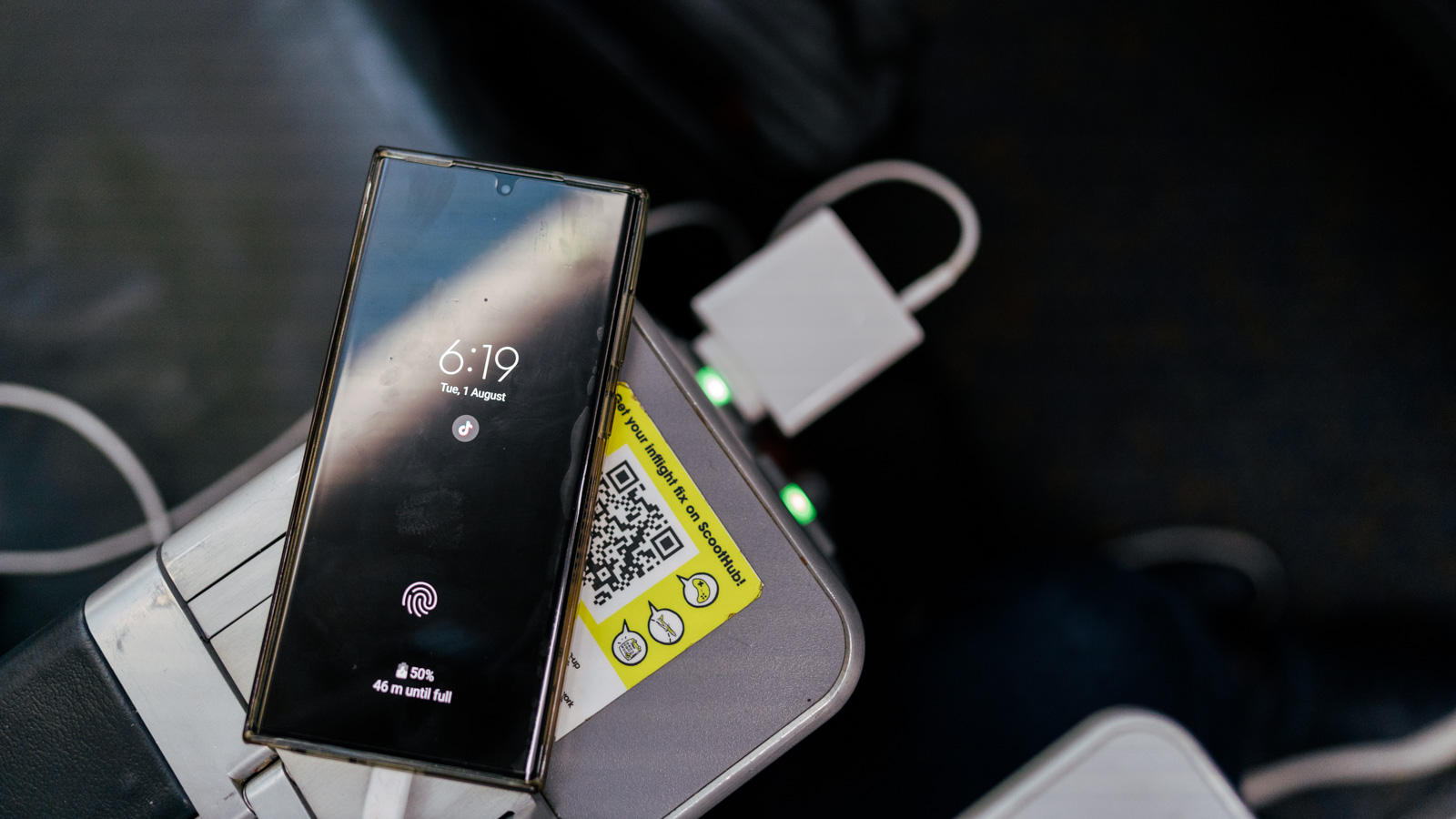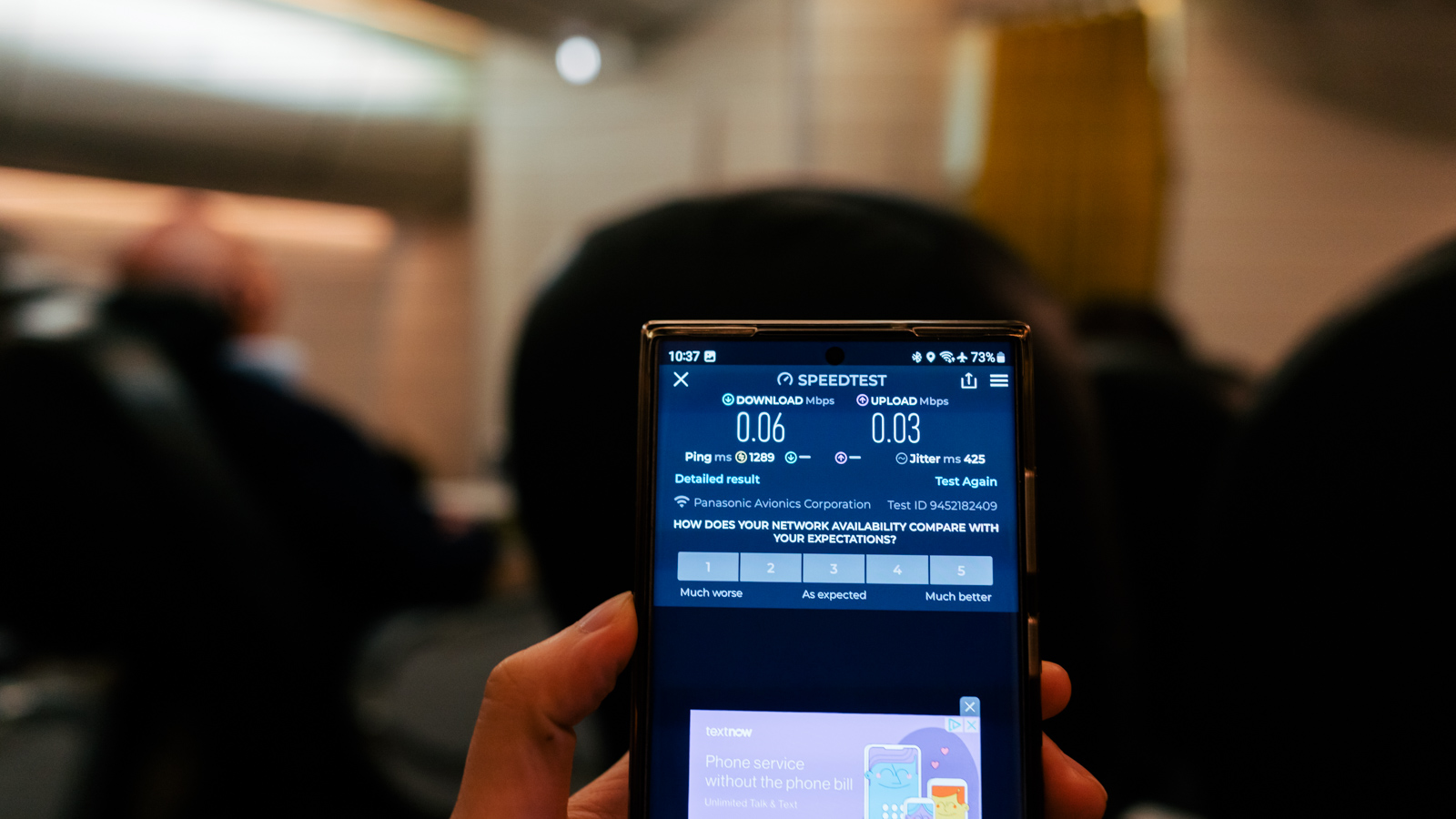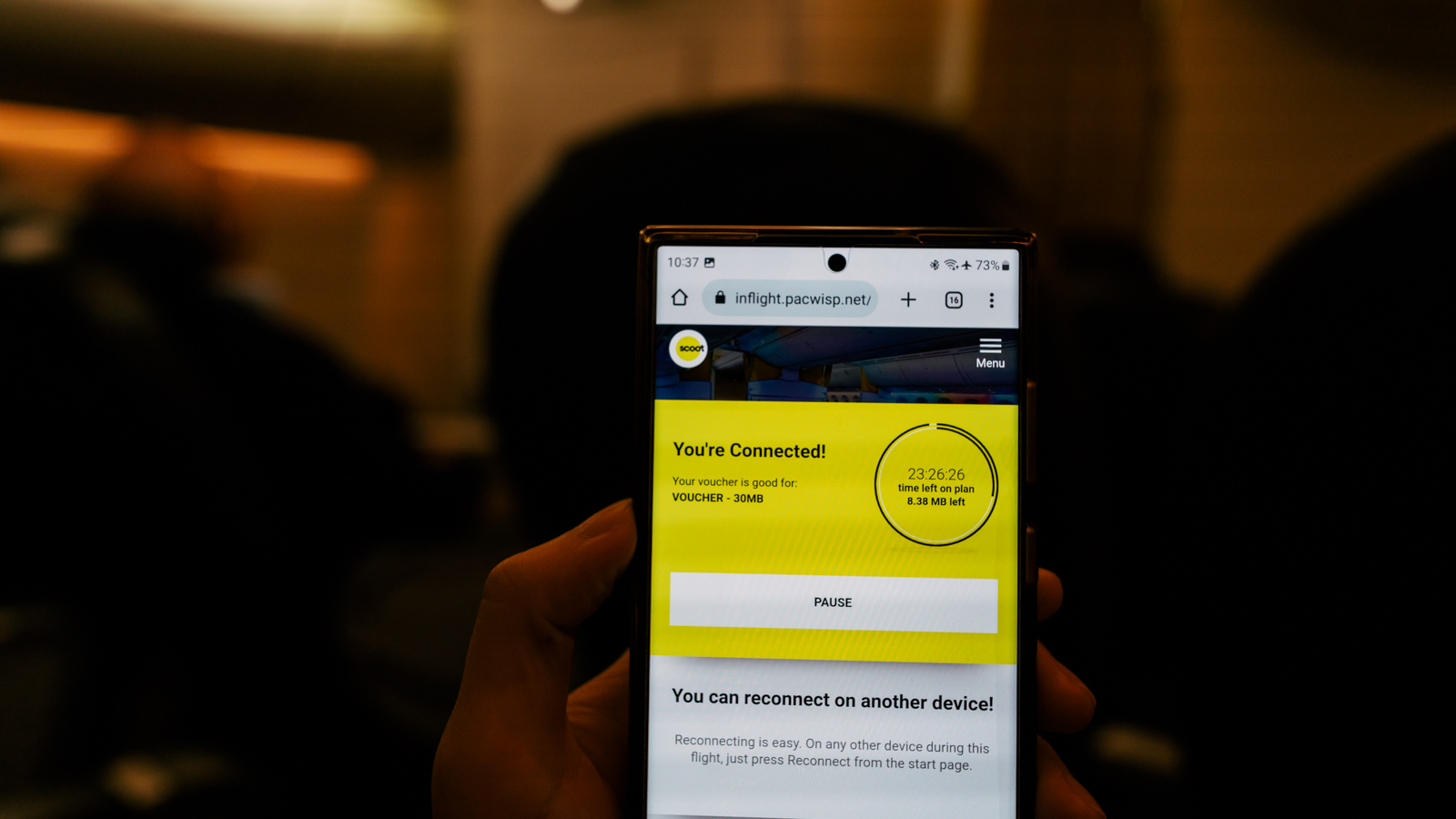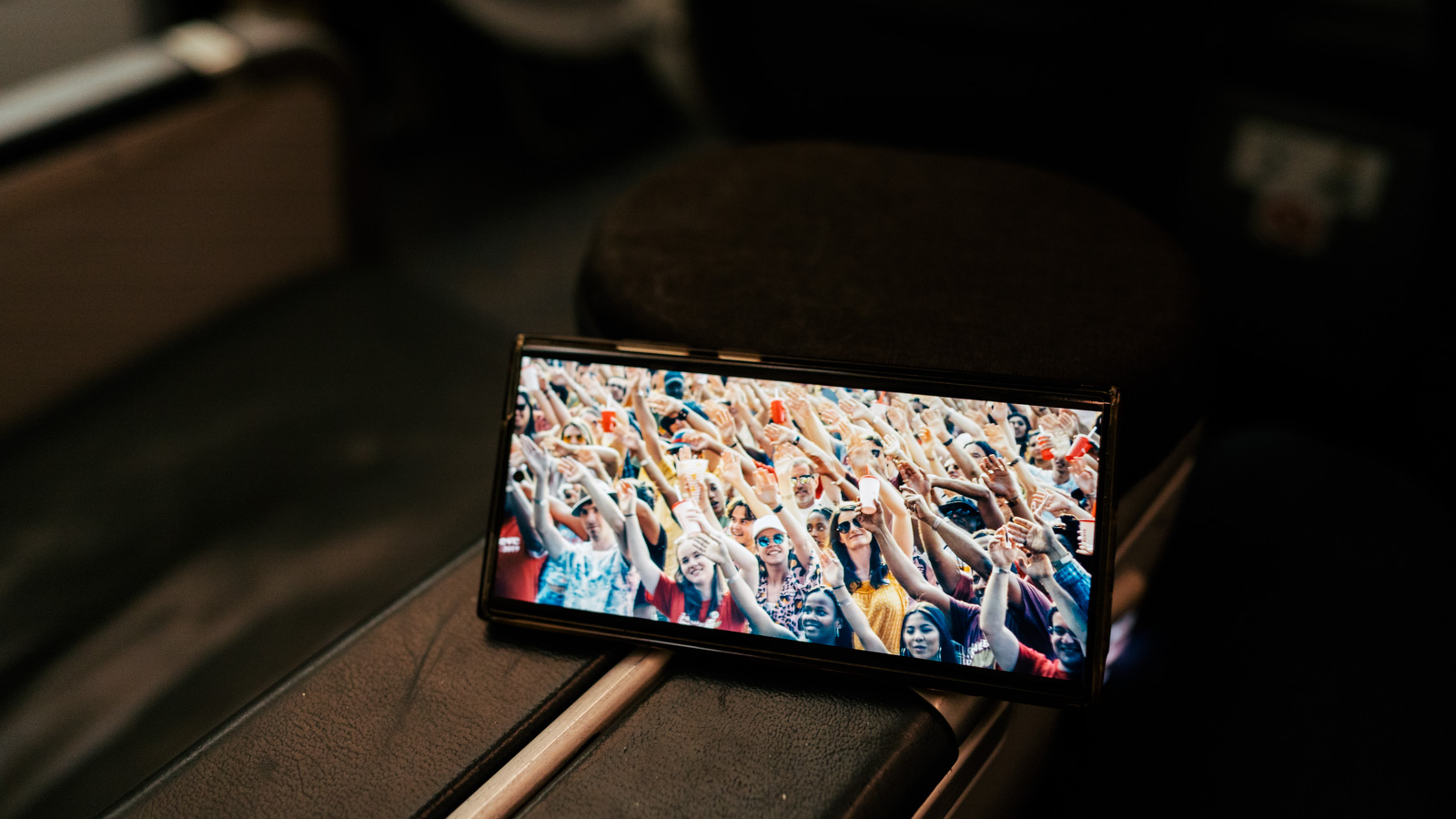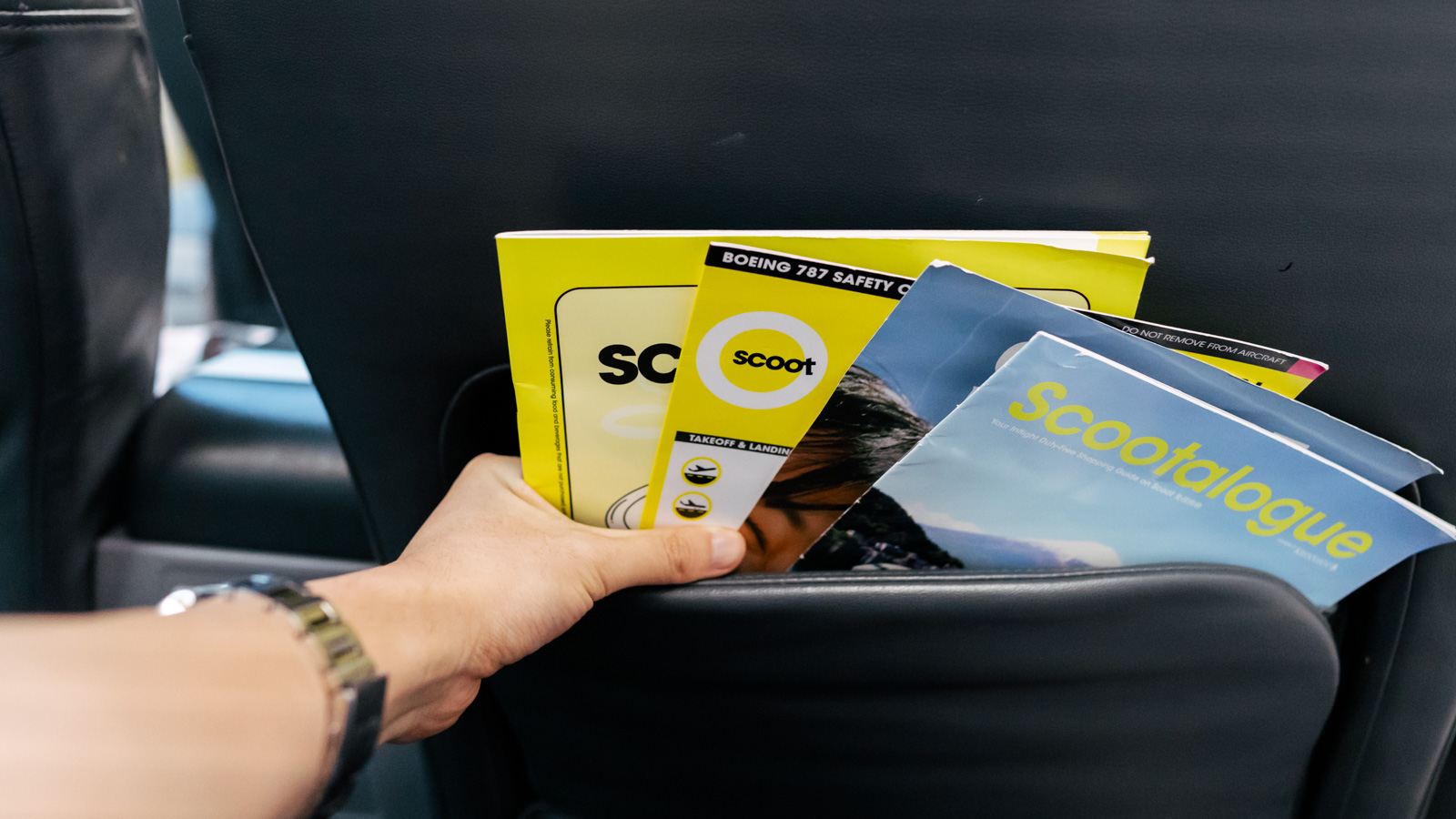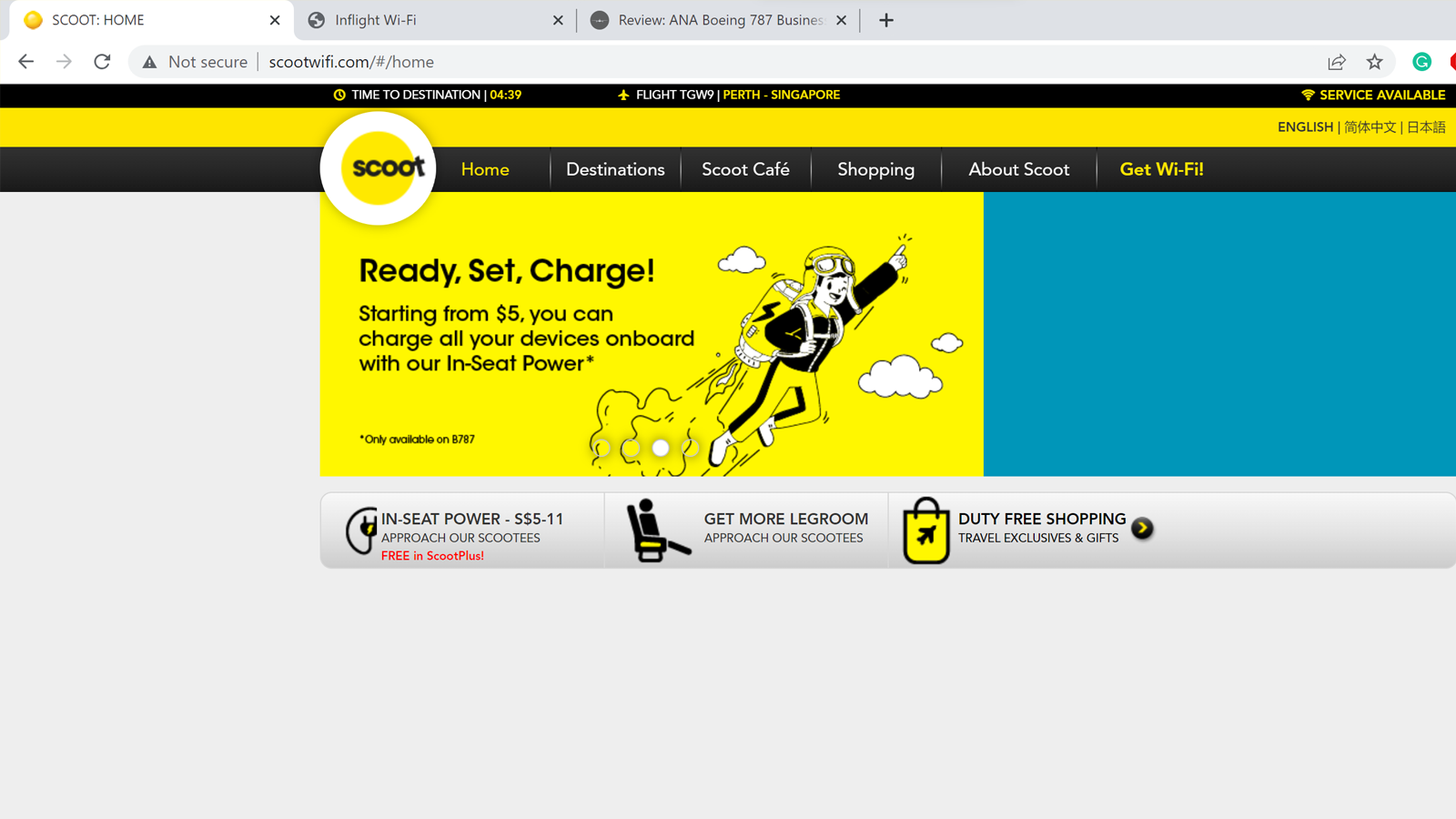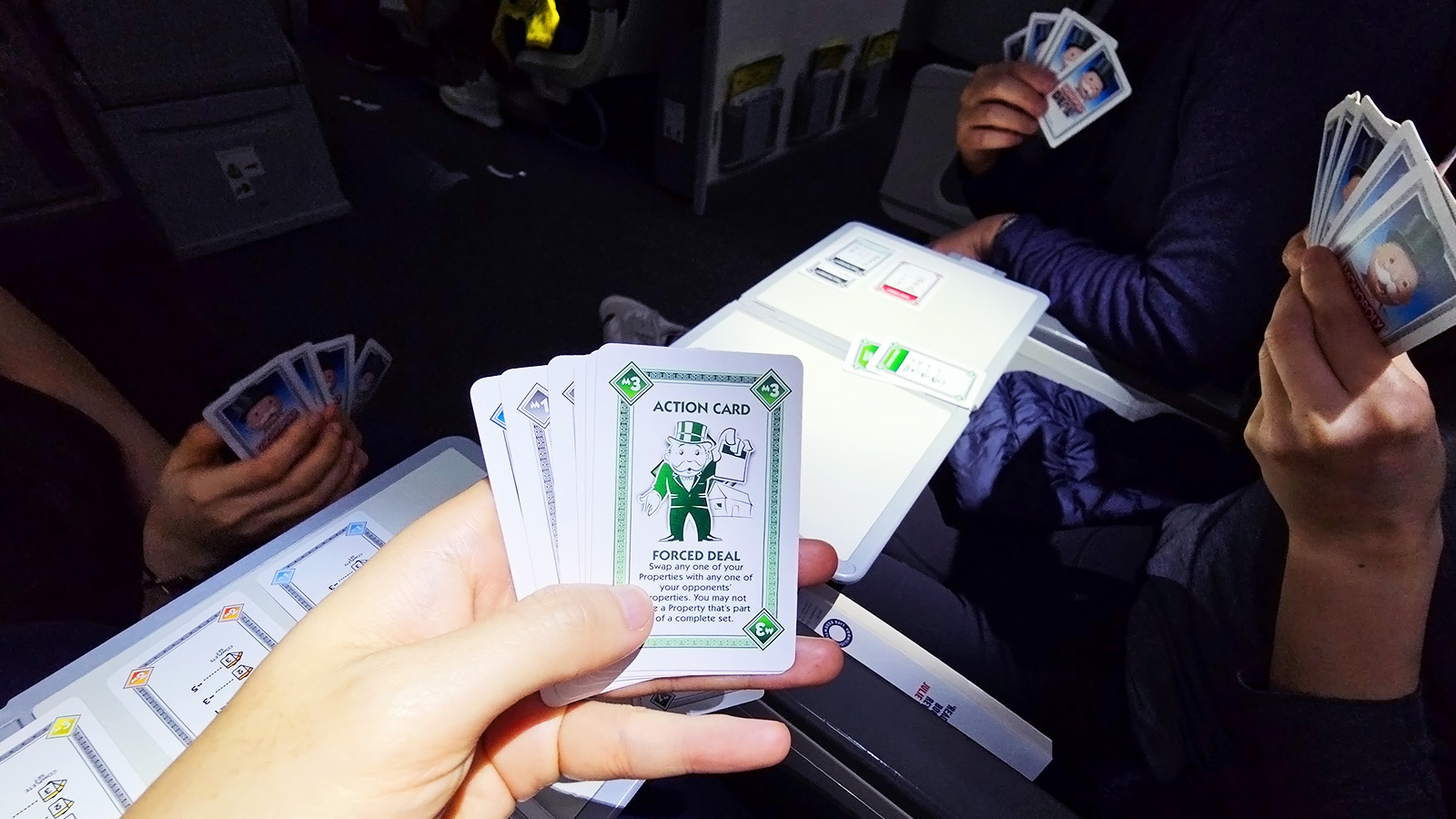 To pass the time, I also visit my friends in Economy (who are seated in the emergency exit row) to quietly play a few rounds of Monopoly Deal. With some luck and ruthless gameplay, I win one of them!
How can I book or upgrade to ScootPlus?
At the time of writing, ScootPlus can be yours on this route for as little as $285 more. That's not too bad, considering you're going from a barebones Economy ticket to one that includes a meal, a premium seat, 30kg check-in luggage, 15 kg cabin baggage and priority check-in/boarding, along with conveniences such as Wi-Fi and power. A one-way fare from Perth to Athens in ScootPlus starts from AU$1,333.
Scoot also offers many discounted pathways to an upgrade. You can bid for an upgrade up to 20 hours before departure, ask at check-in or even onboard. Prices will vary but expect to pay in the region of $160-$199 for a discounted upgrade before departure.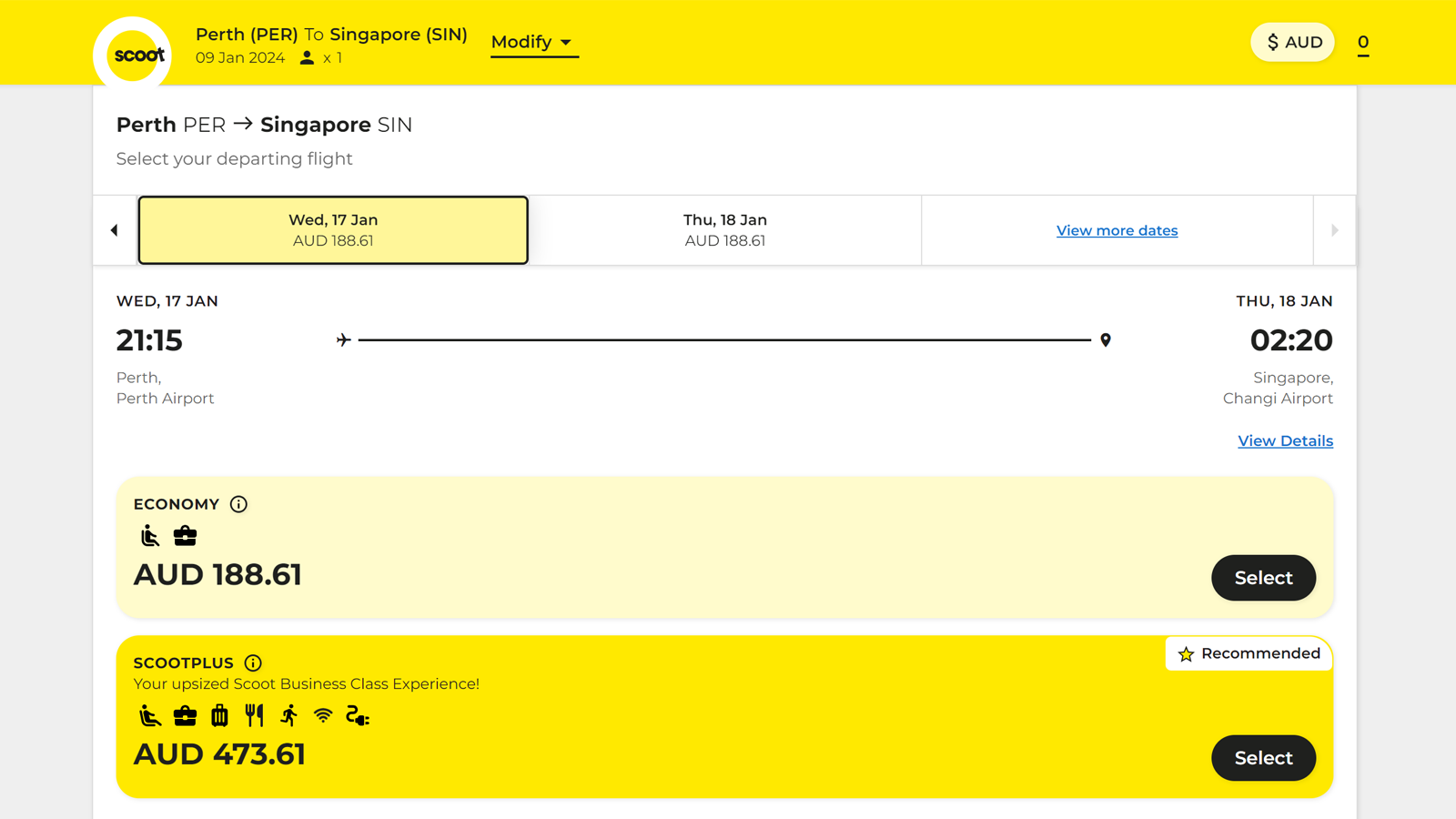 You can also redeem KrisFlyer miles for ScootPlus. But as you're effectively paying the cash value with your miles, this is not the best use of your KrisFlyer miles compared to award seats on Singapore Airlines. Regardless, don't forget to add your KrisFlyer membership number to the booking to earn 1 mile per SG$1 on paid Scoot bookings.
Summing up
ScootPlus is an interesting blend of premium perks on a budget. The seat is a definite improvement – the deeper recline and swing-out calf rest make a big difference in comfort compared to a standard Economy seat. By contrast, AirAsia and VietJet, two other low-cost contenders in Australia, offer a superior angled-flat bed experience. But they do also charge more for it, so ScootPlus fares are a bit more reasonable.
I also enjoy the included meal and drink, though not so much the snack. The main change I think that would elevate the standard of ScootPlus is to make snacks and drinks complimentary in ScootPlus – or at least, one additional snack and non-alcoholic drink each later in the flight. I know that Jetstar Business offers an elevated dining experience including Business Class meals and free-flow drinks and snacks, which definitely feels more premium.
Despite these suggestions, my journey from Perth to Singapore in ScootPlus is still very comfortable and I feel the seat is a perfect compromise for a flight of this length (under five hours) during waking hours. In that regard, ScootPlus offers great value for money, particularly if you book ahead.
I wouldn't mind flying ScootPlus from Perth to Athens, for example, if the fare was not too much more than Economy on a full-service carrier. Scoot also doesn't charge a premium for flying one-way, so ScootPlus could be a savvy way to fly to or from Europe in moderate comfort if you've booked a one-way reward flight with points, for example.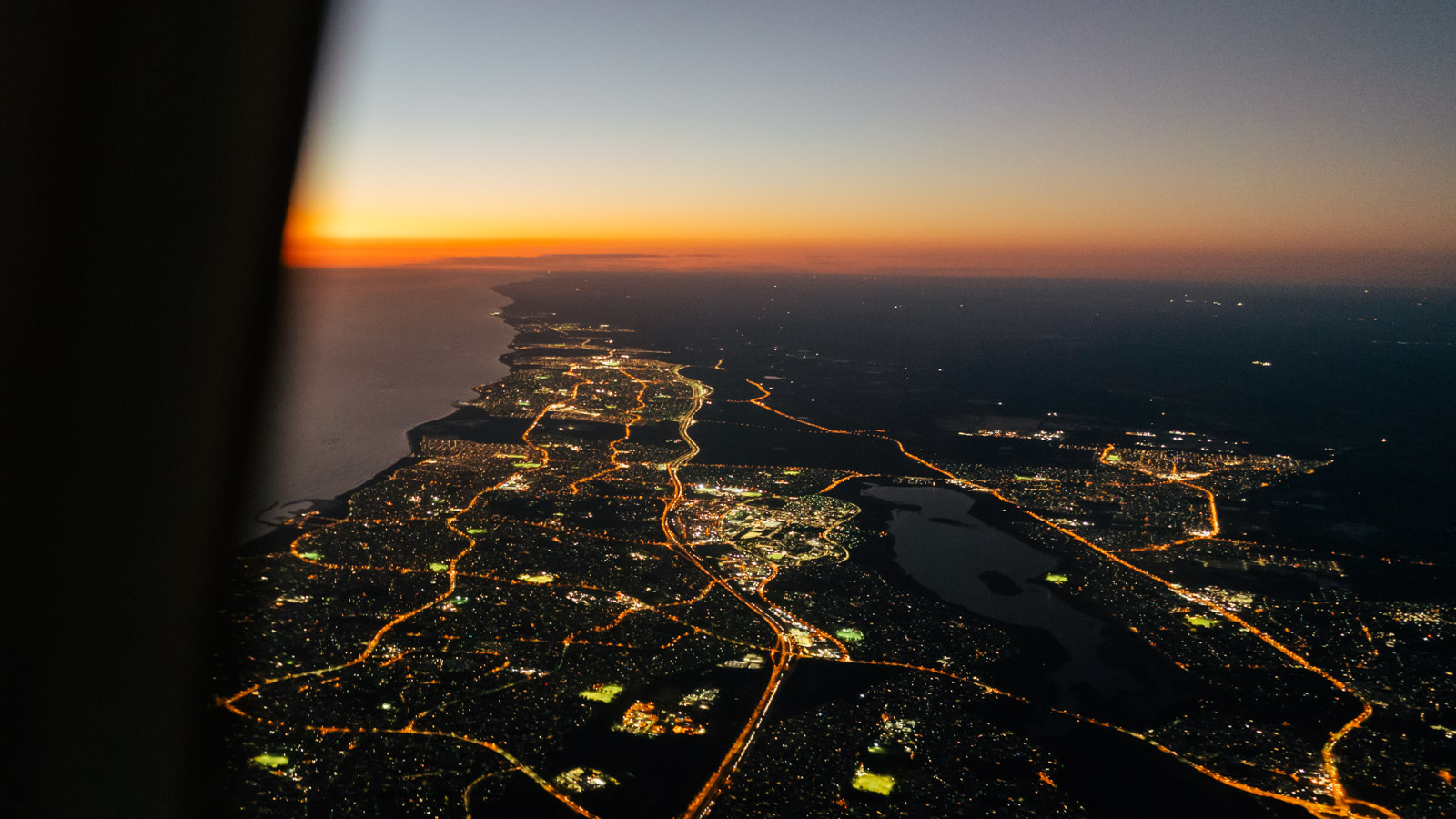 Photography by Brandon Loo, who booked the base Economy fare at his own expense and flew ScootPlus for this leg as a guest of Scoot.
Scoot Boeing 787 ScootPlus (Perth – Singapore)
was last modified:
September 5th, 2023
by