With Western Australia seemingly isolated from the rest of the nation, Exmouth, in the state's north, is the perfect fit for a short winter getaway from Perth. The seaside town has it all – sunshine, whale sharks, and sparklingly-fresh seafood. Thankfully, the latter 2 are mutually exclusive here.
QantasLink will fly you to Exmouth, though the town's nearest airport is technically the RAAF Base Learmonth, which hosts both civil and military aircraft. Keep in mind that the airport is 30 minutes from town, with limited transport options.
Car hire or a shuttle bus ($40pp one-way, $75pp return) are likely your most convenient options, unless you book a tour or hotel which can organise airport transfers as well.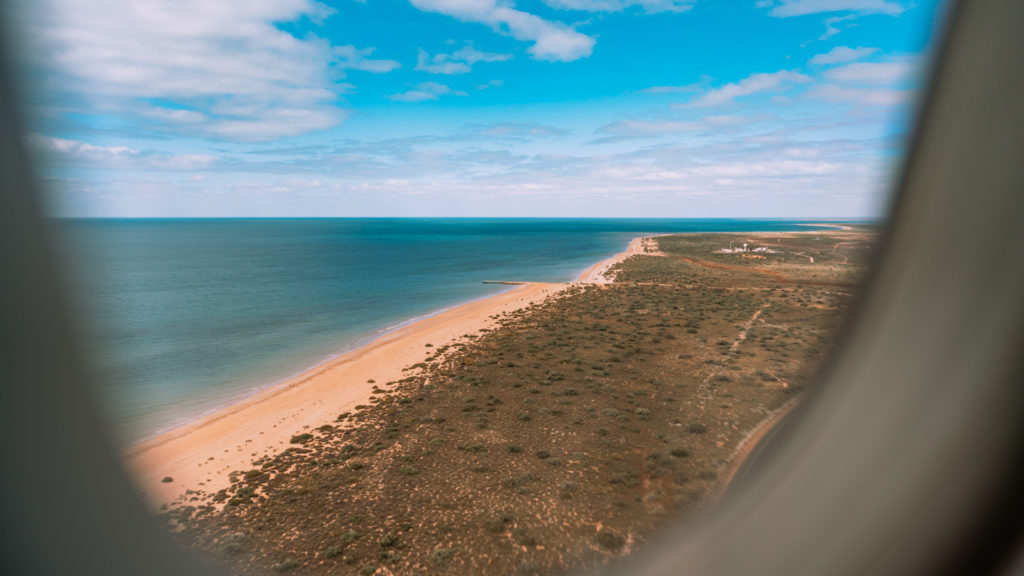 Tickets on the Perth-Learmonth route are usually pricey, which is no surprise. QantasLink does occasionally slash the price to $150 each way if you're lucky enough to catch a sale.
On this trip, we opted to use 12,000 Qantas Points + $52 in taxes, per person each way. I'll readily admit that this isn't the best (or most exciting) use of Qantas Points.
But with the equivalent cash fare costing us $299 at the time, I'm essentially getting 2.06 cents value per point, which is decent enough. (We currently value Qantas Points at 1.80 cents each).
More importantly, I needed a ticket that could be fully refunded for any reason. Classic Flight Rewards have far better flexibility than Red e-Deal fares. So after a brief call to Qantas to unlock some more reward seats, we are booked and ready to go.
Check-in, lounge & boarding
We check-in at Perth Airport on a dreary Saturday morning. It's a smooth affair, with self-service kiosks for printing boarding passes and dropping off bags – and staff on hand should you need help.
After check-in, we make a beeline for the Qantas Domestic Business Lounge in Perth, thanks to my frequent flyer status. Happily, it's largely reverted to pre-COVID standards, with the buffet and pizza bar in full swing.
I'd still rate it as one of the best airport lounges in Perth. (The only one I've yet to experience is the invite-only Chairmans Lounge, nearby. But that is top-secret stuff).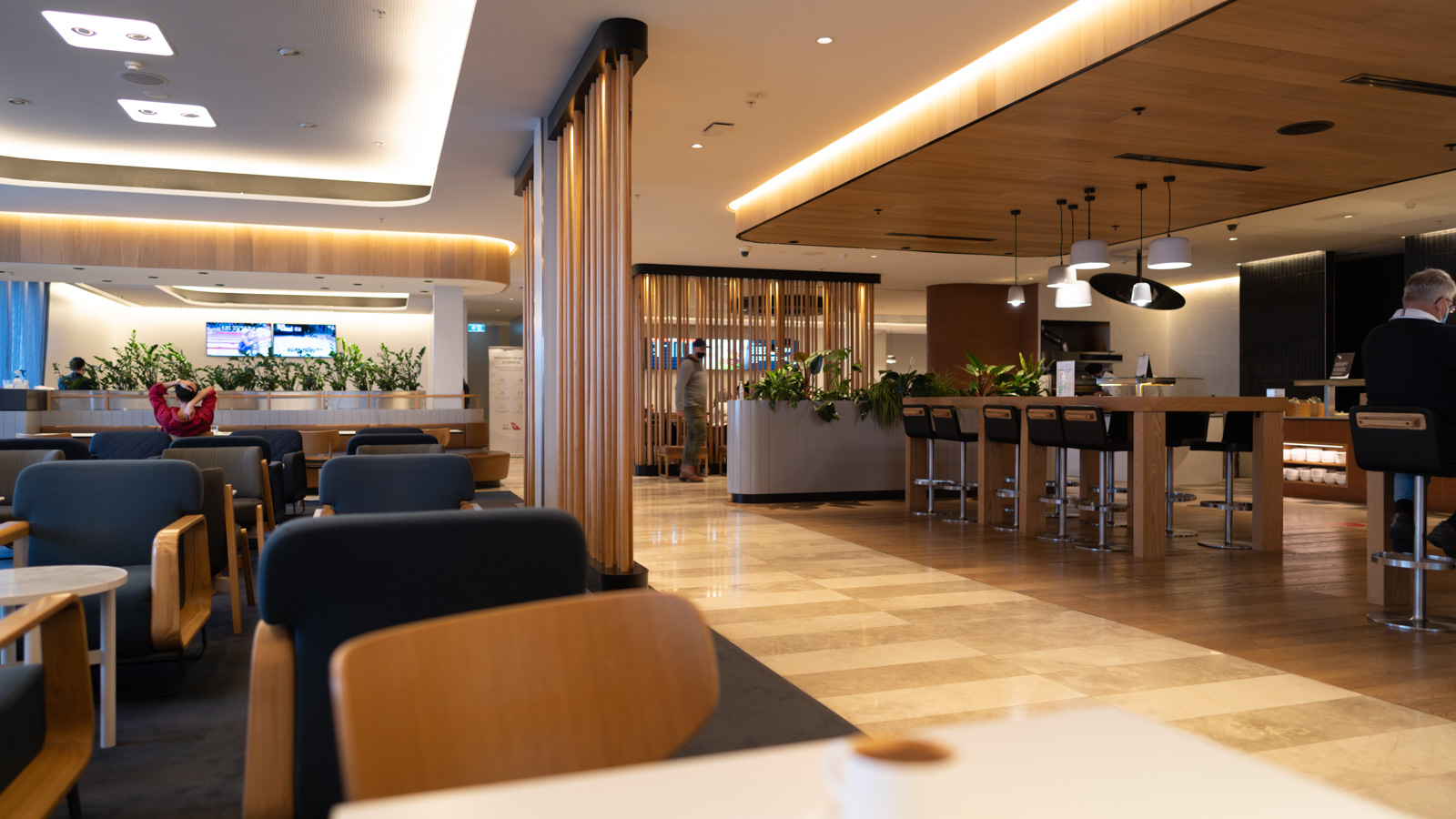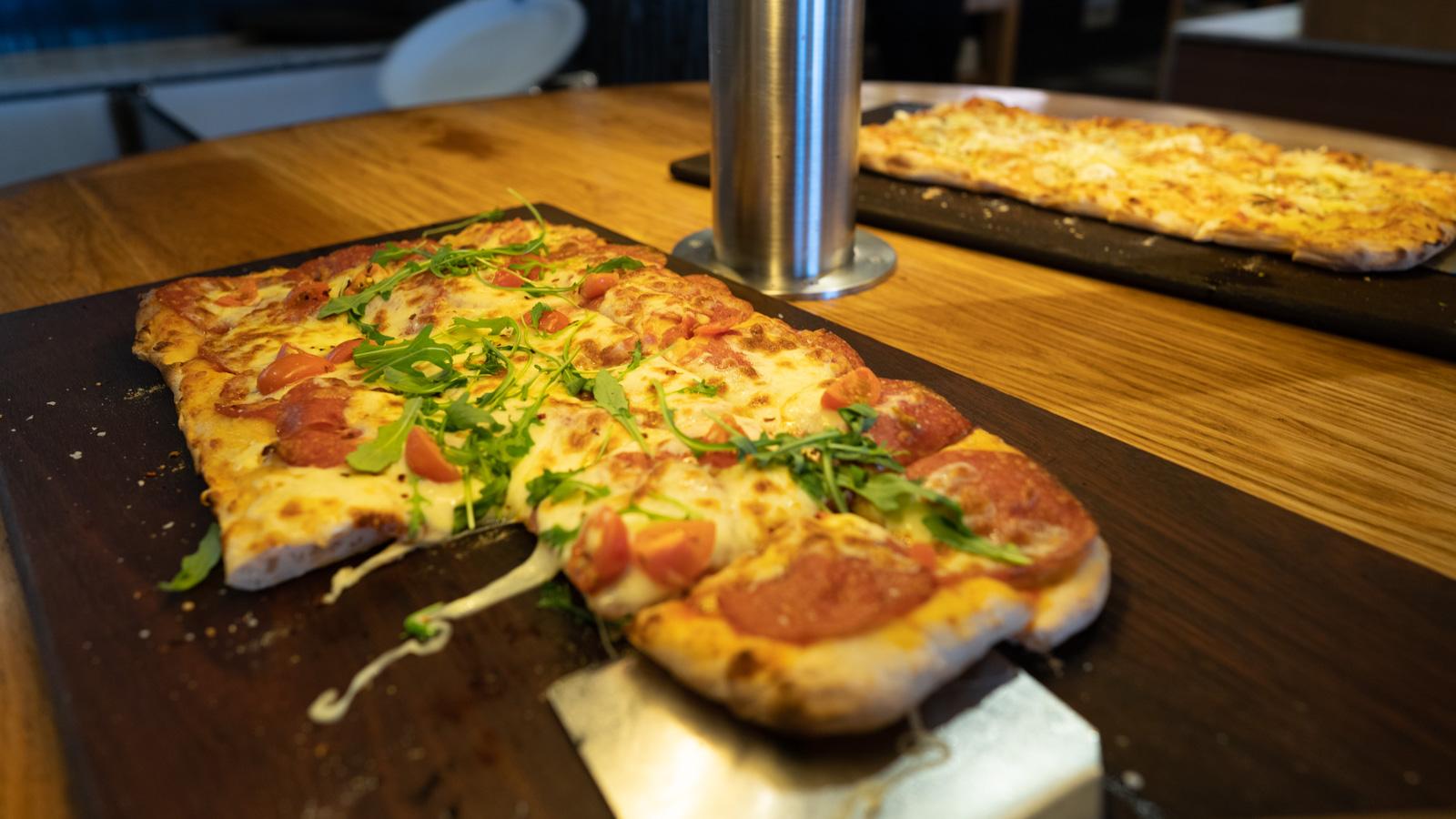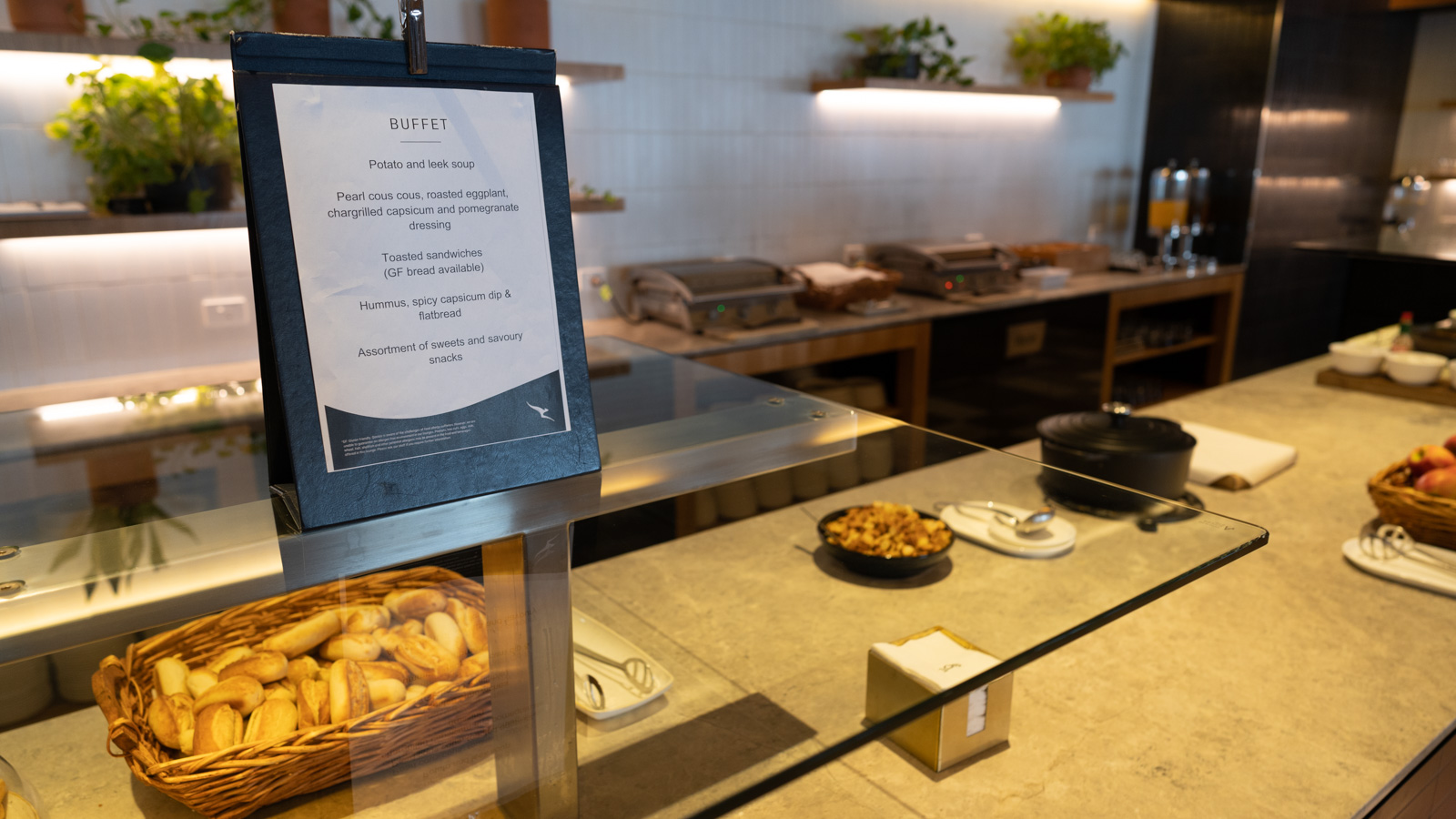 Closer to boarding, we saunter off to the neighbouring Terminal 3. Those gates are connected by a walkway to Terminal 4, where Qantas check-in and lounges are located.
As these QantasLink flights are Economy-only, there are no priority boarding lanes. We're flying an ex-Jetstar Airbus A320 to Exmouth this morning, and I'm pleased to see boarding run reasonably efficiently.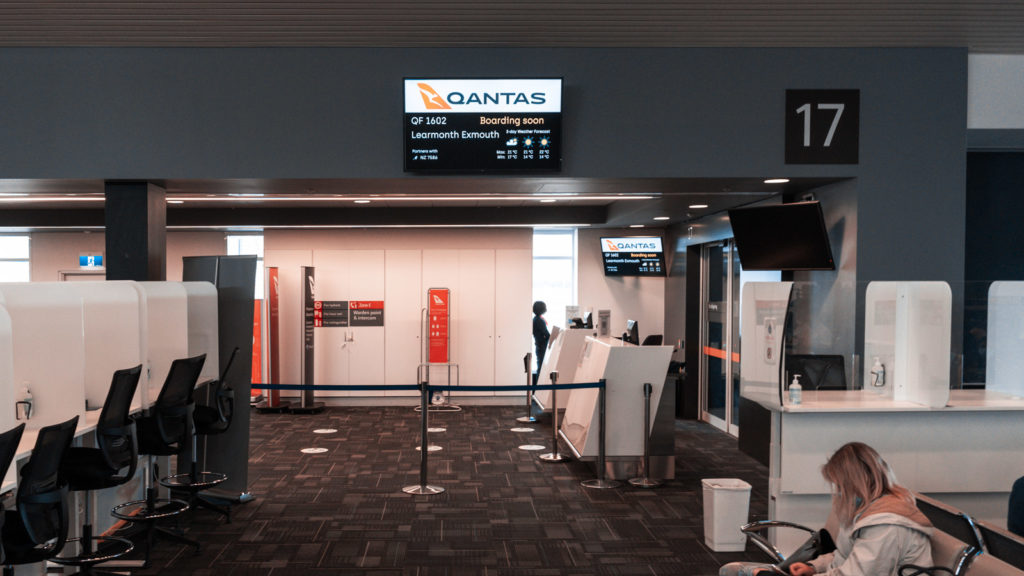 On the return journey, we check-in at Learmonth Airport at one of the 2 staffed counters. Thankfully we've already eaten, as there's no lounge and only a vending machine to speak of. So keep your expectations in check!
Seating
QantasLink Airbus A320
Qantas' Airbus A320 jets, with a 3-3 layout, will look very familiar if you've flown Jetstar in recent times. The cabin and 180 seats are virtually identical, minus the flashy orange Jetstar branding. There are 2 cabin configurations. My flight doesn't have a bulkhead in front of 1A, 1B and 1C.

Unfortunately, those 3 prized seats are unavailable for seat selection. I'm guessing that's a safety precaution – to avoid having passengers directly facing the cabin crew. We fly in Row 2, instead. Despite the legroom being a bit tight (most rows have 29 in/73.6 cm of pitch), I find my knees don't quite touch the seat in front, which is a relief.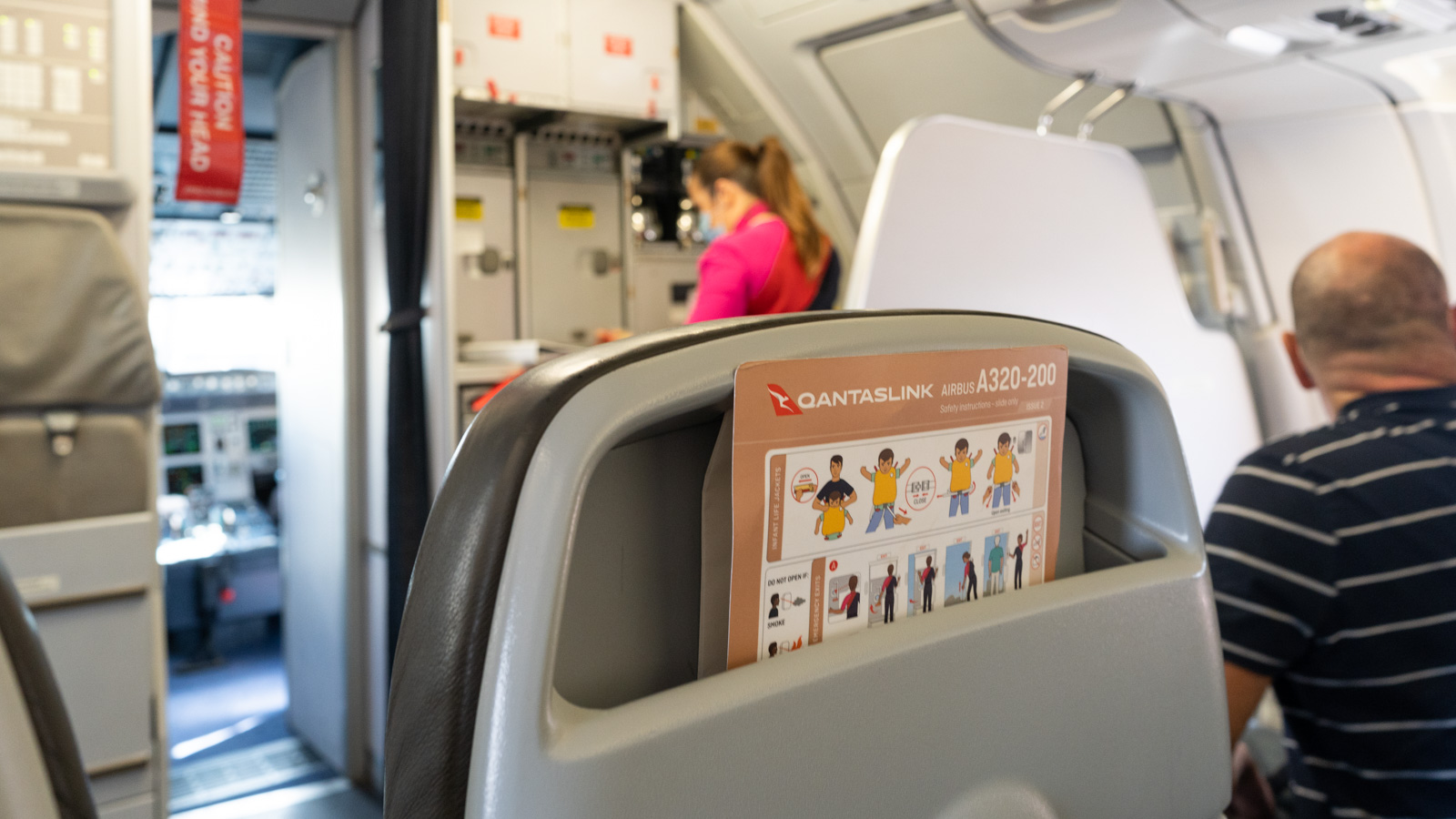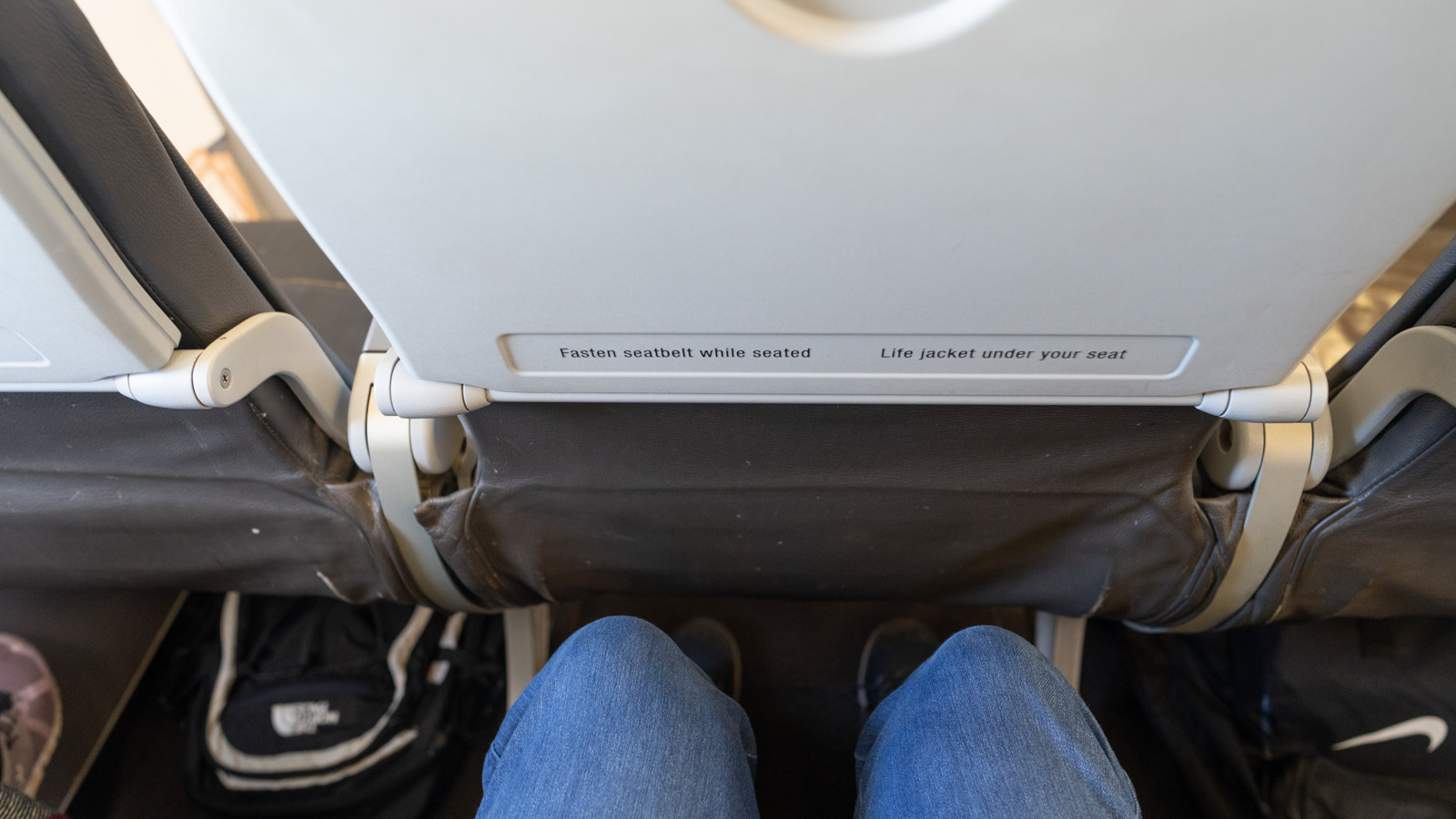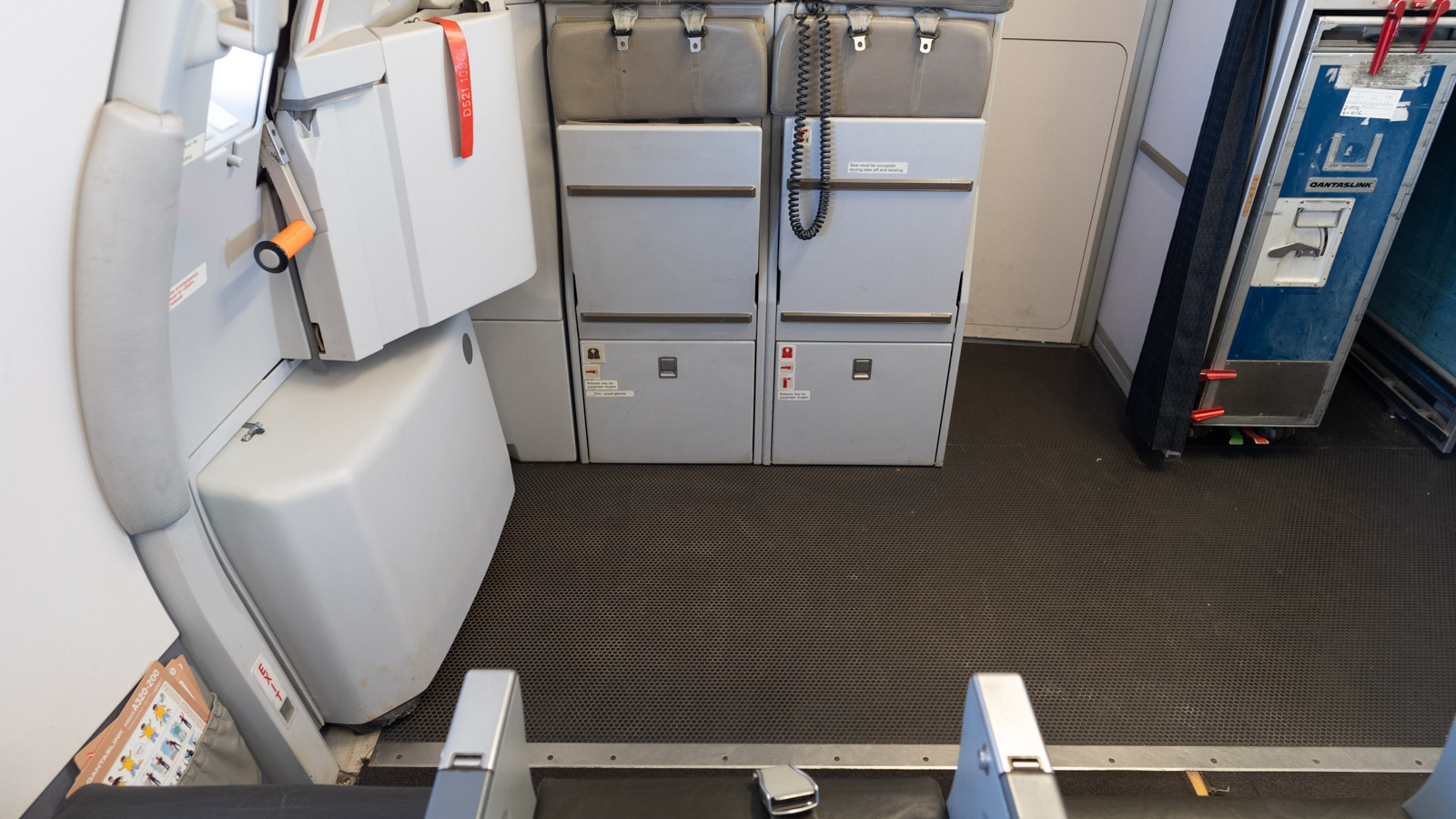 Space important to you? Then be sure to book the exit row seats for this 2-hour voyage. Extra legroom starts from just $15 on these shorter QantasLink flights.
QantasLink Fokker 100
Set in an unusual 2-3 layout across 20 rows, QantasLink Fokker 100s have 100 seats onboard, with 3 rows of extra legroom seats (1, 12 and 14). The jets themselves are operated by Network Aviation in WA, a subsidiary airline of Qantas. There are a few other similar arrangements in the eastern states as well.

We're able to snag Row 1 on the way home. Although this is a bulkhead seat on the Fokker 100, the partition is set so far away that I can practically stretch my legs out fully. The one downside is that we've got to stow our baggage overhead, but that's a minor inconvenience for having so much space.
Row 1 is also a designated emergency exit seat, so cabin crew will come around to confirm you are able and willing to help in the event of an evacuation.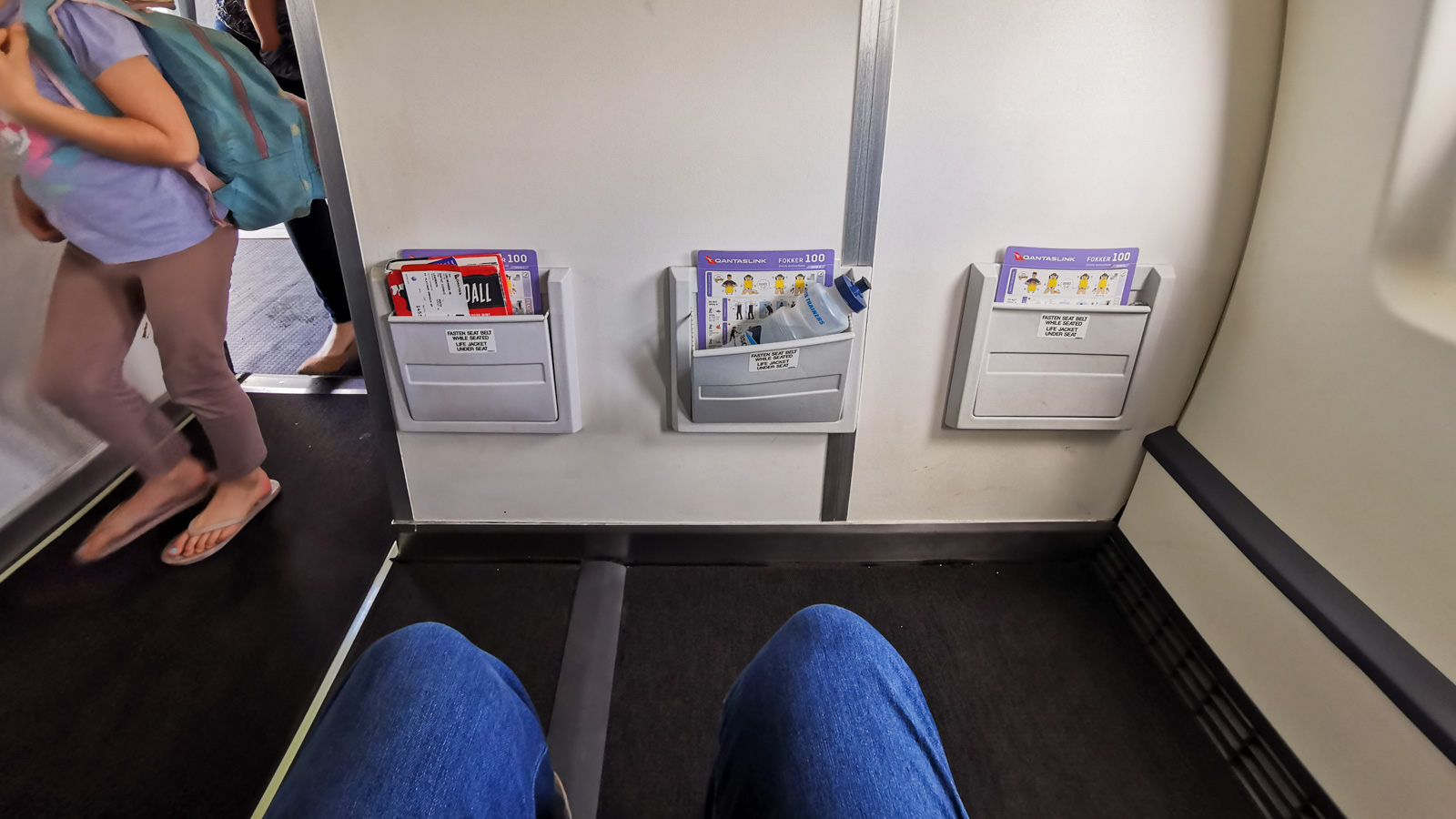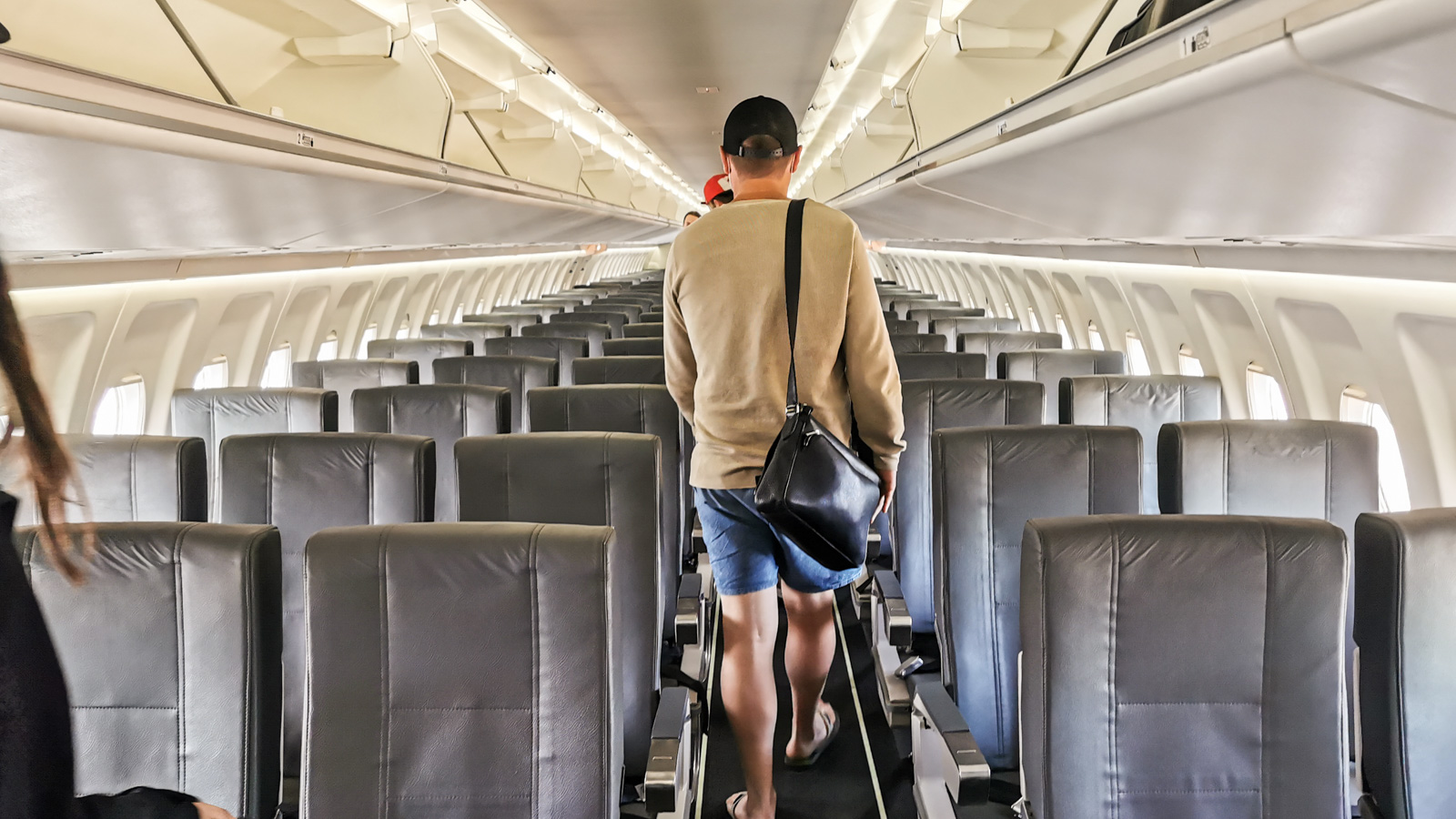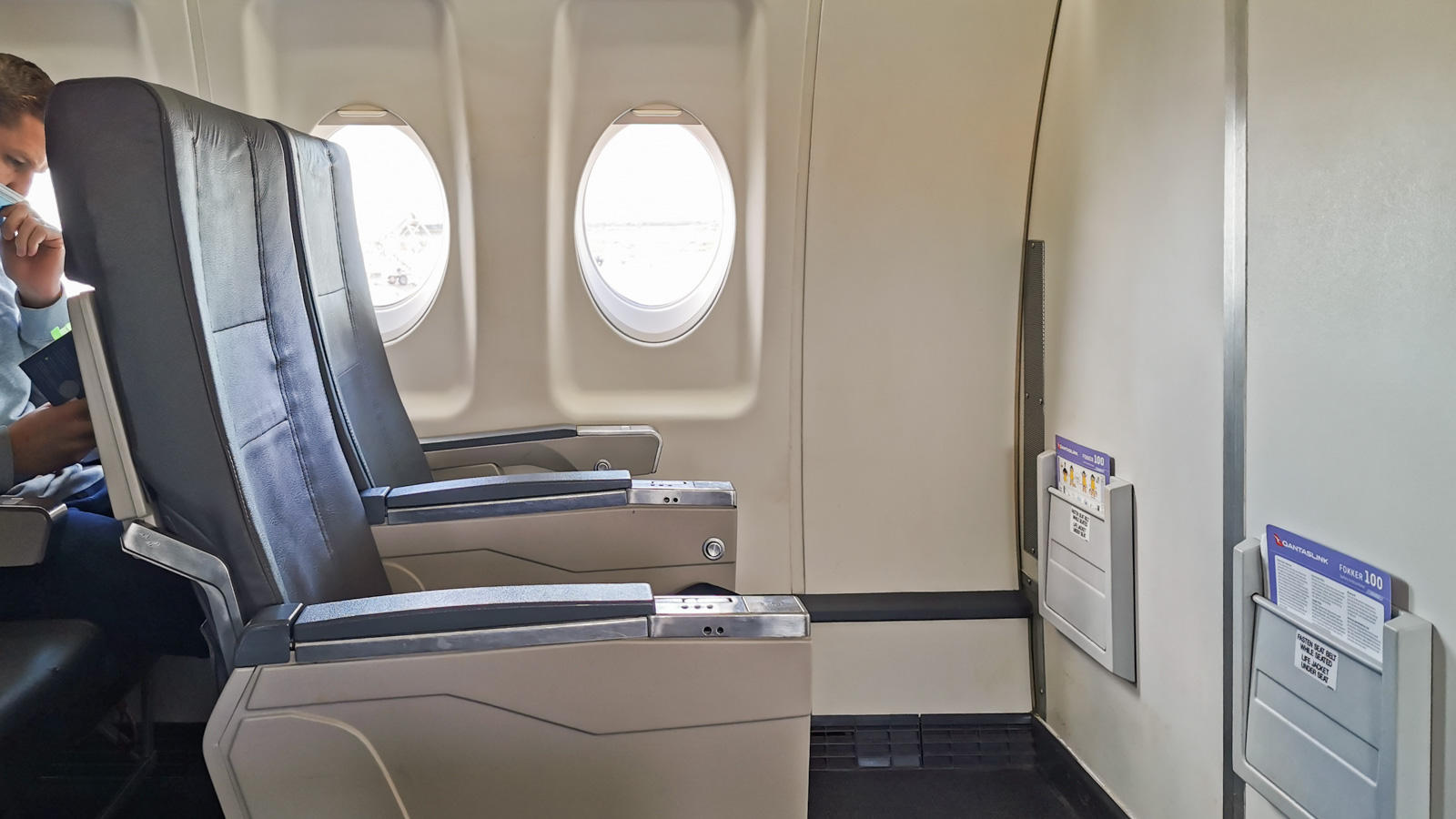 If sitting in Row 1 is something you usually dream about, do yourself a favour and read up on how to unlock the best Qantas seats before a flight. That's exactly how I reserved these seats on this trip.
Food and beverage
QantasLink is a full service airline, so we're offered snacks and beverages. From Perth to Exmouth, we munch on roast chicken and bacon sandwiches. On the return flight, we score a snack box with cheddar cheese bites, onion dip and crackers (a bit carb-heavy, to be honest).
I wish we could have enjoyed one of QantasLink's hot meals – think frittatas, burgers or baos – which feature on other flights. They would have been just as easy to hand out on our 2-hour journey. But alas, it's not meant to be.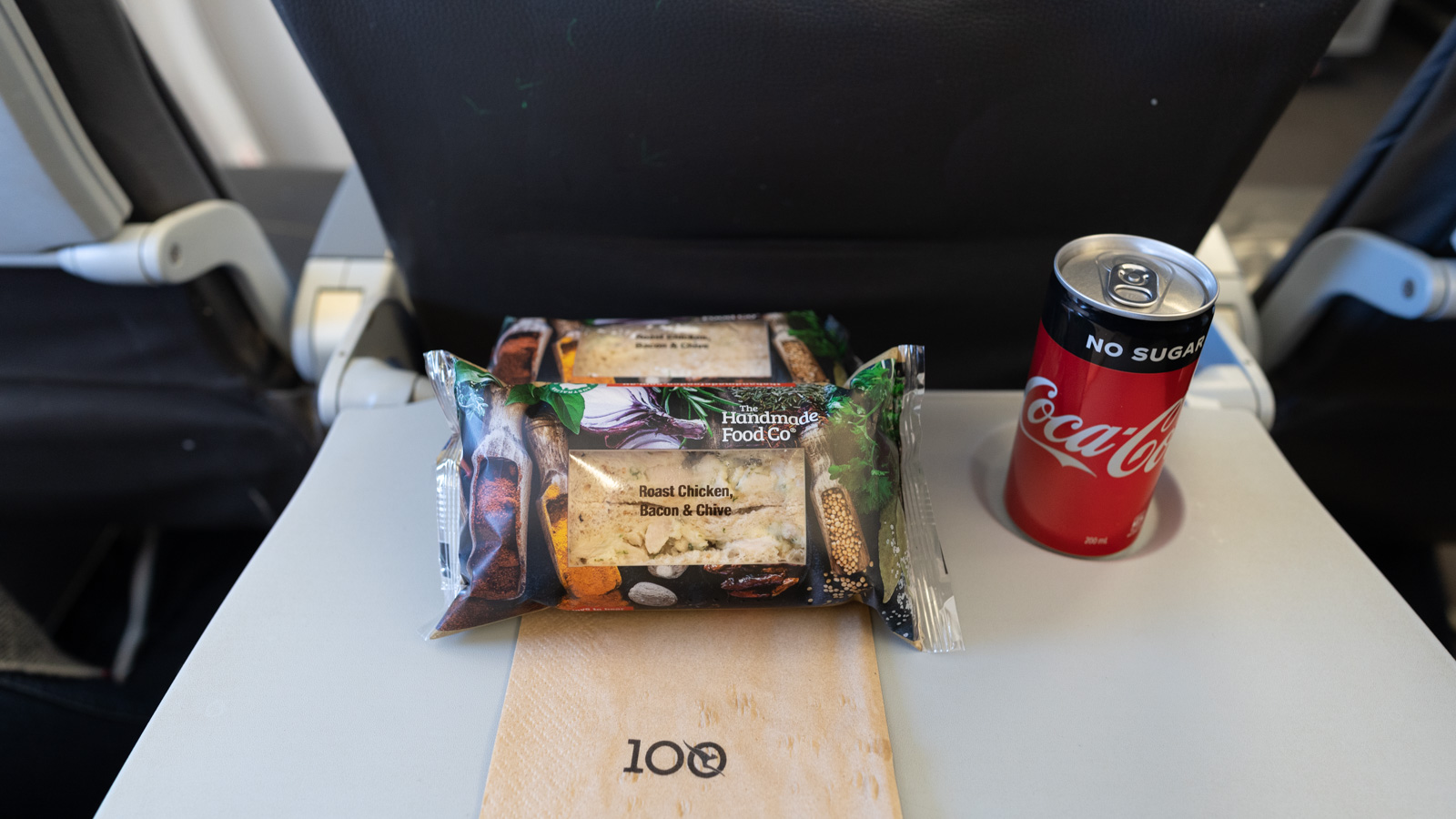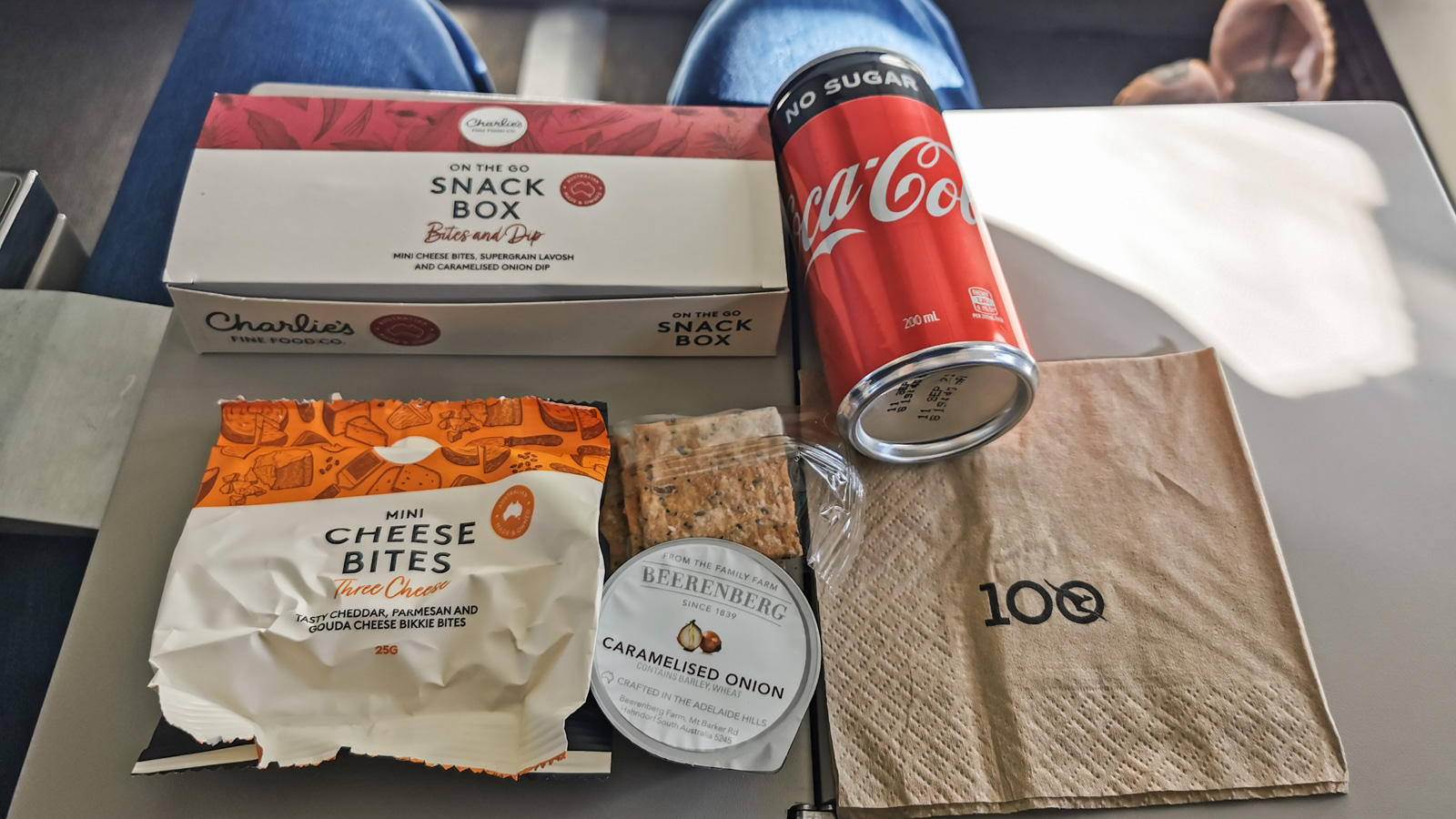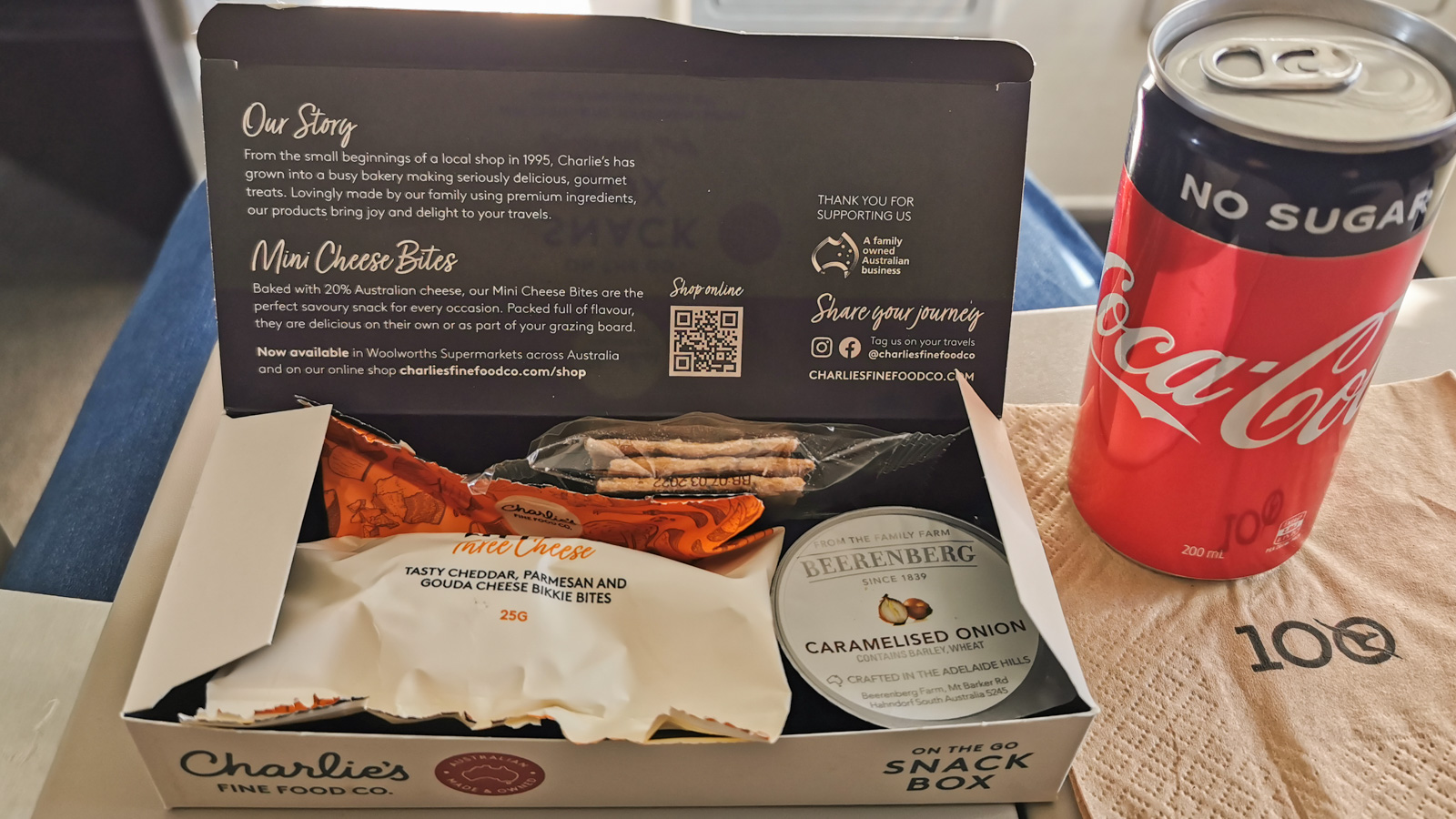 Service
I feel that in the current climate, it's not just holiday-makers who are delighted to travel once again. Airline staff are relishing the chance to work and fly again, too. The service we receive reflects this. Our interactions with Qantas staff are short yet pleasant, and there's a general sense of ease throughout our time at the airport and on board.
Having said that, don't expect much in terms of frequent flyer recognition – this is largely pointless when everyone goes through the same, short queues. Our luggage is tagged 'Priority' in both directions, but it still manages to come out towards the end of the pack in Exmouth. In Perth, it's somewhere in the middle. Oh well.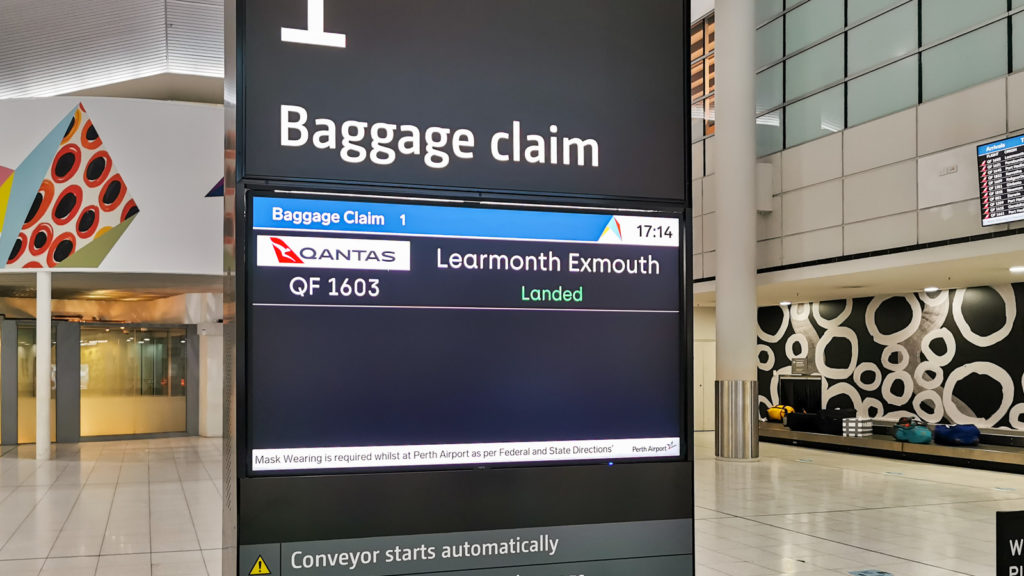 Summing up
Overall, I'd rate QantasLink as a comfortable way to travel. That's good news because the airline happens to be your only choice for some regional towns, including Exmouth. However, Rex, Alliance Airlines and Virgin Australia Regional Airlines offer competition on busier routes.
As QantasLink fares can be quite high, I'd recommend you consider using Qantas Points or other partner frequent flyer programs (such as British Airways Avios or AAdvantage). Qantas and oneworld benefits are recognised on QantasLink flights, so you'll still be able to enjoy lounge access at eligible ports, even when flying in Economy.
Interested in my adventures at Exmouth and further afield at the gorgeous Karijini National Park? Then keep your eyes peeled for something big, coming soon…
Brandon flew to and from Exmouth at his own expense.
Qantaslink A320 & Fokker 100 Economy Class (Perth – Exmouth)
was last modified:
September 21st, 2021
by