Located adjacent to the departures area, the Qantas Club Hobart is the only airline lounge at Hobart airport. The lounge is quite small, and the design is somewhat outdated, but nonetheless, it does provide a comfortable place to wait before your flight.
Due to its small size, the lounge often operates at or close to capacity, however, future expansion of the lounge will offer 80% more seating than the current space. The lounge is set to be relocated to a new second-level development and is expected to reopen in December 2022.
Lounge details & location
Being a small airport, the placement of the lounge is incredibly convenient. The lounge is located immediately after security, with access through a corridor on the right-hand side of the departures area. It is close to the airport's six gates, meaning that you can stay in the lounge for a bit longer than you normally would with larger airports.
This lounge is open one hour prior to each Qantas flight, and until the last Qantas departure.
Lounge Seating
Lounge seating is adequate, however, a little outdated when compared to other Qantas Club Lounges. Just behind reception is a collection of comfortable red armchairs but they are packed quite close together. Small tables are placed between each pair of chairs.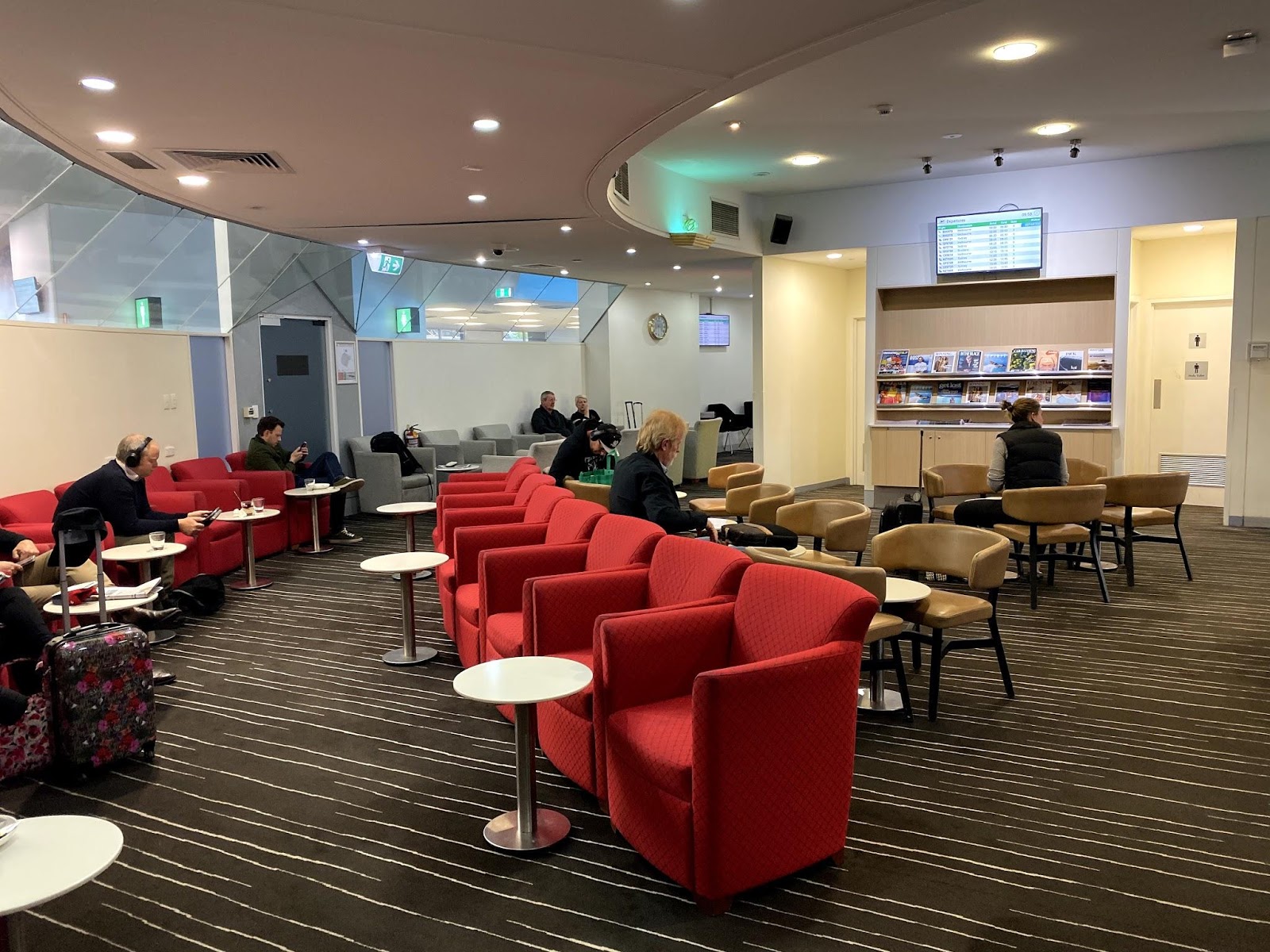 The rest of the space is mostly taken up by an arrangement of chairs around more small tables.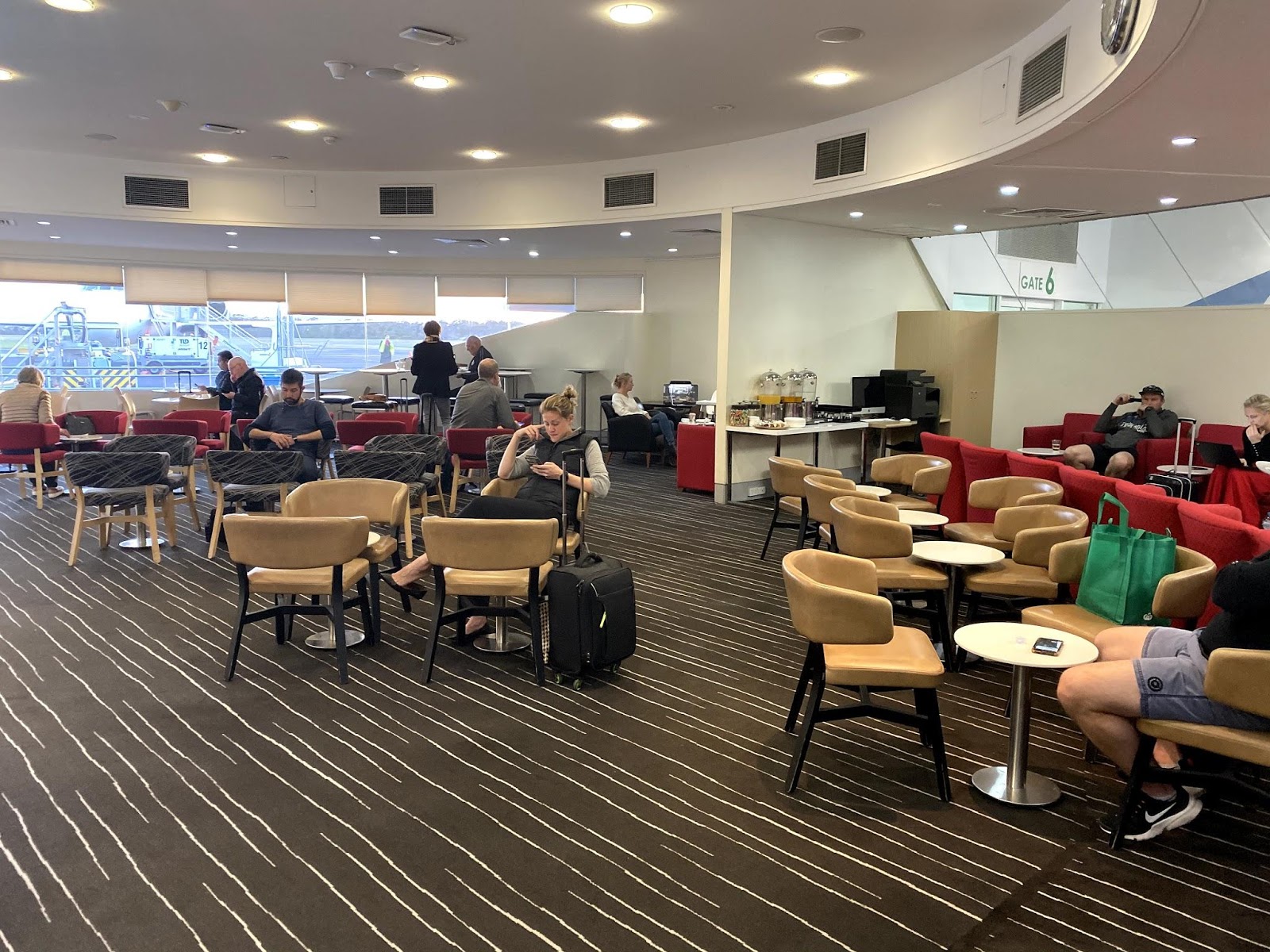 A selection of tall cocktail tables with single stools sits at the far end of the lounge.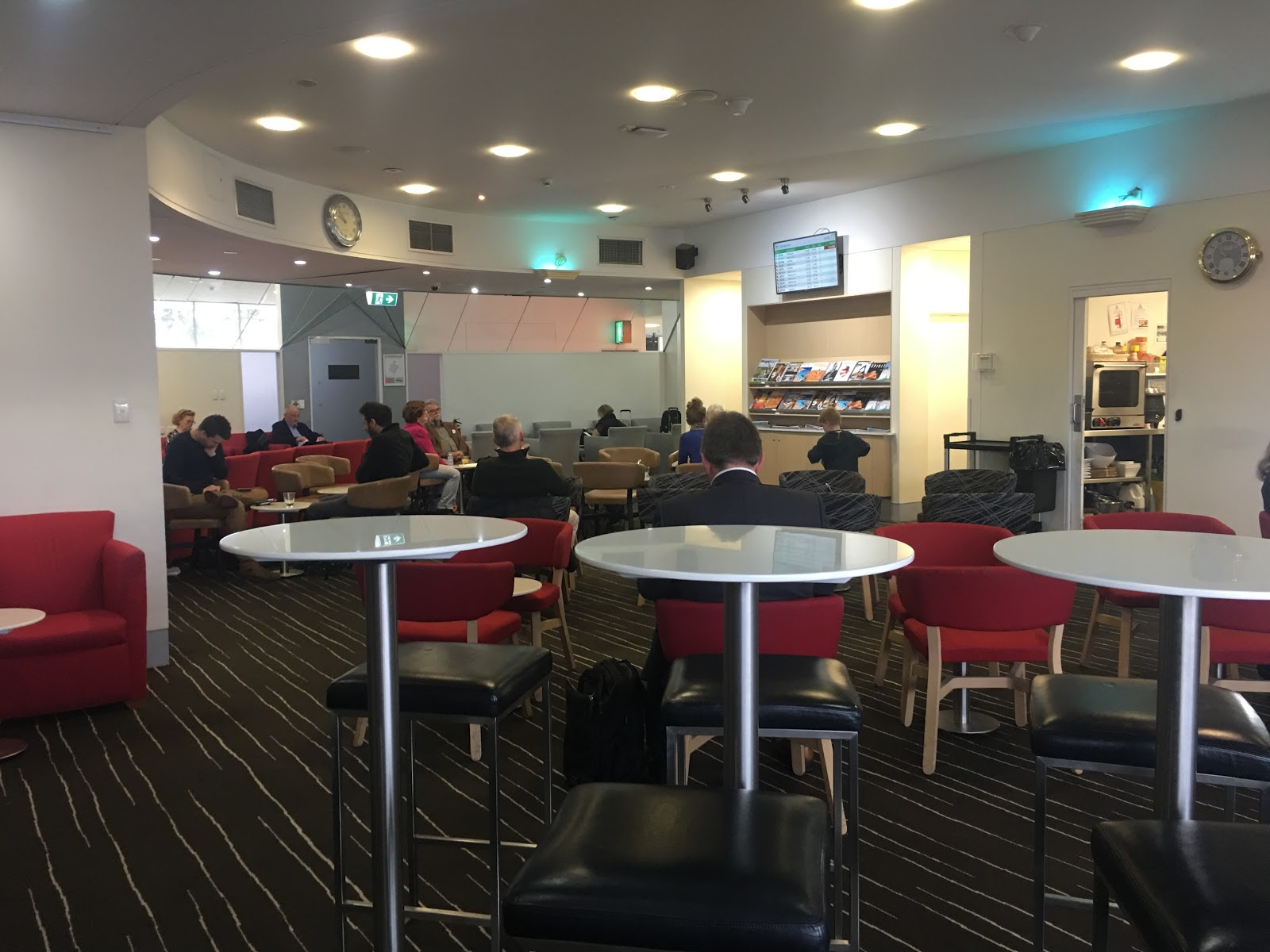 The design of the lounge clearly aims to accommodate as many seats as possible into the limited space, which is understandable amid the popularity of the lounge.
Food & drink
The food spread is adequate, however, does fall short of larger Qantas Club lounges in that there is no hot food offering. For my early morning visit, options of fruit salad, yogurt, muesli, cereal and toast were available. There is also a sandwich press and various fillings available. The selection isn't great, but it makes for an enjoyable snack before departure.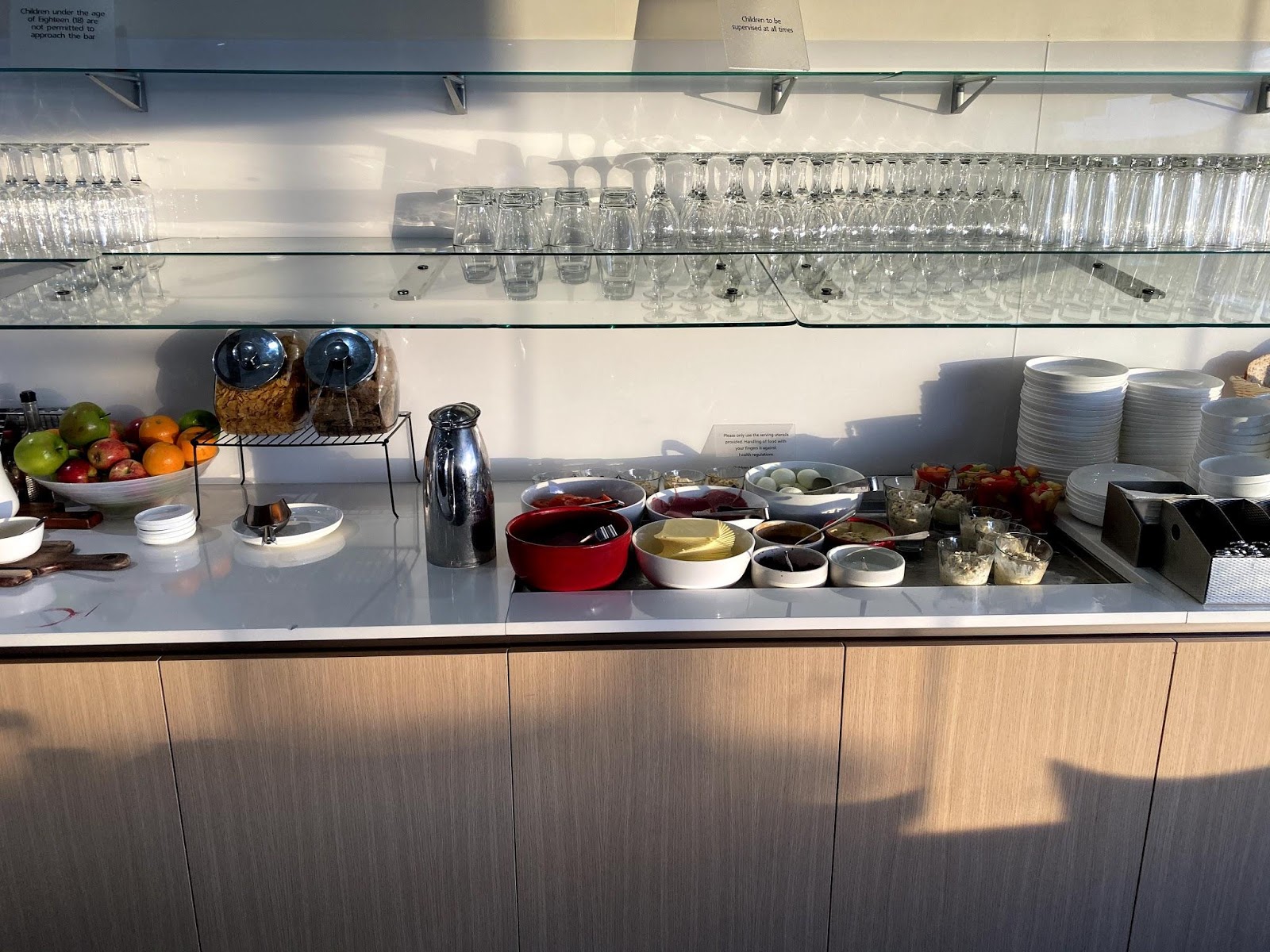 There was an automatic pancake machine available, but unfortunately at the time of my visit, it was not working.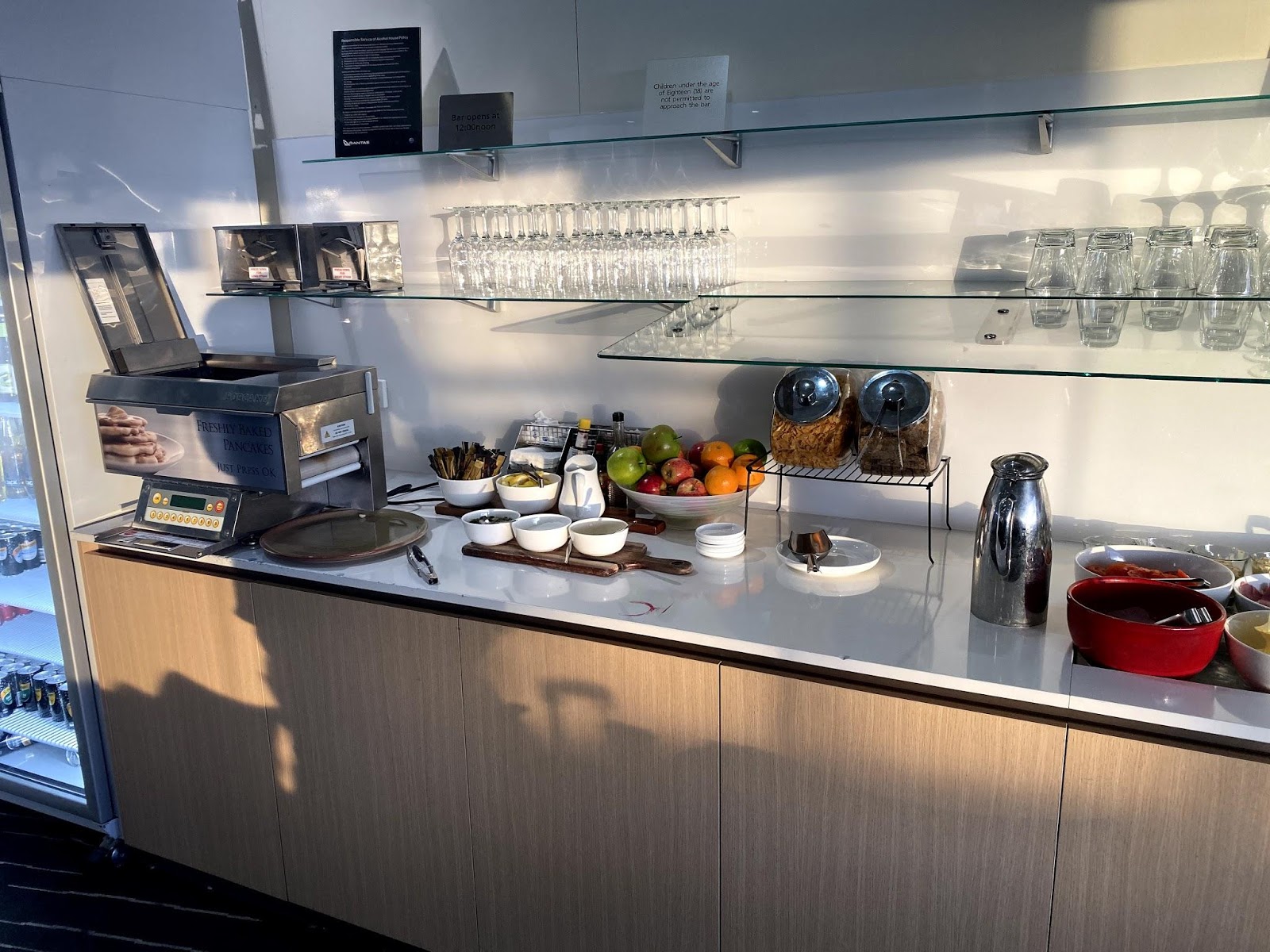 As there is no barista, you will have to make your own hot drinks. An automatic coffee machine is accessible as well as a good selection of Dilmah teas and hot chocolate.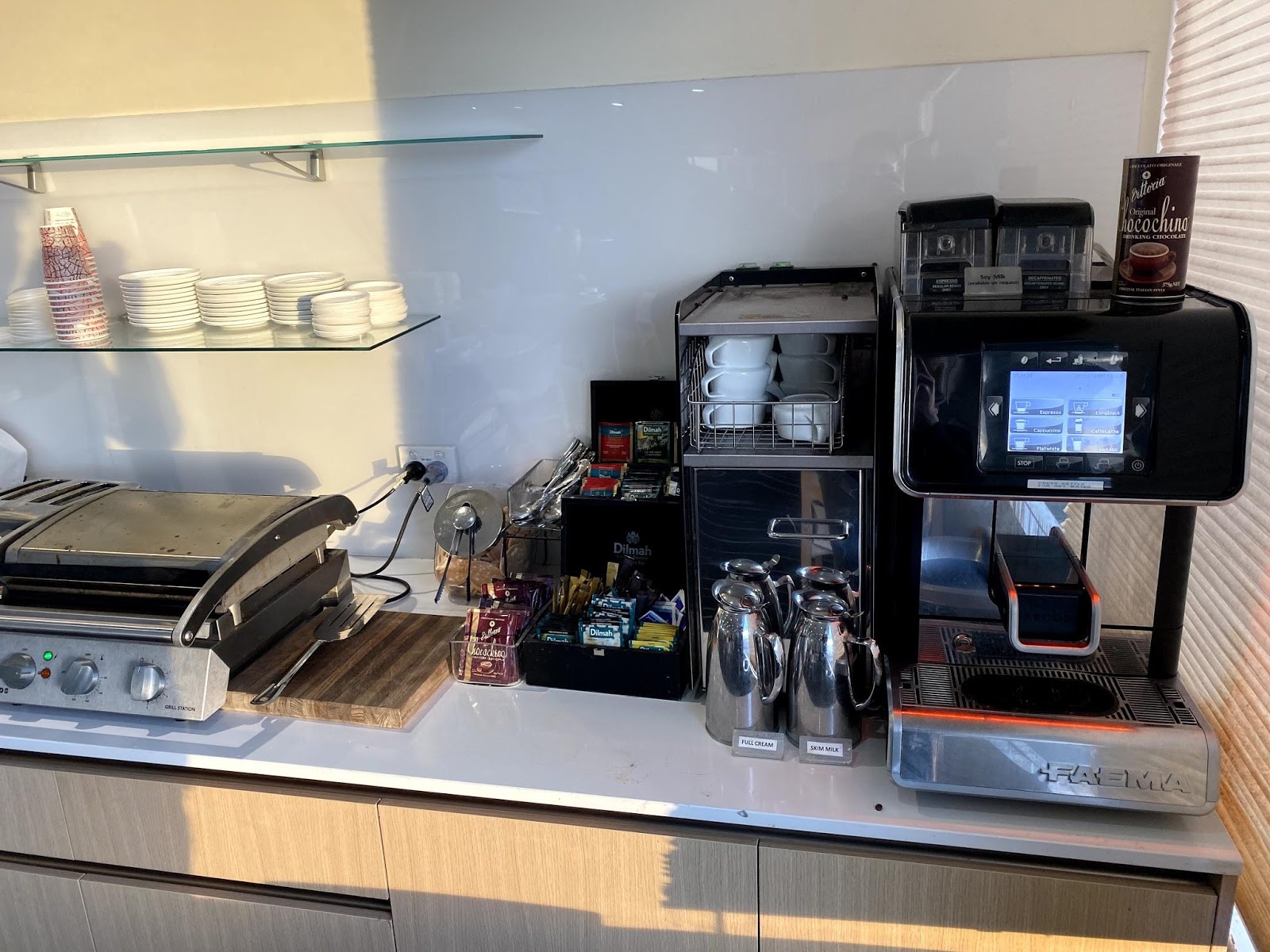 The drinks fridge is stocked with a selection of fruit juice, soft drinks, beer, wine, cider and water. As with most Qantas Lounges, the alcoholic section if the fridge is locked until noon. On the other side of the lounge, there are some sweet items and fruit juice.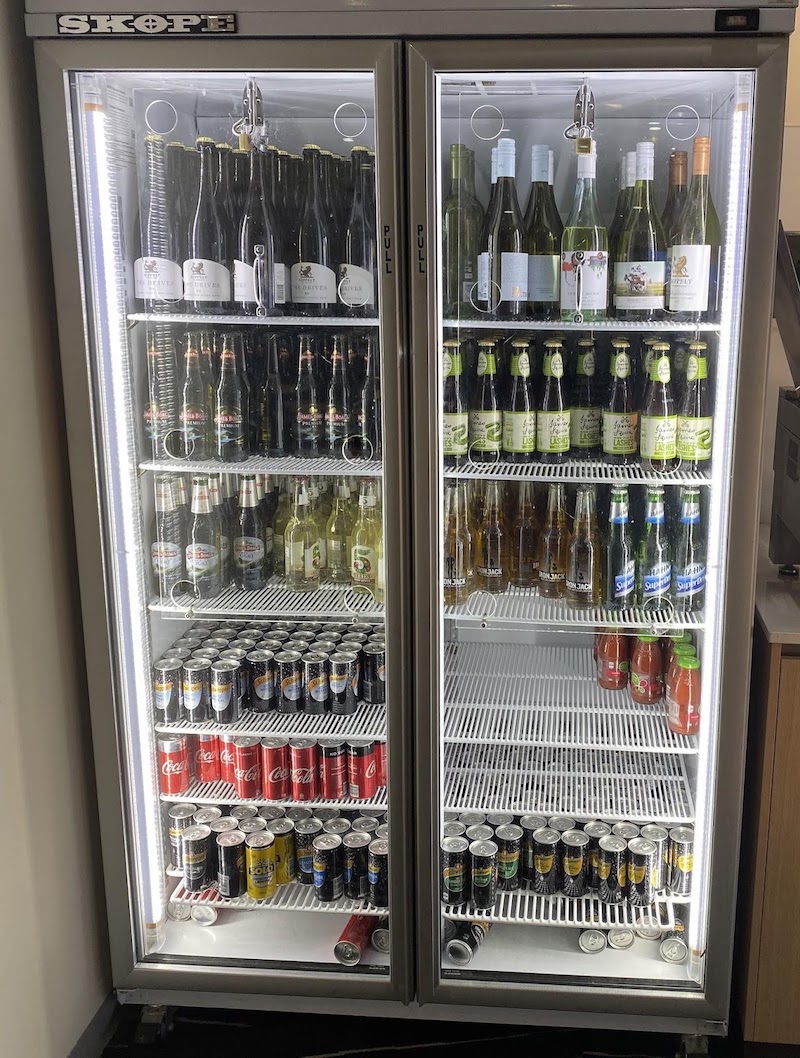 Given the limited range of food available, if you are flying in Business Class, you may well find the onboard meal superior and hold off on eating too much in this lounge.
Amenities
Located inside the main lounge building, there is a small work desk with a Mac and printer. Complimentary WIFI is available throughout the lounge.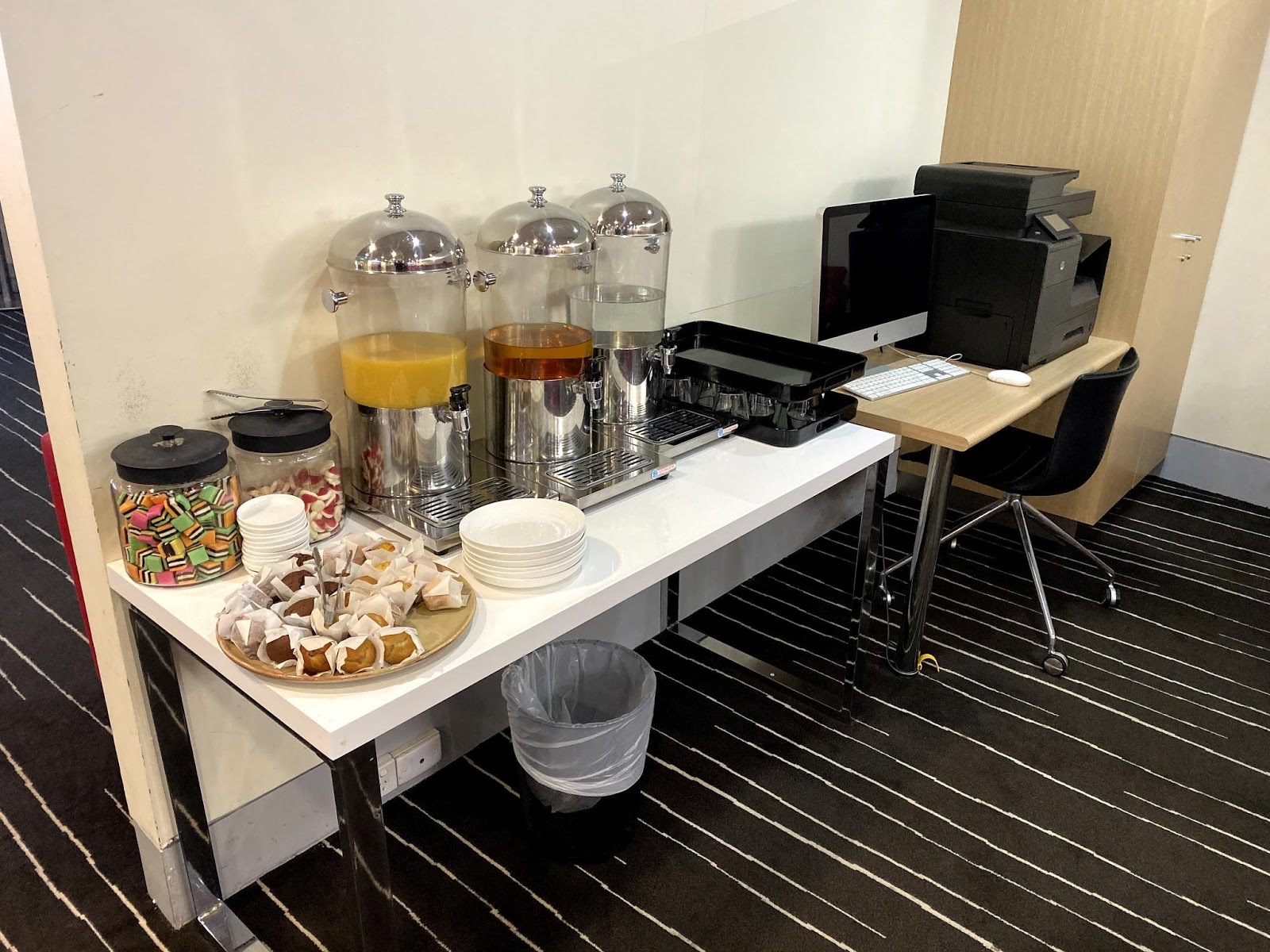 There is a good selection of newspapers and magazines available.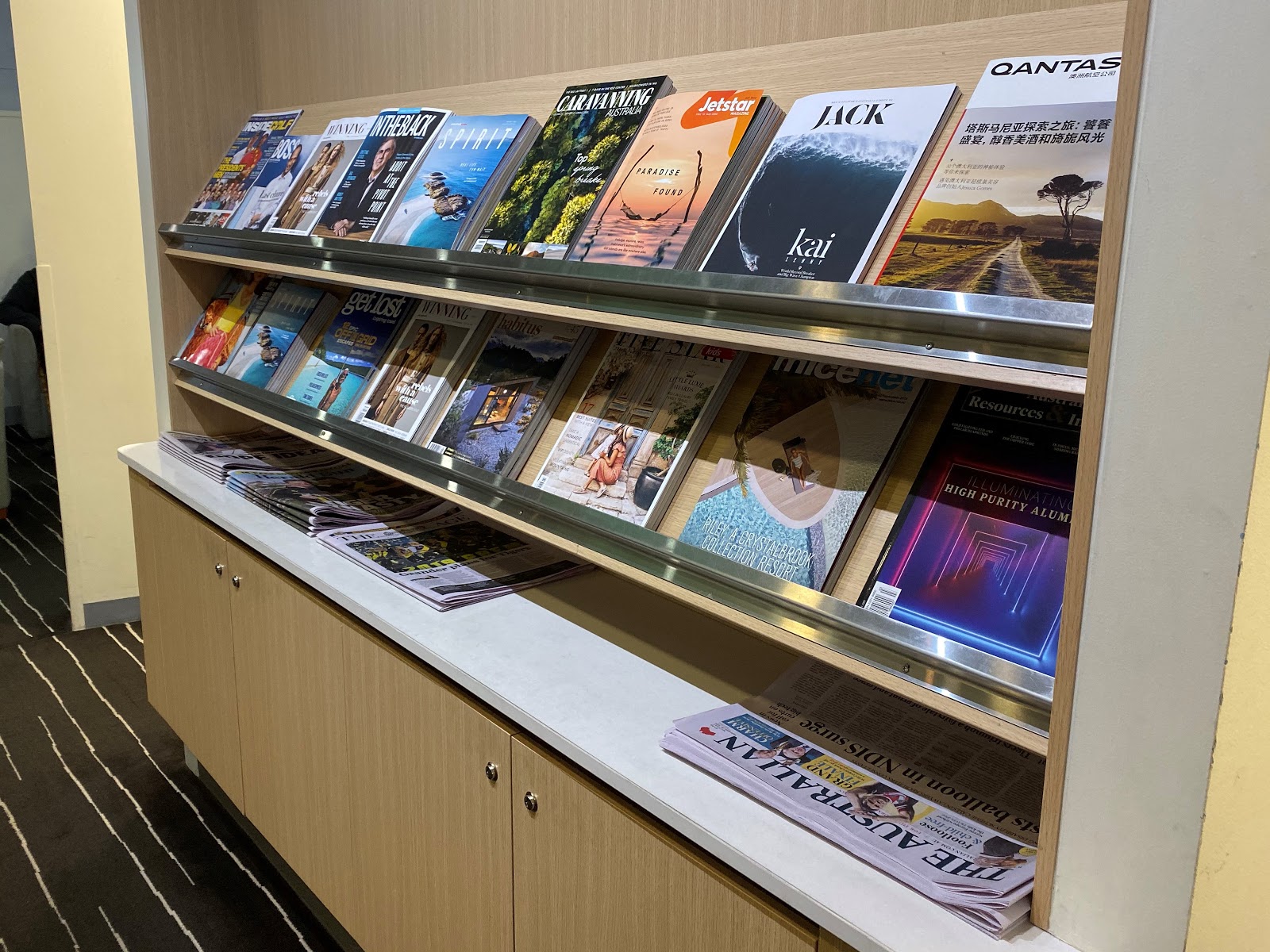 There are no showers available in the lounge, although they are unnecessary here.
There are also two small bathrooms which are fully functional, but not to the standards found in other Qantas lounge standards.
Lounge access options
You can access this lounge:
By travel class: Business class passengers flying on Qantas or QantasLink
By frequent flyer status: Qantas Gold (+1 guest) and higher (+2 guests) travelling on Qantas, QantasLink or Jetstar flights
By partner frequent flyer status: Emirates Gold and higher (+1 guest); China Eastern Gold and higher (+1 guest)
By Oneworld frequent flyer status: Sapphire and Emerald oneworld members travelling on a oneworld flight number (+1 guest); International First (+1 guest) or International Business passengers travelling on Qantas or QantasLink flight
By credit card: read our definitive guide to Qantas lounges for credit cards that offer lounge access
By Qantas Club membership: Qantas Club members and Annual Guest Card holders travelling on Qantas or Jetstar flight (+1 guest)
By day pass: Offered via email after achieving Silver Qantas status
Summing up
Overall, the Qantas Club at Hobart airport provides a comfortable space to wait for your flight, although being relatively small and outdated. As the only lounge located at Hobart Airport, it can get quite busy, given many passengers may well select Qantas primarily for lounge access.
What is great
Average selection of snacks and drinks
Available for access before Jetstar flights
Extremely convenient location
What is not great
Outdated design
Small and often crowded
Toilets are of a low standard
Qantas Club, Hobart
was last modified:
April 4th, 2021
by