Jetstar is a low-cost airline that is fully owned by Qantas, who created the airline as part of a two-brand strategy in 2003. Jetstar say that their mission is to 'offer low fares to enable more people to fly to more places, more often.'
One benefit of flying Jetstar is the fact that you can earn and use qantas points when flying, as well as earn status credits.
Fleet & routes
Jetstar have eight A321s in their fleet, which are utilised on routes such as Melbourne to Perth, Sydney to Melbourne and Sydney to Brisbane. Jetstar provides the most services on the Melbourne to Hobart route, operating eight flights per day using both A321 and A320 aircraft.
The cabin & seats
The aircraft features an all economy layout with 220 seats in a 3-3 configuration. Seat width comes in at 17.8″ and seat pitch is low at 29".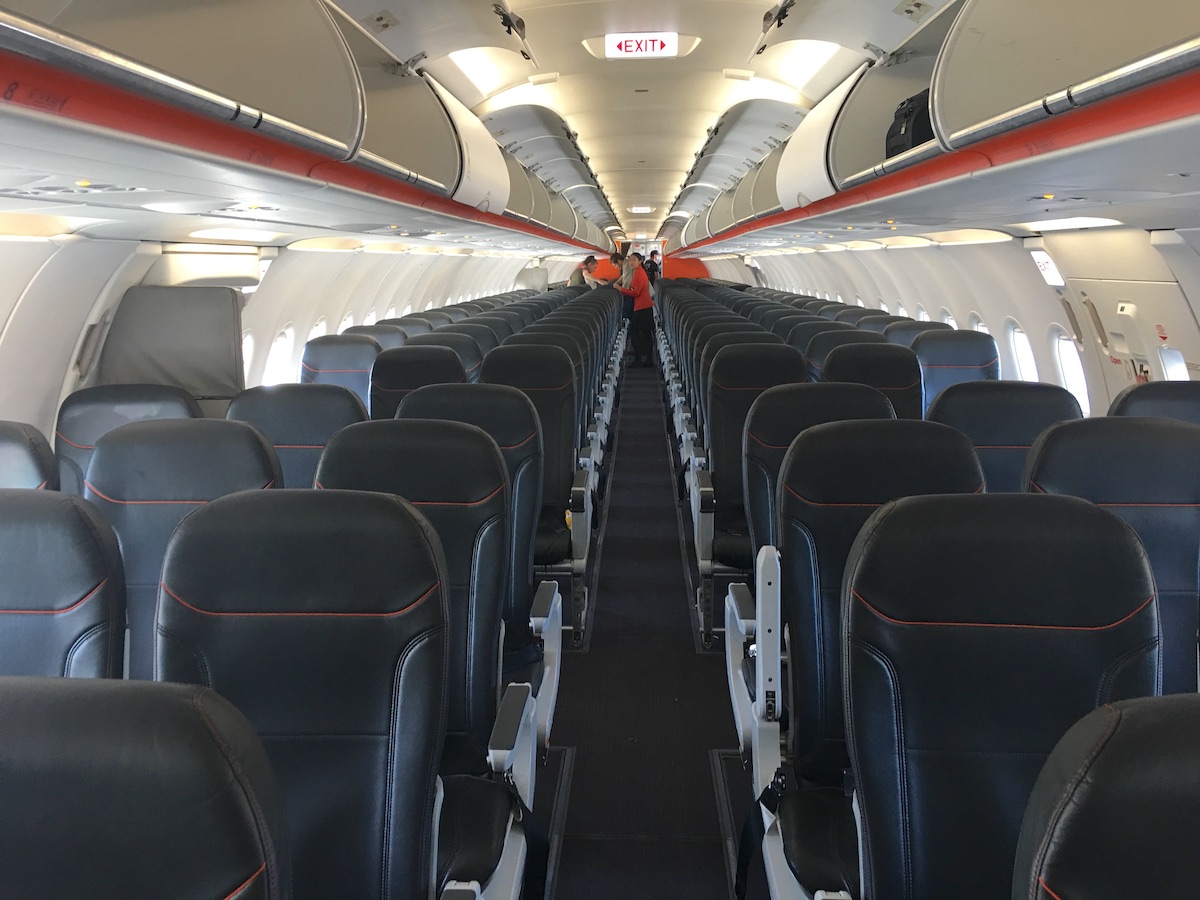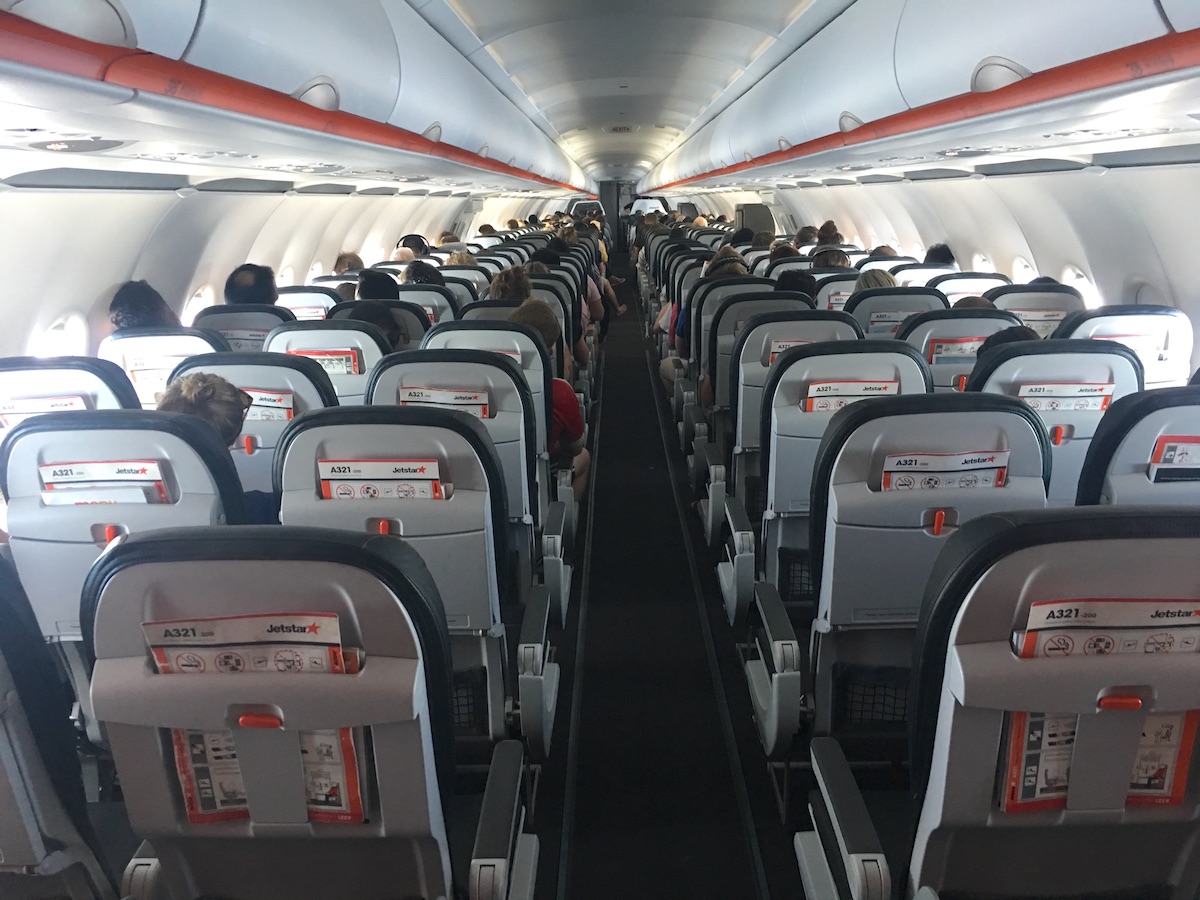 Thanks to the slimline seat design, the legroom is good for a low-cost carrier; I had about 5cm of legroom in my standard seat, 23F (I am 179cm tall ). However, there was someone much taller than me sitting in the row across, and it looked like he had almost no legroom.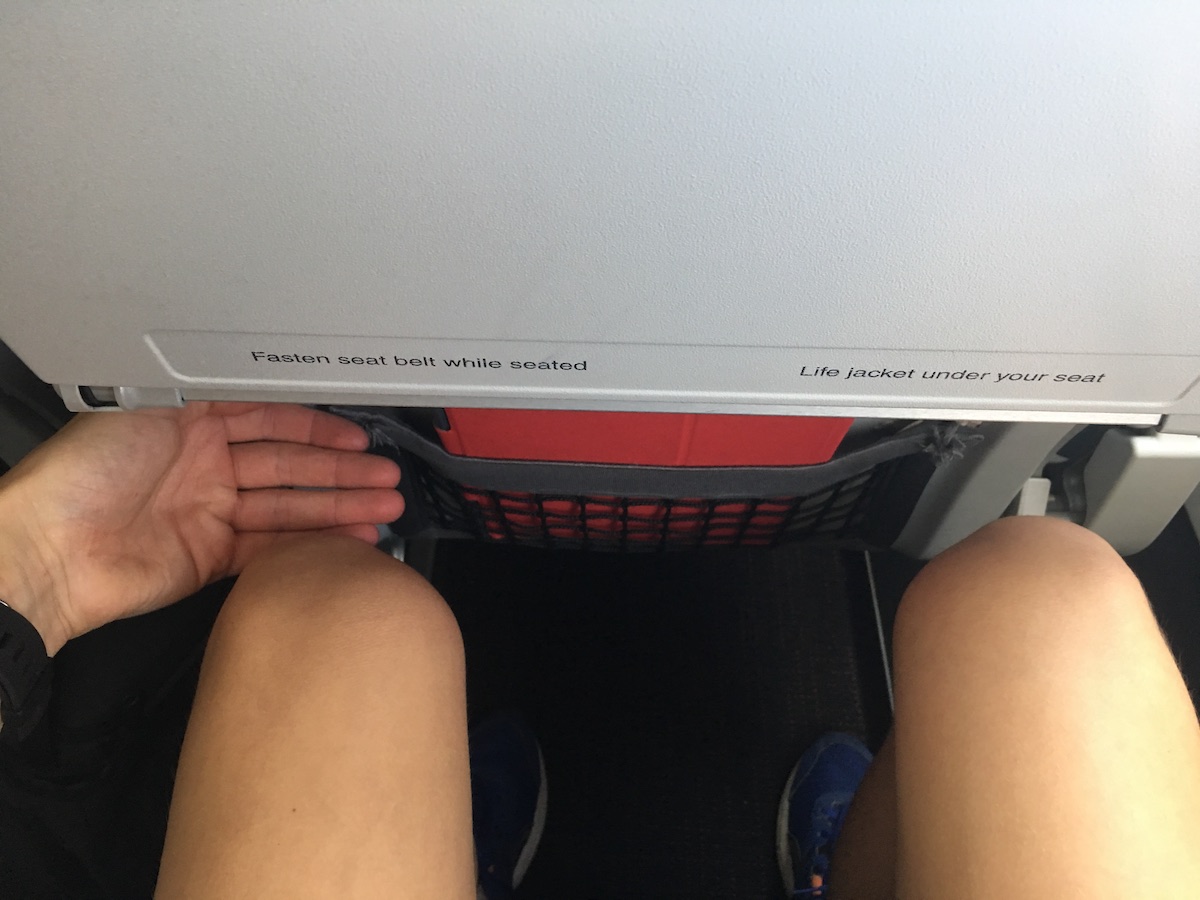 The seat itself is made of leather and offers reasonable comfort, however, it lacks a headrest and would not be comfortable for sleeping.
Under-seat storage is acceptable, but it is much more comfortable having the room to stretch your legs out.
Something I like about the seat design is the magazine holder at the top, which contains the safety card, menu, Jetstar magazine and airsickness bag. This frees up space in the storage net below the tray table, while also maximising legroom.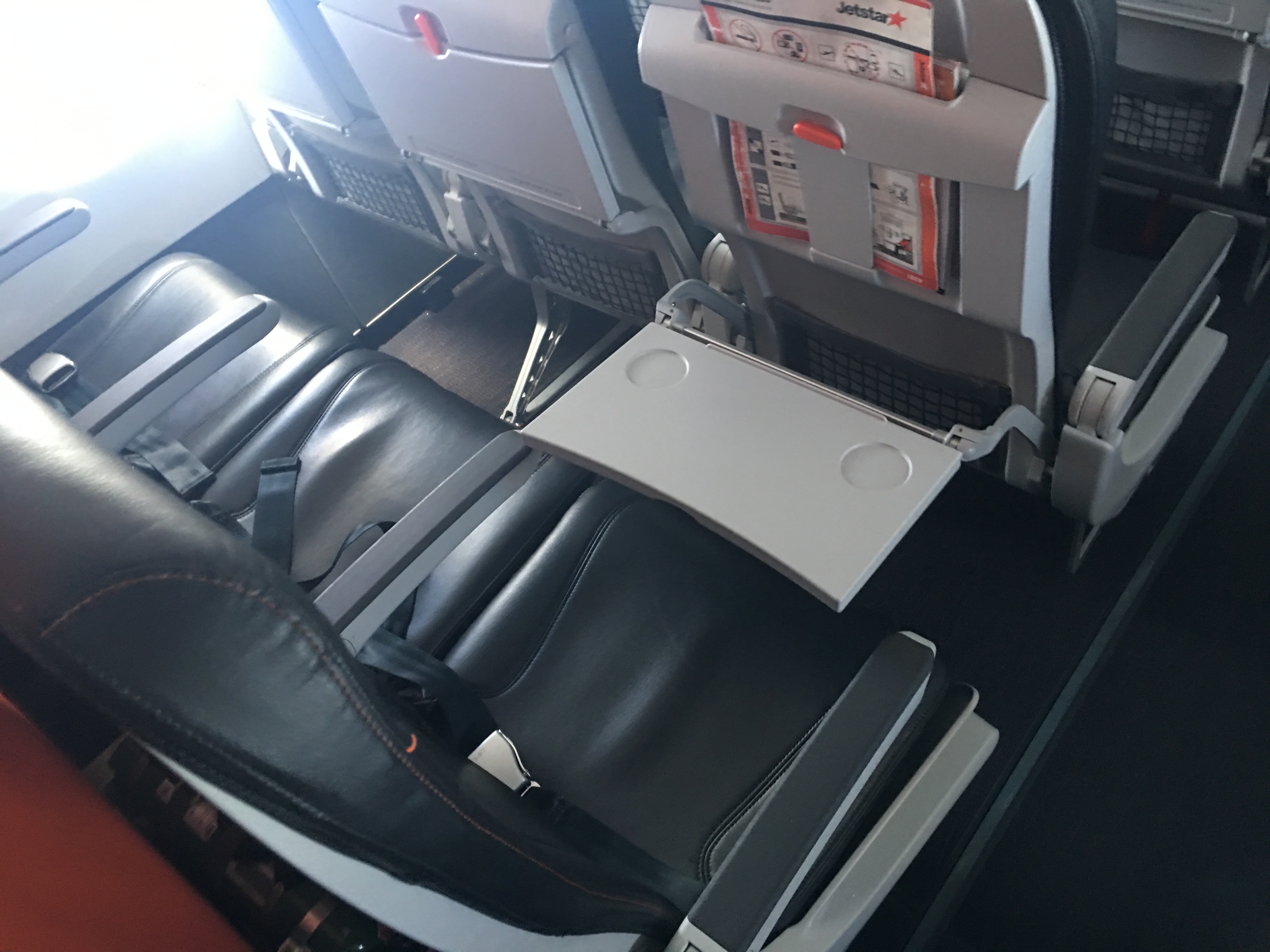 Seat choice
Seat selection is an optional extra and to select my standard seat cost $6.
Before check-in, I changed my seat selection, and I was able to score a row to myself! All of the standard seats are basically the same, however, 12A and 12F have extra legroom due to a missing seat in front.
You also have the option of selecting an 'upfront' seat so you can supposedly get off quickly, but these seem pointless to me, as everyone stands up as soon as the aircraft parks at the gate, even if doors are closed. This would have cost me $15.
Extra legroom seats cost $10 for my flight, but I didn't have any problems with the legroom in my standard seat. Also, check-in staff are always looking for people to sit in these emergency exit rows, and often upgrade people who arrive early and haven't selected seats (or you can ask nicely).

Jetstar A321 seat map, courtesy of theflight.info
Food & drink
As with most low-cost airlines, Jetstar does not provide complimentary food and drink. You can, however, purchase items online before your flight or from the onboard menu.
Please note Jetstar only accept payment via card when on board. Prices are very reasonable, and I decided to get a hot chocolate and a chocolate muffin for $7. Both items lived up to expectations and were enjoyable.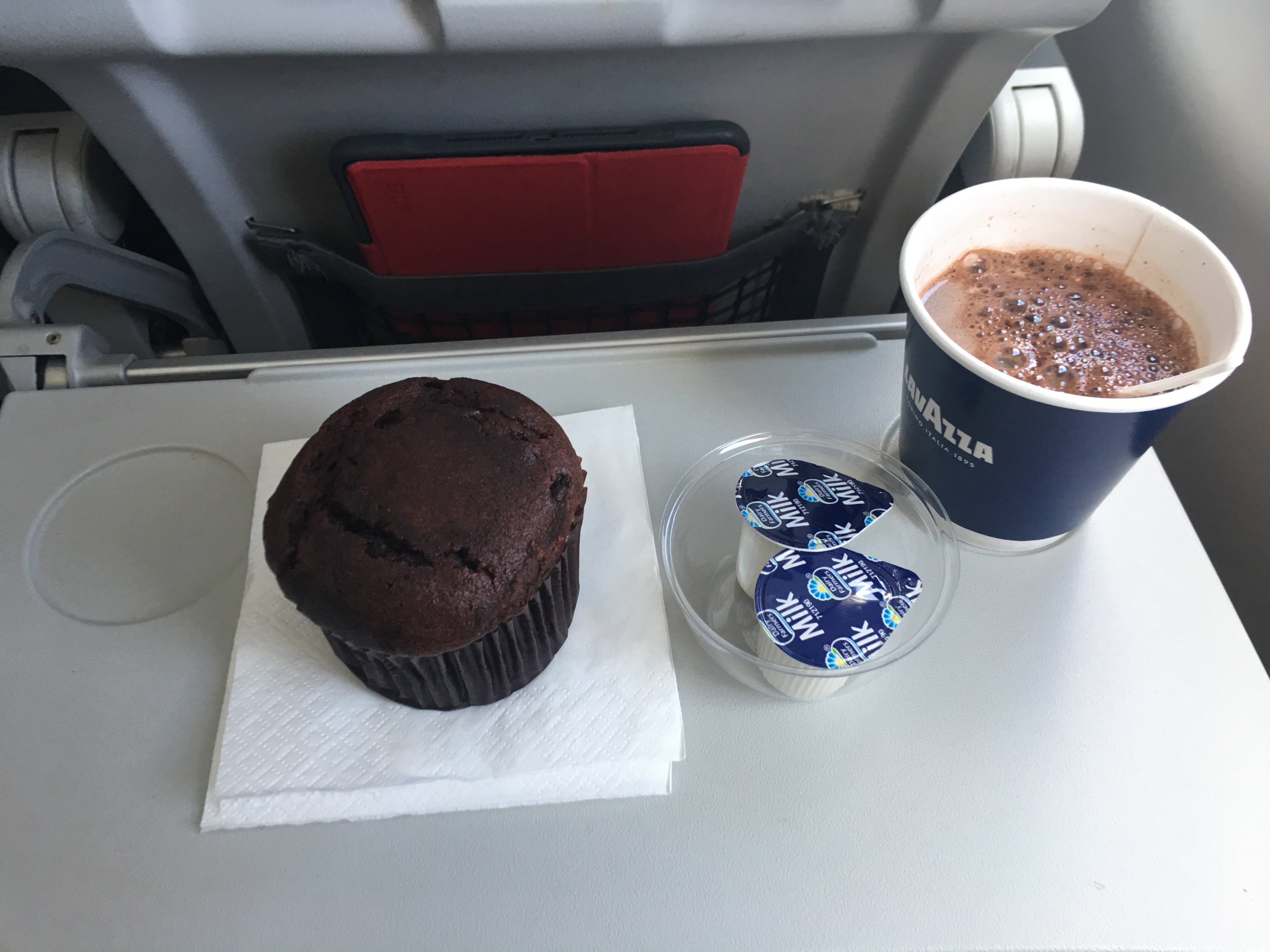 Inflight entertainment
Being a low-cost carrier, Jetstar does not provide inflight entertainment on this domestic flight. Jetstar only provide inflight entertainment on international flights on their B787 aircraft.
Earning Qantas Points/Status Credits
Because Jetstar are a part of Qantas, you can earn and use qantas points when flying, as well as earn status credits. However, to earn qantas points and status credits you must purchase either the plus or max bundles.
With the plus bundle, you will earn at the economy rate and on the max bundle you will earn at the flexible economy rate. For this flight the plus bundle cost $40 and the max bundle cost $85. In addition to loyalty rewards, the bundles also include checked baggage, seat selection, food and drink and other benefits.
How to redeem Qantas Points for Jetstar flights
Jetstar award redemptions cost 20% less points than Qantas award redemptions. The best way to book award redemptions with Jetstar is on the Qantas website.
You can also use "points plus pay" on the Jetstar or Qantas website (just before payment) however, this is likely to cost more than a standard redemption. Check out our comparison of full service and low cost airlines here.
Other Jetstar flight reviews
Jetstar 787 Business Class from Cairns to Osaka
Summing up
Jetstar is a sort of 'you get what you pay for' airline. People who expect Jetstar to be just as good as its parent airline, Qantas, are not travelling for the right reasons.
Based on my experience with Jetstar I would say that the airline best suits people who want to get to their destination for the lowest price possible, and that they should be prepared to make sacrifices to save.
What is great
Great base fare price
Acceptable legroom for a low-cost carrier
Well priced food and drink
What is not great
No inflight entertainment
No complimentary food and drink
No complimentary seat selection
Using Qantas Points with Jetstar: Jetstar A321 Economy Class overview
was last modified:
March 17th, 2022
by