In China Airlines' home hub of Taipei, the airline has numerous lounges for its Business Class and other elite-status passengers. In fact, two of those are found on the same floor in Terminal 1 – including the airline's flagship lounge. But China Airlines also flies out of Terminal 2, so if your onward journey takes you there, a smaller lounge awaits instead.
After arriving from Sydney in the sleek Airbus A350 Business Class, I hop over to Terminal 2 via the airside train to catch my connecting flight to Osaka. Here's your super-quick peek inside.
Lounge location and details
It's an unpleasantly early hour of the morning when I'm deposited in Terminal 2. I wander around a bit and eventually find the lounge near Gate D4. There's some confusion initially when I turn from the reception desk and try to enter a VIP space that's reserved for top-tier 'Paragon' members on the same level. But no, the lounge's general 'Business Class' section is one floor below.
The lounge welcomes passengers from 5:30 am to 11:30 pm every day.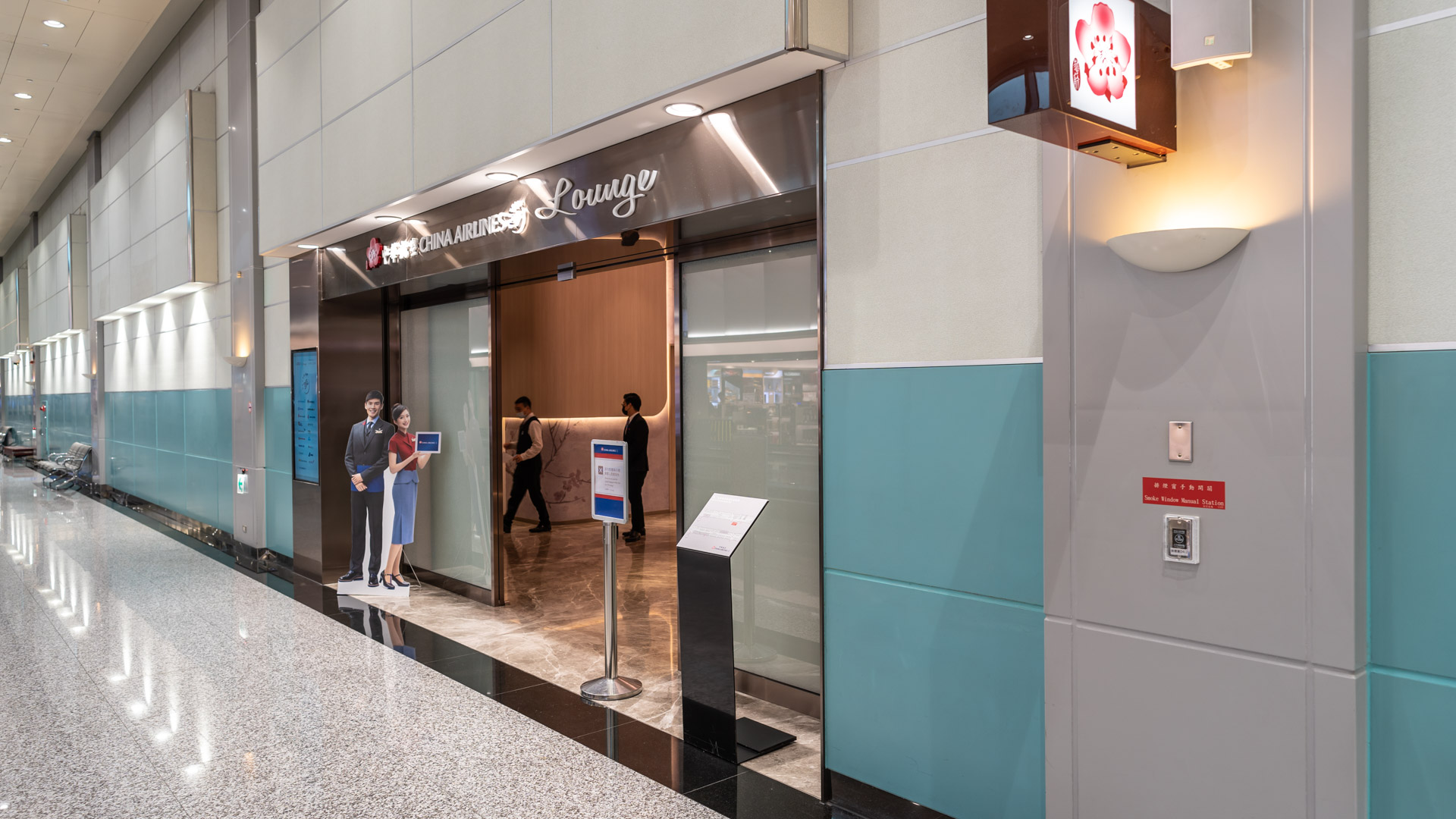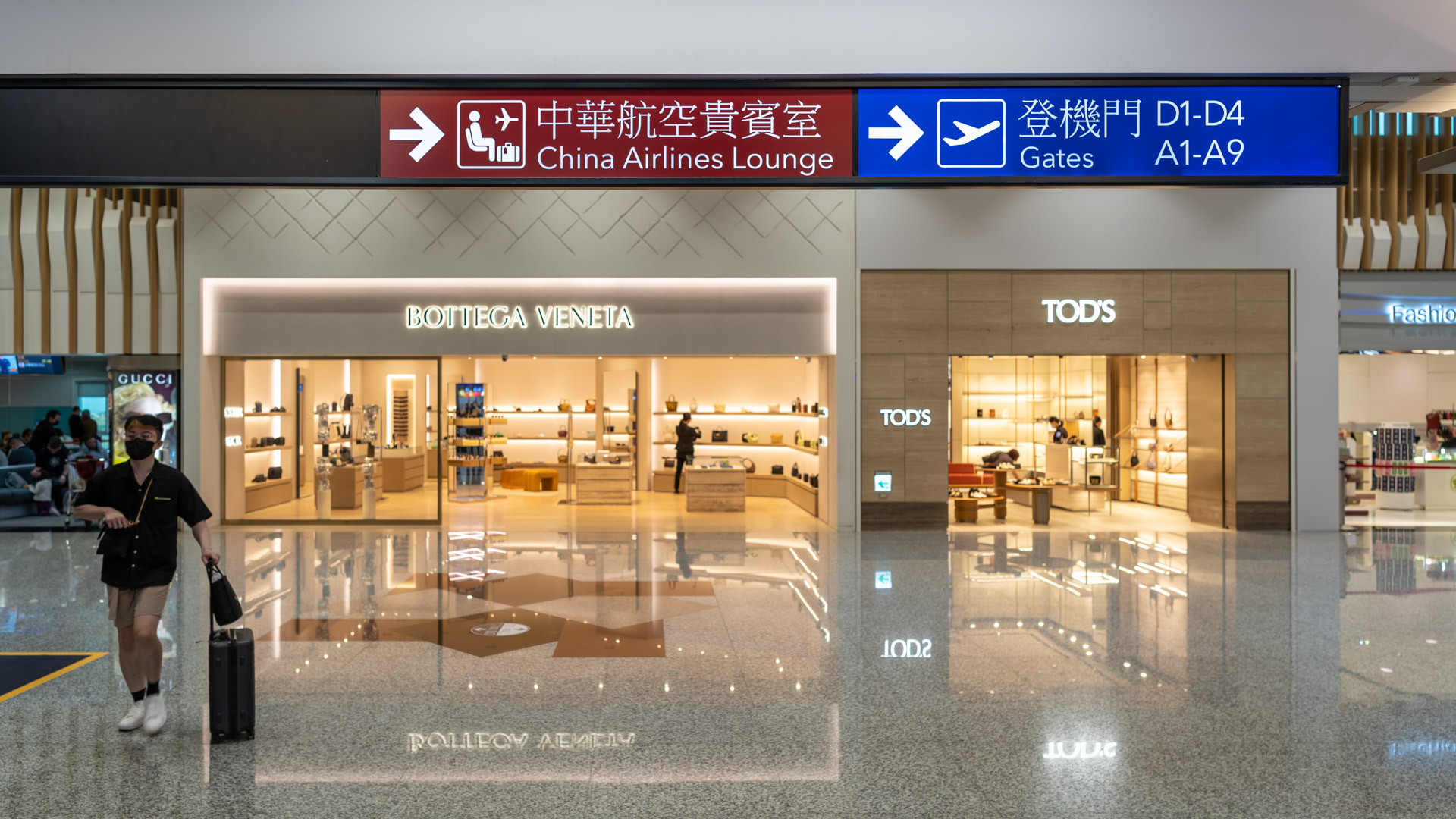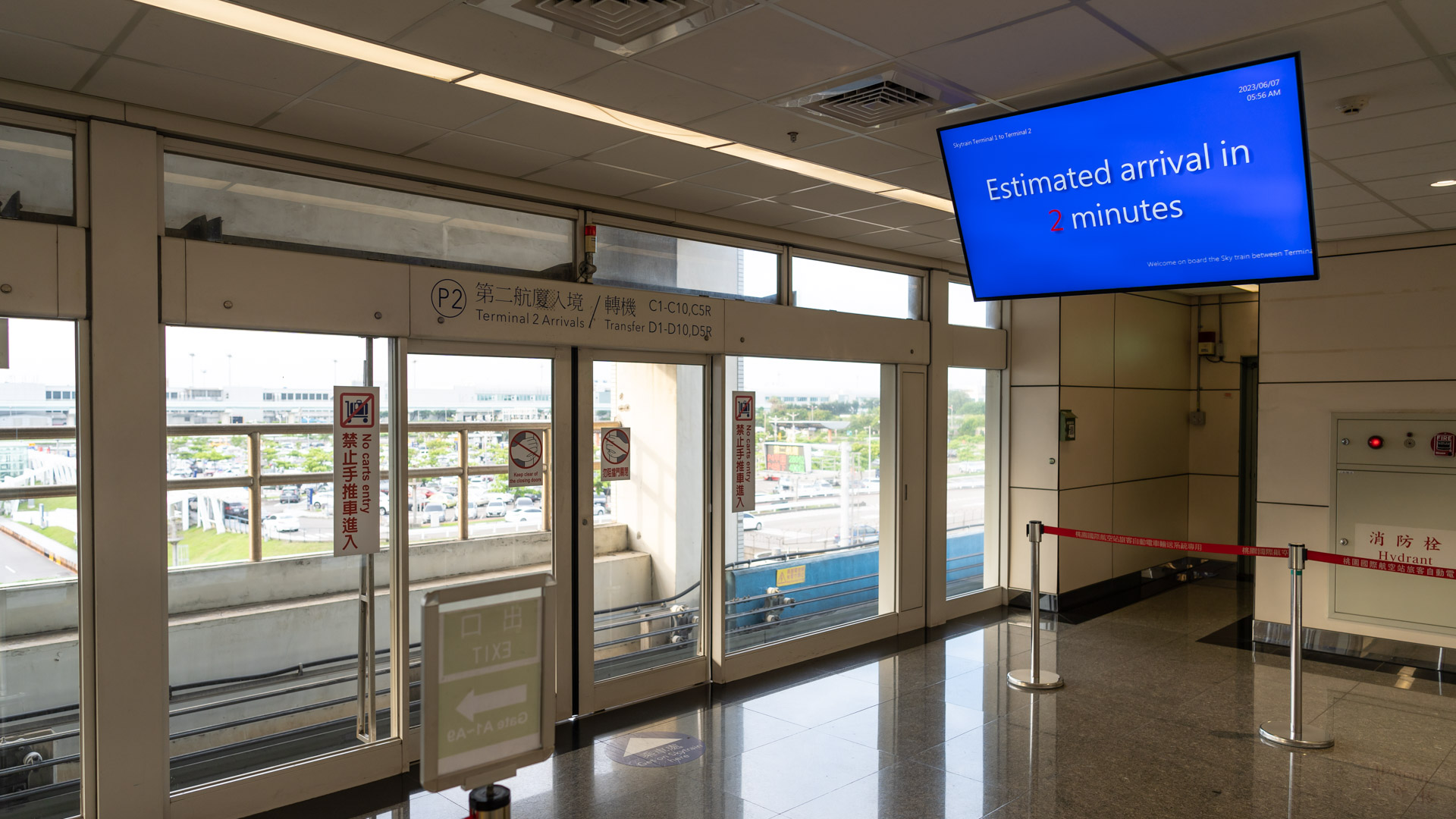 Lounge seating and layout
Despite being wholly underground, China Airlines makes the most of this space with a fresh look that debuted in 2018, featuring modern lighting and calligraphy art pieces from a renowned local artist. After you descend the stairs (yes, not the best for those with heavy hand luggage), the whole lounge reveals itself as one long rectangle to the right.
It's a fairly basic layout – long rows of seating along the side, plus a dining room and showers towards the far end. Including the VIP space upstairs, the whole Terminal 2 lounge is certainly bigger than it looks, with a footprint of 1,170 sqm and seating for around 250 guests. But with its elongated and enclosed design, there's no shaking the feeling that you're in a fancy bunker of sorts.
During my early-morning visit, it's initially quiet at around 5 am. An incoming wave of passengers later comes through until around 8 am, when all falls quiet again.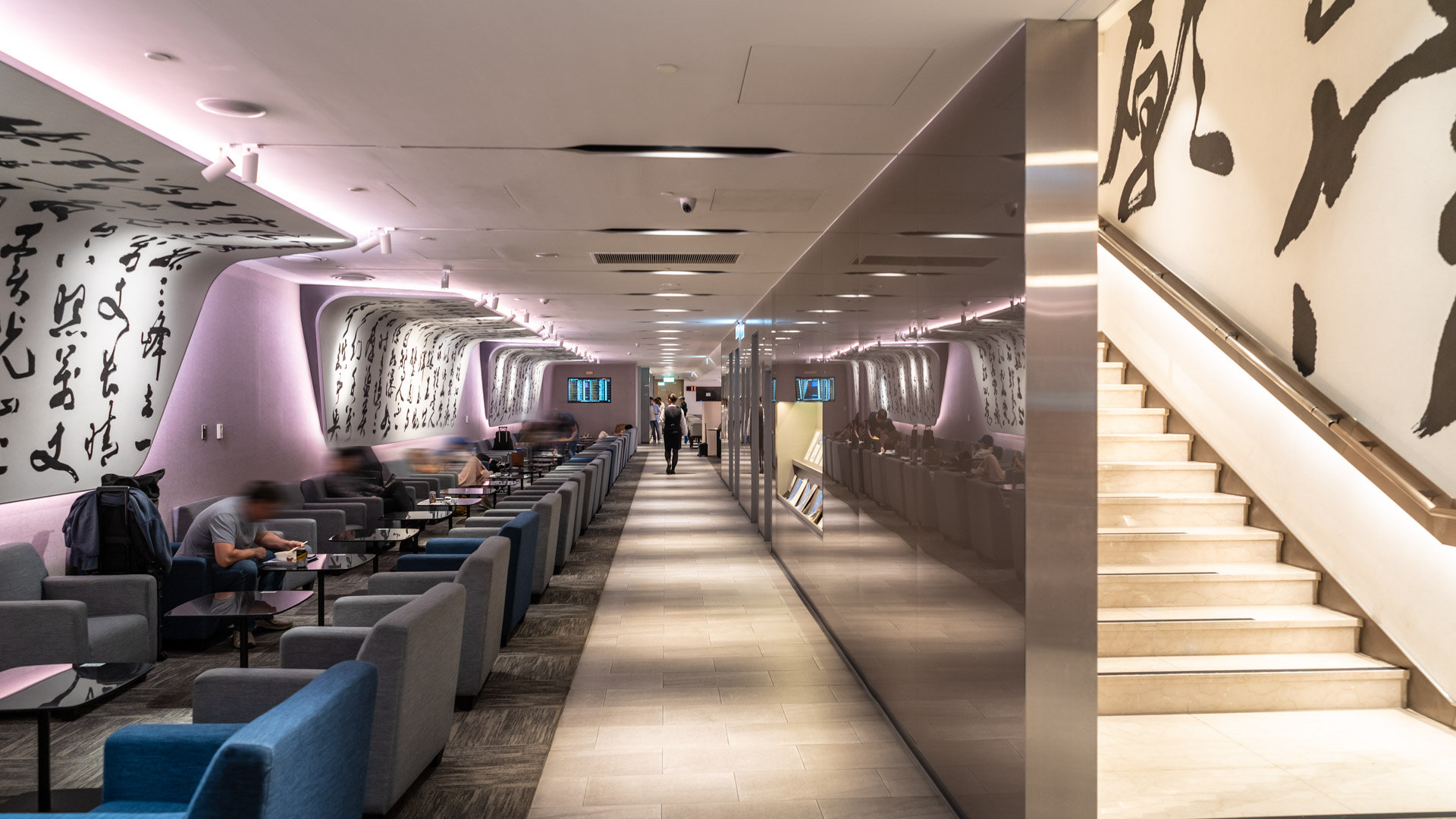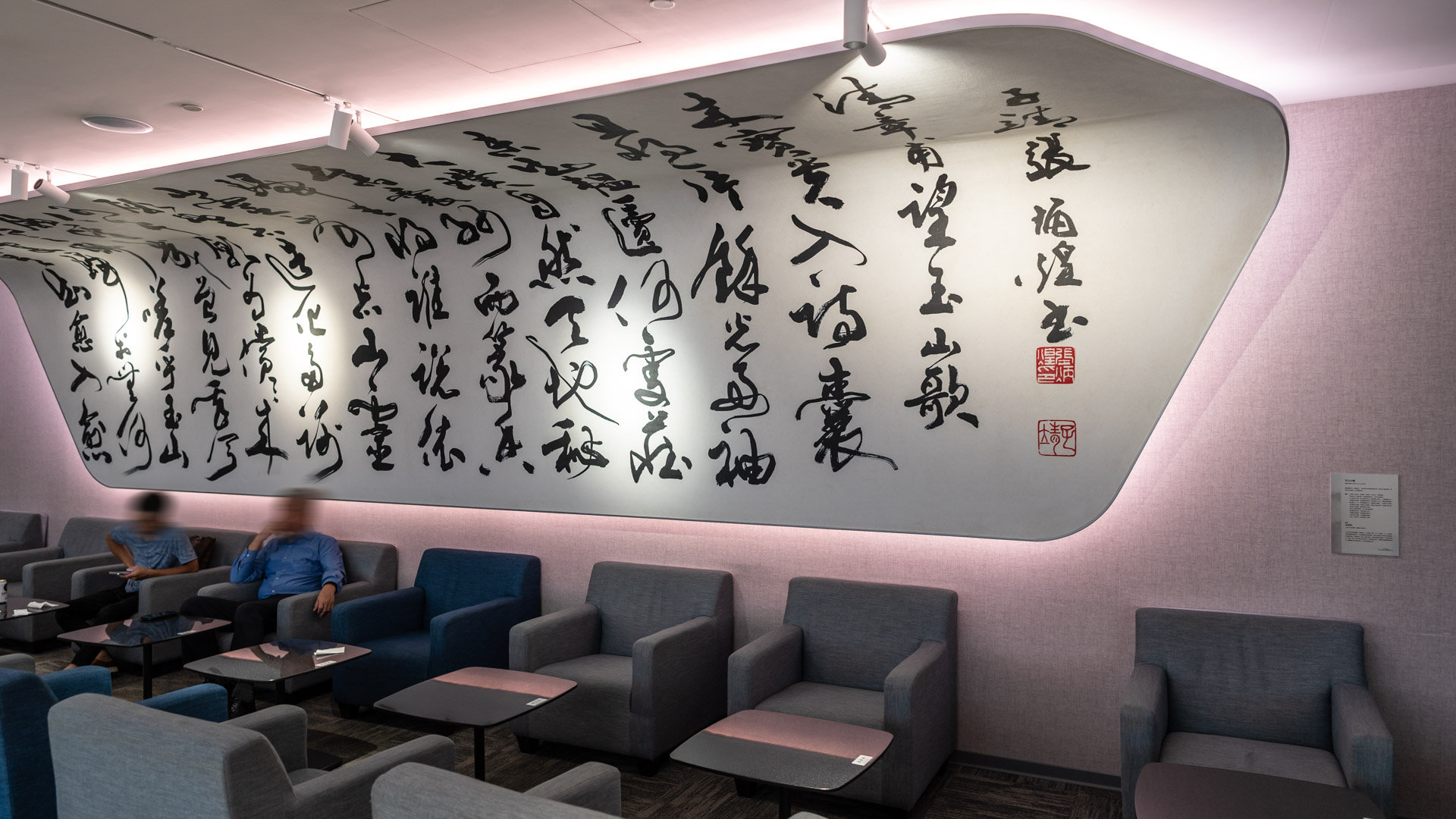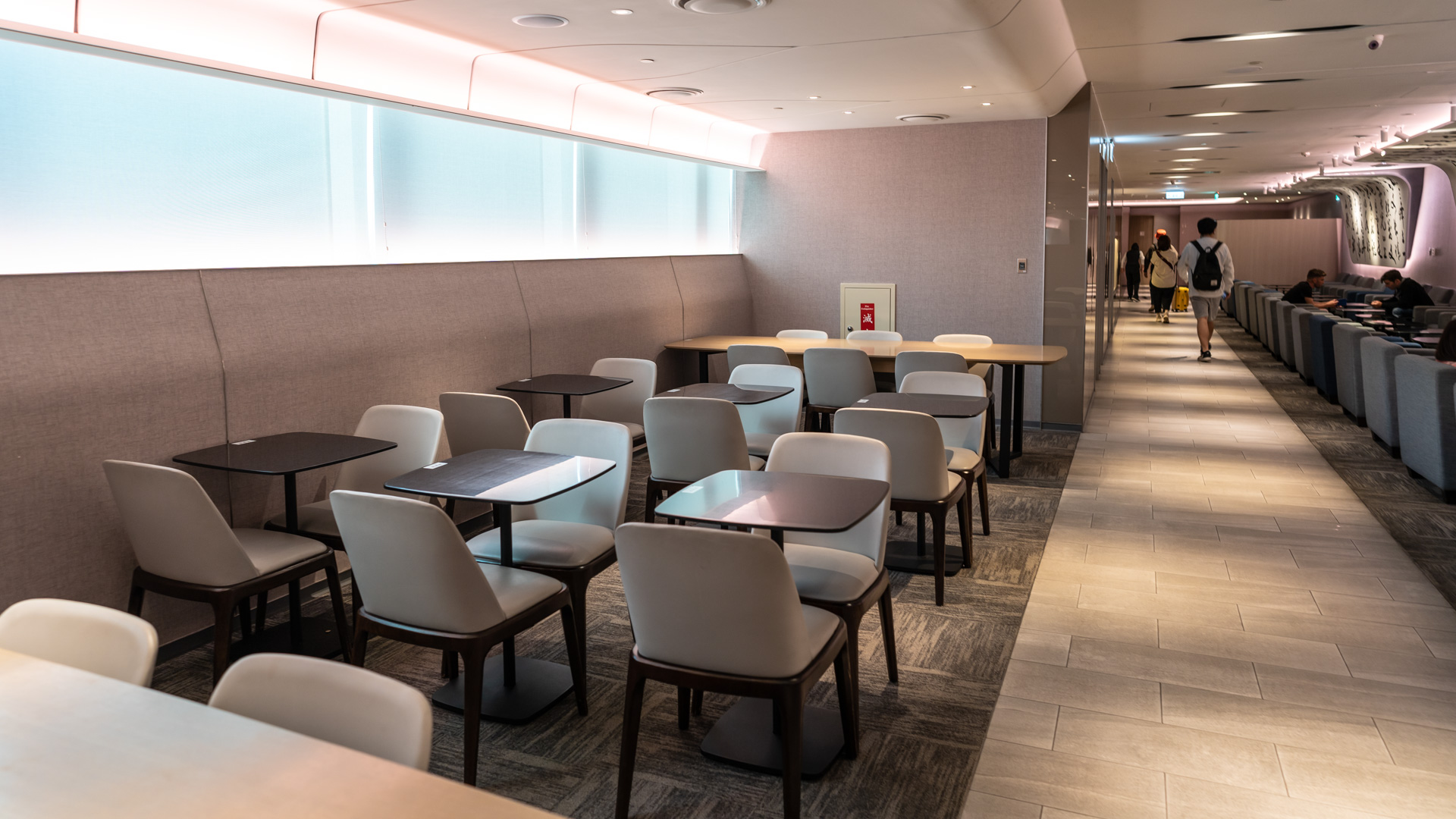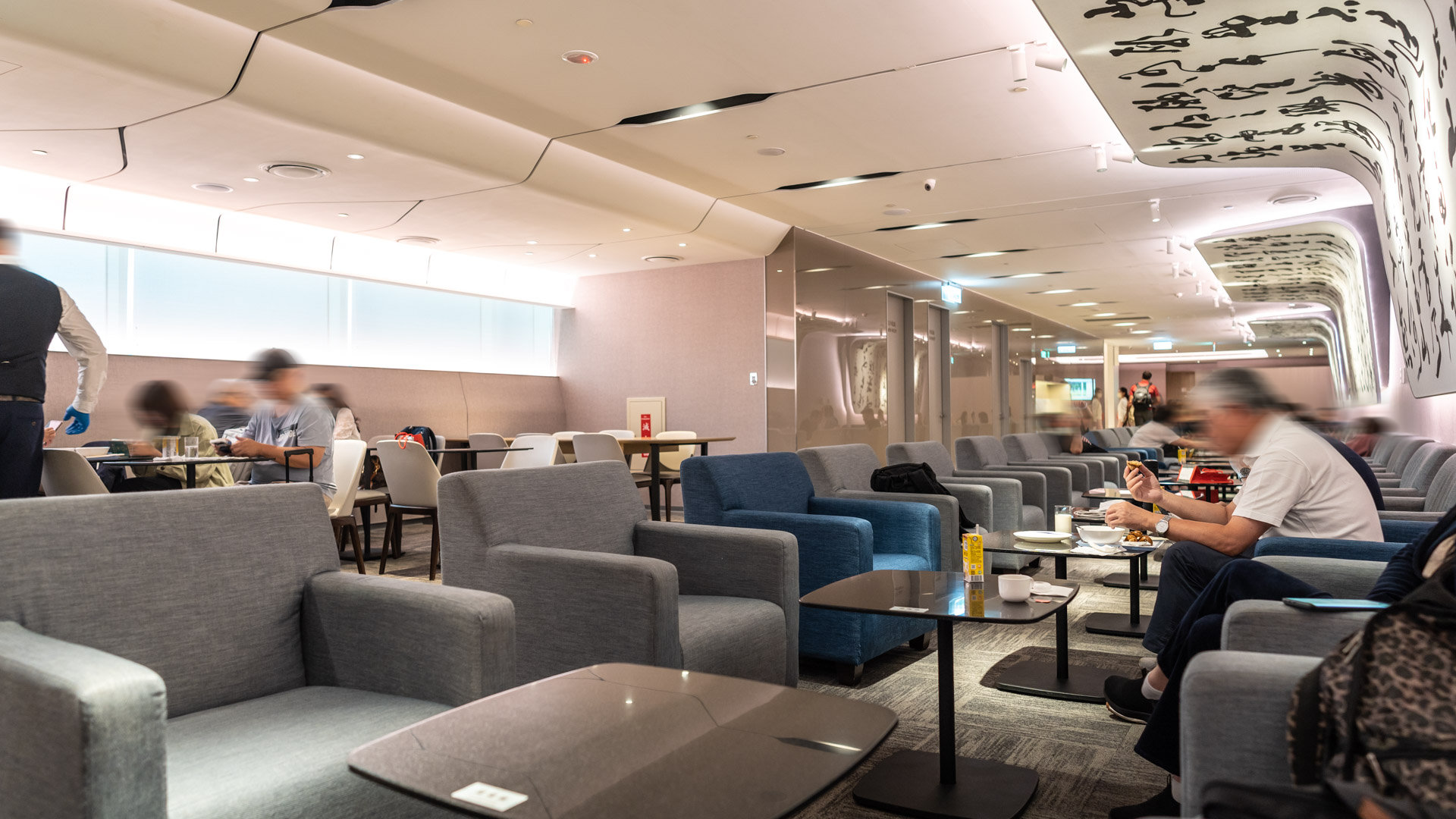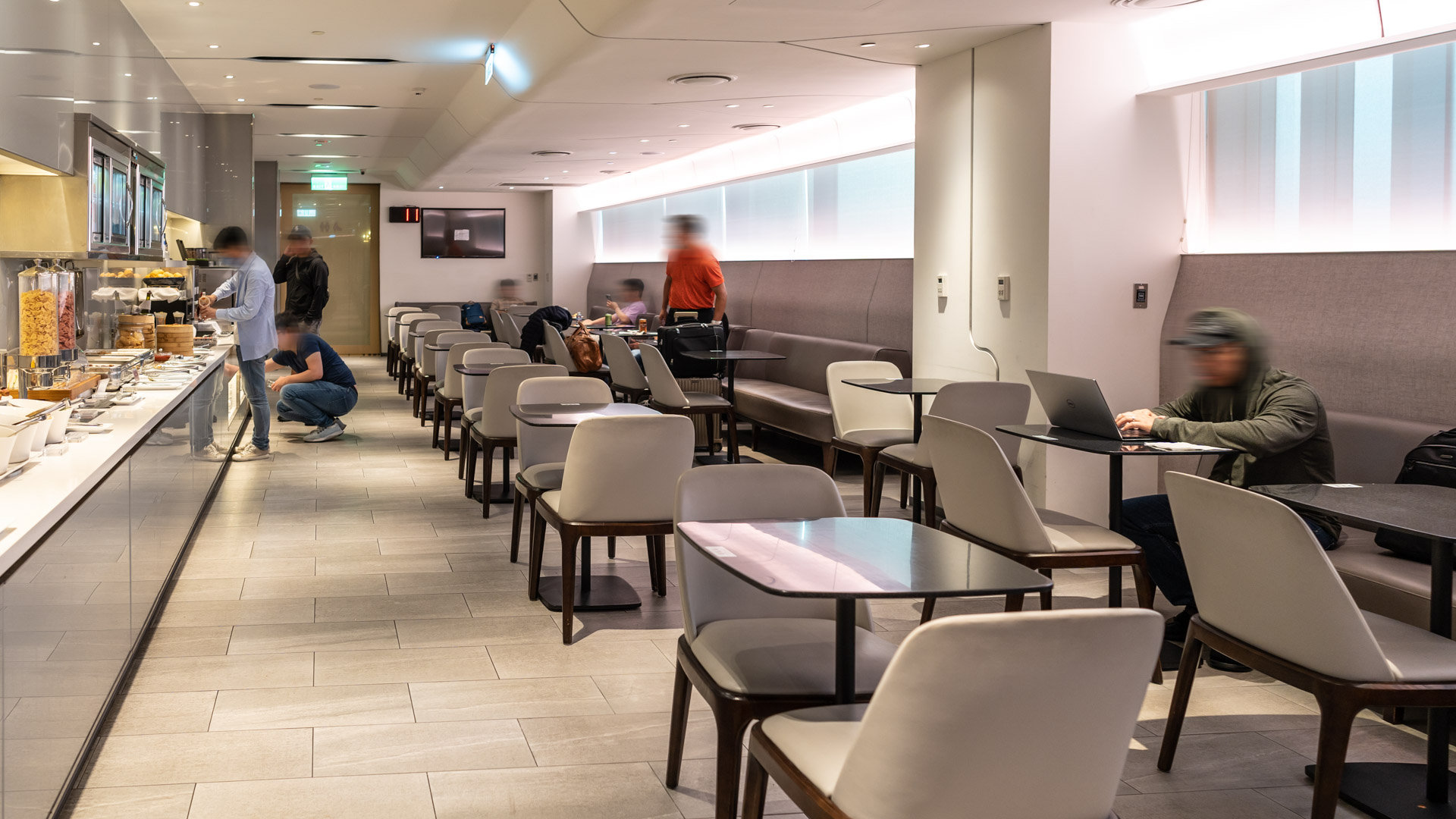 Lounge food and beverages
I'll happily gravitate towards anything that looks made-to-order in a lounge. So unsurprisingly, my first port-of-call is an iPad set up near the kitchen, hawking a tasty range of dishes. For breakfast, I order a bowl of Taiwanese beef noodles, along with a Chinese braised egg (I'm a sucker for those) and a Yakult.
The bowl is oddly missing all hints of greenery – herbs and veggies – that are shown on the iPad. But the fragrant aroma of the broth perks me up, and I slurp it down all the same. I'm saving my appetite for a more exciting range of dishes onboard. But if you're still peckish, you'll find plenty of choices at the buffet including steamed buns, eggs, salads and cakes. For a Business Class lounge, it's a respectable selection.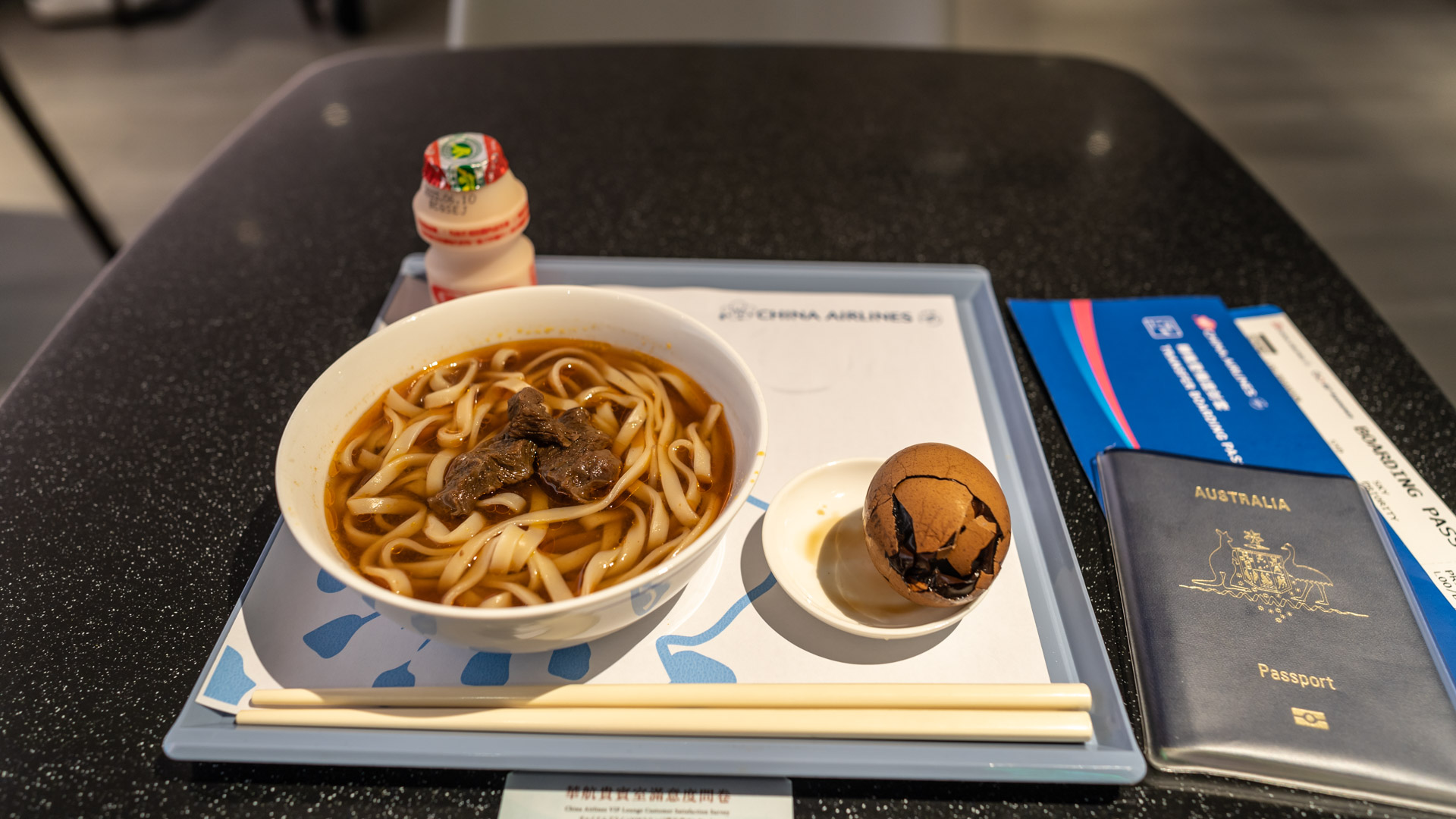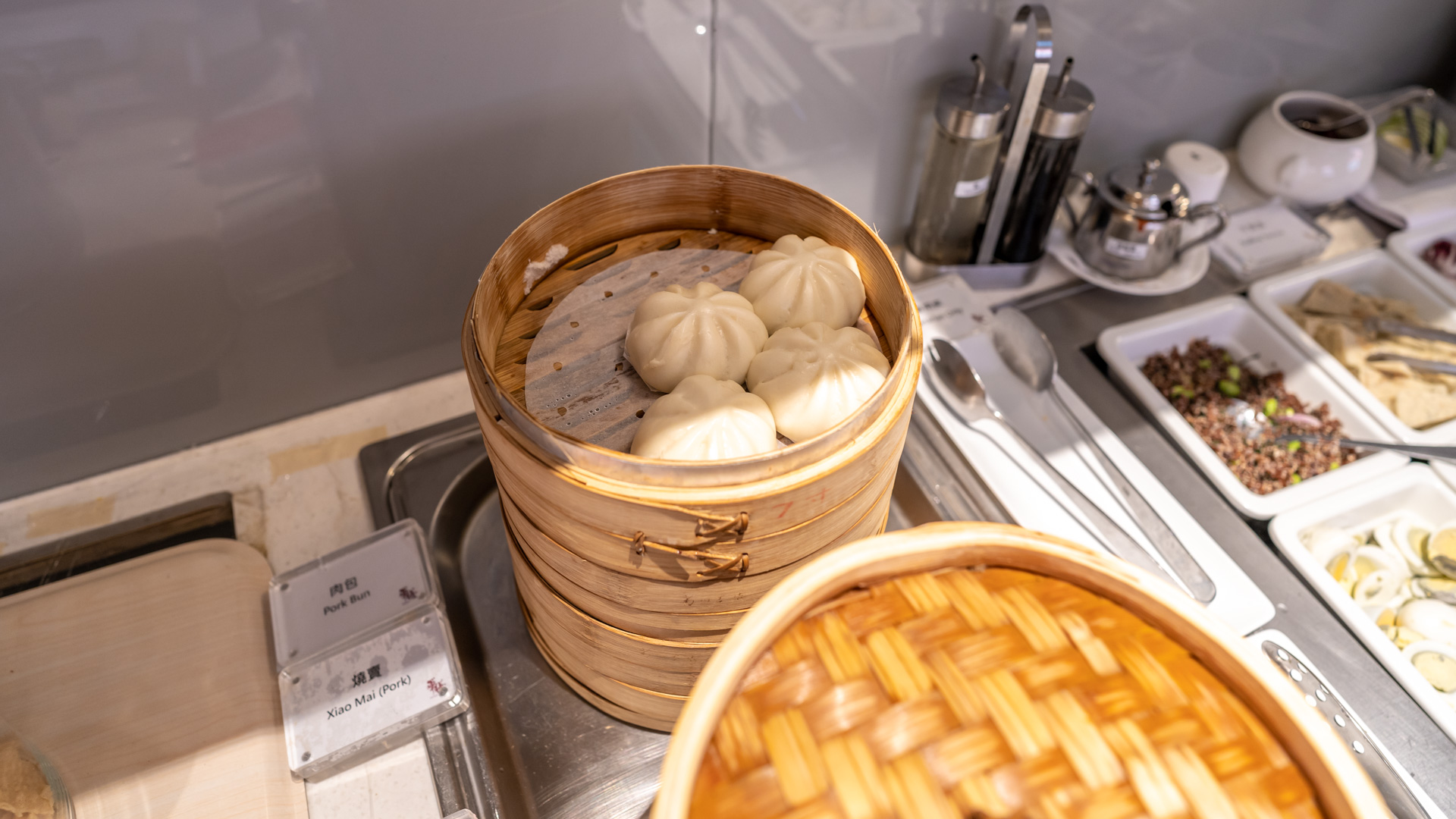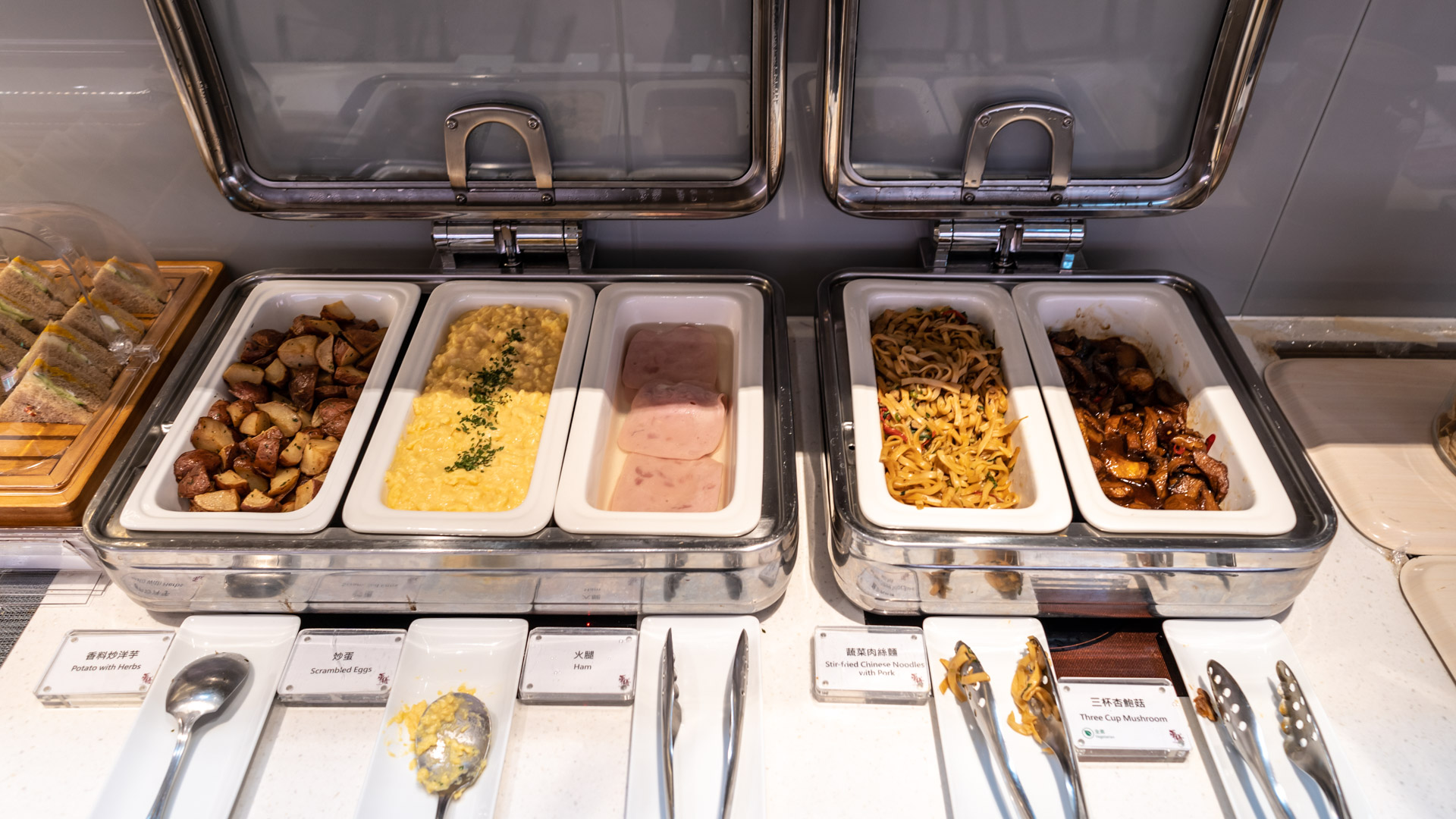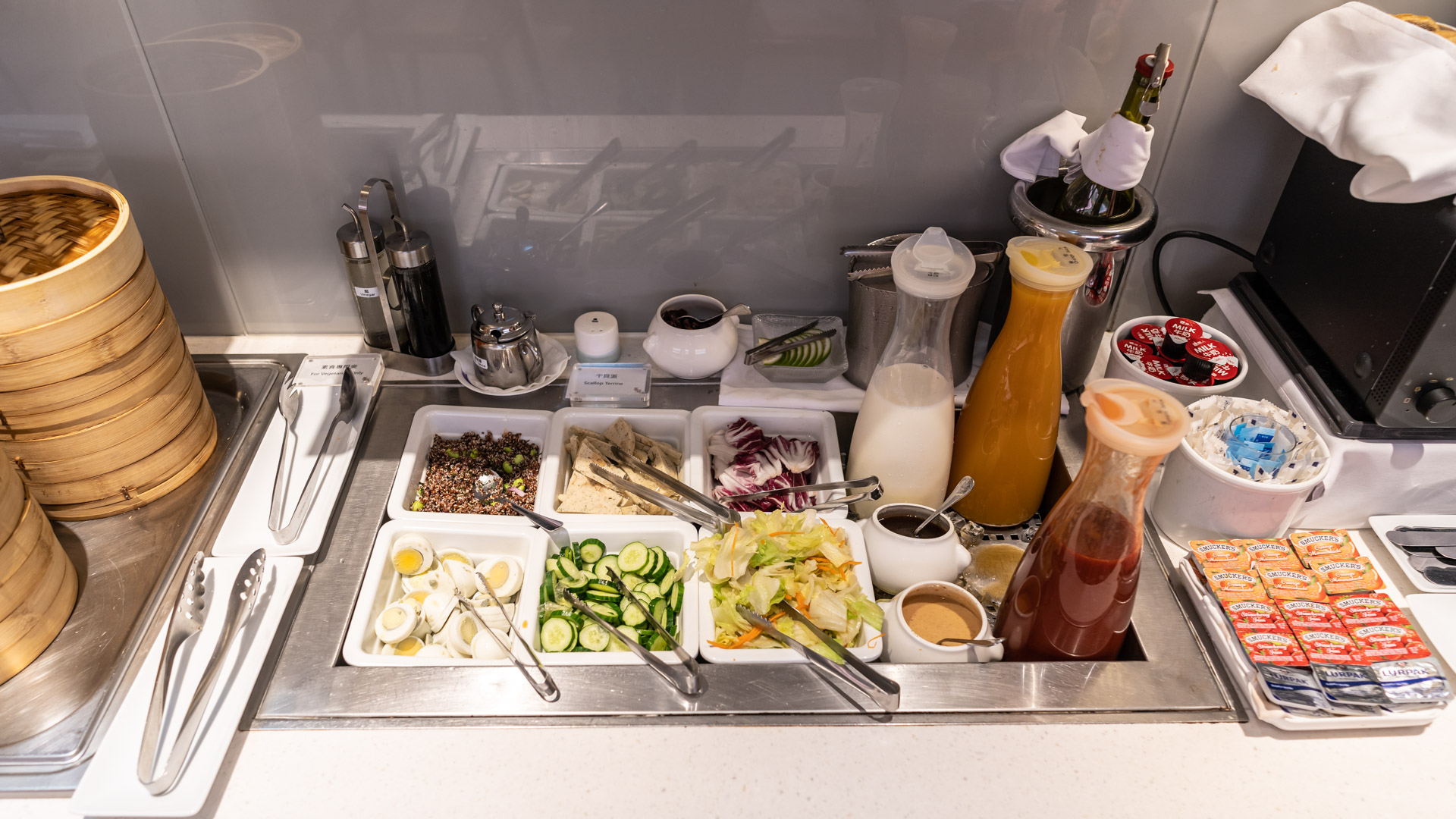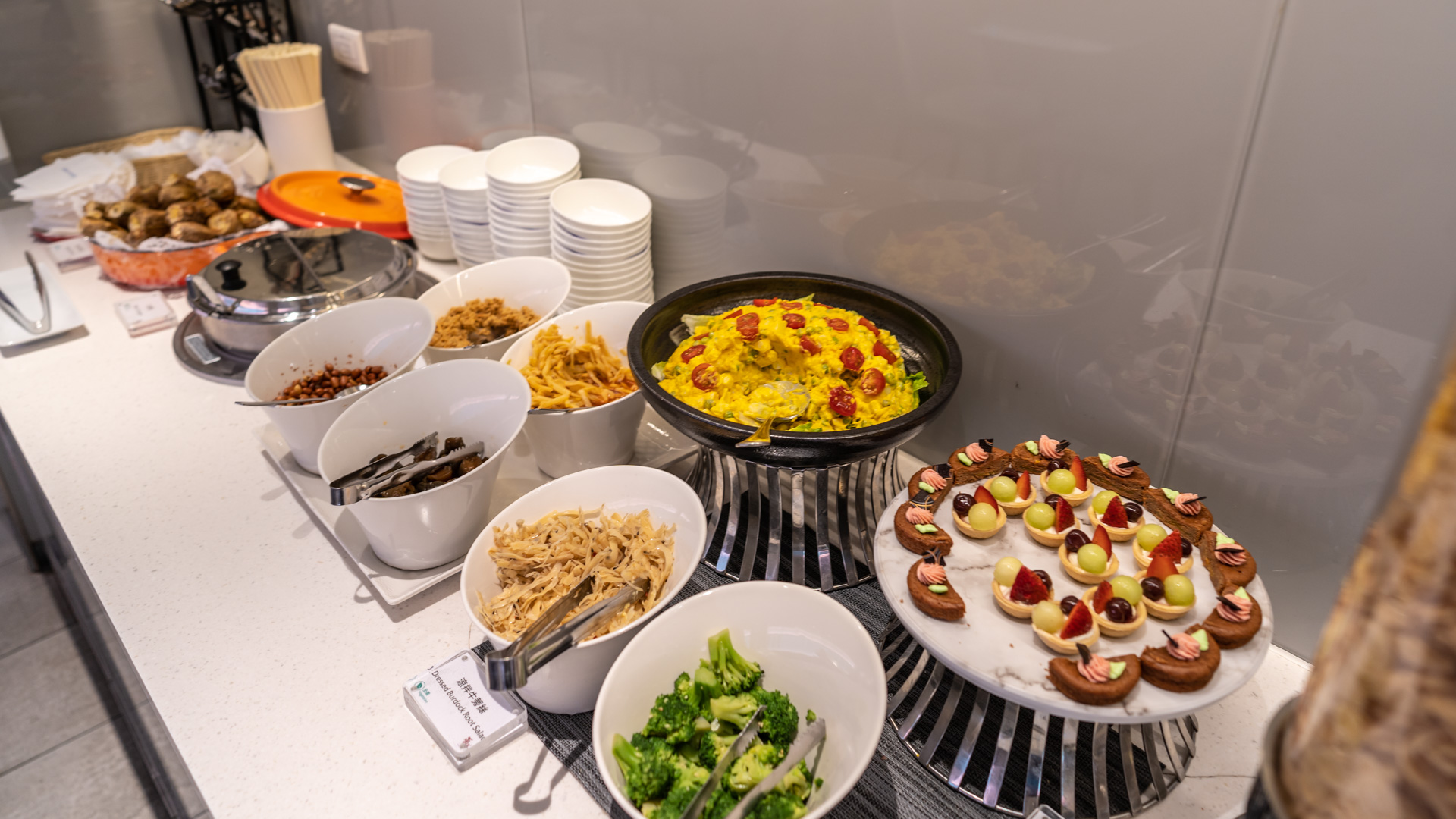 I'm not quite at the stage of the day to knock down cocktails from the DIY bar (featuring typical spirits such as Absolut vodka and Gordon's Dry Gin). Instead, a basic machine-made coffee does the job of keeping me awake. In the fridges, a dizzying array of packed beverages beckons to be chosen.
If you're more of a 'when in Rome' traveller, I'd suggest going for the Yakult or soy-bean milk in the mornings. But there's also beer (Taiwanese and Japanese), various teas and soft drinks available as well.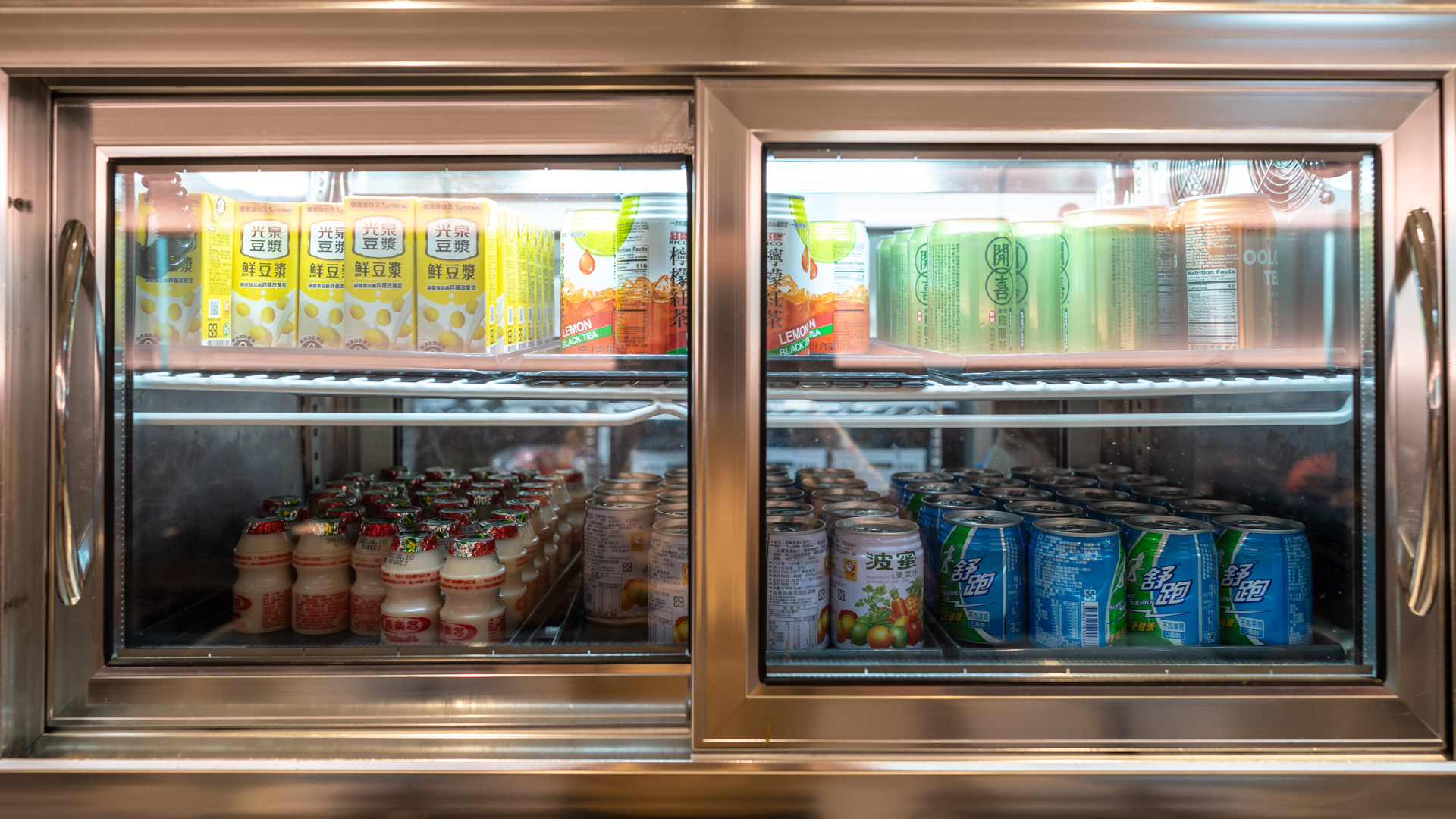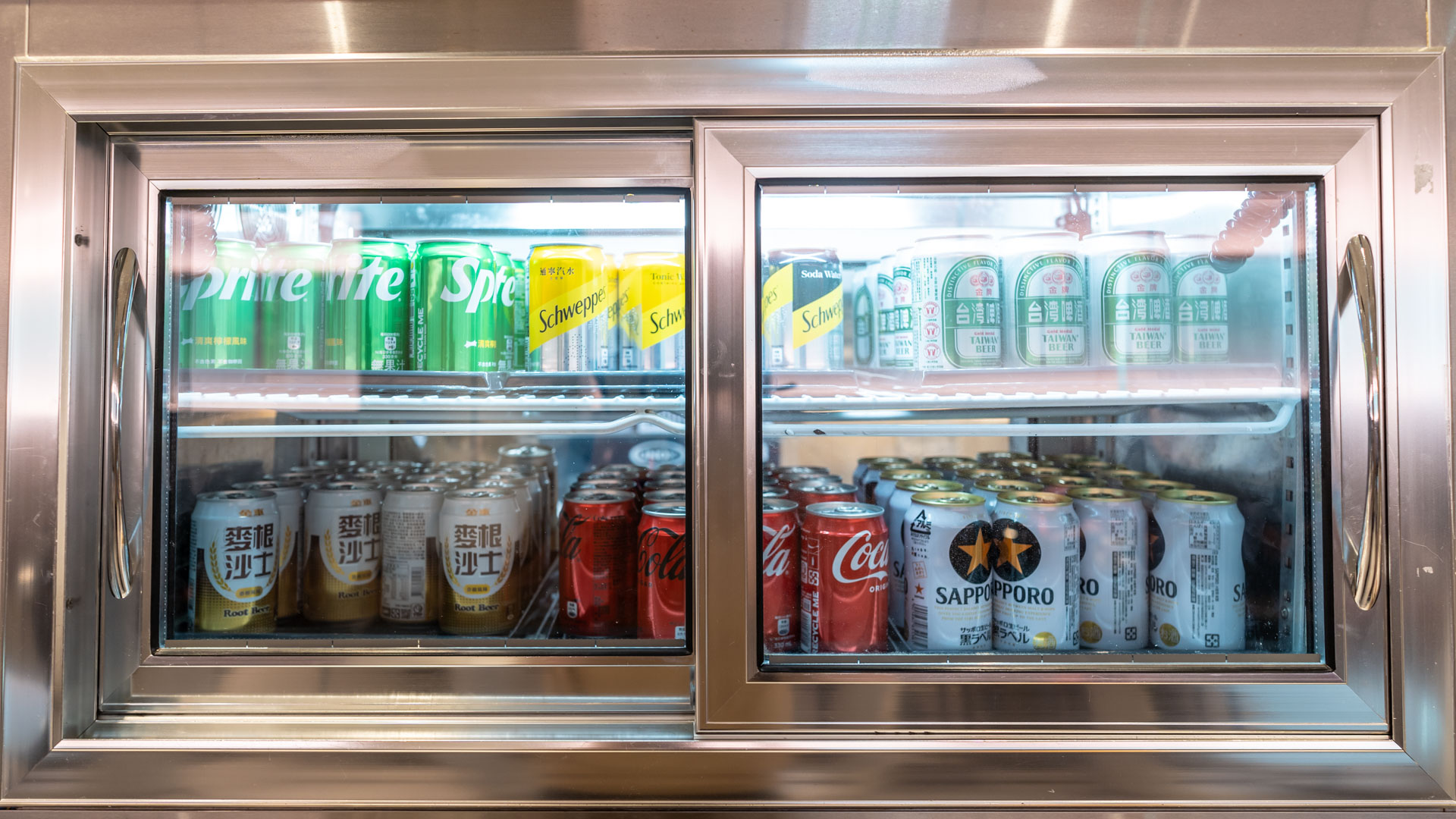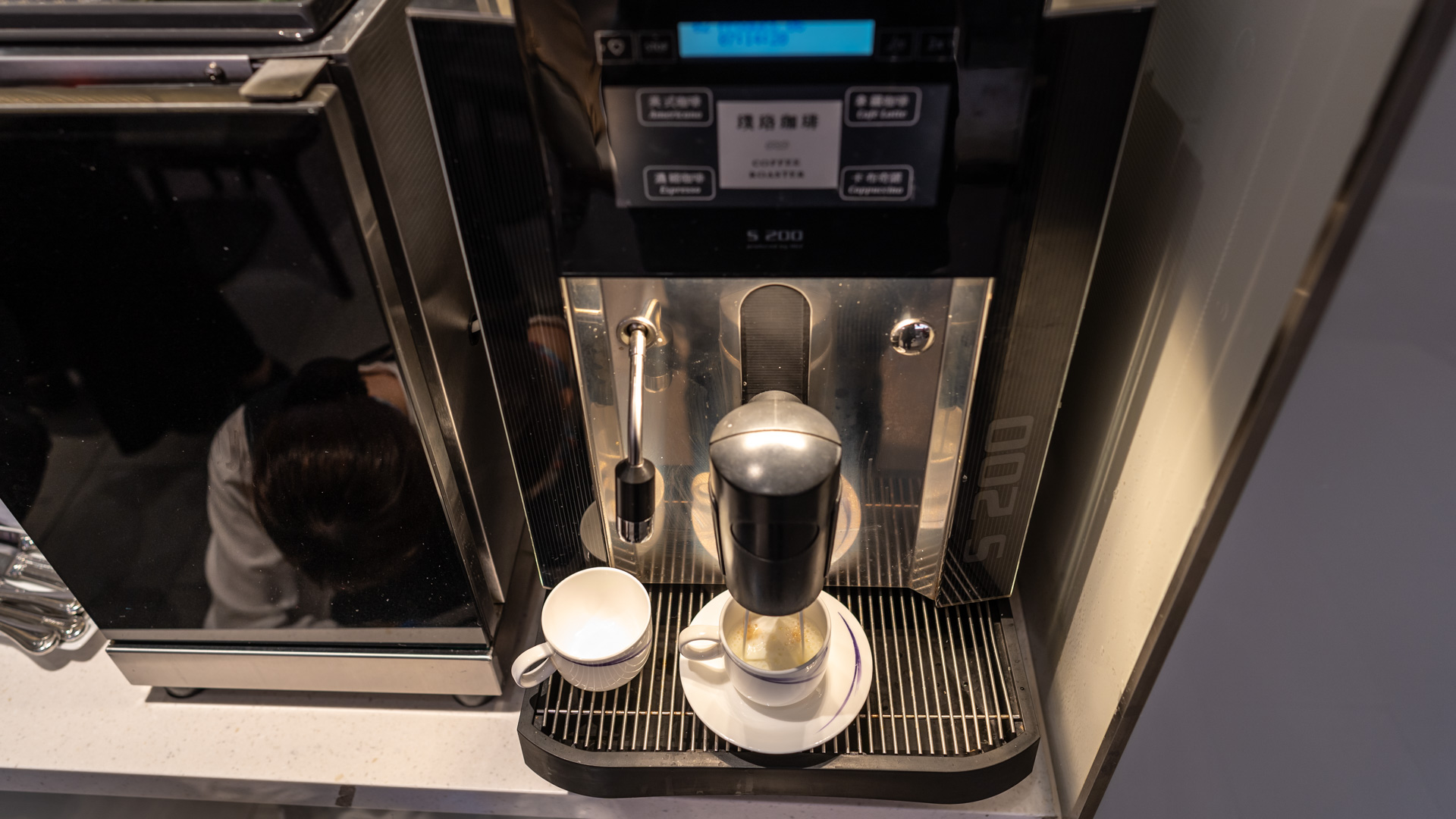 Lounge amenities
The treat I'm most looking forward to is a comforting, warm shower – but it's best to book ahead at reception so you can get a time slot during busy periods. The rooms look dated, but they're very large and functional, so no issues there. I always appreciate a shower room that has a separate area for bags and clothes.
If you need to get some work done, there are two PCs available. Most of the general lounge seating also has access to power points. Finally, free Wi-Fi rounds out the offerings.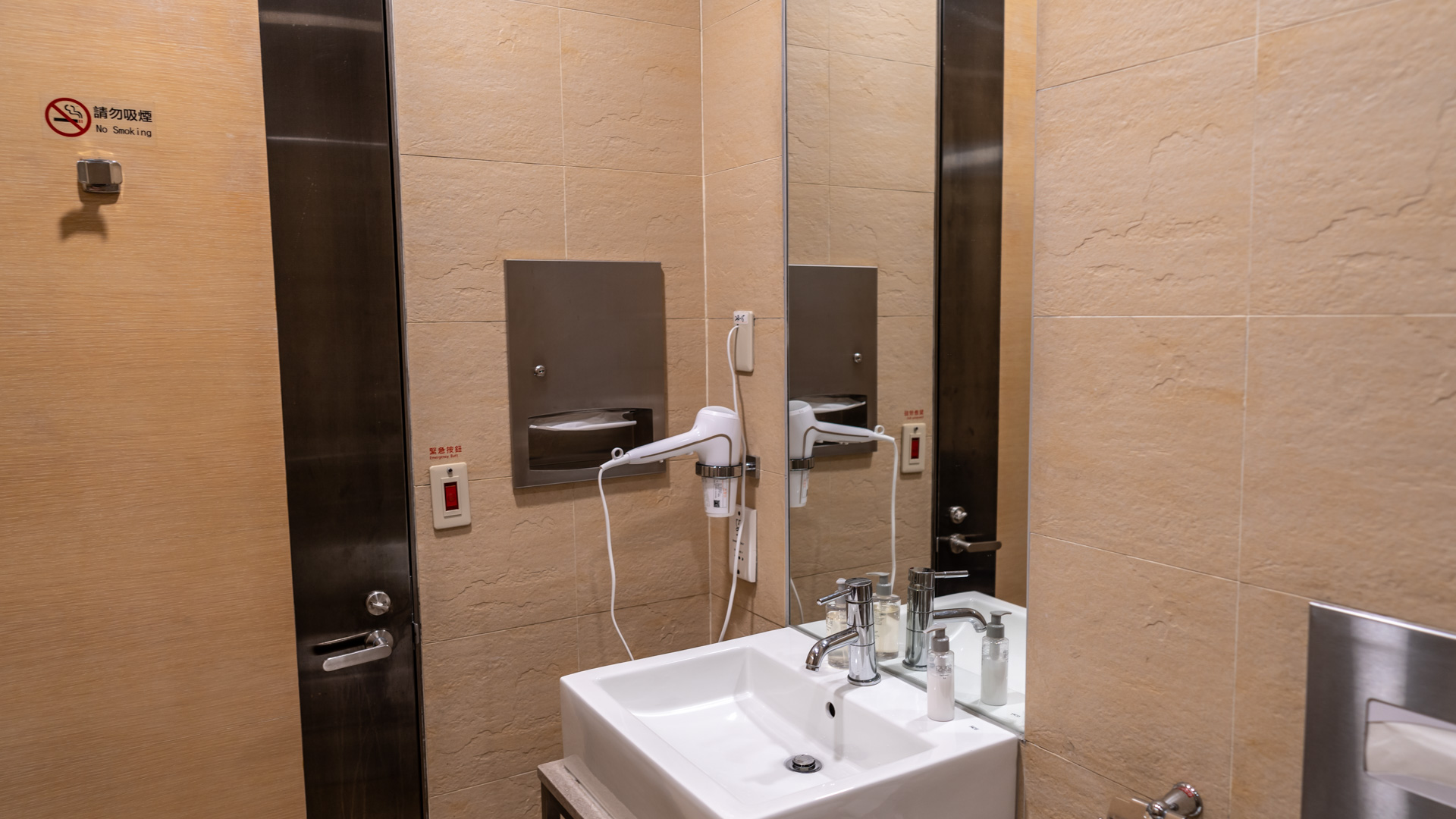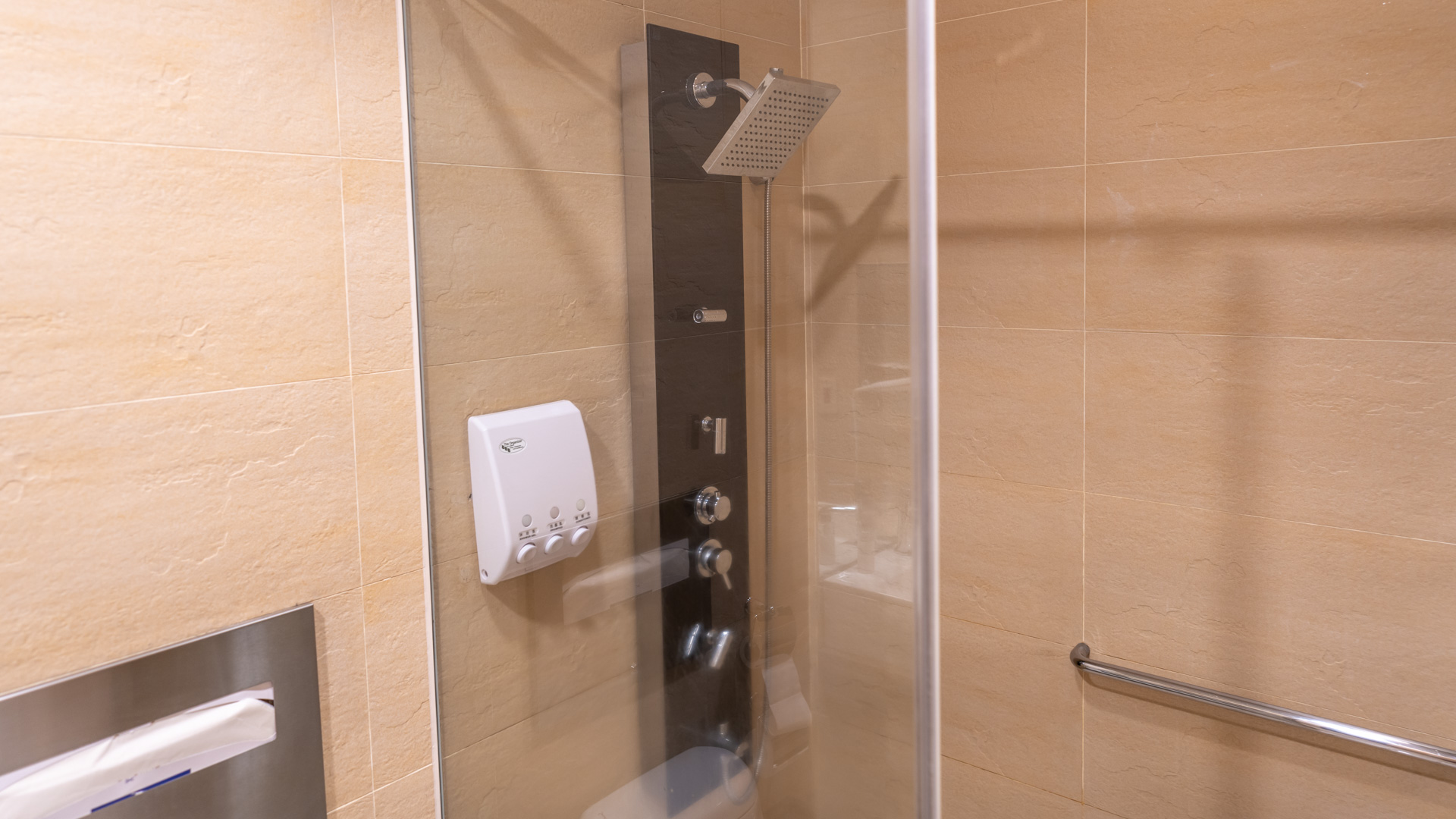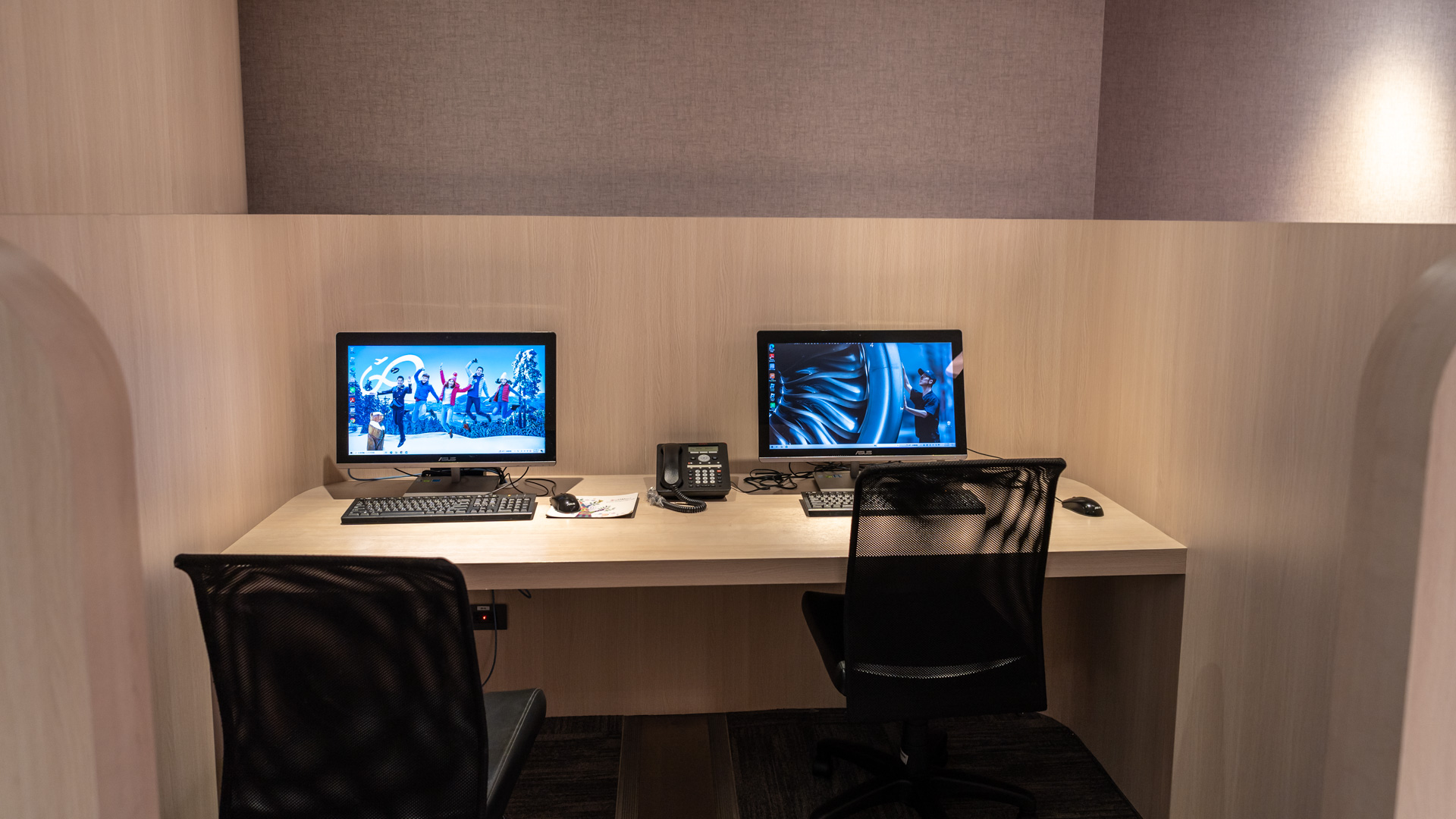 Who can access this lounge?
As a SkyTeam member, China Airlines welcomes all Business and First Class passengers travelling on fellow SkyTeam airlines, as well as members with SkyTeam Elite Plus status.
Class of travel: Business Class or First Class passengers with a SkyTeam airline. From Taipei, this includes China Airlines, Korean Air, China Eastern and KLM.
Elite status: SkyTeam Elite Plus frequent flyers when travelling on a SkyTeam flight (+1 guest).
With miles: Dynasty Flyer members can redeem 5,000 miles for access.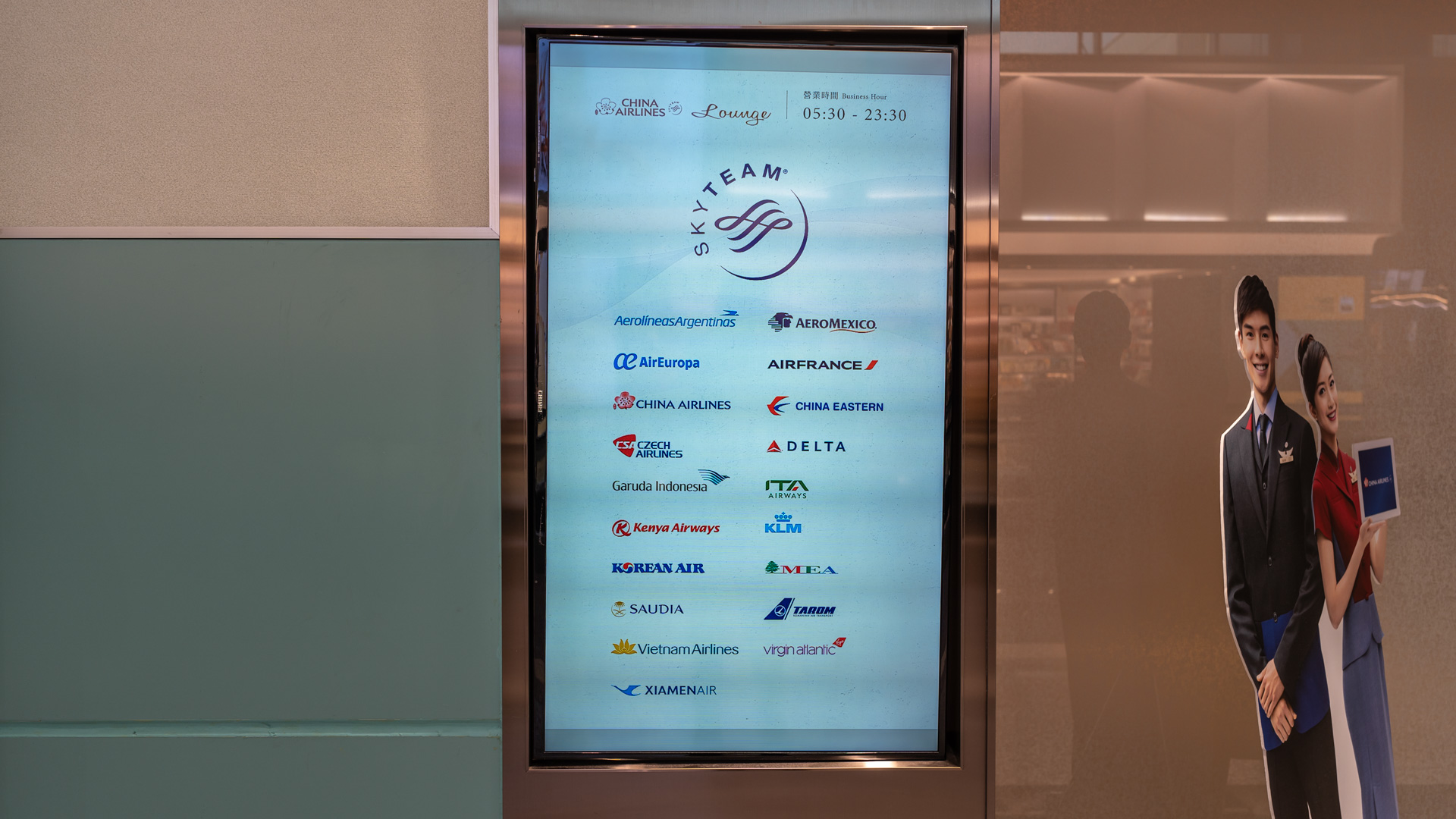 Summing up
Compared to China Airlines' flagship lounge in Terminal 1, with its earthy and wooden tones, this space is smaller and more constricted in appearance. It's generally better than your average pay-per-use lounge, though.
Despite not getting my daily dose of greens, I still enjoy the noodle bar concept, even if it isn't as refined as in Cathay Pacific's lounges. There's little to complain about with the broader food and beverage offering, either.
This isn't a lounge I'd come early for, but it's perfectly suited to an hour or two of lounging, eating and perhaps refreshing with a shower before the next flight. Japan awaits!
Featured image courtesy of China Airlines. All other photography by Brandon Loo, who travelled at Point Hacks' expense.
China Airlines Dynasty Lounge, Taipei Terminal 2
was last modified:
September 18th, 2023
by