Qantas' popular oneworld Classic Flight Reward lets you travel overseas up to 35,000 miles on one ticket – including around the world! Many of us aspire to travel in Business Class for 318,000 Qantas Points plus taxes, with a variety of oneworld member airlines. It's excellent value for a ticket that often retails for more than $11,000 with cash.
If you're new to all this, catch up on the essential details in our starter guide. For many of you, that's all you'll need to know to book a fabulous holiday.
But if you're interested in exploring more advanced ways to use the reward, then why not consider starting your trip overseas? You might be able to split your booking into two separate holidays, and possibly save some cash on the taxes as well.
Full disclosure: starting your oneworld reward overseas is probably not the best idea while border restrictions are still an issue. But keep reading, because the concepts in this article will still apply once we're able to travel more freely.
Two holidays, one (main) ticket
Many of us have more frequent flyer points than annual leave in which to use. Sound familiar? With busy work demands, it can be difficult to visit multiple continents over an unhurried five weeks. Let's say you have your heart set on touring Europe, but you'd also like to spend a little while in Japan.
With some clever splitting of your oneworld Classic Flight Reward and some one-way repositioning of flights, you might be able to enjoy two separate holidays. We'll cheers to that!
Let's say you're planning a simple Business Class return flight from Melbourne to London, on a Qantas partner airline. That will come to 318,000 Qantas Points (+ taxes) on partners such as Qatar Airways, Japan Airlines or Cathay Pacific. You'll have travelled just over 22,000 miles.
But here's the thing: a Qantas oneworld Classic Flight Reward in Business Class is also 318,000 Qantas Points – and it allows for 35,000 miles of travel. If you're paying the exact same in points, why let those potential 13,000 flight miles go to waste?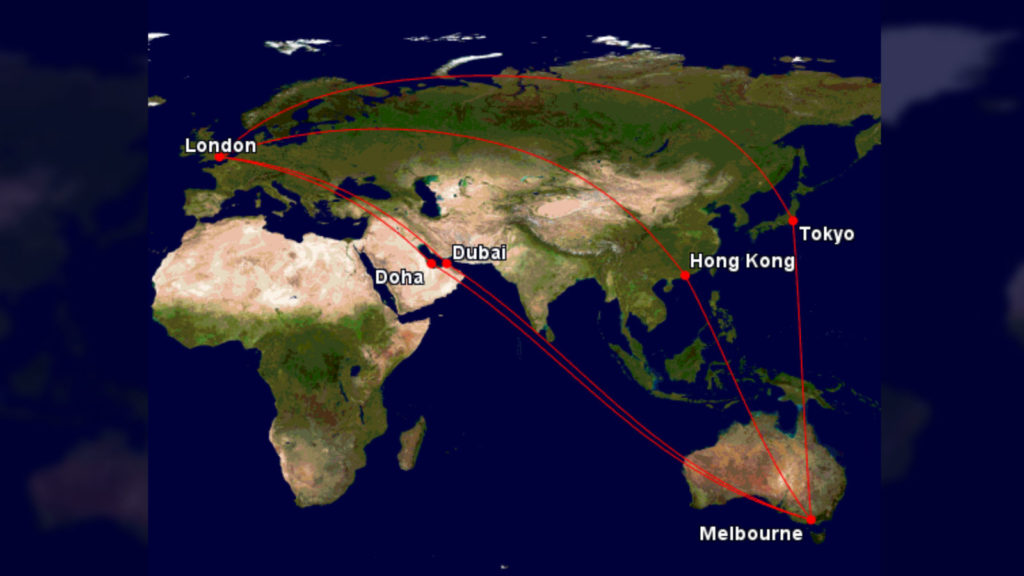 The trick: start your Qantas oneworld ticket from overseas
With the basic example above, your ticket would end upon returning to Melbourne (or to anywhere in Australia, for that matter). So why not start your ticket in a different country and make Australia a 'stopover' point instead? Let's look at starting the journey in Bali rather than Oz.
Holiday #1: Bali to Europe to Melbourne
First, you'd need to position yourself in Bali. A six-hour positioning flight from the East Coast to Bali is the way to go, with options ranging from low-cost to premium carriers. Use points or cash – it's up to you. Just allow plenty of time between your flight connection in Bali.
Then from Bali, your oneworld reward begins. For example, you could fly:
Qatar Airways Business Class from Denpasar to Doha to London (stopover #1)
British Airways Business Class from London to Rome (stopover #2)
Qatar Airways Business Class from Rome to Doha to Melbourne (stopover #3)
This would conclude Holiday #1, which covers London and parts of Europe. When you return home to Melbourne, you're effectively taking a very long stopover. This is technically the time you're spending at home between holidays.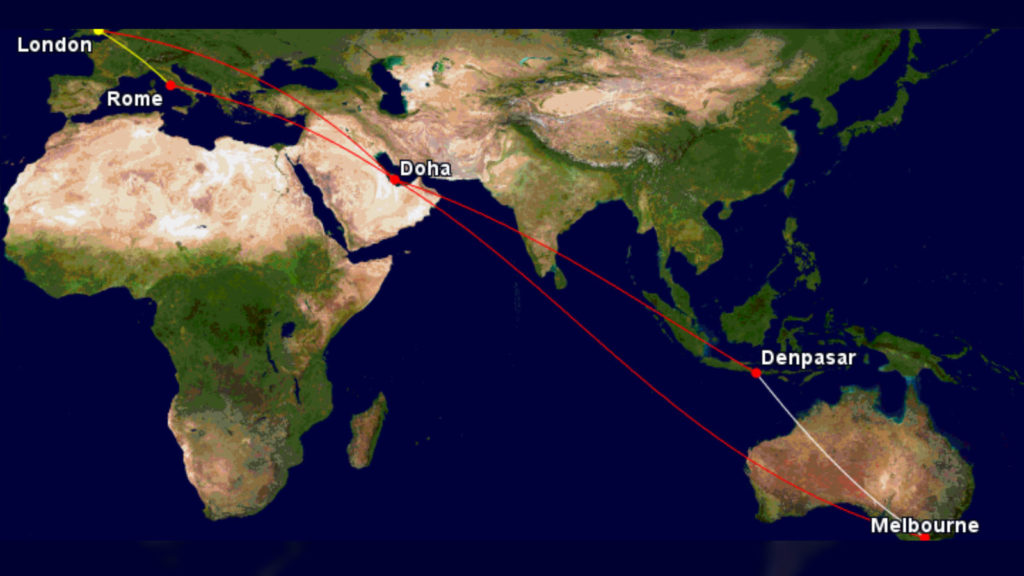 Holiday #2: Melbourne to Hong Kong and Tokyo
So far, we've used up 21,689 miles in the oneworld reward. Bear in mind, this takes into account the positioning flight from Melbourne to Bali as well. This is important to consider because we ultimately plan to finish our ticket in Melbourne, not Bali.
This means the 'ground sector' distance between Melbourne and Bali needs to be included in the mileage calculations.
Never fear – we still have roughly 13,000 travel miles and two stopovers left to play with. For Holiday #2, we have enough ticket mileage left to visit Asia. So Hong Kong and Tokyo it is! After your arrival from Europe, the next flights on your continuing ticket are:
Cathay Pacific Business Class from Melbourne to Hong Kong (stopover #4)
Cathay Pacific Business Class from Hong Kong to Tokyo (stopover #5)
Japan Airlines Business Class from Tokyo to Melbourne (end of the ticket)
This itinerary works because you can finish your ticket in a city you've previously 'visited' (in this case, Melbourne).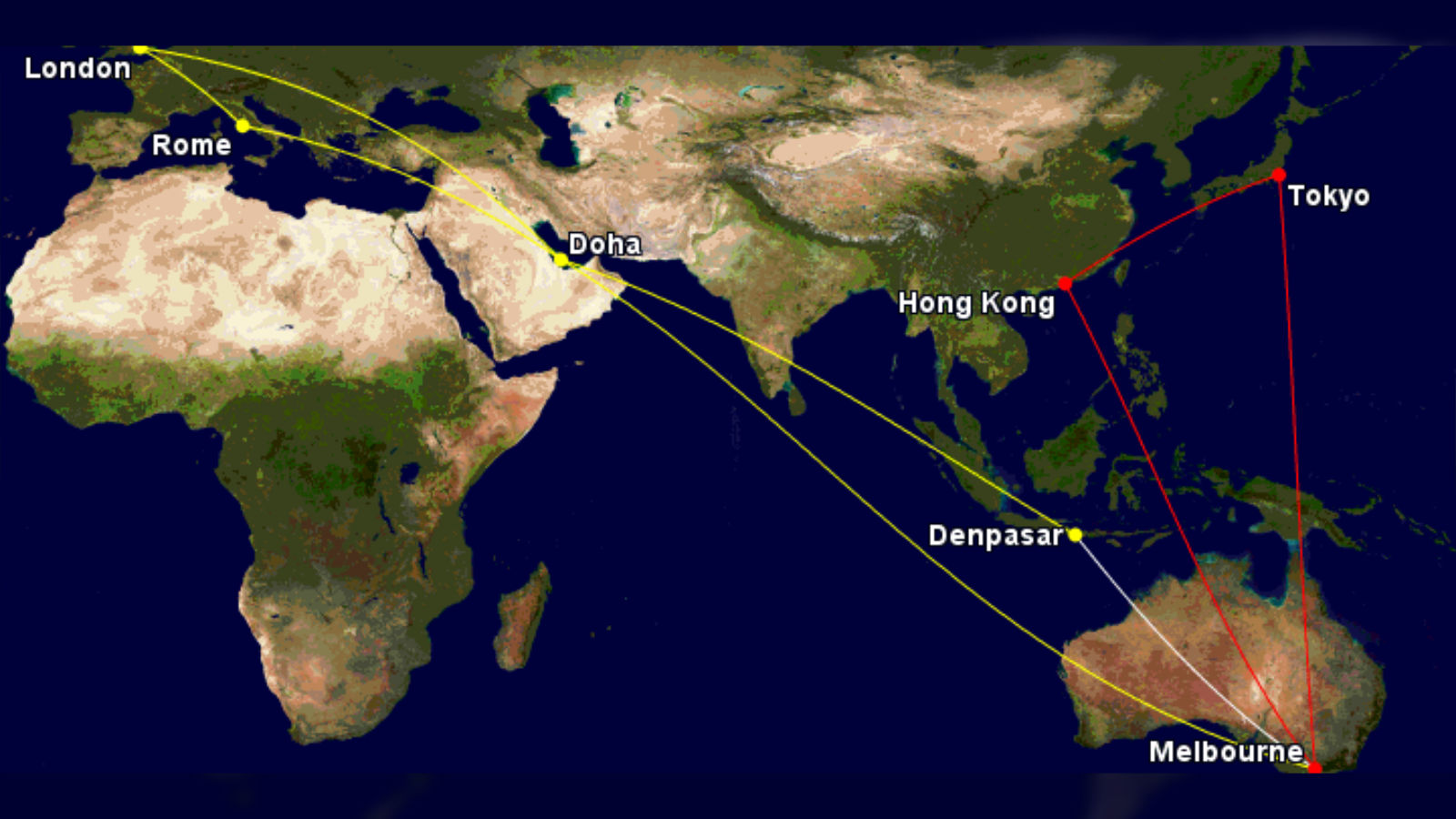 There you have it. Two Business Class holidays – one to Europe, the other to Asia – for just 318,000 Qantas Points per person, plus taxes. Not a bad way to travel, that's for sure! And all you needed for it to happen was a single positioning flight to Bali.
If you had flown Melbourne-Europe return for 318,000 Qantas Points and then booked Melbourne-Hong Kong-Tokyo as a separate ticket, that would have cost an extra 208,800 Qantas Points in Business. Let that sink in – you saved more than 200,000 Qantas Points just by starting your oneworld Classic Flight Reward overseas.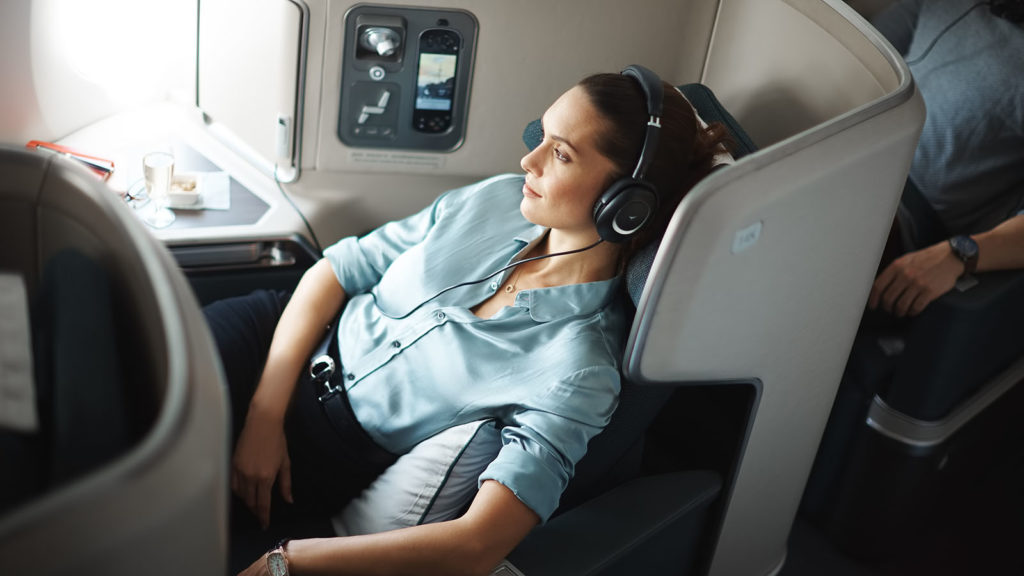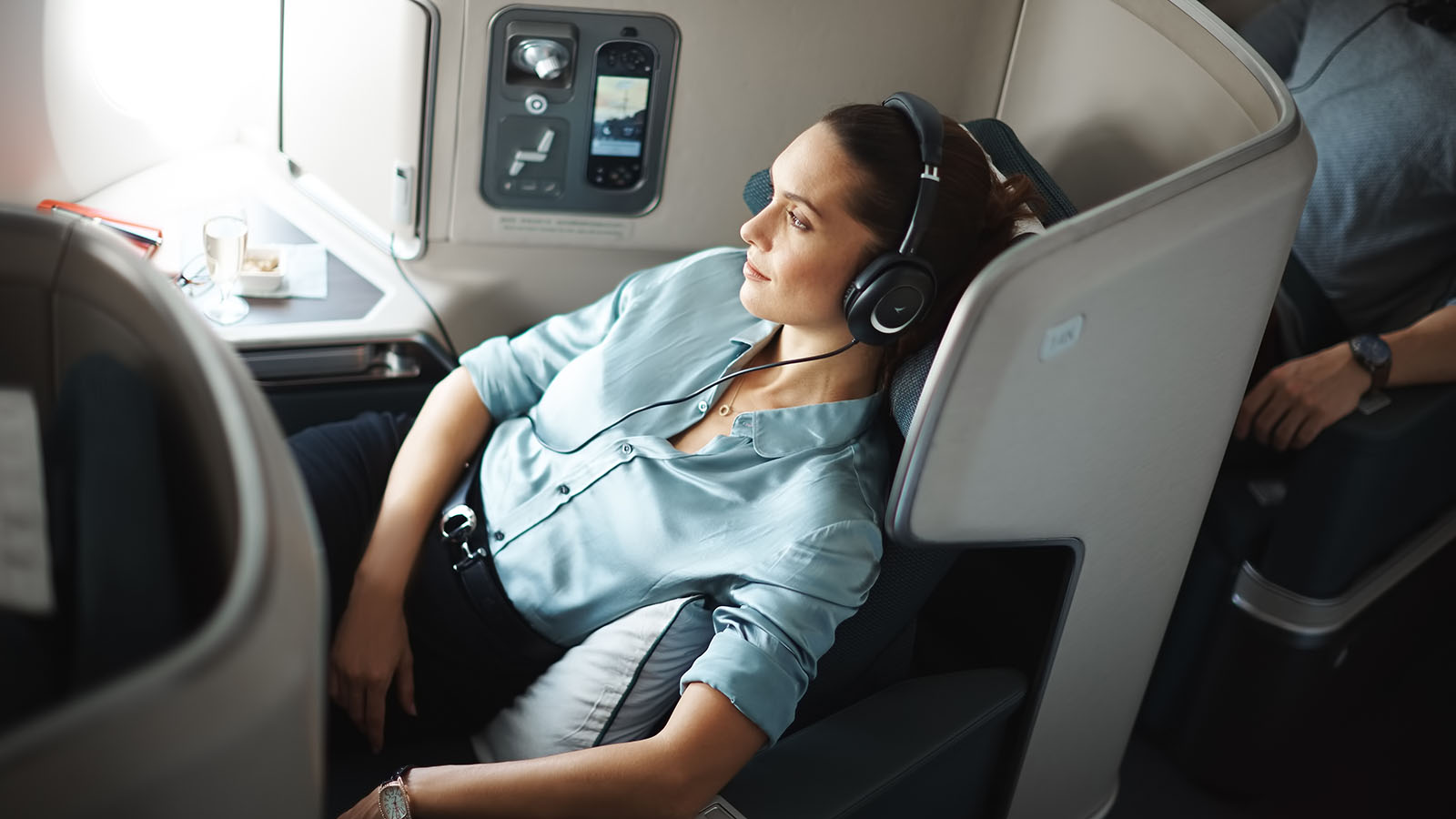 Ad – Scroll down to continue reading.Minimum spend, terms & conditions apply.
So, is there a catch with this?
Nope, there aren't any 'catches' as such. But you need to make sure you meet all the Qantas oneworld Classic Flight Reward rules, including:
Itineraries must include at least two non-Qantas oneworld airlines.
You can't fly on non-oneworld carriers such as Emirates and Jetstar.
The maximum permitted mileage is 35,000 miles.
Bookings may have up to 16 segments, including surface segments.
You may stop once in up to five cities, and also transit a city twice.
A ticket finishes if you return to the city or country of origin.
If you end your itinerary in a port other than the port of origin, the distance between your final destination and your port of origin is added to the itinerary. This is important to remember if you plan to start overseas and finish back in Australia.
Booking window and changes
You are only able to book flights with reward seat availability, which is typically about a year in advance. Your entire itinerary must be booked before you depart and, on top of that, a booking can only span over the course of one year.
In the above example, the whole trip from when you depart Bali for Europe – and when you return back to Melbourne from Tokyo – must be within 12 months.
You don't have to lock in every single flight at the start, though we highly recommend you do if possible. If you make any changes to the booking (including adding extra legs), you may be up for a change fee of 5,000 points per change. Service fees may also apply if making changes over the phone for Economy and Premium Economy bookings.
(At the time of writing, the change fee is waived for international bookings. Check with Qantas for the latest fees).
Positioning flights
Positioning flights do add to the cost of your journey. With our main example, just one positioning flight was needed at the start, which is manageable. Consider destinations in Asia such as Bali, Jakarta and Singapore as your positioning city, as it's usually easy to fly there on a low-cost or premium carrier.
Note that one-way flights might be quite expensive with full-service carriers. You may want to look at using low-cost carriers or redeem points for a separate reward flight for your positioning journey.
Insurance implications
Many travel insurance policies require you to have a 'return overseas ticket' at the time of departure, so be sure to check your booking is eligible with your insurance provider. An annual multi-trip policy may be of better value if you split your travel into multiple holidays.
What about cheaper taxes and surcharges?
Reward bookings from overseas attract different fees and charges. As discussed in our guide to minimising airport charges, these may be more (or less) than departing from Australia. Using our two-holiday example from before, here are the approximate fees and taxes departing from popular overseas ports:
Departure airport
(assuming return to MEL)
Distance flown on the oneworld reward
(including positioning flight)
Taxes & Surcharges
(AUD equivalent)
Manila
34,029 miles
$570
Hong Kong
34,094 miles
$1185
Kuala Lumpur
33,180 miles
$1303
Bangkok
33,419 miles
$1311
Denpasar
33,182 miles
$1345
Note: These fees and surcharges are from 2019 and may differ from current charges. We will endeavour to update this table with the latest figures when more reward seats in 2022 become available.
Manila comes through as the most affordable point of departure, by far. This has always been the case, as Manila regulates fuel surcharges. When starting a booking overseas, your fees and taxes will usually be priced in foreign currency. You may want to consider a payment method with no overseas transaction fees.
Your airline choice will also make an impact on fees and charges. Take a look at the difference between Malaysia Airlines and Qatar Airways on a Bali-London reward seat in Business Class:
Malaysia Airlines: Rp395,500 (AU$39) in fees for Bali-Kuala Lumpur-London

Rp225,000 (AU$22) in taxes and fees, and Rp170,500 (AU$16.50) in carrier charges

Qatar Airways: Rp5,909,200 (AU$569) in fees for Bali-Doha-London

Rp368,800 (AU$35) in taxes and fees, and Rp5,540,400 (AU$534) in carrier charges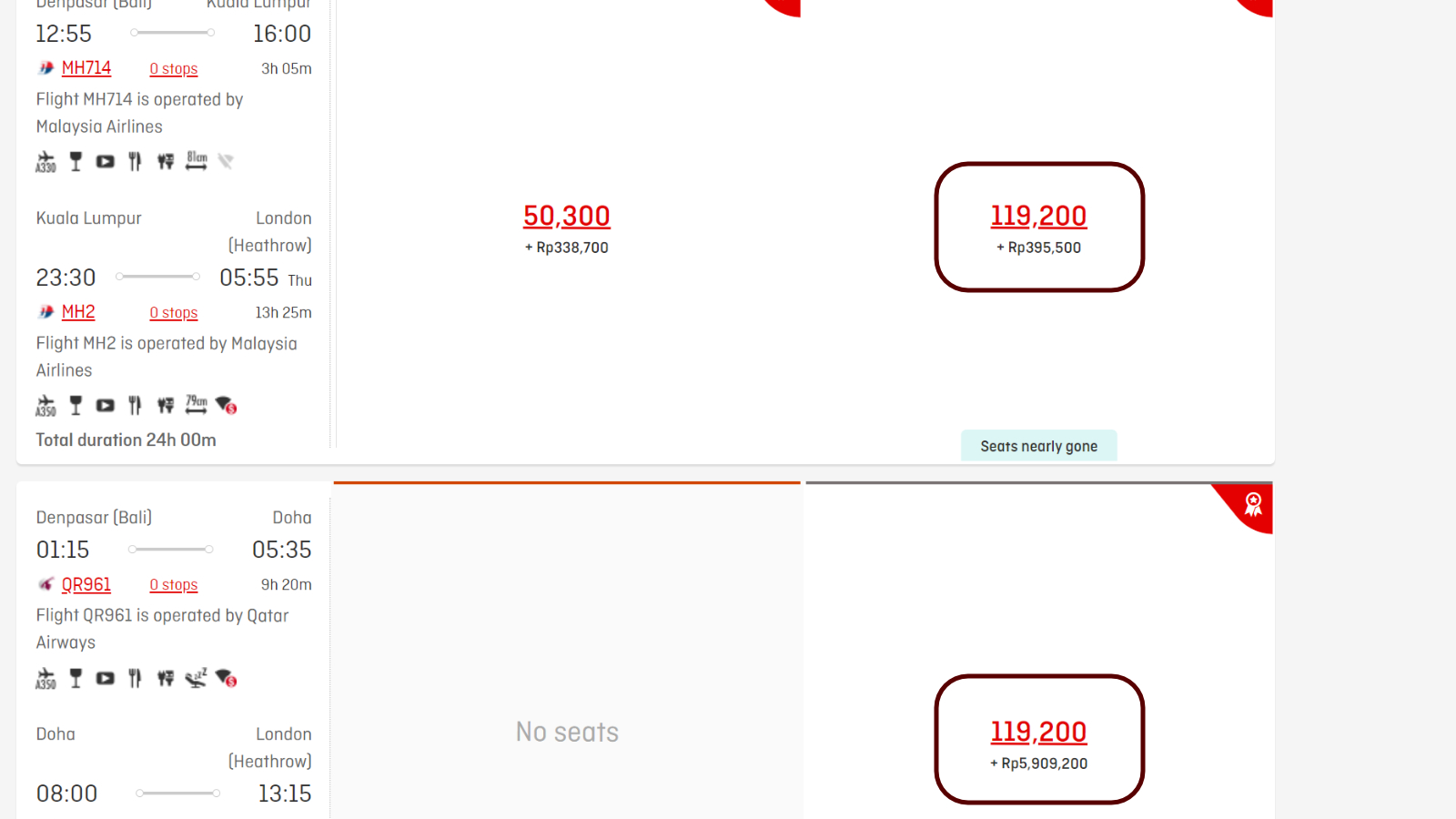 The fees for Qatar Airways are nearly 17 times more than Malaysia Airlines! Sure, you arguably get a better Business Class experience in the Qsuites. But is it worth paying Qatar Airways $530 in carrier charges?
Summing up
Once there is more certainty with overseas travel – hopefully by late 2022 and beyond – it'll be easier to book a oneworld Classic Flight Reward starting from overseas.
With some clever planning and a dash of luck with reward seat availability, you could enjoy two holidays for the price of one. Potentially paying less in taxes and surcharges is a bonus as well!
But even if you're not ready (or able) to book this dream trip just yet, keep this guide in mind for later. We'll be here once the borders open up fully, ready and raring to go.
---
Have you successfully undertaken a Qantas oneworld Classic Flight Reward trip starting overseas? Share your experience in the comments below!
Perks of starting your Qantas oneworld Classic Reward overseas
was last modified:
May 19th, 2022
by