Tokyo is a favourite among many Australian-based travellers. It's a must-see destination offering a mixture of culture, warm hospitality and exquisite dining.
So it's no surprise that I consider myself fortunate to be a guest of Qantas on their inaugural Brisbane to Tokyo (Haneda) direct flight. It's great to see this flight become a reality! Virgin Australia was set to fly this route on their A330 aircraft in March 2020, but we all know what happened. And until recently, it appeared that this route would again permanently sit in the 'maybe one-day' bucket.
But fortunately, that is not to be. Qantas has taken the handle on this route and made it their own. The route introduces over 1,700 seats in both Economy and Business each week. So there's no better time to get booking and say konnichiwa to Tokyo!
Getting to Tokyo (Haneda) with Qantas
Qantas flies three times weekly on Mondays, Thursdays and Saturdays between Brisbane and Haneda using A330 aircraft. The great news for those unfamiliar with Tokyo is that Haneda airport is one of two major airports in the city, but of the two, it's the closest to downtown Tokyo. The other is Narita airport, the former destination for this route, which is a further one-hour drive from the city centre.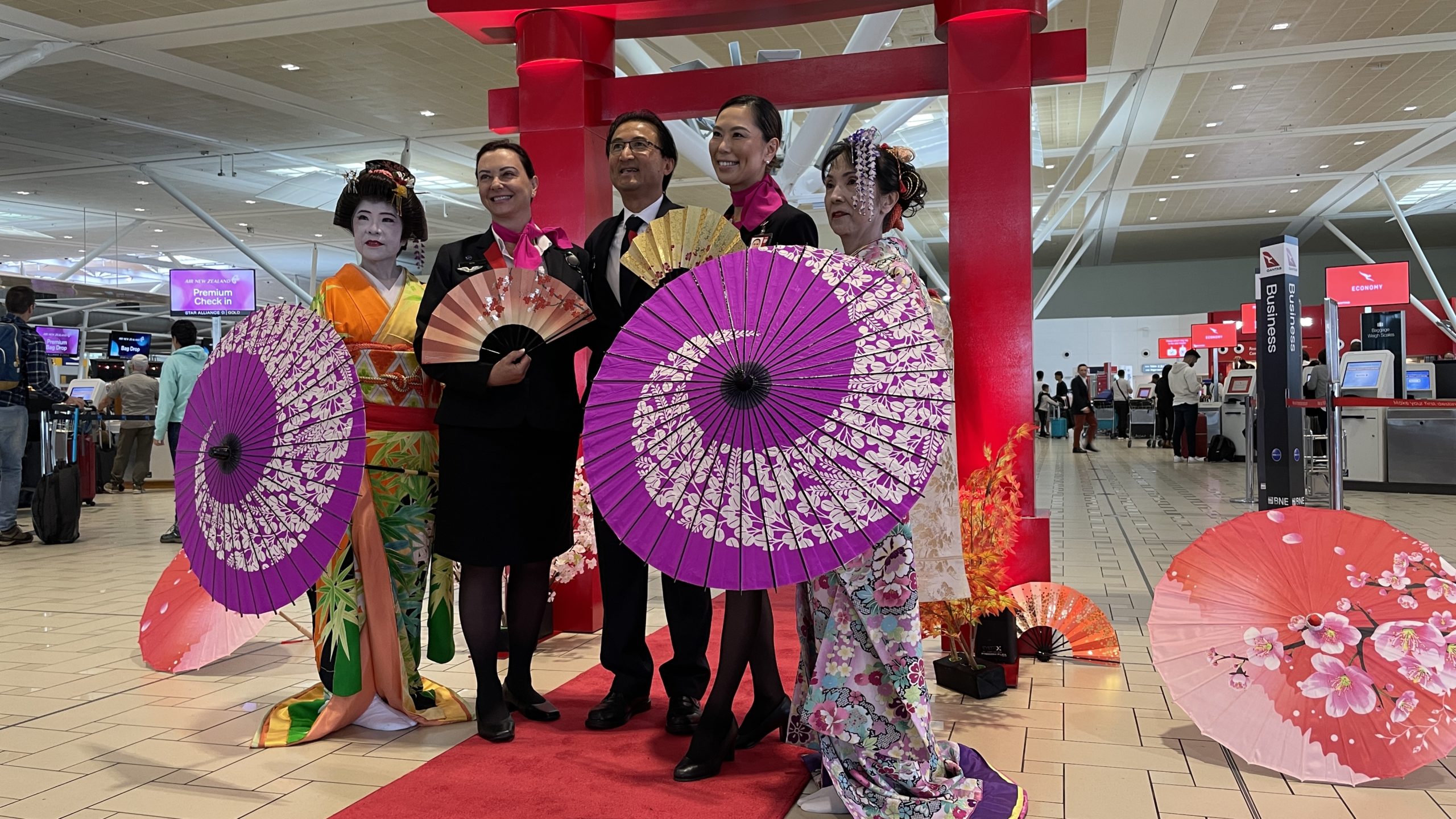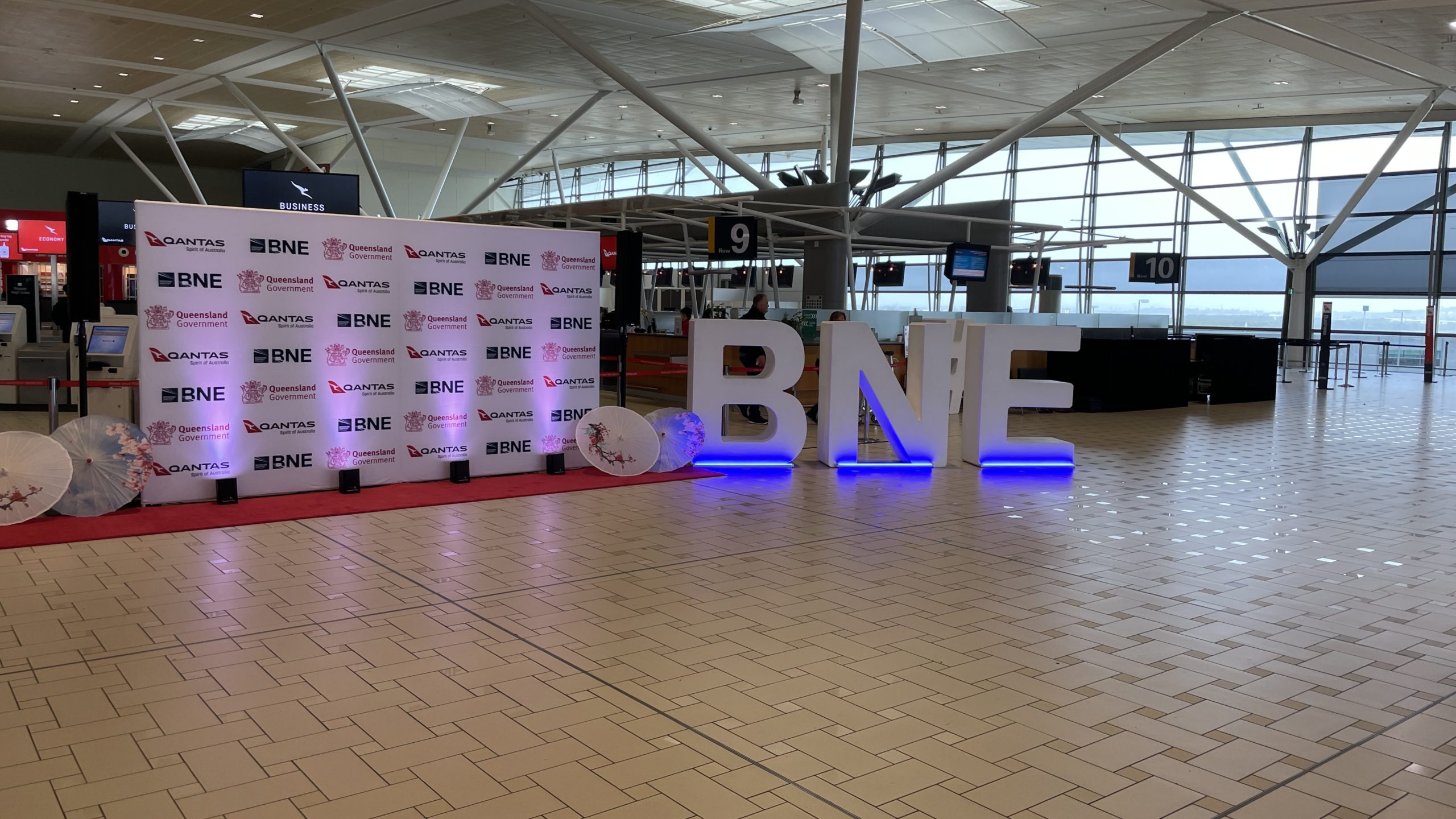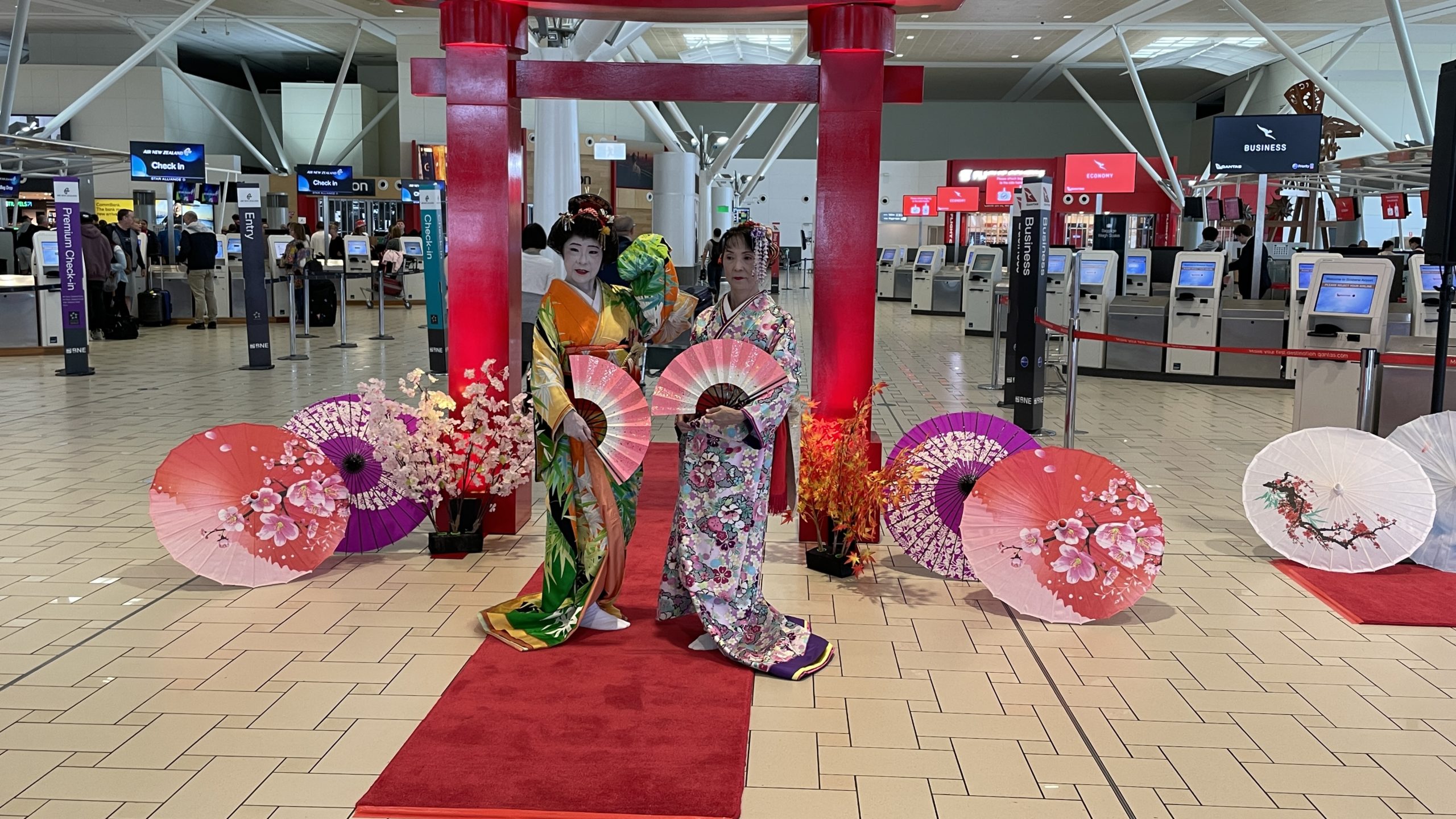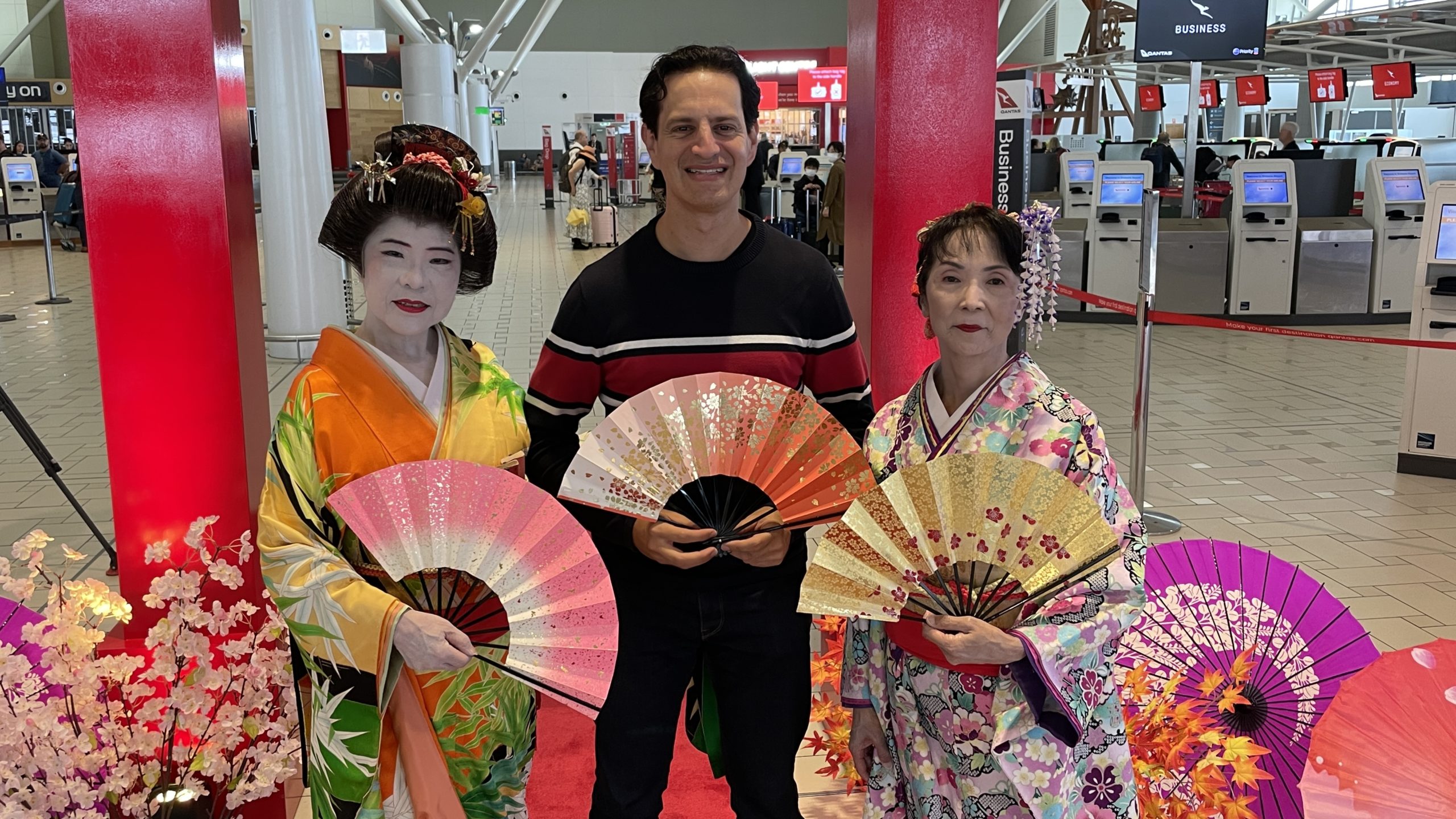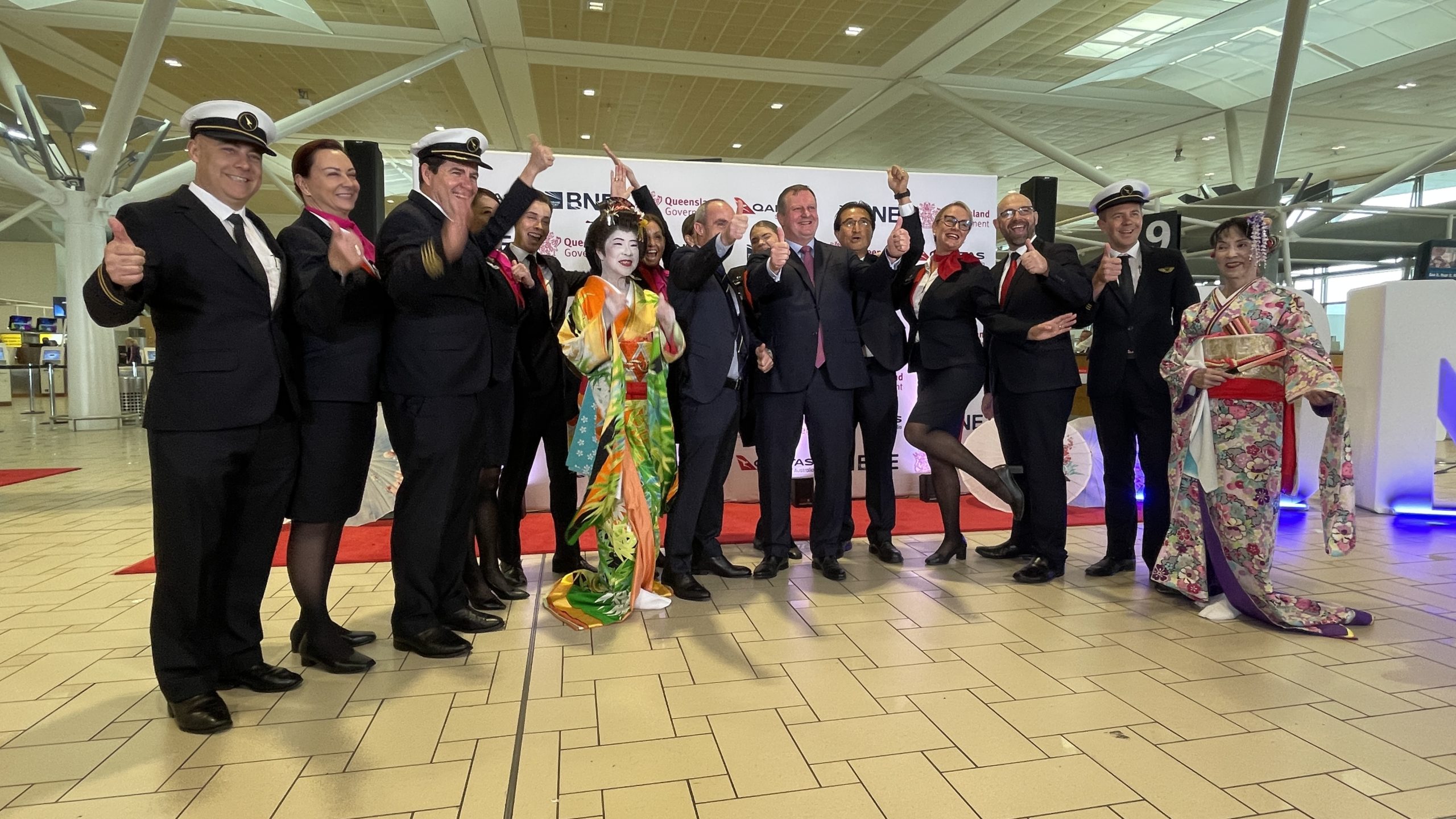 The A330 aircraft operating this route include only Business and Economy cabins, with the former sporting a lie-flat Business Suite rather than just a reclining seat. We have featured several reviews on this seat, including on our trips between Sydney and Auckland and Sydney and Bengaluru. So make sure to check these reviews out to get a taste of what the Business Suite is like.
If you're sitting on a pile of Qantas Points, you can redeem them on this route for just 25,200 Qantas Points and $117 in Economy or 68,400 Points and $92 in Business one-way.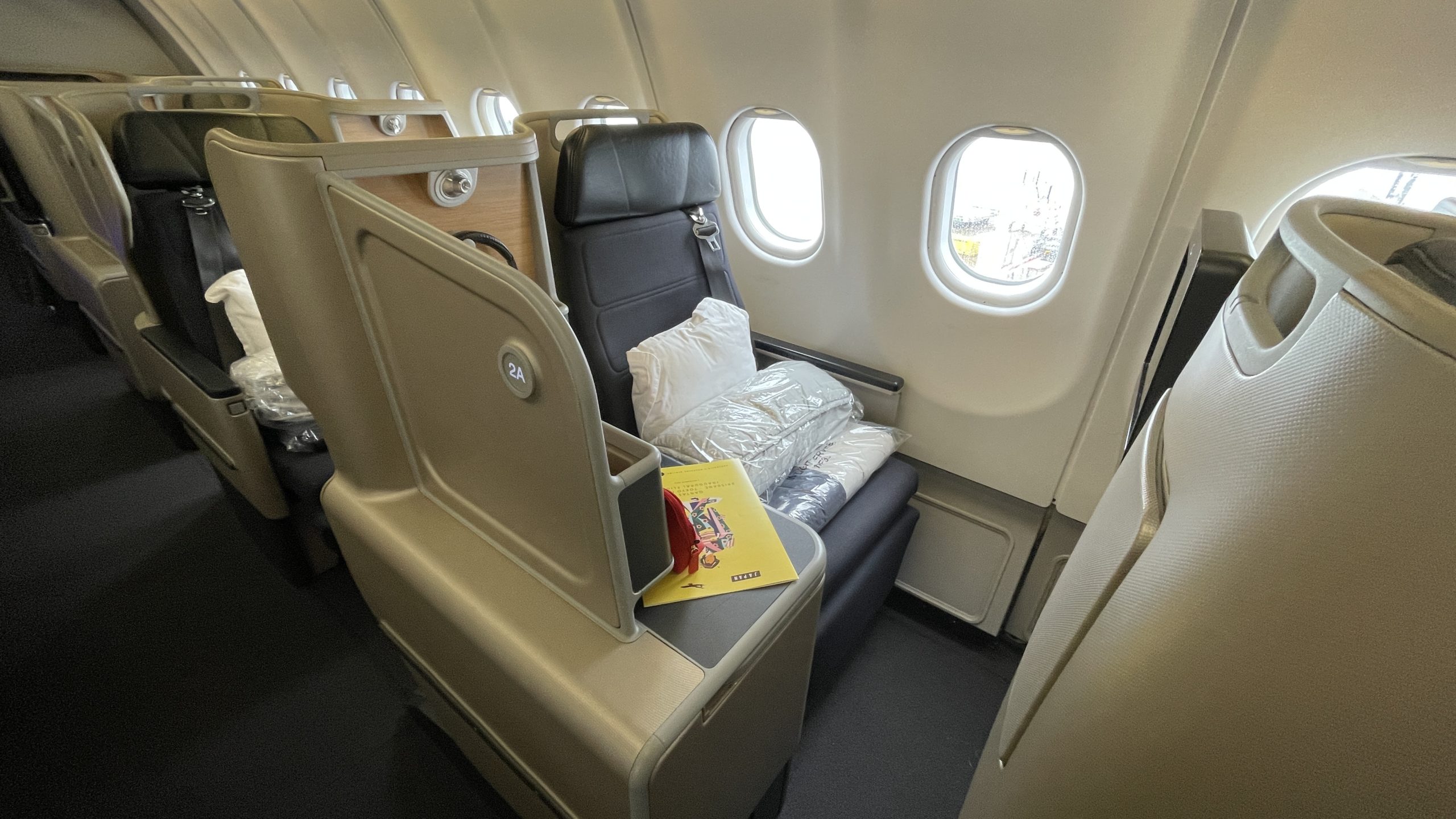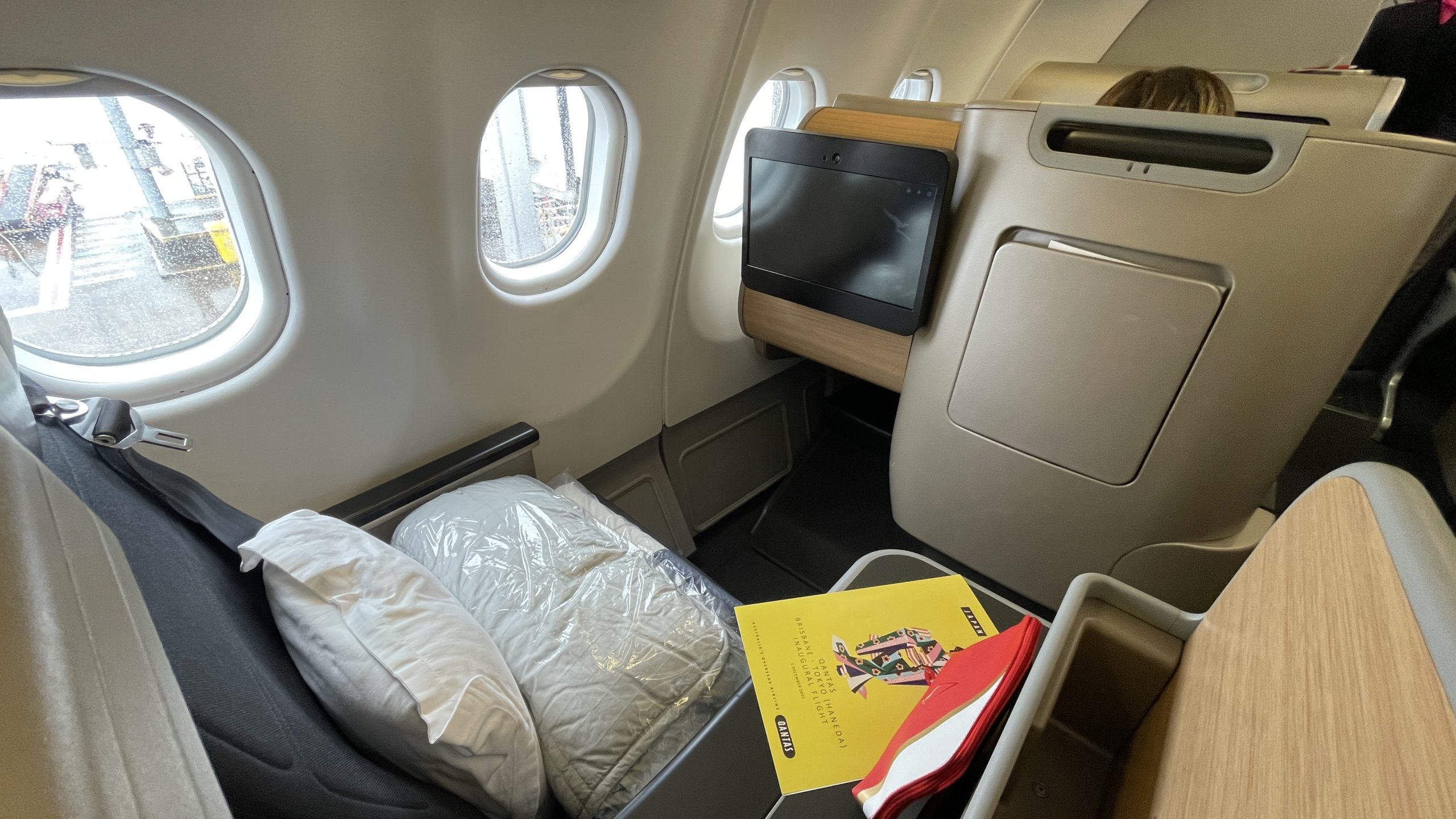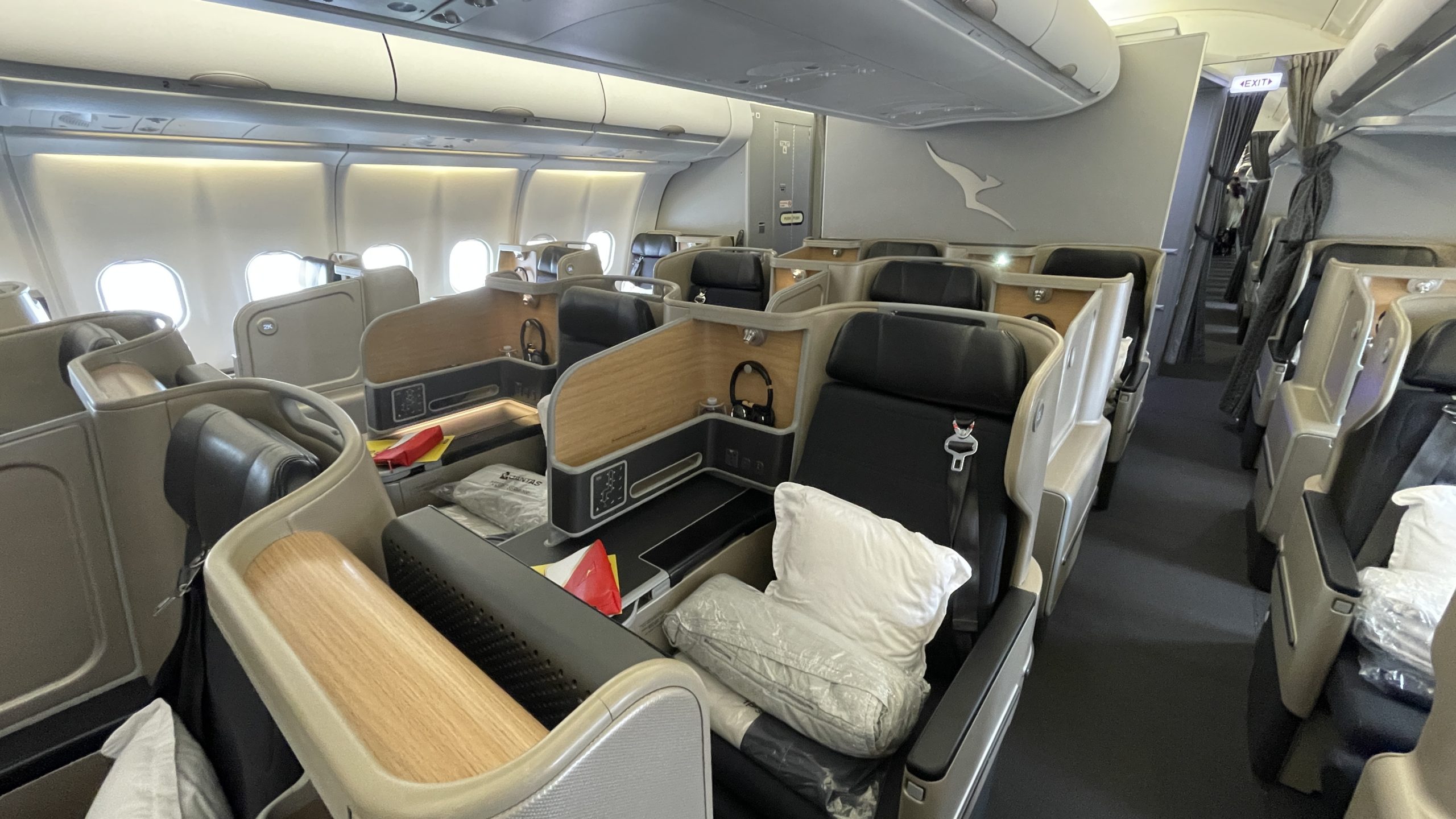 Ad – Scroll down to continue reading.Minimum spend, terms & conditions apply.
The in-flight experience
Speaking of taste, Business Class dining provides plenty of opportunities to experience different cuisine, stretched over two sittings. I'm welcomed with a glass of Duval-Leroy Brut Champagne. This goes down beautifully and is the perfect pre-take-off drink.
Plenty of drink options to relax on your flight
Once we're airborne, the pre-dining drink service begins, and I hone in on my go-to Qantas drink, a Bloody Mary. This is accompanied by some hot roasted almonds that are perfectly salted. Unfortunately, the Bloody Mary is not loaded onto this flight due to supply issues. But the lovely crew member goes out of her way to recreate the drink, minus the spices. It's blander than a traditional Bloody Mary, but it's the thought that counts.
Not to worry – I'm quickly offered an alternative. This time I go for a Qantas Sky Spritz. I've never had this drink before, but I'll definitely be ordering it again. It's super refreshing and a great mix of sweet and bitter flavours.
The dining is divine
It's not long until I am asked for my dining selection. The menu is familiar to me, having seen many of the dishes on my recent South African safari that I experienced with Qantas on the re-launch of their Sydney to Johannesburg service. But there are some new dishes on offer, and with the menu looking so delicious, the choice is quite hard.
For the entree, I settle again on a personal favourite – the green pea and mint soup. I'm excited to see the Humpty Doo Barramundi on the menu again for this flight. I'd opted for the spaghettini on my South Africa flight, but not this time. I choose the Barramundi and I'm not disappointed. The fish is succulent and has plenty of flavour, and the greens are beautifully matched to round out the dish.
Before too long, it's time to satisfy my sweet tooth. And do I ever. I choose the Maggie Beer ice cream with a very unique burnt fig, honeycomb and caramel flavour. Absolutely sensational! I But of course, a Lindt chocolate, a coffee and a glass of Bailey's don't go astray either.
Just prior to landing, I'm offered a pumpkin and goat's cheese quiche or a grilled cheese toastie. I go for the former and especially love the tomato and chilli relish, a favourite of mine.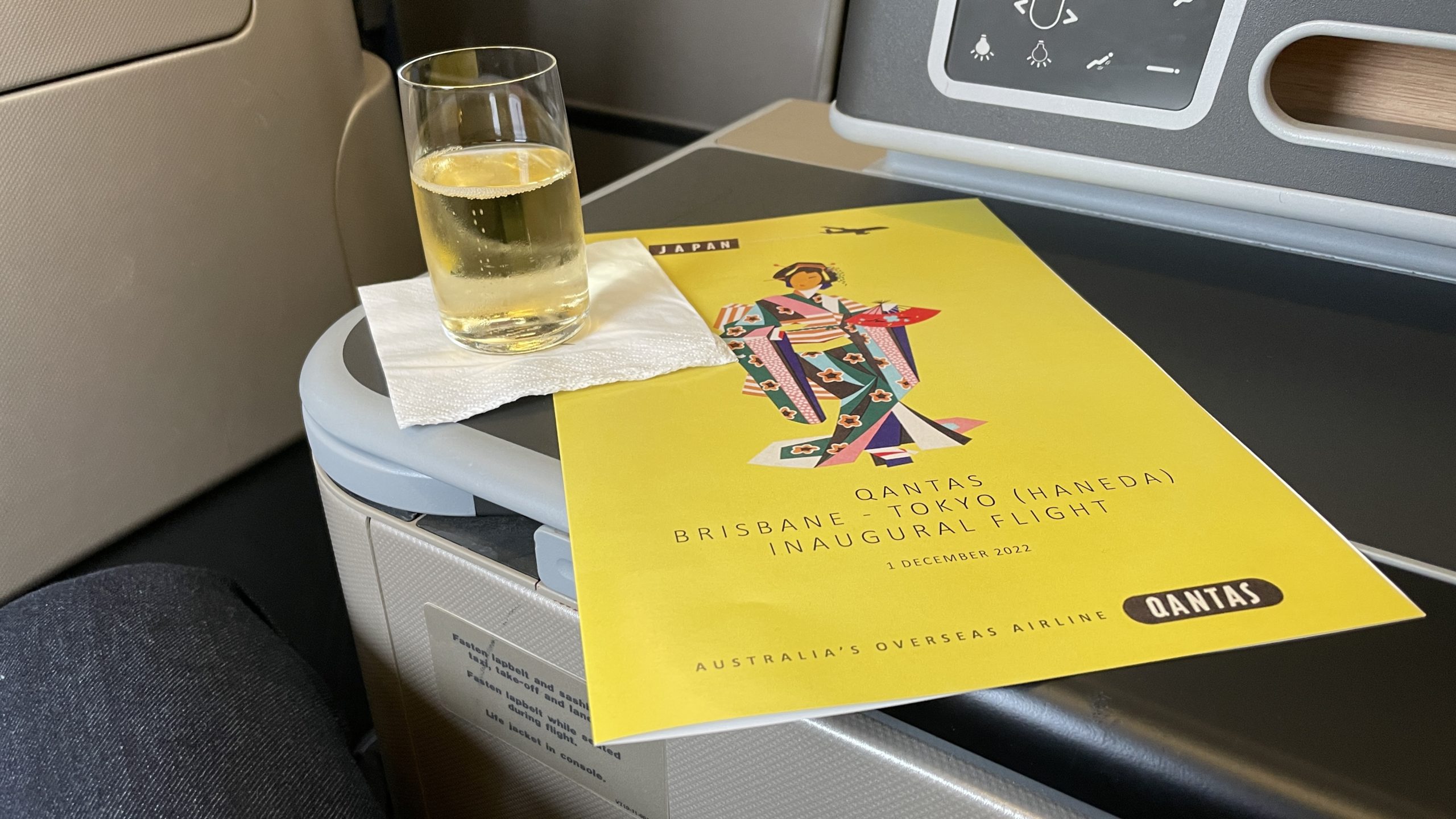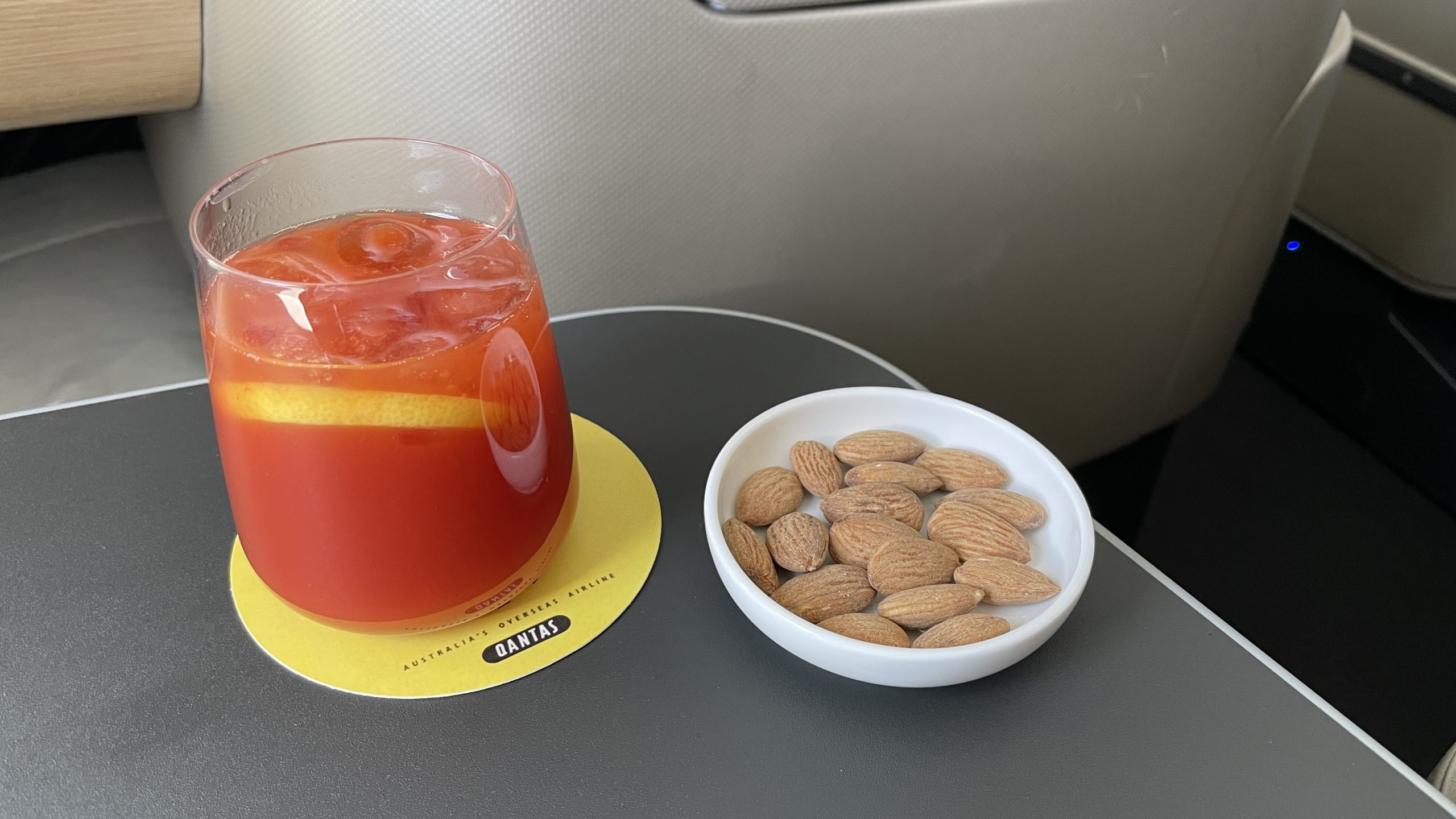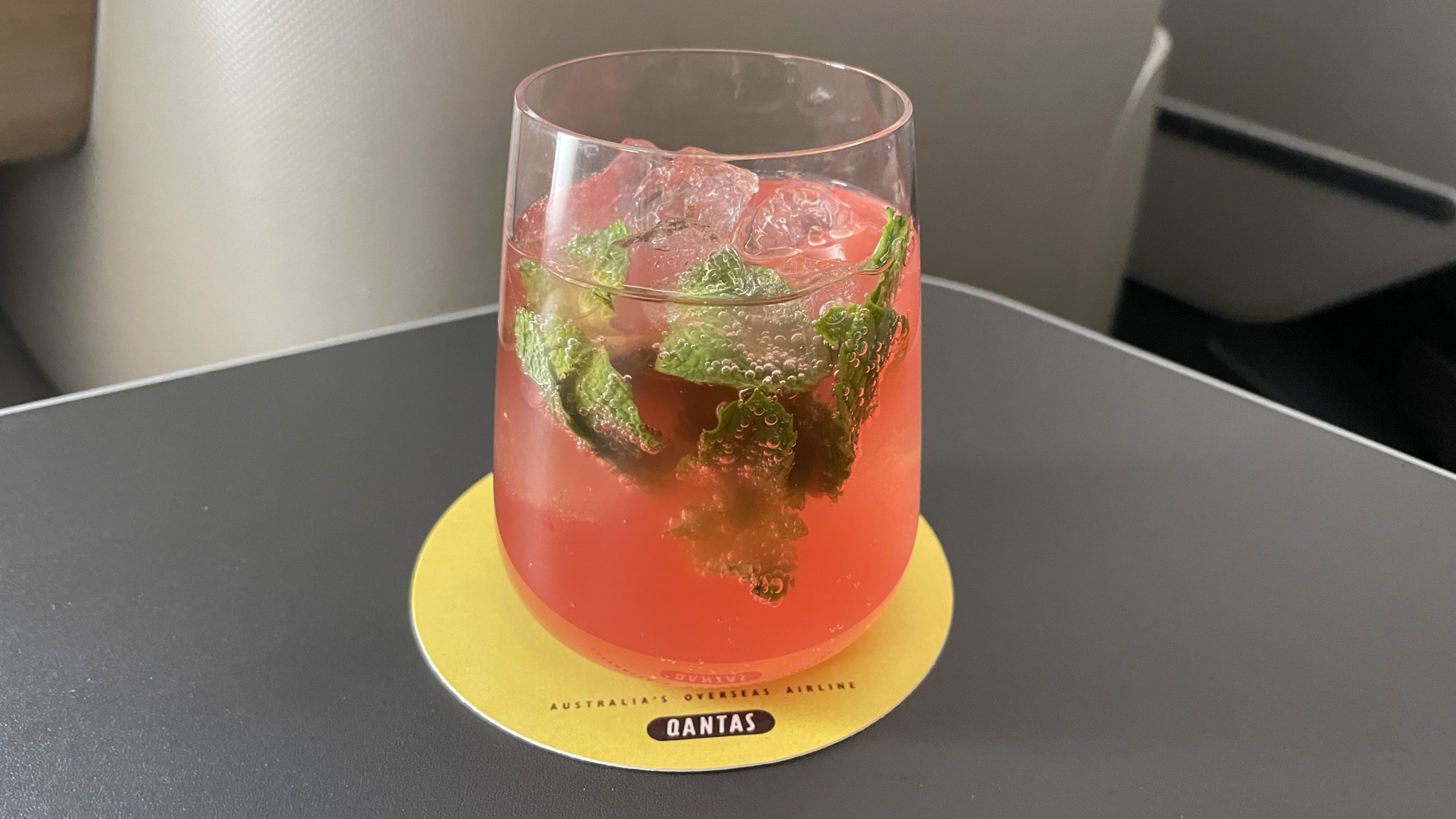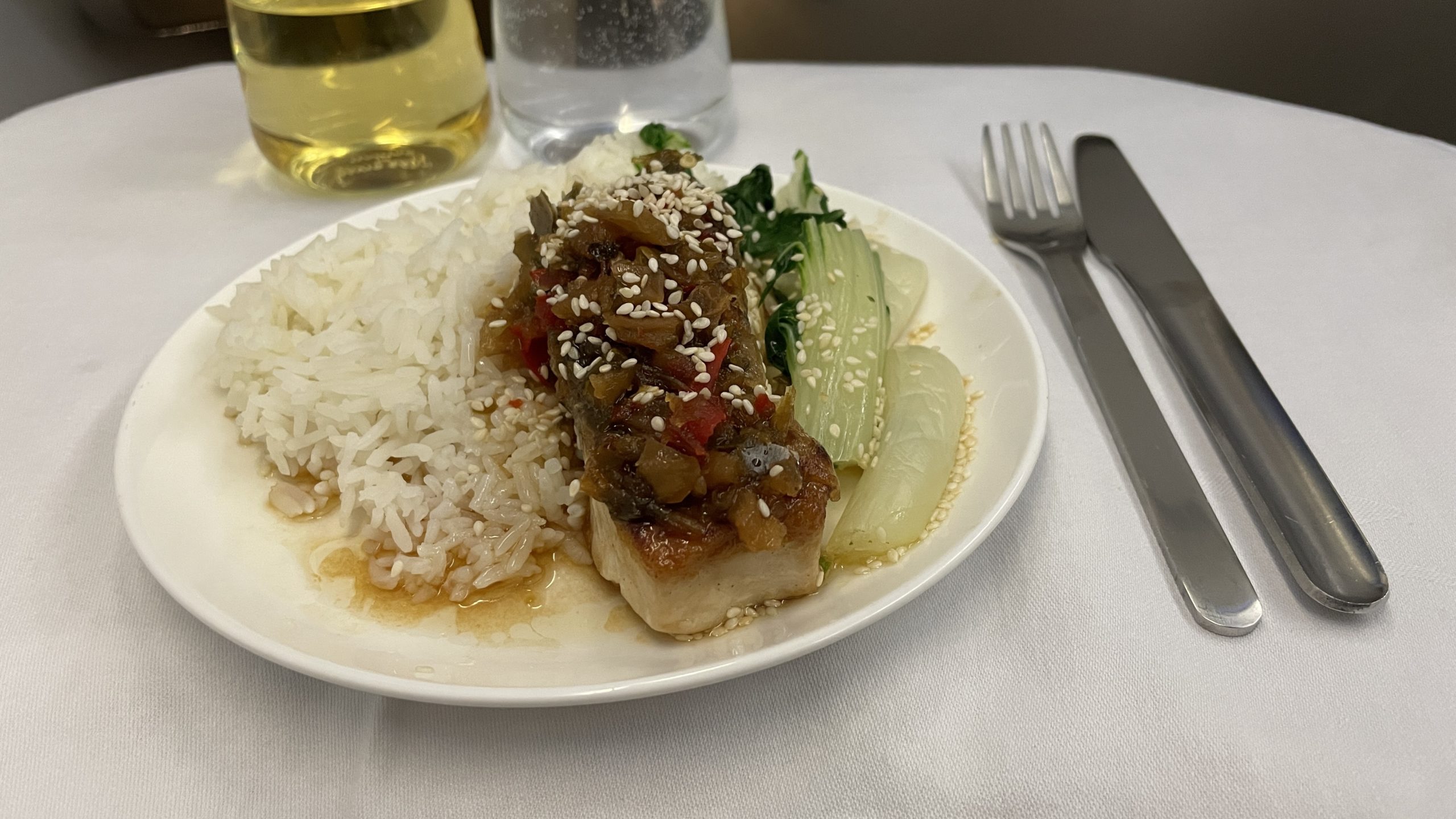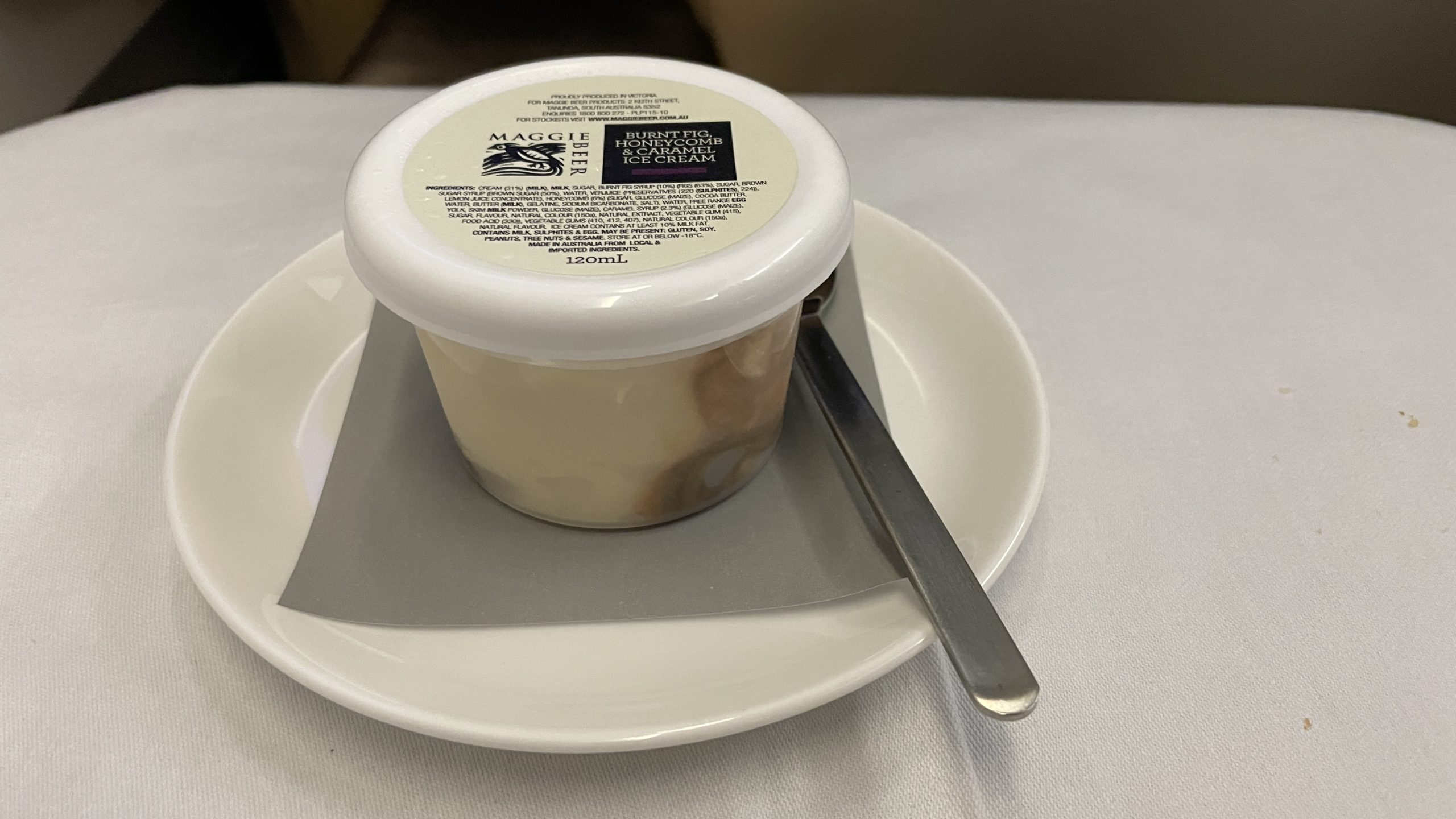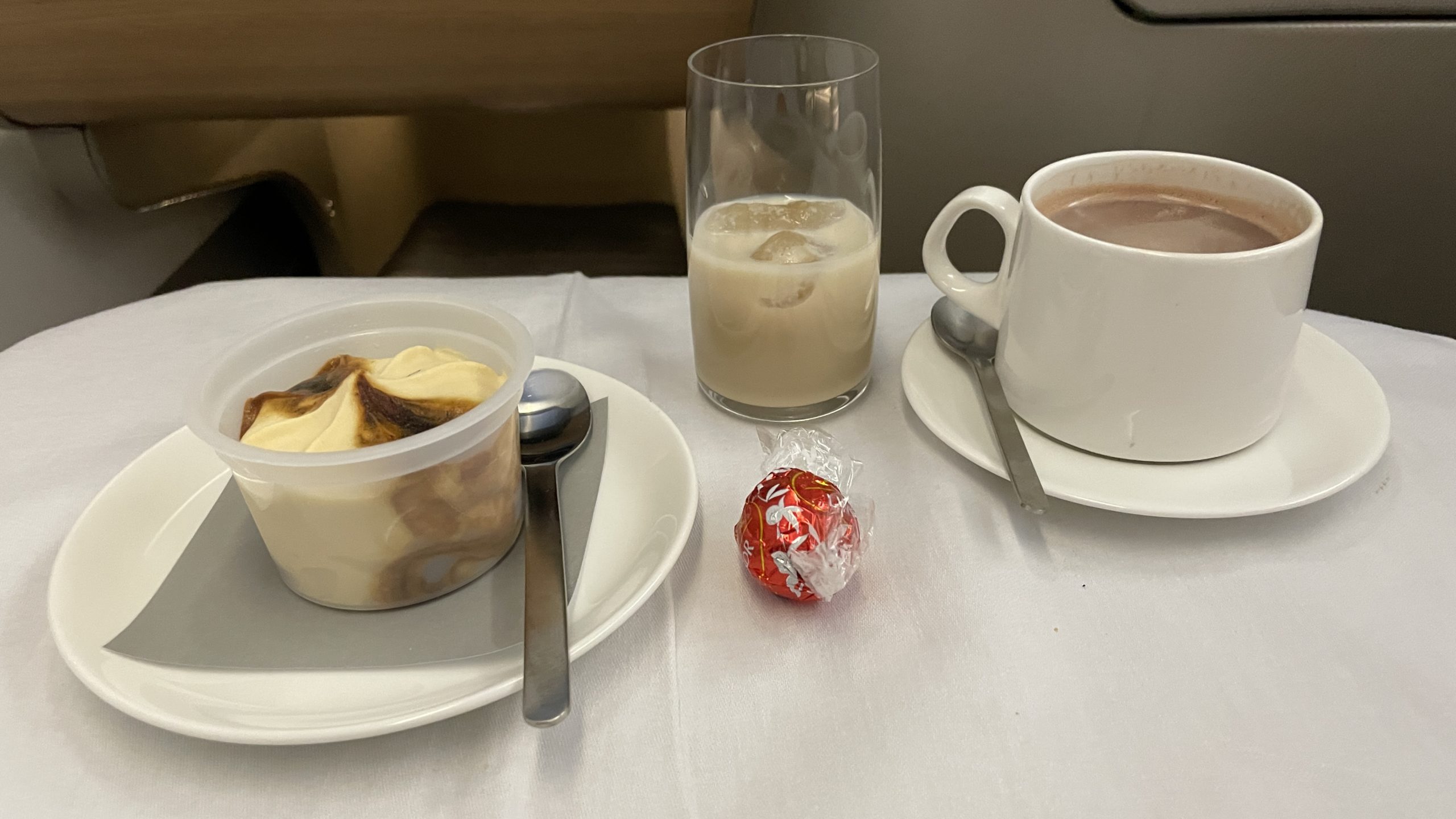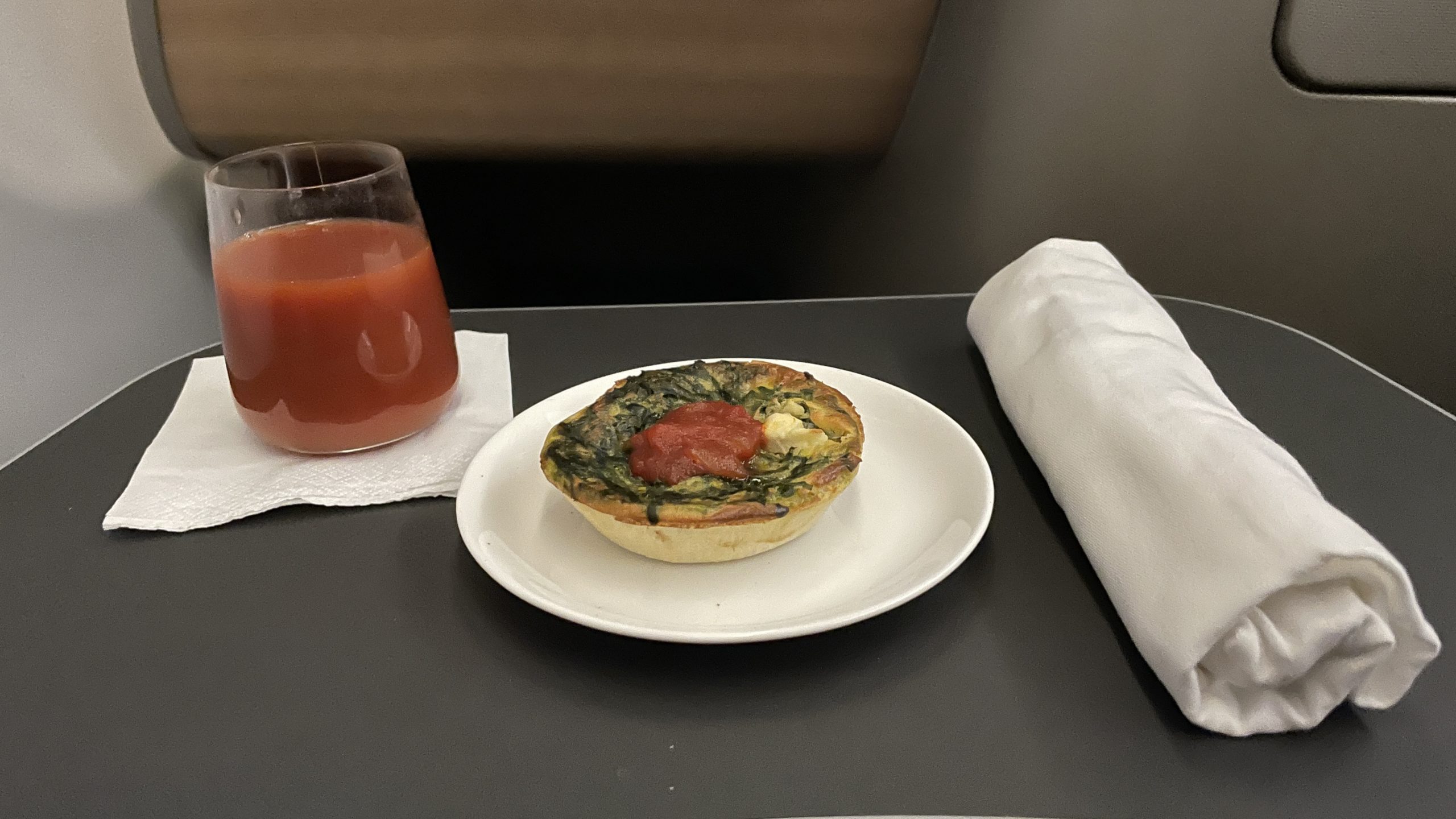 For those interested, the full menu for this flight is attached below.
The list of activities in Tokyo is endless
One thing's for certain: you're not going to be bored in Tokyo. I spend a mere two days in this wonderful city and I feel like I'm here for a week with the number of activities that I manage to complete.
Shibuya SKY
First up is Shibuya Sky, a 360-degree open-air observation deck standing 229 metres in the air above the Shibuya Scramble Square building. This is a very modern attraction, having only opened in November 2019. And it not only feels modern, but chic. See-through glass fencing surrounds the deck, along with strategically-positioned lounges providing a great opportunity to relax and take in the city views. It's a shame I'm up there early in the morning, which is a bit too early to sit and take in the view with a refreshing cocktail. Oh well, next time.
The views are all-encompassing, and I manage to get a great view of Mt Fuji. I can't believe how large it looks, even from a distance. On this day, the peak could not be seen as it's hidden by clouds.
Guests of Shibuya SKY can also head down to special floors within the building for a view. On the day I visit, there is a silver balloon exhibition that sits beautifully with a Tokyo city backdrop.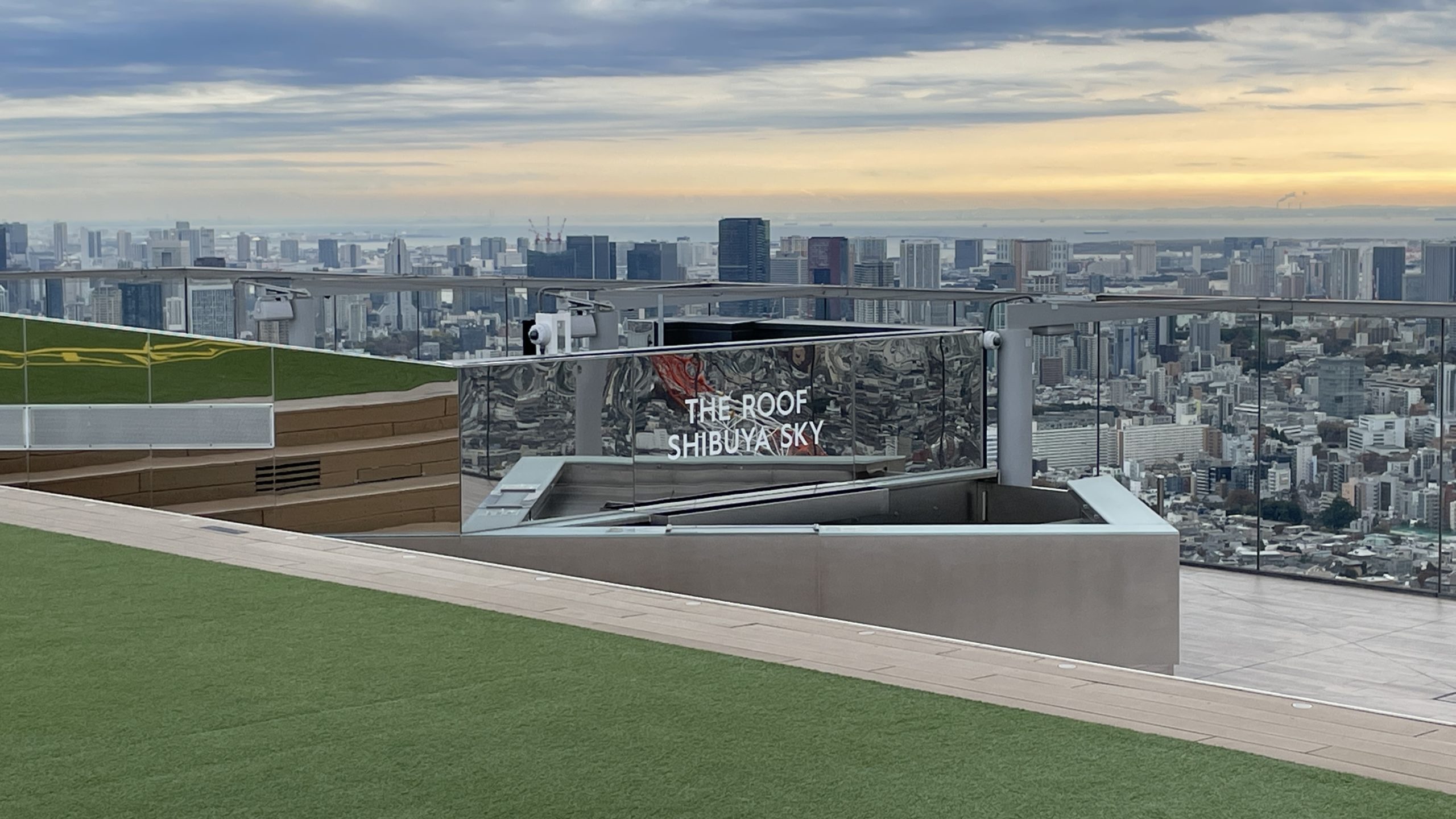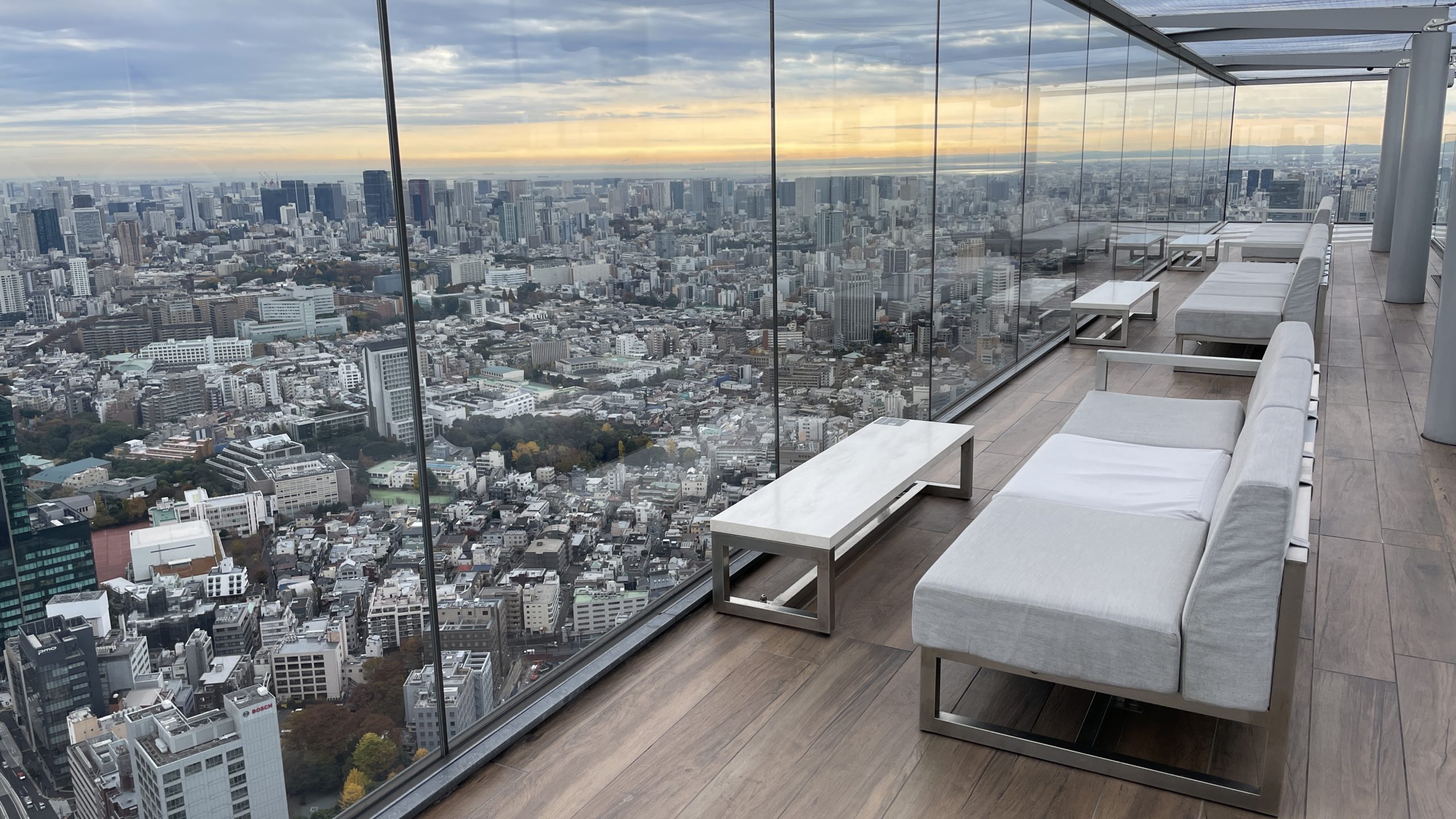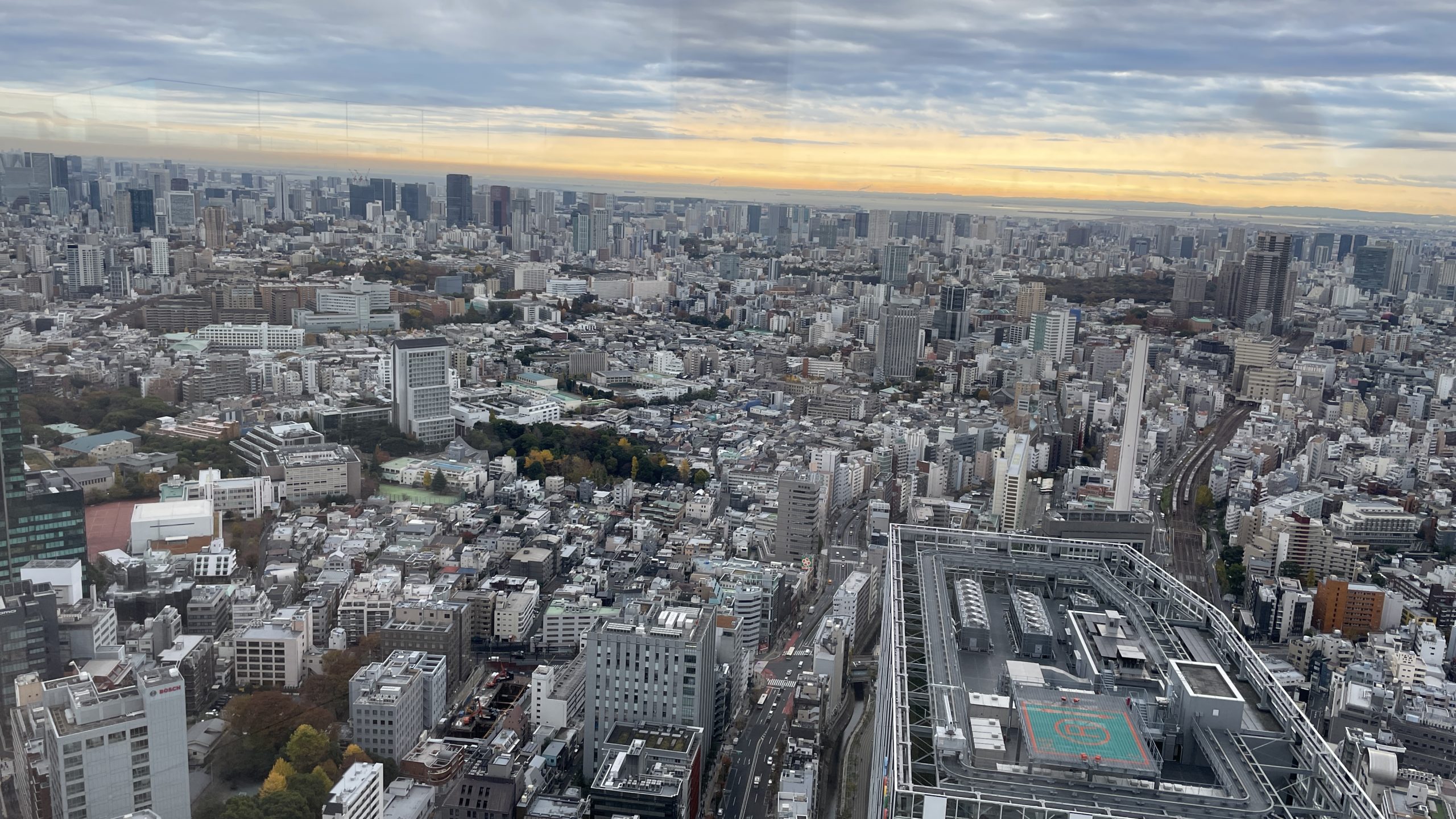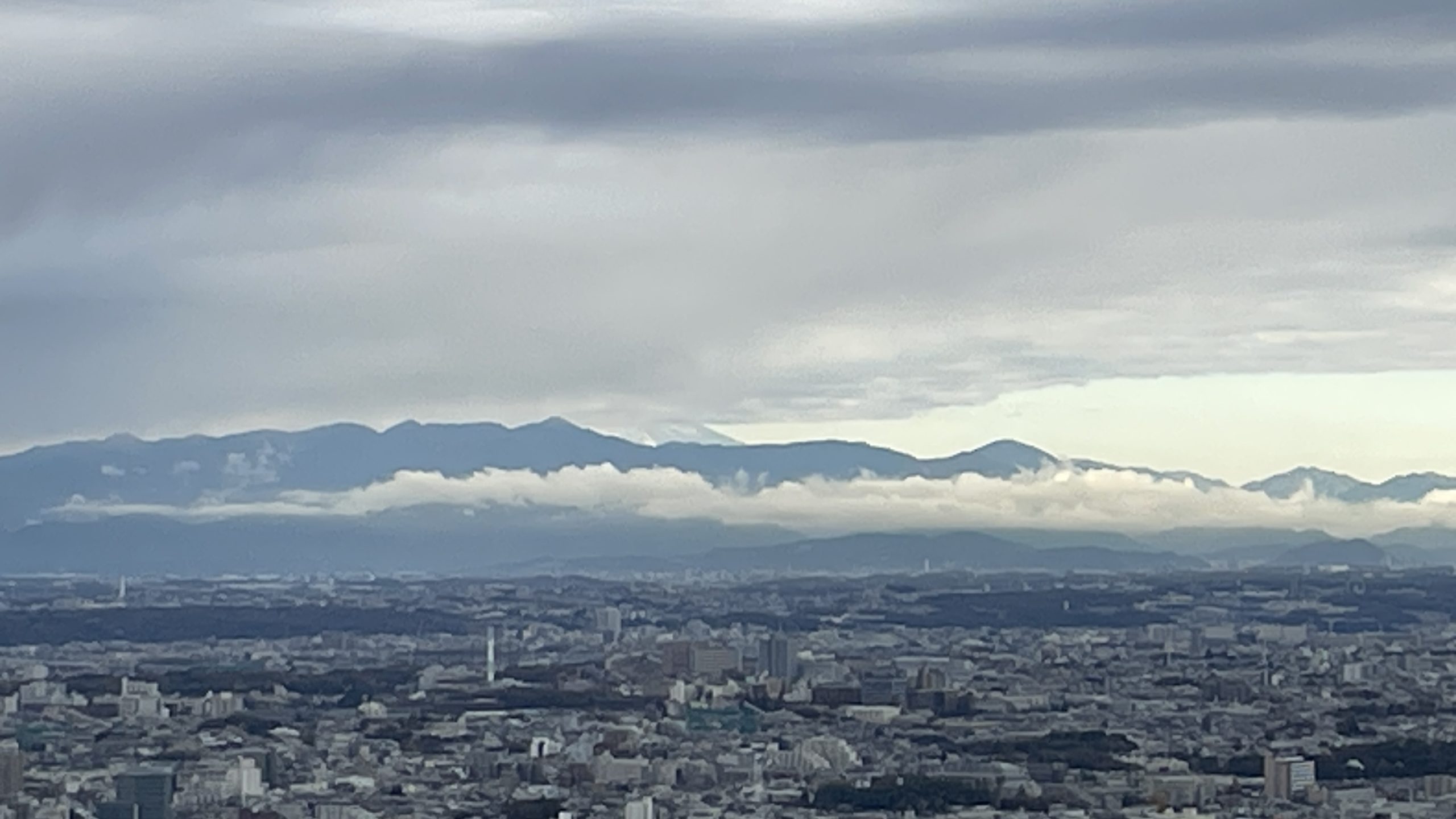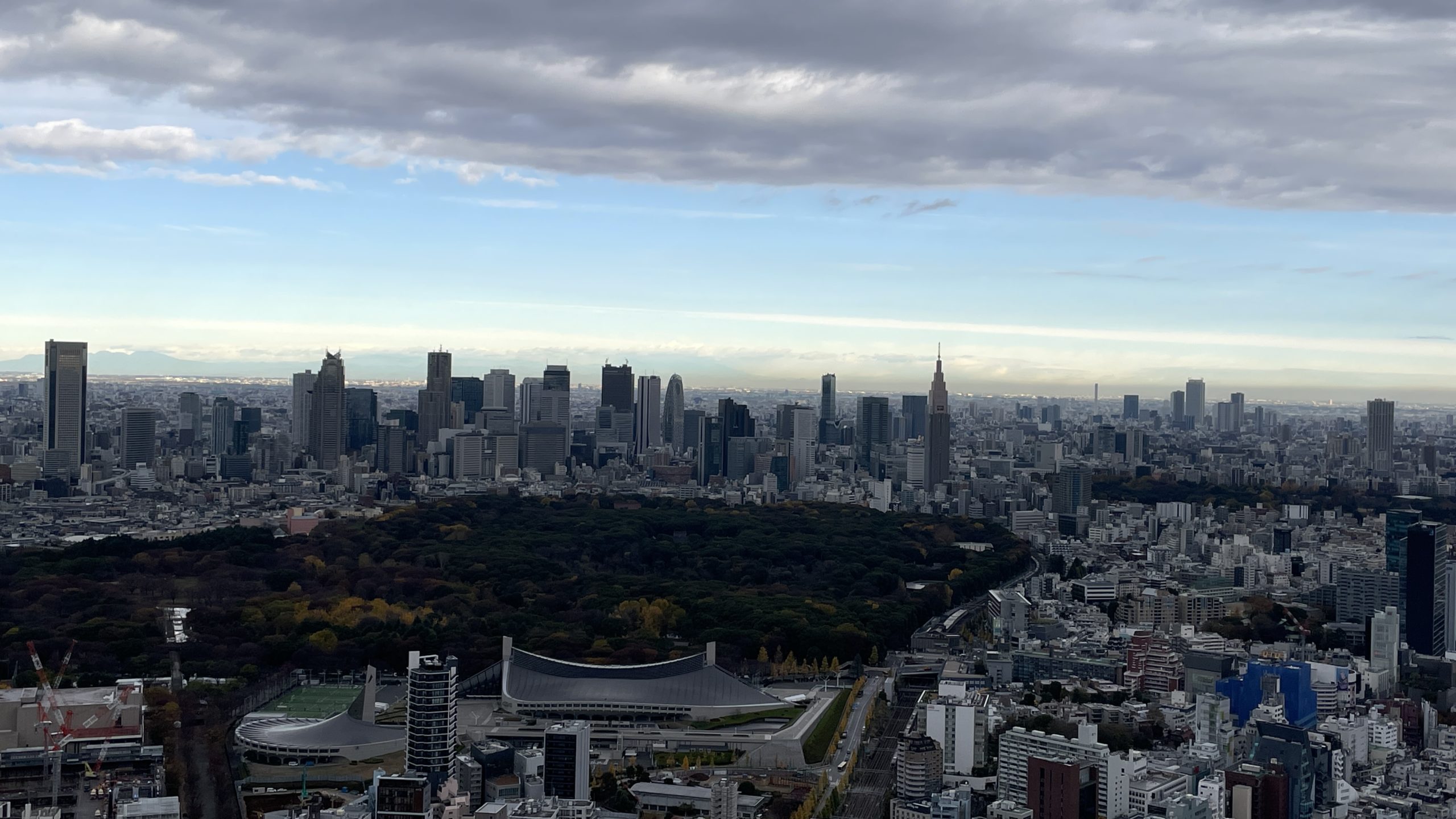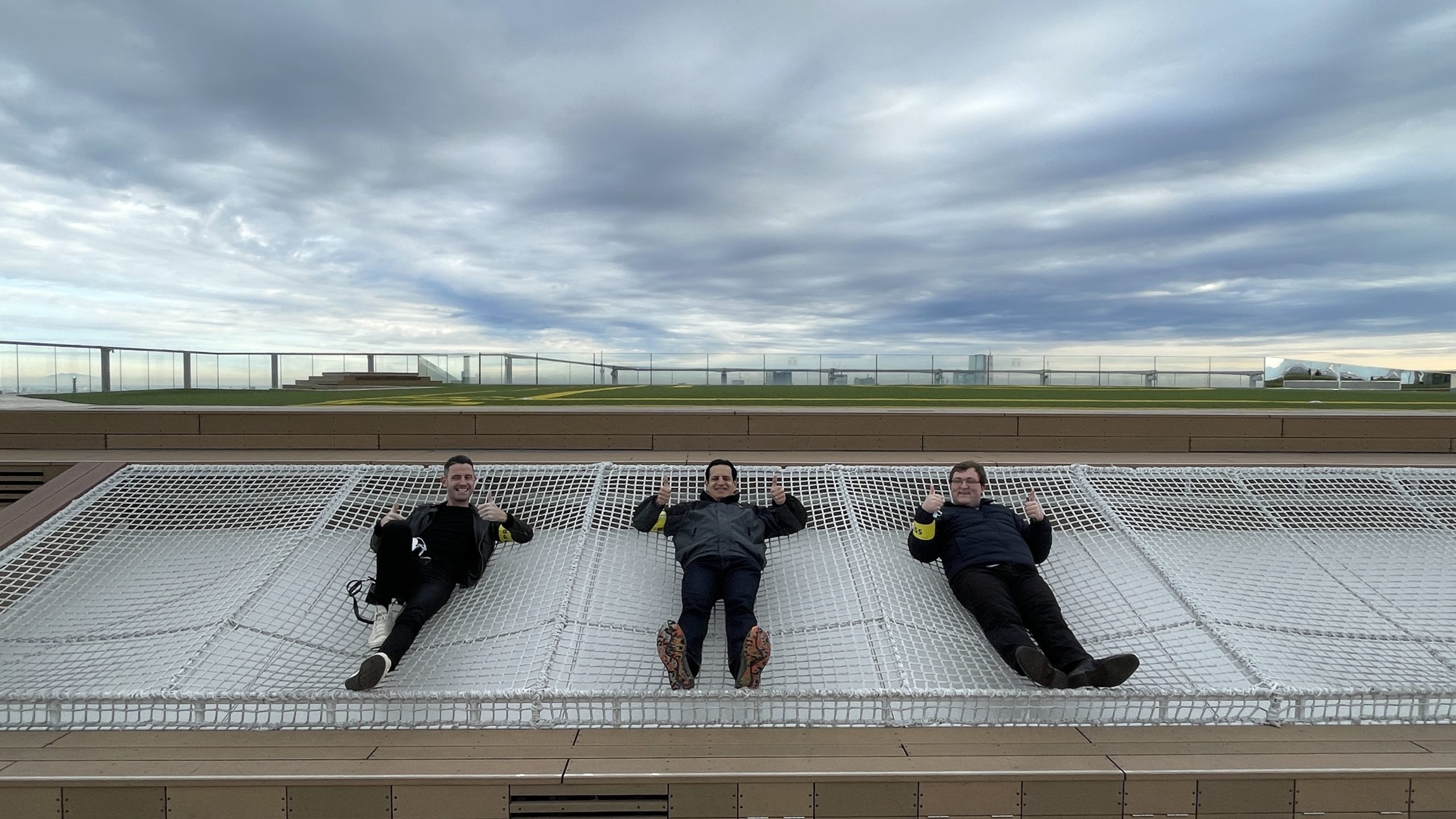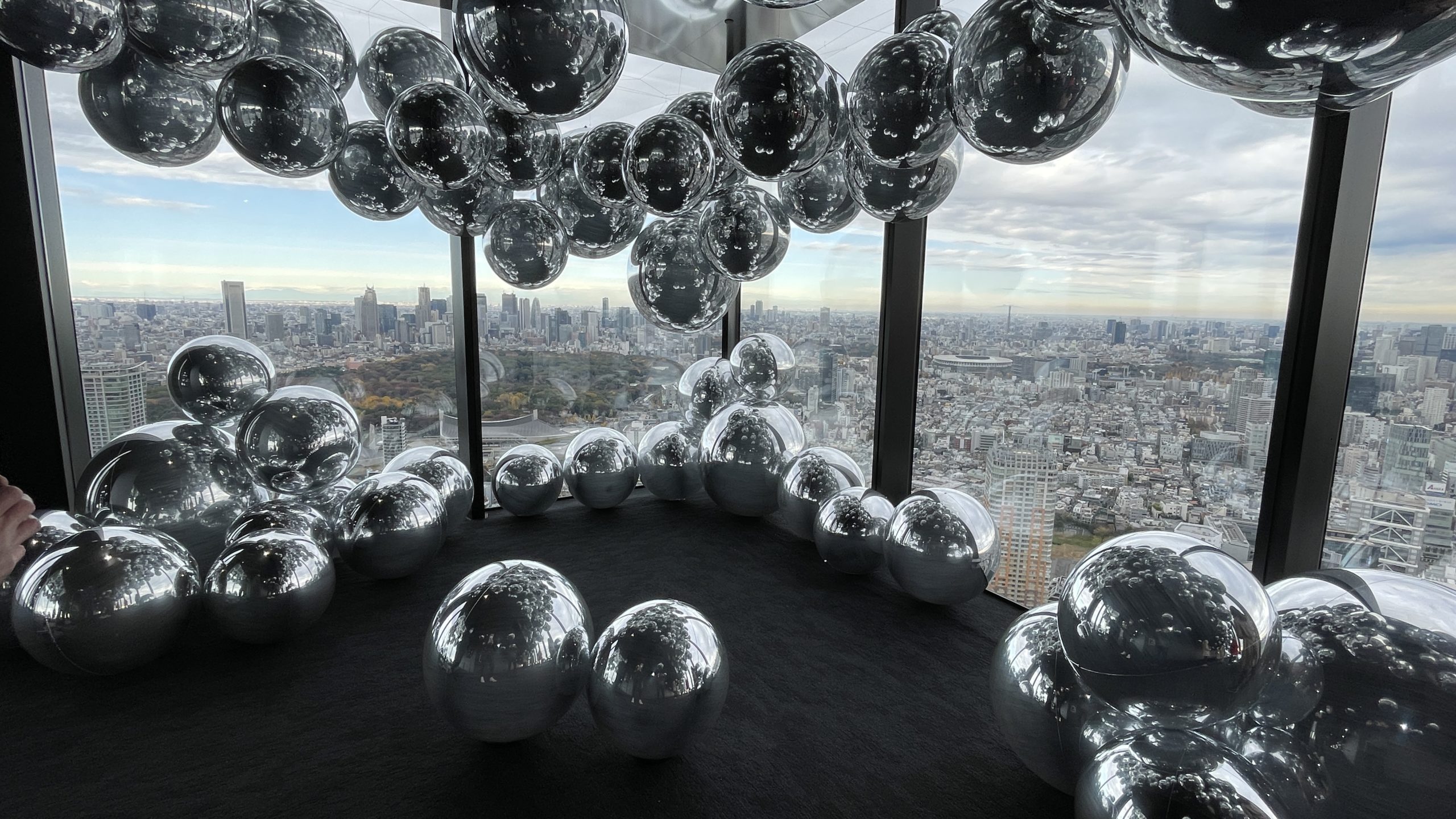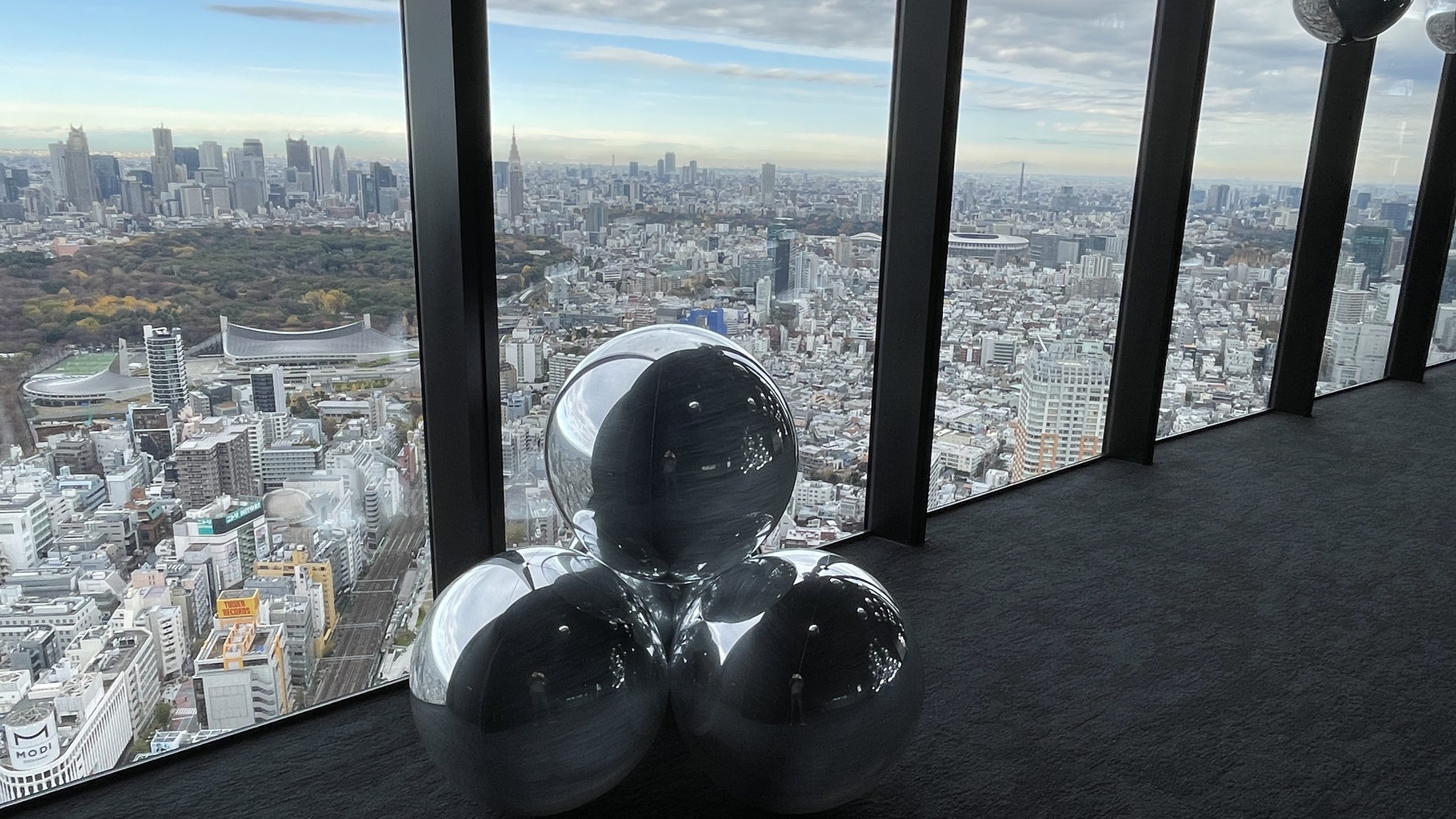 Sensoji Temple
Next up is Sensoji Temple. The Temple is Tokyo's oldest, having opened in 645 AD. Its architecture is amazing. In the Main Hall and at the foreground of the main entrance, also known as the 'Thunder Gate', is a purifying fountain. I inhale the purifying steam. I hope it works! Behind the 'Thunder Gate' hangs a very large paper lantern. Its black and white colours symbolise clouds and lightning.
A must-do when at the Temple is the Omikuji Paper Fortune. Omikuji are written fortunes that you can get after a coin donation. I try my hand at this and am lucky to get 'Excellent Good Fortune'. I can't complain about that. My travel colleague is not so lucky, obtaining a less than positive fortune. He's quite upset at first. And I have to admit, I feel buoyed by my good fortune. It's customary to take a good paper fortune with you, and today, this fortune sits attached to my fridge at home.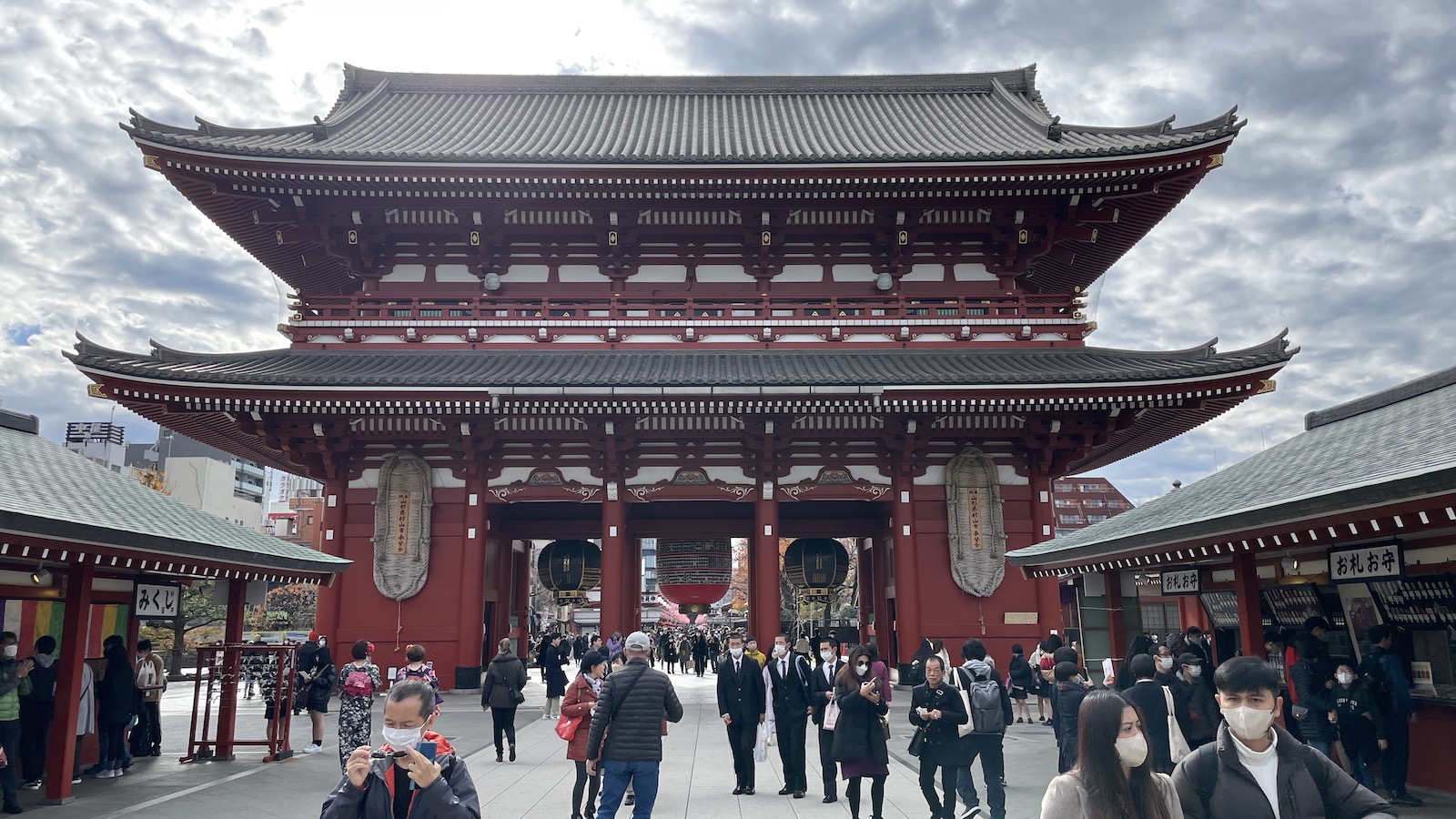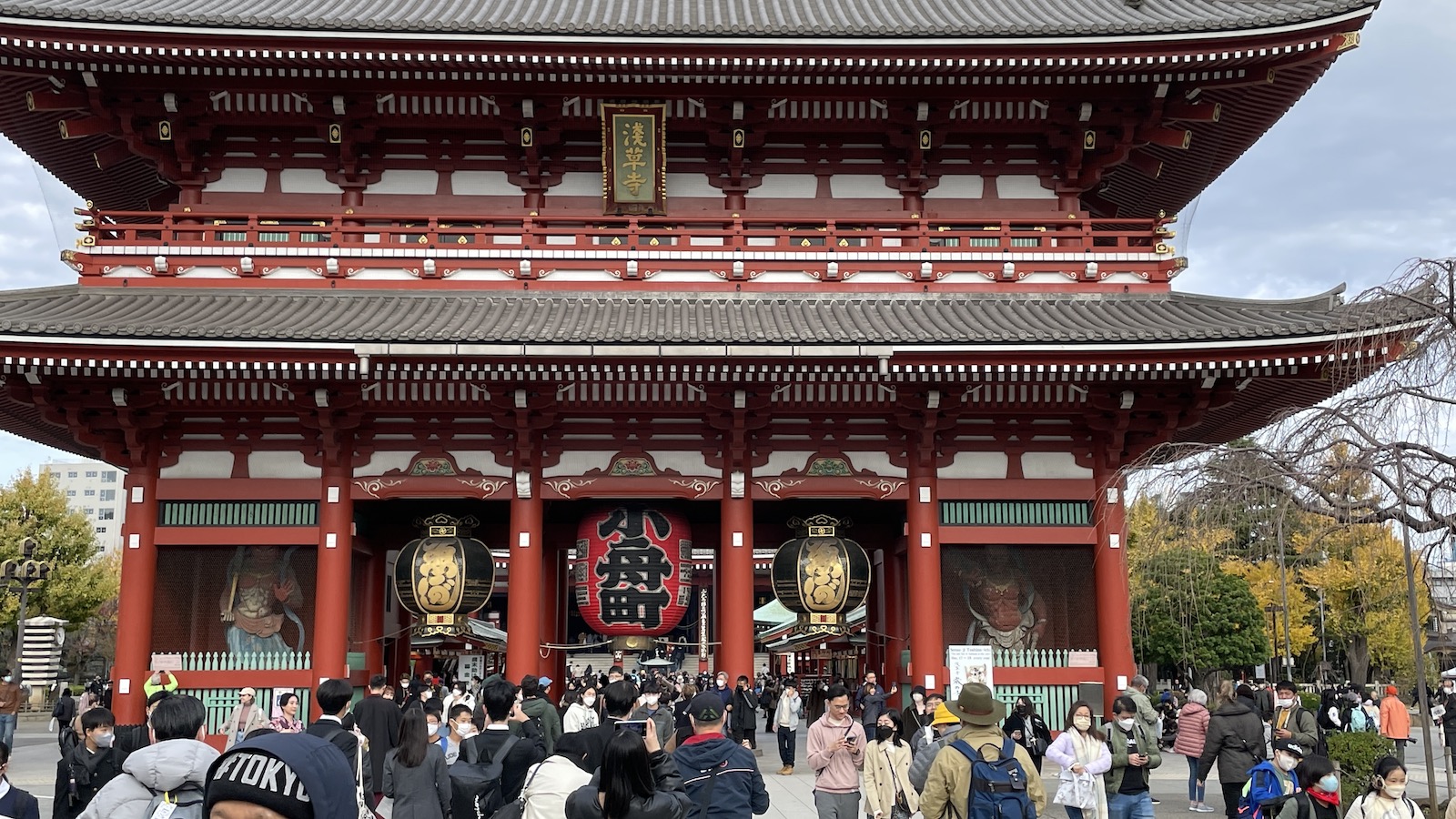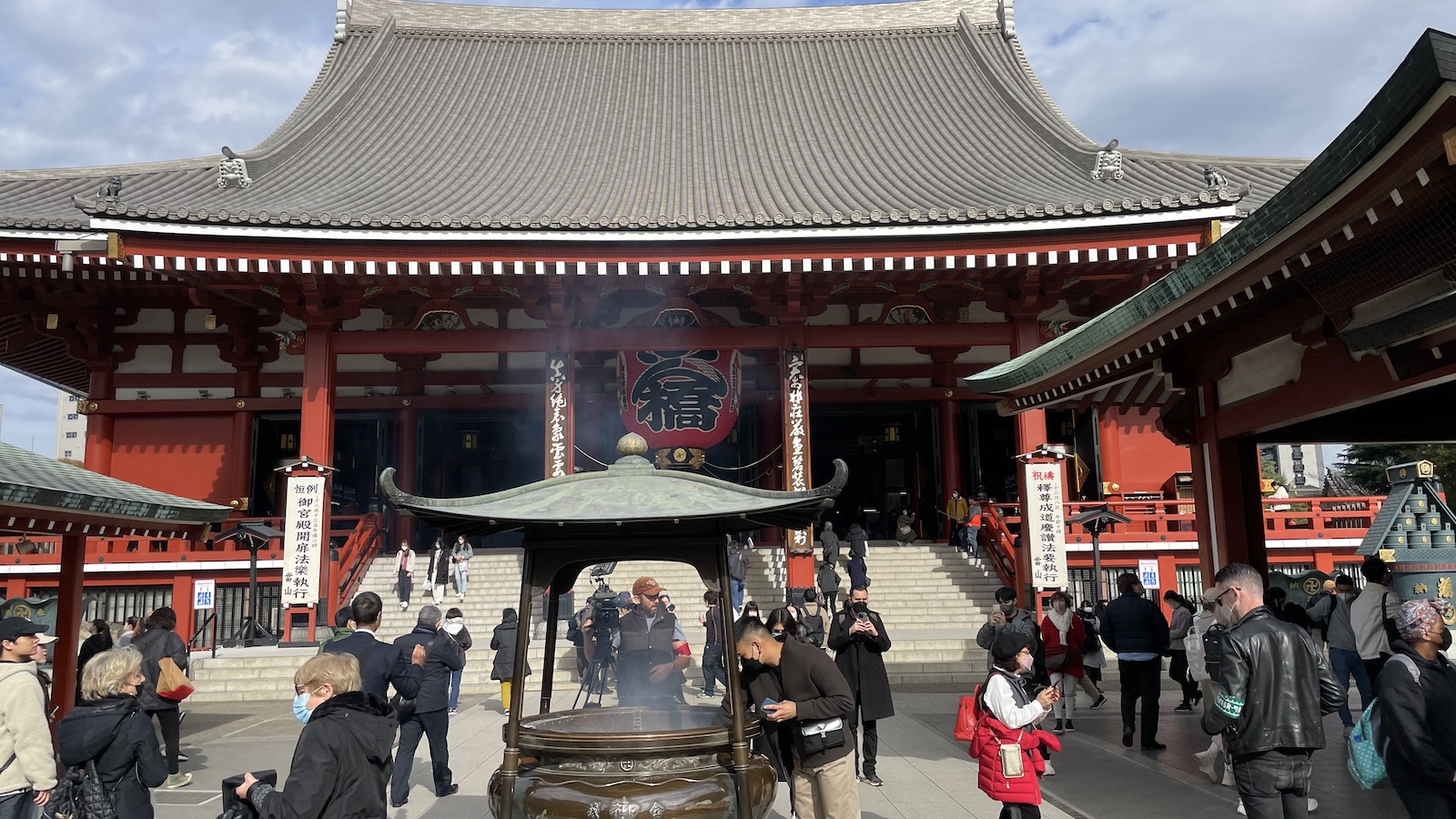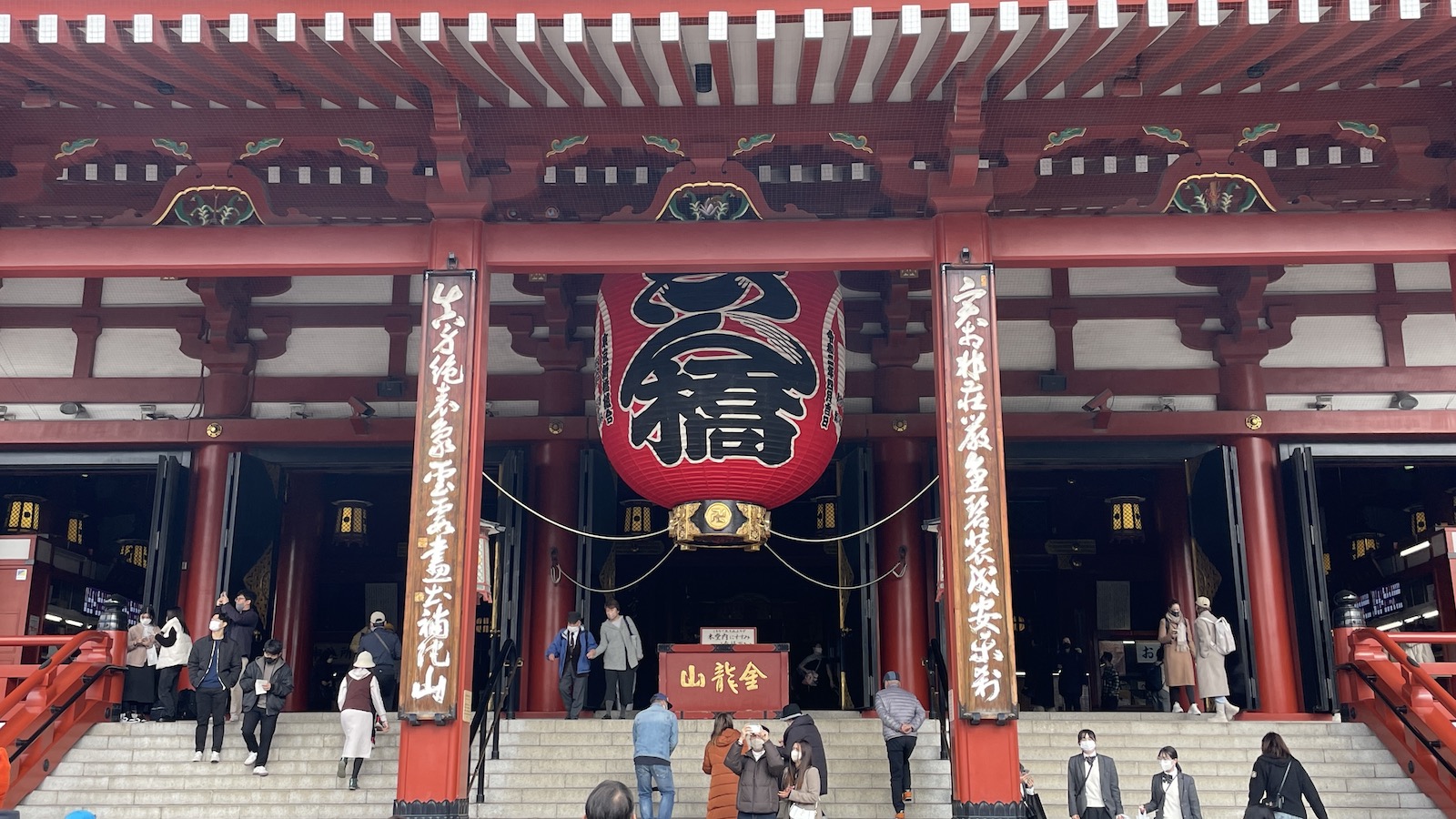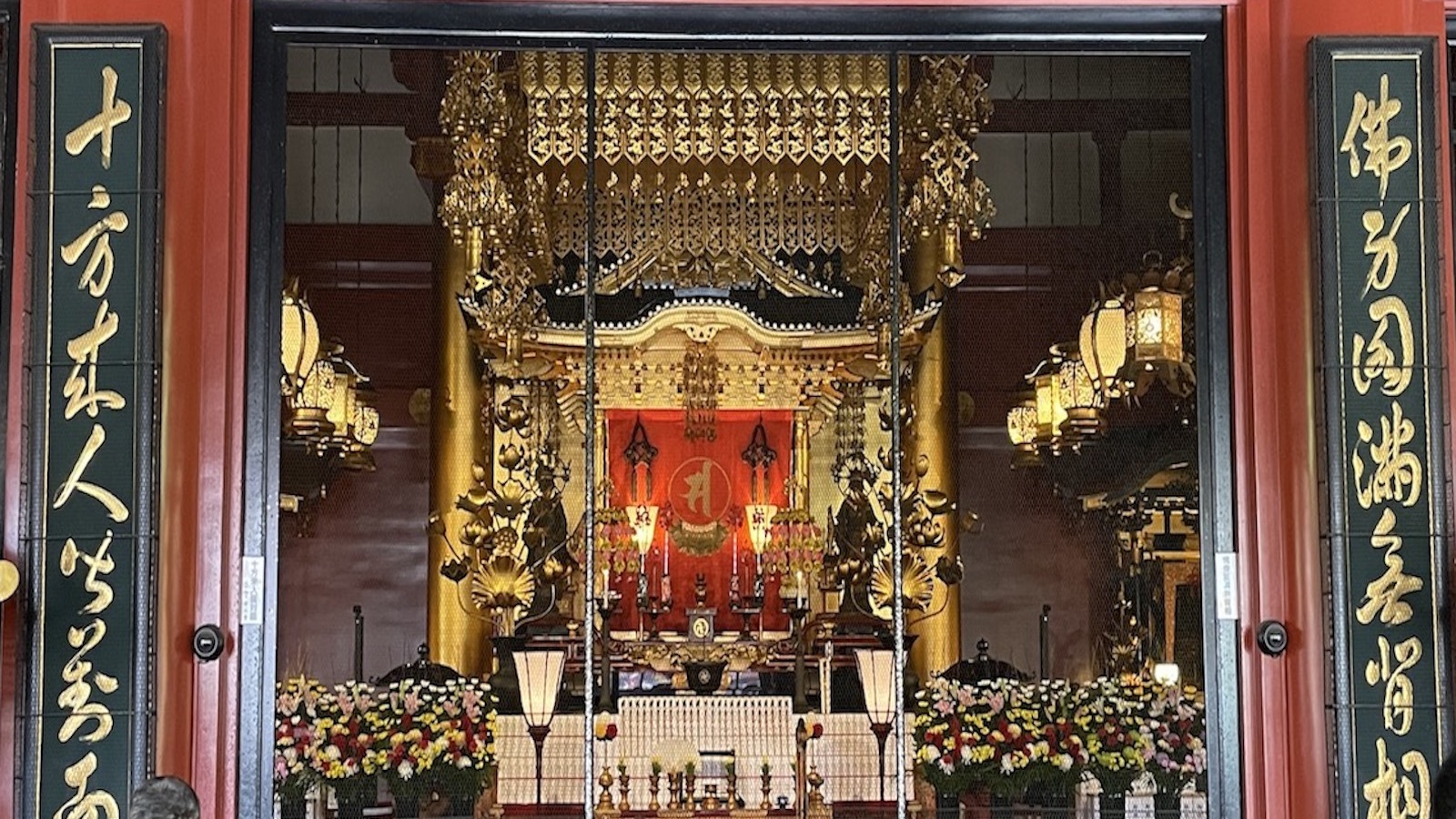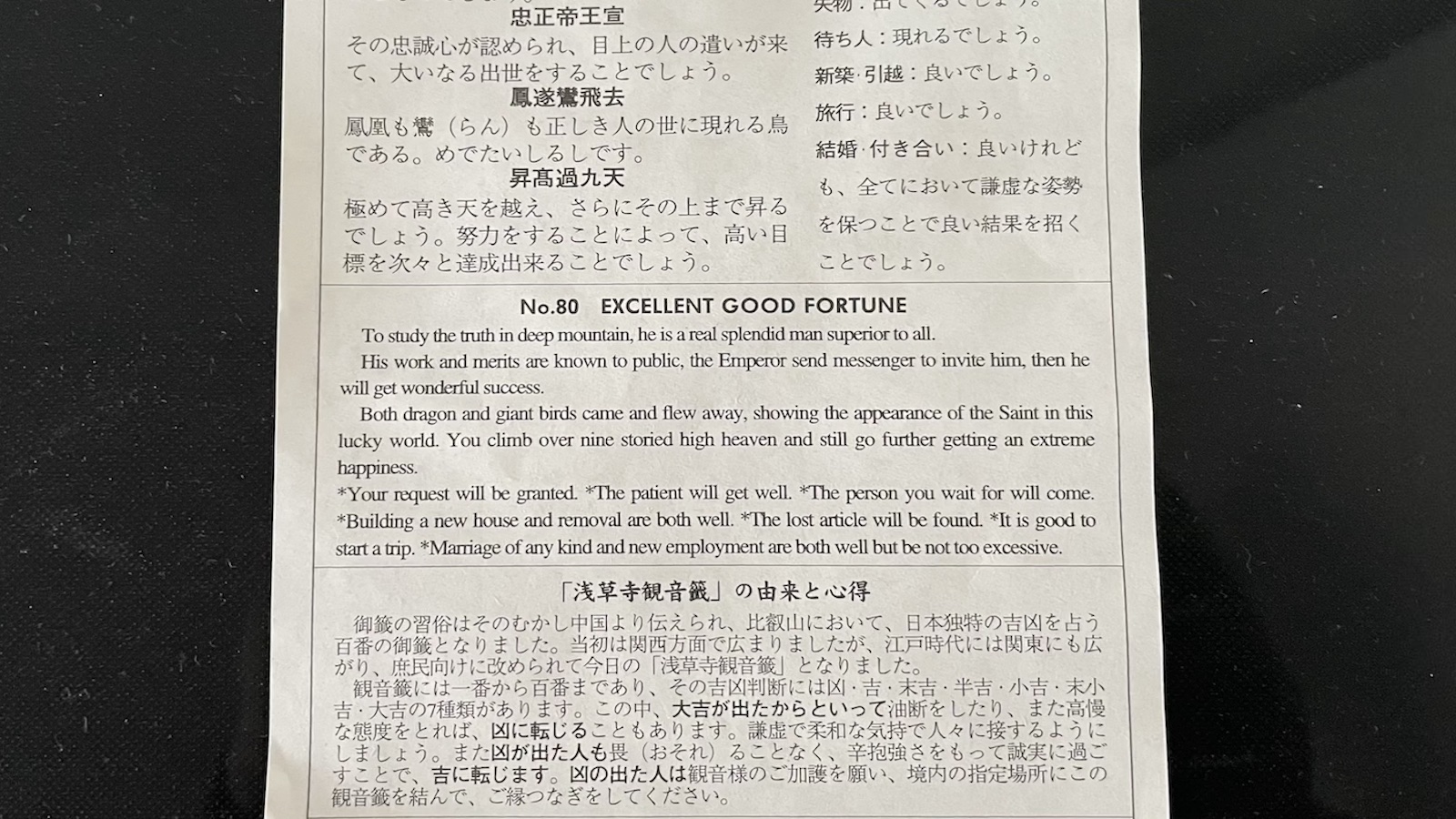 Tokyo Skytree
A visit to Tokyo is not complete without a trip to Tokyo Skytree. Sitting in the heart of the Tokyo skyline, this attraction provides guests with uninterrupted views of greater Tokyo. The Tokyo Skytree tower rises a massive 634 metres into the air and like Shibuya SKY, also offers 360-degree views. The observation deck is fully enclosed and is located in the Tembo Galleria, which rises 450 metres above the ground.
If you're looking to experience some fantastic cuisine with a view, look no further than Sky Restaurant 634. A mixture of Japanese and French food, the restaurant provides some stunning views. Unfortunately, the restaurant doesn't rotate, even though it looks like a perfect candidate for such a feature.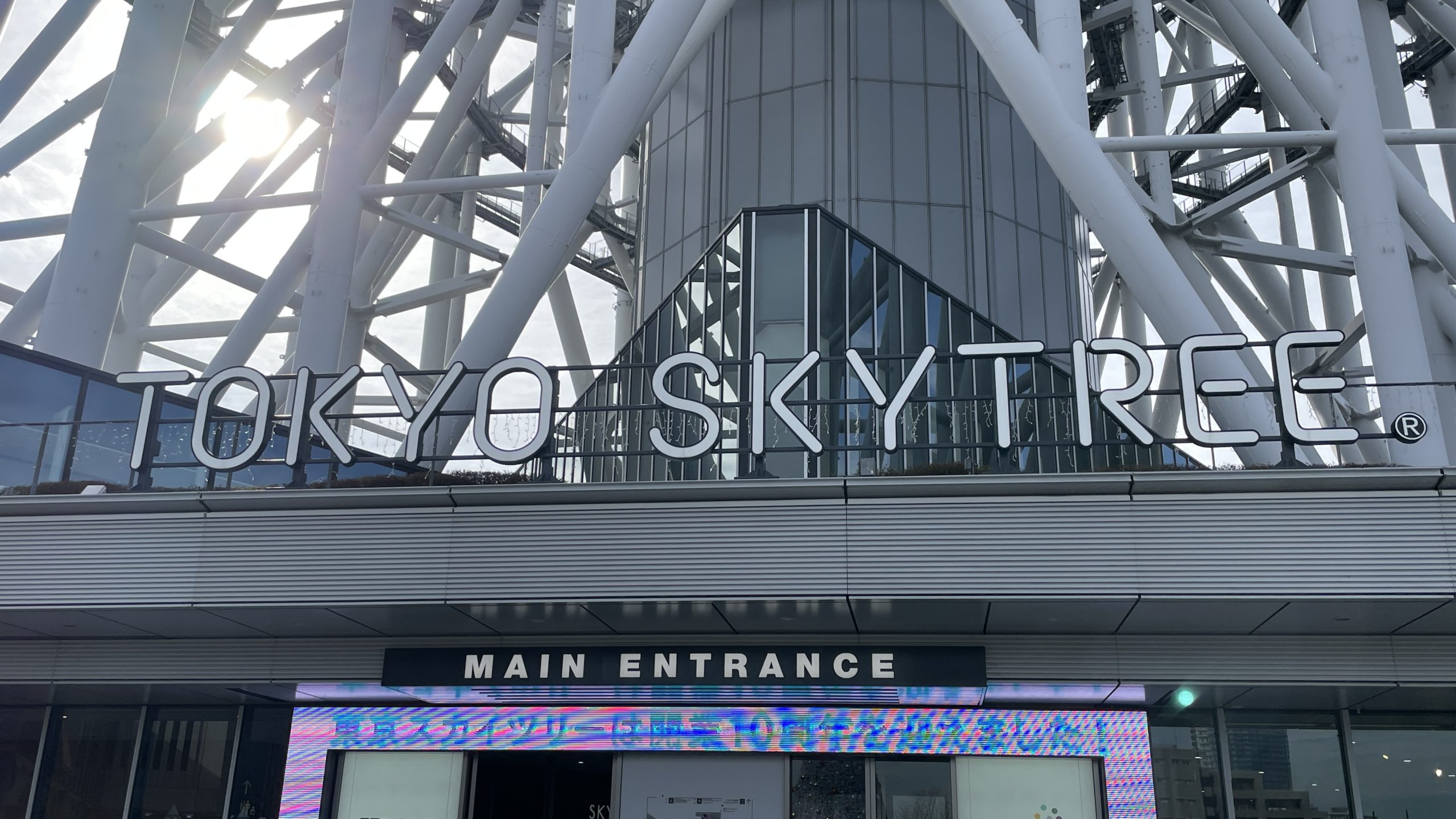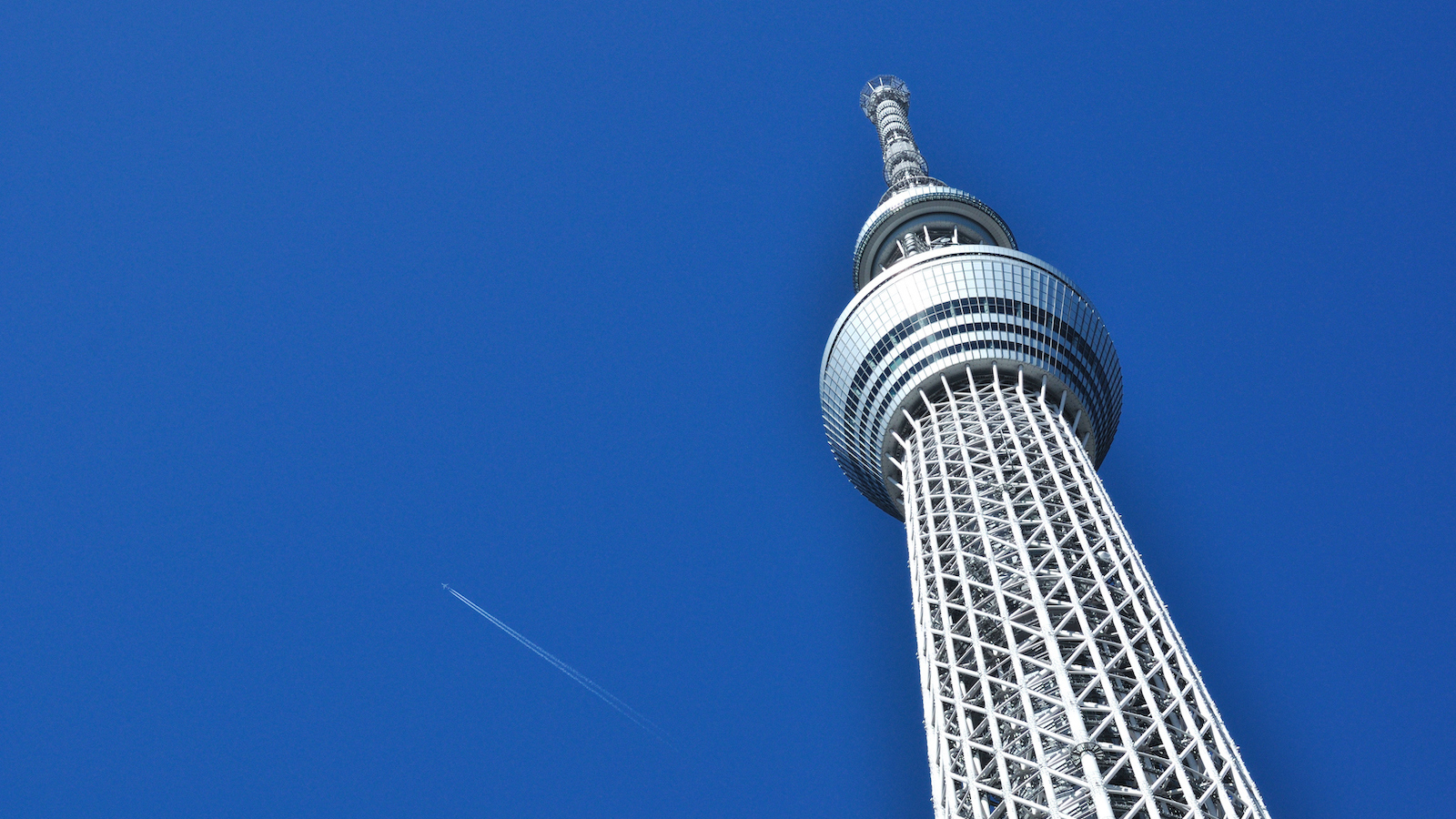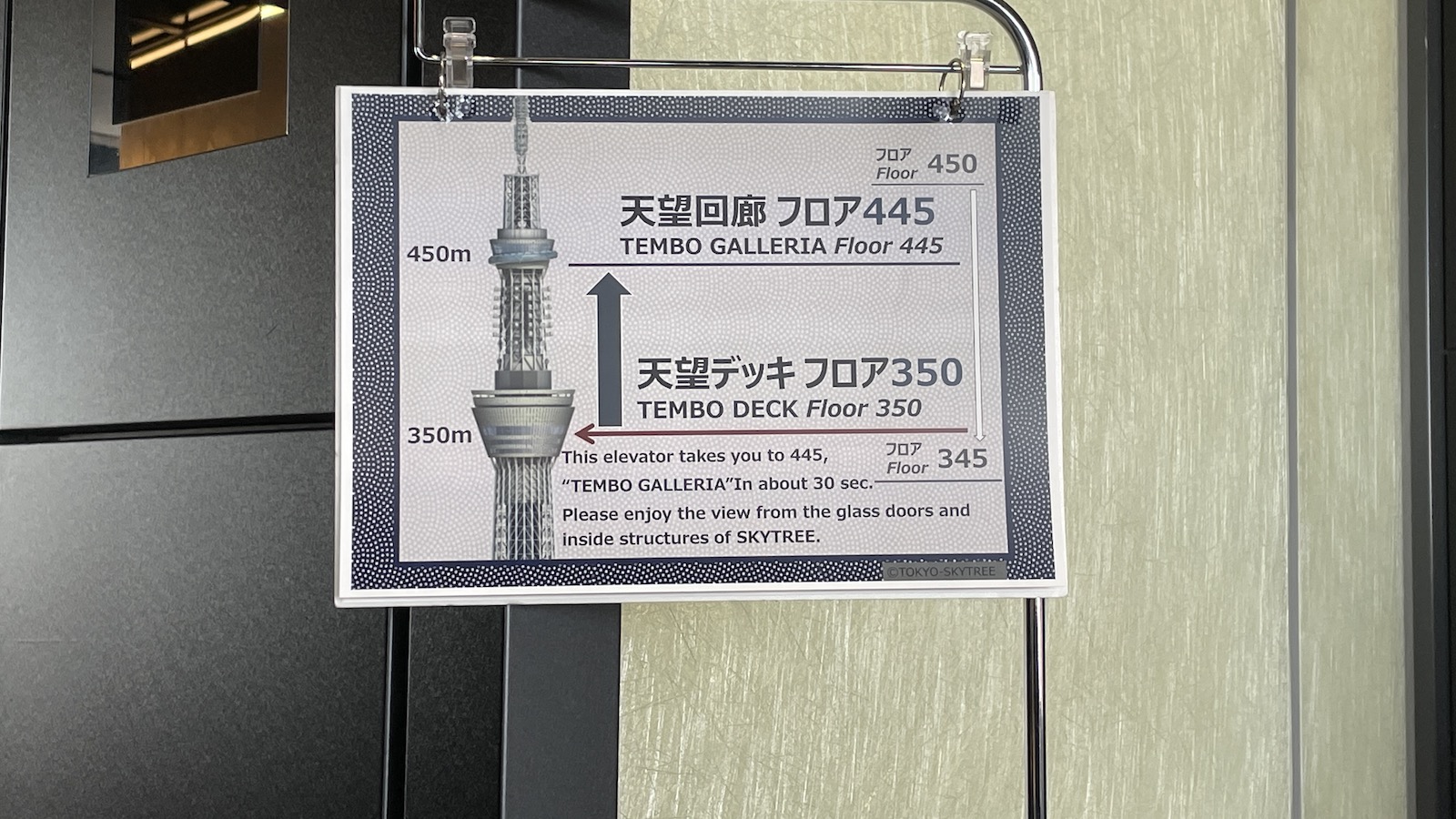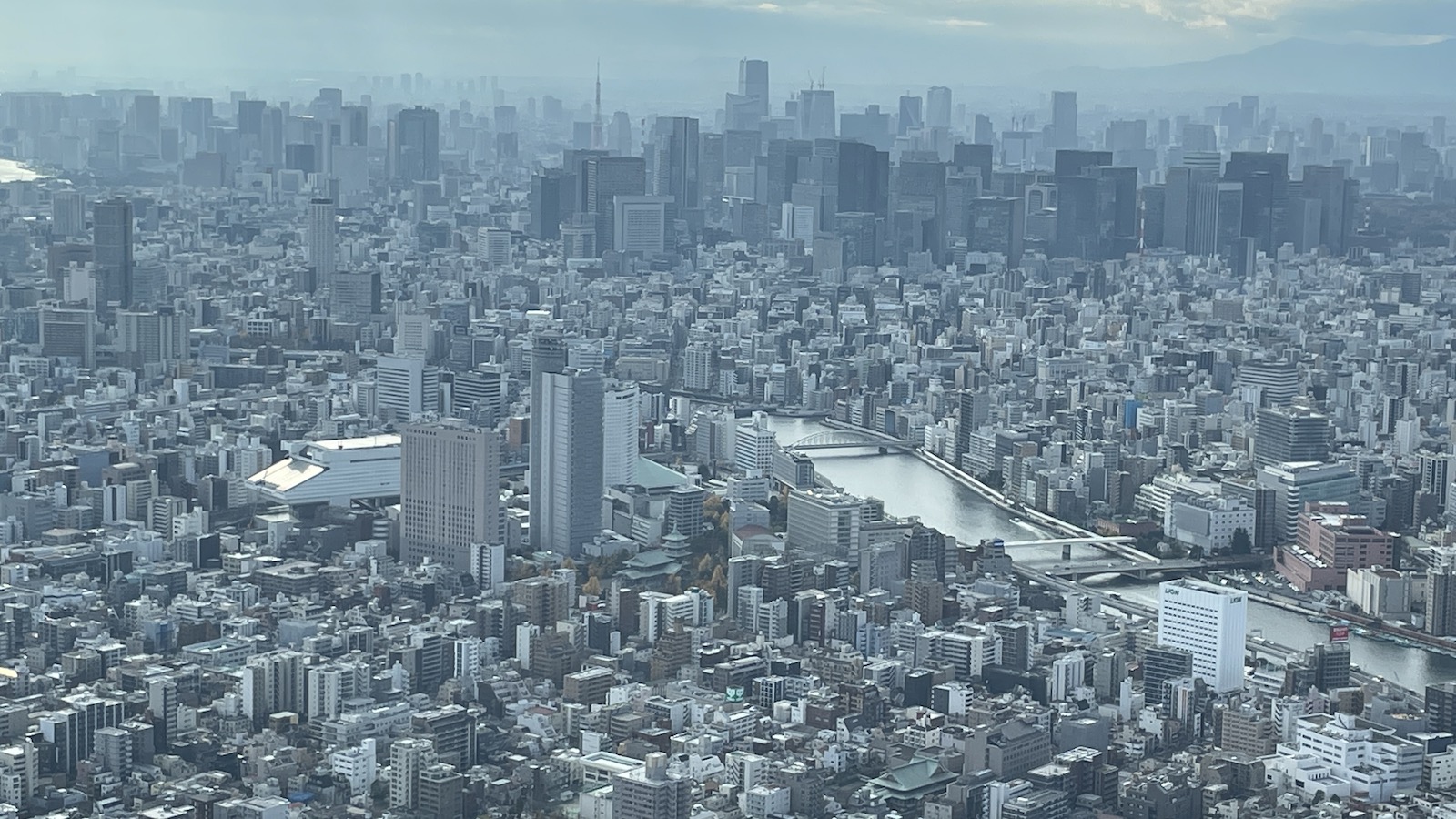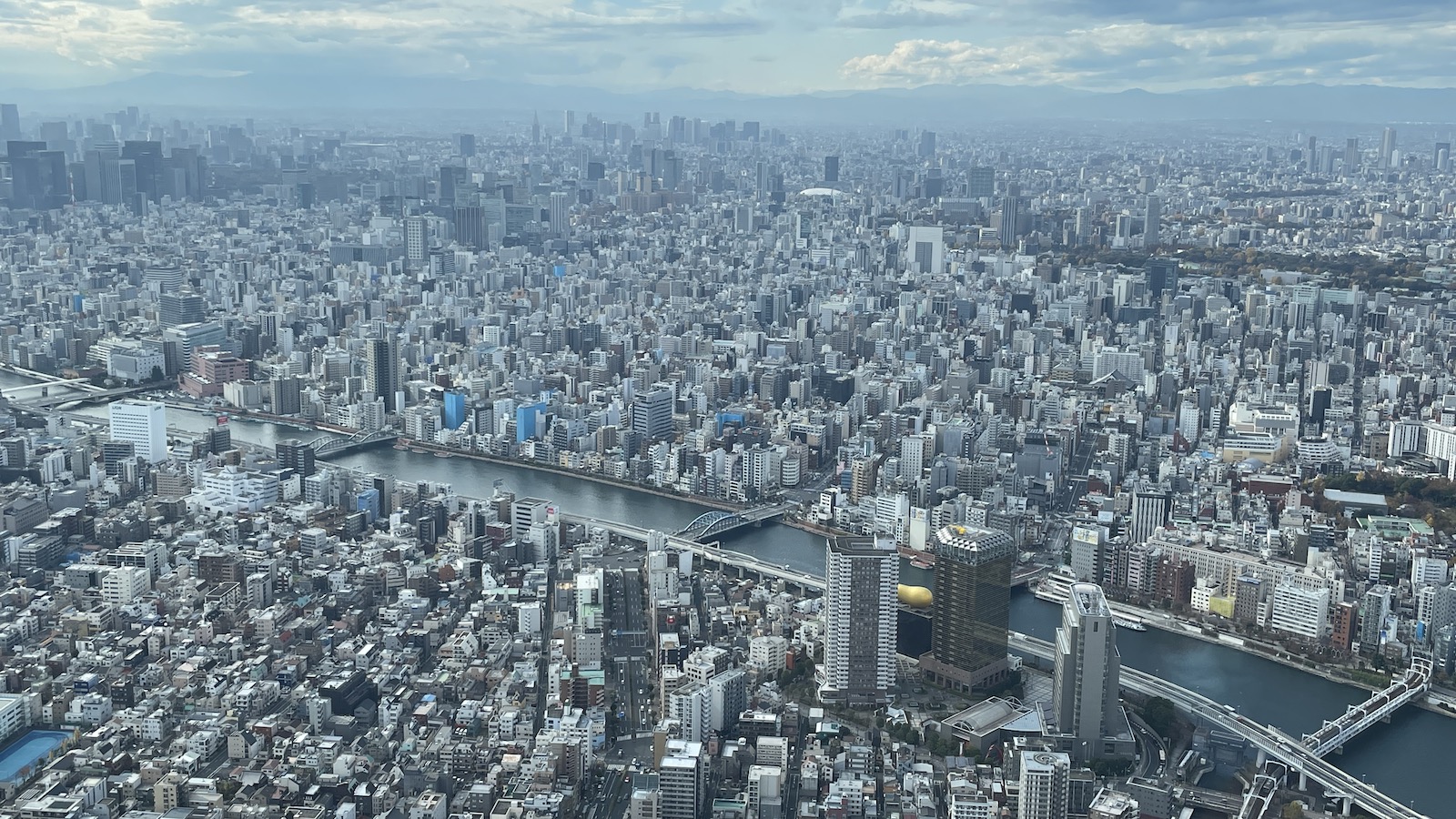 Uorikizushi Restaurant
Within Tokyo Skytree is Uorikizushi Restaurant. I head there for lunch and the moment I enter the restaurant, I feel very lucky to be able to try this experience. The restaurant serves authentic Japanese cuisine. Two wonderful chefs and a fresh seafood bar greet you on entry. I get to try sushi, sashimi, tuna and even eel, and to say it's the freshest seafood I have ever tasted is an understatement.
Take this as a tip. Go here if you're in town, especially if you are after authentic Japanese food. In fact, as you can see from the link to their website, they don't even provide an English version of the site. Pure authenticity there.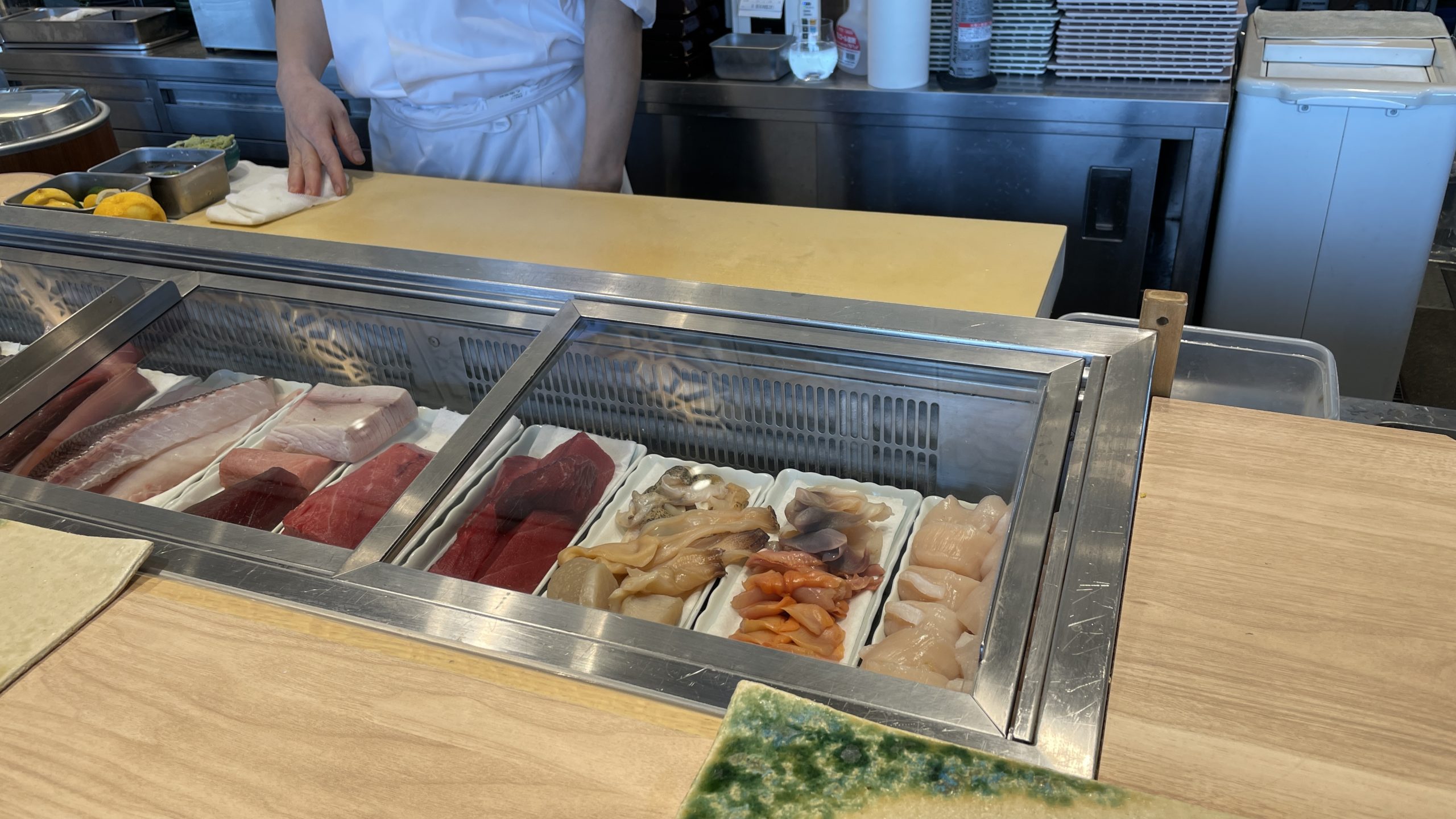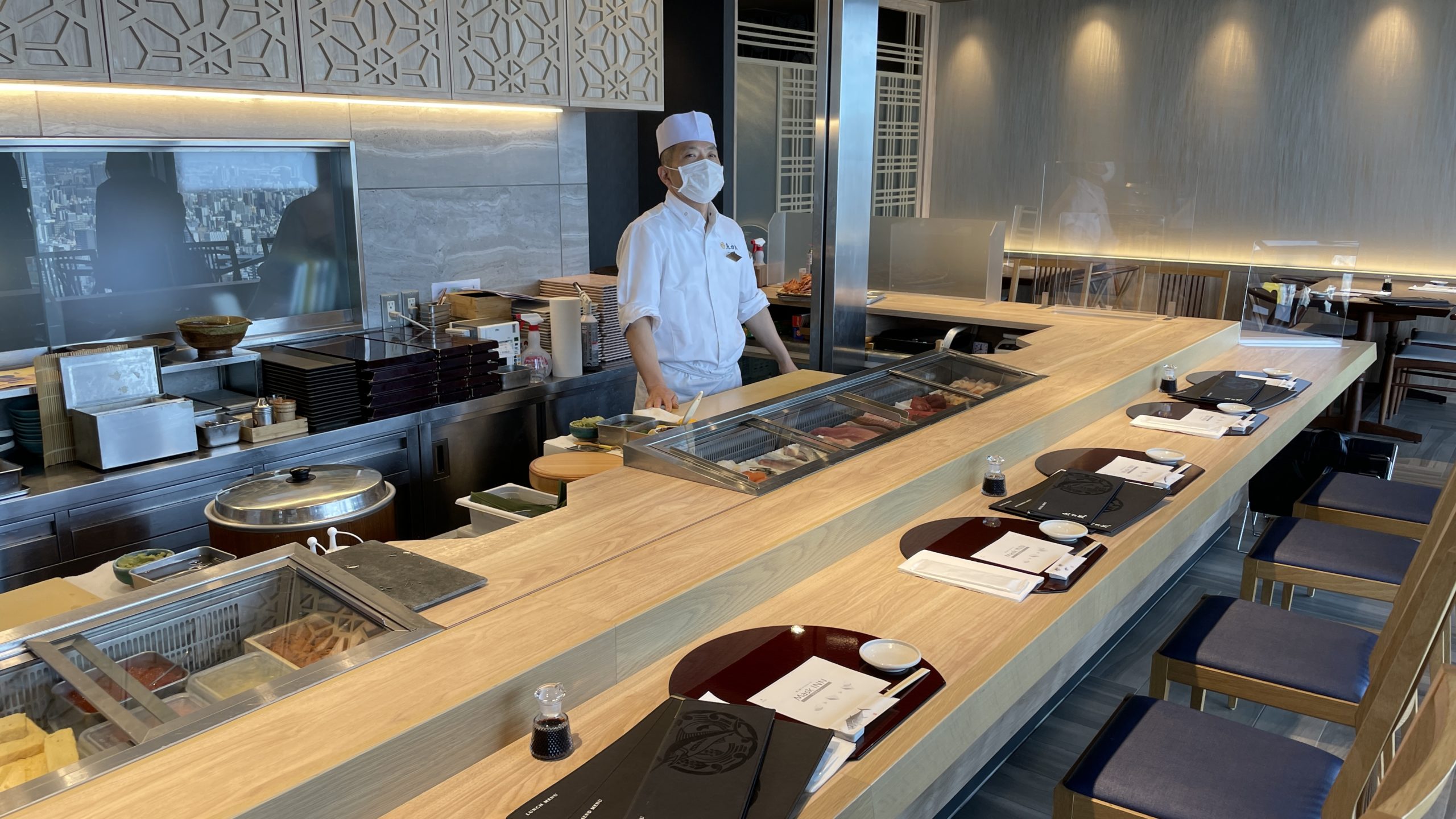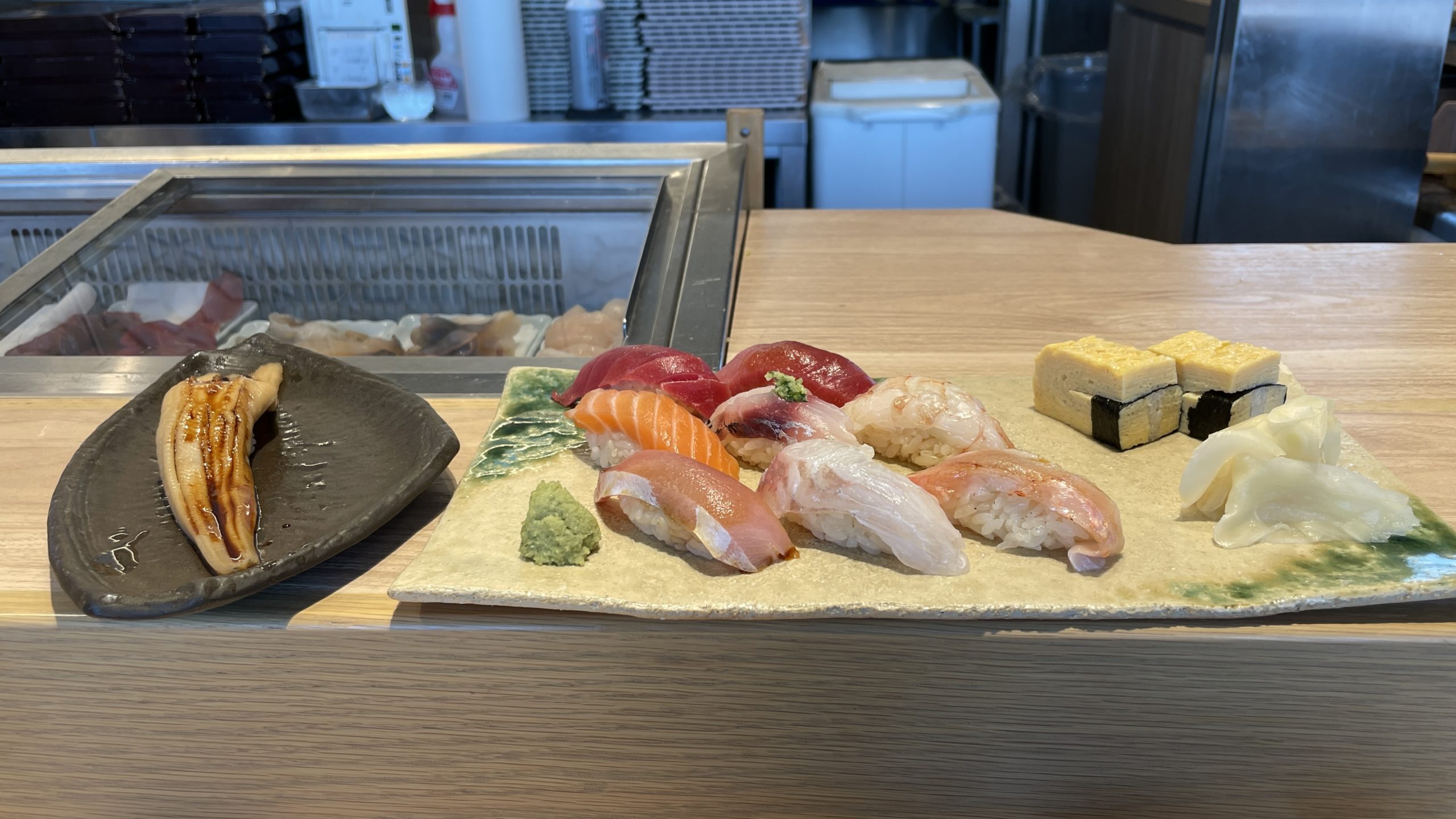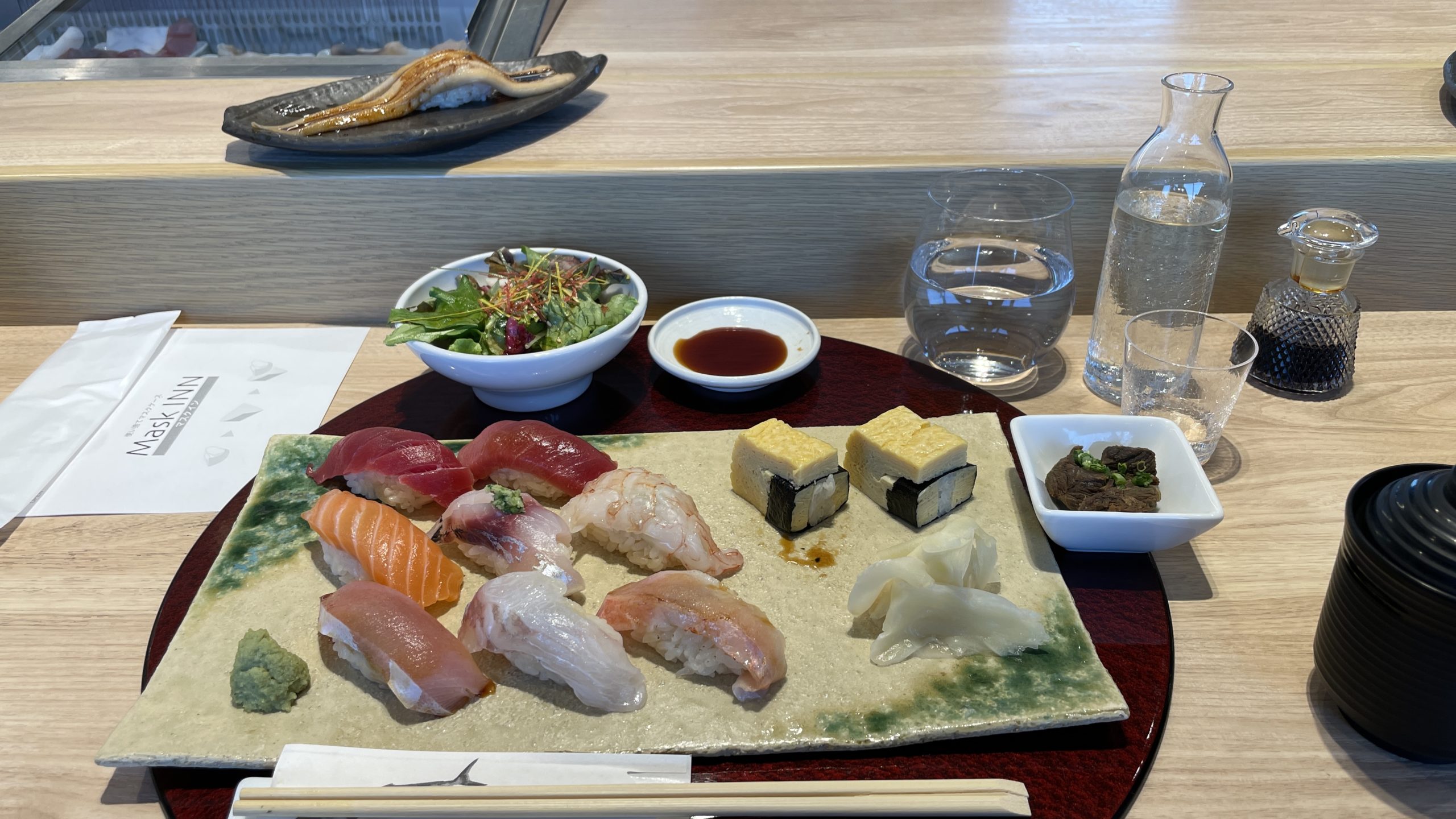 teamLab Planets
As much as I love all the activities I experience above, I leave the best for last.
Let me tell you something about me. I'm not an art museum person. In fact, I can't think of anything worse. So when I'm told that I'll get to spend a whole afternoon at an art museum, my eyes momentarily roll and I steel myself for a less than pleasurable activity.
It's not your regular museum!
But boy am I wrong. This is an art museum with a difference. It is an interactive art museum. And what a difference that makes! Unlike traditional art galleries, where you stand in front of a painting and view it, teamLab Planets allows you to experience the artwork.
So for example, if the artwork includes water, you're likely going to be standing in the water in one form or another. One of my favourite pieces of artwork is a large room (the size of a basketball stadium) filled with knee-high water. There is a visual display that projects fish onto the water and as they hit my leg, they turn into flowers. I feel like a kid again. Your feet will get wet, but they also offer complimentary towels and an area to dry them when you leave that exhibit.
Another piece of artwork requires me to crawl over mattresses to get to the other side of the room and onto the next exhibit. And my absolute favourite is the mirror room illuminated with crystal lighting. You know those scenes from movies where someone is getting whisked into the future, and there is a tunnel of light that separates the present scene from the future? This is what this room feels like. I love it and it's incredibly peaceful. I enjoy just sitting there and taking it all in.
If you like what you've read and want to see teamLab Planets for yourself, you'd better be quick. The exhibition is set to close at the end of 2023.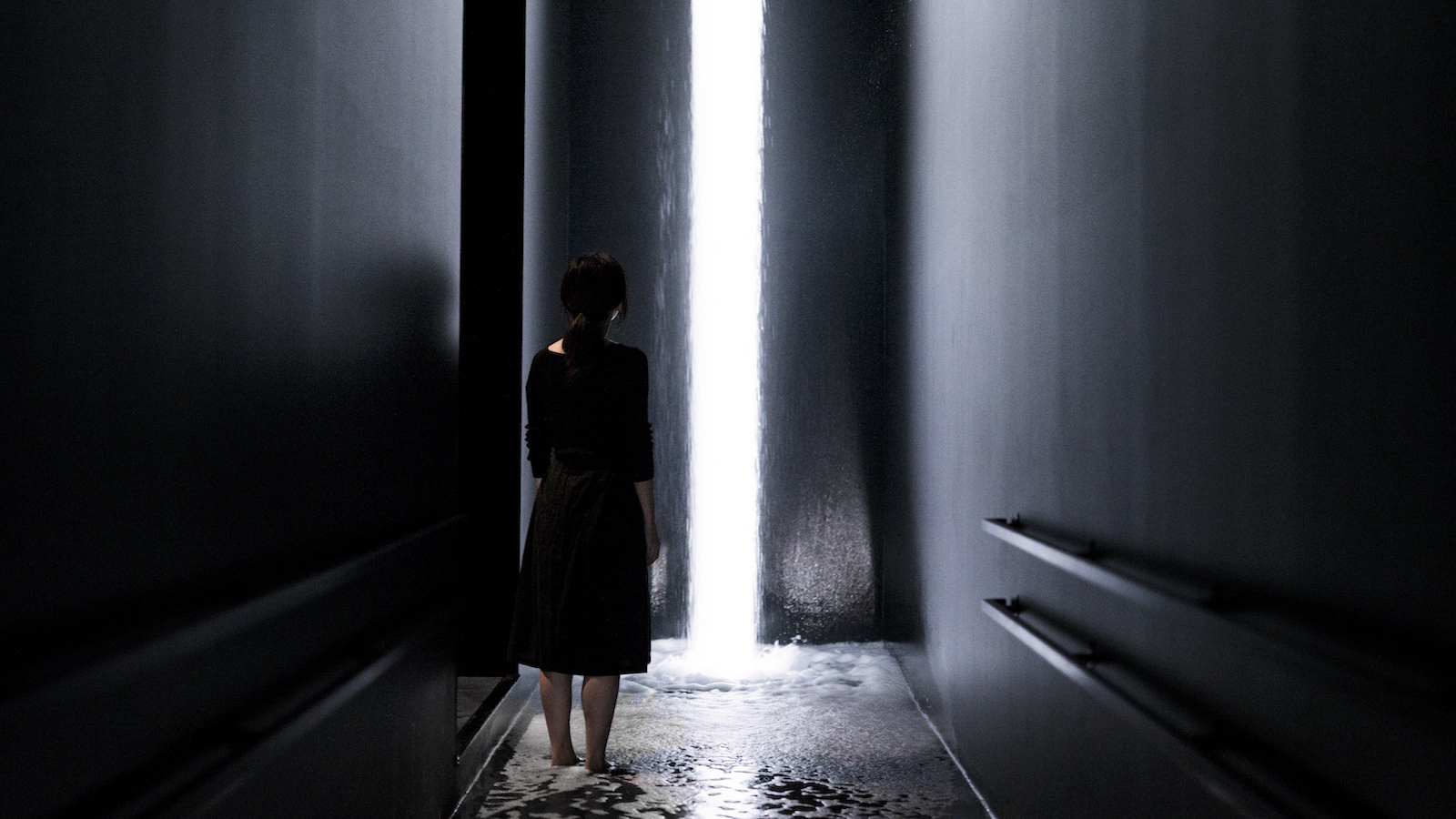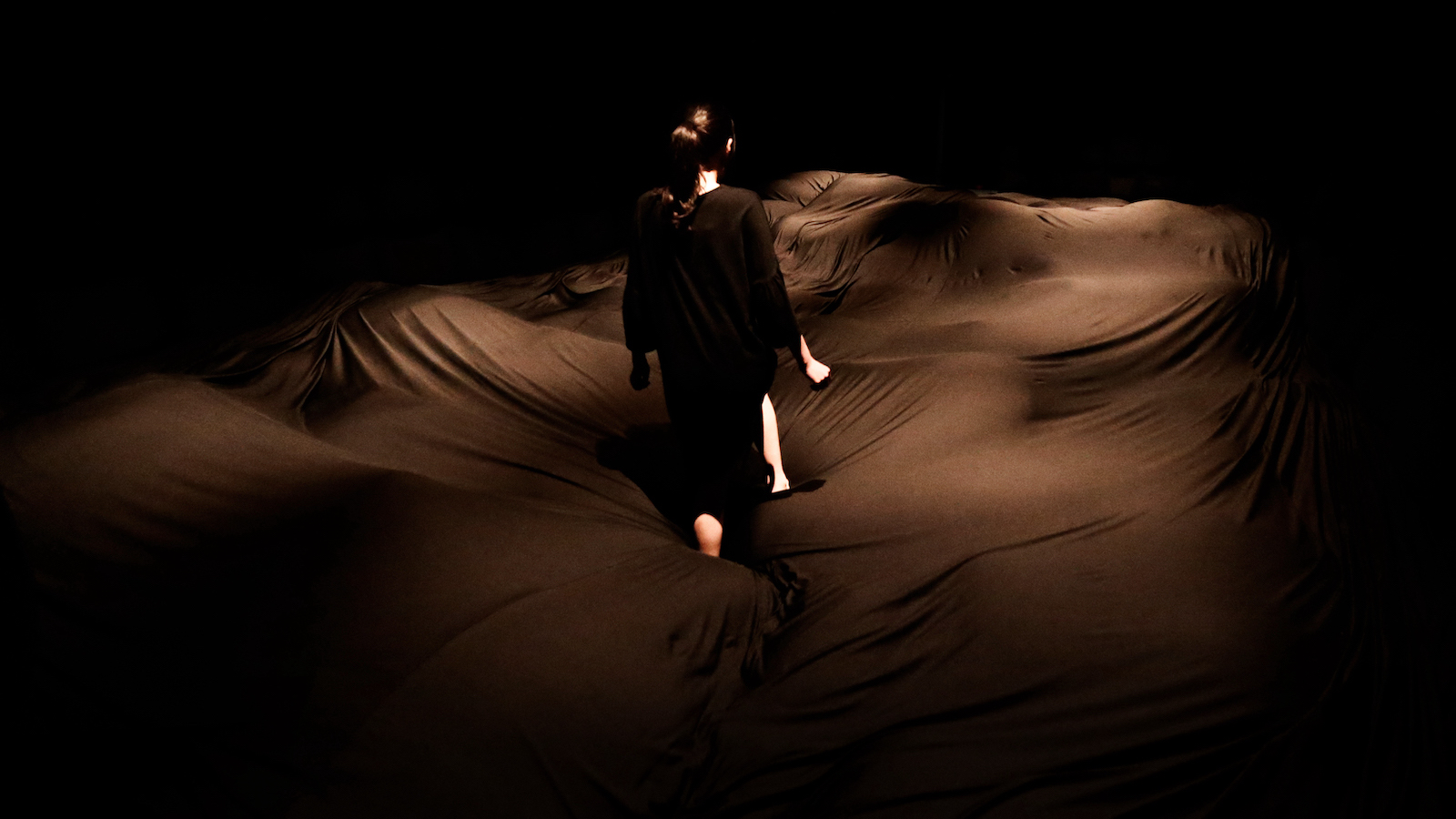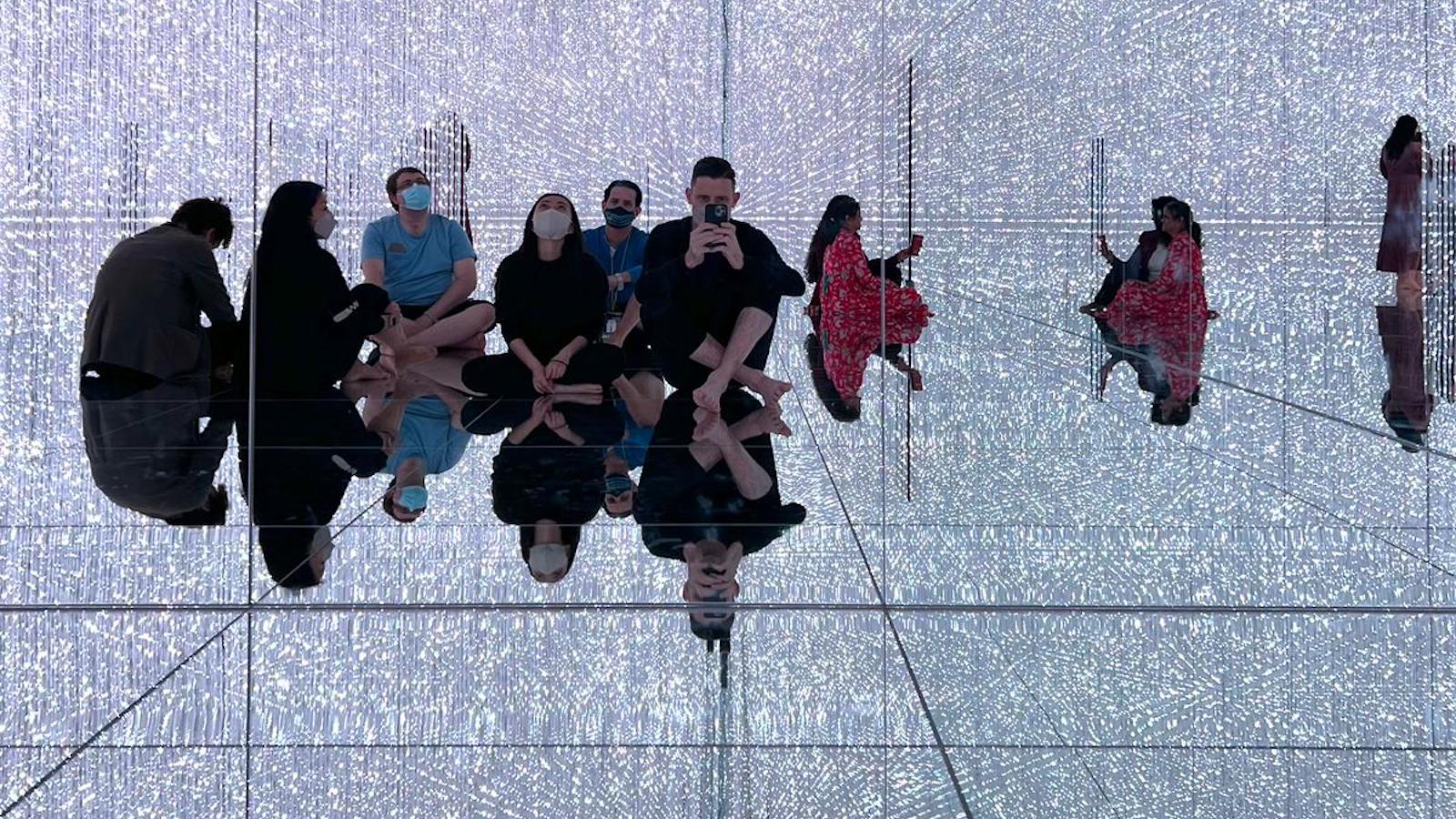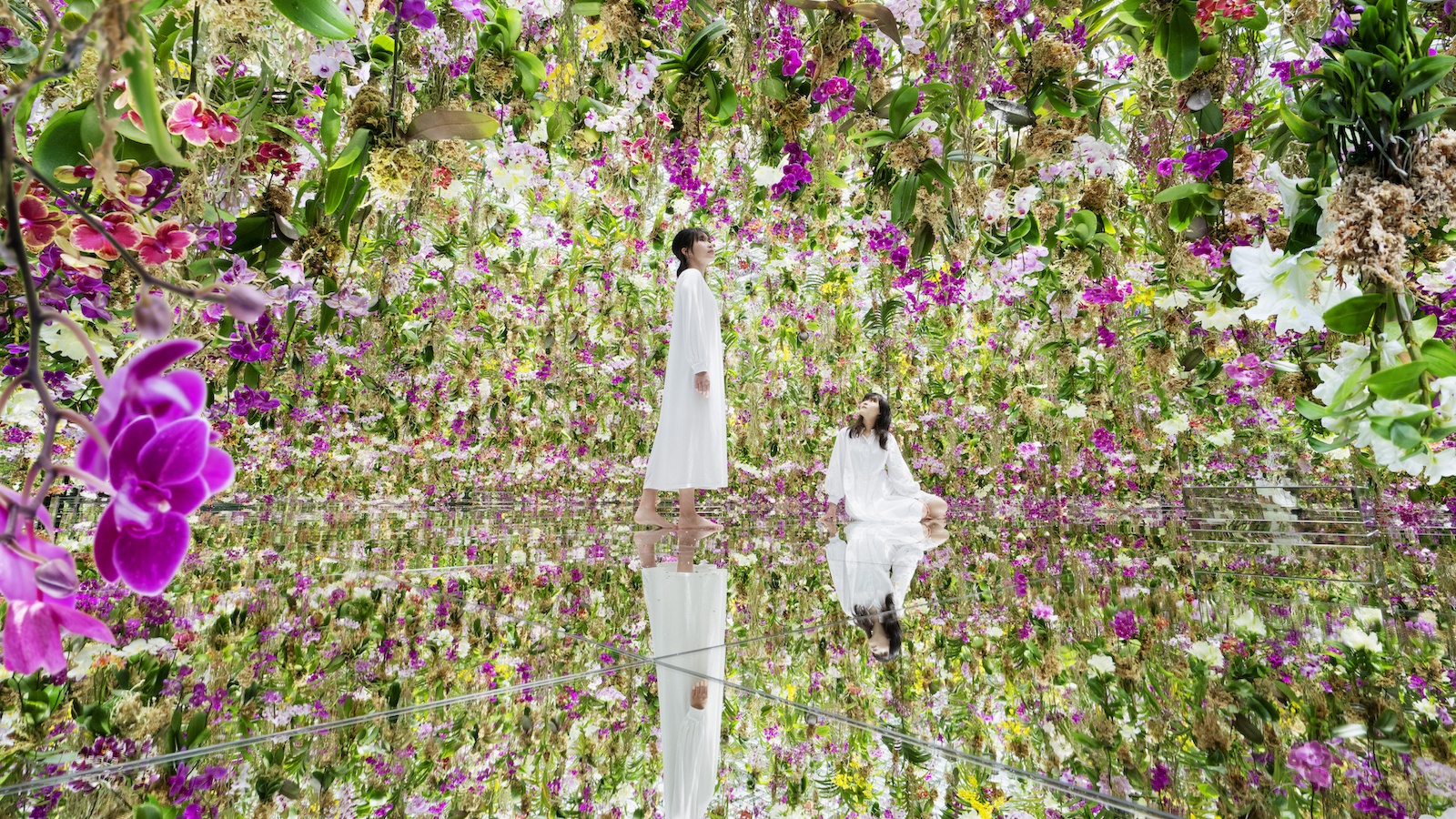 What are you waiting for?
With the options to jet to Tokyo increasing by the month, there is no better time to visit Tokyo than right now. Brisbane-based travellers for the first time now have a direct route between Brisbane and Tokyo's closest airport to downtown, Haneda. For others based outside of Brisbane, this route provides an additional option to get to Haneda from Australia via a connection.
And once you touch down in Tokyo, the world – well, the city – is your oyster. From the many observation decks to exquisite dining and the meshing of modern and traditional worlds, Tokyo is a city that should be added to your bucket list. That is, if it isn't already.
Tantalising Tokyo is vibrant, modern and full of fun
was last modified:
March 10th, 2023
by