In early June, Velocity revamped its frequent flyer program and kicked things off with a lucrative '1 Point Rewards' competition. The idea was simple – at random times, the Velocity Rewards store would stock rewards for just one Velocity Point. Of course, the website crashed under huge demand, and the promotion was tabled for August.
Fast forward to now, and there have been two drops of 1 Point Rewards so far. Both have barely lasted 25 minutes before selling out – but members of our team have been fortunate enough to secure some rewards across both drops. You'll need a very healthy dose of luck, but here are some tips that will ensure a greater chance of success.
Ad – Scroll down to continue reading.Minimum spend, terms & conditions apply.
What are the 1 Point Rewards?
Members of the Velocity Frequent Flyer program then have the opportunity to redeem a great selection of prizes for a single point. This includes return international flights, Dyson products, home appliances, Apple AirPods and more. Of course, the higher the prize's value, the quicker it'll sell out.
Over the last two drops, we've noticed the range of products has been broadly similar. This is a screenshot of half of what was available on the Wednesday 7 September drop (there were plenty more products below including Pandora jewellery, appliances, fashion items and homewares). Higher-value items tend to be near the top.
Even we weren't quick enough to spot any Dyson or international flights this time around!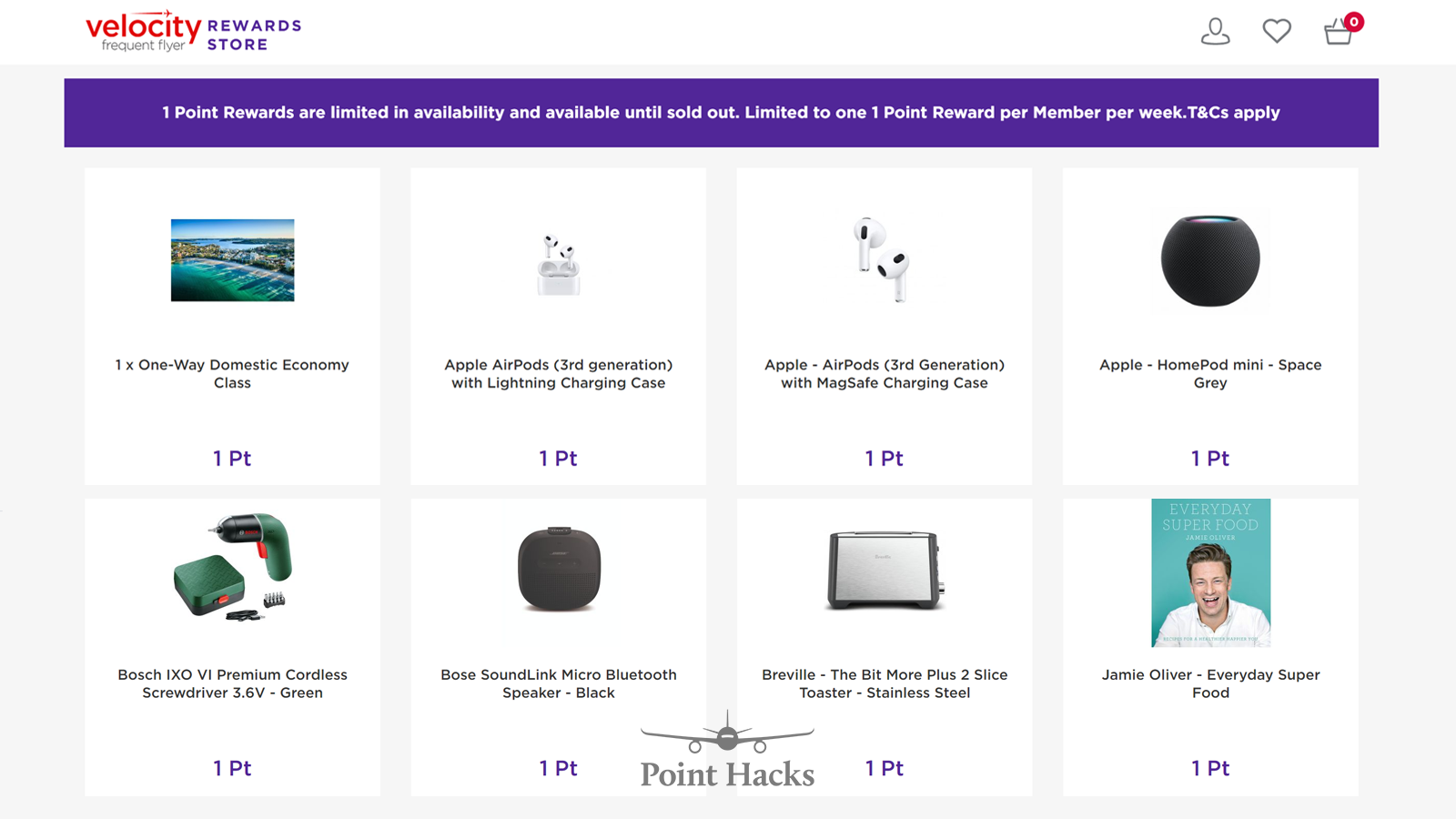 Our tips for the 1 Point Rewards
1. Check the Velocity Rewards Store often
The Velocity Rewards Store hosts the 1 Point Rewards when it's live. In fact, the direct link to the promotion page is here. Throughout the day, visit the site and log in to your Velocity account (logins expire after an hour or so). If you get unexpectedly put into a queue, then that means it's on! Stop what you're doing and wait.
If you're lucky, you'll get into the queue a few minutes before Velocity Frequent Flyer posts its story. Anyone fortunate enough to start lining up during that crucial time period (as I was on the most recent drop) will almost certainly walk away with a prize. Not sure what this 'story' thing that I'm referring to is? Read on.
2. Make sure your Instagram story alerts are on
Currently, Velocity uses Instagram as the primary way to alert everyone to an incoming drop. If you're not able to check on the Velocity Rewards store often, then it's essential you have notifications set up for stories on the Velocity Frequent Flyer Instagram page. Of course, if you don't have Instagram, then you're out of luck here.
On your mobile, visit the @velocityfrequentflyer account (not @virginaustralia – that's different!) Tap the 'bell' icon in the upper-right corner and toggle on 'Stories'. You should get a notification when Velocity posts its next story. My colleague, Chris, also has this handy tip: ensure your phone is set to allow notifications for Instagram. Even if you've subscribed on the app, if your device is blocking notifications system-wide, you'll miss out.
Here's the luck element: you need to click on the link provided in the story as soon as it goes out. There are certainly tens of thousands of members (or more) joining the queue when the story drops. You'll probably have to be in the queue within the first 30 seconds of the story being posted to stand a chance.
3. Check that your Velocity account details are up-to-date
The Velocity Rewards Store draws on your Velocity membership account to auto-fill address details. If that address is out of date, you'll waste important time fixing it. During this time, someone else could redeem the item ahead of you (stock is not reserved until you complete the transaction).
Just login to your account and make sure everything is up to date. If you have some time, why not do a trial run of checking out on the Velocity Rewards Store as well?
4. Consider not going for the highest-value items
The T&Cs state that each member is allowed to redeem a single 1 Point Reward every week during the promotion. Don't waste time trying to get two or more things – it causes others to miss out. Velocity will also contact you the following day and cancel the extra orders.
Depending on where you land in the queue, it's a good idea to have a backup product in mind. Or for peace of mind, why not consider bypassing the free flight and AirPods that everyone's vying for, and choose something a bit further down? Chances are, you'll have it locked away in no time.
5. Understanding online queues – there's a time limit
Velocity Frequent Flyer relies on the queue.it platform that is commonly used for major ticket sales and other activities with massive online demand. When you finally reach the end of the queue, your device is sent a 'signed token' that lets the Velocity Rewards Store know you're authorised to browse 1 Point Rewards.
This signed token has a strict validity – around 10-15 minutes. As soon as that limit is up, you'll be kicked off to the back of the queue – even if you're about to check out. So the moral of the story? Don't dawdle around.
6. Could there be a pattern…?
1 Point Rewards is scheduled to run until 24 September 2023. We expect there will be at least two more drops, though obviously, it remains at Velocity's discretion. Previous drops have occurred around 5:00 pm, Tuesday 29 August and 6:00 pm, Wednesday 6 September (both times AEST).
Of course, past drop times won't necessarily reflect future drop times. Velocity could very well launch one in the morning or even in the middle of the night. Two drops on two consecutive days? It's possible, though unlikely. But if Velocity continues the trend of one drop a week, on a weeknight evening, then be close to your phone around those times.
Good luck and have fun!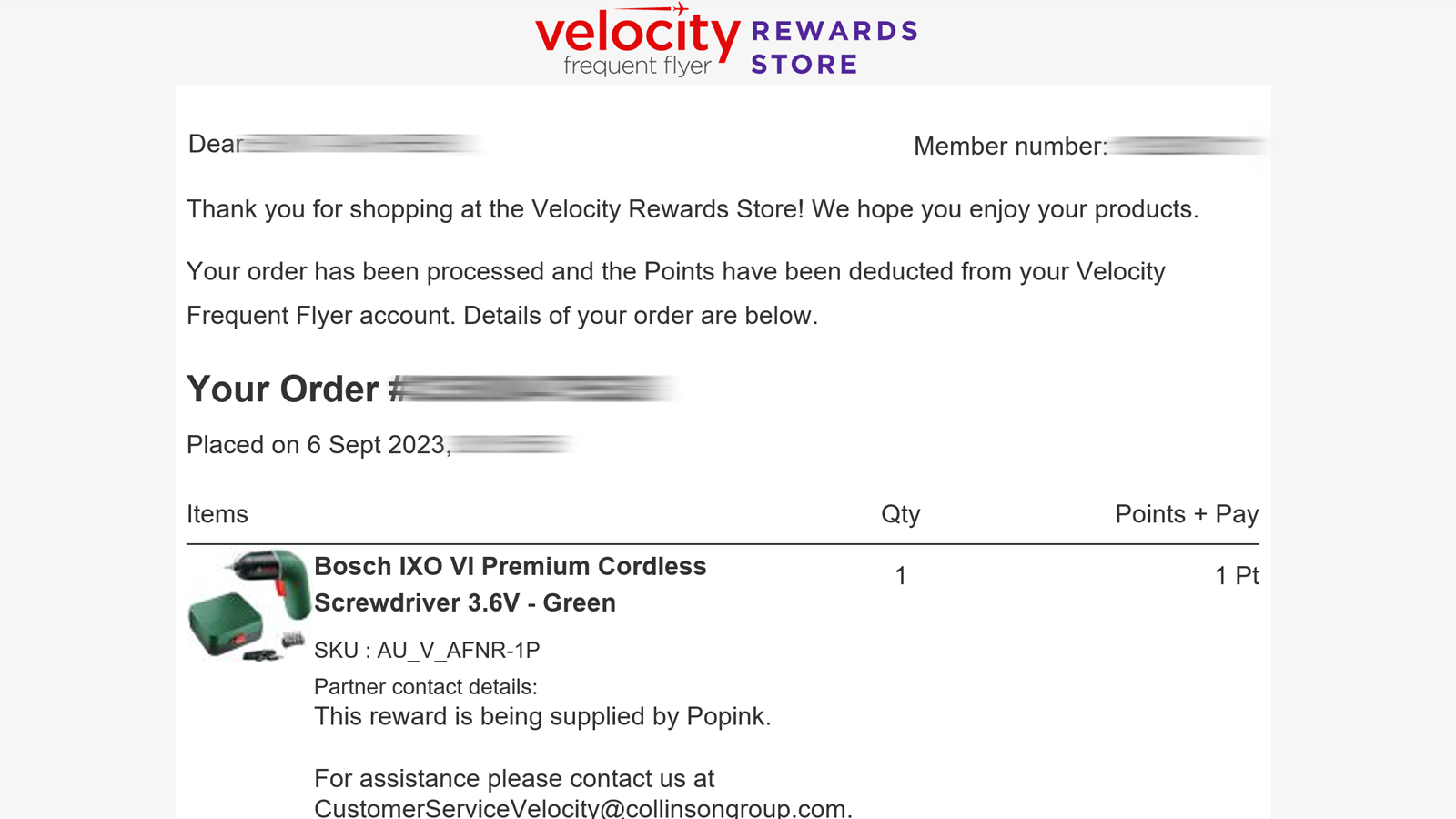 This article was previously written by Victoria Kyriakopoulos.
Our tips for securing a Velocity 1 Point Reward
was last modified:
September 8th, 2023
by