What's better than earning points once? Earning points twice – for a single activity. That's what's possible under the Your World Rewards partnership between Emirates and Marriott.
And it's not just points on the table, it's perks as well. Elite members of Marriott Bonvoy can enjoy the VIP treatment when flying with Emirates. Similarly, those with shiny Emirates Skywards status see their loyalty rewarded not just in the air, but on the ground too, when staying with Marriott.
Here's what you need to know about the Your World Rewards partnership.
Earn Skywards Miles staying with Marriott via Your World Rewards
Here's one of the handiest aspects of Your World Rewards. Eligible travellers can earn Emirates Skywards Miles on every stay at Marriott Bonvoy hotels. And what's great is that these Skywards Miles are in addition to your usual serve of Marriott Bonvoy points.
Every time you stay once, you're being rewarded twice. Once with Marriott Bonvoy points, and again with Skywards Miles. This perk is exclusively available for Skywards members at the following tiers:
You just need to link your Emirates and Marriott accounts first, through the Your World Rewards platform. Once that's done, you'll pocket one Skywards Mile per US$1 spent (or foreign equivalent) on room rates. This applies globally, at any hotel participating in the Marriott Bonvoy program.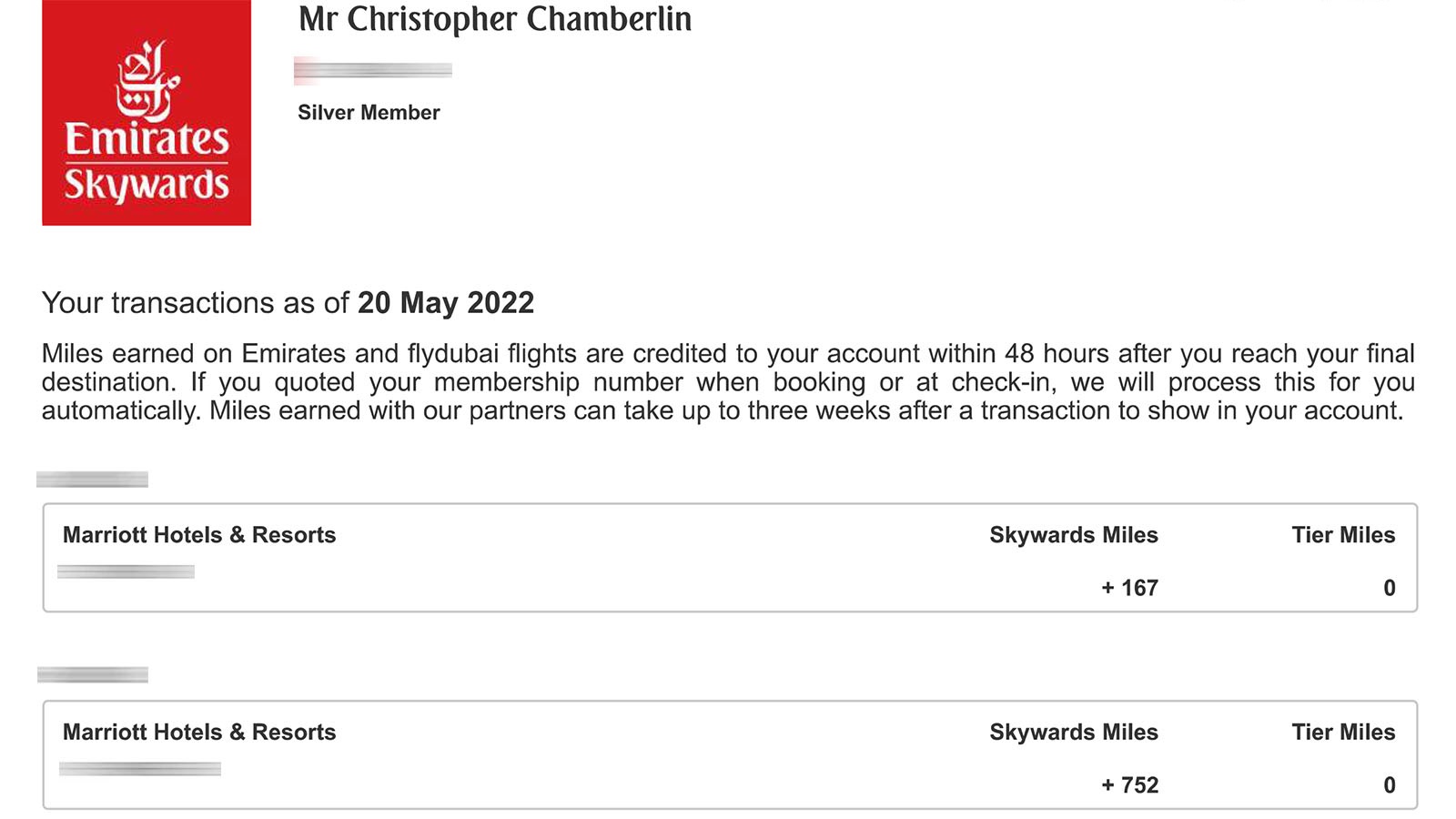 Skywards Miles aren't awarded on taxes and charges levied separately to the base room rate. They're also not credited on any folio items such as food and beverage charged to the room.
For clarity, you don't need any elite status with Marriott Bonvoy for this perk. As long as your Skywards status is Silver or higher and your accounts are linked, you're ready to earn.
Marriott Your World Rewards benefits for Skywards elites
For higher-tier travellers, the journey gets even better. When staying at any hotel participating in the Marriott Bonvoy program, there's an extra set of perks awaiting Skywards Gold and Platinum members.
Here's what to look forward to, courtesy of Your World Rewards:
Priority hotel check-in, at the same counters as Marriott Bonvoy Gold and Platinum members.
A free 4 pm late checkout, subject to availability.
Gratis 'enhanced' in-room hotel Wi-Fi.
Again, these perks are unlocked solely in recognition of your elite Skywards status. You could be nothing more than an entry-level member of Marriott Bonvoy. But because you've done the hard yards and climbed the Skywards ladder, you're reaping the rewards on the ground – not just in the air.
Ad – Scroll down to continue reading.Minimum spend, terms & conditions apply.
Earn Marriott Bonvoy points when flying with Emirates
Your World Rewards isn't just about points and benefits on the ground for high-flying Skywards members. It also works in reverse, giving selected Marriott Bonvoy cardholders rewards in the sky.
Expect a cool three Marriott Bonvoy points per US$1 spent on all eligible Emirates flights. This, of course, is alongside the Skywards Miles the traveller would also usually take home. And it's available for Marriott Bonvoy members at the following tiers:
Gold Elite
Platinum Elite
Titanium Elite
Ambassador Elite
So what is an 'eligible' flight? It's any flight that's both 'marketed' and 'operated' by Emirates. That is, when you've booked a flight number beginning with EK, and the plane you're flying on is an Emirates jet with Emirates crew.
You'll also need to have linked your Emirates Skywards and Marriott Bonvoy accounts through Your World Rewards before travel. And list that Skywards frequent flyer number on your booking.
Just note, you won't earn points when any other frequent flyer number is entered into the ticket. This includes linking your Qantas Frequent Flyer number with an Emirates flight. These Marriott Bonvoy points also aren't awarded on codeshare flights, such as an Emirates flight booked as a Qantas (QF) codeshare.
Marriott Bonvoy points also aren't provided when travelling on a reward ticket, or on amounts charged in taxes and fees on a paid ticket.
Hot tip: You can easily get started earning Marriott Bonvoy points on Emirates flights with the American Express Platinum Card. That's because Marriott Bonvoy Gold Elite is an ongoing benefit of holding the Platinum Card. And by opting in for that status and linking your accounts via Your World Rewards, you'll be ready to fly – and double dip on reward points.
Your World Rewards: Emirates perks for Marriott Bonvoy Elites
As if this tie-up couldn't be any sweeter, there's something extra for traveller members at the Marriott Bonvoy Platinum Elite tier and above.
When travelling with Emirates, enjoy access to priority check-in and priority boarding, even if booked in Economy Class. It's certainly a time-saving trick – even if the benefit doesn't quite extend to lounge access.
Again, you'll need to make sure your Emirates Skywards and Marriott Bonvoy accounts are linked. Then, attach that Emirates Skywards frequent flyer number whenever you travel with Emirates. If your accounts are joined properly, you'll spot both the Emirates and Marriott logos on your digital Skywards membership card: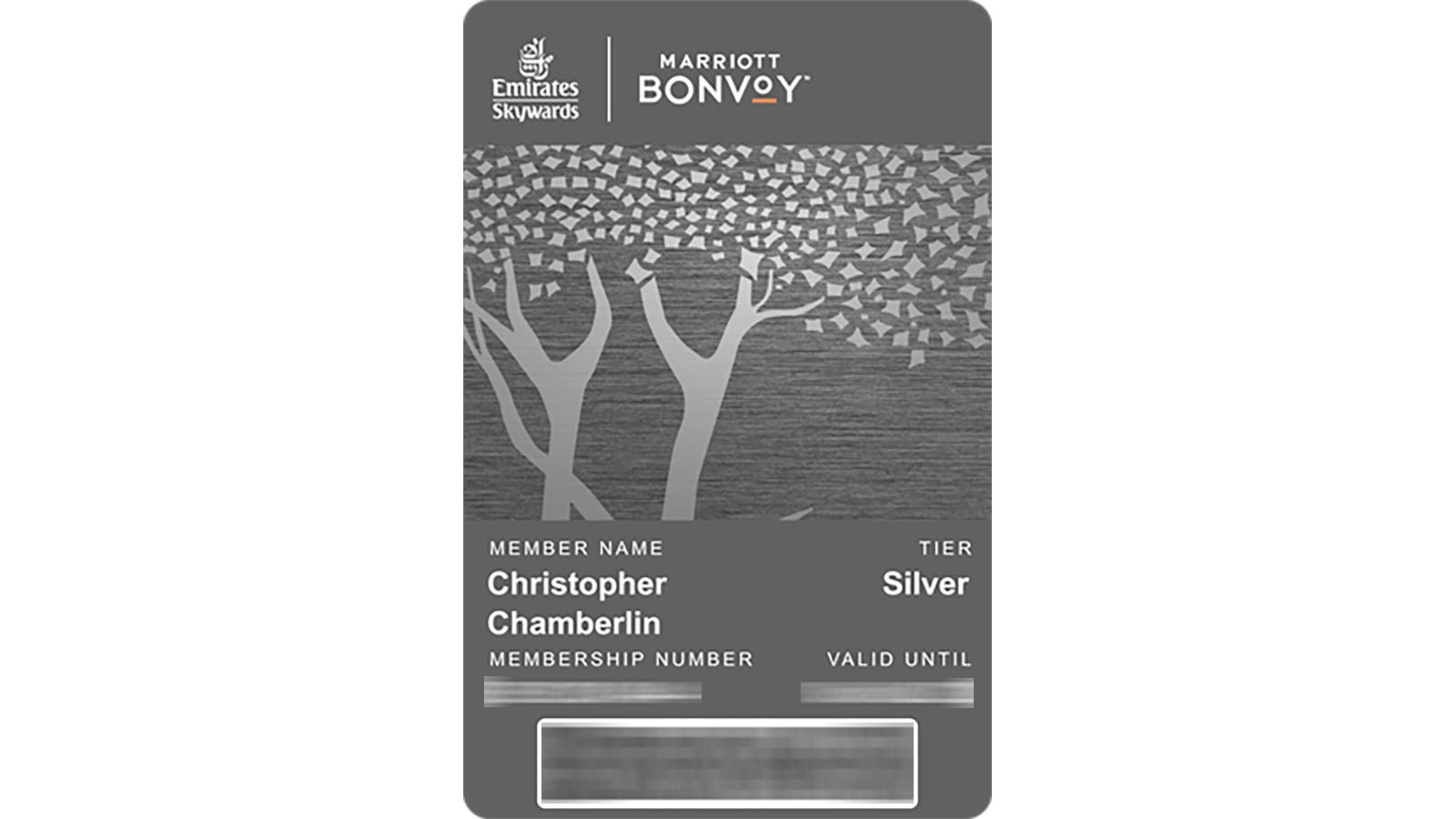 And it's worth pointing out, linking your accounts doesn't restrict how you can spend the Marriott Bonvoy points you'll earn. Sure, you could decide to later convert these into Skywards Miles to give your account a further boost. But you could also spend them on hotel stays – or even convert them into points or miles with one of Marriott's other airline partners.
Skywards Miles credited directly into your Skywards account, of course, will remain as Skywards Miles.
Summing up
Your World Rewards certainly lives up to its name – offering points and benefits around the globe for those who travel more than most. But therein lies the drawback. There's nothing to this partnership for members who don't have status in either program.
In fact, even if you do have status, you may not benefit. Marriott Bonvoy Silver Elite members, for instance, are excluded from any of the Your World Rewards benefits. It's only when you get to the Marriott Bonvoy Gold Elite tier that the perks start flowing. Or at least, the Silver rung of the Skywards program.
My advice? Link your accounts anyway – even if you're not currently Gold or higher with Marriott, or Silver and above with Skywards. If that changes in future, the points and benefits of Your World Rewards will automatically start flowing.
Case in point, I'd linked my accounts a while back: and to be honest, forgot all about it.
More recently though, I've climbed to Skywards Silver – and subsequently stayed in a Marriott hotel. To my surprise in the week that followed, a stash of Skywards Miles appeared in my account. That was my reward for having already linked my accounts – and in retrospect, I'm glad I'd planned ahead and didn't miss out.
Also read: Marriott to open almost 100 Asia Pacific hotels this year
Feature image adapted from imagery courtesy of Residence Inn by Marriott Al Jaddaf, Dubai.
---
Stay up to date with the latest news, reviews and guides by subscribing to Point Hacks' email newsletter.
Your World Rewards: your loyalty double-dip with Marriott and Emirates
was last modified:
August 29th, 2022
by