In this guide, we identify all Marriott properties in Australia and the Pacific Islands and analyse when it makes sense to use your Marriott Bonvoy points and when to use cold hard cash.
Previously, we have had the chance to visit a number of properties in Australia that were part of the now-defunct Starwood program. Our reviews of these hotels are linked in this guide.
One of the easiest ways to get your hands on Marriott Bonvoy points is through the American Express Explorer card, which offers the highest effective earn rate of any personal credit card in Australia – at 1.33 Marriott points per $1 AUD spent.
If you have not read up on the new Marriott Bonvoy loyalty program, check out our introductory guide here.
Locations and redemption rates – Australia and New Zealand
Within Australia, there are currently 23 properties around the country which can be booked with Marriott Points, mostly centered within the eastern states. There is also just one property in New Zealand.
Most hotels are Category 5 or lower, meaning you will need up to 35,000 points per night for a standard Category 5 redemption. Off-peak and peak pricing have been introduced last year which affects the points required depending on the time of year.
Here is the full list of Marriott properties in Australia updated with the 2020 category changes, sorted by location for default and with links to Point Hacks reviews:
Property
Location
Category
Points per night
(standard)
Average nightly charge*
Average value:
cents per point
W Brisbane
Brisbane
5
35,000
$283
0.80
Four Points by Sheraton
Brisbane
3
17,500
$175
1
The Westin
Brisbane
4
25,000
$302
1.2

Marriott
Brisbane
4
25,000
$297
1.18
Midnight Hotel Autograph Collection
Canberra
3
17,500
$135
0.77
Sheraton Grand Mirage
Gold Coast
5
35,000
$237
0.67
Element Melbourne Richmond
Melbourne
3
17,500
$166
0.94
Sheraton
Melbourne
5
35,000
$279
0.79
The Westin
Melbourne
5
35,000
$245
0.7
Four Points by Sheraton
Melbourne
(Docklands)
3
17,500
$175
1
Marriott
Melbourne
5
35,000
$538
1.5
Aloft
Perth
3
17,500
$155
0.88
Four Points by Sheraton
Perth
3
17,500
$121
.69
The Ritz-Carlton
Perth
6
50,000
$362
0.72
The Westin
Perth
4
25,000
$244
0.98
Sheraton Mirage
Port Douglas
5
35,000
$212
0.60
Marriott Resort & Spa
Surfer's Paradise
5
35,000
$224
0.64
Pier One Autograph Collection
Sydney Harbour
5
35,000
$313

0.89
Courtyard by Marriott
Sydney - North Ryde
3
17,500
$303
1.73
Old Clare Hotel Chippendale
Sydney
5
35,000
$209
0.59
Marriott Sydney Harbour
Sydney - Circular Quay
5
35,000
$362
1.03
Sheraton Grand
Sydney - Hyde Park
5
35,000
$342
0.97
Four Points by Sheraton
Sydney - Central Park
4
25,000
$205
1
Four Points by Sheraton
Auckland
4
25,000
$195
0.78
* Based on one night stay on 25 May 2020 in the lowest-available room
As expected, 'resort' style properties such as the Sheraton Grand Mirage Gold Coast tend to offer the most value per points, since cash prices for rooms tend to run very high.
Inversely, The Ritz-Carlton Perth had the lowest value redemption for our search at just $313 for a night, but with redemptions still charged at the Category 6 price of 50,000 points.
Not included on the table but opening soon are:
Aloft Adelaide
Sheraton Adelaide
W Melbourne (December 2020)
The Tasman, Hobart (November 2020)
We will update the table with their categories and redemption rates once they become known.
Ad – Scroll down to continue reading.Minimum spend, terms & conditions apply.
Locations and redemption rates – Pacific Islands
There are twelve properties through the Pacific Islands that can be booked with Marriott points, mainly centred around Fiji, New Caledonia, French Polynesia (Tahiti) and Palau.
These resorts tend to cost more than properties back in Australia as they are in more exclusive settings, starting from Category 3 properties in Samoa for 17,500 points per night, right up to the most expensive Category 8 hotels from 85,000 points per night.
Here is the current list of properties in the Pacific Islands, updated to the 2020 Bonvoy category changes:
Property
Location
Category
Points per night
(standard)
Average nightly charge (AUD)*
Average value: cents per point
Sheraton Resort & Spa, Tokoriki Island
Fiji
5
35,000
370
1.05
Marriott Resort, Momi Bay
Fiji
5
35,000
$373
1.06
Sheraton Denarau Villas
Fiji
7
60,000
$500
0.83
Sheraton Fiji Resort
Fiji
5
35,000
-
-
The Westin Denarau Island
Fiji
5
35,000
$228
0.65
Le Meridien Bora Bora
French Polynesia
7
70,000 (peak) +$665
$1574
1.30
St Regis Bora Bora
French Polynesia
8
85,000 + $1200 AUD**
$3270
2.43
Sheraton New Caledonia Deva Spa & Gold Resort
New Caledonia
4
25,000
-
-
Le Meridien lle des Pins
New Caledonia
6
50,000
-
-
Le Meridien Noumea Resort
New Caledonia
4
25,000
-
-
Sheraton Aggie Grey's Hotel
Samoa
3
17,500
$260
1.48
Sheraton Samoa Beach Resort
Samoa
3
17,500
$244
1.39
Sheraton Laguna Guam Resort
Guam
4
25,000
$316
1.26
The Westin Resort
Guam
4
25,000
$316
1.26
* Based on one night stay on 1 May 2020 in the lowest-category room, converted to AUD
** Based on a Redemption + Upgrade package for an Overwater Deluxe Otemanu (St Regis Bora Bora)
It is no surprise that the St Regis Bora Bora comes out on top, delivering more than 2.43 cents per points in value.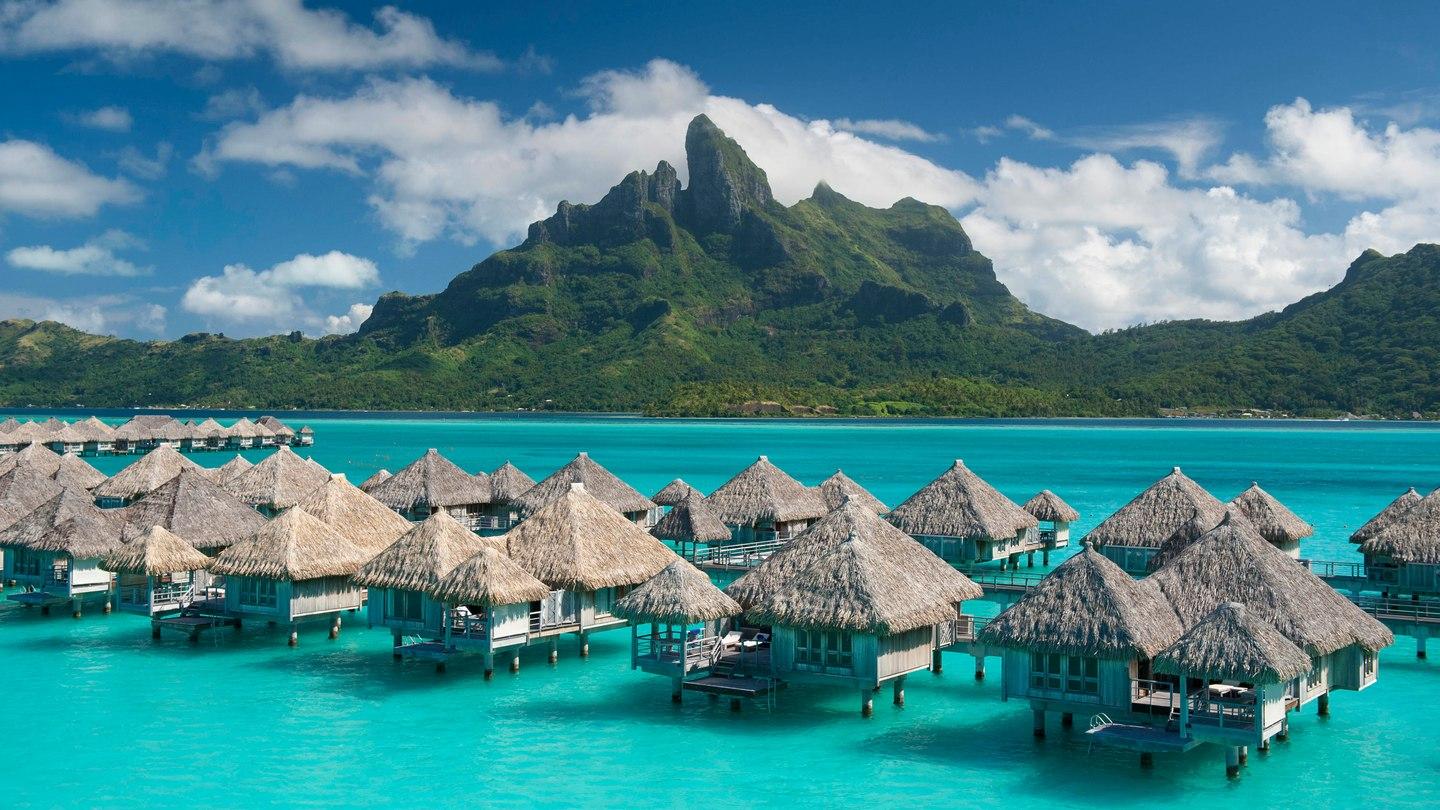 However, do note that the base 85,000 points redemption per night may come with a compulsory $1200 (85,000 XPF) 'upgrade fee' per night for the Overwater Deluxe Otemanu, which retails at more than $3200 per night.
The cost also does not include extras such as boat island transfers.

Comparison with rack rates
Previously, a good threshold with SPG Starpoints was 3 cents per points in value. With one Starpoint equivalent to three Marriott Bonvoy points, we would now expect to see 1 cent per point in value as a minimum.
As you will see in the tables above, it is generally the higher Category that reach this threshold, while for Category 3 and 4 hotels, it may be better to pay in cash and save your points for another big trip.
Finally, the Fifth Night Free benefit remains with Marriott Bonvoy. All you have to do is book a redemption for five nights, and you will only be charged for four. This will further increase the value of your points redemption by 25% if you can score it.
Summing up
The Marriott Bonvoy program continues to offer decent value redemptions compared to the SPG Starwood days, which is great news for points collectors.
Properties in Category 5 and higher still remain the sweet spots in general, but be sure to check the hotel's website rates for any special offers before redeeming.
To work out the value (cents per point), simply divide the room rate by the points needed and multiply by 100 to get the final answer in cents.
How these rates are affected by peak and off-peak pricing will remain to be seen when that is introduced later this year, but we will update the guides accordingly when we know more.
This content contains affiliate links from which Point Hacks may earn commissions from transactions generated from new customers, bookings and general enquiries. Find out more here.
Supplementary images courtesy of St.Regis Bora Bora / Marriott Bonvoy
How to use Marriott Bonvoy points in Australia and the Pacific Islands
was last modified:
October 19th, 2023
by