With thanks to Doctor Of Credit, here is an easy trick to get 1,000 free points for your IHG account.
IHG stands for International Hotels Group and owns hotels under a lot of brands, including InterContinental, Crowne Plaza and Holiday Inn.
Given that a selection of hotels (which usually cost between 10,000 and 50,000 points per night to redeem) are discounted to just 5,000 points per night during quarterly PointBreaks promotions, this trick would get you 20% of the way to a free night in one of these hotels.
By default, you don't have to enter your birth date into your IHG profile, but if you do, you'll get 1,000 points on your birthday.
It's not clear if this is a one-off or a yearly promotion, but it doesn't hurt to add this information to your profile, so here are the steps:
Log in to your account (or sign up for one for free) at the IHG website
Click on the Personal Information button under the My Account banner:

Enter your birth day and month (no year necessary) into the very last field: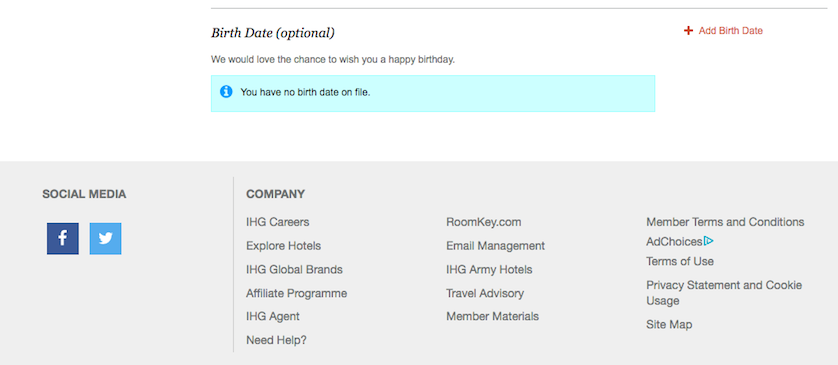 Be aware that there is no double-dipping, i.e. you can't change your birthday online 365 times to get the bonus every day of the year: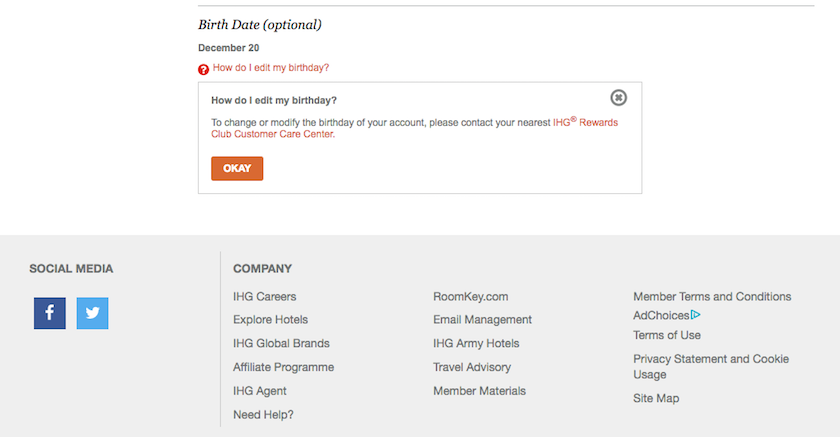 Voilà!
This could be targeted and/or just a one-off, so no guarantees it will work but it's worth a shot. My points posted a week after my birthday:

Another good way to get your hands on IHG points is through buy points promotions that they run every 2-6 months. The latest round was in early September 2016, so one could reasonably expect another promotion sometime before March next year.
Have you received free IHG points on your birthday? Or do you know of any other tricks to get yourself bonus points?
This content contains affiliate links from which Point Hacks may earn commissions from transactions generated from new customers, bookings and general enquiries. Find out more here.
Get 1,000 free IHG points on your birthday with a quick update to your IHG One Rewards profile
was last modified:
August 24th, 2023
by