There are a number of ways to pay your bills and earn points, with the most common being BPAY and 'direct debit', either through your bank account (a true direct debit), or more commonly now through your credit card.
The term can describe either scenario, which does get confusing. Throughout this article, we generally mean 'using your credit card to regularly and automatically pay bills' when we say direct debit. Different providers may call this process different things, so it pays to read the terms carefully.
The main advantage of direct debit is that once you've filled in the form and sent it off, your bills are paid automatically, so there's minimal chance of being late with a payment. Use a suitable rewards card, and you can be getting a regular boost of Qantas or Velocity Points!
If your utility provider doesn't seem to offer automated credit card payments, there's no harm in asking.
There are other companies where automated payment from a credit card just isn't possible, so you may have to pay manually every cycle if you want to use a credit card.
As we've noted in the First Principles series, direct debit is a pretty big part of a good points strategy.
List of Utilities and their Direct Debit forms
Here's the set of quick links to make it easier for you to get your direct debits happening. Even though we're only covering the main utility providers at this stage, don't forget that you can more than likely have direct debit set up for your insurances, as well as many other regular bills such as gym memberships and rent.
The links below will take you to either
A form that will need to be printed and posted

A form that will need to be filled out online and submitted

Instructions on how to change your payment method to an automated credit card system
Telecoms
Telstra: direct debit setup page via login
Optus: instructions on setting up a direct debit
Vodafone instructions on setting up a direct debit
Virgin Mobile: instructions on setting up a direct debit
iinet: instructions on setting up a direct debit
Internode: instructions on setting up a direct debit
iPrimus: direct debit setup page
TPG: instructions on setting up a direct debit
Gas, Electricity and other Utilities
AGL: direct debit setup page
Energy Australia: direct debit setup form
Ergon Energy: instructions on setting up a direct debit
Lumo Energy: instructions on setting up a direct debit
Origin Energy: direct debit setup page via login
Red Energy: direct debit setup form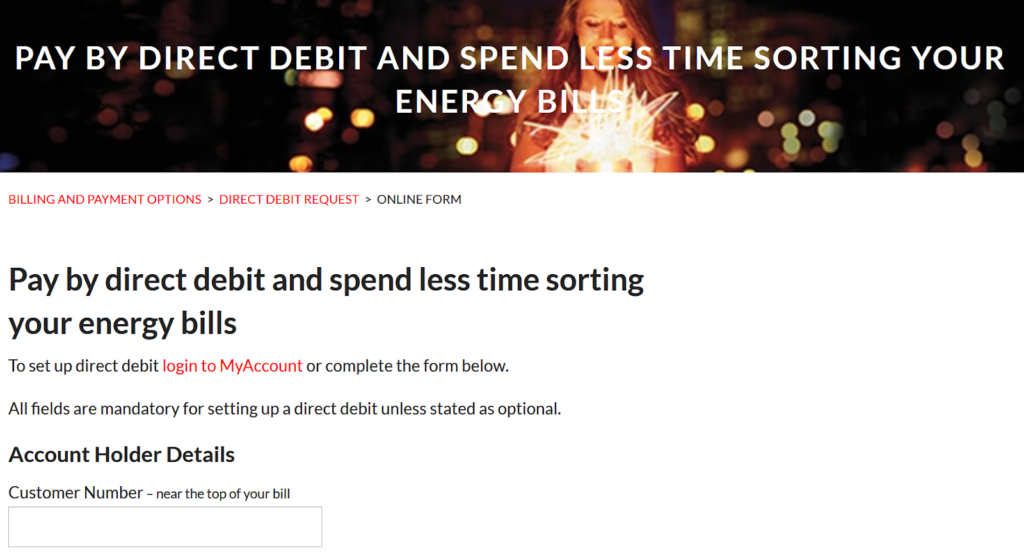 Ad – Scroll down to continue reading.Minimum spend, terms & conditions apply.
More about paying your bills with your credit card using direct debit to earn points
The obvious downside to direct debit is lack of control. You have to know there's enough credit available on your credit card for the payment to clear, and to trust that the correct amount is billed.
Of course, there will be some providers that might not even have a credit card direct debit option. In this case, consider a standard bank account direct debit or pay your bill manually each cycle.
Some credit cards will assign a lower points earning rate to amounts spent on utilities, insurances and government charges including Australia Post Billpay, and some may not even offer any points at all. This will normally be buried somewhere in the card application page (see below example).
A workaround could be to use Paypal for utilities that accept it, as Paypal has been handling payments via American Express for a while now and Paypal payments should earn you points on your Amex at the full earn rate. However, not all billers that accept PayPal will allow Amex cards to be processed through them.
How to set up a direct debit with PayPal
Even if you are able to make direct debits to a certain provider with a standard credit card (Mastercard, Visa or American Express), there may be some advantages to using PayPal to process the payments, depending on your personal circumstances.
Here is a step-by-step guide on how to set up a direct debit with PayPal.
Note that your provider must accept PayPal as a form of payment and you can check this on the provider's website. The page will most likely be different from the screenshots below, but should still have the same basic flow.
Find the page where you can set up direct debits with your provider and select 'PayPal'.

Log in to your PayPal account (assuming it is already set up with your cards).

Choose how you would like to fund your direct debit. This could be with your PayPal balance, or any cards and bank accounts attached to your PayPal account.

Your direct debit with PayPal is set up.
To check on the status of direct debits with PayPal, follow these steps:
Log in to your PayPal account.
Click on the 'Settings' button (gear icon, top-right corner) then on 'Payments'.

Under 'Automatic Payments', click on 'Manage Automatic Payments'.
Your existing direct debits will be shown here.
Summing Up
Direct debit isn't for everyone, and to be clear, there are no incentives at play here for Point Hacks to encourage you to switch – but it just could make points earning that little bit easier and faster on things that you would normally be paying for anyway.
Your options usually include two of the following: bank account, credit/debit cards and PayPal. We recommend you use a points-earning credit card, either on its own or through PayPal, in order to maximise the number of frequent flyer points you are earning.
How to earn credit card points through 'direct debit' for your utility bills – and forms to get you started
was last modified:
May 8th, 2020
by