Swedish furniture giant IKEA is synonymous with affordability, convenience and contemporary designs encased in its signature flat packs. Its diverse product range encompasses everything from home essentials to innovative gadgets you never knew you needed, tossed with a flavourful serving of the chain's Swedish meatballs.
And if you find yourself sauntering through IKEA's illuminated showrooms with a trolley full of Färgrik mugs and Ribba frames en route to pick up a Billy bookcase, fear not. IKEA's loyalty program can have you shopping almost guilt-free while pocketing some discounts along the way. Introducing: IKEA Family.
Settle into a Poäng chair and grab a glass of sparkling lingonberry as we dive into what to expect from the IKEA rewards program.
---
This is part of our loyalty program series, where we explore programs outside of the frequent flyer space. There are lots of ways to save with purchases, so you can treat yourself more on your next holiday.
---
What is IKEA Family?
IKEA Family is the customer loyalty program of global furniture retailer, IKEA. Presently, IKEA has ten stores across six Australian states and territories, offering up plenty of opportunities for customers to make the most of the program's perks.
What are the benefits of IKEA Family membership?
Members can enjoy plenty of benefits as soon as they join the IKEA Family program, including:
A $10 welcome voucher to use in-store or online.
A $10 voucher awarded every quarter when you spend at least $100 (this perk is ending in March 2023).
Free tea or coffee in-store Monday to Friday.
Birthday reward.
'Spend and save' incentives.
Discounts on selected products.
Exclusive access to inspirational workshops and events.
Exclusive deals on food at the IKEA Restaurant and Swedish food market.
Complimentary Oops-assurance to cover accidental damage on your products during transport or assembly.
Complimentary GoGet Starter Plan to assist you in transporting your goods home.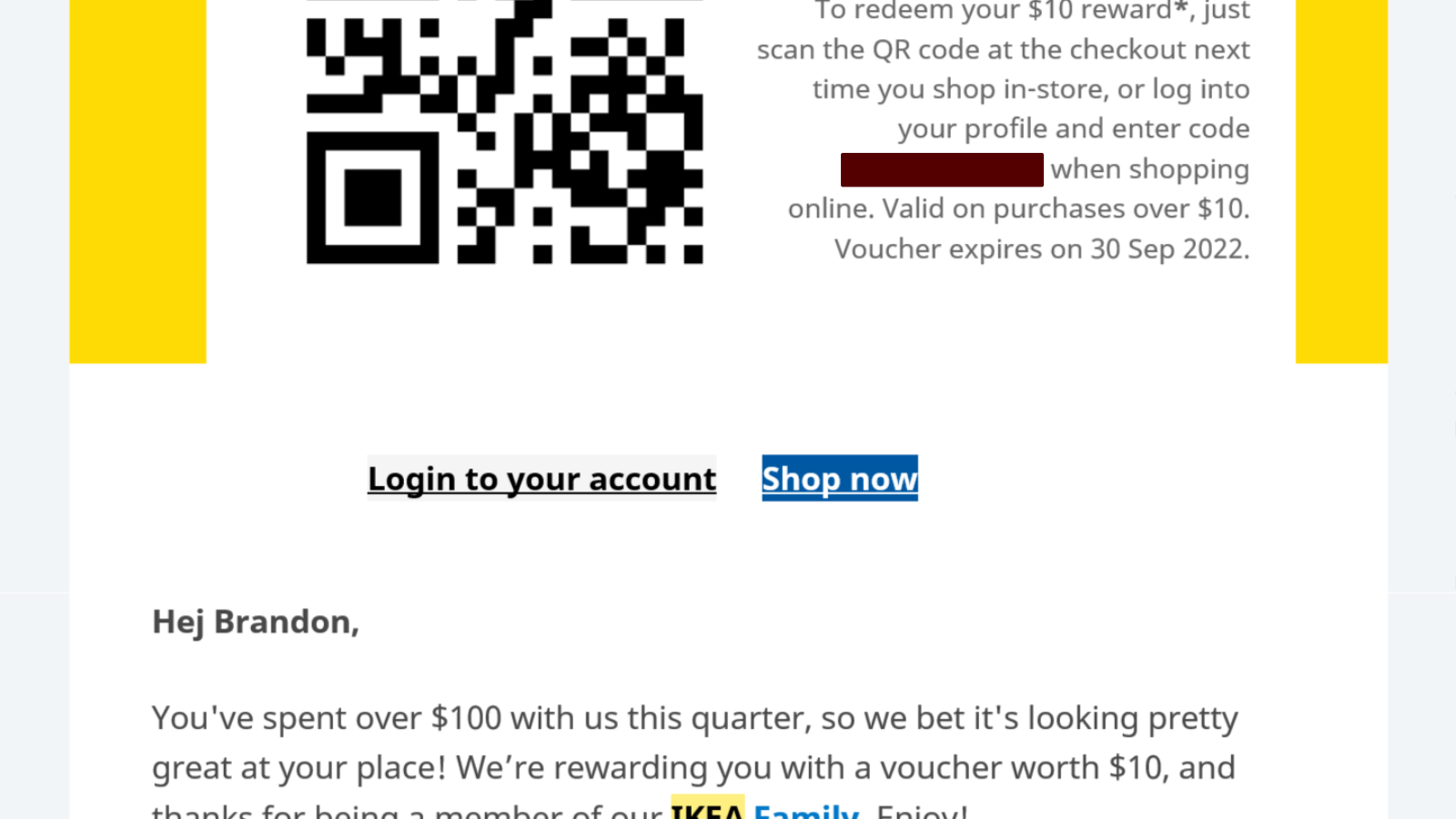 You don't have to purchase furniture regularly to avail of the offers for members. In fact, you don't need to overhaul your home decor weekly to benefit, either. For starters, you can participate in member-exclusive workshops that cover a range of lifestyle topics. And if you've got more of an inclination towards IKEA's food offerings, you can access special pricing on take-home goodies, as well as meals at the in-store restaurant.
Are there any points or tiers in the IKEA Family rewards program?
IKEA Family doesn't operate a tiered or points structure. All members can enjoy the benefits of the program from the moment they sign up.
How can I maximise my IKEA Family rewards?
Furniture purchases can set you back a hefty sum, particularly if you're moving homes or revamping a room. By signing up for the IKEA Family loyalty program, you've already got the opportunity to take advantage of its 'spend and save' incentives. This offer is usually 10% off the total price when you hit a certain minimum spend, though the spend and discount change regularly.
But if you're looking for more ways to earn rewards, consider paying for your purchases with a points-earning credit card. You'll not only earn frequent flyer points on your spend, but if you've got a minimum spend target to pocket some bonus points, those big-ticket items can help get you there.
How do I join IKEA Family?
It's free to sign up for IKEA's loyalty program. Join IKEA Family online to receive your digital membership card, which needs to be presented each time you shop to redeem your member-exclusive benefits.
Note that while you'll find a bright blue and yellow box-shaped warehouse in over 60 countries across the globe, you can only use your IKEA Family membership in the country where it was issued. You'll need to sign up again to take advantage of exclusive program offers overseas.
Summing up
IKEA Family is a no-frills customer loyalty program that rewards you from the moment you sign up. Even if you're not buying furniture or homewares regularly, you can still make use of the discounts and offers at IKEA's on-site restaurant and food market.
Looking for other ways to get rewarded? Explore all our guides to loyalty programs so you can earn rewards from your daily coffee, dining out, makeup and skincare, and more.
FAQs
Does IKEA have a rewards program?
Yes, IKEA has a rewards program called IKEA Family.
What is the IKEA Family loyalty program?
IKEA Family rewards customers with a range of discounts, vouchers, complimentary services and other member-exclusive benefits.
Can you collect points and rewards at IKEA?
IKEA's loyalty program doesn't operate on a tiered or points-based system. Rather, the benefits are available for all members as soon as they join.
Do IKEA Family members get discounts?
Members of IKEA's loyalty program can access various discounts on selected products, including furniture, homewares and food. The discounts and eligible products change regularly.
What benefits do you get with the IKEA Family card?
The IKEA Family card unlocks discounts on products, access to exclusive workshops, spend and save incentives, reward vouchers and more.
How much does it cost to join IKEA Family?
Nothing! IKEA's rewards program is free to join.
Can you get your IKEA Family card on your phone?
Downloading the IKEA app to your phone gives you access to your digital membership card. You can also add the card to Apple Wallet or Google Pay, or scan the membership barcode sent to you in an email.
The Ultimate Guide to IKEA Family
was last modified:
October 19th, 2023
by