Japan is a country brimming with exciting experiences for every traveller. Think a world-class snow sports scene, fresh seasonal produce, and unique festivals not found anywhere else in the world. The weather in Japan varies greatly across regions, and knowing the best time to travel can help you get the most out of your trip.
A Japan holiday can seem like a faraway dream – but it doesn't have to be. By using the power of points, you can be jetting off to Japan sooner. Give your points a boost with generous credit card offers, like the Westpac Altitude Qantas Platinum and Qantas Premier Titanium to travel in the lap of luxury for less. And if you're new to the point hacking game, have a read of our guides to the Qantas Frequent Flyer Program and Velocity Frequent Flyer Program to get started.
So before you head to Japan, read on for our guide to Japan's weather by month to help you decide on the best time of year to visit.
What is the weather like in Japan?
Japan is an archipelago comprised of over 6,000 islands. The main island of Japan, Honshu, is where cities like Tokyo and Osaka are located, and will likely be your main entry point when flying to Japan from Australia.
Like Australia, Japan's weather is divided into four distinct seasons: winter, spring, summer and autumn. December to February is winter in Japan, March to May is spring, June to August is summer, and September to November is autumn.
However, there can be differences in the temperature in Japan depending on the region. The northernmost island, Hokkaido, is a popular destination for skiing and snowboarding and is often cooler than the rest of Japan throughout the year. On the other hand, the southernmost prefecture of Japan, Okinawa, is known for its beaches and year-round tropical climate.
So whether you're chasing sun or snow, our monthly breakdown of weather in Japan can help you choose the best time to visit.
Japan weather by month
Japan weather in January
January is the coldest month to visit Japan, with temperatures averaging 9°C during the day and dropping to 1°C at night. Snow falls throughout much of Japan during January, with the heaviest snowfall in Hokkaido. Big cities like Tokyo, Osaka and Kyoto experience small amounts of snow, but many popular ski resorts can be accessed within a few hours from these cities. Snow is extremely rare in the region of Okinawa, so it's an ideal escape if you're looking for somewhere relatively warmer.
January is one of the best months for skiing in Japan, as there is plenty of fresh snow and days are often filled with sun. However, this also results in crowds at many popular resorts and inflated prices on transport and accommodation. If you're planning a ski trip to Japan, it's best to book early.
There are some particular points to note if you're thinking of visiting Japan in January. Many businesses close on the 1st of January – some even until a few days later – to mark the start of the new year. It's customary for locals to visit shrines and temples during the new year, and these can become quite crowded. While Lunar New Year is not traditionally observed in Japan, some regions celebrate with festivals and events. January also has some of the shortest days, with an average sunset of 5 pm in Tokyo. Night owls can rejoice, though, as there are plenty of things to do in Japan at night.
Japan weather in February
The weather in Japan in February is similar to January: sunny and dry. Temperatures remain the same, hovering at around 9°C during the day. There's still plenty of snowfall in northern areas, making February another one of the best times for snow sports in Japan. The days increase ever so slightly, with sunset occurring around 5:30 pm in Tokyo.
A benefit of visiting Japan in February is that many crowds and tourists have returned home. Japan's New Year rush is over, and visitors from Australia dwindle as the school year commences. If you're not into skiing or snowboarding but still want to experience the snow, February is a prime time to observe Hokkaido's drift ice or marvel at snowy landscapes in Gokayama and Shirakawa-go.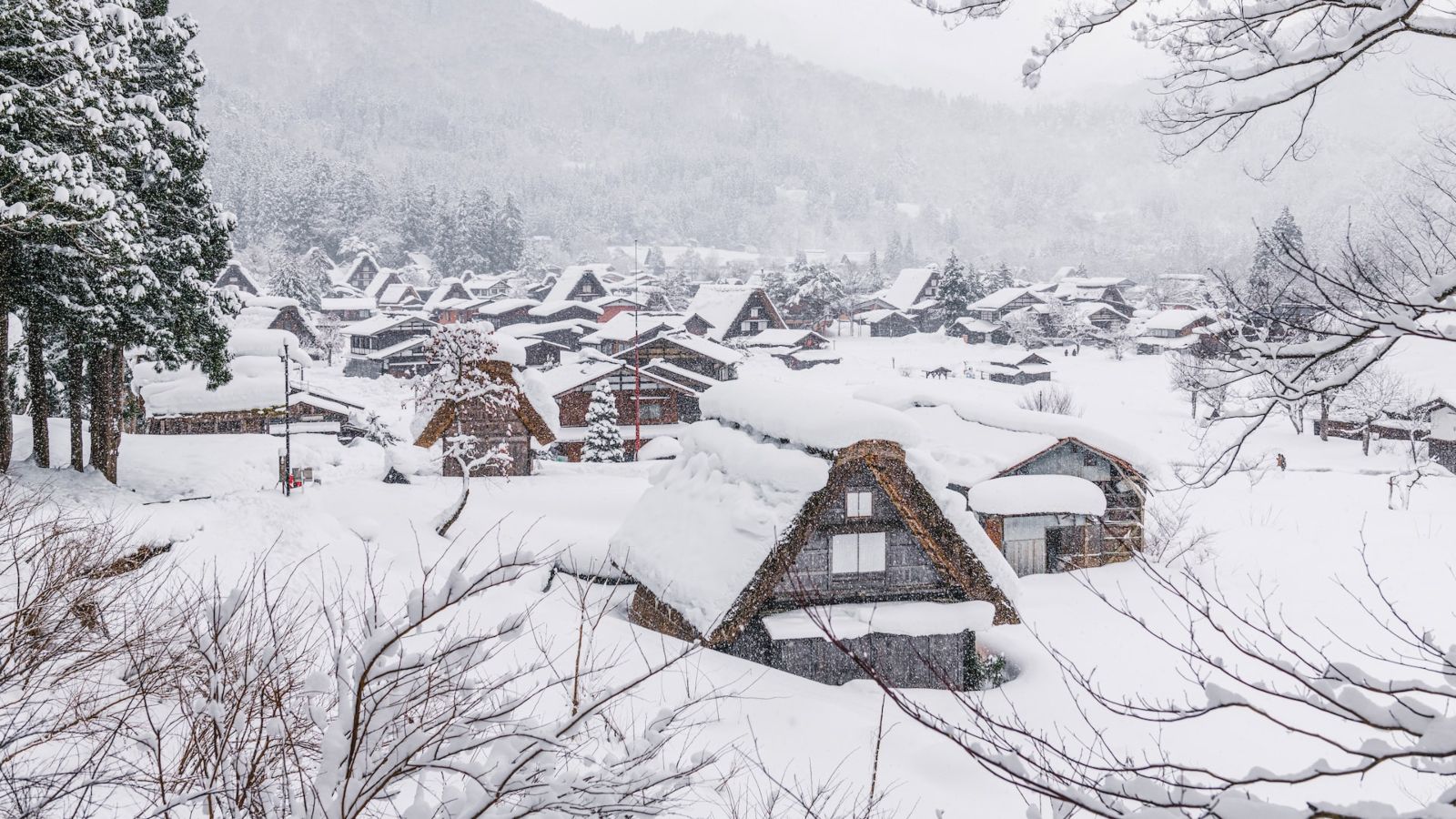 Japan weather in March
Winter in Japan begins to fade and spring blooms are imminent in March. Some regions see cherry blossom trees and plum trees bloom early as daily temperatures rise to an average of 13°C. However, in Hokkaido the average temperature remains significantly cooler – around 4°C – which is ideal for those wanting to make the most of the snow sports season before it comes to an end.
A trip to Japan in March means you can take advantage of the shoulder season. There is still good availability for accommodation across Japan, and prices remain relatively low in the first half of the month. However, Japan's spring school holidays occur later in the month, and tourists begin to arrive for the height of cherry blossom season in April. With a bit of careful planning, you can beat the crowds and enjoy scenic views of Japan's lush greenery during March.
Japan weather in April
April is one of the best times of year to visit Japan. Cherry blossoms are in full bloom, with visitors flocking to Japan to enjoy this spectacle. Temperatures hover at a comfortable 18°C throughout most of the country, making it the perfect time to enjoy Japan's spring season. The vibrant, pink hues of the cherry blossom trees can be viewed from a number of locations. Some of the most popular cherry blossom destinations in Japan are Mt. Yoshino, Himeji Castle and the Fuji Five Lakes region, where you'll enjoy a stunning backdrop of Mt. Fuji.
April is also one of the busiest times of the year for travel in Japan. The start of the month marks the end of Japan's spring school holiday period, and domestic travel picks up again at the end of the month for Golden Week. Throw in an influx of international tourists, and you can expect transport and accommodation in Japan to be at their peak in April. Cherry blossom season in Japan is not to be missed, though – so book as early as you can to catch this magnificent display.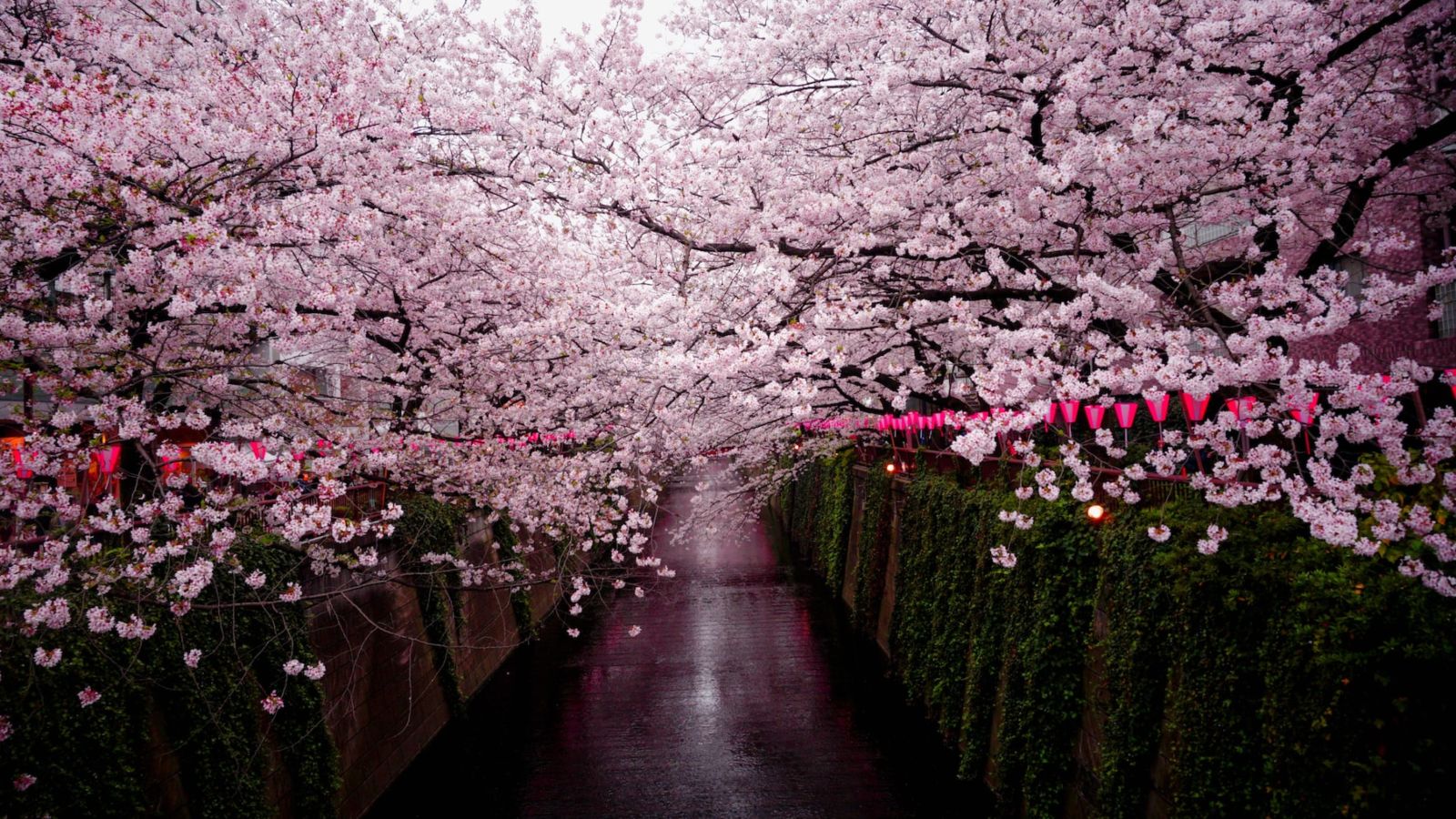 Japan weather in May
Japan's weather in May begins to warm up, with temperatures across the country averaging around 22°C. It's still possible to view cherry blossoms in some regions, but they're often past their peak bloom. However, there's plenty of lush greenery throughout Japan in May, so it's a great time to venture to the countryside and bask in nature. In Hokkaido, the weather takes a bit longer to warm up, so you may find that it's slightly cooler than in Tokyo. In Okinawa, the rainy season begins, and you can expect around 12 days of rain throughout May.
Golden Week is an important period in Japan. Beginning at the end of April and running until early May, Golden Week encompasses four of Japan's national holidays. Many workers have time off, and it's a very busy period for travel throughout Japan. You can expect airports and trains to be crowded, accommodation at near capacity, and landmarks and attractions filled with locals and tourists alike. However, it's one of the best times to visit Japan to experience cultural celebrations that are held throughout the country. You can enjoy outdoor festivals, eat special food to mark the occasion, or simply marvel at various displays and parades. If you're travelling to Japan at the beginning of May, be sure to book everything well in advance – or save your travels for later in the month to avoid crowds.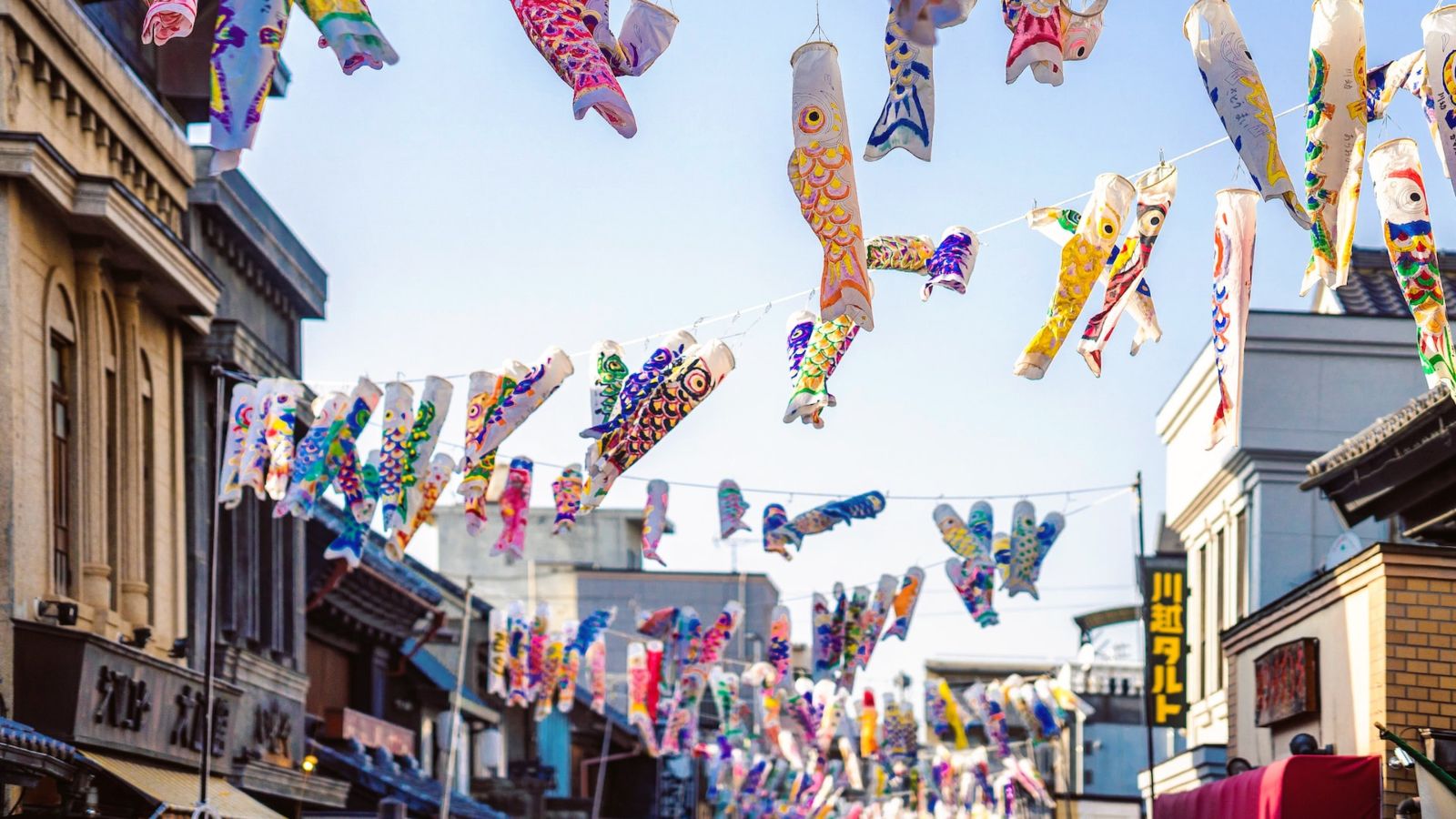 Japan weather in June
Despite being summer in Japan, June marks the start of the rainy season in almost all parts of the country. Temperatures sit at a balmy 26°C during the day, which also brings high humidity during June in Japan. Despite Hokkaido being consistently cooler than other areas, it experiences little rain during this time, so it's an attractive escape from the humidity. Hot springs are particularly enjoyable at this time of year, with visitors flocking to popular resort towns like Hakone.
While Japan isn't top of mind when it comes to water sports, June is the best month to go snorkelling in Japan. Okinawa offers excellent opportunities for snorkelling once the rainy season wraps up towards the end of the month. And hopping into the water to explore Japan's unique marine life is a great excuse to avoid the hot weather, too.
Japan weather in July
Japan's rainy season is short, with rainfall normally winding down at the beginning of July. But humidity is at its peak, with an average temperature of 31°C throughout much of Japan in July. It's not a pleasant time to be outdoors in most large cities. Although if you're looking for an outdoor adventure, the weather is comfortable in higher areas of Hokkaido, and Okinawa is equally pleasant for a beach holiday.
Scorching temperatures aside, July is a great time to catch many of Japan's summer festivals. Characterised by lanterns, fireworks and street parades, summer festivals occur throughout Japan and are best enjoyed with traditional festival food in hand. We recommend kakigori – a shaved ice dessert – to cool down. If you're planning a trip in July, head to Kyoto for Japan's most popular festival. Held annually, Gion Matsuri runs for the entire month of July, with many streets blocked off as large, colourful floats weave their way through the city. While the procession occurs before lunchtime, the celebrations continue well into the evening, with performances, street food and spectacular fireworks displays.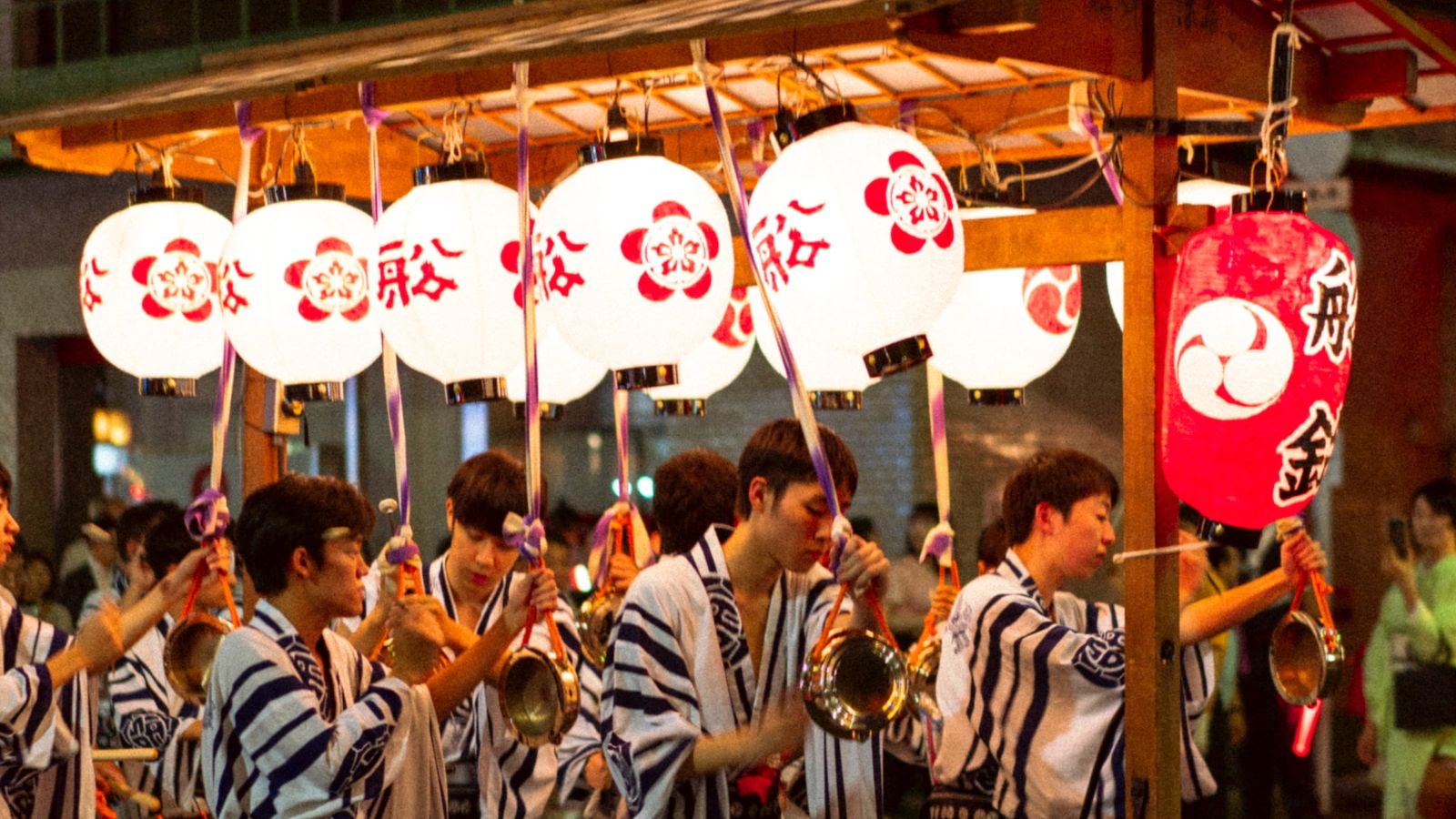 Japan weather in August
August is one of the hottest months in Japan, with daily temperatures sitting at around 31°C in most parts. In Hokkaido, temperatures reach around 26°C but remain cooler in elevated parts of the region, which is ideal for nature lovers. Humidity is felt throughout much of the country, and typhoons are more likely to occur at this time.
Japan's summer school holidays fall in August, and it's a busy time with families travelling. Aside from New Year and Golden Week, Obon is another major holiday period in Japan. The three-day event occurs in mid-August each year, with specific dates differing depending on the calendar being observed and the region. The holiday commemorates deceased ancestors, and many families travel for reunions and visit temples at this time.
August is an ideal time to visit Japan to observe Obon festival customs, including traditional dances, floating lanterns and bonfires to guide the spirits. Many celebrations run well into the evening, so you can take advantage of the cooler weather at night. If you're planning to travel to Japan in August, it's worth checking the dates for Obon festival. You may want your trip to coincide with festivities, or you may want to avoid the summer holiday crowds – and associated costs – altogether.
Japan weather in September
September is peak typhoon season in Japan. Temperatures average in the mid-20s for much of Japan, and the weather remains hot and humid. Coastal areas like Shikoku and Okinawa are most prone to typhoons, with heavy wind and rain occurring in many parts of the country. Thankfully this only lasts for a few days, and the weather in Japan in September is otherwise pleasant.
One of the highlights of visiting Japan in September is the Kishiwada Danjiri Festival. Located around an hour from Osaka by train, the festival attracts visitors from across Japan who gather to watch this energetic feat. Hundreds of men run through the streets carrying flamboyant floats in a display of strength and endurance. Enjoy the energy in the sunshine, or stay until nighttime for a unique atmosphere.
Japan weather in October
October marks the heart of autumn in Japan and it's a wonderful time to visit to enjoy the autumn foliage. Temperatures average around 23°C for most of the country, and the humidity and heat have subsided. Comfortable weather and spectacular views make October the best month to go hiking in Japan.
Japan's peak harvest season also occurs in October. You can expect delicious produce including persimmon and pears, as well as tasty soba noodles and rice. Sake is especially popular during this time, with autumn varieties best enjoyed until November. Head to a harvest festival and indulge in this celebration by tasting some seasonal fare.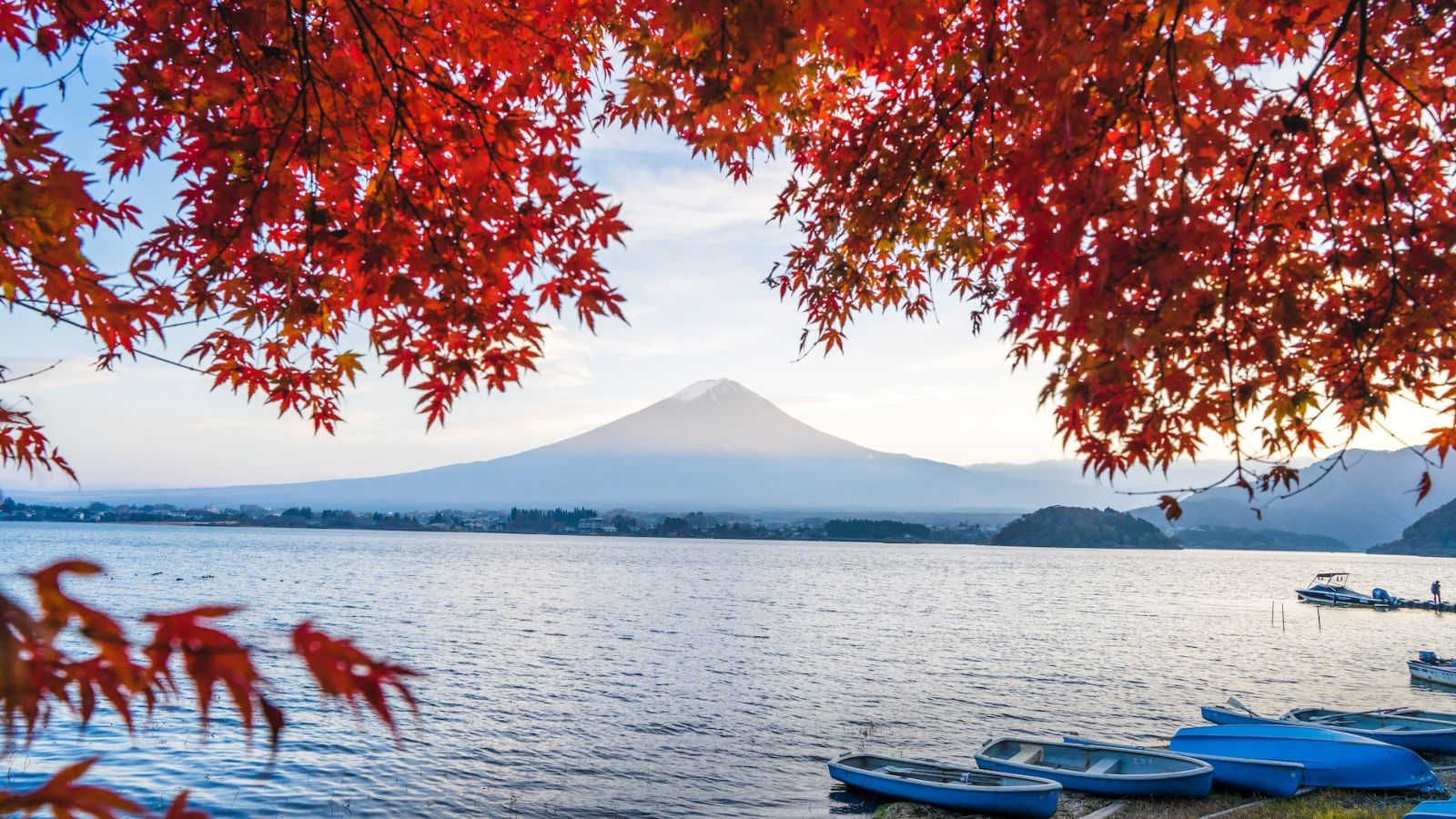 Japan weather in November
November is another one of the best months to visit Japan. The weather is mild and dry, and vibrant autumn colours blanket several regions across Japan. In Tokyo and Osaka, temperatures sit at around 17°C during the day, with minimal rainfall – perfect for exploring the cities and their surroundings.
There are no major holidays in Japan during November, so domestic travel is low. It's a great time to visit as there are plenty of affordable accommodation options, and many popular landmarks and attractions experience fewer tourists. November in Japan is almost a sweet spot. You can enjoy autumn views, but also catch the start of the winter illuminations that begin in early to mid-November. Regions throughout Japan are decorated with lights in the lead-up to Christmas, creating a magical atmosphere. And without the crowds that come in the following month, the illuminated streets are even more enjoyable.
Japan weather in December
December marks the start of winter in Japan, as well as the beginning of ski season. The weather remains mostly dry, with daily average temperatures in Tokyo and Osaka hovering around 12°C. If you're chasing the sun, it's still a relatively warm 21°C in southern areas. But if you're keen to get stuck into the cold weather sooner, head to Hokkaido where temperatures hit a top of 2°C during the day.
As the Australian school year draws to a close, you can expect flights to Japan from Australia to increase in price, especially in the lead-up to Christmas. Japan's winter school holidays also occur towards the end of the month, and domestic travel activity increases, particularly around ski resorts.
If you're in Japan during Christmas, do as the locals do and enjoy a meal at KFC. No, really. Millions of people head to the famous fried chicken joint on Christmas Day to engage in this national tradition. The result of a successful marketing campaign in the 1970s means that you can expect long lines at KFC outlets throughout Japan during Christmas. But what better way to celebrate than with a hearty bucket of fried chicken?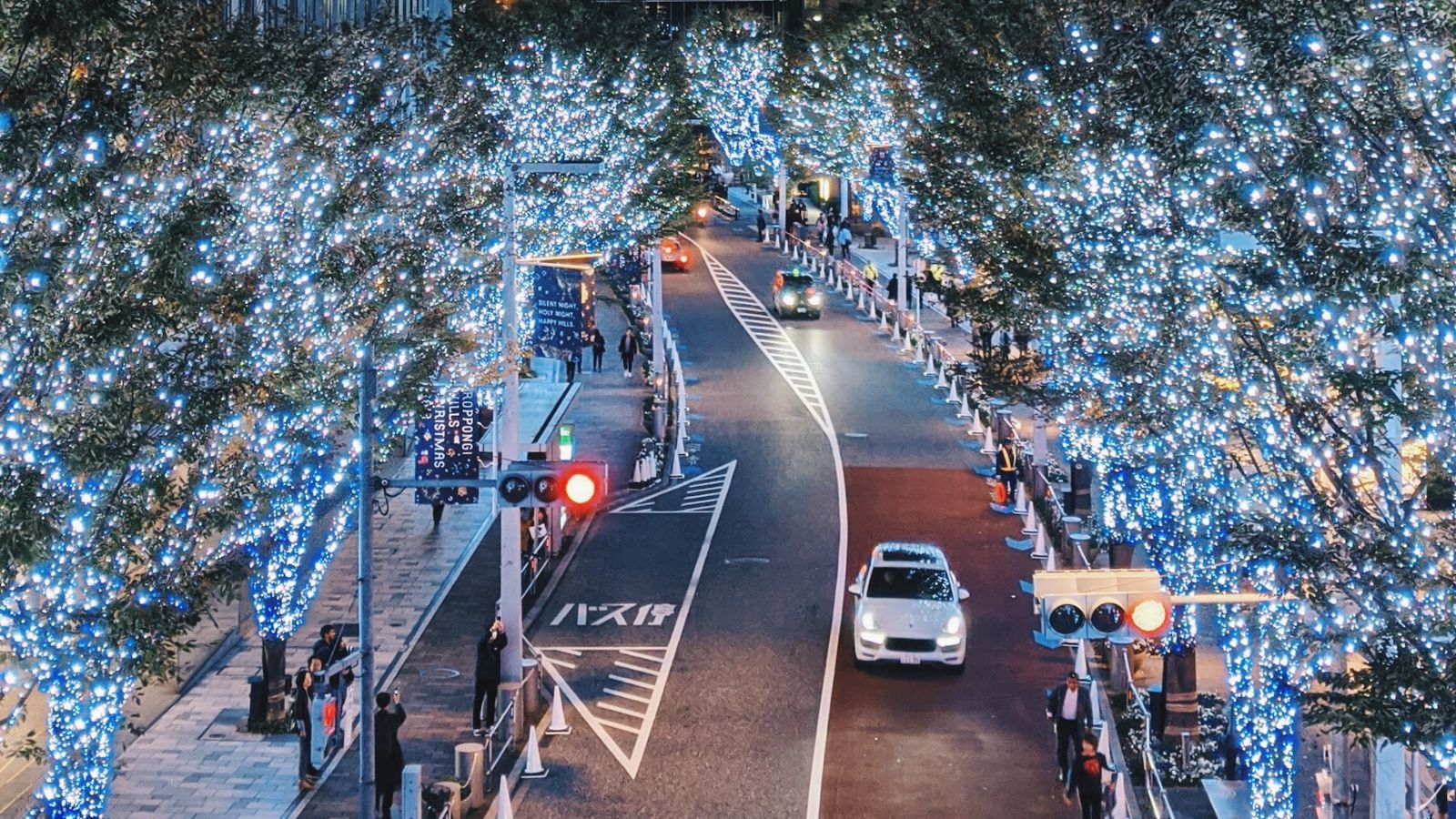 So when is the best time of year to visit Japan?
A Japan holiday is enjoyable throughout the year. There's no shortage of things to do in Japan, with exciting festivals, stunning views and unique activities occurring almost every month. There are benefits to travelling to Japan during winter, particularly for snow sports enthusiasts. On the other hand, Japan's warmer weather is ideal for viewing cherry blossoms and enjoying vibrant summer events. Regardless of when you travel to Japan, you're guaranteed to have a memorable experience.
Plan your dream Japan holiday
Stop dreaming and start planning. Fly to Japan from Australia direct with Jetstar, Qantas, Virgin Australia, ANA or JAL to experience this unique country for yourself.
And by harnessing the power of points, you can fly to Japan sooner. Have a read of our beginner's guides to the Qantas Frequent Flyer Program and Velocity Frequent Flyer Program to find out how you can travel up the pointy end for less with points.
Need more tips on travelling to Japan from Australia? Browse all of our guides to Japan to start planning your dream Japan getaway.
FAQs
When is cherry blossom season in Japan?
Japan's cherry blossom season usually begins in late March and runs until mid-April. In some regions, it may be possible to view cherry blossoms as late as May. However, for the most magical views, it's best to visit Japan in April to see cherry blossoms.
When is winter in Japan?
Winter in Japan occurs from December to February. During this time, you can expect daytime temperatures to sit between -1°C in northern areas, and 21°C in southern parts of Japan. Most cities on Japan's main island of Honshu have an average temperature of 10°C in winter.
When is summer in Japan?
Summer in Japan occurs from June to August. During this time you can expect hot, humid conditions, with temperatures between 21°C in northern areas, and 33°C in central Japan. The rainy season in Japan coincides with summer, so you can expect warm temperatures coupled with rain from June to mid-July.
Featured image: Sora Sagano, Unsplash
The best time to visit Japan: weather by month
was last modified:
August 24th, 2023
by