GoCatch is running a promotion this month to get you using their taxi and rideshare booking app, with $5 off rides paid with Apple Pay on Mondays during March.
You'll also earn the regular rate of one Qantas Point for every $1 spent if you use a credit card.
Current offer: $5 off Monday rides in March when paying with Apple Pay
To celebrate the launch of Apple Pay compatibility with the application, GoCatch is offering $5 off every trip paid with Apple Pay on Mondays in March. GoCatch Economy, Taxi, Maxi or Premium rides are all eligible.
You just need to add your bank-supported credit or debit card to your Apple Wallet and follow the prompts. Then, open the GoCatch app and ensure Apple Pay is selected before requesting your GoCatch.
At the end of your trip, the $5 discount will be automatically applied.
The full terms and conditions are available here.
---
How to earn Qantas Points with GoCatch rideshares and taxis
GoCatch and Qantas Frequent Flyer joined forces back in October 2015, offering Qantas Points for regular taxi bookings made through the app.
Since then, they have expanded their offerings to compete with Uber, including rideshare and premium services and expanding to all major Australian cities.
You can earn 1 Qantas FF point per $ spent on all GoCatch rides, as long as you pay by credit card or PayPal.
To earn points with goCatch, you'll need to add your Frequent Flyer number via their iOS or Android app before you make a booking.
Ad – Scroll down to continue reading.Minimum spend, terms & conditions apply.
Pricing and services
GoCatch Economy (rideshare service)
Pricing is determined by off-peak (most of the time) and peak (Friday and Saturday nights) periods: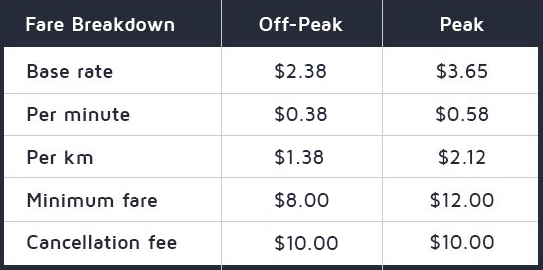 As you can only pay by card, there is no surcharge on card payments, unlike the taxi service.
GoCatch Taxi (regular taxi service)
GoCatch charges a booking fee of either $1.50 or $2 depending on your state, and you can either pay the driver directly or pay via the app. If you pay via the app the payment fee is 5% of the ride—and that's the only way you'll earn Qantas Points.
If you pay the driver directly, you won't earn points, so it's not a great deal if you were going to/prefer to use cash anyway, which would avoid the 5% fee.
Other services
GoCatch also offers Maxi for bigger vehicles and Premium for luxury vehicles.
Is GoCatch a good deal?
To understand why Uber is best for airport rides, ingogo for peak periods and GoCatch for off-peak travel, read our comparison guide for earning points with rideshare and car booking services.
Summing up
More points earning options are always a good thing.
GoCatch now offers a range of rideshare services for different types of vehicles and a valuable earn opportunity with Qantas Frequent Flyer.
Apple users can get $5 off GoCatch rideshare and taxi rides each Monday during March
was last modified:
November 14th, 2018
by